Indonesia is possibly the best dive country in the world – and Komodo is the crown jewel! Komodo National Park is always a highlight for divers visiting this country. The underwater paradise has so much on offer with its diverse coral landscapes and endless fish.
If you are planning a Komodo dive trip, then be sure to consider the awesome liveaboard options. Instead of basing yourself on land, rather stay on a floating hotel. You will get to experience all of the best dive sites in the area, and easily travel between them each day.
Liveaboards are a great option for avid scuba divers, as you will be in the perfect position to enjoy the best that this marine world has to offer. This is a great way to see unique regions in Indonesia.
If you want to embark on a Komodo Island liveaboard trip, then check out some of the amazing options below. These will be sure to provide you with the ultimate Komodo scuba holiday.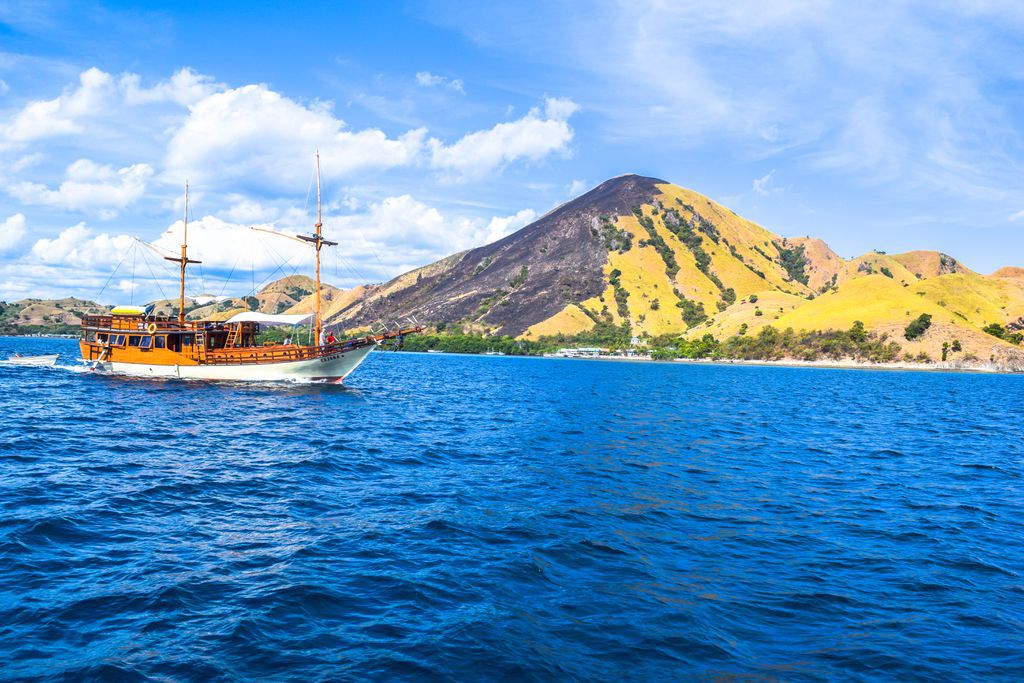 ---
Why Choose Liveaboard Dive Trips?
Komodo National park does not actually have any accommodation available on the island. This means that if you want to stay here, you will need to be onboard a private boat. Diving liveaboards are the perfect solution. They provide hotel quality accommodation, thoughtful dive itineraries, and experienced crew to help you.
Staying on a liveaboard is the best way to really experience hard-to-reach places like Komodo, and it allows you to explore these remote areas in full. If you are after the ultimate dive holiday, then choosing a liveaboard trip is a smart idea.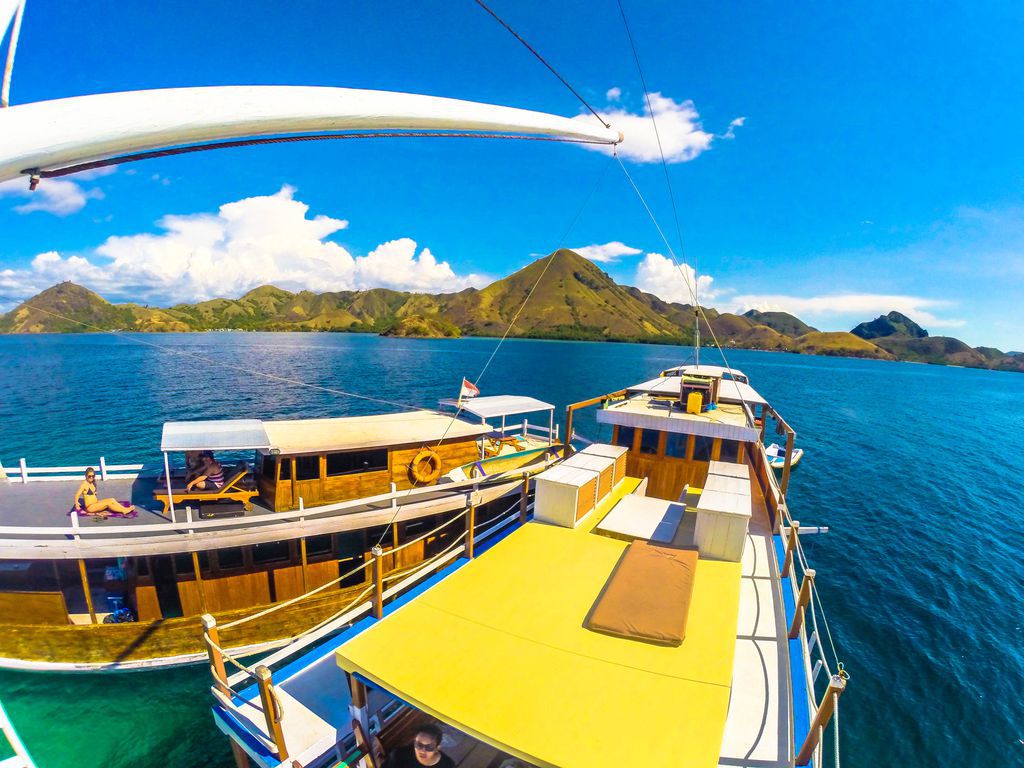 ---
Komodo Diving
The Komodo National Park offers an incredibly rich and diverse amount of life under the sea. The area around Komodo and Rinca Islands is known for some of the best scuba diving in Indonesia. As the place falls under a national park, the marine world is well protected and completely thriving.
Most divers head here to see the amazing manta rays, massive pelagic fish, sharks, and bright coral reefs. The amount of fish that you will see around here is really unbelievable. The closer you look, the more you will be amazed. Colorful seahorses, crocodile fish, octopuses, and way more! The waters are crystal clear, warm, and inviting. Of course, there are also the famous Komodo dragons that can be witnessed on land.
You can happily dive Komodo all year round, although the dry season (with the best conditions) is from April to November. The wet season may involve rough surface conditions and rain. However, the wet season is also when the manta rays are most prominent. There is never really a bad time for diving in Komodo waters.
Taking a liveaboard trip around here will allow you to visit the absolute best dive sites. You will be with knowledgeable local divers that know exactly where to find the fish! These trips are a really fun way to experience the area.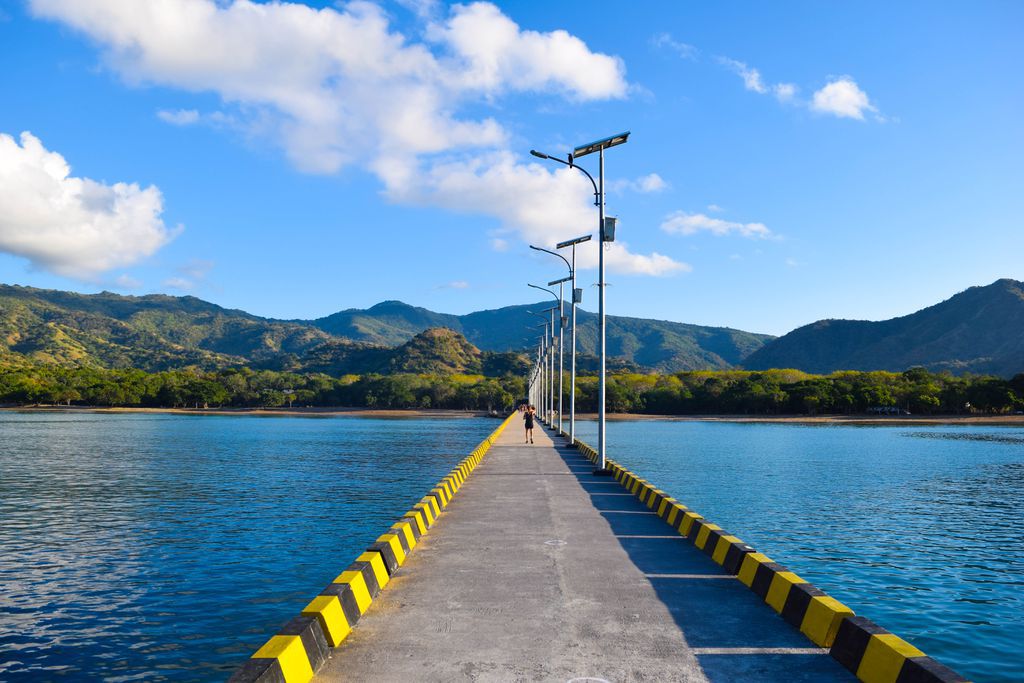 ---
The Best Komodo Diving Liveaboard Trips
With liveaboard diving trips, you will get to explore the many different sites in the national park, as well as move on to other prominent dive sites in Indonesia. Here are some of the absolute best liveaboard options for diving in this magnificent part of the world.
---
Mermaid I Liveaboard
https://www.liveaboard.com/diving/indonesia/mermaid-i
Staying on a boat does not mean that you have to give up on any comforts or luxuries. This liveaboard option, aboard the Mermaid I, is one of the most fantastic ways to experience the wealth of dive sites around Indonesia.
The Mermaid I has eight spacious cabins. Staying here feels more like a hotel than a boat, as the cabins are equipped with flat-screen TVs, climate control, and en-suite bathrooms. You even get bathrobes in your cabin.
The boat has its own restaurant, serving delicious food with views to match! There are areas for relaxing, complete with comfortable furniture and entertainment. There are also two large decks to enjoy the sunshine. These include a special dive platform, sunbeds, and outdoor furniture.
The Mermaid I will take you to a number of Indonesia's best dive sites. Beyond Komodo, you can also visit Raja Ampat, Alor, and Ambon. The staff on board are all experienced with diving and can help out wherever you need them. Nitrox is available on the boat, and there is free internet throughout. This is a stylish way to enjoy a luxury Indonesian diving holiday.
Check out the Sailing Dates, View Photos, Read Reviews & Check Availability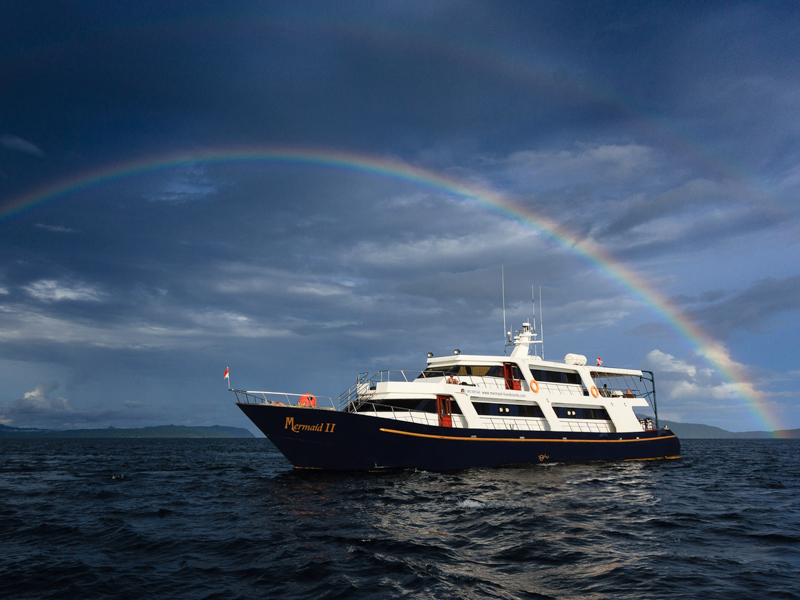 ---
Ambai Liveaboard
https://www.liveaboard.com/diving/indonesia/ambai
Ambai is a 32m M/V liveaboard that offers a hassle-free way to dive around Indonesia. This vessel is available all year round for dive trips in Komodo, the Forgotten Islands, Banda Sea, and Raja Ampat. Once you are on board, everything else is taken care of. All you need to do is enjoy the spectacular dive sites and comfortable accommodation.
This boat has eight cabins, accommodating up to 16 different guests. You get an ensuite bathroom and private shower with each cabin, as well as individual climate control. If you are an underwater photographer, you will love the dedicated camera room aboard the boat.
Ambai has a sun deck, a shadow deck, and an air-conditioned lounge. Off time is really comfortable and enjoyable here, and the staff is always willing to help. Whether you want to enjoy a cocktail or a massage, it's all readily available.
There is always an experienced crew of 16 people on board. This includes knowledgeable dive guides and experts on the region. You will be sure to enjoy some of the best sites that Indonesia has to offer on this diving safari.
You can choose from 8 to 15-night cruises aboard this vessel. Not only will you be living in a comfortable and luxurious boat setting, but you will also be sure to experience the most wicked diving Komodo has on offer.
Check out the Sailing Dates, View Photos, Read Reviews & Check Availability
MV Ambai Liveaboard | Wallacea Dive Cruise
---
Mutiara Laut Liveaboard
https://www.liveaboard.com/diving/indonesia/mutiara-laut
This spectacular sailing boat offers 8-day excursions covering the entire Komodo area. While the Mutiara Laut offers liveaboard trips all around the best dive sites in Indonesia, this is one of the best options for a complete Komodo experience.
The luxurious boat is 42m long, offering 7 cabins for up to 14 people. These cabins are completely deluxe – with double beds, en-suite bathrooms, climate control, and lots of storage space. You really do feel like you are staying somewhere special here. The social areas onboard are fantastic, with a sun deck, lounge, indoor and outdoor dining areas.
There is also outstanding food on offer to make sure that your dive trip is as enjoyable as possible. Your liveaboard includes a full meal plan, snacks, the diving package, fishing, wakeboarding, toiletries and towels, a beach BBQ, kayaks, and more.
Komodo National Park diving trips are available year-round. The experienced crew will make sure that you visit all the best sites. There is nitrox available onboard, as well as plenty of help available from the experienced guides.
Whether you focus on the diving, the beautiful scenery, or the comfort of the boat, a liveaboard on Mutiara Laut will definitely be one of your most memorable vacations.
Check out the Sailing Dates, View Photos, Read Reviews & Check Availability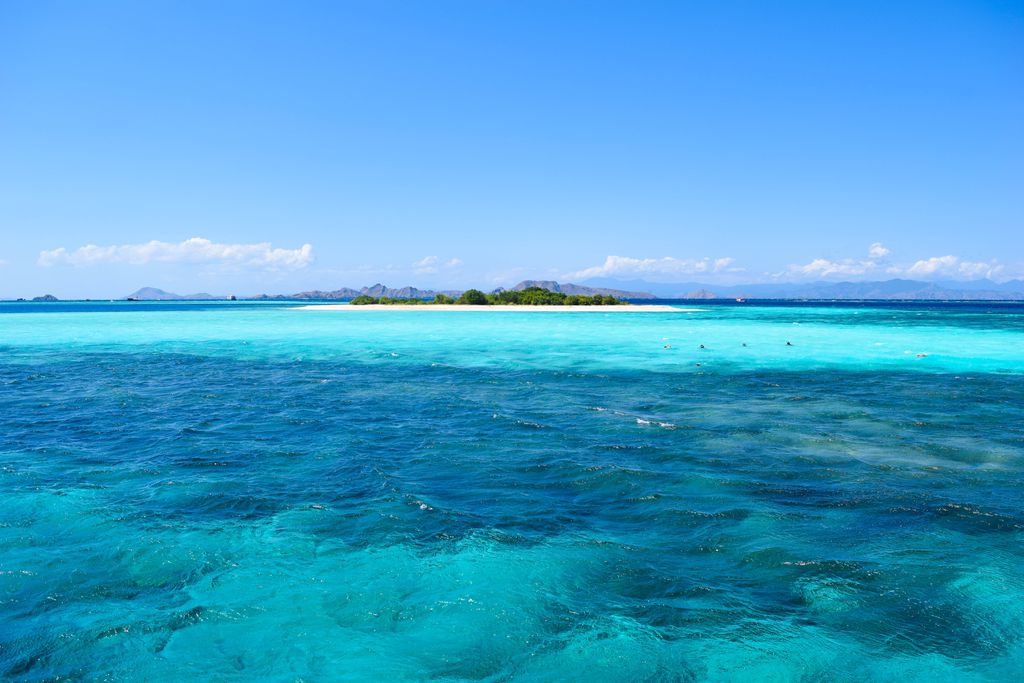 ---
Tanaka Liveaboard
https://www.liveaboard.com/diving/indonesia/tanaka
The Tanaka Phinsi is a beautiful boat for an authentic Indonesian experience. If you are after some serious scuba diving adventure, then their Komodo trips come highly recommended. There are a couple of different options that you can choose from in order to explore the best of the region.
You could focus on Komodo central, south, or north. On top of this, you can add extra destinations to your itinerary, including Padar and Gili Banta. These trips range from 3 to 10 nights. Whichever itinerary you choose, the experienced guides will be sure to help you reach the absolute best dive sites and underwater attractions.
Beyond diving, guests on the Tanaka liveaboard can enjoy paddleboarding, kayaking, land excursions, beach BBQs, guided snorkeling, and more. The full meal plan while onboard is included, so you really don't have to lift a finger.
This new 35m liveaboard has 5 cabins, and it can take up to 14 guests. Each room has an en-suite bathroom, air conditioning, and hotel level comforts.
Tanaka is a fun option for those wanting to see beautiful places. The crew is helpful and friendly, the ship is well equipped, and the itineraries are fantastic. You will be sure to see plenty of unforgettable marine life during this liveaboard voyage.
Check out the Sailing Dates, View Photos, Read Reviews & Check Availability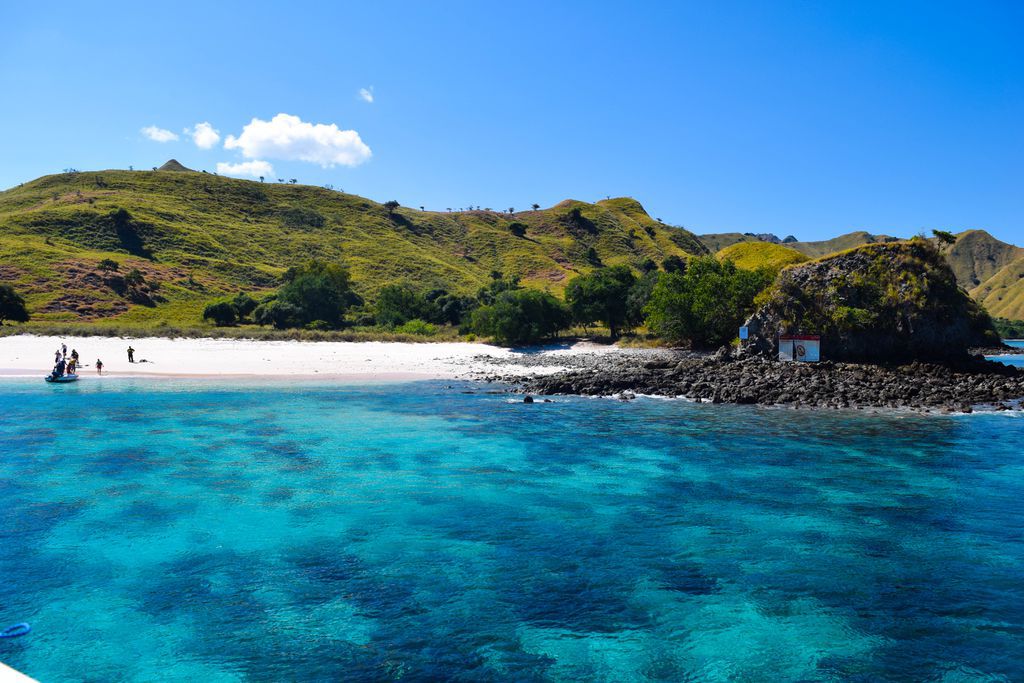 ---
Damia II Liveaboard
https://www.liveaboard.com/diving/indonesia/damai-ii
Want to experience the ultimate diving holiday? Then this is the liveaboard to do it on. The Damia II is all about luxury and supreme comforts. Every detail on this vessel, from the rooms to the food and service, hit the highest standards. This is a luxurious Komodo Island diving experience.
The liveaboard has a number of different routes and itineraries on offer. You can choose between 7 or 11-night trips for Komodo. On top of this, Damia II also offers plenty of other destinations to its itineraries. This includes Bali, Alor, Rajat Ampat, Triton Bay, and more. If you are after an amazing Bali liveaboard, then this would be a good choice.
Damia II offers immense comfort. The rooms include queen or king-sized beds, complete bathrooms, and many thoughtful touches. The relaxing communal areas are ideal for hanging out between dives. Massages are available onboard as well.
In terms of diving, this vessel offers a quality experience. There will never be more than 4 divers to 1 divemaster – ensuring the best underwater experience. Private dive guides are also available. There is a camera room with work stations, and nitrox available.
All aspects of this liveaboard are well thought out and executed in order to meet every divers need.
Check out the Sailing Dates, View Photos, Read Reviews & Check Availability
Damai luxury diving liveaboard
---
Indo Aggressor Liveaboard
https://www.liveaboard.com/diving/indonesia/indo-aggressor
The Indo Aggressor is a fun liveaboard option that specializes in the Komodo area. You can choose between a number of different itineraries, each focusing on different areas of Komodo and different lengths of time. This is a great choice of boats for those that really want to dedicate their dive trip entirely to the Komodo National Park.
The boat itself offers the perfect experience. There are 14 crew members, and room for 16 passengers. The cabins are comfortable and well maintained, with en-suite facilities and climate control. The boat has really enjoyable decks for relaxing during downtime. The food on offer is top quality, and there are always plenty of snacks and drinks going around.
The Indo Aggressor is a sailboat that offers a peaceful experience. You will pass some of Indonesia's most beautiful places, making this a one-of-a-kind trip. With some of the country's best diving available, an awesome setting, and attentive, helpful crewmembers, you really couldn't ask for much more.
Passengers on the Indo Aggressor can also rent scuba gear and access nitrox. All meals are included, as are alcoholic beverages, soft drinks, toiletries, towels, drinking water, dive guides, and wine with your meals.
Check out the Sailing Dates, View Photos, Read Reviews & Check Availability
---
Adelaar Liveaboard
https://www.liveaboard.com/diving/indonesia/adelaar
The Adelaar is a Dutch schooner with a real old-world charm. You feel like a pirate sailing along in this vessel, stopping at islands and diving in the crystal clear waters. This is a really fun experience for those wanting to really get a feel for sailing.
The Adelaar offers a number of different Komodo and Bali excursions. The trips are generally 10 nights long, and they offer an in-depth adventure of the Indonesian diving world. The experienced dive guide will take you to all the best sites, making sure that you see all the coral, fish and manta rays that you can dream of.
This classic vessel is luxurious and really well maintained. Guests can enjoy delicious meals, spacious cabins, comfortable beds, and quality bathrooms. There are also plenty of activities on offer besides diving. These include paddleboarding, kayaking, and land excursions.
The staff on board the Adelaar will make sure that you are always well taken care of. Every detail of this liveaboard is thought out properly to make sure that you can just dive, relax, and repeat!
Check out the Sailing Dates, View Photos, Read Reviews & Check Availability
Cruising and Diving Komodo National Park - Adelaar - Exclusive Liveaboard Indonesia #1
---
Moana Liveaboard
https://www.liveaboard.com/diving/indonesia/moana
The Moana may not be the largest liveaboard option, but this just adds to its charm. The vessel can fit 10 passengers in its comfortable rooms. This is a simple sailing boat that offers a truly Indonesian experience. The staff is friendly, the rooms are lovely, and the onboard service is top quality. Everything you need for a fantastic dive holiday can be found onboard Moana.
This liveaboard focuses on the Komodo region and all of its bio-diversity. The experienced dive guides know the area better than most, and they will take you to all of the absolute best spots. You will get to witness the full range of Komodo scuba sites on one of these trips.
Moana offers cruise packages suited to your requirements. Everything is taken care of during these trips, from the welcome cocktails to each meal, snack, and diving excursion. This gives you more time to enjoy the magnificent decks and facilities on board. If you really want to indulge in the beautiful surroundings, you can even sleep outside under the stars (blankets and bedding are provided).
The meals served on board the Moana are organic, fresh, and healthy. The atmosphere is relaxed, and the boat is fully equipped for all situations.
Check out the Sailing Dates, View Photos, Read Reviews & Check Availability
Moana Cruising | "Happy" | A Komodo Liveaboard in Indonesia
---
Manta Mae Liveaboard
https://www.liveaboard.com/diving/indonesia/manta-mae
Become one with the ocean on this awesome liveaboard. Manta Mae is a traditional Indonesian Phinsi. The 30m long sailboat offers a number of different dive itineraries all around the Indonesian waters. You can choose between a couple of different Komodo trips, as well as other destinations (Bali and Raja Ampat).
Between the many dives that you will do, there are plenty of activities to keep you busy. Guests can enjoy yoga, fishing, kayaking, massages, fishing, snorkeling, wakeboarding, water skiing, and more. All meals, toiletries, towels, and other necessities are taken care of.
Manta Mae is one of the most spacious and comfortable boats out there. The decks are perfect for all kinds of activities, while the rooms and cozy and clean. There are only 3 cabins on board, so this liveaboard focuses on a personalized experience. For small groups, families or couples, this would be a great choice for your Komodo diving trip.
Check out the Sailing Dates, View Photos, Read Reviews & Check Availability
Komodo aboard the Manta Mae, October 2017
---
Gaia Love Liveaboard
https://www.liveaboard.com/diving/indonesia/gaia-love
This is one of the most modern and luxurious liveaboards available in Indonesia. The Gaia Love is all about providing a premium dive experience. There are 4 decks and 11 spacious cabins on board this vessel. Everything is shiny, new, and clean, making you feel like you are staying in a top Indonesian resort.
This liveaboard is available all year round, offering voyages to the Komodo National Park, Raja Ampat, and Triton Bay. All of your dive needs are taken care of during these trips. The experienced guides will take you to all of the best locations. All you need to do is sit back and relax.
Relaxing is definitely not hard on this boat either. The rooms have flat-screen TVs, the social areas are fully equipped with all kinds of amenities, and the crew offers plenty of services. You could enjoy a massage, go fishing, take a dive course, go on a land excursion, kayaking, or more. Everything that you need for your holiday is available onboard this awesome boat.
The food is of the highest quality, the dive facilities are unbeatable, and the standard of accommodation is as good as it gets. A liveaboard trip on the Gaia Love really is any divers dream.
Check out the Sailing Dates, View Photos, Read Reviews & Check Availability
GAIA LOVE - liveaboard in Indonesia
---
Tiare Cruise Liveaboard
https://www.liveaboard.com/diving/indonesia/tiare-cruise
The Tiare liveaboard has a real charm. This is a pretty opulent boat, serving a grand experience. While the vessel is small and classic, you still get a uniquely modern experience.
The Tiara Cruise focuses mainly on Raja Ampat but it also offers plenty of quality Komodo trips. You can explore all areas of Komodo on these dive adventures, all guided by experienced locals. In terms of a dive holiday, it doesn't get much better than this. From the available gear to the guides and sites, you are ensured a terrific time.
Above the water, this boat is also extremely enjoyable. You will feel like a true VIP as the attentive crew makes sure that all comforts and luxuries are available. The restaurant is as good as it gets, the sunbeds are comfortable, and the social decks are inviting.
The liveaboard includes a beach BBQ, fishing, kayak use, land excursions, decent wifi, and all meals. You can also get massages, private dive guides, nitrox, and pretty much anything else to make your trip more comfortable.
Check out the Sailing Dates, View Photos, Read Reviews & Check Availability
Welcome To Tiaré Cruise! A Typical Day Cruising Indonesia
---
Planning A Trip to Indonesia & Southeast Asia?
I've spent a lot of time backpacking around this wonderful region of the world, and I've written a rather large amount to help you figure out your ideal upcoming vacation!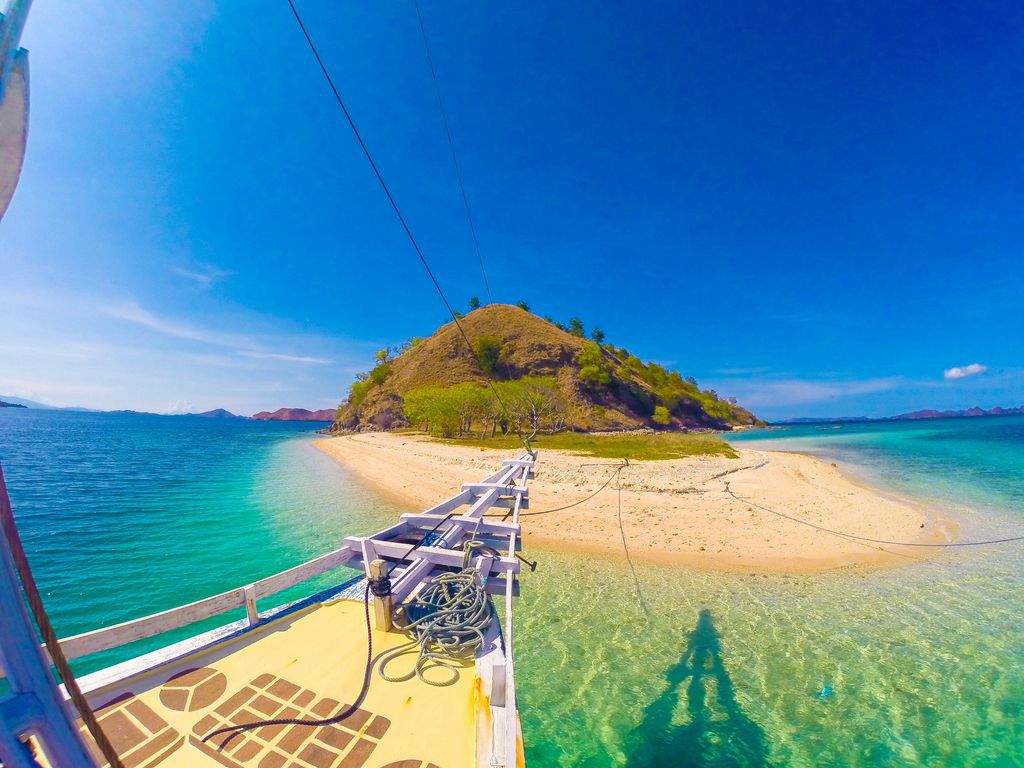 ---
Final Thoughts on Liveaboard Scuba Diving Trips
Komodo scuba diving is completely glorious. The sheer amount of fish and biodiversity found beneath these waters will be the highlight of any divers adventures. If you would like to really experience all that this area has to offer, then a liveaboard trip is the best way to go.
Without a liveaboard, you will only be able to do a quick stop in the area, then head back to your distant accommodation. These comfortable floating hotels allow you to become fully immersed in the Komodo National Park and underwater landscapes.
Beyond the fact that you get an unparalleled diving experience, these trips are also one of the best unique things to do in Indonesia. If you are serious about scuba diving and visiting amazing Komodo, then taking one of these fantastic liveaboard holidays is a must!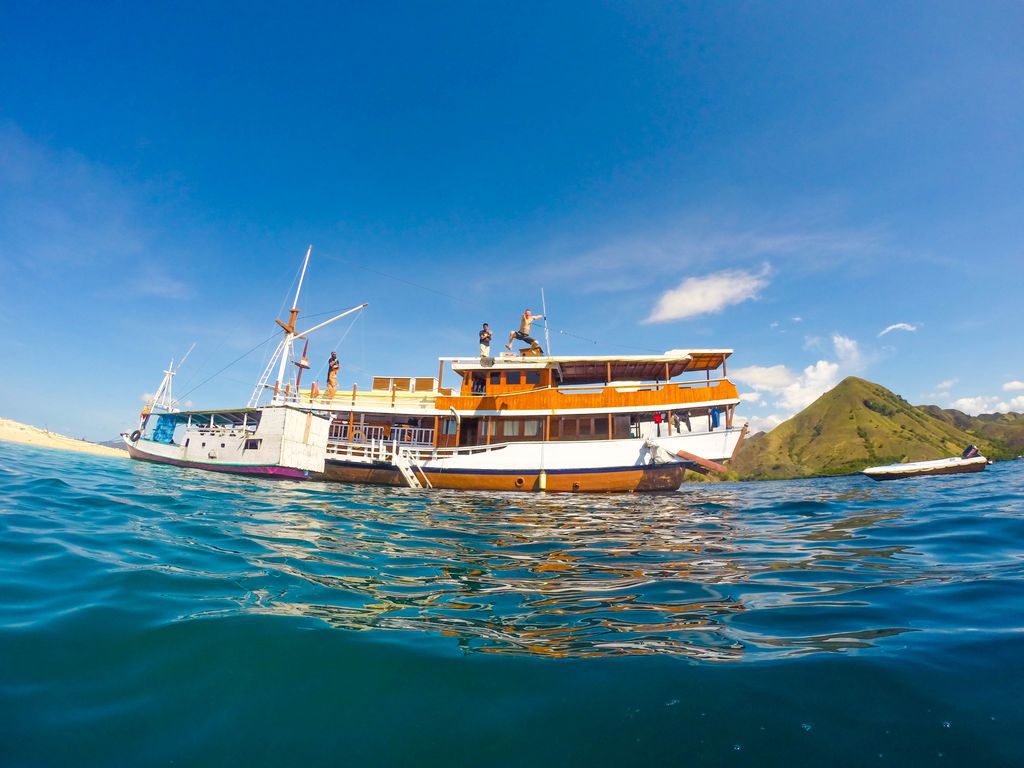 ---
Thanks for reading my Komodo Liveaboard Guide!
Share these Komodo Liveaboards with your Scuba Diving crew!
https://www.jonesaroundtheworld.com/wp-content/uploads/2020/03/Komodo-Liveaboard.jpg
768
1024
Dave
https://www.jonesaroundtheworld.com/wp-content/uploads/2017/03/logotry-1-1-300x106.png
Dave
2019-03-31 19:56:16
2020-03-31 20:35:20
Komodo Liveaboard: A Guide to This Indonesia Diving Paradise