Looking for the best earplugs for concerts and music festivals...? Well, you've come to the right place! I've spent a lot of time researching the best products online for ear proteection, and I know that all of these products are extremely well made, have amazing reviews, and will do the job needed.
There are products for all sorts of budget on this list, but the most important thing is that you just USE THEM!
I've been to so many different music festivals and events all over the world, and I'm honestly so bummed I didn't start using earplugs sooner! I've unfortunately dealth with a lot of earing issues the older I get, and I definitely blame my years of going to concerts without ear plugs.
So take it from me, and purchase one of these for your next event!!
The 10 Best Earplugs for Concerts & Festivals
---
"Eargasm High Fidelity Earplugs are a ready-fit means of hearing protection for any noisy environment. Our earplugs have the ability to reduce noise by up to 21 decibels and have a Noise Reduction Rating (NRR) of 16 dBs. However, unlike foam or earmuff protection that block out all sound, Eargasm Earplugs reduce noise levels proportionally while maintaining sound integrity. It is like having your own volume knob for life! You hear everything but at safe and enjoyable levels. At the heart of each ear plug is an attenuation filter. These filters reduce noise to safe levels while preserving clarity of speech and richness of music. Sounds are reproduced exactly as your ear would hear them but at a reasonable volume.
Eargasm High Fidelity Earplugs have a soft, clear silicone exterior so they nestle gently in your ear and become imperceptible to others. Additionally, each unit includes two pairs of differently sized earplug shells to allow the best fit possible. Figure out which shell fits your ear better, insert the included attenuation filters, and your earplugs are ready for immediate use! Eargasm Ear Plugs are ideal for concert goers, musicians, motorcycle riders, noise sensitive individuals, or anyone just looking to turn the volume down on the world around them! A compact aluminum case keeps your Eargasm Ear Plugs at your fingertips, wherever noise threatens your hearing."
Price: $34.88 (Read Reviews & Check Availability)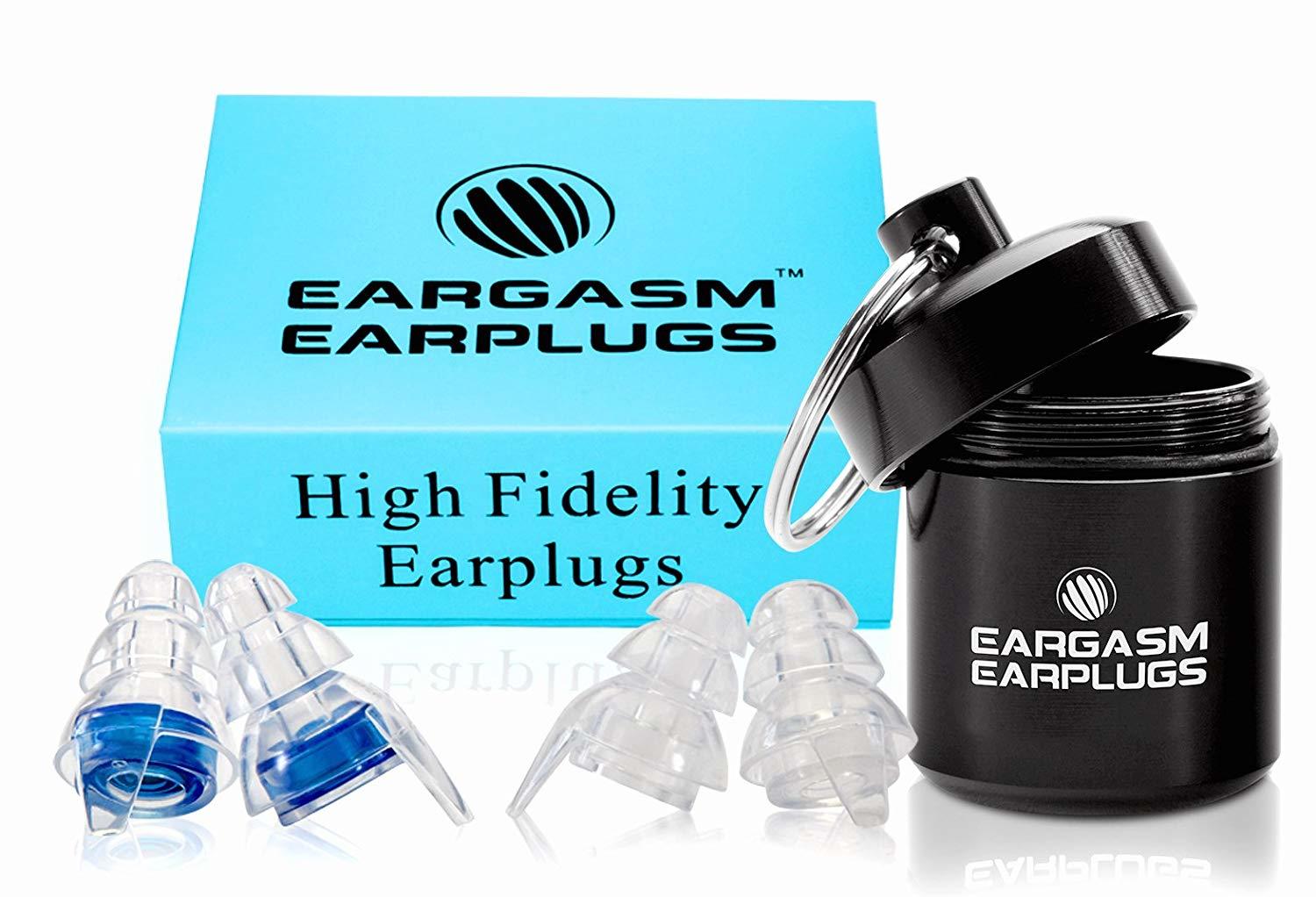 ---
2) EarPeace HD Concert Ear Plugs
OUR PROMISE IS SIMPLE – YOU WILL HEAR AND FEEL BETTER WHEN YOU WEAR EARPEACE
"We started EarPeace 10 years ago because we needed it. Too many mornings with ears ringing. We set out to craft a solution the most discerning guitarist, audiophile or clubber would love. We make hearing protection you'll actually want to wear. We're a small team of musicians, inventors, creatives and adventurers that love music and intend to keep dancing until the end. We want to make sure you can too. EarPeace will improve your loud, live music experience.
It's an entirely different event when you can hear clearly. Music is sharp and background distortion is gone. Lyrics are crisp and powerful. You can have a conversation with your friends. These earplugs are so comfortable you'll forget you are wearing them. EarPeace is also discreet. This is your secret party hack – in a killer case, clipped to your keychain so you are always ready. Never leave an event with ringing ears again. We promise you will hear and feel better with EarPeace."
Price: $34.88 (Read Reviews & Check Availability)

---
3) DownBeats Reusable High Fidelity Hearing Protection
"DownBeats aren't just ear plugs for concerts – they are sound filters, meaning you get the optimal conversation and music delivered to your ears at a safe level.
DownBeats ear protection ensures that the music hits your ears perfectly while unwanted noises are left out in the crowd. The rugged aluminum case also makes sure that your ears are protected anywhere you go. Whether you're playing onstage, riding a motorcycle, or just dancing in the crowd, have fun longer with DownBeats.
Reduces sound moderately and evenly for a better concert experience. Speech, high notes, and music comes through crisp and clear.

Clear earplugs have low in-ear profile for subtle use. Try our Long Stem version for larger fit.

Durable aluminum case with clip attaches easily to keys, belts, or bags.

Great for use at concerts, music festivals, nightclubs, and other loud live events like airshows"
Price: $13.96 (Read Reviews & Check Availability)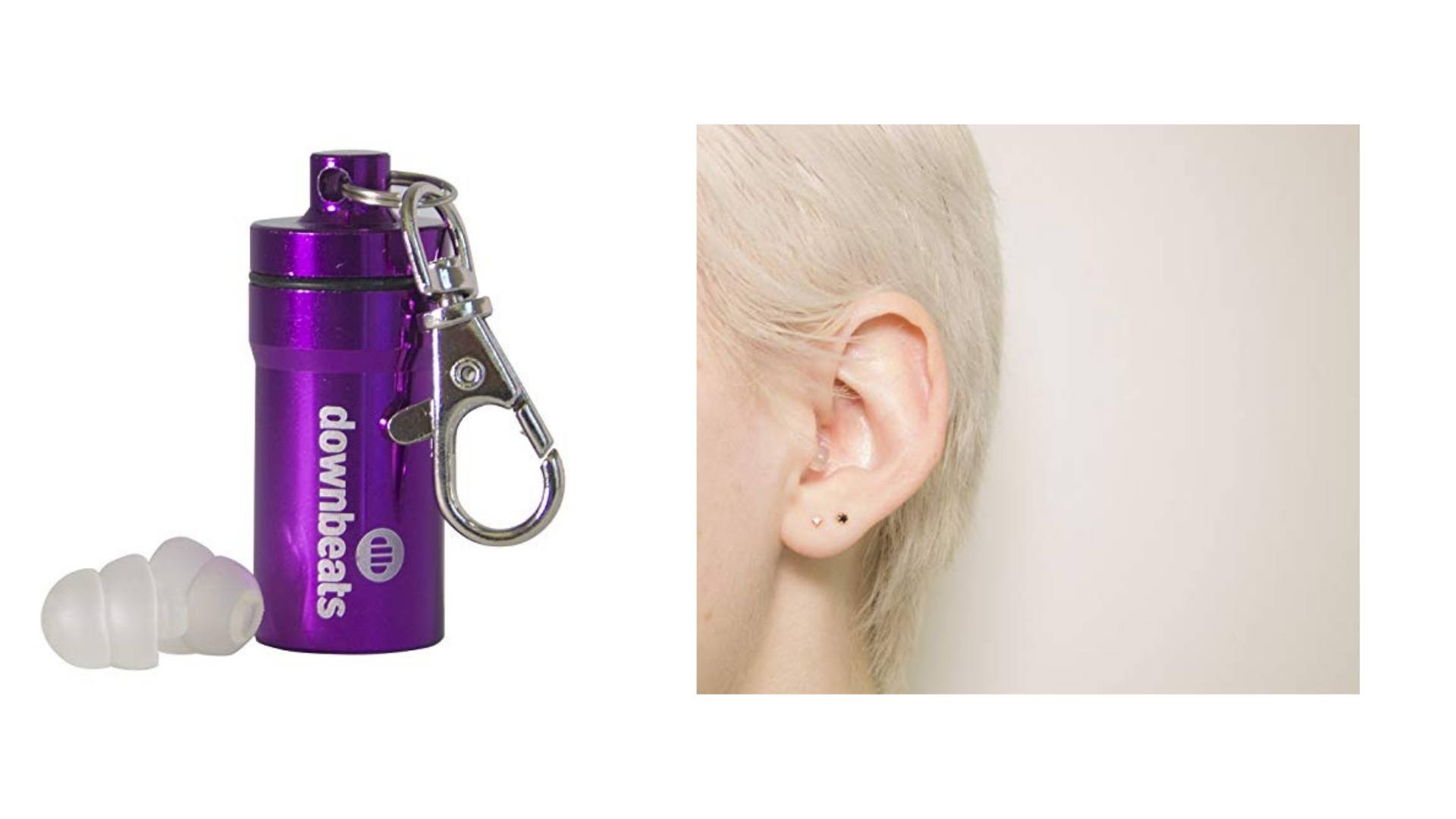 ---
4) HEAROS Noise Cancelling Disposable Foam Earplugs
"HEAROS Xtreme Protection Series Foam Ear Plugs are proudly Made in a proprietary formulation of polyurethane foam. The earplugs have been tested and certified to provide the highest Noise Reduction Rating of 32 decibels. HEAROS foam ear plugs can be used for all noise reduction and hearing protection purposes.
Since 1998, the HEAROS Xtreme Protection Series has been a trusted protector in hearing protection and noise reduction. HEAROS has sold more than 400 million pairs of earplugs since its introduction as has been enjoyed by users of all ages for a variety of needs."
Price: $6.09 (Read Reviews & Check Availability)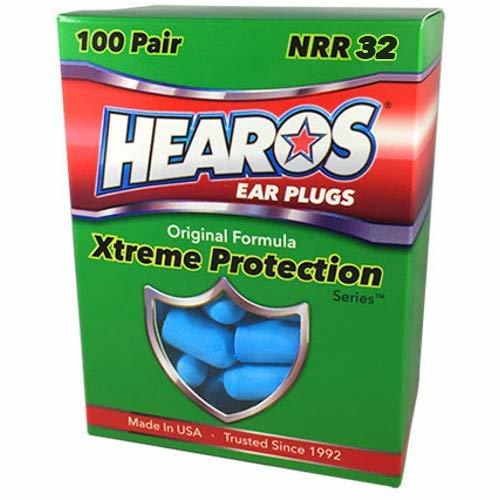 ---
5)
The Ear Buddy Premium Soft Foam Ear Plugs
"The Secret To Protecting Your Hearing And/Or Getting A Good Night's Sleep!
The Absolute Best Foam Ear Plugs You Can Get Today!
Super Soft and Amazingly Comfortable
Highest-Quality Polyurethane Foam w/ Very Slow Rebound Time For Easy and Comfortable Fit Every Time!
Highest Noise Reduction Rating of 32 Decibels!
Won't Fall Out of Your Ears!
Price: $16.97 (Read Reviews & Check Availability)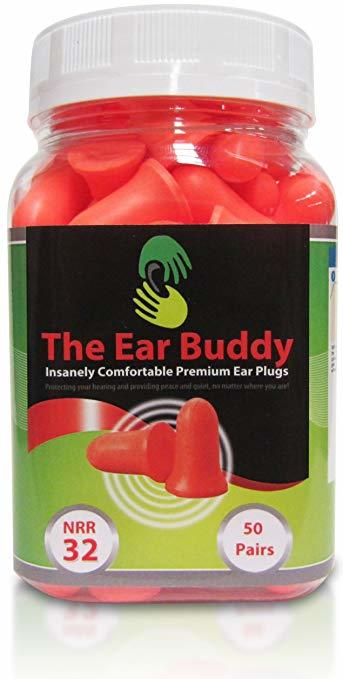 ---
For Live Music Concert Events and Musicians- Helps Prevent Tinnitus Hearing Damage
"Lower Sound Volume Without Lowering The Experience. High Fidelity Experience:
Music festival, sporting event, or all-night-rave, Vibes are the perfect companion to protect your ears all without sacrificing on sound quality! These noise-reducing earphones not only lower damaging decibel levels by up to 22 decibels, but also significantly increase sound clarity to make any musical experience memorably immersive. Unlike foam ear plugs, they never muffle sound, allowing you to carry on a conversation or listen to music without any hitch. Enjoy clean, clear, and controlled sound every single time, and experience the high fidelity side of music you'll undoubtedly fall in love with."
Price: $23.98 (Read Reviews & Check Availability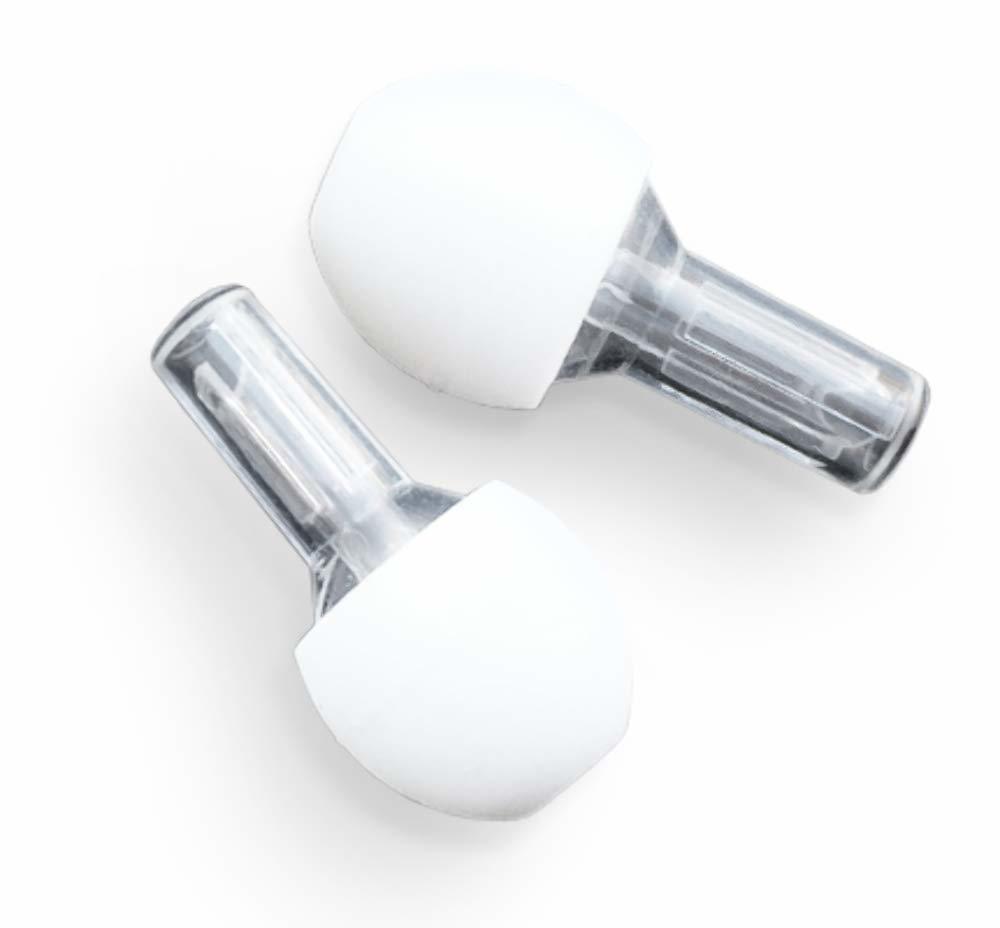 ---
"Decibullz Custom Molded Earplugs are easily and quickly fitted to the exact shape of your ear. This creates a perfect fitting earplug that will never hurt, never fall out and provide superior noise isolation. Simply heat the Decibullz thermoplastic molds in boiling water, let them cool for a bit, and shape them to your ears. That's it, and If you don't get the perfect fit the first time Decibullz are the only custom earplugs that are re-moldable. Decibullz are perfect for shooting, traveling, working, loud concerts, and safety.
Price: $23.98 (Read Reviews & Check Availability

---
8) Earasers Musicians Plugs Medium with Waterproof Stash Can Case
"Earasers don't plug up your ears like conventional earplugs, but instead attenuate your surroundings in a very musical and incredibly transparent way. Earasers are also the world's ear plug to sport a flat frequency response (+/- 4.5db; 125Hz-8KHZ), and they are extremely comfortable for long periods of time!
Price: $39.99 (Read Reviews & Check Availability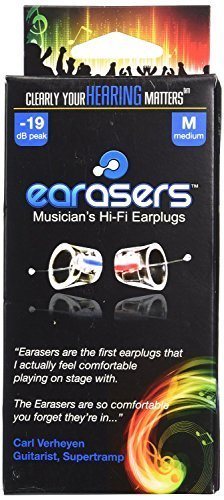 ---
9) Etymotic High-Fidelity Earplugs
"Hearing loss from loud sound affects millions of people, but noise-induced hearing loss is preventable! ER20XS high-fidelity earplugs reduce sound levels while preserving sound quality and clarity. ER20XS earplugs are configured to replicate the natural response of the ear, so sound quality is the same as the original, only quieter. Music, voices and other sounds are clear--not muffled--making ER20XS ideal for concerts, clubs, theaters, aircraft, construction, yard work, airshows, parades, and athletic or motorsports events. The new low-profile, stem-less design fits snugly in the outer ear without protruding, making ER20XS comfortable to wear under hats, helmets, and other headgear. The standard-size eartips fit the majority of ears. ER20XS earplugs are reusable, but with repeated use, the eartips may lose elasticity. For best performance and retention, if you use your ER20XS earplugs frequently, replace the eartips every 3-6 months. ER20XS are not recommended for use with impulse noises such as gunfire, or for sleeping.
Price: $39.99 (Read Reviews & Check Availability)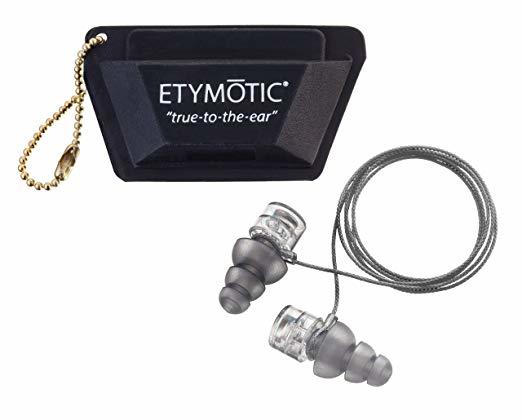 ---
10)
Alpine MusicSafe Pro Hearing Protection System
"Musicians and DJs face significant risk of hearing damage due to working in environments with loud music. Good hearing is essential, and properly protecting your hearing during rehearsals, performances and concerts is critical. Alpine's Music Safe Pro hearing protection system has been specifically developed for musicians. The most luxurious and extensive edition of the Alpine music range, Music Safe Pro has three sets of exchangeable filters, allowing you to determine your own protection."
Price: $39.99 (Read Reviews & Check Availability)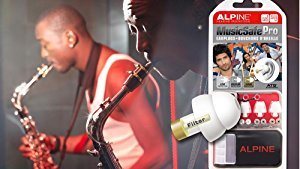 ---
Am I Missing any Incredible Ear Plugs for Concerts…?
From all my research, these are all the best brands for earplugs for your upcoming concerts, festivals, and for all of you musicians & DJs. Take it from me, ear protection is absolutely crucial, and I only wish I was a bit smarter during my younger years as a party attendee.
---
Interested in Music Festivals around the world…?
The 25 Best Music Festivals in ASIA
Top 16 Music Festivals in Portugal to Experience Before You Die
The 22 Best Music Festivals in Barcelona To Add to your Bucket List
The 15 Best Music Festivals in Iceland To Experience Before You Die
44 Festival Accessories, Gear, and Must Haves | Festival Packing List
The Ultimate Music Festival Camping Packing List
The 18 Best Music Festivals in Scotland To Experience Before You Die
Top 21 Music Festivals in Berlin To Add to Your Bucket List
The 7 Best Music Festival Hydration Packs & Camelbaks
Top 20 Music Festivals in Canada to Experience Before You Die
37 California Music Festivals That'll Keep You Dancing All Year Long
Top 20 San Diego Music Festivals | The Ultimate SD Festival Bucket List
The Best 25 Music Festivals in Texas To Experience Before You Die
The Top 25 Music Festivals in ARIZONA To Experience Before You Die
The Best 25 Music Festivals in FLORIDA To Experience Before You Die
37 California Music Festivals That'll Keep You Dancing All Year Long
The 13 Best Music Festivals in New York to Experience Before You Die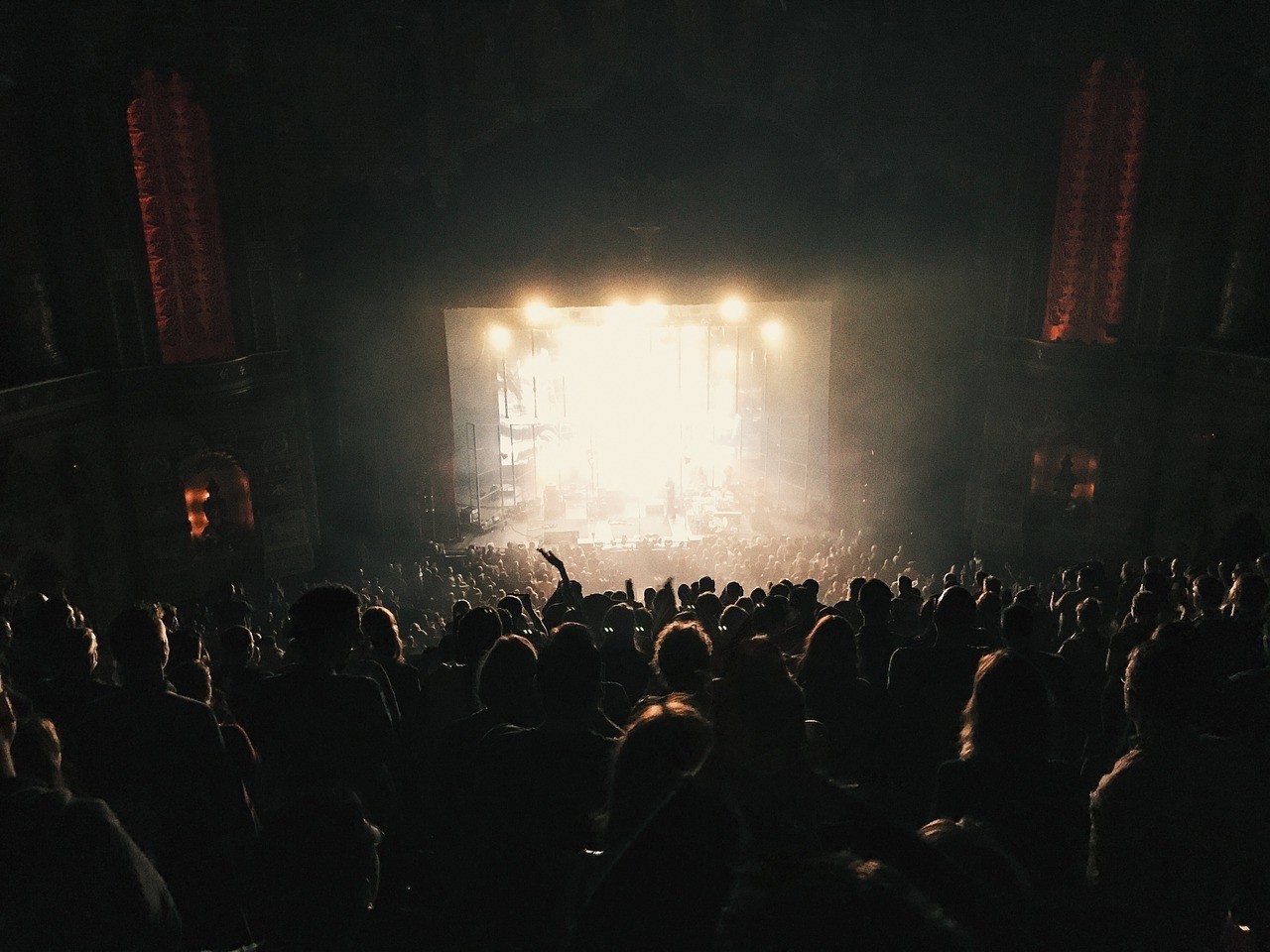 ---
Thanks so much for reading about these Concert Earlpugs!!
Share this article with your concert squad!
https://www.jonesaroundtheworld.com/wp-content/uploads/2019/05/Best-Earplugs-for-Concerts.jpg
853
1280
Dave
https://www.jonesaroundtheworld.com/wp-content/uploads/2017/03/logotry-1-1-300x106.png
Dave
2019-05-01 11:22:16
2019-05-01 11:22:16
The 7 Best Ear Plugs for Concerts, Festivals, and Musicians