Planning an upcoming African adventure and searching for some amazing Airbnbs in Morocco? Well, you've come to the right place, as I've put together the ultimate Airbnb Morocco guide filled with unique riads, luxury villas, charming studio apartments, and so much more!
A land of colorful tiles, Roman ruins, the sweetest dates you could ever taste, golden sand dunes, history, and carpets (lots of carpets) – MOROCCO!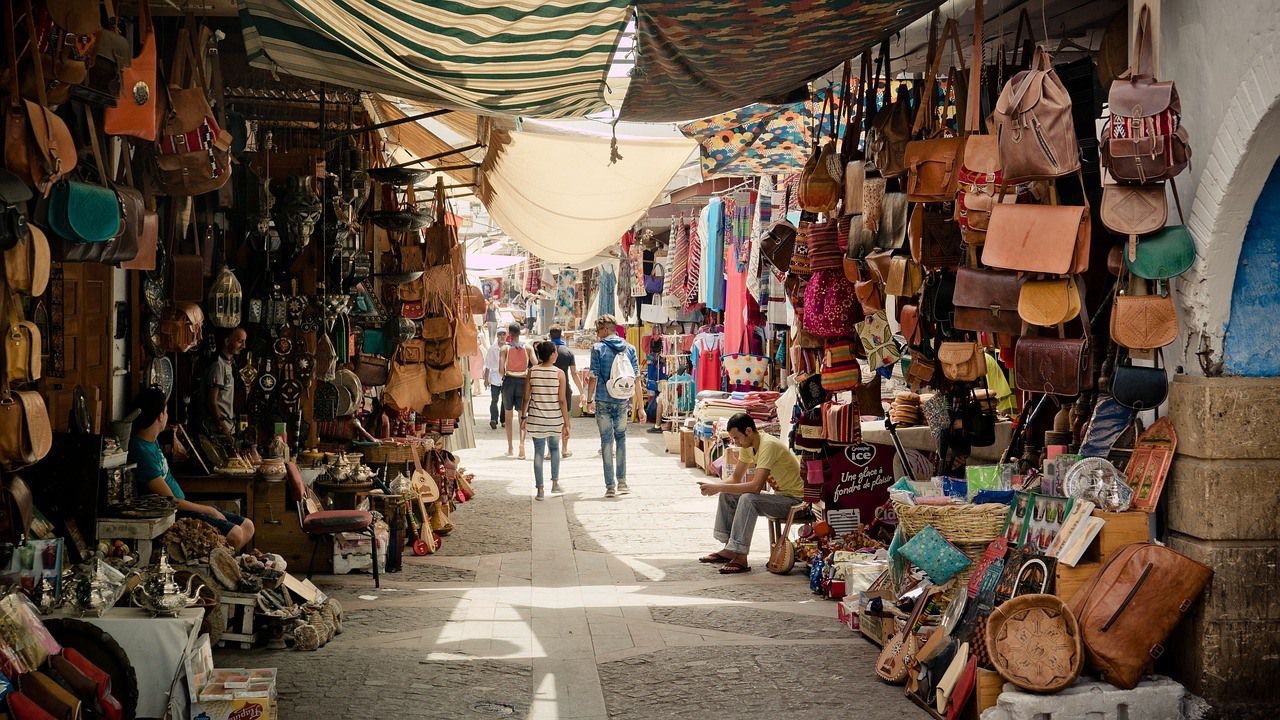 ---
Morocco, a North African country bordering the Atlantic Ocean and the Mediterranean Sea, is distinguished by its Berber, Arabian and European cultural influences. Over the years, even with the rapid modernization, Morocco retains much of its ancient architecture and even more of its traditional customs. Morocco is home to 9 World Heritage Sites, so you can be sure your itinerary will be jam-packed when you visit. The word that best describes Morocco would be "authentic". More than the sites that you can see when you come to Morocco, you will understand the history and culture of the country.
I tell you, when you come to Morocco, it will be an incredible and most rewarding experience you can have. Don't worry, aside from the 18 Airbnbs that I have listed, I will also give you experiences you can try when you visit!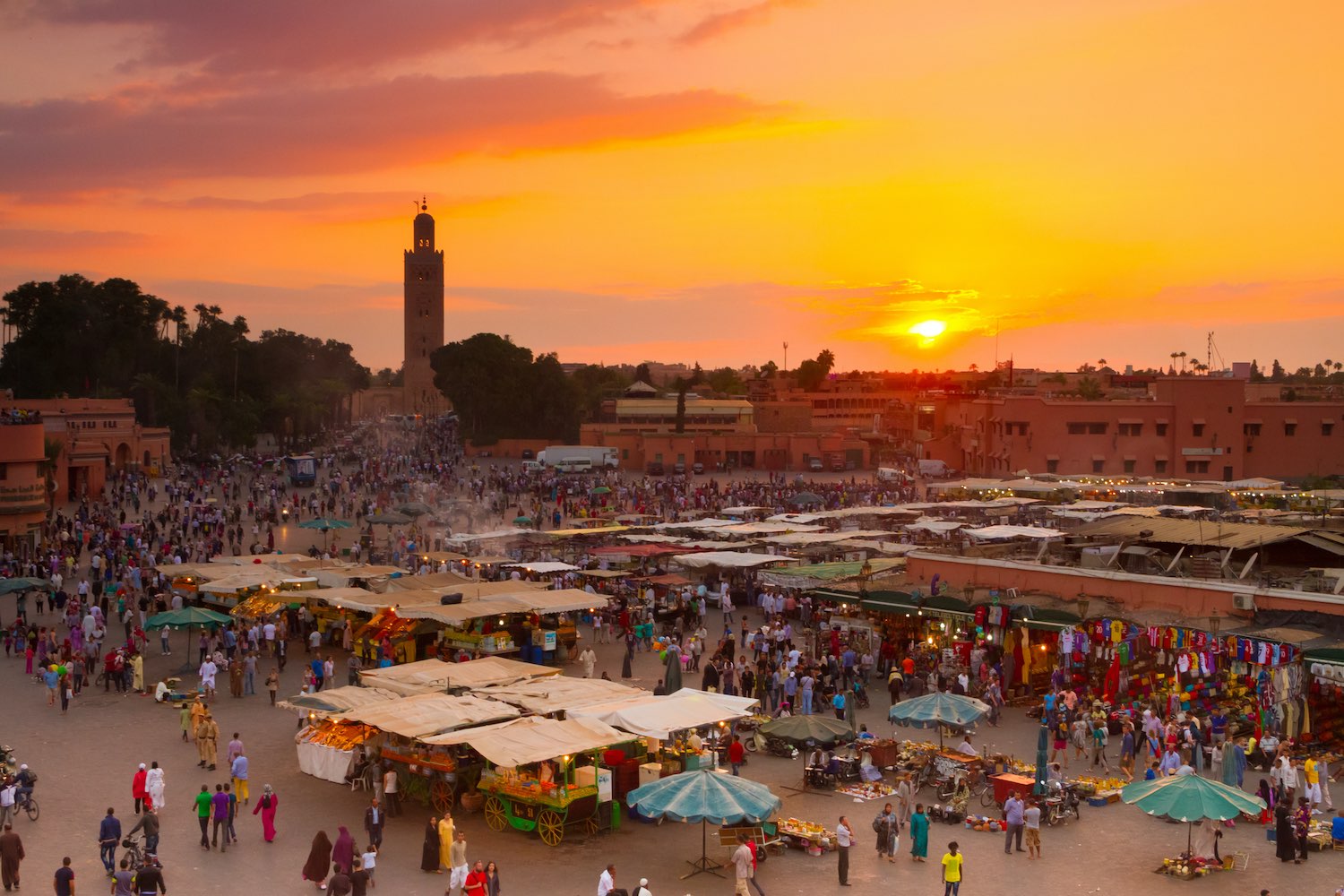 ---
Airbnb Morocco: The Best Morocco Airbnb Rentals
Now that you booked your plane tickets going to Morocco, you need to look for your accommodation. There is quite a variety of choices you can find in Airbnb, from budget to luxury, and I have it ready for you! Here is an 18 list of my recommended Airbnb you can book! But, before all that, I have highlighted my top 5 best Airbnb you can find in Morocco. Check it out:
I've also included tons of fun and helpful videos about traveling in Morocco, so be sure to watch a few of them throughout reading the article to give you ideas on where to visit, things to do, and lots more recommendations! Also, check out my article on "The Top 10 Music Festivals in Africa" and the "12 Safest Countries in Africa To Visit in 2020" for more trip-planning inspiration!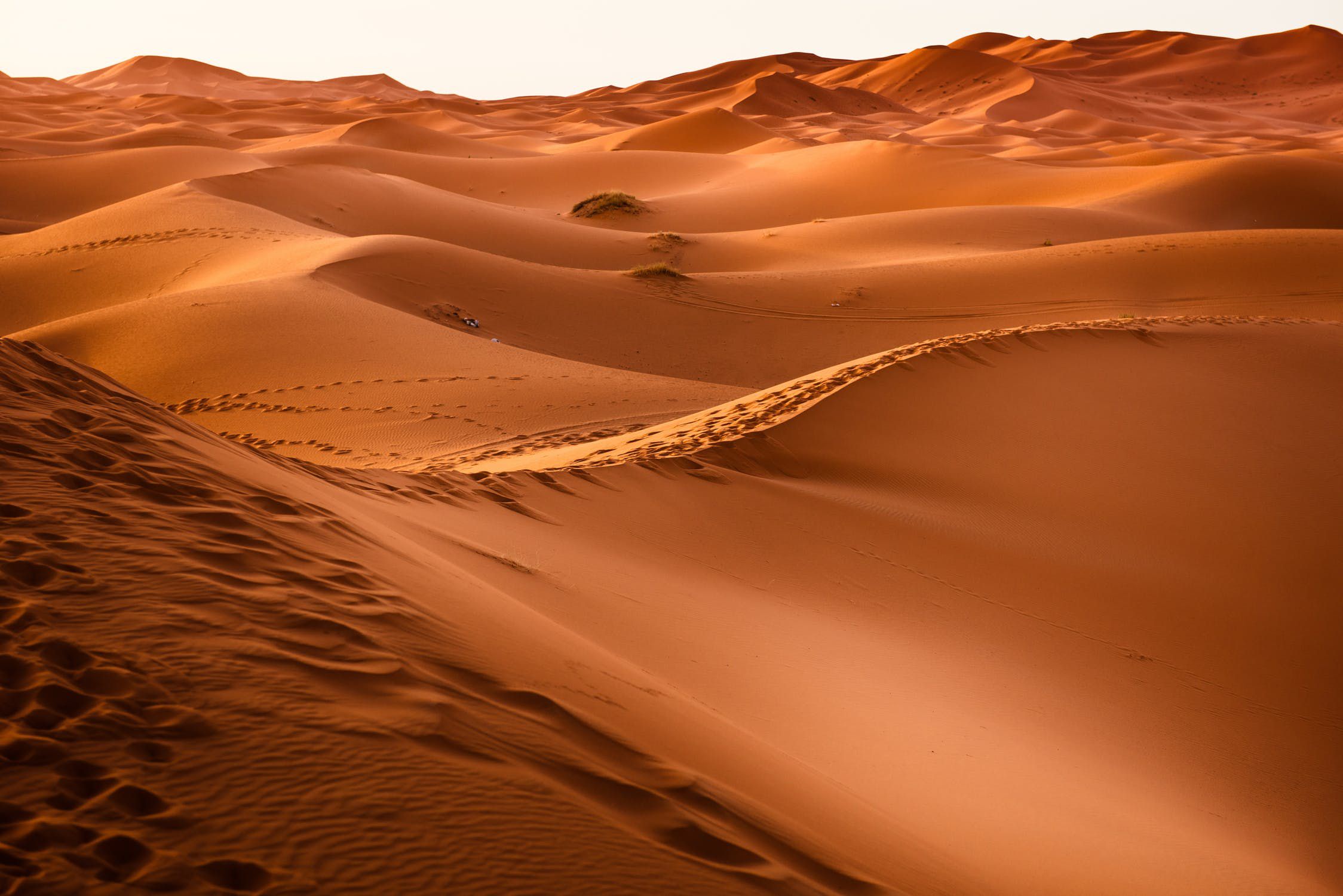 ---
1) Oasis of serenity in Marrakech
Location: Marrakech, Morocco
Airbnb Plus: Yes
Superhost: Yes
https://www.airbnb.com/rooms/plus/4160599
Price: $468+ per night
Feel utterly spoilt like a king/queen with the personal attention in Villa Saada, my "Best Overall Airbnb Morocco Rental". This stunning villa aims to ensure guests experience the traditional Moroccan living with modern comfort. The riad offers four bedrooms with a private bathroom with shower, lounge area with TV, dining with an indoor fireplace, and a family room. Guests can enjoy the other amenities of the house: a pool, outdoor lounge area will bbq grill, a Mexican garden, outdoor dining area. Everything is provided for, just enjoy and relax! It's located just outside the city of Marrakech, far from the city noise but close enough to go to whenever. There are several golf courses near the home, as well as a shopping center and the Royal Equestrian Club. It's an absolute gem of an Airbnb Marrakech vacation rental, and it'll be a guaranteed highlight of your trip!
Guest review: "Felt at home very relaxed , loved the architecture, Moroccan style home. Very accommodating, good location, good food." – Ron
View Photos, Read Reviews & Check Availability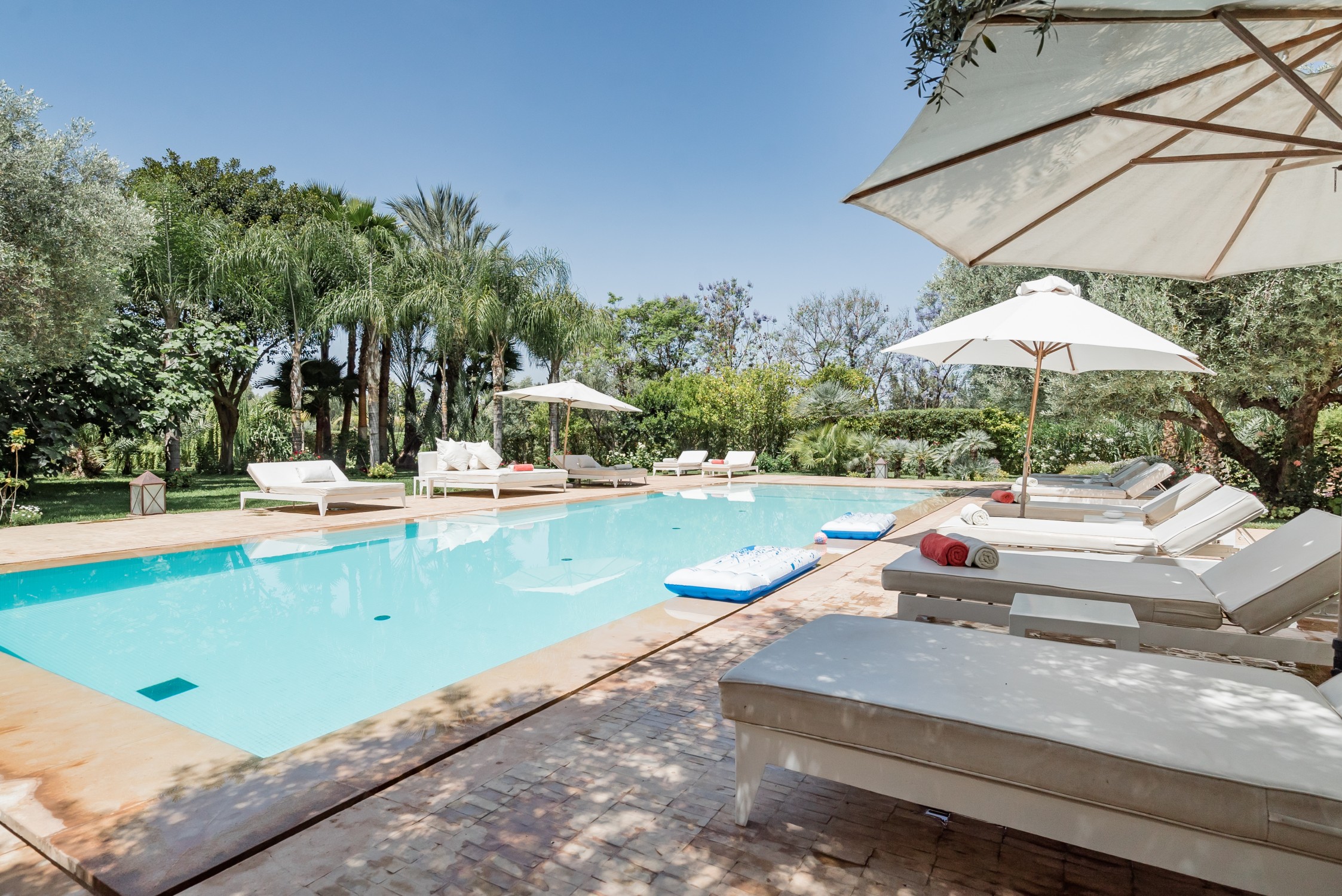 ---
2) Beautiful Riad with a Heated Plunge Pool in the Medina
Location: Marrakech, Morocco
Airbnb Plus: Yes
Superhost: Yes
https://www.airbnb.com/rooms/plus/8768375
Price: $290+ per night
Located in the heart of the medina, this beautiful riad is only a few minutes walk from the Jemaa el-Fnaa square and 100m from the Terrasse Des Epices and Le Jardin Secret. This is "The Best Luxury Airbnb in Morocco", in my opinion. This luxury riad offers a heated private pool and a rooftop terrace with sun loungers. Breakfast can be enjoyed on the patio or in the dining room, wherever you feel like eating. Tours and transfers can be arranged in this accommodation. The hosts are exceptional and very accommodating. The riad is close to city's main attractions, restaurants, and entrance to the souk.
Guest review: "We loved staying here: the riad was absolutely beautiful and clean. Pros: location (center of Médina), cleanliness, decor, option for lunch and dinner at home. Cons: pool would not heat, strangers ringing the doorbell in the middle of the night, breakfast (although good and fresh) was the same each morning and by the fourth morning we could not bare to eat it anymore, and one bathroom had a foul odor coming from it." – Kimberly
View Photos, Read Reviews & Check Availability
---
3) Riad LakLak—17th-Century Property With Massive Roof Terrace
Location: Marrakech, Morocco
Airbnb Plus: Yes
Superhost: Yes
https://www.airbnb.com/rooms/plus/593827
Price: $279+ per night
My pick for "The Best Airbnb for Groups" in Morocco: Laklak riad with bold interiors, 7 simple elegant designed bedrooms, a large roof terrace, and a peaceful vibe that feels far removed from city life. This 17th century property is centrally located in the Medina (the old town of Marrakesh) between the famous ancient palaces of "Palais Bahia" and "Palais Badii". It can comfortably house a large group of guests and you can even hold parties!
Relax at the recreation area in the old cave, sunbathe roof terrace with mountain and pergola view, or read your favorite book on the large traditional Moroccan patio. Breakfast is served, tours and transport can be arranged, clean and beautiful, and accommodating staff overall.
Guest review: "What can I say, Riad Laklak 100% delivered! Celebrated a milestone bday with 9 of my closest friends from all over the world. Everyone was very comfortable and each morning we devoured the most amazing breakfast prepared by Soumira :) Any request was immediately handled. And we had many, so a HUGE thank you to the Riad staff! I would highly recommend this property, especially if you're a big group." – Seung
View Photos, Read Reviews & Check Availability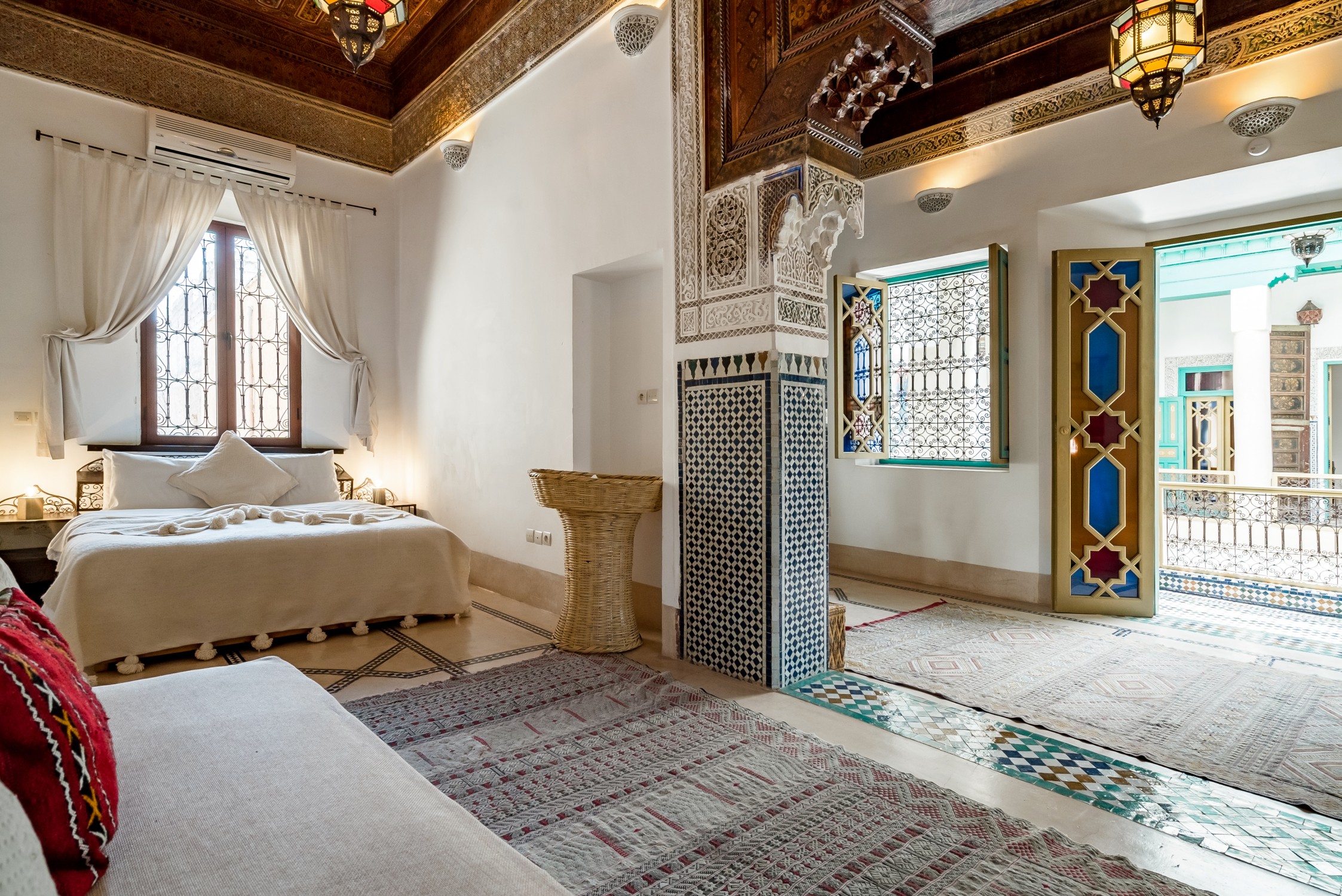 ---
4) Charming & Chic Studio With a Nice View
Location: Maarif, Morocco
Airbnb Plus: Yes
Superhost: Yes
https://www.airbnb.com/rooms/plus/15915570
Price: $42+ per night
Accommodations in Morocco are affordable but of good value. My top pick for the "The Best Cheap Airbnb" is this charming and chic 1-bedroom studio. The 50m² studio has a modern-industrial interior with colorful accents that reflects the Moroccan vibe with a full kitchen, cozy living area, and comfortable bed. It also features a walk-in shower and bathroom that comes with free toiletries. Offering stunning views of Anfa hills and ocean views, the studio is located near the main roads of the city, the boulevard Anfa, Massira, the district Maarif. An array of activities can be enjoyed in the surroundings, including shopping and the nightlife. Restaurants, cafes and coffee shops, and bakeries are also very accessible to this property.
Guest review: "Jalil was a great host! He was very accommodating and communicative. The apartment is well situated in Casablanca. It was easy to get taxis and a bakery and pharmacy are downstairs. Plus, the apartment has a panoramic sunset view. Would love to go back!" – Mallory
View Photos, Read Reviews & Check Availability
10 Best Places to Visit in Morocco - Travel Video
---
5) The Cozy Palace
Location: Marrakech, Morocco
Airbnb Plus: No
Superhost: Yes
https://www.airbnb.com/rooms/341978
Price: $83+ per night
Set in a privileged location, "The Cozy Palace" is just 300 meters away from the square. My pick for "The Best Unique Airbnb". The moment you walk through the curved doors, you will feel like you are in a royal palace, with a common terrace where you can enjoy the sun or simply relax and meditate in the coolness of the courtyard under the banana trees. Fully equipped rooms that have a big four-poster bed with traditional Moroccan accents, and spacious bathroom with tub. The riad also offers restaurant services where you can choose from different traditional dishes, and you can book your day trips or excursions directly at the riad. Experience an unforgettable holiday in Morocco, stay in this Airbnb!
Guest review: "We thoroughly enjoyed our stay at Reb's Riad. The location is pretty ideal off a side alley about 100 meters off of the hustle of the medina and 300 meters from the main square. The apartment within the riad was quite beautiful with tile inlays other fine work but the highlight was the roof terrace where we were able to drink a bit of mint tea and relax between trips to the chaos of the medina. Definitely an AirBnB gem and highly recommended." – Will
View Photos, Read Reviews & Check Availability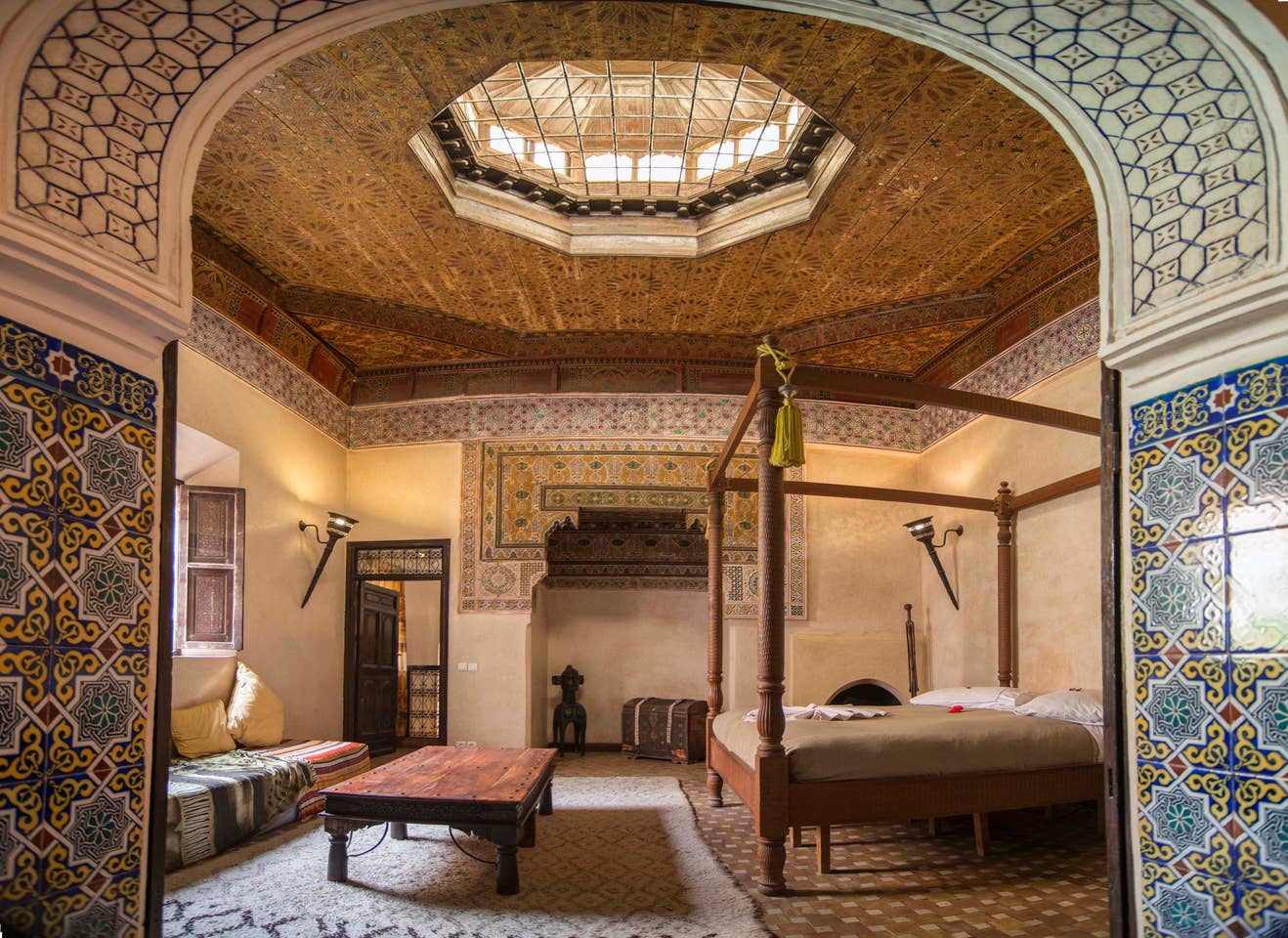 ---
6) Un Petit Riad Pour Un Grand Relax
Location: Marrakech, Morocco
Airbnb Plus: No
Superhost: Yes
https://www.airbnb.com/rooms/4750045
Price: $61+ per night
Set in a quiet neighborhood, this beautiful riad offers a rooftop terrace overlooking the medina of Marrakech. Each room is elegantly decorated with Moroccan design and comfortable furniture. This private room that can accommodate couples or solo travelers at the riad is equipped with a cozy bed and a luxurious bathroom. It overlooks the large indoor patio with a fountain surrounded with plants. A breakfast is also served every morning during the course of your stay! Un Petit Riad is just a few minutes away from the museum and the Ben Yousef Medersa.
Guest review: "Hassan went out of his way to make us feel comfortable on our first day of our trip to Morocco. He was extremely responsive to messages and ensured that everything we needed was taken care of. Each morning we were greeted with a full breakfast. The space itself is centrally located in the old medina, it is clean, and is part of the authentic Morocco experience. Highly recommend the space and Hassan!!" – Kyle
View Photos, Read Reviews & Check Availability
Morocco Street Food - MARRAKESH'S BEST STREET FOOD GUIDE! CRAZY Halal Food tour in Morocco!!
---
7) Riad LA MAISON Marrakesh Airbnb
Location: Marrakech, Marrakesh-Tensift-El Haouz, Morocco
Airbnb Plus: No
Superhost: Yes
https://www.airbnb.com/rooms/411375
Price: $193+ per night
Located in Marrakesh, Marrakesh-Tensift-El Haouz is this riad La Maison that offers a patio, dip-in indoor swimming pool and living room. Rooms at La Maison feature a private bathroom with tub and shower, free Wi-Fi access and hairdryer. With a fusion of modern-industrial interior and traditional Moroccan decor, this property is one the many beautiful places to stay in Morocco. Guests can have their breakfast served anytime between 8 AM to 1 PM, and if there is anything that they need they can just request it from the caretaker. Transportation can also be arranged to experience and and explore the colorful markets of the city.
Guest review: "Very accommodating and had small special touches. We stayed over New Years and at night the caretaker came and lit all the candles and surprised us with a chocolate cake from the best bakery in Marrakech. Very thoughtful and so kind." – Katrina
View Photos, Read Reviews & Check Availability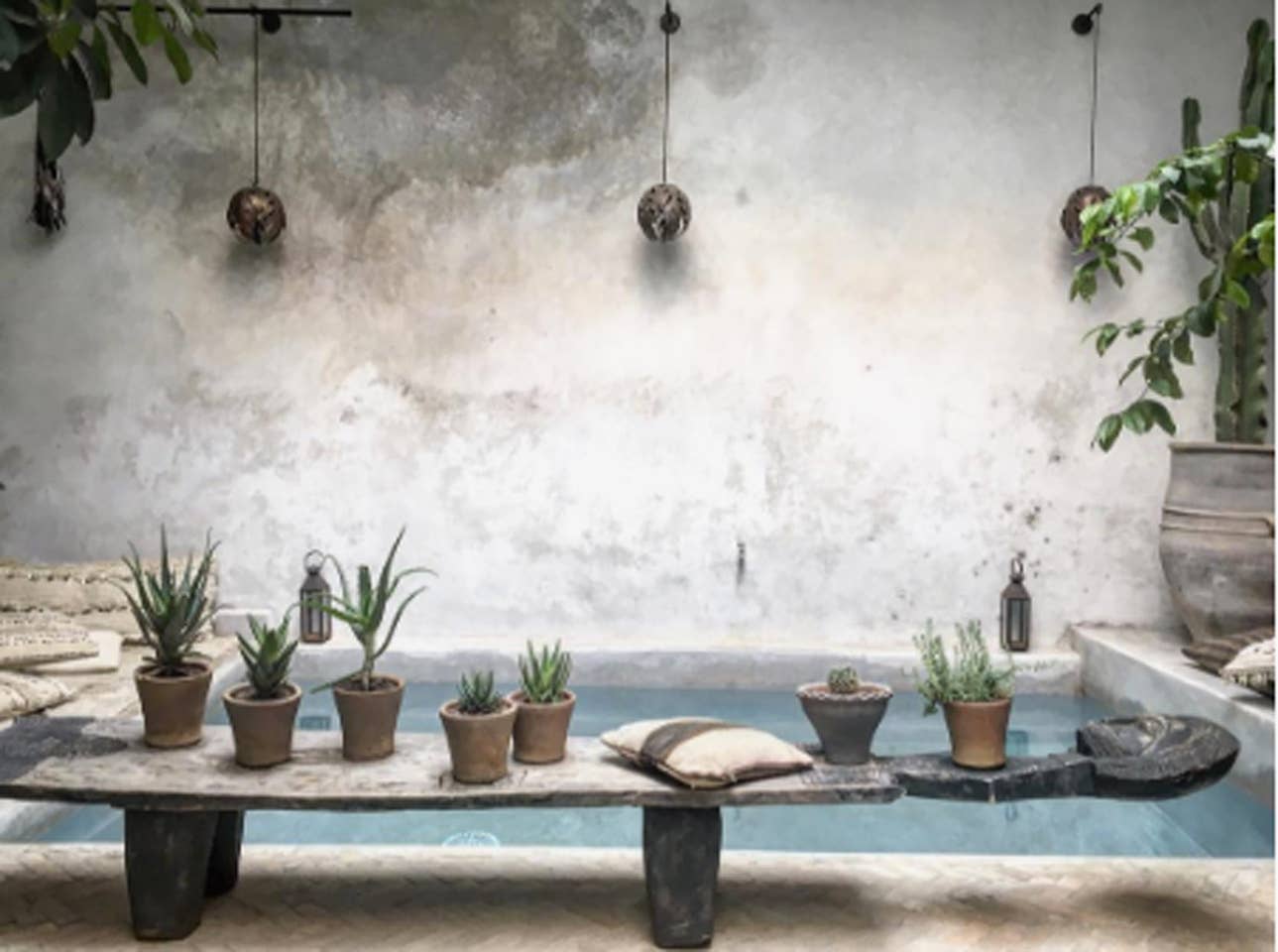 ---
8) PRIVATIZED RENTAL! A 1 TO 3 BEDR. RIAD
Location: Marrakech, Morocco
Airbnb Plus: No
Superhost: Yes
https://www.airbnb.com/rooms/493845
Price: $94+ per night
Set in a quiet and safe area called Dar el Bacha, Dar Ahwach offers Moroccan style accommodation in a private riad where every piece of furniture is specially selected to create a chic and romantic ambiance. There are 3 suites that open out into the balcony with the view of the pool and patio on the ground floor. The rooms feature a comfortable and cozy bed and private bathroom, telephone and safety box. Guests can also freely use the fully equipped kitchen, watch television and chill by the fireplace in the living room. Breakfast and housekeeping assistance are included, baby-sitting and transportation services could also be requested.
Guest review: "An incredibly beautiful home! Our awe did not diminish the entire time we were there. Each room is decorated beautifully and there's many places to cozy up and enjoy tea, the sun on the roof, or just the inside of this beautiful home. There's a lockbox in the bedroom which made us feel extra comfortable with our passports. The home was made perfectly clean and was a great location for everywhere we wanted to get to in the city. Overall would certainly recommend this place to anyone thinking of visiting Marrakech!" – Beth
View Photos, Read Reviews & Check Availability
Lost in Morocco | Mimi Ikonn Vlog
---
9) Casa Océane Room Pacifique B&B
Location: Casablanca, Morocco
Airbnb Plus: Yes
Superhost: Yes
https://www.airbnb.com/rooms/plus/17856889
Price: $54+ per night
Casa Océane offers bed and breakfast accommodation with all the sleek greyscale interior villa in a chilled-out beach town. It's made up of 5 en-suite double rooms with comfortable king bed, modern bathroom, and a private terrace. The villa is located in Anfa, with a courtyard filled with green grass and trees and during your free days you can spend the afternoon at the turquoise pool. You can tour the city center and see the attractions like the Grande Mosquée and the old Medina. It's an incredible getaway from the busy life in Casablanca!
Guest review: "My husband and I loved our stay with Martina. The property was an absolute oasis. The fresh breakfast was tasty, and enjoyed leisurely poolside. Martina and her husband arranged our airport taxis and ensured we fully experienced Casablanca providing daily excursions, dinner, and Hammam recommendations. Wonderful hosts at a great location. Do not hesitate booking this stay!" – Kristy
View Photos, Read Reviews & Check Availability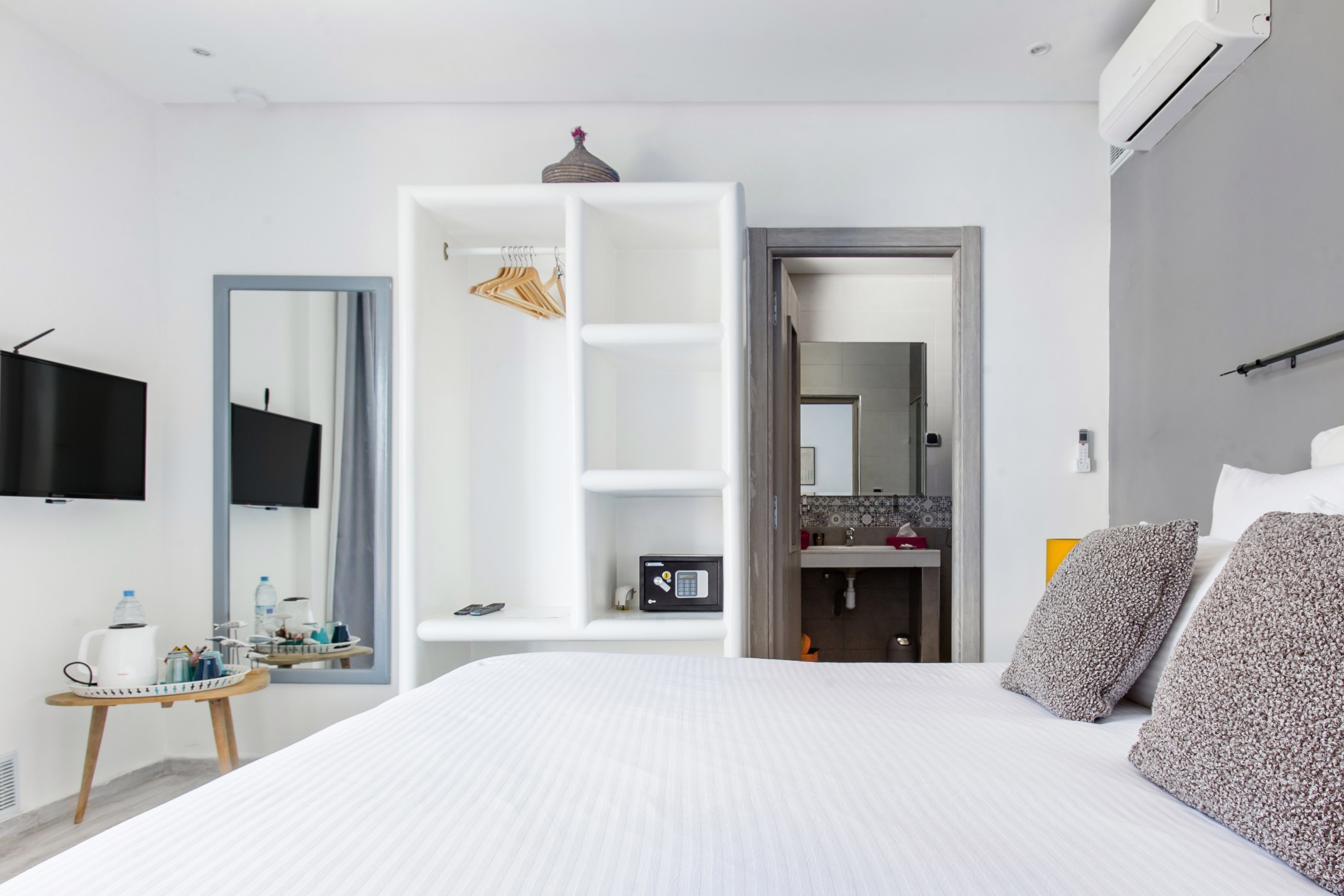 ---
10) Riad Luxueux Avec Piscine/Hammam
Location: Marrakech, Morocco
Airbnb Plus: No
Superhost: Yes
https://www.airbnb.com/rooms/30164008
Price: $65+ per night
Another affordable stay in Morocco, for only $65, experience a luxurious and peaceful haven in the heart of Medina. The elegant guest rooms feature en suite facilities, air conditioning, and access to Wi-Fi. During your stay, relax on the lovely outdoor swimming pool or at the outstanding rooftop terrace, where you can enjoy the surroundings. Guests can enjoy the traditional meals served in the restaurant, and experience the personalized services the riad is providing. Attractions are very close to the riad, just 8-minutes away is the Jemaa El Fna Square, Marrakech Museum, and La Bahia Palace.
Guest review: "This is a "must" place to book if you're in Marrakesh. As a Riad, the architecture, accommodations are amazing and historical in of themselves. The Rooftop Terrace is outstanding. As far as location; this place is in the heart of the Medina and yest very safe and quiet. The staff and hosts are absolutely amazing and make your stay and visits World Class. They had maps prepared, suggestions of things to see and places to eat. There was no sales pressure to do anything other than making sure your enjoyed yourself. This place was simply 10-stars, world class and a must place to stay. Thanks to all!" – Laurance
View Photos, Read Reviews & Check Availability
What is Morocco Like? Casablanca in 8 Minutes or Less
---
11) Chic design. Luxurious comfort.
Location: Essaouira, Morocco
Airbnb Plus: No
Superhost: Yes
https://www.airbnb.com/rooms/6208977
Price: $88+ per night
Located 6 kilometers from Essaouira, surrounded with cedars and eucalyptus, in a quiet village, this Moroccan airbnb offers a private and luxurious experience in the countryside. A traditional Moroccan decor is featured in the entire home and all rooms have the view of the garden and the pool each with its own private walk-in shower and bath. The home has a modern kitchen and Moroccan dishes, and a laundry area, and Wi-Fi is accessible even outside. Guests can experience the attractions and experience around the area – surfing, kite-surfing, wind-surfing, quad biking, horseback riding, hiking, biking or camels, and many more. You won't have to think about the word "boring" here!
Guest review: "A lovely villa, really comfortable and very suitable for families or couples as each room has its own bathroom. Dominique has made great efforts to think of every detail to make for a lovely stay, and the charming Bouchra is on hand to help and cook if needed. Highly recommended, and an easy drive into Essaouira." – Joan
View Photos, Read Reviews & Check Availability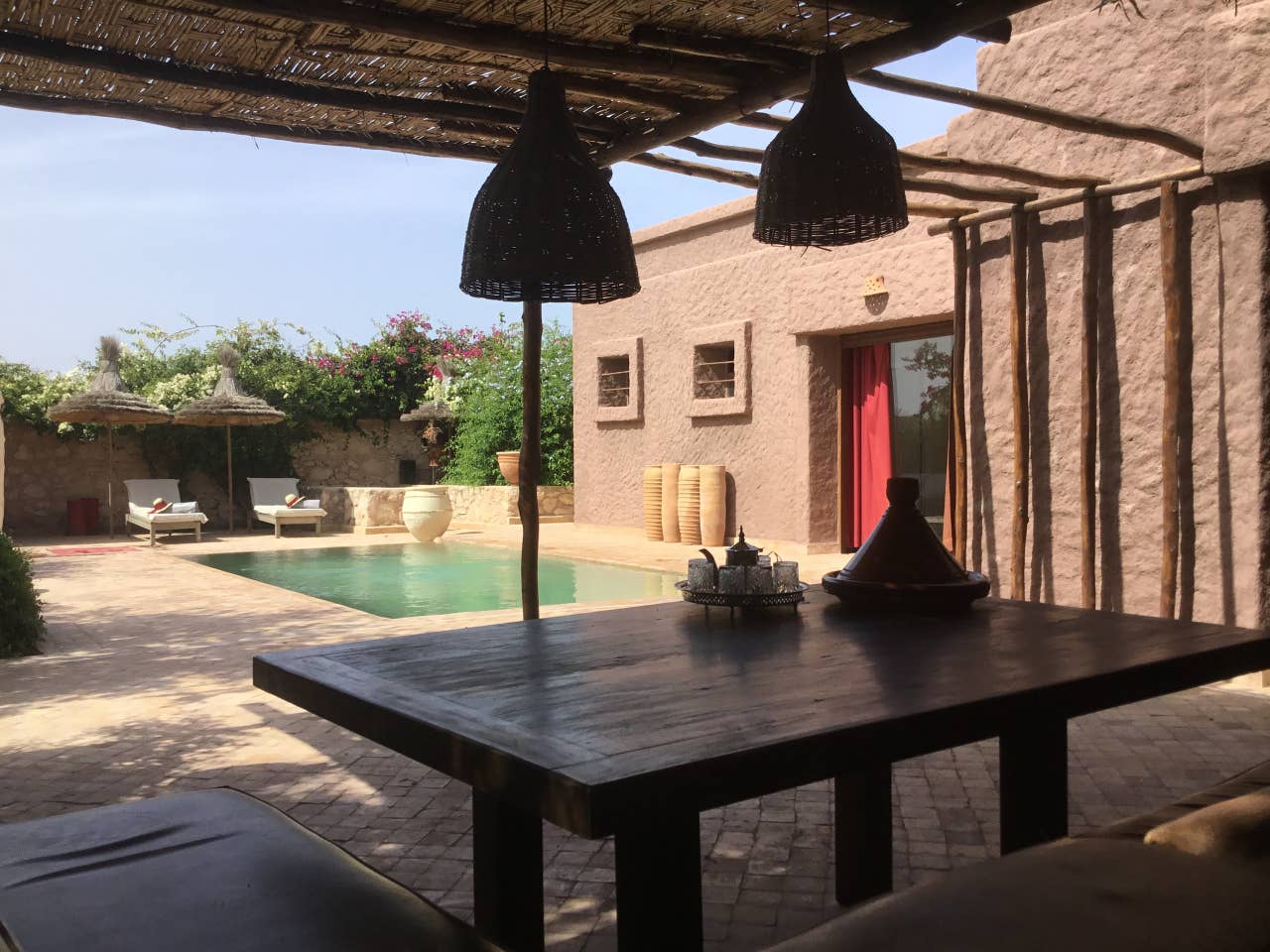 ---
12) Riad Medina with private pool
Location: Marrakech, Morocco
Airbnb Plus: No
Superhost: Yes
https://www.airbnb.com/rooms/1488264
Price: $110+ per night
The villa reflects a dramatic yet elegant and luxurious home. Located in the heart of Medina just recently renovated with a mix of modern and traditional Moroccan craft. The riad offers three double bedrooms all with an individual bath (some of the rooms feature a bathtub), a large living room, an indoor pool and a rooftop to enjoy the city view or just relax. Breakfast will be prepared by your own on-site host which can be served at the terrace or your room and will also help assist you on planning your trips to the city. Lunch and dinner and transfers to the airport are also available upon request.
Guest review: "The riad was in a perfect location, quiet area and close enough to walk to the square and souks. Getting lost in the souks was easy, but Jihane gave some invaluable directions to follow to get back. I don't doubt if she didn't give us landmarks to look for, we would've been lost for hours. The space was beautiful and really big for just 2 people. Breakfast was great to look forward to after a comfortable nights rest. It was chillier at night, and we were really grateful for the heater in the room. Celiné was easy to communicate with and it was great that transportation was arranged through the booking. I would definitely stay again!" – Mischelle
View Photos, Read Reviews & Check Availability
Going DEEP For Street Food in Morocco - BREAKFAST Tour of Marrakech!
---
13) Marrakech guest house , double room + breakfast
Location: Marrakech, Morocco
Airbnb Plus: No
Superhost: Yes
https://www.airbnb.com/rooms/10954380
Price: $36+ per night
Featuring a cozy patio and rooftop terrace, Oum El Kutub offers a bed and breakfast accommodation. There is a private bathroom with shower along with hairdryer and basic toiletries. Guests can enjoy the delicious traditional breakfast at the sun terrace and explore and experience the local Moroccan lifestyle. Learn about the history of the district of Bab Taghzout, discover the incredible things Bab Khemis has to offer, and many more. Getting around the area is very easy: bus and taxi station is 5 minutes away from the riad, airport is just a 20 minute drive, and train station is a 1-minute ride. Isn't it amazing, how you can enjoy all this for $36/night?
Guest review: "Azeddine was a great host. He accommodated to our requests without failure, even when we were late. He was very friendly and made us feel welcome." – Rigoberto
View Photos, Read Reviews & Check Availability
Top 10 things to do in MARRAKECH | Marrakesh Travel Guide
---
14) Spacious, central apartment with original features
Location: Essaouira, Morocco
Airbnb Plus: No
Superhost: Yes
https://www.airbnb.com/rooms/30223696
Price: $44+ per night
Dar Bachir, is an Essaouira apartment offering hip and colorful interiors, thoughtfully decorated bedrooms and deck dining area with the view of the inside of the riad. Originally built in the 17th century, the building where the apartment is located retained some of the features including the zellige floors and painted wooden ceilings. The rooms are spacious and airy because of the large windows and the sheer white curtains give the apartment a romantic vibe. Within walking distance to the port, the main square and the beach, guests can go anytime they want to explore the area. Good value for your money!
Guest review: "Beautiful, stylish space in a PERFECT central location no more than 5 minutes from everything. Radouane was an extremely accommodating host who helped me book an evening car transfer from Marrakech and responded to all of my questions in minutes on" – Jessie
View Photos, Read Reviews & Check Availability
MOROCCO'S COASTAL GEM (Visit Now) - ESSAOUIRA 🇲🇦 !
---
15) Warm Apartment in the Heart of Casablanca
Location: Casablanca, Morocco
Airbnb Plus: Yes
Superhost: Yes
https://www.airbnb.com/rooms/plus/25481304
Price: $59+ per night
This modern apartment sits in one of the best neighborhoods in Casablanca. The apartment offers an open-plan kitchen space with modern design elements and dine at a cozy table on the balcony. Guests can have a good night's sleep in the bedroom with a queen bed and enjoy a lazy afternoon on the chaise sofa. In addition to the facilities already listed, the apartment also features a full bathroom with a walk-in shower and a modern kitchen. Taxis are very accessible in the area, and a few steps away from the building you can see a variety of restaurants, cafes, shops, and grocery markets. You can walk to the beach and have a relaxed afternoon and then go shop for souvenirs at the Centre Commercial Anfaplace shopping mall.
Guest review: "This is a great place to stay! It is thoughtfully decorated and centrally located. We loved it!" – Sarah
View Photos, Read Reviews & Check Availability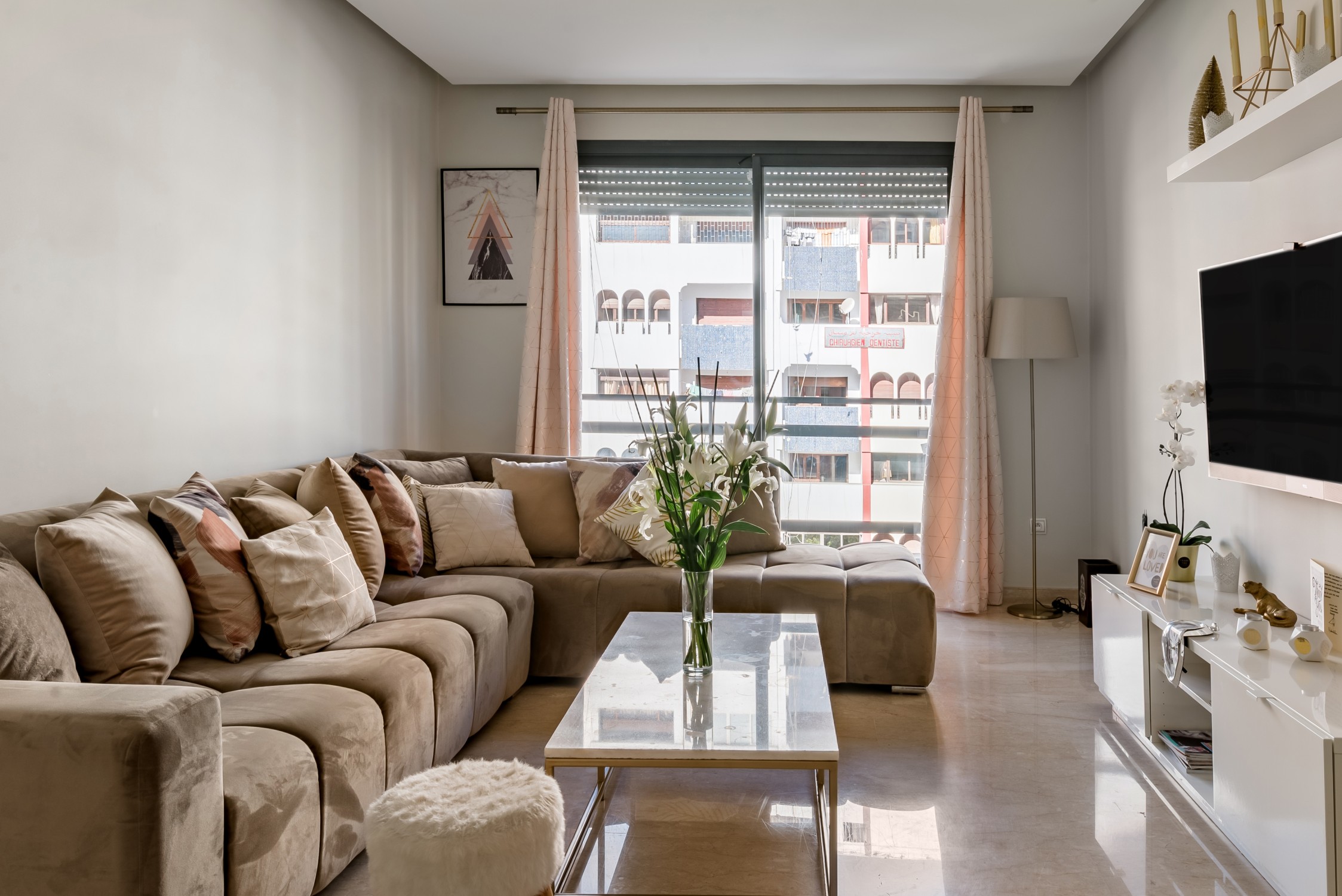 ---
16) Contemporary apartment with stunning sea views
Location: Casablanca, Morocco
Airbnb Plus: Yes
Superhost: Yes
https://www.airbnb.com/rooms/plus/32106843
Price: $127+ per night
This modern design with Moroccan flair apartment in Casablanca, offers two luxurious bedrooms with a private bathroom with tub, a modern kitchen where you can make your own home-made meals, and a cozy living area. You may relax on the terrace with a 180 degree view of the sea, city and the mosque. The home is set in a high-end and luxurious apartment complex that is close to a shopping center and a few main spots in Casablanca. Airport transfers can be arranged, as well as local excursions.
Guest review: "Excellent for our stay in Casablanca. Karim was an incredible host. He answered every question incredibly quickly and even arranged for a friendly pickup from the airport and drop off to our train to Marrakech. The balcony had a beautiful view of the Hassan II Mosque. Would definitely recommend staying here." – Ivan
View Photos, Read Reviews & Check Availability
CASABLANCA MOROCCO CITY TOUR - Travel Vlog
---
17) Idyllic Remodeled Villa in the Medina Quarter
Location: Marrakech, Morocco
Airbnb Plus: Yes
Superhost: Yes
https://www.airbnb.com/rooms/plus/21524988
Price: $162+ per night
With 2 individually styled rooms, rooftop terrace, and a patio, this remodeled villa is the perfect retreat from the busy life of the city. Riad Hazzam is in the Mouassine district in central Medina, close to Djemaa el Fna. The area is full of artisan shops, excellent restaurants, market shops, and hammams. Historic sites such as the mosque, fountain, and Mouassine Museum are nearby. Breakfast is provided, airport transfers can be arranged, and tours can be booked in this riad.
Guest review: "The location of this Riad is great. Within 10 minutes to the Jamaa fna square. The best thing about this Riad is Hicham. The guy is awesome. Very friendly and if you needed anything he would make it happen. He got me a ride from the airport to the Riad. Even got me a luggage guy to bring my luggage into the Riad. It's not easy to find anything in the Médina so this was very helpful. I needed a driver to get to the Atlas Mountains. Hicham connected me with Abdil. Abdil had a guy find me and walk me from the Riad to his car, a Mercedes van. Clean car and awesome ride. Hicham and Abdil made the trip great. Without them it would have been difficult and I would have gotten lost numerous times." – Peter
View Photos, Read Reviews & Check Availability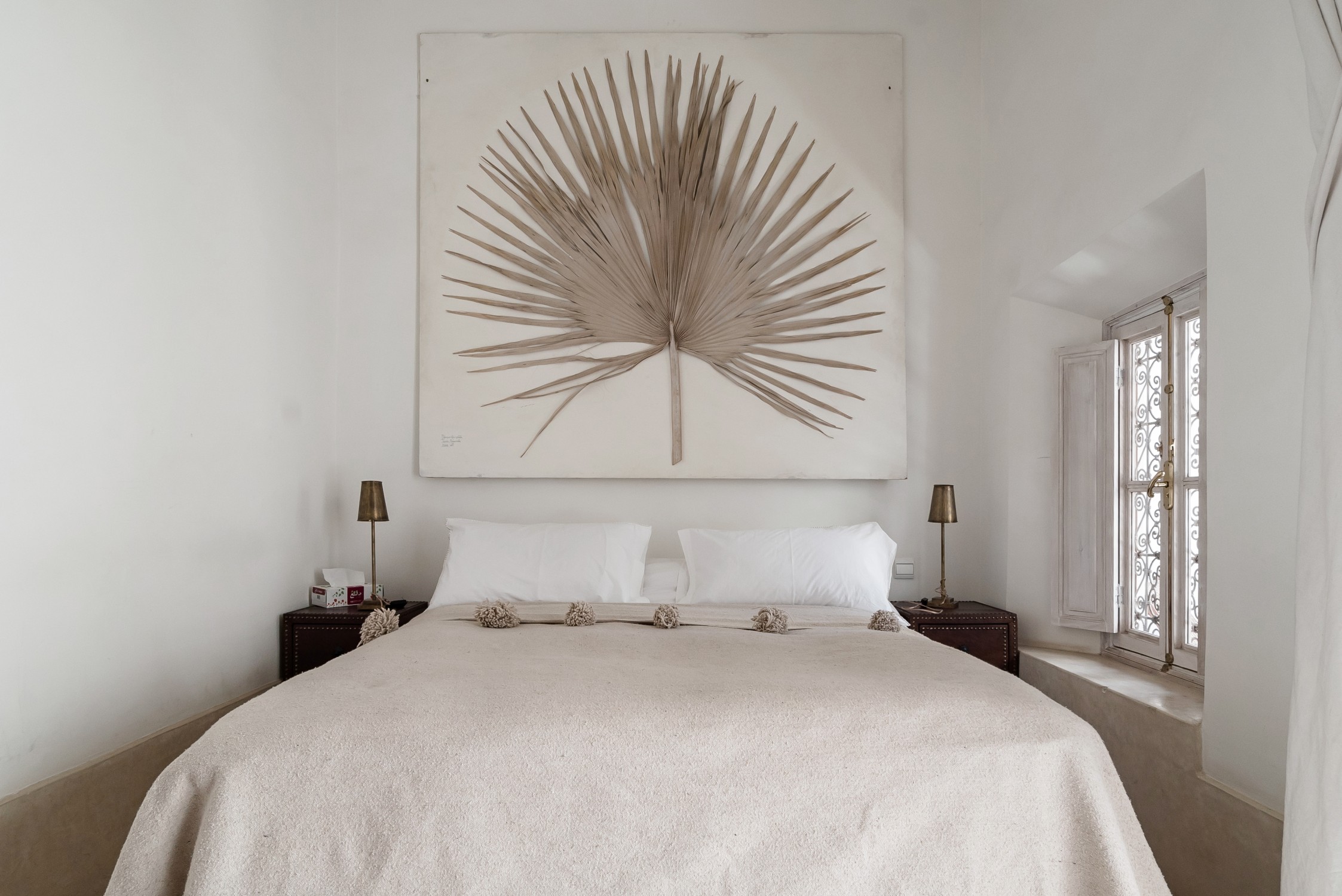 ---
18) See Mountains From the Terrace of a Grand Artistic Villa
Location: Marrakech, Morocco
Airbnb Plus: Yes
Superhost: No
https://www.airbnb.com/rooms/plus/8789140
Price: $335+ per night
Another riad you can find in Marrakech is this tranquil and chic house located in the central district of Medina. It's a peaceful retreat you can come home to after a long day of activities. With four bedrooms and an en suite bath, it can accommodate up to 9 guests. The rooms are designed to offer you all the comfort you need. Villa Querido is located in the village of Tameslohte, a few minutes away from Marrakech. It's close to a lake where you can go jet-skiing, several golf courses, and a nearby farm with animals for the kids.
Guest review: "Aleks has a beautiful riad in the Medina of Marrakech, and it was the nicest one we stayed at in the country. After walking through the Medina for 5-7 minutes, the riad feels like an oasis of calm in the chaos of Marrakech. While the stairs are a little tight, the riad does a great job of balancing the history and modern amenities. The staff are also outstanding. I would gladly recommend this riad for any group that needs 4-5 bedrooms." – Seth
View Photos, Read Reviews & Check Availability
Things to know BEFORE you go to Marrakech | Marrakesh Travel Guide
---
Morocco Tours & Days Trips to Consider Booking
If you're looking for reasons to go to Morocco, here is my top 3 list of adventures to do in Morocco that you should check out
---
Marrakech: Ouzoud Waterfalls Full-Day Trip with Boat Ride
"Travel to the Ouzoud waterfalls in the Middle Atlas Mountains, and enjoy a scenic drive past the olive groves and Berber countryside of the plains north of Marrakech. Enjoy amazing views of North Africa's longest cascades on this full-day excursion."
https://www.getyourguide.com/marrakech-l208/day-trip-to-ouzoud-waterfalls-from-marrakech-t52685/
Price: $ 22+ (10hours)
Guest review: Fantastic day trip for all of the family, local guide, long walk up to the Waterfalls on uneven ground and good experience with the Barbery Apes along the trail who run wild there but it is perfectly safe to feed them. A good meal overlooking the Waterfalls (paid locally) overall a great location and value for money. – Eleanor
View Photos, Read Reviews & Check Availability
---
Fez Medina Guided Tour
"This tour of Fez takes you through the intricate maze of streets of the medina. See the tanneries, Medersa Bouaanania, Nejjarine Museum and more."
https://www.getyourguide.com/fes-l829/fez-medina-4-hour-guided-tour-t75985/
Price: $ 13+ (4-6 hours)
Guest review: Mr Ahmed was my guide, awesome awesome, i was the only english tourist for the time i choose and for me that made it more special because Mr ahmed was more like a friend and a guide in one. made sure i had pictures even when i was being shy about it. his knowledge on history is dumbfounding, the joy that radiates from him makes the tourist more interested. Thank you Mr Ahmed. will bring more tourist – Grace
View Photos, Read Reviews & Check Availability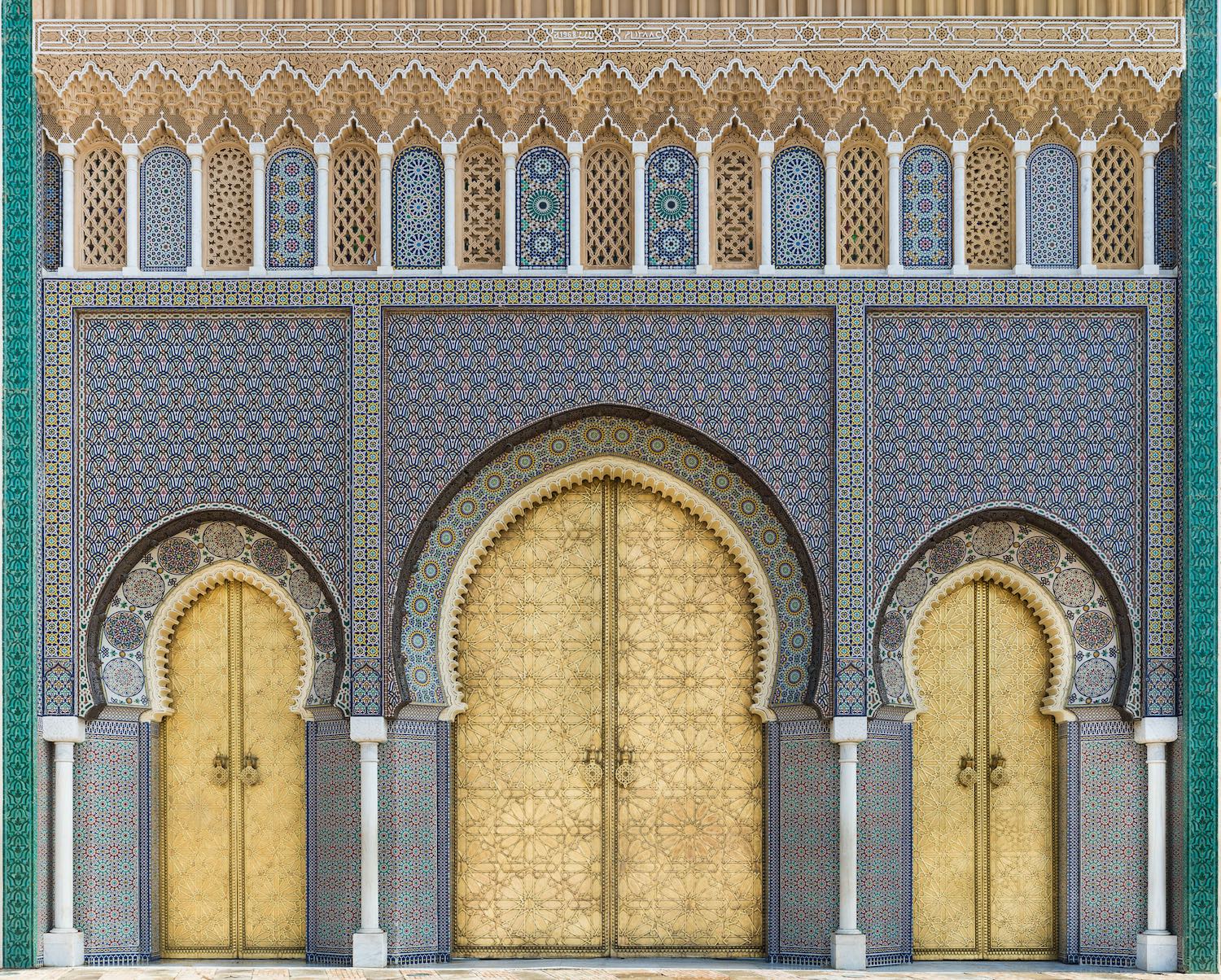 ---
Marrakech: Half-Day Desert Quad & Dromedary Tour
"Experience vast desert landscapes on this half-day dromedary and quad bike tour. First, discover authentic Morracan culture on a dromedary tour leading to a Berber village. Then, after a tea break, speed through the desert on your quad bike."
https://www.getyourguide.com/marrakech-l208/marrakech-half-day-quad-and-camel-tour-through-the-desert-t192693/
Price: $ 52+ (4 hours)
Guest review: "What can I say about this day, absolutely brilliant! The camel riding was quite long lasted an hour so it might get a bit tiring however it was worth it for the value of money we payed overall. The camels are attached to each other so they move slow and careful. Then a quick break to a local house for tea and pancakes. It was prepared and served lovely. Afterwards we "smashed the palms" by doing Quad Biking. The instructors were always ahead of us, Groups were split in 2 teams. Tip: make sure to leave space from the person in front so as you enjoy accelerating otherwise the speed is safe-slow during the whole time. Also wear clothes that you don't care to have desert dust all over them, you will be brown by the end of the day. The whole team was amazing, instructed us well, did plenty of tricks took many pictures of us posing and we had the time of our lives. The quads are automatic so nothing to worry about as they are easy to control and drive. I am looking forward to do it again" – Markella
View Photos, Read Reviews & Check Availability
Desert and Palm Grove Quad Bike Tour from Marrakech, Morocco
---
Am I Missing Any Unique Morocco Airbnb Rentals?
Have you recently stayed at an incredible Morocco AirBNB you'd like to see featured on my list? Or perhaps you host an AirBNB in Morocco that completely blows the competition out of the water?
I'd love to check out your listing to see if I can get you on this list, so feel free reach out to me via email or my social media platforms!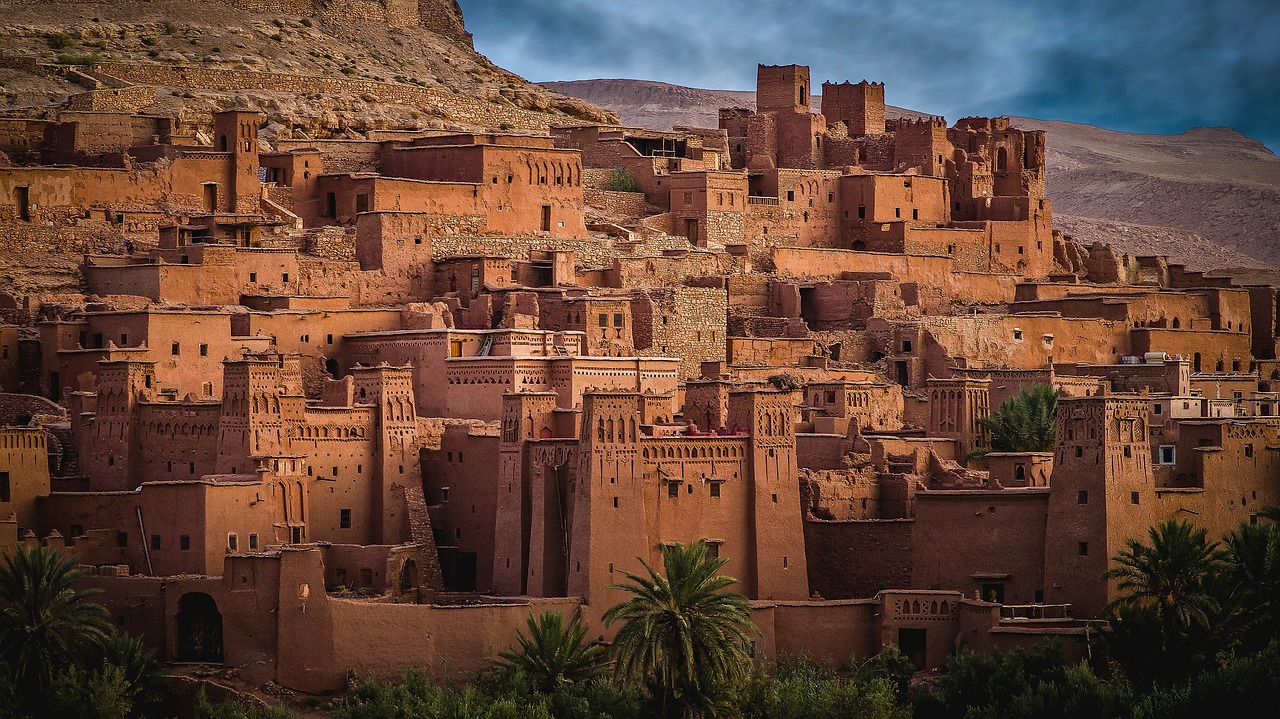 ---
Looking for some travel inspiration?
My blog is filled with hundreds of fun articles, detailed itineraries, and travel guides just like this! So if you're looking for some awesome travel inspiration, I'd love for you to take a look through a few of my favorites below: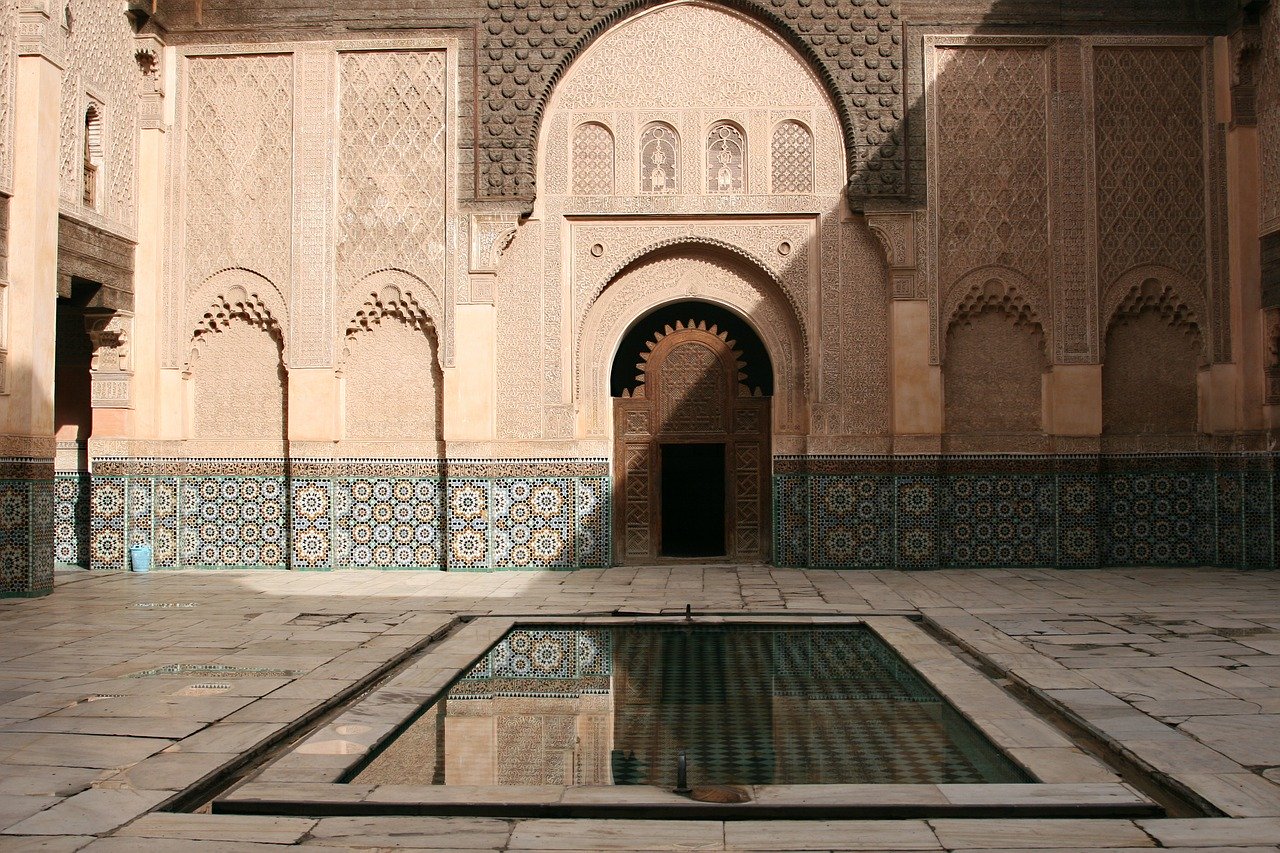 ---
Thanks for reading my Airbnb Morocco travel guide!!
Share this Morocco Airbnb guide with your Africa travel crew!
https://www.jonesaroundtheworld.com/wp-content/uploads/2020/03/Airbnbs-in-Morocco.jpg
720
1280
Dave
https://www.jonesaroundtheworld.com/wp-content/uploads/2017/03/logotry-1-1-300x106.png
Dave
2020-09-01 21:53:09
2022-03-04 23:48:17
17 Best Airbnbs in Morocco for an African Desert Getaway