Looking for the coolest and best music festivals in Austria in 2023 & 2024? Well, you've come to the right place, as we've compiled the ultimate guide to Austria Festivals that are guaranteed to impress.
Beloved for its spectacular architecture, castles, and palaces, Austria is teeming with history, culture, and unforgettable landmarks like the Festung Hohensalzburg and Castle Liechtenstein. It is the birth country of the musical icon Wolfgang Amadeus Mozart and many other noteworthy musicians.
Attending a festival in this breathtaking country grants a unique and cherishable experience you shouldn't miss out on, with numerous reputable music festivals in Austria waiting to be explored!
Also, be sure to read my guides on the 30 Best Music Festivals in Europe & Top 20 Techno Festivals in Europe for future trip inspiration!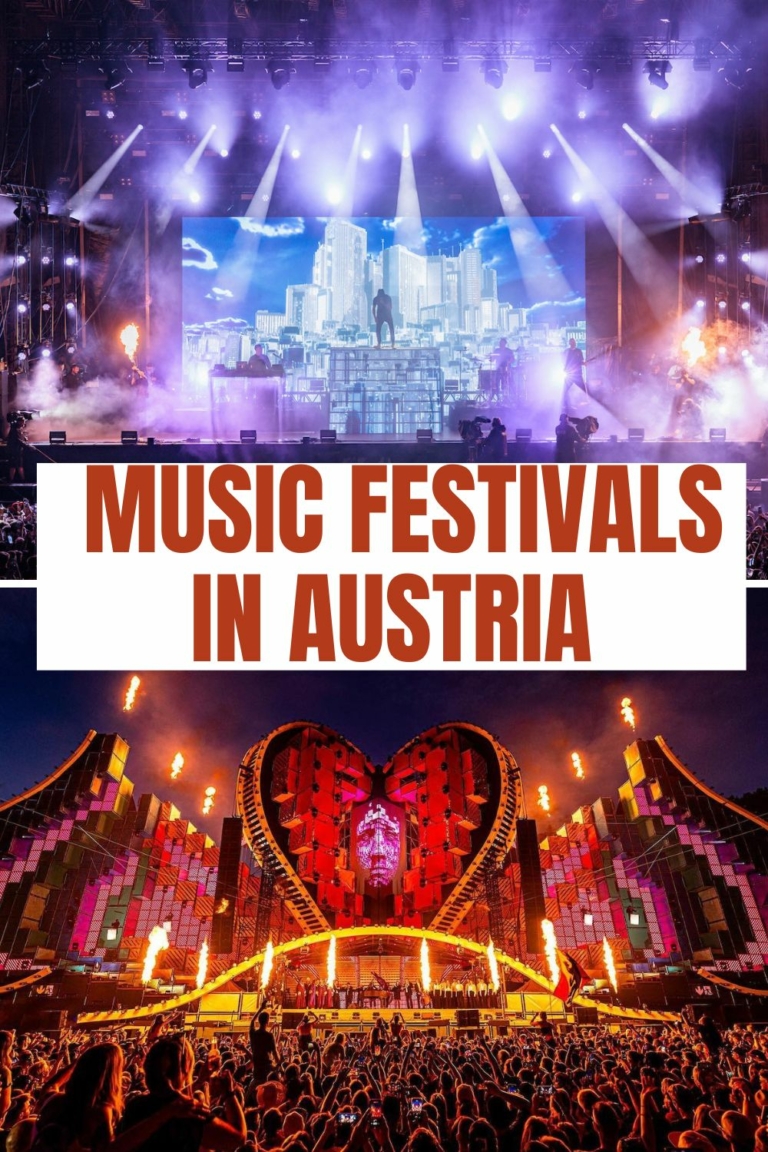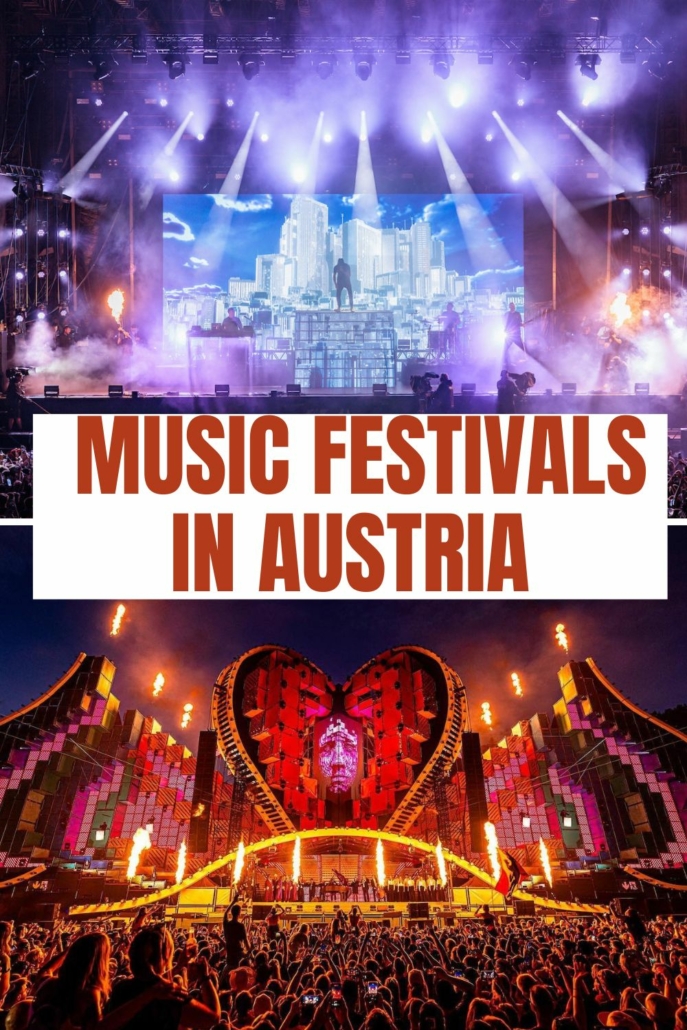 ---
1) Salzburg Festival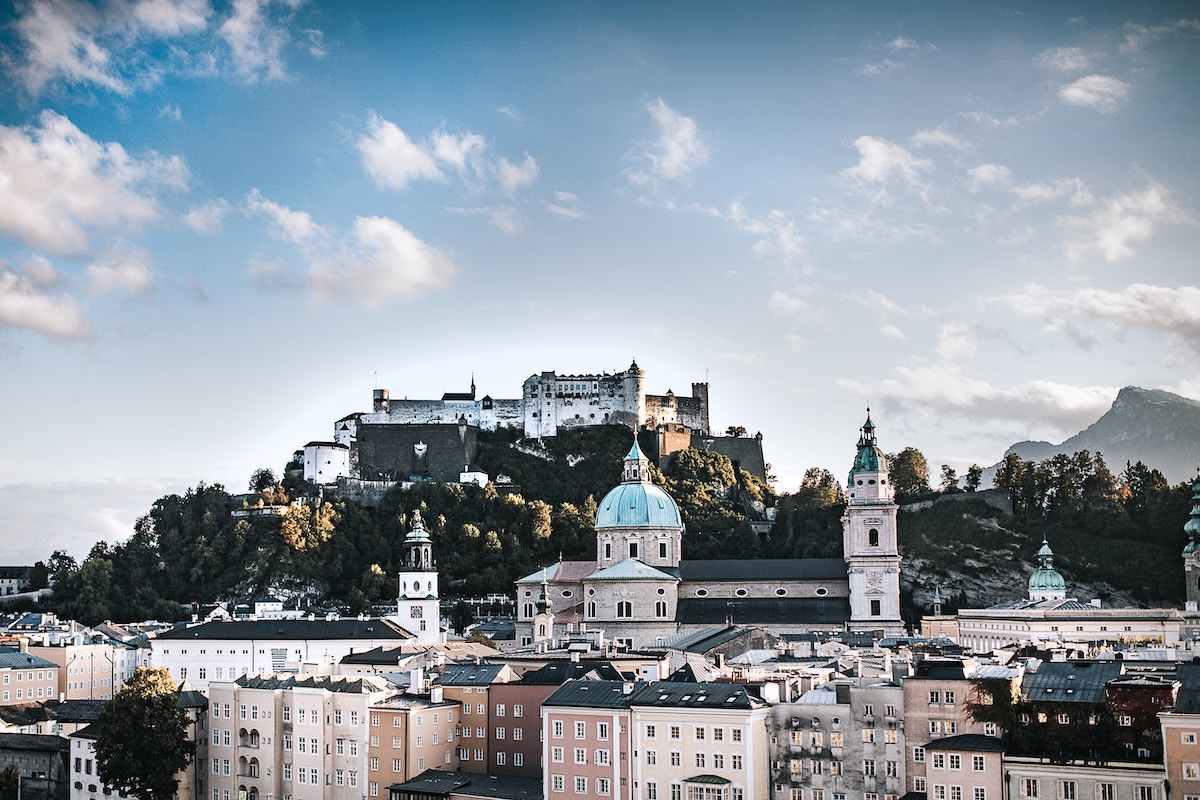 When: July 2024
Where: Salzburg
https://www.salzburgerfestspiele.at/en/
https://www.facebook.com/salzburg.festival/
Established over a century ago, the Salzburg Festival is one of the oldest music festivals in Austria!
The magical event is set in the historic town of Salzburg, the birthplace of the musical icon Wolfgang Amadeus Mozart. The broad artistic program outgrows many other festivals in its diverse selection of interpretations and works that intertwine Mozart, modern, genius loci, and other established works.
The best of the best are invited, traveling from across the globe to Salsburg to display their talents, passions, and dedication to their crafts at the Salzburg Festival. Attendees of this magnetic festival can relish the grand displays of top professionals at this historic event. From vacationing in the historic town with its impressive architecture, sparkling lakes, and outstanding golf courses, to other fun excursions!
Salzburger Festspiele 2022: Film zum Programm
---
2) Innsbruck Festival of Early Music
When: July – August 2023
Where: Innsbruck
https://www.facebook.com/altemusik
Running from July to August, the Innsbruck Festival of Early Music has committed its founding to musical masterpieces from the 16th and 17th centuries. It is one of the most foundational and historic music festivals in Austria for its dedication to keeping Renaissance and Baroque music alive and sharing these pieces of music history with the world.
When summer hits, music aficionados rush to Innsbruck to experience the mastery and beauty of the dramatically powerful stage performances. On stage, the works of world-renowned composers are performed by international orchestras, ensembles, and singers in a stunning performance that empowers, educates, and always stuns.
Innsbrucker Festwochen der Alten Musik (offizieller Trailer)
---
3) Picture On Festival
When: August 11-12, 2023
Where: Bildein
https://facebook.com/pictureonfestival/photos/
"The family atmosphere in the middle of the village: Where else can you see the stars rocking out under a huge plane tree, which is only surmounted by the mighty church tower? Where else can you enjoy an eighth of Blaufränkisch in the transparent wine archive, just a few meters away from the largest stage in southern Burgenland?
At the Picture On Festival, prepare to rock on in Bildein, Austria! Held since 2000, the Picture On Festival is widely run by volunteers. The venue that hosts the event is where the small Bildein community gathers, giving the festival a feeling of family and community.
One of the most eclectic music festivals in Austria, this event's focus is on the rock genre. Still, it masterfully intertwines other music genres, including reggae, electronic, indie, punk, and ska, for an exceptionally boundless music festival.
Top international performers show off their skills on stage as the crowd goes wild with joy and excitement at the rockin' good Picture On Festival!
Picture On Festival 2022 DAY1
---
4) FM4 Frequency Festival
When: August 17-19, 2023
Where: St. Pölten
https://www.facebook.com/frequencyfestivalofficial/
One of the largest music festivals in Austria, the FM4 Frequency Festival welcomes over a hundred thousand attendees every summer!
Sponsored by the Austrian radio station FM4, the event started in 2001 and has since become a staple music festival in Austria. Its high demand has resulted in it being sold out repeatedly, which is why buying your tickets in advance is highly recommended if you plan on attending the FM4 Frequency Festival. Attendees can enjoy a camping or glamping stay to absorb the festival experience.
Prominent names in the music industry that have performed at the FM4 Frequency Festival include Jason Derulo, Lewis Capaldi, Imagine Dragons, and Billie Eilish.
Frequency Festival 2022 - Official Aftermovie
---
5) Nova Rock Festival
When: June 13-15, 2024
Where: Nickelsdorf
https://www.facebook.com/novarock
As the biggest rock music festival in Austria, the Nova Rock Festival is where head-banging, rocking out, and having a great time are expected!
Hundreds of thousands of people attend the four-day event every year, coming from Austria and abroad to experience the raging fun of the Nova Rock Festival. Over the years, the festival has welcomed globally-renowned performers, including Evanescence, Slipknot, Muse, and Bring Me The Horizon. It continues to stun visitors yearly with its profoundly enigmatic lineups and awe-inspiring rock 'n' roll performances.
Camping and glamping options are available for attendees for a more enriching and interactive festival experience.
Nova Rock Festival 2019 - Official Aftermovie
---
6) Grafenegg Festival
When: June – October 2023
Where: Grafenegg
https://www.grafenegg.com/en/home
https://www.facebook.com/Grafenegg
The music festivals in Austria are phenomenal, and one of the finest examples of this is the Grafenegg Festival!
The grand event takes place on the grounds of the Grafenegg Castle on the open-air stage and the concert hall. The Grafenegg Festival presents classical music in this historic setting for an eye-opening musical experience catered by world-class orchestras and conducted by grandmasters. The program mixes in phenomenal recitals along with its chamber and symphonic music.
As one of Europe's most vital and renowned orchestra festivals, the Grafenegg Festival is one everyone should experience at least once. Its perfect entertainment of architecture, history, culture, nature, and music has cemented it as a world-class music festival.
---
7) Bregenzer Festspiele
When: July 19 – August 20, 2023
Where: Bregenz
https://bregenzerfestspiele.com/de
https://www.facebook.com/bregenzerfestspiele/
The Bregenzer Festspiele is one of the most unique music festivals in Austria. Centered around opera and classical performing arts, the festival conjoins classical, musical, and theatrical productions often seen in the region into a grand performance.
Though there are five venues for the festival's performances, the main event is featured on a floating stage! The stage is known as Seebühne Bregenz, which rests on Lake Constance to create a breathtaking scene of nature and art in one grand display.
Many believe that if the Bregenzer Festspiele didn't exist, the culture of Bregenz would have dispersed by now. And thanks to the festival's increasing popularity, the culture and tourism of the area have boomed! All while encouraging art, culture, and music to grow and cultivate in the beautiful city.
---
8) Electric Love Festival
When: July 2024
Where: Salzburgring
https://www.electriclove.at/en/
https://www.facebook.com/electriclovefestival/
More than just a music festival, the Electric Love Festival is where music, life, and experience are all combined into one beautiful getaway in the scenic Salzburg Lake area. Whether partying, dancing, socializing, or recharging, this is the place to do it!
Dance, vibe, and jump to the beat of the most electrifying music, surrounded by the magnetic and vibrant atmosphere of the Electric Love Festival. Have fun with old and new friends, making lifelong memories to cherish forever at the biggest EDM festival in Austria.
Though there are five venues for the festival, the main stage is where the crowd is, featuring fantastic designs and lighting that are synchronized to fluctuate with every beat drop. Food stalls selling delectable and diverse cuisines are near every stage, including vegan options and yummy dishes of Austrian schnitzel, Italian pasta, and chocolate waffles.
Electric Love Festival 2023 - Thank you!
---
9) Carinthian Summer Music Festival
When: July 8 – August 29, 2023
Where: Carinthia
https://carinthischersommer.at/en/
https://www.facebook.com/CarinthischerSommer
Founded in 1969 at the historic Ossiach Abbey in Villach, constructed in the 11th century, the Carinthian Summer Music Festival is held annually every summer. It is one of the most prestigious music festivals in Austria.
Captivating artists and audiences alike, this festival creates a breathtaking opportunity for all. World-famous artists, such as David Oistrach, Seiji Ozawa, Benjamin Appl, and Claudio Abbado, have been featured at this event and continue to create powerfully inspiring performances that cement the Carinthian Summer Music Festival's globally-renowned reputation.
The festival's hallmark performance is the church opera, which has heavily contributed to its image. Paired with spectacular venue settings and world-class performances by reputable artists, the Carinthian Summer Music Festival is a profoundly inspiring music festival to experience!
Programmpräsentation Carinthischer Sommer 2023
---
10) Donauinselfest
When: June 2024
Where: Vienna
https://www.facebook.com/Donauinselfest
A free open-air music festival in Vienna, the Donauinselfest welcomes millions of visitors across its three-day running on an island along the Danube River. The summer event showcases diverse music, from electronic and punk to hip-hop and metal. It emphasizes a focus on local artists, though international performers do join the official lineup.
Numerous activities are available for attendees to enjoy. The Ferris wheel is excellent for enjoying the breathtaking scenery in Vienna, the festival, and its visitors bustling about below. There's a Fanta Bubble Ball soccer tournament that guarantees loads of entertainment to watch.
Auftakt der #dif21 Sommertour
---
Am I Missing Any Music Festivals in Austria?
While Austria may not have as many festivals nearby countries like Germany & France, there are still plenty of fun ones to choose from! If you've been to a new festival in Austria that isn't listed here, please do reach out as I'd love to keep this list as up-to-date as possible!
---
Looking for more Music Festivals in Europe?
If you're traveling around Europe during the summer, I'd recommend checking out some of these articles to inspire some other festival adventures around the world!
---
As well, I've written a few articles that can give you some great ideas for what to wear, bring, and camping survival for music festivals! They've helped thousands of people so far, and I know you'll get some amazing products from them!
---
Thanks for reading my guide to the best Music Festivals in Austria!
Share this article with your festival/travel crew!
https://www.jonesaroundtheworld.com/wp-content/uploads/2023/07/Donauinselfest-Music-Festival-Austria.jpg
800
1200
Dave
https://www.jonesaroundtheworld.com/wp-content/uploads/2017/03/logotry-1-1-300x106.png
Dave
2023-07-28 20:55:55
2023-07-28 20:55:55
TOP 10 Music Festivals in Austria For Your Bucket List