Planning a trip or weekend getaway and searching for the BEST Airbnb Brisbane rental? There are literally hundreds of top-rated options to choose from (for all budgets), so I've put together a list of what I think are the best Brisbane Airbnb listings!
It's no wonder why so many Aussies and visitors from abroad up and move to Brisbane.
The capital of the Australian state of Queensland offers a lifestyle you so rarely find anywhere else in the world! A constantly growing and exciting cityscape. An epic sports scene. A variety of islands with white sand and turquoise waters a short ferry ride from the city. Lush, green hinterland to get lost in. Relaxing riverside gems to discover. Friendly and happy locals and perfect year-round weather that really puts you in that holiday spirit.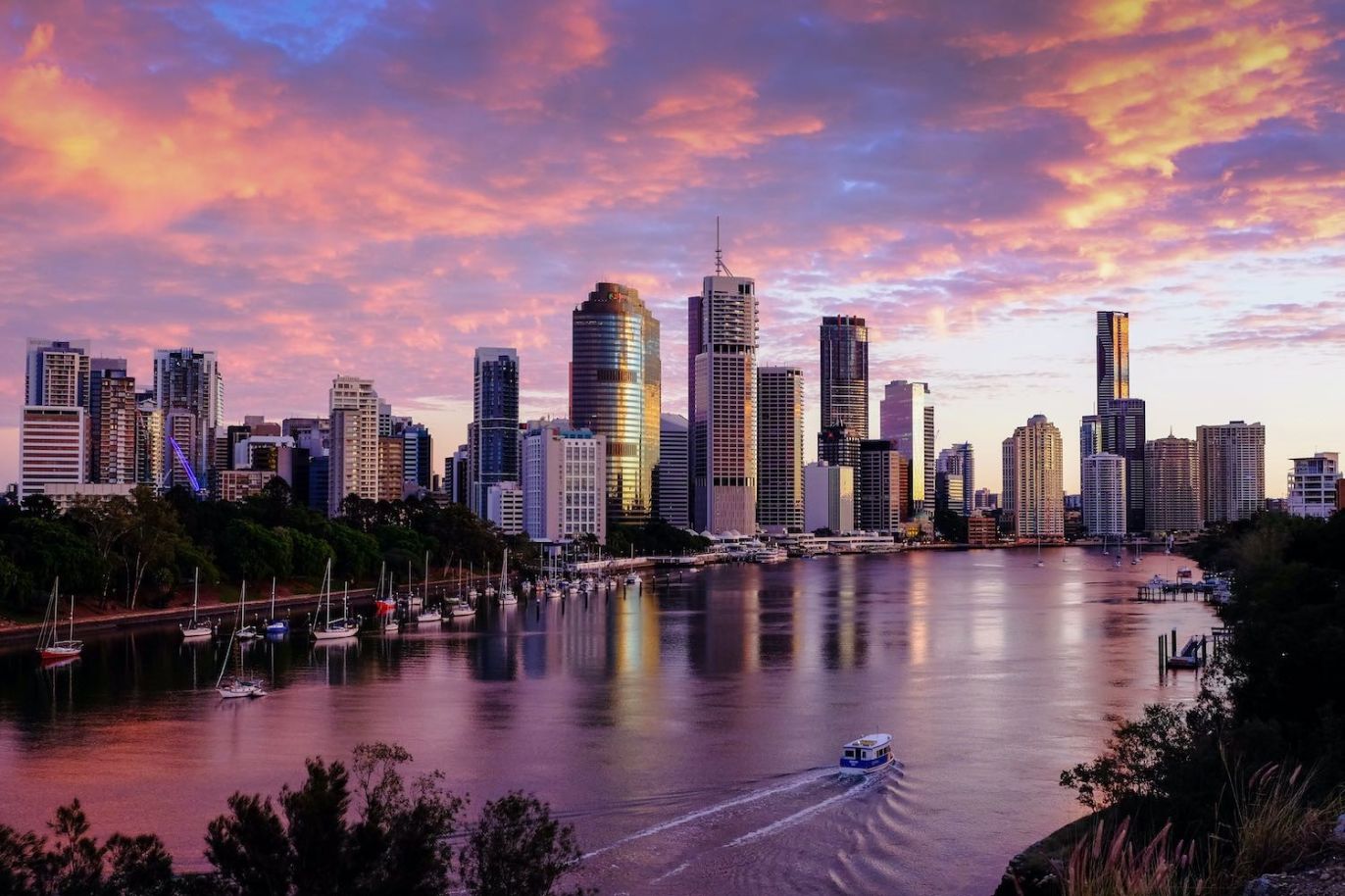 It's so easy to stay moving in Brisbane. This sunny city just has so much to discover around every corner. But at the end of the day, when all you want is a comfortable bed in a great location, my list of the best Brisbane vacation rentals is a must.
From the city to the river, the sea to the suburbs, my guide to the best Airbnb Brisbane city will make choosing your digs easy and enjoyable.
---
Airbnb Brisbane: The Best Vacation Rentals
If you're in a hurry and don't want to read too much, I've selected my Top 5 Brisbane Airbnb rentals for a variety of travel styles, budgets, and more. Take a look through these, or keep reading to find your perfect rental!
Also, you may be interested to read my articles on Airbnb Cairns, Airbnb Sydney, Airbnb Perth, and Airbnb Byron Bay if you're currently on a Australian bucket list trip!

---
Best Beachside Brisbane Airbnbs
It goes without saying that the Queensland capital has some exceptional coastal locations. These seaside Brisbane properties offer an unrivaled beachfront lifestyle
---
1) Art Lovers Private Retreat
Location: Wynnum
Airbnb Plus: Yes
Superhost: Yes
https://www.airbnb.com.au/rooms/8138944
Price: $95+ AUD per night
Verified by Airbnb, this modern one bedroom apartment in coastal Wynnum oozes serenity and luxury at every turn. With calming green features and finishes, it is fantastic value for money and has a private terrace for tranquil early mornings listening to the Brisbane wildlife.
For when you're energized for a day in the city, Brisbane CBD is just 20-25 minutes away. That's if you can drag yourself away from sunny days lazing on the Wynnum Foreshore.
Guest review: "We were greeted with a warm welcome. The fridge had fresh milk and the kitchen was well fitted out. Overall the place was comfortable and conducive to relaxing. The art/photographic studio is a stunning space well worth spending time in. We would have no hesitation in staying there again." – Kevin
View Photos, Read Reviews & Check Availability

---
2) Quaint 1940s Cottage close to the Waterfront Boardwalk
Location: Margate
Airbnb Plus: Yes
Superhost: Yes
https://www.airbnb.com.au/rooms/26651677
Price: $120+ AUD per night
Just 30 minutes from Brisbane CBD, this historical 1940s Margate cottage is the bayside escape you've dreamed of.
Verified and Superhosted, this one-bedroom gem in a quiet neighborhood is pristine, with crisp white, modern interiors and beautiful design elements. Enjoy Margate Beach – just 5 minutes away – or unwind on the quintessentially Queensland verandah.
Guest review: "Caz Cottage is the perfect little place for a getaway! Christina is a terrific host, this was our first Airbnb experience and first holiday with our little dog. The information provided prior to our visit was very helpful and ensured a smooth check-in. The Cottage was spotlessly clean and Christina was on hand to answer any questions we had. There wasn't anything we needed that hadn't been catered for. Our dog loved having a big yard to run around in and it was very secure with high fences so we had no worries of him escaping. We would recommend Caz Cottage to anyone wanting a relaxing getaway which can be enjoyed with furry friends too!" – Rachel
View Photos, Read Reviews & Check Availability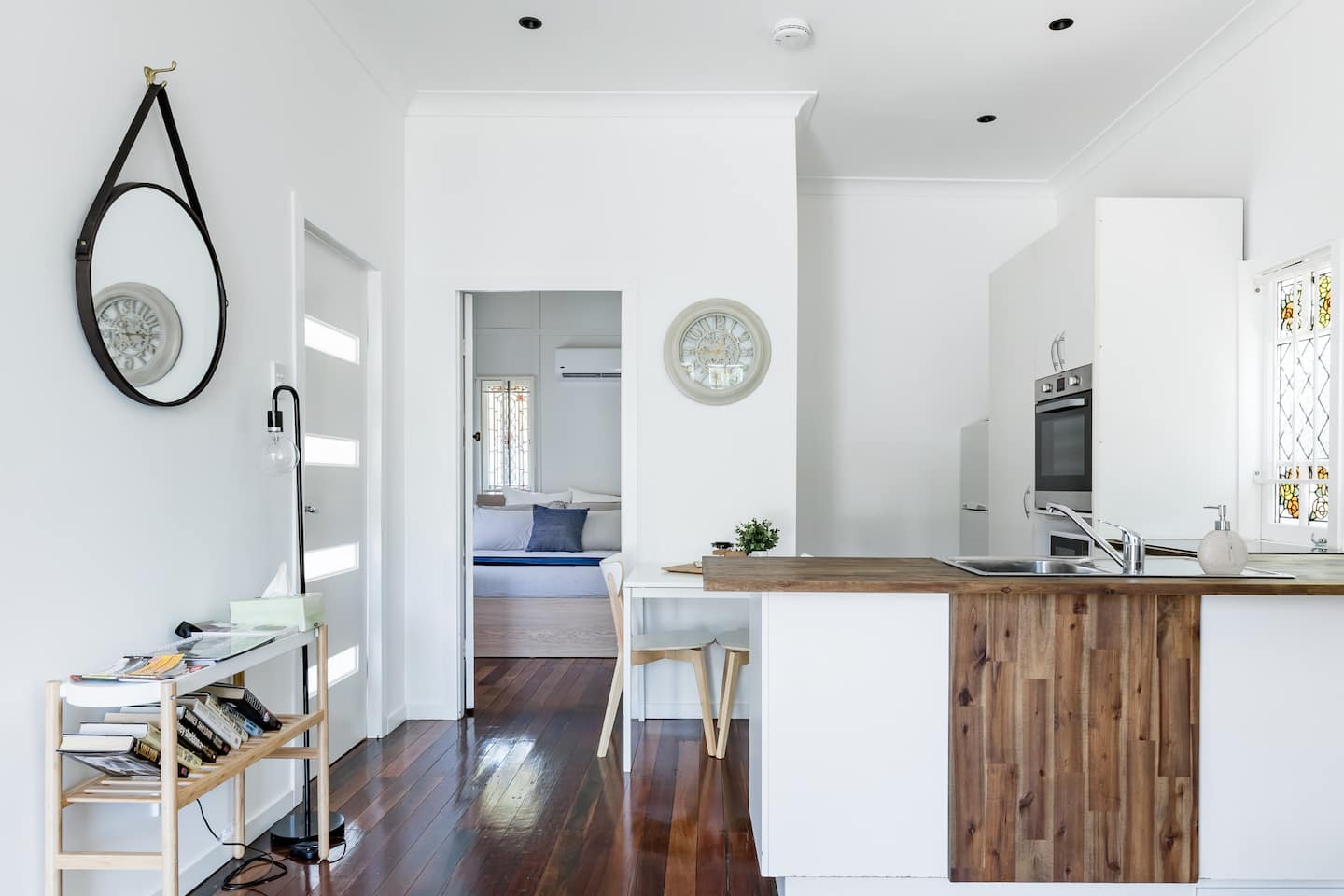 ---
Inner-city Airbnb Brisbane Rentals
Just minutes from Brisbane CBD, these incredible homes and apartments cover the length and breadth of the leafy inner-city suburbs that are equal parts hip, stylish and laidback. These spaces make for the perfect balance of rest and play.
---
3) Great Deal! Central Brisbane2Beds+Park+wifi+pool
Best Airbnb Brisbane Cbd Apartments
Location: Spring Hill
Airbnb Plus: No
Superhost: Yes
https://www.airbnb.com.au/rooms/23684156
Price: $85+ AUD per night
Keep your Brisbane vacation budget in check and book your stay at this amazing value for money two-bedroom apartment in trendy Spring Hill. Modern and spacious, it also has a huge balcony – a rare city find!
A stay at this boutique apartment includes access to the penthouse pool and gym. And for when you head out to explore the city, the CBD is just 1.5km away – an easy and enjoyable walk.
Guest review: "Fantastic location for exploring and enjoying Brisbane with easy walking distance to Roma Parklands. Hotel has a beautiful pool area – 50m pool – with plenty of seating, beds, umbrellas and booths. Lovely spot to sit back and relax and outside the hotel – Tumbling Stone offers great food and coffee." – Tracey
View Photos, Read Reviews & Check Availability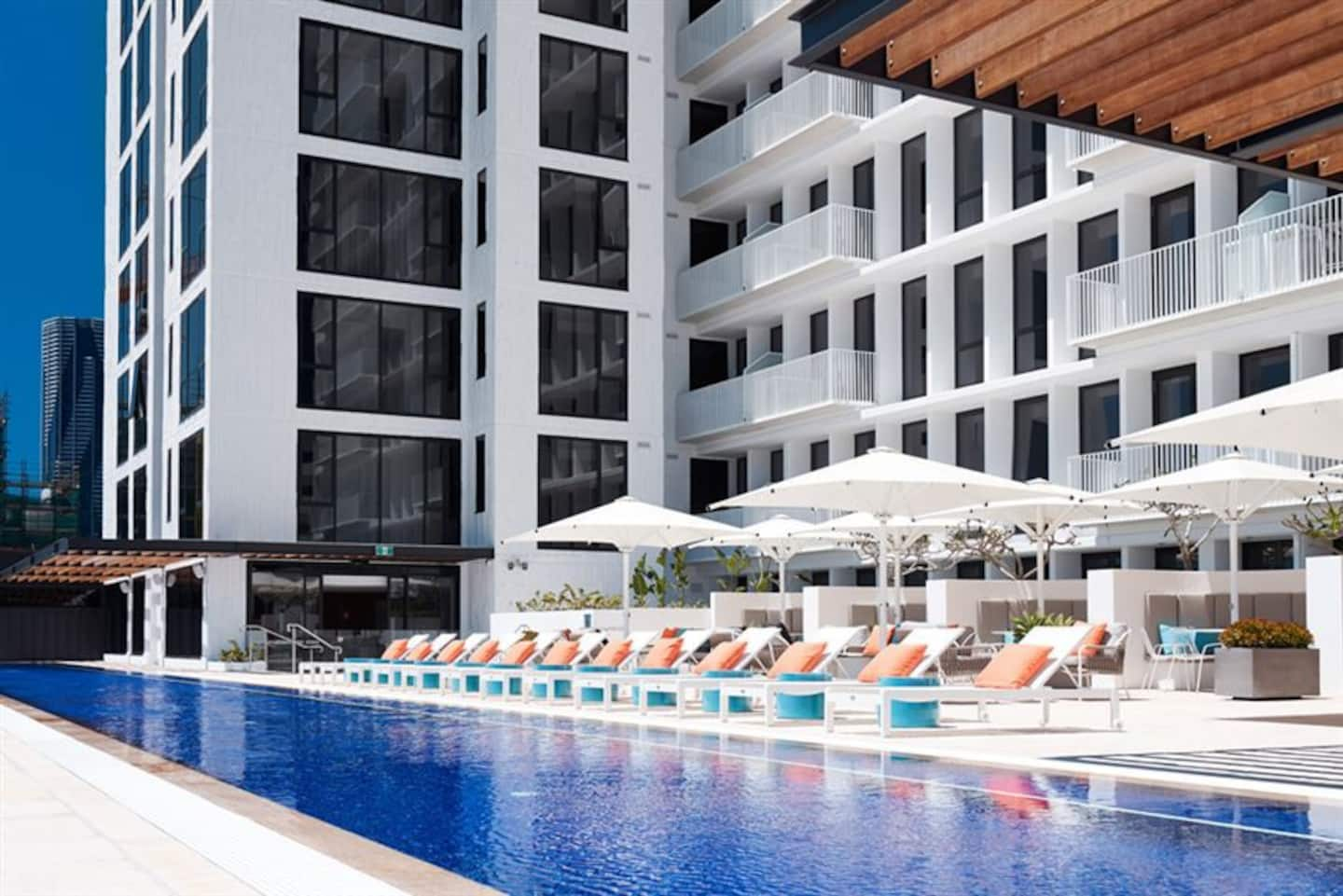 ---
4) London-Vibe Urban Loft 3B3B Wi-Fi City Fringe
Location: Spring Hill
Airbnb Plus: No
Superhost: Yes
https://www.airbnb.com.au/rooms/21756228
Price: $220+ AUD per night
Another fantastic Spring Hill Airbnb, this incredible three-bedroom loft apartment is expertly designed, decorated and executed. Taking inspiration from the rustic warehouse trend of big global cities, this massive open plan abode is a true experience in its own right.
Enjoy access to the building's gym, pool and sauna, or head out to the hip local haunts for a bite to eat or a few drinks. The city center is just a ten-minute walk. Don't miss out – this loft is often booked by photographers for shoots as it's so stylish and cool!
Guest review: "This was what I like to imagine when I think about what Airbnb can be – just about perfect. Fantastic design, thoughtful hospitality and great communication. Thanks so much for such a fab place!" – Andrew
View Photos, Read Reviews & Check Availability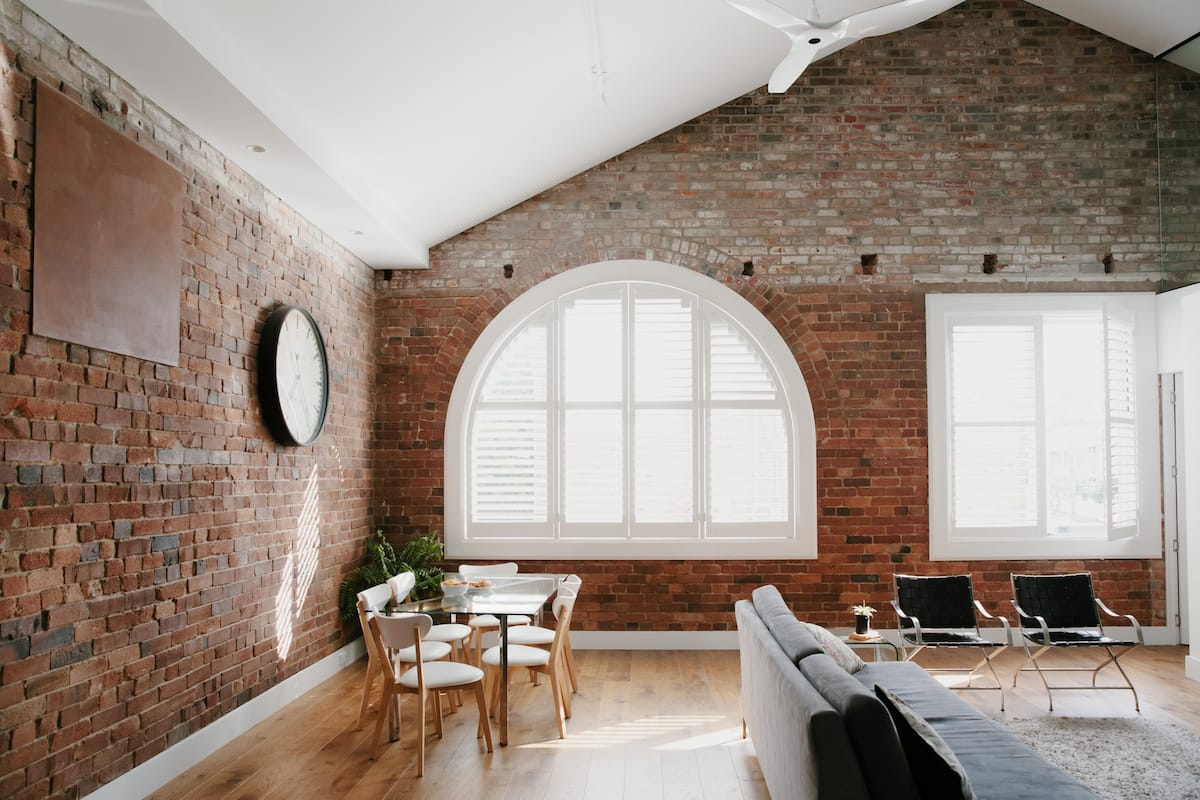 ---
5) Quaint, Airy Cottage in the Heart of Historic Paddington
Location: Paddington
Airbnb Plus: Yes
Superhost: Yes
https://www.airbnb.com.au/rooms/21175900
Price: $130+ AUD per night
Charming Paddington is one of inner-city Brisbane's coolest and most sought-after suburbs, and this beautiful two-bedroom modern cottage will put you right in the heart of all the area has to offer.
Verified for quality by Airbnb, this updated historic home is reminiscent of the architectural style of the neighborhood. It has a garden full of tropical plants, a terrace and Mid-Century inspired interiors for a relaxing and easy stay. It's a short walk to Suncorp Stadium.
Guest review: "What a wonderful couple of weeks we had at Joanne's place. It was a clean and welcoming haven while our house was being renovated. Everything was so close and nothing was too much trouble for Joanne. Cannot recommend this place highly enough!" – Bronwyn
View Photos, Read Reviews & Check Availability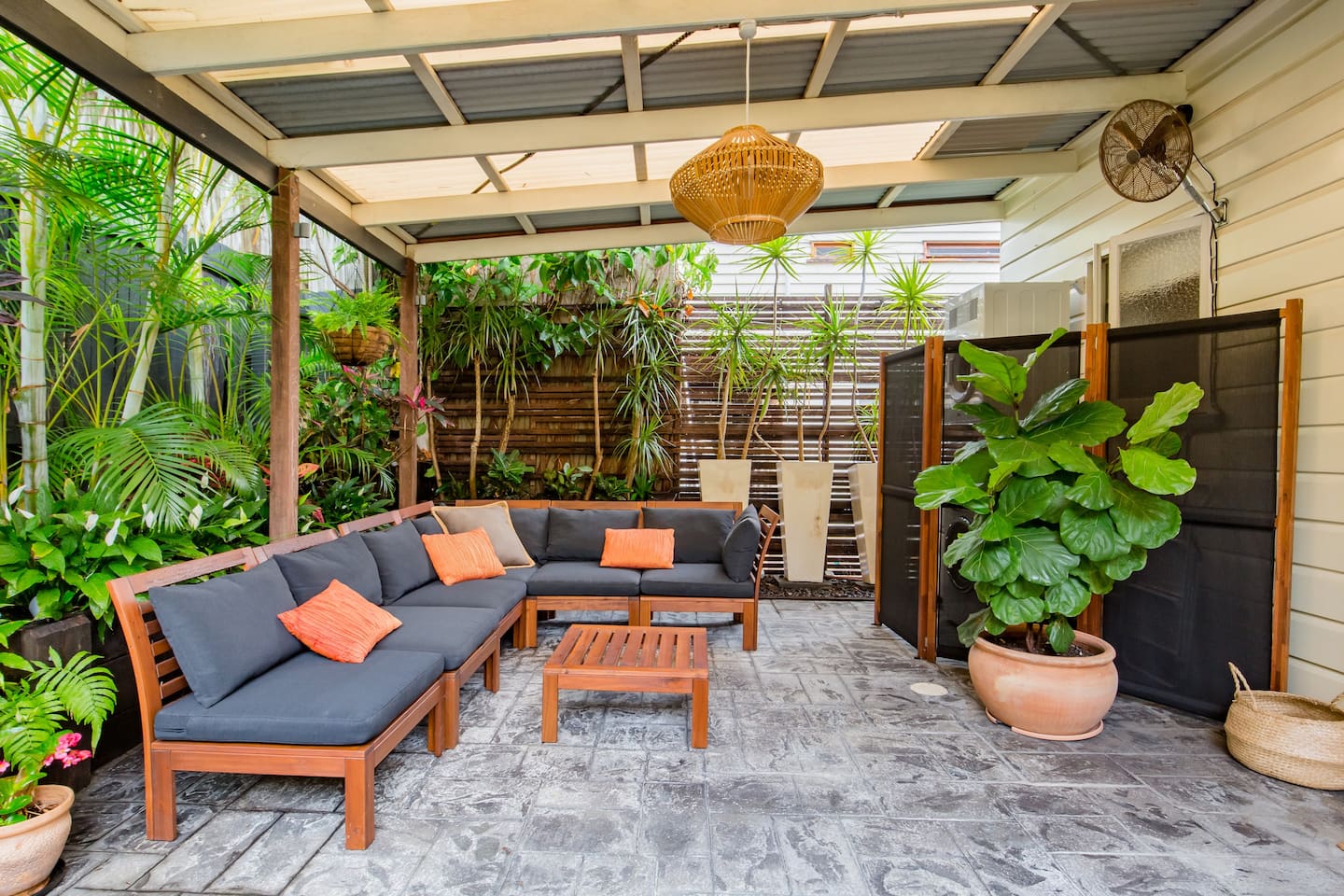 ---
6) Inner City Haven Enviro-Luxury
Location: Spring Hill
Airbnb Plus: No
Superhost: Yes
https://www.airbnb.com.au/rooms/2732655
Price: $190+ per night
Everyone loves the Brisbane inner-city destination of Spring Hill, and this one-bedroom home is potentially the most unique Airbnb experience you'll ever have. A self-described "eco pod", it features a design that is the ultimate in environmental luxury.
A one-off architectural design, this ultra-modern abode has its own eco-plunge pool and elevated views of Spring Hill and beyond. Everything about this incredible house is earth-friendly and carefully thought out. Brisbane's CBD is just a short walk away!
Guest review: "Phil's place was absolutely magnificent! My husband and I had an amazing experience. The place is unique and genuinely eco-friendly. It's clean, it's unique, it has basic breakfast things and is quite central. It's a 15-minute walk to the CBD and a 5-minute drive. And above all, Phil's hospitality is absolutely amazing. We accidentally booked an extra two days and upon realizing, when I messaged Phil, he managed the booking easily and without any drama. He has thorough information guide about his beautiful unique home and Brisbane favorite spots. All in all, my husband and I genuinely recommend you experience his beautiful place!" – Aliya
View Photos, Read Reviews & Check Availability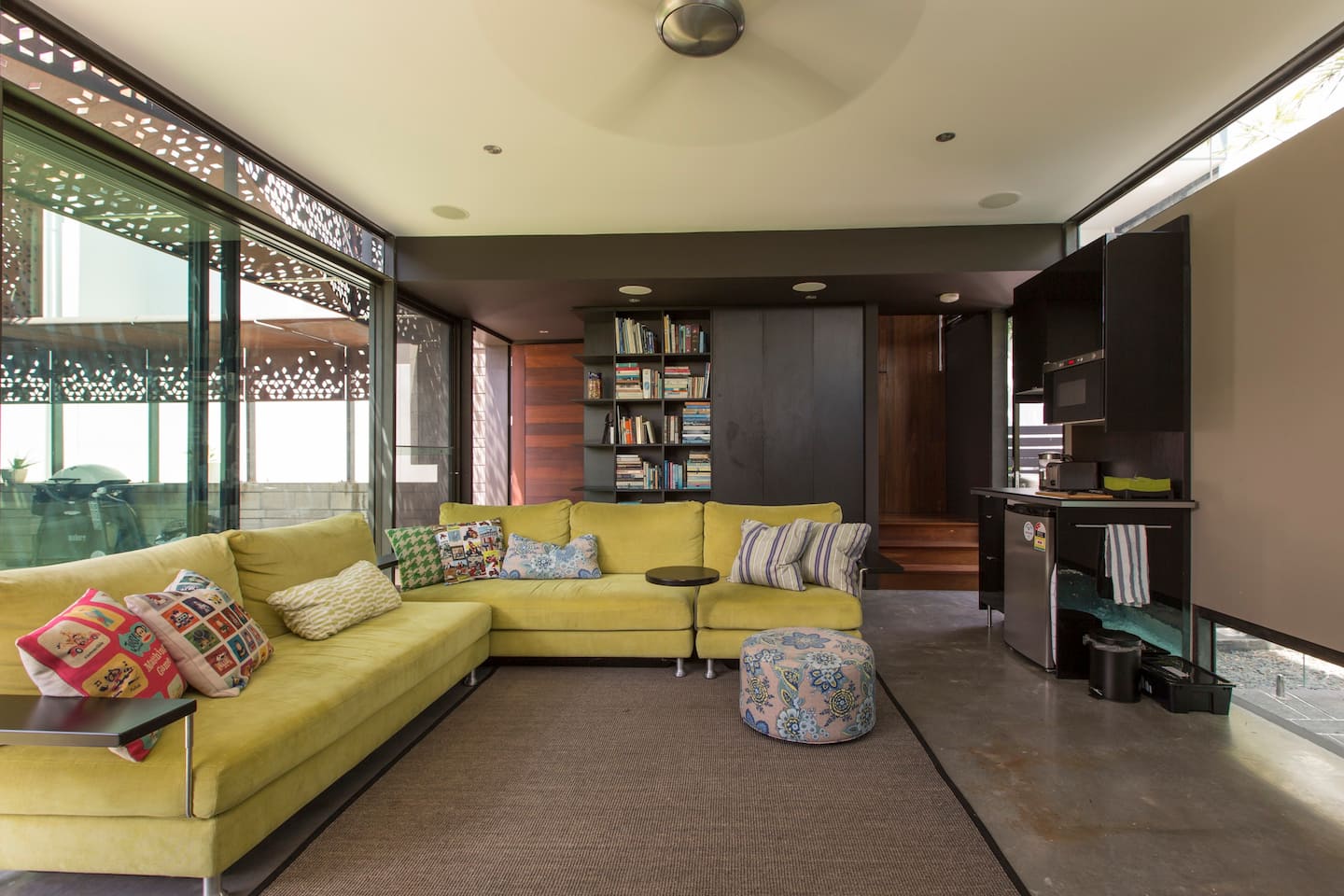 ---
7) 'Bursley'- Inner City Art Deco Oasis
Location: New Farm
Airbnb Plus: No
Superhost: Yes
https://www.airbnb.com.au/rooms/11146515
Price: $190+ AUD per night
The hosts are right to call this stunning Brisbane Airbnb an "Art Deco oasis" – it's all that and more. Situated in the hip inner-city suburb of New Farm (which has regularly been awarded "Brisbane's most liveable suburb"), this renovated two-bedroom apartment dates back to the 1930s and has retained many of its original features.
However, its interior design is completely modern, stylish and visitor-friendly. Brisbane CBD is around a 15 minutes' walk away, but you may find it difficult to leave the cool cafes, restaurants and bars of New Farm behind.
Guest review: "This little Art Deco apartment is absolutely an urban oasis. Spotless, well maintained, super comfy and a brilliant location. Our host made it super easy to check in and thought of everything we could possibly need. I highly recommend Bursley and plan on making it my regular accommodation whenever I'm in Brisbane." – Susie
View Photos, Read Reviews & Check Availability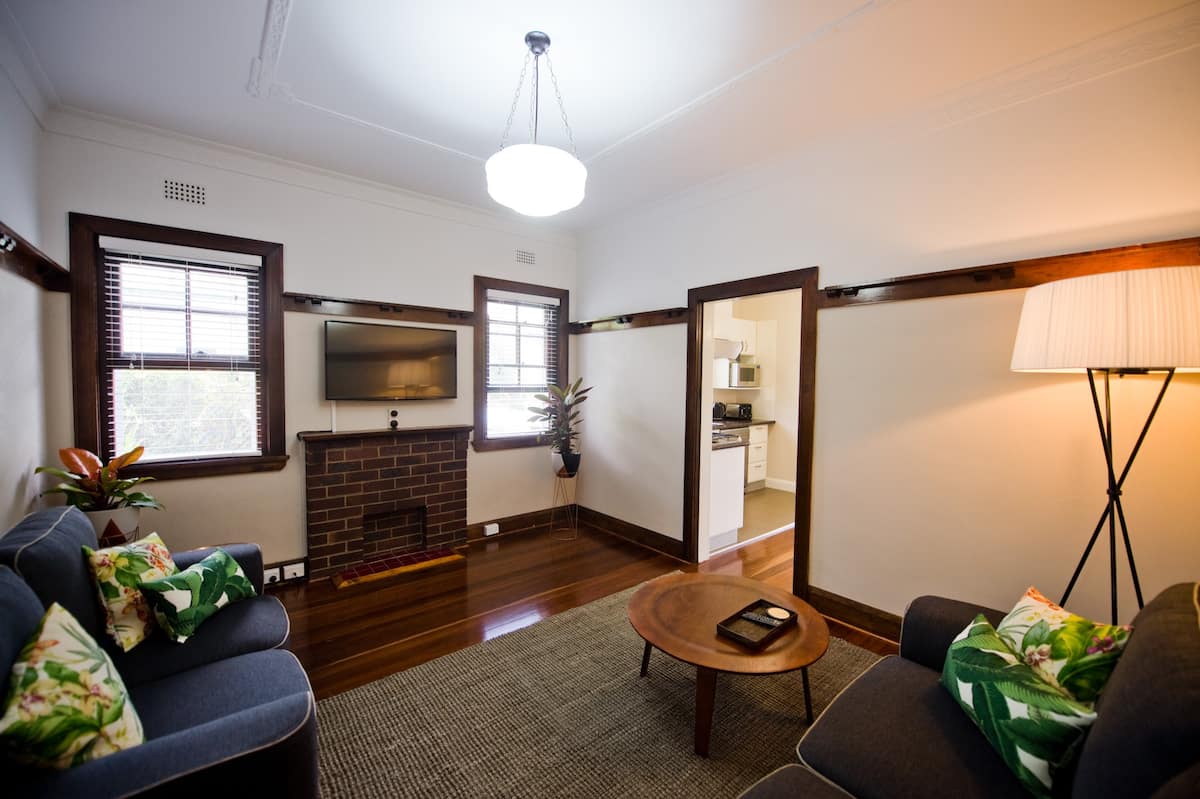 ---
8) ⚜️Magnolia On Kent⚜️ LUXURY Boutique Queenslander
Location: New Farm
Airbnb Plus: No
Superhost: Yes
https://www.airbnb.com.au/rooms/17740775
Price: $250+ AUD per night
No visit to the Sunshine State is complete without a stay in a traditional "Queenslander", and this verified three bedroom 1890's home has style and location to back it up. Situated in the hip inner city location of New Farm, it has everything you would expect from a luxury Airbnb in Brisbane, with a perfect 5 star rating from over 140 guests.
A large breezy verandah, high ceilings, elegant and luxurious decor and the best of everything central Brisbane has to offer is just a stone's throw away.
Guest review: "Simon's home is simply spectacular. We didn't want for anything during our stay, and Simon made us feel very welcome with a bottle of bubbles and chocolate on arrival. The location is very convenient to bars, cafes and restaurants, and the CBD is a quick ride away. I would recommend to anyone – those traveling from out of town or those looking for a staycation closer to home. It's perfect!" – Rebecca
View Photos, Read Reviews & Check Availability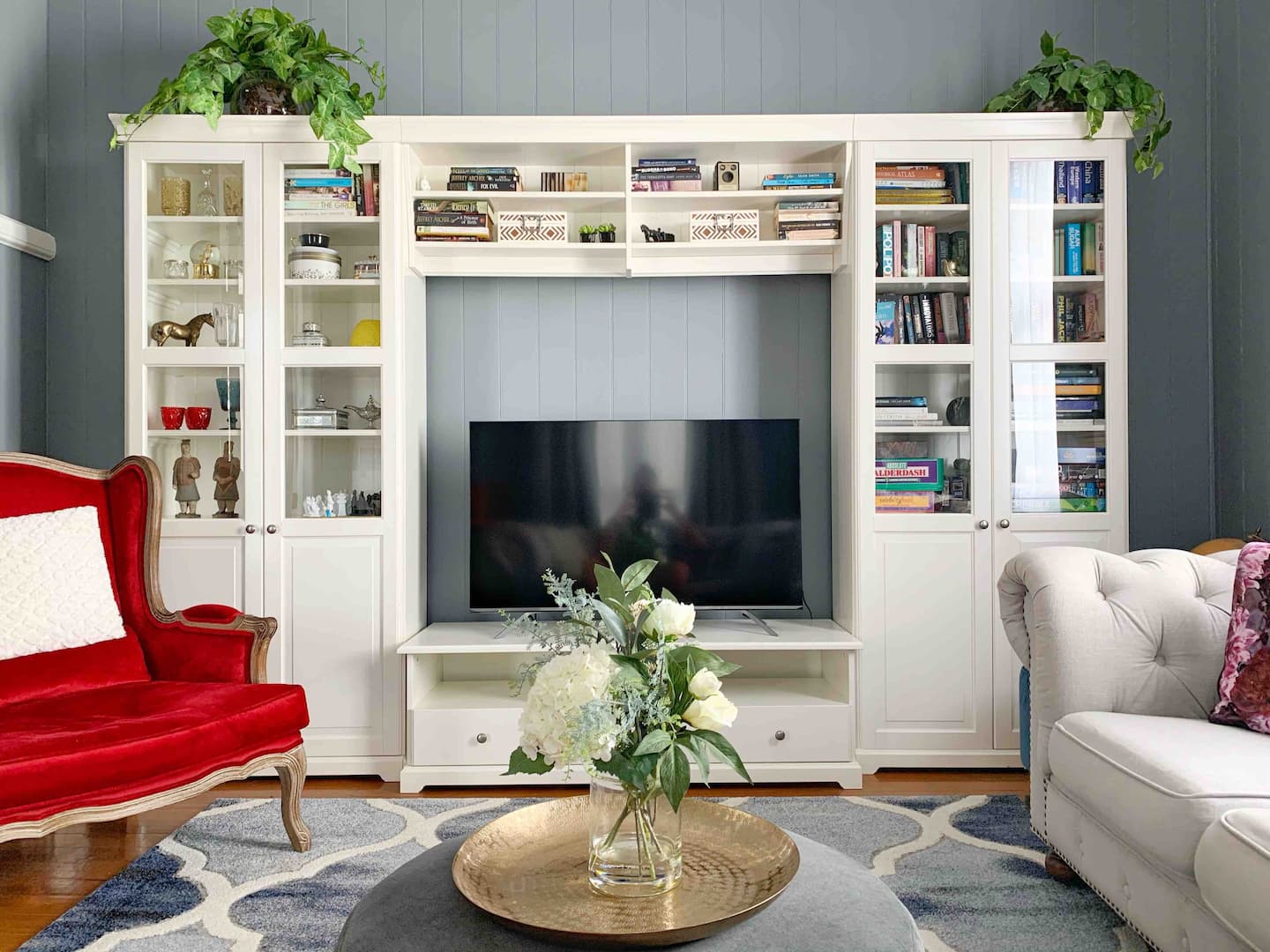 ---
9) Boutique Apartment on one of Brisbane's Trendiest Streets
Best Airbnb In Fortitude Valley
Location: Fortitude Valley
Airbnb Plus: Yes
Superhost: Yes
https://www.airbnb.com.au/rooms/21111735
Price: $188+ AUD per night
This Airbnb in Brisbane Fortitude Valley is located in one of the most popular suburbs in the Queensland capital, and this verified and Superhosted chic apartment really encapsulates the look and feel of this hip suburb.
Drawing inspiration from the loft style apartments of New York City, this two bedroom dream is modern yet timeless, with amazing design touches everywhere you look. Explore the vibrant local neighbourhood and its many tourist hotspots, or take the beautiful riverside walk into Brisbane CBD in just 20 minutes.
Guest review: "You will enjoy the vibe of the neighbourhood and be extremely comfortable and well looked after during your stay. An easy walk to so many cafes, bars and restaurants and the cinema. Our family of four had a long stay and could easily prepare meals in the well equipped kitchen and had enough space to relax without being on top of each other. Great stay thanks." – Rachel
View Photos, Read Reviews & Check Availability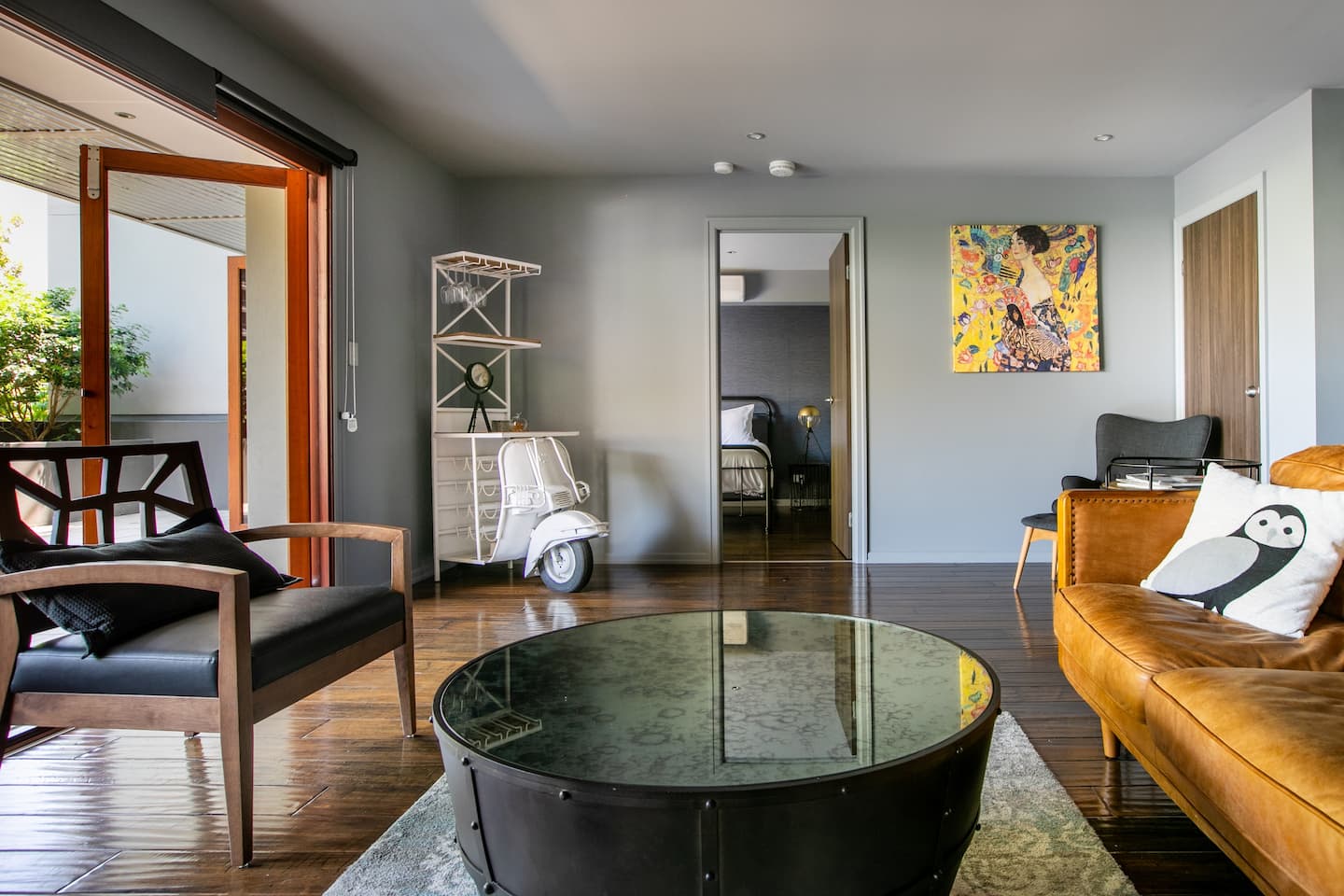 ---
10) Iconic City Pad & Brisbane's Best Rooftop Pool!
Best Brisbane Penthouses Airbnb
Location: Fortitude Valley
Airbnb Plus: No
Superhost: Yes
https://www.airbnb.com.au/rooms/38688086
Price: $79+ AUD per night
Another Airbnb in Fortitude Valley with so much to offer, this contemporary two-bedroom apartment is situated in a 5 star complex with a rooftop infinity pool with jaw-dropping Brisbane views.
A brand Brisbane Penthouse Airbnb apartment on the 20th floor with amazing views of its own, it's perfectly located within walking distance to the city, Chinatown, and neighboring inner-city magnets. A top option for your next trip to Brisbane!
Guest review: "A super convenient location – near a train station or a very cheap Uber to the city if needed. We stayed 3 nights at Lee's place and it was great – from the seamless check in (really clear instructions) to the sparkling rooftop pool and also the super comfy beds. Thanks Lee for your hospitality – we had a great stay." – Liz
View Photos, Read Reviews & Check Availability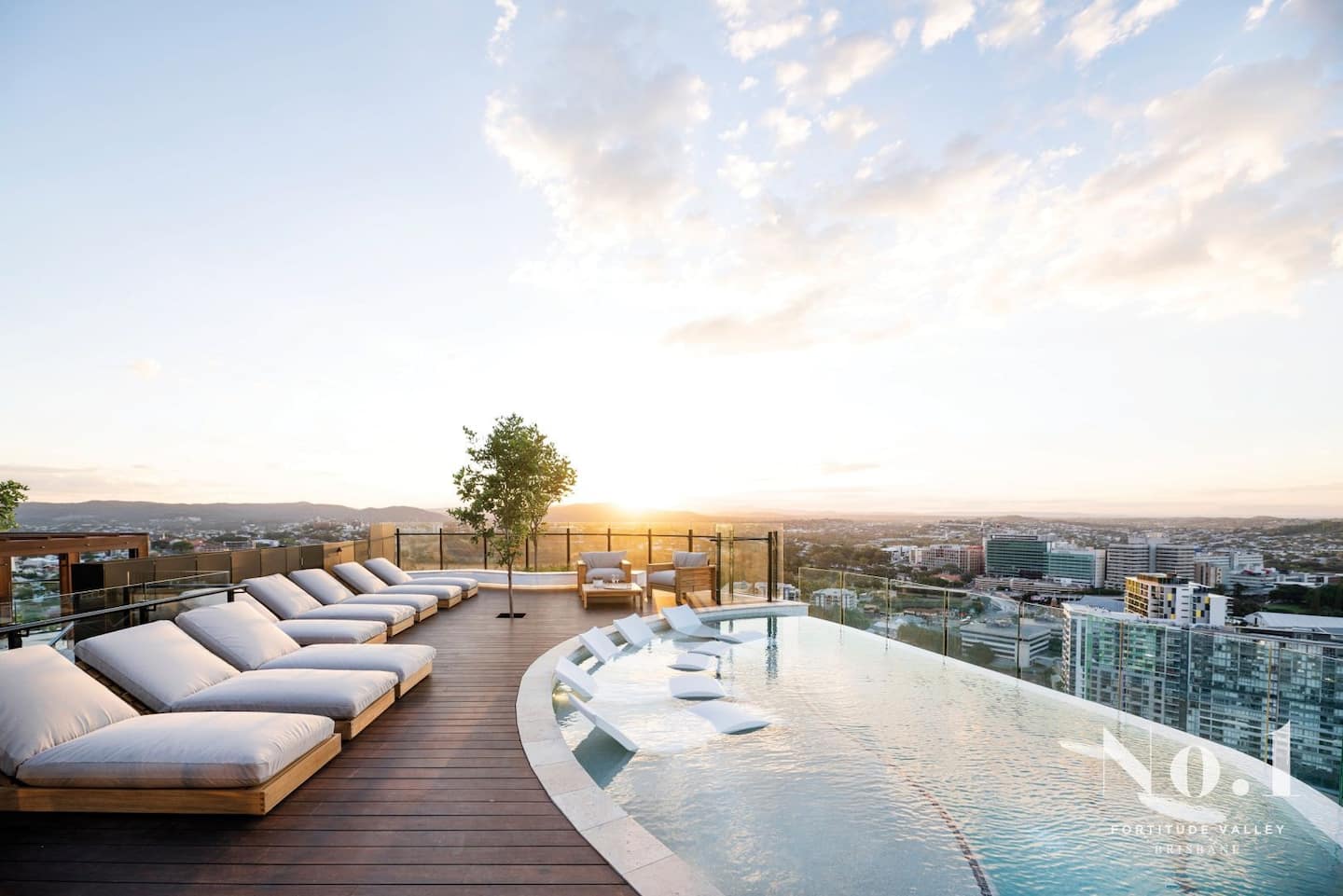 ---
Riverside Brisbane Airbnb Rentals
The Brisbane River winds its way through the city, offering a plethora of chances to enjoy lazy days in the sun with a beautiful backdrop. These Brisbane properties all have prime riverside positioning.
---
11) Get a Taste of Local Life from a Charming Character Home
Location: East Brisbane
Airbnb Plus: Yes
Superhost: Yes
https://www.airbnb.com.au/rooms/26502293
Price: $100+ AUD per night
The number of reviews that call this 114 year old East Brisbane cottage their "dream home" speaks for itself. Featuring two bedrooms, "Bellgrove" is located in a quiet, leafy neighbourhood with upmarket shops, cafes and restaurants all on your doorstep.
Staying at this cozy Brisbane Airbnb is unbeatable value for money and an experience you'll cherish for a long time.
Guest review: "We were very comfy during our stay at Bellgrove, as soon as I walked in, I thought it was my dream home with all of the gorgeous antique finishes, & the amazing claw foot bath! Also loved the sun coming through my bedroom window in the morning and looking out to the trees. Definitely recommend. Handy location to bus, ferry & supermarket. Thanks Steph & Josh!" – Trudy
View Photos, Read Reviews & Check Availability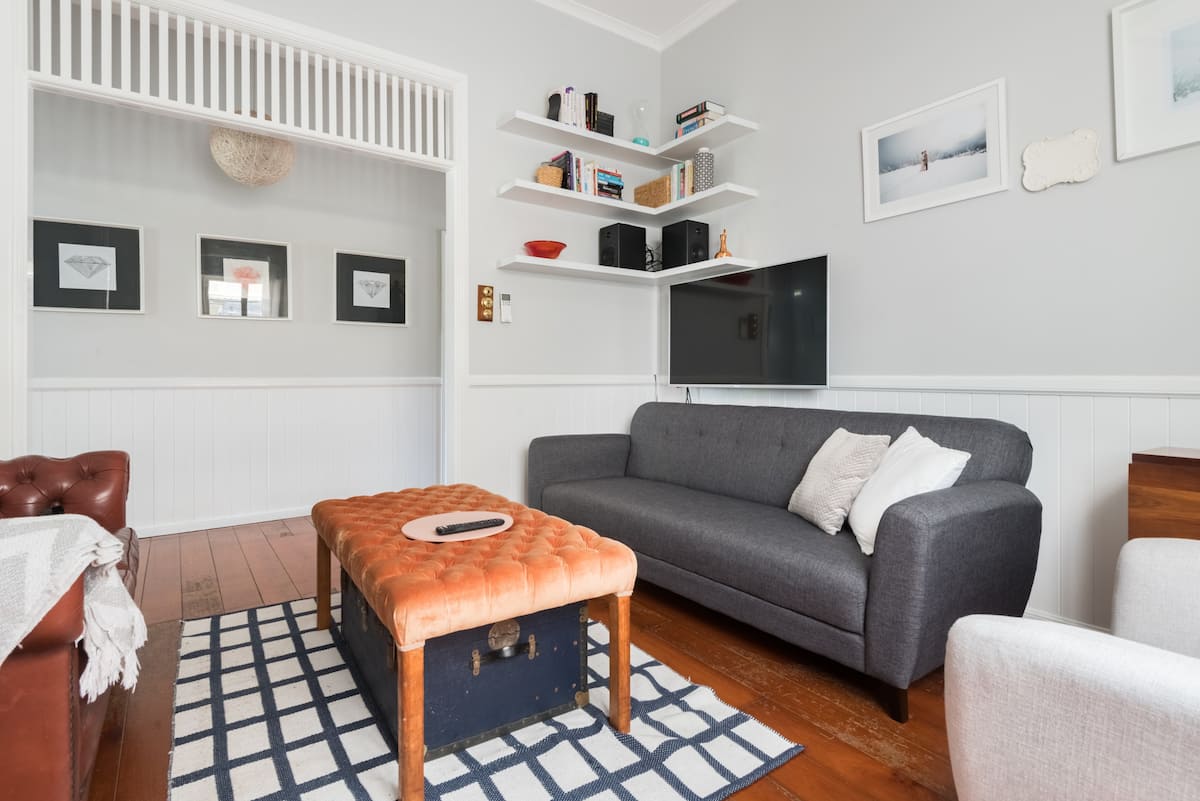 ---
12) Deluxe Business Apt in an Award-Winning Building with Views
Best Airbnb in South Bank Brisbane
Location: South Bank
Airbnb Plus: Yes
Superhost: Yes
https://www.airbnb.com.au/rooms/28972440
Price: $500+ AUD per night
Whether your trip is for business or pleasure, you can be guaranteed that the experience of staying in this executive one bedroom city apartment will be first class. This luxurious Airbnb is surrounded by nightlife, eateries and shopping precincts.
A short drive into the CBD (or a breezy 20-minute riverside walk), you'll love the comfortable yet luxe feel of this fantastic pad. Which is complete with its own private balcony for those steamy Australian nights watching the city lights.
Guest review: "We had a great stay, loved the apartment, so clean, comfortable and cosy. We couldn't get over how quiet it was, considering we are in the middle of Brisbane. The apartment is exceptionally well set up, large terrace and walking distance to everything we needed, including good coffee, restaurants, art galleries, Southbank, book shops, free ferries and Coles! Nathalia and Juan were responsive and attentive hosts. Highly recommend this place to stay." – Julia
View Photos, Read Reviews & Check Availability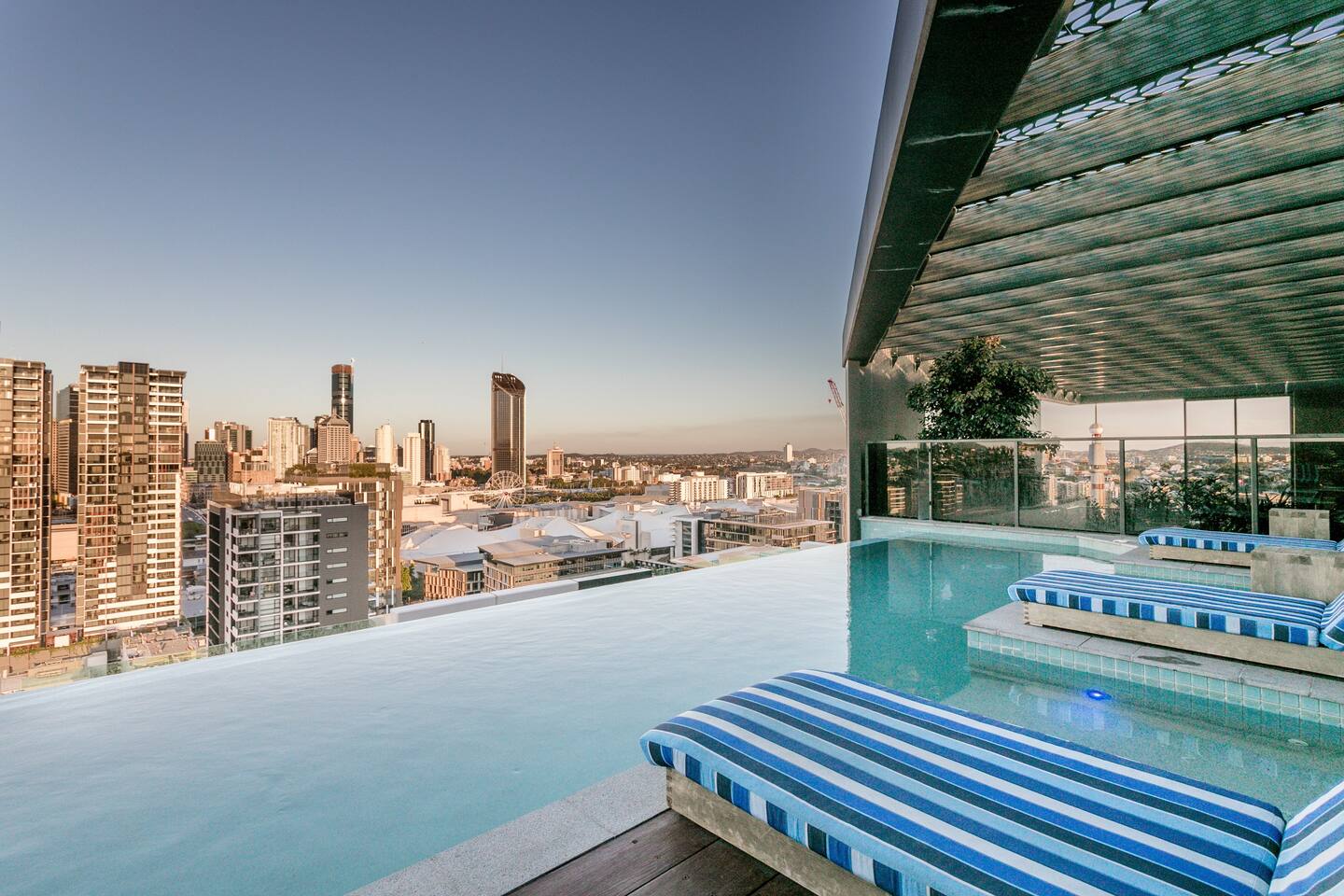 ---
13) Visit Lone Pine Koala Sanctuary from a Courtyard Oasis
Location: Kenmore
Airbnb Plus: Yes
Superhost: Yes
https://www.airbnb.com.au/rooms/15413180
Price: $79+ AUD per night
Value for money doesn't even begin to cover what this epic verified two-bedroom apartment offers. Industrially styled and achingly cool, it has achieved near-perfect Airbnb rating status thanks to its great hosts, well-thought-out practicality and amazing location.
Situated in the suburb of Kenmore, just 10km from Brisbane CBD, you'll have the cute inhabitants of popular Lone Pine Koala Sanctuary as neighbors, and nearby rainforest gardens to unwind in. After a long day, enjoy a local beer on the large patio or pick up a bite at one of Kenmore's many restaurants, cafes or bars.
Guest review: "This accommodation met our expectations and more. Great area close to shops, excellent communication and service by the hosts, beautiful location and amenities, comfy beds, functional kitchen and a variety of entertainment options. Will stay again!" – Jessica
View Photos, Read Reviews & Check Availability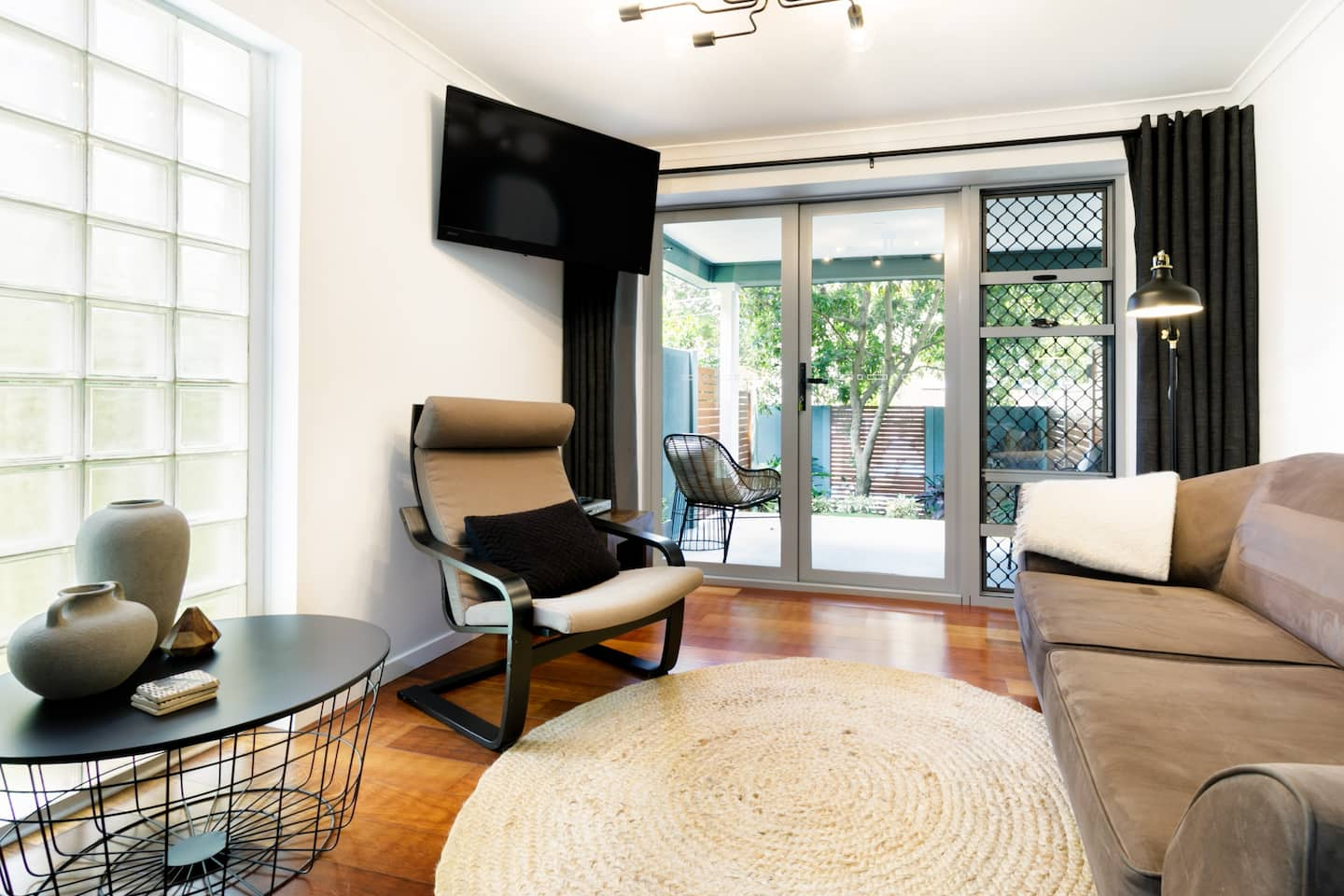 ---
14) Immaculate Apartment Close to Brisbane City and Airport
Best Airbnb Near Brisbane
Location: Wooloowin
Airbnb Plus: Yes
Superhost: Yes
https://www.airbnb.com.au/rooms/23689894
Price: $110+ AUD per night
Verified by Airbnb and managed by Superhosts, this stunning one-bedroom apartment is located in the suburban enclave of Wooloowin, just a fifteen-minute drive from the city.
A fully equipped kitchen, fireplace, BBQ and courtyard are all at your disposal, and the quiet and relaxed location is bound to leave you feeling like a million bucks by the end of your stay. Local cafes are a short walk away.
Guest review: "The BnB was immaculate and was very clean. The room was really well decorated and it felt very modern. The bed was super comfy and the whole place very homey feeling to it. It's very well located only a short trip to the city and a wonderful view of the city as you walk out. I would highly recommend this place to anyone wanting to stay in the Brisbane area!" – Toby
View Photos, Read Reviews & Check Availability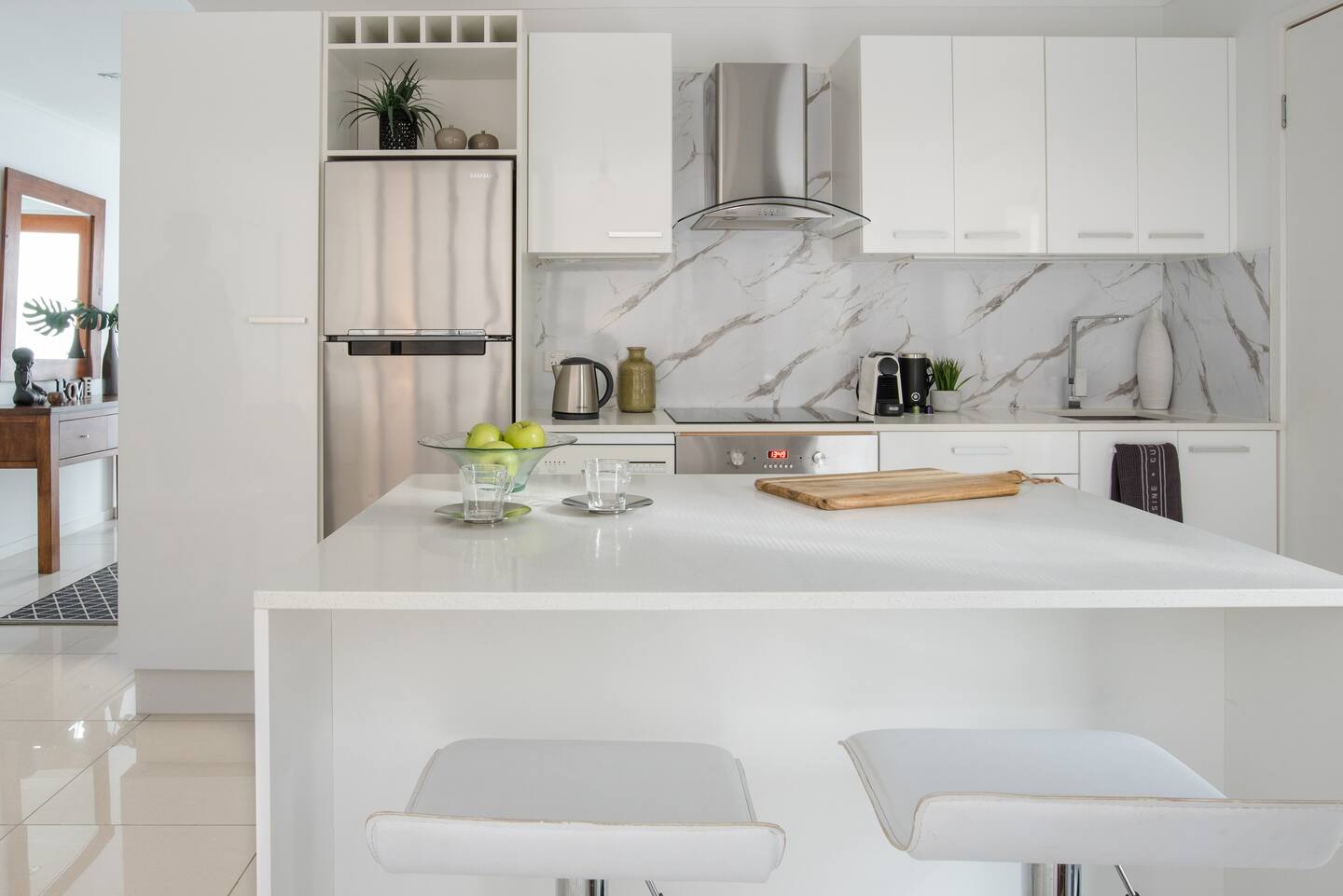 ---
Am I Missing Any Amazing Airbnb Accommodation in Brisbane?
Have you visited Brisbane lately and stayed at an Airbnb apartment/ house that you absolutely loved? Or maybe you're an Airbnb Host in Brisbane and think your listing should be on this list? Let me know! I'd love to keep my list of Airbnbs in Brisbane as up-to-date as possible!
But wait! Don't leave Brisbane without enjoying some of the epic local experiences the city offers!
Airbnb Brisbane Australia Travel Hack | If you or someone you're heading to Brisbane with hasn't signed up for an Airbnb account before, you can create a new account and receive up to $79 AUD off your first night! That's a pretty big money-saver, and can help you stay in one of the fancier places on the list! ;-)
---
Great Tours To Book While You're in Brisbane
Brisbane offers up some of the most diverse experiences a city can have. Live it up in the buzzing CBD, enjoy a relaxing day on the river, escape to a nearby tropical island or even spend the day with cute and cuddly native Australian wildlife. The options are endless.
Here's my shortlist of the best Brisbane day trips and activities you have to check out…
---
Brisbane Street photography with a local pro
"We'll meet at a local cafe hidden in a small laneway where we'll learn some photographic theory, camera (or phone) settings and tips and tricks to apply when it comes to street photography. We'll then set out to explore the streets and alleyways of the Brisbane CBD where I'll show you the best spots to capture striking street photographs. As we go, I'll be there to critique your photos as you shoot and to offer suggestions for how you can achieve better results."
https://www.airbnb.com/experiences/1308448
Price: $37 per person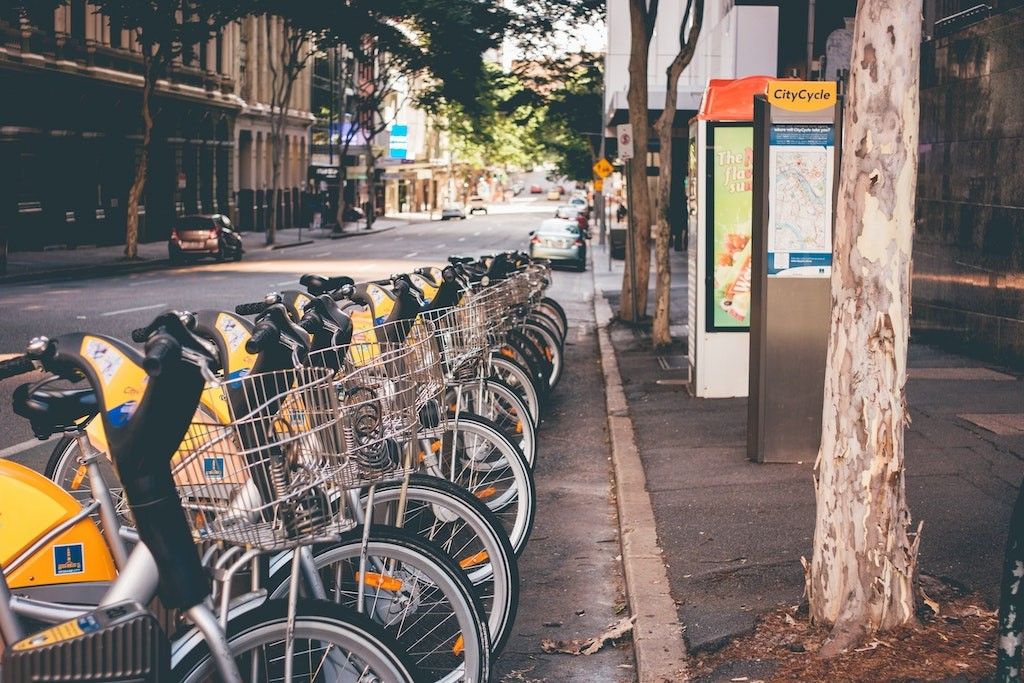 ---
Brisbane to Moreton Island Return Ferry & Adventure Day Pass
An action-packed, fun-filled day on Moreton Island awaits! Use the snorkeling equipment and enjoy 3 hours of kayaking or stand up paddle-boarding. Enjoy land activities such as tennis and mini-golf and full use of resort facilities (including the pool).
https://www.getyourguide.com/brisbane-l300/adventure-moreton-island-day-pass-t109084/
Price: $99+ AUD (9 hours)
Review: "What a fantastic day. The ferry was excellent so easy to catch and very comfortable everything you want for the journey to the island. The adventure day pass was absolutely outstanding the guides were very professional and knowledgeable we upgraded to sea scooters and we cannot fault it this is a must what a brilliant day. Highly recommend the day trip." – Jacqueline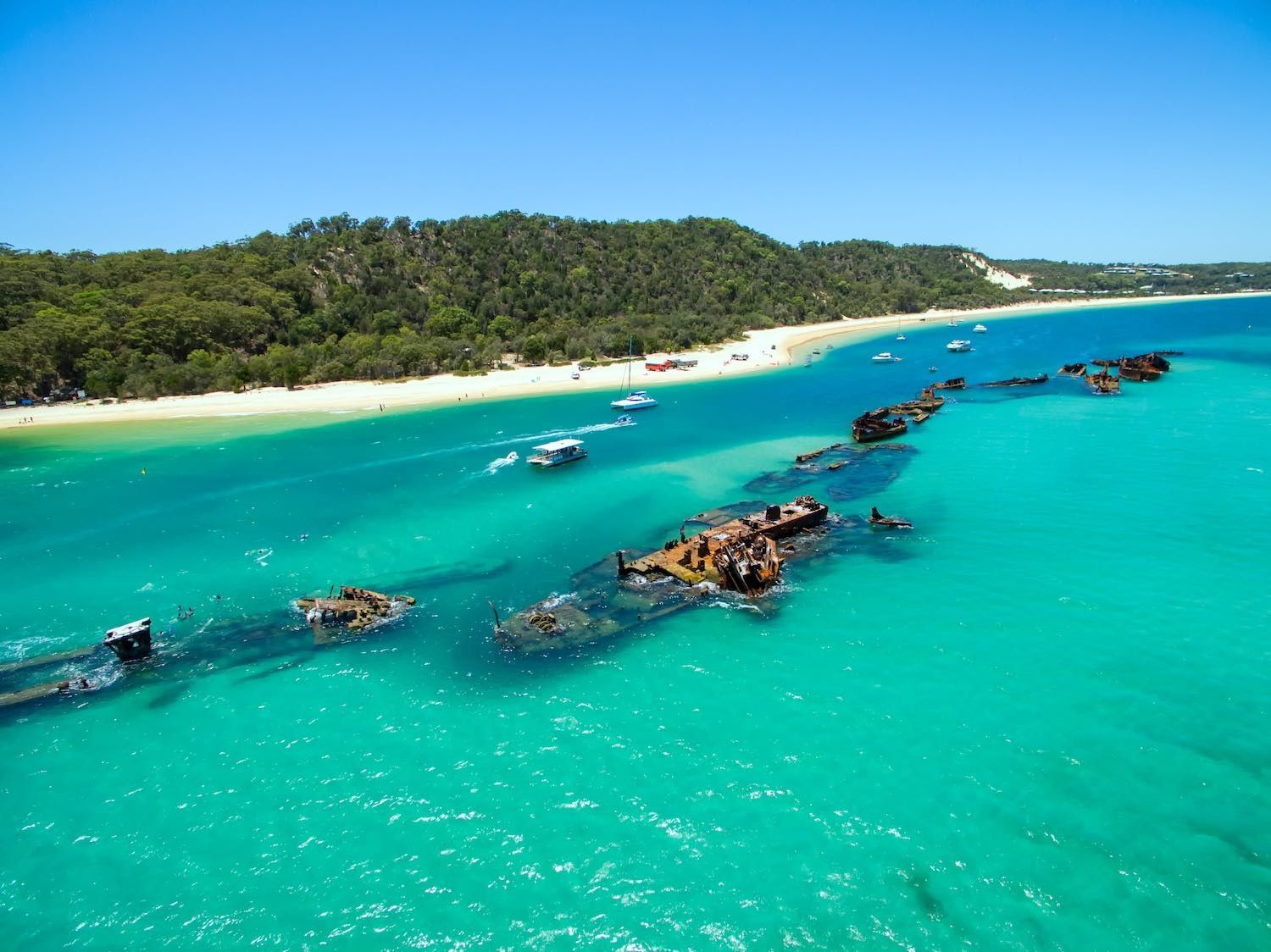 ---
From Brisbane: Stradbroke Island Day Tour
"Visit the second-largest sand island in the world on a day tour to Stradbroke Island from Brisbane. Cruise across Moreton Bay and explore a National Park that is almost completely controlled by the traditional Quandamooka people."
https://www.getyourguide.com/stradbroke-island-l42033/from-brisbane-stradbroke-island-day-tour-t68258/
Price: $159+ AUD (9 hours)
Review: "Brian, our guide, was a legend! Excellent driver, commentary was very informative and humorous throughout the day. Our day trip to North Stradbroke Is was amazing. The lunch venue was a wonderful spot to eat the delicious fish and chips. Brian showed us a koala in the wild and the walk at North Ridge was the highlight of the day. Will definitely recommend this tour." – Max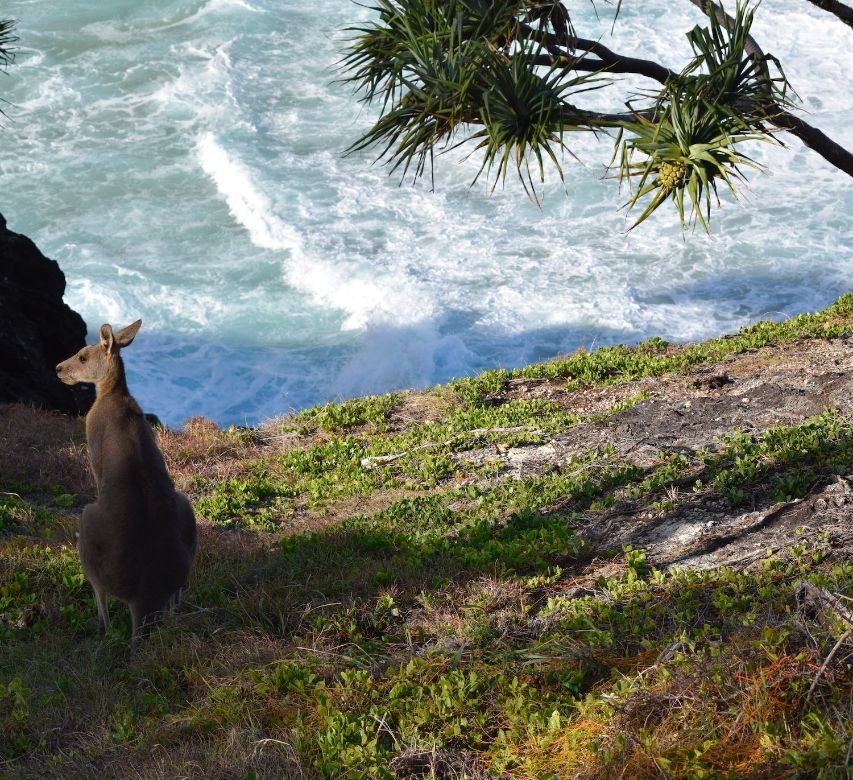 ---
Planning a trip to Australia?
I've spent a good chunk of time down under, and it's one of my favorite countries to travel (and live). There's actually a pretty big part of me that thinks I'll be moving back to Sydney in the future!
Because of this, I've dedicated a huge chunk of my website to Australia, and have written dozens of articles, itineraries, things to do, and so much more! Take a look through a few of my favorite articles below, and do let me know if you ever have any questions. I'm always happy to help anyway I can when it comes to traveling around Australia!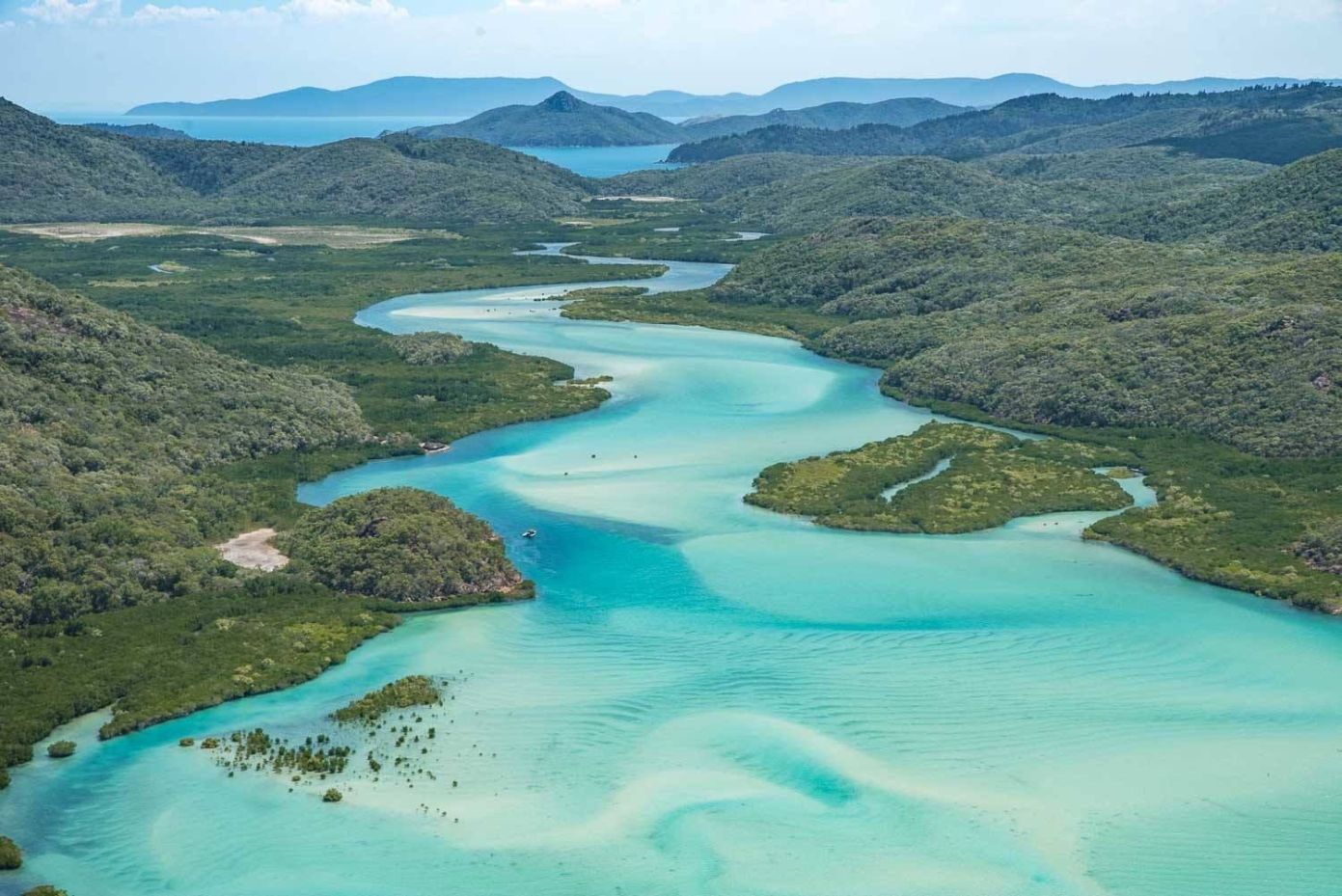 ---
Thanks for reading my Airbnb Brisbane guide!
Share the Brisbane Airbnb love with your travel squad!
https://www.jonesaroundtheworld.com/wp-content/uploads/2019/10/Brisbane-Airbnb-.jpg
1000
1500
Dave
https://www.jonesaroundtheworld.com/wp-content/uploads/2017/03/logotry-1-1-300x106.png
Dave
2020-10-19 08:47:07
2021-04-01 00:45:56
The 14 Best Airbnb Brisbane Vacation Rentals & Penthouses