Looking for some fun and famous quotes about Las Vegas? Well, look no further, as I've compiled this amazing list of Vegas Quotes and Las Vegas captions perfect for that next Instagram post!
Las Vegas doesn't need an introduction. Ask anyone what they think of when they hear the words "Las Vegas". They'll be conjuring up ideas of an adult fantasy land, with world-class casinos, the flashy nightlife of The Strip, and luxury hotels. And these are just a few awesome things in Sin City.
Many of you will be familiar with "what happens in Vegas, stays in Vegas", right? The ultimate goal is a visit to the city, but sometimes we have to make do with what we've got. And what we have here is a series of Vegas quotes that show off how epic the city is.
Hopefully, these quotes inspire you to plan a trip to Vegas and check it out for yourself. Also, be sure to check out my other articles Best Airbnbs in Las Vegas, and Music Festivals in Las Vegas for more trip ideas and beautiful accommodation options!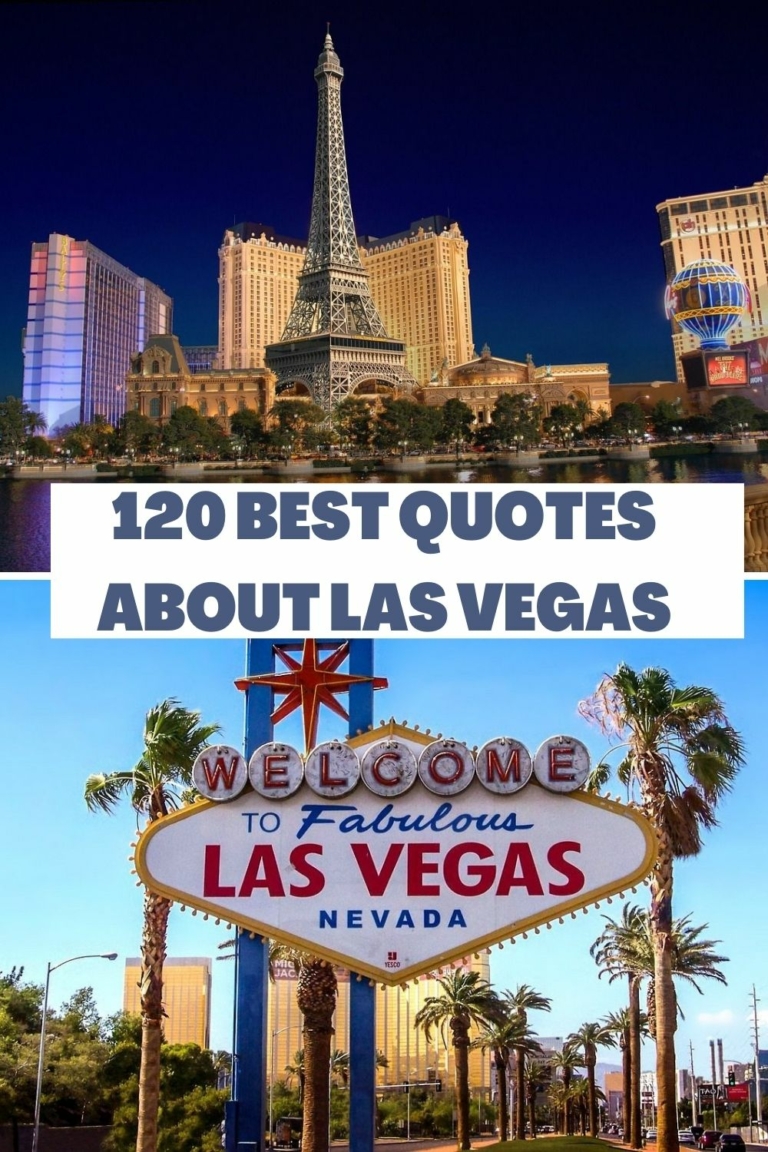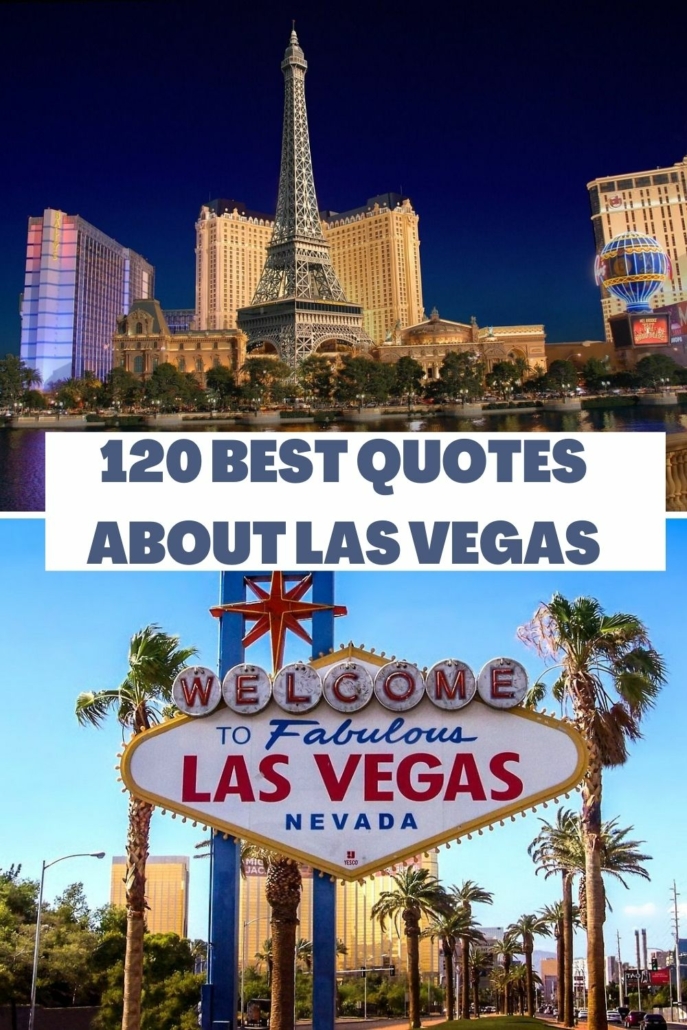 ---
The Best Short Las Vegas Quotes
Looking for a Las Vegas quote that's short and sweet? Here are ten great options to choose from!
1) "Las Vegas – my favorite desert mirage." – Val Saintsbury
2) "Vegas means comedy, tragedy, happiness, and sadness all at the same time." – Artie Lange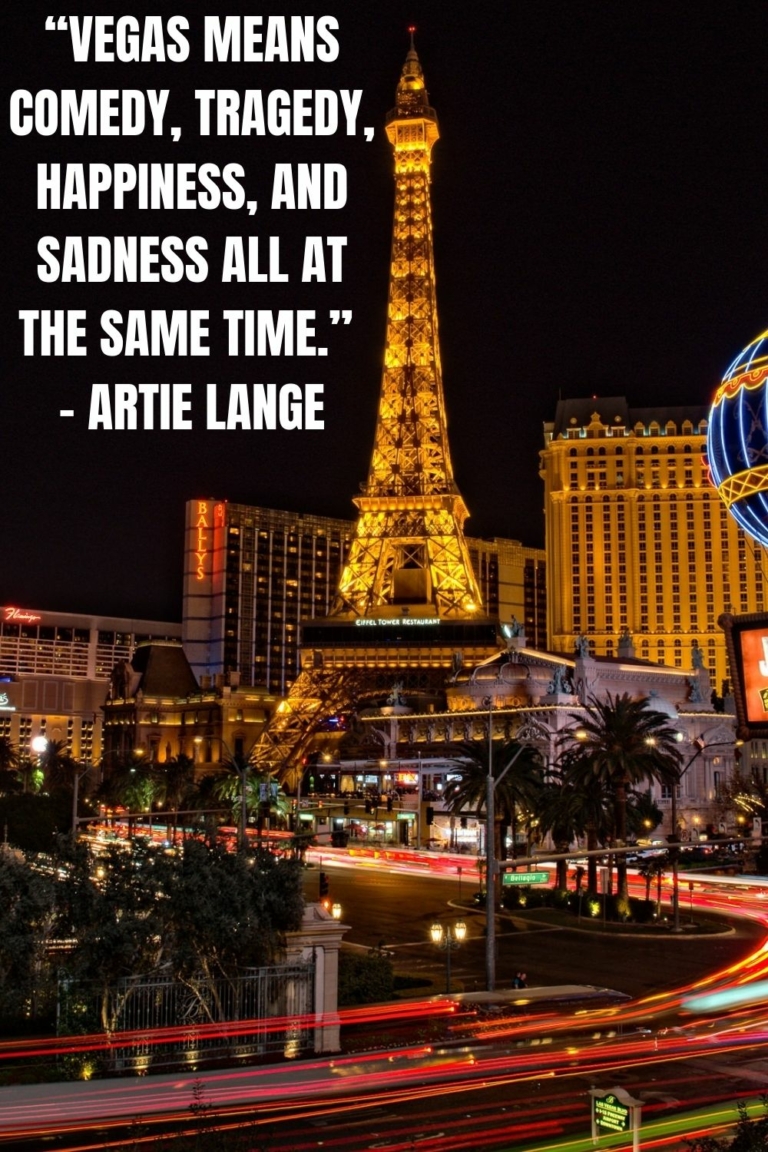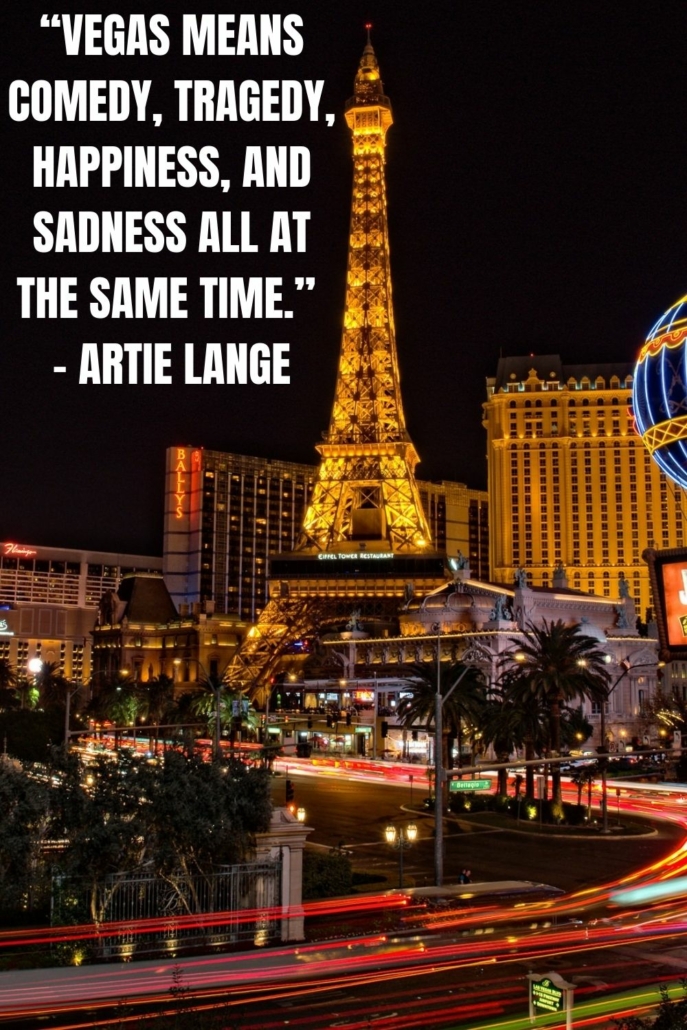 ---
3) "Las Vegas is a city built on hopes, dreams, and a little bit of crazy." – Michael Mcdonald
4) "Las Vega turns women into men, and men into asses." – Alan Kin
5) "Las Vegas is the only place I know where money really talks, it says 'Goodbye.'" – Frank Sinatra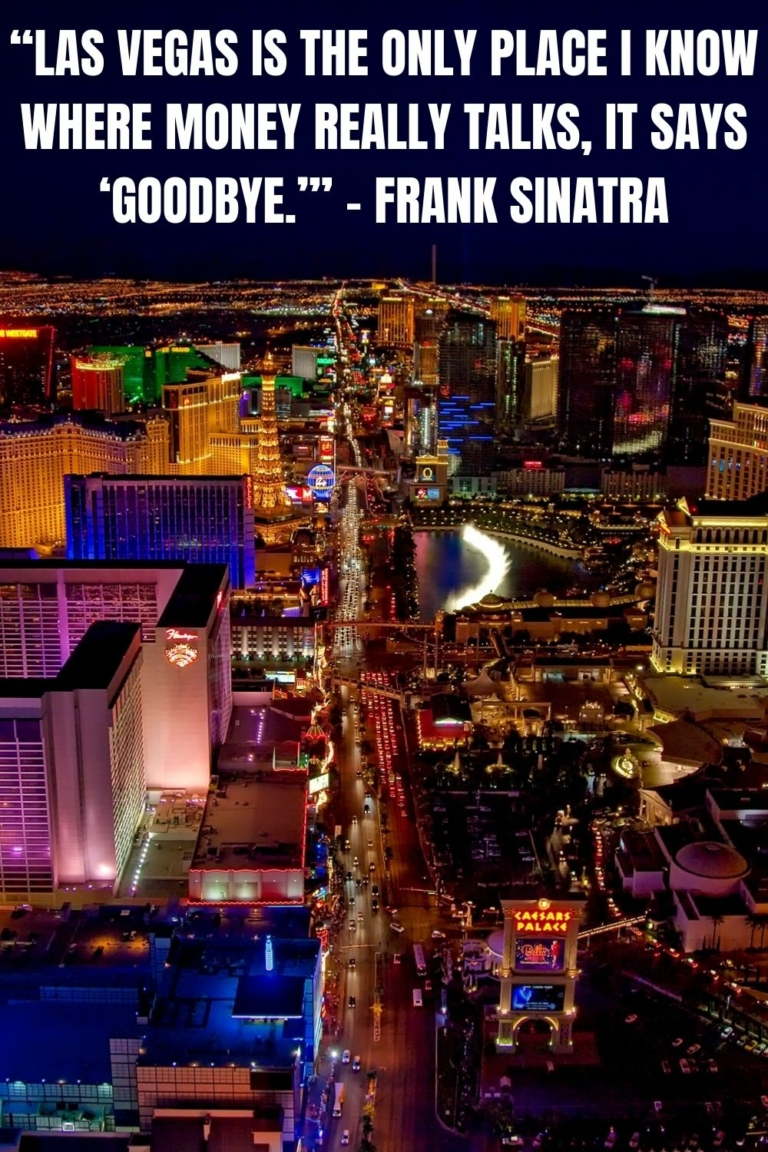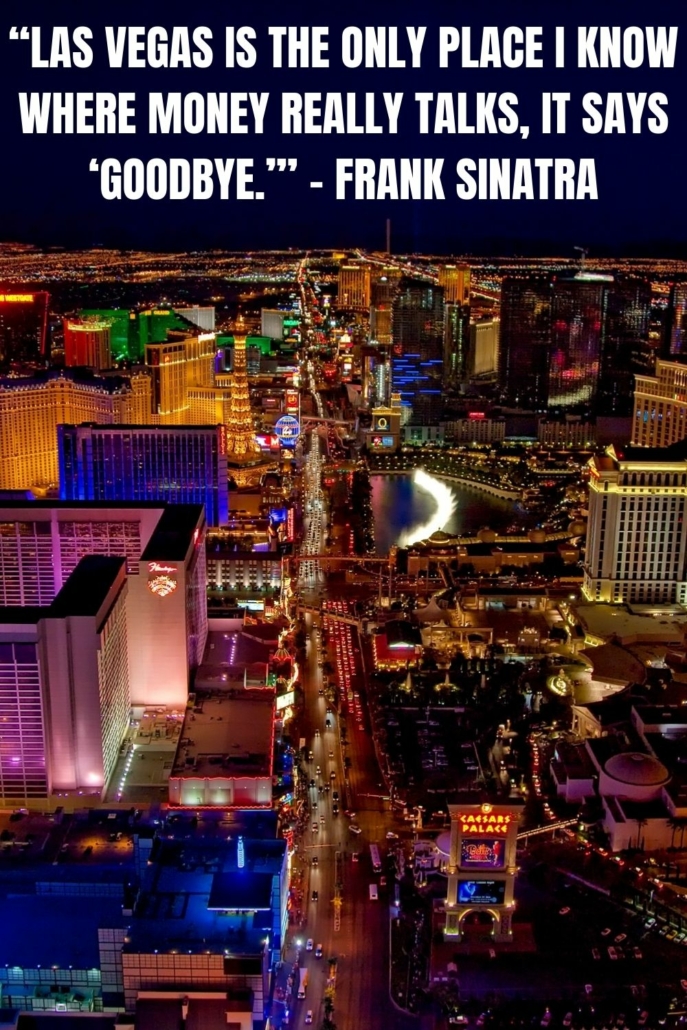 6) "Man, I really like Vegas." – Elvis Presley
7) "In Vegas, it's not pre-drinking, it's brunch." -Unknown
8) "Las Vegas is sort of like how God would do it if he had money." – Steve Wynn
9) "I got a ton of memories in Las Vegas I can't talk about!" – Darius Rucker
10) "Las Vegas is like being inside a trashy-fun snow globe." – Linette Lopez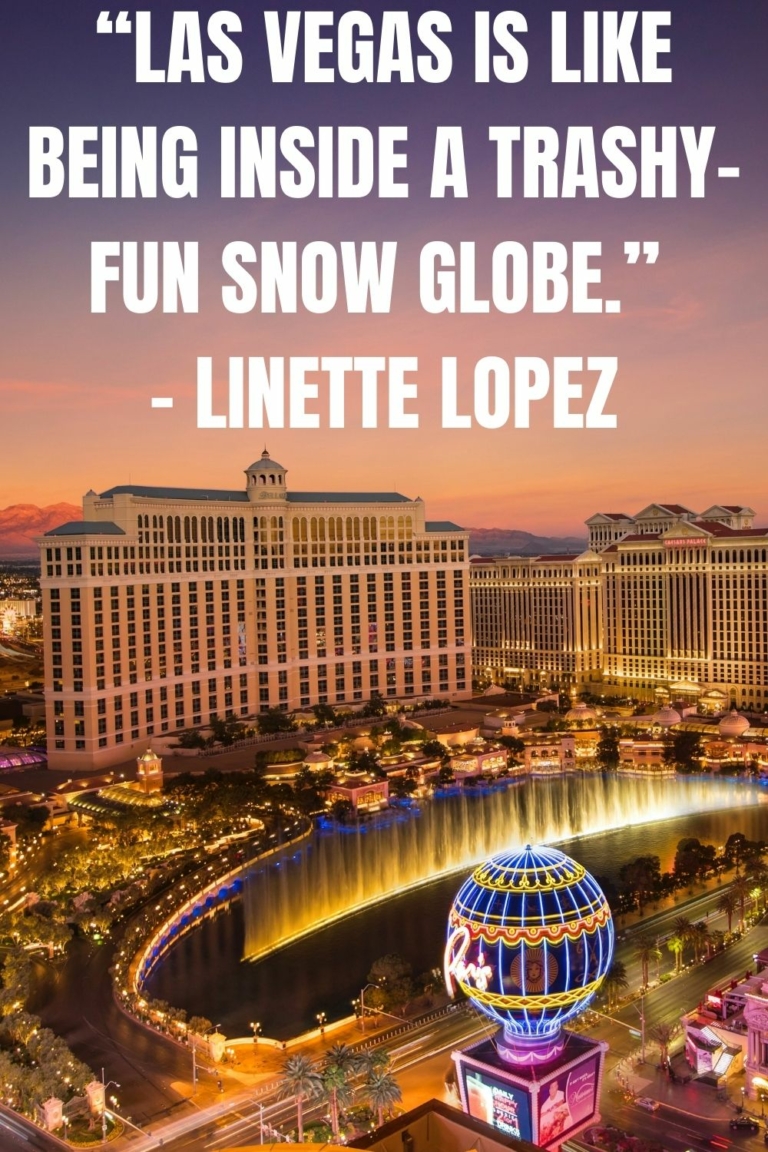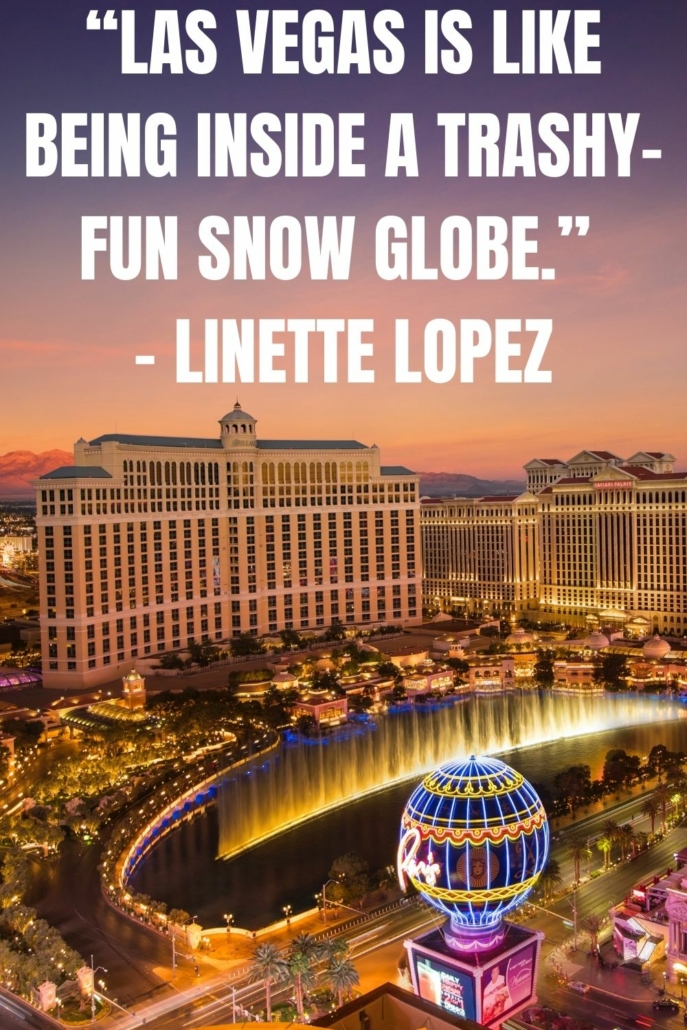 ---
The Best Quotes About Las Vegas
While all the Vegas quotes are pretty incredible, these ones are the cream of the crop. They bring the city to life and encapsulate the vibe that's found around town.
11) "No one thinks Las Vegas is real; it is illusion, but visitors willingly suspend disbelief and pretend." – Hal Rothman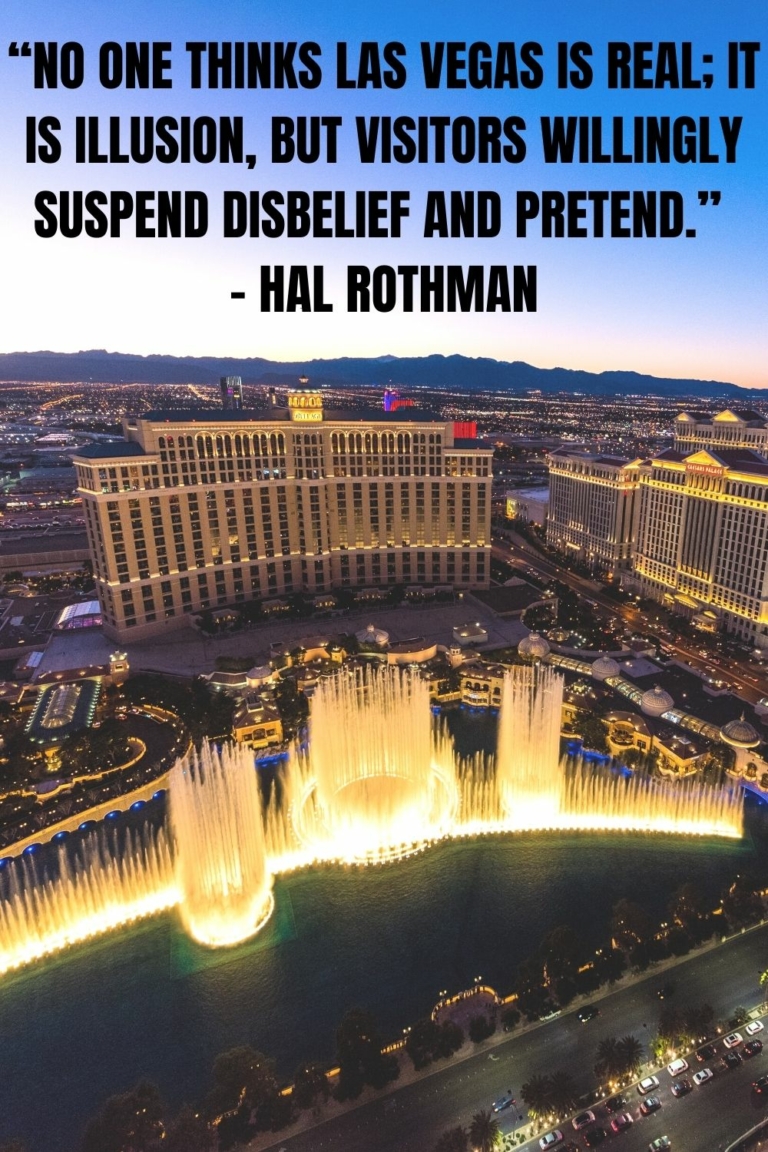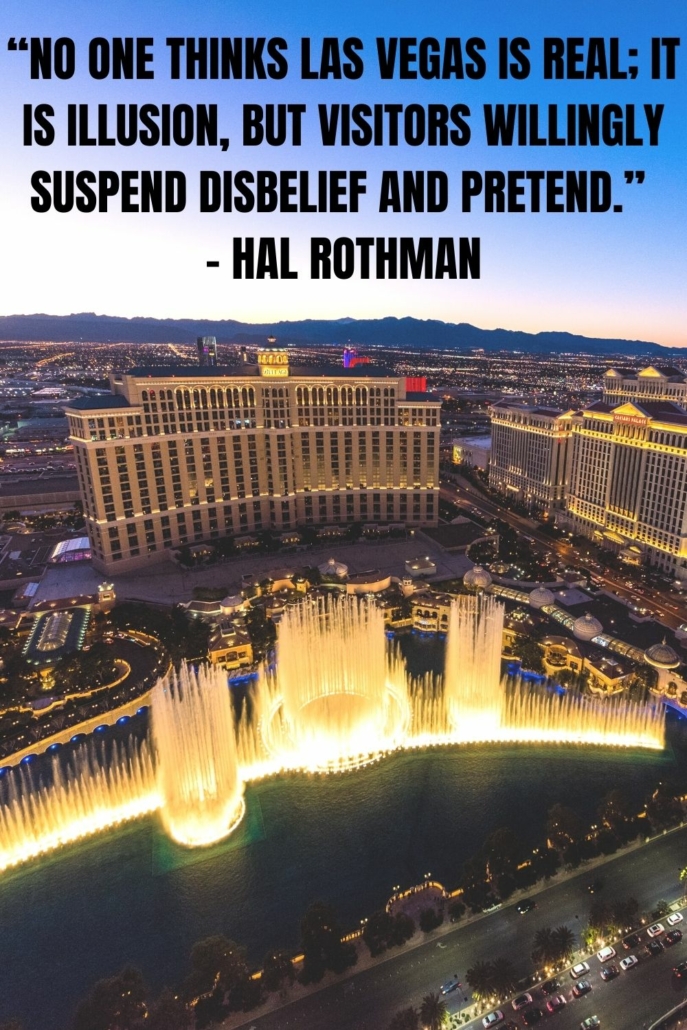 12) "I just love coming to Vegas. There is always a good energy here; the minute you get off the plane, it is happy. Every experience I have had here is fun, and everyone is in a good mood; they are happy, and they let it go. I like that. It is refreshing to me." – Kelly Carlson
13) "Vegas is the most extreme and allegorical of American settlements, bizarre and beautiful in its venality and in its devotion to immediate gratification." – Joan Didion
14) "Las Vegas: A Savage Journey to the Heart of the American Dream." – Hunter S. Thompson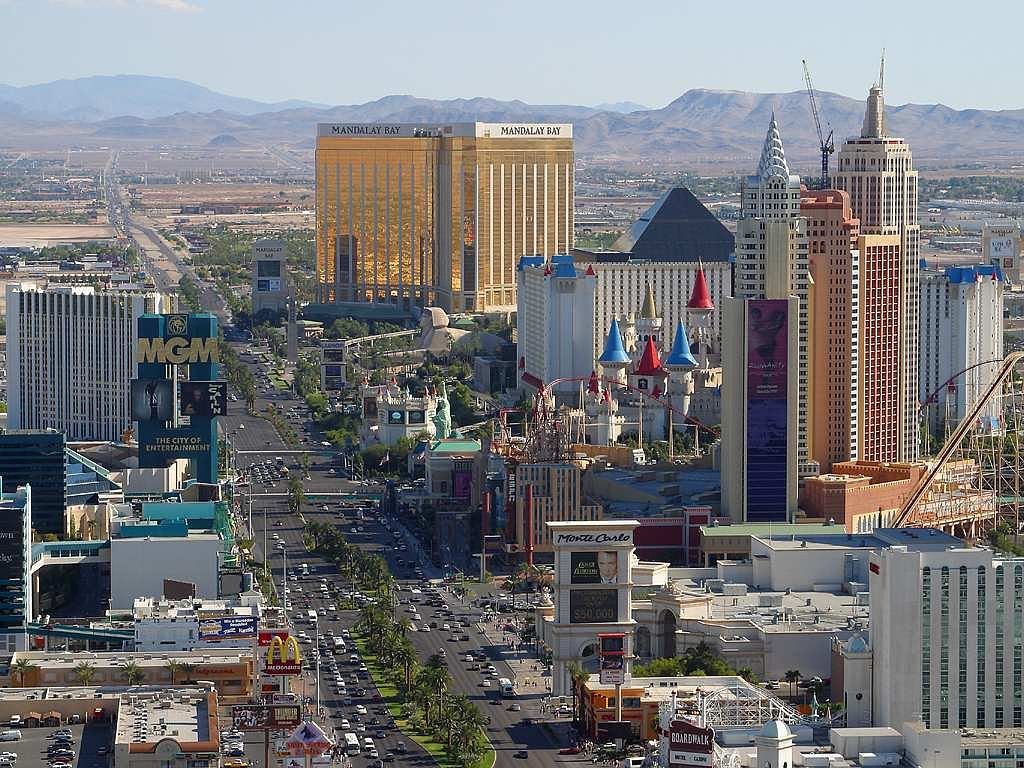 15) "Contemporary Las Vegas is astonishing. At night, it is a brilliant cluster of jewels of all shapes, sizes, and colors, glowing in the middle of a vast, black velvet canopy." – Thomas Taj Ainlay
16) "Las Vegas, Nevada: a city where oddities don't make you lame, but instead bring you riches and fortune and fame." – Walter Wykes
17) "What happens in Vegas stays in Vegas … but that doesn't matter when you live there." – Michelle Madow
18) "Las Vegas was and is a hard town that will make you pay for your inability to restrain your desires… If you have a weakness, Las Vegas will punish you." – Hal Rothman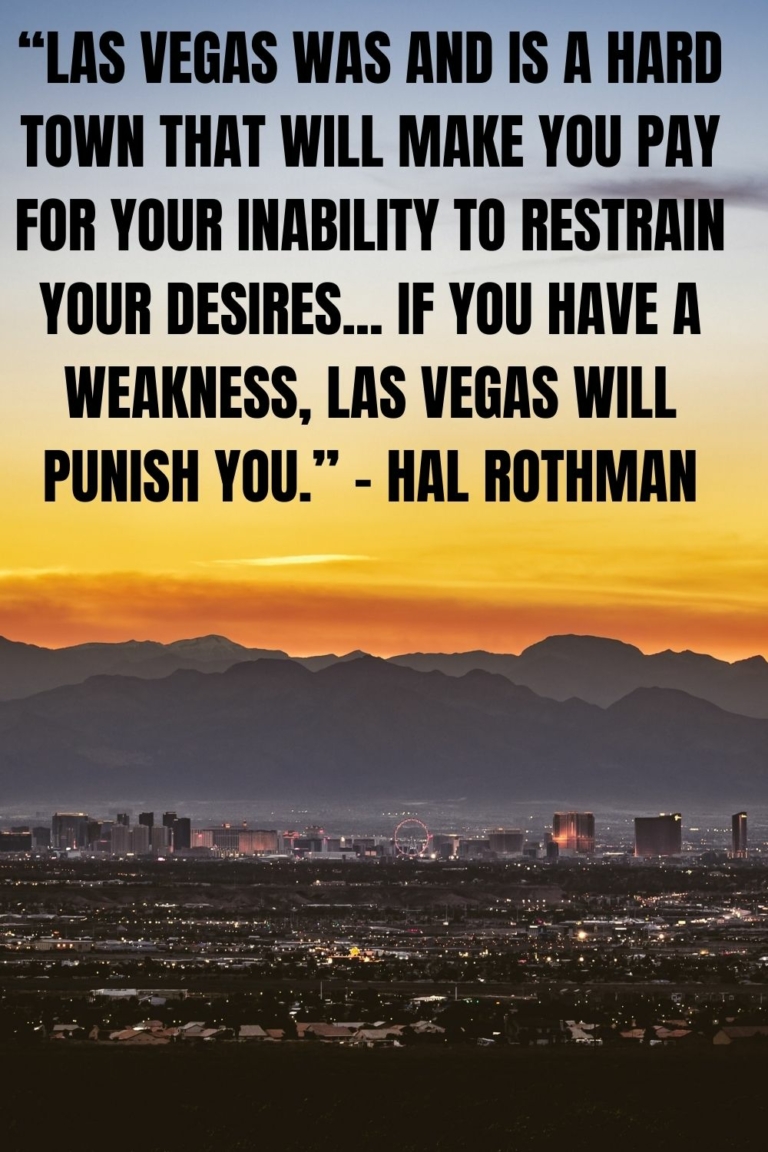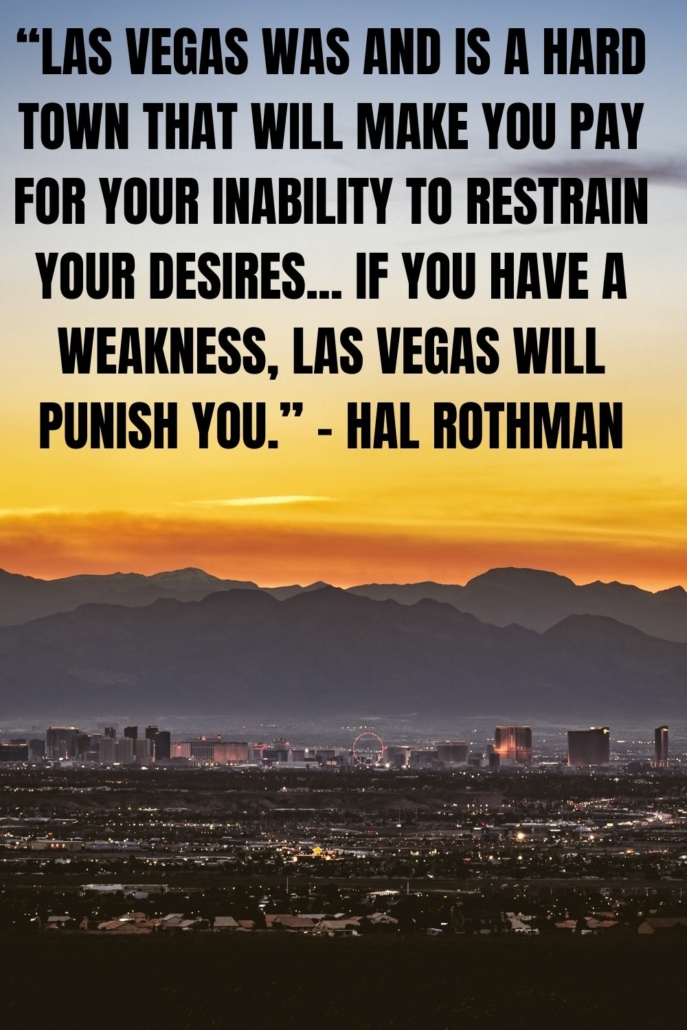 19) "Las Vegas is the entertainment capital of the world, where sleep is a mere inconvenience interrupting a continuous stream of fun and hedonism, and where everything is bigger, louder, flashier and trashier than anywhere else in the world." – Jackie Staddon and Hilary Weston
20) "I don't gamble, if you will concede that poker is a game of skill." – Robert A. Heinlein
21) "For me, Vegas is a vacation from being over inhibited, in the highly over inhabited yet uninhabitable city of complete inhibition." – Tammy Bloemzaken
22) "The thing I love about Vegas is there's something for any type of mood you're in and something for any kind of adventure you seek out." – Christiana Tosi
23) "It is not economic development; it's about taking money out of the consumer economy and shipping it off to Las Vegas." – John Warren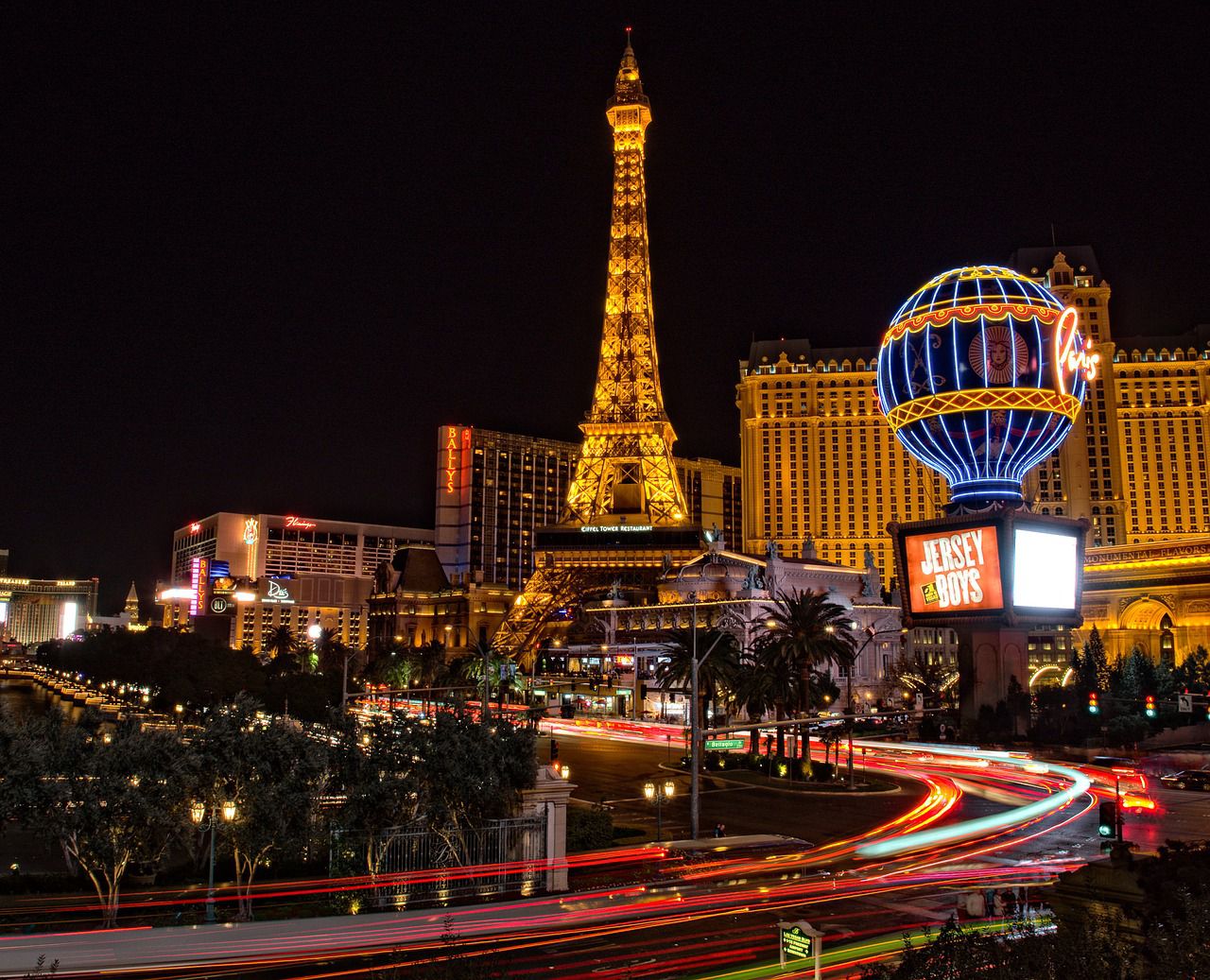 ---
Las Vegas Quotes for Instagram Captions
It sucks when you're sitting at work, scrolling through Instagram, and seeing all of the amazing trips your friends get to go on. Whether you've been to Vegas or think you need an escape, get your friends to join in on the fun with these awesome Vegas captions.
24) "Screw this shit, I'm going to Vegas."
25) "Vegas is the answer, no matter the question."
26) "What happens in Vegas, stays in Vegas… Along with my dignity."
27) "I can't keep calm, I'm going to Vegas."
28) "Alcohol you later!"
29) "Party in Las Vegas."
30) "Les Vegas, I love you."
31) "Vegas isn't a city, it's its own magical world."
32) "Ready. Set. Vegas."
33) "Las Vegas state of mind."
34) "I apologize in advance for my behavior in Vegas."
35) "Keep calm and go to Vegas."
36) "This was a huge mistake, Vegas, but can we do it again?"
37) "Meanwhile, in Vegas…"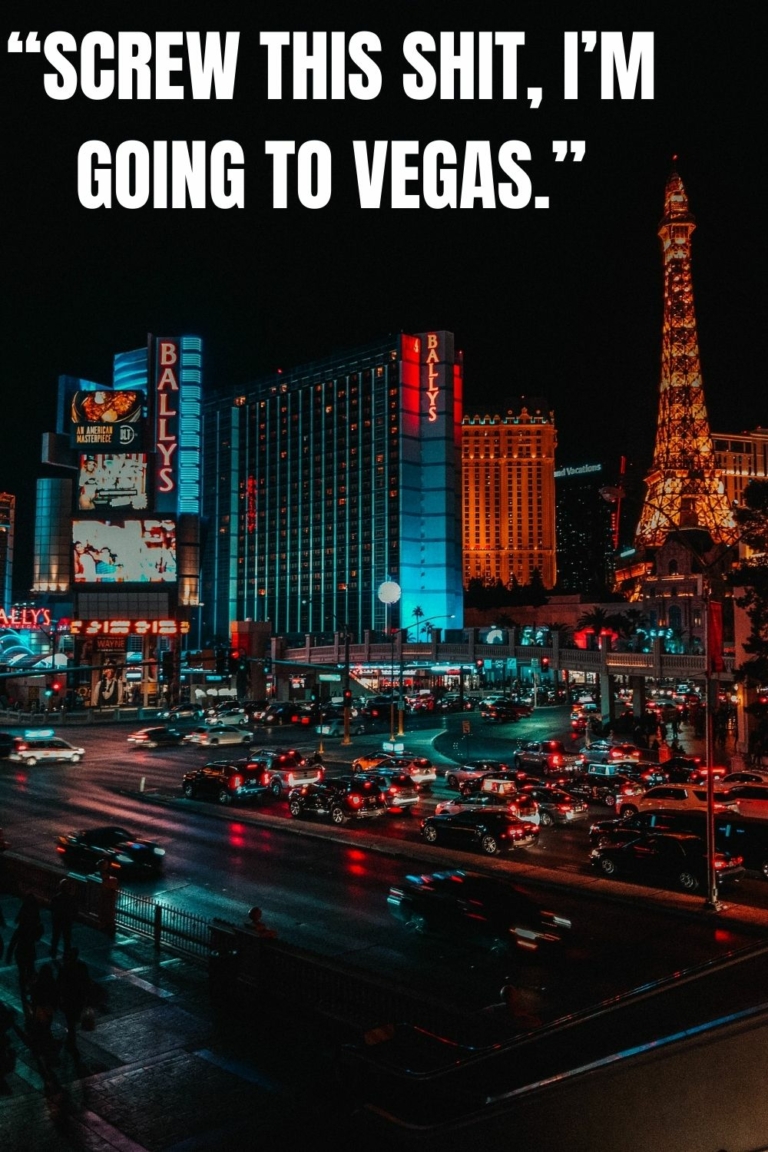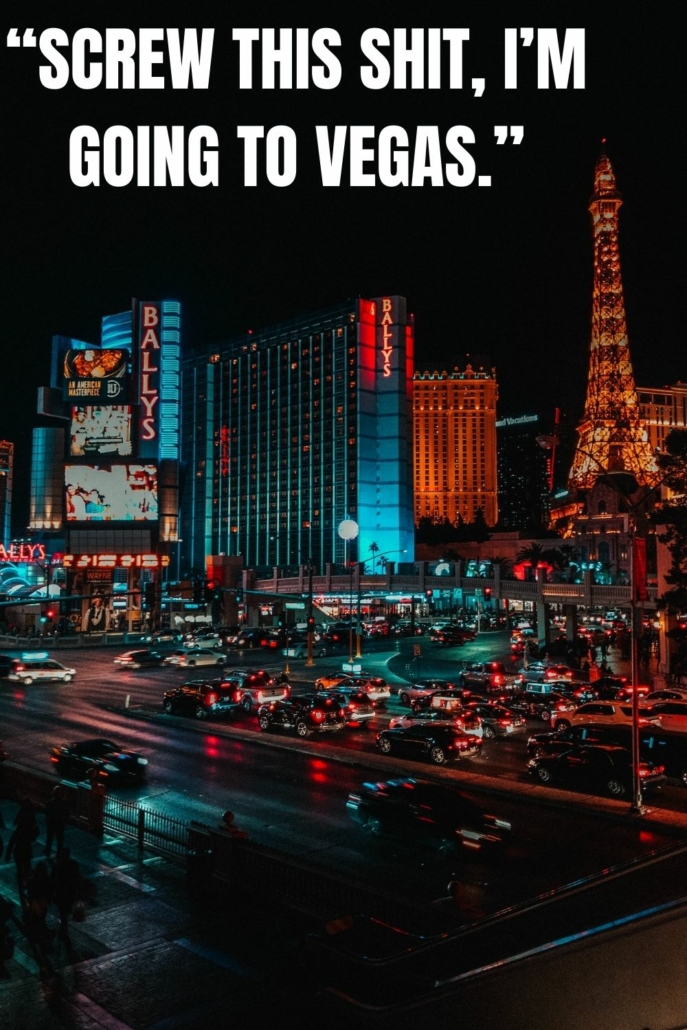 ---
Funny Las Vegas Quotes
It's no surprise that Vegas steals the show in many stand up comedy performances. And why wouldn't it? The city is absolute mayhem.
Below are some funny Las Vegas sayings from cherished comedians and personalities alike.
38) "What happens in Vegas stays in Vegas, but the 400-pound woman perched in front of a slot machine, oozing bum-flesh off her stool as she balanced a cocktail and cigarette in one hand and robotically tugged the slot arm with the other… that's still with me." – Brian Sack
39) "Las Vegas, the most expensive toilet in the world that still can't flush." – Brin-Jonathan Butler
40) "Every time I go to Vegas, I seem to incur some kind of fine." – Artie Lange
41) "Vegas must be a great town for Laundromats. Nobody lives there, everybody is just passing through, leaving a little bit of dirt." – John Updike
42) "Seriously, why tour the world when all you have to do is visit Las Vegas and see all the highlights in one location?" – Jeff Maguire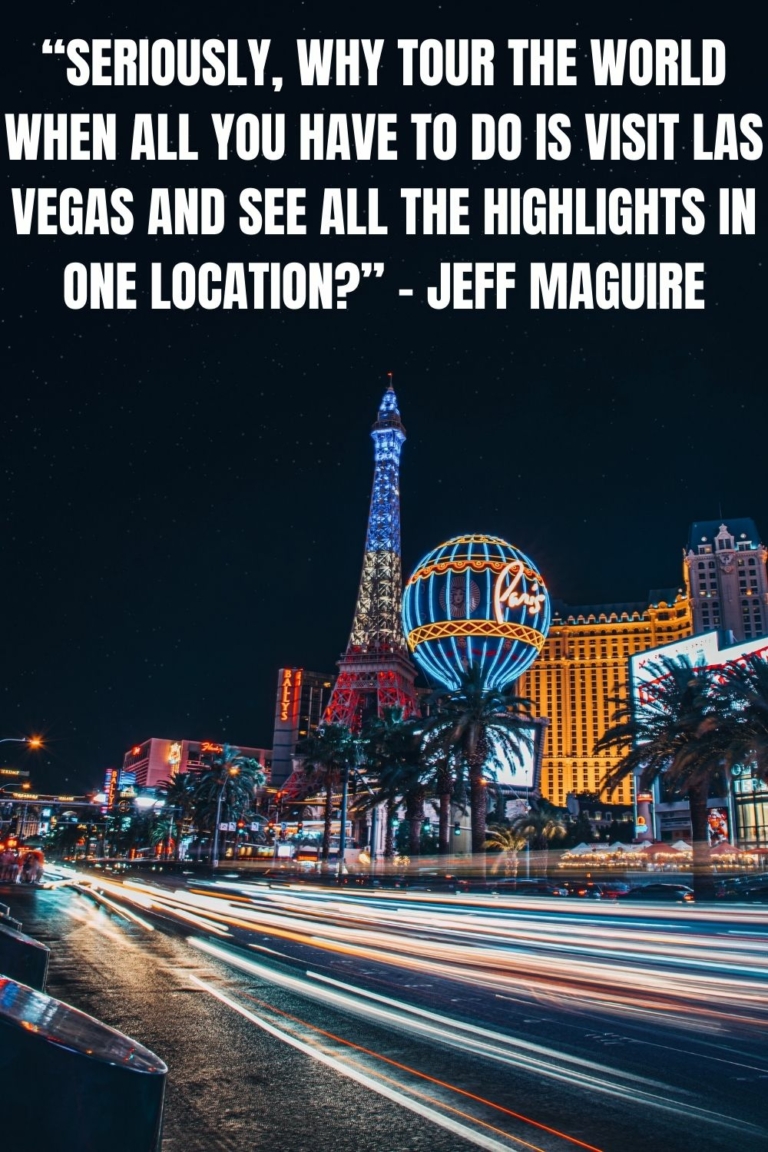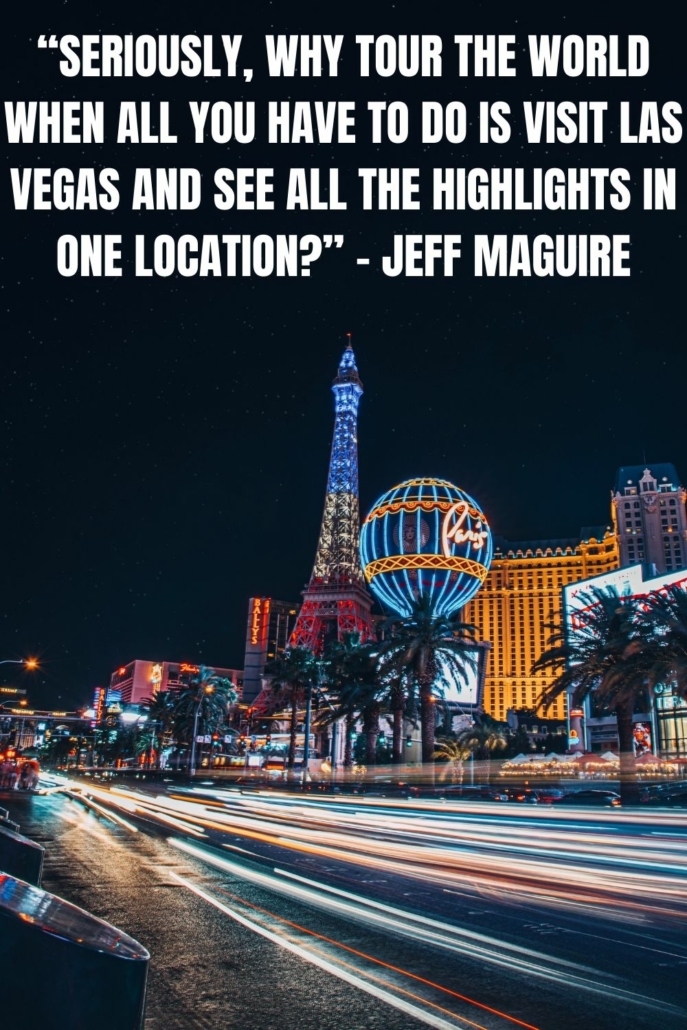 43) "I go to Vegas now, and I'm in the casino, and I'm gambling, and there's a guy in a wet bathing suit gambling right next to me." – Sebastian Maniscalco
44) "I hate Disneyland. It primes our kids for Las Vegas." – Tom Waits
45) "Any other town you go to there's this little devil and a little angel on your shoulder. A little good advice, a little bad advice. You go to Las Vegas, there's like a devil and a devil and they're just battling it out the whole time." – Bill Burr
46) "Retirement is like a long vacation in Las Vegas. The goal is to enjoy it to the fullest, but not so fully that you run out of money." – Jonathan Clements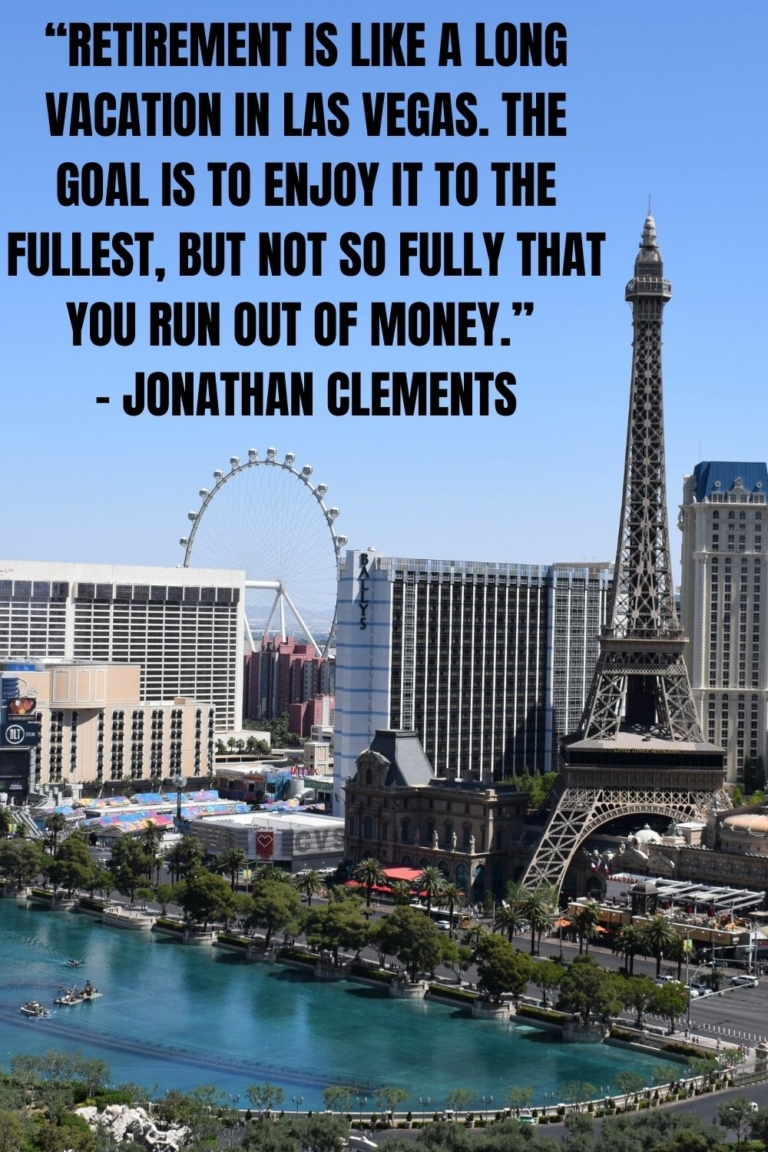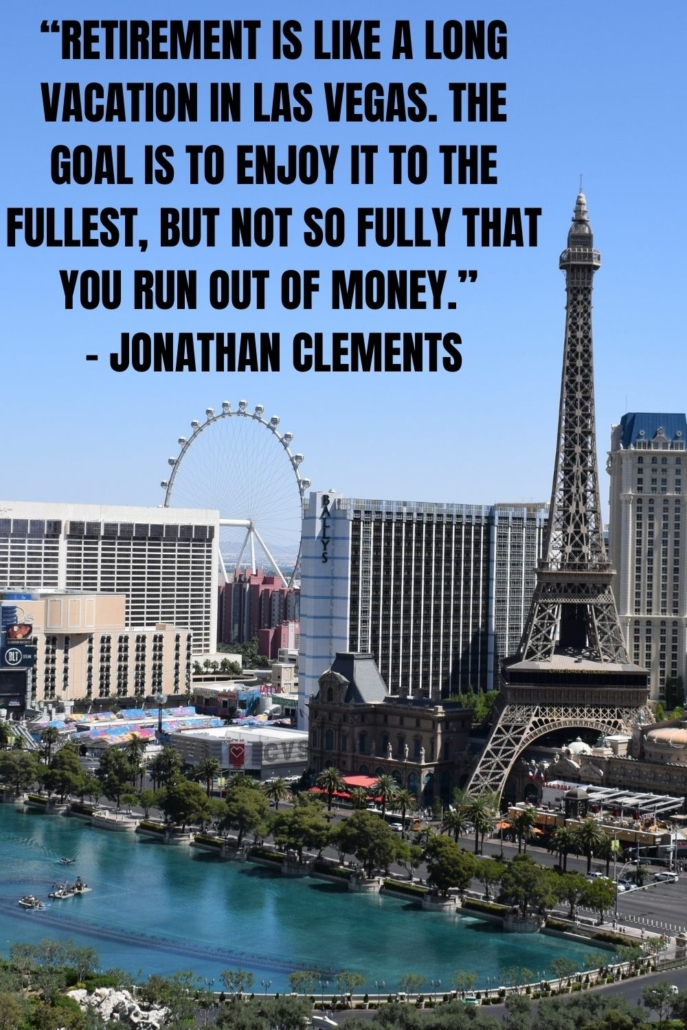 47) "I'd rather be in Las Vegas 104 degrees than New York 90 degrees, you know why? Legalized prostitution. In any weather that takes the edge off." – Ray Romano
48) "The view from the window, particularly if you enjoy neon, is extraordinary." – Chris Bachelder
49) "Las Vegas without Wayne Newton is like Disneyland without Mickey Mouse." – Merv Griffin
50) "When it comes to the foibles of human nature, Las Vegas always has been a natural magnet." – Dustin Wax
51) "On Las Vegas: I love that town. No clocks. No locks. No restrictions." – Marlene Dietrich
52) "The last time I appeared in Las Vegas, they were wearing hoop skirts and Davy Crockett hats, … But they say 'What happens in Vegas, stays in Vegas.' And as far as fashion is concerned, that's a good thing." – Joan Rivers
53) "I love Vegas. God knows that I know how to find my way around the buffets in Las Vegas." – Mick Majerus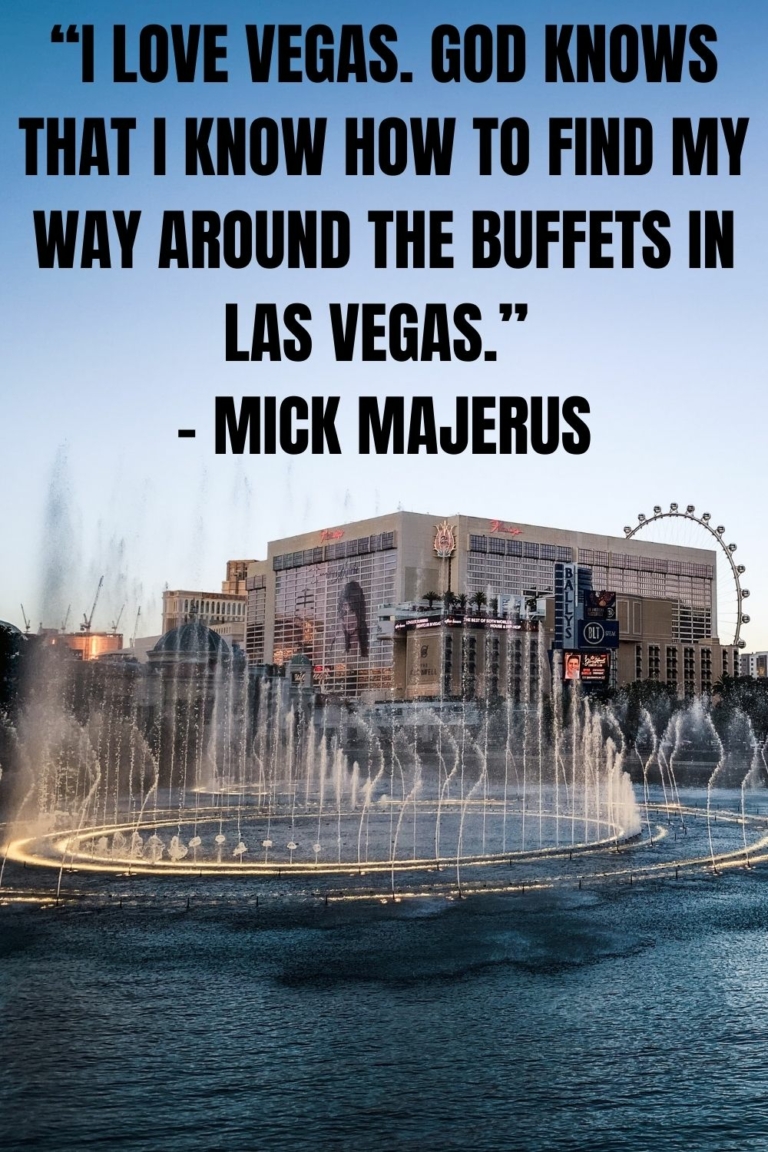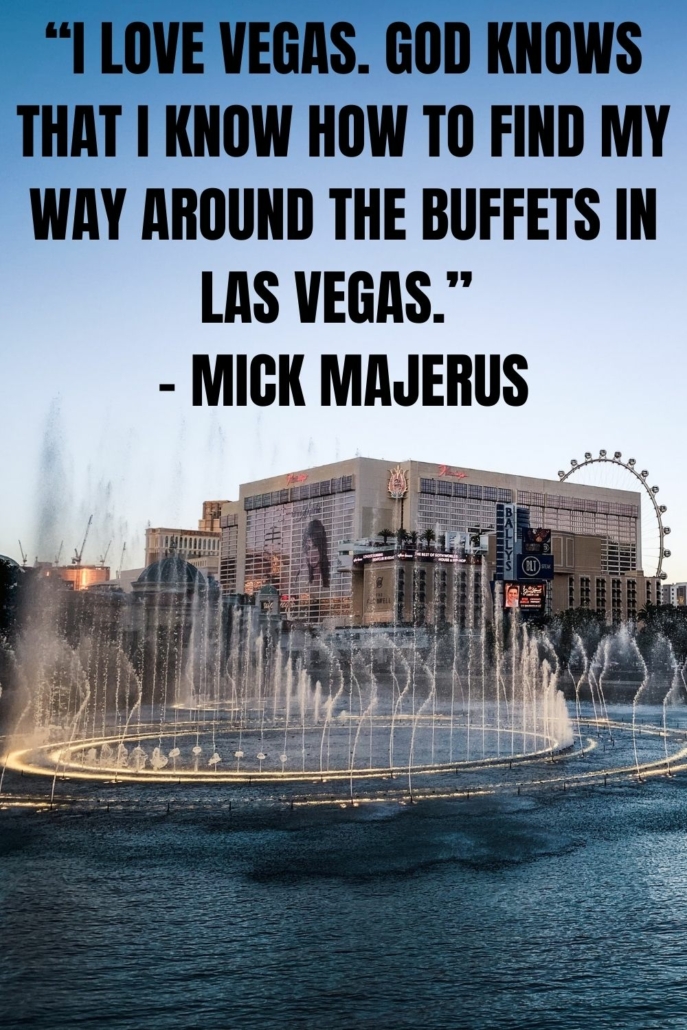 ---
Las Vegas Sayings
As hard as it is to describe the feeling you get when you're in Vegas, the quotes below do a pretty good job of describing the lifestyle in Nevada.
54) "Las Vegas is perhaps the most color-blind, class-free place in America. As long as your cash or credit line holds out, no one gives a damn about your race, gender, national origin, sexual orientation, address, family lineage, voter registration, or even your criminal arrest record. Money is the great leveler." – Marc Cooper
55) "I've been married before, but I've never had my dream wedding in Vegas. I wanted to do it there because it's casual, quick, not religious and, most of all, very romantic." – Sinead O'Conner
56) "I love Las Vegas because it's the one city less classy than Los Angeles." – J. Richard Singleton
57) "Many a man who goes to Las Vegas to get away from it all soon finds that Las Vegas gets it all away from him." – Evan Esar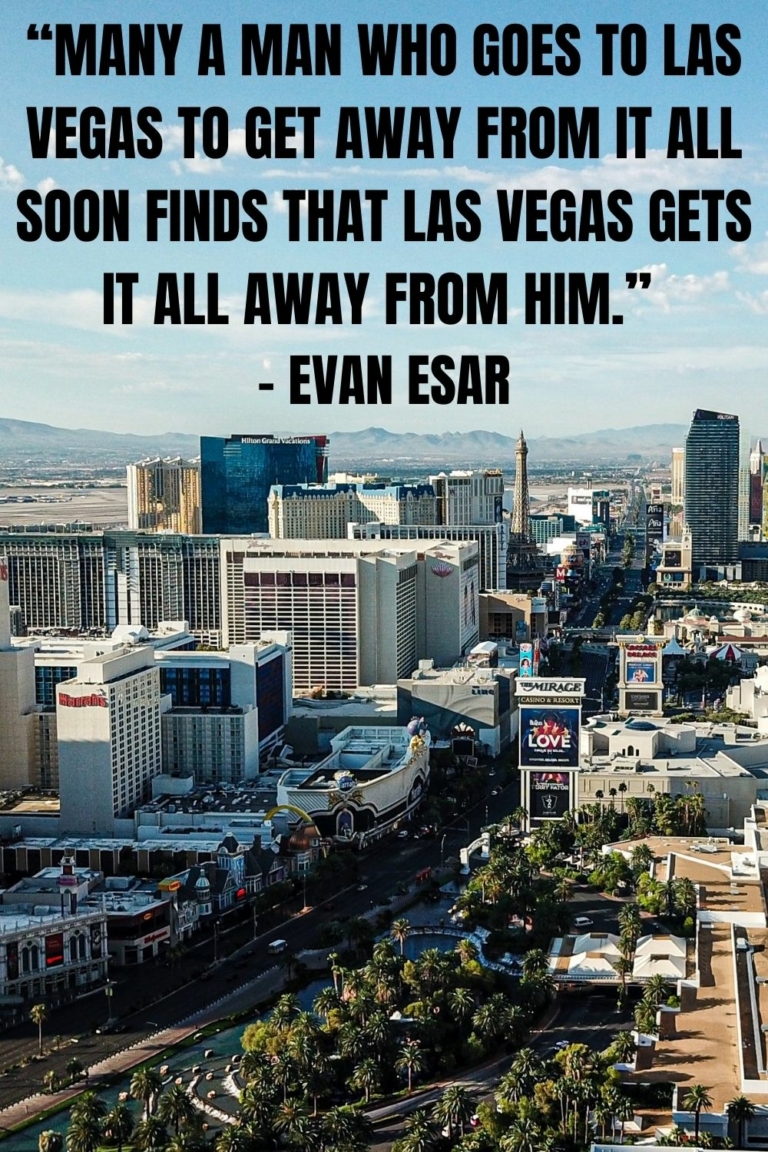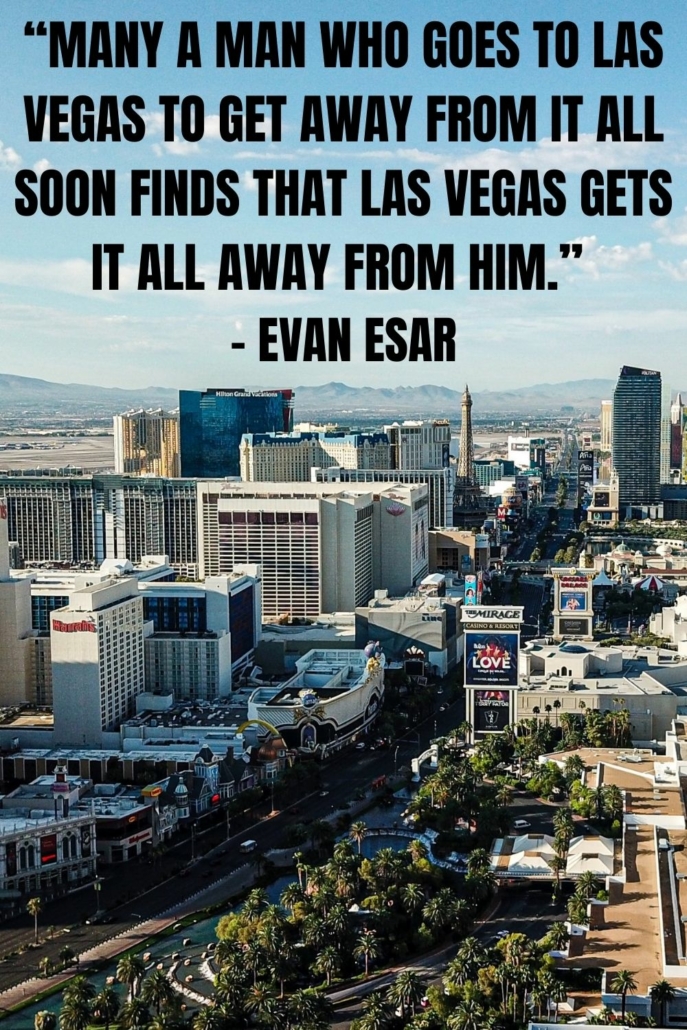 58) " 'What happens in Vegas, stays in Vegas' " turned Sin City's tacit acceptance of naughtiness into formal permission, and earned the place gobs of money." – Mark Ellwood
59) "It's hard to imagine a bigger desert oasis than Las Vegas." – Cinnamon Stomberger
60) "Vegas embodies every brash, joyous cliché about the U.S. that the rest of the world hopes might be true." – Mark Ellwood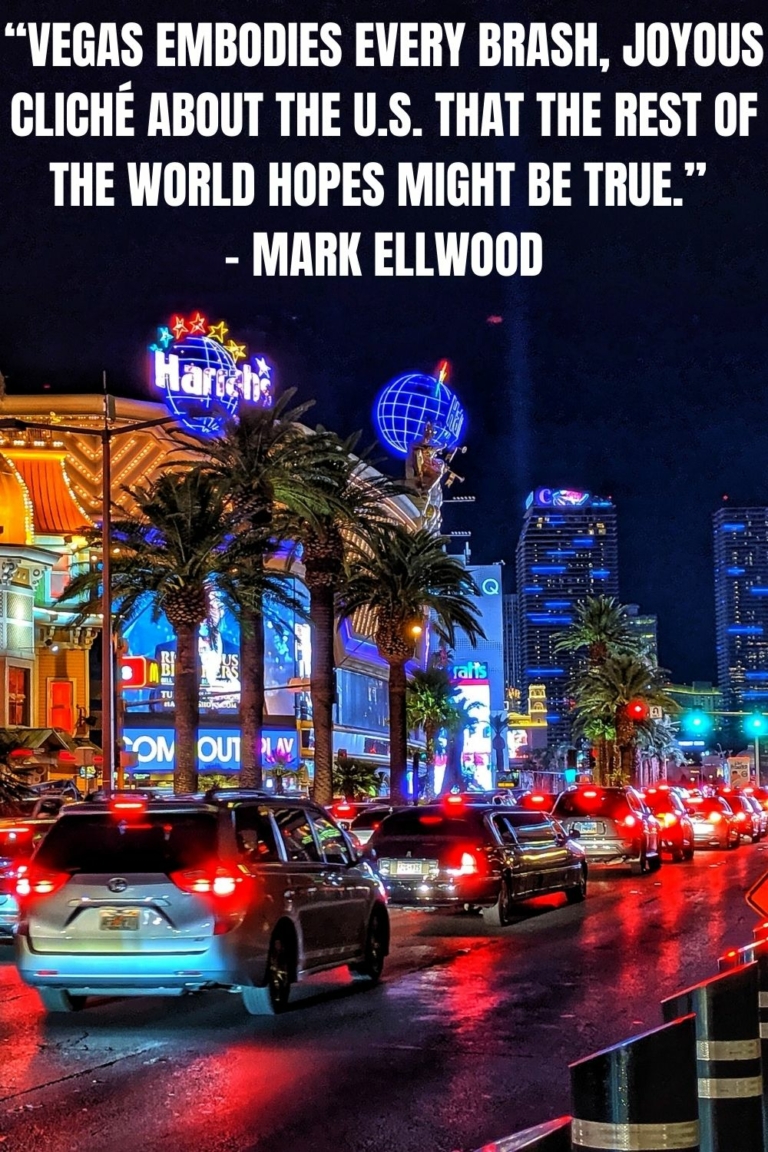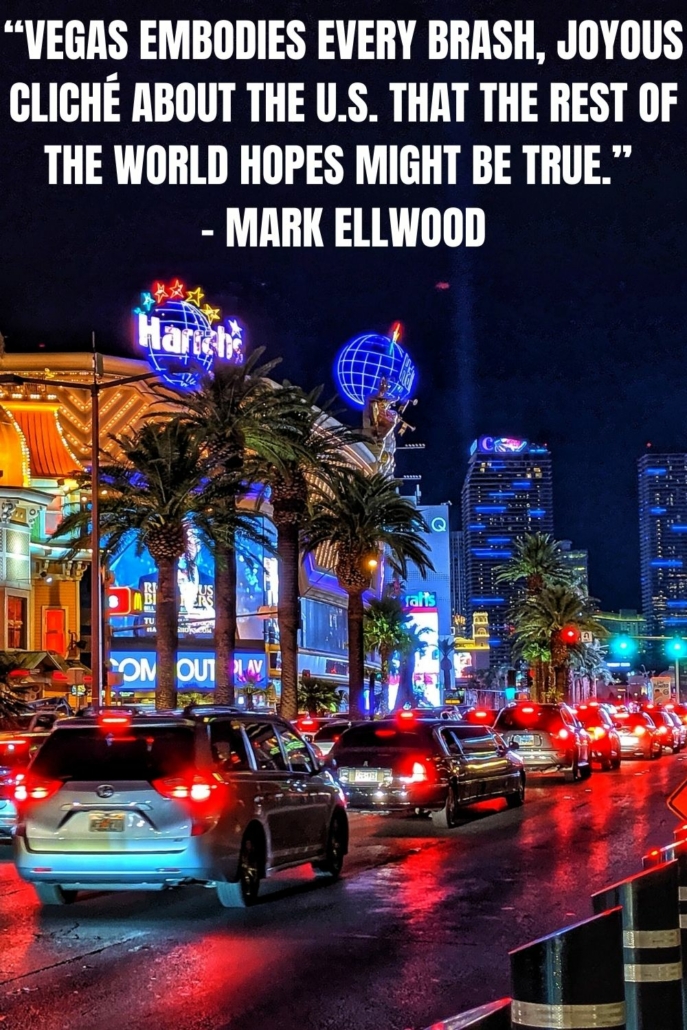 61) "Las Vegas was like that. There was a visceral attraction here. The bold promise of money and sex. But the first was a broken promise, a mirage, and the second was fraught with danger, expense, physical and mental risk. It was where the real gambling took place in this town." – Michael Connelly
62) "Las Vegas is the only town in the world whose skyline is made up neither of buildings, like New York, nor of trees, like Wilbraham, Massachusetts, but signs." – Tom Wolfe
63) "Las Vegas is a major family destination. Nevada casinos have become American family values now. It's considered just fine to go into one of these windowless scary gambling-malls, drink yourself silly, lose your ass at roulette, and then go ogle showgirls with breast implants. Republicans do this now. Working-class folks do it in polyester stretch pants. It's normal." – Bruce Sterling
64) "There's a funny flip side to Las Vegas's purported libertarianism, a kind of corporate nanny state. You think gambling is legal in Nevada? Try organizing a church raffle." – Kevin Williamson
65) "Las Vegas history, the real Las Vegas history, makes fops and fools of even the most sincere explorers. The city's story is riddled with blind alleys, dead ends, crazy twists, and outright fabrication." – John L. Smith
66) "I've always thought of Las Vegas as Los Angeles on its day off. There's not any hierarchy of taste, and that's what L.A. always was to me: It's not really a town of culture – it's a town of entertainment." – James Turrell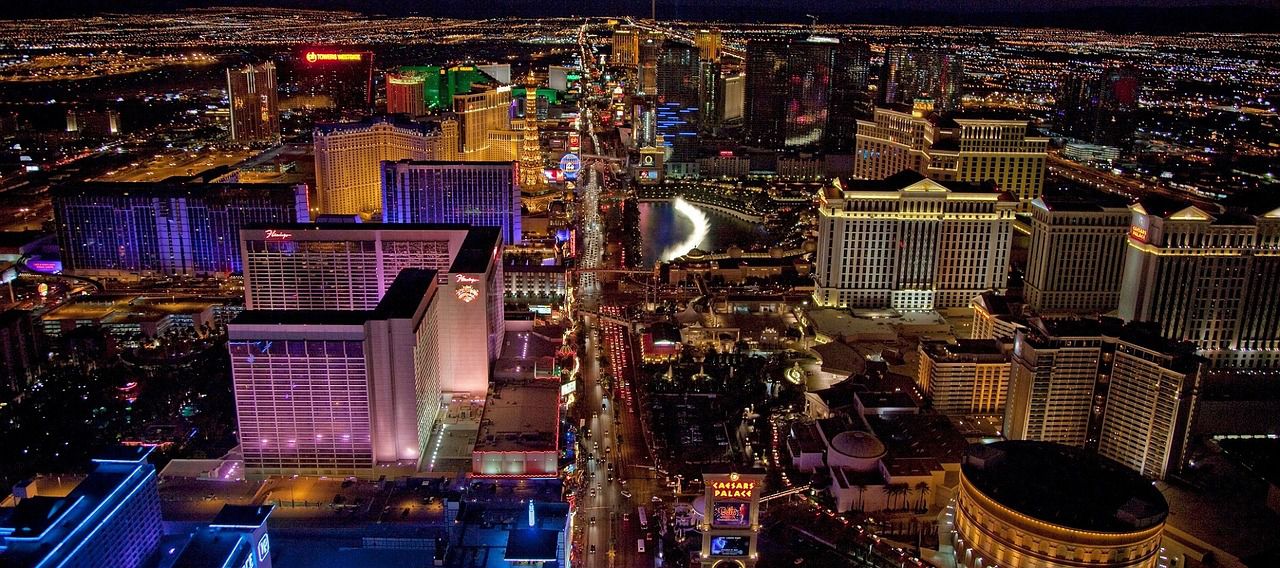 ---
Vegas Quotes from Movies
Las Vegas movie quotes can transport you through time and into Nevada's wild adult Disneyland. Some of the greatest movies of all time have been set in Vegas, such as "Fear and Loathing in Las Vegas" and of course, the much loved "The Hangover" trilogy.
67) "Las Vegas looks the way you'd imagine heaven must look at night." – Invisible Monsters
68) "What happens here, stays here." – What Happens in Vegas, Stays in Vegas
69) "Remember, what happens in Vegas stays in Vegas. Except for herpes. That shit'll come back with you." – The Hangover
70) "A little bit of this town goes a very long way." – Fear and Loathing in Las Vegas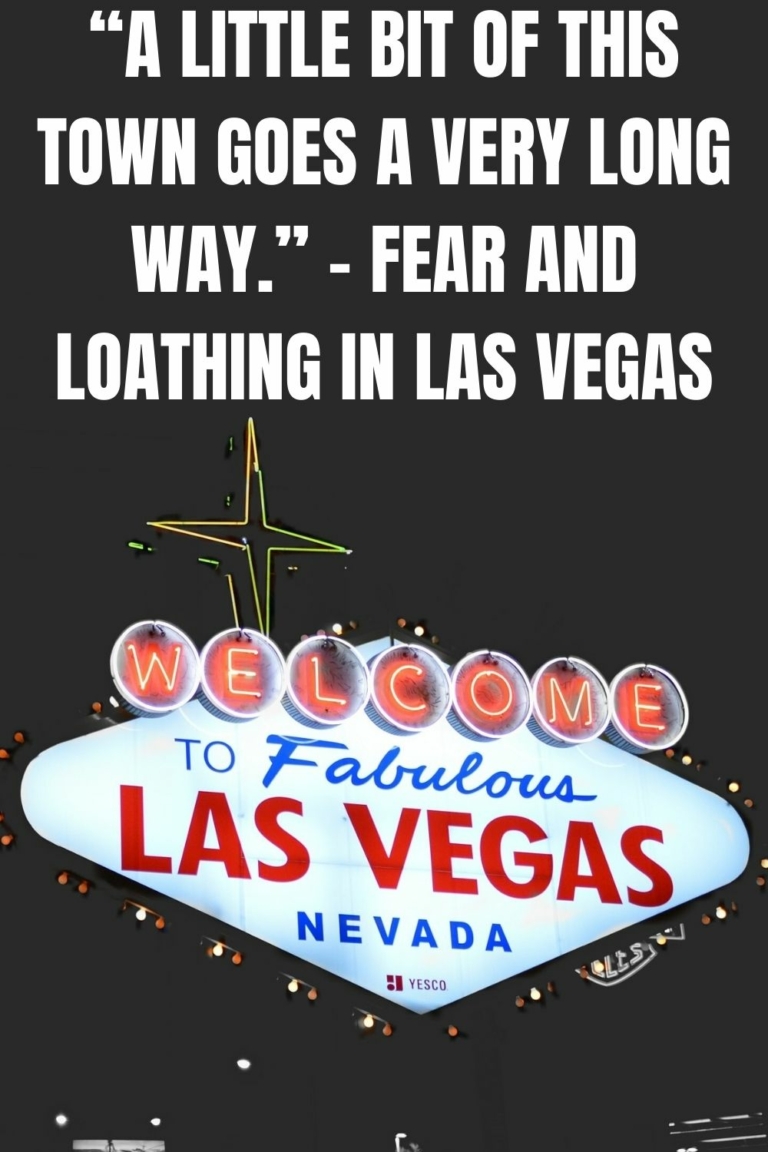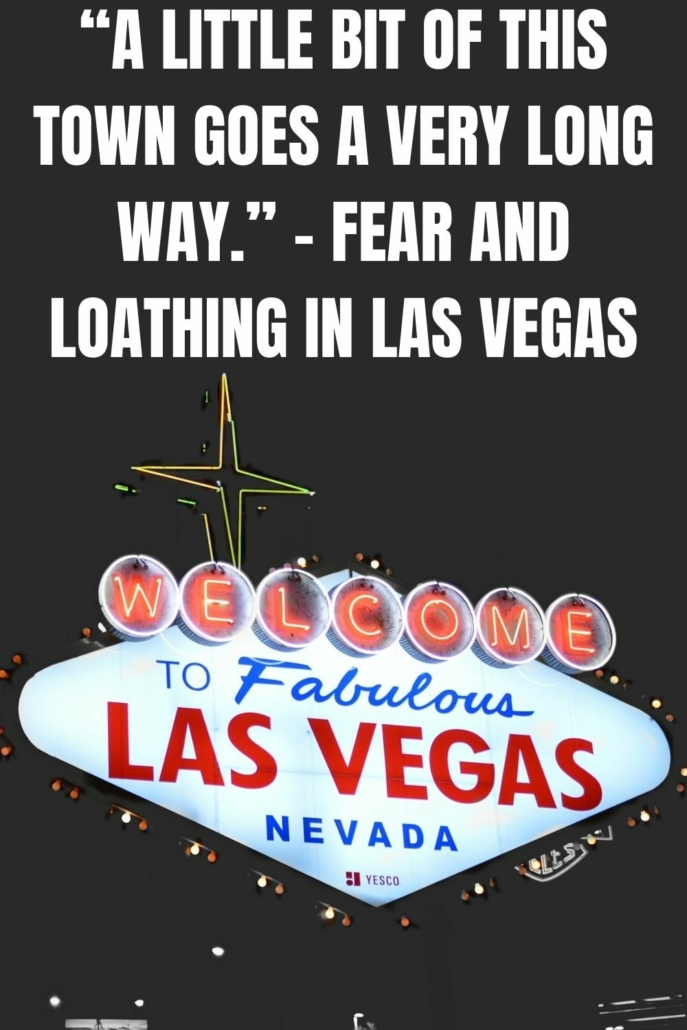 71) "You probably get this a lot. This isn't real Caesar's Palace. is it? Did Caesar live here?" – The Hangover
72) "Las Vegas makes Reno seem like your friendly neighborhood grocery store." – Fear and Loathing in Las Vegas
73) "Why can't we remember anything that happened last night?" – The Hangover
74) "I haven't seen so many sideburns since West Side Story." – Honeymoon in Vegas
75) "Panic. It crept up my spine like first rising vibes of an acid frenzy. All these horrible realities began to dawn on me. There I was. Alone in Las Vegas, completely twisted on drugs, no cash, no story for the magazine, and on top of everything else, a gigantic god damned hotel bill to deal with. How would Horatio Alger handle this situation? Stay calm. Stay calm." – Fear and Loathing in Las Vegas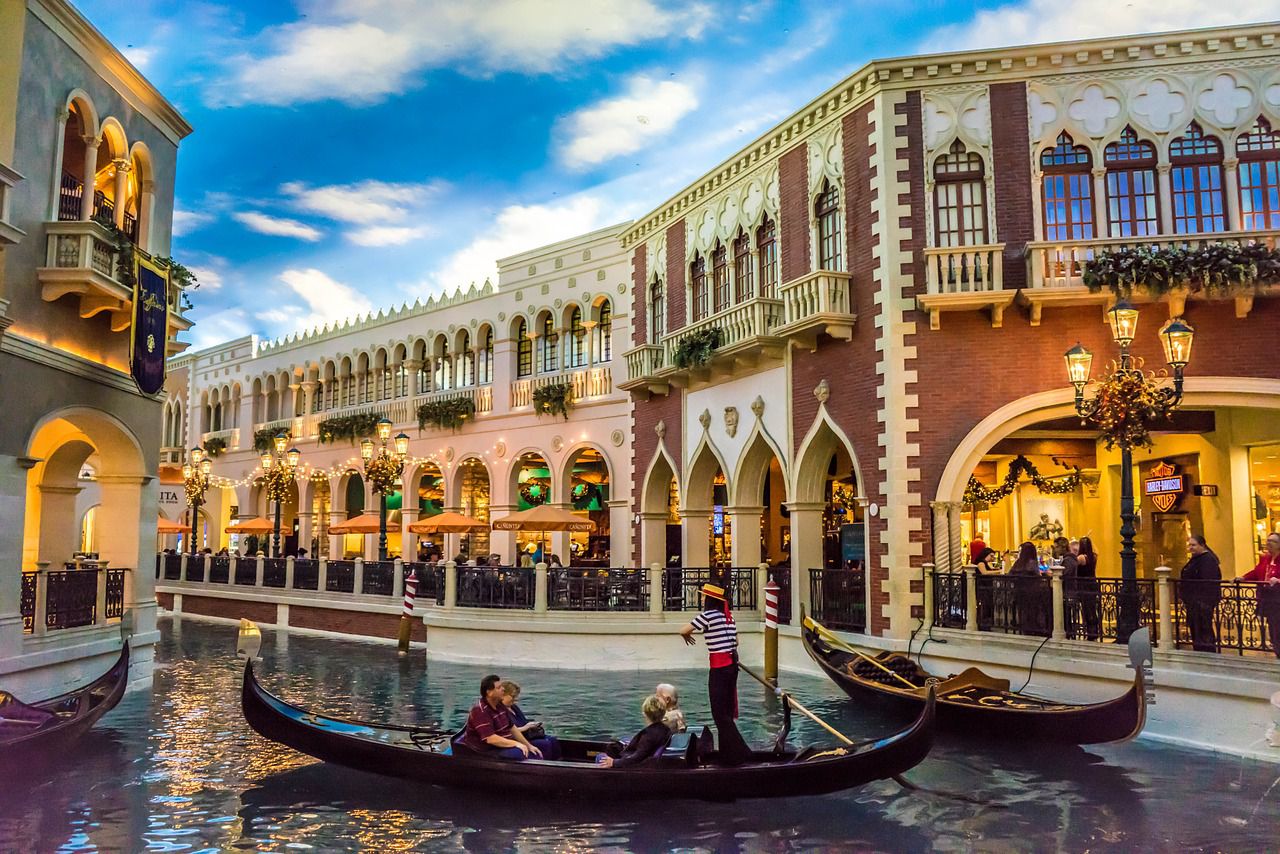 ---
Las Vegas Quotes from Celebrities
It seems like every celeb has had the spotlight on them during a trip to Vegas. Some love it and some hate it.
76) "I only ever play Vegas one night at a time. It's a hideous, gaudy place; it may not be the end of the world per se, but you can certainly see it from there." – Robin Williams
77) "I'm into the food in Vegas. I'm willing to go to nice restaurants for sushi and stuff like that." – Britney Spears
78) "Bangkok, like Las Vegas, sounds like a place where you make bad decisions." – Todd Phillips
79) "The thing about Vegas is, I don't have to fly anywhere, and that really helps. It means I stay in one place for three weeks at a time instead of flying backwards and forwards." – Elton John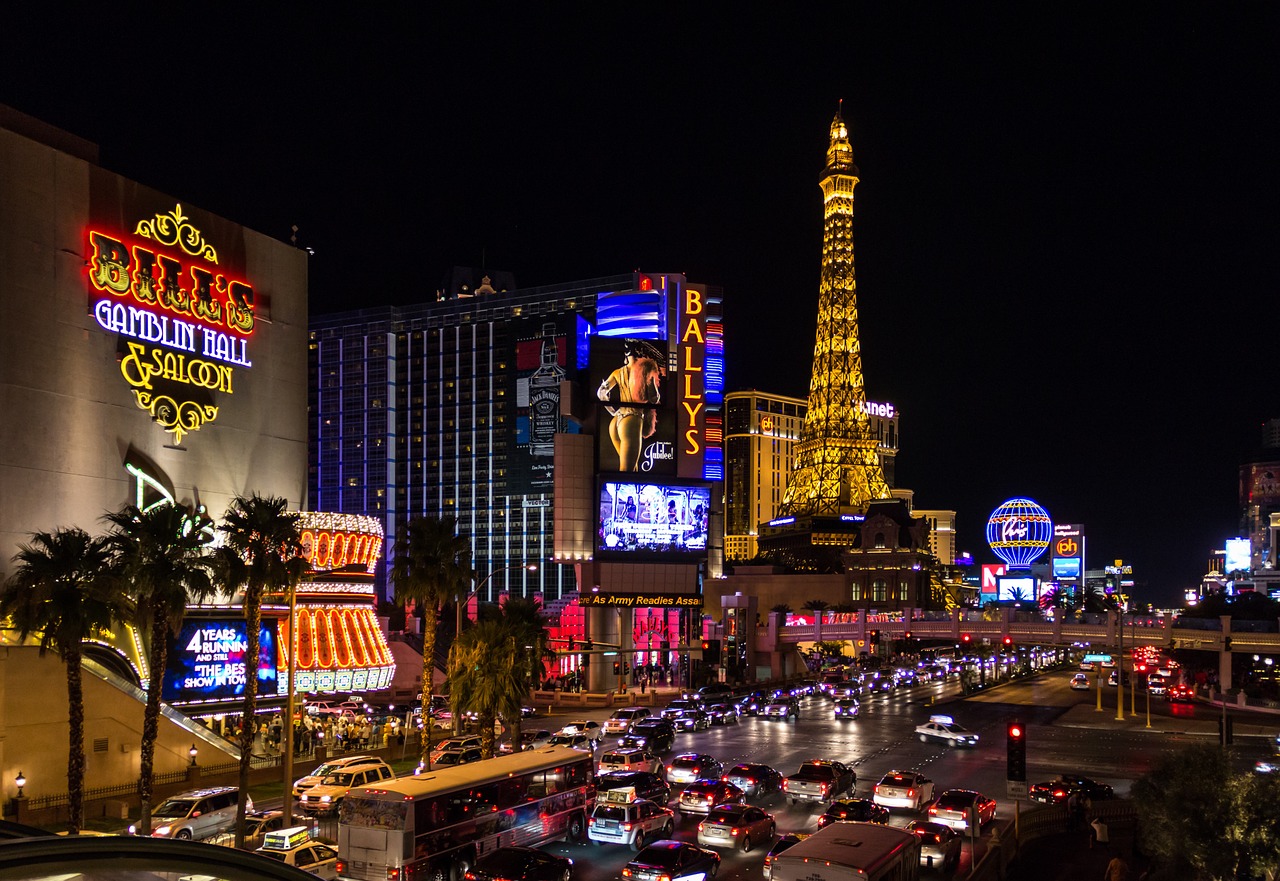 80) "Marriage is a big deal. But who's to say I'm not going to pull a Vegas and get married to see what it's like for a minute?" – Lindsay Lohan
81) "Las Vegas is the boiling pot of entertainment." – Don Rickles
82) "I lost $35,000 in less than a week at the Mirage in Las Vegas." – Dennis Rodman
83) "While I was busy hating Vegas, and hiding from Vegas, a funny thing happened. I grew to love Vegas." – J. R. Moehringer
84) "Las Vegas exists chiefly to satisfy the needs and desires of its visitors, and this it does in spectacular fashion. Sin City has taken or re-created the best that other great cities have to offer and then upped the ante – making it bigger, grander, flashier." – Scott Doggett
85) "Everything and anything you want to do, you can do in Las Vegas." – Drew Carey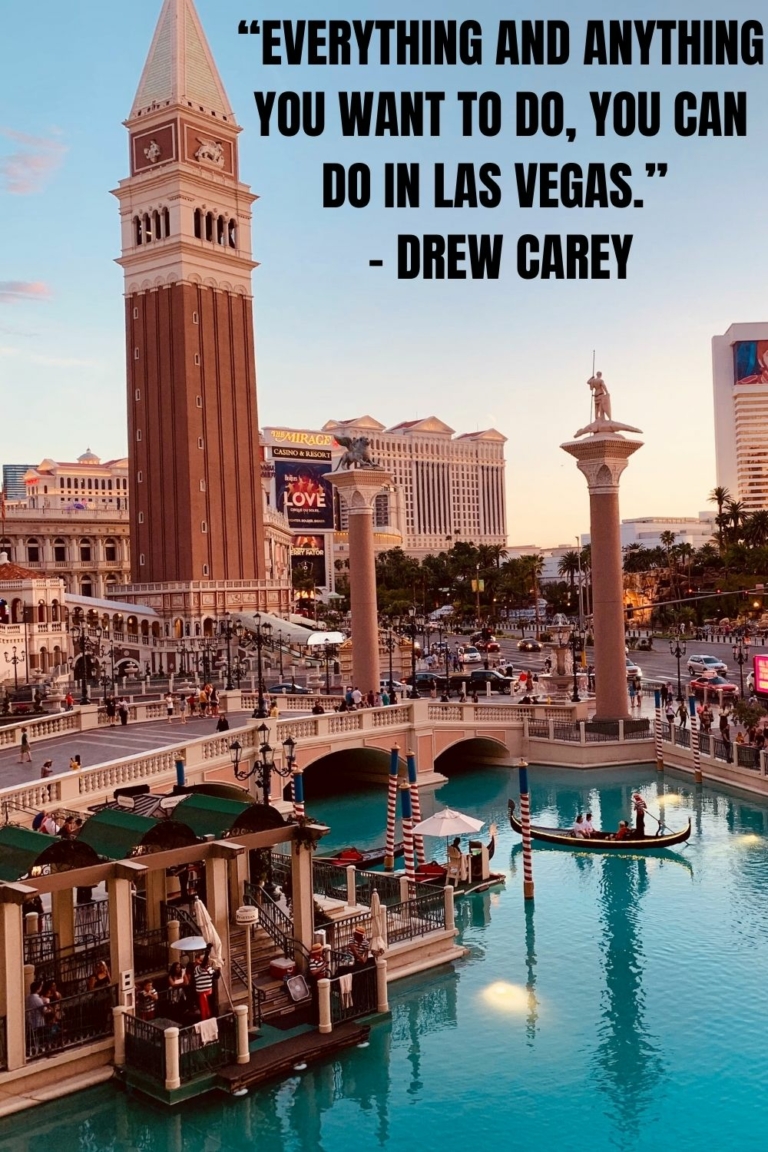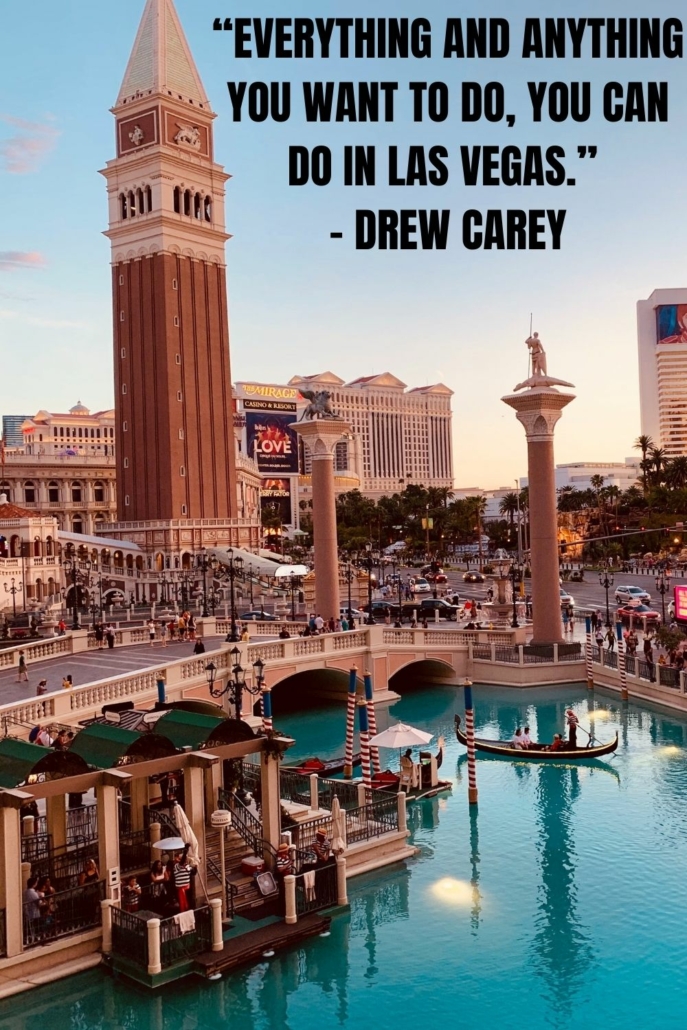 86) "If you know how to live in Vegas you can have the best time." – Tony Curtis
87) "Vegas is famous for a lot of things, and bad marriages are one of them. Margo and I are proof that you can make this work. It just takes a little effort." – Ron White
88) "So, you know, if, if I wanted to get up and just play golf one day, I would just get up and play golf. If I wanted to go to Vegas, I would just get up and go to Vegas." – Michael Phelps
89) "The opportunity to be a star chef, to imagine it would be here in Las Vegas, I couldn't comprehend it." – Guy Fieri
90) "I was born out of a Vegas marriage: my parents got married three days after they met." – Elle King
91) "In my view, the greatest trick ever pulled by anyone on the planet was Vegas." – Paul Sculpher
92) "I've spent more time in Las Vegas than any other city, almost including L.A. where I live." – Howie Madel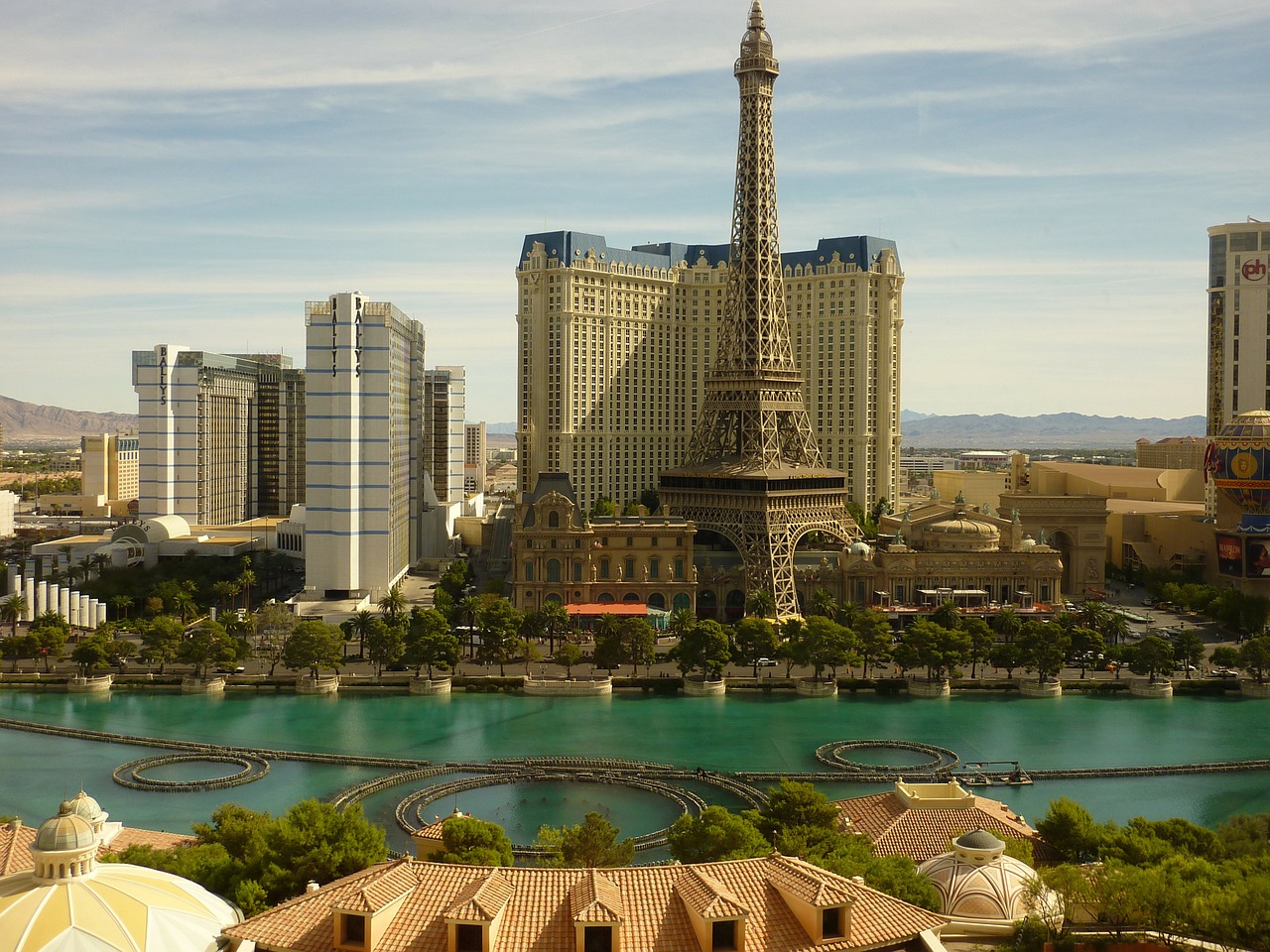 ---
Famous Vegas Phrases
I hope you know by now that "what happens in Vegas, stays in Vegas" isn't the only famous Vegas quote.
93) "Everyone was going to lose their money at some point. You may as well do so half-drunk and at the mercy of a pretty smile." – Christopher Byford
94) "Las Vegas is a feast or famine kind of city." – Kevin Raiford
95) "I came to see that Las Vegas is not a freak but is, instead, deeply integrated with the rest of the country, and the world beyond. It is a symptom, mirror, metaphor." – Timothy O'Grady
96) "Hatred is not what Las Vegas is about. We will have zero tolerance for anyone who is intolerant." – Oscar Goodman
97) "In Las Vegas, nothing ends very well." – Walter Wykes

98) "It is not easy to get rich in Las Vegas, at Churchill Downs, or at the local Merrill Lynch office." – Pail Samuelson
99) "Las Vegas: all the amenities of modern society in a habitat unfit to grow a tomato." – Jason Love
100) "It is impossible to change your luck. But, you can always change the machine you are at!" – James Hauenstein
101) "A weekend in Vegas without gambling and drinking is just like being a born-again Christian." – Artie Lange
102) "I like the Eiffel Tower in Las Vegas more than the actual one." – David LaChapelle
103) "For decades, Las Vegas has loved Elvis Presley tender – and loved him true – but the King's presence in modern-day Sin City has lately been diminishing, one impersonator at a time." – Cory Cooper
104) "There is always a sneer in Las Vegas. The mountains around it sneer. The desert sneers. And arrogant in the middle of its wide valley, dominating those diligent sprawling suburbs, the downtown city sneers like anything." – Jan Morris
105) "I hate to break this to you, but Las Vegas is like an actual city. They have grocery stores, big-box retailers, schools, and everything. I mean, there is even a stoplight or two! It's crazy." – Adam Rank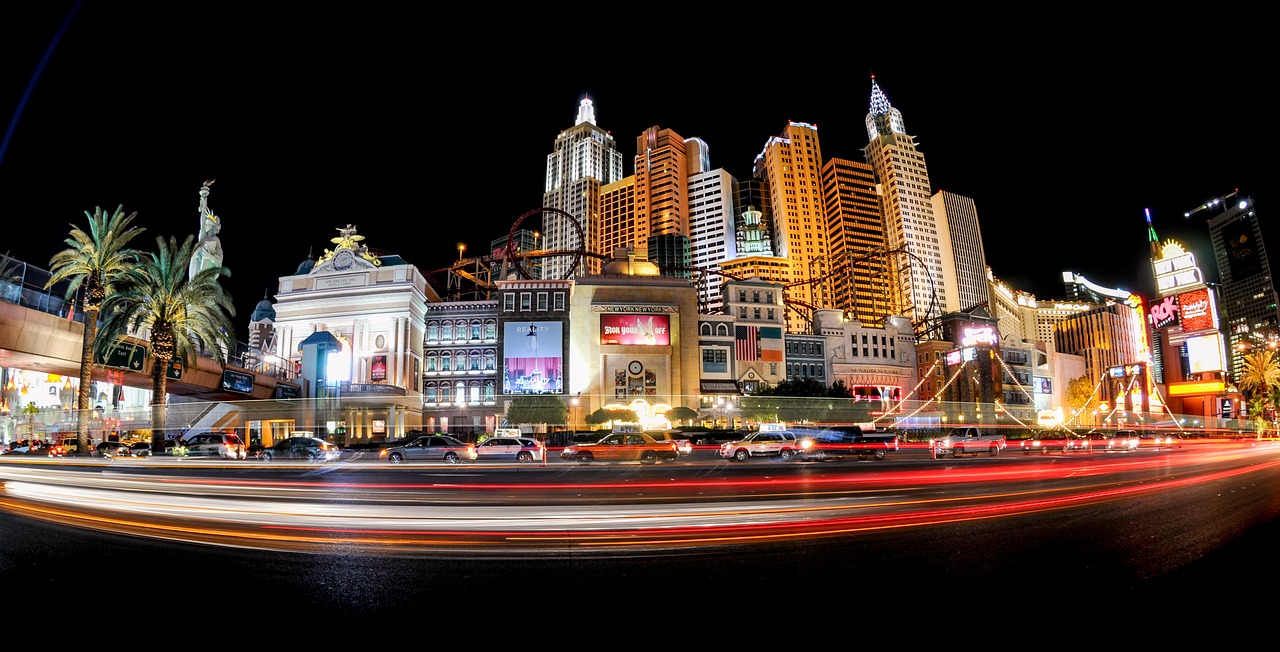 ---
Las Vegas Quotes from Song Lyrics
Everyone is going to have a different Vegas experience, and what better way to share your experience than by singing. These are some of the best Vegas song lyrics from some of the world's top performers.
106) "Feels like Vegas don't it." – Tinashe
107) "I've got my car and my wheel and my ride, when I go to Vegas, yeah that's right." – Calvin Harris
108) "Whatever happens here, stays here, so let's go all the way dear, 'til we get to Las Vegas" – Eminem
109) "To Las Vegas, turnaround, she's going to Las Vegas." – Daryl Hall and John Oates
110) "What happens in Vegas, stays in Vegas, but I wanna bring it." – Boyz II Men
111) "Like this is our exit, now let's hit the highway till Las Vegas." – Bad Meets Evil
112) "I'm just the devil with love to spare, so viva Las Vegas, viva Las Vegas." – Dolly Parton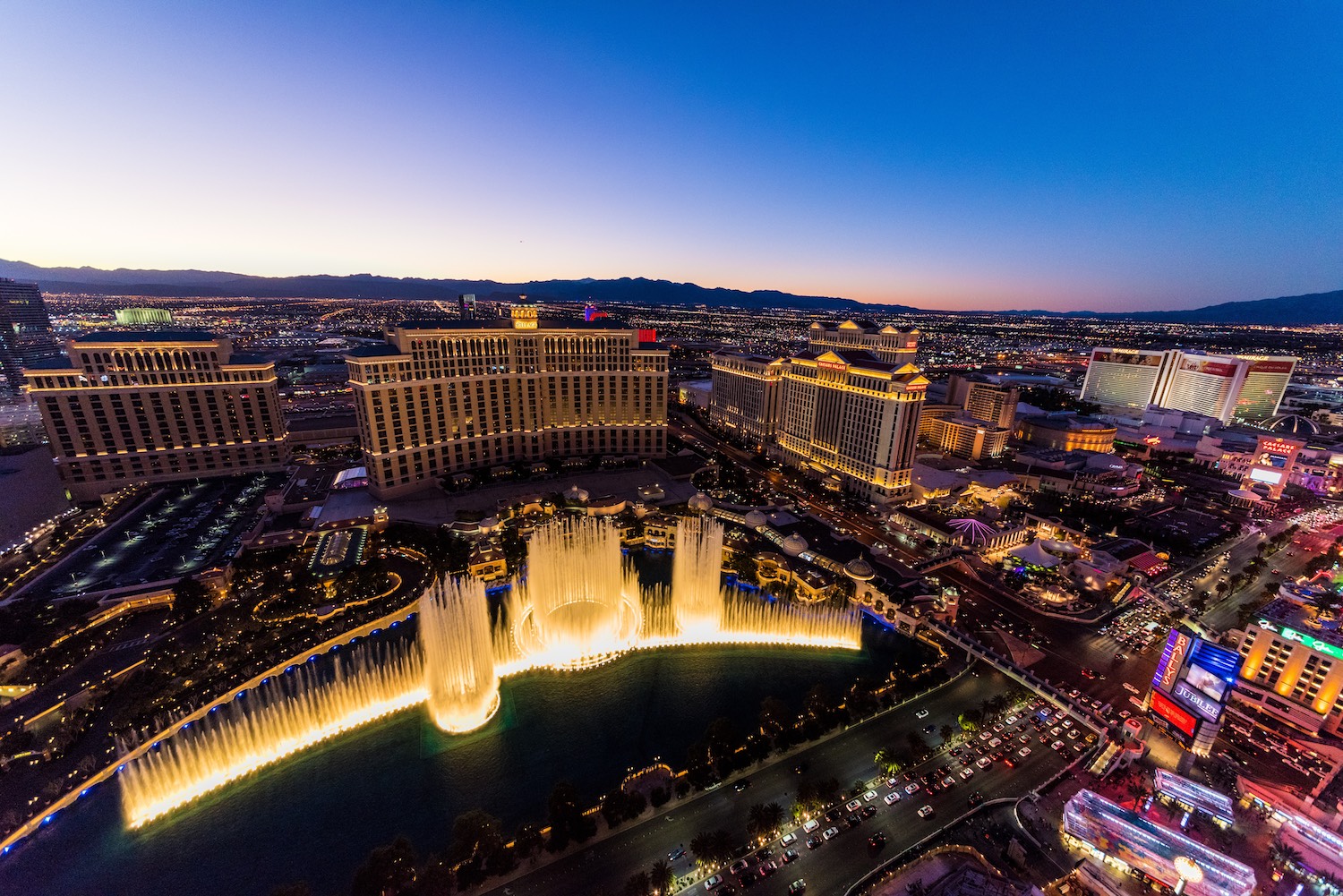 ---
More Vegas Quotes / One-Liners
Sometimes the less you say the better, which is often the case when in Vegas.
113) "What happens in Vegas, I'm telling everyone." – Dane Cook
114) "There's really only one constant in Las Vegas and that's change." – Travis Hoium
115) "Las Vegas is the boiling pot of entertainment." – Don Rickles
116) "We can't afford a Las Vegas wedding." – Bill Scranton
117) "Las Vegas is a 24-hour city, it never stops." – Eli Roth
118) "For a loser, Vegas is the meanest town on earth." – Hunter S. Thompson
119) "Las Vegas is the most honest fake city in the world." – Frank Scoblete
120) "Boy, you get greedy in Vegas." – Louie Anderson
121) "Vegas is a celebration." – Jose Andres
122) "Gambling isn't fun; winning is fun." – Steven Brust
123) "I shouldn't be near Vegas and have money in my pocket." – Adam Sandler
124) "Las Vegas is a very strange place. It's a place of broken dreams." – Concha Buika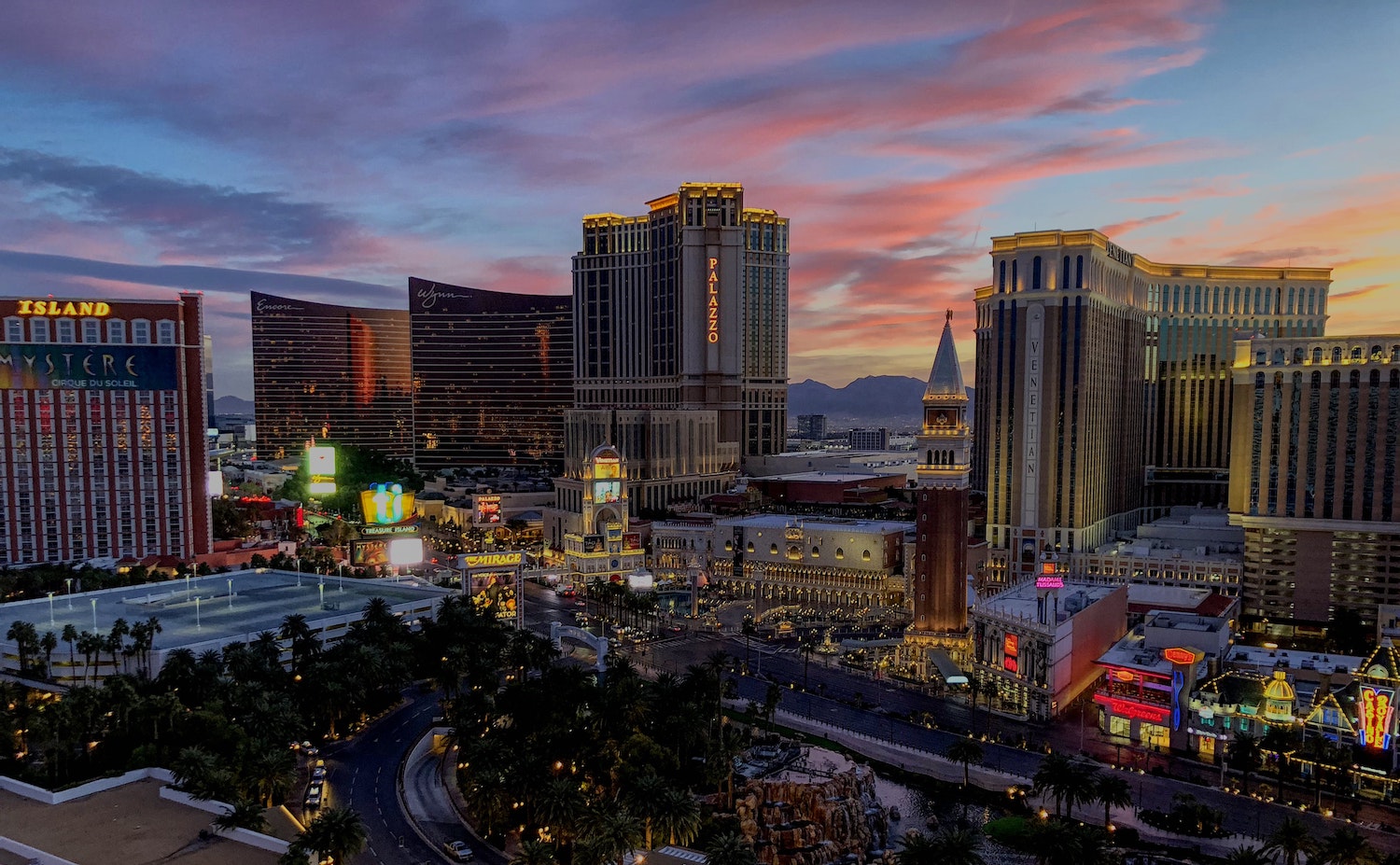 ---
Did I Miss Any Top Las Vegas Sayings?
When it comes to quotes about Vegas, the list is honestly endless. With so much to show off and with new attractions popping up annually, the list is sure to keep growing. If you find a quote I've missed that shows off the city, feel free to hit me up on social media or via email. I'll definitely try and add it to the list!
---
Looking For Some Travel Inspiration?
My travel blog is filled with tons of fun and helpful articles like destination guides, itineraries, Airbnbs, glamping hotspots and so much more! I'd love for you to take a look through a few more of my favorite posts below!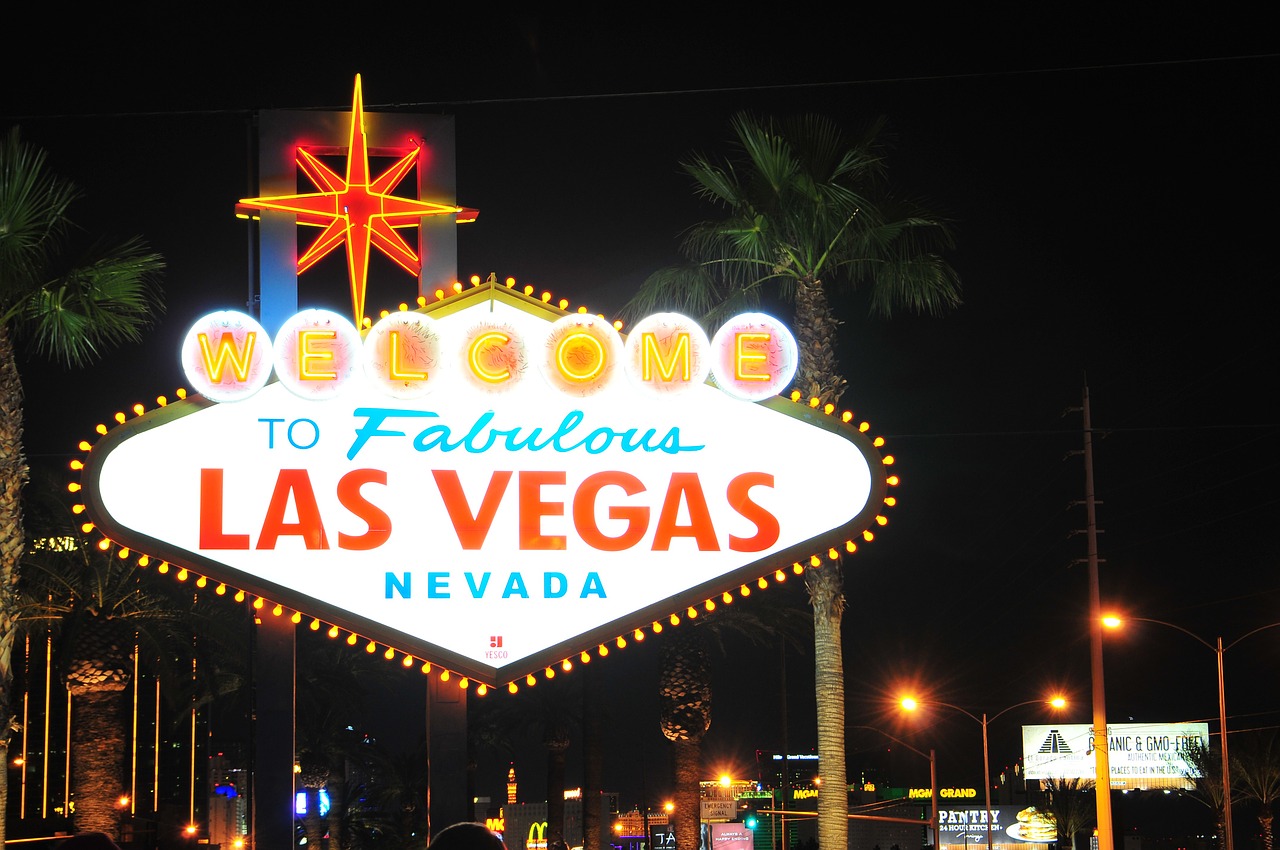 ---
Thanks for reading these fun Las Vegas Quotes & Captions!
Share these Vegas Quotes with your Instagram addicted crew!
https://www.jonesaroundtheworld.com/wp-content/uploads/2020/05/Las-Vegas-Quotes.jpg
853
1280
TravelTractionsJATW
https://www.jonesaroundtheworld.com/wp-content/uploads/2017/03/logotry-1-1-300x106.png
TravelTractionsJATW
2021-11-11 19:59:18
2021-11-12 09:11:08
120 Las Vegas Quotes, Captions & Sayings Perfect for Instagram