Are you searching for the best festivals like Burning Man across the world? There are a ton of them, and I've got you covered with the best of the best for you to add to your travel/ festival bucket list!
Burning Man is a unique experience. Not a music festival, but a week-long transformational adventure in the desert, "Black Rock City", which is primarily built up by the attendees themselves via a collection of amazing theme camps, art installations, and sound stages.
It can be depressing for Burners when that one exhausting yet exhilarating week in Nevada ends each year. I've been there. But don't fret! There are so many festivals, both in the USA and across the world, that capture a similar vibe/ community of Burning Man in their own special way!
I've compiled the ultimate, most up-to-date list of the best festivals like Burning Man for you to plan your next big Burn adventure.
It's important to note that I've also listed a few Regional Burns on the list, which are not "music festivals" – as the burner community feels very strongly about this! But for the sake of this article, if you're looking for a similar experience to Burning Man – these are incredible and an amazing alternative to big burn.
Also, be sure to read my guides on Burning Man Accessories & Burning Man Goggles to ensure you're well equipped for your upcoming festivals!
---
1) Lightning in a Bottle
Where: California, USA
When: May 2024
https://www.libfestival.org/experience
https://www.facebook.com/LIBfestival
"Lightning in a Bottle is a unique experience beyond any ordinary music festival. It is a magical land of adventure, where every corner is primed for connection, for wonder, and for fun to happen. It's a wild party with friends old and new, where the connections made last a lifetime."
If you're searching for a festival like Burning Man that's not far from the original smash, you absolutely can't miss out on Lightning in a Bottle, an outstanding multi-day festival of music that usually happens around Memorial Day Weekend.
This magical festival is a big one, and takes place in California on a site big enough to fit its over 25,000 annual attendees. Previous installments have been held in the Central Valley, Central Coast and Southern California. Expects tons of epic electronic and experimental tunes, colorful sets, cool attendees, and a vibe that seriously rivals Burning Man.
While I haven;t personally gotten the chance to attend yet, many of my burner friends call it the next best thing to Burning Man!
Lightning in a Bottle 2023 Recap Video
---
2) Envision Festival
Where: Puntarenas, Costa Rica
When: February 27- March 6, 2024
https://www.envisionfestival.com
https://facebook.com/EnvisionFestival
The tropics of Costa Rica serve as the ideal backdrop for a fantastic destination music festival, and the week-long Envision Festival, which takes place early in the year, is the Central American country's answer to Burning Man, welcoming 7,000 attendees each year.
Envision takes place on the Costa Rican coast, dotted by perfect beaches, and will ignite all of your senses. There's stunning sets, epic performances, a celebratory vibe, and lots of education opportunities, like medicinal plant workshops and similar. You'll walk away feeling rejuvenated, inspired, and counting down the days until the next Envision Festival.
The community aspect and loving vibe found at Envision Festival is truly remarkable, and while it's hell of a party – there's so much more to that you need to experience yourself to understand.
Envision Festival Official 10-Year Anniversary Video
---
3) Afrikaburn
Where: Quaggafontein, South Africa
When: April / May
https://facebook.com/afrikaburn
The Largest Burning Man Regional Burn
While Africa does have some epic Burning Man alternatives, Afrikaburn is the biggest and absolute bucket-list-worthy adventure! The South African getaway is an official Burning Man event, and 10,000 attendees count down the days each year for this unique 15-year-old festival.
Afrikaburn is held on the Western Cape of stunning South Africa, and offers an African Burning Man experience, based on the same philosophy, that unites music lovers and promises a peak experience. There's a huge number of theme camps that operate under a "gift economy", amazing Desert Mutant vehicles, the best costumes, and of course, life-changing performances.
A Tribute to AfrikaBurn - Aftermovie 2022
---
4) Wonderfruit Festival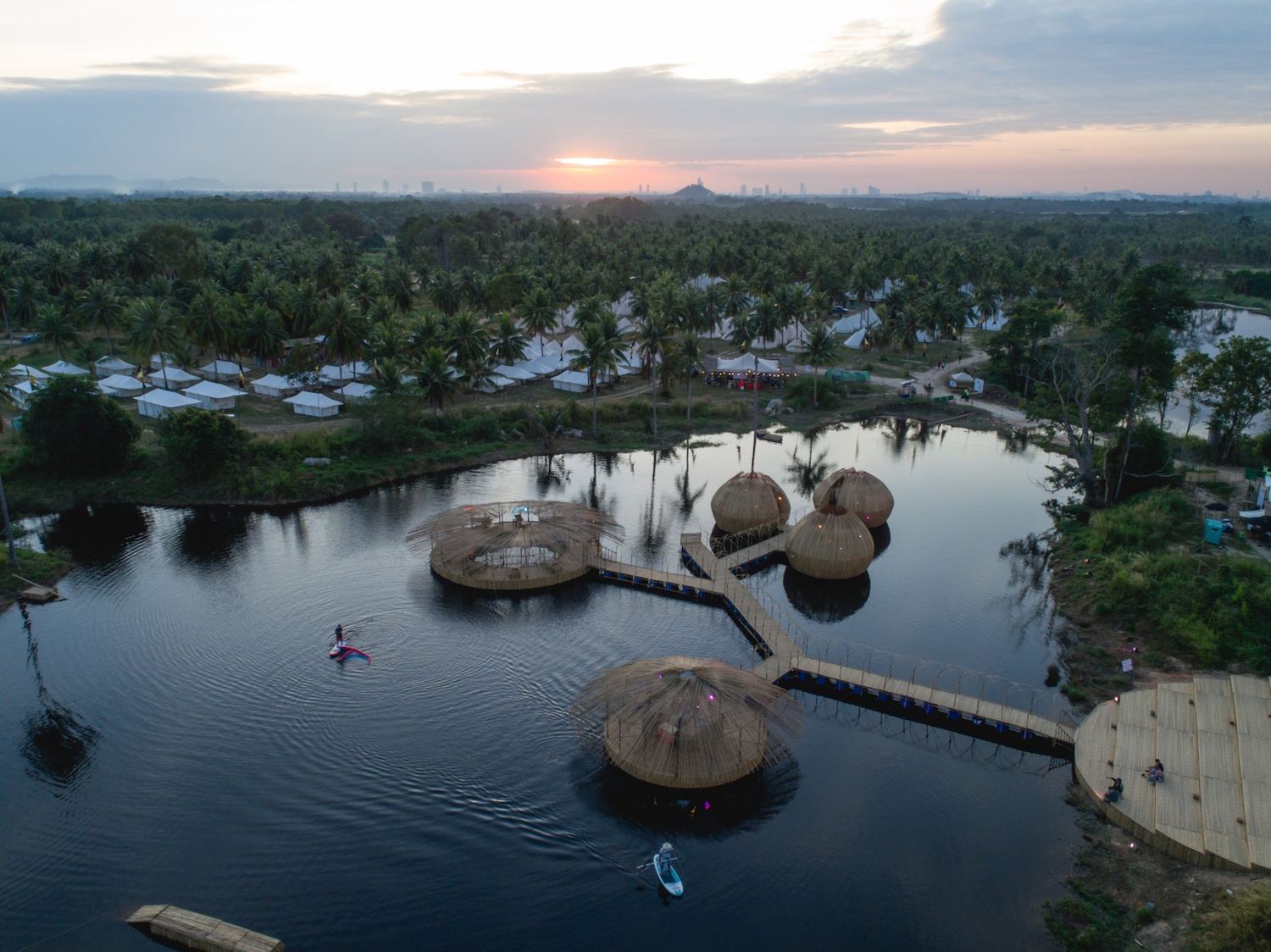 Where: Chonburi, Thailand
When: December 14-18, 2023
https://facebook.com/wonderfruitfest
Often referred to as the "Burning Man of Asia"
Thailand is a top destination for music festivals. It's hot, fun, full of great people, and chilled out, and Wonderfruit is perfect for you if you love Burning Man. Held over multiple days just outside of Thailand's "Sin City", Pattaya, Wonderfruit welcomes over 20,000 music lovers annually.
Wonderfruit has it all. Top tunes from leading artists, workshops, art installations, fab food and a great crowd. The festival is coming up on ten years of operations, and only grows each year. You can enjoy boutique camping at Wonderfruit, which often sells out early, so plan ahead!
I attended Wonderfruit the very first year it was held back in 2014, and it was simply amazing (especially for an inaugural edition). Every year they seem to do things bigger and better, and really have captured the Burning Man spirit with tons of workshops, sustainability, delicious food, music, and so much more!
Wonderfruit 2022 Official Aftermovie
---
5) Electric Forest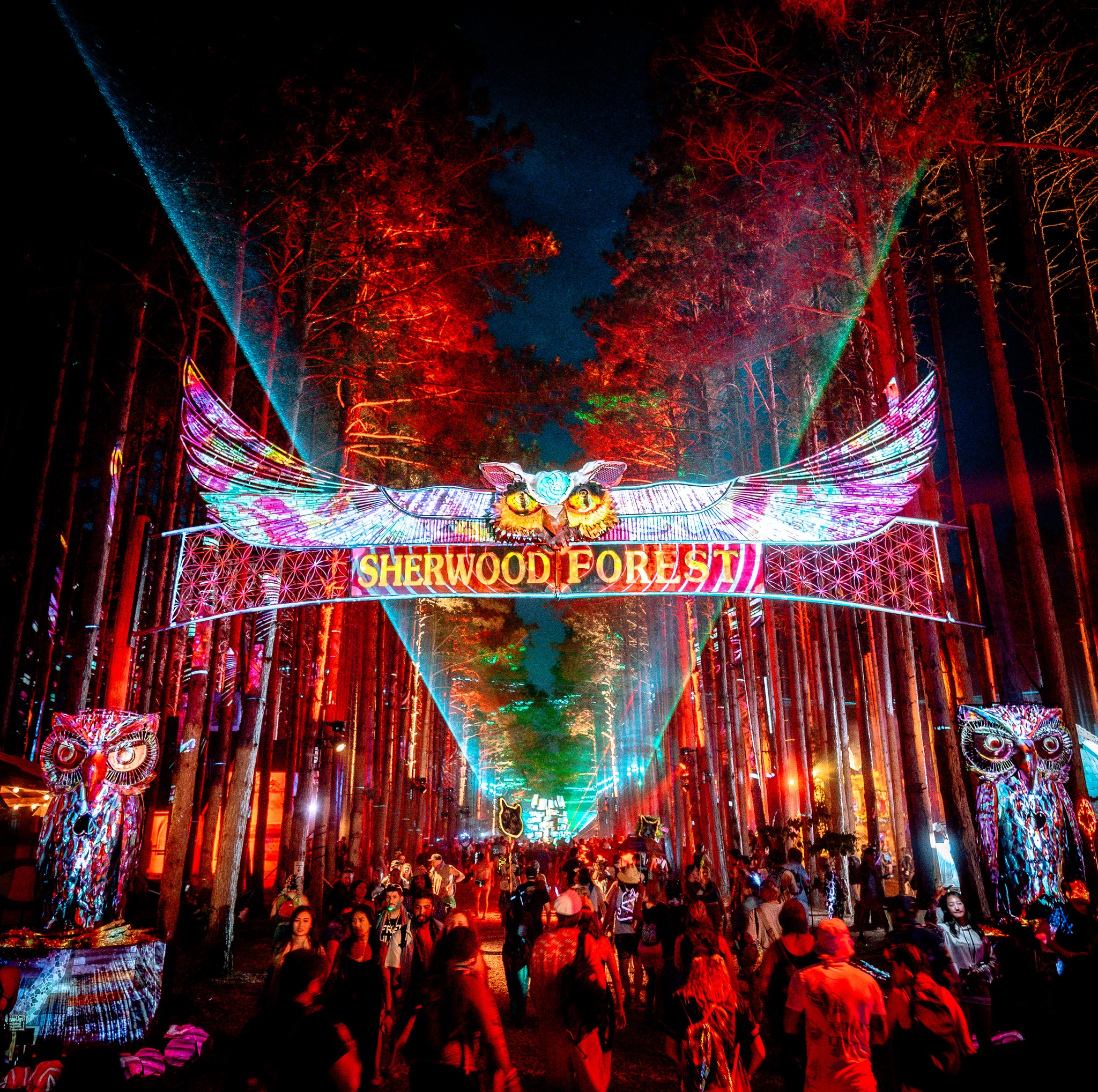 Where: Michigan, USA
When: June 2024
https://www.electricforest.com
https://facebook.com/ElectricForest
A summer USA music festival favorite, Electric Forest brings some of the world's best musical line-ups to Michigan for four days each year, usually in June. This is an all-encompassing music experience that covers multiple genres, from bass and dance to jam and rock.
At night, you'll be amazed by the epic light displays Electric Forest puts on – it's otherworldly! And the site is huge with so much to explore. After all, the festival brings in over 60,000 attendees and 50 artists each year. You won't want to leave!
While it's geared toward a younger EDM/Bass crowd, the magic you'll feel while exploring the Sherwood Forest is mesmerizing! It's an LED wonderland with an amazing #ForestFamily community that's comparable to Burning Man.
There are tons of art installations, group camping, and unbelievable production that will leave you speechless! It's one of my personal favorite festivals like Burning Man that deserves a place on every single festival lover's bucket list!
Rekindle The Sherwood Spirit - A Look Back On Electric Forest 2022 ⚡️🌲 #EF2022
---
6) Meadows in the Mountains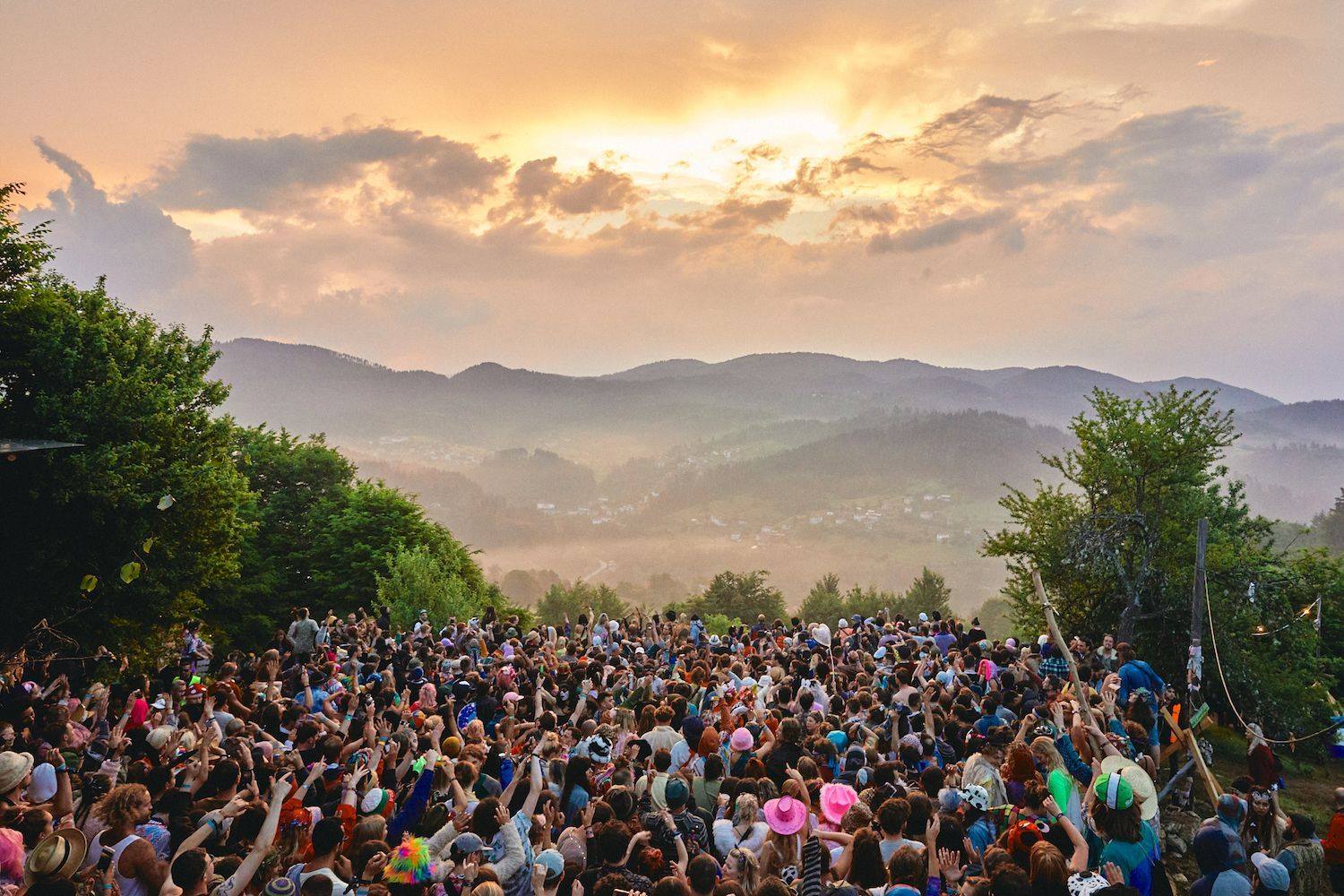 Where: Polkovnik Serafimovo, Bulgaria
When: June 2024
https://www.meadowsinthemountains.com
https://facebook.com/MeadowsInTheMountainsFestival
Eastern Europe puts on some of the world's best music festivals, and Meadows in the Mountains is Bulgaria's nod to Burning Man, held each year during early summer when the sun is out and the vibes are high.
This annual four-day event welcomes a huge line-up of world artists, and 3000 attendees, to a mountainside location right near the border with Greece. Up here, you'll be treated to the best multi-genre music, from pop to dance, some of the best views in the world, happy people and a transcendental experience that will reinvigorate the soul and leave you wanting more next year!
Ten years of Meadows In The Mountains - short documentary
---
7) Shambhala Music Festival
Where: British Columbia, Canada
When: July
https://www.shambhalamusicfestival.com
https://facebook.com/shambhalamusicfestival/
Shambhala brings that Burning Man vibe to Canada in all the best ways. Each summer, 15000+ happy folk descend on 500 acres of pristine British Columbia for four days of music, nature, art and the best vibes.
Shambhala kicked off over 25 years ago and music lovers continue to rate this festival as one of the best in North America. The electronic line-up here each year is super impressive, with seven cutting-edge stages, dedicated camping areas and a natural backdrop that really add to the feeling of wellness Shambhala aims to convey.
SHAMBHALA MUSIC FESTIVAL 2022 AFTERMOVIE
---
8) Midburn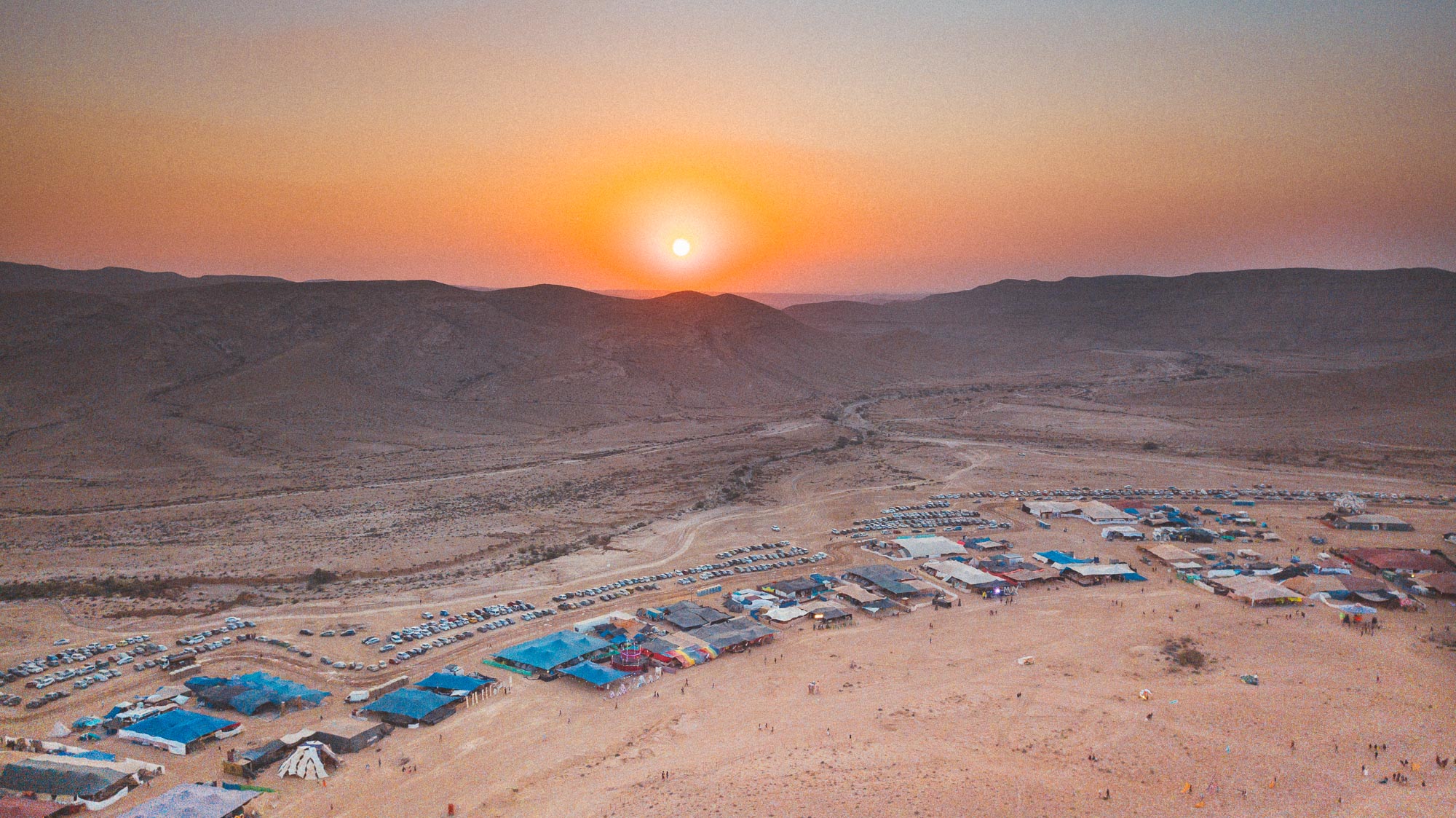 Where: Negev Desert, Israel
When: October
https://facebook.com/MidburnInternational/
Midburn is an annual event that is held over almost a week in the desert of Israel, and is another regional Burning Man event that operates under the strict principles of the original Burning Man in the USA. It is the only Burning Man event in the Middle East.
Each year since it launched almost a decade ago this festival only grows, and today over 10,000 people head to this large site each year for a week of community, inclusion, self-expression, parties and of course, a big temple burn on the final night.
This was actually the very first burn I attended in 2018, and I have nothing but amazing things to say about it! Read all about my experience here: Welcome to Midburn: A Burning Man Regional Event.
---
9) Rainbow Serpent (Rainbow Spirit)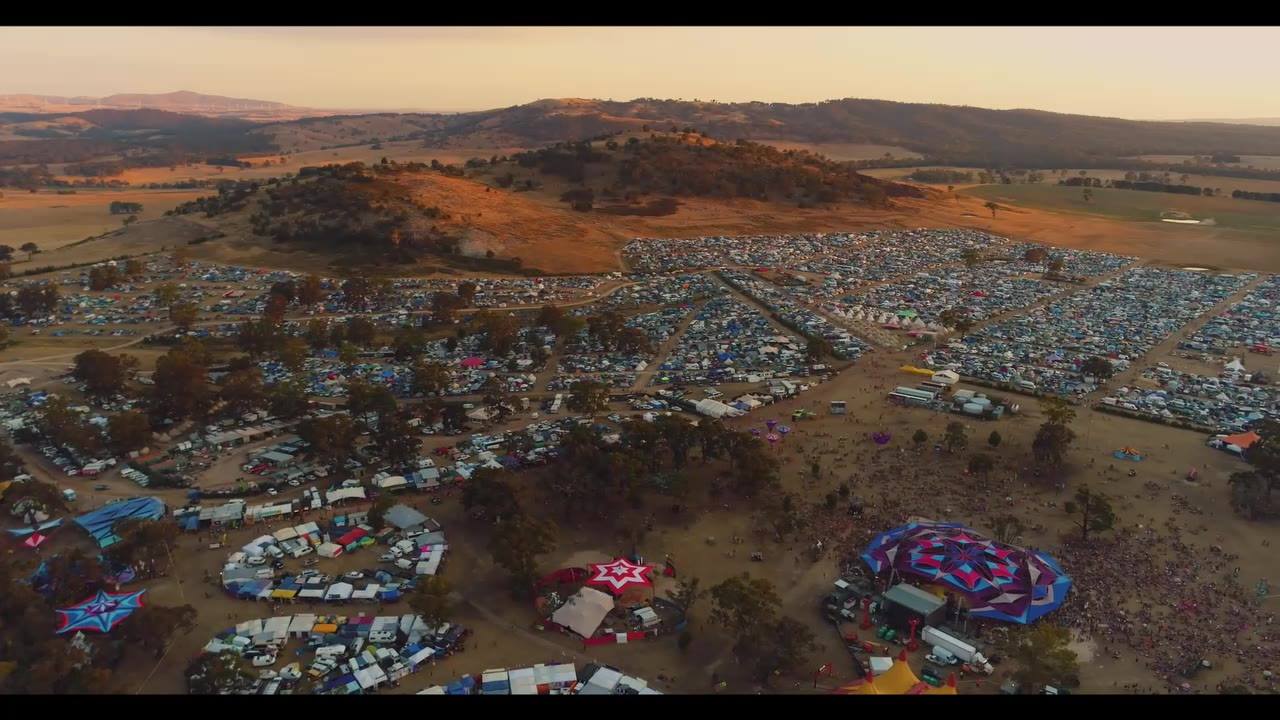 Where: Victoria, Australia
When: April
https://www.facebook.com/RSFHQ
Music, Culture, Art & Lifestyle Festival
Recently renamed Rainbow Spirit Festival from Rainbow Serpent Festival to honour its country's indigenous people, this multi-day music festival takes place just outside of the Australian southeastern city of Melbourne. If you love electronic music, join 15,000 like-minded souls at Rainbow Spirit, which is one Australia's most iconic events.
The festival is held each year in April now, and is a spiritual experience with a mix of trance, techno, dance, and more chilled tunes. The festival also puts a focus on wellness and education, with great food, markets and educational healing workshops.
Out of all the "bush doofs", an Australian term for weekend camping festivals", Rainbow Serpent definitely will provide the burner vibe/experience for those down under!
Rainbow Serpent Festival 2019: A Retrospective Film (Official)
---
10) Boom Festival
Where: Idanha-a-Nova, Portugal
When: July 20-27, 2023
https://boomfestival.org/boom2023/
https://www.facebook.com/boomfestivalofficialpage/
Every two years in the height of summer, over 40,000 music lovers head to a historic town in central Portugal for almost a week of building memories you won't forget. This psychedelic music festival, which gives Burning Man a run for its money, takes place every two years.
Boom hits all of the high points you'd expect for a festival of this size. Amazing line-ups, a focus on wellbeing and togetherness, artistic sets and a love and respect for nature. There's no better reason to book your ticket to Portugal for a summer trip!
Boom Festival 2023: Improvements at Caravan & Camping Areas
---
11) Burning Nest UK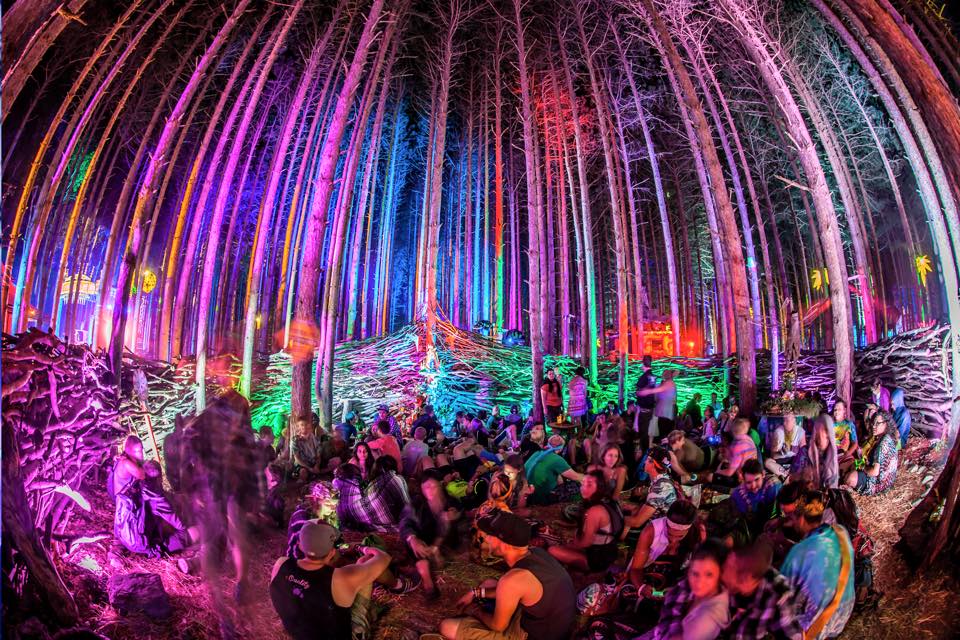 Where: England or Wales
When: May / June
https://www.facebook.com/nestburn
A Regional Burn in Devon, UK
"Join us for a week of co-created discovery and adventure! We seek and find ourselves, connection, and the secrets of the universe. Throughout the week, you can join workshops and ceremonies, witness performances and perform yourself, party hard and dance all night, relax and enjoy good vibes with good people."
In the UK and got a yearn for the Burn? Burning Nest is the British answer to Burning Man, and an officially recognised Burner event. Held on a site in the dreamy countryside of southern England and sometimes Wales, Burning Nest takes place in the early summer over the course of a week.
This Burn is the perfect blend of iconic tunes, rich culture, awe-inspiring light installations and fun loving people who come from all over the world for the annual event.
Burning Nest 2022 - Solsbury Hill
---
12) Les Dunes Électroniques
Where: Tozeur, Tunisia
When: November
https://www.dunes-electroniques.com
https://facebook.com/LesDunesElectroniques/
Another African music festival that is much like Burning Man but not officially associated, Les Dunes Électroniques takes place just outside of the ancient city of Tozeur, Tunisia, on an old Star Wars set! This desert destination is the perfect spot for balmy nights packed with epic tunes, inspiring light shows and good company.
As a nod to its location as a Star Wars filming site, many of its 10,000 attendees wear Star Wars costumes and groove to 30+ hours of nonstop music in a location that is worlds away from humanity. The organizers have to build everything as the location doesn't have water or power, and it's 10 miles from the nearest town and seven hours from the Tunisian capital, Tunis. Definitely one for the most dedicated Burners!
Dunes Electroniques 2019 - Aftermovie
---
13) Splore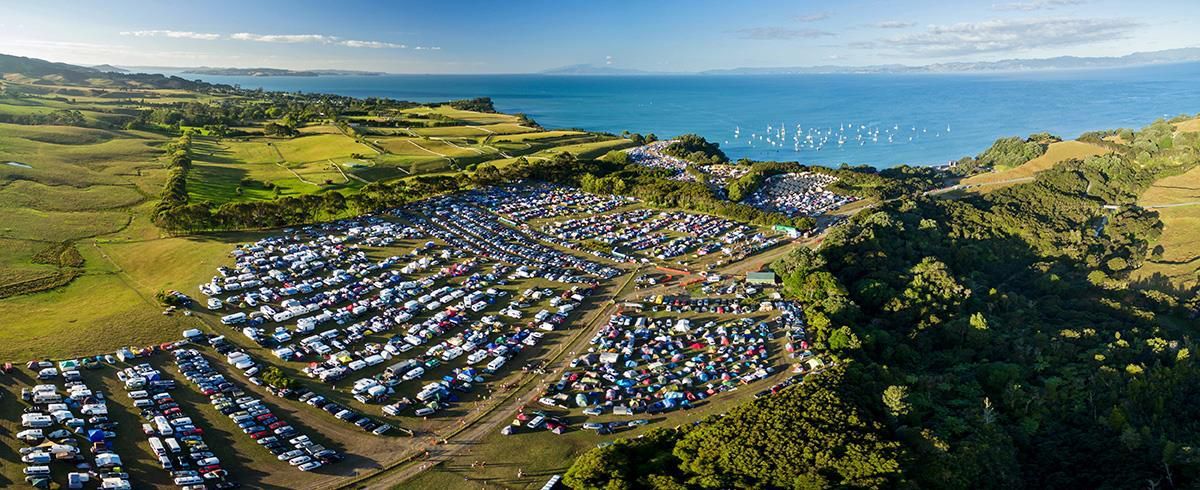 Where: Orere Point, New Zealand
When: February 23-25, 2024
https://www.facebook.com/SploreFestival/
"A three-day immersive entertainment extravaganza and the greatest costume party in Aotearoa! We invite you to embrace the theme and join our mindful tribe of party animals!"
New Zealand offers some of the most beautiful landscapes in the world, and Splore is the small country's answer to Burning Man. This three-day music festival is held each year in a picturesque regional park, right on the coast just outside of the North Island's major city, Auckland.
The line-up at Splore is eclectic, surprising and varied, and tent camping is available, or you can bring your own camping vehicle. This boutique event is a colorful, fun and memorable event that aims to unite and inspire.
Hidden Gems of New Zealand: Splore Festival by Ben Mikha
---
14) Nowhere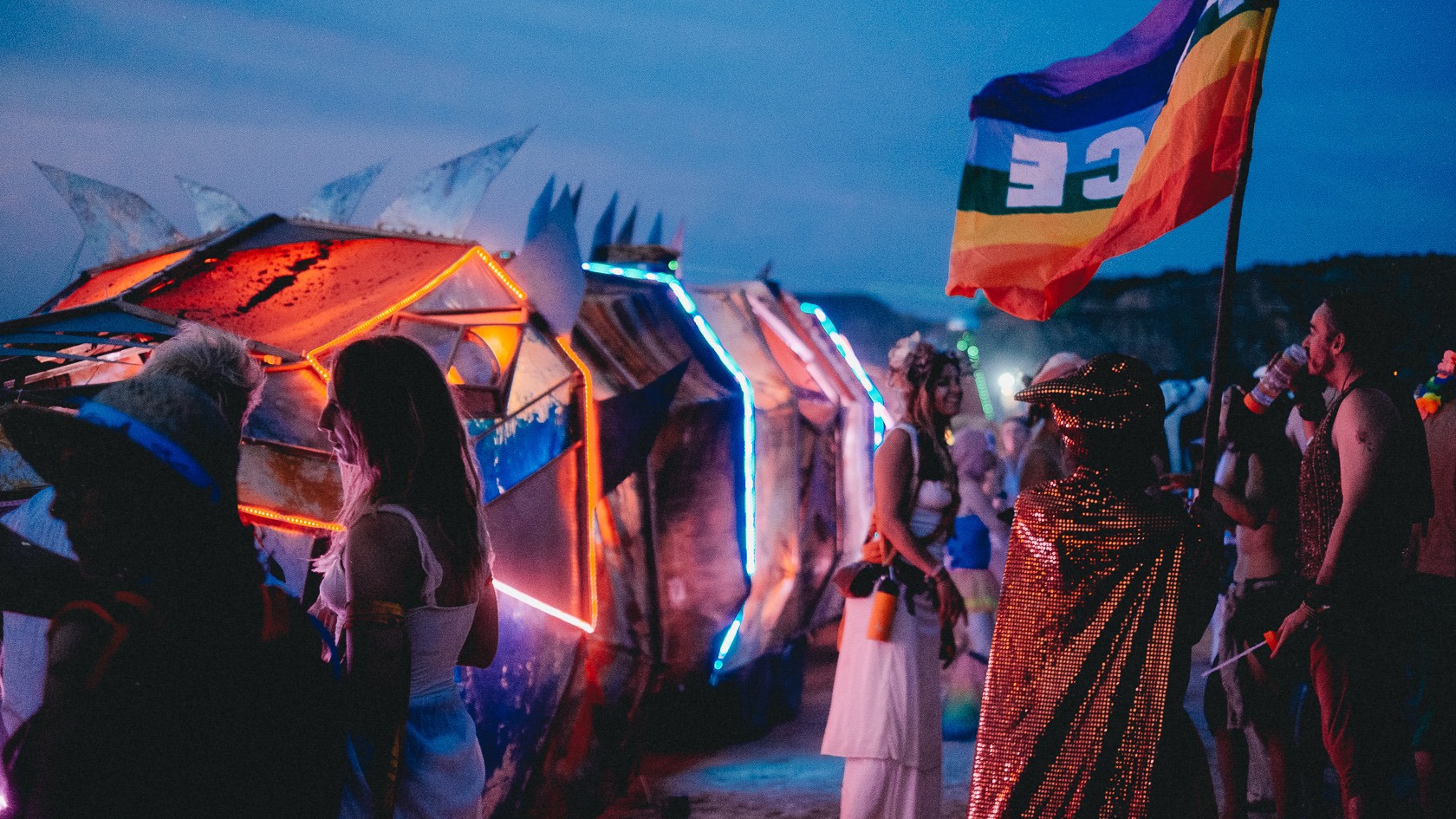 Where: Aragon, Spain
When: July 2024
https://www.facebook.com/Nowhere-148710448518931/
"Nowhere is an experiment in creative freedom, participation and cash-free community. Conceived, built, experienced and returned to nothing by YOU."
Spain's regional Burning Man event, Nowhere is coming up on twenty years of amazingness, and shows no signs of slowing down, with 4000 event attendees making this festival a priority each year.
Held in the desert of northern Spain, Nowhere is much like the original Burning Man. No scheduled performances or stages, no buying or selling and a strict adherence to the original philosophies of Burning Man. Expect eye-catching costumes, a feeling of togetherness and a chance to disconnect from greater society for a bit and to get back to basics. Anything can happen here, and we're down for it.
---
15) Universo Paralello
Where: Bahia, Brazil
When: December / January
https://universoparalello.org/index.html
https://facebook.com/universoparalelloofficial
Wrapping up my list of the best festivals like Burning Man across the world is Universo Paralello, a Brazilian dream of a festival with a focus on psychedelic and trance. This festival is a huge one, running for nine full days and held annually over New Years and into the New Year. As a result of its size and what it takes to pull off, Universo Paralello is only held every two years.
Even better than the world-class line-ups, state-of-the-art stages, and sheer range of workshops and holistic educational experiences here, is the setting. The beaches of Bahia in southern Brazil are home to Universo Paralello, and you can't get a much better festival home.
GroundBass @ Universo Paralello Festival 2022/2023 (Full Video 4K)
---
What are your favorite Burning Man Alternatives?
Millions around the world dream every year of attending the iconic Burning Man event, but for those who can't make it – there are plenty of other options out there! This list really could have gone on and on, as there are tons of epic festivals similar to Burning Man that are worth experiencing.
So I'd love to hear from you guys about other festivals/regional burns that deserve to be on this list!
---
Looking for more music festivals around the world?
My travel blog has hundreds of articles showcasing the coolest and best international music festivals! Would love for you to take a look at some of my favorites below to find your next festival adventure!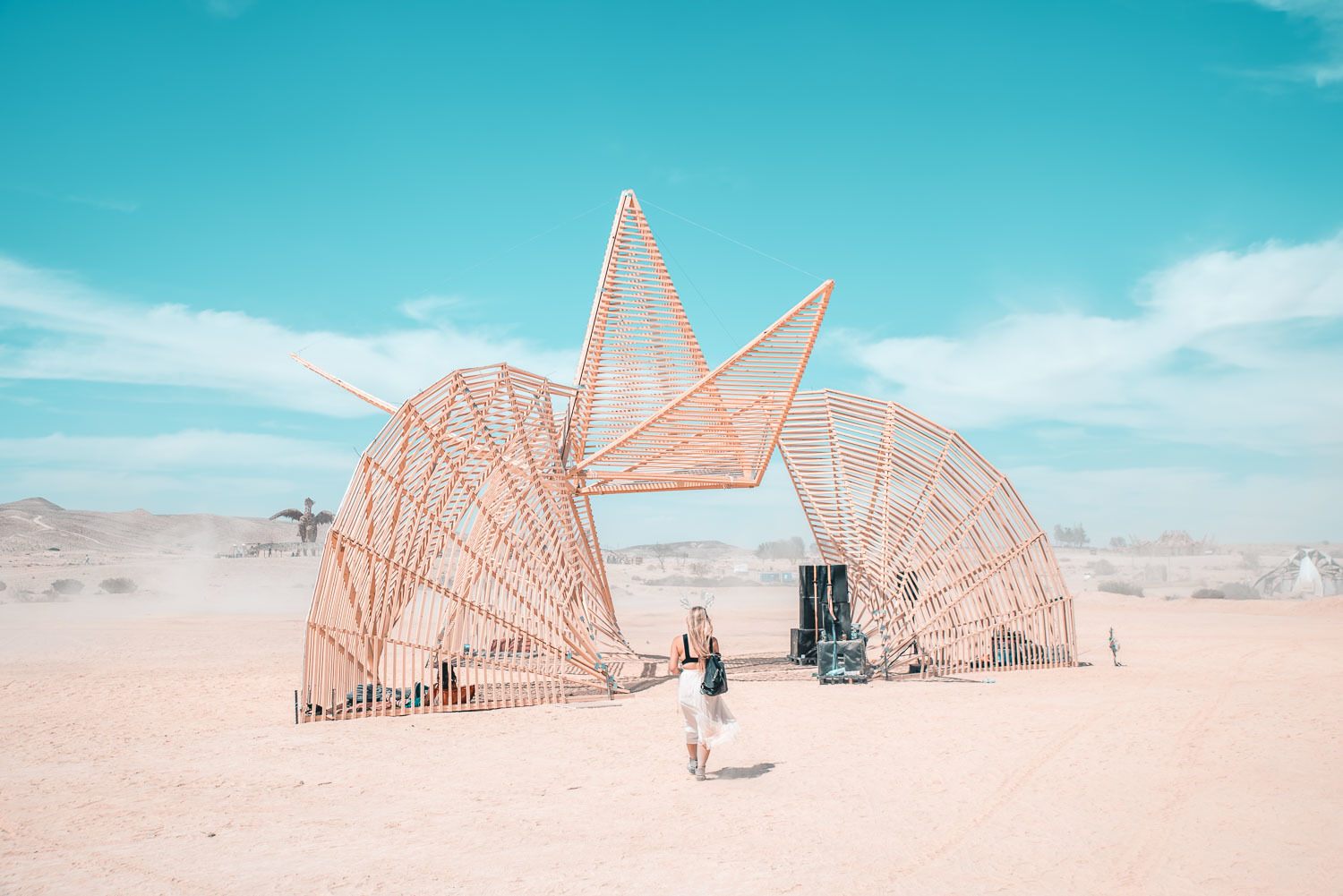 ---
Thanks so much for reading my guide for Festivals Like Burning Man
Share this article with your travel/ festival! crew
https://www.jonesaroundtheworld.com/wp-content/uploads/2023/07/Lightning-in-a-Bottle-Festivals-Like-Burning-Man.jpeg
1000
1500
Dave
https://www.jonesaroundtheworld.com/wp-content/uploads/2017/03/logotry-1-1-300x106.png
Dave
2023-07-13 22:14:09
2023-07-13 22:14:09
15 Festivals Like Burning Man For Your Bucket List