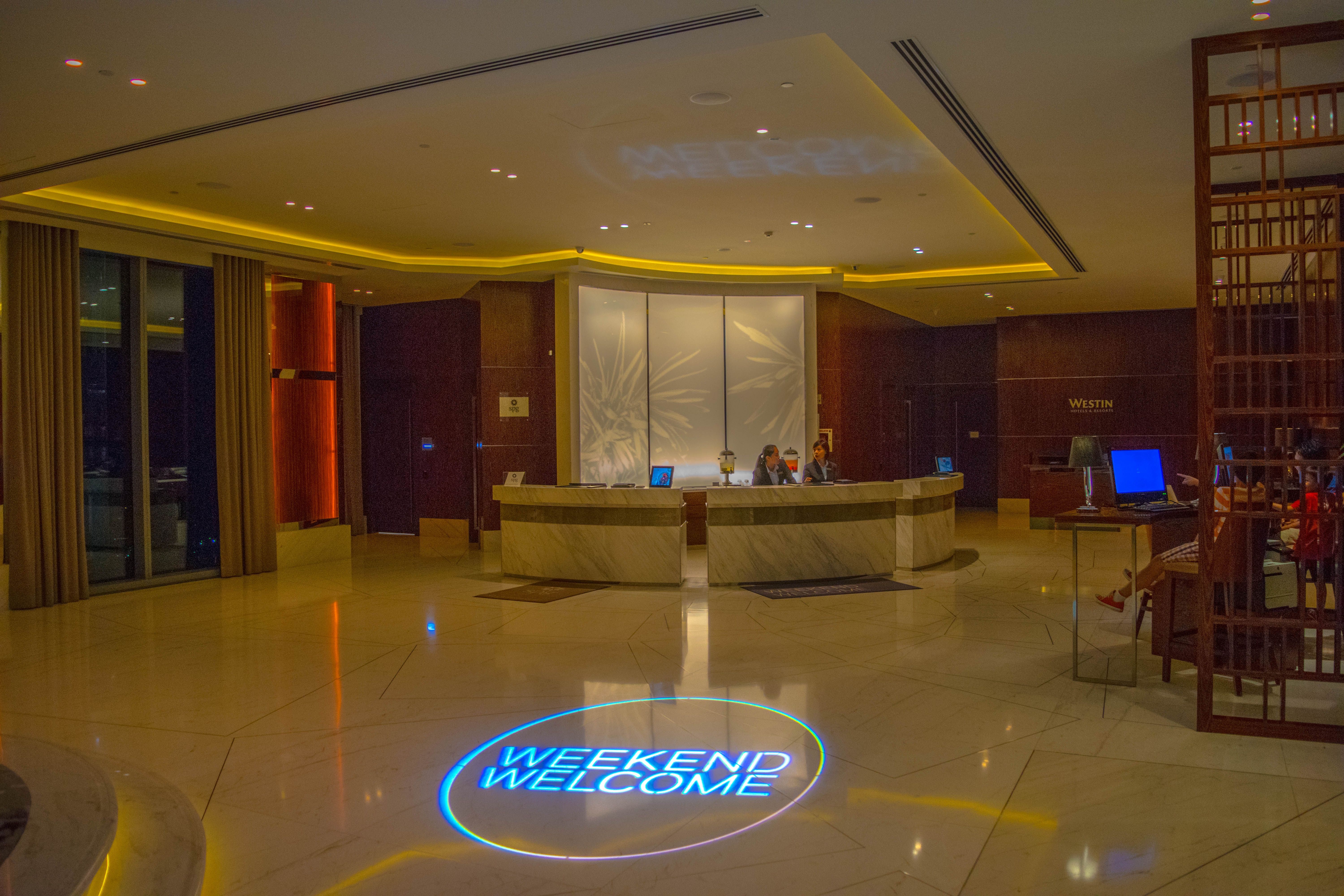 After nearly 9 months of living and working in Sydney, the time had come for this travel blogger to pack my bags and hit the road yet again. After a rather painful flight and complicated arrival into Singapore, I couldn't have been more happier that I would be staying at The Westin Singapore.
I was fortunately offered the option of an early check-in, so I rocked up to the Westin Singapore at around 10:30 A.M. I was greeted downstairs with warm smiles by the friendly staff who instructed me to head up to the 32nd floor for the hotel reception.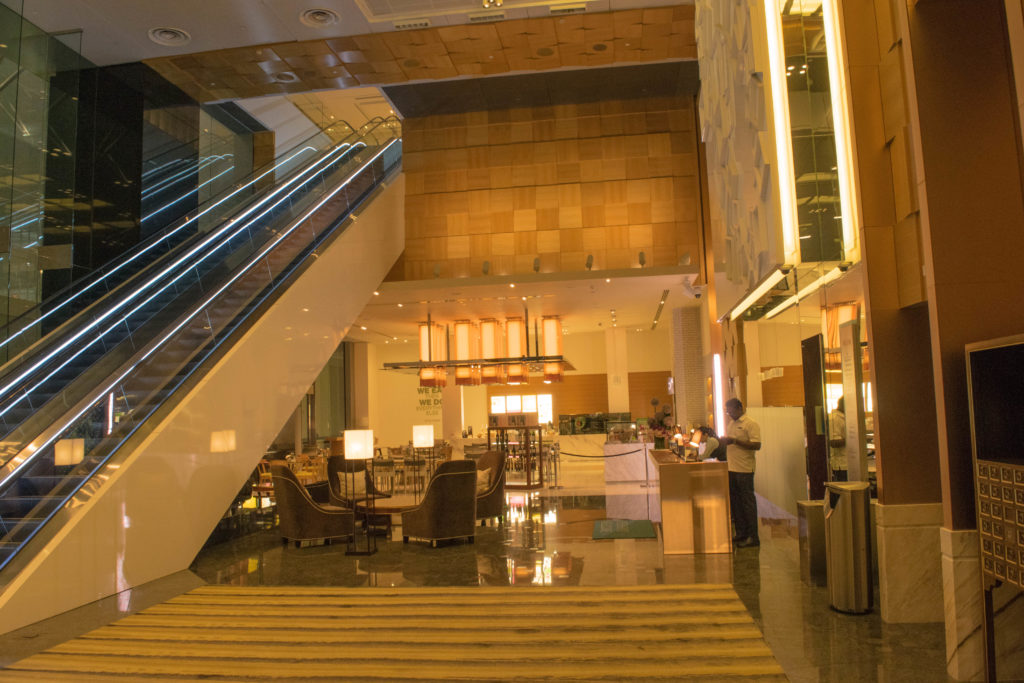 As the elevator doors opened into the lobby, I quickly realized that the next two days were going to be a very luxurious, relaxing, and enjoyable start to my travels. I handed over my passport, signed a couple forms, and finished my welcome drink; I had successfully checked in.
After a quick tour of the hotel restaurants, fitness room, and infinity pool — I made my way to room 4219 to get settled in. My home for the next 48 hours.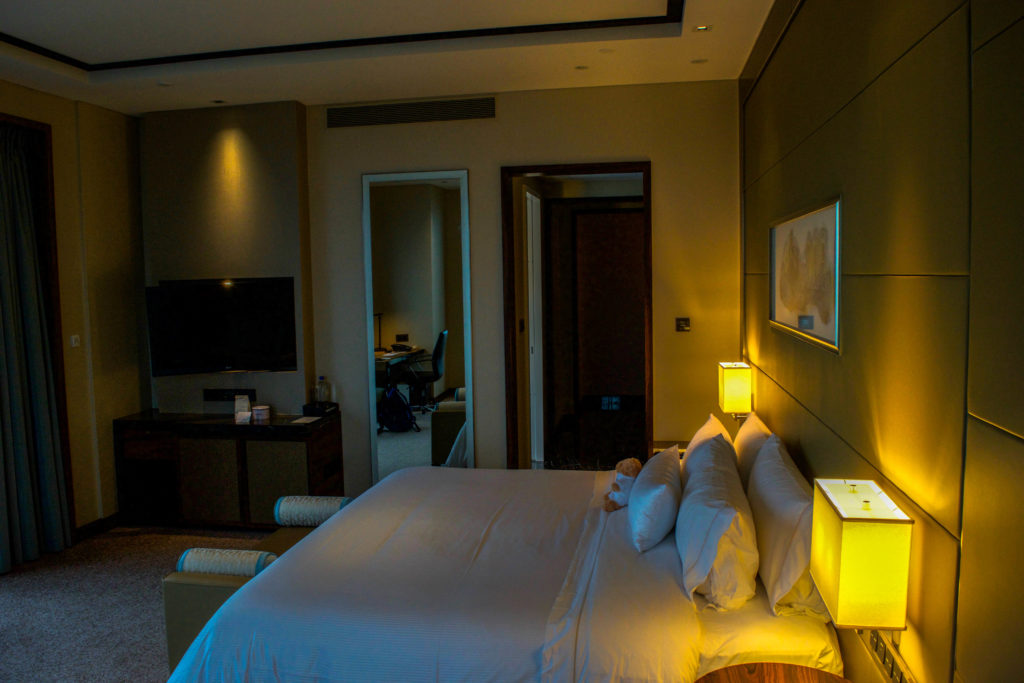 I've got to say that is easily one of the best hotels I've ever stayed at. When you analyze all the different aspects that people look for in quality accommodation, the Westin Singapore went above & beyond in every single category.
I think this is because of their current focus:
Eat Well.

Sleep Well.

Be Well.
For a Better You…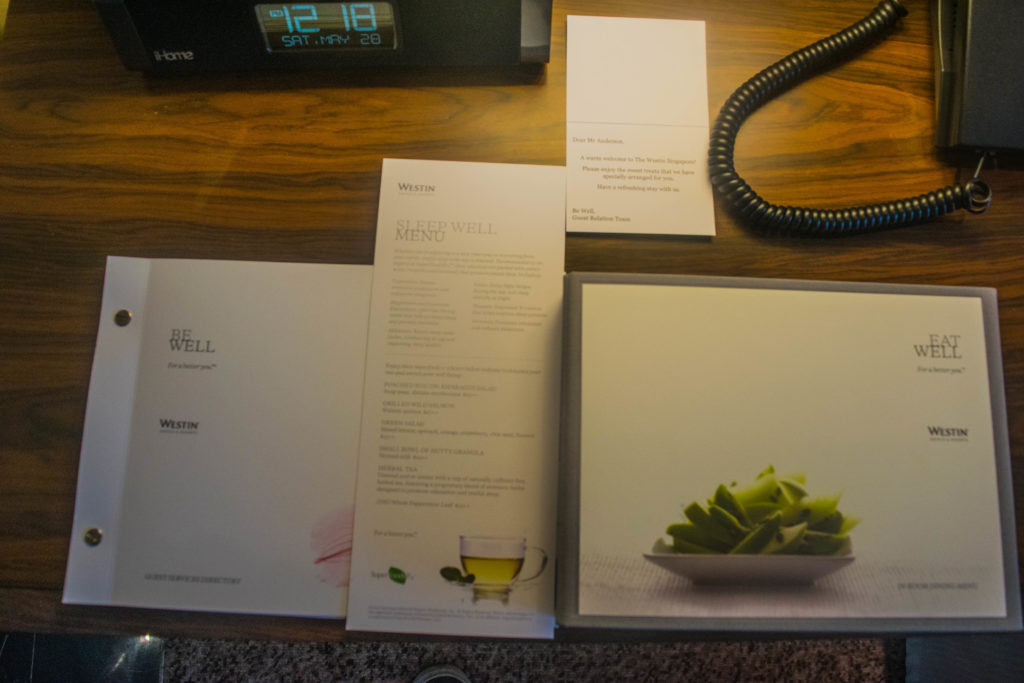 EAT WELL
If you know anything about me, you'll understand that the best way to get my love and respect is through food.
So when I started browsing the different options at the breakfast buffet, I became a very content traveler. They say that breakfast is the most important meal of the day, and this buffet definitely made it the tastiest as well.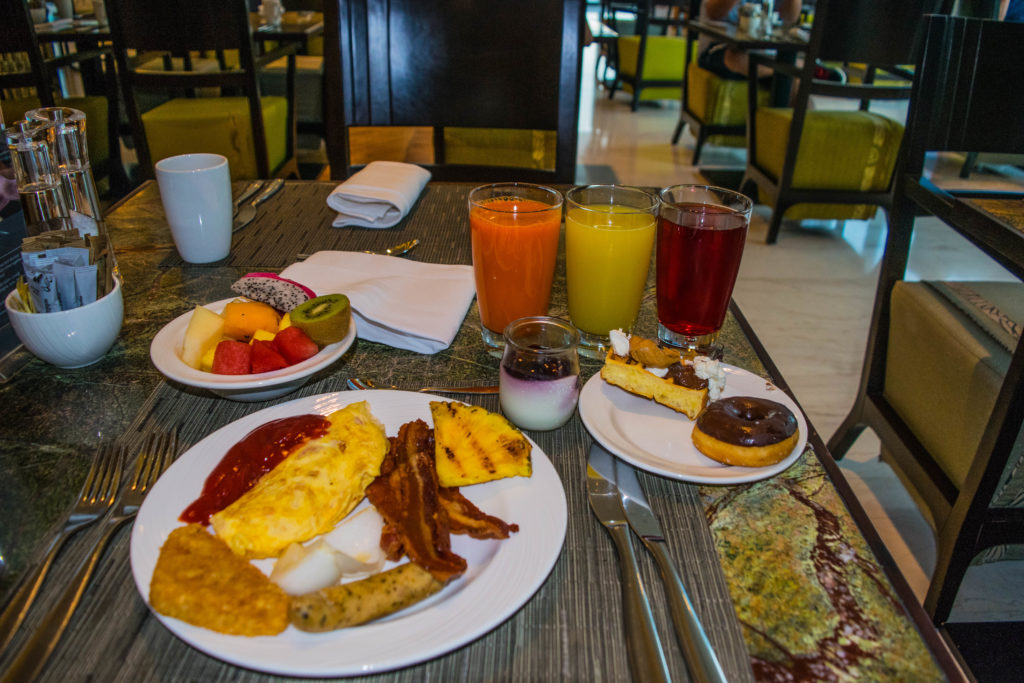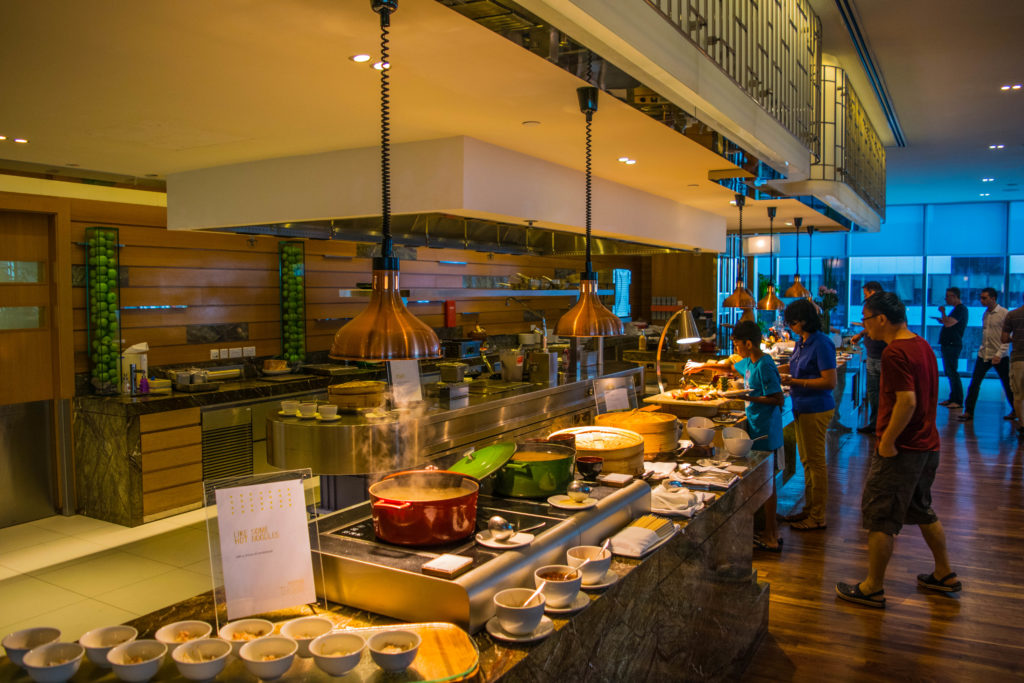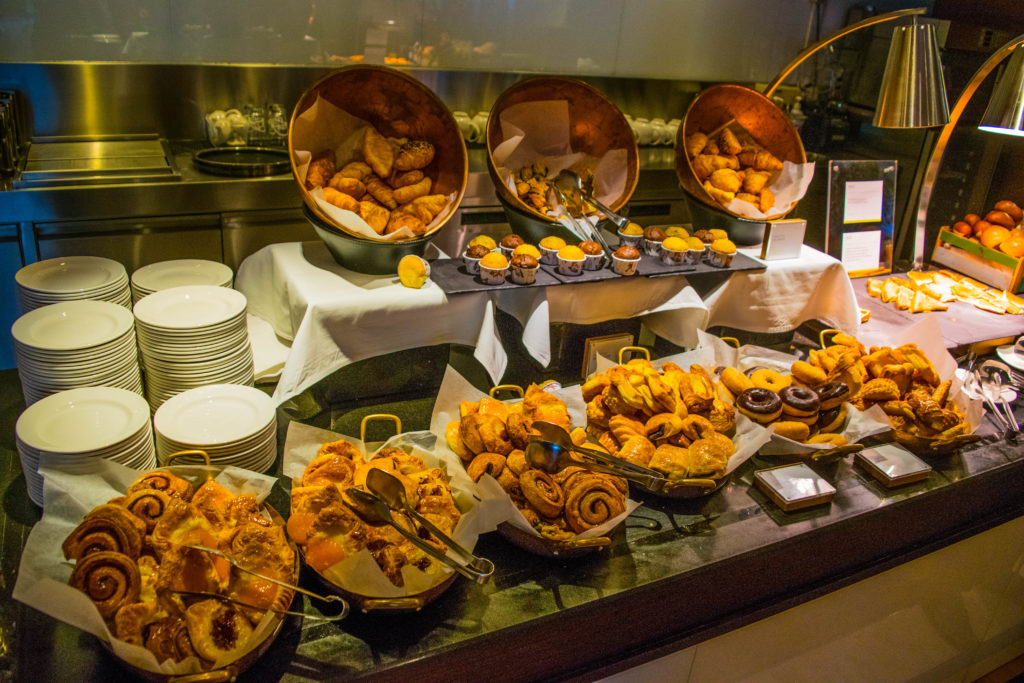 No matter what you were in the mood for, the buffet had you covered. I pretty much sampled as much as I humanly could between the two breakfasts I had. Everything was absolutely perfect.
The omelette station was definitely top-notch, especially when you combine it with some crispy bacon, hash-browns, and sausages. I call this a "power meal", and it gave me all the energy I needed to go sightseeing all day.
My favorite aspect of the breakfast was actually the juice bar. There were at least 6 different fresh and healthy juices to choose from, and below them was a "Eat Well" description about the health benefits of the drink. They also had these on some of the foods as well. It was a really cool thing I had never seen another hotel do before.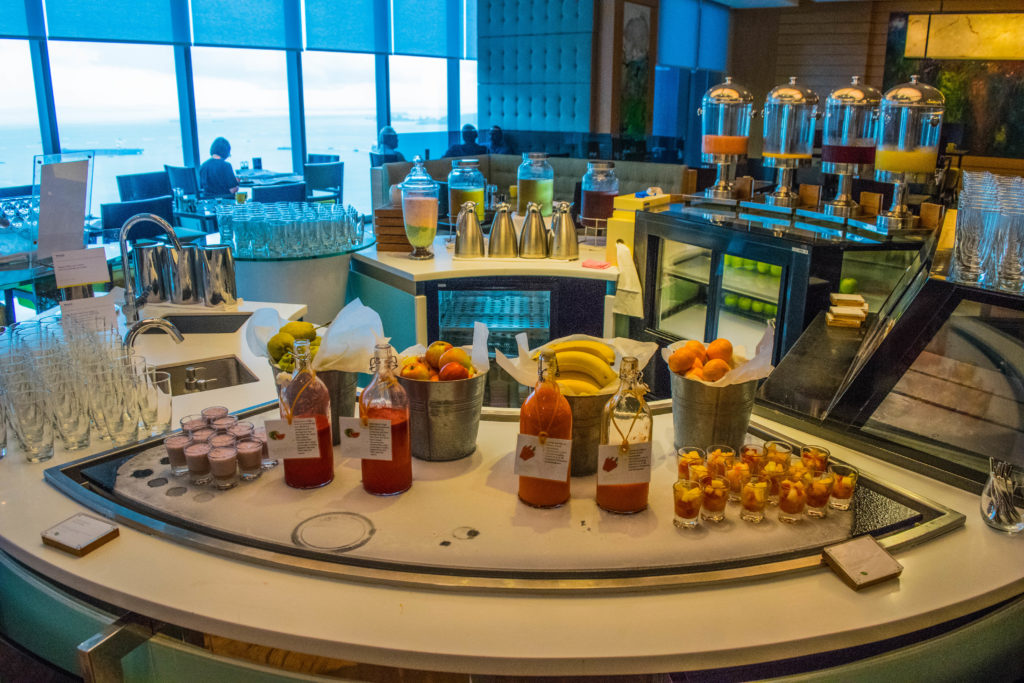 SLEEP WELL
Now, I might not be the best judge because for the last 6 months I've basically been sleeping on a futon with very basic sheets — but this was the most comfortable bed I have ever slept on.
I'm so glad I got to experience a couple nights sleep on the coveted "Westin Heavenly Bed."
The purpose of a king-size bed is to you make feel like royalty, and that is exactly what happened.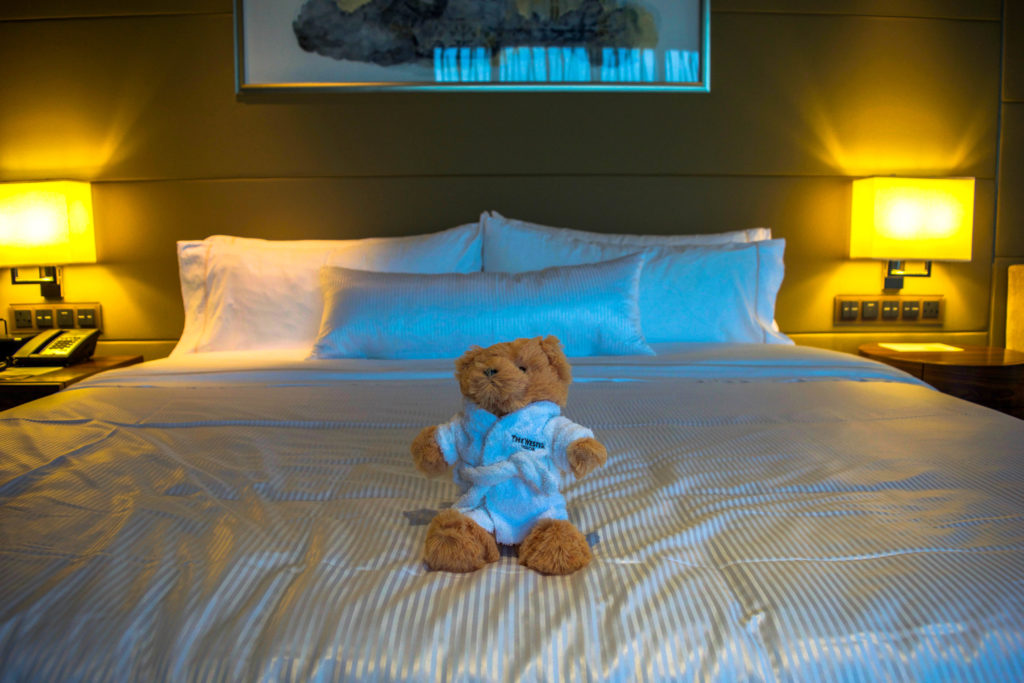 I have a newfound respect for thread sheet counts and quality pillows. This bed has inspired me to do whatever I can to become ridiculously wealthy, so I can afford to purchase the same exact bed for my house.
When you combine the comfort of the bed and the massive flat-screen TV — I'm actually kind of surprised I ever left the room. If I wasn't so excited to go take pictures of the city, I honestly don't think I would have.
BE WELL
When it comes to your comfort and well-being, the Westin Singapore is looking after you. They've got a 24-hour fitness room, stunning infinity pool, and top-notch Spa equipped with Sauna and Steam Room.
I made my way up the infinity pool one night to take some amazing photographs of the view, as well as get some exercise in by swimming some laps. :-)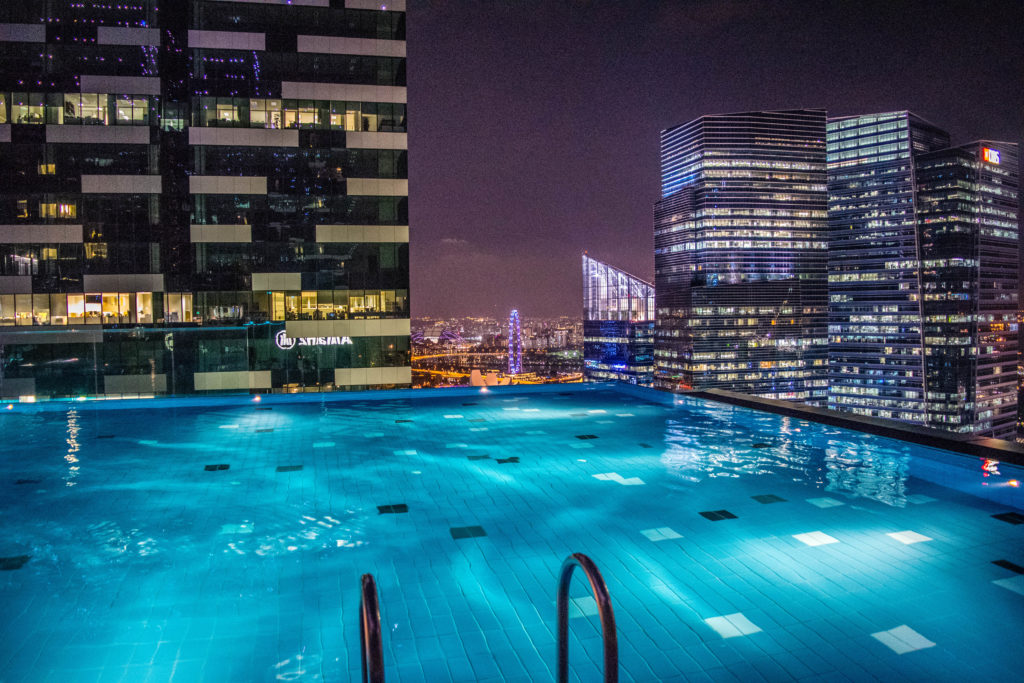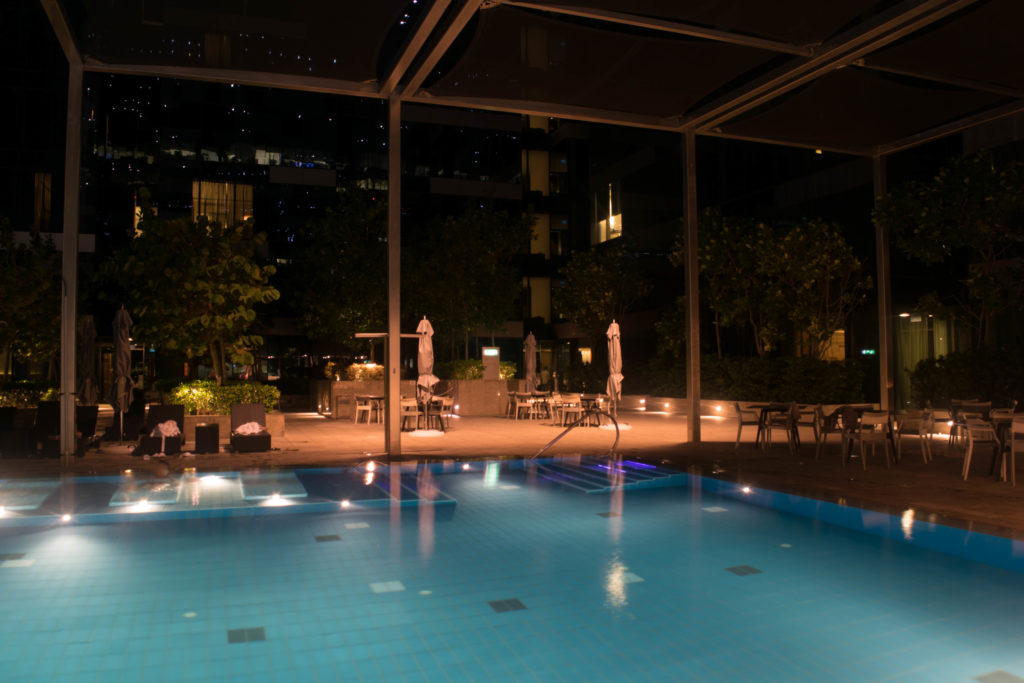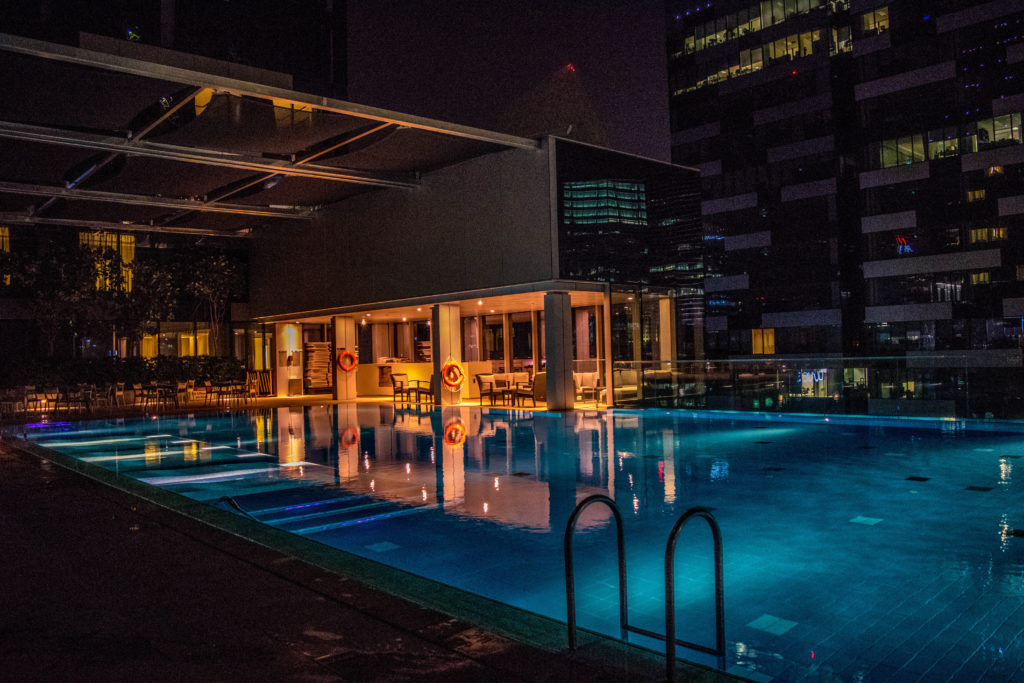 ---
They also treat you with a welcome gift of cookies & chocolates, and give you a cute little bear in a bathrobe. I named mine "Westy", and yes, we slept together. :-)
Sometimes it's the little things that count.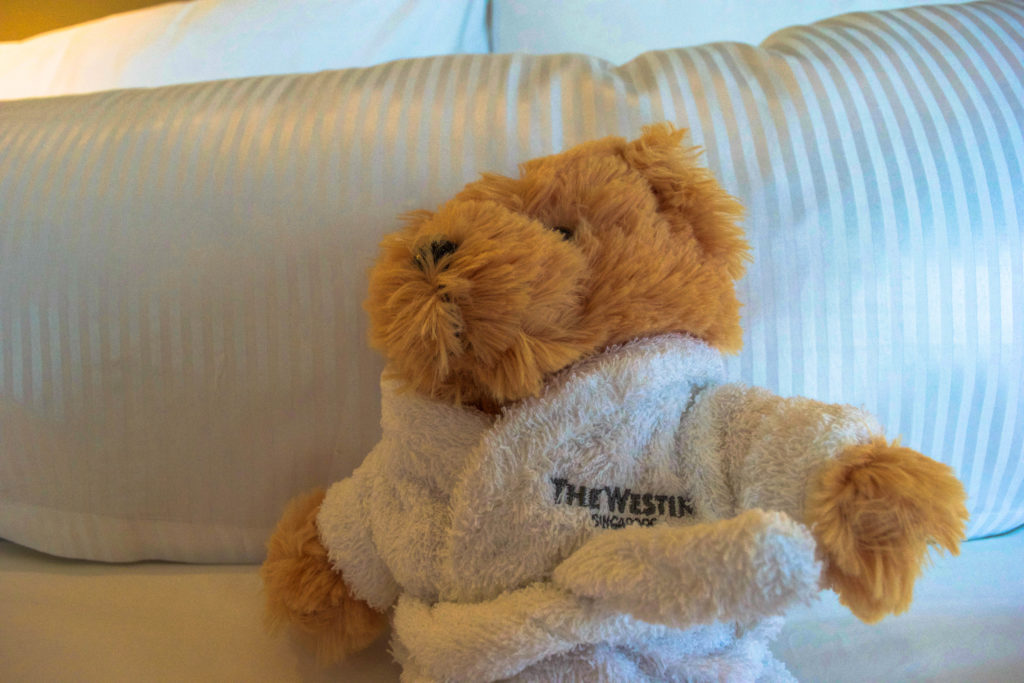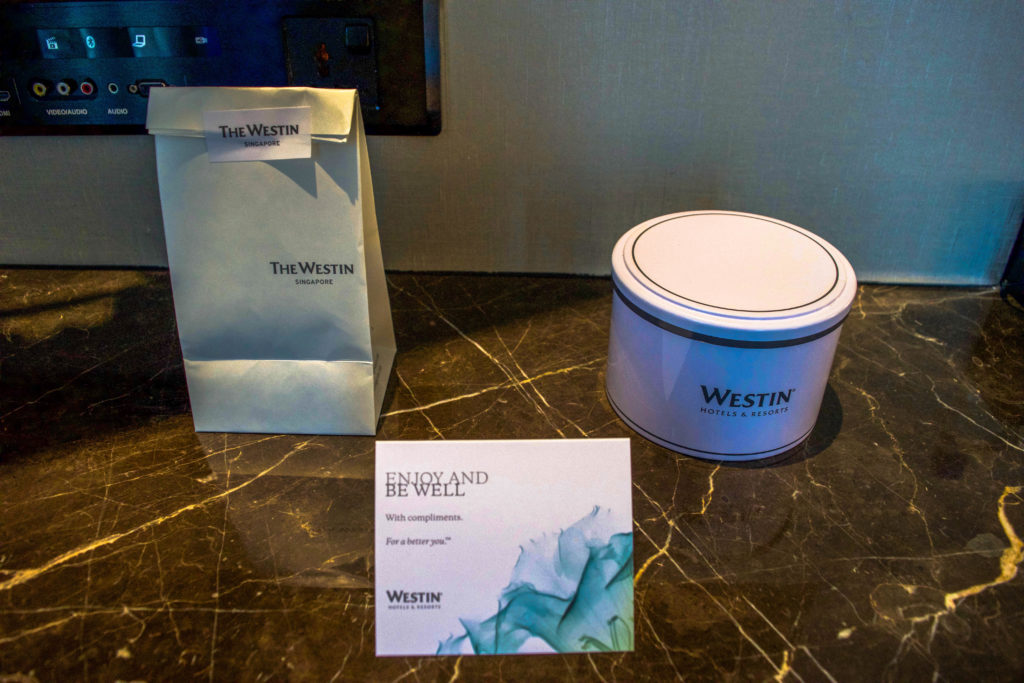 One other aspect about my stay that I really noticed and appreciated was that they really took the time to personalize things. When I turned on the T.V it said "Welcome David". I had two separate notes in the room with my name on it. And if I ever called the reception, they answered the phone promptly saying "How can I help Mr. Anderson?" I obviously know about caller ID, but that was a nice touch.
Productivity
One of my favorite aspects of the room (besides the bed) was the spacious workspace area in the corner. For some one who works online, this is absolutely essential to your productivity.
Oh. And the internet. Hot damn. SO FAST!
See that desk? See two laptops? Well, I just bought a brand new MacBook Pro, and had to transfer over tons of stuff. I spent a lot of time at that desk.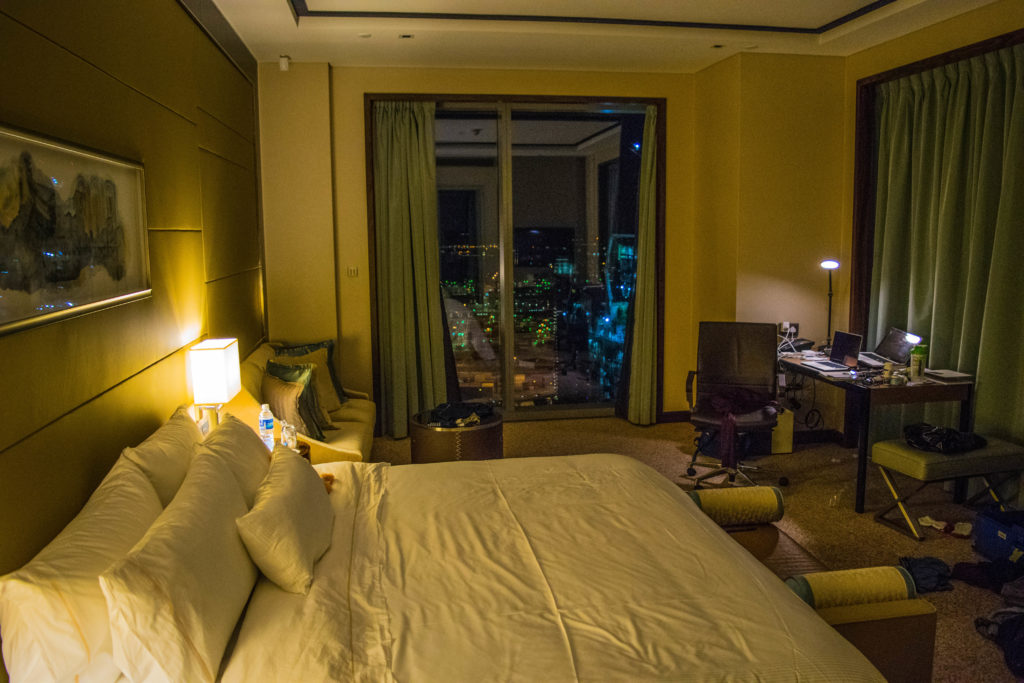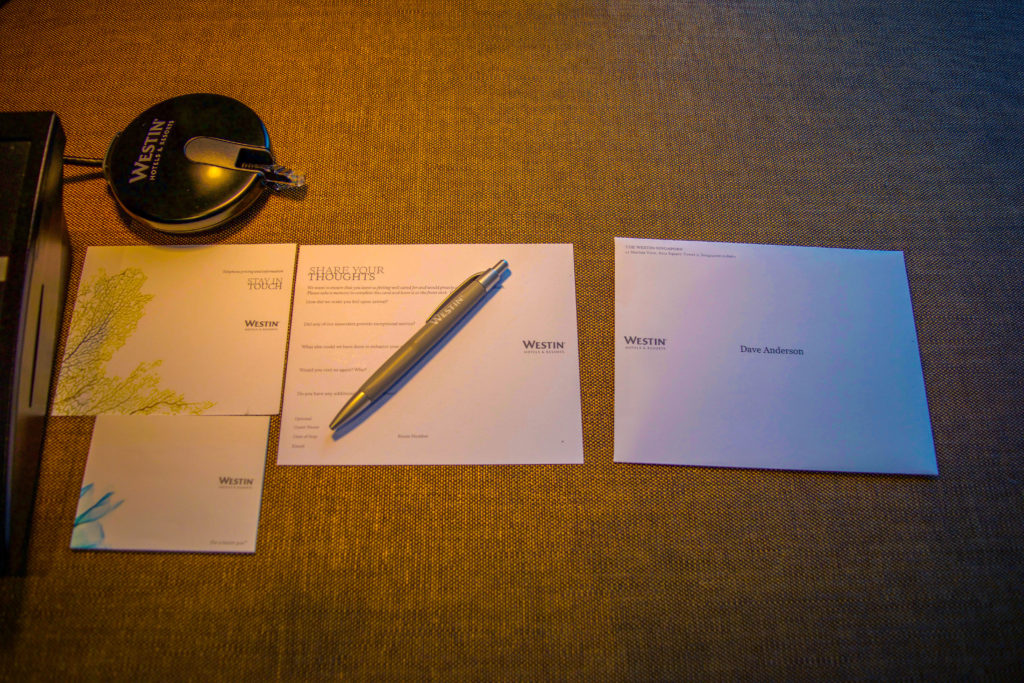 Location
You know what they say — "location is key". Well, I completely agree, and the hotel is superbly located right where you want to be during a visit to Singapore.
The entire city is well-connected with public transportation, so getting around Singapore is extremely easy.
Not only are you in walking distance to many key places, the Westin Singapore is just a 3-4 minute walk from the Downtown MRT station.
It's perfect. You're two stops away from Chinatown, 6 quick stops away from Little India, and 1 Stop from Bayfront (Marina Bay Sands). Although I'd always just recommend taking the 15 minute walk to the Marina, as it's an easy stroll and more fun to explore the neighborhood.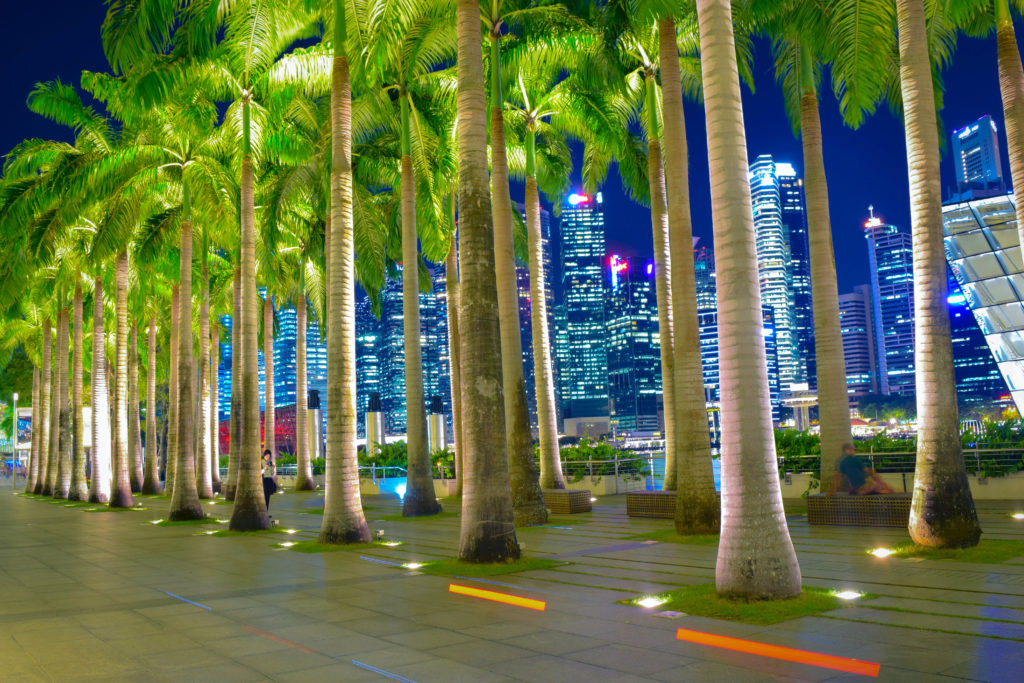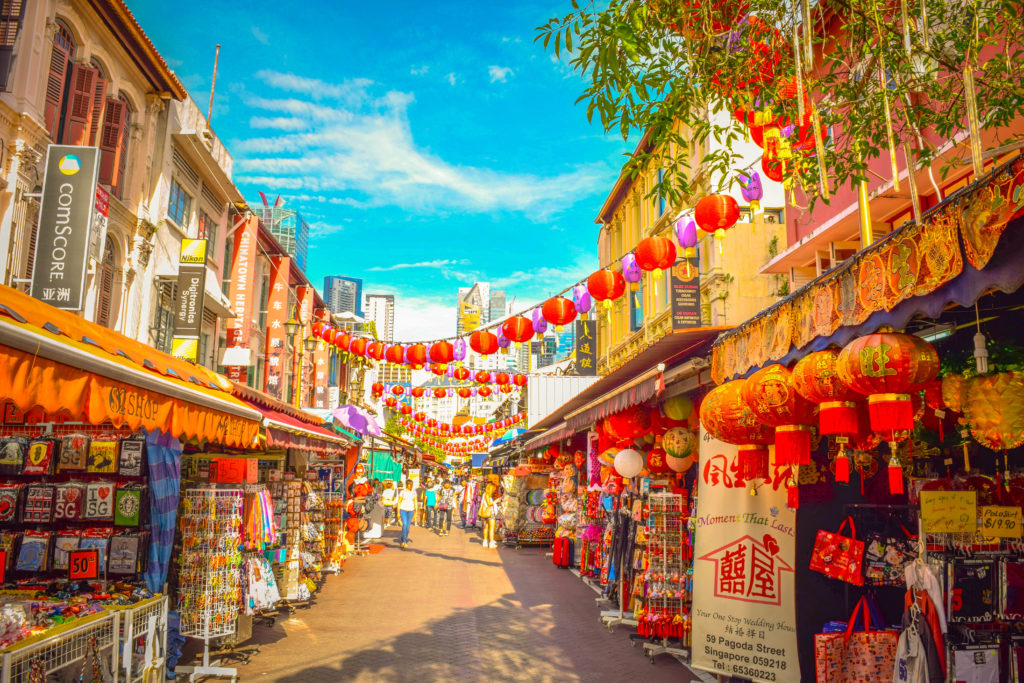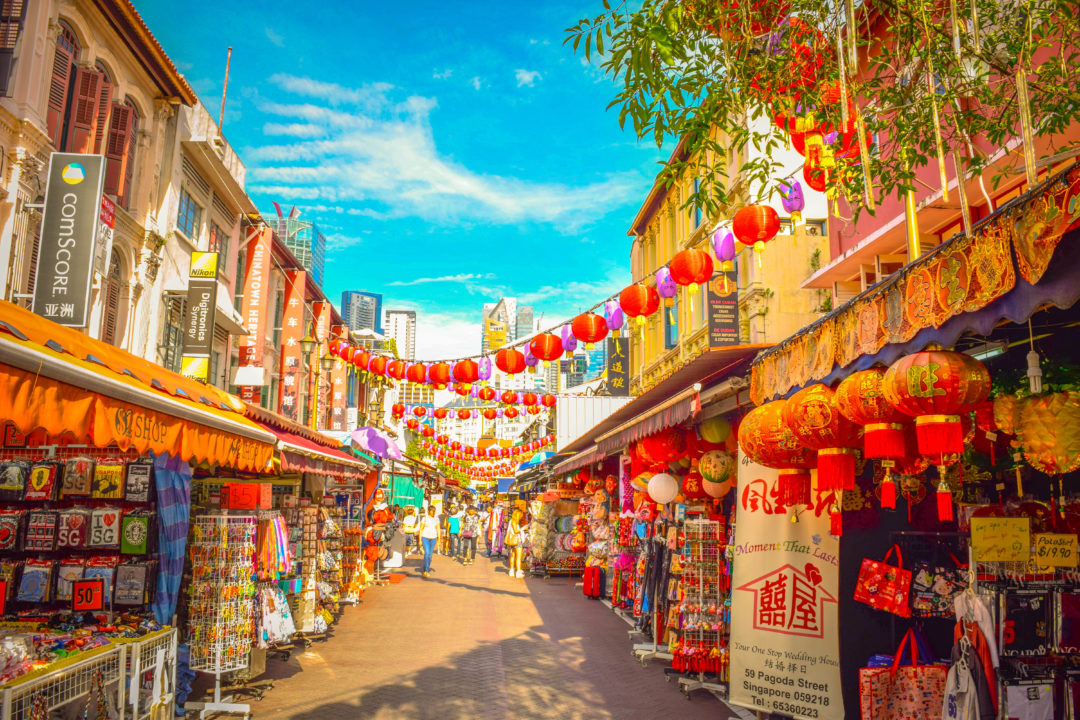 ---
After two days at the Westin Singapore, I can confidently say that it was truly one of best hotels I've ever stayed at, and was the absolute perfect beginning to my 3-month summer travels.
Their mission is that the facilities will leave guests feeling better than when they had arrived., and I'm happy to say that this is 100% true in my case.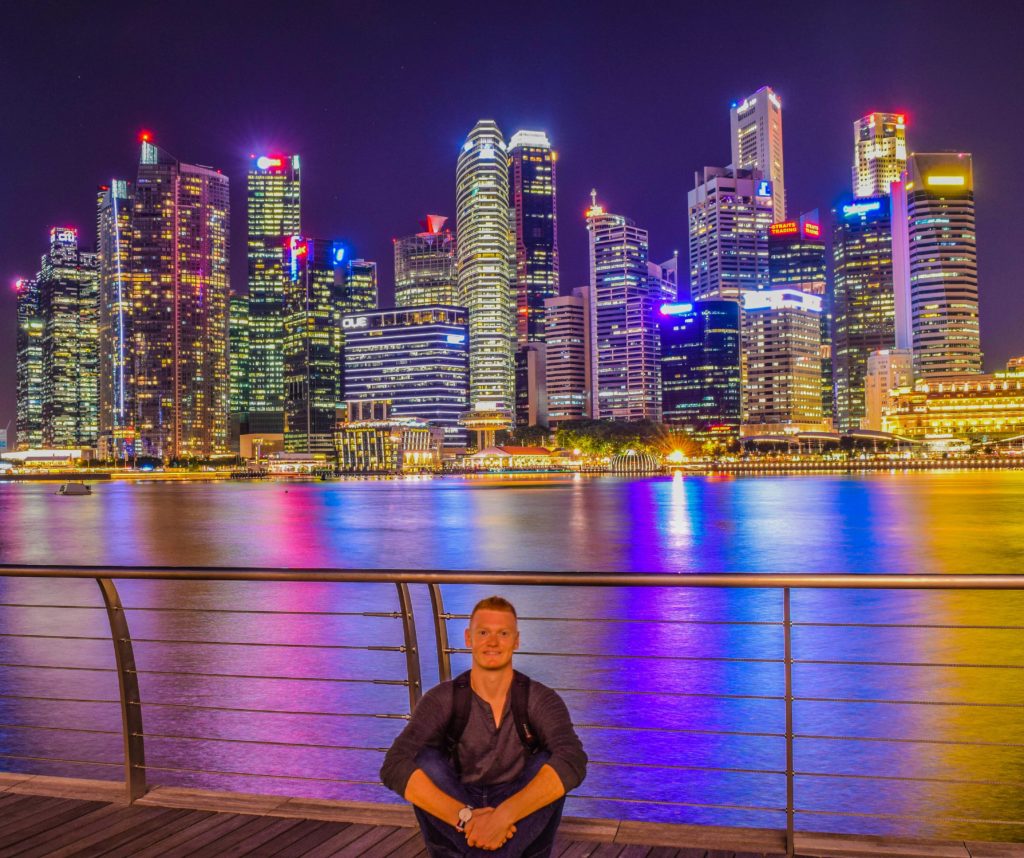 Thanks to The Westin Singapore for hosting me during my stay in Singapore. It was truly an incredible and extremely comfortable stay in an amazing city.
Have you been to Singapore before? What did you think? Let me know!
---
THANKS FOR READING
& Add Me On Snapchat: — JonesATW
https://www.jonesaroundtheworld.com/wp-content/uploads/2015/05/DSC_1314.jpg
4000
6000
Dave
https://www.jonesaroundtheworld.com/wp-content/uploads/2017/03/logotry-1-1-300x106.png
Dave
2015-05-25 06:40:41
2020-09-26 23:18:12
Exploring Singapore in Style: The Westin Experience