Planning a trip through Colombia and searching for the coolest Airbnbs in Cartagena rentals? Well, look no further, as I've put together the ultimate Airbnb Cartagena guide filled with unique rentals, luxury villas, and lots more!
Cartagena, known as the 'the Jewel of the Indies', is a gorgeous fishing village on Colombia's Caribbean coast. It has beautiful and charming colonial architecture, excellent beaches, vivid nightlife, fascinating cultural festivals.
When you are traveling to Cartagena, you will not only experience and explore the sandy beaches, but the rich cultural heritage as well. The Old Town is a Unesco World Heritage Site, is one of the best-preserved historical sites. The castles, cobblestones, outdoor cafes and the beach combined make a romantic vibe.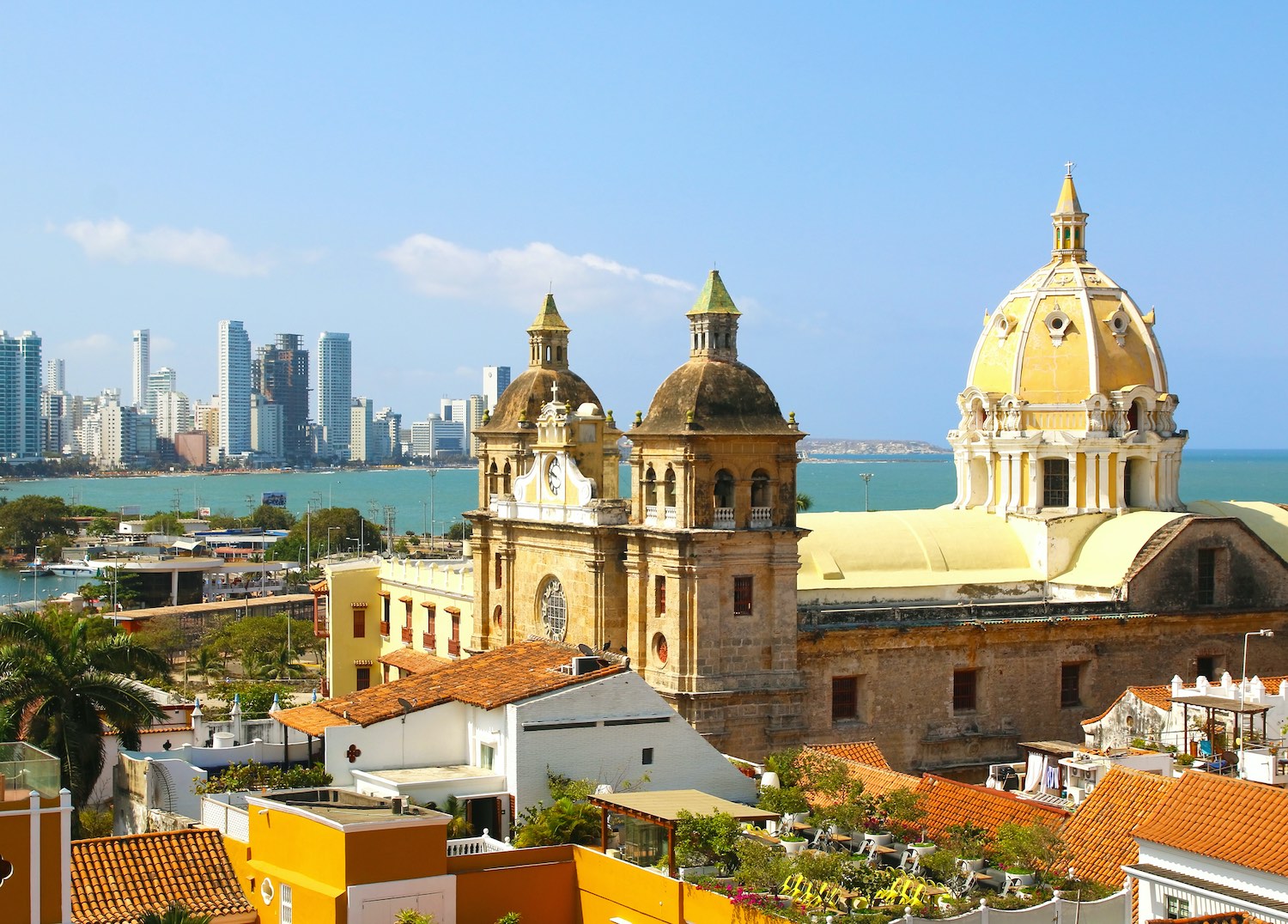 ---
Quick Breakdown of Airbnb Cartagena Colombia
It's settled, you've decided that your next trip will be in Cartagena, Colombia. Now, for your accommodation, I have listed 18 Airbnb properties that you can check and consider. And when I say that they take their services to the next level, I'm not joking. My top 5 checklists for the "Best Airbnb" – overall, luxury, cheap, group accommodation, and the most unique. I have it here! Check it out:
I've included a variety of Cartagena & Colombia travel video guides throughout this list, which are guaranteed to give you lots of ideas of how you'd like to spend your time in this South American gem! So be sure to watch a few of them, and read my article on the Top 20 South American Music Festivals for some more trip ideas!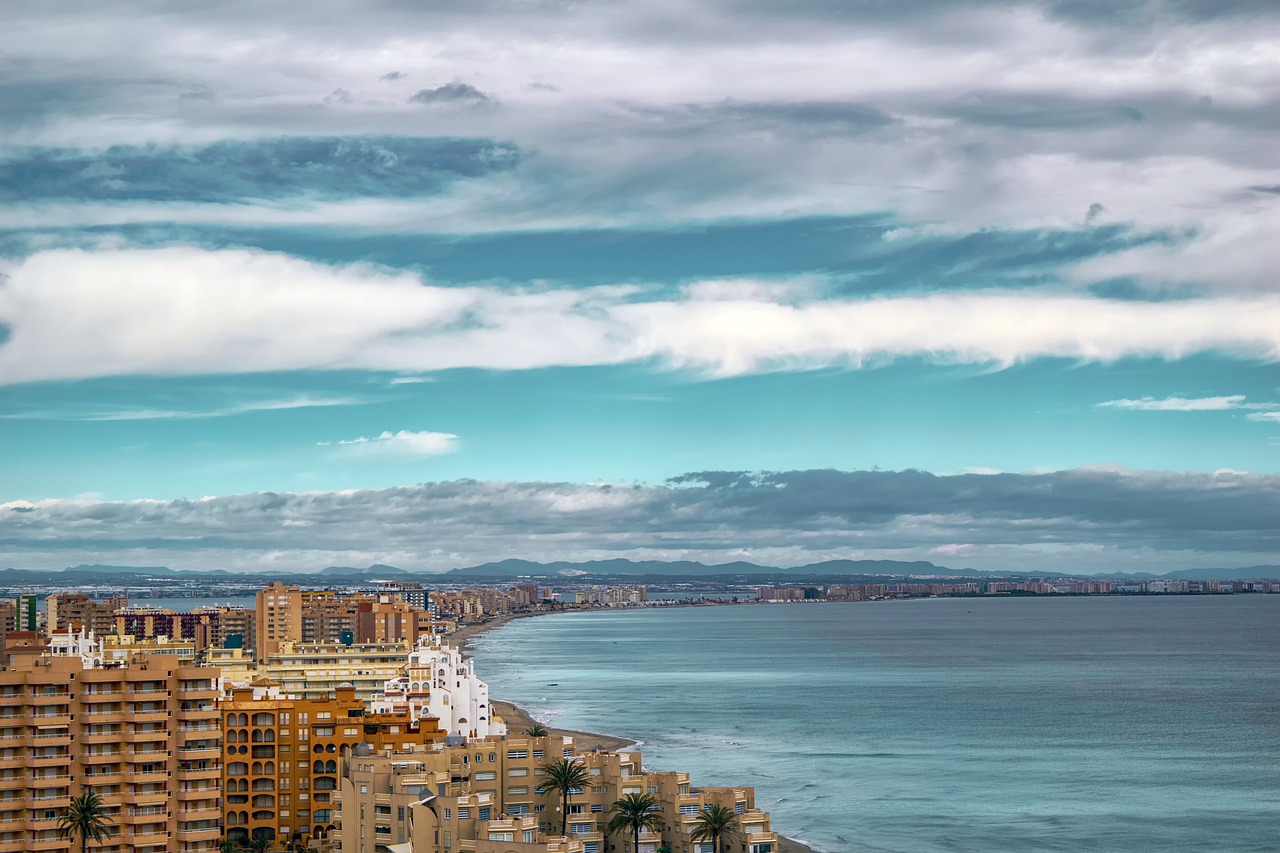 ---
Top 18 Airbnbs in Cartagena Colombia
Colombia is the new darling of South American travel. Cartagena is quickly emerging as one of the world's hottest destinations. You don't have to think twice when you think of Cartagena! It's a charming, beautiful and safe place to visit.
---
1) Beautiful Historical Villa in Old Town's Heart
Airbnb Plus: Yes
Superhost: Yes
https://www.airbnb.com/rooms/plus/10524722
Price: $456+ per night
Rich color painted walls, colorful accessories and decors throughout the home, spacious rooms, and a relaxing pool by the patio – without second guessing, this villa is my choice for "The Best Overall Airbnb Cartagena". The villa features 4 bedrooms each with a full bath, a family room, dining room, and a patio. But what makes your stay special and extraordinary is the service that they provide. You have your own butler, that makes sure nothing is missing at any time and your own cook, that prepares authentic Colombian food! The villa is set in San Diego neighborhood – the most traditional sector of the city that is surrounded with restaurants, small food places, old shops, and modern bars. It doesn't disappoint!
View Photos, Read Reviews & Check Availability
Guest Review: "Beautiful house perfect for a group! We enjoyed our stay here, especially the pool! The living room was great for groups. AC worked well in bedrooms. WiFi was poor most of our stay, with difficulty connecting at all some days. The roof patio could use more chairs and a table, as it's currently not comfortable to spend time as a group. Carlos was very helpful, although he only speaks Spanish. Perfect location for wandering around old town Cartagena." – Marisa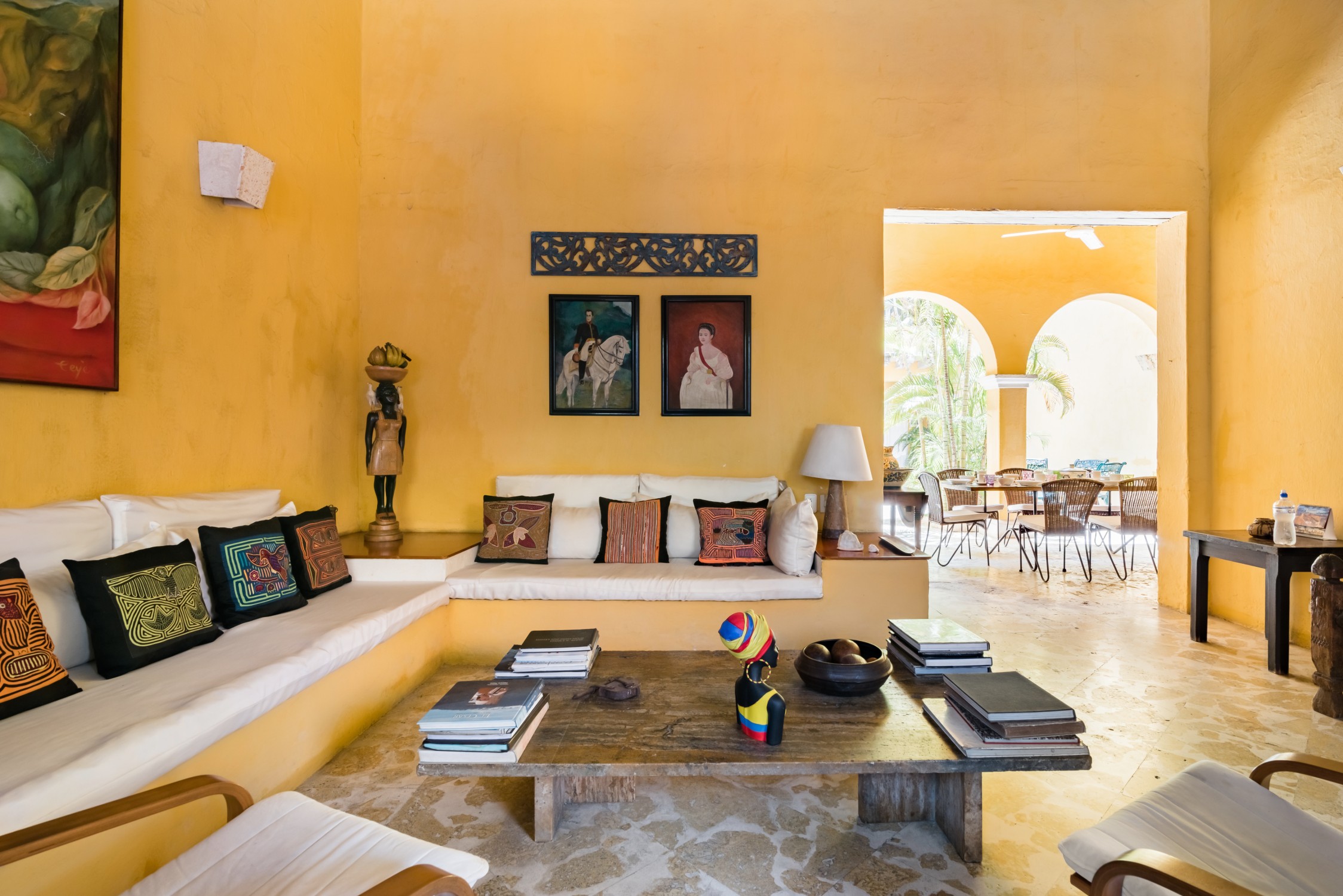 ---
2) Casa Allegra
Airbnb Plus: No
Superhost: Yes
https://www.airbnb.com/rooms/23415574
Price: $269+ per night
From the street view, you'll be in for a surprise on what Casa Allegra looks like inside! For me, this urban modern retreat is "The Best Luxury Airbnb Cartagena". It offers the ultimate luxury experience: 3 bedrooms with en-suite bathroom, open living room, a full kitchen with dining area, and a waterfall splash pool. Enjoy a BBQ night on the rooftop and sip wine while soaking in the jacuzzi. You'll also be taken care of by your own maid throughout your stay! Set in the old town city of Cartagena, the house is close to public transportation, city tours, shops, restaurants, docks and piers – in case you are interested in outside the city tours. It's the place where you want to be!
View Photos, Read Reviews & Check Availability
Guest Review: "Silvana's place was so wonderful. Everything was clean, comfortable, and beautiful. I stayed with a group of girls. Karina, the housekeeper, was excellent. Highly recommend her breakfast and lunch. The AC kept us cool all night long. The rooftop jacuzzi is nice. I would stay here again with adults. The stairs don't have railing so I would not recommend for younger children. Just a heads up- the structure of the house is open so you may hear street sounds at night. We really enjoyed our stay at Casa Alegre and we would happily stay here again the next time we come back to Cartagena." – Ella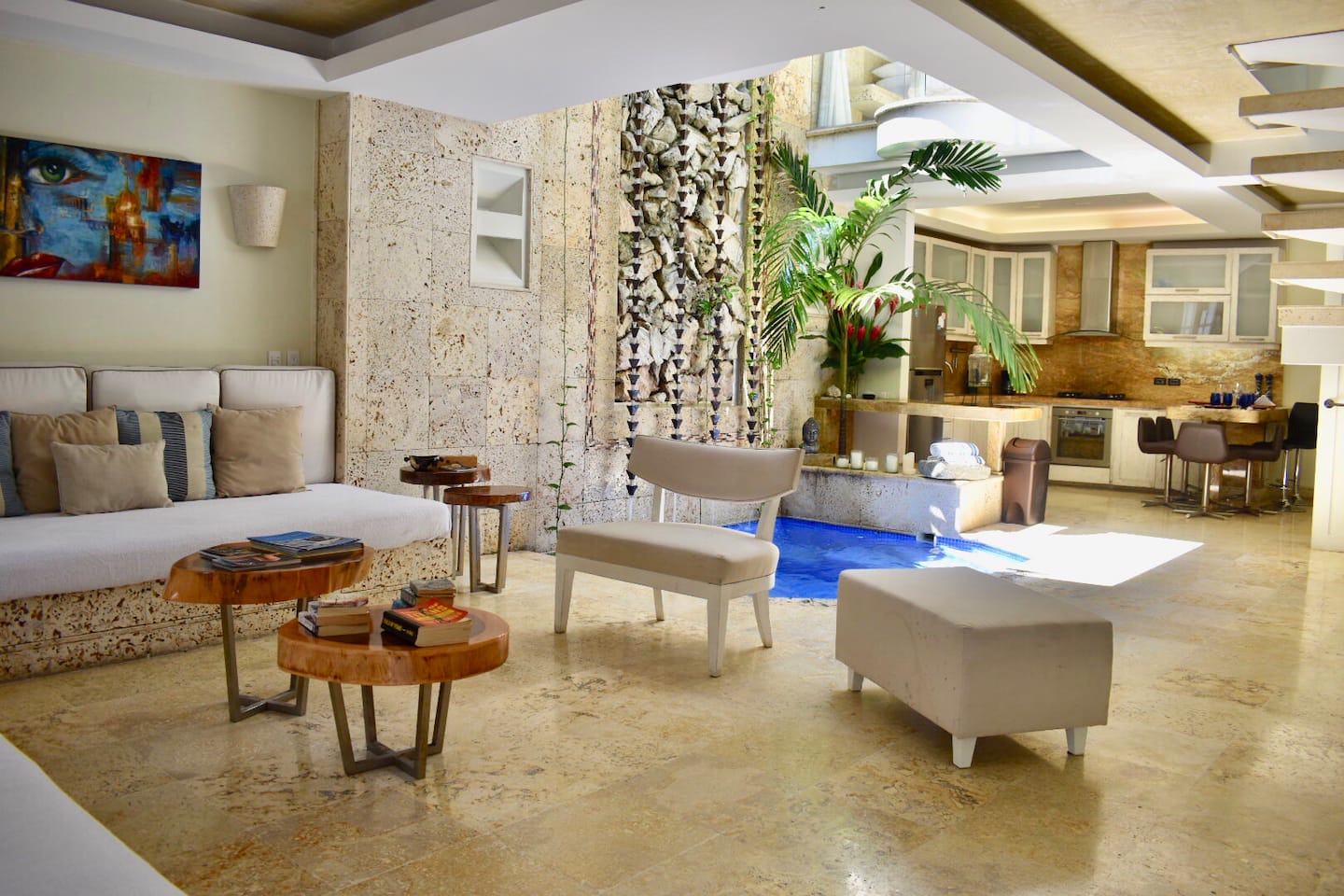 ---
3) Casa Santo Toribio, Luxury Villa at an Unbeatable Location
Airbnb Plus: Yes
Superhost: Yes
https://www.airbnb.com/rooms/plus/16896219
Price: $957+ per night
Casa Santo Toribio is "The Best Airbnb Cartagena Airbnb for Groups"! This Airbnb Plus villa is rated 5 stars – so you can be sure they have the best service! The villa is designed to give guests a simple yet elegant and luxurious experience. Located in the heart of the walled city, this accommodation is surrounded by the city's most popular restaurants, clubs, and attractions. Casa Santo Toribio can accommodate 12 guests in the 5-bedroom villa, each with en-suite bathroom, air conditioning, TV, and comfortable bed. Have a relaxing day by the pool or the jacuzzi, if ever you decide to just stay in. Enjoy meals prepared by your own cook. You also have your own housekeeper to clean and maintain the house during your stay. Five stars in every way, indeed!
View Photos, Read Reviews & Check Availability
Guest Review: "This house is absolutely stunning and in the best location in Cartagena, minutes way from the best restaurants and shops and highlights. The staff in the house – Emmy, Maria, and Luis – were absolutely amazing. Their level of service and kindness was exceptional, and they made our visit special. The house was beautiful, spacious, and kept in perfect condition, with very strong AC and a beautiful pool and kitchen. Highly recommend for any group trips to Cartagena." – Patrick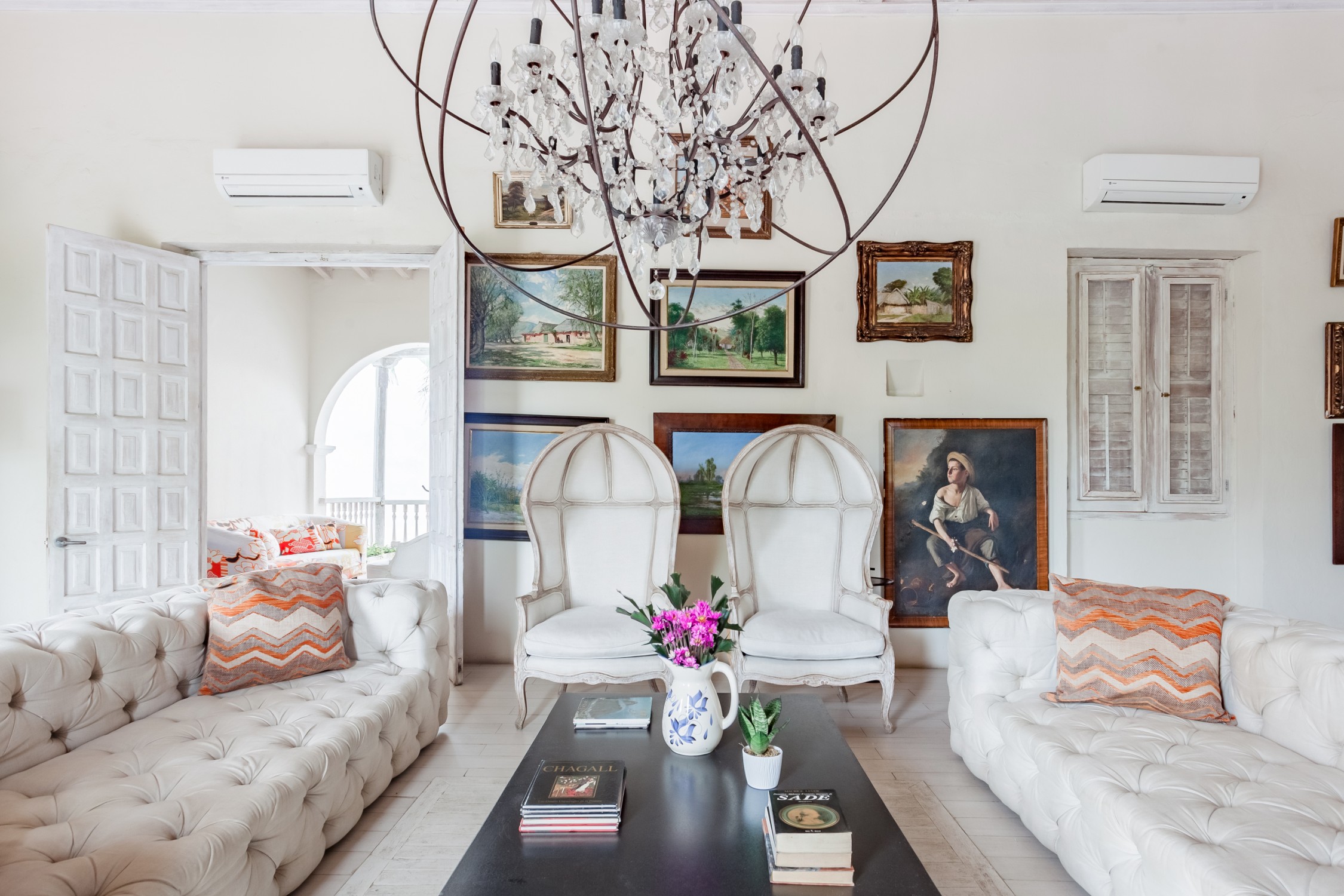 ---
4) Casa Bijou, a little house in the Old City
Airbnb Plus: No
Superhost: Yes
https://www.airbnb.com/rooms/19884831
Price: $82+ per night
Casa Bijou will be your safe haven when you come to Cartagena. This little house is my choice for "The Best Cheap Airbnb Cartagena". For an affordable price every night, more than a comfortable stay, you get an unforgettable experience. Casa Bijou offers the entire house for accommodation with one bedroom, kitchenette, sitting area with balcony, and a zen-inspired bathroom. Complete with modern conveniences: AC in the house, wash and dryer, and hot & cold shower. You can relax, while you sip your coffee and just enjoy the view of the neighborhood in the little patio by the bedroom! There is a great cevicheria just downstairs that you shouldn't miss tasting, also, restaurants, clubs, and other attractions in the city are very walkable. What more could you ask for?
View Photos, Read Reviews & Check Availability
Guest Review: "This place is great! It is so adorable, has a wonderful balcony that we drank coffee and wine on every day! Place was clean and had everything you could need. The location was great as well, close to everything and easy to get around! highly recommend!" – Kristi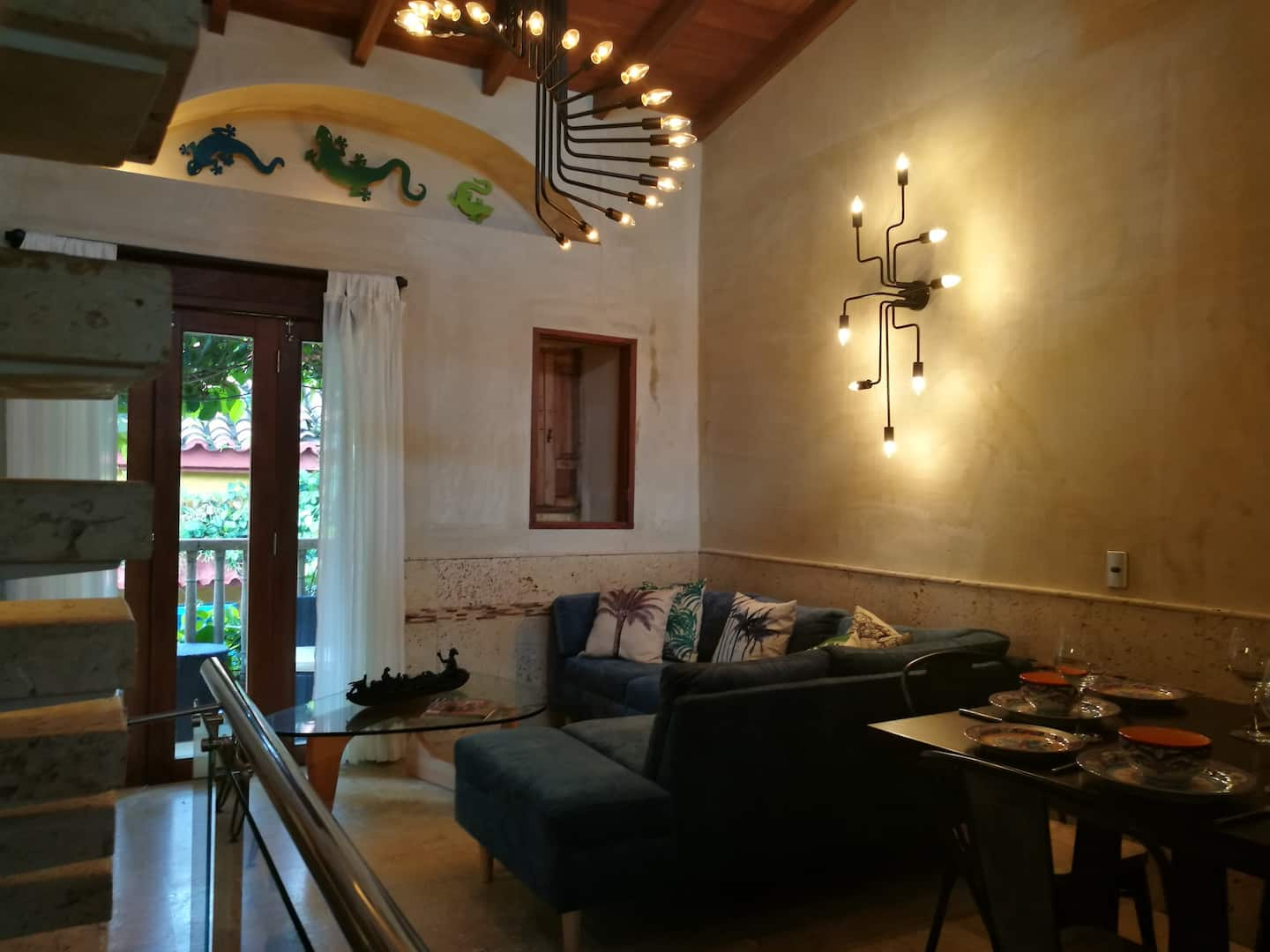 CARTAGENA, COLOMBIA 🇨🇴| What to do, What to see, Where to Eat & TOURIST TRAPS
---
5) EXCELLENT! PRIVATE HOUSE
Airbnb Plus: No
Superhost: Yes
https://www.airbnb.com/rooms/13002624
Price: $300+ per night
Located in the historic center of Cartagena, this private house offers luxurious and modern fully-equipped rooms in a renovated Colombian home. Upon walking in, you will see the Carribean style interior of the home: green plants, colorful accent decorations, light and airy rooms with a touch of neutral palettes for a relaxed and elegant finish. The first floor has an open space where there is the kitchen, living area, 1st floor bedroom, and pool. On the second floor, there is the master bedroom with en-suite bathroom and access to an outdoor patio with hammock; also on the 3rd floor is the rooftop deck where you can have an amazing view of the town. The housekeeper will serve you with home-cooked dishes and keep the house clean. The service is as good as a 5-star hotel but a more local experience! This private house is my "Best Unique Airbnb Cartagena".
View Photos, Read Reviews & Check Availability
Guest Review: "Amazing! We went as two couples and there was more than enough space. The pool was a beautiful respite after long hot days in the city, and the rooftop was our spot every night for chilling with music, drinking, and talking amongst ourselves. We loved this space, and it was so conveniently located to everything. We were basically able to walk everywhere, from shopping to groceries to nearby neighborhoods in and around the historic center. Not to mention having breakfast and dinner cooked almost daily! We would definitely recommend and would absolutely come back." – Keila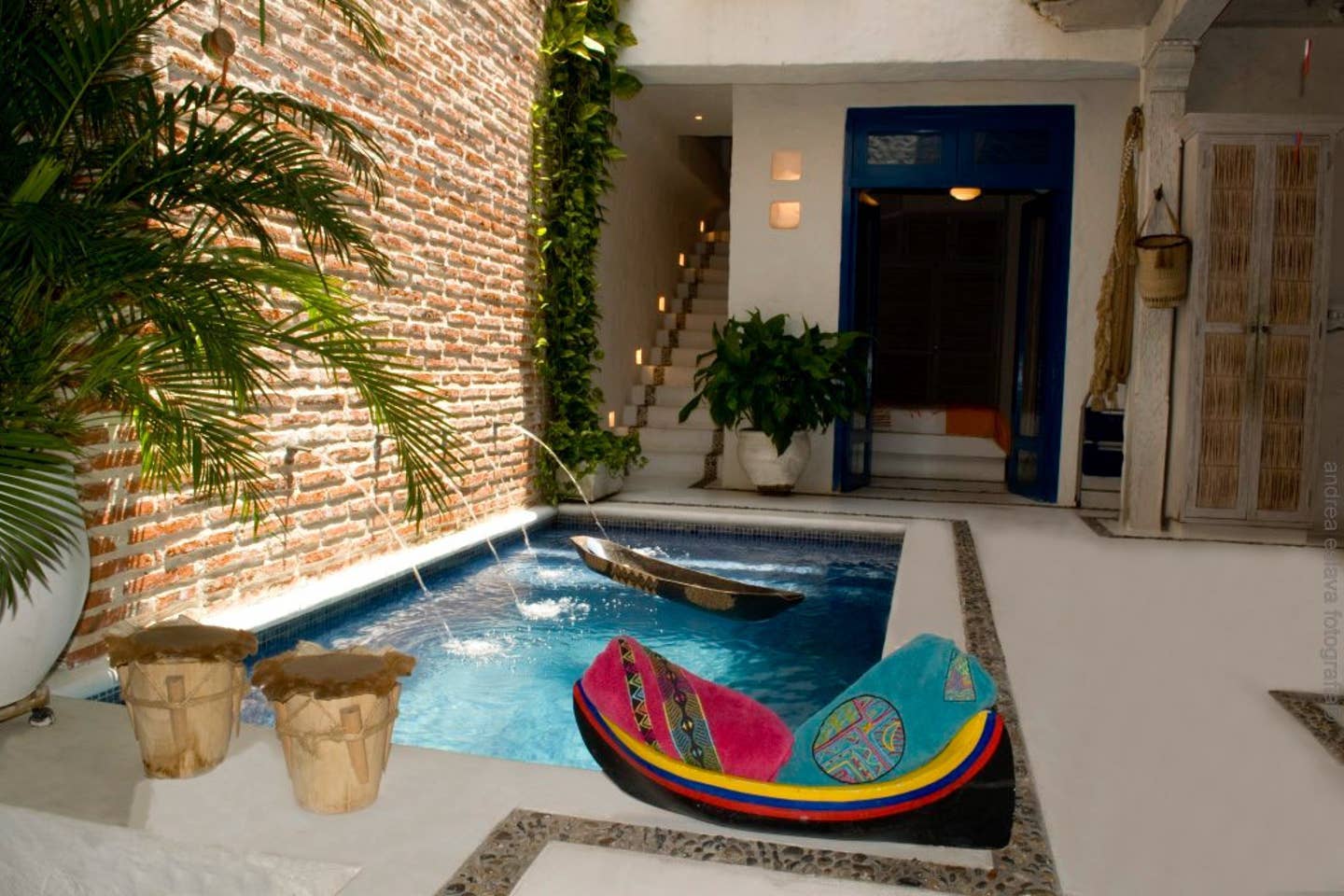 ---
6) Casa Tucan
Airbnb Plus: No
Superhost: Yes
https://www.airbnb.com/rooms/40176539
Price: $169+ per night
Casa Tucan is located in the Getsemaní neighborhood, where you can walk around and explore the beautiful shops, taste authentic dishes, meet new people, and learn of the history of Old Town. The home has a large living room, dining area, kitchen. The bedrooms each have big comfortable beds and a daybed, and each room has en-suite bathroom. Other facilities that you can also enjoy and access are the outdoor patio and swimming pool. Housekeeping service is also included! Don't miss a chance to stay in this Airbnb, you won't regret it!
View Photos, Read Reviews & Check Availability
Guest Review: "Amazing home! It's about a 10 Minute walk to the walled city. I think the location is actually ideal because you get a more local vibe from the location and away from all the tourist stuff in the walled city. Felt very safe. Loved the pool and space this home offers. Only complaint was we didn't have hot water the first night but it seemed to fix itself for later in the trip, and bathroom lights were limited for getting ready. Would definitely recommend!" – Bailey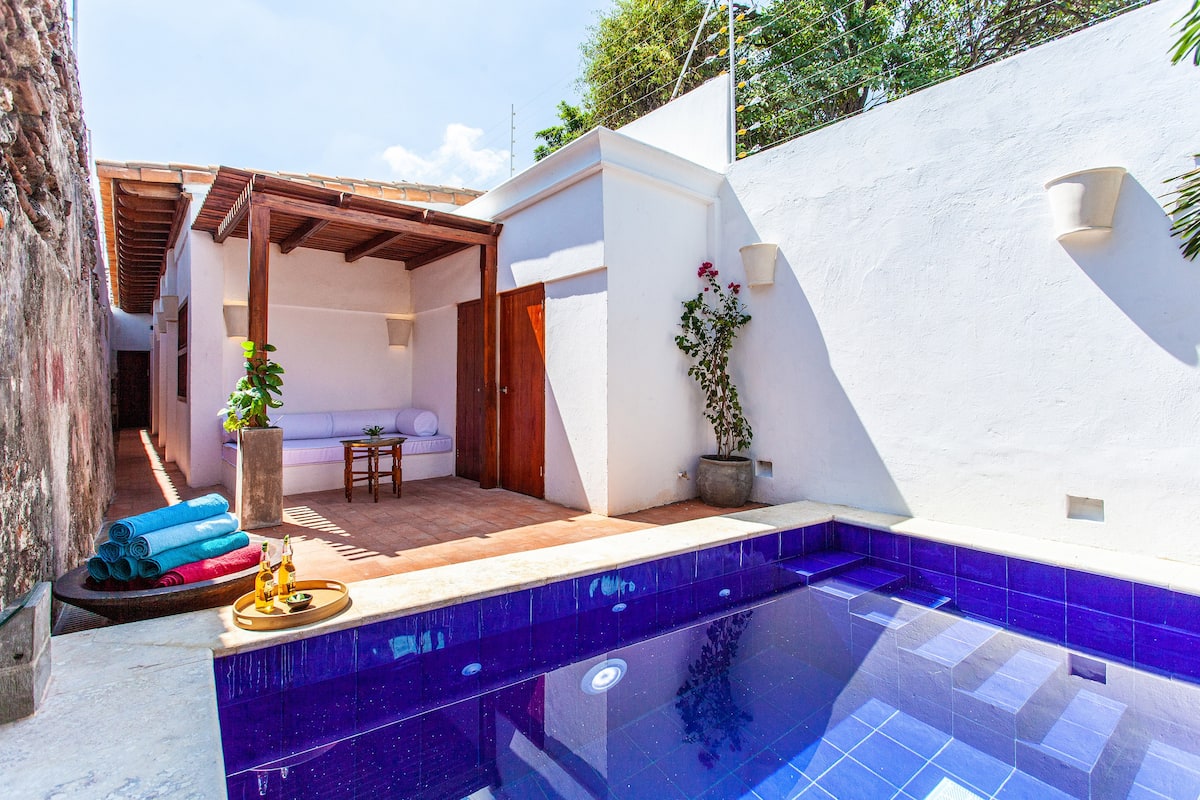 Cartagena: Colombia's Most Beautiful City!
---
7) Beautiful Townhouse in Historic Center, Getsemaní
Airbnb Plus: Yes
Superhost: Yes
https://www.airbnb.com/rooms/plus/24736711
Price: $188+ per night
Featuring a splash of vibrant colors from the decors throughout the townhouse, Casa Francisco offers a relaxing and comfortable accommodation in Cartagena, Colombia. Casa Francisco features 3 bedrooms and each room features comfortable and cozy beds, television, and AC. The townhouse has a mix of modern and industrial design – whitewashed walls, polished-concrete floors, soaring ceilings, cheerful original art, and lush plants. The hosts made sure that the townhouse is equipped with the high quality appliances to make sure guests are comfortable. Located in the neighborhood of Getsemaní, with hip and colorful houses and street art and history. Guests can easily explore Plaza de la Trinidad and the Walled City – a short walk away from the townhouse. You should book this Airbnb!
View Photos, Read Reviews & Check Availability
Guest Review: "The house is very well located in Getsemani, many restaurants nearby. The bedrooms are a little small but comfortable enough. The hosts are very easy to contact and they offer many suggestions. They were very helpful during our stay. Would stay again at this place!" – Sofia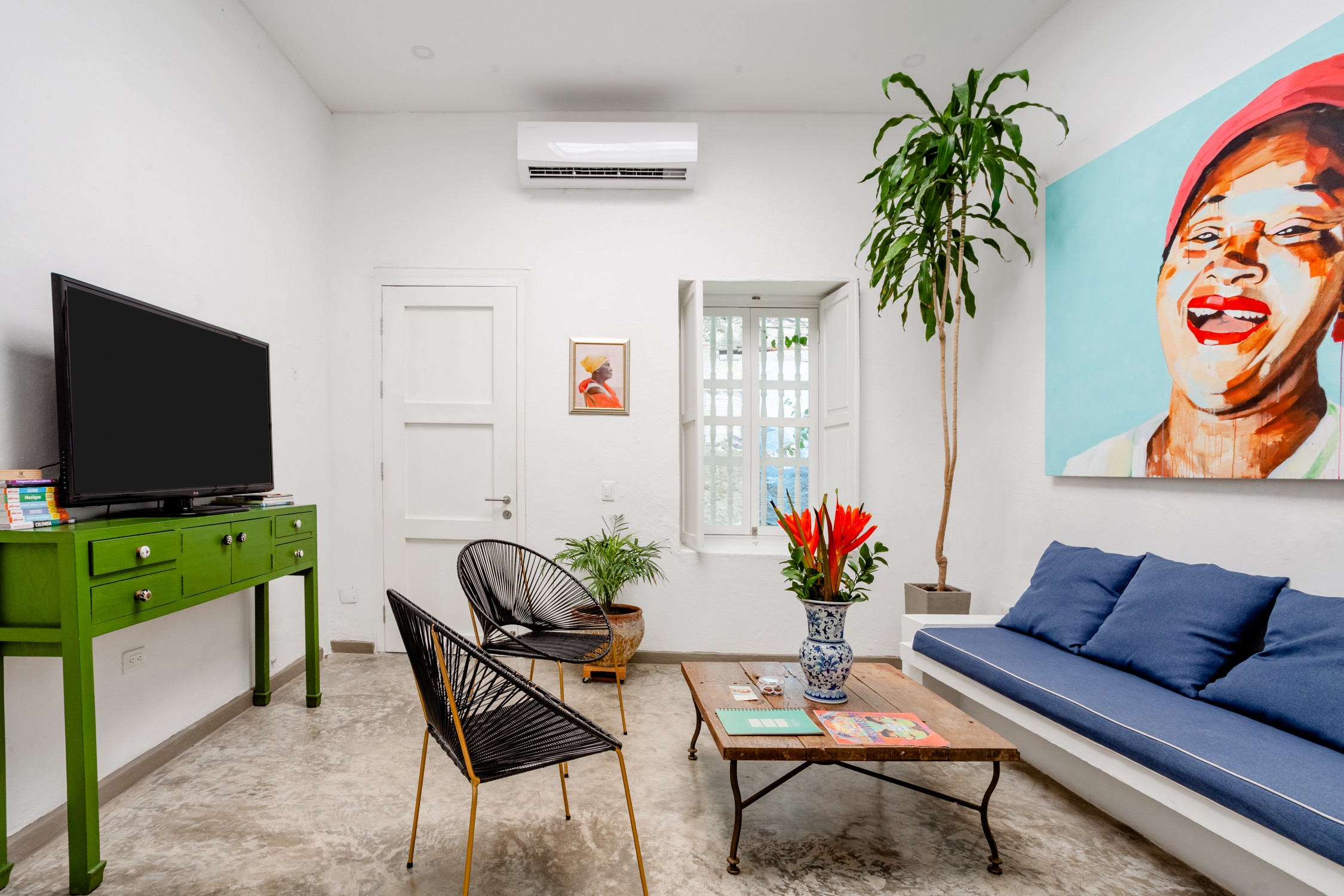 ---
8) Sunny Urban Minimalism with Rooftop Terrace
Airbnb Plus: Yes
Superhost: Yes
https://www.airbnb.com/rooms/plus/33719415
Price: $151+ per night
If you're traveling with a group or family, Pineapple House in Getsemaní is also a recommended Airbnb you can check in to. Only a block away from the city attractions, how convenient is that? Four simply decorated rooms with neutral color palettes and simple furnishings provides a calm and comforting accommodation. The house has a spacious living area, kitchen is equipped with high-end appliances, and bathrooms have walk-in showers. It also has a rooftop lounge with panoramic views and a gazebo – a place where you can hangout and relax after your city tour. Cleaning service is also provided when you stay in Pineapple House.
View Photos, Read Reviews & Check Availability
Guest Review: "Get this house if you're lucky enough to find availability! Exactly as pictured and located on a quiet residential street so please respect the locals. The crazy street is around the corner, but locals still open their living rooms in the afternoon and sit outside." – Isabel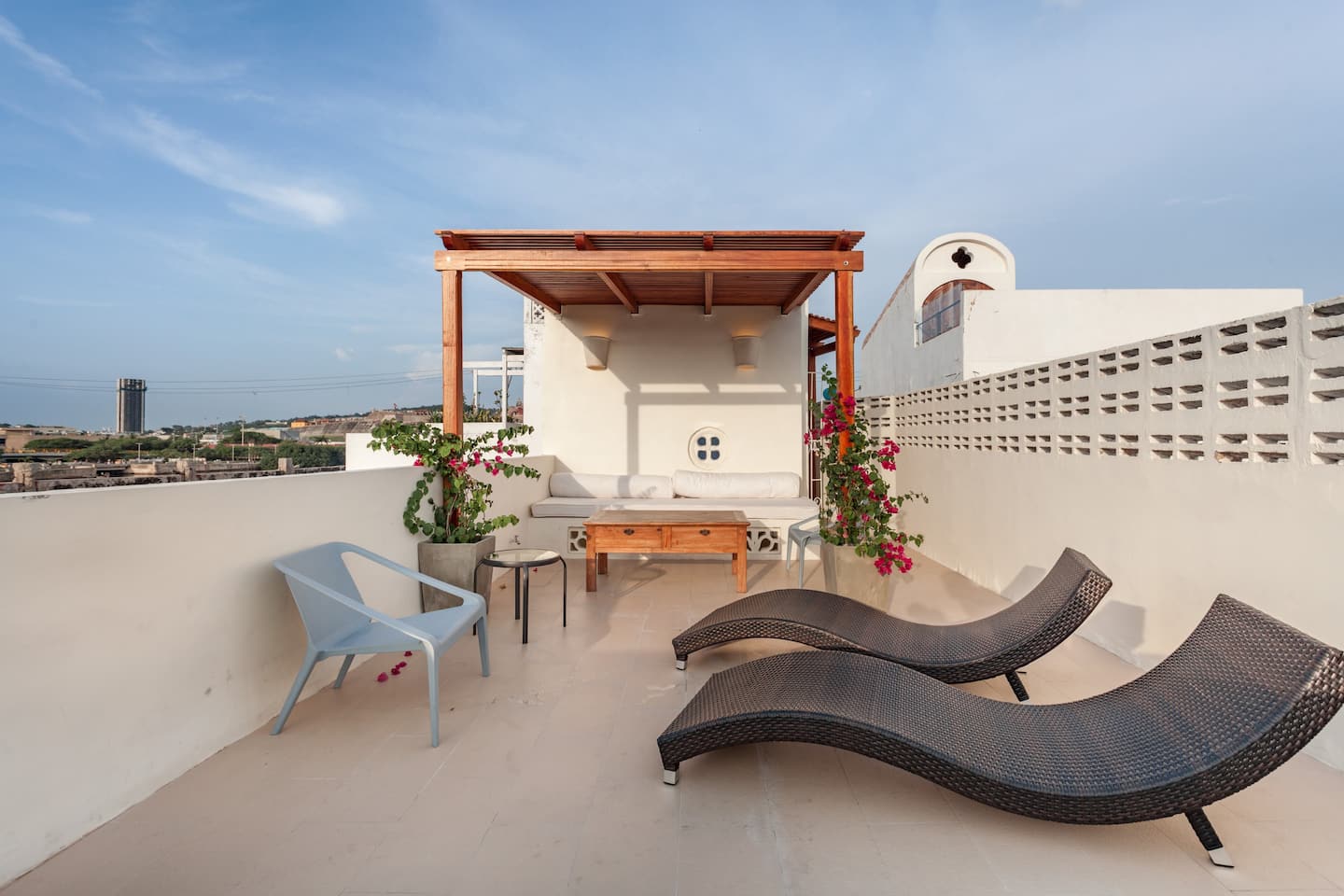 ---
9) Enjoy the ocean view from this colorful apartment
Airbnb Plus: Yes
Superhost: Yes
https://www.airbnb.com/rooms/plus/30040535
Price: $108+ per night
Located at Bocagrande, 5 minutes from the walled city, this colorful apartment with the ocean view offers a characterful and lively sanctuary. The one-bedroom apartment offers high-standard living with modern kitchen and marble counters, bathroom with walk-in showers, and high-quality mattress and beddings. Guests can access the two swimming pools, jacuzzi, gym and social areas of the building. There's a mall and a supermarket next to the building which makes it very convenient to get any basic goods, plus, the beach is just across the street! Security in the building is 24/7 and staff are very hospitable and accommodating.
View Photos, Read Reviews & Check Availability
Guest Review: "This place was a hidden gem with a perfect view that makes it hard to leave the apartment. It's above a mall and a supermarket what makes it super convenient to get all your needs in one place. when I come back to Cartagena I'm sure I'll book this place again." – Ali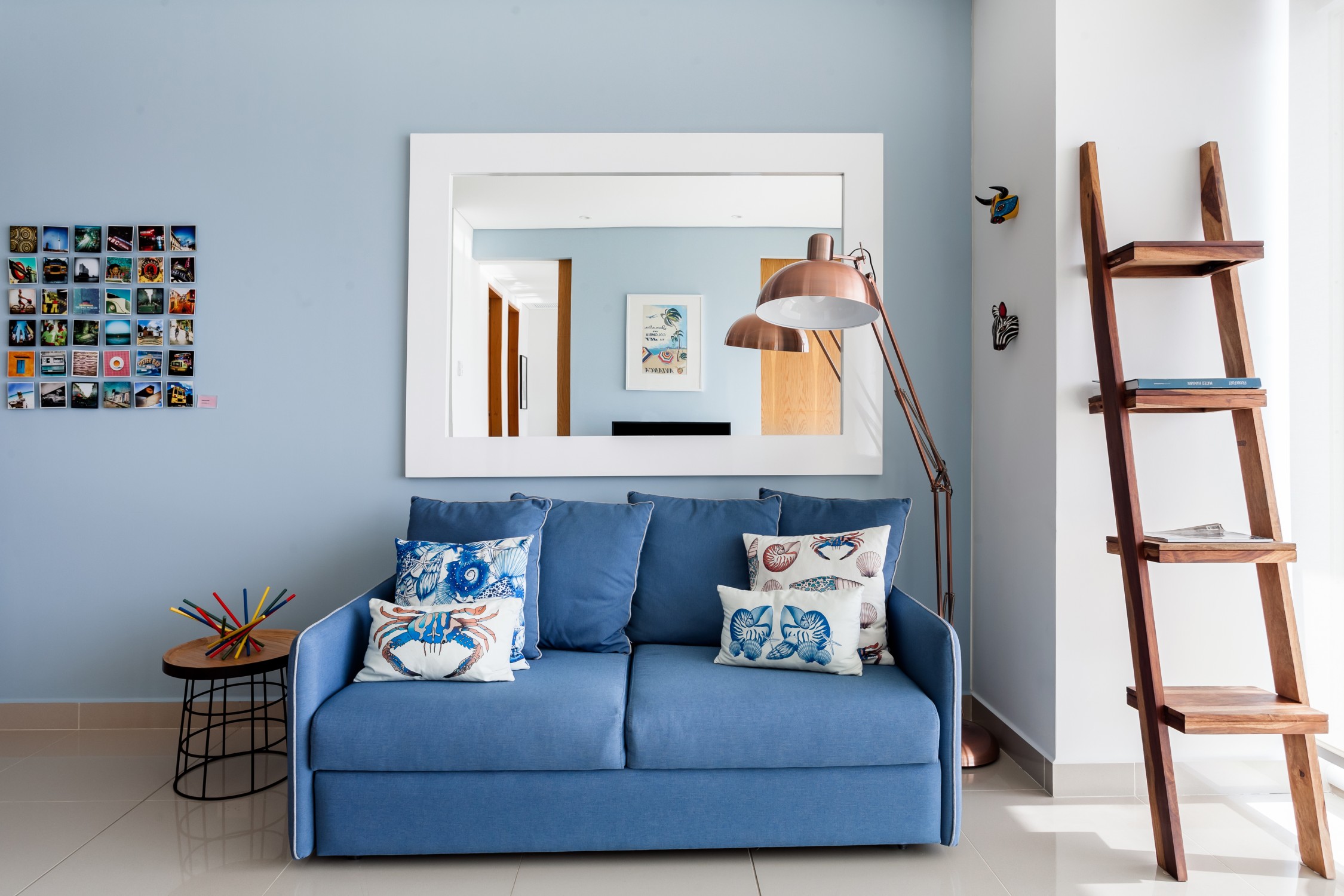 ---
10) The Best Location & Comfort At Walled Cit
Airbnb Plus: Yes
Superhost: Yes
https://www.airbnb.com/rooms/plus/21656818
Price: $157+ per night
Enjoy a quiet afternoon in the patio with a view of greeneries. Cool down and revel in the beauty of the old town on the rooftop pool. In this 1-bedroom apartment, the living room has a TV with cable & Netflix, the kitchen is equipped with sleek appliances including a dishwasher, the bedroom has a king-sized bed with en-suite walk-in shower. The apartment is located in a neighborhood in San Diego, Cartagena where streets are lined with colorful houses and flower-filled balconies. Guests can easily access the city's very best restaurants, historical sites, shopping, and nightlife from the apartment.
View Photos, Read Reviews & Check Availability
Guest Review: "Anyone visiting Cartagena should stay here! This has been by far the best AirBnb that I have stayed at. Tatiana was so wonderful. The apartment was so clean & beautiful. Perfect location!" – Patricia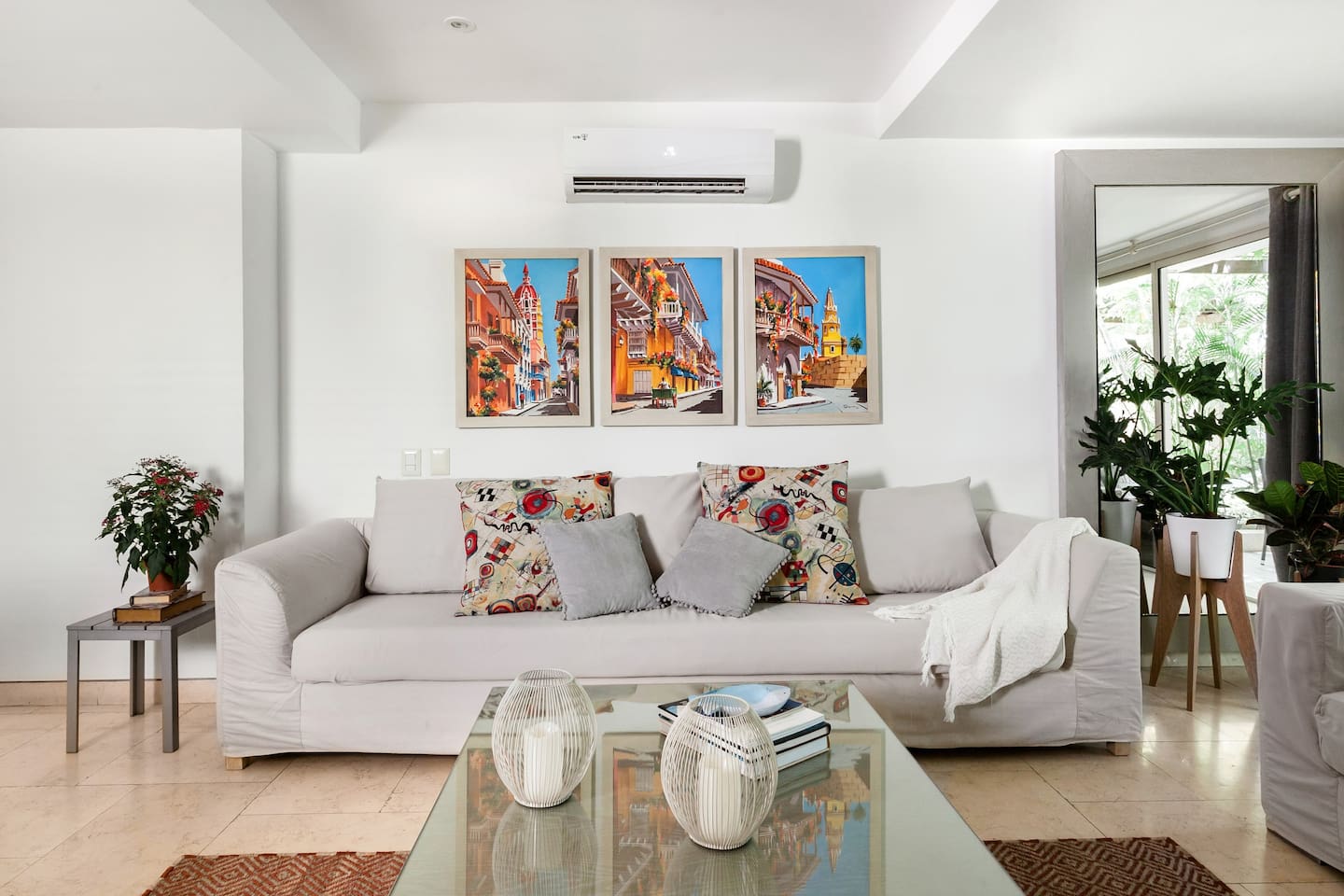 10 HOTTEST Things To Do In CARTAGENA, Colombia | Que Hacer en Cartagena 2020
---
11) Luxurious 4-Level Townhouse With Pool in The Old City
Airbnb Plus: Yes
Superhost: Yes
https://www.airbnb.com/rooms/plus/734206
Price: $555+ per night
This townhouse is located in a good location on a quiet street of Cartagena's lively and colorful Old Town. All areas of the house feature a calming interior and relaxing ambiance, with modern appliances and lush furnitures to make your stay comfortable. All four bedrooms have cozy and high-quality beds, television, terrace, and each have en-suite bathrooms. With a rooftop lounge, the property also features a fitness gym, steam room, massage room, and a pool. The highlight of your stay? Your own cook! Taste authentic and delicious food cooked for you and your family.
View Photos, Read Reviews & Check Availability
Guest Review: "Ivan's place is amazing Beautiful, excellent location and clean. Katia and Rosa made my fiancé's family stay memorable, they are the BEST cooks ! Food was out of this world! Ivan was a gracious host , always willing to help and responded to every question in a timely manner Would definitely recommend this gorgeous home." – Alexander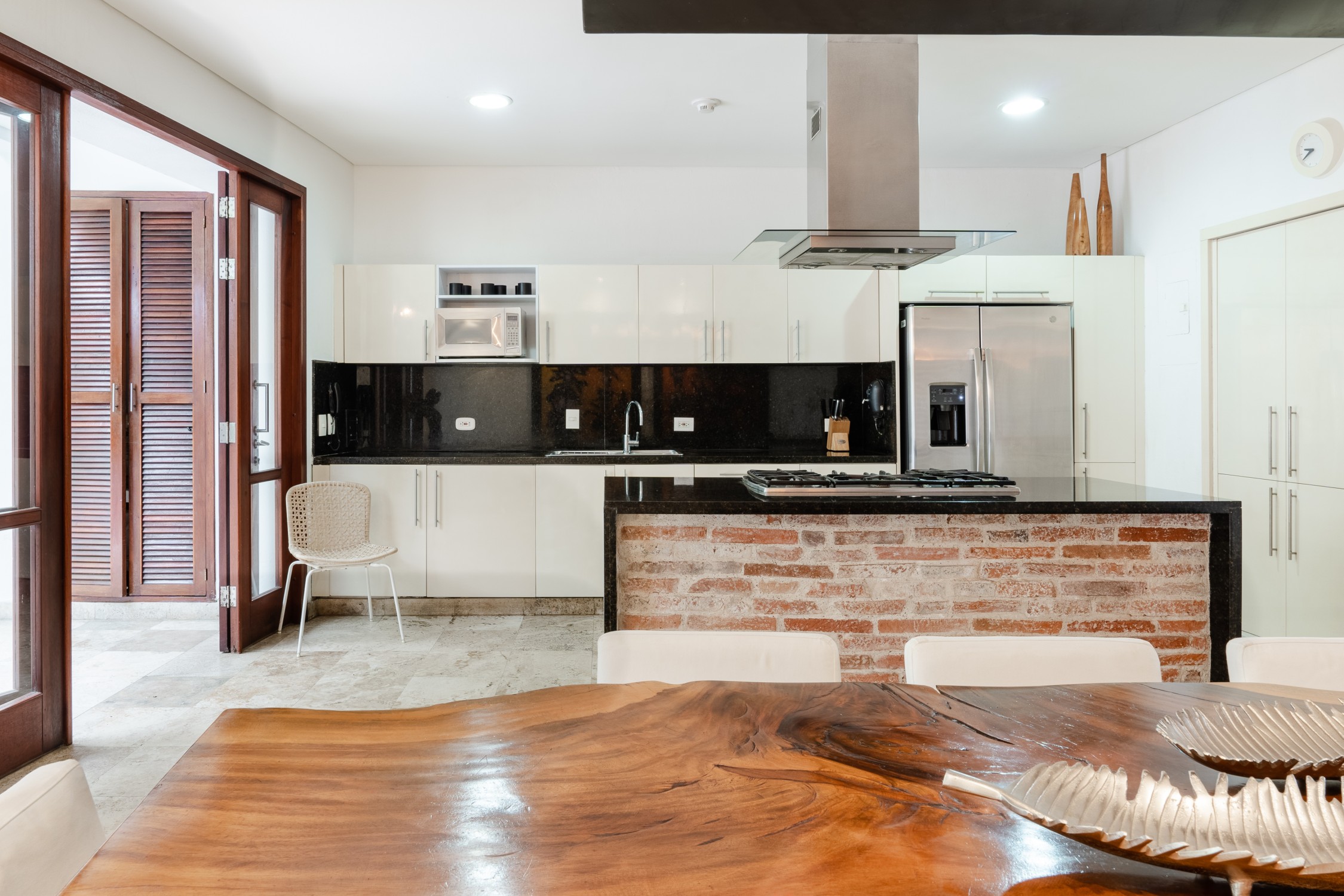 ---
12) Exclusive Fancy Artistic Villa in Downtown Cartagena
Airbnb Plus: Yes
Superhost: Yes
https://www.airbnb.com/rooms/plus/16513096
Price: $757+ per night
Casa Gil Art Boutique offers art deco interiors in Downtown Cartagena. With four individually designed bedrooms each with a private bath, there is also a full kitchen, 2 dining rooms, and a common area – the villa is boasting sleek and elegant decor and furniture. The villa features a pool and a roof deck with jacuzzi. It's like staying at a hotel but with more services: a private chef that prepares breakfast (personalized at guests preference), maid and cleaning service, and a medical assistance insurance on covered area. What more could you ask for?
View Photos, Read Reviews & Check Availability
Guest Review: "Incredible! This place is a piece of art. Precise in the description; spotless and clean. Beautifully thought of in decor and design. The staff were available at a drop of a hat, to assist in everything. We felt so pampered. I do have to mention that the bedroom/living quarter on the top floor can be tricky to go up and down from due to the steep marble stairs. What's more, there is a jacuzzi on the same floor, so extra care is recommended when coming down with wet feet. Would stay here every time I'm in Cartagena." – Gelane.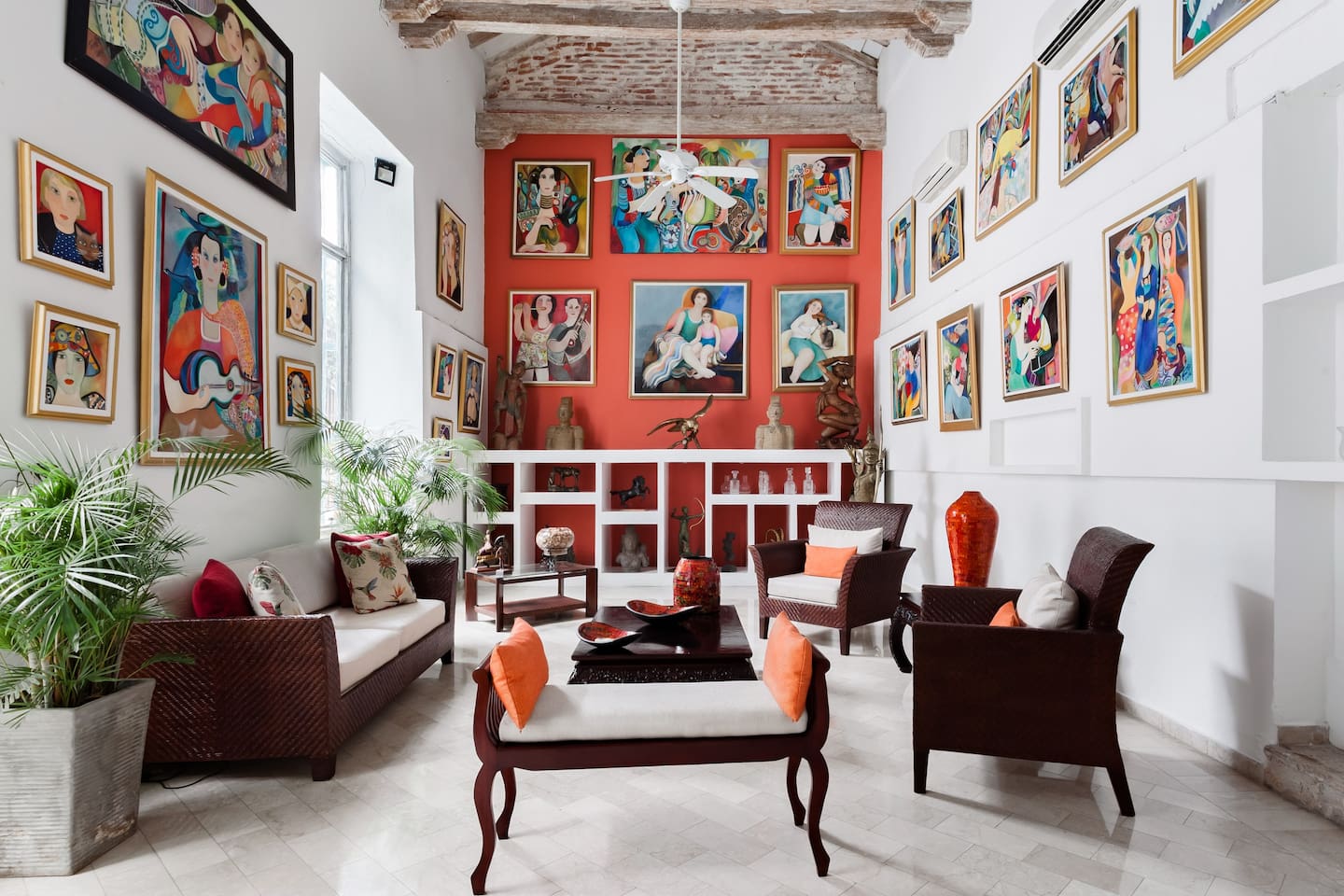 ---
13) Savor the Blend of Old and New at a Stylish City Sanctuary
Airbnb Plus: Yes
Superhost: Yes
https://www.airbnb.com/rooms/plus/31901283
Price: $836+ per night
Stay for the colonial glamour and a slice of the classic old home. The apartment is in the best area in the Cartagena's Old Town, next to the best restaurants and nightlife hotspots. It offers accommodation with five bedrooms, large living room, a full kitchen with wine cooler and espresso machine, dining area, and a private jacuzzi. This Airbnb also features a housekeeper to assist you during your stay – prepare breakfast and clean after you. It's your home away from home!
View Photos, Read Reviews & Check Availability
Guest Review: "We were a family of seven people including two children, 8 and 10 years old. This place was ideal for us because of the bedroom layout and the central kitchen and dining area. Grace the hostess is extremely responsive. The Bedroom with the two bunkbeds was ideal for the two kids. The location is really fantastic and we were lucky to have a good chef Maria who made delicious breakfast for us. Easy walking to all the great restaurants. We are recommending this place to our friends in Florida." – Mohinder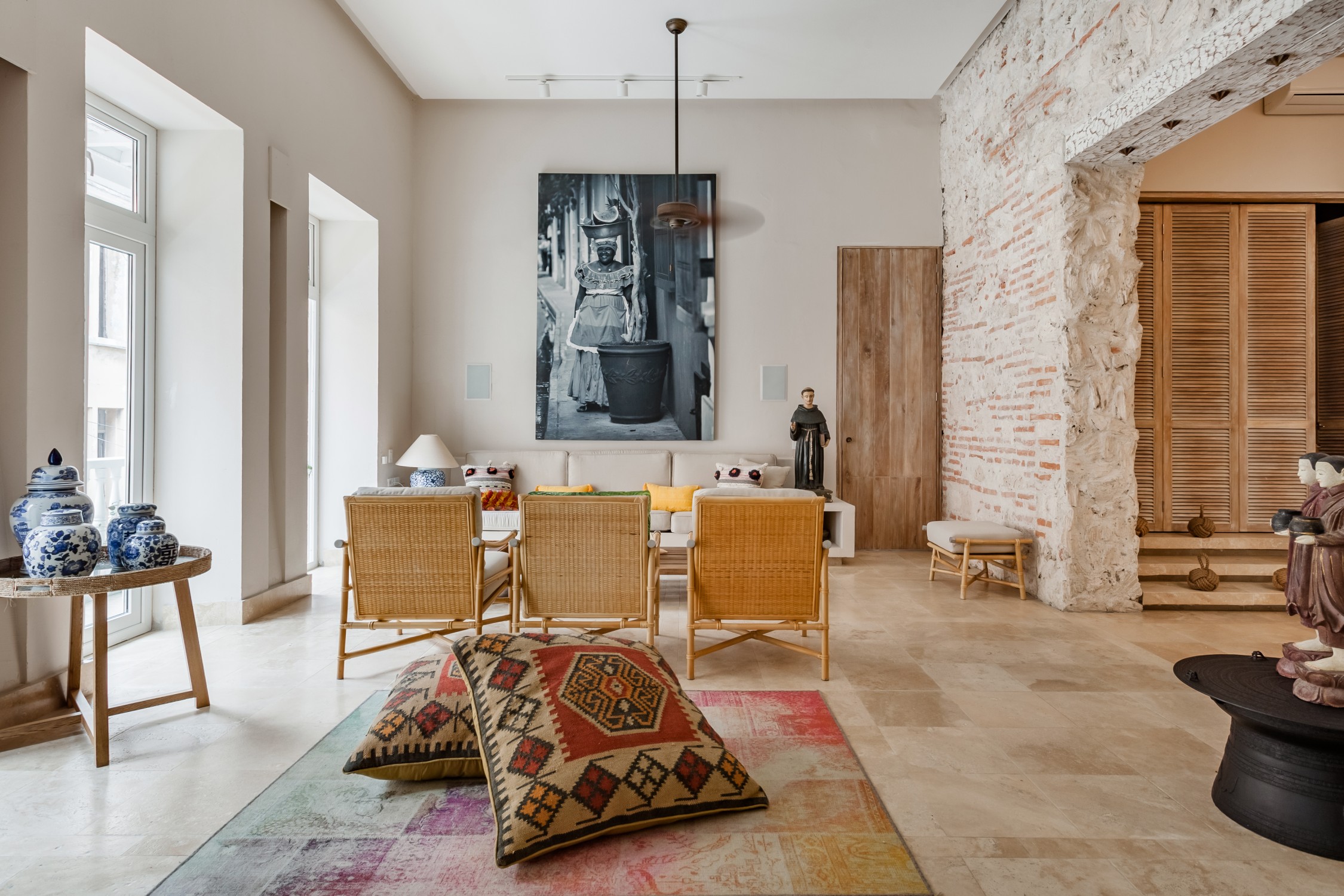 ---
14) Beautiful studio apt w/balcony | Walk everywhere
Airbnb Plus: No
Superhost: Yes
https://www.airbnb.com/rooms/30589963
Price: $68+ per night
Another affordable stay you can find in Cartagena is this beautiful studio with a charming balcony. Situated in one of the most vibrant neighborhoods of the historic center in Getsemaní, guests can easily walk to the cafes, restaurants, clubs, and attractions. The studio apartment has all the basic features that you will need for a comfortable stay – cozy queen bed and a sofa bed, a nice bathroom with hot water, and kitchen where you can cook your meals. It also features A/C, smart TV and WiFi. Don't hesitate to book it when you are traveling on a budget!
View Photos, Read Reviews & Check Availability
Guest Review: "Possibly the best Airbnb experience we've ever had! The apartment is stunning, exactly like the photos, and the location is superb. Balcony is a perfect place to sip coffee or one of the provided free local beers. Lucia was an incredible host and gave us amazing recommendations. She was very responsive, including when we had trouble booking a day trip to the islands. The apartment was a peaceful oasis amidst the chaotic Cartagena streets." – Molly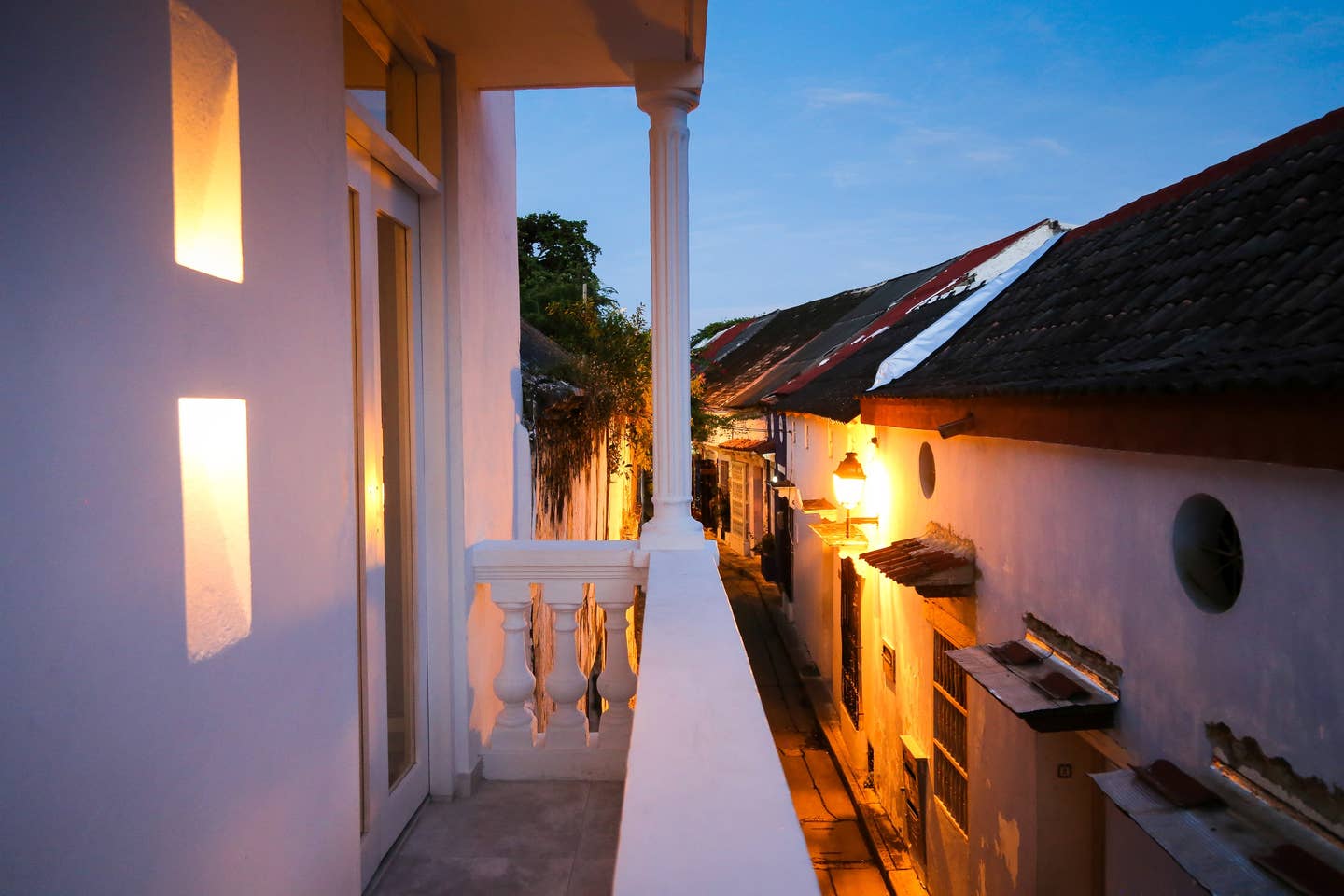 ---
15) Beautiful Private Home in Centro Historico, Pool..
Airbnb Plus: No
Superhost: Yes
https://www.airbnb.com/rooms/14933334
Price: $154+ per night
An elegant little oasis in Centro Historico de Cartagena – this house was featured in the Architectural textbook for its particular small facade but noticeable depth. It was renovated by Architect Ernesto Moure Eraso. The offers a refreshing private pool and a small rooftop terrace perfect for sunset cocktails. This stylish historical Colombian home has one bedroom but can sleep comfortably 5 guests (the seating area can be used as beds), kitchen, dining area, and Antic bath. This is the perfect romantic getaway for you and your loved one!
Guest Review: "This is my second time staying in Sophie's home. I love the location, it's close to everything! the home is clean and inviting with outdoor shower and small pool. Her description of the home is a accurate and the only negative would be if you have very small kids the stairs could be dangerous. Thanks again Sophie for all your help and always being there for questions and suggestions." – Anthony
View Photos, Read Reviews & Check Availability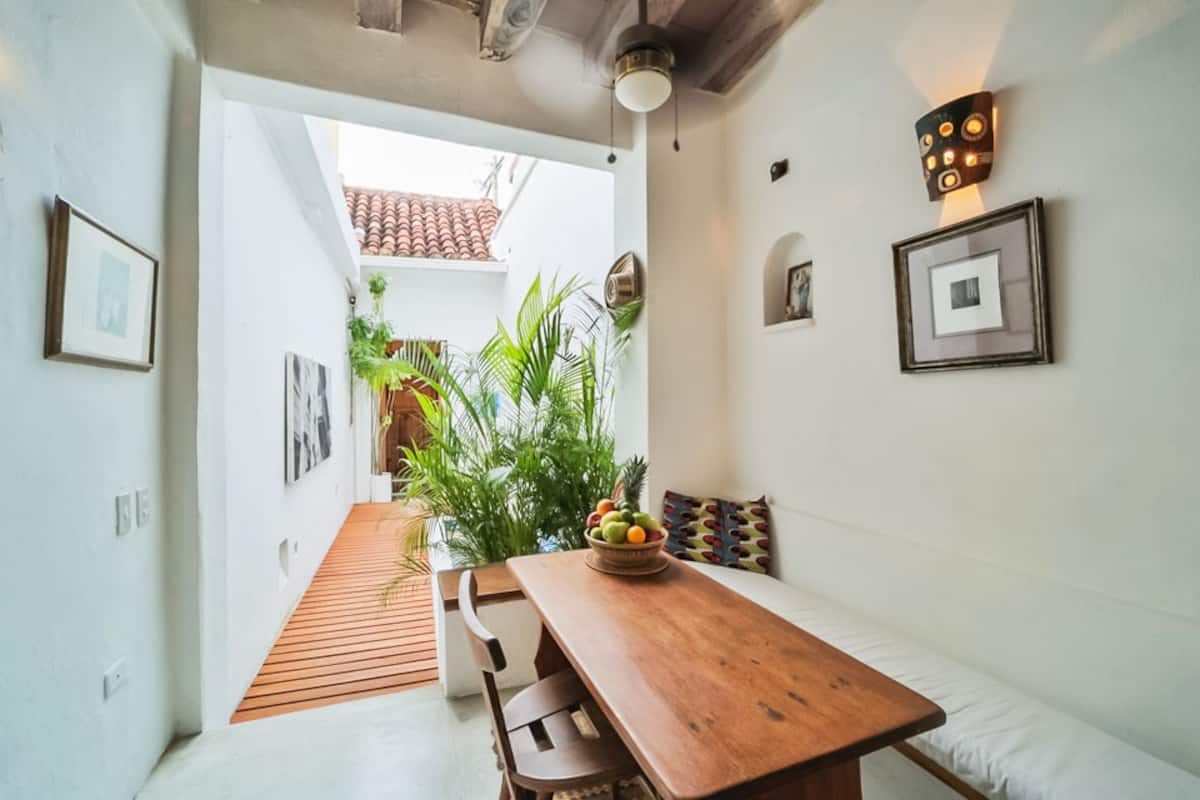 ---
16) Charming Apt in Getsemaní/Old City
Airbnb Plus: No
Superhost: Yes
https://www.airbnb.com/rooms/3489562
Price: $120+ per night
This retro loft provides relaxing accommodation in this apartment in Getsemaní, old city. The apartment is close to the center of Cartagena but still has the privacy so you can have a quiet night. Settle down on the loft bed with one full-size bed, ceiling fan and A/C. You can also hangout at the library on the first floor, cook your own meals at the kitchen, and enjoy the night watching the city lights at the roof terrace. Guests can rent a bike and tour the city or watch the sunset by the beach.

View Photos, Read Reviews & Check Availability
Guest Review: "This place was simply amazing. The view from the apartment was incredible. And it's in a very nice safe and secure area with security gates. All the great restaurants are close by, it's close enough that a walk to the clocktower is only 7 minutes. Great place to stay and I would definitely stay here again." – DeVoil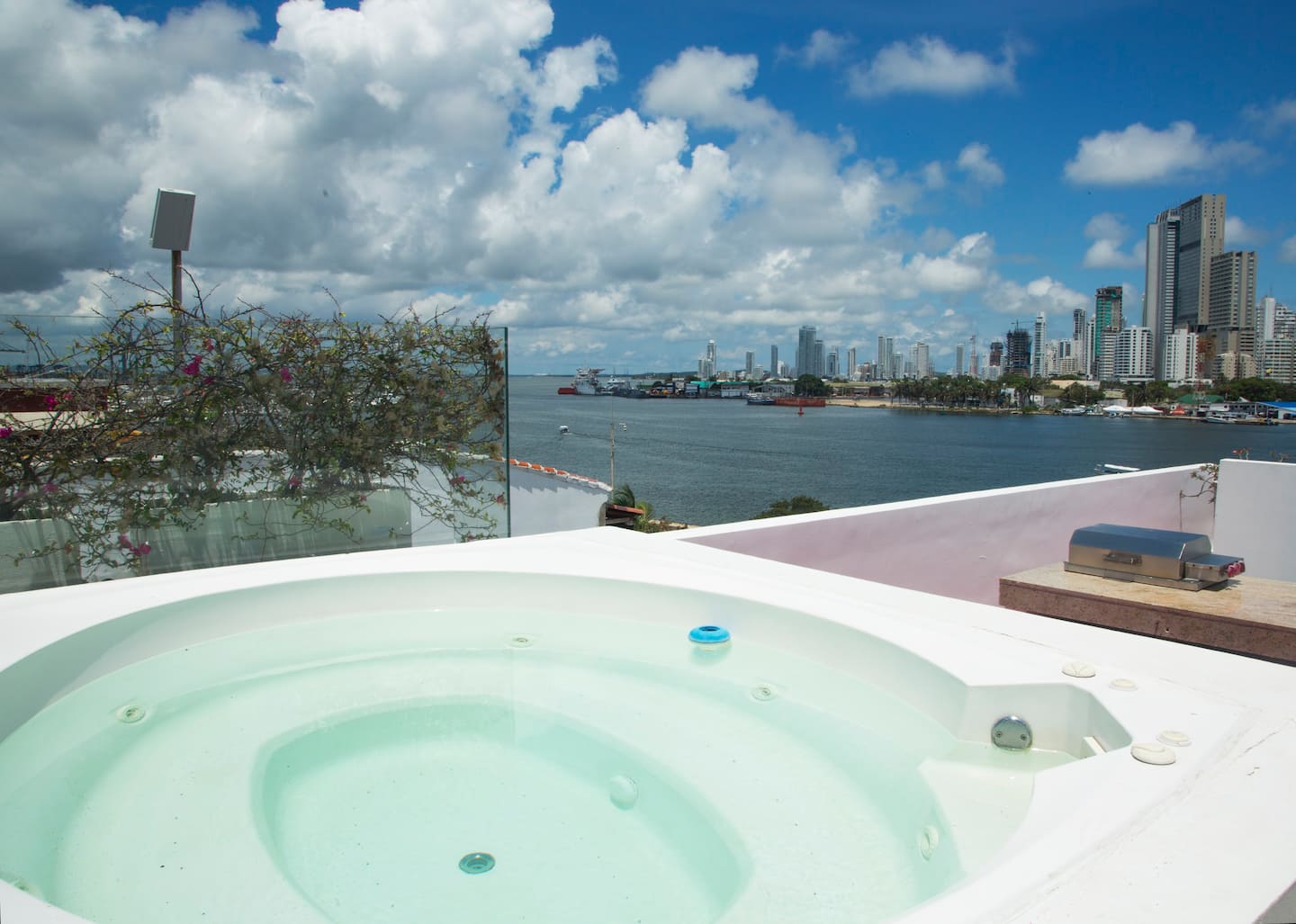 ---
17) Casa Bovedas
Airbnb Plus: No
Superhost: Yes
https://www.airbnb.com/rooms/16268159
Price: $299+ per night
Luxury you can find in San Diego neighborhood – Casa Bovedas. Fall asleep on the cozy bed and wake up with the view of the blue water in the pool. Rooms are complete with a private bathroom and toiletries, A/C and TV. The house has a full kitchen, dining room, and a rooftop terrace. Guests can request for additional services: transportation, boat rentals, city tours and a private chef. A charming and beautiful home. Check it out!
View Photos, Read Reviews & Check Availability
Guest Review: "This place was amazing! Perfect location in the heart of old town. Our group had such an amazing time, we felt like queens in this place. Beautiful building, lots of restaurants within walking distance don't hesitate booking this place…yes there is a school across the street, I'd wake up then go right back to sleep. We enjoyed our stay here." – Lizette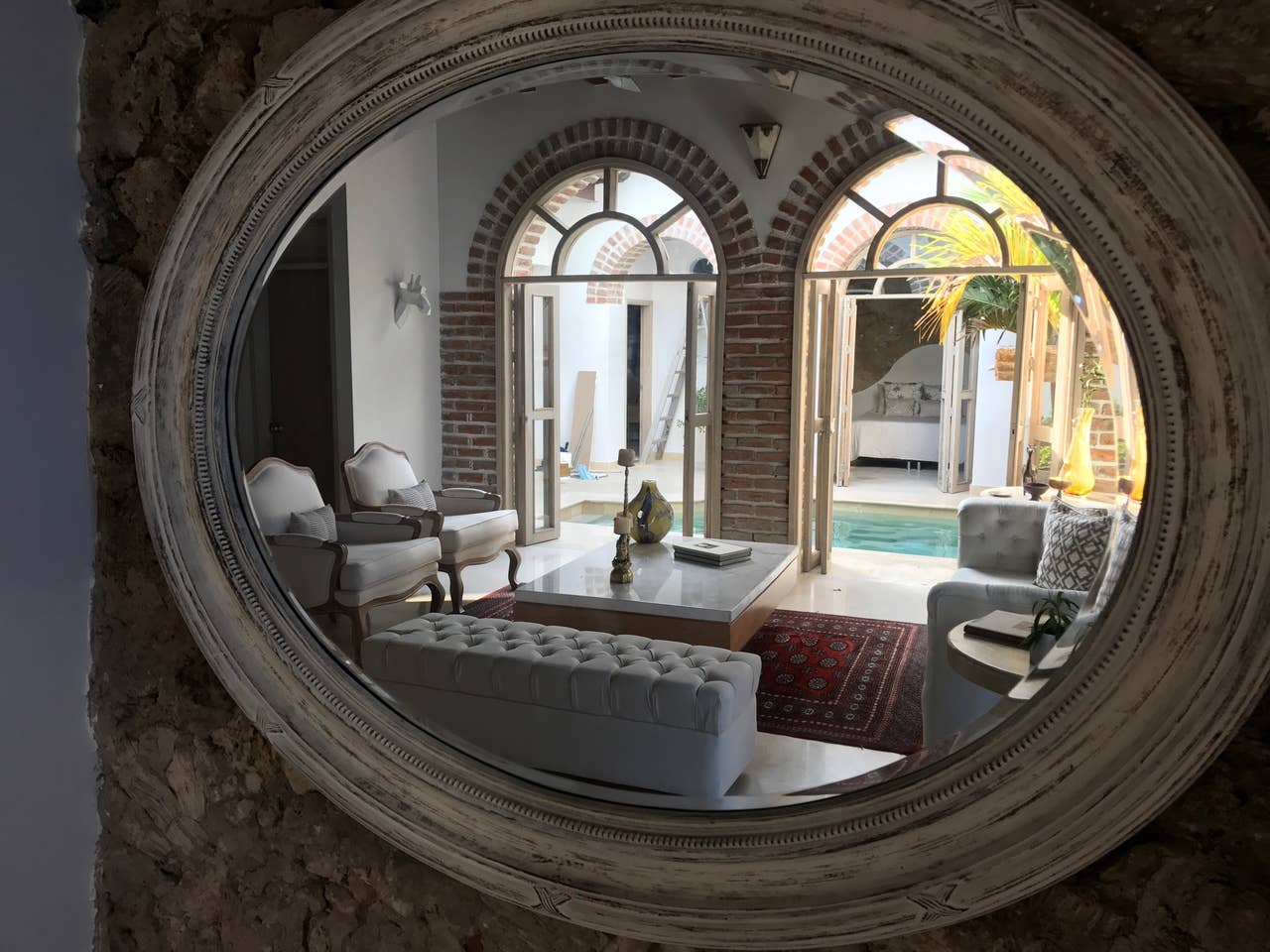 ---
18) ★ Hotel Boutique, Casa La Factoria 1 bed ♡Old City
Airbnb Plus: No
Superhost: Yes
https://www.airbnb.com/rooms/37352634
Price: $138+ per night
Casa La Factoria is a sophisticated old house that was renovated and transformed into a small boutique hotel with luxury finishes showing the architecture of the colonial era. The rooms feature a cozy bed with walk-in bathrooms with free toiletries, open wardrobe, A/C and TV. Offering an indoor heated pool, rooftop loft terrace, and a gourmet restaurant, also, guests can also use the other facilities of the hotel – spa, bar, laundry, and meeting room. There is also 24-hour security in the hotel! If you want to stay with the services of a hotel, you should book this Cartagena Airbnb!
View Photos, Read Reviews & Check Availability
Guest Review: "The hotel was in an amazing and conveniently located so that we were able to walk anywhere. The room was clean and the staff was very friendly and helped with everything we needed." – Valeria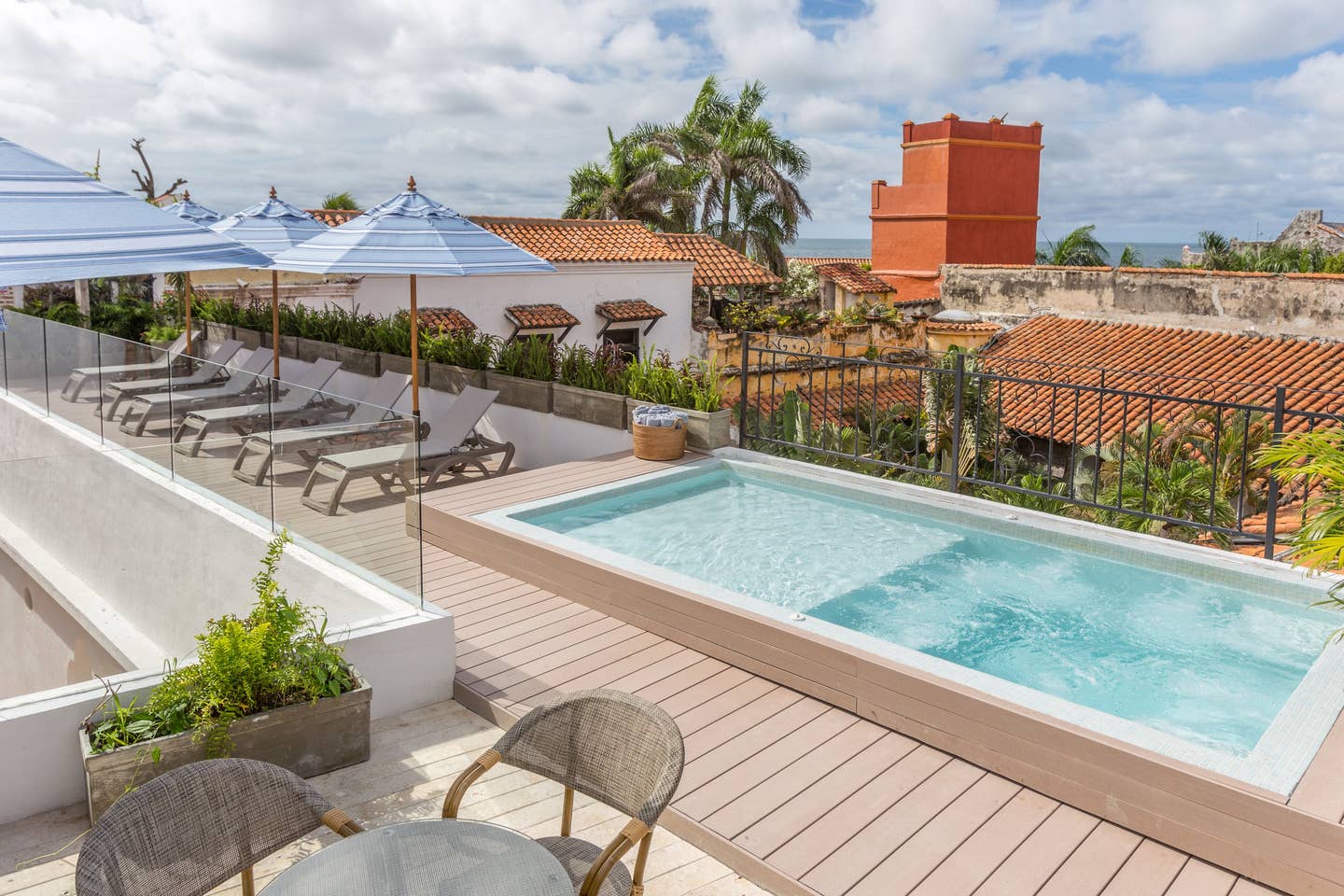 ---
Cartagena, Colombia Tours & Day Trips to Consider Booking
Now that you've hopefully found your perfect Airbnb in Cartagena to book, it's time to plan the rest of your trip! Here are a few ideas that could be fun during your time in this incredible destination!
---
Cartagena: Beach Horse Ride and Colombian Horse Culture
"Go off the beaten track to enjoy an amazing experience riding horses on the beach of Cartagena. Benefit from hotel pickup and drop-off, free time at the beach, and lunch. Learn about and watch an exhibition of the Colombian Paso Fino horse breed."
https://www.getyourguide.com/cartagena-l362/cartagena-beach-horse-ride-and-colombian-horse-culture-t366725/
Price: $135+ (6 hours)
Guest review: "What a day !!! Incredible!!! All the love from the horses and support from the guide. First I had a save transfer and a lovely welcome. They showed me the horses and explained me all about the history from the Paso Fino horses. After a demonstration I had the chance to ride and what an amazing ride !!! Beautiful around the beach and around the area. The horses are relaxed and will give everybody support. After riding I had a delicious meal and a relaxing afternoon." – Melina, Germany
View Photos, Read Reviews & Check Availability
Tour Horseback riding on the beach in Cartagena
---
Cartagena: Bike Tours Around the City
"Discover Cartagena's history, culture, and urban art scene on two wheels. Join a local guide and ride around the city's historic and cultural areas. Choose between 2 routes, opt to include hotel pickup and drop-off, and take a private or shared tour."
https://www.getyourguide.com/cartagena-l362/cartagena-bike-tours-around-the-city-t343971/
Price: $ 18+ (1.5 – 2 hours)
Guet review: "I had a lot of fun on this tour. We biked up the ramparts, went through a park and saw a sloth ( or "lazy bear" as our guide called it ) and navigated through Getsemani and the old city with the help of our amazing guide ( i think his name is Jean Peare , and he is fearless). Biking in Cartagena is not for the faint of heart as cars dont stop , ever, and pedestrians will never ever move out of your way no matter how many times you ding at them." – Lily, Canada
View Photos, Read Reviews & Check Availability
My Bike Ride from Downtown CARTAGENA to BOCAGRANDE in 12 Min
---
Pirate Sailing w/Beach Lunch & Open Bar
:Join me and my crew as we sail to Fuerte San Fernando the most beautiful Fort in Cartagena, which protected the only entrance to the Bay of Cartagena."
https://www.airbnb.com/experiences/1333649
Price: $69+ (7 hours)
Guest review: "AMAZING! This is a must, a pirate ship a fort visit, open-bar, a practically private beach where you can also do kayak, great food…I mean what else do you need?! Also Joshua and the team are great and extremely prepared!" – Lorenzo
View Photos, Read Reviews & Check Availability
Sunset Cartagena - Pirate Boat Tour Cartagena - Sunset Sailing in Cartagena Colombia
---
Am I Missing Any Amazing Airbnbs in Cartegena?
Cartagena is quite booming with amazing AirBNBs, with new offerings added to the home share platform every day. Have you recently stayed in a Cartagena AirBNB that blew you away? Do you manage or host an AirBNB in Cartagena that you think deserves a lot more exposure? Feel free to reach out to me via my social media channels or email and I'll see what I can do to get you on the cool kids list.
Where to Stay in Cartagena? The #1 AirBnb with an UNBELIEVABLE View (GoPro Tour)
---
Looking for some travel inspiration?
My blog is filled with hundreds of articles just like this, so I'd love for you to take a look through a few more of these below!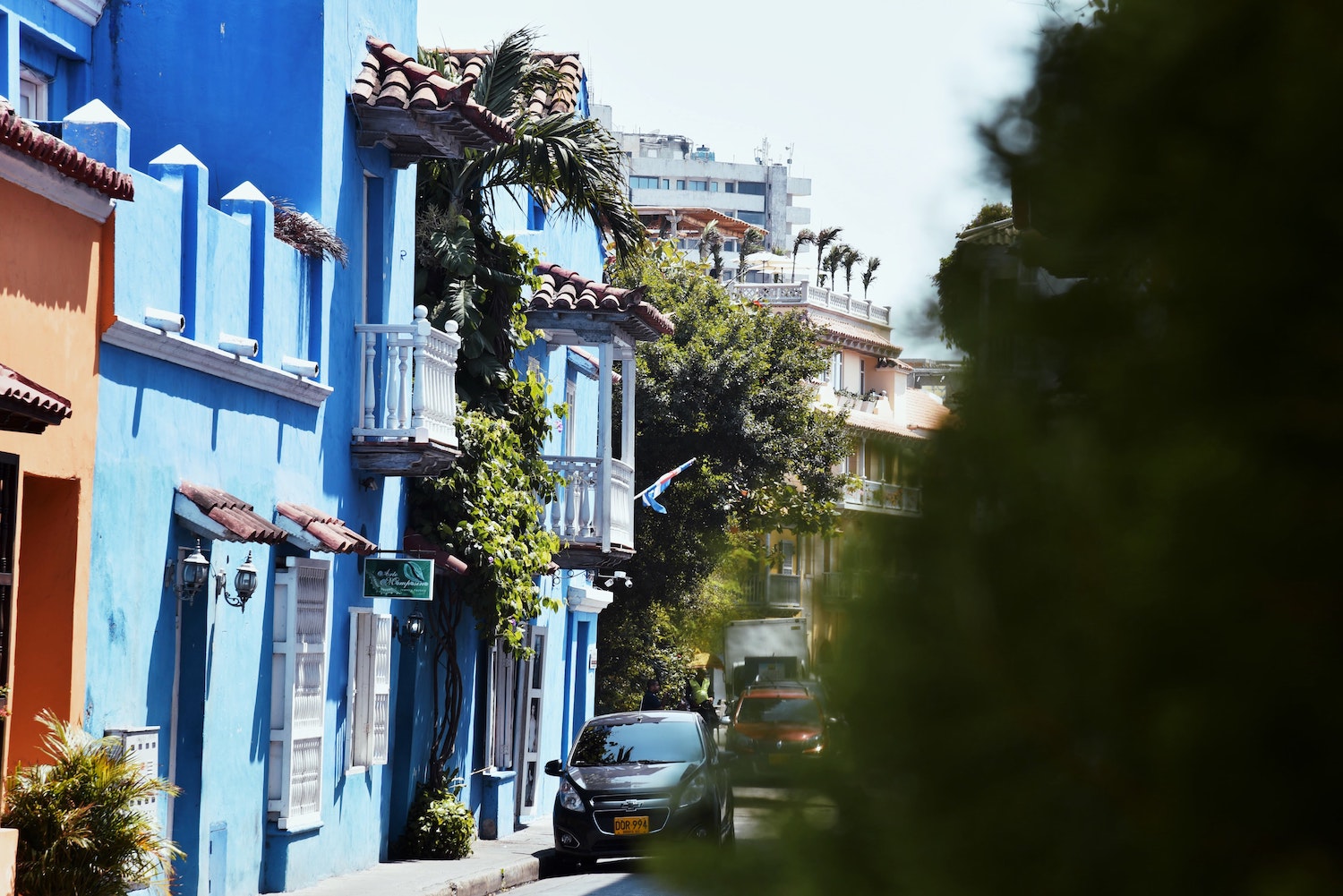 ---
Thanks for reading my Airbnb Cartegena guide!
Share these Airbnbs in Cartegena, Colombia with your favorite travel crew!
https://www.jonesaroundtheworld.com/wp-content/uploads/2020/03/Airbnb-Cartagena.jpg
1076
1500
Dave
https://www.jonesaroundtheworld.com/wp-content/uploads/2017/03/logotry-1-1-300x106.png
Dave
2021-02-15 00:45:32
2021-03-31 23:56:57
The 18 Coolest & Best Airbnbs in Cartagena, Colombia