Whether you are interested in ancient temples or breathtaking views, there are a wide variety of famous landmarks in Thailand to astonish and inspire you.
This post will point you in the direction of the country's top attractions, so you can be sure not to miss any must-see sights during your travels. Thailand is one of the most popular – and affordable – tourist destinations in Asia. It has many modern comforts while still offering wild adventures for thrill-seeking travelers.
The country's unspoiled natural landscape includes stunning mountains, beaches, islands and forests. There are also many famous buildings in Thailand's cities, from preserved historical temples to amazing feats of modern architecture.
The list below gives an overview of the best Thai landmarks for you to include in your sightseeing travels around the Land of Smiles.
Further Thailand reading you might be interested in: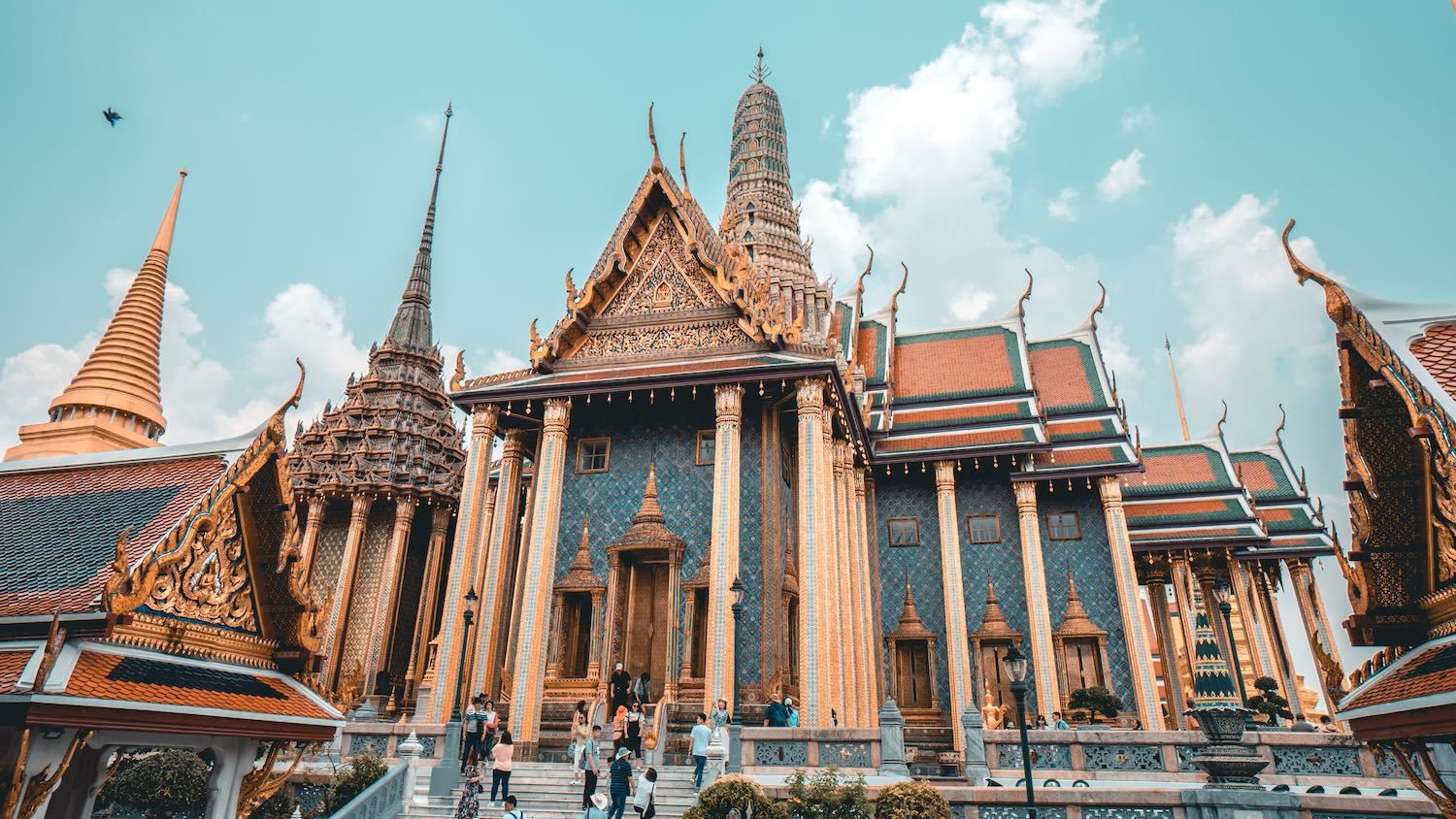 ---
1) Grand Palace
The Grand Palace is one of the most famous Thailand landmarks. It is a spectacular destination and a must-see for photography and history lovers alike.
This palace in Bangkok has an outer, middle and inner court that together spans 2,351,000 square feet. The vast complex is filled with temples, golden palaces and detailed architectural designs. The Grand Palace was built in 1782 and served as the official home of the Thai kings for almost 150 years.
Today, the royal family no longer lives there, but it is still a functioning palace with several royal offices inside. The majority of the Grand Palace is open as a museum so that the public can explore the royal buildings and throne halls up close.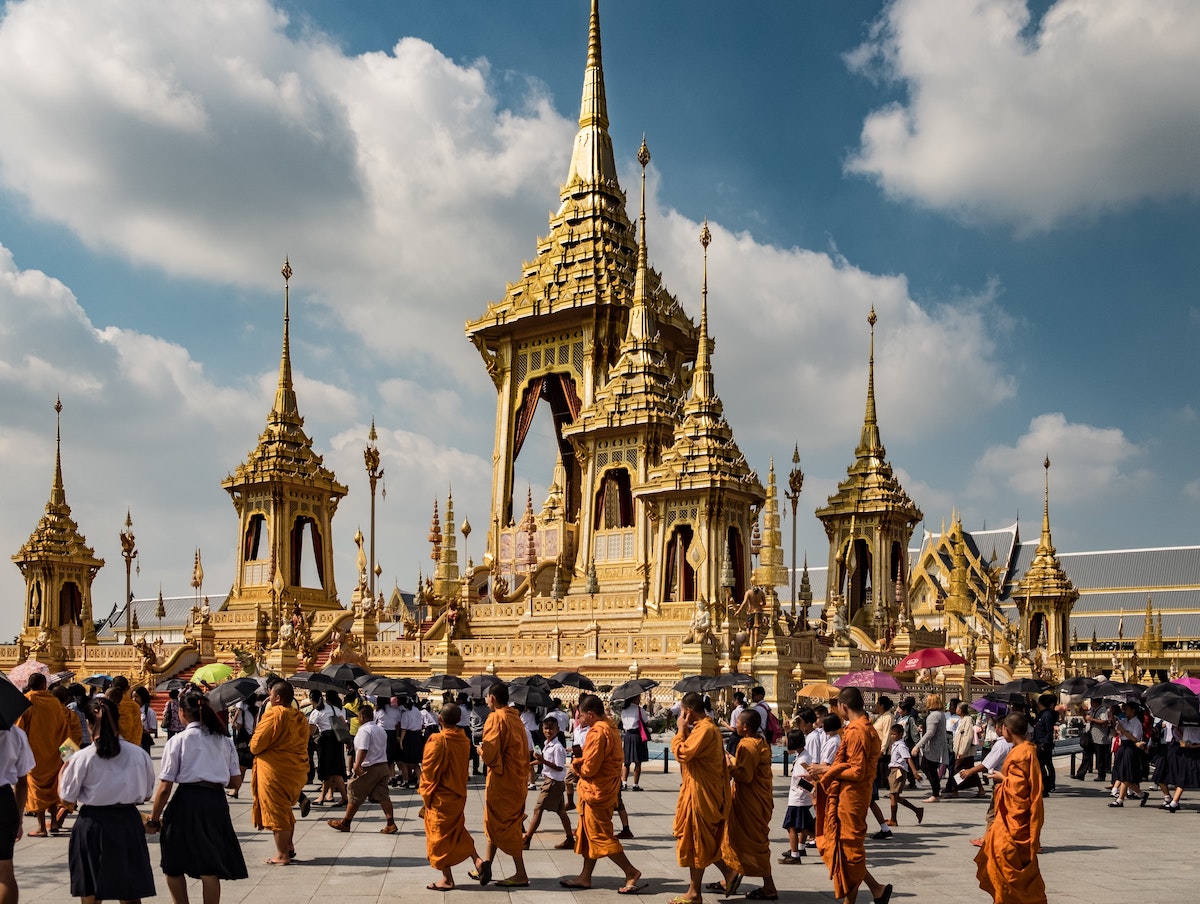 ---
2) Wat Phra Kaew – Temple of the Emerald Buddha
The Temple of the Emerald Buddha is seen as the most sacred Buddhist temple in Thailand. Hundreds of visitors enter the temple every day to see the Emerald Buddha – a striking statue made from solid green jade and clothed in gold.
The Wat Phra Kaew is part of the Grand Palace complex and was constructed in 1784. Just like the rest of the buildings, this temple is filled with elaborate carvings and beautiful artifacts. Of course, the Emerald Buddha is the main attraction in this temple and highly revered in Thailand.
Today, the temple functions mostly as a museum. But there are still royal ceremonies held in the temple each year, which are presided over by the current king.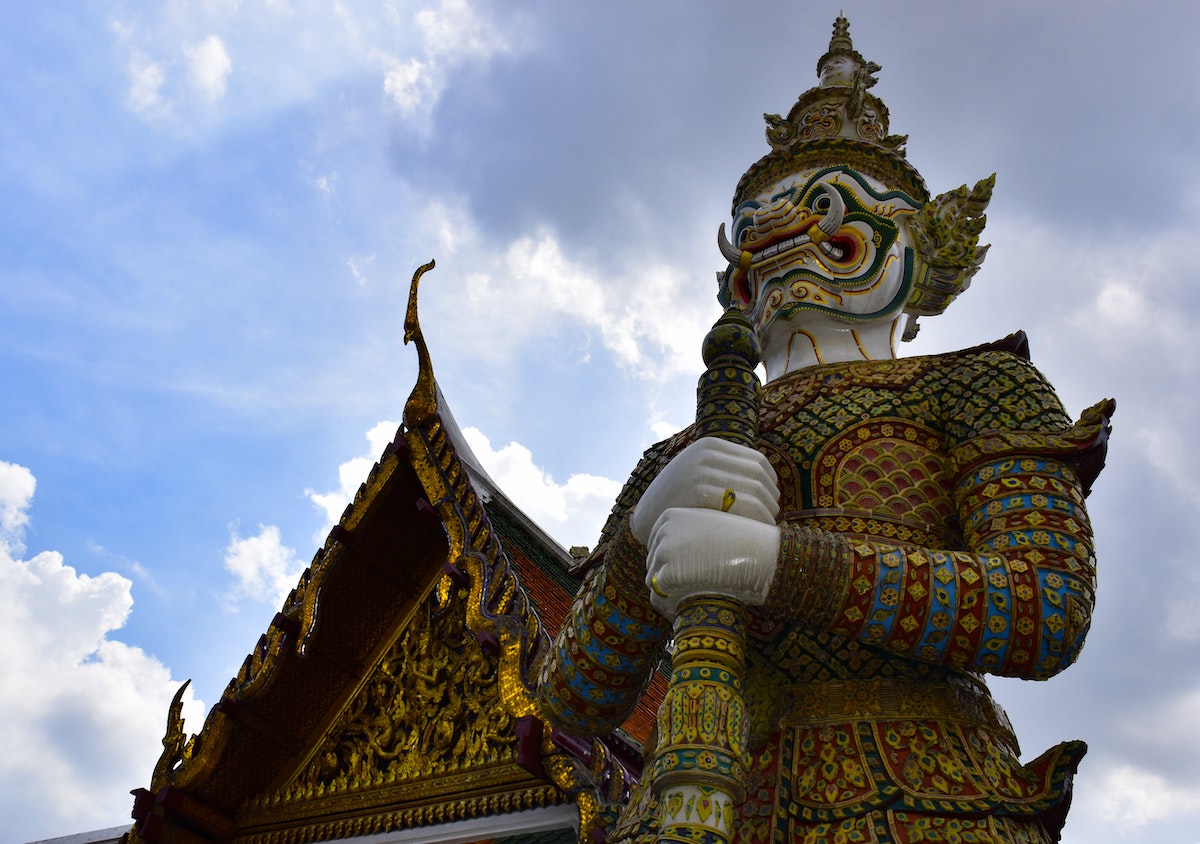 ---
3) Wat Arun – Temple of Dawn
Another must-see famous building in Thailand is the Wat Arun. This unique temple got its name for the beautiful glow it casts over the river when the first morning light strikes it.
Wat Arun was built on the side of the Chao Phraya River in Bangkok. The stunning temple has existed since the 17th century, with its distinctive spire added on in the 19th century.
The exquisite temple has many colorful pagodas and ornate spires that make for lovely photos at any time of day. You can also climb up one of the towers to get a fantastic view of the city.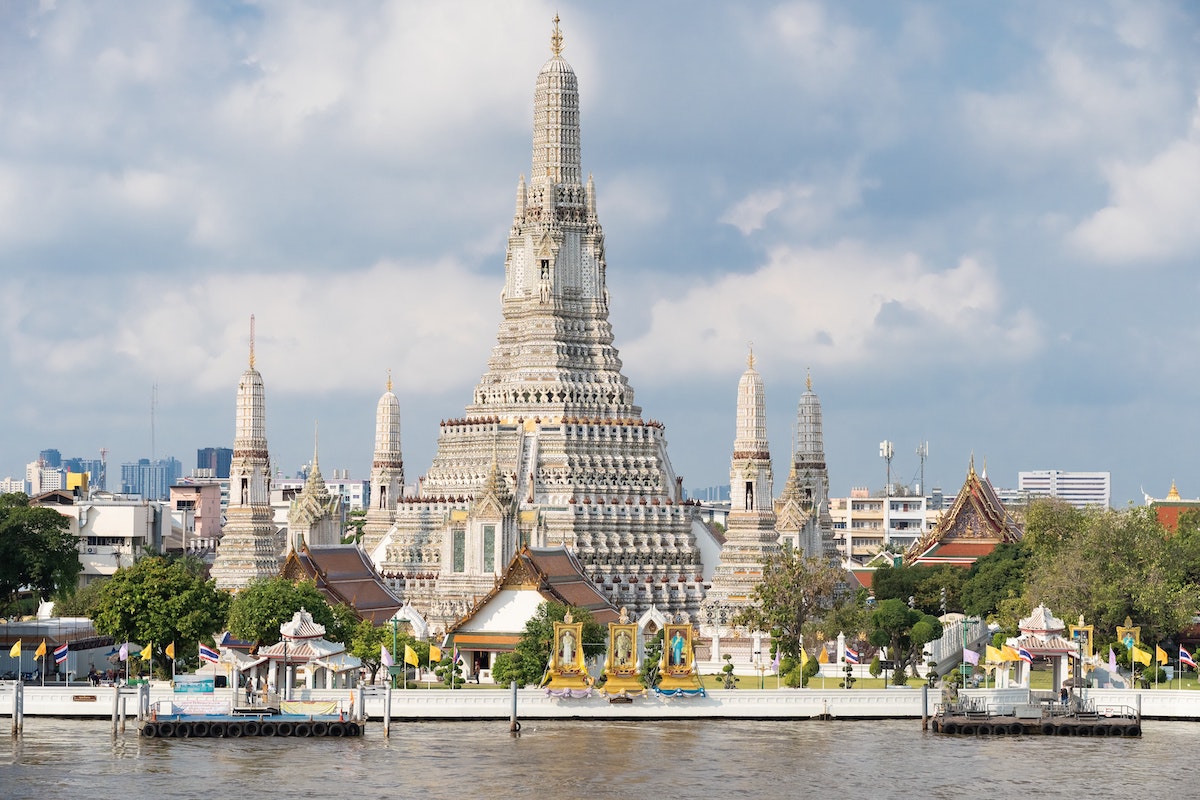 ---
4) Ko Ta Pu – James Bond Island
The Ko Ta Pu is a natural phenomenon. It became a famous Thai landmark after featuring in the Bond movie The Man with the Golden Gun.
Ko Ta Pu is a tall limestone islet jutting out of the water a few feet from the shores of Khao Phing Kan Island. After the islands were shown in the movie, they became popularly known together as the James Bond Island.
The tall rock structure is surrounded by serene waters and stunning beaches. It is definitely worth your while to take a boat trip or go kayaking in this beautiful area.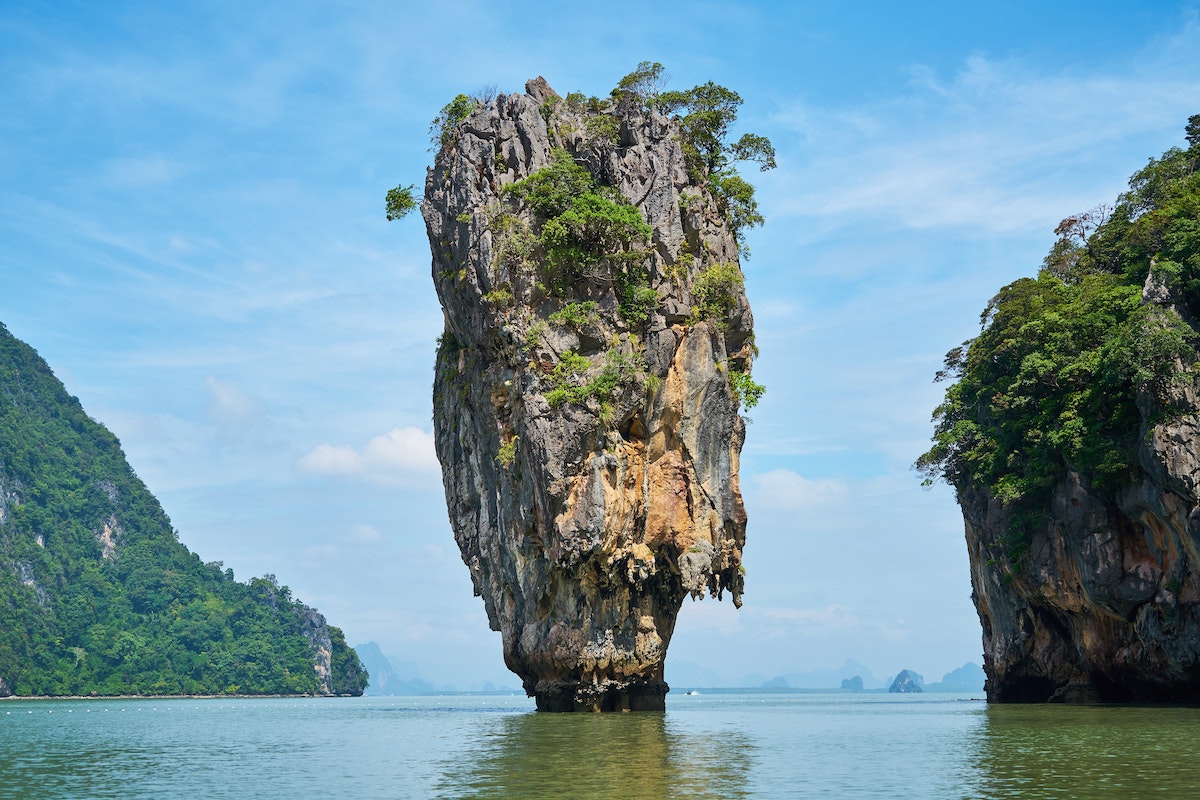 ---
5) Maya Bay
Maya Bay is another one of the Thai landscapes that became famous from a movie. Thousands of tourists flocked to the bay every day after seeing Leonardo DiCaprio lounging on the pristine white sands in The Beach.
Named one of the most gorgeous beaches in the world, Maya Bay is a truly picturesque location with turquoise waters surrounded by limestone rock formations.
Sadly, the large crowds of tourists started to destroy this natural ecosystem. The government closed the bay in 2018 and plans to allow only limited numbers of visitors in the future. This might not be such a bad thing, since the best way to experience Maya Bay in Koh Phi Phi is after hours when all the crowds have gone.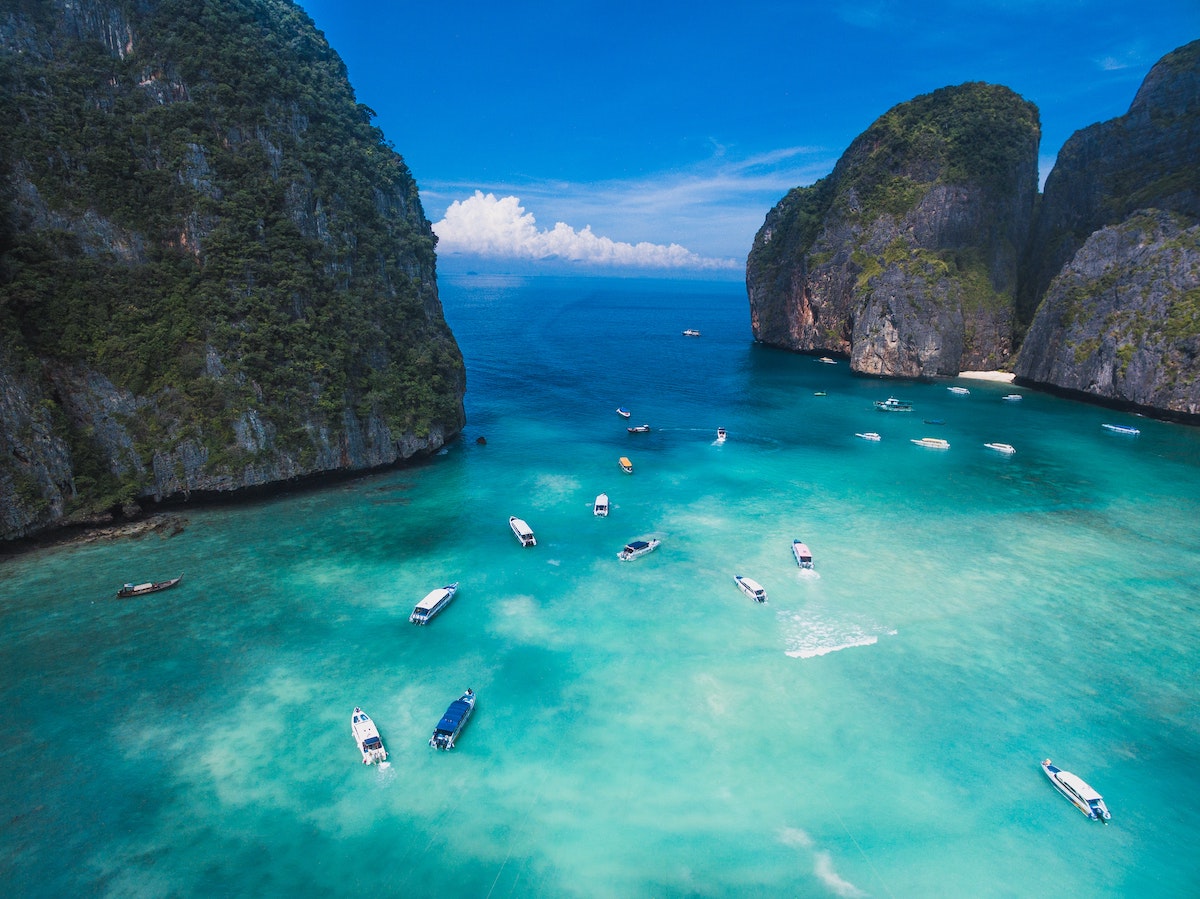 ---
6) Sukhothai Historical Park
A visit to this historical town is like traveling back in time. You can see where Thai architecture originated when you walk among this impressive collection of 13th century buildings.
Sukhothai is one of Thailand's historical sites and a UNESCO World Heritage City. It was the first capital of the ancient kingdom of Siam. This well-preserved piece of Thai history includes hundreds of historical ruins, temples, bridges, and statues.
The best way to explore this 27 square miles of historic town is to rent a bicycle. You can travel at your own pace and stop for photos at fascinating spots, without getting as tired as you would on foot.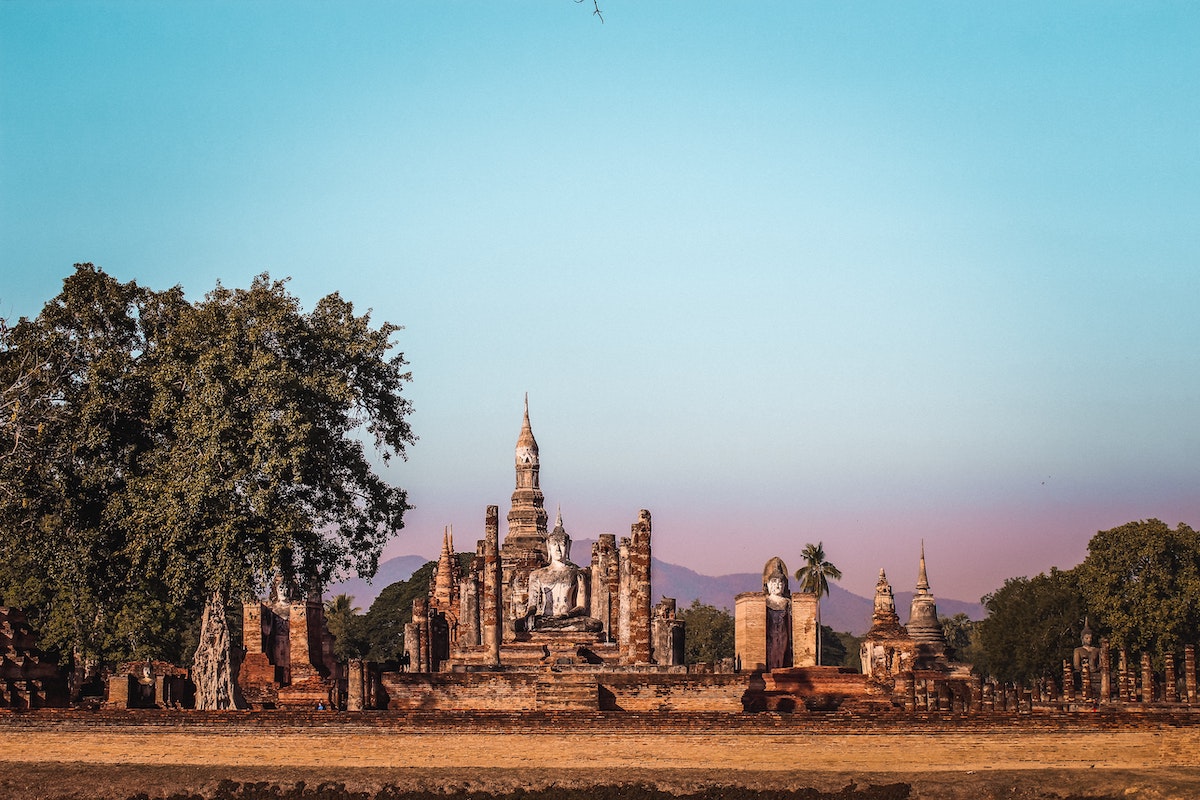 ---
7) Damnoen Saduak Floating Market
Thailand is famous for its floating markets. A visit to Damnoen Saduak is a unique way to get out of the busy city and experience a different way of shopping.
As you walk along the interconnected waterways, you can get a glimpse of how trade was originally done in Thailand. Vendors row past and sell a variety of wares straight from their boats.
Before noon is the best time to visit the floating market and really absorb the atmosphere. Give yourself enough time to browse, snap some photos and buy fresh fruit or souvenirs to take home.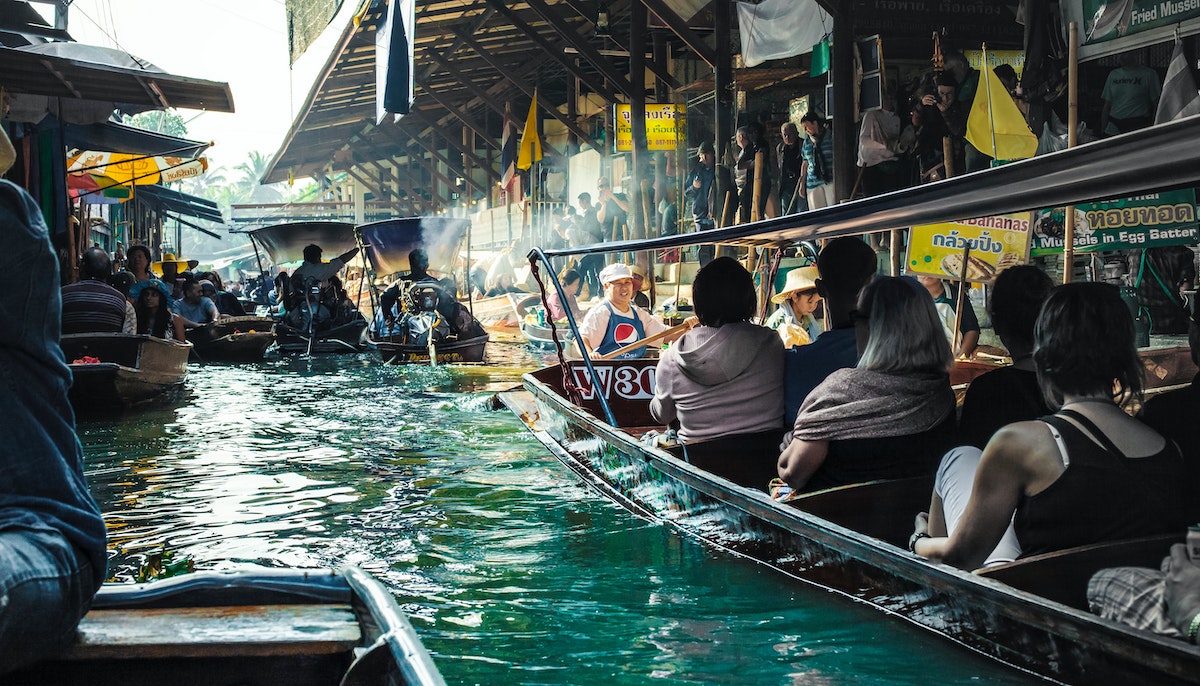 ---
8) Wat Rong Khun – The White Temple
The gleaming White Temple is a modern work of art that is quickly becoming one of Thailand's must-see landmarks.
The architecture of this fairy-like building may look ancient, but its construction actually started in 1997. The entire temple, with its intricate designs and stunning statues, was designed and funded by a local Thai artist, Chalermchai Kositpipat.
Even though construction is not yet finished, it is definitely worth your time to take a walk through the ornate white gates on a visit to this unique temple.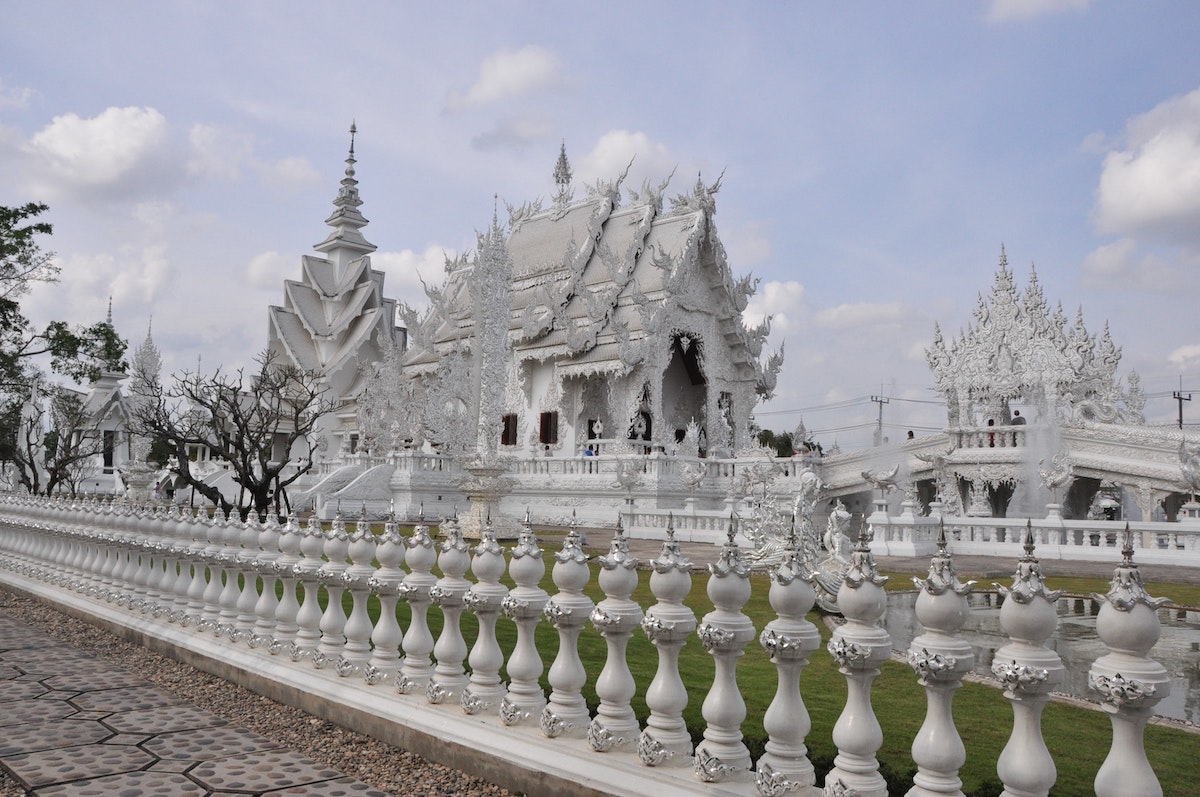 ---
9) Pai Canyon
One of the amazing things to do in Pai is a hike around the Pai Canyon. The canyon isn't that large, but it is filled with beautiful scenery to enjoy.
If you are feeling adventurous, you can spend a few hours hiking around the narrow trails surrounded by steep drops. Otherwise, the canyon is easily accessible by stairs.
The best time to go to Pai Canyon is in the early evening. Make sure you find a good spot to watch the sunset. With a 360-degree view of the surrounding landscape, it makes for photo opportunities not to be missed.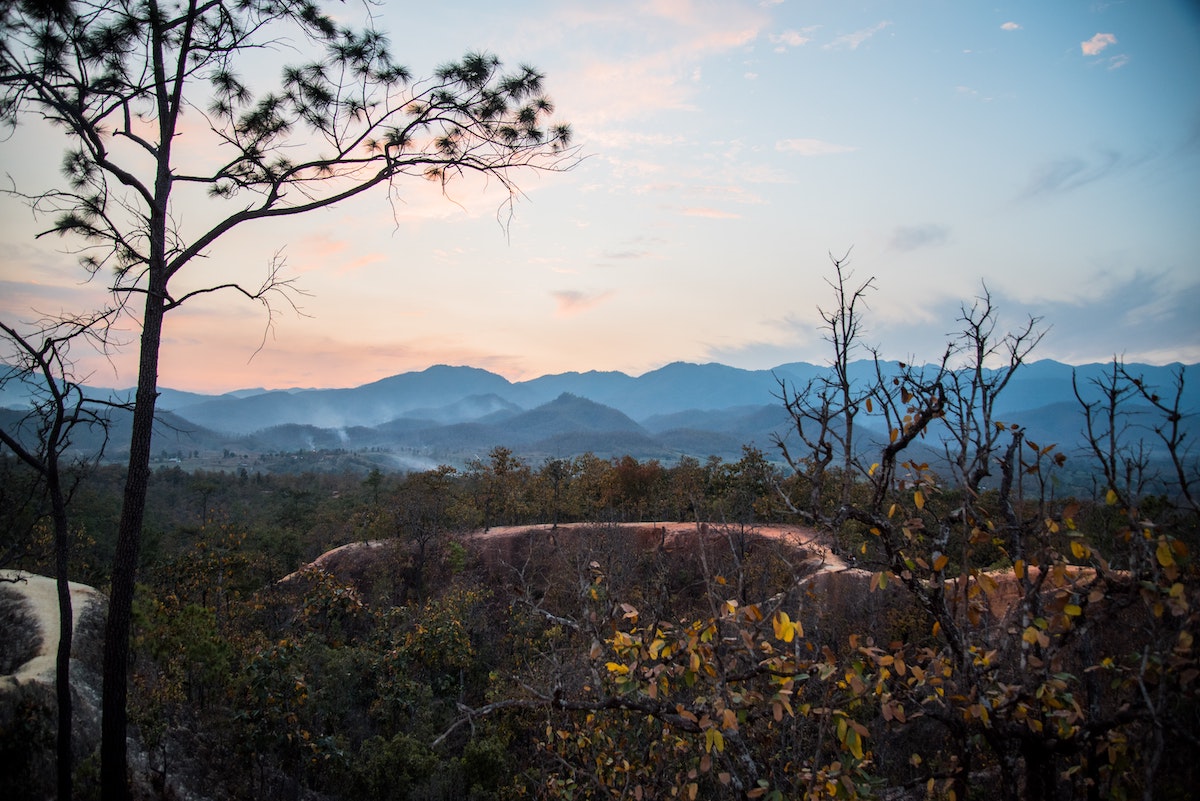 ---
10) Wat Pho – Temple of the Reclining Buddha
One of the most famous temples in Thailand is the home of the giant reclining Buddha. Wat Pho is located in central Bangkok and is one of the oldest temples in the city.
The temple contains over a thousand Buddha images. The largest of these is, of course, the 150-foot long reclining Buddha. The impressive statue is gilded with gold and the feet are inlaid with mother-of-pearl.
Since Wat Pho is located close to the Grand Palace and Wat Arun, it is easy to combine a trip to all these major attractions. Wat Pho is also home to a renowned Thai massage school, so you can plan on taking time during your trip for a relaxing traditional massage.
3 BEST TEMPLES IN BANGKOK THAILAND - Wat Arun, Wat Pho, Grand Palace
---
11) Erawan Waterfalls
The seven-tiered Erawan waterfall is one of the most beautiful natural landmarks in Thailand. The falls are located among lush green forests in Erawan National Park.
You can hike along the river and enjoy the unique character of each waterfall you come across. Altogether, the seven waterfalls span more than 1,600 yards. They flow over different tiers of rocks or cliffs and have varying heights of fall into small or large pools.
If you get warm during the hike, you can take a swim in the milky blue wading pools under each waterfall. This park is a stunning place of natural beauty and an adventure not to be missed.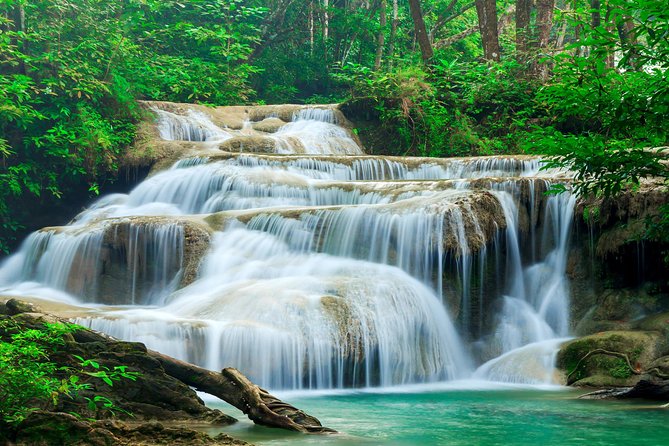 ---
12) Doi Inthanon Mountain
Doi Inthanon National Park is home to the highest mountain in Thailand. A hike up this mountain is well worth it for the spectacular views and stunning photo opportunities.
Doi Inthanon Mountain is part of the Himalayan mountain range. The national park built around this mountain is nicknamed the "Roof of Thailand."
The area is full of manmade and natural attractions. There are caves and waterfalls for you to explore as you follow a hiking trail up the mountain. You will also pass by small villages, statues, and temples.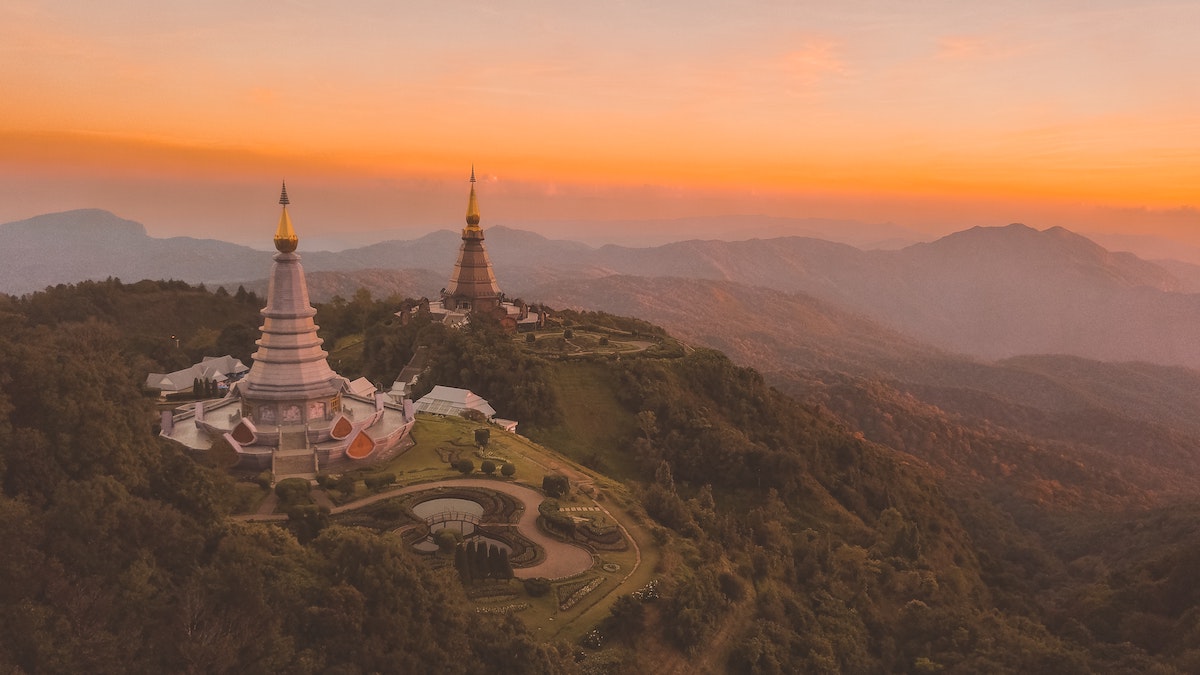 ---
13) Bridge Over the River Kwai
In Kanchanaburi, there is a more sombre landmark of Thailand to be seen. The bridge is an infamous symbol of World War II's impact on Thailand.
During the war, thousands of Allied prisoners of war died when they were forced to construct the railway's bridge. Today, there is a war cemetery and museum near the bridge to remember the tragedy.
Although it won't be a lighthearted visit, you can walk through this area on foot to see the war-time landmark that had a big impact on the country.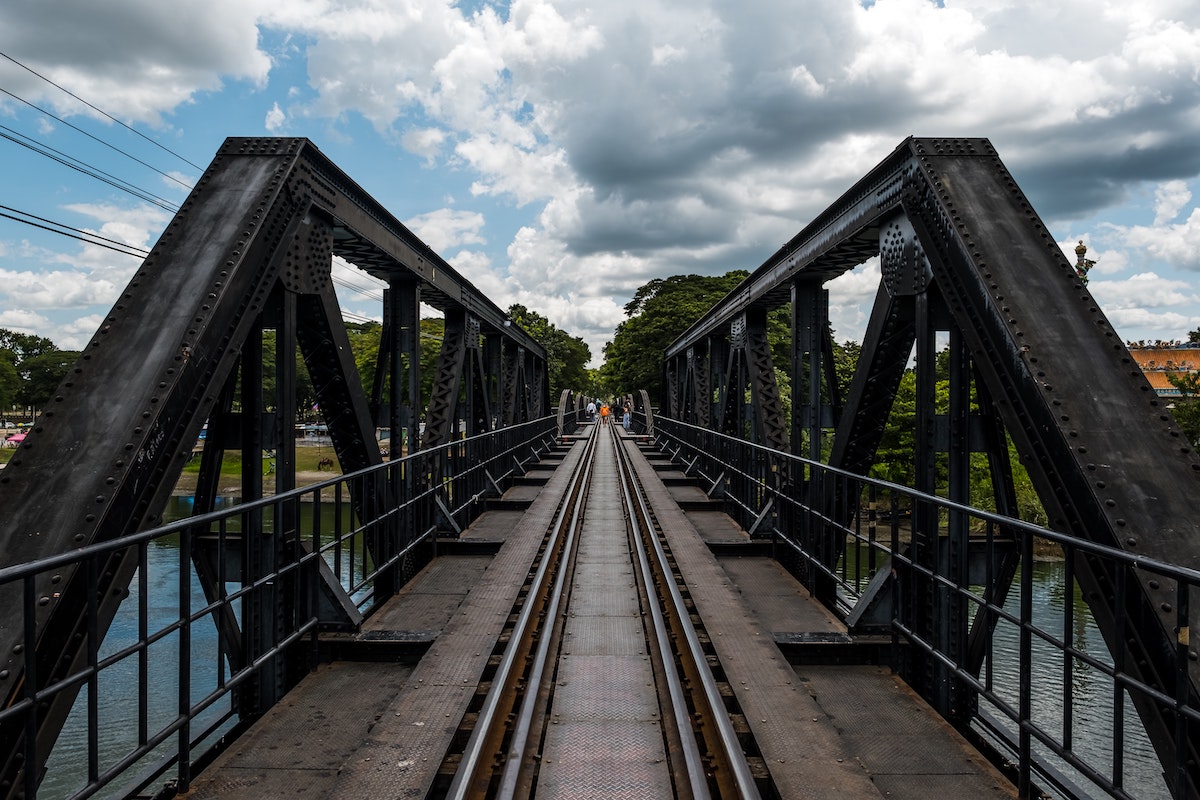 ---
14) The Sanctuary of Truth
This elaborate temple-museum hybrid situated on the beach makes for a spectacular Thai landmark. The sanctuary is not as old as other temples in Thailand but still a sight to behold.
Construction of the Sanctuary of Truth was commissioned by a Thai businessman in 1981 and still continues today. What makes the giant structure so amazing is that it is built entirely from wood – not even metal nails are used.
If you are in Pattaya City, don't miss a visit to this impressive sanctuary and a chance to admire the intricate wooden carvings and sculptures.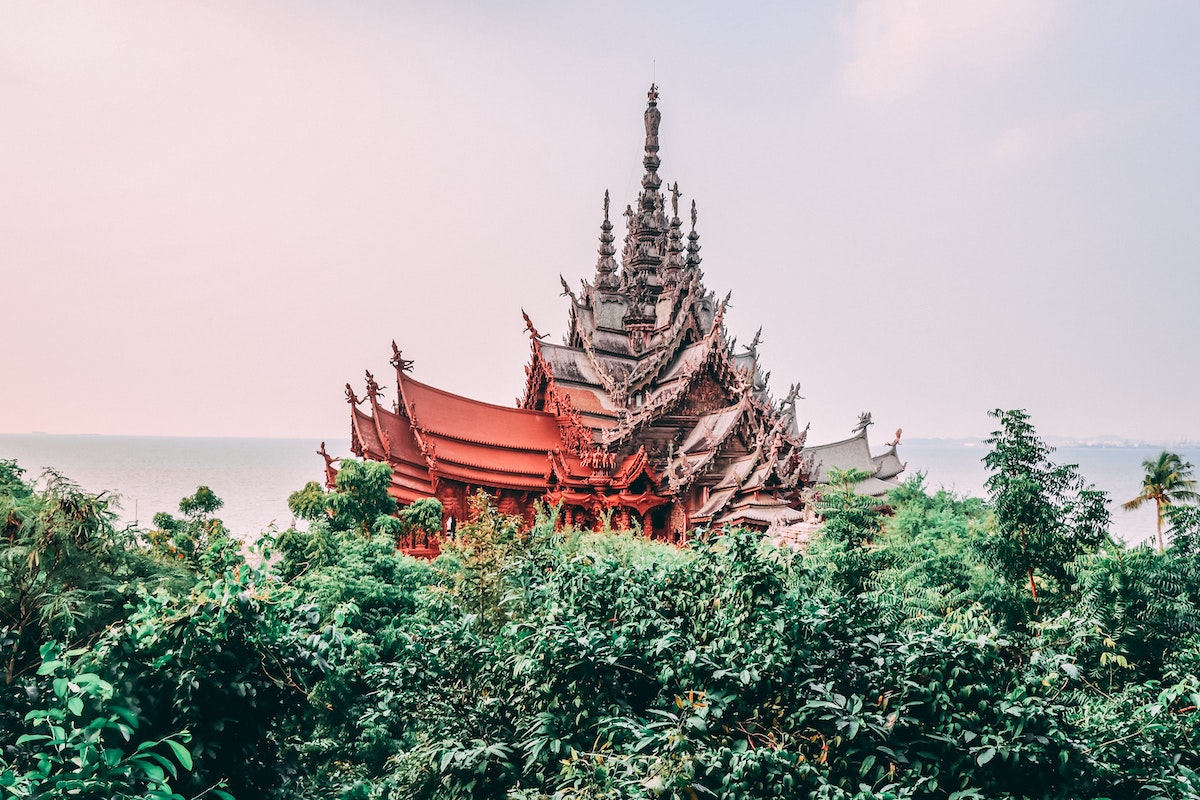 ---
15) Railay Beach
Railay Beach is actually a small peninsula with more than one beach. The charm of this area lies in the fact that it is only reachable by boat and it's far away from noisy city life.
This utopia is located in Krabi. High limestone cliffs cut off access from the mainland, which makes this the perfect secluded vacation spot.
You can spend your time relaxing on the soft sand and taking pictures of pink sunsets. And for the more adventurous, Railay Beach is known for providing an adrenaline-filled rock climbing experience.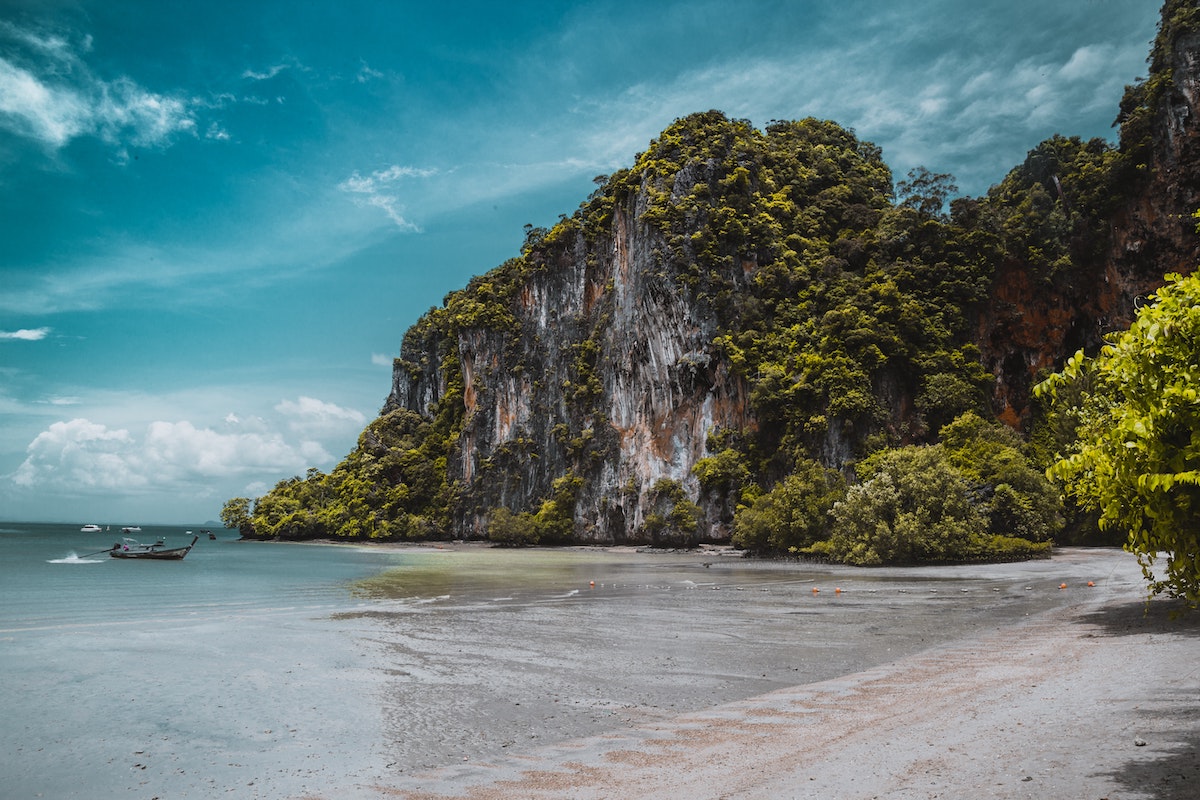 ---
16) Lebua State Tower
This Bangkok skyscraper boasts 68 floors and is home to an iconic sky bar. It became famous around the world after featuring in the hit movie The Hangover Part II.
State Tower is the tallest mixed-use building in Thailand. Located on Silom road, it is a prominent landmark in Bangkok's business district. The tower contains offices, apartments, and two 5-star hotels.
Near the top of this 810-foot tall skyscraper is the world's highest open-air sky bar. Treat yourself to a cocktail in this circular sky bar, while enjoying a panoramic view of Bangkok.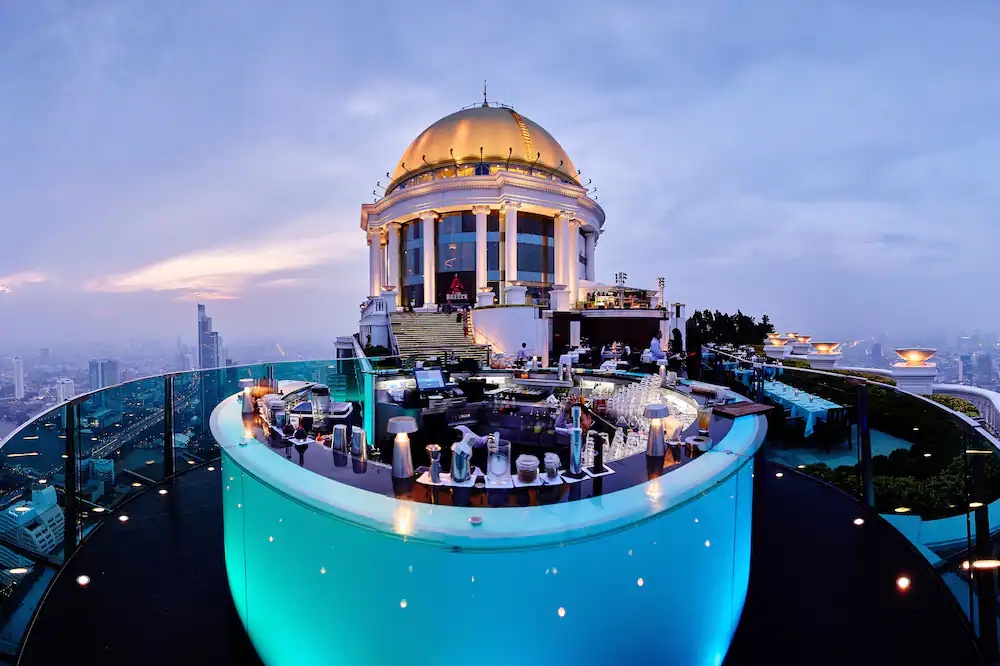 ---
17) Khao Yai National Park
This national park is a must-see for nature lovers. It has everything from bamboo forests and waterfalls to elephants and exotic birds.
Khao Yai was established in 1962 as the first national park in Thailand. The park is considered a UNESCO World Heritage site, as it protects one of the largest monsoon forests in Southeast Asia.
You are highly likely to come across elephants during your hikes here, as well as a wide variety of birds and some rare animals like the black bear. Khao Yai park is also home to a few famous waterfalls, including the almost 500-foot-tall Haew Narok waterfall.
This park is a spectacular landmark, so don't rush your visit there. Camp out in one of the nearby BnBs for a few days or at least take a full-day tour of the park.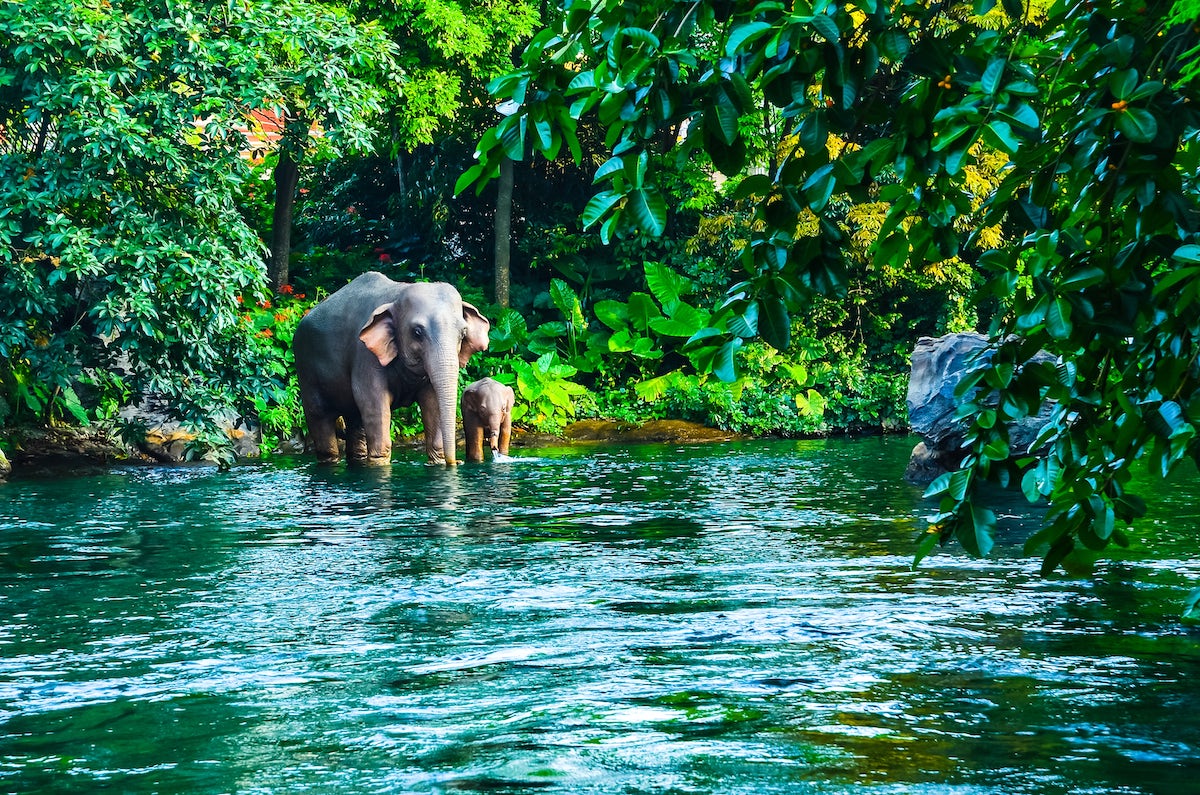 https://www.jonesaroundtheworld.com/wp-content/uploads/2021/10/Grand-Palace-Bangkok-Famous-Landmarks-In-Thailand.jpg
844
1500
TravelTractionsJATW
https://www.jonesaroundtheworld.com/wp-content/uploads/2017/03/logotry-1-1-300x106.png
TravelTractionsJATW
2021-11-03 04:50:49
2021-11-03 04:50:49
Famous Landmarks in Thailand: 17 Must-See Buildings & Iconic Wonders