Planning a trip or weekend getaway and looking for the best Airbnb Spokane rentals? Well, look no further, as I've put together the ultimate Airbnb Spokane guide filled with the city's top vacation rentals!
Whether there's beautiful sunshine or frost-tipped cedars, Spokane is a city that's perfect to visit, no matter the season. If it's the outdoors that inspires you, this city is booming with recreational activities and majestic parks. Or, if you're more for the arts and culture, you'll find Spokane has a heartful soul.
If this sounds like your kinda place, you better start getting your bags packed. Get ready to admire museums and history, street-side adventures, and quirky performances.
But before that can all begin, you'll need to find the best Spokane Airbnb, which shouldn't be tough. This guide showcases the top Airbnbs, catered to lovers, friends, adventure seekers, and the likes.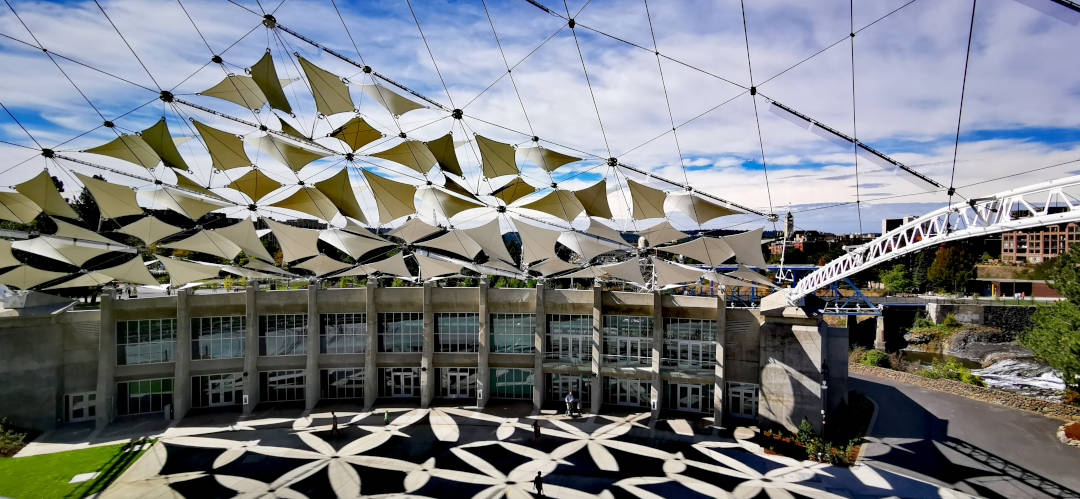 ---
Quick Breakdown of Airbnb Spokane Vacation Rentals
In a rush? As much as reading this whole post will share absolutely everything you need to know about these great Airbnbs, I get it. You have people to see and places to go. So here's a breakdown of the top places in the Spokane Valley.
Also, be sure to check out my articles on Glamping in Washington & Music Festivals in Washington for more trip-planning inspiration!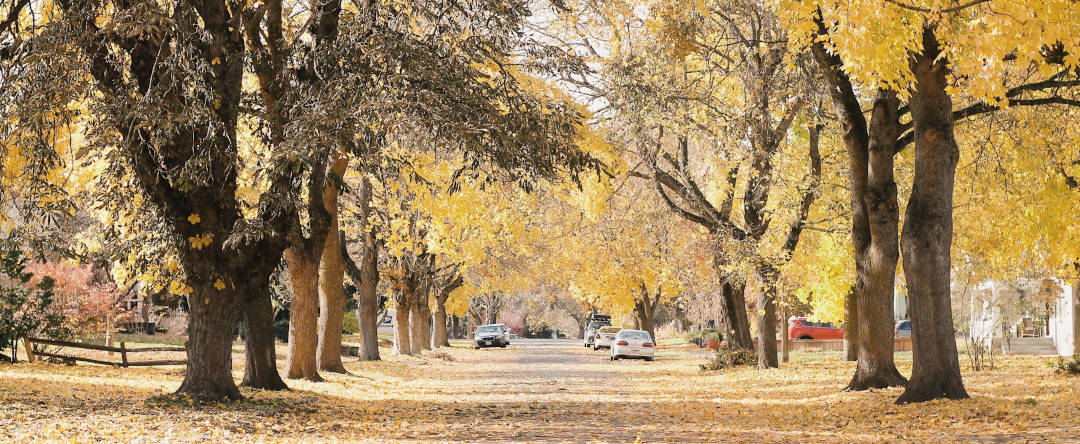 ---
Best Areas to Stay in a Spokane Airbnb
While I'm super keen to dive into the top Airbnbs in Spokane, I thought it would be more helpful to share a breakdown of the most popular areas first. These are some awesome neighborhoods for Airbnbs, each offering something unique. You'll easily find a place that's perfect for your needs.
Downtown Spokane: While you tend to find a lack of nature out in the cities, downtown Spokane embraces both the beauty of nature and of city life coinciding. The downtown area embraces the history of Spokane, with carefully preserved buildings and sites. But, it's also where you'll find local nightclubs scattered across the area, shopping malls, and trendy boutiques.
West Central Neighborhood: Prized as being the oldest neighborhood in Spokane, there's an array of diverse architecture, incredible river views, and plenty of historic parks. Along with history, the neighborhood also shows off a wide variety of bird species, which is pretty cool.
Garland: From funky bars, an old-school theatre, and quirky shops selling old books and antiques, Garland is a neighborhood that'll make you smile. And, if you're a music lover, be sure to hit up some of the local bars and listen to some live music.
East Central: East Central is another old neighborhood in Spokane, with around 600 historic homes to marvel at. In the early 1900s, this area became a hub for immigrants, so you'll find an array of different cuisines here. The distinctly diverse area is also the international hub for activity.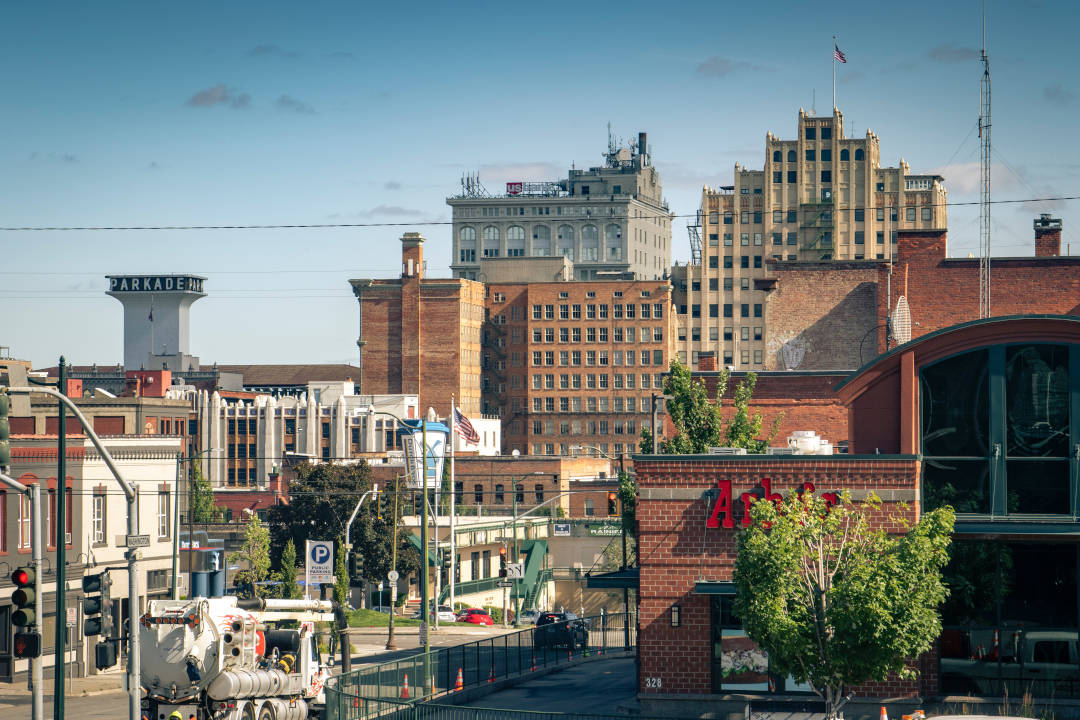 ---
Top 17 Airbnbs in Spokane, WA
Without further adieu, let's take a look at what kind of crazy, quaint, and cozy homes you'll find here. These are some of the top vacation rentals in Spokane, WA. I've also added tons of fun travel videos about Spokane through this article, so be sure to watch a few of them to get tons of ideas on what to do there, food recommendations, tours, day trips, and so much more!
---
1) Heated Floors Eco Studio on South Hill
Location: Manito Neighborhood
Superhost: Yes
Price: $82+ USD per night
https://www.airbnb.com/rooms/5578256
If you're all about sustainability, but don't want to skimp out on luxury, this Airbnb has got you covered. What makes this place great is that it challenges the idea of what eco-friendly locations are. Don't settle for grungy camping sites while trying to be kinder to the planet, rather enjoy the perks of this super modern eco studio.
The locally-crafted kitchenette features recycled stainless steel, where you can indulge in your own style of home cooking. At the end of the day, kick back on the therapeutic queen bed, or chill out in the antique soaking bath.
The studio is within walking distance of some awesome eateries and parks, as well as outdoor spaces for mountain biking and afternoon strolls. Visit the gourmet bistro Lindaman's, Republic Pi for woodfire pizza, or Gingers for some fresh sushi.
View Photos, Read Reviews & Check Availability
Guest Review: "Heather and Garric's place is nice, private, and clean. The room is incredibly comfortable and the location great. The large soaking tub alone is worth the price of the stay!!"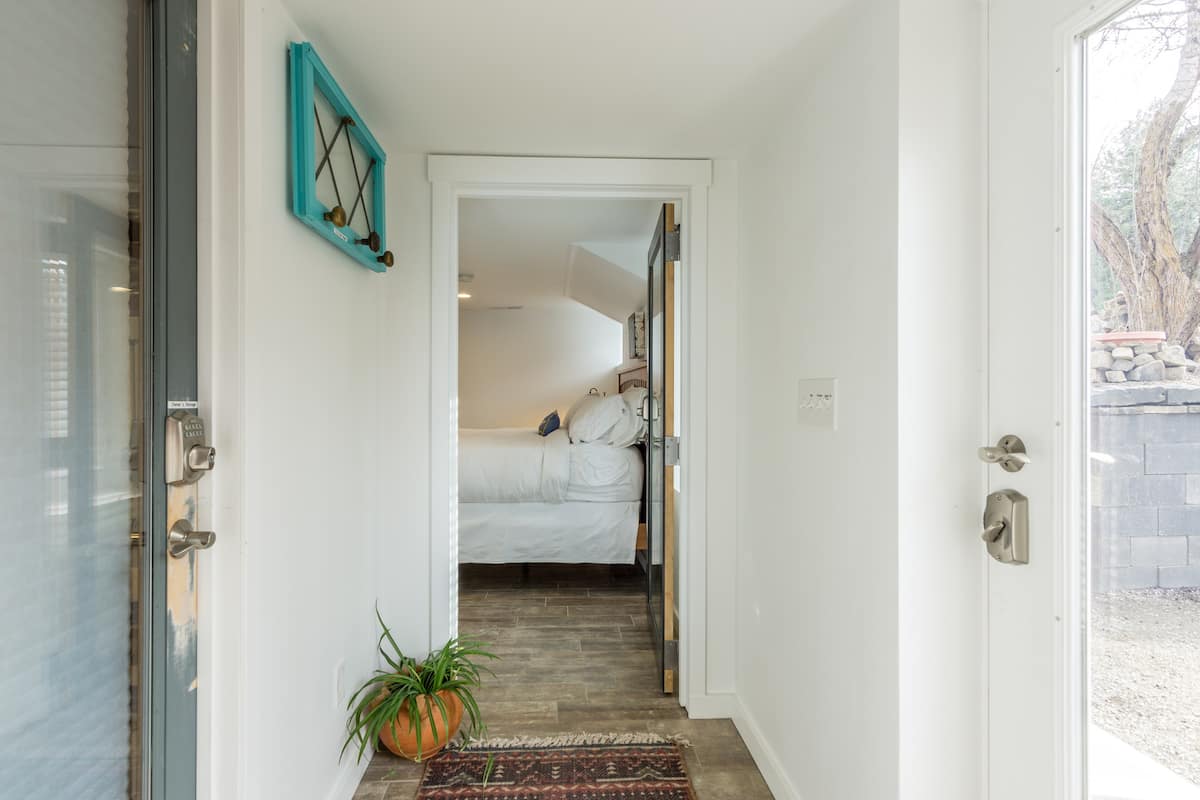 ---
2) Entire Townhouse on Sacred Grounds
Location: East Spokane
Superhost: Yes
Price: $55+ USD per night
https://www.airbnb.com/rooms/22018856
Nothing beats the traditional hospitality you find in Washington, and when it's accompanied by modern amenities, it's even better. With a host offering original Italian omelets, buttermilk pancakes, and Russian bread pudding, you'll feel more than welcome here.
The cozy, comfortable townhouse shows off artwork throughout the house, a Chickering console piano for guests to play on, and some great classic LPs. So if you choose to spend some downtime in the house, you'll have all your entertainment on hand.
One of the rooms features a feather-soft queen-sized bed, whilst the other has a six-foot cot with a comfy foam mattress. There's also a large living area to enjoy, a fully equipped kitchen, and plenty of board games and cards.
When you're not indoors, you can walk along the tree-lined streets, take the 94 bus to Spokane Valley and the downtown area, or head to the Fred Meyer department stores.
View Photos, Read Reviews & Check Availability
Guest Review: "Fantastic accommodation and care. We enjoyed the home and features original to the home. Elaine was so caring and hospitable. Breakfast was wonderful and the coffee was spectacular. I'll be ordering some for home. Come hang out and enjoy."
---
3) Newly Remodeled Studio Loft with Prairie Views
Location: Five Mile Prairie
Superhost: Yes
Price: $60+ USD per night
https://www.airbnb.com/rooms/20216860
One of the biggest crazes in this generation is the minimalist style, and this fresh loft shows off the beauty of this type of decor. Along with a clean aesthetic, the loft hosts incredible views of Prairie and is minutes away from many Spokane attractions.
With your own private entrance, you can slip in and out of your cozy loft for days of exploring the surrounding areas. The friendly and quiet neighborhood is about a 16-minute drive to downtown Spokane, and you can use Lyft or Uber to discover parts of the neighbourhood.
But be warned, it may be tough to leave this Airbnb. With a king-sized, gel-infused memory foam mattress, Keurig coffee maker, and French press, it's too good to not spend some time in this loft.
View Photos, Read Reviews & Check Availability
Guest Review: "Holly and Jim's place is awesome: it's clean, stylish, airy, and full of light, with lovely views from the main space and from the landing outside. The kitchen is well-stocked with dishes, pots and pans, cleaning supplies, and whatever else you might need. Holly and Jim were responsive and easy to get in touch with. Highly recommended!"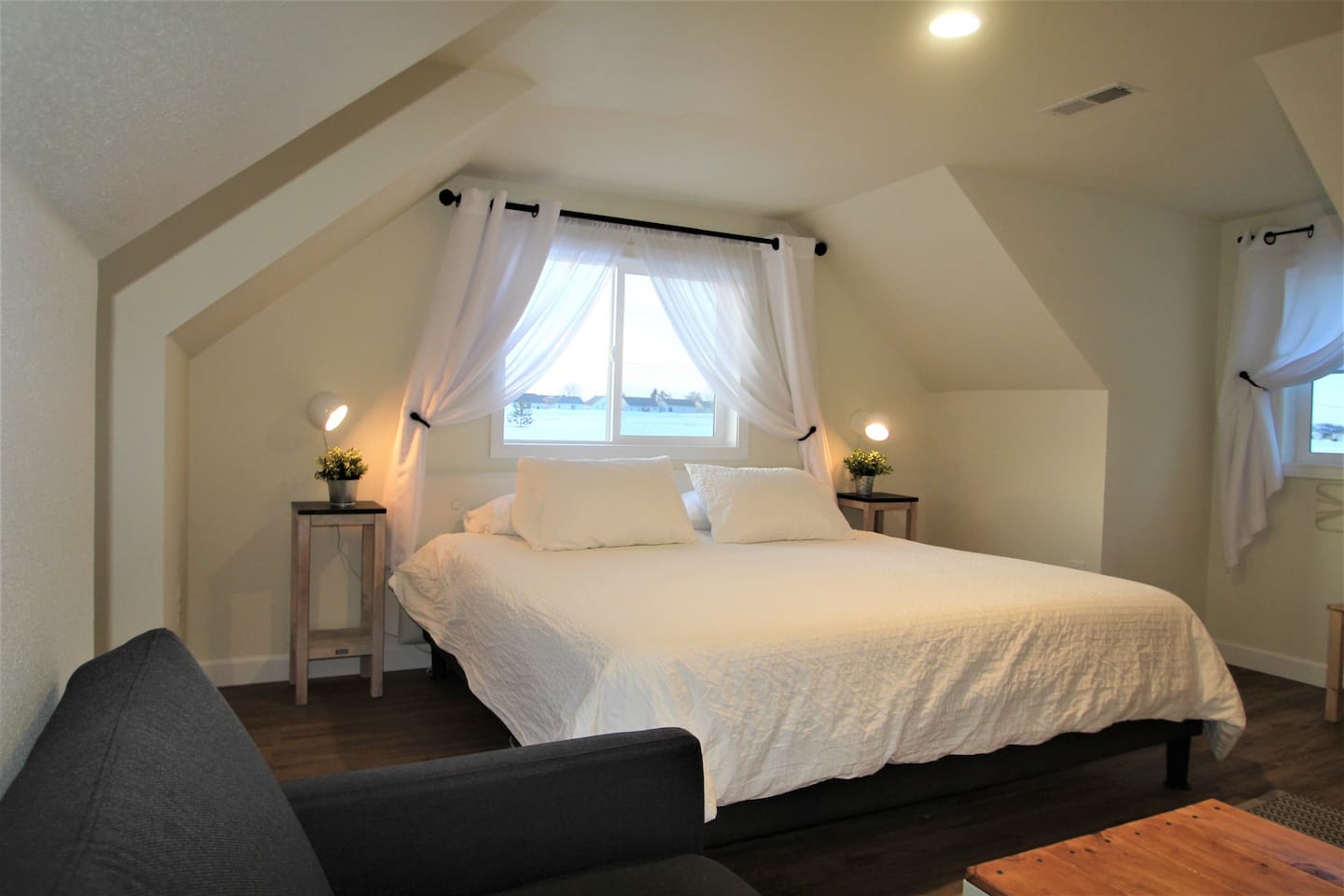 ---
4) Private Guest Suite in a Charming Farmhouse
Location: Lower South Hill
Superhost: Yes
Price: $79+ USD per night
https://www.airbnb.com/rooms/20149351
You won't find a place any more charming than this delightful farmhouse, which is perfect for a couple's weekend away. The 1905 farmhouse is situated in the heart of Spokane, and is also minutes away from central downtown, Perry District, and Manito Park.
Although you'll have your own private space in this restored farmhouse, you'll also be able to enjoy all the amenities it has to offer. The spacious outside deck has its own BBQ and fire pit – great for any season. The kitchen is fitted with a stovetop, microwave, oven, and has a mini-fridge stocked with the essentials.
And in true Spokane style, you'll be treated with fresh eggs in the morning (depending on the season).
View Photos, Read Reviews & Check Availability
Guest Review: "Melanie's place is extremely spacious (much bigger than depicted — a pleasant surprise), very stylish, and well-appointed. I wouldn't hesitate to stay here again. It's basically a full-size apartment. Tip: Walk down to Perry Street Brewing for a drink!"
Spokane, Washington [4K Drone]
---
5) Brand New Vintage Guest House 5 Mins From Downtown
Location: East Central
Superhost: Yes
Price: $64+ USD per night
https://www.airbnb.com/rooms/31800823
Ths guest house is absolutely perfect for all travelers. Do you know why? Because it's close to almost everything! It's minutes away from central downtown, accompanying bars, tasteful restaurants, the Riverfront Park, and Perry District.
And if you have to be traveling for business and don't reckon you'll be getting out much, you'll be happy to know that this house has high-speed wifi. This also works out in your favor if you're keen on binging some Netflix in the evening.
Other than that, you'll have a queen-sized bed, kitted-out kitchen, and a spacious living room. The home also features a home mini speaker to keep you company.
View Photos, Read Reviews & Check Availability
Guest Review: "This is a clean and classy place. Well stocked and very comfortable for sleeping and lounging. Amenities were quality and stocked. Communication was quick and responsive. Smaller restaurants nearby were walkable or a quick hop on the freeway for downtown options. We Loved it!"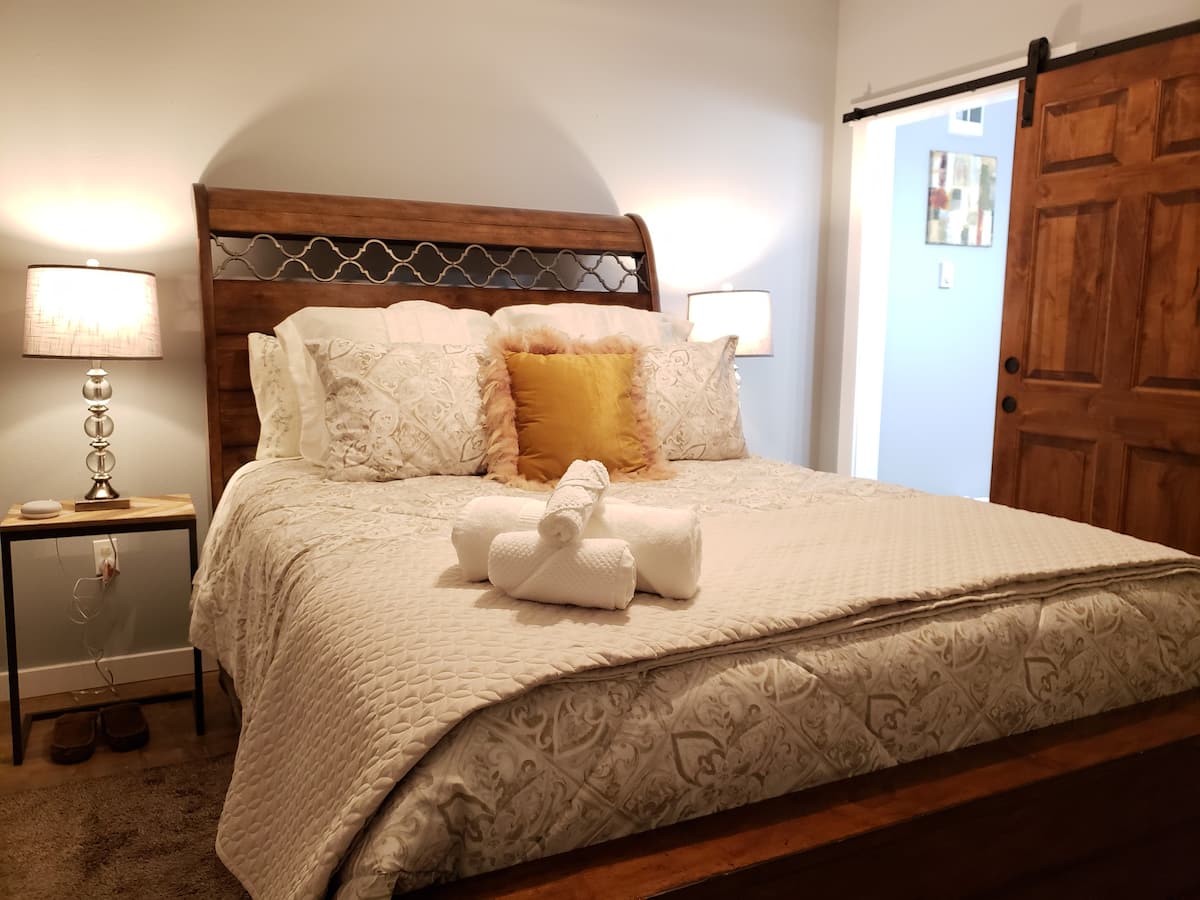 ---
6) Charming Victorian loft
Location: East Central
Superhost: Yes
Price: $64+ USD per night
https://www.airbnb.com/rooms/22727630
I know I said you wouldn't find a more charming place than the one previously mentioned, but this one comes pretty close. This private loft is situated in a historic 1900s house and features beautiful hardwood floors and wood beam ceilings.
The open-plan upstairs area is the main attraction, which is where you can spend your time lounging on the couch with a good movie. Or, take a nice hot bath in the quaint bathroom, which is all part of the charm.
And if you want to bring along your furry friend to enjoy the farmhouse, the host will gladly accommodate for a small fee.
View Photos, Read Reviews & Check Availability
Guest Review: "Super comfortable and felt at home! She was quick with her responses whenever I had a question. It's in the perfect location; I'm a Starbucks girl, and it's just right up the street from a Starbucks! There are so many things I could go off about how perfect this place is. Definitely a must stay at!"
Top 15 Things To Do In Spokane, Washington
---
7) Sweet, Peaceful South Hill Studio
Location: Cliff/Cannon
Superhost: Yes
Price: $30+ USD per night
https://www.airbnb.com/rooms/19640958
One of the biggest attractions of Airbnbs is having the option to book affordable accommodation. Like this beautiful studio, that's both budget-friendly and in a fantastic location.
The studio is situated in a peaceful neighborhood that features picture-perfect parks, cozy local restaurants, and streets lined with Victorian-style houses. It's also only a 5-minute drive from the heart of downtown – a big score!
Newly renovated, you'll find that the apartment still retains some of its old-school charms. Think cozy wooden floors, a warm comfortable bed, and cedar trees right outside your window.
View Photos, Read Reviews & Check Availability
Guest Review: "This place rocks! They were fast responsive. Even allowed me to check in a little earlier. It's peaceful, the location is near everything, and the neighborhood is awesome! Will definitely be my go-to when staying in Spokane!"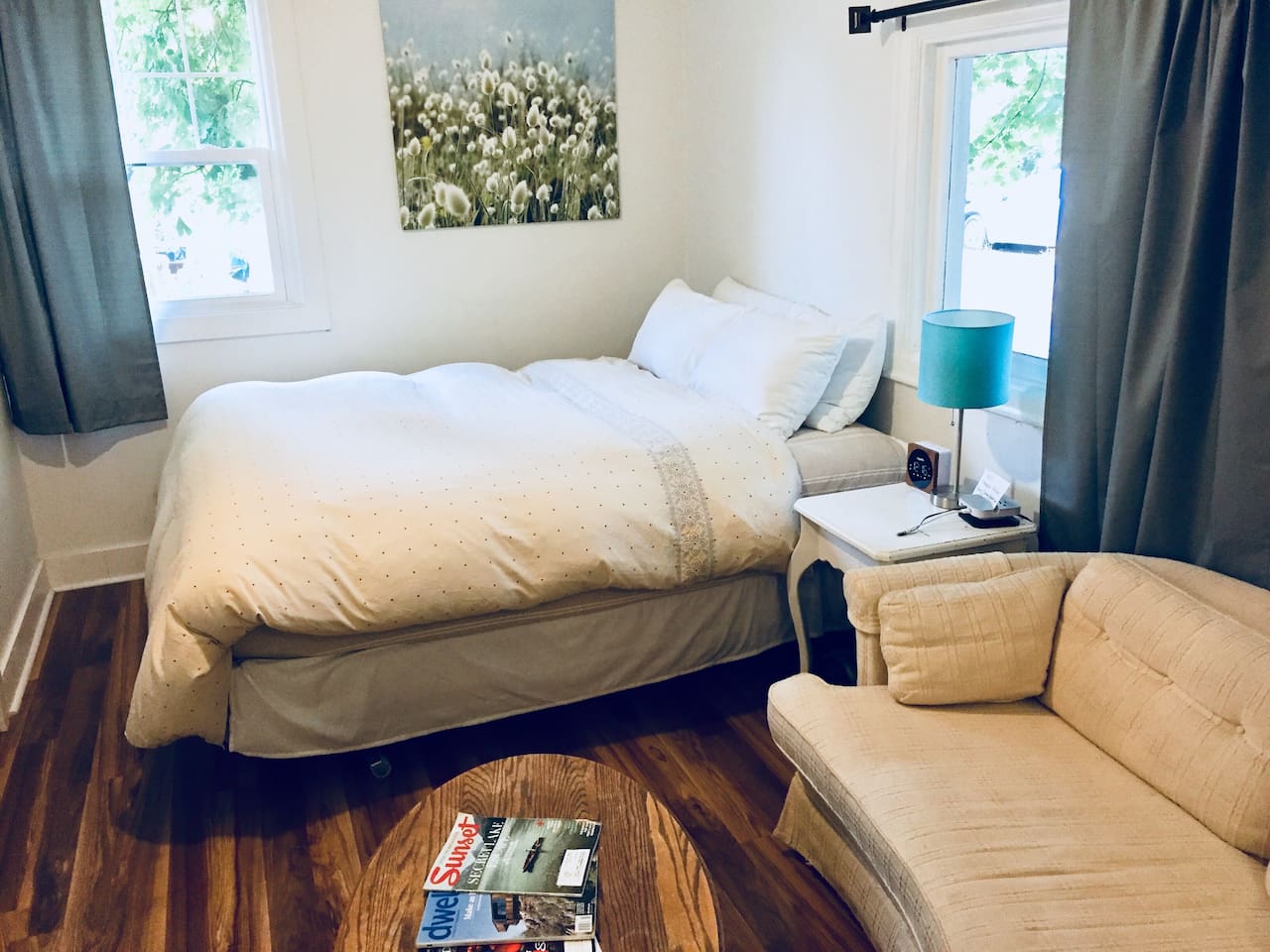 ---
8) City Center Loft Living
Location: Central Spokane
Superhost: Yes
Price: $60+ USD per night
https://www.airbnb.com/rooms/15377875
While quiet neighborhoods are great for some, others are thrilled by the life of the city. This one is ideal for the latter. Experiencing the city vibe will be easy. The loft is only 3-4 blocks away from the city center, that's dotted with bars, restaurants, and the Riverfront Park.
Not only will you have an epic time because of the location, but you'll also fall in love with the brand new queen-sized mattress, newly furnished interior, and overall ambiance.
The private condo is entirely yours. However, you can treat yourself to the use of the gym and gathering area on the first floor.
View Photos, Read Reviews & Check Availability
Guest Review: "Scott's place was fantastic! It's so large and clean and perfect for our trip to Spokane. The building is very unique."
Touring Downtown Spokane // Vlog
---
9) Browne's Addition Luxury Loft
Location: Browne's Addition
Superhost: Yes
Price: $78+ USD per night
https://www.airbnb.com/rooms/35425304
Browne's is one of the most loved neighborhoods in Spokane, so why not find out for yourself? And while you're at it, why not stay in this luxurious loft in an insanely good location. Just a couple minutes of walking and you'll find yourself in the entertainment district, where you'll come across bars and bustling streets.
Back at the loft, you can spend your days in the warm space enjoying the ambiance of a fireplace and candles. And as the sun sets, get your bottle of wine ready to enjoy on the balcony under a sky of stars.
You'll also find oversized bath towels, high-quality products, emergency supplies, and chocolate awaiting your arrival.
View Photos, Read Reviews & Check Availability
Guest Review: "Such an adorable place! So glad we booked two nights. Great neighborhood with restaurants around the corner. Loved the private balcony."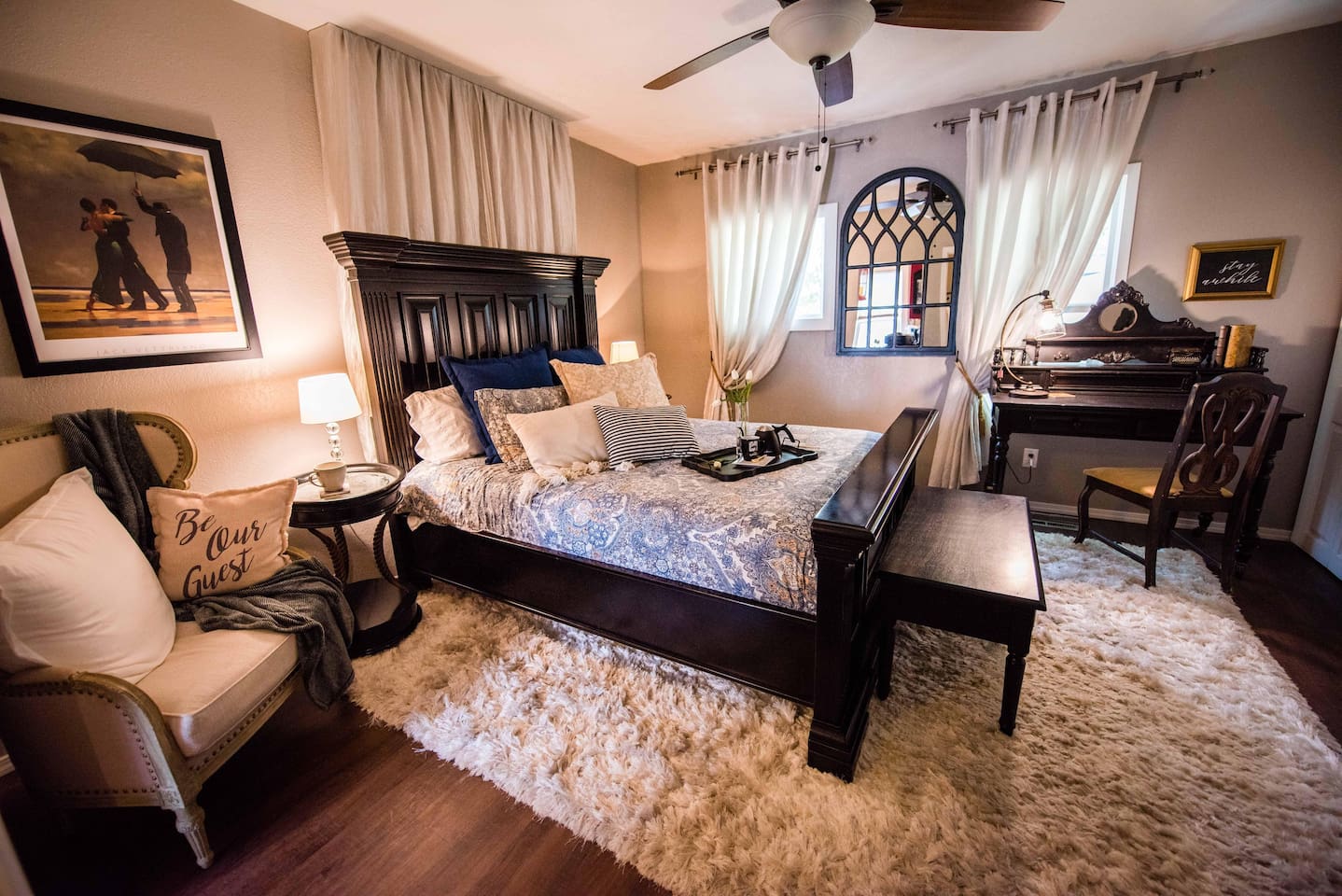 ---
10) Sunset Hideaway near Downtown Spokane
Location: Cliff/Cannon
Superhost: Yes
Price: $68+ USD per night
https://www.airbnb.com/rooms/19441846
I included this special place for those of you looking to escape the business of life with a group of friends or family. This ground-level guest house has its own garden that overlooks the valley – absolutely epic for watching sunsets.
This space is able to sleep 6 people and easily accommodate everyone – if you don't mind sharing. There's a queen-sized bed, double bed, and air mattress. But hey, it's all part of the bonding!
View Photos, Read Reviews & Check Availability
Guest Review: "We really enjoyed our stay at Robert's place. The location is amazing with a stunning view, nice neighborhood, and walking trails right behind the house. Robert was super friendly, helpful, and I enjoyed talking with him. We'll definitely stay here again when we find ourselves in Spokane!"
Living in Spokane Washington | Real Estate in Spokane
---
11) Industrial Downtown Condo on 1st Ave
Location: Downtown Spokane
Superhost: Yes
Price: $56+ USD per night
https://www.airbnb.com/rooms/37365446
Featuring face-brick walls, concrete ceilings, and plenty of charm, this industrial condo is located in the heart of the theatre district in downtown Spokane. You'll be close to all the must-dos and sees in the region, like the Riverfront Park and Hogwash Whiskey Den. What more could you ask for?
1st Street is prized for its array of bars, restaurants, breweries, and theatres. Use your stay here as a chance to see how the locals do it. And don't forget to grab a coffee at 1st Avenue Coffee, which is cute and quirky, and serves the best coffee in town.
View Photos, Read Reviews & Check Availability
Guest Review: "This condo is cool, secure, modern, clean, open, minimal, and as downtown as it gets. Has loads of amenities nearby but it's easy to get in and out of for venturing out of the neighborhood. The bed and pillows are comfy, cozy splendor."
---
12) The SouthHill Getaway – Entire Guesthouse
Location: Comstock
Superhost: Yes
Price: $70+ USD per night
https://www.airbnb.com/rooms/26336435
If you happen to be in Spokane during the summer, you can't miss out on the opportunity to stay in a guesthouse with a pool. And hey, if you're not staying over summer, the hot tub is sure to keep you warm in the cooler months.
Along with fantastic outdoor entertainment, like a patio and BBQ facilities, the guesthouse entails everything you need for a great holiday. Have your own private space to lounge about, take time cooking great meals in the kitchen, or sneak in a movie night on the flat screen TV.
View Photos, Read Reviews & Check Availability
Guest Review: "We returned for a second time to Lizanne's place in Spokane because of its cleanliness, comfy bed, privacy, and it simply has everything we need. We appreciated the coffee and tea, and cold water in the mini-fridge. Also, her communication was always immediate and helpful. We would definitely stay there again."
🌤A Day of Life in Spokane, Washington🏔
---
13) Best Value Private Room 10 Minutes from Downtown
Location: East Spokane
Superhost: Yes
Price: $37+ USD per night
https://www.airbnb.com/rooms/6603200
You don't have to compromise on location to find a budget-friendly option in Spokane. Take this beautiful private room as an example. It's only a short drive or bus ride to the lively streets of the downtown area, Gonzaga Mall, and Valley Mall.
Picture this as your home away from home, except with a little bit more excitement as you get the chance to experience new places. With brand new beds, newly-renovated finishes, and Brazilian teak wood floors, coming home after a day of adventures will be heaven.
View Photos, Read Reviews & Check Availability
Guest Review: "Great stop to get some rest! Super comfy bed, nice quiet neighborhood. Appreciated the quick responses and local food recs!"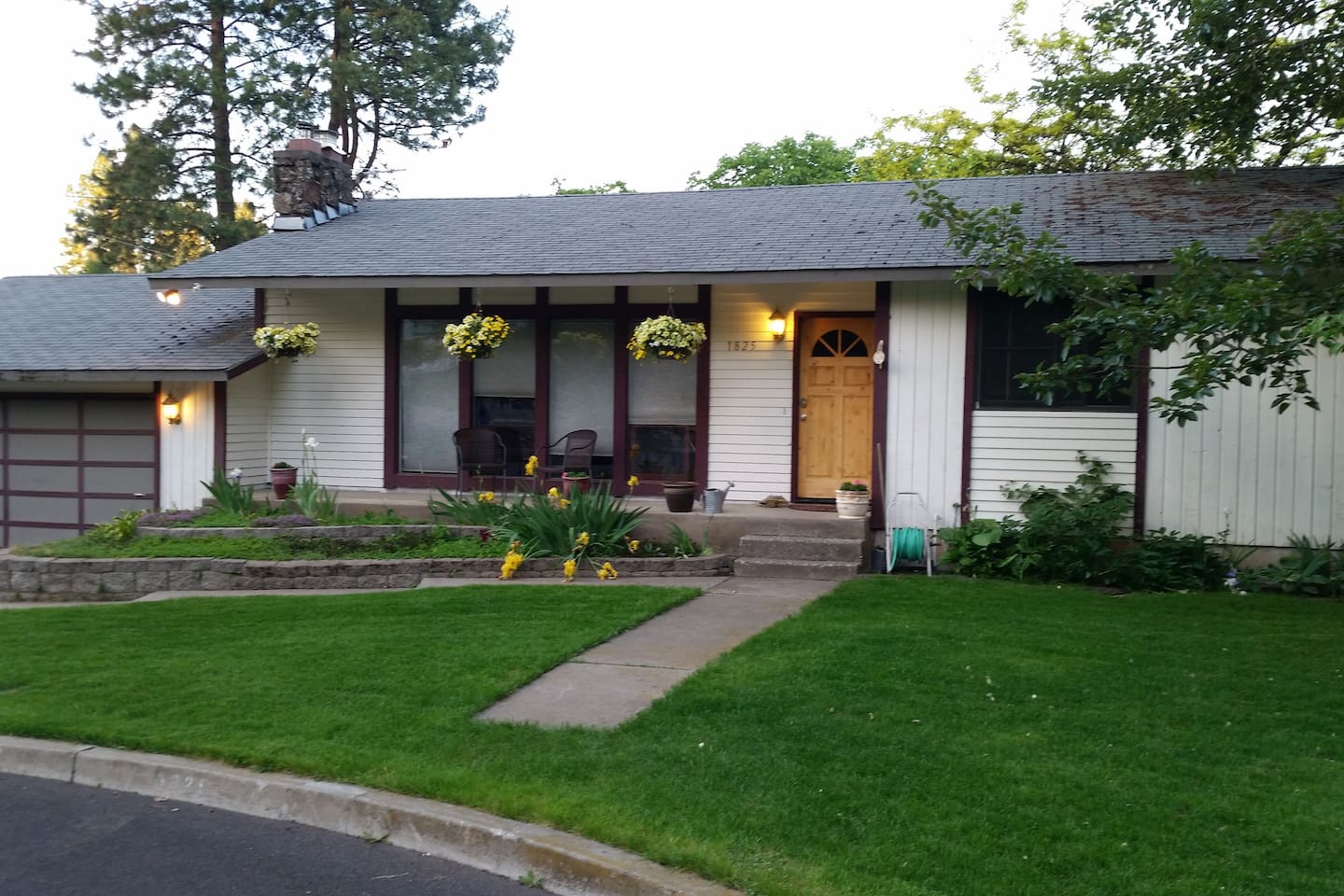 ---
14) Modern Spokane Charmer Minutes to Downtown
Location: Garland District
Superhost: Yes
Price: $69+ USD per night
https://www.airbnb.com/rooms/13348535
This presents a cozy take on everyday living in the Garland District. This two-bedroom charmer is the perfect fit for a family or tribe holiday, with its pull-out couch that can sleep an additional two people.
You'll have the entire guesthouse to do as you please. Whether that be for spending time with the family, enjoying a good beer, or getting lost in a book.
Most of the attractions in the neighborhood can be reached on foot, so you can save a lot on transport costs. You're a short walk away from Mary Lou's Milk Bottle, an epic milkshake bar that's been around since 1933.
View Photos, Read Reviews & Check Availability
Guest Review: "So amazing!! You won't regret staying here. Everything was perfect, the beds were comfy, couch was AMAZING, nice TV, you can barely hear the traffic from inside unless there's a super loud truck or car, and even then it's not annoying. Bree is amazing and easily the best Airbnb host I've stayed with."
Then and Now: Downtown Spokane
---
15) 5th Avenue Suites
Location: 5th in Downtown

Superhost: Yes
Price: $87+ USD per night
https://www.airbnb.com/rooms/17642124
Not only do you score a place in a great location, but this pretty suite also shows off awesome views of the city. Especially in the evening, when the city really sparkles. The charming one-bedroom suite has been completely redone, so expect a luxurious and modern stay.
Being pretty spacious, you can make this suite your own. With a flat-screen TV, living area, and great kitchen, you can have just as much fun at home as you would downtown. But with downtown being a stone's throw away, you're probably going to be popping in and out of the suite.
View Photos, Read Reviews & Check Availability
Guest Review: "The place is very cute. Clean. And Chelsea was quick to respond when I had a question. I found the bed comfortable and would definitely stay here again! It's a great location and space."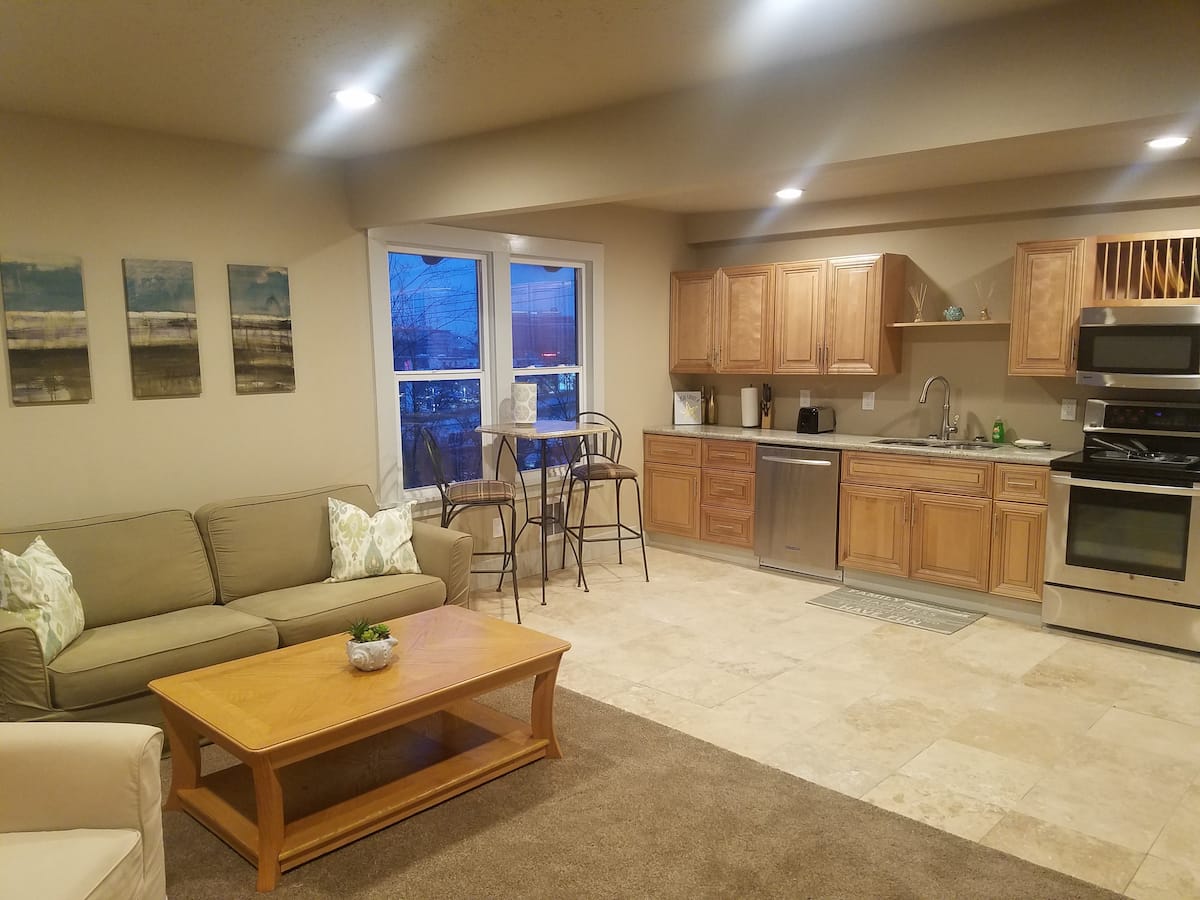 ---
16) Private Apartment near Downtown
Location: West Central
Superhost: Yes
Price: $59+ USD per night
https://www.airbnb.com/rooms/29794752
This little private apartment near downtown is quirky, colorful and offers a little taste of local living in Spokane. With Lime scooters and bikes usually parked around the area, you can ride to the local thrift stores and bars, or just simply explore the surrounding area.
It's also a short walk away from Monroe Street, five blocks to Corbin park, and to downtown Spokane. But when you're not out and about, chill out on the front porch, cozy up by the fireplace, or make yourself a good cup of coffee with the Keurig coffee maker.
View Photos, Read Reviews & Check Availability
Guest Review: "Beautiful little house! We really enjoyed our stay it was very comfortable and secure. Loved all the cute thoughtful touches!"
What Spokane People Are Like (funny)
---
17) 5 Star Downtown Studio with Exposed Brick Walls
Location: Downtown
Superhost: Yes
Price: $73+ USD per night
https://www.airbnb.com/rooms/37590891
Forget about LA loft apartments with their open-plan spaces and face-brick walls. Spokane is slowly adopting the face-brick wall appearance, but combining it with modern-day comforts. The complex was built in 1903, but it's been magically restored with contemporary renovations inside and out.
In your unit, you'll be treated to a queen-size top mattress with a warm down comforter.
This space includes a common area, which features a comfy couch, TV, and two convection ovens. You'll also find a fitness center, laundry area, as well as an awesome outdoor patio space complete with a grill.
View Photos, Read Reviews & Check Availability
Guest Review: "Such a great cozy area, perfect for couples traveling and great spots for drinks and food right down the road. If you have any concerns or questions they are quick to reply. Loved everything about it!"
---
Airbnb Spokane Coupon Code
If you're traveling around Washington with a friend, or maybe you've never used Airbnb before, you can sign up for a new account and save $40 Off Your First Night! It's a great little travel hack to some cash!
---
Am I Missing Any Awesome Airbnb Spokane Rentals?
It was tough being the one who gets to decide which epic Airbnbs make the cut because there are just so many fantastic places. Ever been to Spokane and rented a dope Airbnb that wasn't mentioned here? Feel free to reach out via email or socials.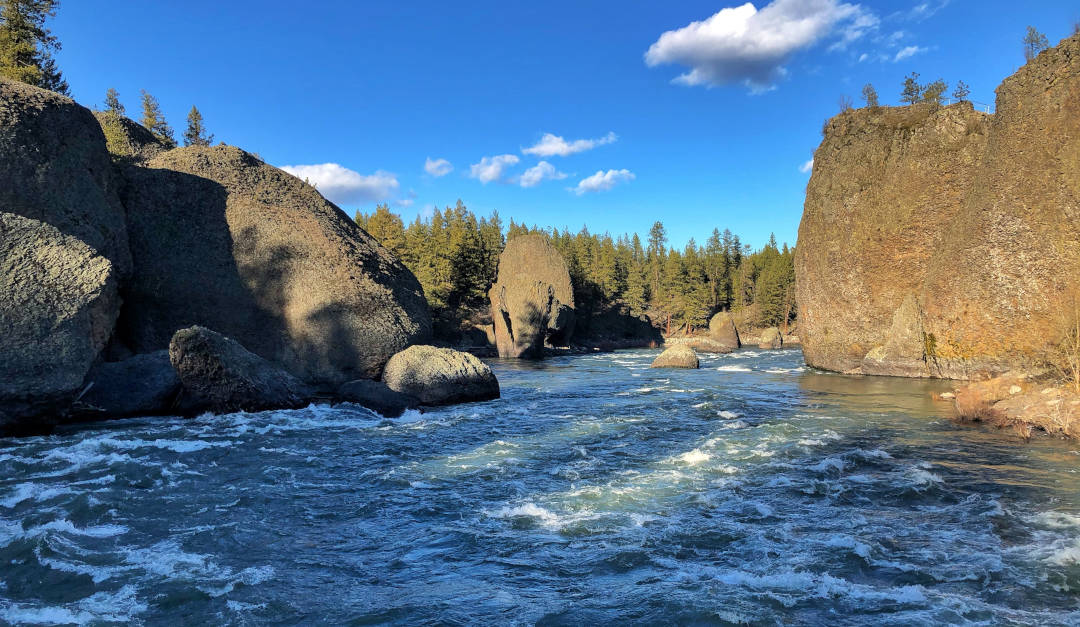 ---
Planning a Spokane Vacation or a Trip Around the USA?
I've included links below to posts about a variety of other awesome USA cities, states, and music festivals, as well as how to find the coolest Airbnbs around the country.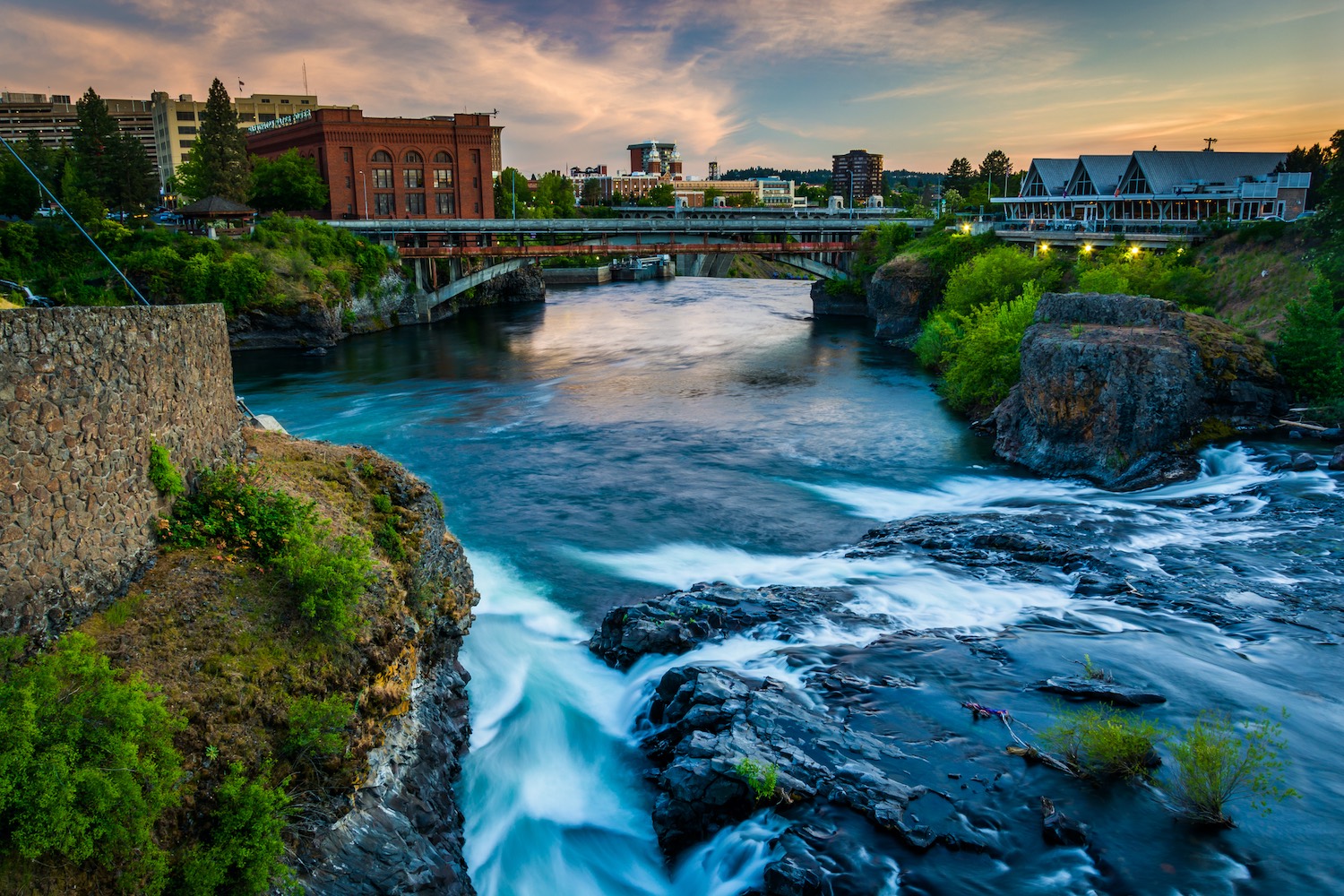 ---
Final Thoughts on Awesome Airbnbs in Spokane Valley
So now the time has come to make your decision. Is it going to be an industrial loft in the heart of downtown, or something more private, like a guesthouse in a quiet neighborhood? Maybe you're sold on the idea of turning the vacation into a weekend getaway with friends. Either way, I'm sure you've found the perfect Airbnb from the guide above.
---
THANKS FOR READING ABOUT THE BEST Airbnb SPOKANE VACATION RENTALS!
SHARE THE AIRBNBS in Spokane WITH YOUR ADVENTURE-SEEKING TRAVEL CREW!
https://www.jonesaroundtheworld.com/wp-content/uploads/2020/08/downtown-spokane.jpg
720
1080
TravelTractionsJATW
https://www.jonesaroundtheworld.com/wp-content/uploads/2017/03/logotry-1-1-300x106.png
TravelTractionsJATW
2020-08-06 18:20:40
2020-08-06 18:26:47
TOP 17 Airbnb Spokane Rentals For The Perfect Washington Getaway