Planning a vacation to beautiful Kauai? You'll need a place to call home that is as outstanding as the Hawaiian island itself, and my list of the best Kauai Airbnb's is the place to find it…
Known as the "Garden Isle" of Hawaii's chain of eight major islands, Kauai is a natural oasis home to lush rainforest that covers much of its 562 square miles.
Kauai isn't for those who prefer the indoors over the great outdoors. Its beaches, volcanoes, coastline, rainforests, mountains and cliffs beckon those who want to spend their time here frolicking outdoors in the sun, breathing in the invigorating sea air that blows in from the Pacific Ocean.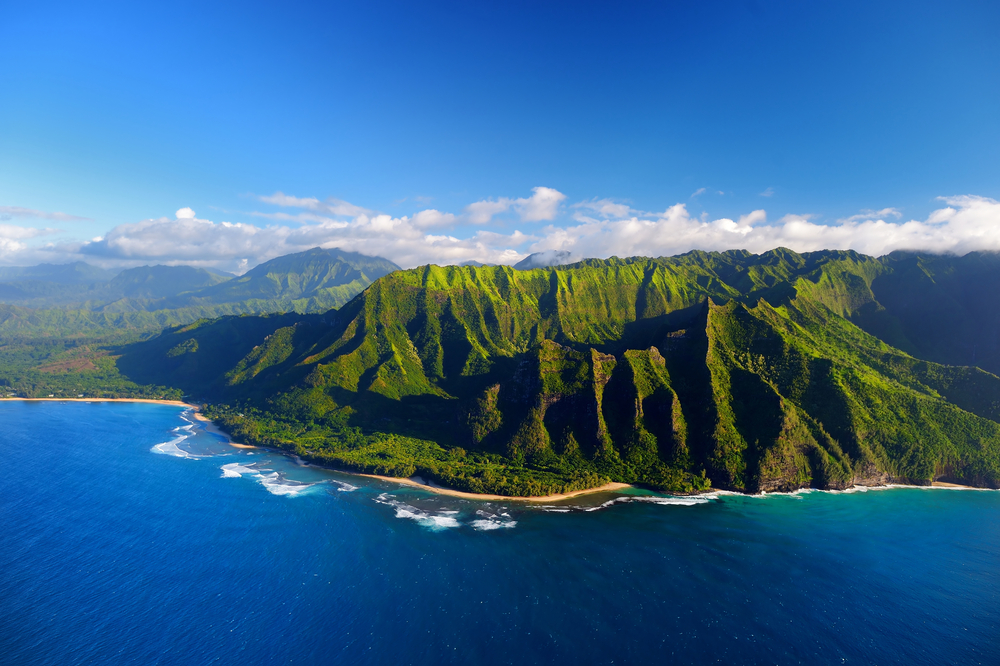 ---
Kauai is a dramatic landscape that is the definition of "breathtaking", and as one of Hawaii's quieter islands, a visit here truly feels like a rejuvenating retreat.
Airbnb Kauai vacation rentals really convey the natural, authentic vibe of Kauai itself, and I've shortlisted the cream of the crop to showcase to you.
These are the best Kauai Airbnbs you simply can't miss out…
---
Quick Breakdown of Airbnb Kauai Airbnb's
Kauai can be enjoyed on any budget, traveling style or for any occasion. I've broken down the best Kauai Airbnb's below for you, chosen to suit your own individual needs. If you don't find what you're looking for here, keep scrolling!
Throughout this list, I have included a great variety of Kauai photographs and video guides, designed to give you a ton of ideas of what to see and do during your time on the Hawaiian island. At the end, I have linked my own Hawaii content to explore the US state's other amazing islands. Be sure to check out 17 FUN CULTURAL & MUSIC FESTIVALS IN HAWAII.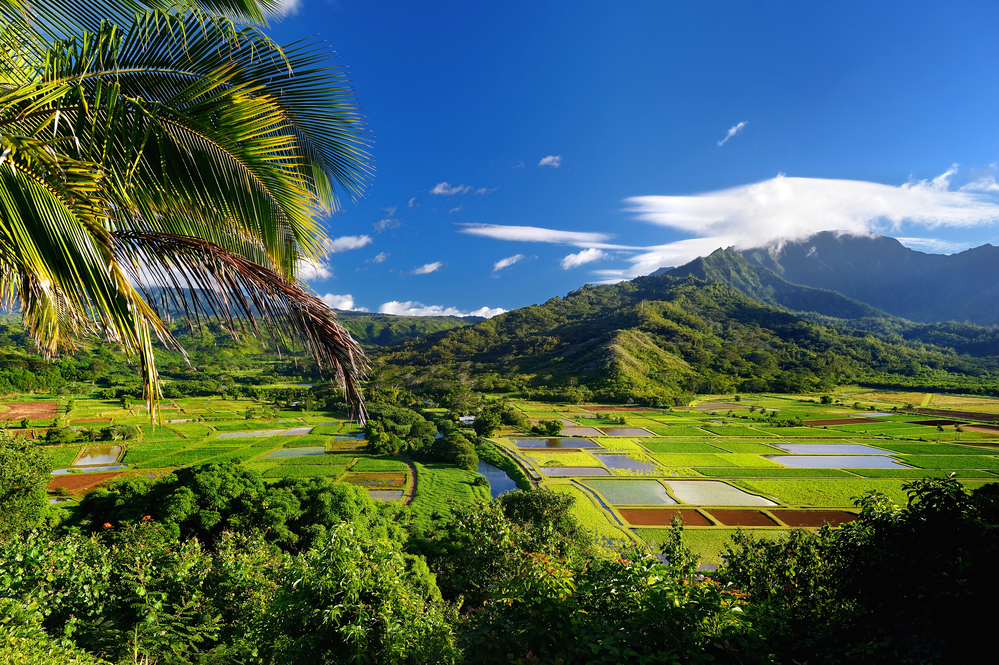 ---
1) Beautiful Efficiency Steps to Private Beach
"The Best Overall Kauai Airbnb"
Location: Princeville
AirBNB Plus: No
Superhost: Yes
Price: $120+ USD per night
https://www.airbnb.com/rooms/41748371
There were so many Kauai Airbnb's I wanted to choose as the best overall, but I finally landed on this brilliant studio apartment with its own private beach. The one bed abode is perfect for a solo getaway to Kauai or a cozy couples retreat, and is not only budget-friendly but packed with features. The clifftop views you'll enjoy are dramatic and majestic, and you'll be located on Kauai's stunning north shore in tourist-friendly Princeville.
Guest review: "Excellent location, hospitality and amenities! Booked this place for my girlfriends 30th birthday and had an amazing time. The view from the balcony is breathtaking! It's a quick drive to the touristy town of Hanalei but tucked away in a quiet resort-like community. We definitely took advantage of all the beach gear that is available for use and had an awesome time exploring the beaches. Thank you again Melissa for allowing us a late checkout and being so accommodating! Would definitely recommend booking this place for anyone looking for a peaceful yet central location in the North Shore." – Spencer
View Photos, Read Reviews & Check Availability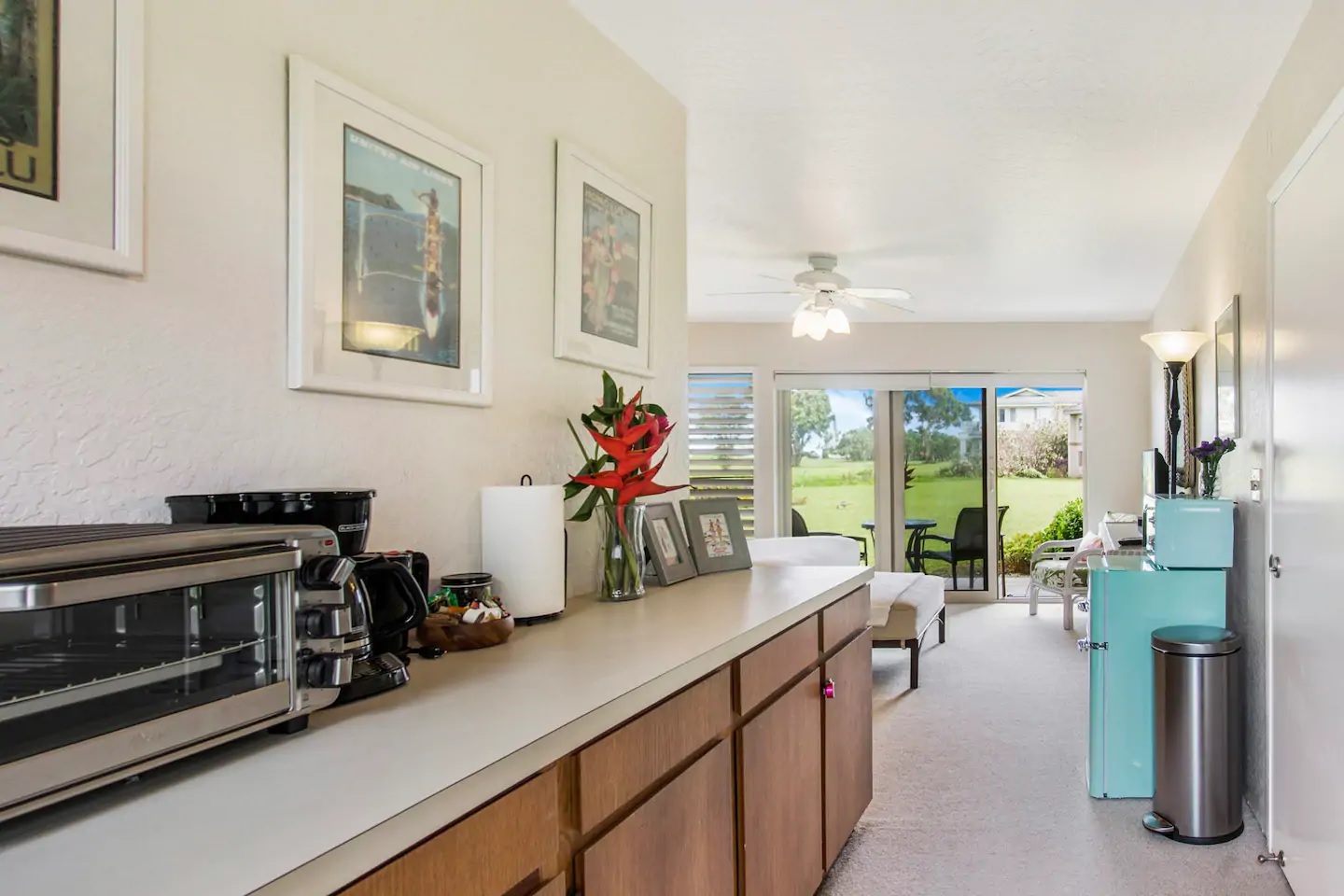 ---
2) Stunning Hanalei Bay and Ocean View Home with Private Pool
"The Best Luxury Kauai Airbnb"
Location: Princeville
AirBNB Plus: Yes
Superhost: Yes
Price: $600+ USD per night
https://www.airbnb.com/rooms/32339269
If you're jetting into Hawaii, why not live it up? This epic luxury Kauai home is one of the island's few Airbnb Plus verified listings, and has something for everyone. The three bedroom home in the north shore hotspot of Princeville is five-star rated, and boasts incredible views over Hanalei Bay. The newly remodeled home has a private saltwater pool, a tropical exterior and spacious interiors that include several relaxing lanais. The air conditioned home is walking distance to restaurants, shops and fresh smoothie stands, as well as parks and golf courses.
Guest review: "Stupendous! Every little thing about this home and hosts Michell and Jared, were top notch. We have stayed at about 20 top-rated Airbnb's around the world in the past two years and this was our favorite. The house is well laid out, spotless, very comfortable, filled with great amenities and all the little details to make guests feel at home. From beach chairs and umbrellas, to the well-stocked gourmet kitchen (they all claim that but this one had every gadget, great kitchen knives, condiments and on and on) to plethora towels and throw blankets, we wanted for nothing. The location of the home is ideal. It is quiet, bright, minutes to shopping, a short walk to the beach and the porch views are spectacular. During our 5-week stay, Michelle, Jared and their local managers took exceptionally good care from us, responding to any of our inquiries within minutes. I learned a saying in Kauai that goes like this "If you love Kauai, then tell your friends to go to Maui." So in that vein, if you are thinking about this home, then please try the Marriott, for I hope to be able to rent it again as soon as possible!" – Shaul
View Photos, Read Reviews & Check Availability
Kauai Vacation Travel Guide | Expedia
---
3) Airy Apt w/AC: Walk to Beach, 10 mins to Surf/Hike
"The Best Cheap Kauai Airbnb"
Location: Princeville
AirBNB Plus: No
Superhost: Yes
Price: $60+ USD per night
https://www.airbnb.com/rooms/36279629
Hawaii isn't really known for being a place you can easily travel on a shoestring, but this excellent apartment in happening Princeville won't hurt the hip pocket one bit. The air-conditioned studio apartment has a distinctly tropical aesthetic, and is equipped with everything you could possibly need for a comfortable and happy stay. Enjoy sunsets from the outdoor lanai, wander down to snorkel at the nearby beach and take a surfing class in nearby Hanalei. A stay at Kauai's best cheap Airbnb will allow you to splash more cash on tropical cocktails and epic day trips!
Guest review: "This was an excellent place to stay, and I wouldn't hesitate to book it again. The location is convenient to access Hanalei Bay and the Kalalau Trail. The AC was great for a break from the heat and humidity, and the kitchen was well stocked with utensils, pans, etc so that we could cook with ease. Thank you!!" – Kenny
View Photos, Read Reviews & Check Availability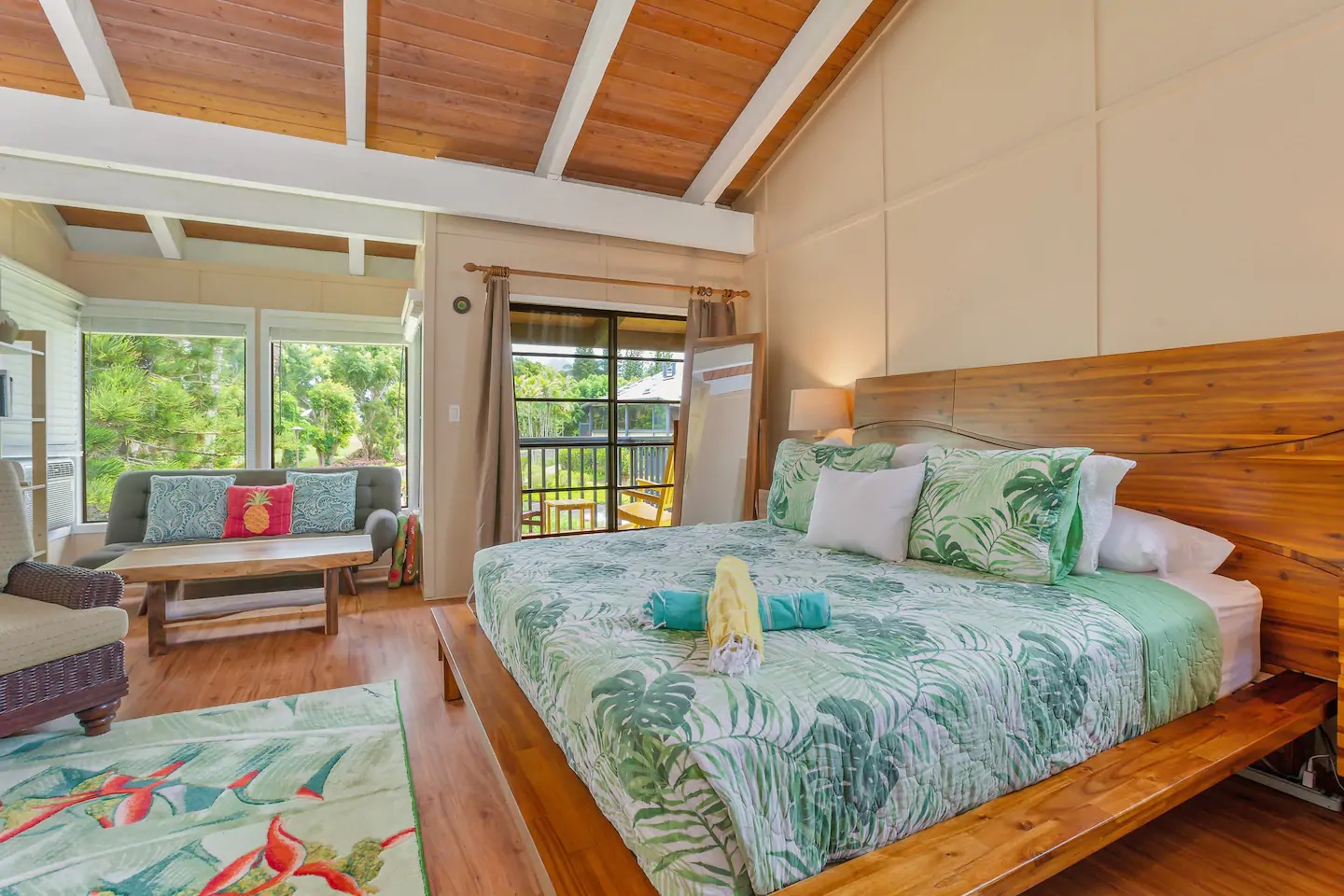 ---
4) "Sarah" the Luxury Camper Van on Kauai (1999)
"The Best Unique Kauai Airbnb"
Location: Kapa'a
AirBNB Plus: No
Superhost: Yes
Price: $125+ USD per night
https://www.airbnb.com/rooms/42931442
Rent "Sarah" the luxury camper and let the wind take you where it may, exploring the incredible beauty of Hawaii's Kauai. The feature-packed two bed Winnebago fits up to three people, and is from the same host who also offers other fun campers with high ratings. Careen around Kauai in this 1999 camper that is as good as new and boasts a wardrobe, blinds, a hammock, kitchen equipment, a small fridge, a stove, a tent, deluxe linens, towels and even outdoor camp chairs to park up by the beach and enjoy the view.
View Photos, Read Reviews & Check Availability
Everything to See & Do in Kauai, Hawaii
---
5) Honeymooner's Condo! Princeville at Hanalei
"The Best Kauai Honeymoon Airbnb"
Location: Princeville
AirBNB Plus: No
Superhost: Yes
Price: $120+ USD per night
https://www.airbnb.com/rooms/39615615
Call Kauai's stunning north shore home for a little while with your love, at this neat, compact and stylish one bedroom condo in Princeville. Perfect for a couples getaway or a Kauai honeymoon, the condo features a king sized bed, outdoor lanai, roomy kitchen, bathroom and laundry facilities. The air conditioned abode is newly remodeled, and located in a quiet area with so much to do and see on your doorstep.
Guest review: "highly recommend. we had everything we needed at Teddy's place. loved having a full size kitchen as we stayed in to eat a few nights. also having a washer dryer was a huge bonus after a few muddy hikes. A/C works great, water gets super hot in the shower and water pressure is perfect. little things like that go a long way for me! perfect space for a couple looking to get away for a few days in Kauai. we would definitely stay again. Teddy was flexible and on top of communication with us and we so appreciate it." – Rachel
View Photos, Read Reviews & Check Availability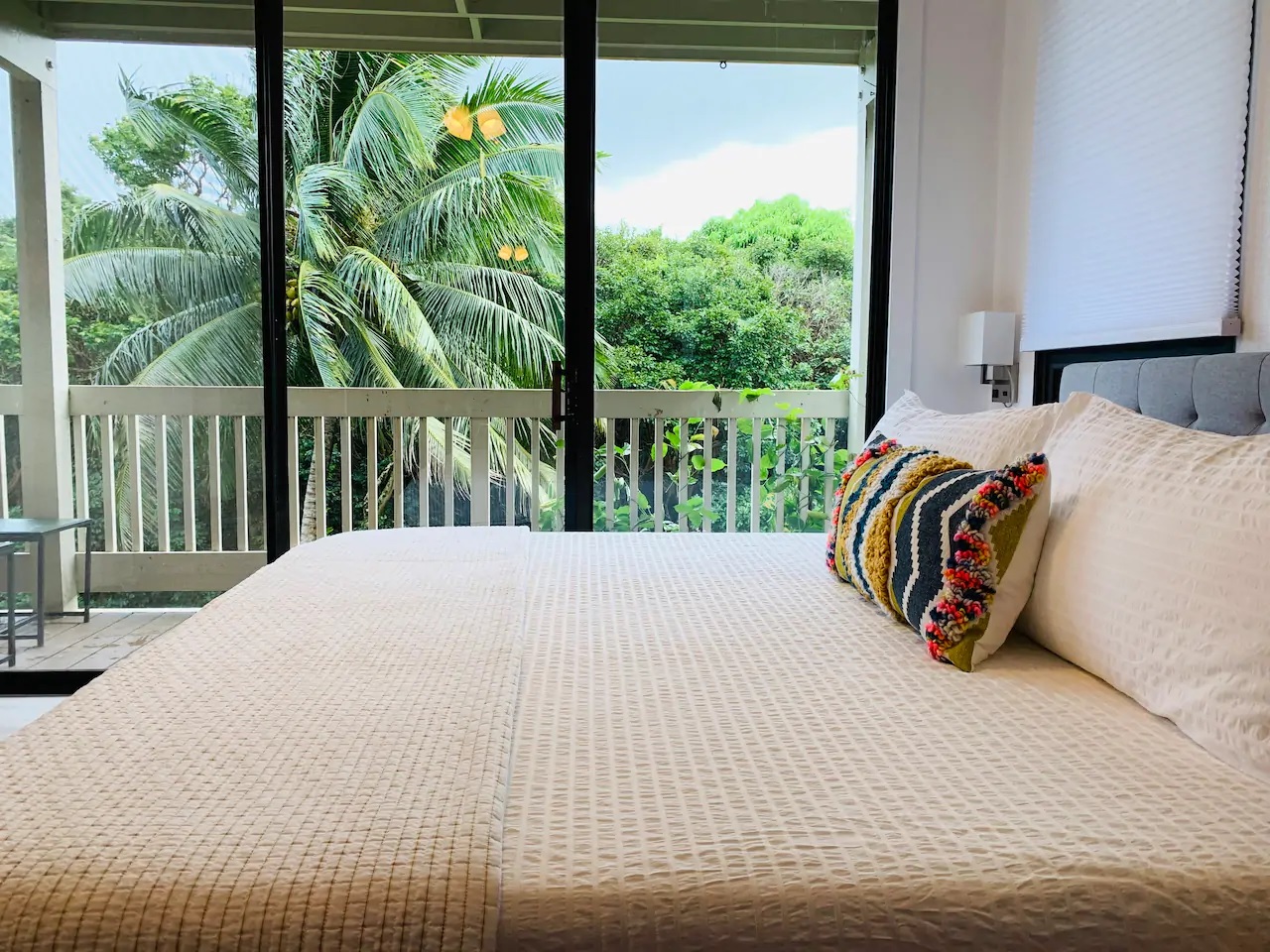 ---
6) Drive to Hanalei Bay from an Architectural Gem
Location: Princeville
AirBNB Plus: Yes
Superhost: Yes
Price: $200+ USD per night
https://www.airbnb.com/rooms/27170090
Situated a short drive from Kauai's famous Hanalei Bay, this classically stylish two bedroom home is nestled within a tropical Hawaiian garden in a friendly and amenities-packed neighborhood of Princeville. The elegant home features a gourmet kitchen, spacious central living areas, two bathrooms, a covered lanai and understated island artwork and decor. The beach, stores to stock up on essentials and some incredible natural attractions are right on your doorstep here.
Guest review: "This was an absolutely beautiful home, the pictures don't do it justice. It was an amazing location close to everything u would want to do and so easy to get to the grocery store or beach. We couldn't have enjoyed it more. Not one complaint." – Anissa
View Photos, Read Reviews & Check Availability
FLYING OVER KAUAI (4K) Hawaii's Garden Island | Ambient Aerial Film + Music for Stress Relief 1.5HR
---
7) OCEAN FRONT! Steps to Beach, A/C, Hanalei, TVR4206
Location: Hanalei
AirBNB Plus: No
Superhost: Yes
Price: $500+ USD per night
https://www.airbnb.com/rooms/37712448
Located in the gorgeous small town of Hanalei on Kauai's breathtaking north shore, this three bedroom beachfront house is ideal for a family or group coastal escape. The home is sparkling clean, well-equipped and quiet, with natural, island-inspired decor complementing it. It has a spacious lanai you'll love enjoying the sunset from, ocean views from many parts of the house and air conditioning throughout. This friendly and quiet neighborhood is located on one of Kauai's most beautiful beaches, and close to many hiking trails and waterfalls.
Guest review: "I can't say enough about this home! We are already planning our next stay here. We've visited Kauai many times, but this was our first time actually staying on the North Shore …and I think we are hooked. Besides the fact that the home was extremely clean (which is super important to us) and well maintained from every angle, it was also comfortingly warm and thoughtfully laid out, including bathrooms for every bedroom. The sunlight is never intensely shining onto the house so even though there's plenty of light it doesn't get swelteringly hot. It's on the quieter side of the island but still close to restaurants and shops to make it convenient. The beach is literally across the street and the waves can lull you to sleep at night and gently wake you in the morning. On one of our treks to the beach across the street, there was seal napping in the sun. We kept our distance, as we appreciate wildlife for what it is, but marveled at its existence and our fortune at catching a glimpse. We hiked as much as we could and still did not get our fill. There's so much beauty to take in here. We were sad to leave and still as I write this review, while my husband drives us to the airport, I wonder if I should cancel my flights and go back to the house!" – Christina
View Photos, Read Reviews & Check Availability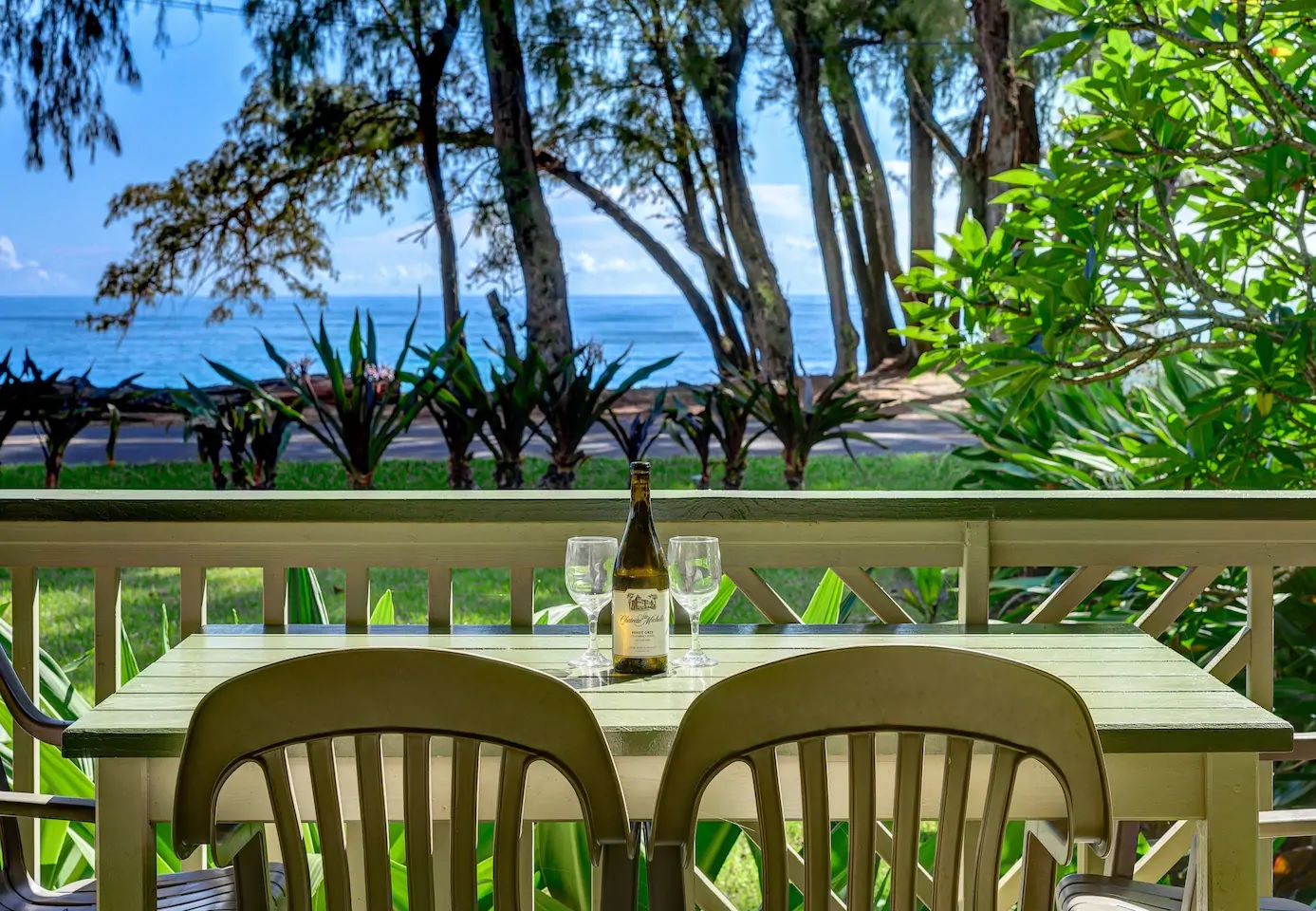 ---
8) Gorgeous, Newly Remodeled Ocean front Retreat!
Location: Princeville
AirBNB Plus: No
Superhost: Yes
Price: $150+ USD per night
https://www.airbnb.com/rooms/24142493
Princeville is one of Kauai's most popular area's for visitors to stay in, and this one bedroom oceanfront retreat is a cheap and cheerful place to call home during your time on the island. The breezy, colorful condo offers epic views from its second floor location, and is very much inspired by the island of Kauai. It features a full bedroom and bathroom, a great kitchen, a lanai with a hammock and washer and dryer facilities. The Sealodge complex also has a pool, grills and a private beach Airbnb guests are welcome to use to their heart's content.
Guest review: "What an amazing space, we loved every second here! We had the most amazing trip to Princeville and just loved Gifford and Alexis's place. Heaps of parking for our hire car and we watched the sun rise every morning from the balcony, and the sun set every night from local beaches. The apartment is really well laid out and has everything you could need including beach gear and even binoculars to use from the balcony – what an amazing island! Would stay again for sure :)" – Jess
View Photos, Read Reviews & Check Availability
12 Essential KAUAI Travel Tips | WATCH BEFORE YOU GO!
---
9) Soak up the Sun in Tropical Paradise House on Kauai
Location: Poipu
AirBNB Plus: Yes
Superhost: No
Price: $350+ USD per night
https://www.airbnb.com/rooms/plus/19221752
A five-star, Airbnb Plus offering on the Garden Island of Kauai, this luxurious five bedroom home deserves all of the acclaim it has received. The open concept, airy home features generous living rooms and bedrooms, modern appliances, bamboo floors and traditional high ceilings. Make the most of its heated saltwater pool and cozy hot tub while looking up at the tropical palms. The air conditioned home is located in a private, upmarket village with one of Hawaii's leading golf courses. Poipu is a beachside neighborhood with high-end hotels, resorts, shopping centers, restaurants and bars you'll just love.
Guest review: "This Hibiscus House was truly magical for me and my friends during our staycation on Kauai. Our hostess was extremely friendly and very kind when asking questions. The house is equipped with two of everything (stovetop, ovens, grills outside, dishwashers etc..) I will definitely stay at this amazingly relaxing and beautiful house again!!" – Alana
View Photos, Read Reviews & Check Availability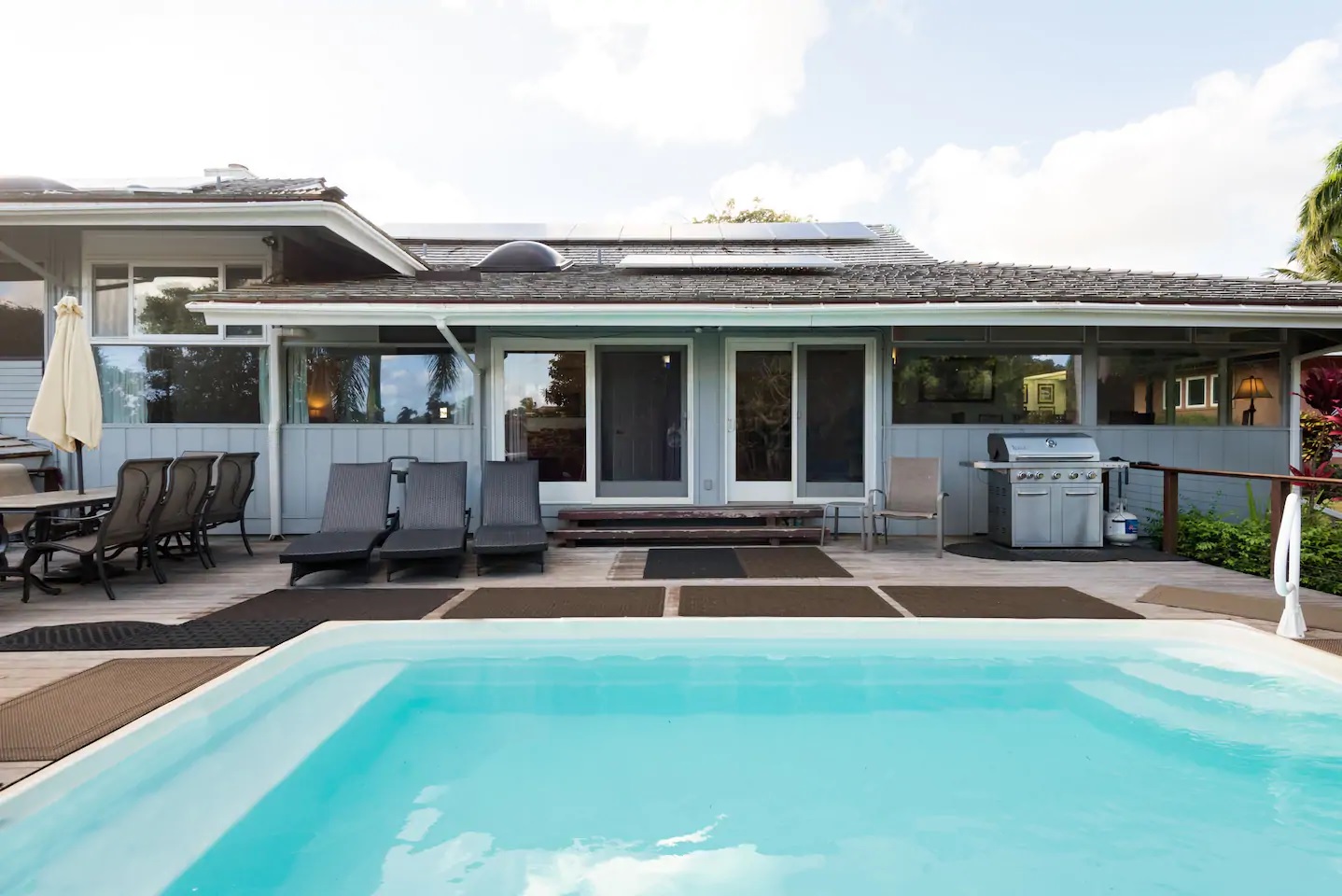 ---
10) Beautifully updated ocean front condo
Location: Kapaa
AirBNB Plus: No
Superhost: Yes
Price: $150+ USD per night
https://www.airbnb.com/rooms/15421902
If you're looking for a neat, compact and no-fuss base to explore Kauai from, this great little one bedroom condo is for you. The newly upgraded condo is located within the Pono Kai Resort and has a perfect oceanfront location which means its just steps down to the sand. It has a powerful A/C, ultra fast WIFI, new appliances and a king sized bed. For such a low per night price, you'll enjoy full use of the resort's pool, jacuzzi, gym, tennis court, BBQ facilities and so much more! The town of Kapaa has many great restaurants, bars, cafes and shops.
Guest review: "The condo was exactly as described and provided a perfect base for exploring the island. Very clean and comfortable with a great balcony overlooking the ocean. The resort itself had nice grounds and all the conveniences such as pool, laundry and plentiful parking. It was only a short walk to numerous restaurants, bars and shops. Highly recommended." – Kerstin
View Photos, Read Reviews & Check Availability
'Pool Of Death' - Queen's Bath Kauai, Hawaii
---
11) Charming Waimea Beach Cottage with A/C across the Ocean
Location: Waimea
AirBNB Plus: No
Superhost: Yes
Price: $250+ USD per night
https://www.airbnb.com/rooms/41181300
Another day, another amazing beachfront abode that's yours for the taking. This cute and stylish two bedroom bungalow has so far achieved a perfect five-star score from grinning Airbnb guests who didn't want to leave, and it's sure to keep impressing as the visitors pour in. Highlights include a spacious front deck, outdoor shower and tub and backyard with pergola. This quiet, residential neighborhood is perfect for a laidback family or group vacation, with a number of beaches in close proximity, including a unique black sand beach right down the road.
Guest review: "Amazing place to stay to explore the west side of the island. The cottage was stylish, comfortable, clean and full of thoughtful touches. It is also in a very convenient location (a two minute walk to town and the best poke on Kauai)! It was very hard to leave!" – Carina
View Photos, Read Reviews & Check Availability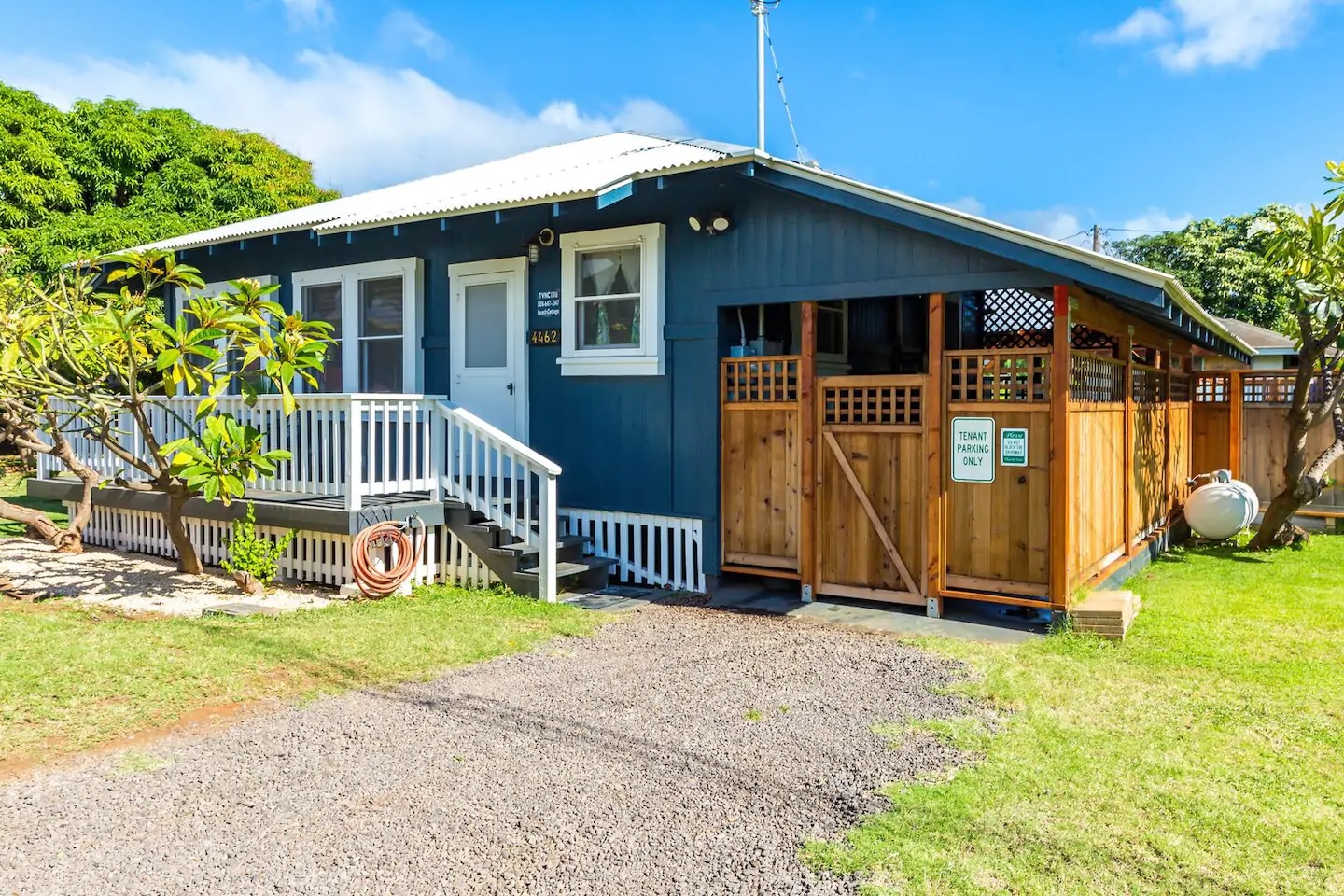 ---
12) Airy Condo With Pool Access
Location: Koloa
AirBNB Plus: Yes
Superhost: Yes
Price: $150+ USD per night
https://www.airbnb.com/rooms/32807919
Offering incredible value for money, this five-star rated Kauai Airbnb Plus oozes style and substance at every turn. One of the homeshare platform's most in-demand Kauai abodes, the three bedroom luxury condo is light-filled, open and inspiring. Located within the upscale Pili Mai condo complex, highlights include natural, island-inspired decor and artwork, excellent A/C, a private patio and use of the condo's facilities, including a BBQ area, pool and gym. And with the beach just a short stroll away, what have you got to lose?
Guest review: "Exactly as advertised! Great location in the heart of restaurants and beaches. Our group loved that each bedroom had its own bathroom and all felt private, located in different corners of the house. We also had 2 rental cars between the 6 of us and there was somewhere to park each car. The beach gear also came in handy. Perfect space for 6 adults." – Colleen
View Photos, Read Reviews & Check Availability
Top 5 Things to do in Kauai Hawaii
---
13) ~The Surf Shack~ with breathtaking ocean views!!
Location: Princeville
AirBNB Plus: No
Superhost: Yes
Price: $150+ USD per night
https://www.airbnb.com/rooms/23872844
"The Surf Shack" is just what it sounds like, a unique and fun beach-inspired retreat just steps from the Pacific Ocean. Guests are raving about the five-star rated, two bedroom condo, which oozes boho, relaxed vibes. Equipped with a lanai to enjoy whale watching and sunsets from, the Princeville Airbnb is located within a complex with an on-site restaurant, swimming pool, hot tub and private beach. Hanalei Bay is just a few minutes drive away, as are many indoor and outdoor attractions.
Guest review: "Kasey is an incredible host. She is very quick to respond to messages, super thoughtful and thinks of every aspect to ensure you have a relaxing stay at the Surf Shack. Now, the surf shack has the most amazing view … we enjoyed many sunsets peering out over the balcony. The beds were all so cozy and Kasey's thoughtful stylistic touches are everywhere. I can't recommend the Surf Shack enough. We had the most amazing stay with our two boys … they loved heading out to Hanalei Bay on the boogie boards the most. Stay with Kasey ! You won't be disappointed :)" – Alicia
View Photos, Read Reviews & Check Availability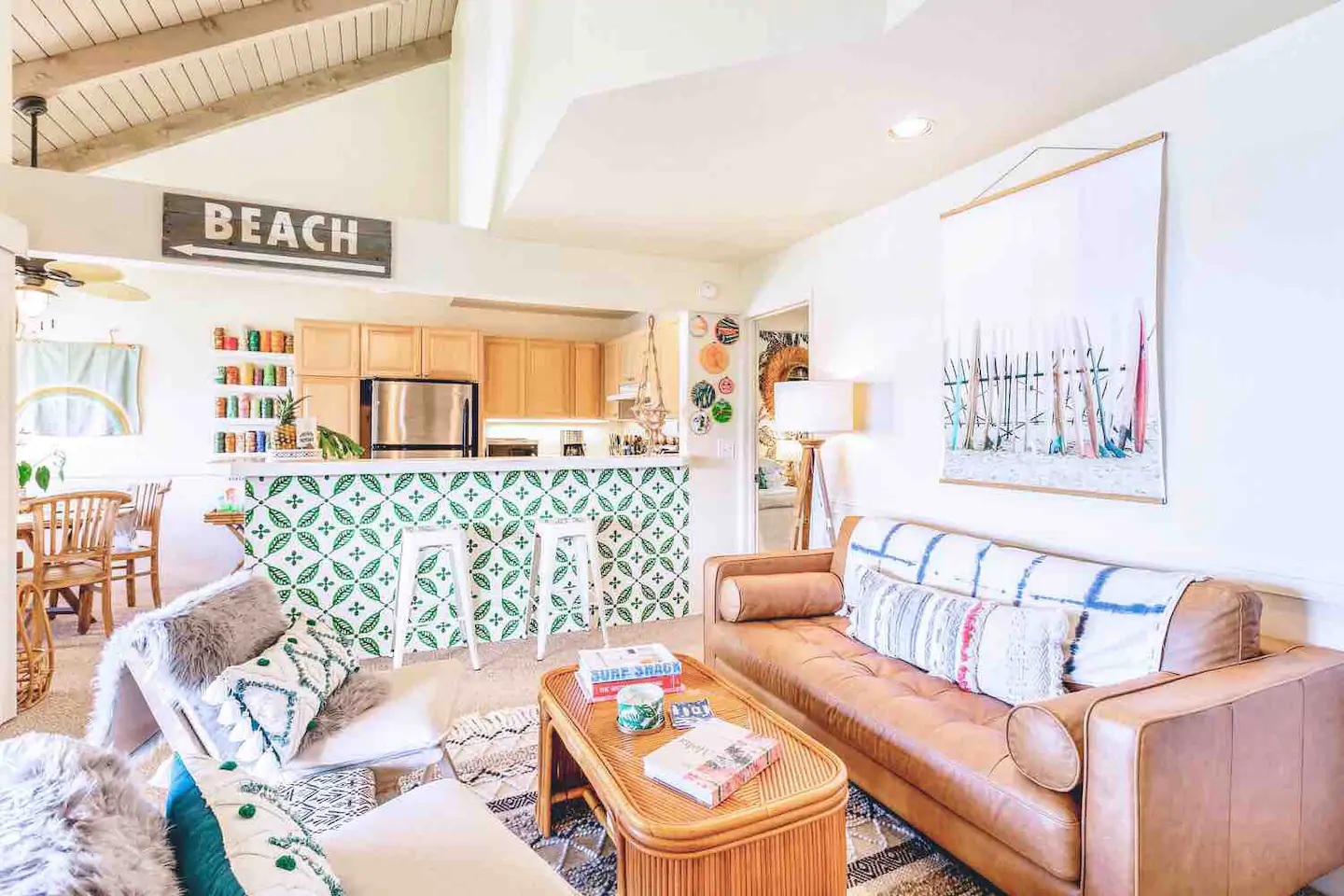 ---
14) Makahuena 5201: Dreamy 180 Degree Oceanfront View Free Midsize Rental Car Perfect For You And Your Family
Location: Poipu
AirBNB Plus: No
Superhost: Yes
Price: $500+ USD per night
https://www.airbnb.com/rooms/30675868
With unparalleled, 180 degree ocean views and minimalist, natural interiors, this two-bedroom Airbnb Kauai condo is the perfect escape for your family or small group vacay. The abode features all the mod cons, along with a private beachfront lanai, and is located within a complex that has its own pool and sundeck, spa and tennis courts. Walk to numerous beaches and discover this stunning area's many walking trails, whale watching lookouts and regular luau's you won't want to miss.
Guest review: "Great place. The view, the waves crashing into rock walls right off the balcony on a 180-degree view. Wow! Also location is fantastic. There is a nice park, great for snorkeling within walking distance, alongside a nice casual restaurant / bar." – Jay
View Photos, Read Reviews & Check Availability
The Hidden Beauty of Hawaii's Garden Island | Best Hiking on Kauai, Hawaii in 4K
---
Kauai Tours & Day Trips
Kauai is a nature lovers oasis, and there's no shortage of Kauai tours and experiences that will allow you to get up close and personal with this lush green island landscape. These bestselling and highly-rated tours and experiences are a great way to maximize your time and see and do as much as you can.
---
Kauai: Private Adventure Photography Tour
"Head off-the-beaten-track and follow your knowledgeable photo-guide to secluded waterfalls, majestic cliffs, beaches, and sea caves. On this private photo adventure, discover the natural beauty of Kauai with a local expert and make unforgettable memories."
https://www.getyourguide.com/activity/kauai-l659/kauai-private-adventure-photography-tour-t323493
Price: From $275 USD (3 hours)
Review: "My photographer was so knowledgeable and professional. He was able to adapt the activity to meet my needs. He showed me an incredible waterfall and even went out of his way to return my cell phone when I misplaced it." – Michele, USA
View Photos, Read Reviews & Check Availability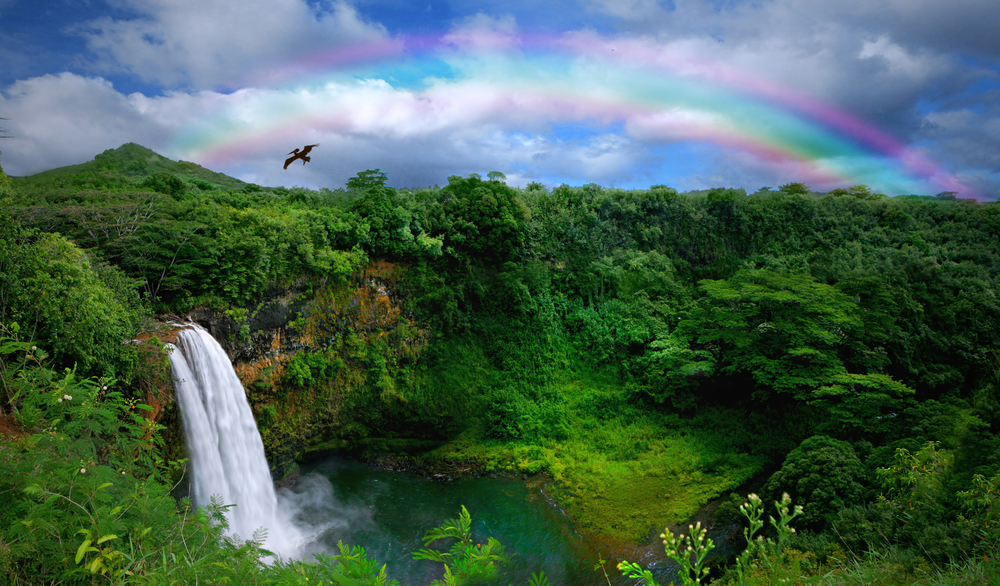 ---
Kauai: Small Group Surf Lesson on Poipu Beach
"Experience exclusive, world-class coaching with a 75-minute surf lesson. Pick up some wave-riding skills, gain an awareness of the ocean, and improve your surfing ability with a small group and expert instructor."
https://www.getyourguide.com/activity/kauai-l659/kauai-small-group-surf-lesson-on-poipu-beach-t327931
Price: $135 USD (75 minutes)
View Photos, Read Reviews & Check Availability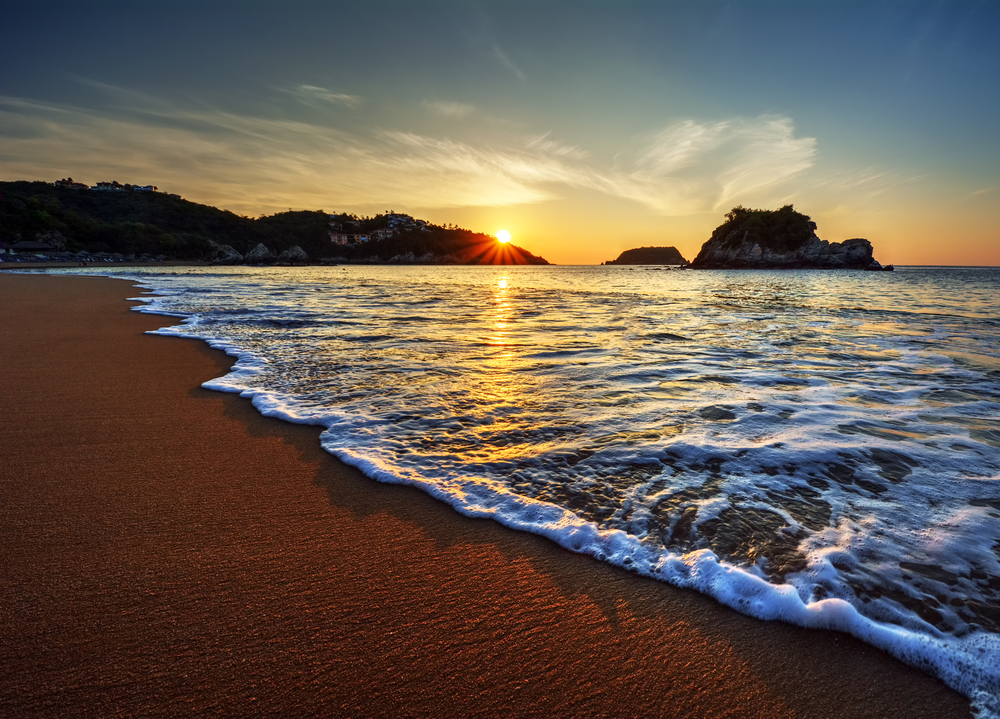 ---
Sunrise Yoga at Makai
"A unique outdoor yoga experience on the beautiful Princeville Makai Golf course that begins with a short golf cart ride to our practice space boasting some of the most exquisite views on the North Shore of Kauai. On a bluff nestled above Queen's bath overlooking Hideaway's beach, with the majestic ridges of the Hanalei & Haena mountains revealing their details in the shifting morning light, we practice a mellow yoga flow catered specifically to the group."
https://www.airbnb.com/experiences/371962
Price: From $35 USD (2 hours)
Review: "If you are reading this, stop now and go book it. We were even in a group where we got rained on slightly and it was absolute perfection. She is a fantastic yoga teacher, the sequences were great for all skill levels, and the whales/rainbow/views are breathtaking." – Nathan
View Photos, Read Reviews & Check Availability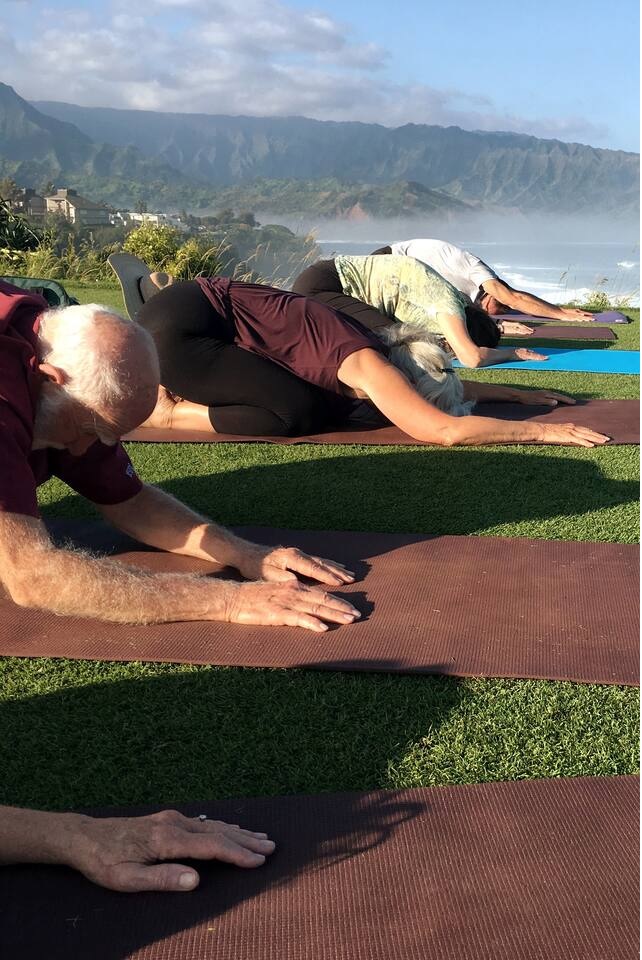 ---
Did I miss any top Airbnb Kauai Vacation Rentals?
Hawaii's "Garden Island" is jam-packed with great Airbnb's so it was tough keeping it to a manageable shortlist of the very best. However, if you have stayed in a five-star Kauai Airbnb that didn't make the cut, reach out to me with its details and I'll check it out to see if I can get it on the cool kids list!

---
Jetting into Hawaii?
The United States' 50th state is a jewel of the Pacific Ocean, and no travel bucket list is complete without a trip to its incredible islands. I have a range of detailed Hawaii content which I have linked below for you to check out.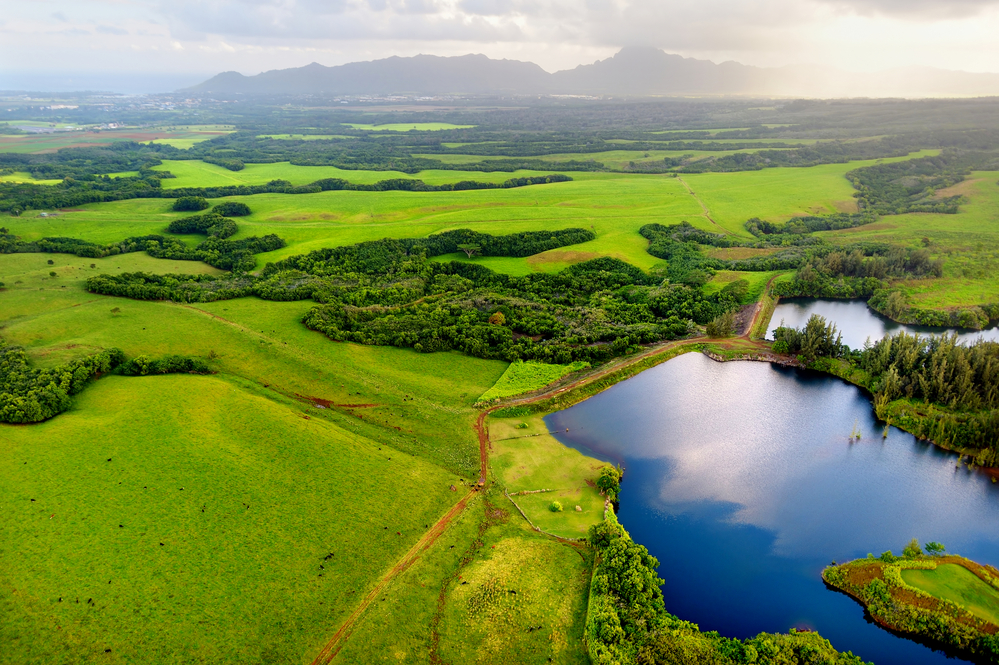 ---
Final thoughts on Kauai Airbnb's…
WOW! I have to get over to Kauai – stat! This island really is the jewel in the crown of beautiful Hawaii, and there's few landscapes on the planet like this green oasis. While you're in Kauai, make sure to enrich yourself with as much of the unique Hawaiian culture as possible. There's many luau's held regularly across Kauai as well as cultural festivals and events, so don't miss out! Have an amazing time!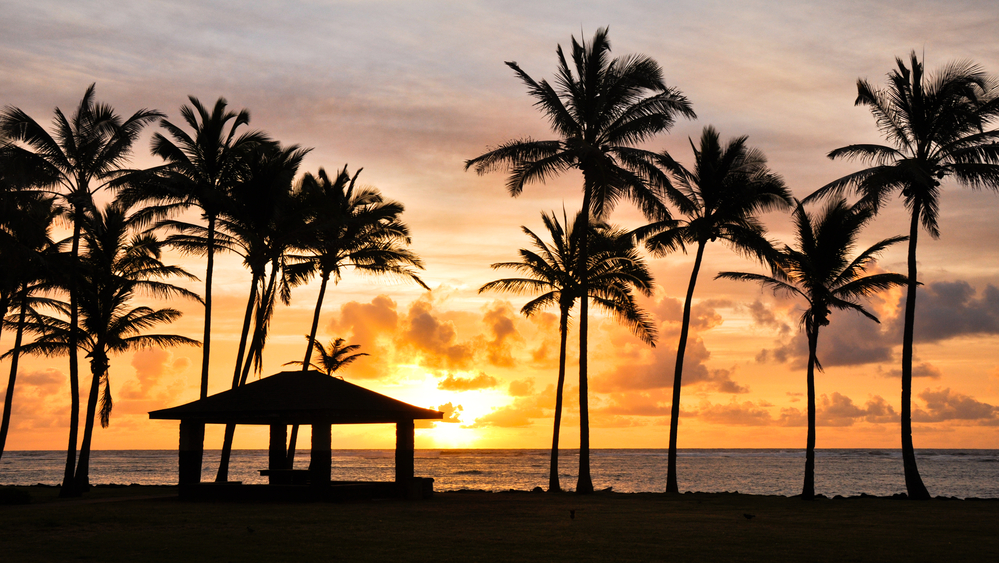 ---
Thanks for reading about the best Airbnb Kauai Rentals!
Share this list with your Hawaii travel crew!
https://www.jonesaroundtheworld.com/wp-content/uploads/2020/08/Best-Airbnb-Kauai.jpg
960
1387
Guest Contributor
https://www.jonesaroundtheworld.com/wp-content/uploads/2017/03/logotry-1-1-300x106.png
Guest Contributor
2020-08-24 00:22:12
2020-08-24 00:22:12
The 14 Best Kauai Airbnb's For A "Garden Isle" Getaway