What are the best California islands to visit? Here's a list of some of the best islands off the coast of California that are worth visiting.
California has many reasons why it's one of the top states to visit in the USA. It has some of the most beautiful beaches, awesome music festivals, and an incredible food scene.
Oh, and let's not forget, it's not called the Golden State for no reason. California boasts some of the best weather, making it the perfect year-round destination. It's little wonder then why it's so popular with vacation goers.
If you head off just a few miles from the Californian coast, you'll find a group of spectacular islands, which is yet another reason to fall in love with Cali. The best part is that they're just a quick ferry ride away from most of the major cities on the mainland.
---
1) Catalina Island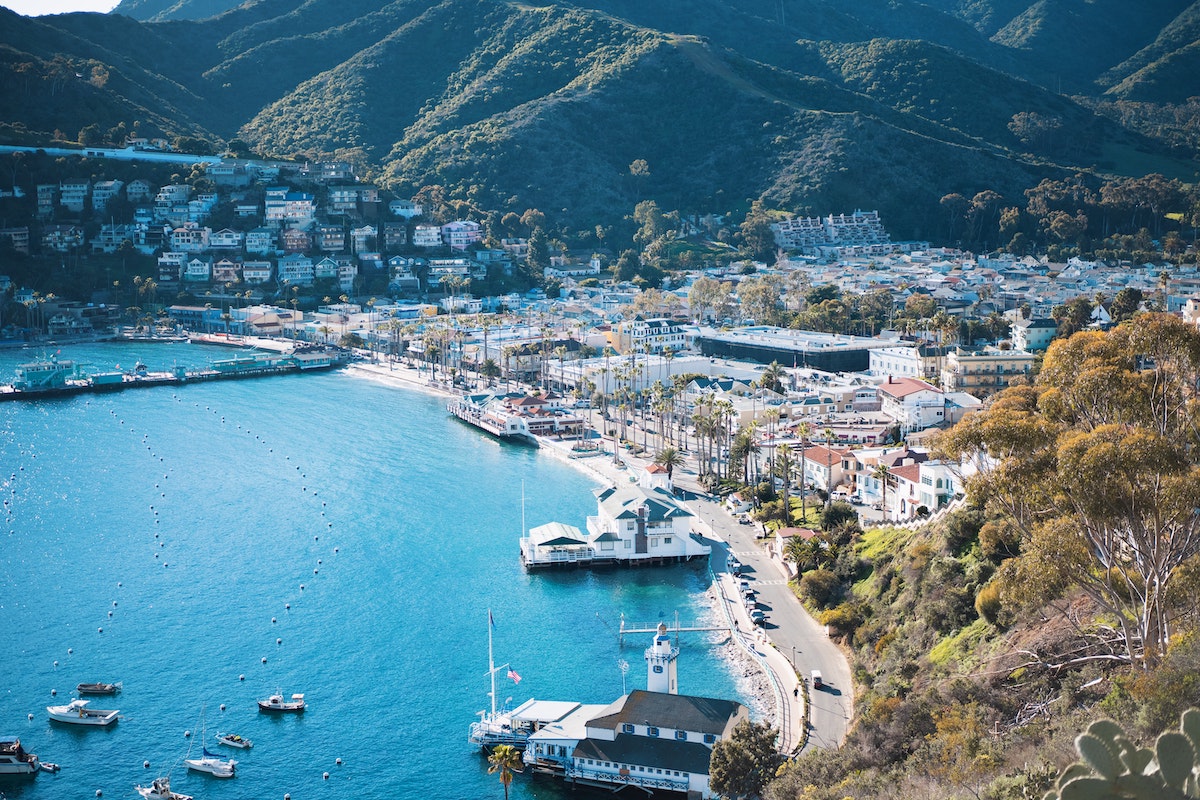 Location: Southern California
At first glance, Catalina looks like an island situated in the French Riviera. It is, in fact, an island off the coast of California, just 22 miles southeast of Los Angeles. It's a short one-hour ferry ride away from the city of Long Beach, making it easily accessible.
From the minute you step onto the island, it's hard to believe that you're so close to one of the biggest cities in the US. As you arrive at the island's main city of Avalon, you'll be greeted by colorful houses situated along the hillside and gorgeous white sandy beaches.
Catalina has a wealth of activities that visitors can enjoy. The waters around Catalina Island are crystal clear with diverse marine life, making it perfect for activities like snorkeling, scuba diving, and kayaking. Another popular activity is ziplining above the Descanso Canyon.
As a limited number of cars are allowed on the island, most people get around by walking, riding a bike, or by a golf cart from one of the resorts. These are all great ways to discover the hidden gems nestled on Catalina.
Visitors can wander around the Green Pleasure Pier, where they can enjoy delicious fresh seafood at a number of restaurants along the pier.
Things To Do in CATALINA ISLAND California (Travel Guide & Vlog)
---
2) The Channel Islands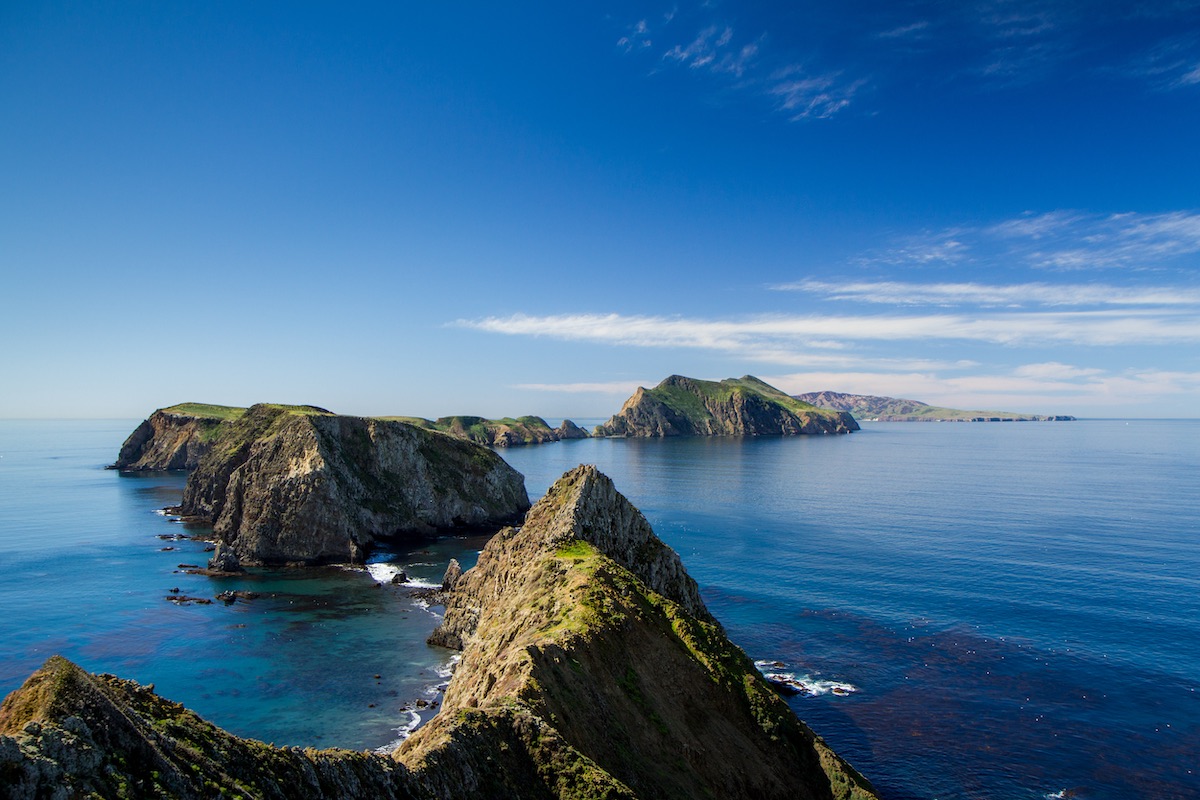 Location: Southern California
Known as the "Galapagos of North America," the islands that make up the Channel Islands National Park are located just 28 miles from the city of Santa Barbara in the Pacific Ocean.
The five Channel Islands that make up the archipelago are:
Anacapa
Santa Cruz
Santa Rosa
Santa Barbara Island
San Miguel
These islands are known mainly for their rugged landscapes, biodiversity, and hidden gems.
Most of the landscape is still largely untouched and undiscovered, making them worth visiting. Santa Cruz and Anacapa are the most popular as they are the closest to the mainland, and the most developed.
The islands are all a short distance from each other, making it easy to island-hop and spend a full day on each one of them. The islands in the national park are filled with hidden sea caves, kelp forest, and incredible views of the Bay Area.
Visitors will be delighted to go snorkeling, hiking, and kayaking. The Channel Islands have a very remote feel to them, so it's the perfect place to unwind and escape the craziness of the mainland.
Channel Islands in 24 Hours: Exploring & Hiking on Santa Cruz Island
---
3) Coronado Island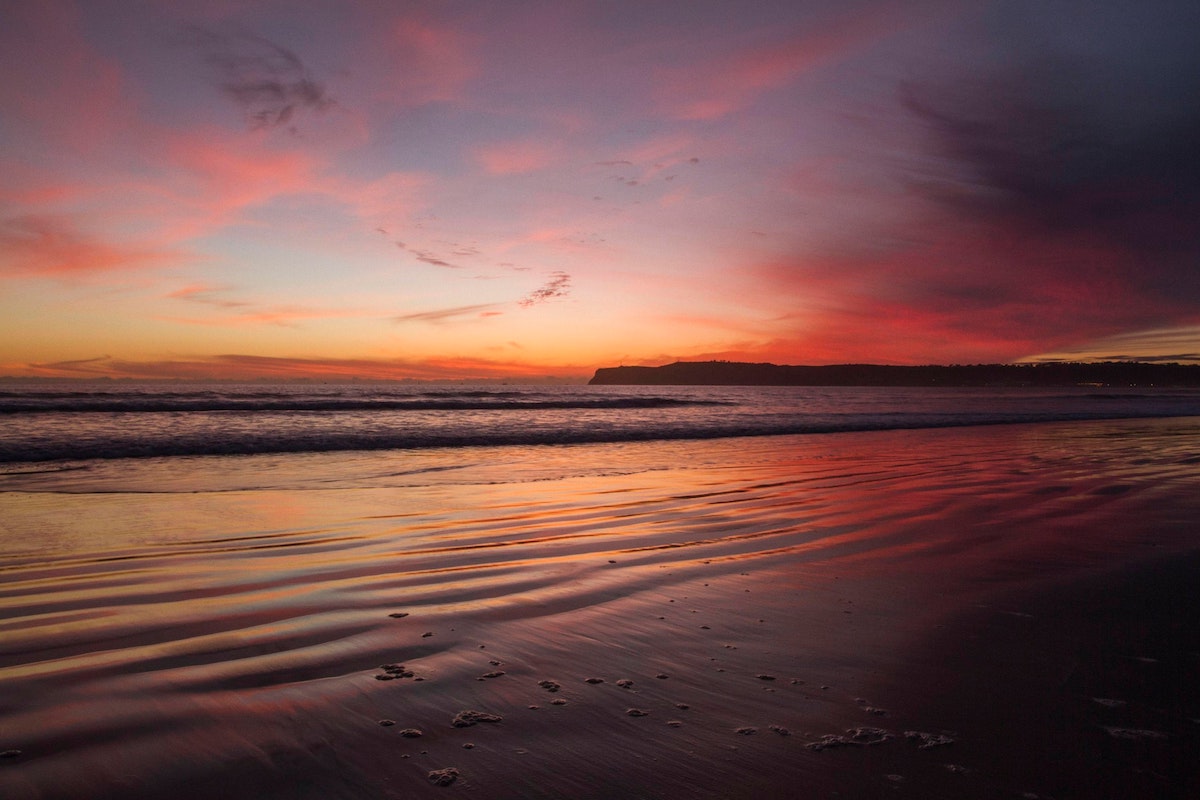 Location: San Diego Bay
Coronado is one of the picturesque California islands near San Diego. It is about 6 miles away from the city and is actually connected to San Diego by a thin strip of land known as the Silver Strand.
Although Coronado is only a 12-minute drive from downtown San Diego, it feels like a world away from the chaos of the big city. If you're looking for a place to get away for some peace and quiet, but still want to be close to all the action, then Coronado is a great place to escape to.
The island is known for its pristine white sandy beaches, including a dedicated leash-free dog beach. The island's history dates back as early as the 1850s when wealthy American businessmen started developing Coronado. It also played a crucial role in the US naval and aviation history, so much so that three navy vessels have been named after the island.
The island is perhaps best known for the iconic Hotel del Coronado, which opened way back in 1888. When it opened, it was the single largest resort hotel in the world. It has hosted presidents and was a favorite amongst celebrities like Katherine Hepburn and Judy Garland.
Apart from walking along the gorgeous Coronado Central Beach, there's plenty to do on the island. Take a stroll down Orange Avenue, where you'll find an array of shops, restaurants, and quirky galleries.
You can also go on a gondola ride down at the Coronado Cays or hang around the Silver Strand. From here you'll get stunning views of the San Diego skyline and bay area, with the Coronado Bridge in the background.
Since Coronado is so close to the city, you could easily rent an Airbnb in San Diego and take a day trip to the island.
TOP THINGS TO DO IN CORONADO ISLAND | San Diego, California Travel Guide
---
4) Naples Island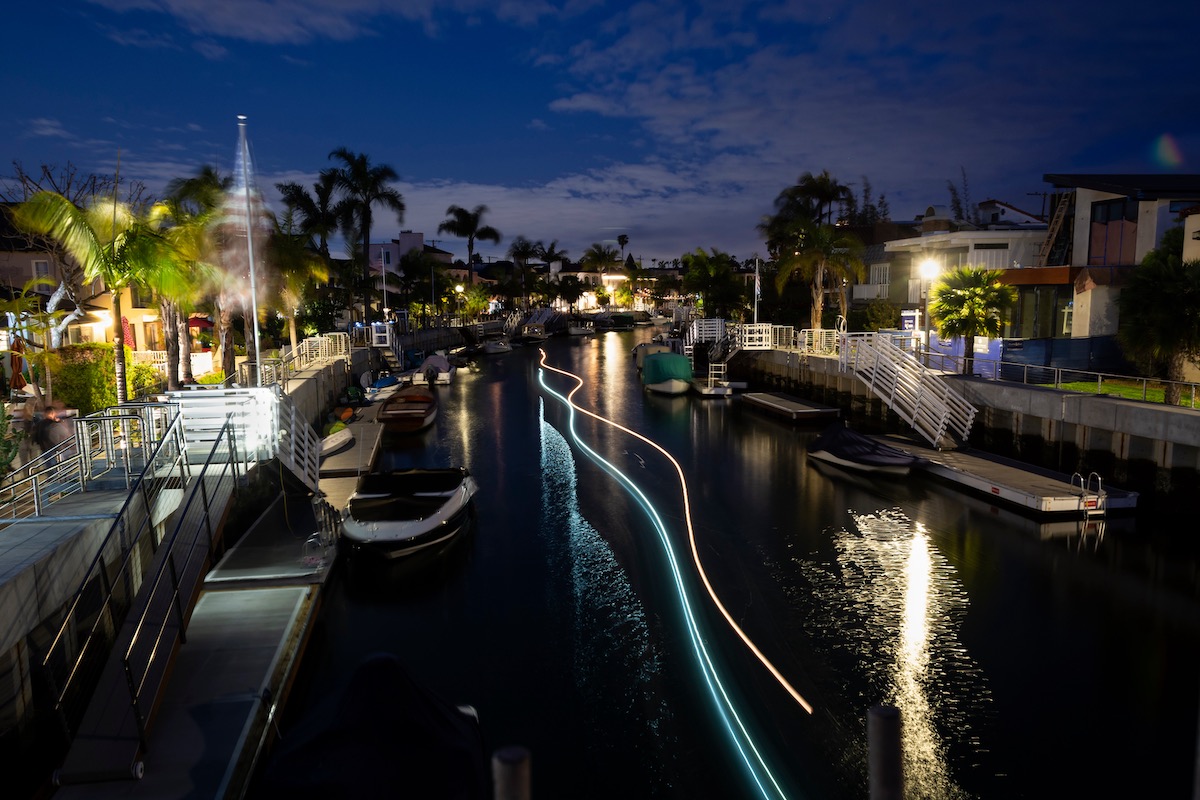 Location: Long Beach
Naples Island in California is undoubtedly one of the state's hidden gems. Built on three small islands in Alamitos Bay, it's well known for its scenic canals, somewhat similar to the waterways of Venice.
In many ways, the city looks a lot like Naples in Italy, from which it received its name. Most of the streets on the island even have Italian names.
Naples Island gives visitors a taste of the Mediterranean, without you even having to leave the state. If you've ever dreamed of visiting Italy but haven't quite gotten the opportunity to do so, then Naples Island is the perfect place to visit.
You can take a gondola ride down its scenic waterways and admire the cute Italian-looking houses. Alternatively, renting a paddleboard or kayak is also a great way to discover one of Cali's best-kept secrets.
Naples Island in Long Beach, California
---
5) The Brothers Islands
Location: San Francisco Bay
The Brothers are two Californian islands nestled between San Francisco and San Pablo Bay. The more popular of the two is known as the East Brother Island, which is home to a historic lighthouse that was built in 1873.
The lighthouse aided ships passing through the foggy waters of the two bays. After many years of service, it was set to be demolished, but it was saved when it was added to the Register of Historic Places in the 1960s.
Today the lighthouse operates as a bed & breakfast which has five rooms, making it great for a secluded getaway. If you're not keen on spending the night there, The Brothers are a great place for a day trip as they are only 30 minutes away from San Francisco.
The Brothers Islands San Francisco Bay Ferry from Vallejo to San Francisco California
---
6) Woodley Island
Location: Humboldt Bay
Woodley Island is the largest of three islands located in Humboldt Bay, in northern California. It's one of the furthest islands off California's coast and is situated in between San Francisco and Portland, Oregon.
This scenic island is one of the best places to escape for some fresh air and nature-based activities. Visitors to Woodley Island can enjoy bird watching, kayaking, and stand-up paddleboarding. It's also a great place to purchase fresh fish like crabs and shrimp as fishing boats come into the dock.
Some other points of interest include Woodley's Bar, the Table Bluff Lighthouse, and Cafe Marina.
🦩WOODLEY ISLAND MARINA #EUREKA #CALIFORNIA
---
7) Angel Island
Location: San Francisco Bay
One of the most beautiful natural islands in California is Angel Island. It's the largest natural island in San Francisco Bay and has arguably some of the best views of the bay.
Located just six miles from San Francisco, it's one of the best places to spend the day away from the city. Angel Island has a long and rich history. It was first used as a safe place for native tribes. Later, during the Spanish conquest, it became a refuge for explorers, like Juan Manuel de Ayala.
During the 1900s, the island served as an immigration station that processed millions of immigrants looking for a better life in America. Thus, it's known as the Ellis Island of the West. Today, the immigration station is a museum that details the island's history.
The island has numerous hiking and biking trails, and one of the best trails to take is up to Mount Livermore. It's the island's highest point and has 360-degree views of San Francisco's skyline.
If you'd like to make your visit to Angel Island more than just a quick day trip, you can camp on the island for around $30 per night and even take a sunset cruise around the bay area.
Angel Island State Park: Exploring the Perimeter Trail & Immigration Station
---
8) Treasure Island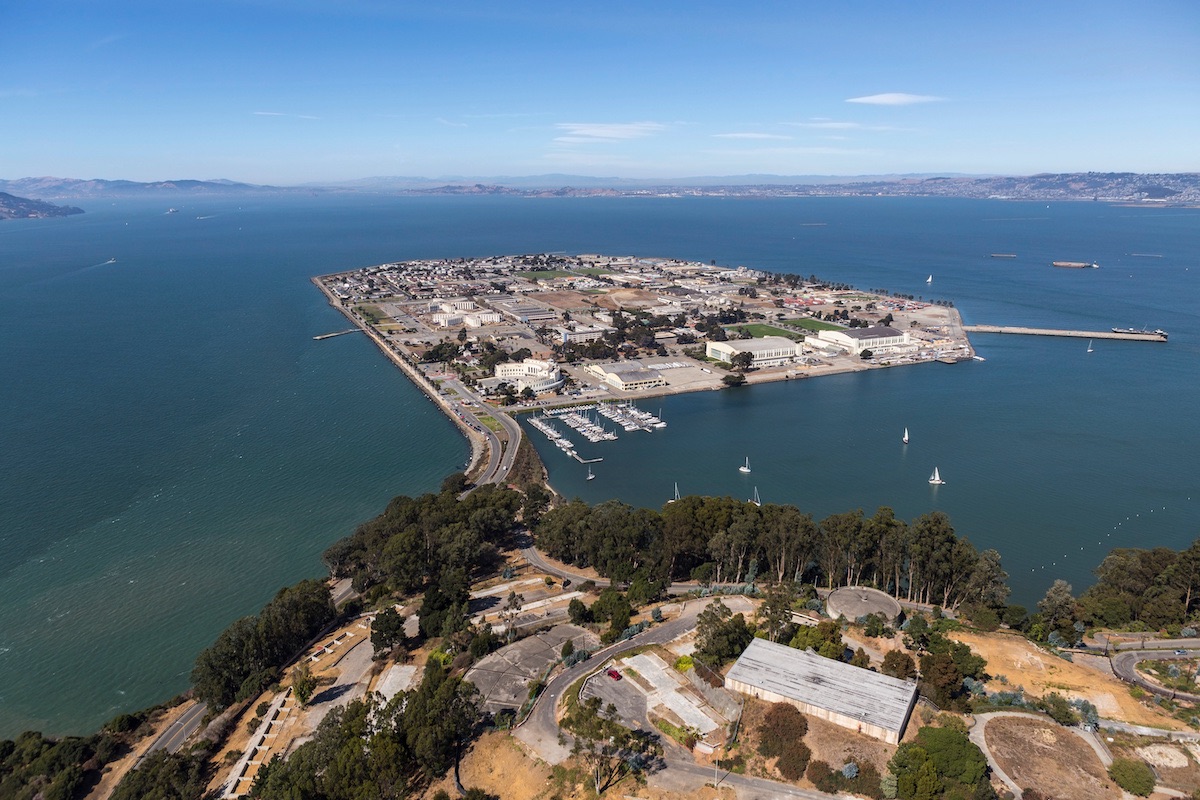 Location: San Francisco Bay
Treasure Island is one of the most unique islands in California. It's an artificial island situated in the middle of the San Francisco Bay that was built for the Golden Gate International Expo in the 1930s. The expo was set to celebrate the completion of the Golden Gate Bridge and the San Francisco-Oakland Bay Bridge.
During World War II the island was converted into a military base, and it remained one until the early 1990s. Today, a number of buildings on the island have been added to the National Register of Historic Places.
It is known for the Treasure Island Music Festival, a two day event that features the biggest artists in rap, hip-hop, rock, electronic, and indie music.
Another popular event on Treasure Island is the monthly flea market. Set over two days, the market brings together people from all over the bay area. It's an open air market where visitors can find the best antiques, art, upcycled and recycled items, and a variety of plants.
There are also numerous food trucks that serve everything from gourmet street food to specialty foods like the Bay Area shrimp and crab. It's no wonder then that it's a popular hangout for both locals and tourists.
Visit and Enjoy Treasure Island in San Francisco learning History and sights
---
9) Alcatraz Island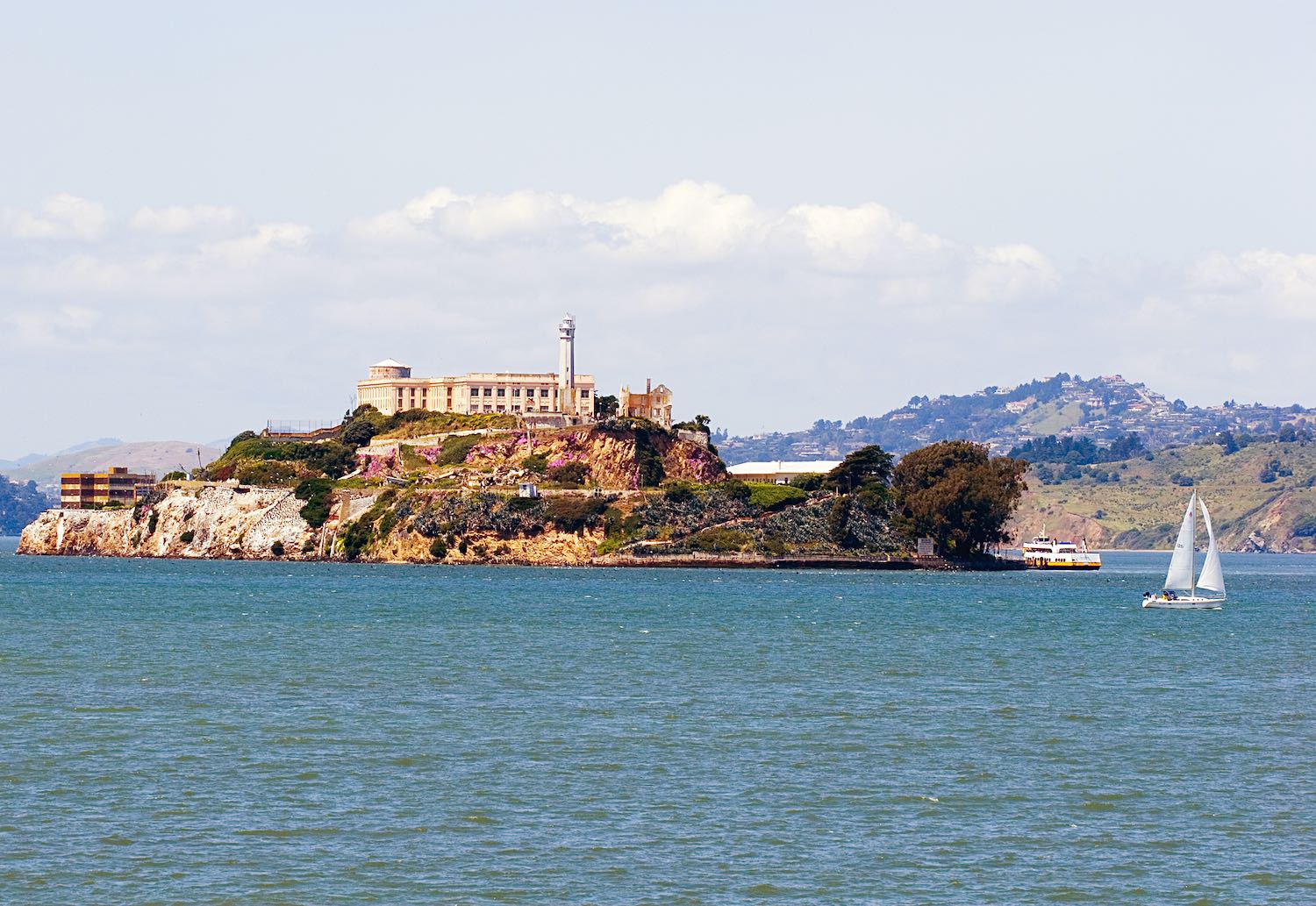 Location: San Francisco Bay
Alcatraz is an island near California with an infamous reputation. Often known as "The Rock" it was the most secure federal prison in the US from 1934 to 1963. Alcatraz housed some pretty notorious prisoners, like Al Capone.
Situated just 1.5 miles from San Francisco, it was one of the most feared prisons of its time. It was also one of the most difficult prisons to escape from, because the waters around Alcatraz Island were known to be cold and dangerous, taking the lives of all who tried to escape.
Today, the prison operates as a museum that welcomes thousands of visitors each year. Visitors can enjoy a live guided or a self-guided audio tour that includes the stories of actual prison guards and inmates.
On certain days of the year, the prison opens itself up to host visitors who pay to sleep in a cell for a night and catch a glimpse of what life was like for the prisoners.
While Alcatraz Island might not be everyone's cup of tea, it is worth the visit, especially for history buffs. You'll get a feel of why it became one of the most feared prisons in America.
Alcatraz Island Full Tour - Inside The Prison Summer 2021 / Boat Ride Onto The Rock & Thru The Cells
---
10) Balboa Island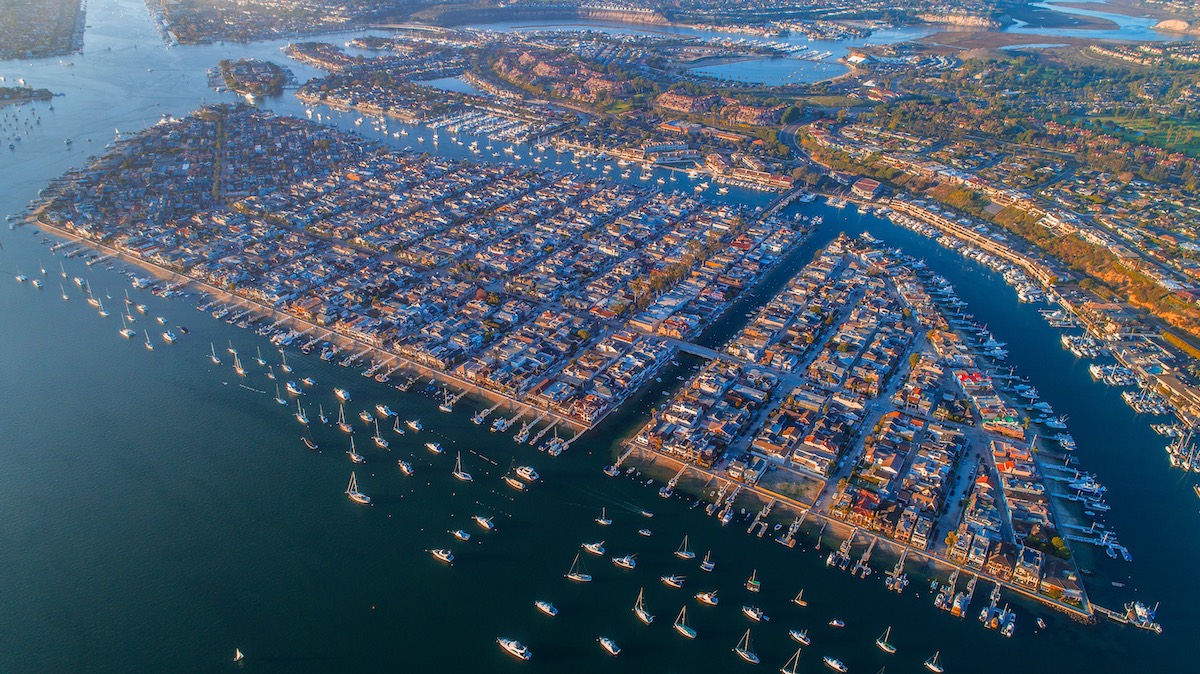 Location: Newport Bay
Balboa Island is a fantastic place for a California island vacation. Located in the middle of Newport Bay, it's a lovely artificial island in Orange County that can be accessed by ferry or by an overland bridge.
It's home to a string of charming bistros, restaurants, and boutiques. It's also filled with various activities, like whale watching, fishing, or just bike riding and enjoying ice cream.
With a number of vacation rentals, it's mostly popular with families and couples looking for a great spring break vacation spot.
Balboa Island, Newport Beach, CA, the World's Most Charming Getaway
---
Planning a Trip to California?
Check out these articles to help you plan the ultimate Californian getaway.
Famous Landmarks in California
17 Best Airbnb Palm Springs Rentals For a California Getaway
Top Luxury Cabins in Big Bear California
12 Best Hostels In California for Backpackers & Solo Travelers
11 Best Airbnb's in Malibu California
11 Best Airbnb's Venice Beach California
---
THANK YOU FOR READING THIS LIST OF MY FAVORITE ISLANDS OFF THE COAST OF CALIFORNIA!
SHARE THIS LIST OF ISLANDS IN CALIFORNIA TO VISIT WITH YOUR FAMILY AND FRIENDS TOO!
https://www.jonesaroundtheworld.com/wp-content/uploads/2022/02/The-Channel-Islands-California.jpg
800
1200
TravelTractionsJATW
https://www.jonesaroundtheworld.com/wp-content/uploads/2017/03/logotry-1-1-300x106.png
TravelTractionsJATW
2022-03-04 17:48:06
2022-03-04 17:48:06
10 Incredible California Islands To Visit