Looking for some fun and famous Miami Quotes? I have compiled a list of the best quotes about Miami to get you excited and inspired about your trip there that would also serve as top Miami Captions for Instagram!
Ah, Miami! 'The Magic City' is loved for its heat, beach, partying, and the world's most famous lifeguards. Not to mention being the inspiration for countless crime programs and movies, like CSI and Miami Vice.
Whether you're in Miami for two days or more, or you're simply playing with the idea of visiting, this coastal city will draw you in. The atmosphere in Miami is electric and a lot has been said about it over the years.
The vibrance of its nightlife, the cultural diversity of its people, and the energy of its beach have inspired movies, books, and songs.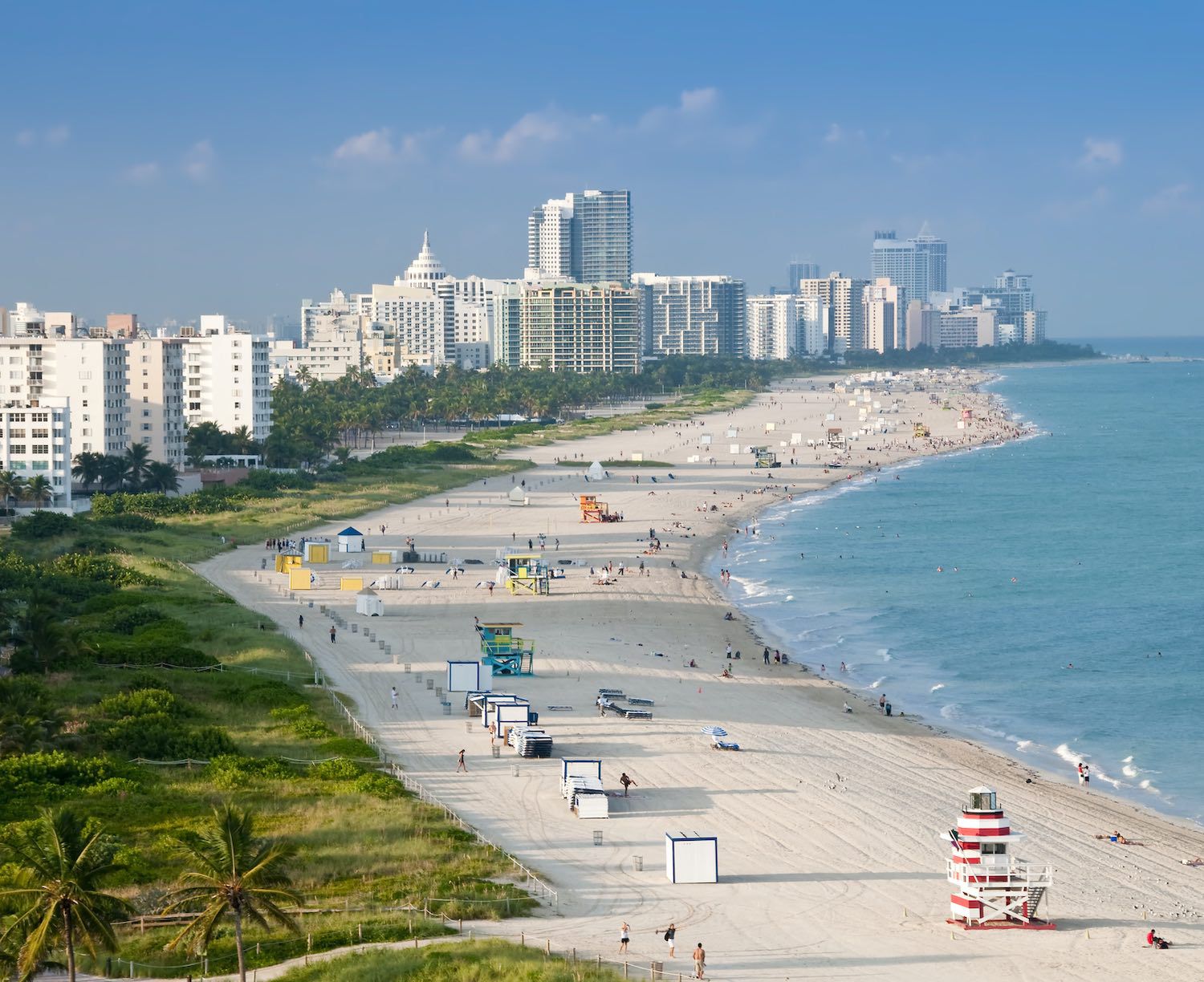 ---
The Best Quotes About Miami
Miami has a big personality. It can greatly impact the people who visit, and those who live here, even more so. These are the most memorable quotes about Miami.
1) "I think Miami is such a beautiful, sexy, gorgeous place. I love the people there." – Minka Kelly
2) "Miami is one of these places where diversity is in our blood, where, you know, if you want to go have a Nicaraguan breakfast, a Cuban lunch, and an American diner dinner, you do." – Ana Navarro
3) "The thing that's really cool for me about Miami Beach is you have this dichotomy between sunlight and family and happiness and innocence and then night, darker, stranger mob conspiracy stuff sort of comes out. It seems like a storytelling engine. You can just keep writing about how those two worlds smash into each other." – Mitch Glazer
4) "Anytime I get down to Miami, it's a wonderful thing." – Bill Goldberg
5) "Is Miami America? Is it a state? Is it the South? … I love Miami for the same reason I love the places I love most around the world… it's the mix here, this big, messy, dysfunctional hell-broth of people from all over the world that make it so awesome and make it a place I want to keep coming back to. Also the food's good." – Anthony Bourdain
6) "Miami is one of the great places that is a really sensual, physically beautiful place." – Michael Mann
7) "Miami, you can never run out of material. As long as you have Miami around you, you will never, never stop being amused." – Dave Barry
8) "Miami is one of the great cultural melting pots in the world. I love working and living here." – David Caruso
9) "The people in Miami are so different from anywhere else I've been in America. They're so down to earth, really friendly, and quite self-effacing, with a good sense of humor. I'm not saying other parts of America don't have a sense of humor, but Miami maybe has to have a really good sense of humor for lots of different reasons, and it works. It works for me." – Tracey Emin
10) "What's special about Miami is the collision of cultures. And the white sand beaches and fantastic restaurants." – Jeffrey Dean Morgan
11) "The Miami Beach audience is the greatest audience in the world." – Jackie Gleason
12) "My favorite city is Miami. It's very fresh and the beach is sunny." – Liu Wen
13) "I love Miami; I miss it so much. I miss the beach, the peace it brings you. I love the sound and smell of the sea." – Genesis Rodriguez
14) "Miami, in many ways, is a quintessentially American city. The juxtaposition of showy wealth with dire pennilessness, the tussle of glitz and decay doesn't come any more marked than here." – Tibor Fischer
15) "Miami is a melting pot in which none of the stones melt. They rattle around." – Tom Wolfe
16) "I absolutely love the balance between New York and Miami because I go to New York and I get so inspired and it's really busy and it's like the real city and then I come to Miami and I'm just in a happy place." – Nina Agdal
17) "In Miami, there's a Latin flavor, and I just love every bit of it." – Ryan Guzman
18) "I'm from a Cuban family, so we're used to talking really loud. You come to a Cuban restaurant anywhere in Miami, and we're practically screaming at each other." – Kat Dahlia
19) "I suspect that most people in the world will travel through or at least wish to travel through Miami in their lifetimes. I think it is on the same level as seeing the pyramids in Giza for many people. But, Miami is slippery: It is a place that is always that distant orgiastic green light while also being a hot, tropical, and very real place." – Jim Drain
20) "One of my favorite vacation places is Miami, because of the people, the water and the beach – of course – and the architecture on Miami Beach is so wonderful." – Oksana Baiul
21) "Growing up in Miami, I had all these great, strong influences. You know, being Cuban and the Latin influence, but also the strong hip-hop influence." – Kat Dahlia
22) "I grew up in Miami, which is a very 'cool' city." – Ser'Darius Blain
23) "Cinema is a little over 100 years old, and a lot of what we do is built around film emulsion. Those things were calibrated for white skin. We've always placed powder on skin to dull the light. But my memory of growing up in Miami is this moist, beautiful black skin." – Barry Jenkins
24) "Miami's my favorite art fair." –

Richard Phillips
25) "Nowadays, kids need promises to play. And I'm not gonna lie, I almost went to Mississippi. But that's the best thing I did, when I changed my mind and went to Miami." – Frank Gore
26) "Miami can be super-kitschy at times, and it's fun to embrace that." – Camila Mendes
27) "The poorest guy in Miami lives better than much of the power elite in Havana." – Joe Garcia
28) "I moved my family down to Miami to stay with my father-in-law, Jack, for a while. Best move I ever made." – Dion DiMucci
29) "The heart of Univision – and what we stand for – is here in Miami." – Randy Falco
30) "I'm from Miami, I love it when we're out in the heat. When it's cold, I'm like, 'I'm never acting again,' because it's too freezing." – Majandra Delfino
31) "Miami is the place where all great Medicare fraud schemes come from. It has a great concentration of professional criminals and old people." – David Fahrenthold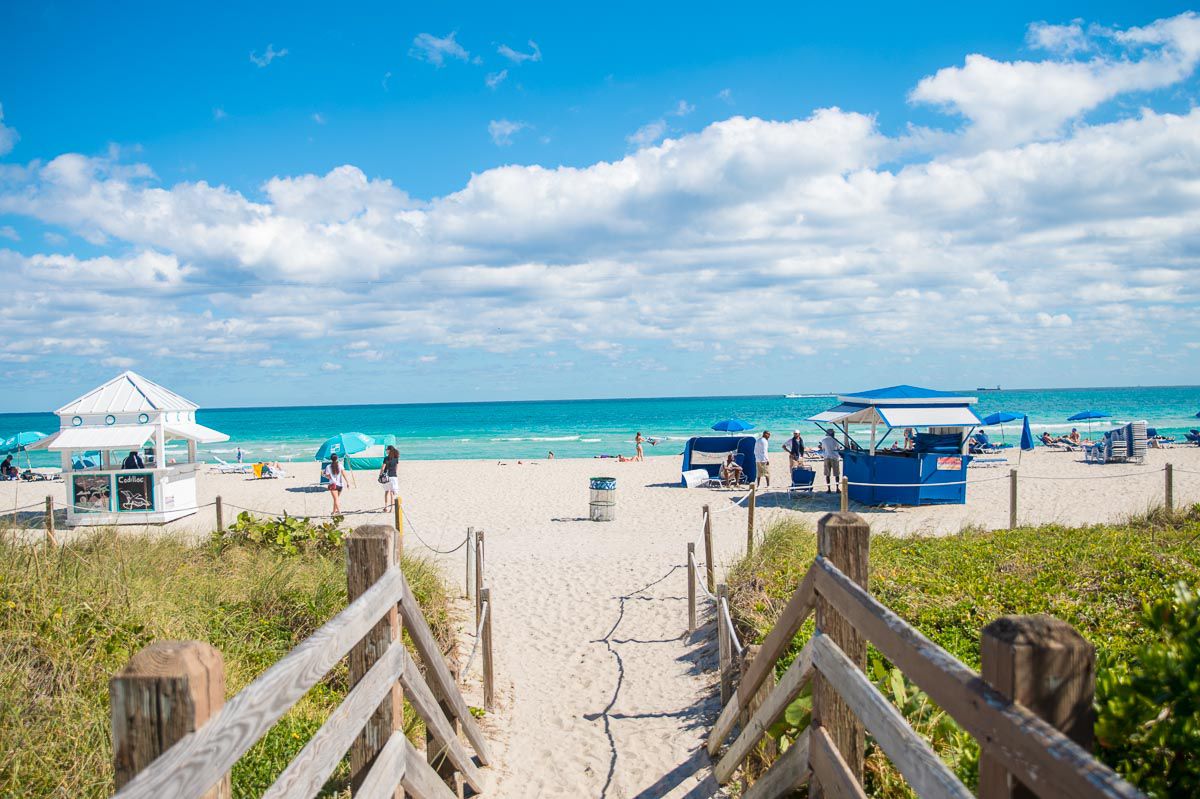 ---
Instagram Captions For Miami
Miami is an Instagram hotspot. With backdrops of golden sand beaches, clear blue waters, and exotic cocktails, it's easy to understand why. If you're needing inspiration for your full camera roll these Miami Instagram captions will help.
32)
"Find me in Miami."
33)
"Miami is always a good idea."
34)
"Keep palm and carry on."
35.)
"No one sleeps in Miami"
36)
"Life is better in Miami."
37)
"Find me where the music meets the ocean."
38)
"Champagne mamí."
39)
"Always say yes to Miami."
40)
"I love you Miami."
41)
"Miami has my heart."
42)
"Beach, don't kill my vibe."
43)
"I'm in Miami!"
44)
"High tides, good vibes."
45)
"Going to Miami."
46)
"Palm trees and 80 degrees."
47)
"Any day is a good day for Miami."
48)
"Woke up in Miami."
49)
"Take me to Miami Beach."
50)
"I'd rather be in Miami."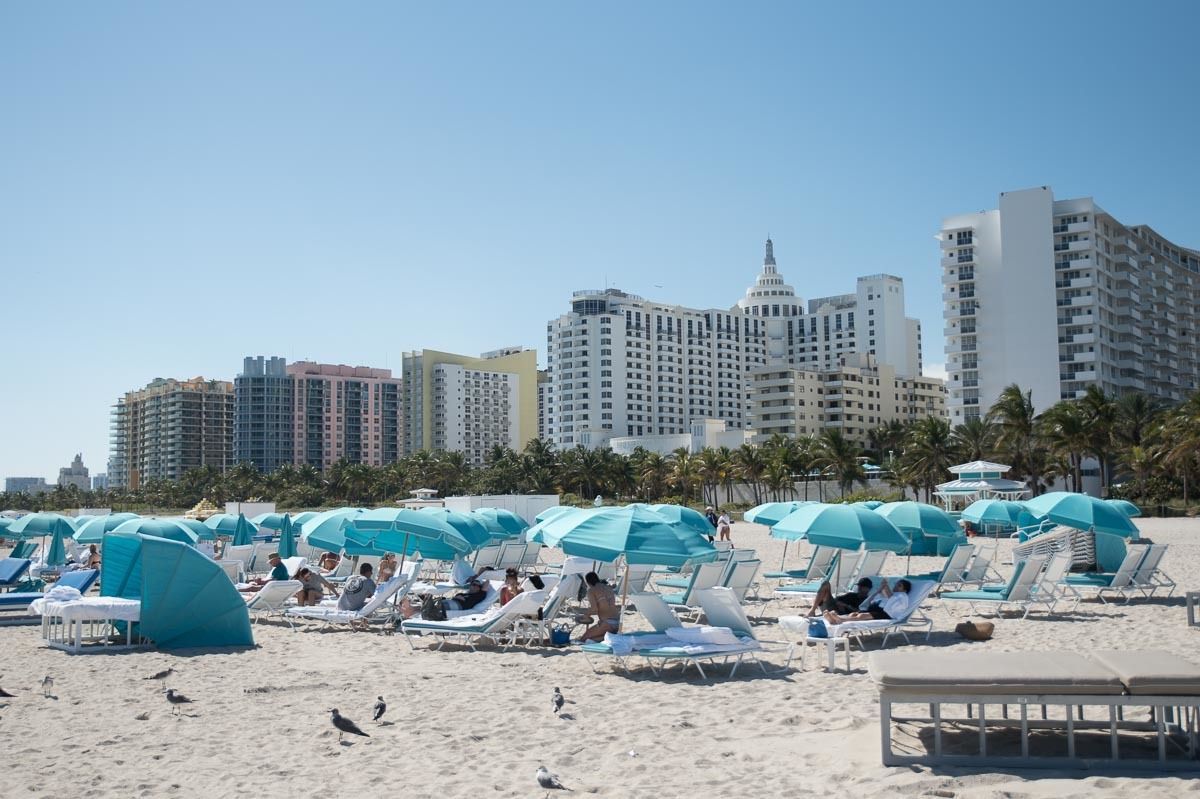 ---
Funny Miami Quotes
Dry, sarcastic, and maybe a little strange. These Miami quotes are funny. They should crack a smile and be cause for some amusement.
51)
"Miami Beach is where neon goes to die." – Lenny Bruce
52) "In New York I'm a six, but in Miami, I was like a negative three." – Amy Schumer
53) "Miami's like paradise. And I think the beaches are topless. So we're gonna spend a lot of time at the beach." – Pauly D
54)
"People – just weird people are attracted to Miami. And they come there not for serious reasons, usually." – Dave Barry
55)
"I don't know how anyone lives in Miami. Because no one goes to sleep." – Dave Portnoy
56)
"Tel Aviv is new, built on the sand dunes north of Jaffa in the 1890s, about the same time Miami was founded. The cities bear a resemblance in size, site, climate, and architecture, which ranges from the bland to the fancifully bland." – P. J. O'Rourke
57)
"Miami … the floating-human-body-parts capital of America." – Carl Hiaasen, Bad Monkey
58)
"I've only been to these foreign countries: Canada, L.A., and Miami." – Larry the Cable Guy
59)
"Of course in Miami, not denouncing Fidel Castro at every turn is almost as bad as saying Gloria Estefan can't sing." – Gloria Estefan
60)
"Almost everything strange washes up near Miami." – Rick Riordan
61)
"Why can't DFW compete like San Francisco does with Oakland, like Miami does with Fort Lauderdale, and like Chicago O'Hare does with Midway?" – John Ensign
62)
"The French like burgers, Madonna and Miami Vice." – Nicolas Sarkozy
63)
"Miami is not optimal for raising a child." – Jeffrey Dean Morgan
64)
"180 episodes of 'CSI: Miami' and never the same lipstick twice!" – Emily Procter
65)
"Watching 'CSI: Miami' is like watching 'Teen Jeopardy!' or doing the crossword puzzle in 'People' magazine. It makes you feel smart even when you're not." – Willie Geist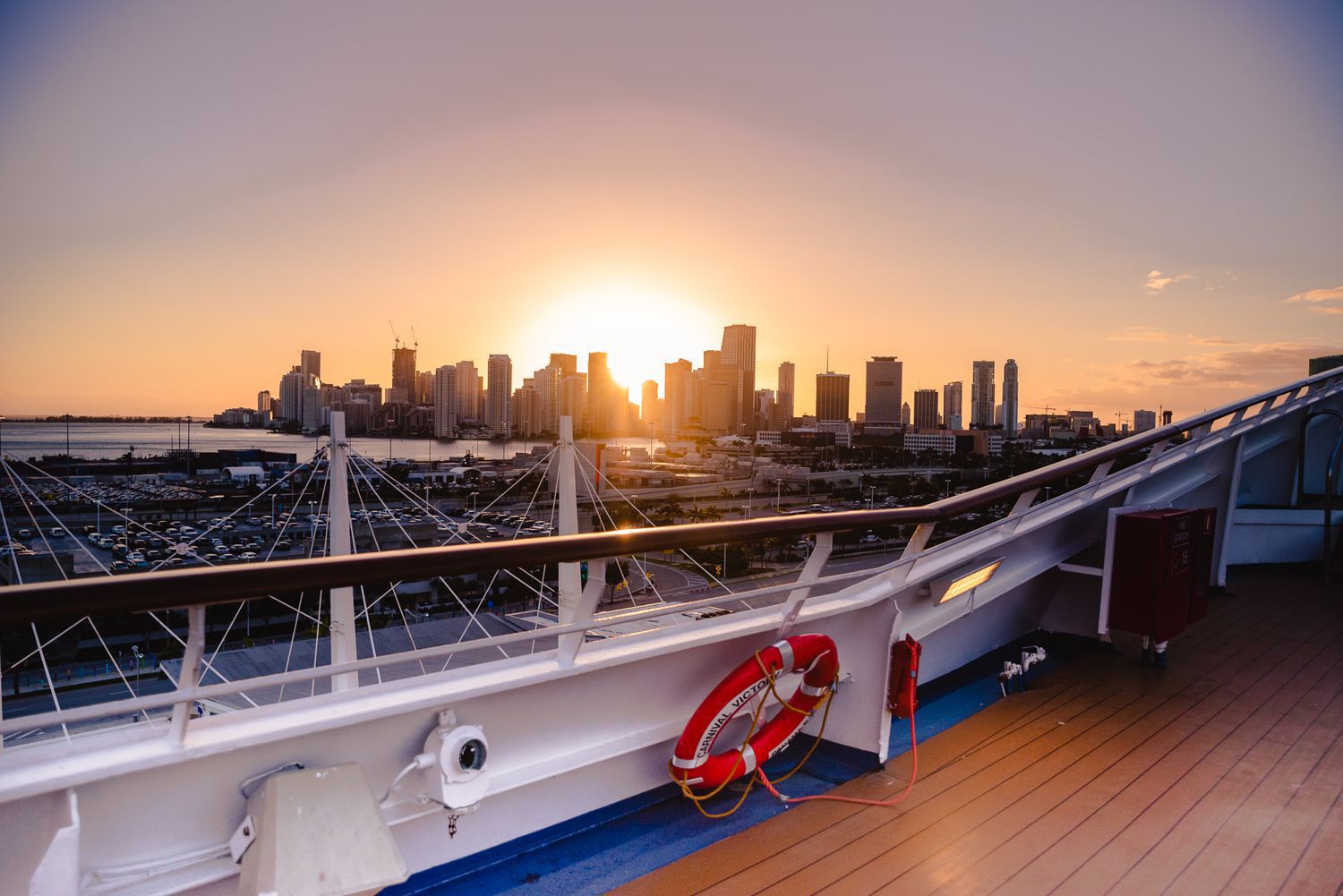 ---
Celebrity Quotes On Miami
Some big names have come out of Miami. And even if the A-listers are not from the city themselves, they still have something to say about it. Miami is definitely a city that leaves an impression on all those who visit it.
66)
"Being from Miami, you're used to the fact that your home is a vacation spot. But that's what makes Miami one of the best places in the world. We're so rich in different cultures, being so close to Haiti, Cuba, the Dominican Republic, and Puerto Rico, and then you've got people who travel from all over the world just to come visit." – Flo Rida
67)
"Miami has embraced me and I love them for that." – Lil Wayne
68)
"Miami is always super, duper lit." – Post Malone
69)
"The drag scene in Miami has always been top-notch to me." – Shangela
70)
"I went down to Miami, and somebody saw me on the streets, and that's how I got into modeling." – Channing Tatum
71)
"But this is Miami, you can't come to Miami and not show any skin. You gotta show something. If you're all covered up in this heat, you're gonna make me pass out just to look at you. It's sweaty in Miami – but the diamonds will keep me cool." – Lil' Kim
72)
"I love Rome for their calzones and New York City for the variety of quality eateries, but I absolutely fell in love with Miami for the stone crabs at Joe's just off Ocean Drive – the best I've ever had, and the Cajun food. The steaks out there are colossal – it's like having a shark and a cow on your plate." – Paul Hollywood
73)
"Miami is just really fun whenever I go there. It's like this post-apocalyptic Barbie world: everything is pink, and there're palm trees everywhere. But then there are also all these people in crazy sunglasses, warehouses with sick parties where all the girls are covered in spikes and black leather. It's a very weird place." – Grimes
74)
"I feel like Miami is way, way too hot." – Fred Armisen
75)
"Miami was always a town that was kind to me as a wrestler. It's a great wrestling town, and it's a great town, period. There's so much to do in Miami." – Ric Flair
76)
"Miami is a really special place for me, particularly in the U.S. It was one of the first places in the county to really embrace dance music, and I've been going there for many, many years." – Tiesto
77)
"Miami is a party city, a go-fast city." – Rick Ross
78)
"I love the crowds in Miami. I feel that is one of the tournaments where I get more support. That helps me a lot." – Rafael Nadal
79)
"What's so beautiful about Miami is that we support each other. We're just one big family, not just the entertainer, just everyone in general." – DJ Khaled
80)
"I already had three strikes against me. One, I have light skin. Two, I'm from Miami, which wasn't getting looked at at the time. Three, I'm Cuban. But now, I've made everything that stacked against me into a virtue." – Pitbull
81)
"When I go to Miami, I go deep-sea fishing. I love doing that" – Dizzee Rascal
82)
"I do sing in the car. I actually sing Britney Spears songs in the car – me and a close friend of mine. She lives in West Palm and I live in Miami, and when we're going back and forth to see each other, we sing: 'Oh, Baby Baby.' We sing all these 1990s songs. We're like two 14-year-old kids just having a good time." – Kelly Rowland
83)
"I think just growing up in Miami, there's gumbo of different cultures that influence us." – Flo Rida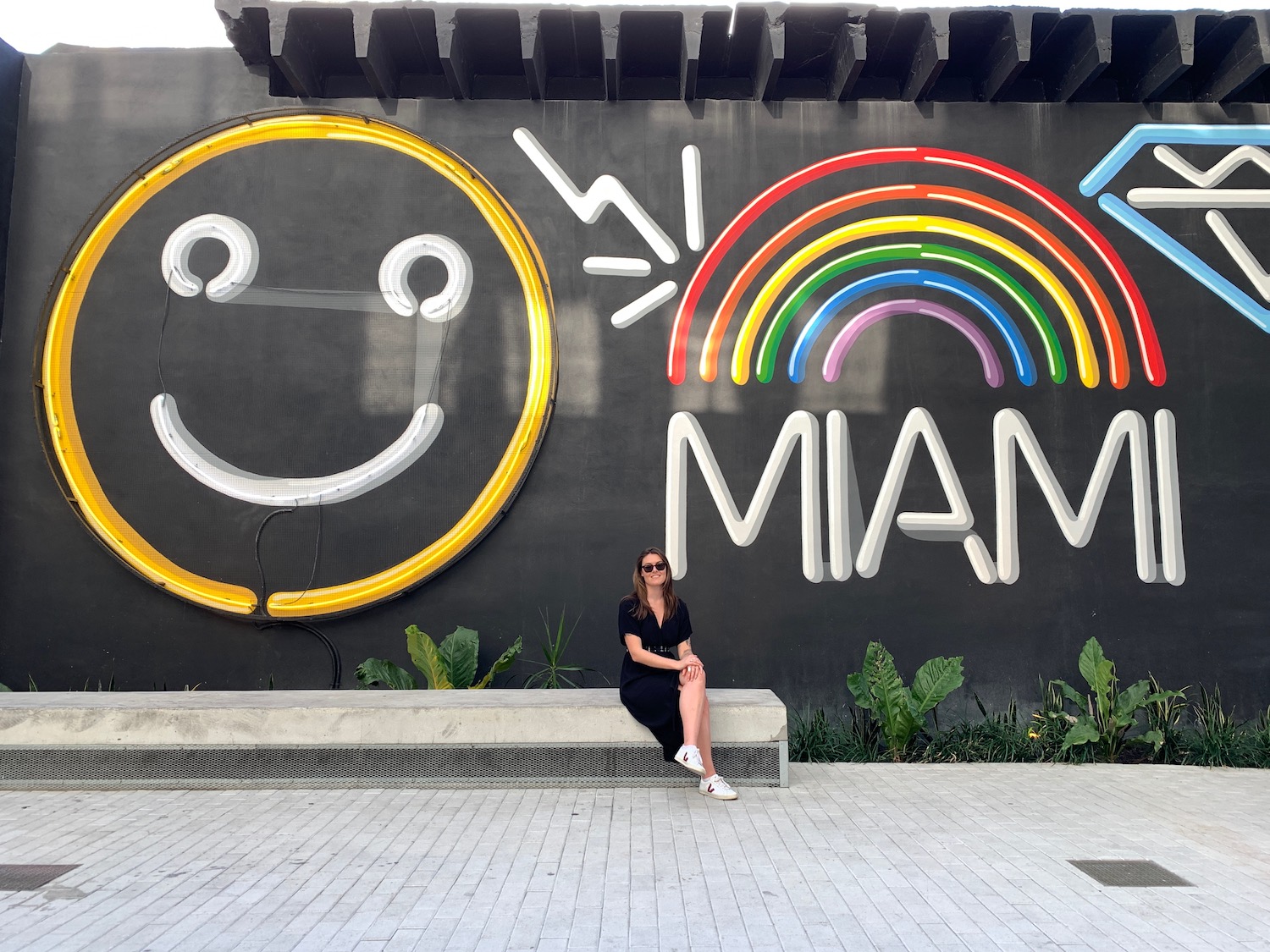 ---
Miami Book Quotes
Carl Hiaasen is a top American author who finds all of his inspiration from his home state of Florida. He's not the only one though. With a personality as big as Miami's, there are plenty of other authors who find their inspiration there too.
84)
"If Cuba is Hell, Miami is Purgatory." – Reinaldo Arenas, Before Night Falls
85)
"Havana vanities come to dust in Miami." – Joan Didion, Miami
86)
"Having Miami in a state like Florida makes no sense. You may as well put Los Angeles in the middle of Arkansas. It's not connected, it's just bright and loud and big and… there." – Caspar Vega, Southern Dust
87)
"According to wallet hub, Miami stands at 3rd position about their craze of food and other things. But Miami is not just a food city but also claimed a name as a crime city." – Scott Cooper, Miami
88)
"The truth is that only a small percentage of Miami's population consists of violent criminals, and the bulk of those are elected officials." – Dave Barry, I'll Mature When I'm Dead: Dave Barry's Amazing Tales of Adulthood
89)
"For example, it was Dr. Allen who had determined that Greater Miami had more mutilation-homicides per capita than any other American city, a fact he attributed to the terrific climate" – Carl Hiaasen, Tourist Season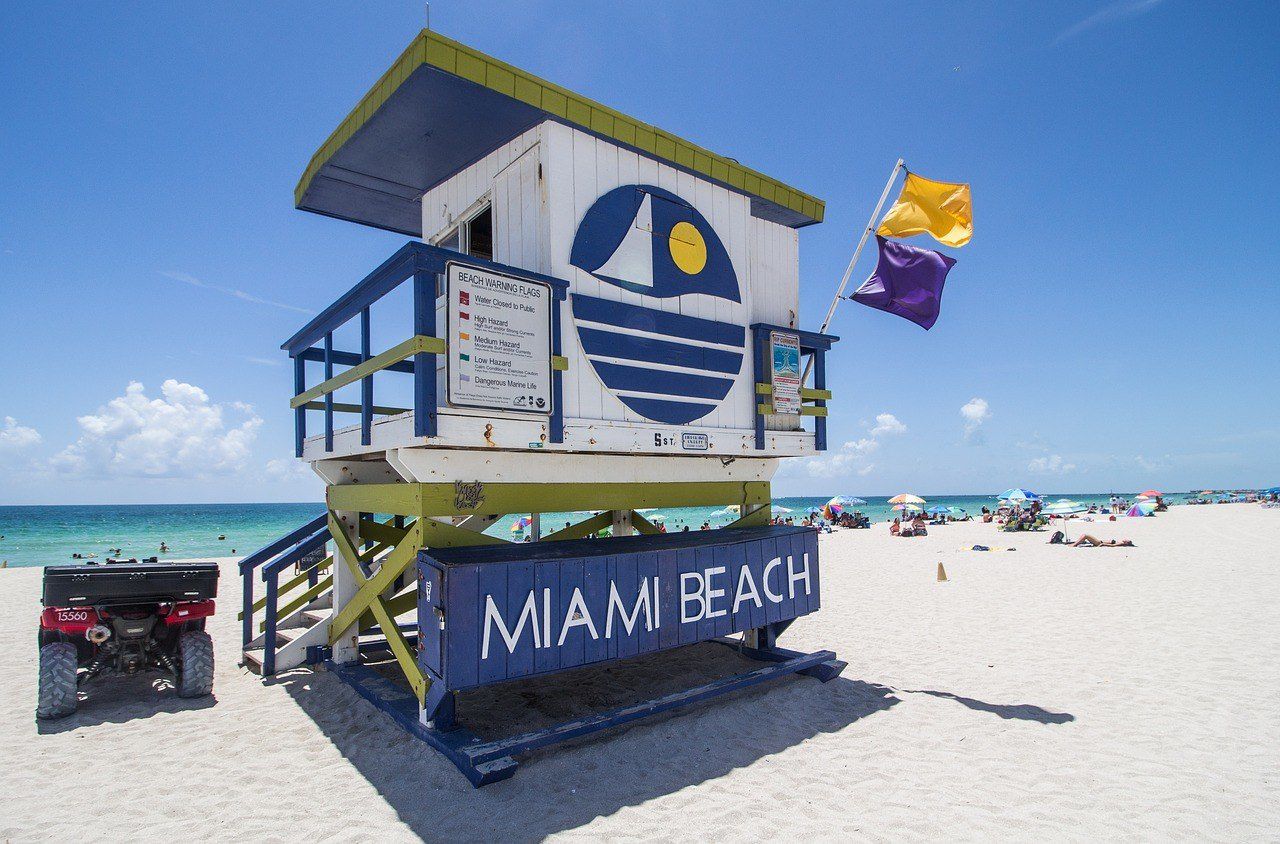 ---
Miami Movie Quotes
Many movies and TV programs set in Miami have a plot centered around crime. Baywatch, CSI, James Bond, and the Bad Boys franchise are some of the most famous movies to be set in Miami. Here are some of the best movie quotes to be inspired by Miami (don't worry, not all of them are crime movies).
90)
"You wanna waste my time? Okay. I call my lawyer. He's the best lawyer in Miami. He's such a good lawyer, that by tomorrow morning, you gonna be working in Alaska. So dress warm." – Scarface
91)
"James Bond, with two double bourbons inside him, sat in the final departure lounge of Miami Airport and thought about life and death." – Goldfinger
92)
"Who picked this dumb-ass road? On the goddamn road in Miami, *you* run out of it!" – Bad Boys
93)
"How much he pay ya'll anyway? Every time I see ya'll, man, ya'll got the silk shirts on, jewelry, you know, lookin' real Miami." – 2 Fast 2 Furious
94)
"For instance: if you were to look up professional football's all-time bonehead plays…you might read about a Miami Dolphin kicker named Ray Finkle, who missed a 26-yard field goal in the closing seconds of Super Bowl XVII." – Ace Ventura
95)
"Apparently, he's on the last flight to Miami. So, you have all night to question me." – Casino Royale
96)
"If Miami hasn't got it, they haven't invented it yet." – Miami Vice
97)
"Great. Then he's driving back from Miami at 20 miles an hour with the parking brake on." – Birdcage
98)
"Blue power, motherf*ckers! Miami PD!" – Badboys II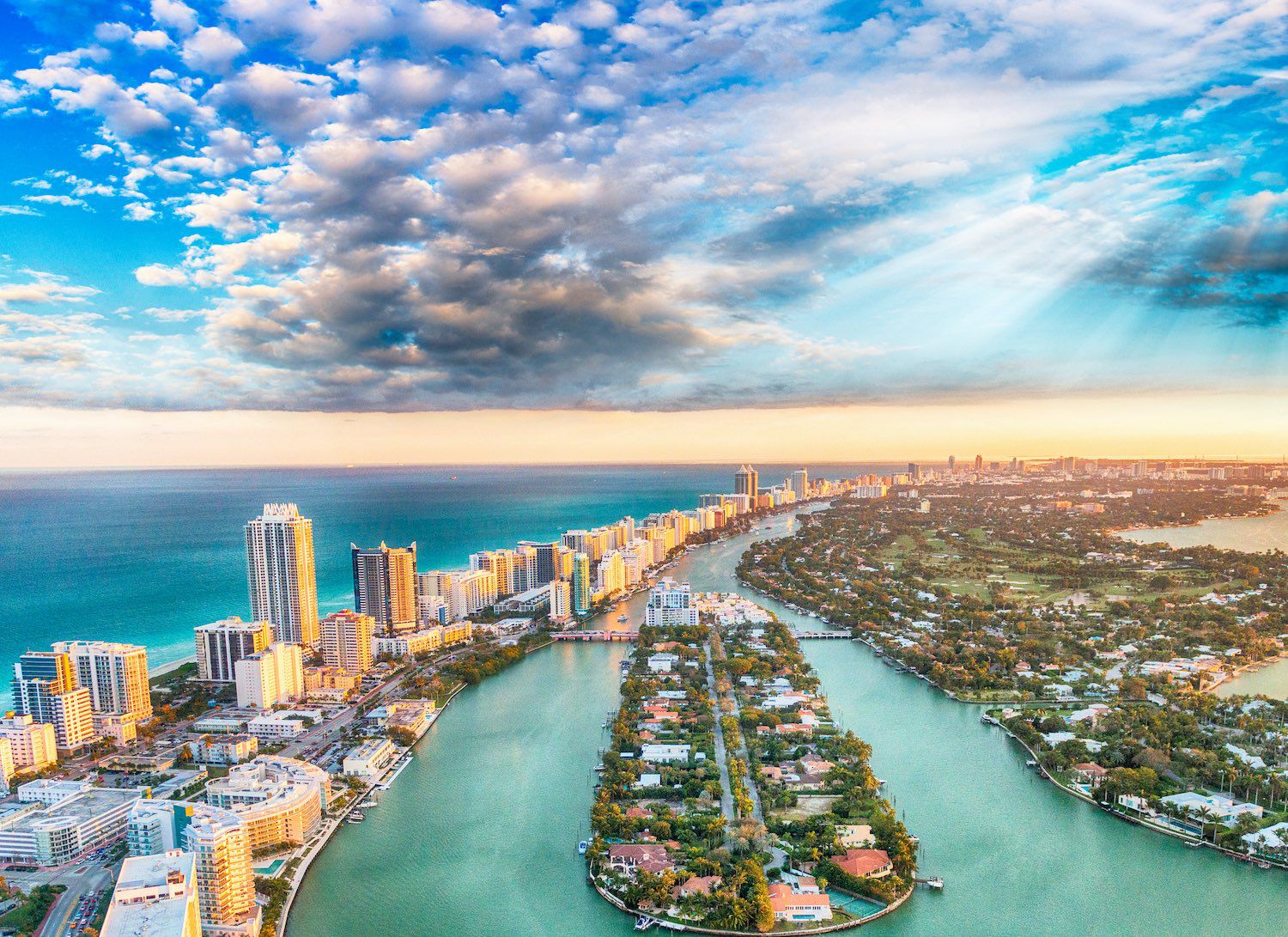 ---
Song Lyrics About Miami
Pitbull is definitely the first name that comes to mind when you think 'Miami lyrics'. And while I know you're already counting 'uno dos tres CUATRO!', there are tons of other song lyrics about Miami to sing along with too.
Miami is famous for its party scene and nightlife. One of the best ways to prep for a vacation like this is with a banging Miami themed playlist. Whether it's for an organized party mission, like Groove Cruise, or a weekend away with your mates, music will make your travels even better. Here are some of the best Miami lyrics to accompany your journey.
99)
"She gon' make you move to Miami. She moving like a gypsy." – Move to Miami, Enrique Iglesias featuring Pitbull
100)
"The good life, it feel like Atlanta. It feel like L.A., it feel like Miami" – Good Life, Kanye West featuring T-Pain
101)
"I'm in Miami bitch." – LMFAO
102)
"She told me that only in Miami is Cuba so far away." – Only in Miami, Bette Midler
103)
"Miami nights, it was all a dream." – Miami Nights, Wale
104)
"Them Spanish girls love me like I'm Aventura / Tell Uncle Luke I'm out in Miami, too" – The Motto, Drake
105)
"Welcome to Miami where they Hustle hey / And they ride duce tres like every day" – Welcome To Miami – Pitbull
106)
"Miami the city that keeps the roof blazin'" – Miami, Will Smith
107) "There's a place in Miami where they heal your soul /

fill the glass with your deepest hope / Where the faces have no name / I feel I'm home / There's a beach in Miami, when the sun is gone / You dance in the sand and you're not alone / There's no faces and no name / I feel I'm home" – Miami, Alexandra Stan
108)
"We could make something beautiful / Something that wouldn't be a problem / At least not in Miami" – Miami, U2
109)
"Shorty beside me, wind blowing through her hair / Oh, no, no, that's the summer wit Miami" – Summer wit' Miami, Jim Jones
110)
"Everybody talks about the California 'quakes / But the first time I ever felt the earth shake was in Miami" – Miami, My Amy, Keith Whitley
111)
"So bring on the Giants, Falcons, and Miami Dolphins/It's the body bag game, bitch, I'm supplyin' coffins" – Legacy, Eminem
112)
"Baby girl, used ride on the metro / Had a dream of diamonds and stilettos / First class in Miami from the West Coast / Never wanted to be homecoming queen" Dancer, Flo Rida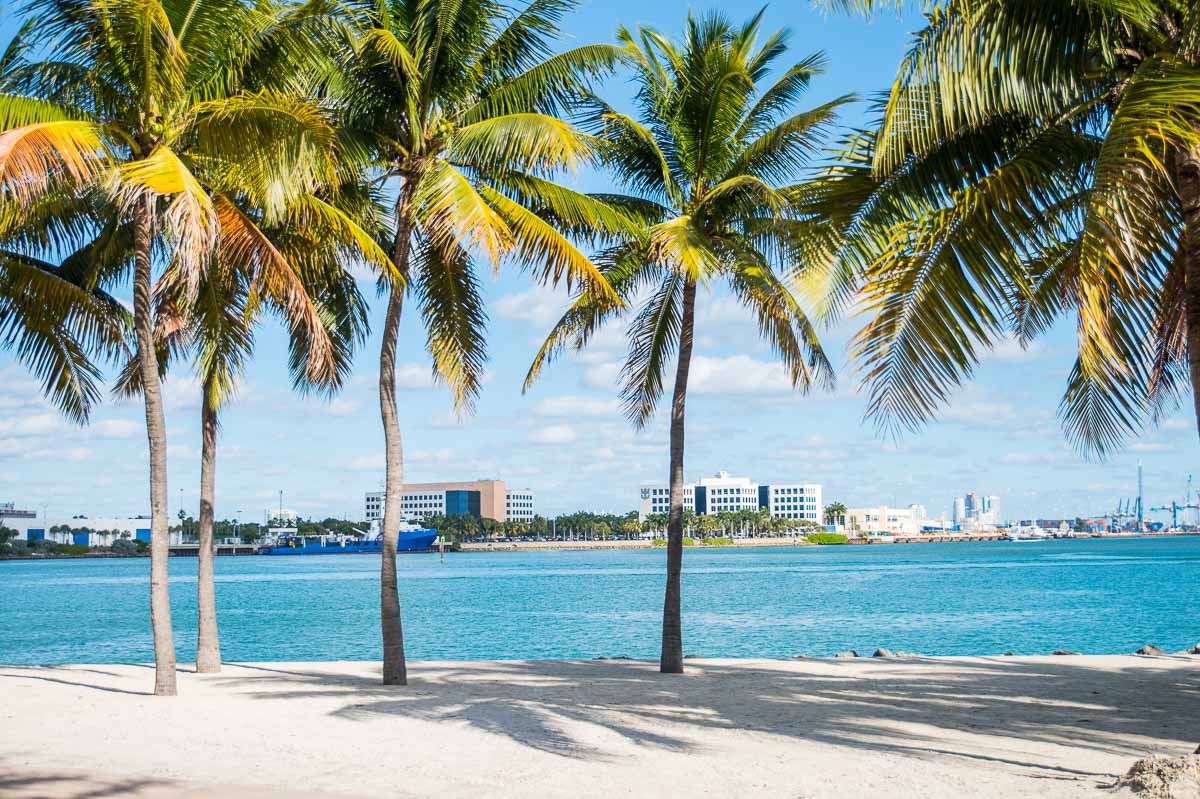 ---
Did I Miss Any Top Miami Quotes?
The city is bursting with events, vivacious people, and gorgeous weather. It is the ultimate beach getaway and hosts the world-renowned Art Basel. It's no wonder there's such a long list of Miami quotes.
If there are any quotes that didn't make this list that you really love, I'd love to hear about them. Drop me an email or reach out on social media and I'll see what I can do about adding them to this list.
---
Planning a trip to Florida?
Check out these Florida guides, music festival and AirBNB lists and personal travel blogs for some Flor-inspiration!
---
Thanks for reading about these awesome Miami Quotes!
Share these Miami Quoted with your crew!
https://www.jonesaroundtheworld.com/wp-content/uploads/2020/06/Quotes-About-Miami-for-Instagram.jpg
1224
1500
TravelTractionsJATW
https://www.jonesaroundtheworld.com/wp-content/uploads/2017/03/logotry-1-1-300x106.png
TravelTractionsJATW
2020-06-08 17:21:00
2021-11-12 14:20:41
110+ Miami Quotes & Captions To Inspire Your Florida Vacation