Looking for the best Greek Islands to visit on your next vacation? Greece is an amazing country to explore, and while the mainland is pretty awesome, so are the gorgeous islands.
Greece is located in the southeastern part of Europe, with thousands of islands spread throughout the Aegean and Ionian Seas.
Throughout history Greece has played an important role in the development of the modern world, shaping philosophy, architecture, and cuisine. One interesting fact about Greece is that it is one of the oldest countries in the world and is often referred to as the" Cradle of Western Civilization."
Greece is a popular holiday destination and attracts millions of visitors from around the world looking to soak up the sun on its numerous islands.
There are about 200 habitable islands, so narrowing down which ones you may want to visit on your next vacation in the Mediterranean might be a bit tricky. That's why I've listed the best ones for you to check out below.
---
Best Islands in Greece For Your Bucket List
Most people are familiar with the islands of Santorini, Mykonos, Crete, and Rhodes, as they are popular options with tourists. However, there are many more islands to discover. No matter what type of Greek getaway you're after, you'll certainly find an island or two that's perfect for you.
---
Santorini
The island of Santorini is part of the Cyclades island group, it's located southeast of the mainland. It was devastated by a massive volcanic eruption in the 16th century BC which shaped the island's rugged landscape.
Santorini is said to be the most beautiful Greek island, and it's not hard to see why. It has a reputation for its amazing panoramic views, romantic sunsets, and volcanic sand beaches
The island has two main towns, Fira and Oia. They are situated on multicolored cliffs lined with whitewashed buildings that overlook the gorgeous Aegean Sea and surrounding islands.
Santorini is also a great place for wine tasting and has plenty of vineyards to explore. Over the years volcanic ash on the island has created fertile ground.
The result is an array of exceptional fresh produce such as the Assyrtiko grape which is used to create sweet Vinsanto wine.
If you're visiting Greece for the first time, or are looking to spend your honeymoon in an idyllic location then Santorini is a great place to explore.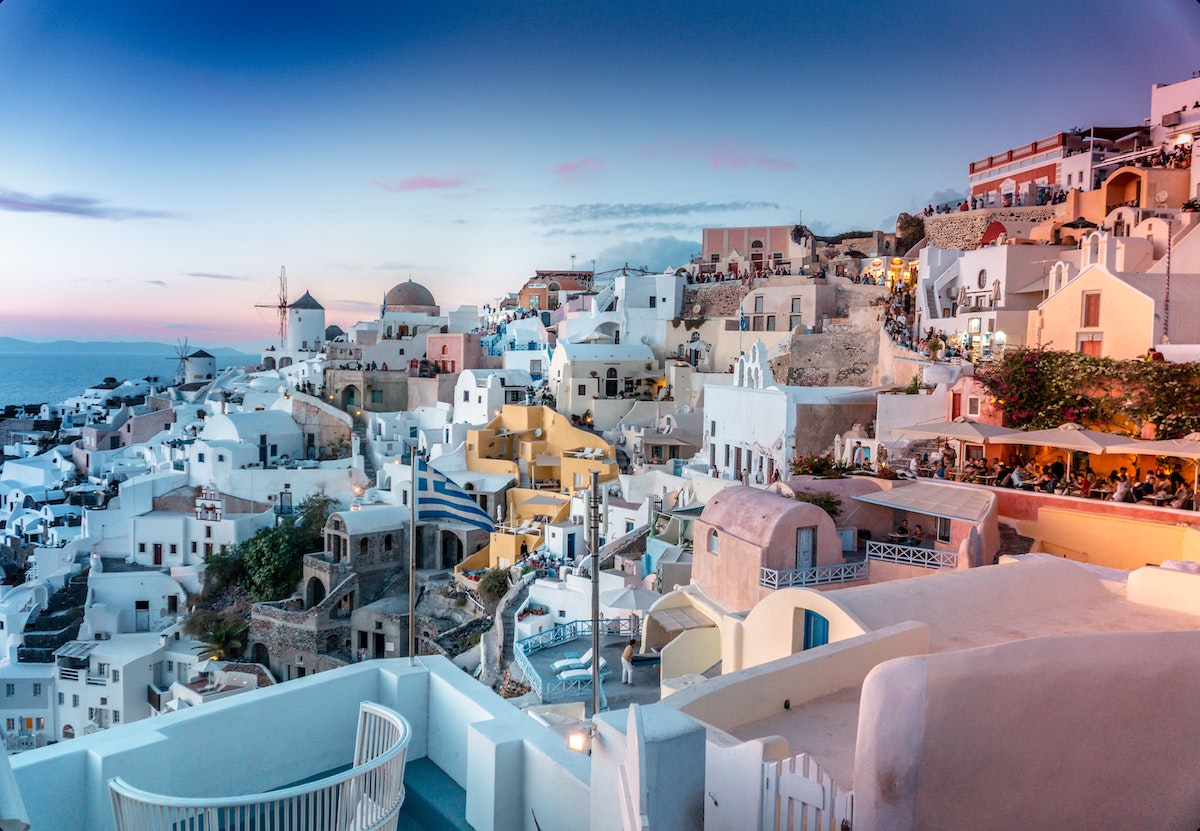 ---
Rhodes
Rhodes is the largest of Greece's Dodecanese islands. It is located in the sunniest corner of Greece in the southeastern Aegean Sea and has a number of sandy beaches surrounded by crystal clear water.
For many years Rhodes was a neglected island, suffering from numerous invasions and crusades over the centuries by the Ottoman Turks and Italians.
Today, it has reinvented itself as one of the top Greek isles to visit. If you love history, then Rhodes is the perfect place for you. The island's main attraction is its medieval citadel situated in the Old Town.
As you walk along the town's cobblestone streets, you'll pass by the Street of the Knights and the iconic Palace of the Grand Masters. If you head a bit further out, you'll also spot Byzantine churches, Roman ruins, synagogues, minarets, and traditional settlements.
If you're not keen on taking a step back in time and just want to relax, then you can head over to one of Rhodes' 42 beaches such as St Paul's Bay, and Elli Beach.
---
Crete
Crete is the largest Greek island and the birthplace of the Greek God Zeus. It's located approximately 99-miles (160km) from mainland Greece. It is said that Crete captures the spirit of Greece and mesmerizes everyone who visits it.
This Greek island is best known for having some of the best beaches in Greece, spectacular natural beauty, and the most exquisite Mediterranean cuisine.
If you love history and ancient architecture, then Crete is a great place to visit to gain more insight into the country's past.
The island has an abundance of ancient sites, like the Minoan palace of Knossos and the ancient city and town of Aptera and Malia.
Crete is also considered the best Greek island for food. Said to be the home of Mediterranean food, you can eat to your heart's content when visiting.
Families on the island are extremely hospitable and do not mind sharing family recipes that date back centuries. While you're here, be sure to try out a Cretan specialty, the Dakos salad.
The salad is made from soaked dry bread, succulent tomatoes, crumbled feta cheese, and seasoned with herbs and olive oil.
You'll also find an assortment of sweet pastries and pies such as Greece's signature dessert, Baklava.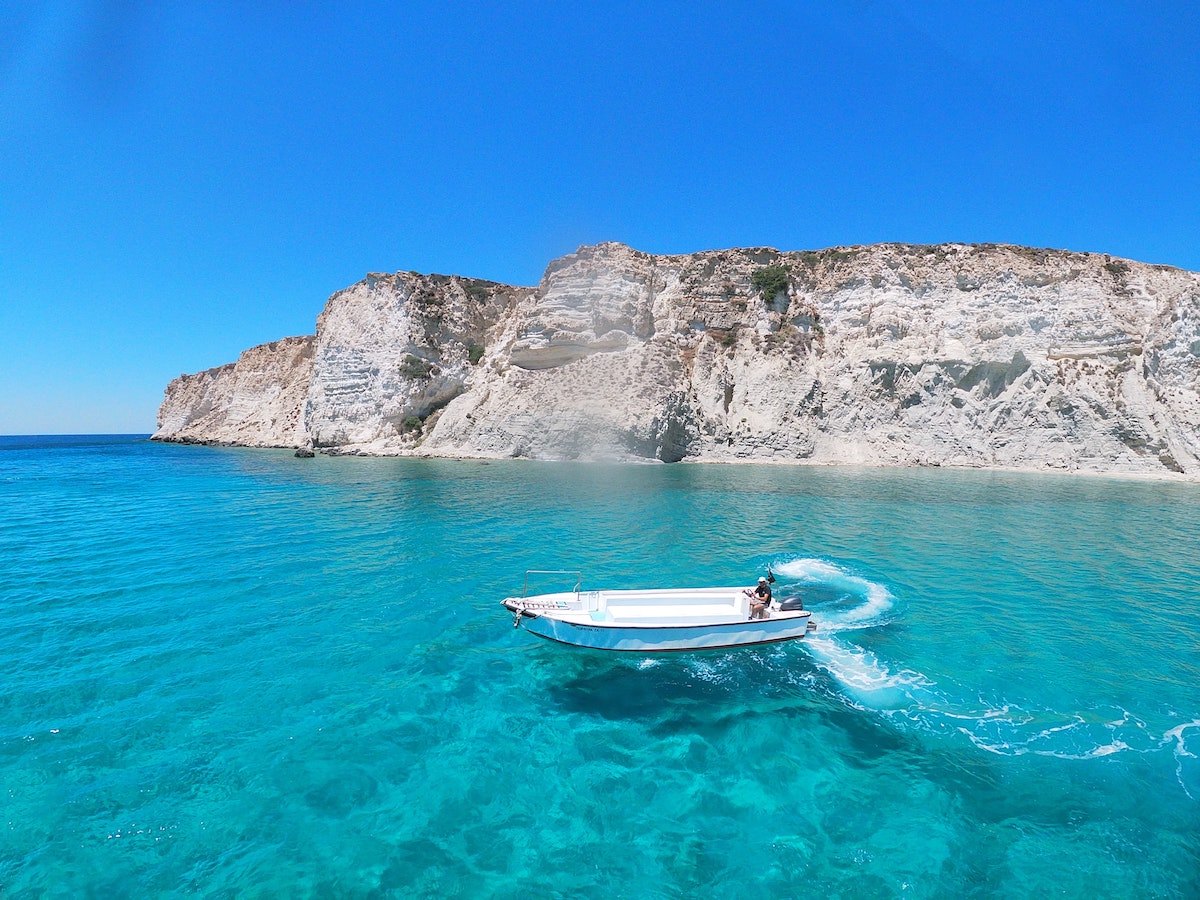 ---
Corfu
The island of Corfu is situated in the Ionian Sea, just northwest of the mainland's coast. It's one of the most cosmopolitan destinations in the Mediterranean.
Corfu is one of the prettiest Greek islands and has got something for every kind of traveler including multi-cultural heritage, historic monuments, and breathtaking natural landscapes.
You'll also find stunning beaches surrounded by clear blue waters.
Over the centuries Corfu has been occupied by the Venetians, the British, and the French. They have all left their mark on the island, which has resulted in Corfu's multi-cultural heritage.
You'll find examples of these influences in the two Venetian fortresses, medieval lanes, and Baroque and Renaissance architecture. Corfu's Old Town has also been carefully preserved and declared a UNESCO World Heritage Site.
If you're keen on doing some shopping, be sure to check out the Bazaar of Corfu Old Town. You'll find an array of souvenirs, clothes, and even some tasty treats.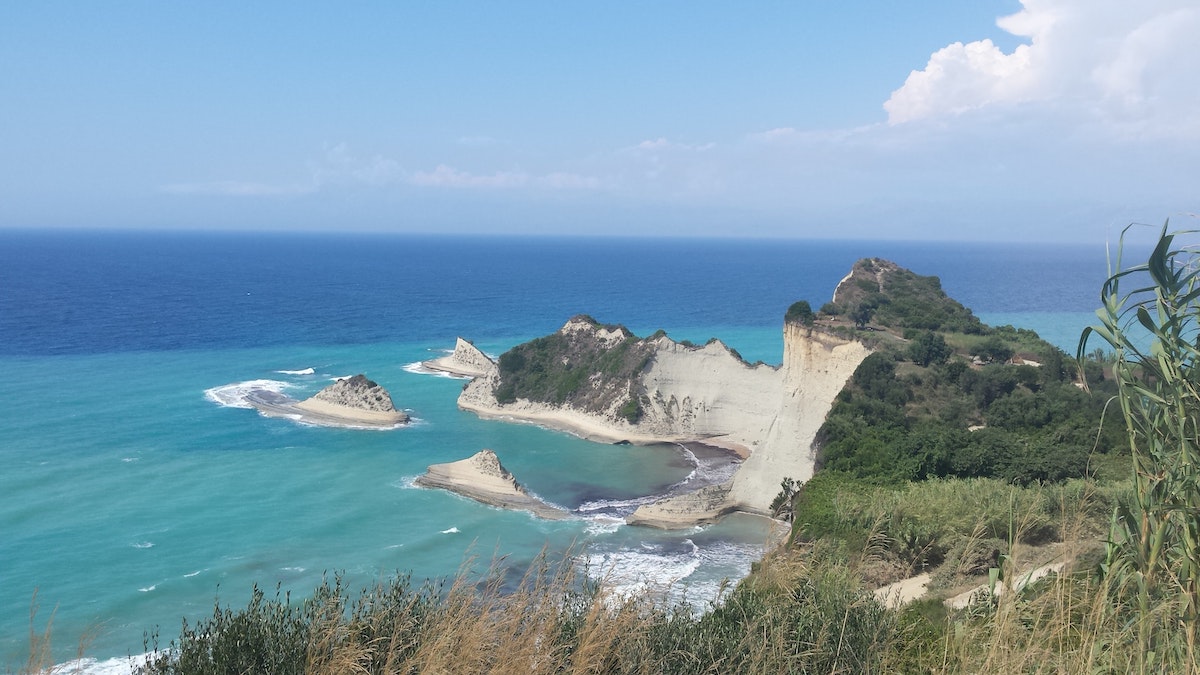 ---
Zakynthos
If you search for any of Greece's islands, it's most likely that a picture of Zakynthos will be the first thing that pops up.
Zakynthos (also known as Zante), is located in the Ionian Sea. It is undoubtedly one of the prettiest islands in Greece and has many resorts with family-friendly activities.
No trip to Zakynthos would be complete without a visit to its famous Navagio Beach, where a wrecked ship can be found on the shore. From here you can also take a trip to the magical Blue Caves with turquoise waters and arches created by years of erosion.
The island is also home to the endangered Caretta-Caretta species of sea turtles that lay their eggs on the white sand beaches.
If you travel a little further inland, you'll find picturesque hilltop villages, rugged mountains, monasteries, and unbeatable views at the top of the island.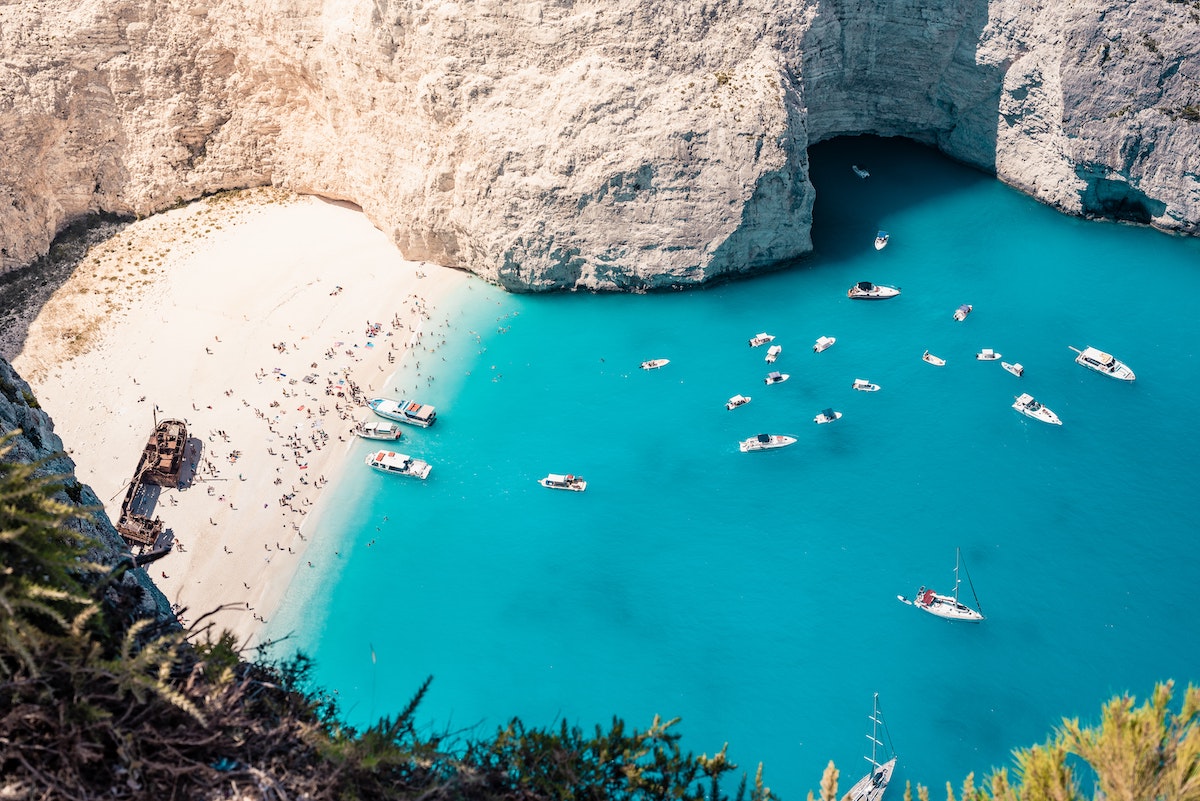 ---
Poros
If you're looking to get away from the mainland for a little bit, but don't want to travel too far out, then Poros is the perfect island to visit.
The tiny island of Poros is situated in the Saronic Gulf, just 36-miles (58km) south of the port of Piraeus in Athens. Poros is made up of two islands, Spheria and Kalavria, which are both great for exploring.
The island is the perfect place to head to for a day trip. Poros has a booming waterfront where you can enjoy aromatic coffee, delicious Mediterranean food and even shop around for some souvenirs.
While it may not be as well known and as exciting as some of the bigger Greek Isles, it's still a charming place to visit.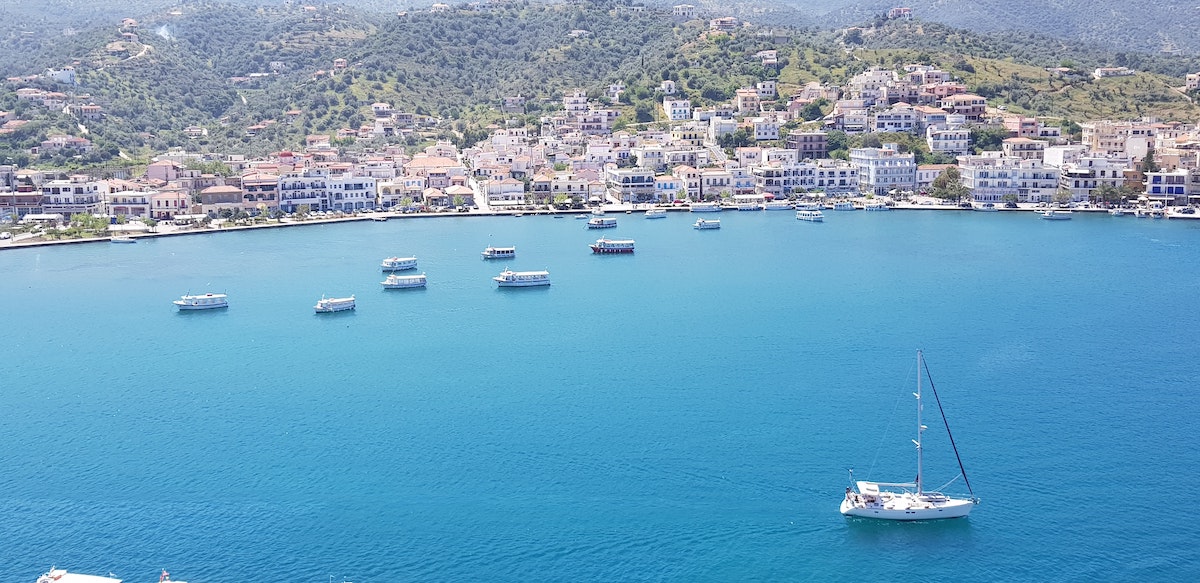 ---
Mykonos
The island of Mykonos needs very little introduction. This picturesque island is known for its summer party atmosphere, which attracts party-goers from all over the world.
Mykonos is undoubtedly one of the best Greek islands for nightlife, however, it's much more than just a party island.
It has many attractions that you can visit, including the Kato Mili windmills and the Little Venice neighborhood. Little Venice is said to be one of the most romantic places in Greece, and it's also the perfect spot to watch the sunset.
If you're a seafood lover, then you're in luck. Mykonos serves up some of the freshest and most decadent seafood dishes you'll find in Greece.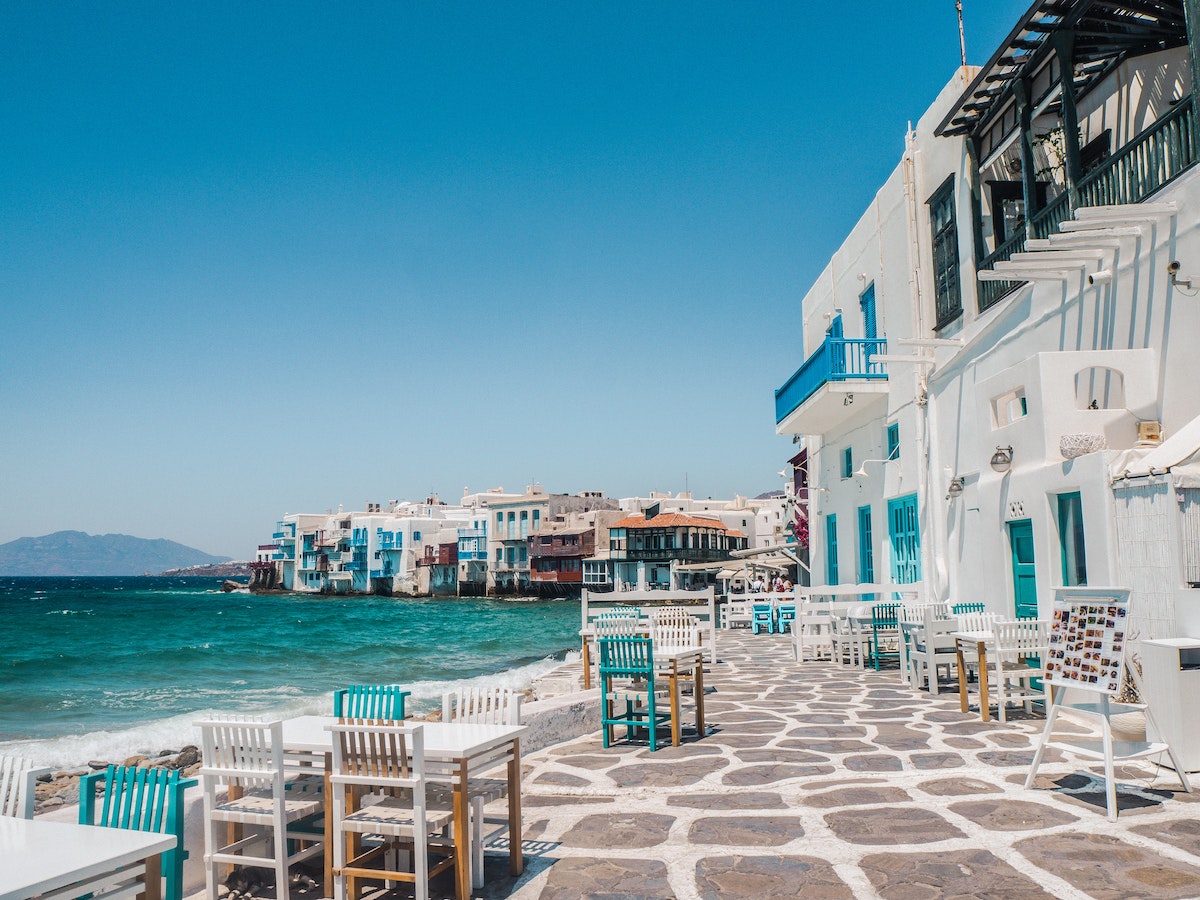 ---
Patmos
Patmos is an Aegean Island that lies just north of Greece's Dodecanese island group.
It's known as being a prominent Christian pilgrimage site. The island is home to important religious sites which attract thousands of Christians from around the world. One of these locations is the Cave of the Apocalypse, where it is believed that Saint John wrote the book of Revelation.
There's also a large monastery dedicated to Saint John on top of the hill above the island's capital, Chora. The monastery is protected by high walls that make it look like a spectacular fortress.
There are also a few smaller monasteries scattered around the island, and Patmos hosts many religious festivals and feasts throughout the year.
Apart from being a sacred island, Patmos has tons of other great things to do and see. The island's capital, Chora, is one of the most picturesque villages in Patmos.
The village boasts traditional architecture and narrow paved alleys that have the most incredible views of the Aegean Sea. You'll also find many great hotels, cafes, restaurants, and taverns in Chora where you can enjoy local delicacies.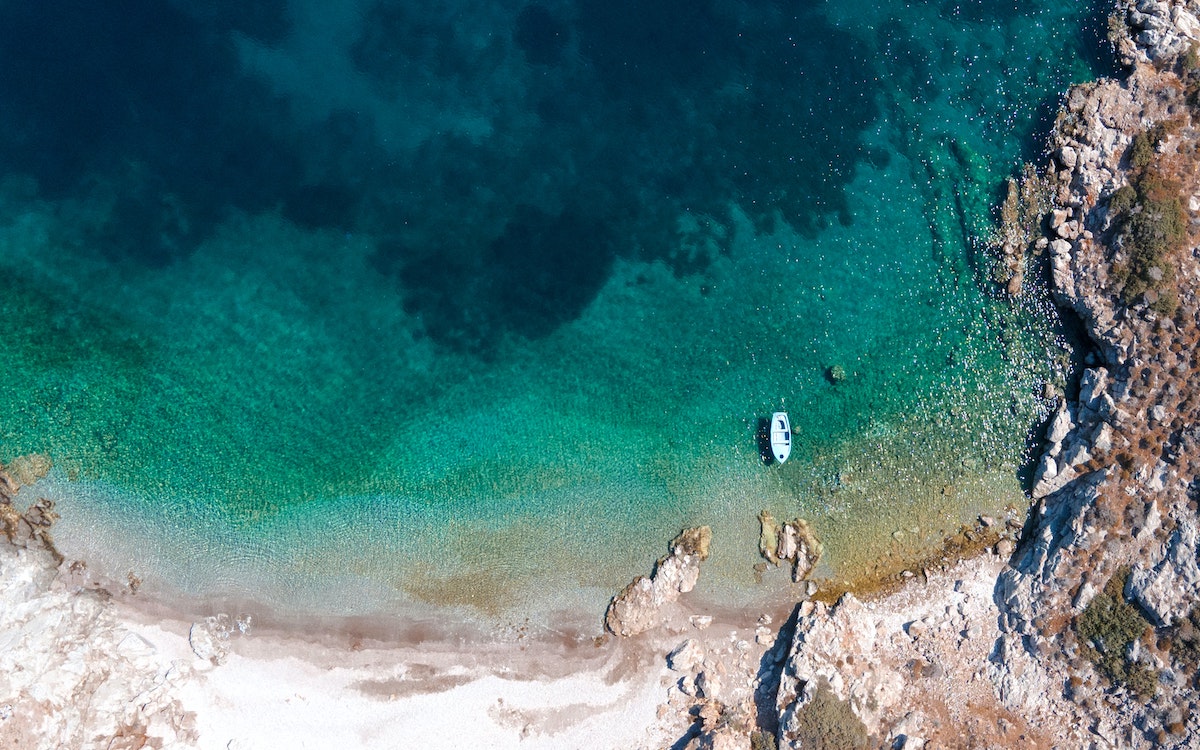 ---
Symi
Symi is a Greek island that forms part of the Dodecanese island group and is one of the most idyllic places to visit in Greece. It is best known for its port that is surrounded by colorful neoclassical houses.
The colorful houses of Symi were built in the 19th century by sponge and spice merchants and today the whole town of Symi is a national monument.
The main town is the center of most activities and is divided into two settlements, Gialos and Chorio. It boasts the most beautiful views of the Aegean Sea from almost every corner.
On the southwest coast of the island, you'll find the 18th-century monument of the Monastery of Archangel Michael Panormitis. This is an important Greek Orthodox pilgrimage site with a Byzantine museum.
Symi also has some of the best beaches in Greece. Since it's not as big as some of the other islands, you'll be able to avoid massive crowds and sunbathe in relative peace.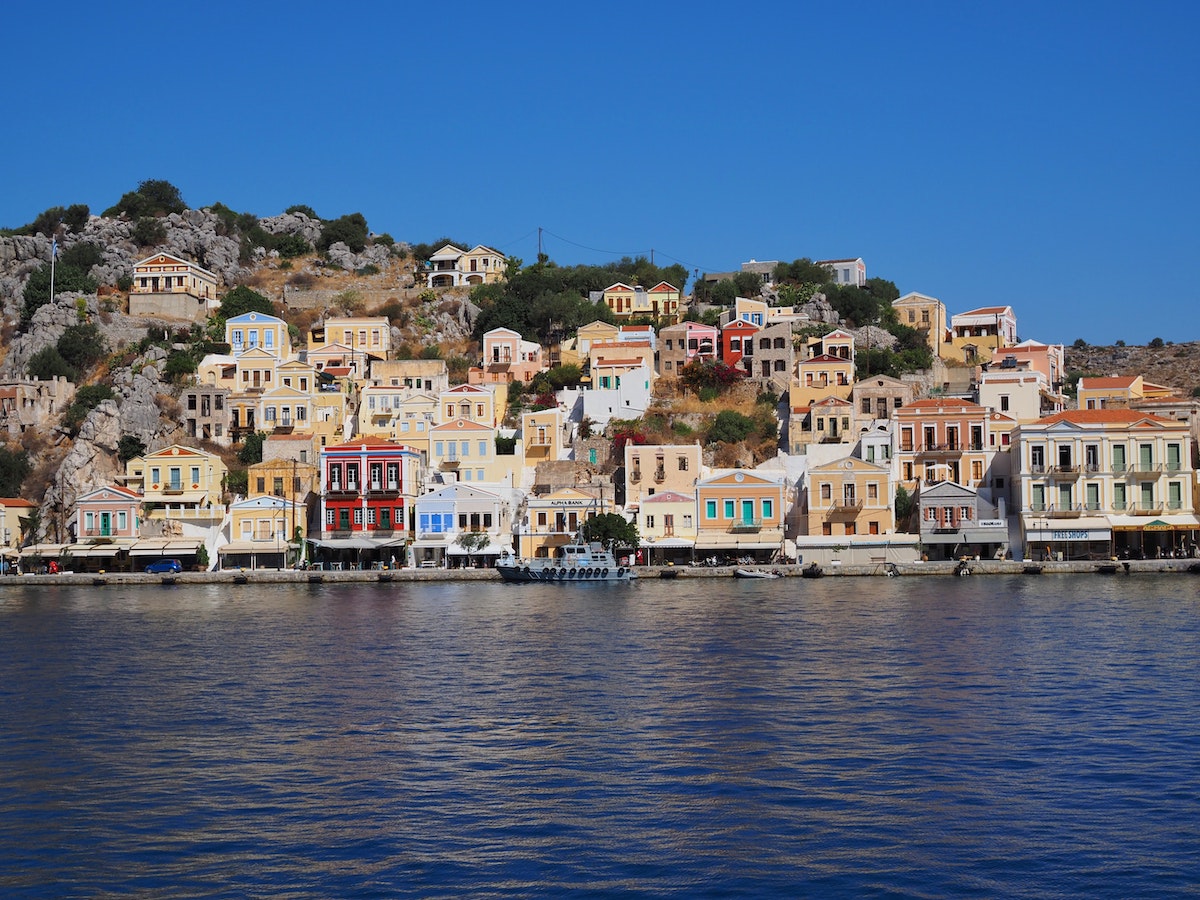 ---
Kefalonia
Kefalonia is the largest and most diverse of the Ionian islands and lies west of the mainland. It's best known for its sandy coves, rugged landscapes, and impressive limestone cliffs.
Kefalonia has some of the white sand beaches in Greece, like the charming Myrtos Beach, which is situated along the island's rugged coastline.
While Kefalonia may be very popular, it's also extremely laid back, making it the best Greek island to visit if you're looking to relax.
The residents of Kefalonia are said to be the wittiest Greeks and are always ready with a joke, a smile, and a helping hand. Their laid-back attitude is extremely infectious and within a few hours, you'll feel right at home amongst the locals.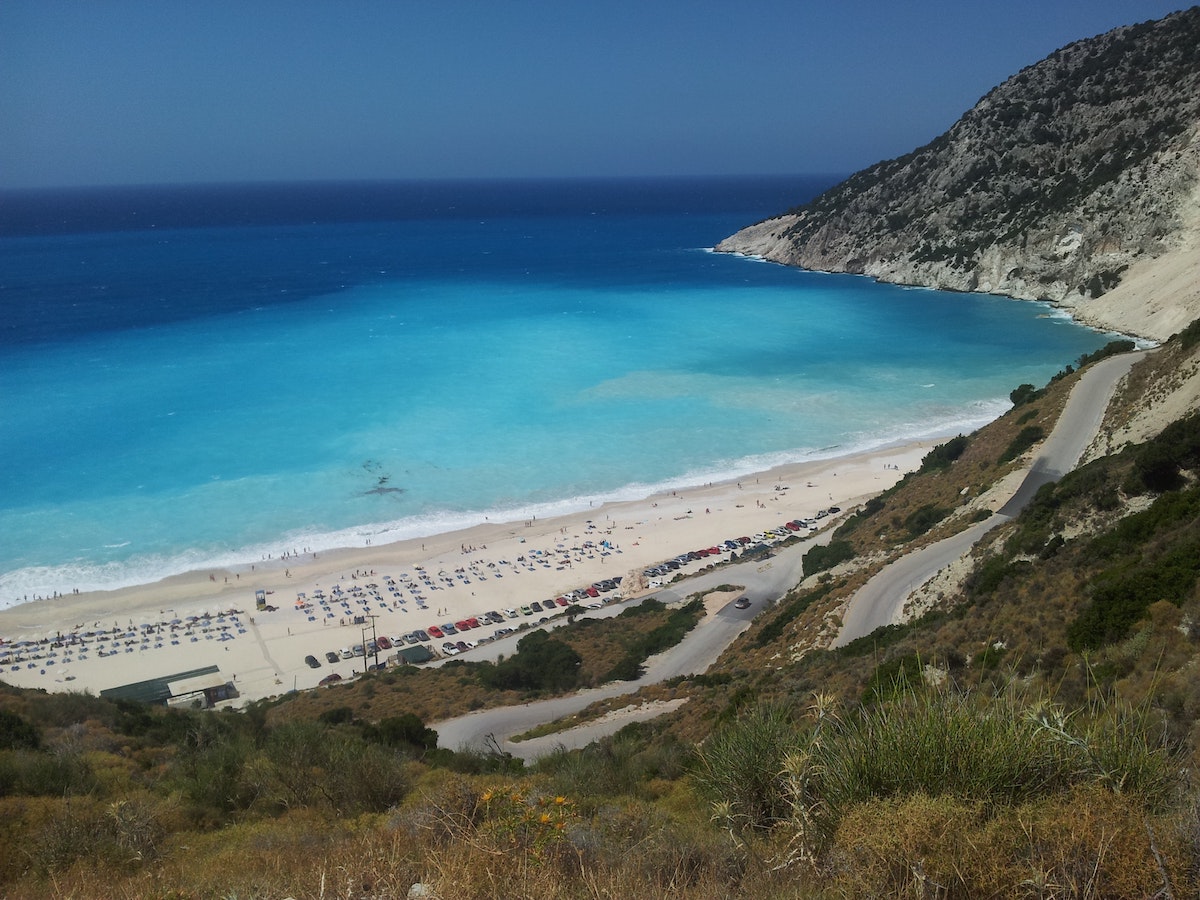 ---
Syros
The Greek Island of Syros is situated at the heart of the Aegean Sea. It sits just 78 nautical miles southeast of Greece's capital, Athens.
Syros contains a mixture of Cycladic and Venetian architecture. Here you'll find traditional whitewashed houses right next to bright, colorful neoclassical houses and big churches.
The island's capital of Ermoupoli is divided into two parts, with one side being predominantly Orthodox and the other side being predominantly Catholic. Here, you'll find strong Venetian influences such as in the marble piazzas, impressive mansions, and even a mini replica of the La Scala theatre.
Syros is famous for hosting an extravagant Easter festival each year. It bursts to life with holy processions, hymns, feasts, and delicious treats only enjoyed during this special period.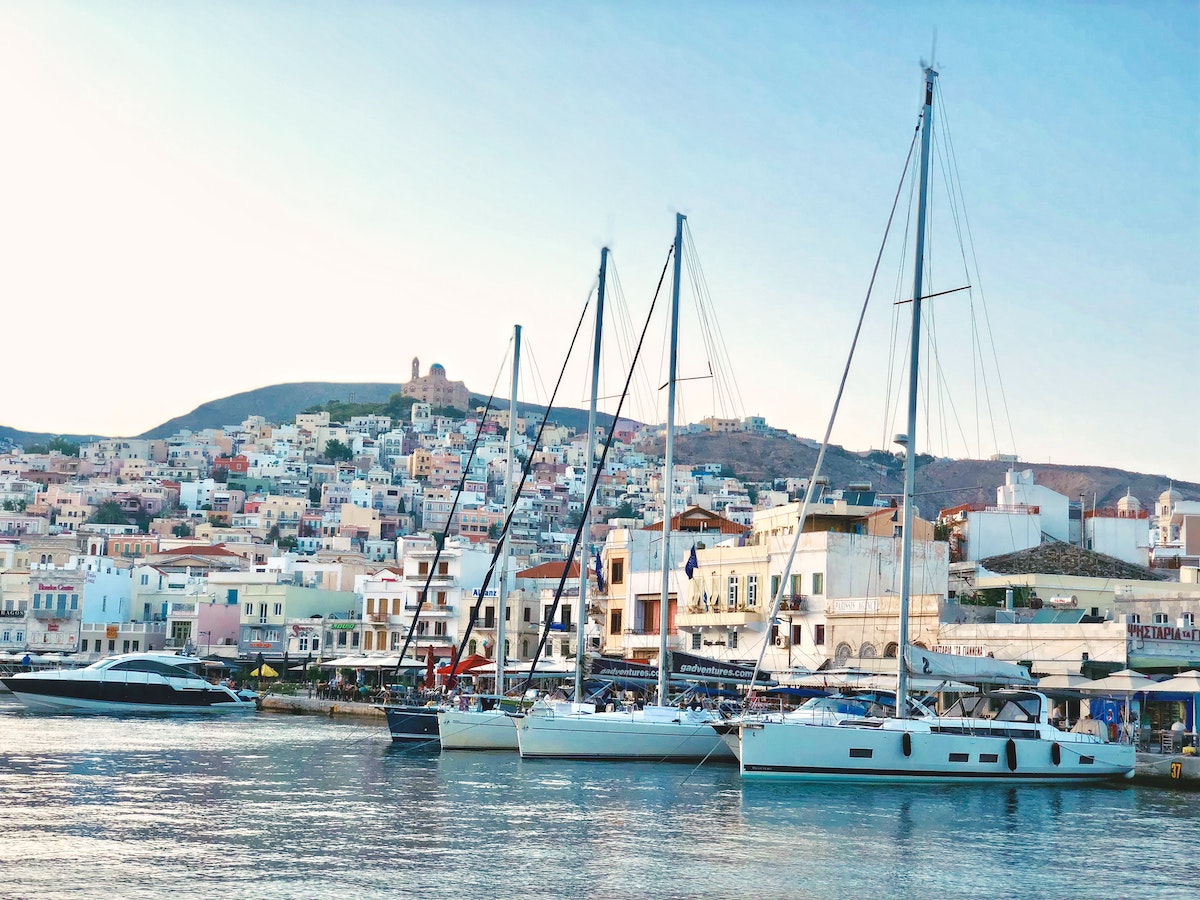 ---
Further reading:
---
THANK YOU FOR READING THIS LIST ABOUT THE BEST GREEK ISLANDS TO VISIT!
SHARE THESE GREEK ISLANDS WITH YOUR TRAVEL SQUAD!
https://www.jonesaroundtheworld.com/wp-content/uploads/2021/10/Rhodes.jpg
786
1200
TravelTractionsJATW
https://www.jonesaroundtheworld.com/wp-content/uploads/2017/03/logotry-1-1-300x106.png
TravelTractionsJATW
2021-10-13 21:37:17
2021-10-13 21:37:40
Best Greek Islands to Visit | 11 Most Beautiful Isles To Explore