Hakone is a tranquil mountain region in the Kanagawa prefecture, lying just south of Tokyo. With its beautiful landscapes, world-class hot springs, charming villages, mesmerizing craftsmanship, endless outdoor attractions, unique accommodation options, and authentic Japanese cuisine – there really is something for everyone here! Even if you don't have much time in Hakone, there are so many fascinating things to do in Hakone that'll enchant you and will keep you coming back for more!
I just returned from my first visit to Hakone, and I really did fall in love with everything this little-known destination has to offer!
Nature. Art. Food. History. Culture. Adventure. Relaxation. It's no wonder Hakone is regularly listed as one of the best day trips and weekend getaways from the Japanese capital, Tokyo.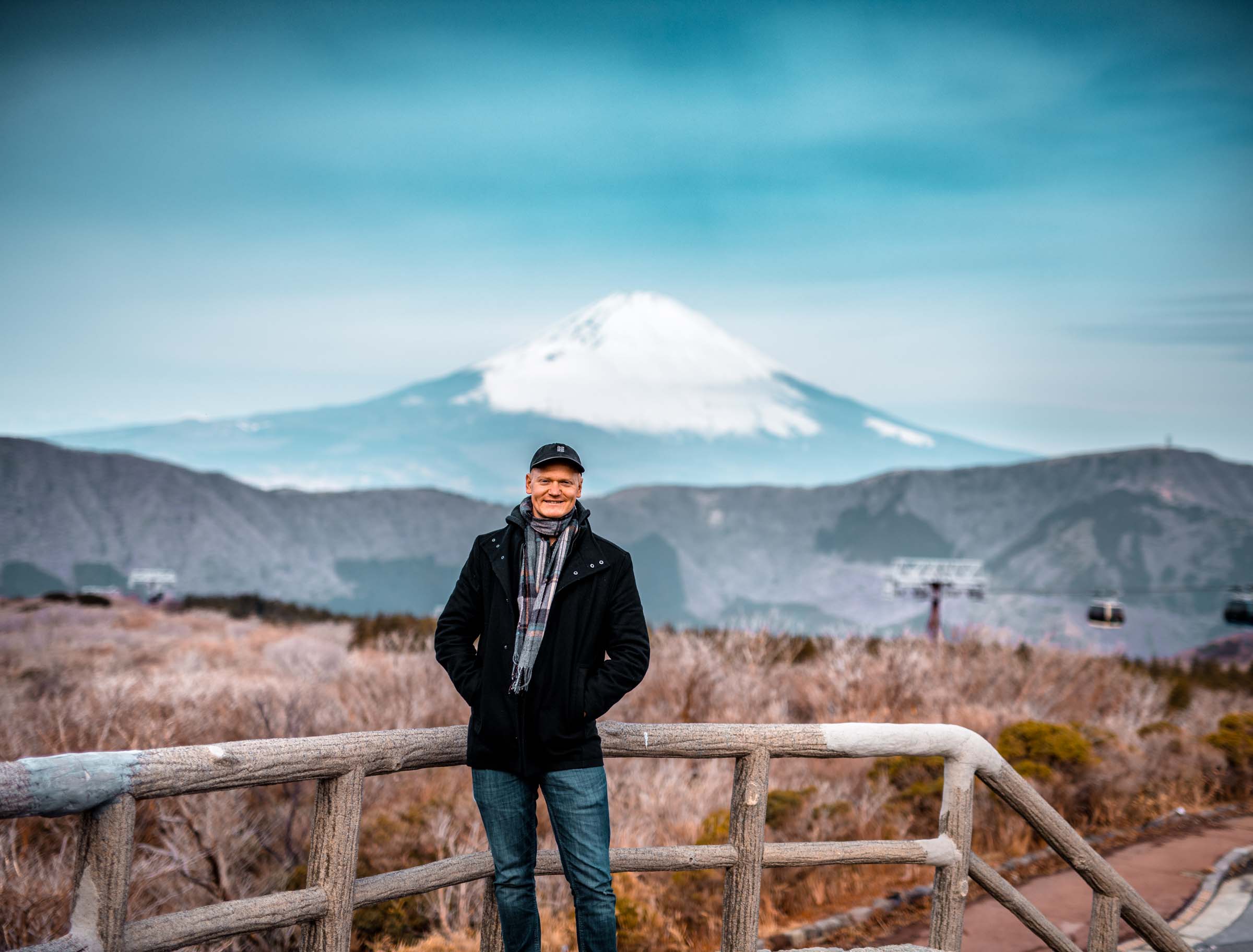 ---
I've put together this detailed guide of the best things to do in Hakone to help you plan your trip, as well as including a variety of helpful travel tips and visitor information so you can make the most of your time down here in this serene pocket of the world! So let's get into it!
---
Hakone Free Pass
One of the most essential tips I can give you for your trip to Hakone is to purchase a "Hakone FreePass" for 2 or 3 days. Even if you're only visiting Hakone as a single day trip, this pass is worth the money!
2 Day Pass:

5,700 Yen ($51.18 U.S.D)

3 Day Pass:

6,100 Yen ($54.77 U.S.D)
This is an awesome offer for tourists visiting Hakone, and makes the sightseeing process incredibly simple. This pass includes round-trip train tickets from Shinjuku Station in Tokyo, unlimited rides on the Hakone public transportation network, and it also includes entry to must-do activities like the Lake Ashi Cruise and Hakone Ropeway.
---
Plus, holders of the Hakone Free Pass will be privy to discounts at dozens of restaurants, museums, and other attractions within the region. It's simply a HUGE time and money-saver.
You can purchase one at any of the ticket vending machines, but I'd personally recommend getting one at a Tokyo tourist travel agency. I purchased mine at the Odakyu Sightseeing Service Center at Shinjuku Station. The staff were all friendly, spoke English, and helped answer any questions I had about the process and how to maximize the benefits of the pass.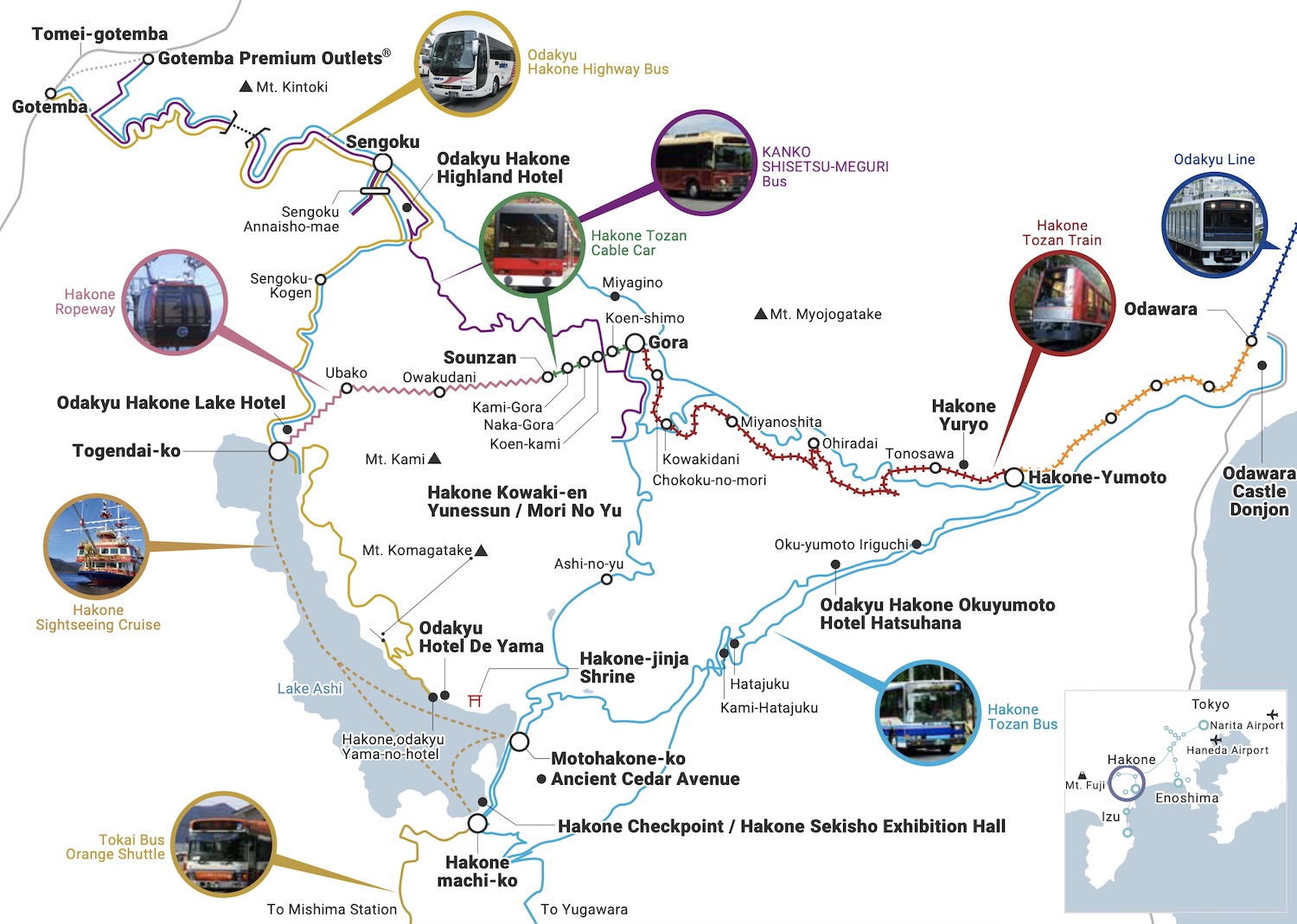 ---
Getting to Hakone
Now that you've got your Hakone FreePass, it's time to kickstart your trip, and the journey time from Tokyo to Hakone is only around 90 minutes.
The most economical way to get down to Hakone is to take the train from Shinjuku Station (Tokyo) to Odawara Station, and then to transfer there to reach Hakone Yumoto. This is the main train station and gateway to the region!
If you're looking for the faster and more DIRECT train, you can book the Odakyu Limited Express Romancecar, but you'd have to pay a small surcharge for an Express Pass, as it's not included with the Hakone FreePass.
*If you're new to traveling in Japan, you'll quickly learn that their train system is one of the best and most efficient in the world, and even rookie travelers shouldn't have a hard time navigating the system. They display signs in both Japanese and English, as well as placing helpful tourist information kiosks at all of the major train stations.*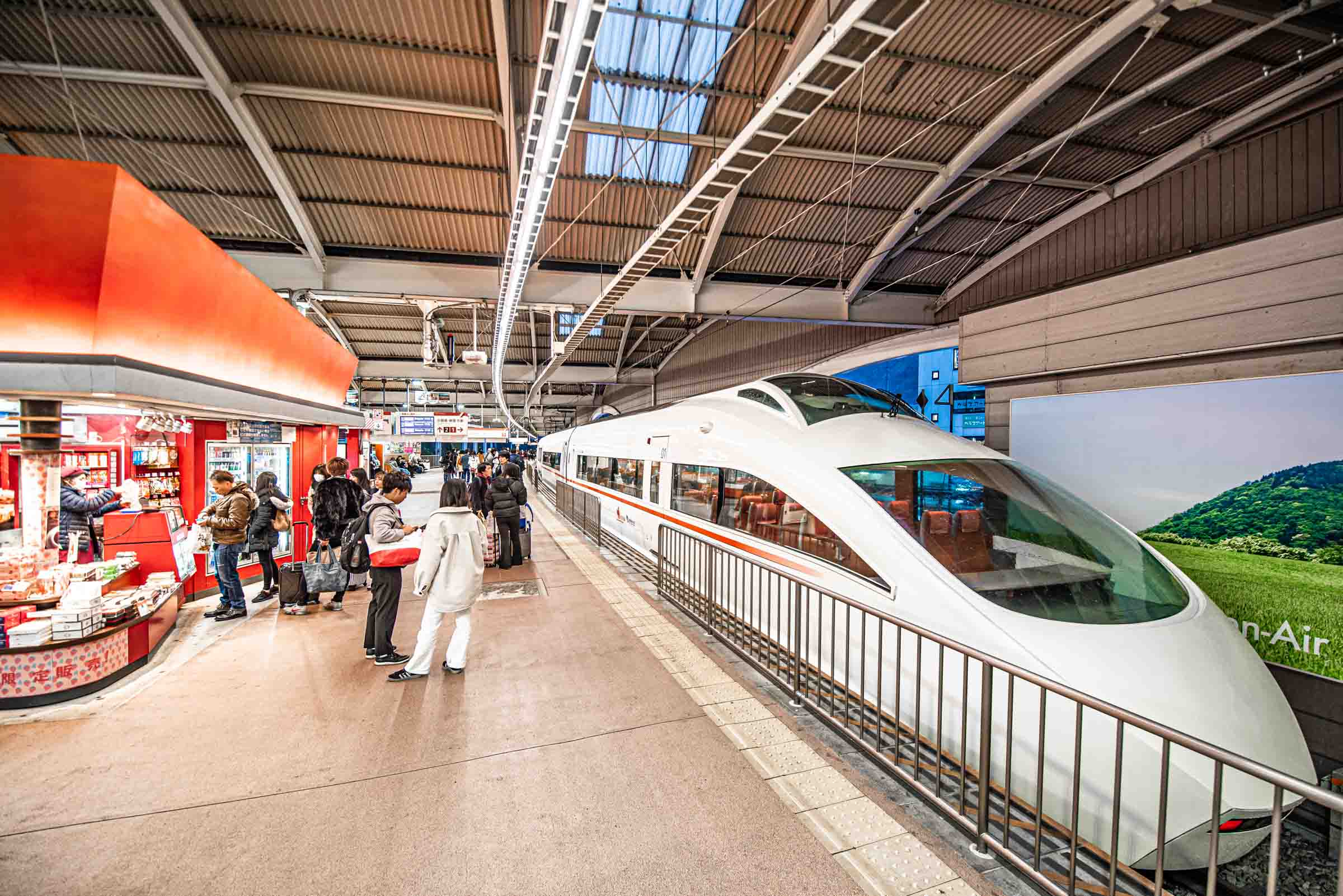 ---
Hakone Map
Before your trip, I'd recommend taking a screenshot or saving these maps to your smartphone! They're a great resource and can help you figure out the best path and transportation route for your trip to Hakone!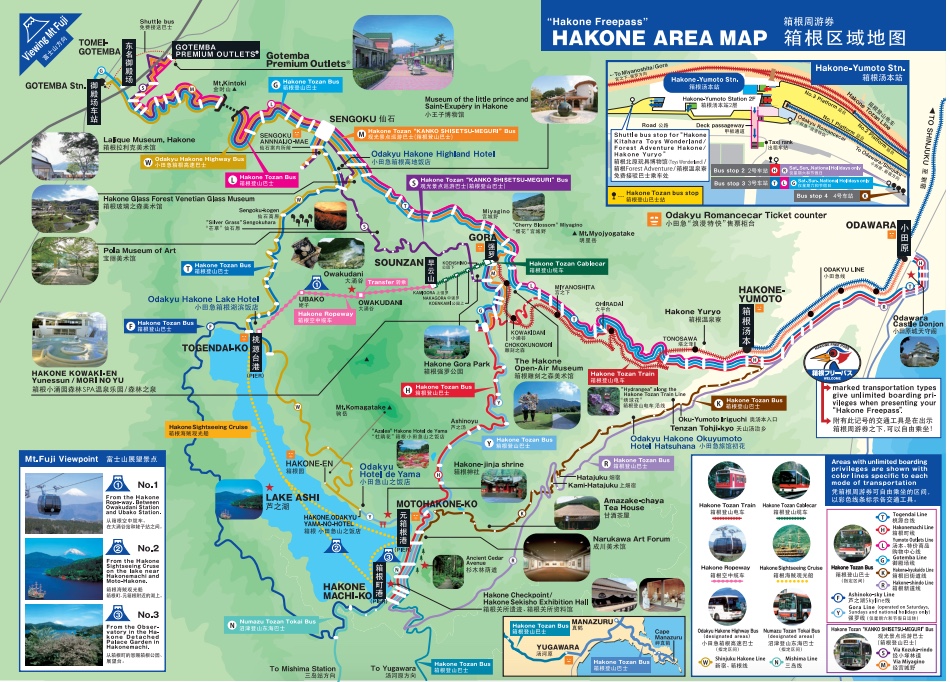 ---
The Best Things To Do in Hakone, Japan
If you're only going on a Hakone Day Trip you won't be able to do everything on my list, but if you've got 2-3 days you should be able to squeeze everything in! During my visit I had one cloudy day and one sunny day, which worked out fantastically for photography purposes!
While planning your trip to Hakone, I'd definitely recommend keeping an eye on the weather reports, and choosing a sunny day for the Hakone Ropeway & Lake Ashi Cruise if possible.You'll be rewarded with the most spectacular view of Mt. Fuji!
So let's break it down. Here are the best things to do and places to visit in Hakone!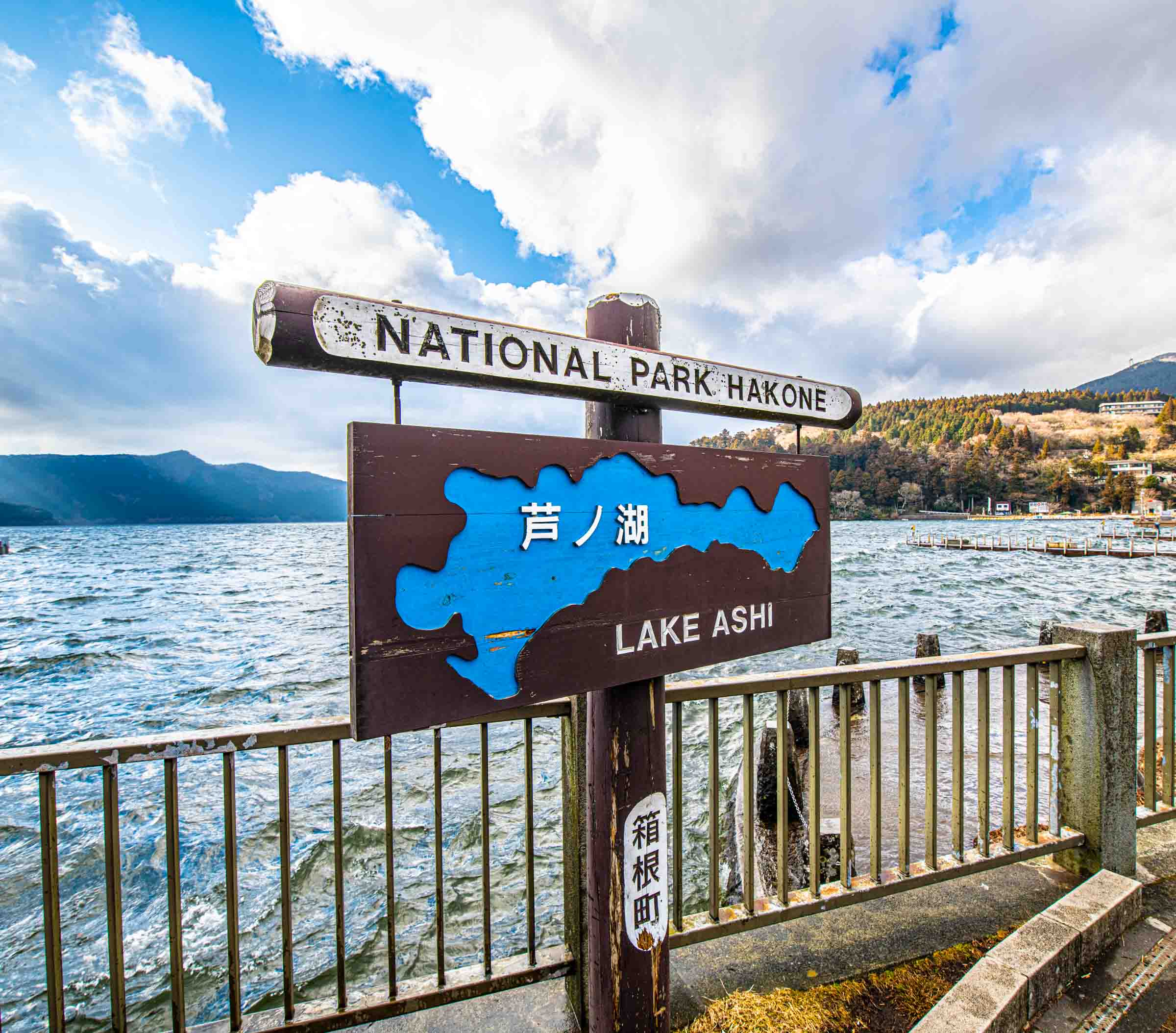 ---
1) Visit the Hakone Shrine
Set amongst towering trees in a mystical forest, you'll find the beautiful Hakone Shrine. Dating back to the year 757, the Hakone-Jinja Shrine is where the Tokugawa (the feudal military government of Japan during the Edo period from 1600-1868) and various samurai families worshipped. It's dedicated to the local gods and known for obtaining fortune, protecting against evil, fulfilling wishes and ensuring safe travel.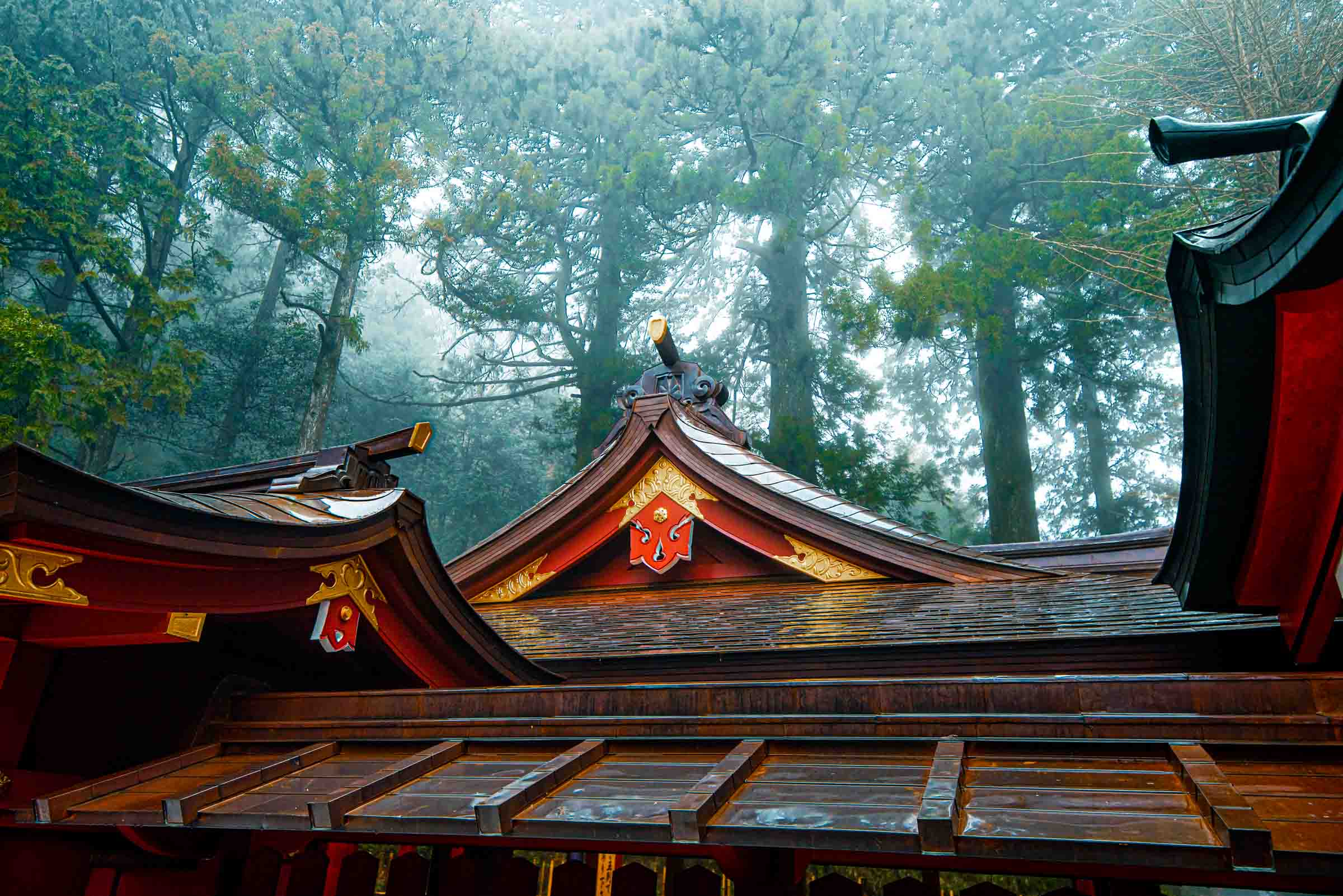 ---
It's a beautiful example of Japanese architecture, but the surrounding scenery alone is worth the visit! If you take the bus down to Moto-Hakone, there's an incredible path through the forest along Lake Ashi. If you're lucky like I was, you'll visit on a misty morning with fog rolling through the trees above. It really adds something special to the experience!
You can find the Torii Gate of Peace located at the base of Lake Ashi, and then take the series of picturesque steps through the forest that's lined with tall trees and Japanese lanterns.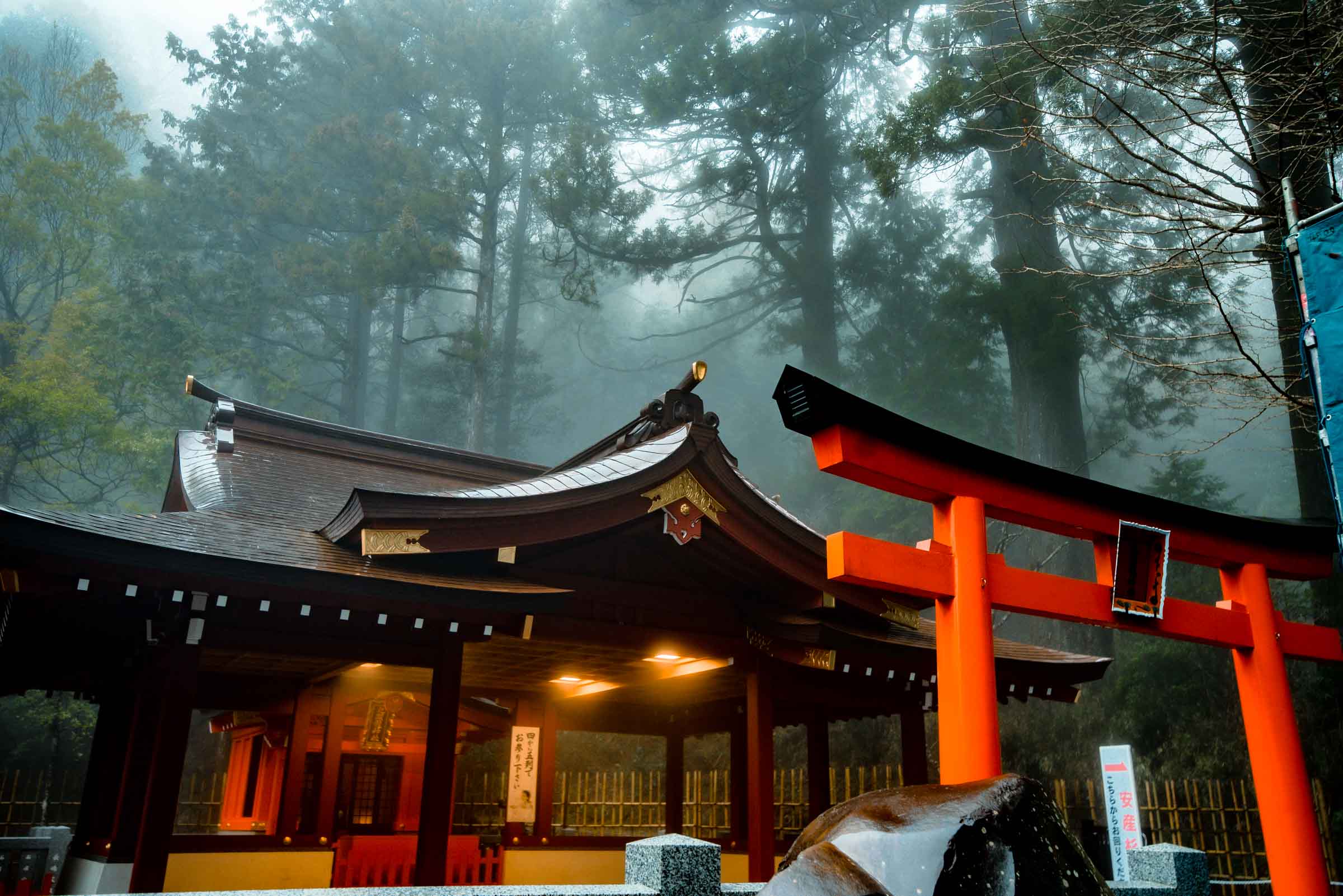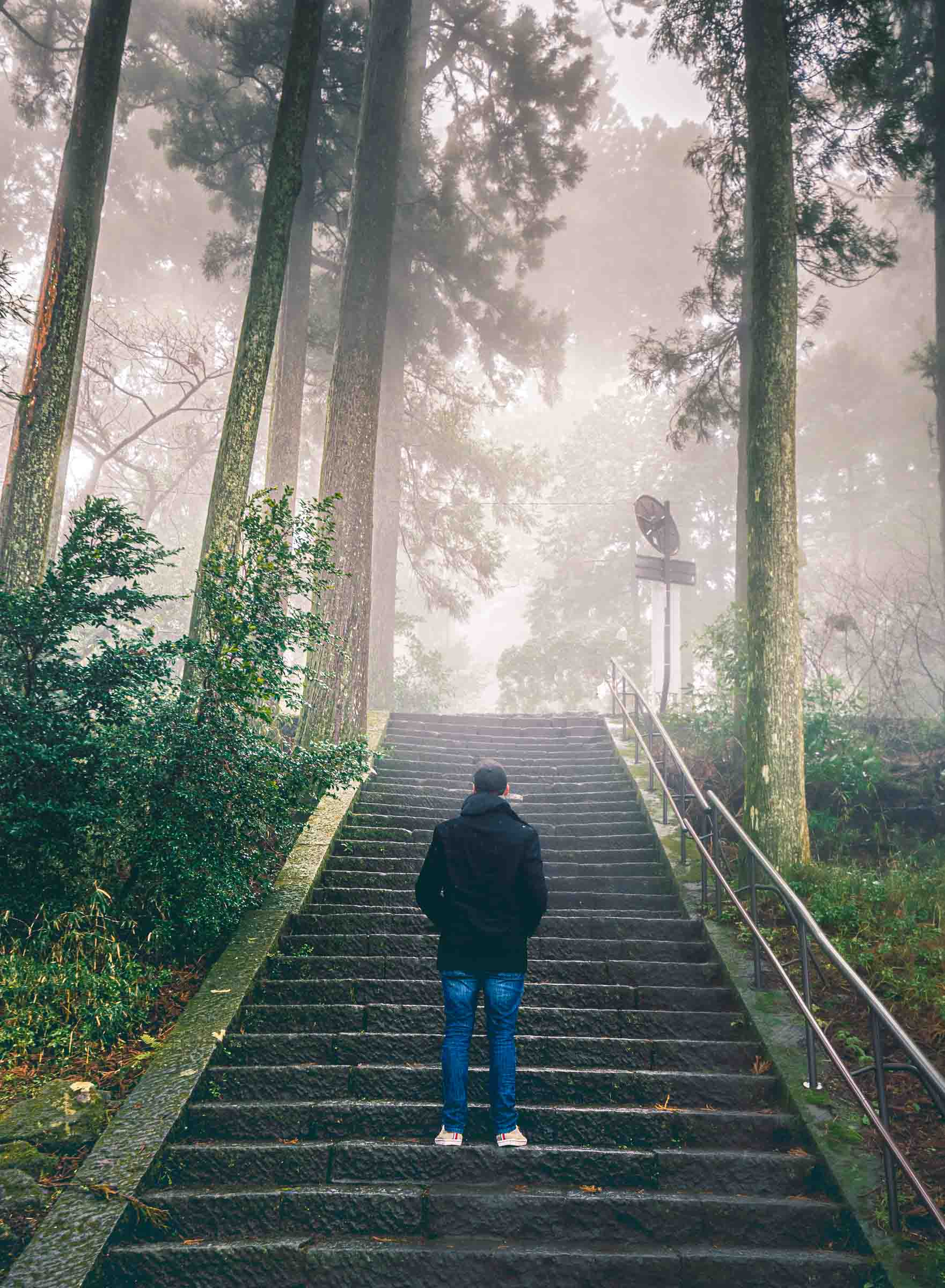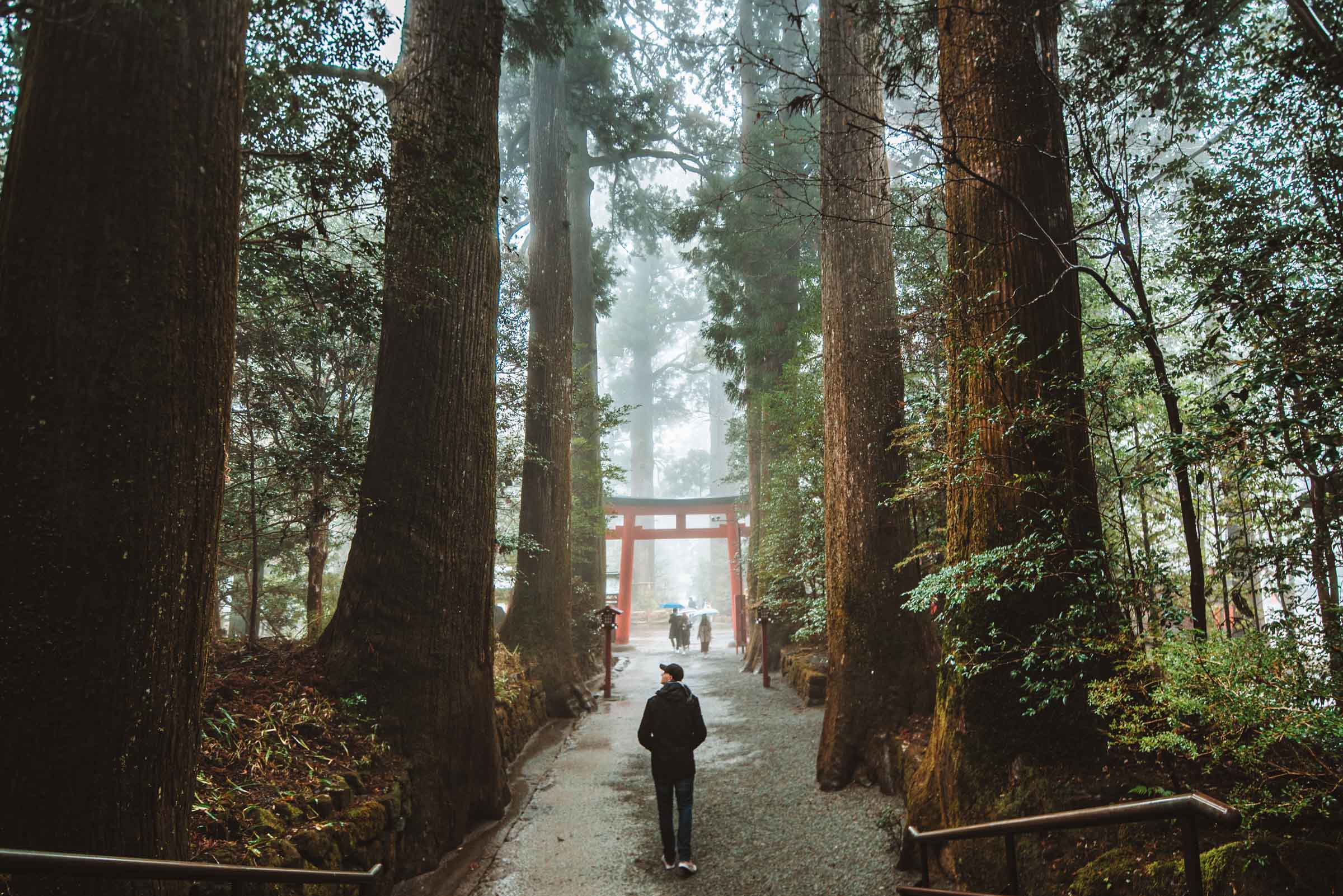 ---
2) Take a Photo at the Iconic Torii Gate
Who doesn't love a good photo opp? Probably the most notable one you'll have during your trip to Hakone will be underneath the deceivingly large Torri Gate on Lake Ashi! When I went, it was insanely cloudy (I loved being shrouded in the mist), but on a clear day will offer a gorgeous view of the lake. Since the Hakone Shrine is one of the most popular places to visit in Hakone, be expected to wait a few minutes standing underneath the structure!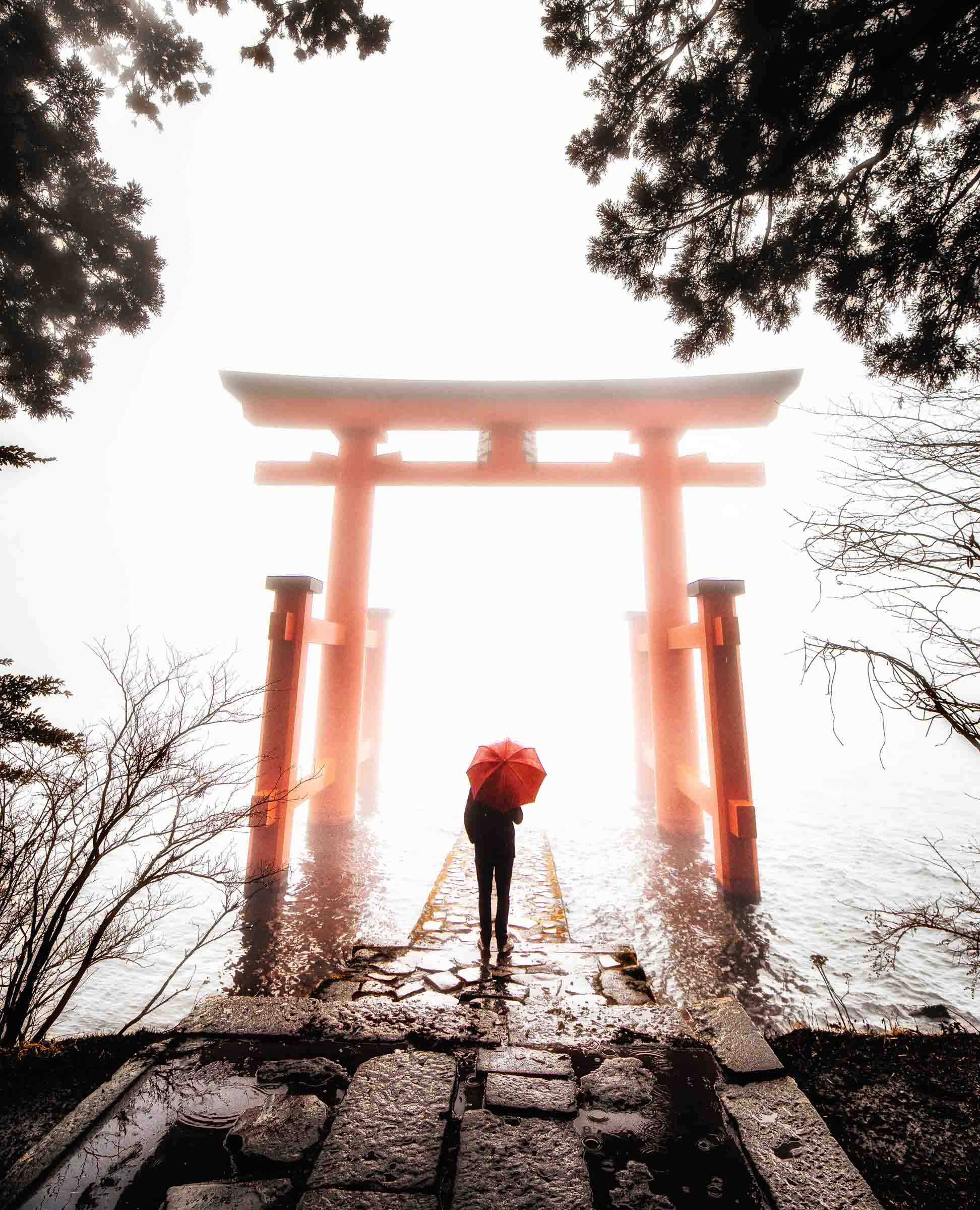 ---
3) Enjoy the Scenic Boat Ride Across Ashinoko (Lake Ashi)
Sail away on your adventure journey with a pirate ship crew!
The Hakone Sightseeing Cruise has become a symbolic tourist attraction of Lake Ashi, and is another must-do attraction in the area. It will give you spectacular views of the landscape (including Mt. Fuji on a sunny day) while aboard one of their three fun pirate-style ships. The ships leave regularly, it only takes 30 minutes to cross the lake, and only costs around $10 (but it's free for those who purchased the Hakone FreePass). It really is a peaceful and gorgeous experience!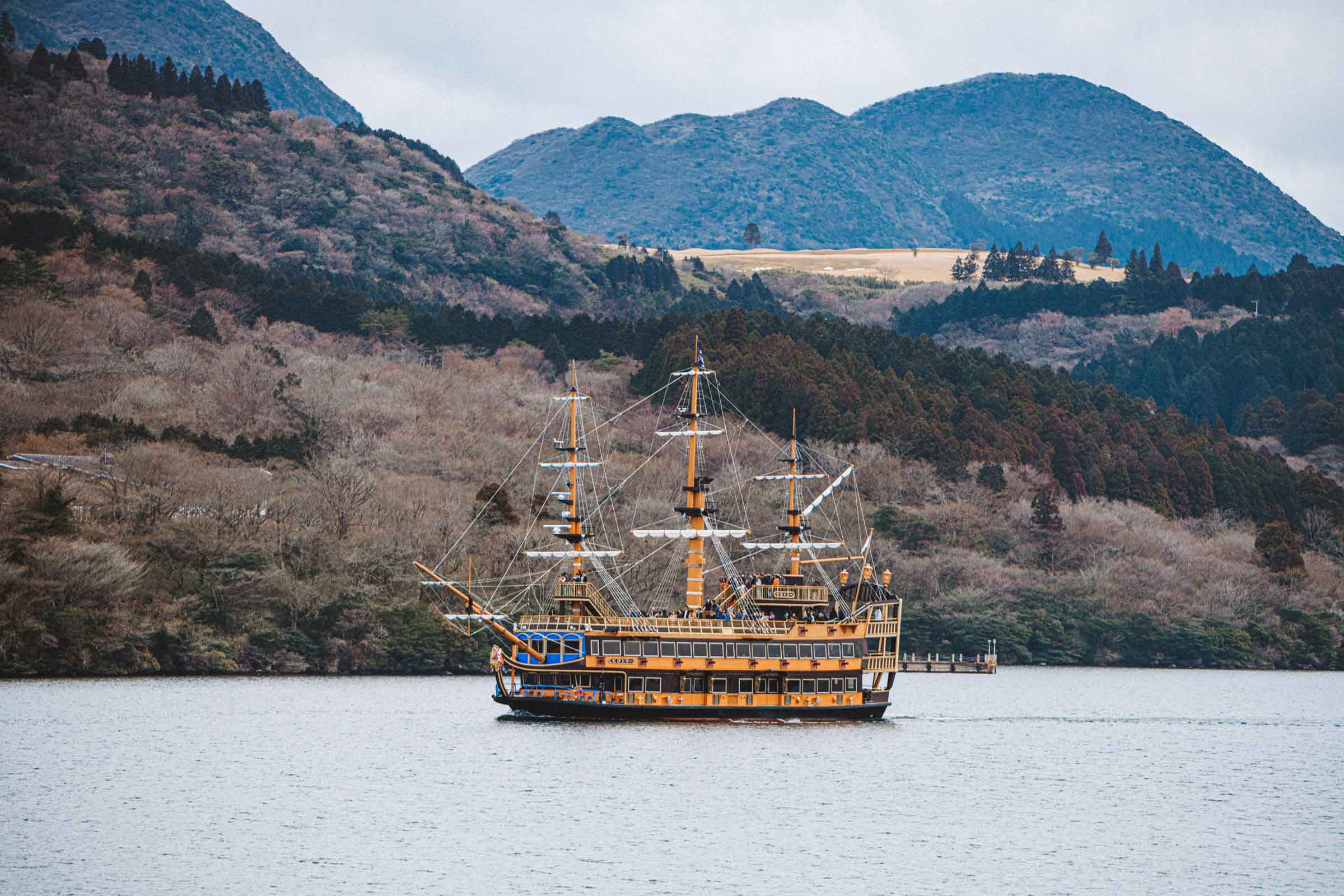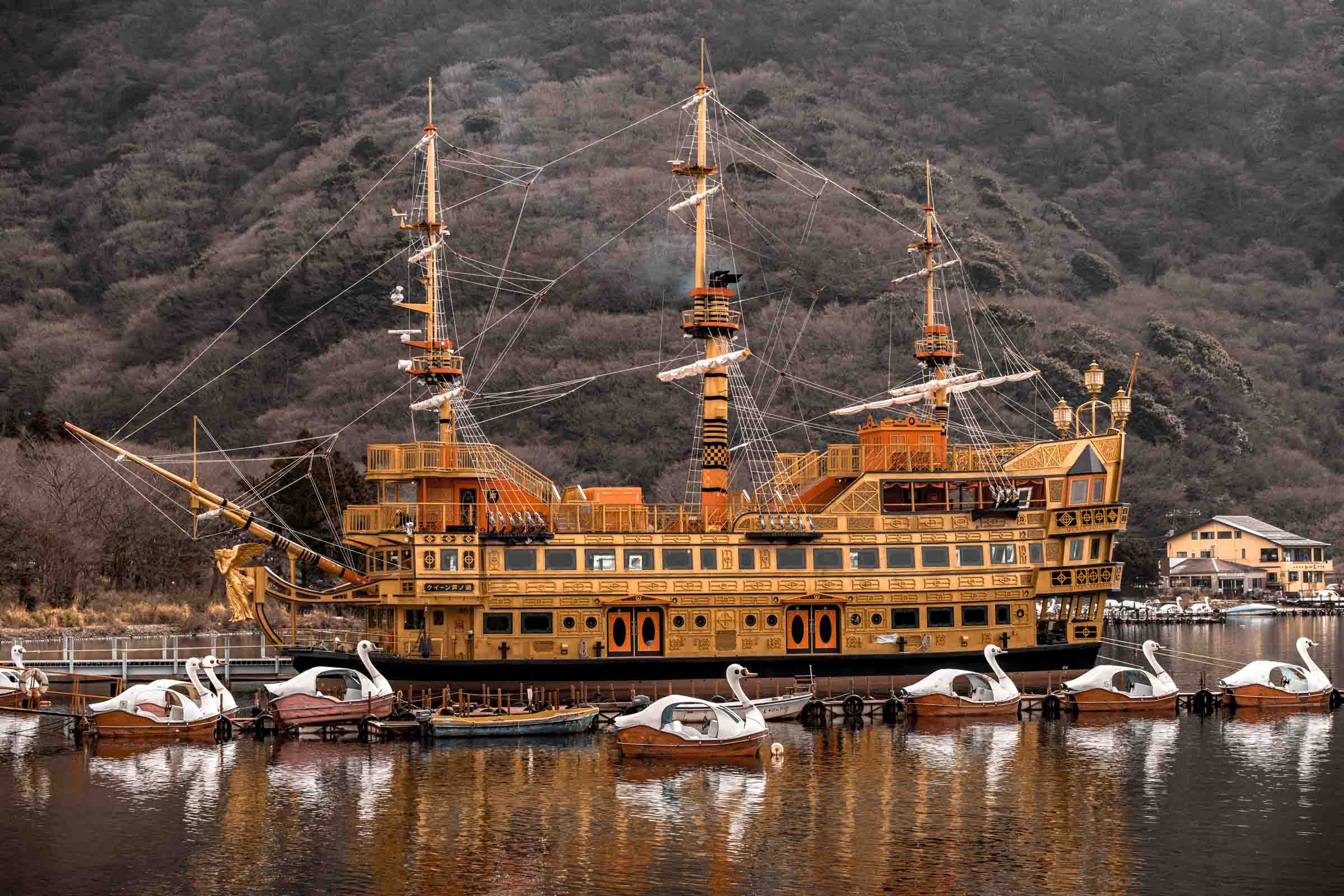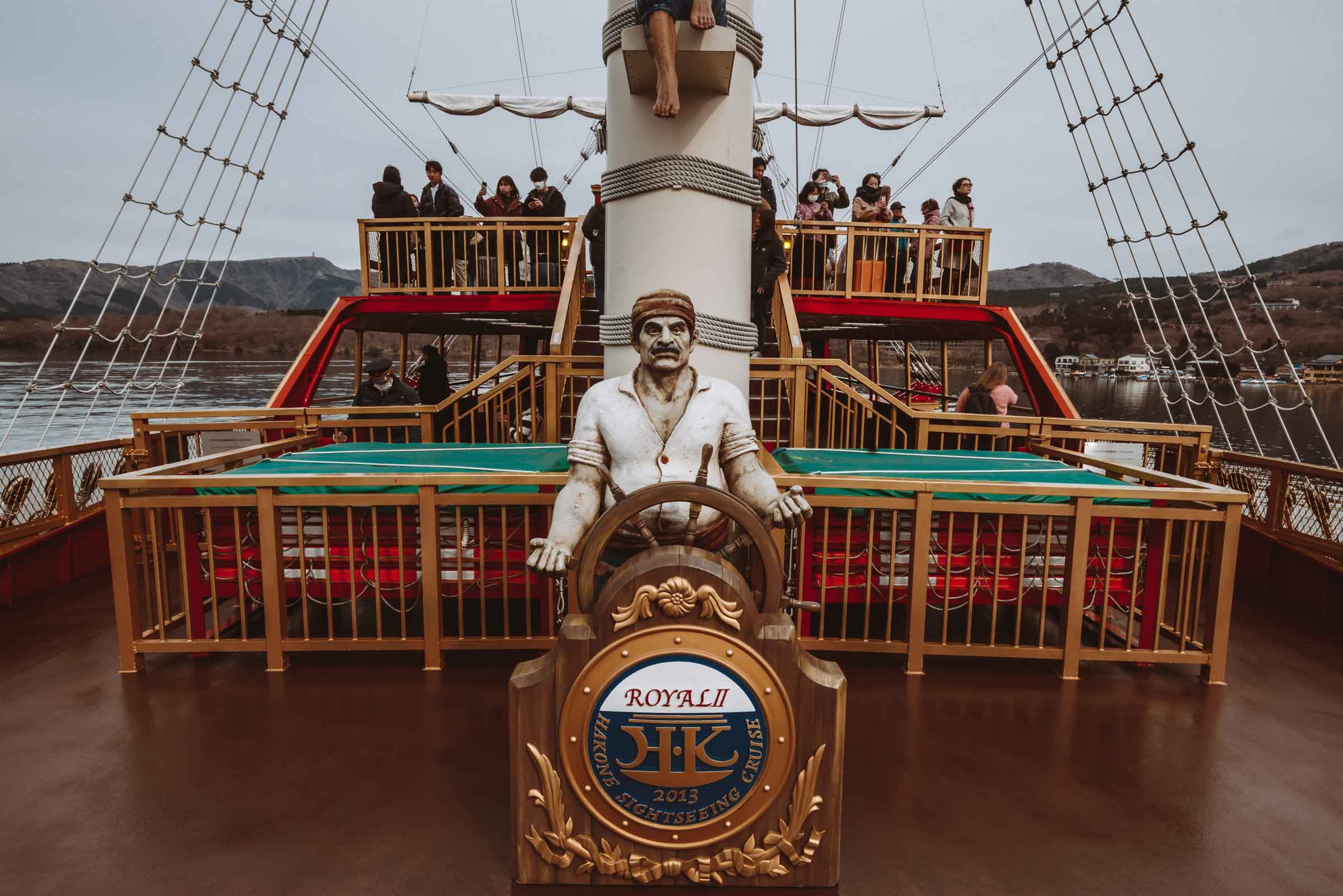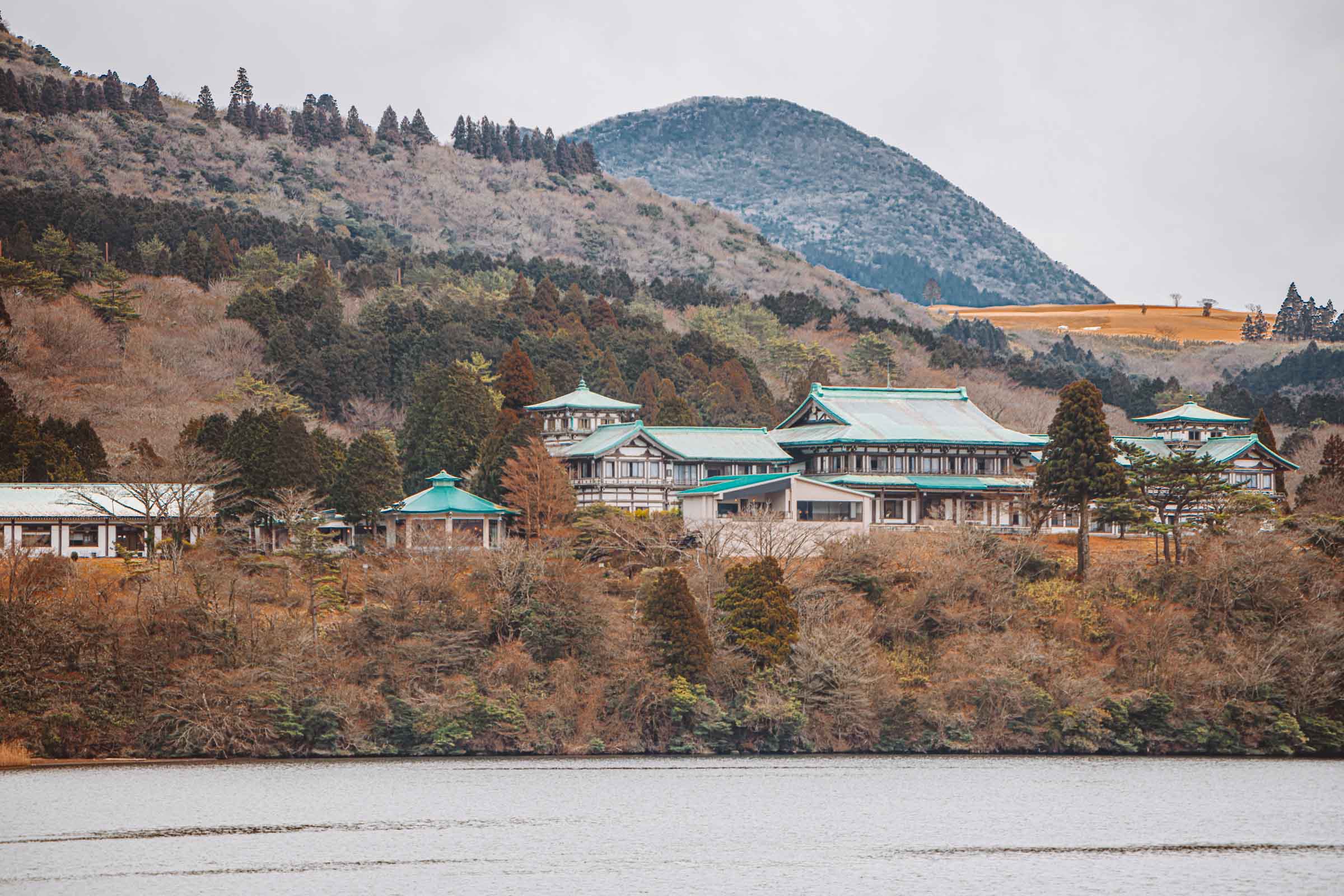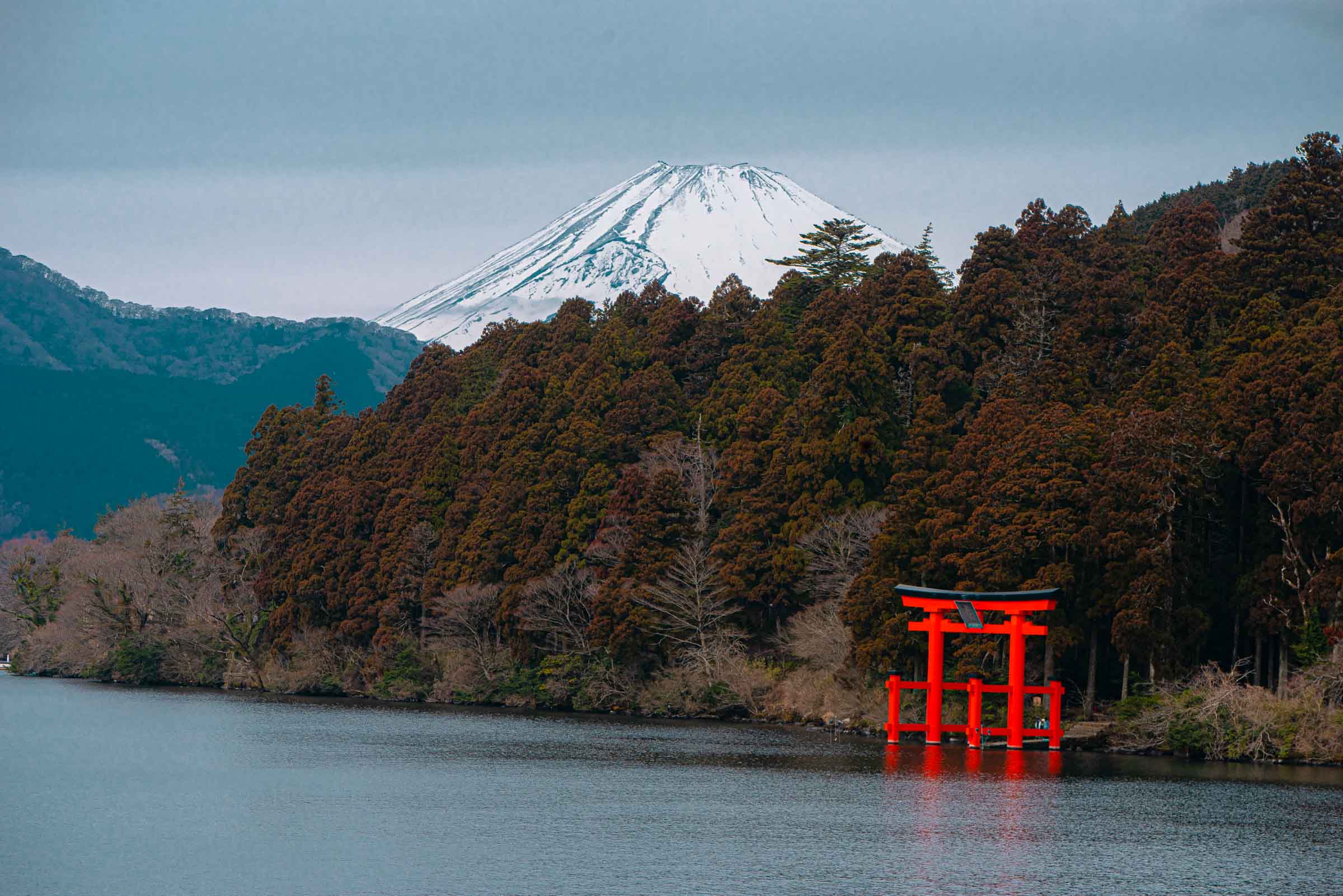 ---
3) Take the Hakone Ropeway (Gondola)
The Hakone Ropeway is the perfect way to soak up the aerial views of Lake Ashi, Mt. Fuji, and the Owakudani Valley! It's a two-section gondola ride that connects the towns of Sounzan to Togendai, and traveling along the whole ropeway only takes about 25 minutes. The cars are spacious and depart every minute or so, so waiting times are minimal.
As previously explained, this is a part of the Hakone sightseeing loop, so it's an awesome experience as well as an essential aspect of seeing all of these amazing things to do in Hakone!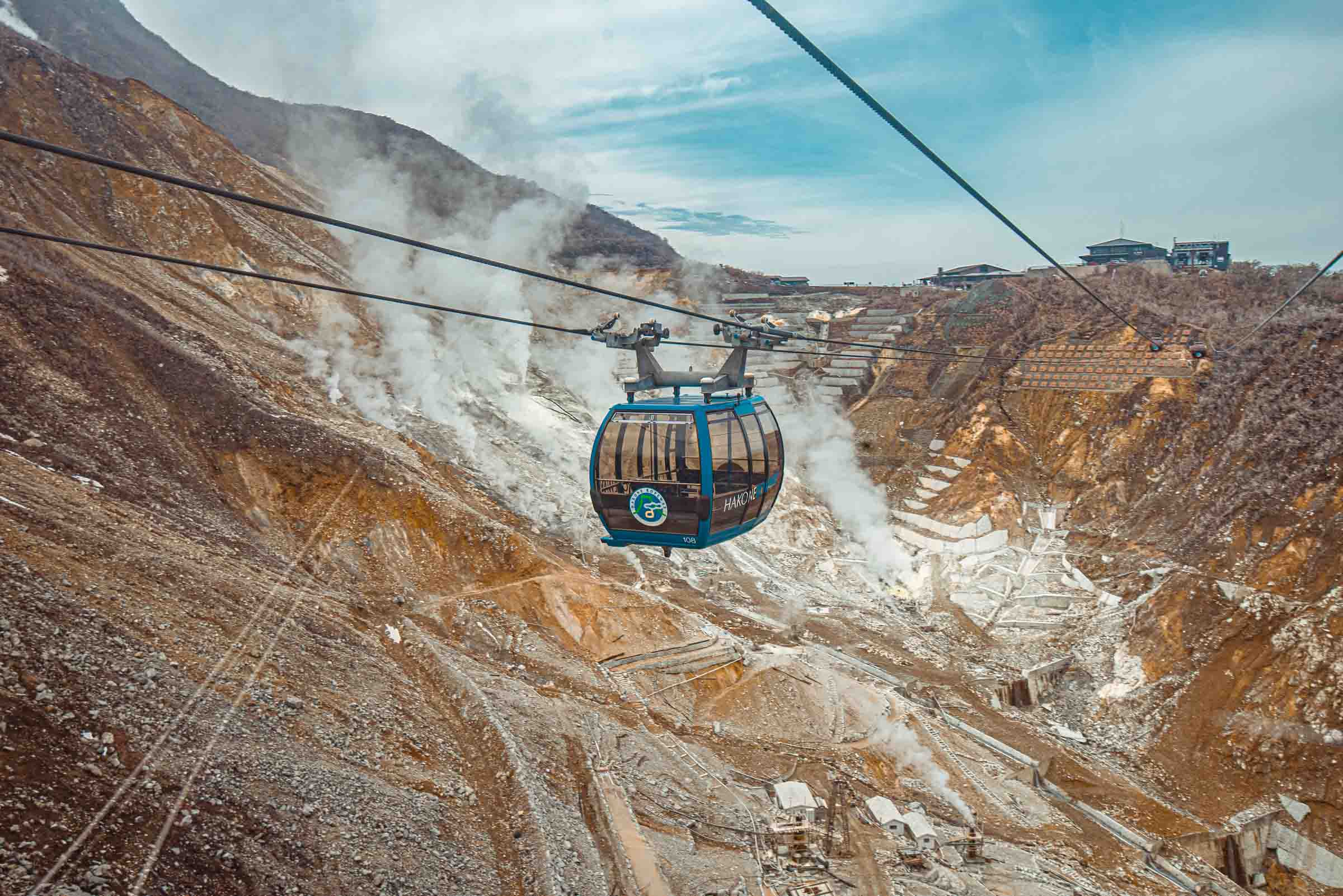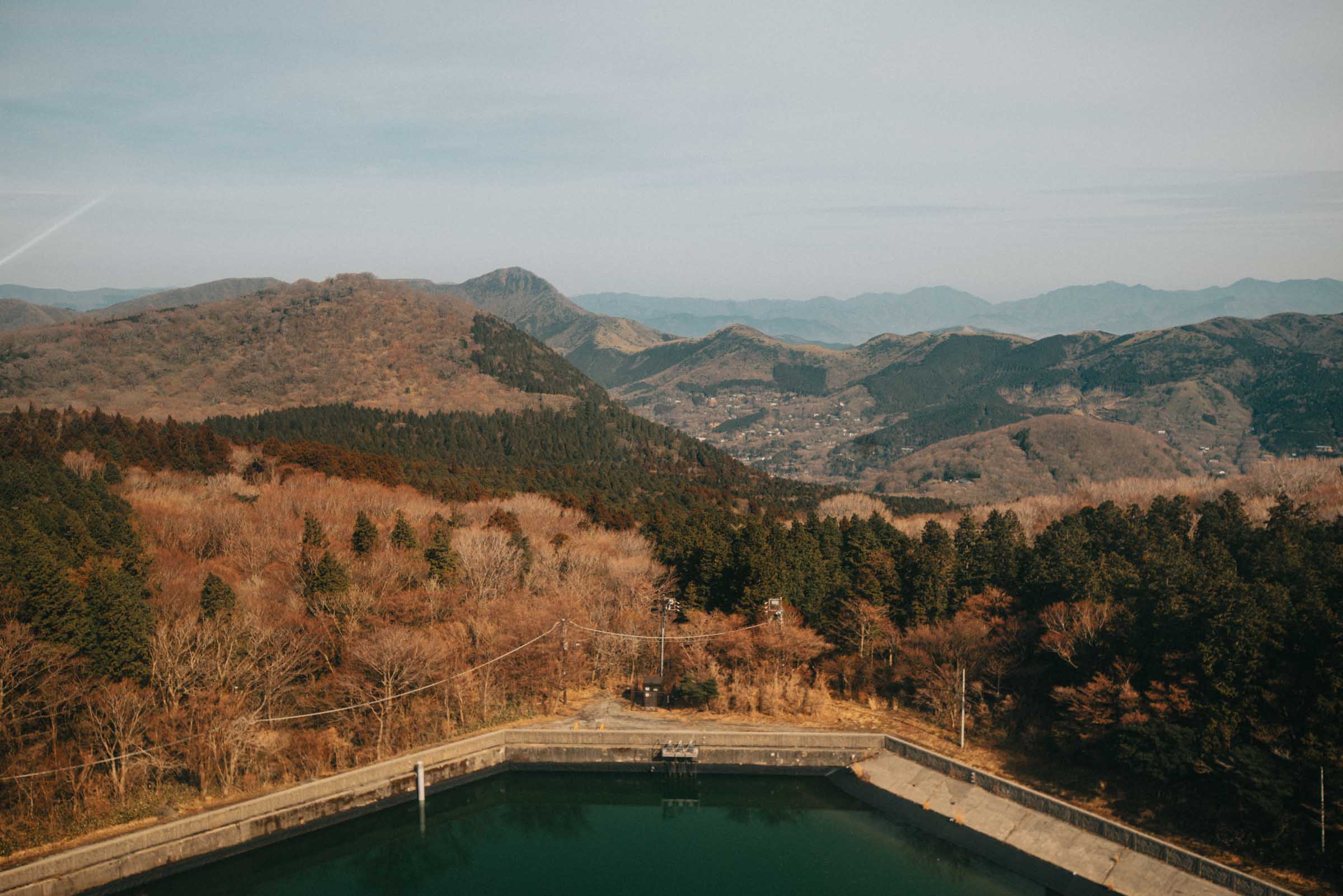 ---
4) Owakudani Valley
A scenic crater created by a volcanic explosion from Mt. Kamiyaya (the highest mountain in the Hakone Region) roughly 3000 years ago, a visit to the Owakudani Valley is an experience that will ignite all five senses! Offering stunning views of an active volcanic zone, pungent smells of the sulfurous smoky team, and unique dining opportunities – it's a fascinating place to spend an hour or two! It's also the only major stop along the Hakone Ropeway, and is a lively area with a restaurant, souvenir shop and many photo opportunities.
For more adventurous travelers who find themselves with extra time in Hakone, I'd recommend checking out one of the different hiking trails in the area.
Also, be sure to snap a photo of yourself in front of Mt. Fuji if you visit on a clear day!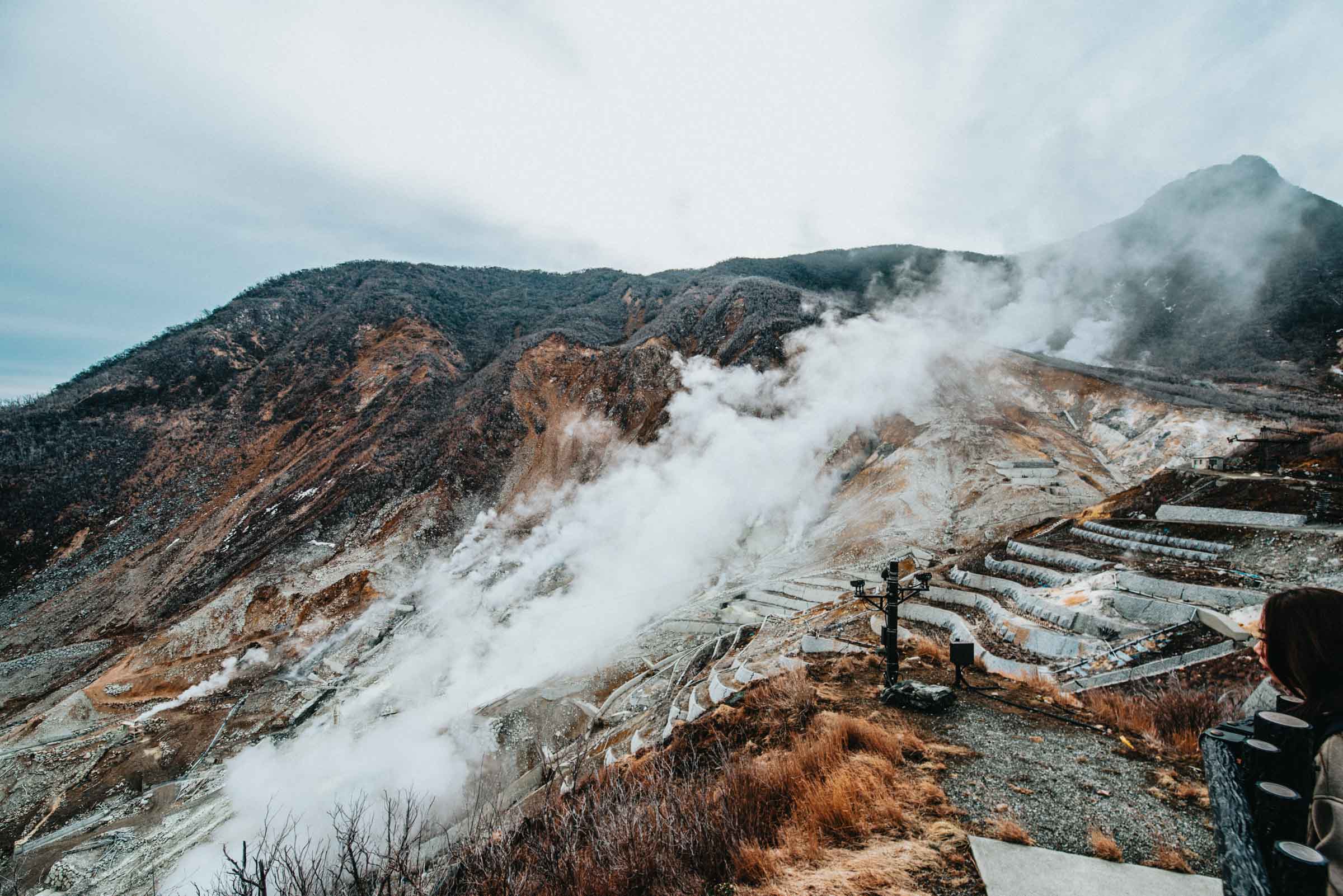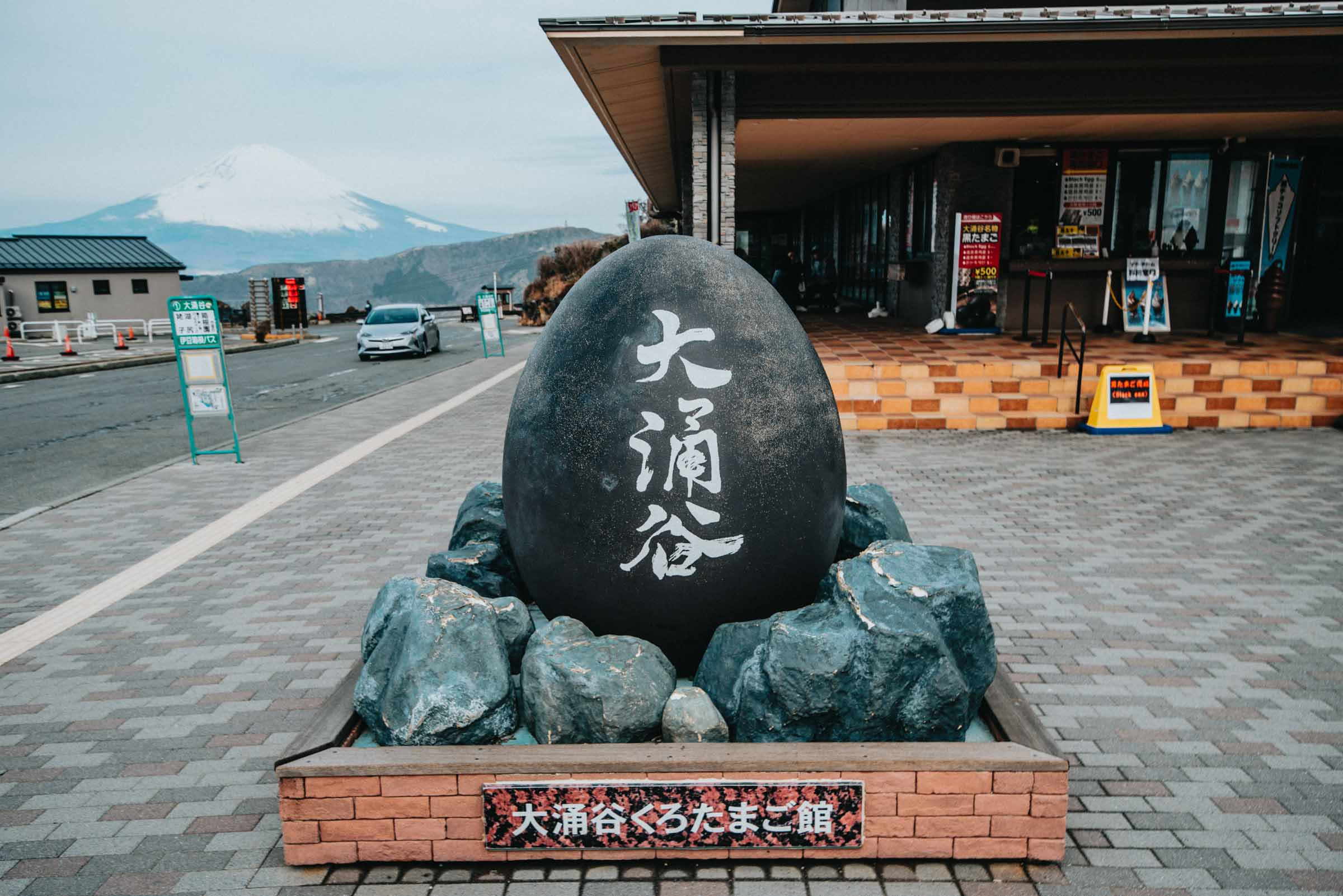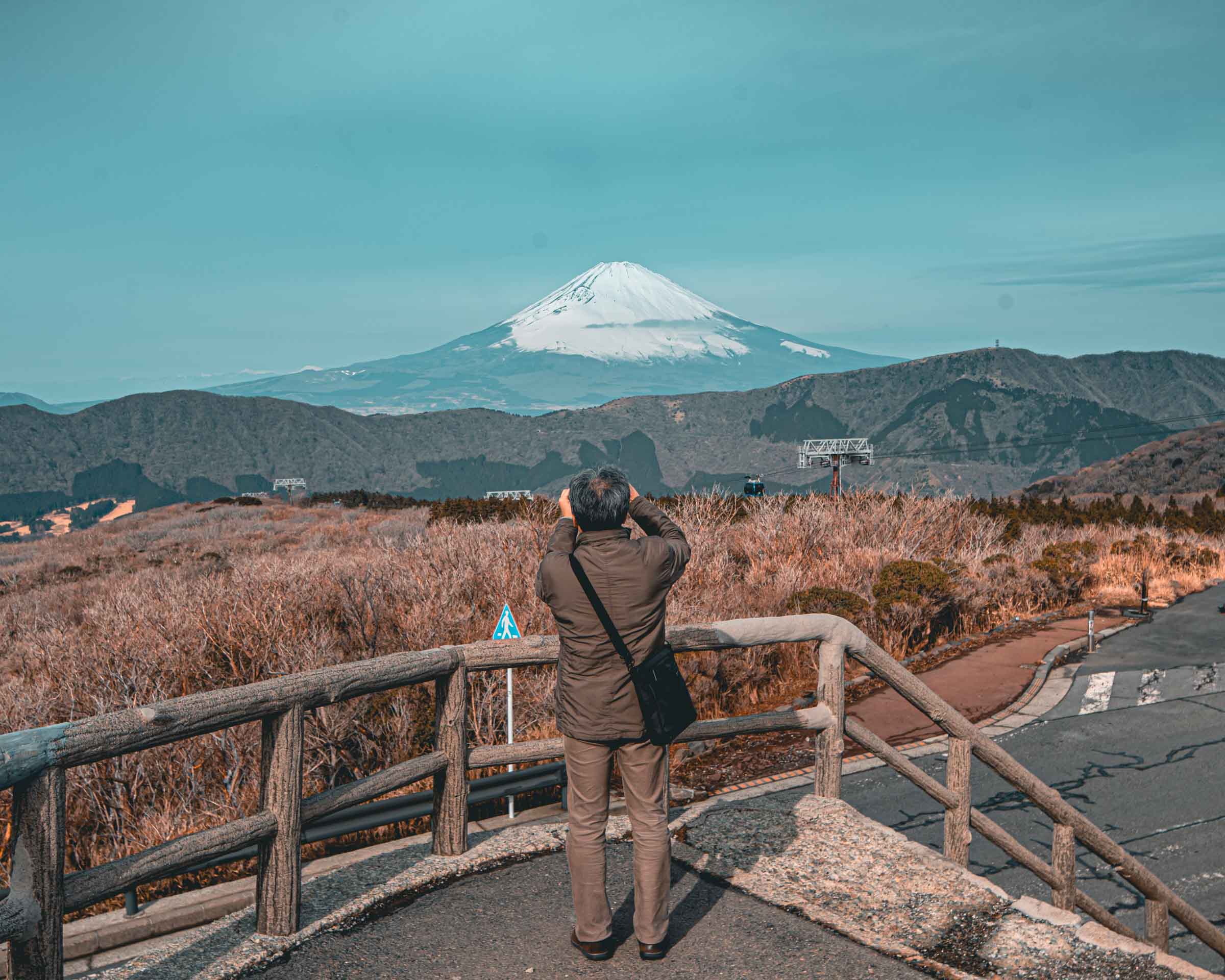 ---
5) Try the iconic "Black Egg"
You've probably heard of a hard-boiled egg before, but I bet you've never seen black ones! Well, you definitely can't visit the Owakudani Valley without eating one or two of the "black eggs", which are made by boiling them in the onsen hot spring water. The reaction of the iron and hydrogen sulfide turns the shell black.
Legend has it, that eating just ONE of these black eggs will add 7 years to your lifespan!
I'm not typically a fan of hard-boiled eggs, but due to this legend, I had to try one for myself (for the prolonged life qualities, of course) and was pleasantly surprised that it actually tasted quite nice!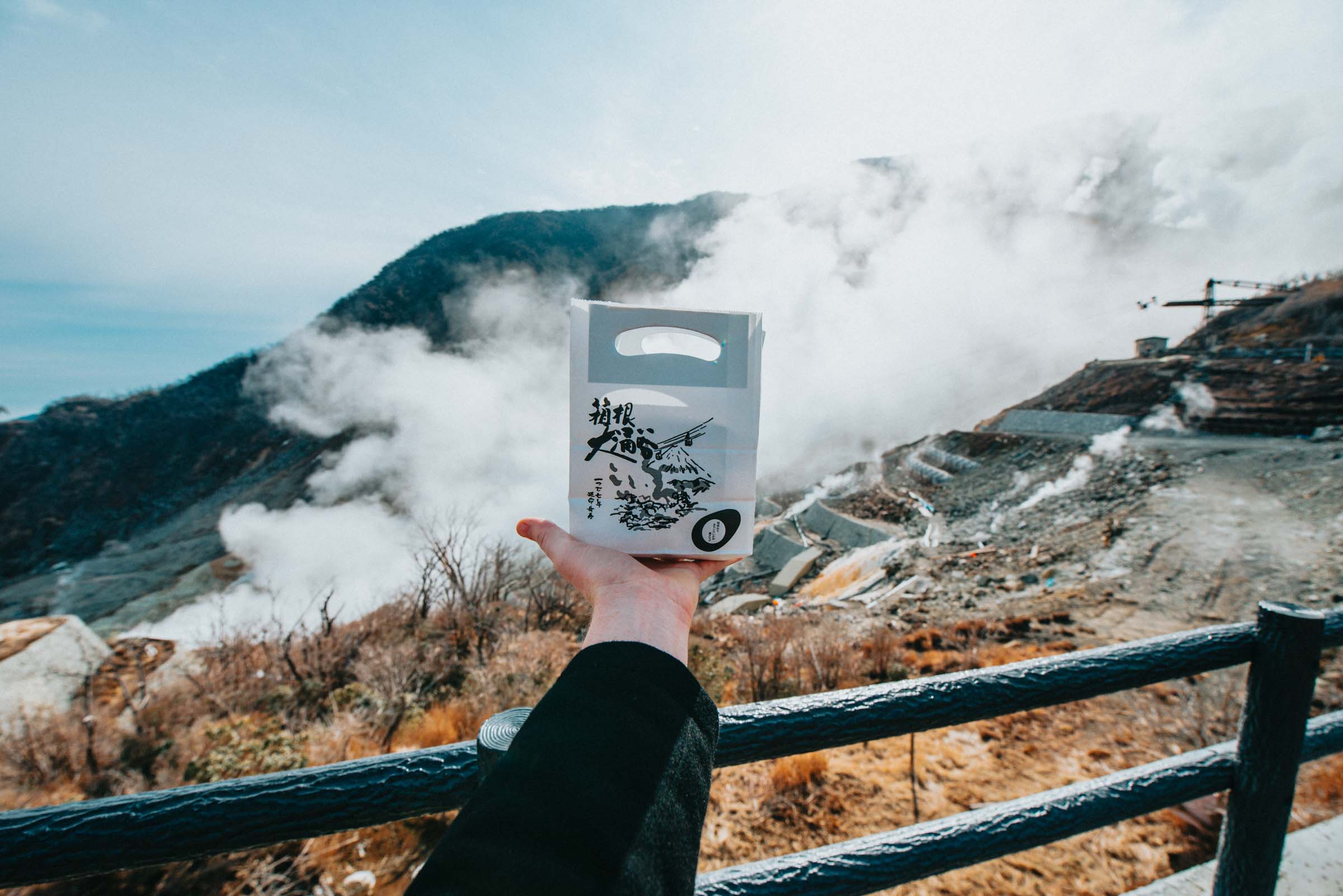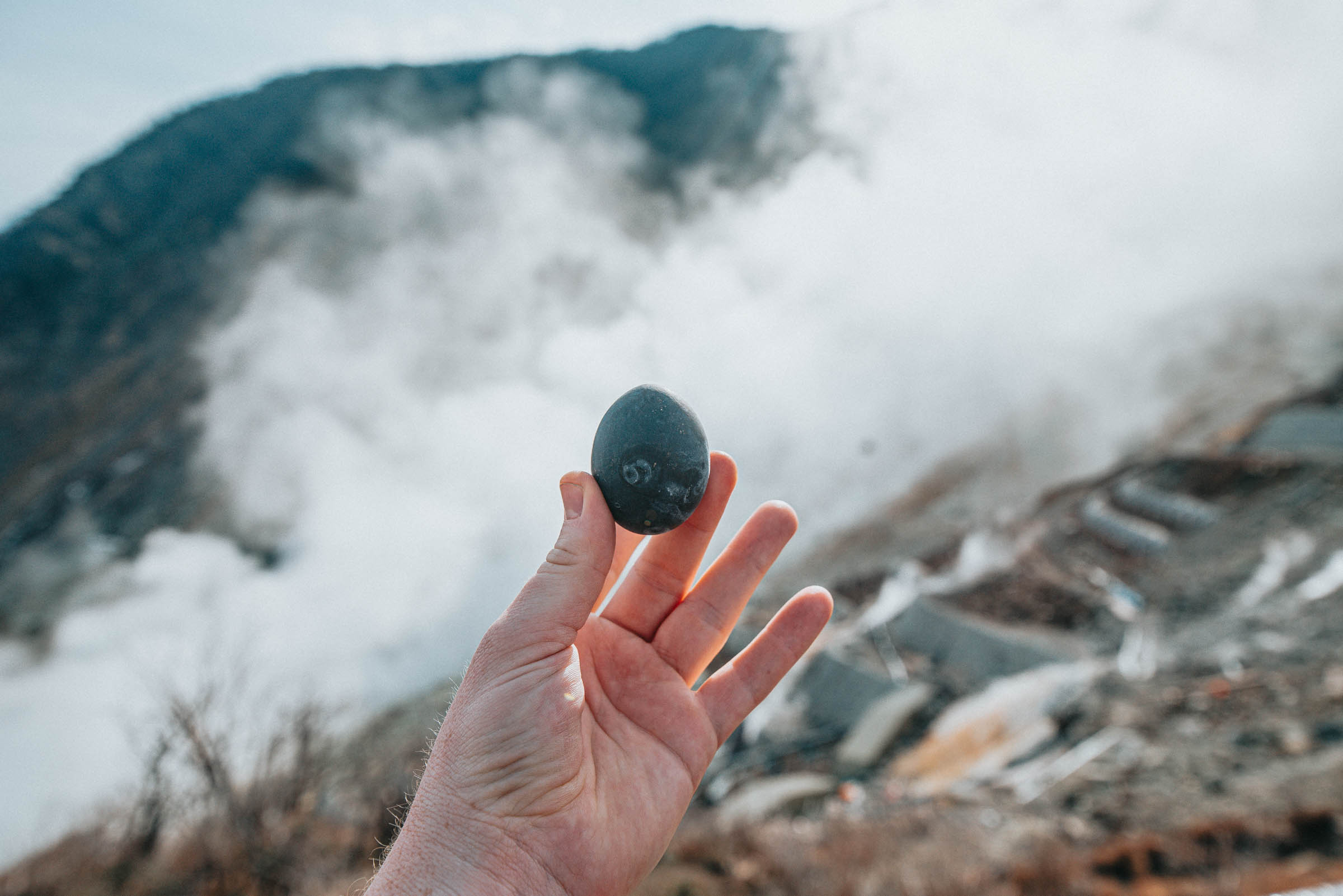 ---
6) Visit the Hamamatsu-Ya Wood Workshop
During your time in Hakone, you'll notice that nearly every souvenir shop/restaurant/hotel sells this specific type of Japanese wooden craft. They are intricately designed with various symmetrical shapes and patterns and are all handmade (which can take months to finish) here in Hakone.
The Hamamatsu-Ya Wood Workshop is a small shop along one of the major bus routes in Hakone, and on the second floor of the building you can sit in on a demonstration of the crafting process.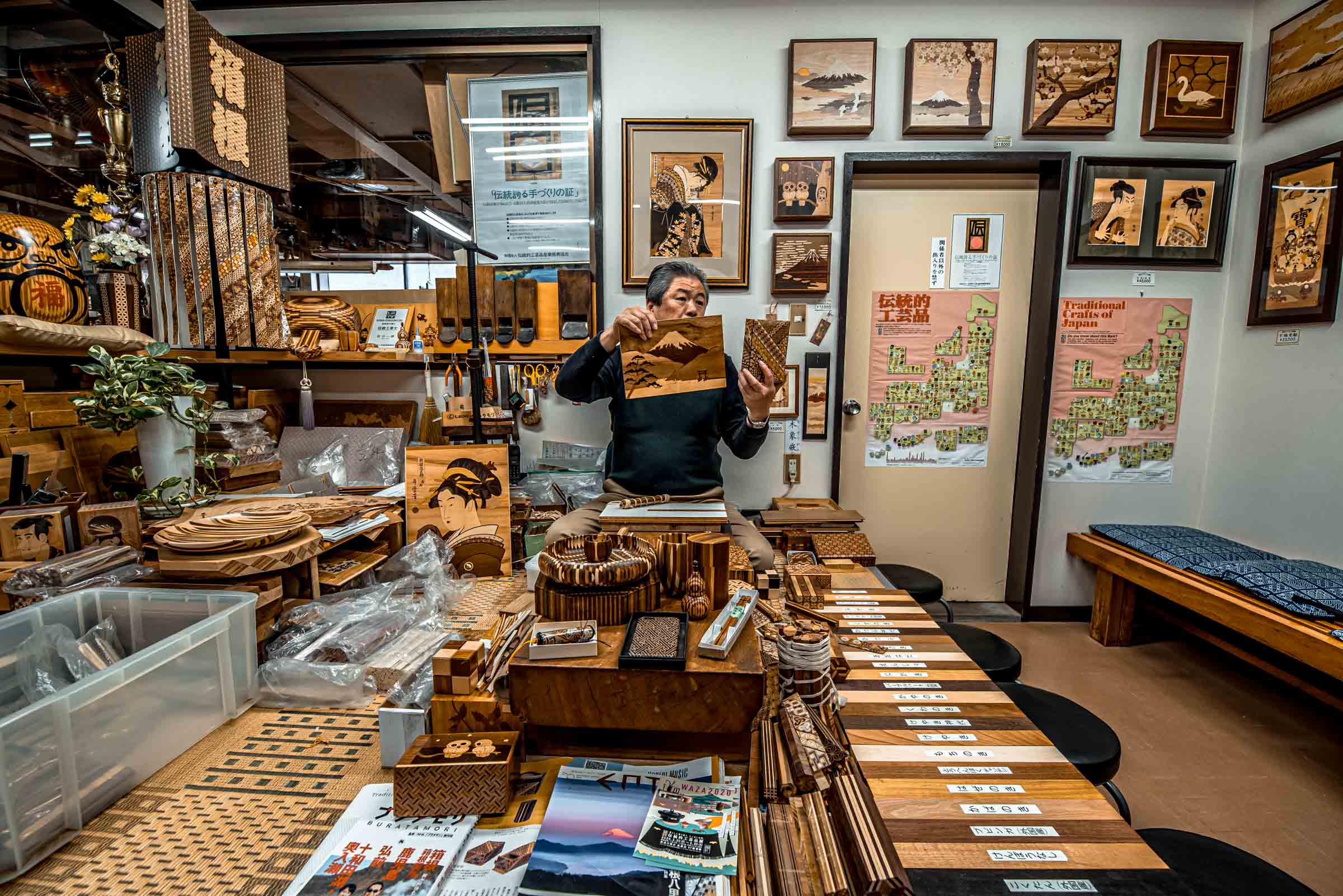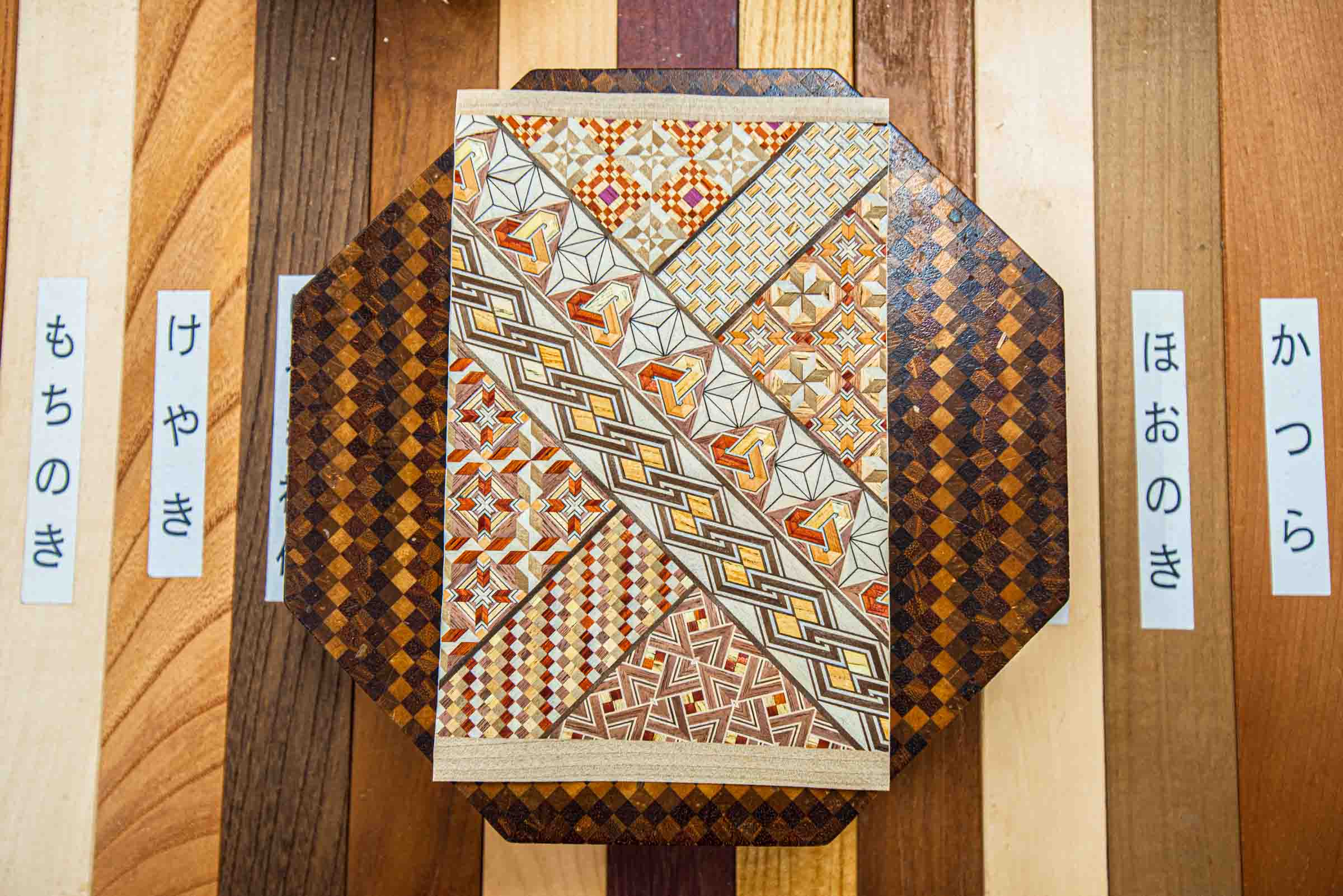 While it may not sound THAT fascinating – trust me that it's absolutely worth a visit! This wood workshop is famous all over Japan, and a visit here will give you a much better understanding (and a deeper appreciation for) all the different handmade crafts they sell.
I really loved my visit here, and honestly wanted to buy everything in the gift shop. Coffee table coasters, jewelry, pencil holders, rulers, clocks – they really have made endless items using this style of Japanese craftsmanship.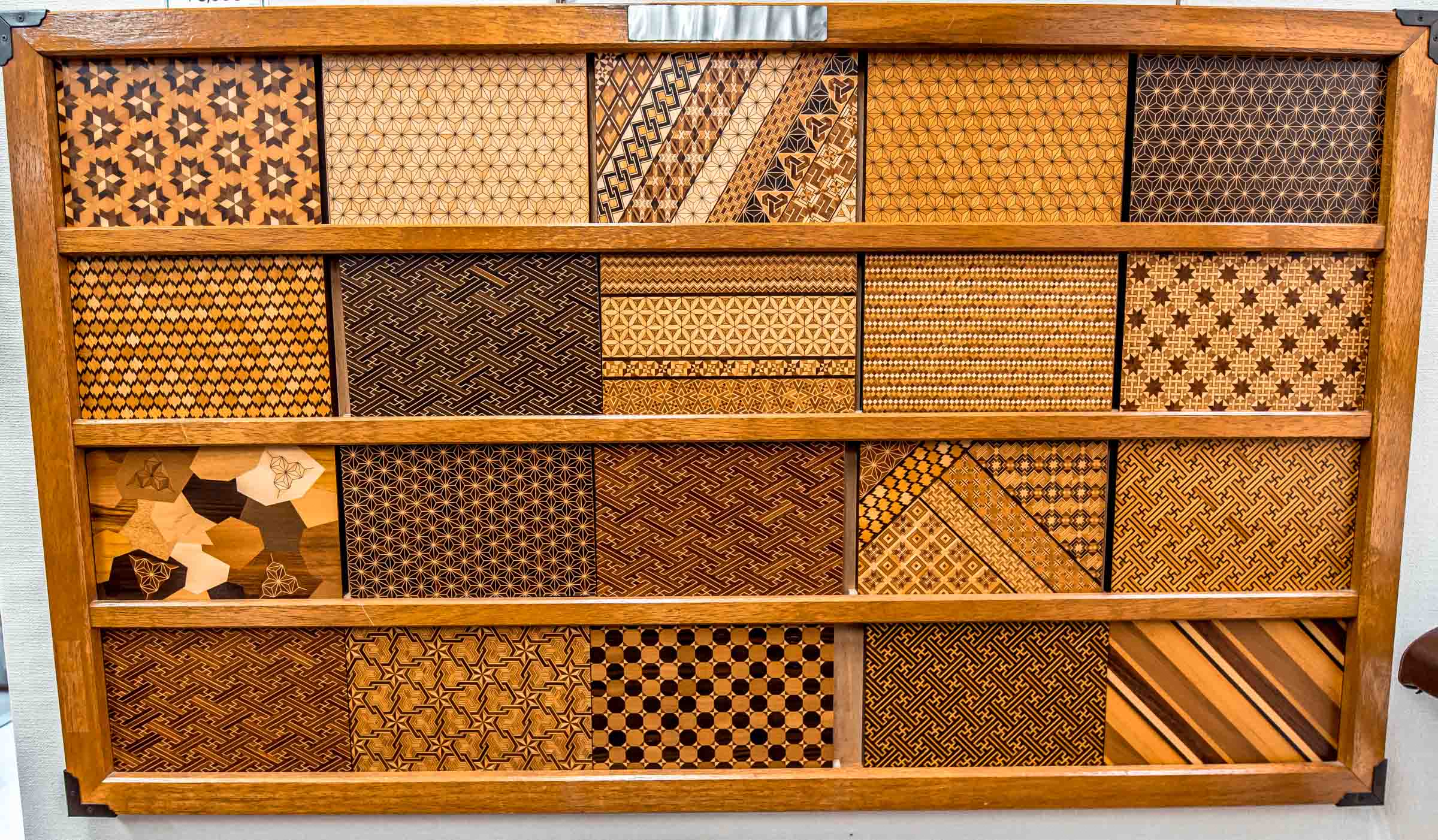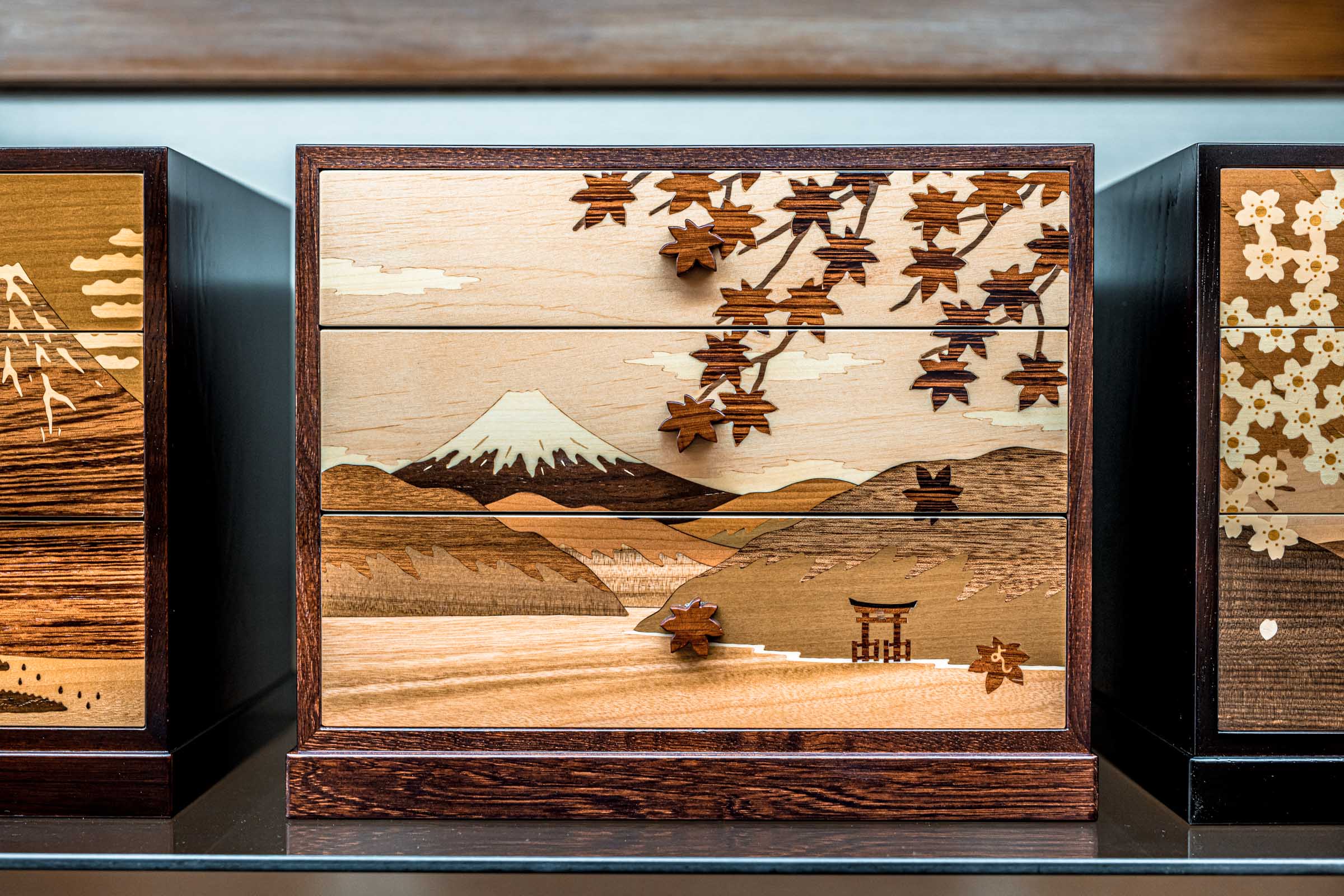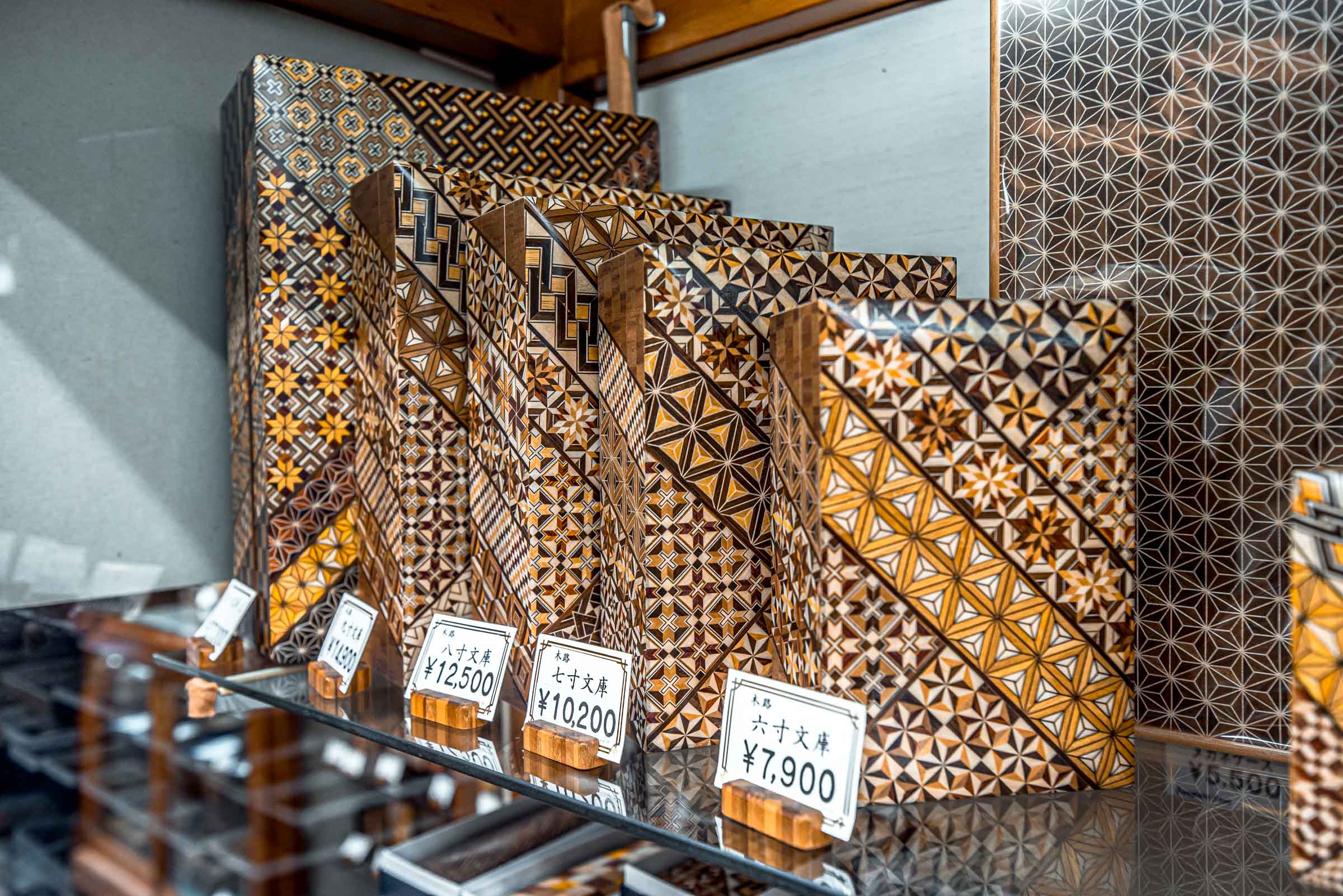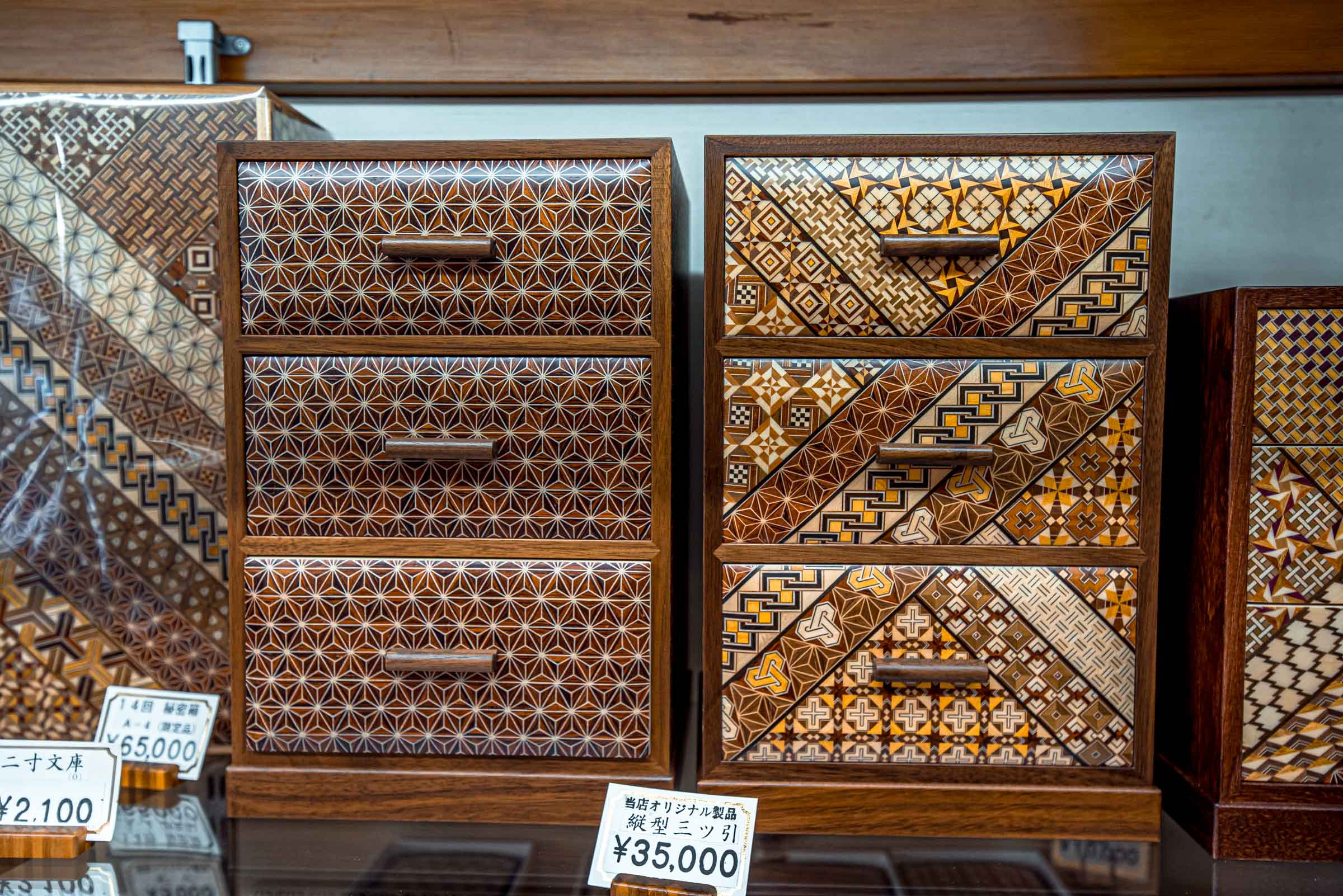 ---
7) Enjoy Sake, Tea & Sweets at Amazake Chaya
Dating back to the Edo period, the Amazake Chaya was a popular teahouse for travelers making the long pilgrimage between Tokyo and Kyoto along the "Kyukaido Ishidatami". It's a relatively large, gorgeous wooden building, and you'll feel like you've stepped back in time inside this 400-year old teahouse!
While it may be rich in history, it's now a popular spot for travelers to Hakone thanks to its delicious sweet rice wine (non-alcoholic Sake), as well as mochi, rice cakes and invigorating Japanese tea.
It's a charming establishment with friendly staff, delicious snacks, and is the perfect place to stop for an afternoon break!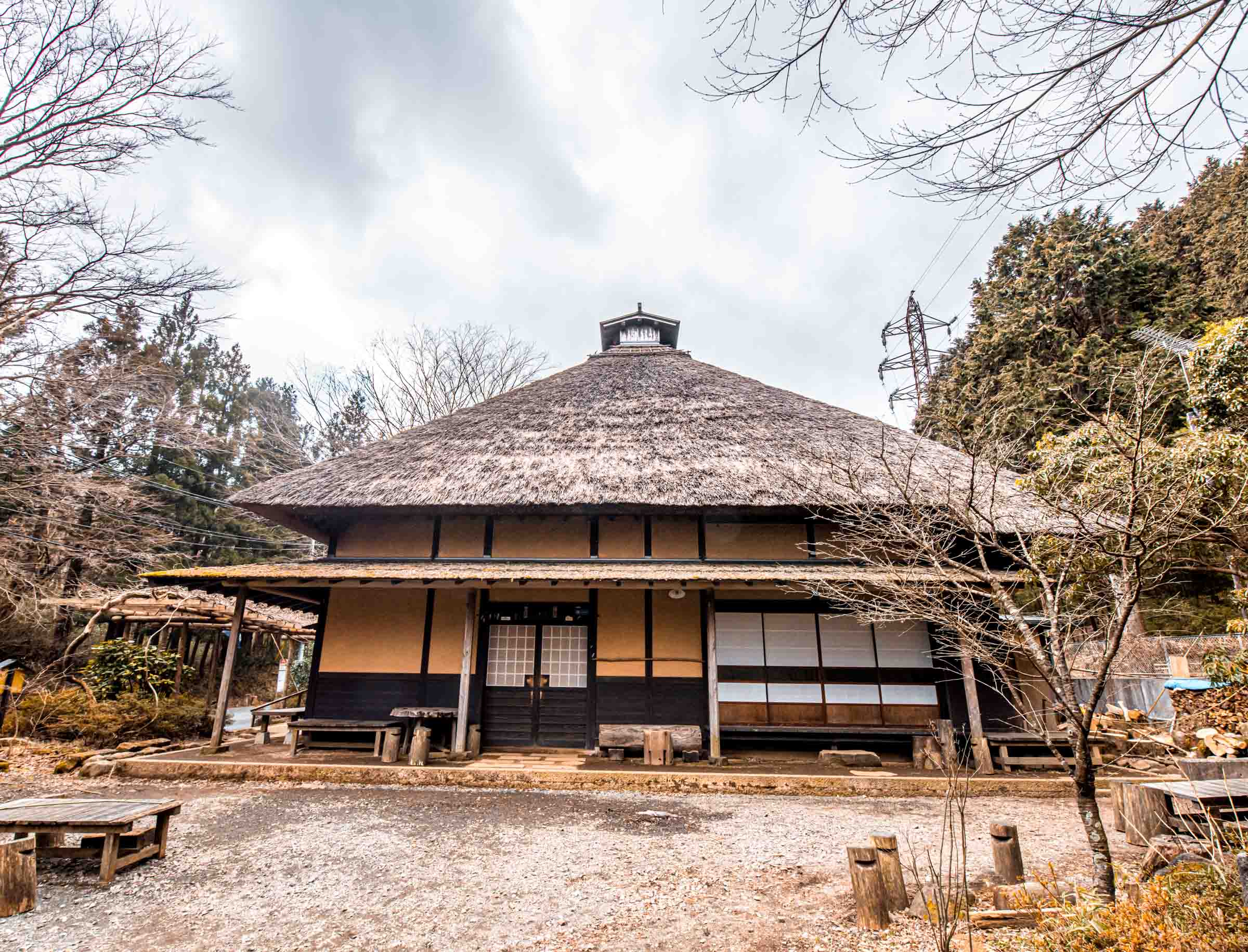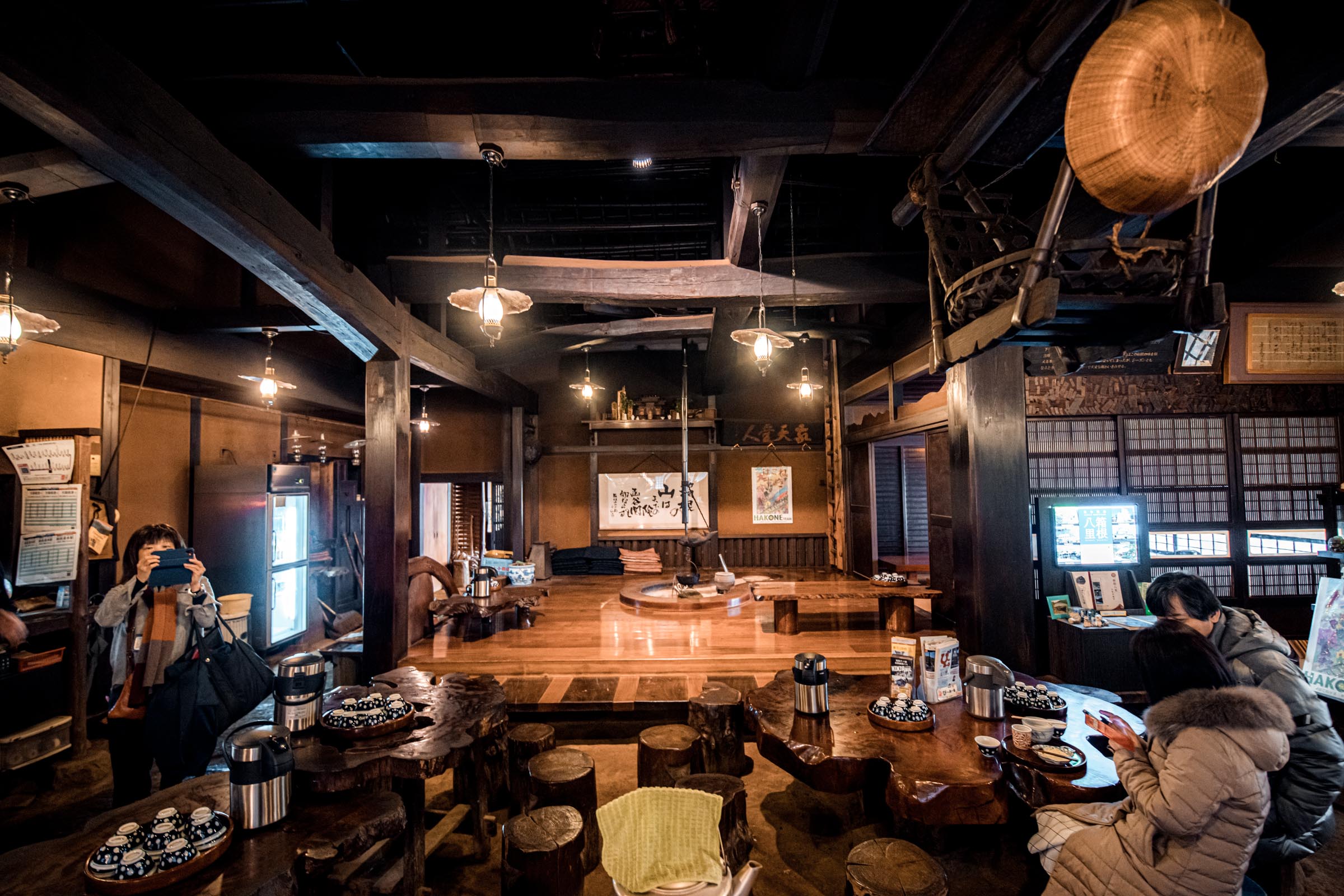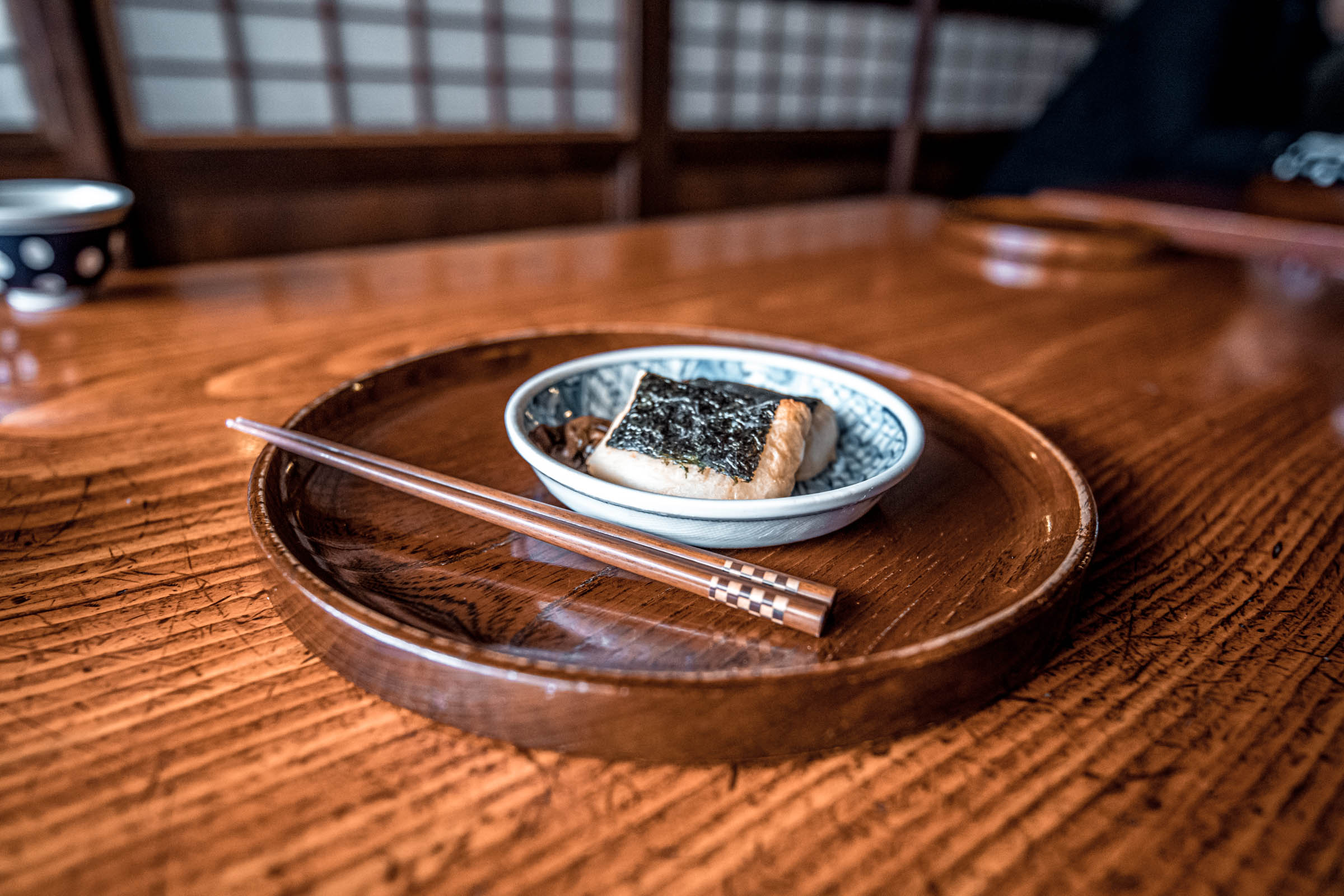 ---
8) Suginamiki Japanese Cedar Strolls
While the Hakone bus system may work extremely well (like all public transportation in Japan), Hakone is a fantastic place for exploring on two feet! In between the two major bus stations in Hakone, there are massive trees lining neat paths lined with "Suginamiki", which are gorgeous, towering Japanese cedar trees!
So take the bus down to Motohakone, and then walk from there down to Hakonemachi-ko (you can check out the map for reference), and enjoy the scenic forest strolls.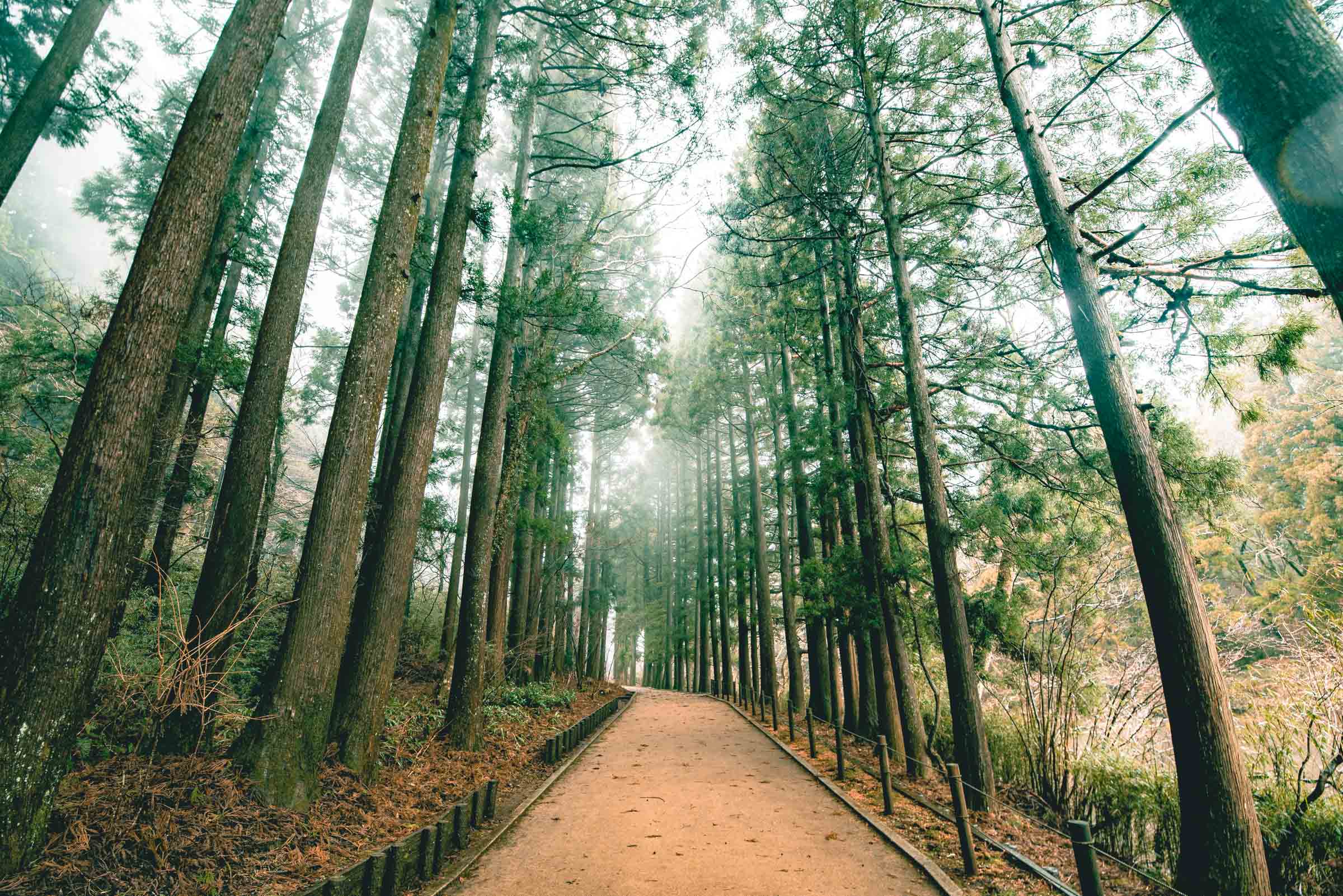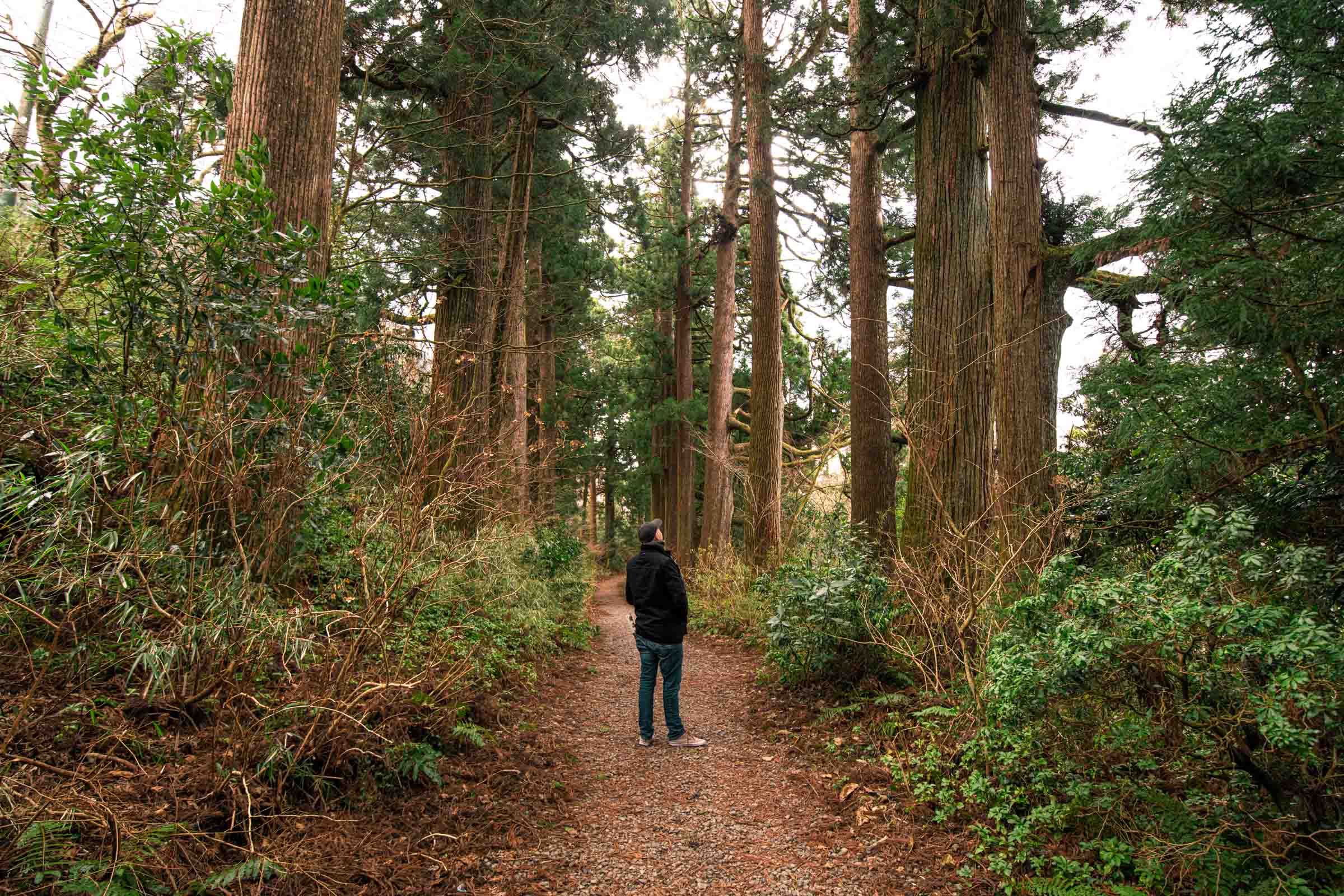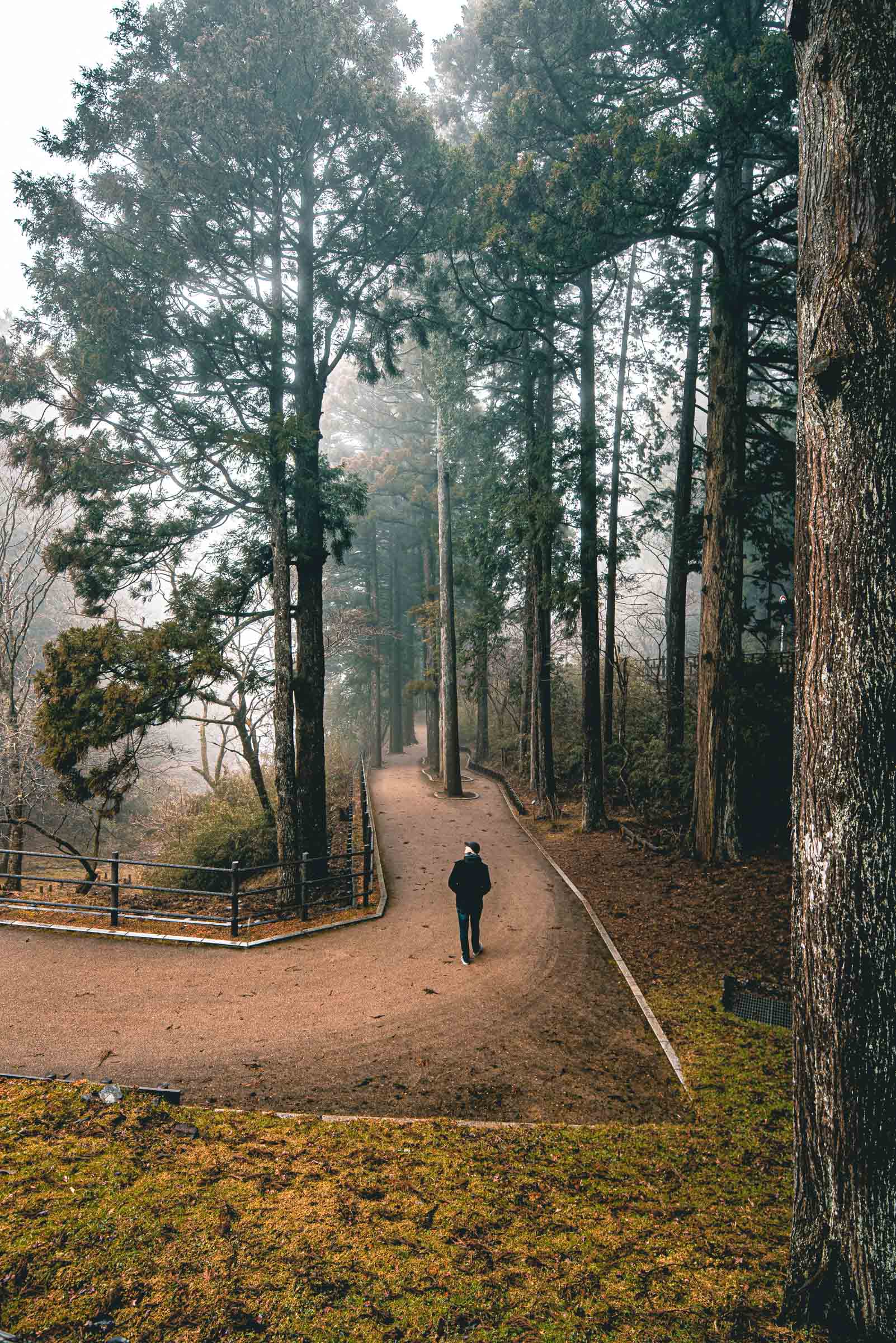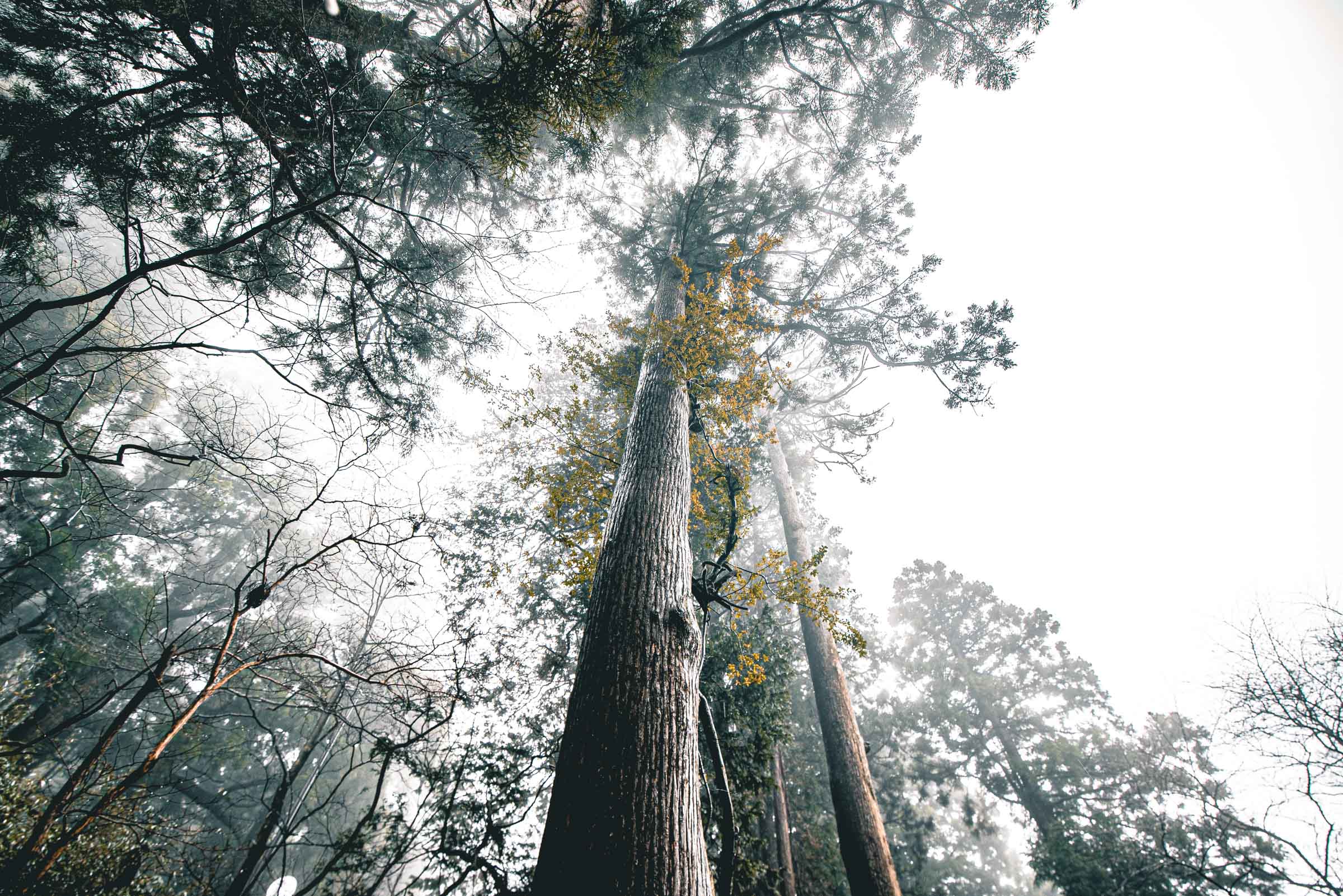 ---
9) Hakone Sekisho "Checkpoint"
"The stage is set to bring the Edo period back to life."
Japanese history buffs will nerd out at the Hakone Sekisho, which is an important site for the early days of transport and communication during the Edo period. This was settled back in 1619, and served as a "checkpoint" for controlling the number of weapons entering Edo – as well as keeping women from escaping.
This is a relatively new tourist attraction in Hakone, as excavation and restoration only happened twenty years ago from 1999-2001, and it was officially opened to the public in 2004. It's a well laid out exhibition and is worth a visit for 20-30 minutes. If the weather is clear, be sure to walk up the stairs to the lookout for a beautiful view of Lake Ashi and Mt. Fuji!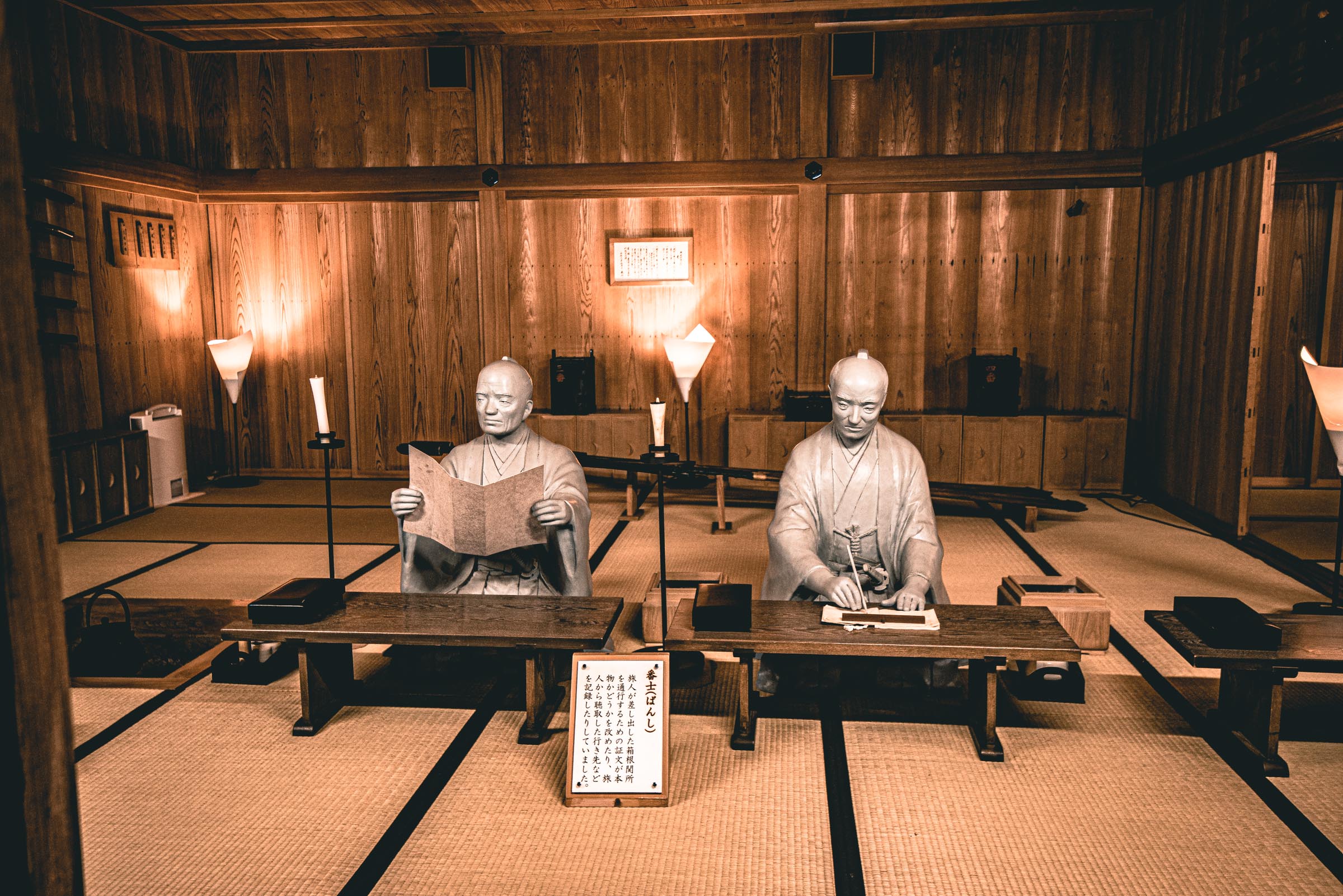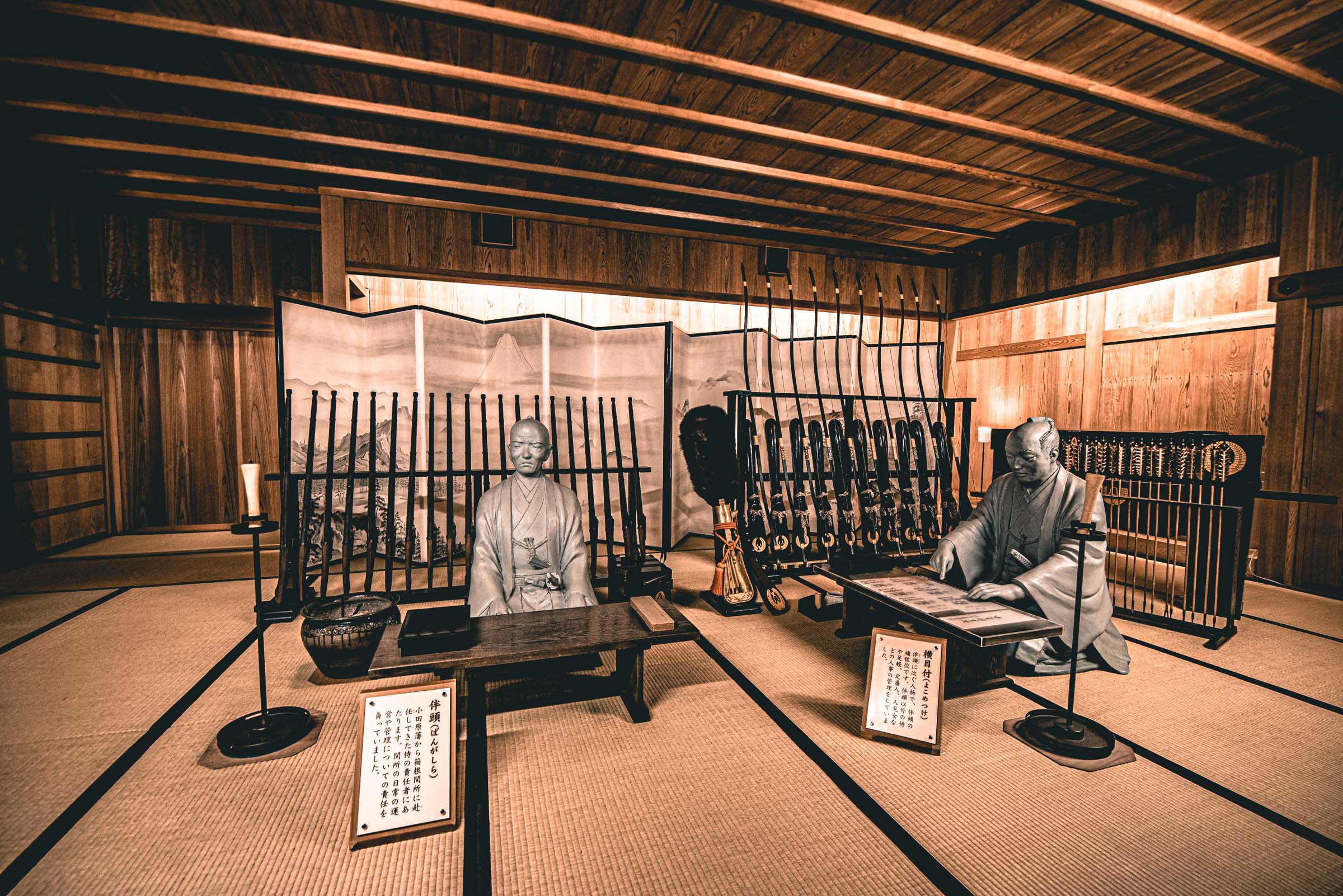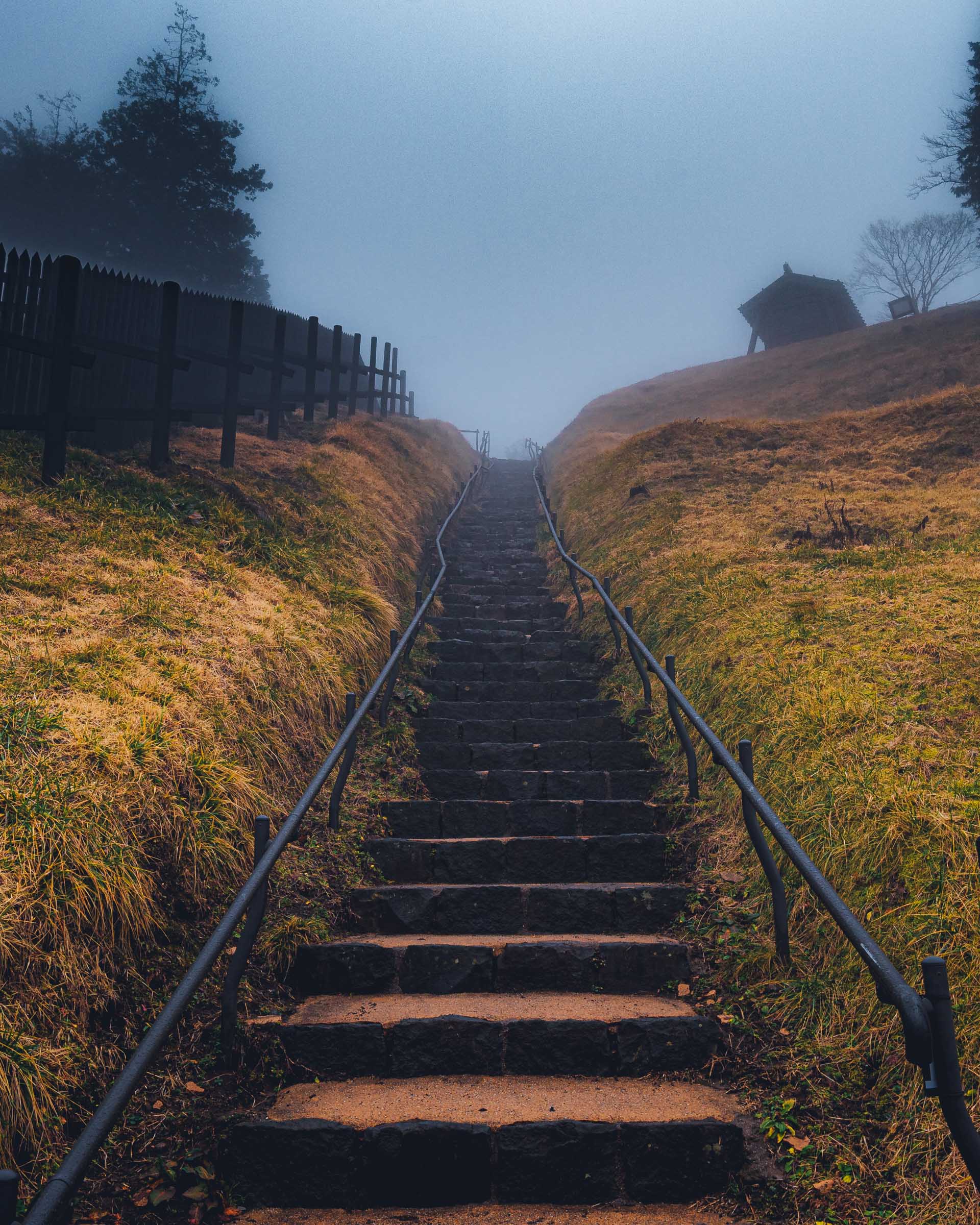 ---
10) Try the Pork Cutlet w/ Curry at Hotoriya Restaurant
Located just a minute's walk from the Hakone Sightseeing Cruise port you'll find the Hotoriya Restaurant, a Japanese style cafe with beautiful views overlooking Lake Ashi. While this may sound strange to some, but their pork cutlet with curry (a specialty of theirs) ended up being one of my favorite meals whilst in Japan!
You NEED to try this place while you're in Hakone!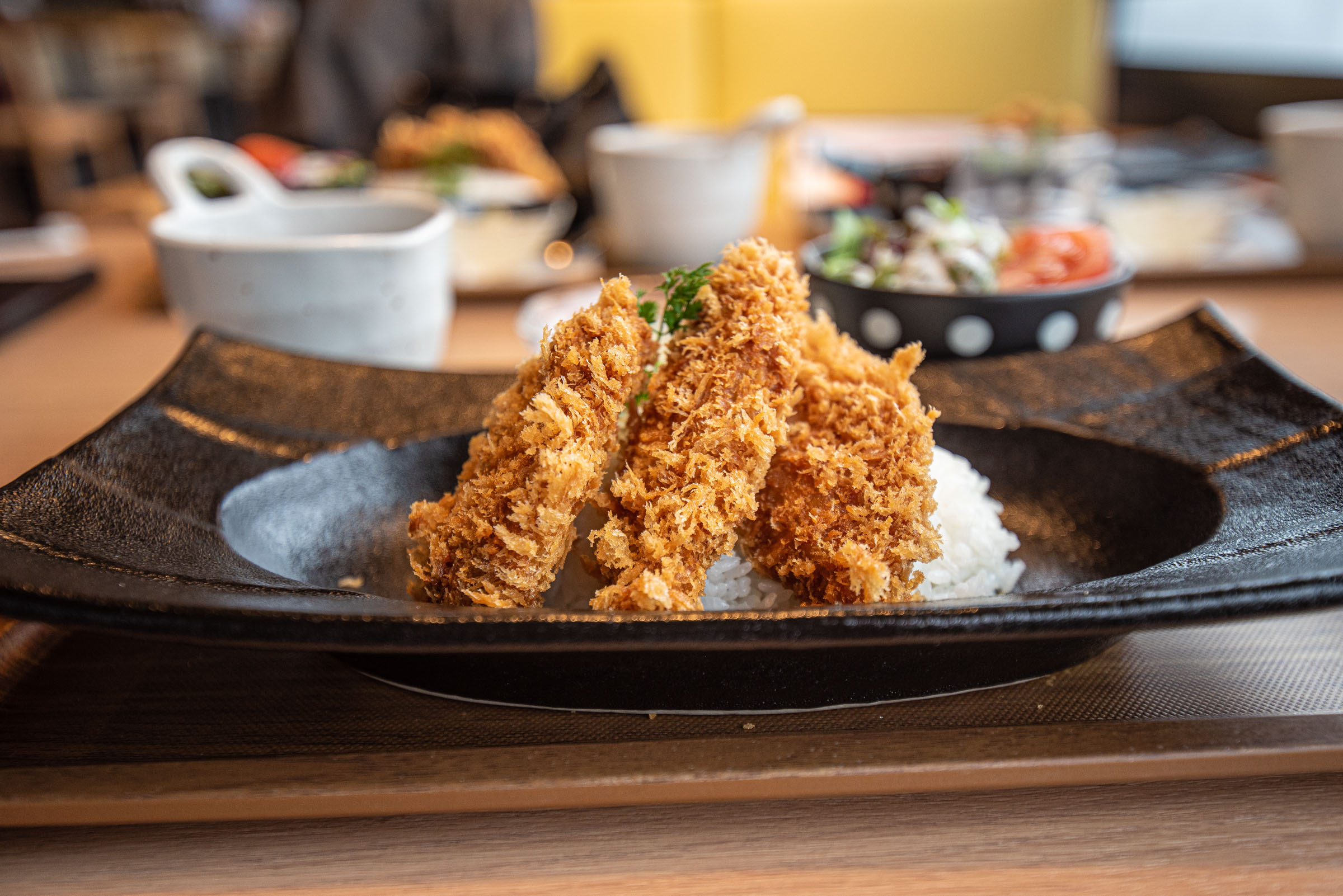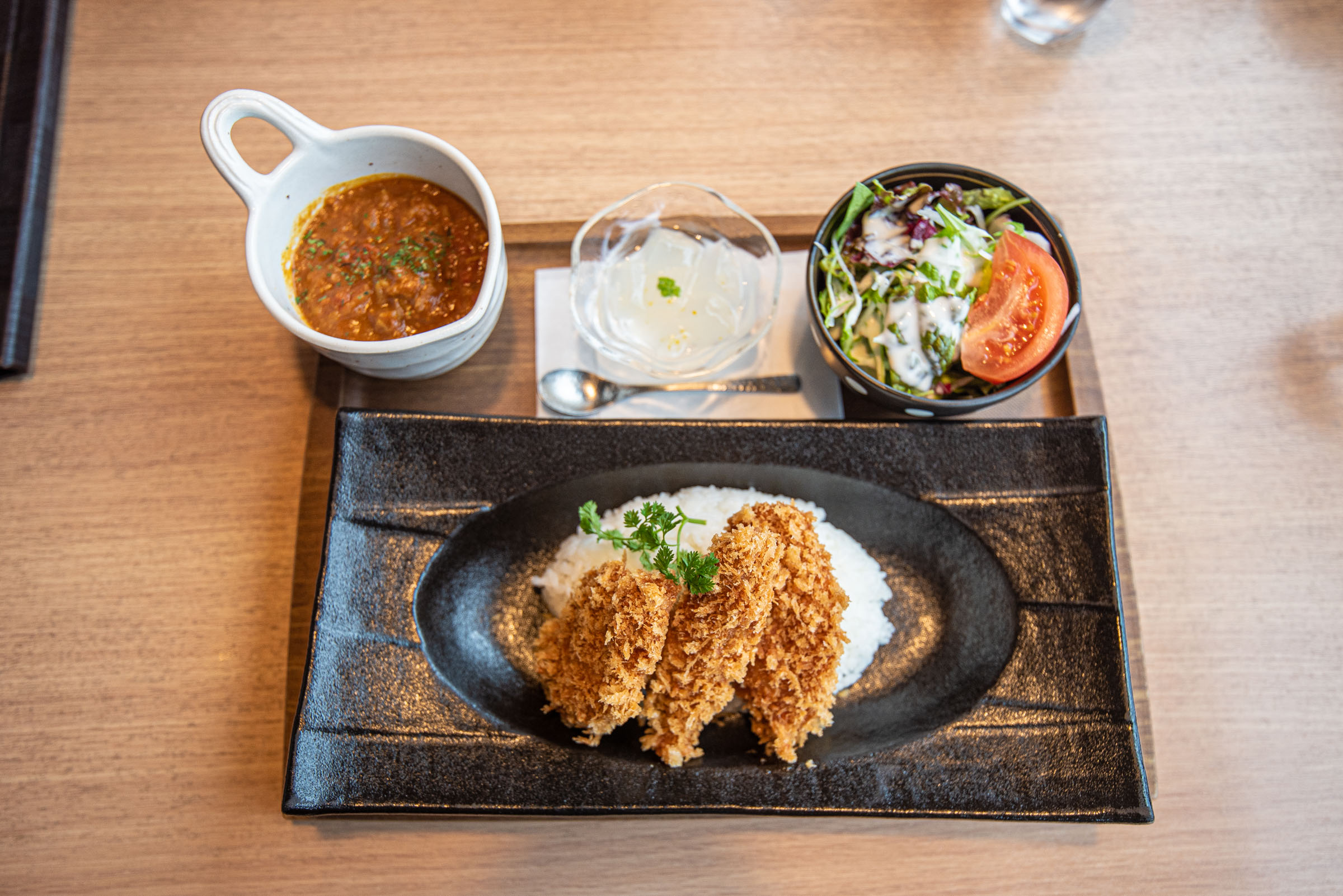 ---
11) The Hakone Open-Air Museum
Welcome to Japan's first open-air museum!
Let me start by saying that this place is ABSOLUTELY incredible! I wasn't sure what to expect, but after taking the escalator down to the entrance of the park and having my first look at this enormous open-air museum, I was already in love!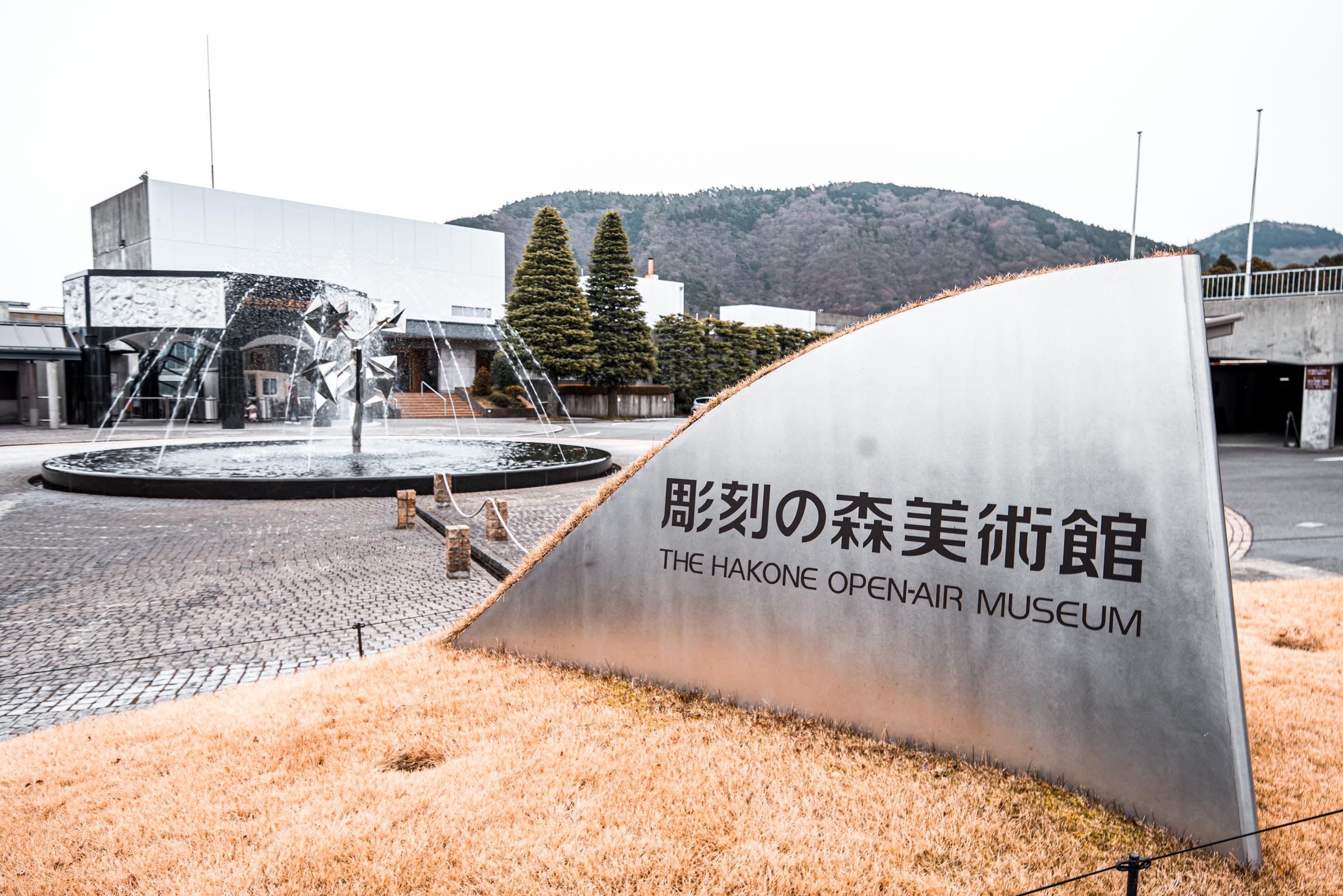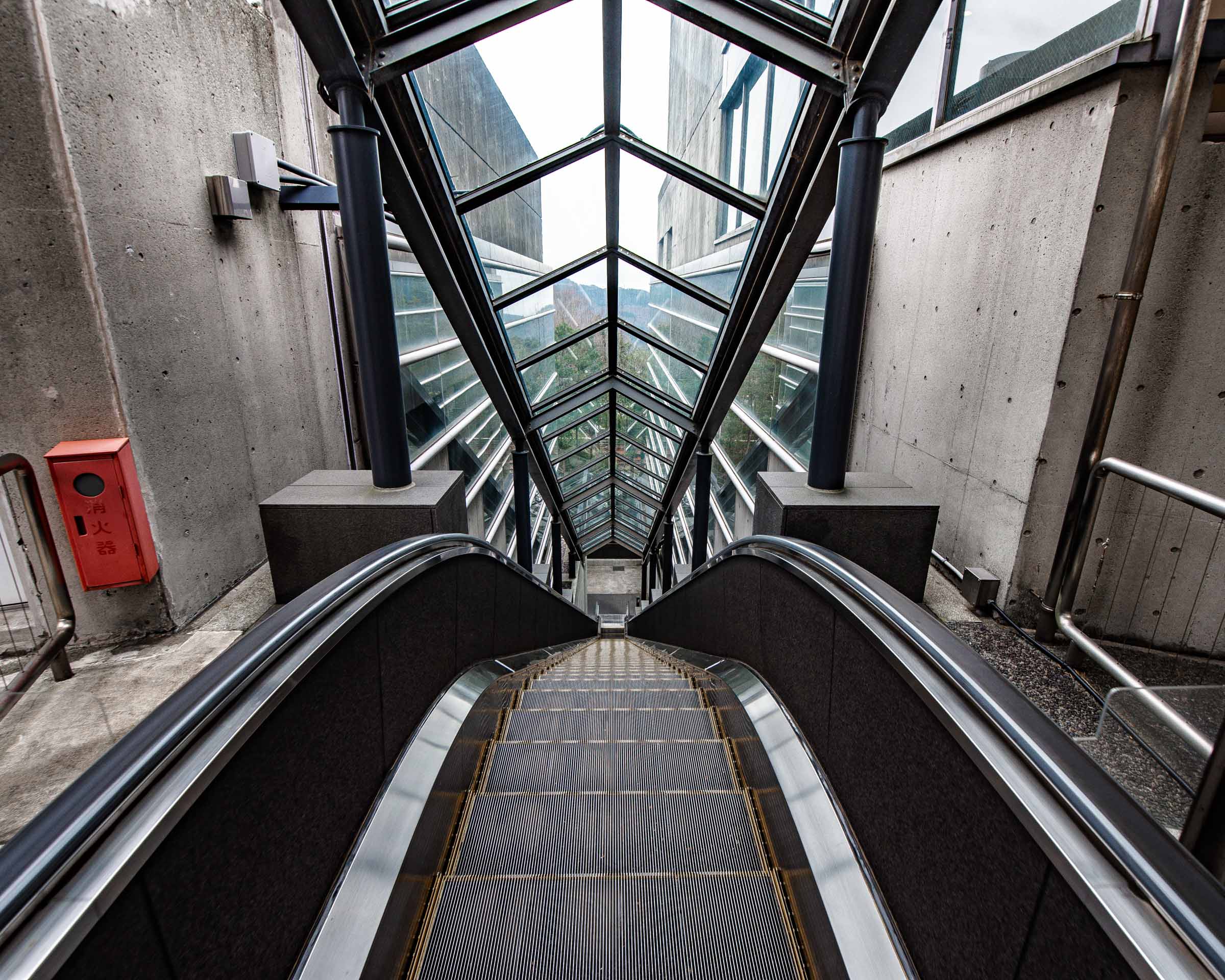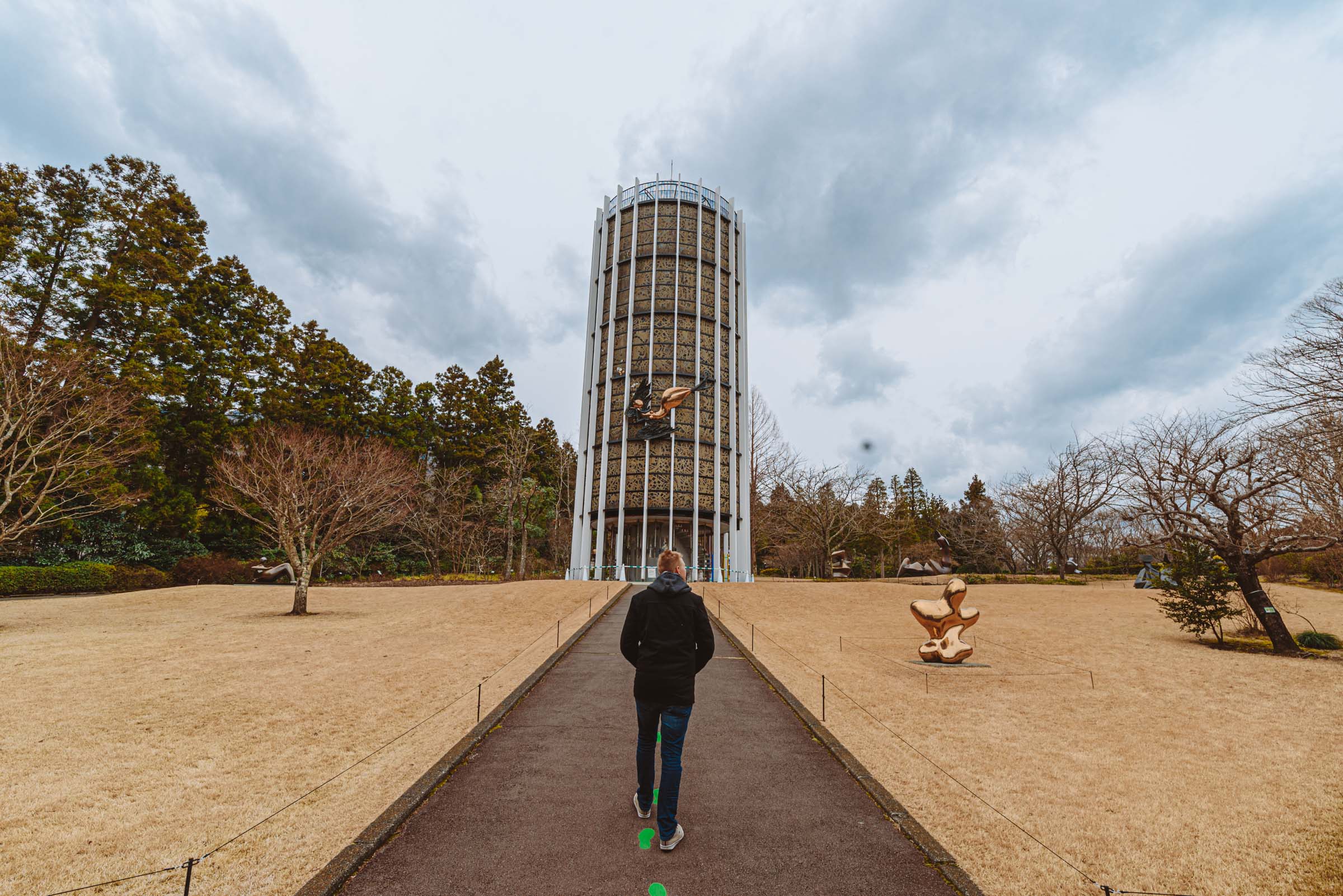 ---
It's truly a one-of-a-kind "museum", and you could easily spend hours wandering through the grounds and marveling at all the unique and large structures. It's also every child's dream museum, as there are several different playground "art pieces" that children under 12 can play on. Me, being the large manchild that I am, was quite disappointed by this age restriction.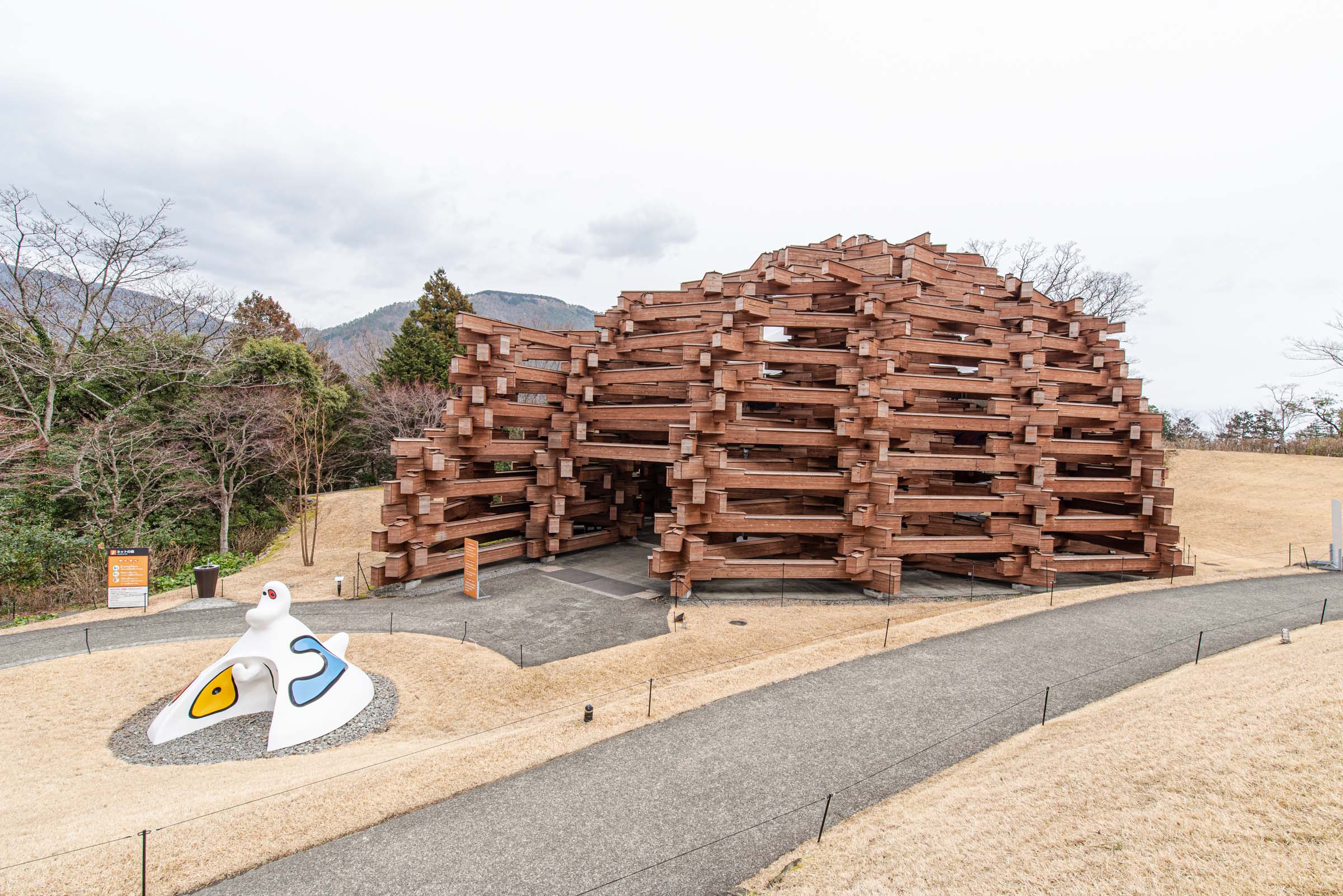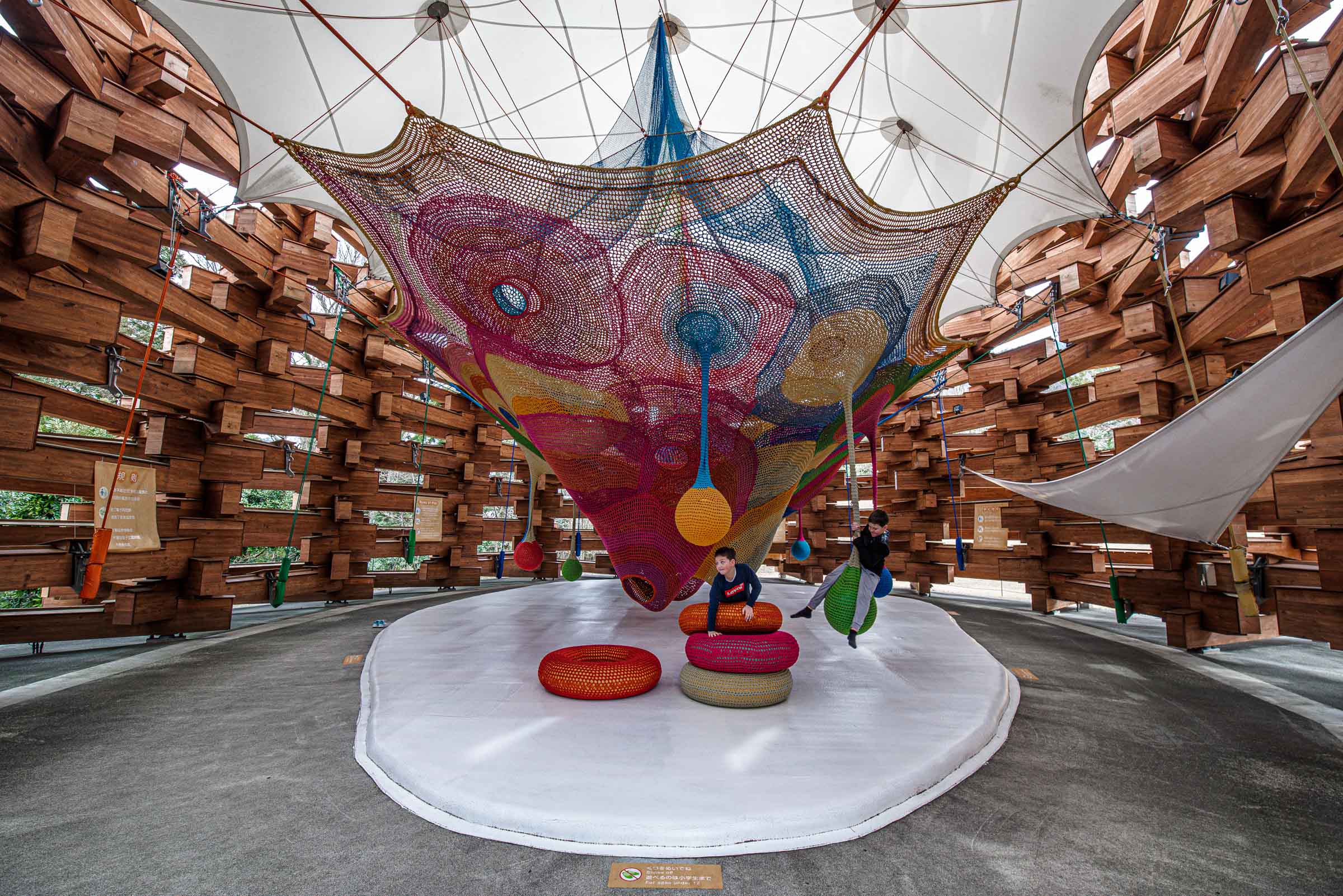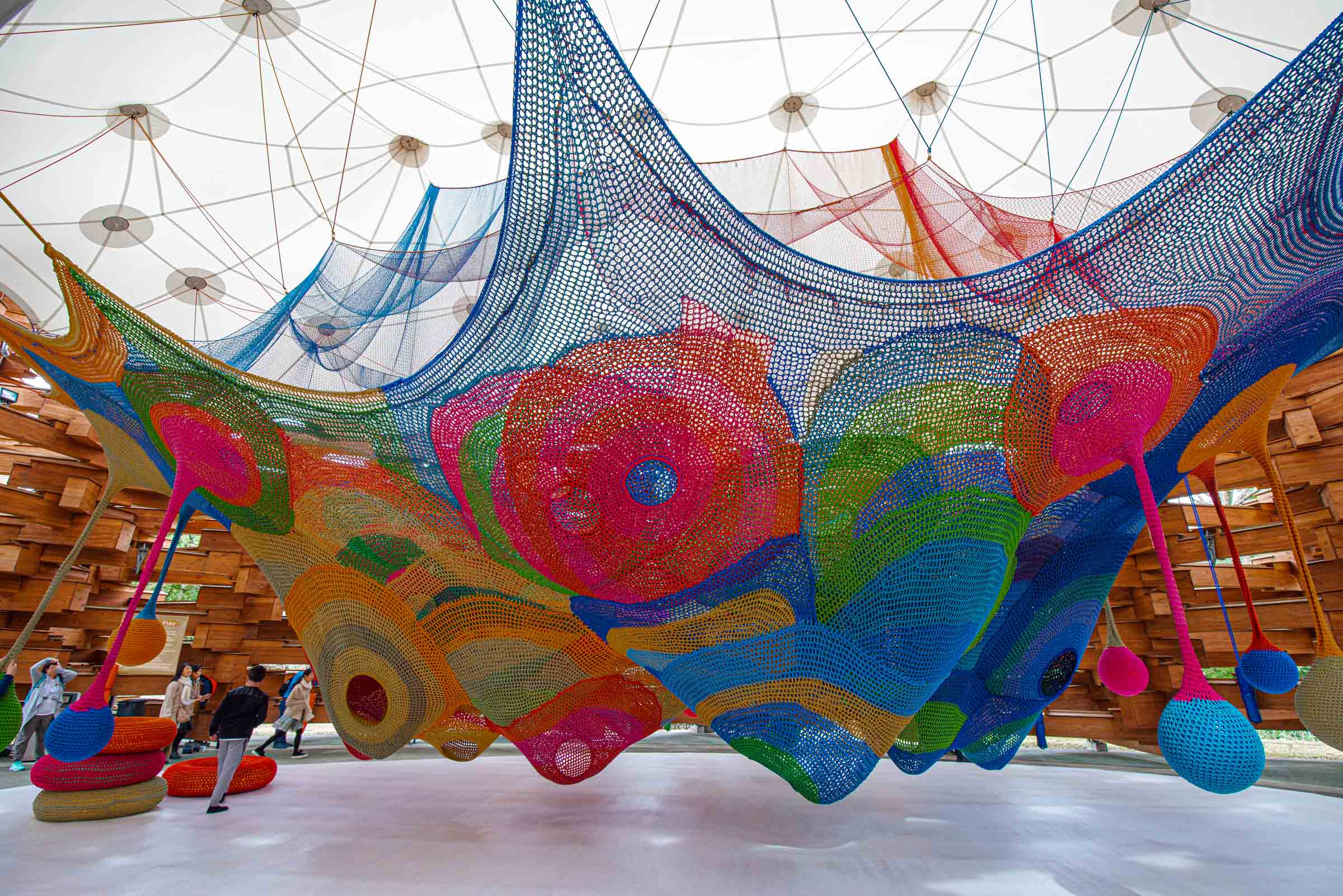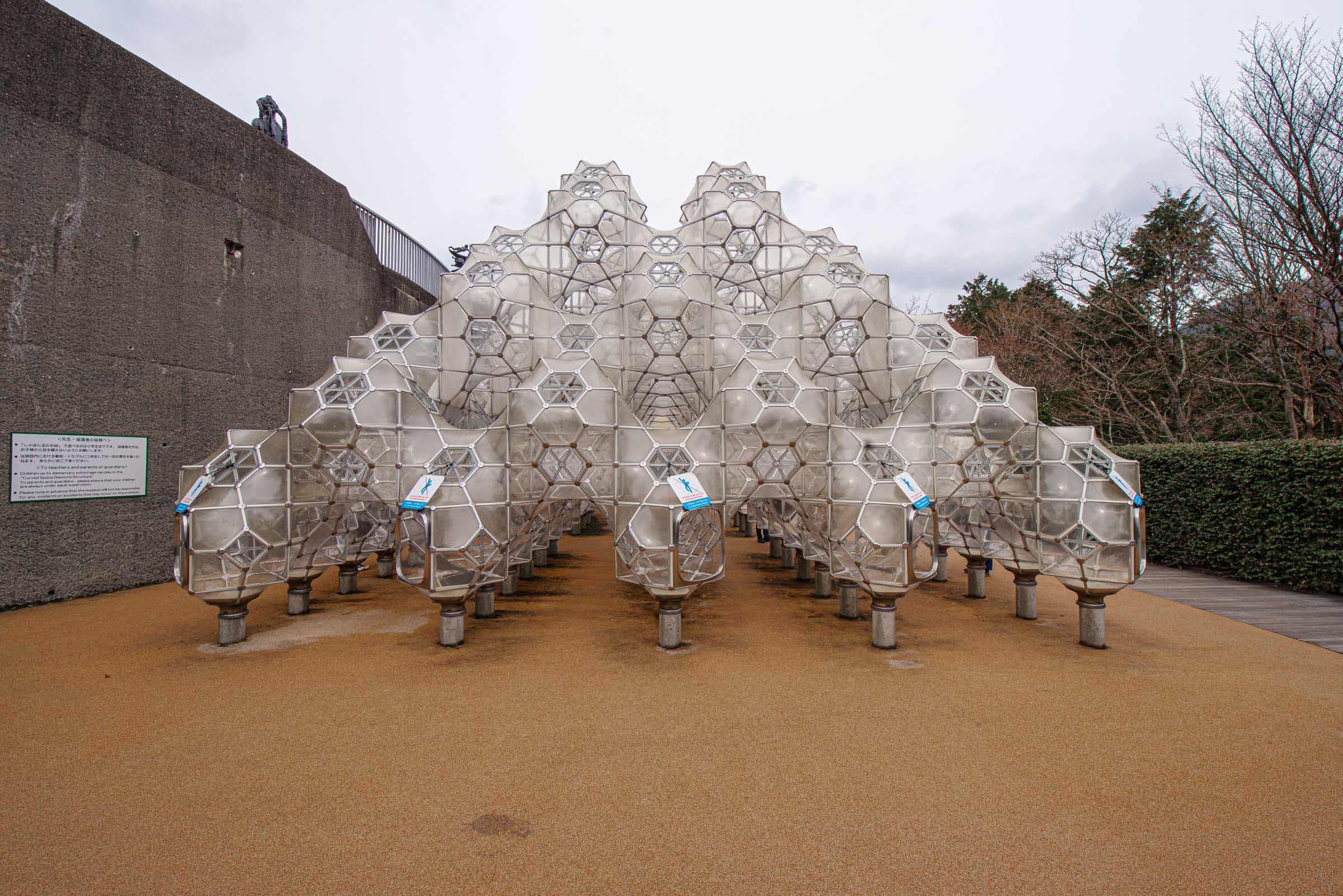 While the majority of the pieces are outside, there's a fantastic Picasso exhibit that showcases some of the Spanish artist's early work, as well as his many unknown pottery sculptures! While no pictures are allowed inside, it's all displayed really well, and I loved that the walls were covered with fun Picasso quotes like this one:
"The important thing is the discovery, not the search. An artist is somebody who discovers things. In art, intention is valueless. As the Spanish proverb says, "Love exists in reality, not debate", and is the action that is important" – Picasso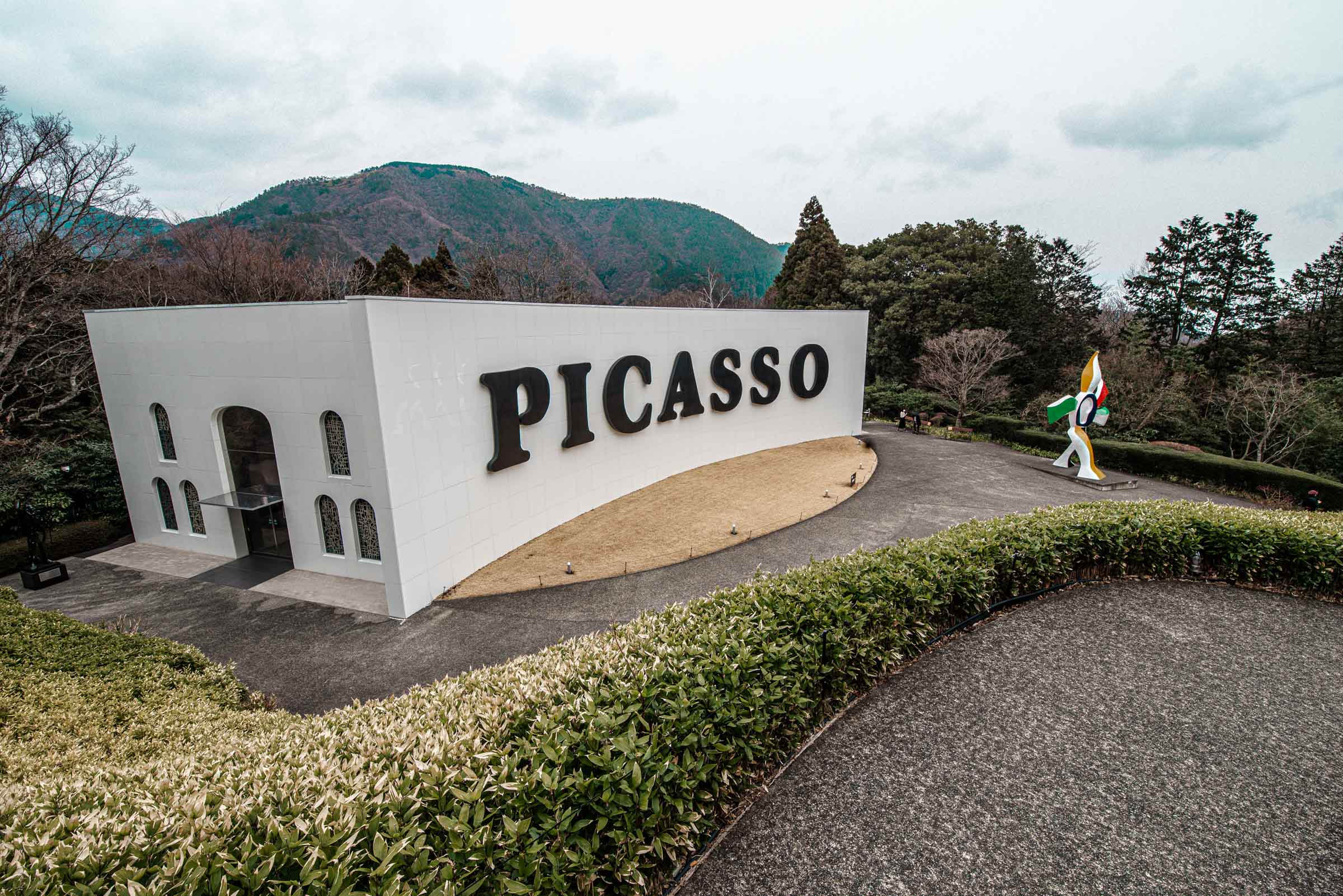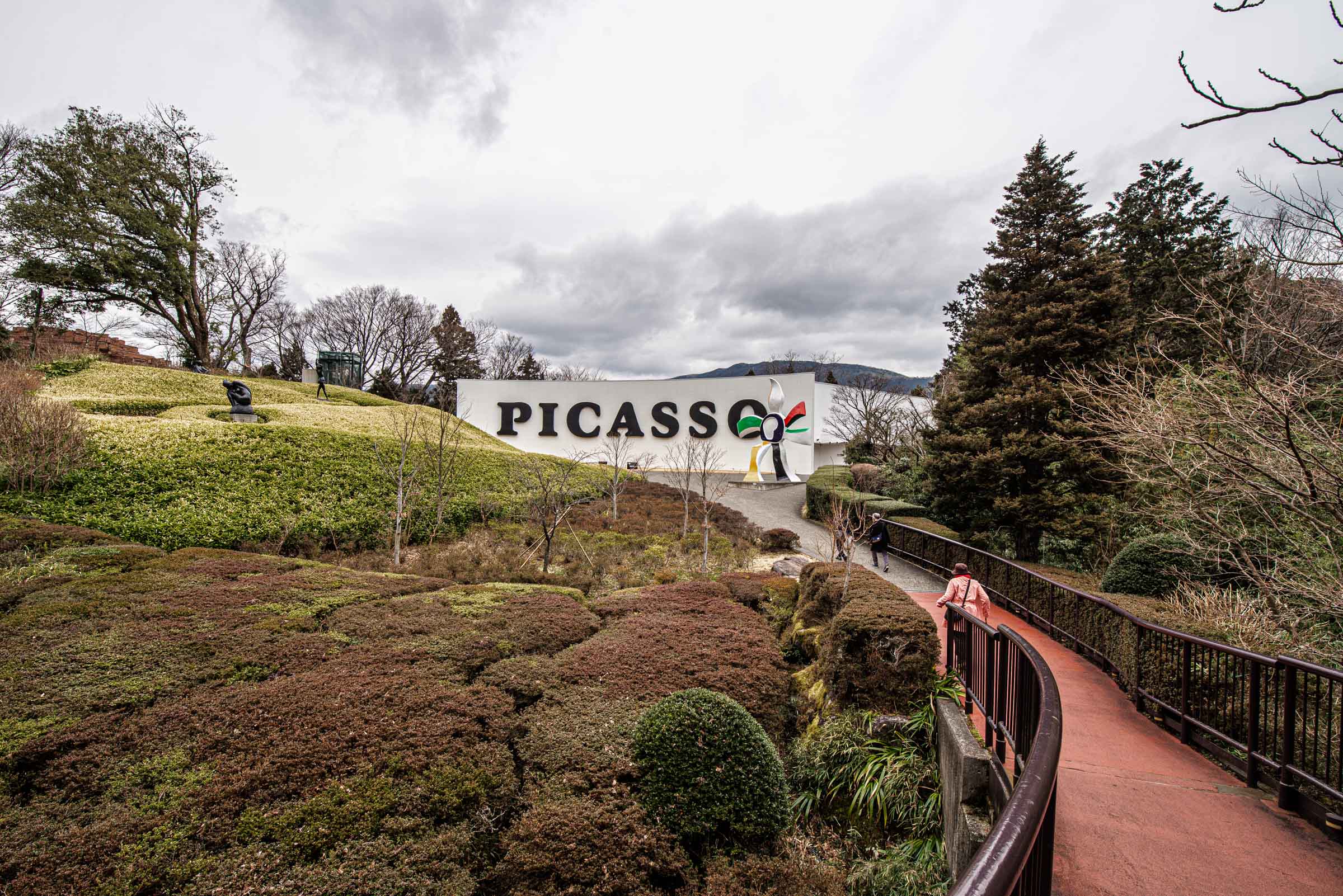 There's also a cafe/restaurant, a free steam foot bath, and countless fun photo opportunities! Even if you don't typically enjoy "museums", I guarantee you'll love wandering around this one!
While I visited during the winter, I've heard this place is particularly stunning during Japan's famous cherry blossom season. But then again the entire country is.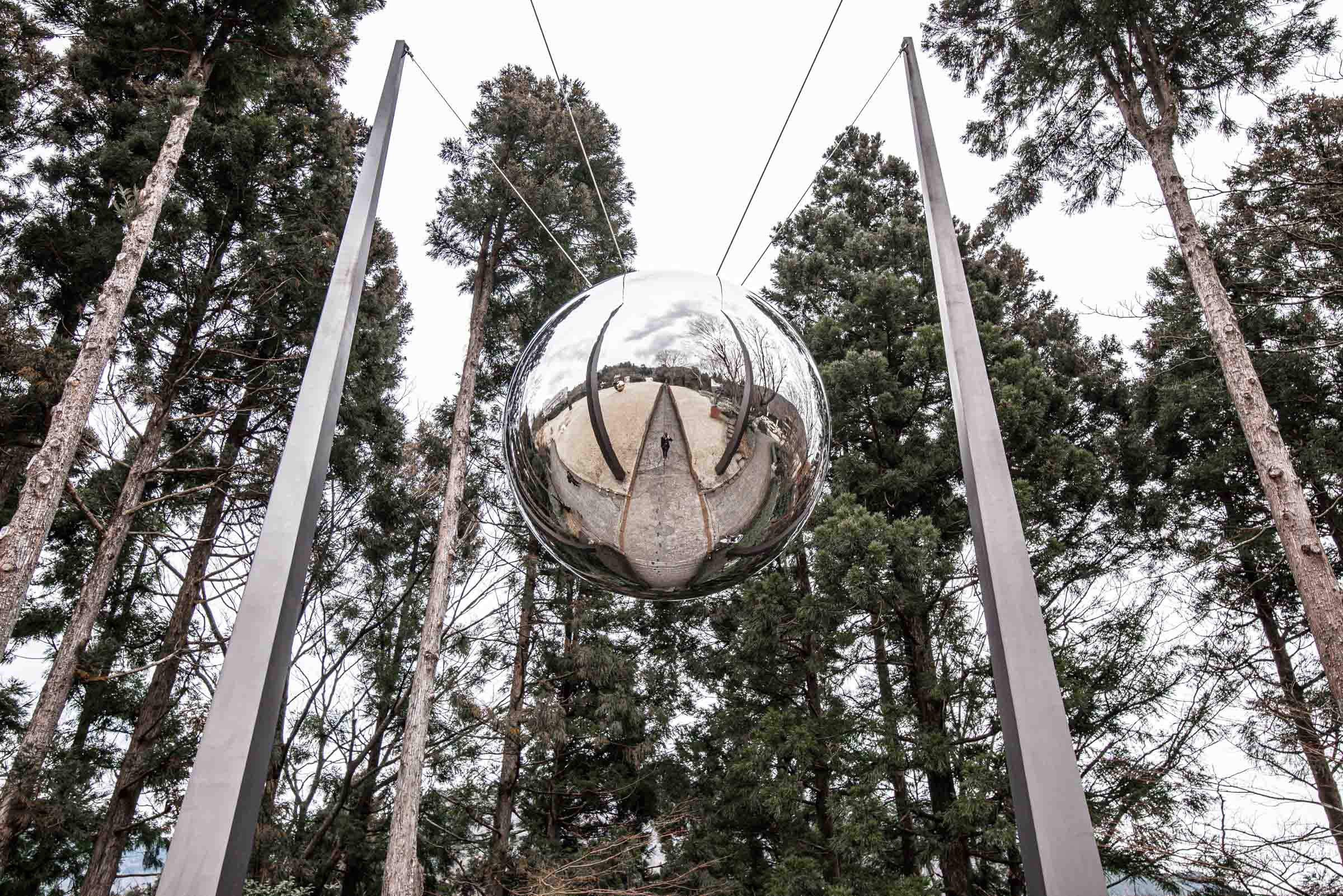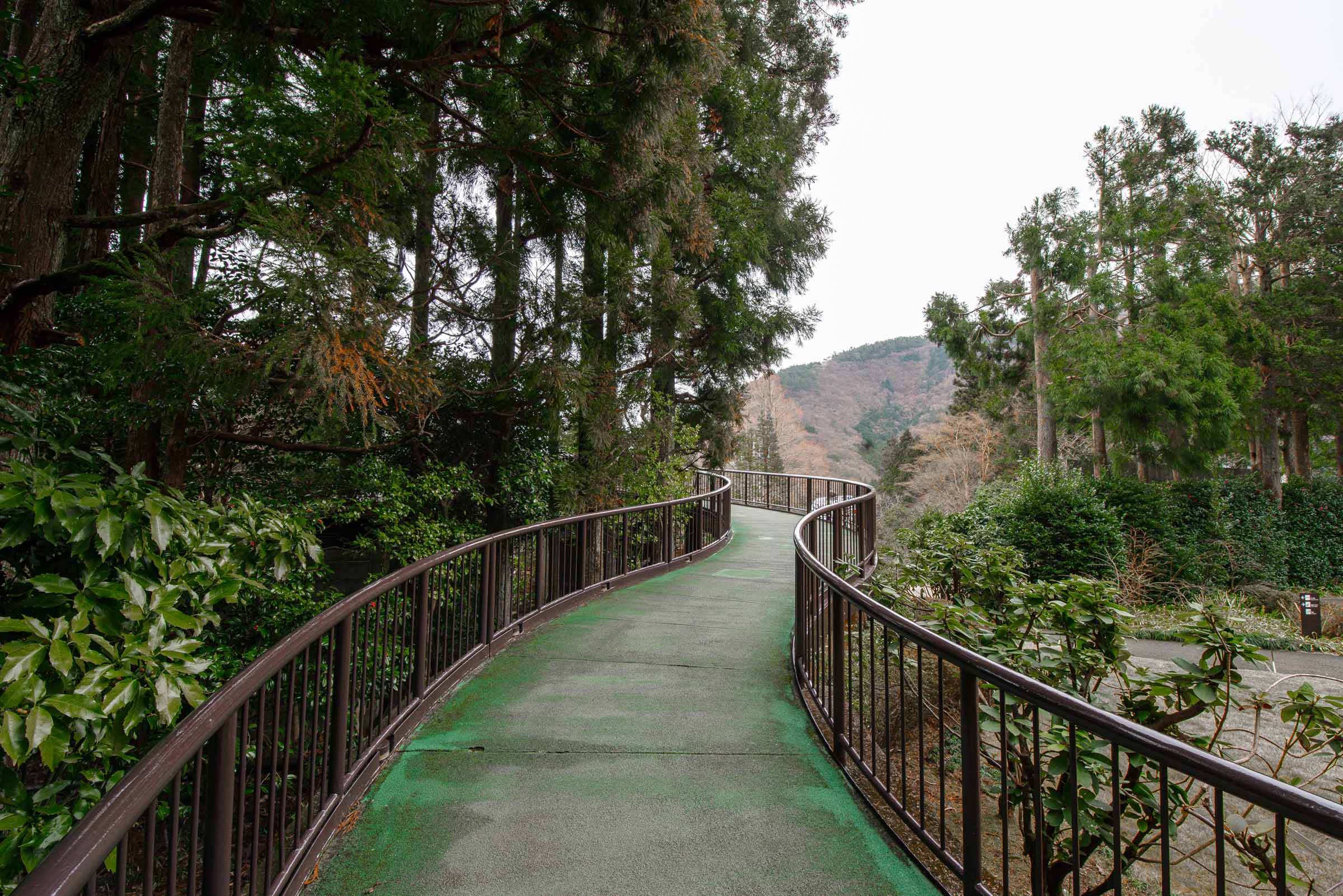 ---
12) The Okada Museum of Art & Gardens
For the art fans out there, you'll for sure want to head over to the Okada Museum of Art for an hour or two! It's a wonderful and spacious 5-floor exhibit that showcases over 450 Japanese and other East Asian works of art and archeological artifacts.
From early-modern Japanese paintings and ceramics to Buddhist sacred statues and relics, the museum is well laid out and has tons of information provided on iPads for the majority of the major pieces. While no photos are allowed inside the museum, you'll love strolling through the picturesque gardens behind the museum after getting your art fix.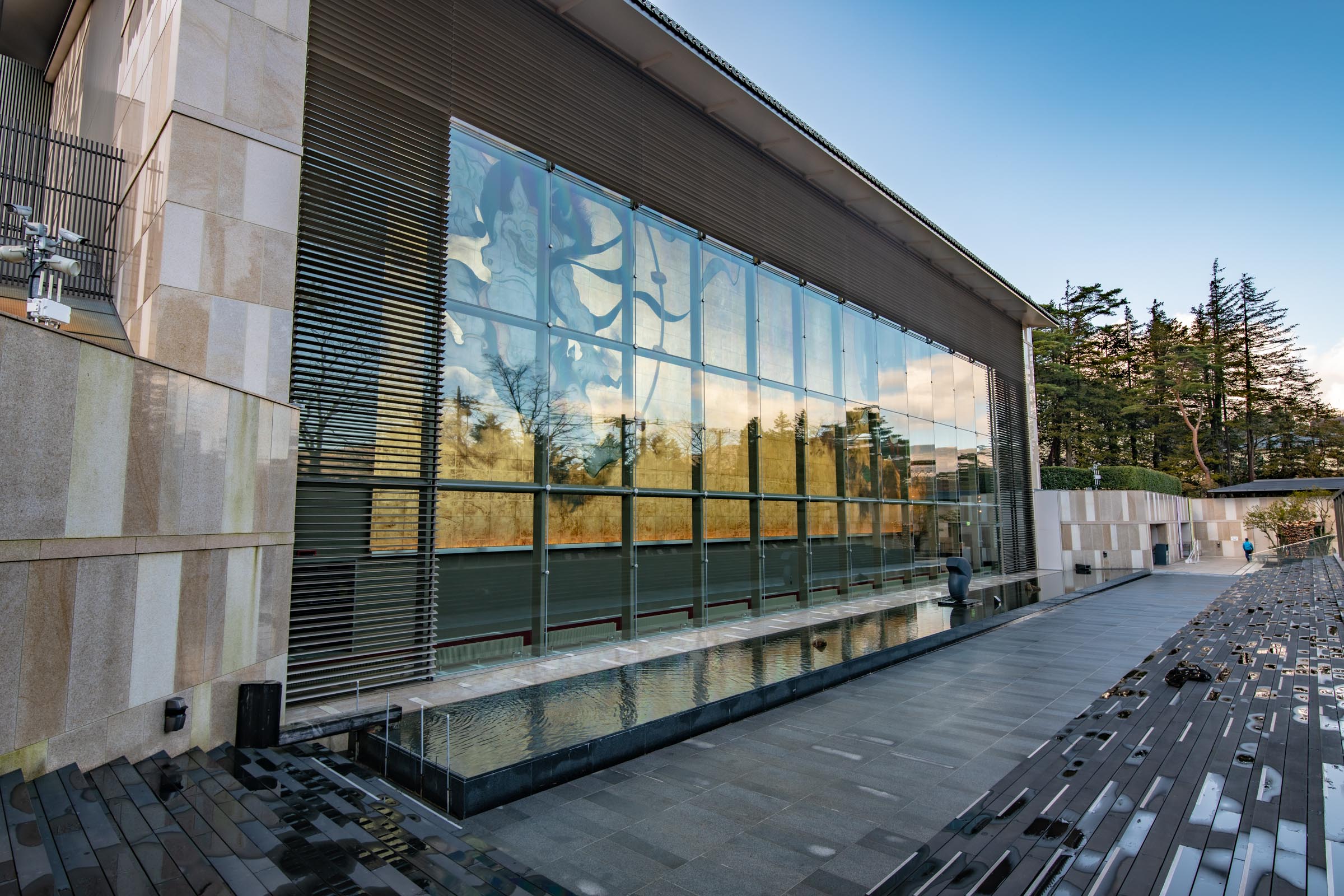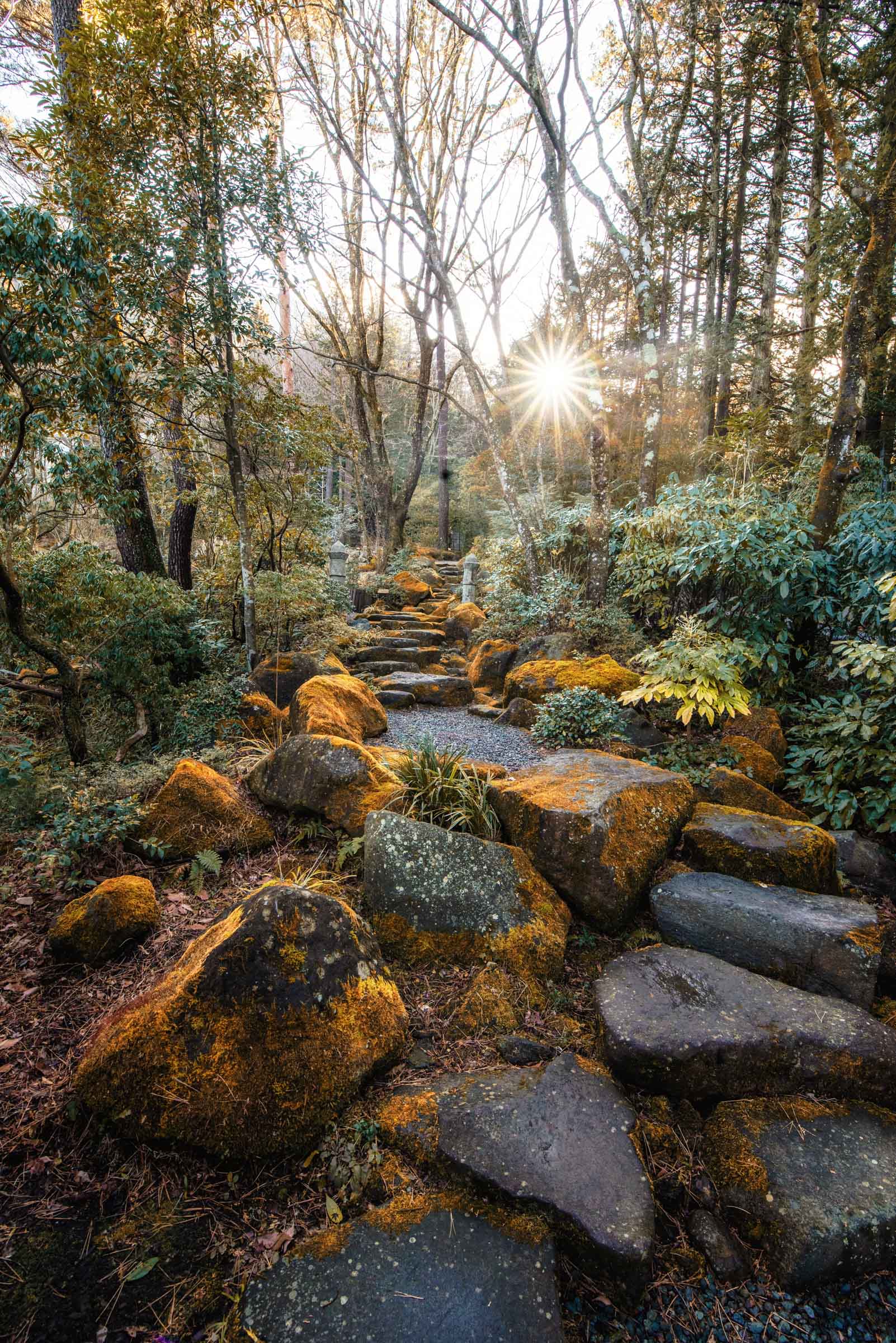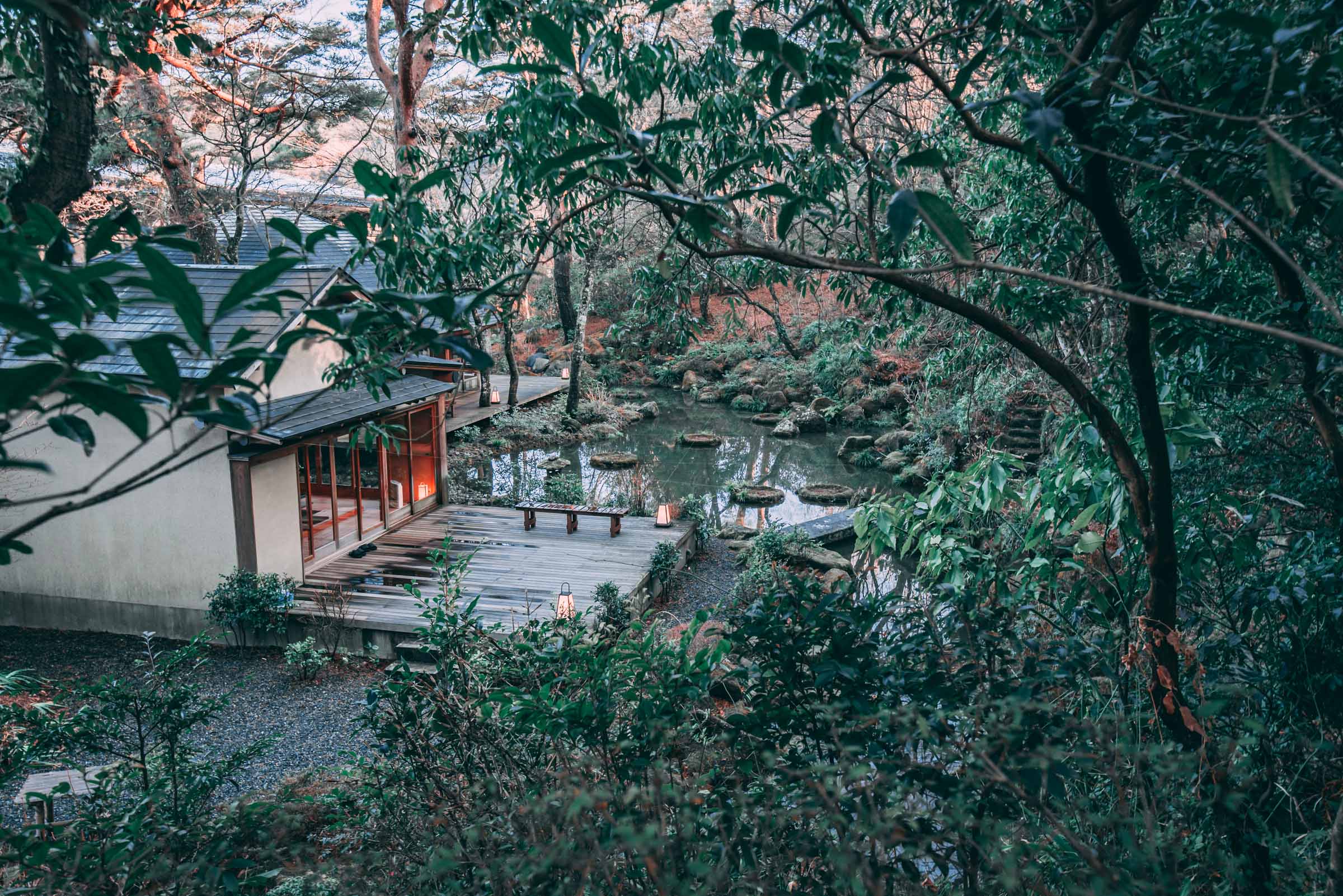 ---
14) Soba Kihinkan Noodles
Looking for a unique lunch recommendation? Head over to the Soba Kihinkan for a traditional Japanese dining experience! Take off your shoes, take a seat by a window near the garden, and be welcomed by the friendly staff dressed in beautiful authentic kimonos! The main reason people come here is to order the soba noodle set menu, which I'm sure you'll enjoy immensely! This culinary experience is located just around the corner from the Okada Art Museum.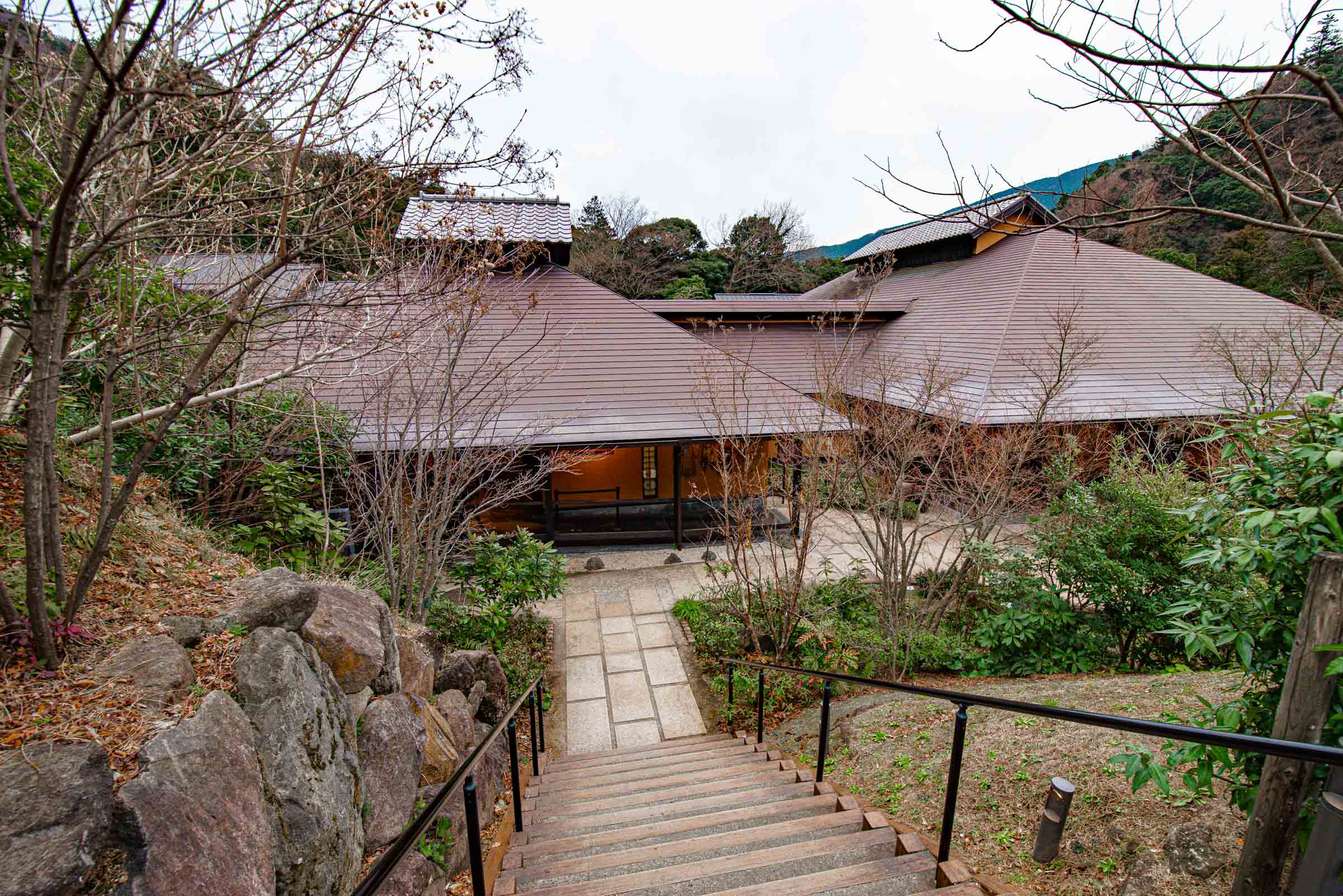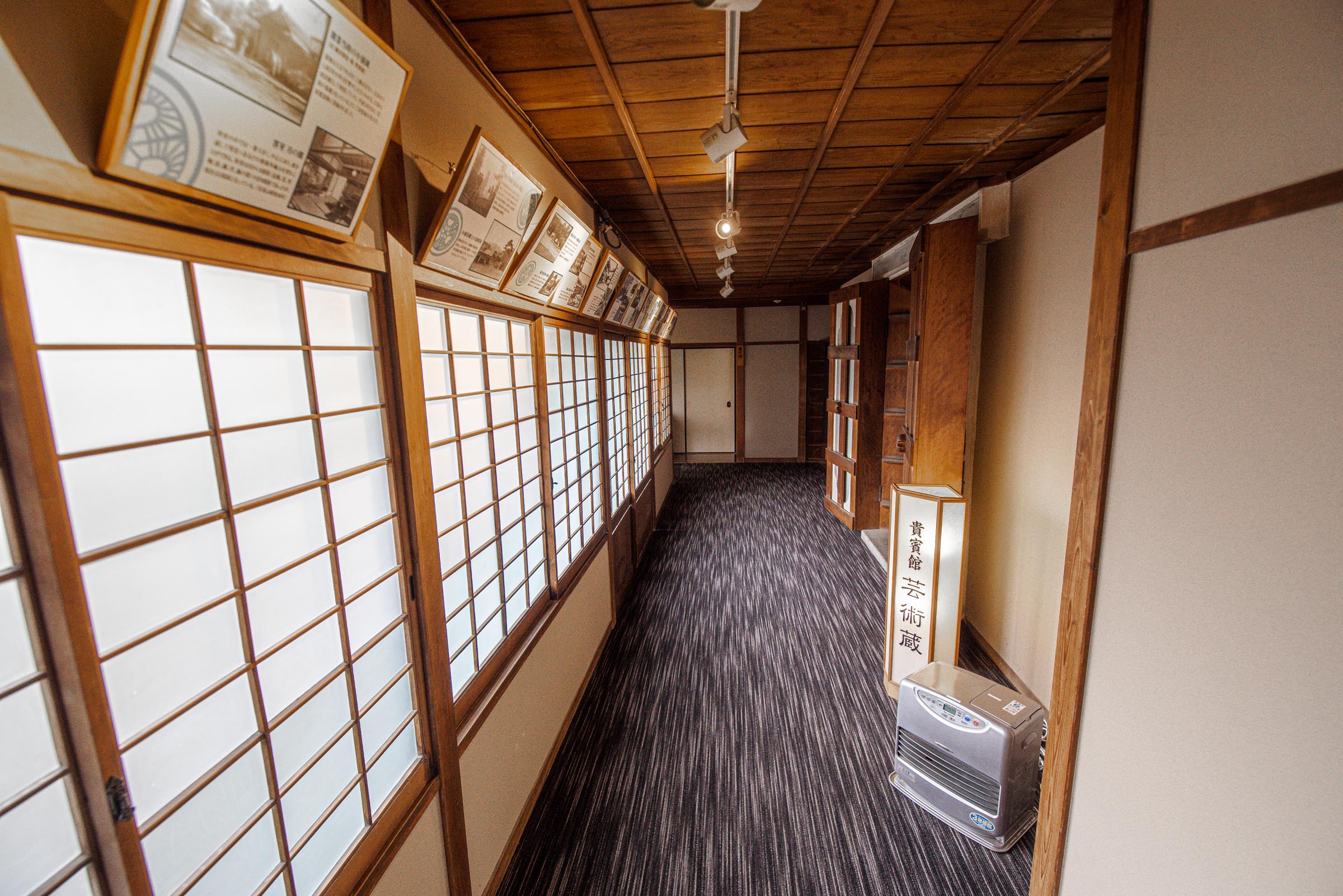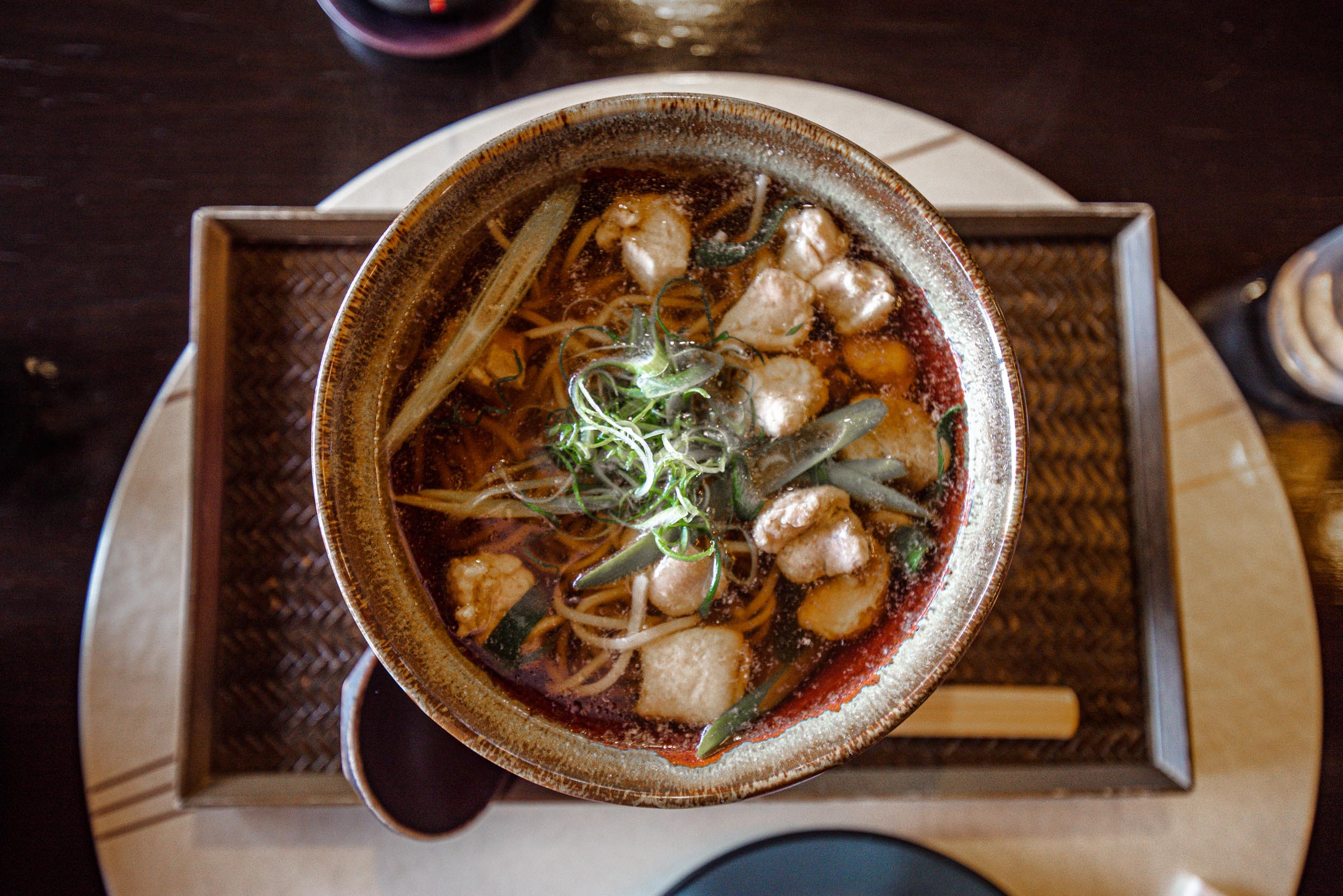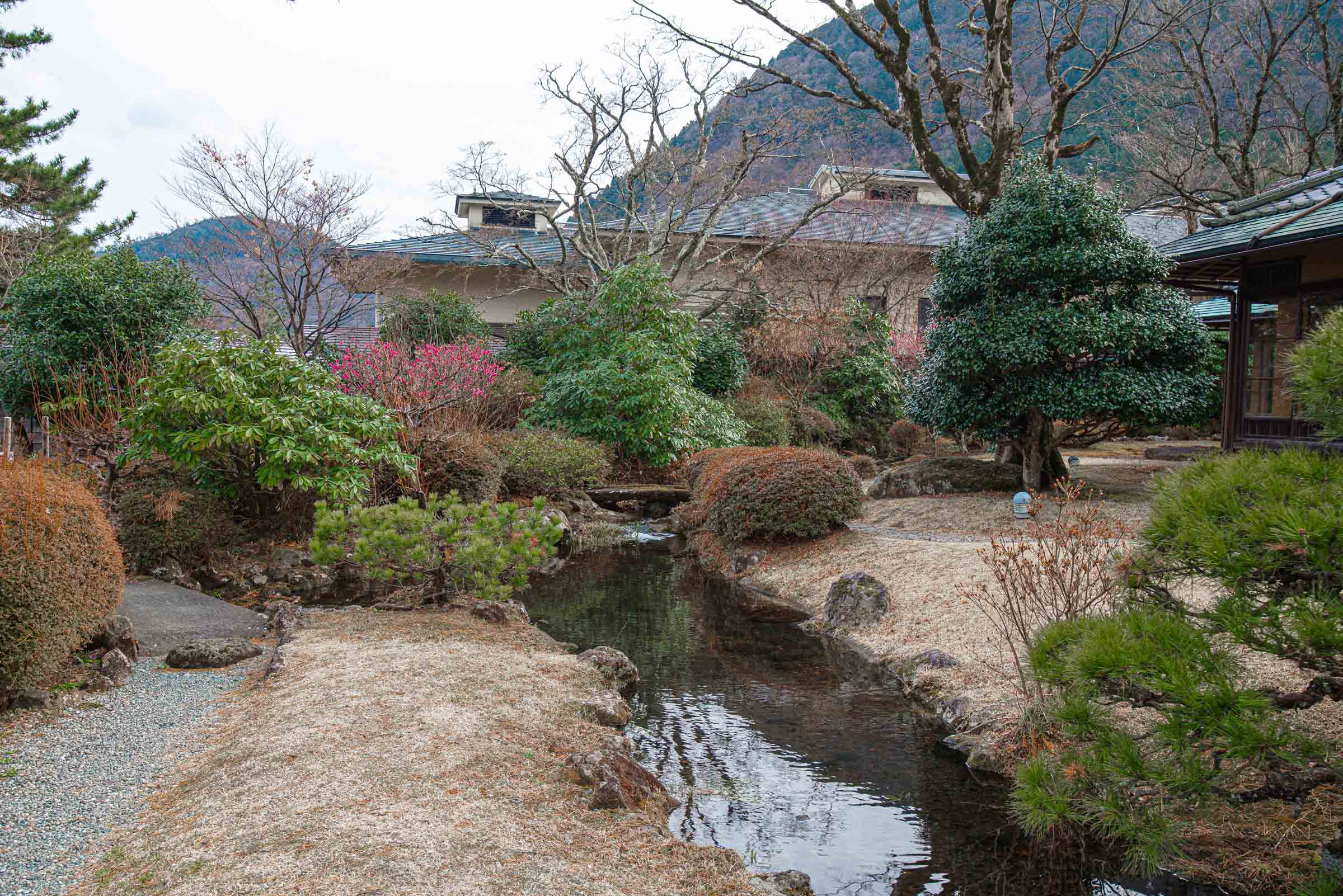 ---
15) Explore the shops around Hakone-Yumato Train Station
While some travelers may just quickly skip this part of Hakone, there are actually some really great spots to check out around the Hakone-Yumato train station. In particular, I recommend heading over to the popular Kinosuke restaurant to sample their highly-reviewed authentic Japanese dishes! A favorite dish among locals is the dried fish that's grilled over Binchotan charcoal. If you happen to be in this area at night you'll find that it transforms into a popular drinking hub, as it's the only late-night establishment serving alcohol here!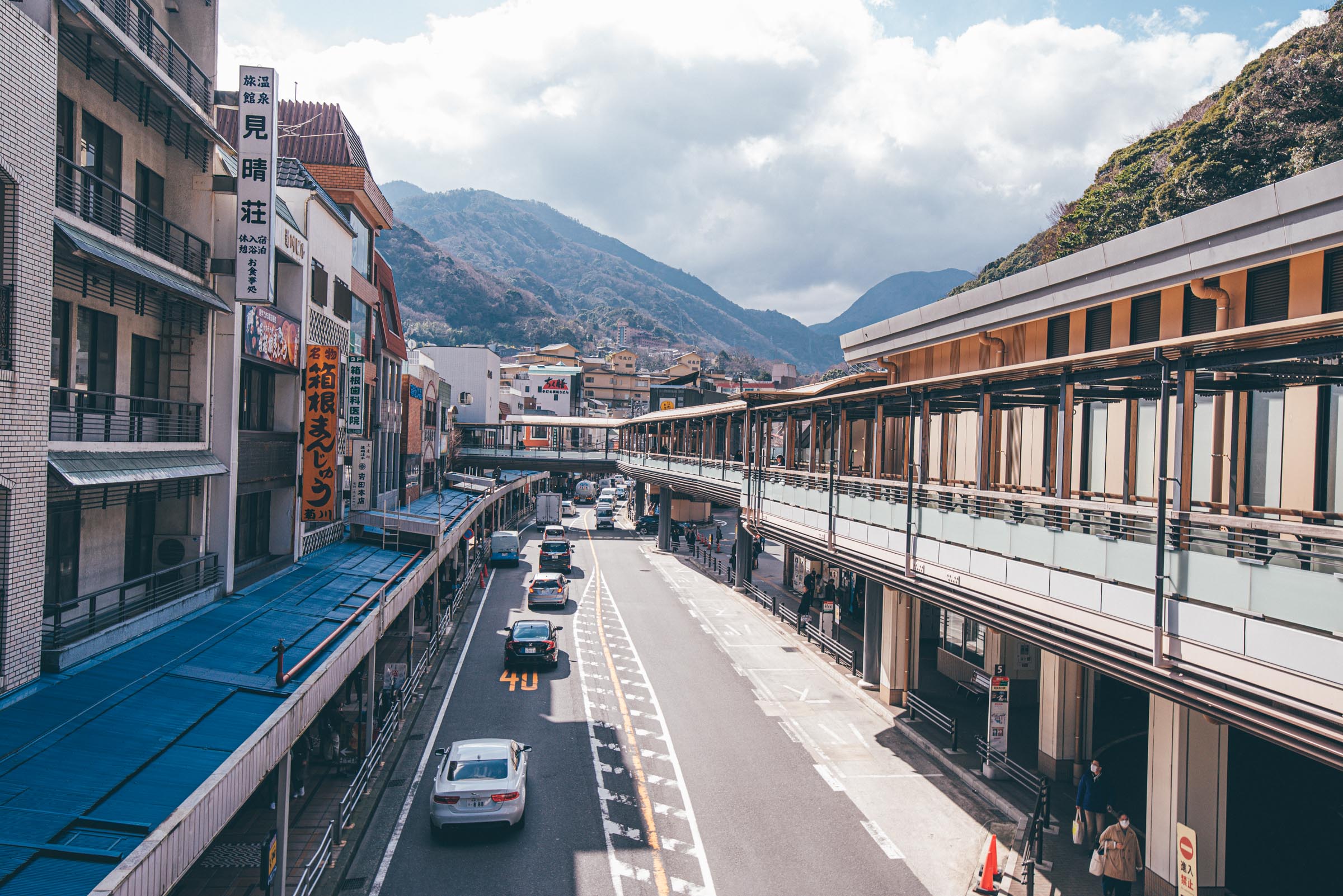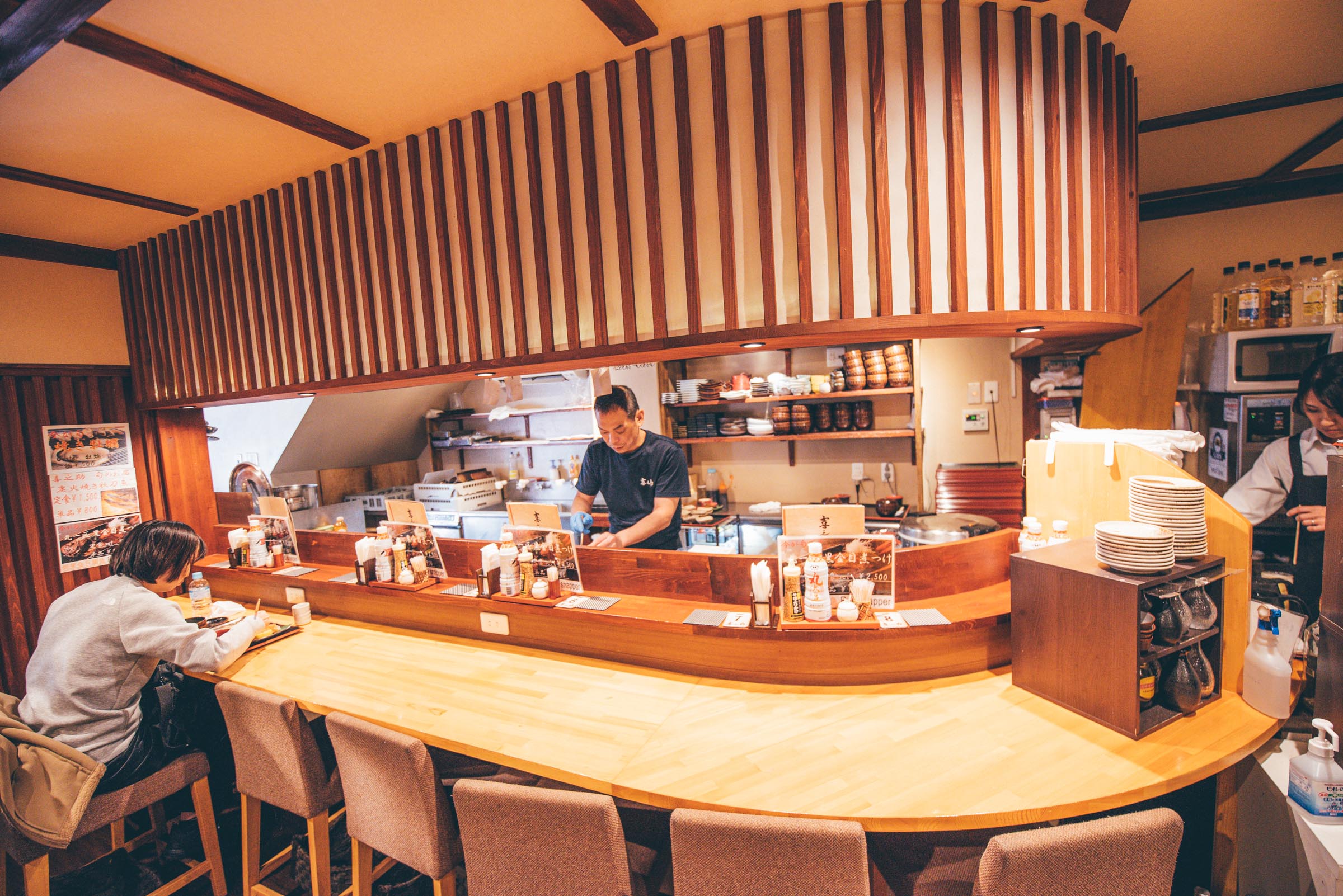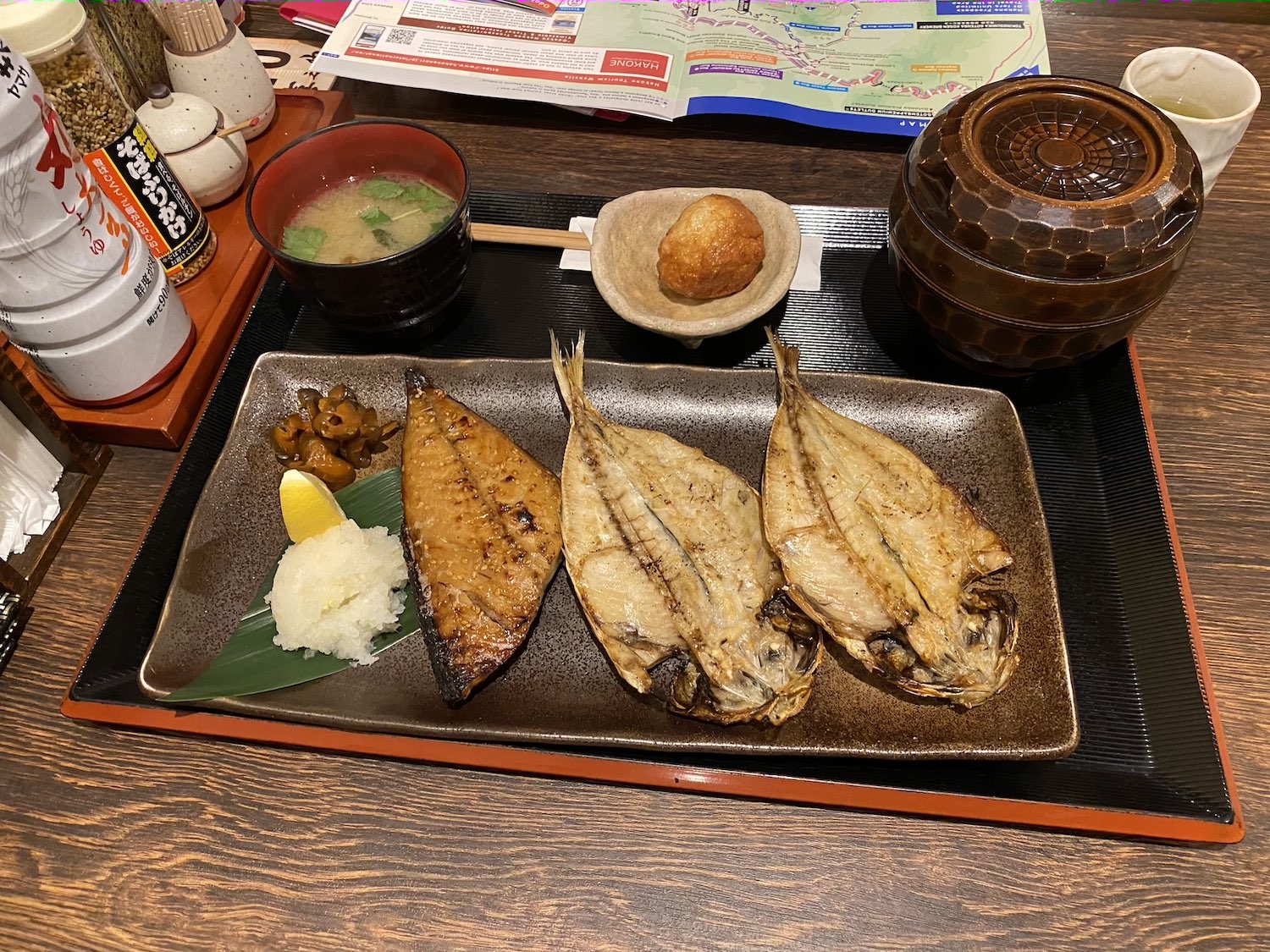 ---
16) Have a beer at the Hakone Tent
When it comes to nightlife, Hakone doesn't really have that much to offer – but a popular spot to grab a beer/ sake is the Hakone Tent! It's a beautiful, charming guesthouse that even has its own natural onsen that is piped in from the famous Owakudani hot springs.
If you're traveling to Hakone on a budget, this would be a fantastic place to stay, as they just spent six months renovating an old Japanese ryokan and transformed it into a modern and affordable guesthouse. If you don't stay there though, you should definitely visit for a beer in their lounge!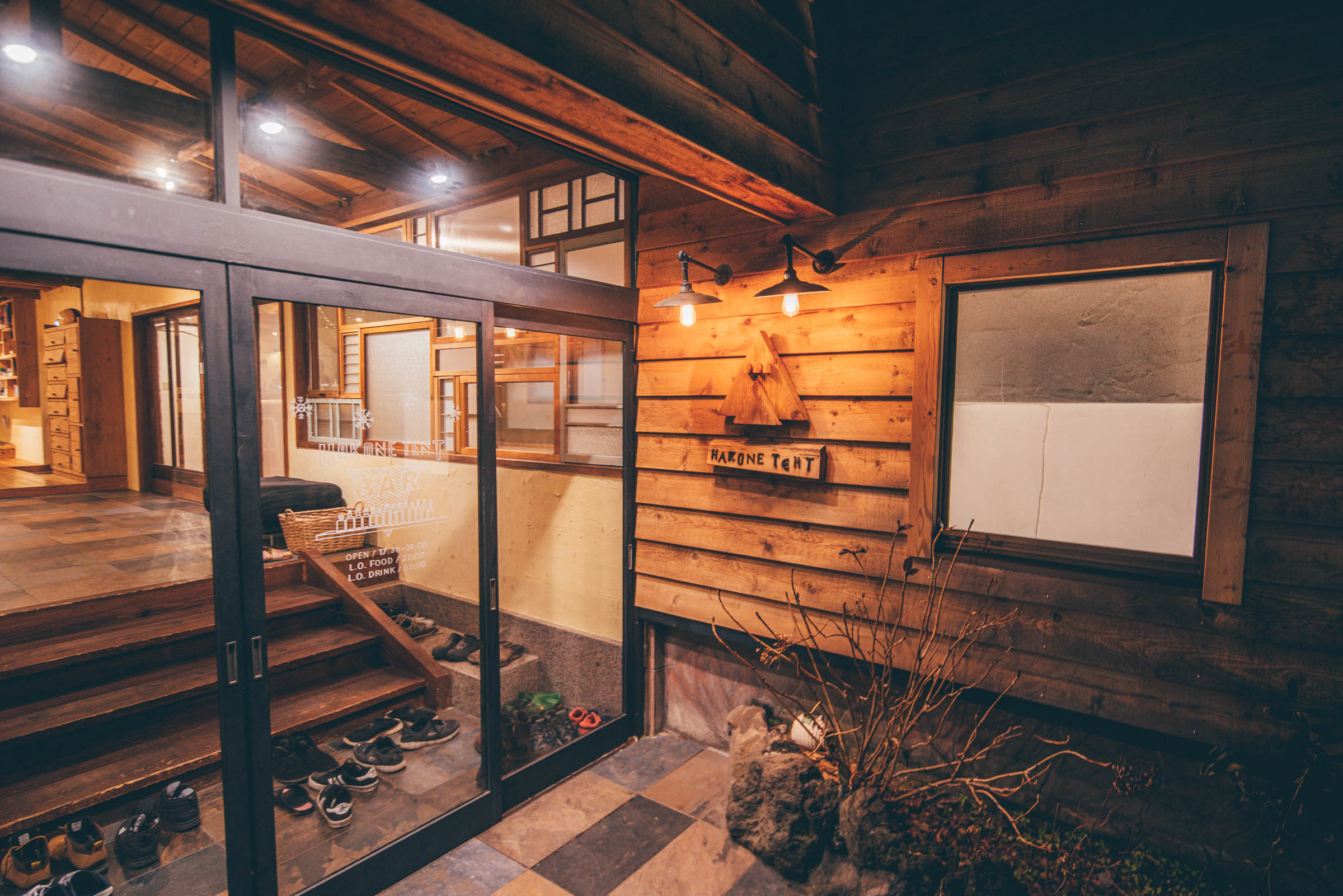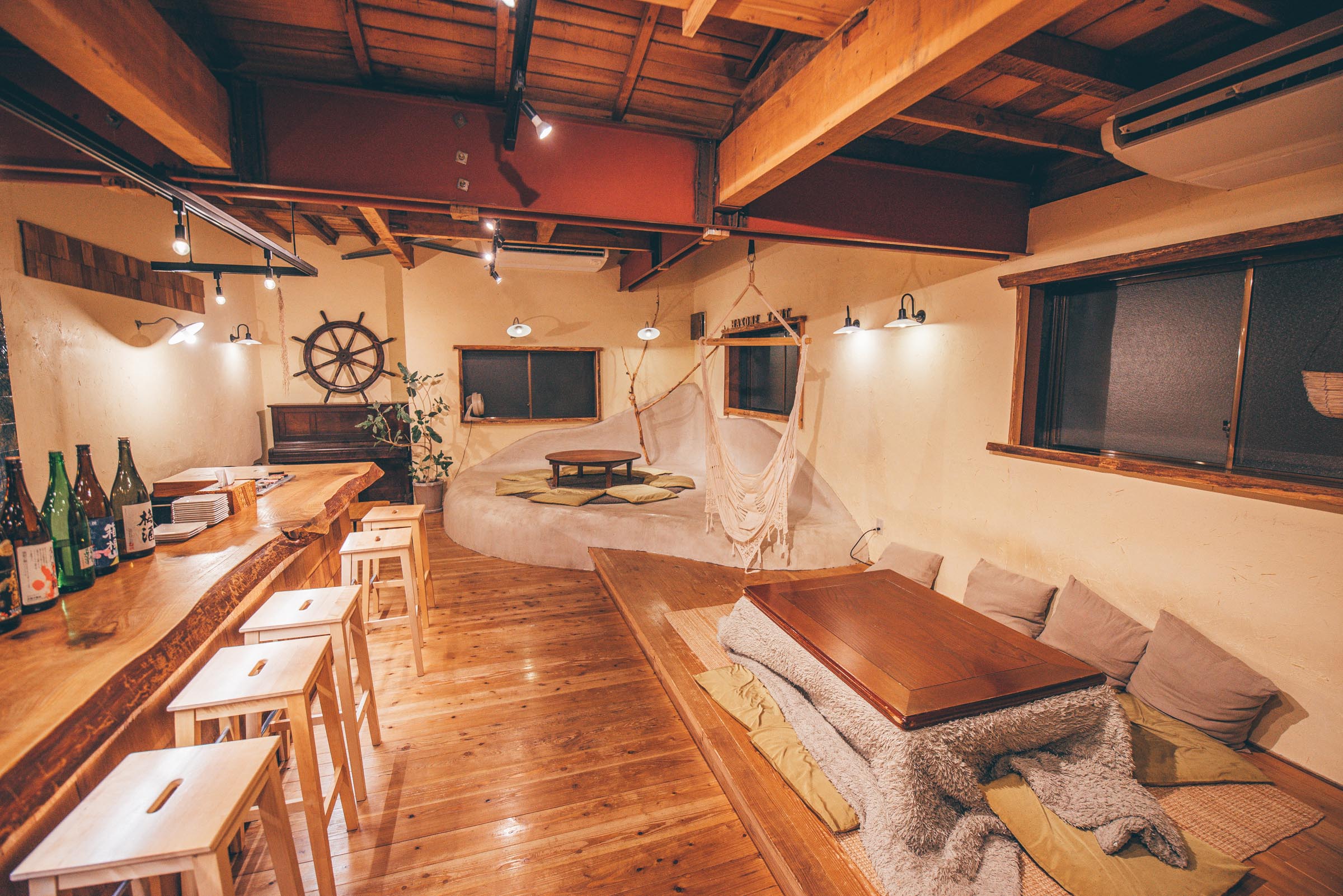 ---
17) Hakone Yuryo Onsen Spa
One of the BEST parts about visiting Japan is soaking up the onsen lifestyle as often as possible!
Aftee a long day of exploring Hakone, I'd recommend heading over to the famous Hakone Yuryo, a traditional-style countryside hot springs resort that is guaranteed to melt away the stresses of your daily life! Located just a few minute's drive from the main Hakone-Yumato train station (with free shuttles provided), it's a popular trip for Japanese locals to come out here for the day – so you definitely should visit while you're already in the area!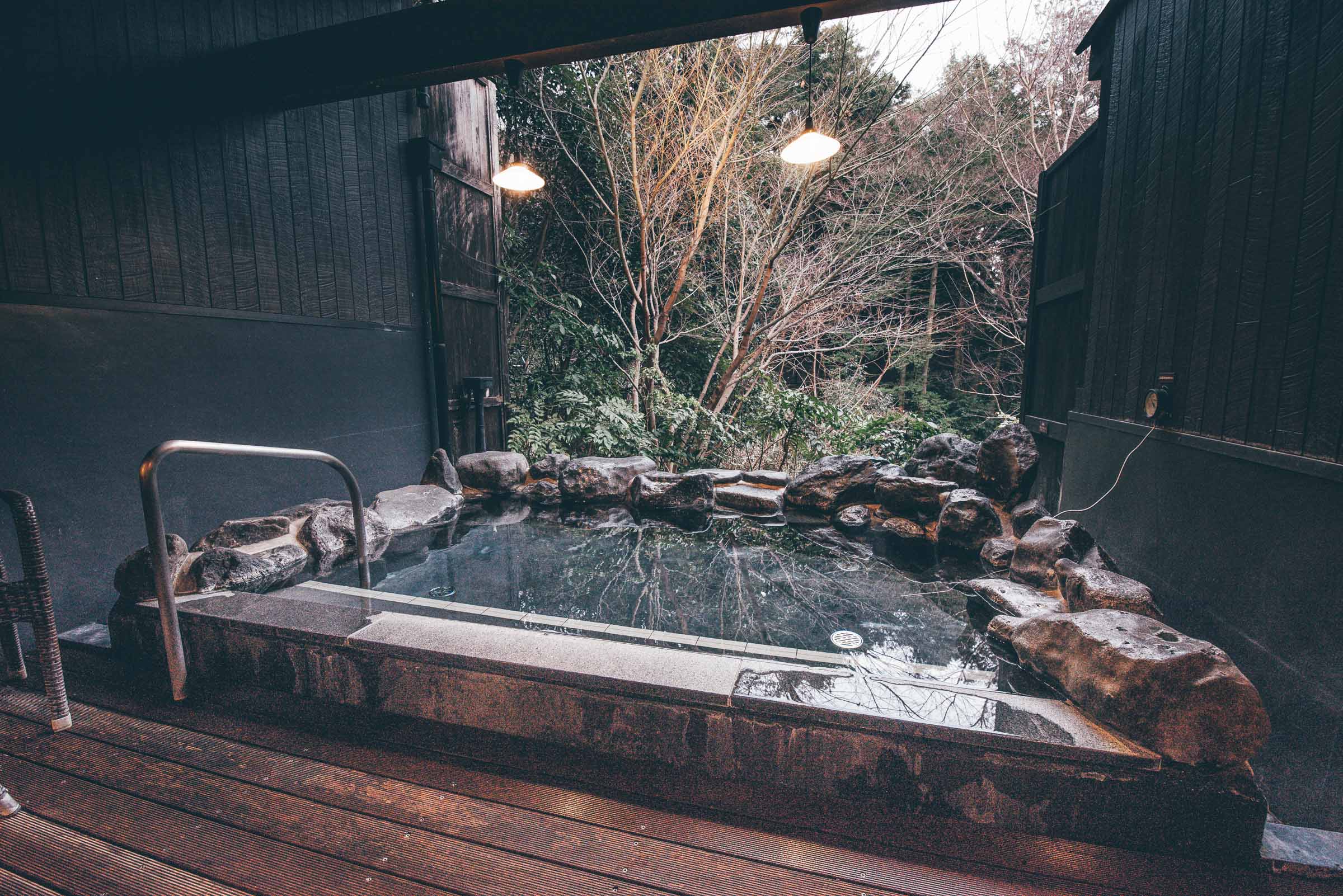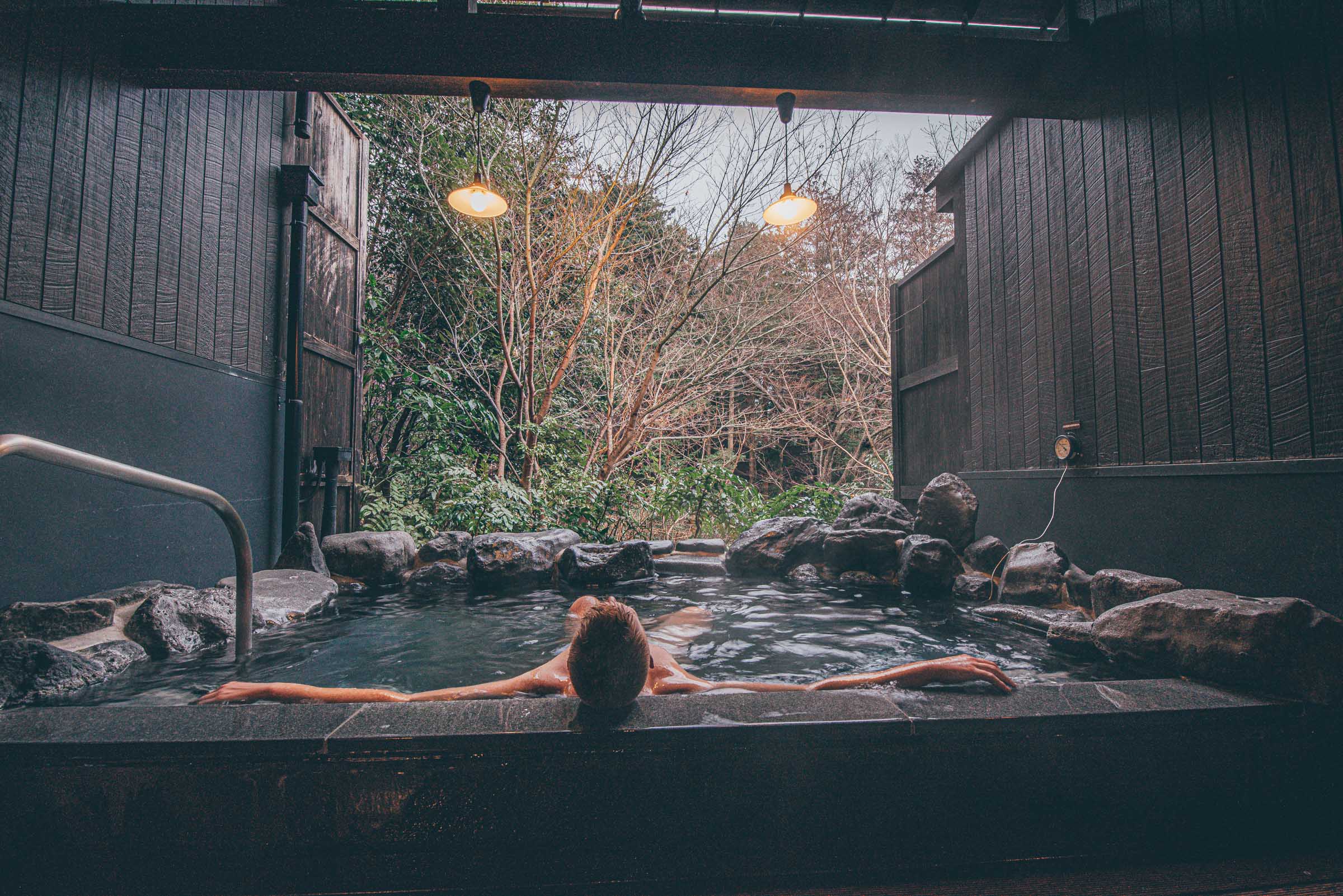 The entire place is incredibly relaxing and tranquil, and guests have the choice of relaxing in the public baths, or reserving (in advance) one of the private onsens. I opted for the private bath (as I wanted to be able to take photos of the experience), and it was just what the doctor ordered! I'm seriously obsessed with the traditional hot spring baths now, and my skin has never felt so soft and replenished!
There are lots of onsens in the Hakone area though, and the majority of hotels (and even hostels) offer this spa experience. It really just depends on where you're staying, if you want to pay for a private bath, and your schedule. I visited the Hakone Yuryo Onsen Spa on my final day in Hakone before heading to the train station, which really put my body into a state of complete relaxation for the journey back to Tokyo and then onwards to the States.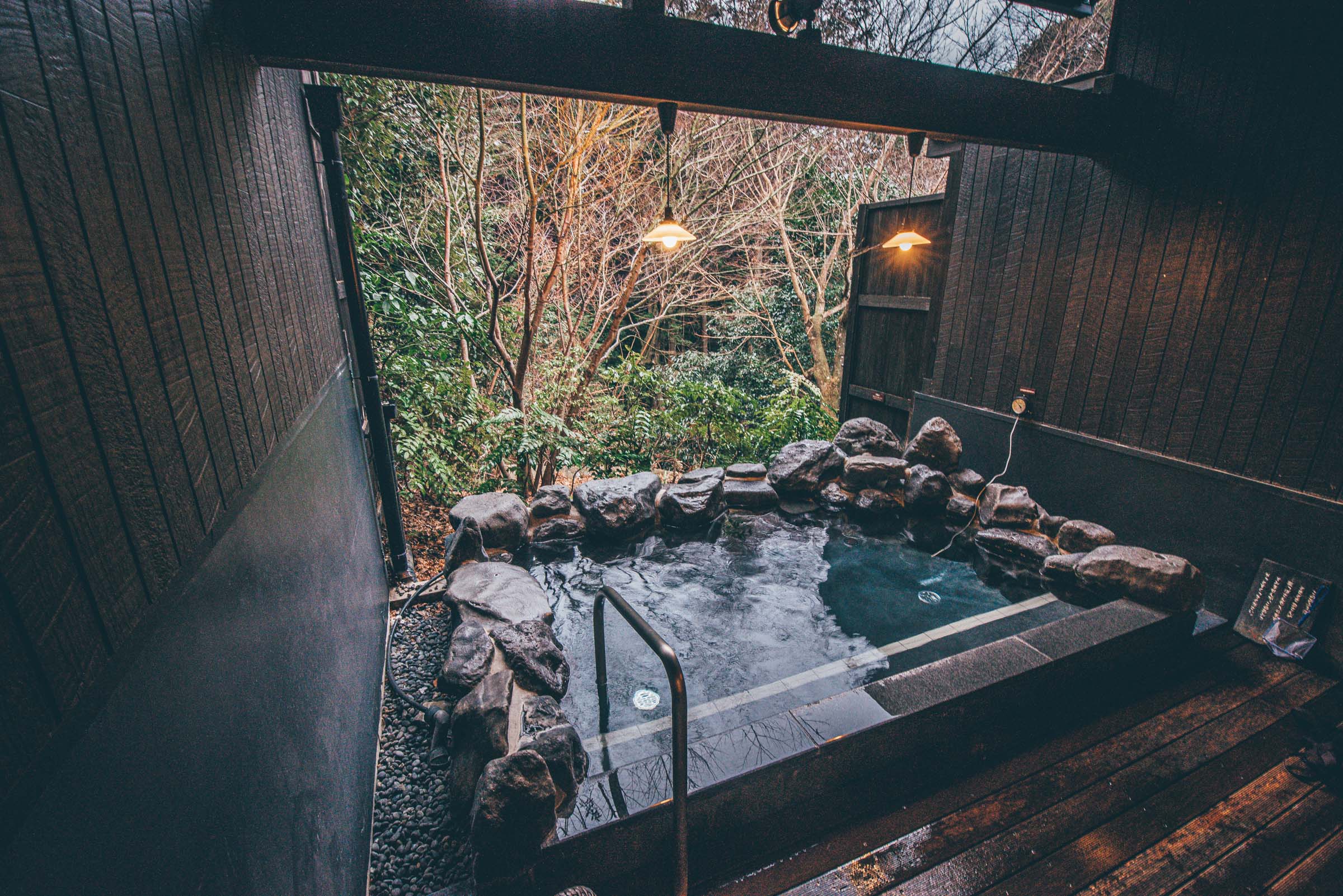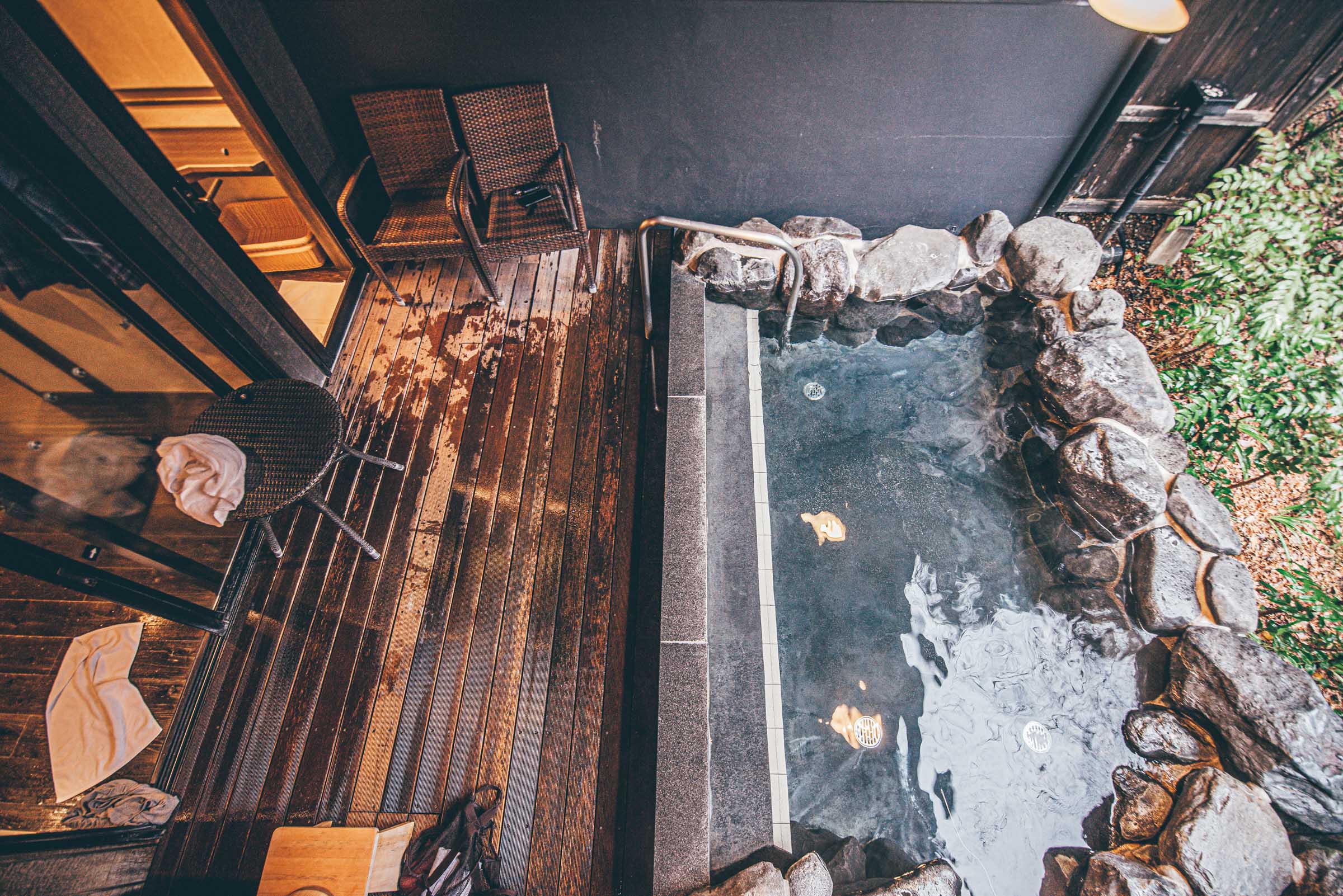 ---
Where to Stay in Hakone
I stayed in Hakone for two nights and had the opportunity to experience two different hotels/onsen resorts that were both incredible. Each of them offered their own public onsen bathing areas (as well had private onsens), and included dinner and breakfast in the accommodation package (which is common in Japan). If you're looking for a place to stay in Hakone, then I'd highly recommend checking out one of these, or both if you have the time.
---
Hotel Hatsuhana
Hotel Hatsuhana: This place ended up being my FAVORITE accommodation I experienced during my entire fortnight-long Japan trip! It had the classic Japanese style feel to it, but with all the western amenities of a luxury hotel. Plus, I was able to stay in the "Hot Spring Type" room which means I had my OWN private open-air bath with hot springs water on my patio. I soaked in it twice (once before dinner and once after dinner), and it was such a once-in-a-lifetime experience having something so reinvigatoring in my very own room. The resort's location was also perfectly nestled in the Yusaka mountains, but easily reachable using the efficient public transportation system.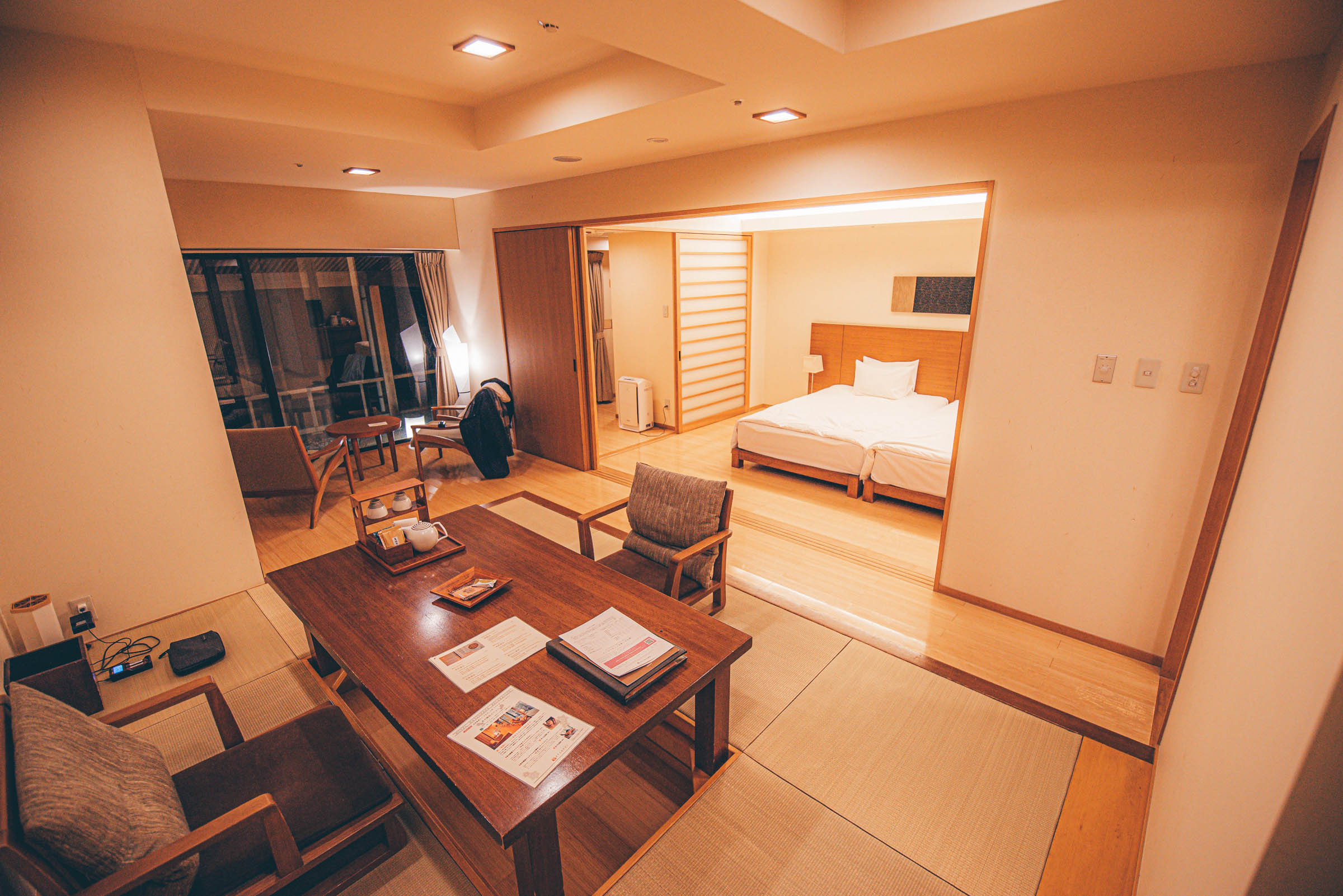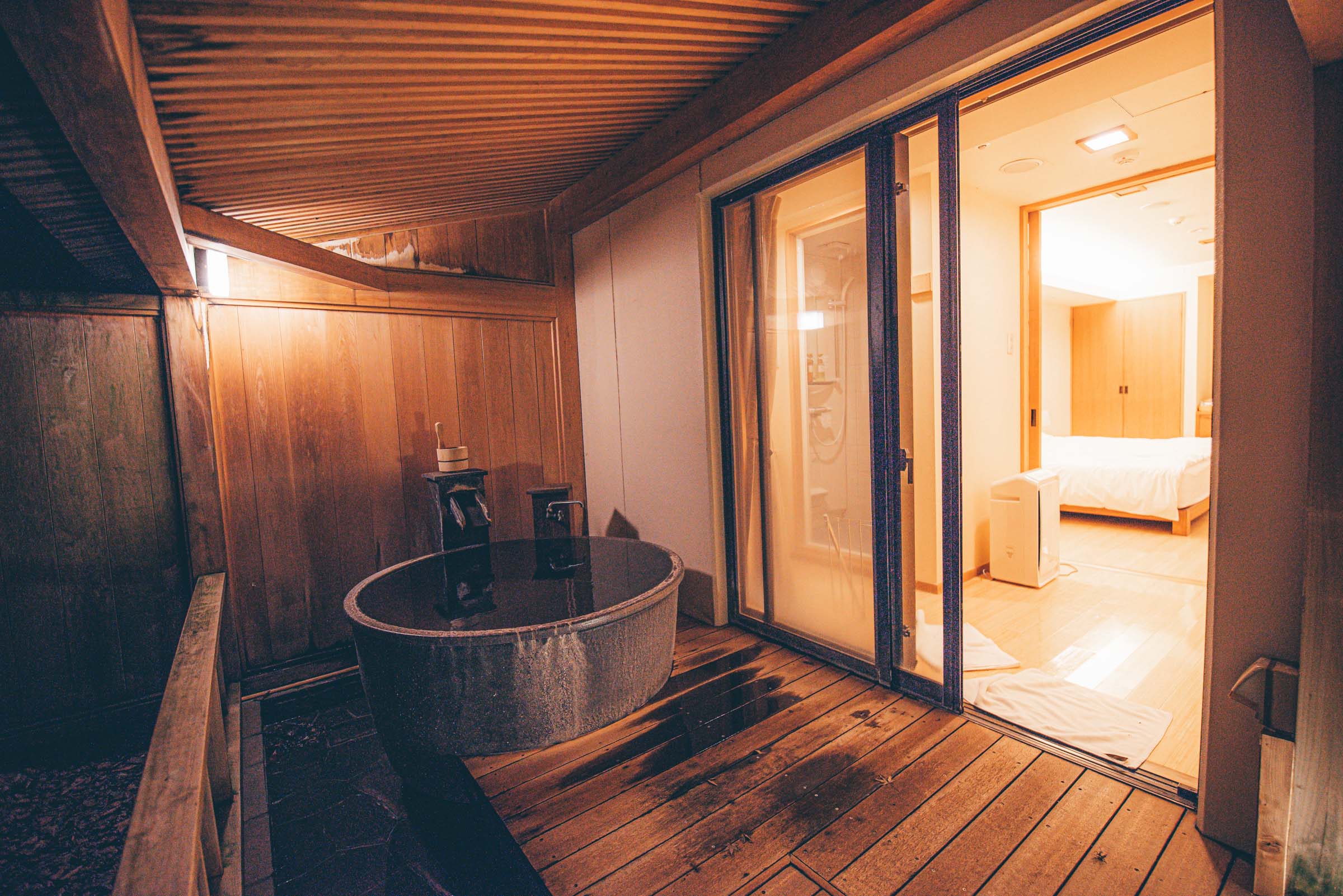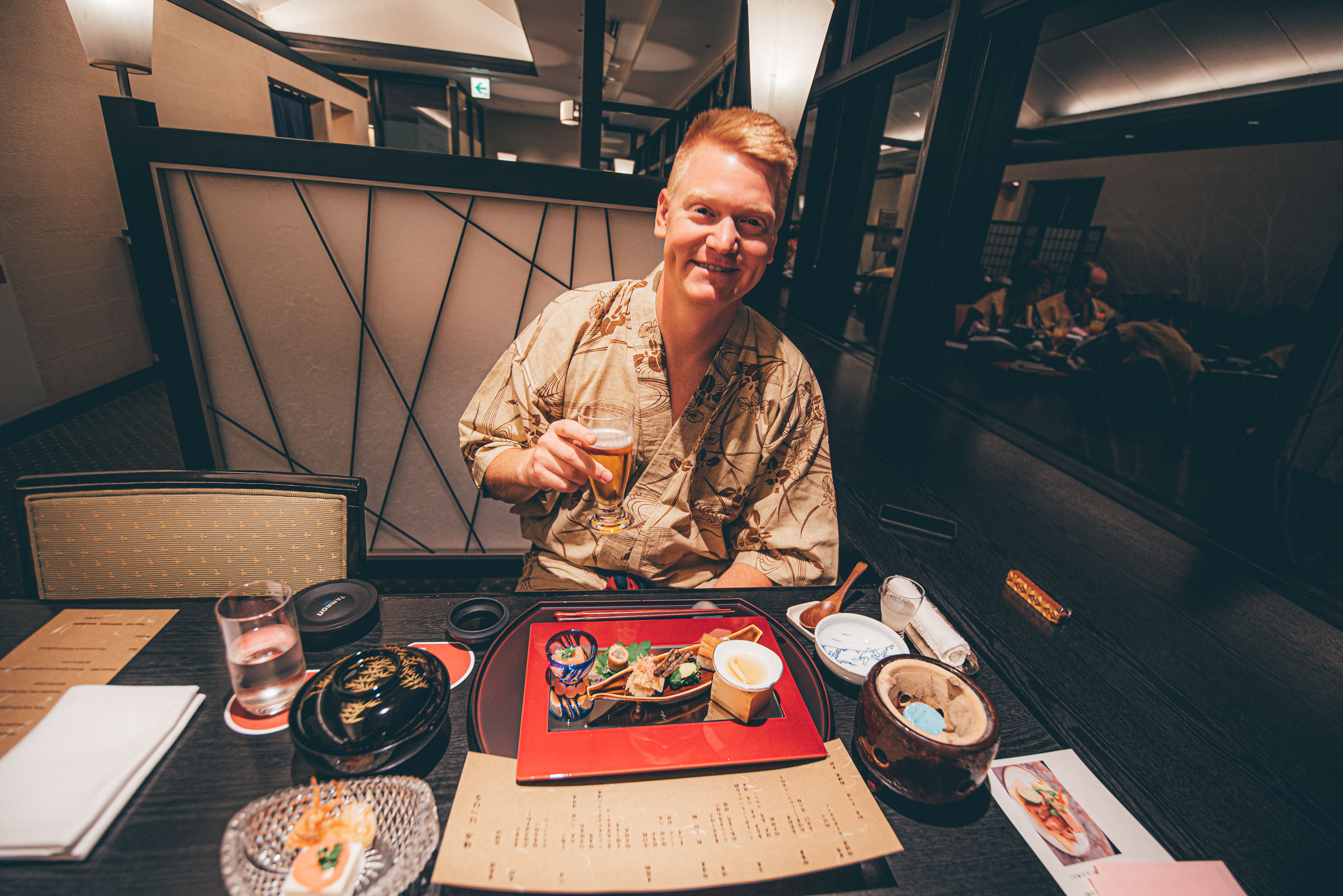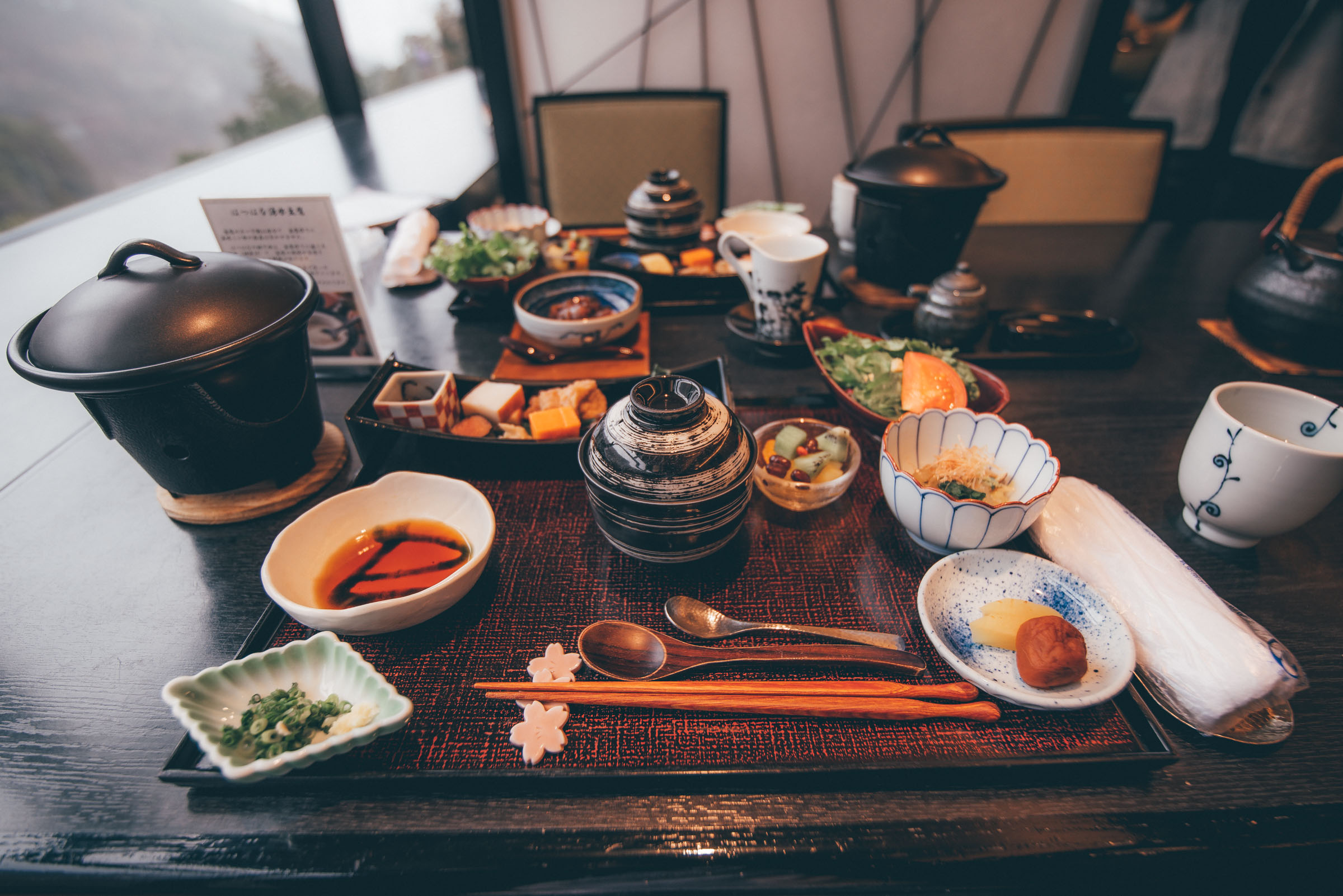 ---
Hakone Yutowa
Hakone Yutowa: This hotel is brand new, having just opened in August 2019, and it's honestly magnificent! There are different towers and fun passageways connecting the buildings, an incredible library lounge serving up free coffee and beverages, a garden terrace with a foot bath and super delicious buffet meals. The rooms are also really spacious, and mine also had an incredibly comfortable bed. It's just a 5-minute walk from the Gora Station on Hakone Tozan Railway, making it an excellent jumping-off point for taking off on the Hakone Ropeway in the morning.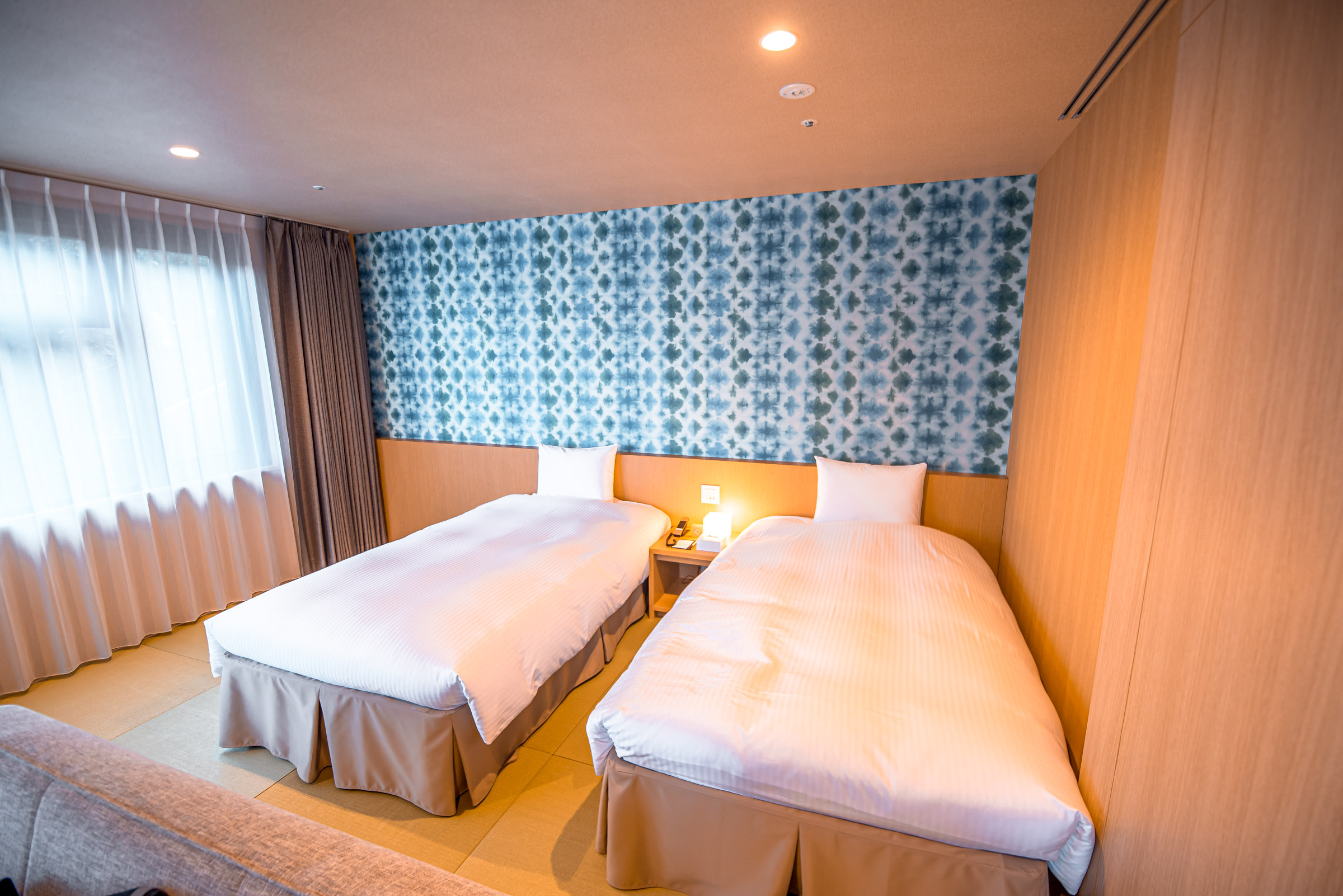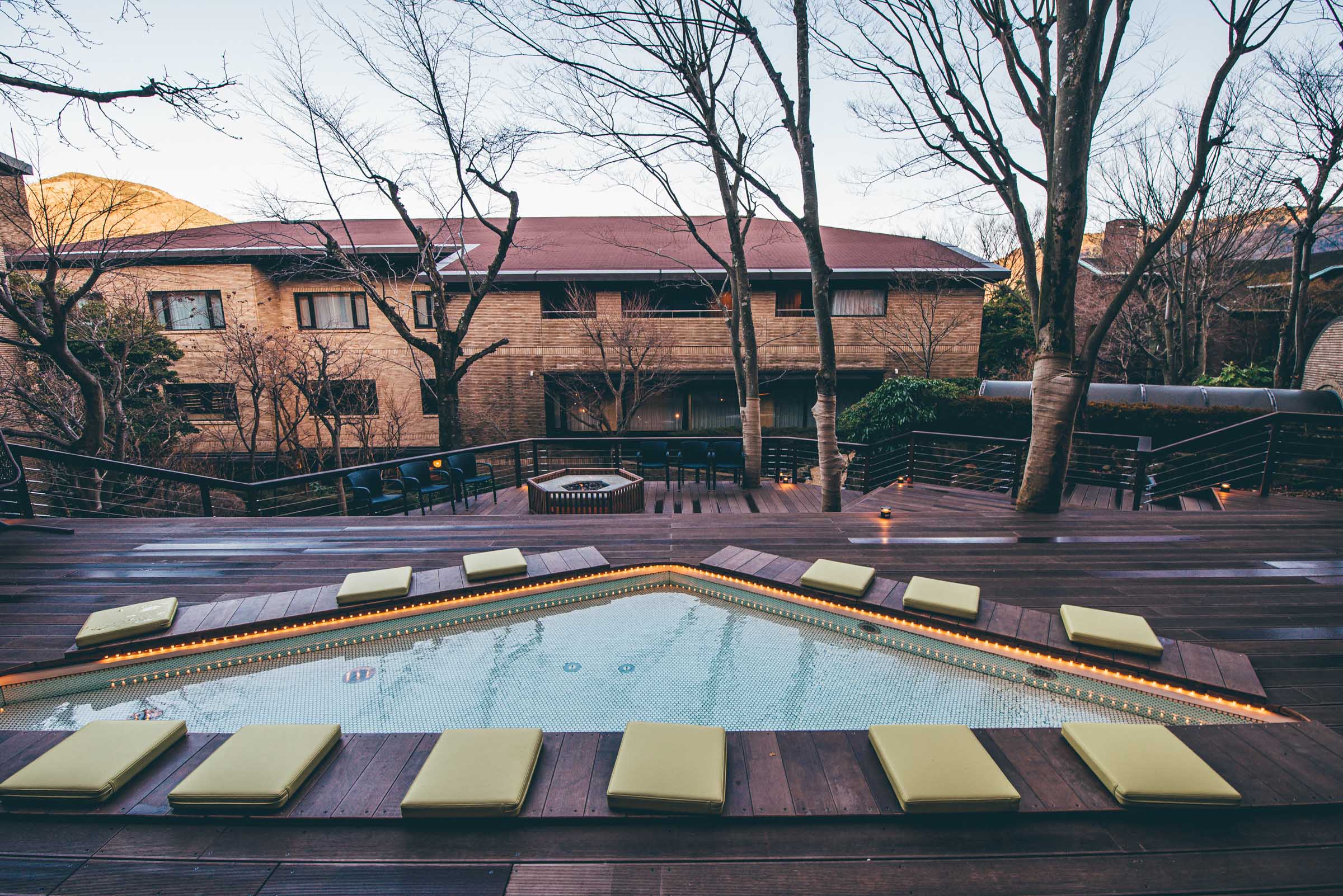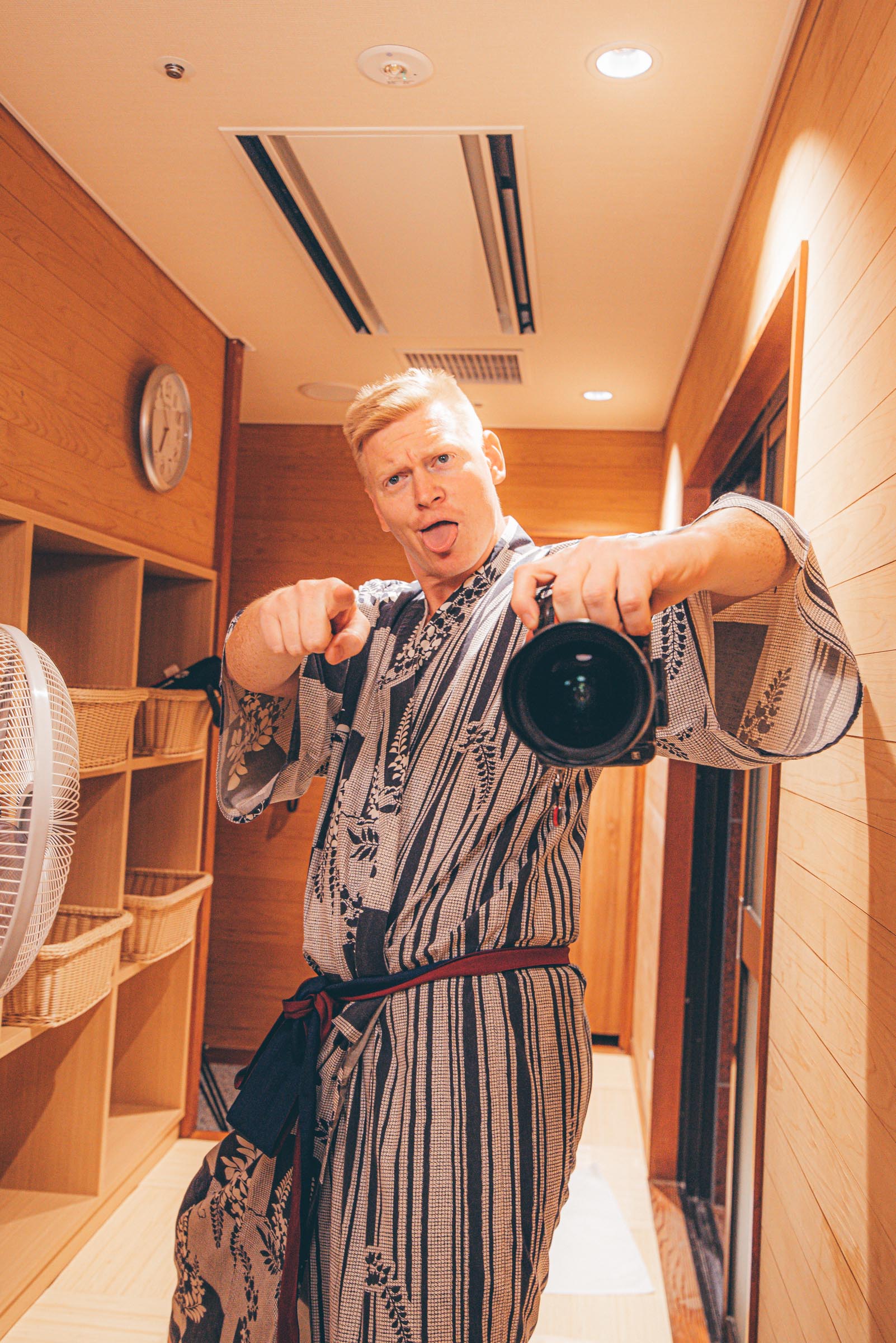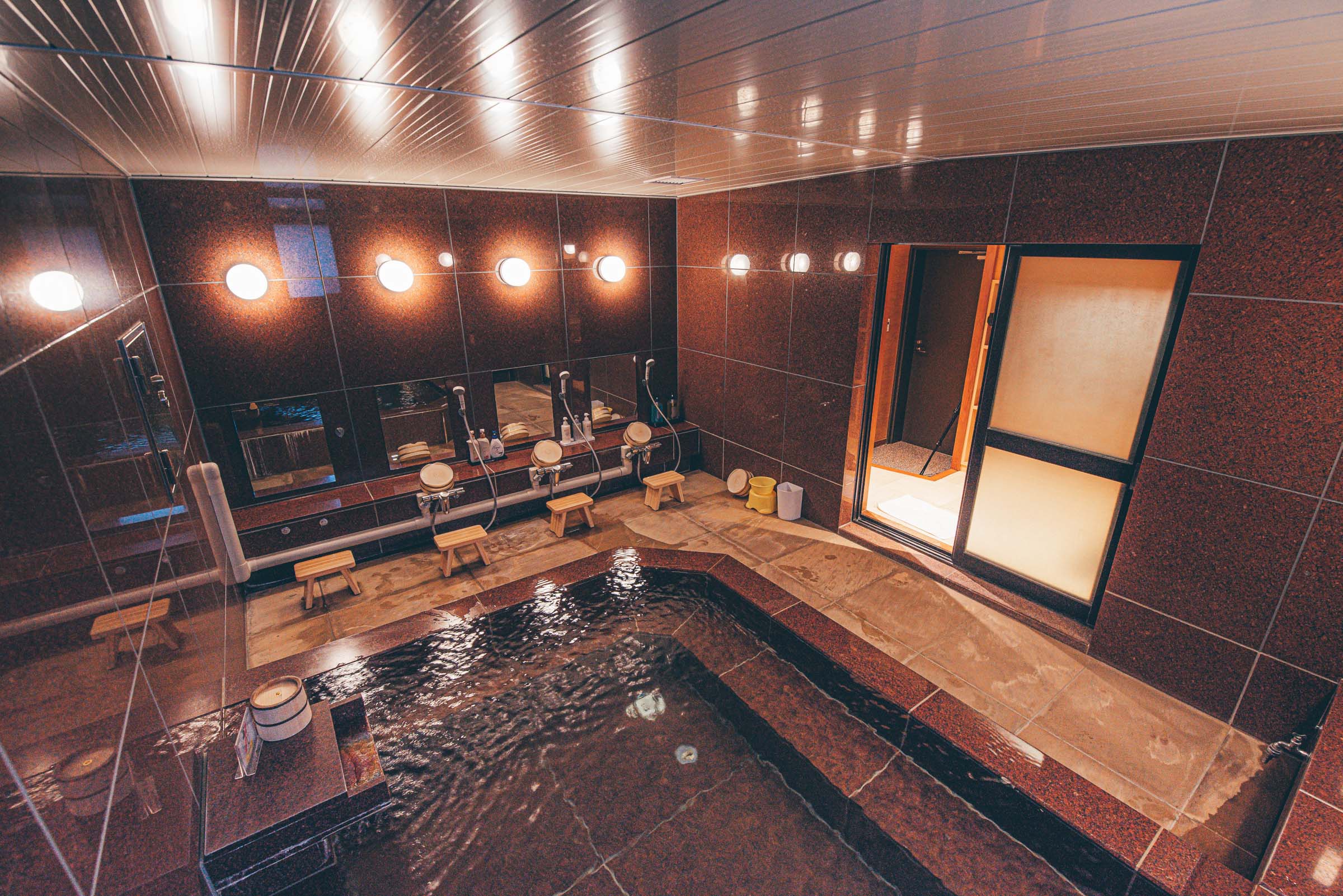 ---
Hakone Itinerary & Sightseeing Loop
Finally, I'd love to take end this article by explaining this one essential travel tip. Since the Hakone FreePass includes the Lake Ashi cruise & Hakone Ropeway, and each of those activities can be done in either direction, you'll want to decide which route you'd like to take. If you do have multiple days, you could obviously do both directions, since you'll have unlimited use), but it's nice to plan ahead.
---
Am I Missing Any Other Amazing Things To Do in Hakone, Japan?
Have you been to Hakone recently and think I'm missing something from important my list? Well, please do let me know! I had a brief visit there for just 2.5 days, but really tried to see and experience as much as I could! It's was one of my favorite areas I visited during my Japan trip, and with it being such an easy day trip from Tokyo, would love to make it back for more explorations!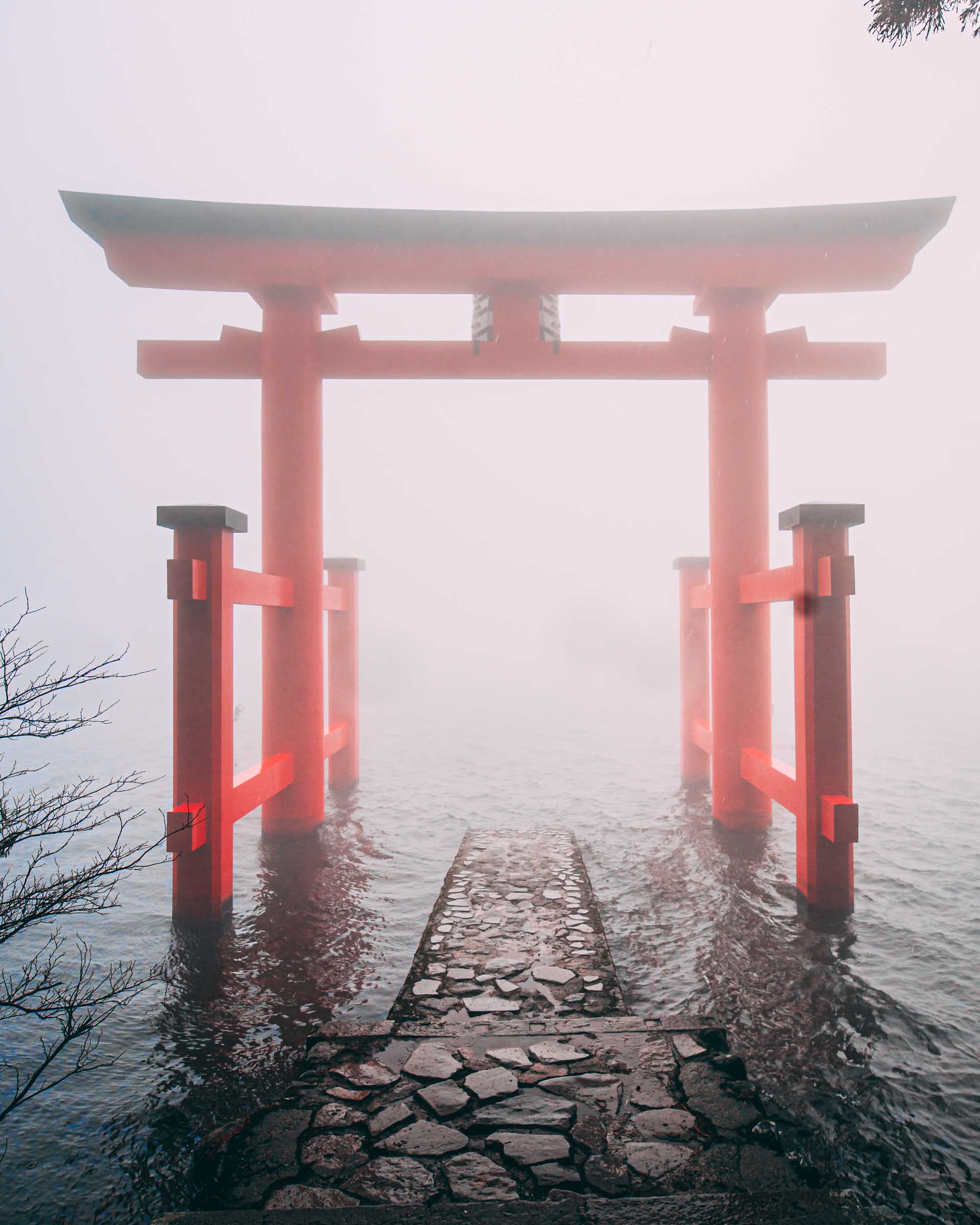 ---
Planning a trip to Japan?
Having just returned back from my first trip to Japan, my blog doesn't have too other content on it yet, but I plan on writing tons more fun guides, things to do, and travel itineraries in the near future!
---
Thanks for reading my Hakone, Japan Travel Guide
Share these things to do in Hakone with your Japan travel crew!
https://www.jonesaroundtheworld.com/wp-content/uploads/2020/03/Hakone-Cruise-Lake-Ashi-.jpg
1602
2400
Dave
https://www.jonesaroundtheworld.com/wp-content/uploads/2017/03/logotry-1-1-300x106.png
Dave
2020-05-08 19:28:12
2021-06-30 23:37:09
The 17 Best Things To Do In Hakone, Japan | The Best Day Trip From Tokyo