Looking for the best islands in Italy to visit this year? Italy is one of the most charming places in the Mediterranean, and while the mainland is pretty awesome, so are its picturesque islands.
Italy has one of the oldest civilizations on earth and over the years has left a powerful mark in world history. The country is home to some of the world's greatest works of art, architecture, beautiful cities, and of course, delicious Italian food.
It also boasts some of the most beautiful natural landscapes in the world, from the Italian Alps, pristine sandy beaches, and islands dotted around lakes and lagoons.
Italy has about 450 Islands, so it might be a bit tricky to try and narrow down which ones you should visit. That's why I've listed the best Italian islands below to help you out!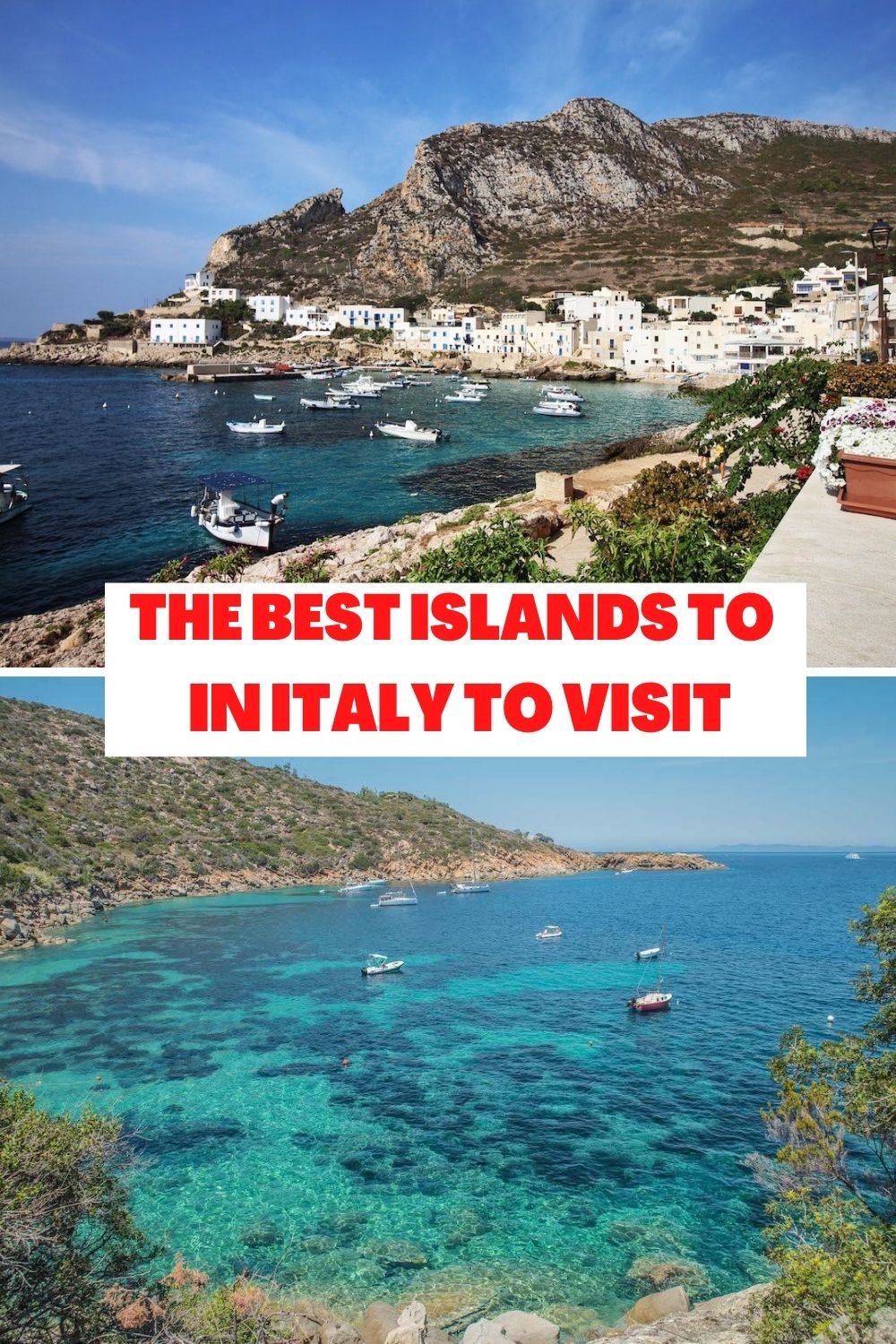 ---
1) Sicily
The island of Sicily is not only the largest of Italy's islands but also the largest island in the Mediterranean. It sits at the bottom of the mainland and is only 100 miles (160km) northeast of Tunisia.
Sicily has something for everyone including rich ancient history, baroque cities, hilltop towns, and 621 miles (1000km) of coastline. So there's no shortage of beaches where you can soak up the sun.
Oh, and let's not forget there's also Mount Etna, the most active volcano in Europe. If you fancy an adventure, you can take a guided tour up to the top of Mt. Etna
A visit to Sicily wouldn't be complete without a visit to its capital, Palermo. Some of the best Italian food can be found in Palermo. So if you're a keen foodie, then Palermo is the city for you.
How to get there: You can take a ferry from the mainland across the Strait of Messina or by flying to Catania or Palermo.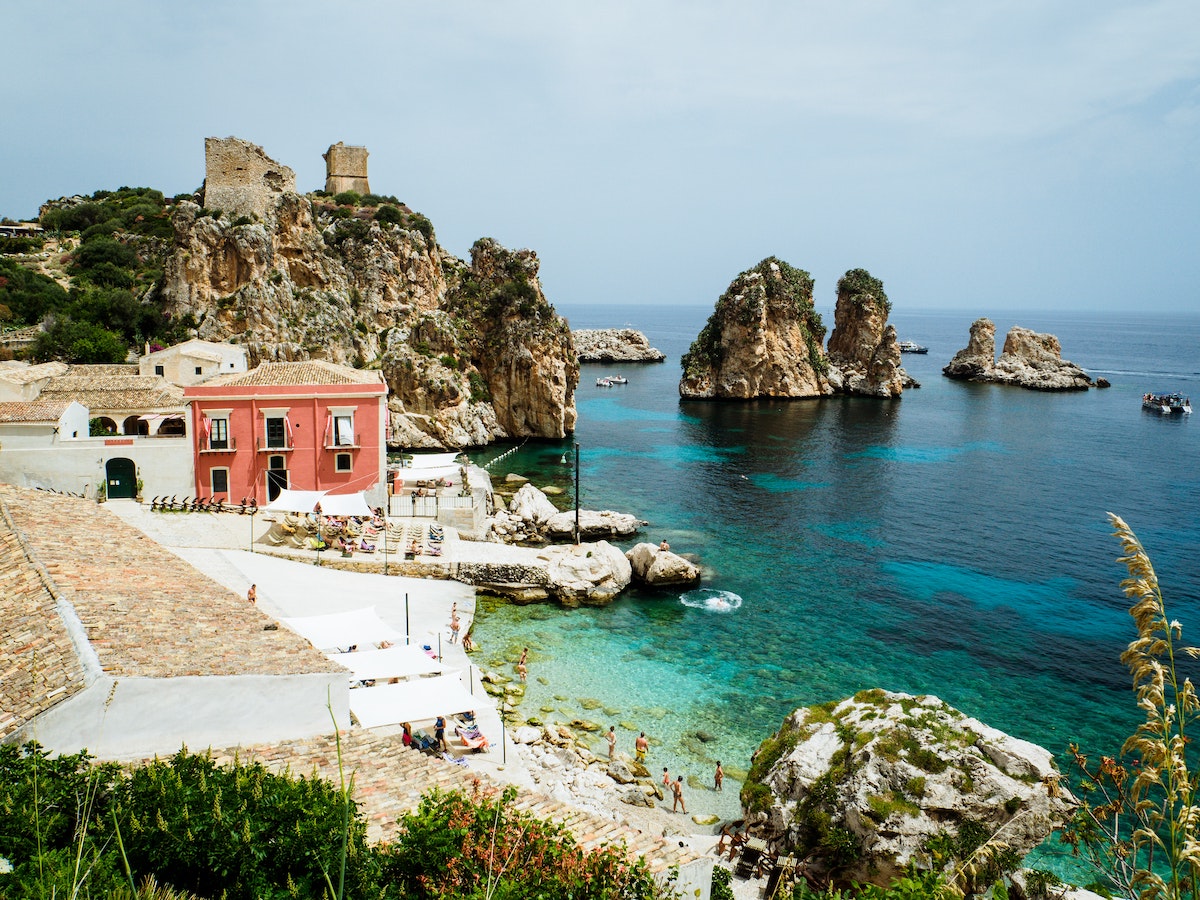 ---
2) Capri
Capri is without a doubt one of the most famous Italian islands, and this list wouldn't be complete without mentioning it. The island is located in the Tyrrhenian Sea and was made famous by Jackie Kennedy's visit in the 1960s.
It's one of the most charming Italian islands with stunning panoramic views across the Bay of Naples. It boasts crystal clear blue waters, sea caves, intricate rock formations, and peaceful gardens.
Capri is 1 hour away from Naples and only 30 minutes from Sorrento and can be reached by ferry.
How to get there: You can catch a ferry from Naples or Sorrento. The ride will take about 45-minutes to an hour.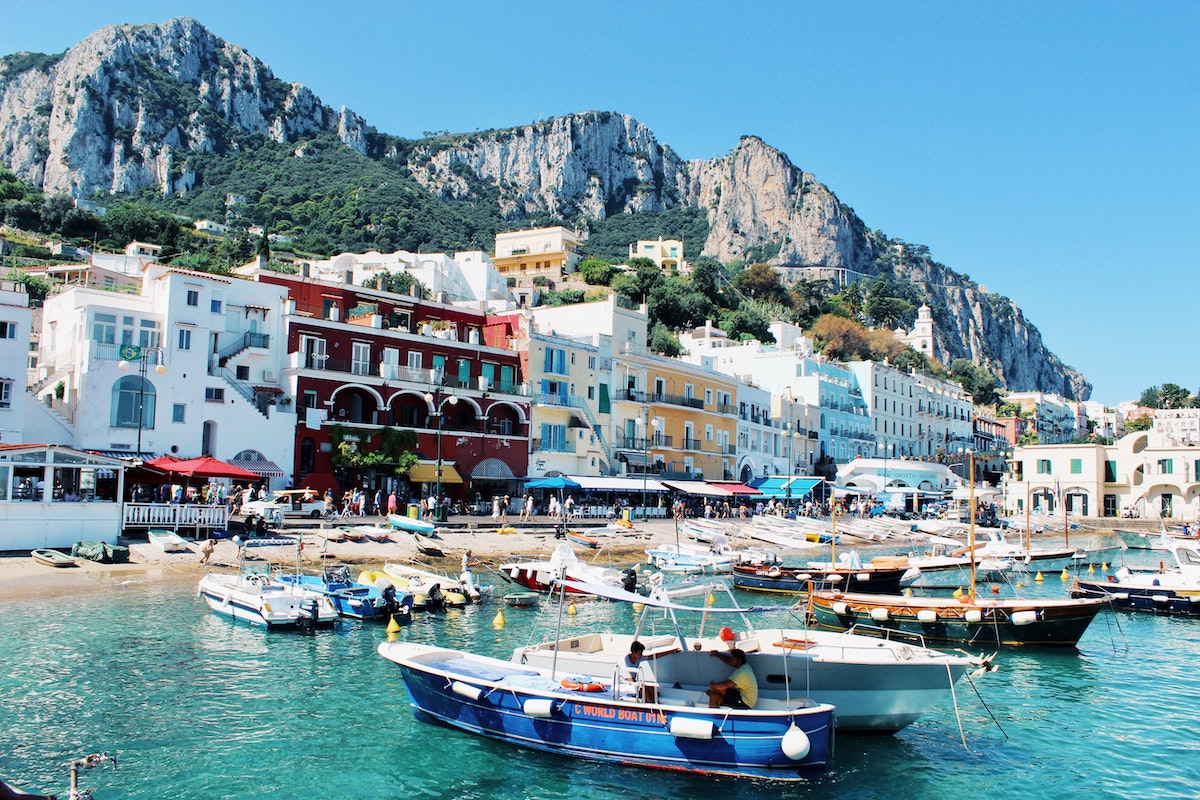 ---
3) Sardinia
The Italian island of Sardinia is the second-largest island in the Mediterranean and is located west of the mainland.
Sardinia is an island of the most amazing natural contrasts. It has some of the most beautiful white-sand beaches surrounded by emerald waters and coves. It's also a mountainous island with alpine forests that hide quaint little villages.
It's also important to mention that Sardinia is known to be the "foodie island" with a food culture rich in history and the most hospitable people in all of Italy.
How to get there: You can fly to one of Sardinia's 3 main airports from major cities in Italy or Europe. Alternatively, you can take a ferry from Naples, Palermo, and Genoa.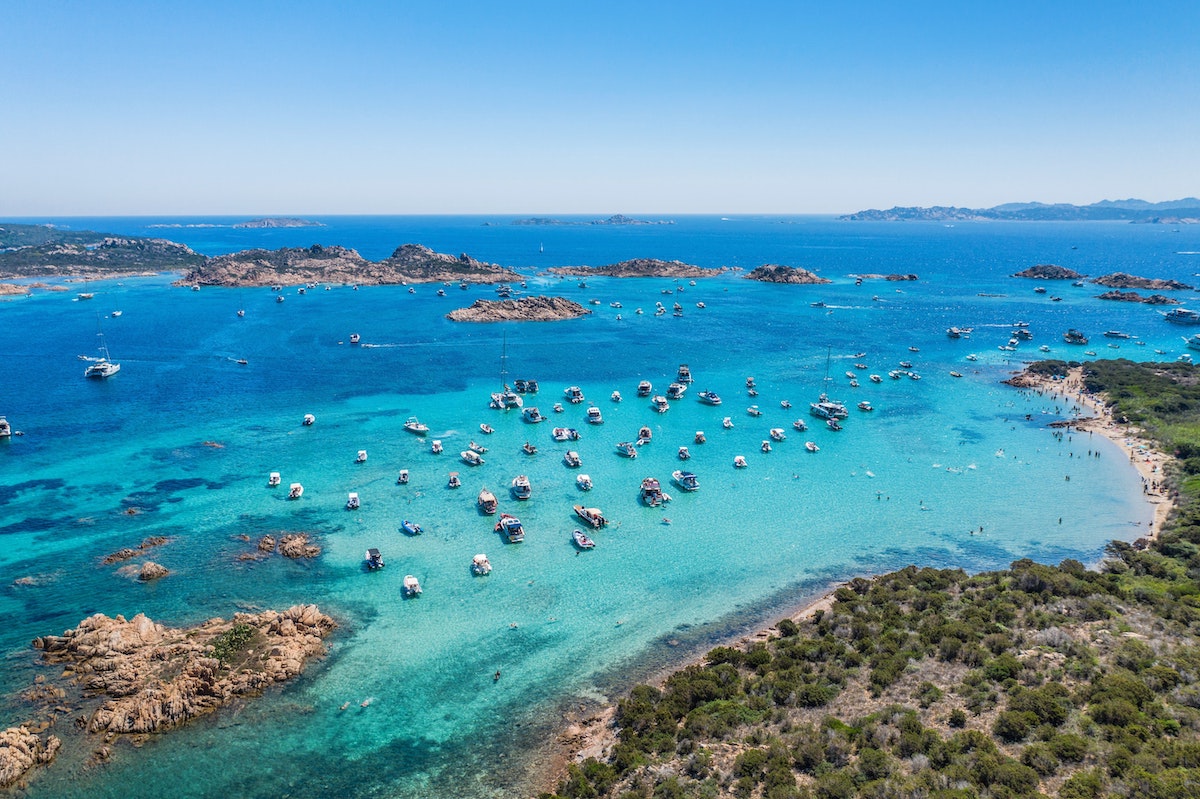 ---
4) Levanzo
The island of Levanzo is the smallest of the three Aegadian Islands just west of Sardinia. While it may be a small island, it's arguably the most photogenic Italian island.
The island is best known for its Neolithic cave paintings at the Grotto del Genovese cave, which can be visited on a guided tour.
This idyllic island is also lined with pretty whitewashed houses which sit in the village of Cala Dogana.
How to get there: Levanzo can be reached by ferry departing from the city of Trapani in Sicily, which takes about 1 hour and 45 minutes. Alternatively, you can take a hydrofoil ferry from Trapani which only takes about 25 minutes.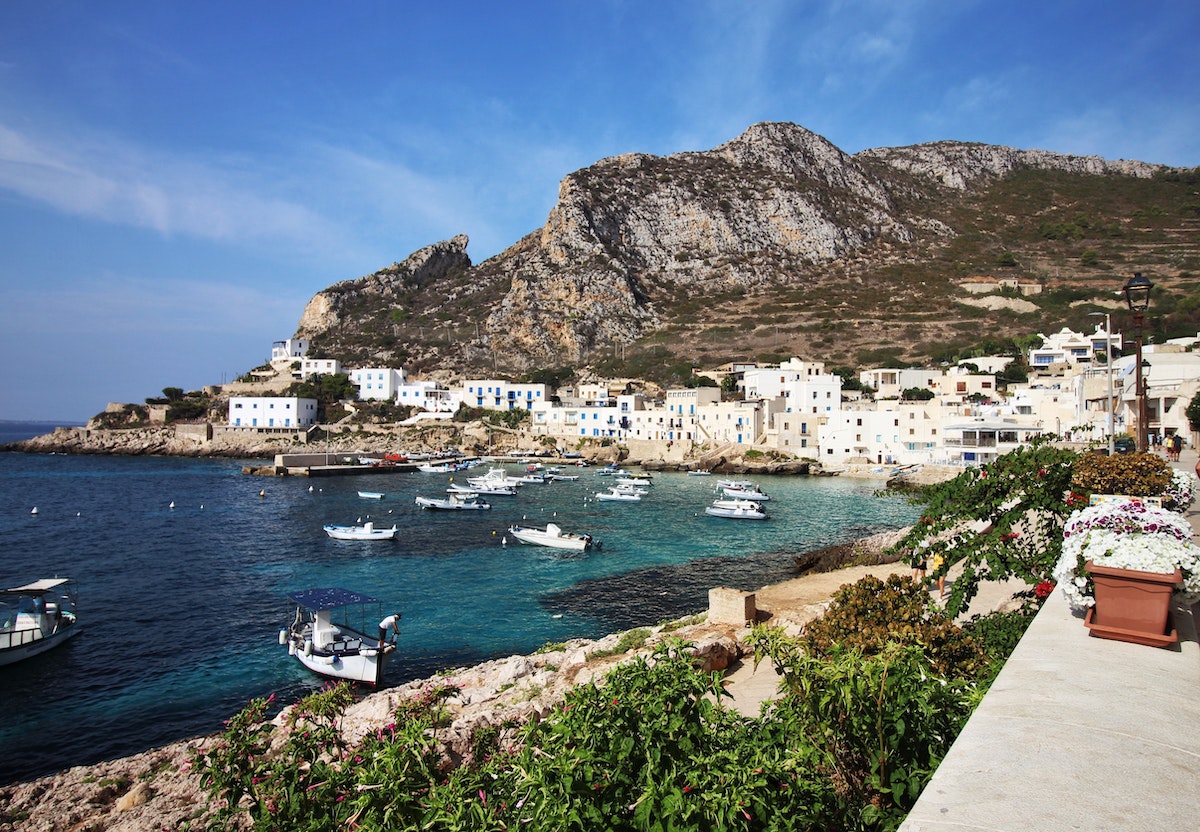 ---
5) Panarea
Paranea is the smallest of the seven Aeolian islands. While it may be one of the smaller islands in Italy, it's quite exclusive and many of Milan's residents flock to the island in summer.
It's also known as the "party island," and during summer the harbor of Panarea fills up fast with glitzy yachts.
Along with pretty beaches, it also has plenty of rocky inlets which can be used to jump off into the turquoise waters below.
How to get there: Ferries depart daily from Milazzo, a small town on the north coast of Sicily. It takes about 1 hour and 20 minutes to get from Milazzo to Panarea.
Visiting Panarea (Eolian Islands, Italy)
---
6) Ischia
Ischia is one of the islands near Capri at the northern end of the Gulf of Naples. This volcanic island is conveniently located just 19 miles (30km) from Naples.
This gorgeous island has plenty of uncrowded beaches, natural hot springs, and thermal pools. It's a great place to enjoy the summer without the bustle of tourists.
Pastel-colored houses run down from the island's hilltops down to the blissful fishing villages along the Tyrrhenian Sea. Be sure to check out the Roman ruins underwater at Cartaromana Beach and the Aragonese Castle.
How to get there: Ischia can be reached directly from Naples by boat.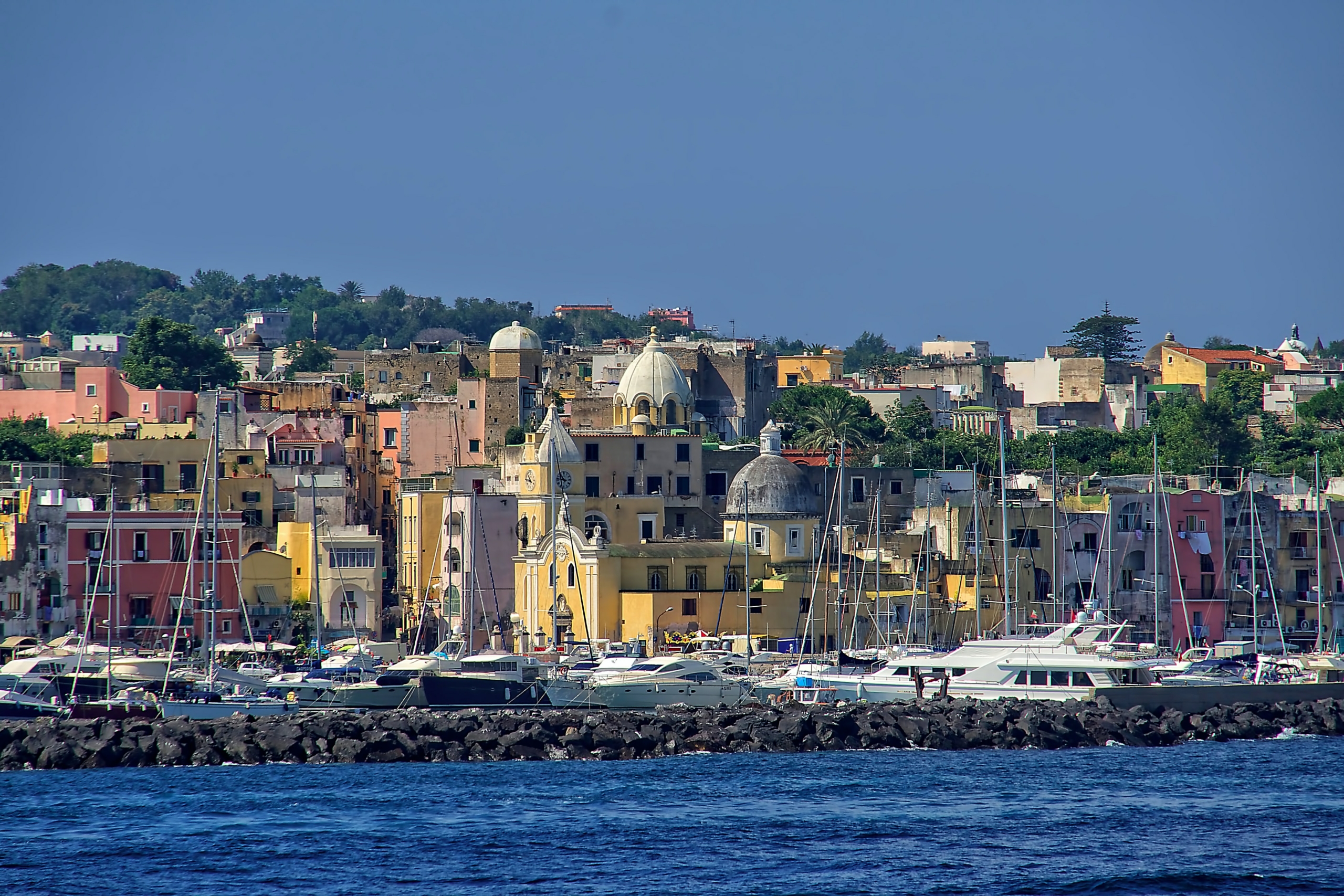 ---
7) Elba
The island of Elba lies just north of one of Italy's best-known regions, Tuscany. It is also the largest island in the Tuscan Archipelago National Park and the third-largest island in Italy.
Elba is known for its amazing beaches, as well as being French emperor Napoleon Bonaparte's place of exile from 1814 to 1815. In the town of Portoferraio, you'll find the National Museum of Napoleonic Residences that follows Napoleon's time spent on Elba.
The island is also where you'll find many interesting restaurants that offer some of the freshest and most delicious Italian seafood cuisine and traditional local food.
How to get there: You can catch a ferry from the port town of Piombino, 100 miles (160km) south of Florence, which will take about 45 minutes.
If you're planning a vacation in Tuscany, be sure to check out this guide on where to stay in Tuscany.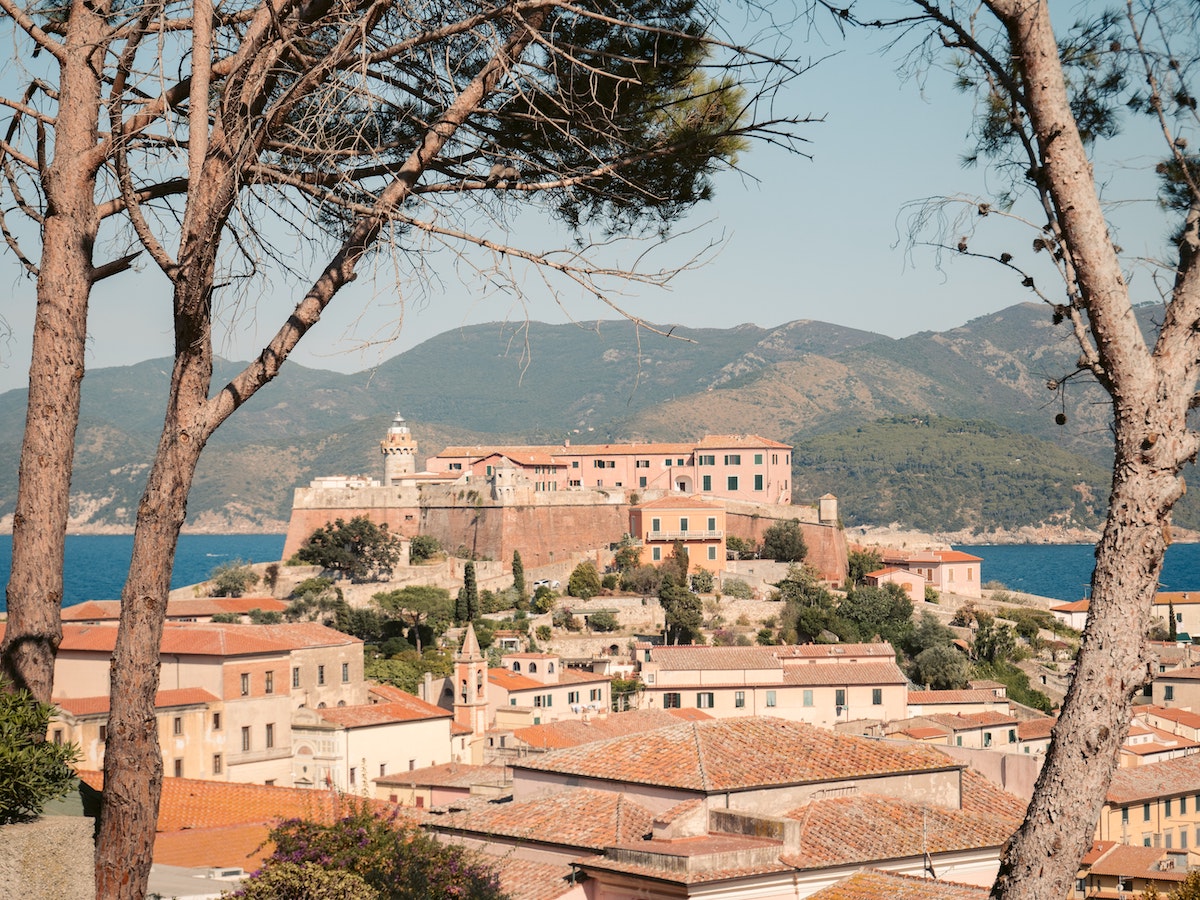 ---
8) Lipari
Lipari is the largest of the Aeolian Islands and lies just north of the coast of Sicily. The island is a true gem of the Mediterranean with so much to discover.
The island has a cheery atmosphere, and its old town is a charming little place with narrow streets lined with numerous shops and cafes that are open until late in the evening.
The old town is where you can enjoy some interesting food such as hot donuts with ricotta cheese, and mulberry granita with cream and brioche.
Lipari is also home to the Old Church of Quattropani, which sits at the top of the island. From here you'll get stunning panoramic views of the island as well as some of the other Aeolian Islands. The best time to go is at sunset when the colors of the sun dance around the waves.
How to get there: Lipari can be reached by plane from Catania, Naples, Palermo, and Reggio Calabria. You can also reach the island by ferry or hydrofoil from Naples, Milazzo, and Palermo.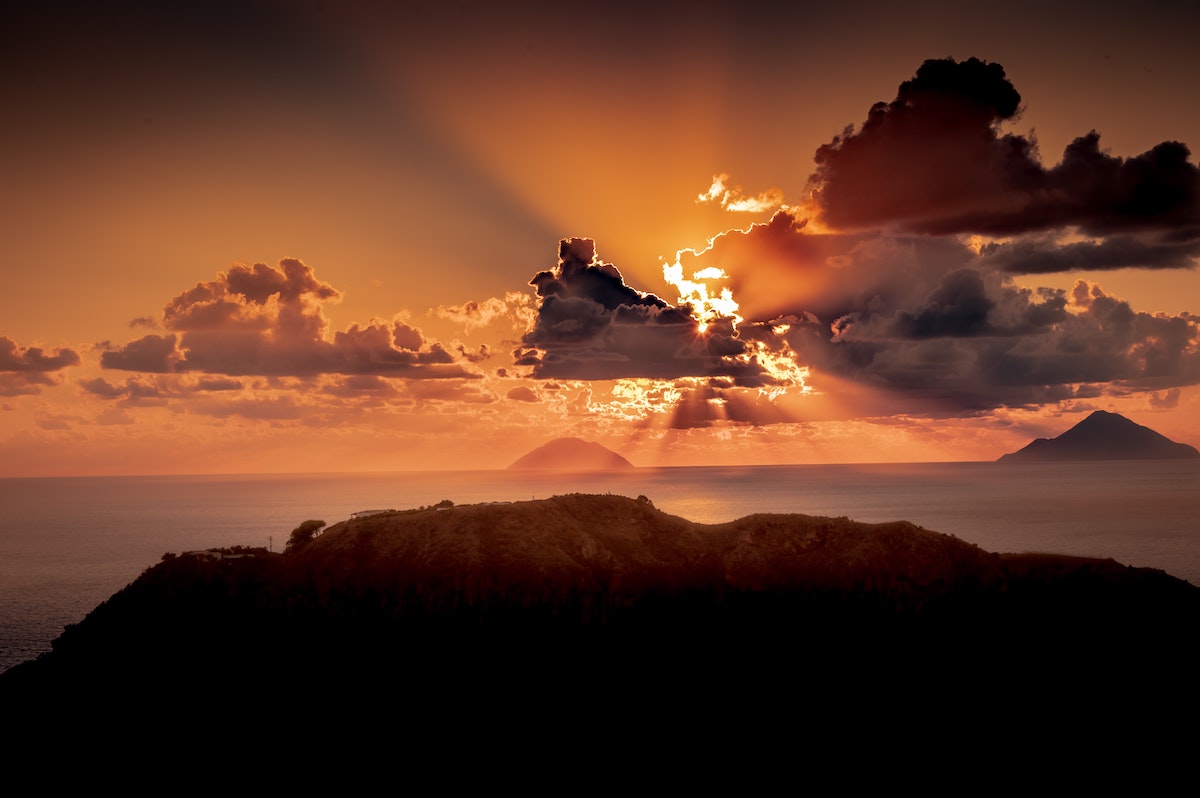 ---
9) Ponza
Ponza is situated halfway between Rome and Naples. This retro island is a popular holiday destination for many Romans looking to get away from the city during the summer.
The island is just 31 miles (50km) off the coast of the mainland and is the largest of the six Pontine Islands in the Tyrrhenian Sea.
Although Ponza may be one of the larger islands, it's one of the lesser-known islands of Italy, making it the perfect place to enjoy a peaceful and quiet vacation.
Ponza is the perfect example where people take the expression "la dolce vita" quite literally. Most people enjoy lazy days by the sea, strolling around the island, enjoying breathtaking sunsets, and feasting on fresh seafood.
If you're feeling a bit adventurous be sure to visit the Grotte di Pilato, an intricate system of artificial tunnels and pools built by the Romans, where you can take a plunge and cool off.
How to get there: You can catch a ferry directly from Naples.
---
10) Stromboli
Stromboli has been nicknamed the "lighthouse of the Mediterranean." It is one of seven volcanic islands that belong to the Aeolian Archipelago.
The island is home to the towering Mount Stromboli volcano which sits 3038 feet (926m) above sea level. It's one of the most active volcanoes in the world and has been erupting intermittently for over 2000 years.
While Stomboli might seem like a daunting island to visit, it's one of the most beautiful islands in the Mediterranean, with hundreds of tourists flocking to its black-sand beaches in summer.
One of the best things to do on the island, if you're feeling brave enough, is to trek up to the volcano's summit at sunset and watch the lava fireworks against the night sky.
Alternatively, you can still watch this spectacular natural firework display on a boat tour around the Sciara del Fuoco.
How to get there: You can take a ferry or hydrofoil from Naples or Milazzo and Messina in Sicily.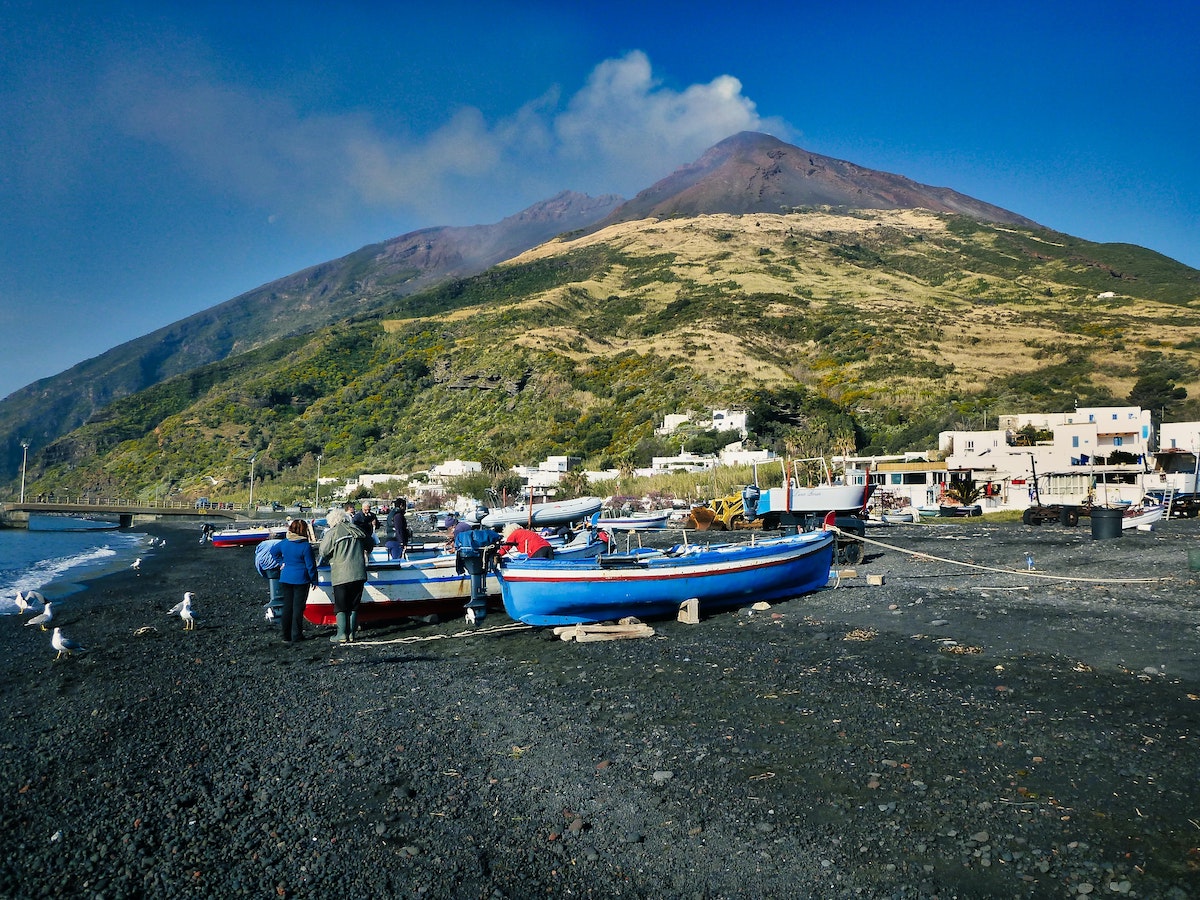 ---
11) Lampedusa
Lampedusa is an island off the coast of Italy and the most southern Italian island. It lies 105 miles (168km) from Sicily and 142 miles (228km) from Tunisia.
If you're a nature lover, then it's well worth the effort to make the journey to Lampedusa. The island is best known for its natural beauty and is popular with tourists.
The island is one of the three Pelagie Islands and is known for its incredible beaches. These include the Spiaggia dei Conigli with its shallow waters and colorful variety of marine life.
Some of the creatures that you should keep an eye out for in the waters around Lampedusa include friendly dolphins and sea turtles. It's no surprise that two of the island's most popular activities are scuba diving and snorkeling.
How to get there: You can catch a ferry from Porto Empedocle in Sicily that will take roughly 4 hours.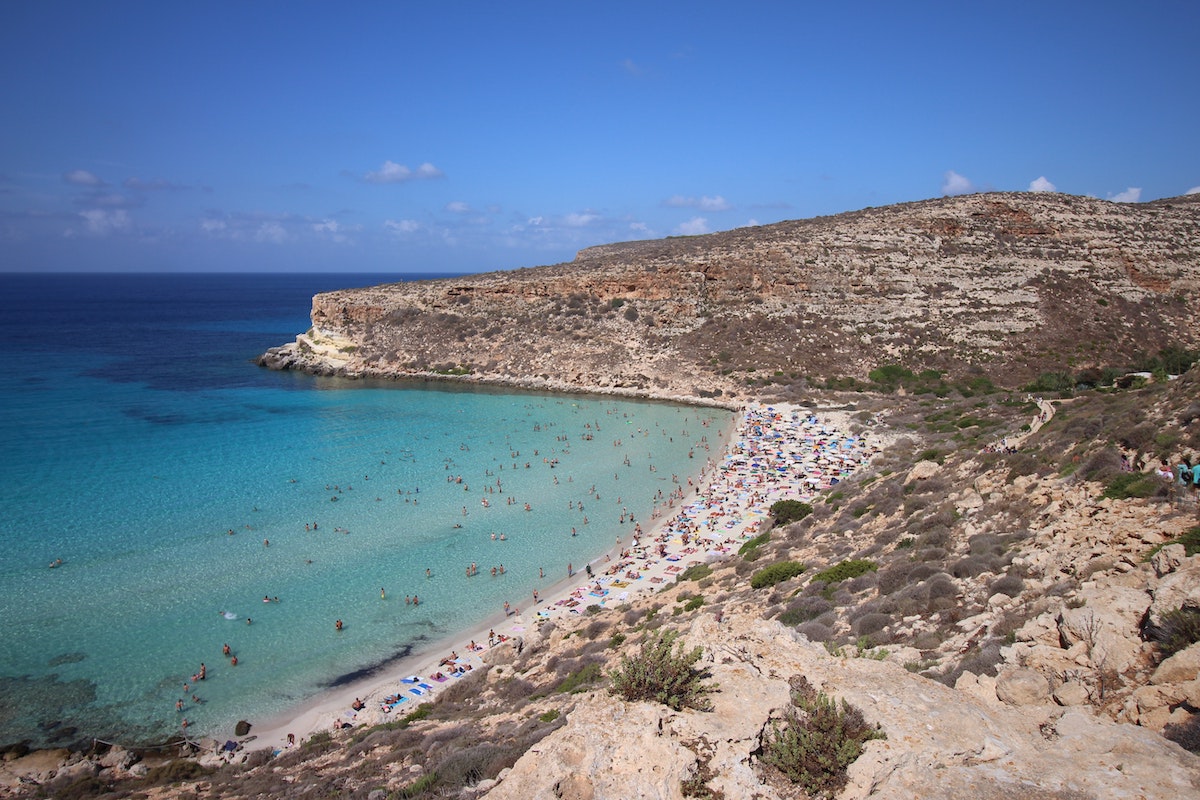 ---
12) Procida
The tiny island of Procida is one of the Phlegrean Islands that sits between Ischia and Capri in the Bay of Naples.
While it may sit in the shadows of the two larger islands, it has recently been named Italy's Capital of Culture and managed to beat nine other largest cities and towns, becoming the first island to claim the title.
It is notably peaceful even during the busy summer season, making it the perfect spot to escape the flocks of tourists heading to its larger neighbors.
Procida's main port is filled with traditional colorful houses, each one painted in vivid colors such as pink, yellow, orange, red, and blue. These are all colors traditionally used by the local fisherman to identify their boats.
Procida's main street, Via Roma, which is just around the corner from the port, is a good spot for meals and is lined with restaurants, cafes, and espresso bars.
Be sure to order the Lingua di Suocera, a traditional Procida pastry filled with lemon custard. It's highly recommended by both locals and tourists.
How to get there: You can catch a ferry or hydrofoil from Naples which will take around 40 minutes. Another option is to catch a ferry from Capri or Ischia which will only take between 15 and 25 minutes.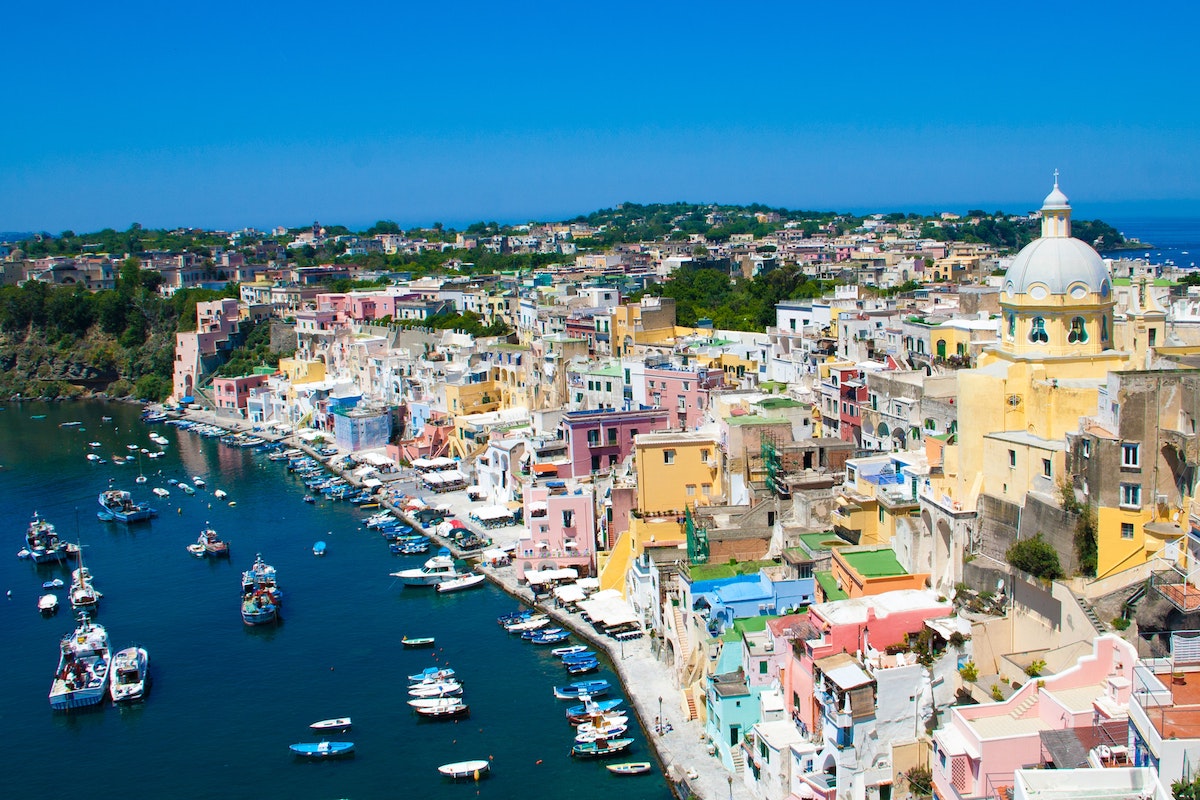 ---
13) Giglio
Another one of the best Italian islands to visit is Giglio, which is part of the Tuscan Archipelago and is just one hour away from the mainland. A day trip here is one of the best things to do in Porto Ercole, and will be a nice and relaxing escape!
While it's not as flashy as some of the other Italian islands, this picturesque place offers dreamy sea views and hidden coves perfect for diving and snorkeling. There are also some amazing hiking trails there, making it any nature lover's dream destination.
For those wanting to lay back and enjoy the island's relaxed atmosphere, there are plenty of beaches to laze around and soak up the Mediterranean sun.
How to get there: Ferries depart from Porto Santo Stefano in Tuscany, and it only takes an hour to reach the island.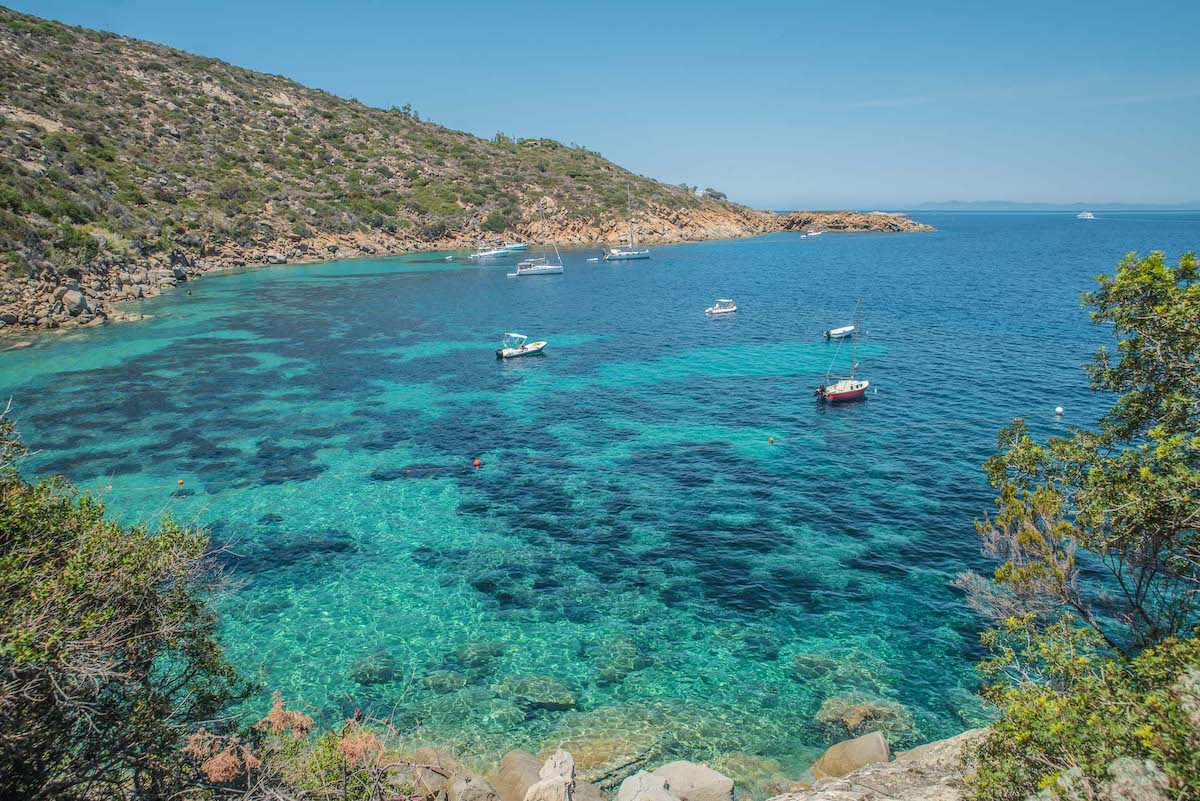 ---
Planning A Trip To Italy?
My website is filled with awesome articles like things to do, itineraries, music festivals, and so much more! I'd love for you to take a look through a couple of my favorites below, and let me know what you think!
---
Thanks so much for reading! Share these stunning Italian islands with your travel crew!
https://www.jonesaroundtheworld.com/wp-content/uploads/2021/09/Giglio-Island-Italy.jpg
801
1200
TravelTractionsJATW
https://www.jonesaroundtheworld.com/wp-content/uploads/2017/03/logotry-1-1-300x106.png
TravelTractionsJATW
2021-11-03 07:11:33
2021-11-03 07:11:53
Best Islands in Italy to Visit | 13 Stunning Places to Explore