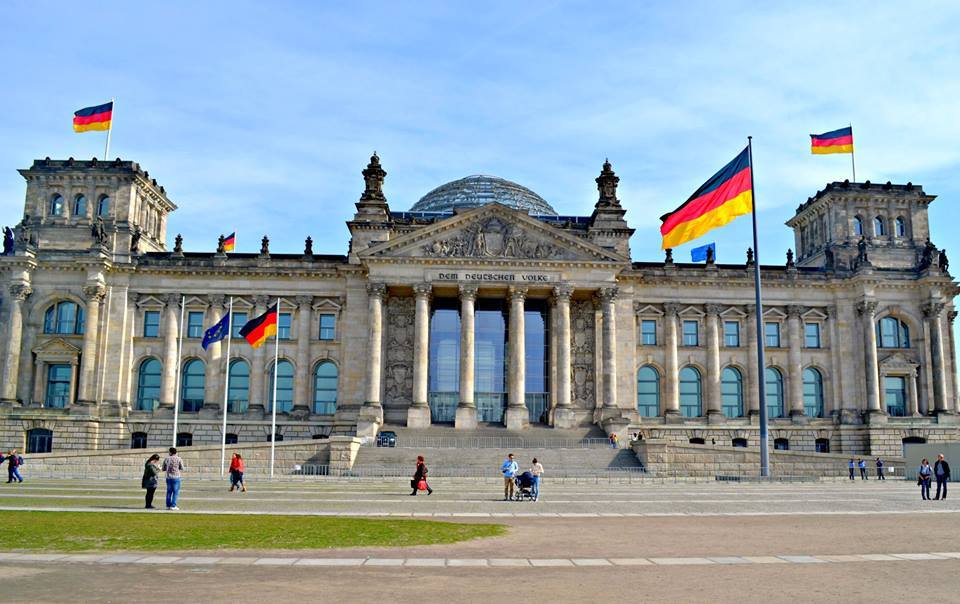 Berlin is absolutely one of the best cities in Europe.  If you're planning a trip here, this list of amazing things to do in Berlin will be a great starting point.  From walking tours, pub crawls, restaurants, nightlife, and entertainment — this list has you covered!
---
1.  Walking Tour of the City
Berlin is massive.  There's tons of history, and so much to explore.  It can definitely be hard to see everything in one day, so it's best to space it out.  The company I've always used and recommend is Insider Tour Berlin.  Their guides have always been passionate and informative, and really show you a good time.  The tour costs 12 euros, less if you are a student or under 26.  Another option is checking out the FREE Sandeman's walking tour (but remember to tip the guide).  Definitely a great way to see the city, and learn about Berlin's history.
---
2.  The Original Berlin Pub Crawl
An amazing night out in Berlin is with the Original Berlin Pub Crawl.  I've been on this about 3 times now, and every time has been better than the last.  It's pretty much your standard pub crawl.  Welcome beer.  Free shots at every stop.  Great drink deals.  Ends at a club.  Though, every single bar they take you too is really different than the previous.  The walks getting from bar to bar are really great, and you get to see some great areas in Berlin.  Meets every night at 8:15 P.M at Hackersher Markt right outside the S-Bahn.
---
3.  Hofrbahaus Berlin
I recommend this place for people who will really only be visiting Berlin during their time in Germany.  Hofbrahaus originated in Bavaria, and is an amazing restaurant and beer-hall.  There's live German music, dancing, and delicious German food and drinks.  They opened one up in Berlin a few years ago, and it's definitely a great recommendation for people looking for a restaurant in Berlin.
---
4.  TRESOR
German.  Industrial.  Techno.  Party.  If that does not sound like a good time to you, then stay away from this club.  But if you are looking for an all-night rager, TRESOR is truly an experience.  It's built in an abandoned warehouse, so you really get a "Matrix" kind of vibe.  The drinks are actually decently priced compared to other European clubs too.  The main dance floor is massive, but if you find yourself down in the basement, that's where it can get the craziest with booming bass, smoke, strobe lights, and that classic German techno sound.
---
5.  Berlin Zoo
I know what you're thinking, "Really, a zoo?"  But this is no ordinary zoo.  The Berlin Zoological Garden was opened in 1844 and is the oldest zoo in Germany. Located in Berlin's Tiergarten, the zoo is home to 1,500 species and 19,500 total animals. At this number, the Berlin Zoological Garden holds the most comprehensive collection of species in the world. The zoo is considered to be the most visited zoo in Europe and among one of the most popular zoos worldwide.  
---
6.  Eat Currywurst
My very first time to Berlin, the walking tour guide told us that Berlin is known for their currywurst.  I had no idea, but am really glad he told me.  It's delicious.  Do yourself a favor, and make sure you don't leave Berlin without trying their signature Currywurst.
https://www.instagram.com/p/BS_3xkehecY/
---
7.  The Berlin Wall
Quick, what's the first word that comes to mind when I say BERLIN.  Did you say 'wall'?  Probably.  You'd have to be an idiot to go all the way to Berlin, and not see the remainder of the Berlin Wall.  There's a couple different memorial spots where you can see where the wall was, and has a few remaining pieces.  As well, there's a long road you walk along towards the memorial that has a ton of graffiti, which is really cool.  Definitely a must-see while in Berlin.
---
8.  Memorial to the Murdered Jews of Europe
One of my favorite things to see in Berlin is the Memorial to the Murdered Jews of Europe.  The name kind of explains it's purpose.  It was a way for Berlin to apologize for the actions of Germany, and remember all those lives lost during the World War.  The site is covered with 2,711 concrete slabs.  Something interesting about this is that it was only finished back in 2004!  There's a lot of cool history, and most walking tours will stop here and will explain it all.
---
9.  Dolores California Gourmet Burritos
While living in Europe, it can be hard to find a decent burrito, so this is always a must for me when I'm in Berlin (bonus: I'm from California).  The place has a similar set-up to Chipotle, where you customize your own burrito, and choose between rice, beans, meats, add-ons, (guacamole / sour cream), and salsas. ""MMHM.  That sounds good.  I'll have that."  Not sure what else I need to say, this place is amazing.  You can find it on google maps here.  Located just right across the street from Alexanderplatz.
---
10.  Museum Island
Big buildings.  Beautiful architecture.  Amazing Museums.  It's a great district in Berlin, and there's tons to see.  If you are into museums, this is practically porn.
---
Planning a trip to Berlin soon….?
Good idea!  It really is one of the most fascinating cities in all of Europe.  There's lots to do, the nightlife is amazing, and the food is delicious!  I just left, and I'm very much looking forward to getting back someday.   Also, make sure to check out these interesting alternative things to do in Berlin if you've got some more time in the city, and take a read through this guide for living abroad if you want to be an expat there!
THANKS SO MUCH FOR READING!
https://www.jonesaroundtheworld.com/wp-content/uploads/2014/05/10006219_10152333582669288_1064106394_n.jpg
604
960
Dave
https://www.jonesaroundtheworld.com/wp-content/uploads/2017/03/logotry-1-1-300x106.png
Dave
2014-05-11 07:02:33
2018-12-31 00:15:18
10 Amazing Things to Do in Berlin