Over the past few years, Budapest has become one of my favorite cities in Europe! Everytime I make a return visit I'm always discovering new awesome things to do in Budapest. I love hitting up the Central Market for a meal, admiring the city from Fisherman's Wharf, and partying it up all night at the famous ruins bar. I've even thought about moving to Budapest for a couple months, because you can find some really amazing places to rent for cheap! For those of you planning a trip to Budapest, check out these 10 things to do as a starting point for your trip!
1. Explore Fisherman's Wharf
The giant Budapest castle hill that provides some of the best views of the city. It's a great place to walk around and explore all the different areas. This will definitely get you some amazing pictures of the city, and the iconic Hungarian Parliament building. I'd recommend doing a walking tour that takes you up here, because there's a lot of interesting things to learn about the history of Budapest. But no matter what, definitely take the walk / public transportation up to the viewpoints.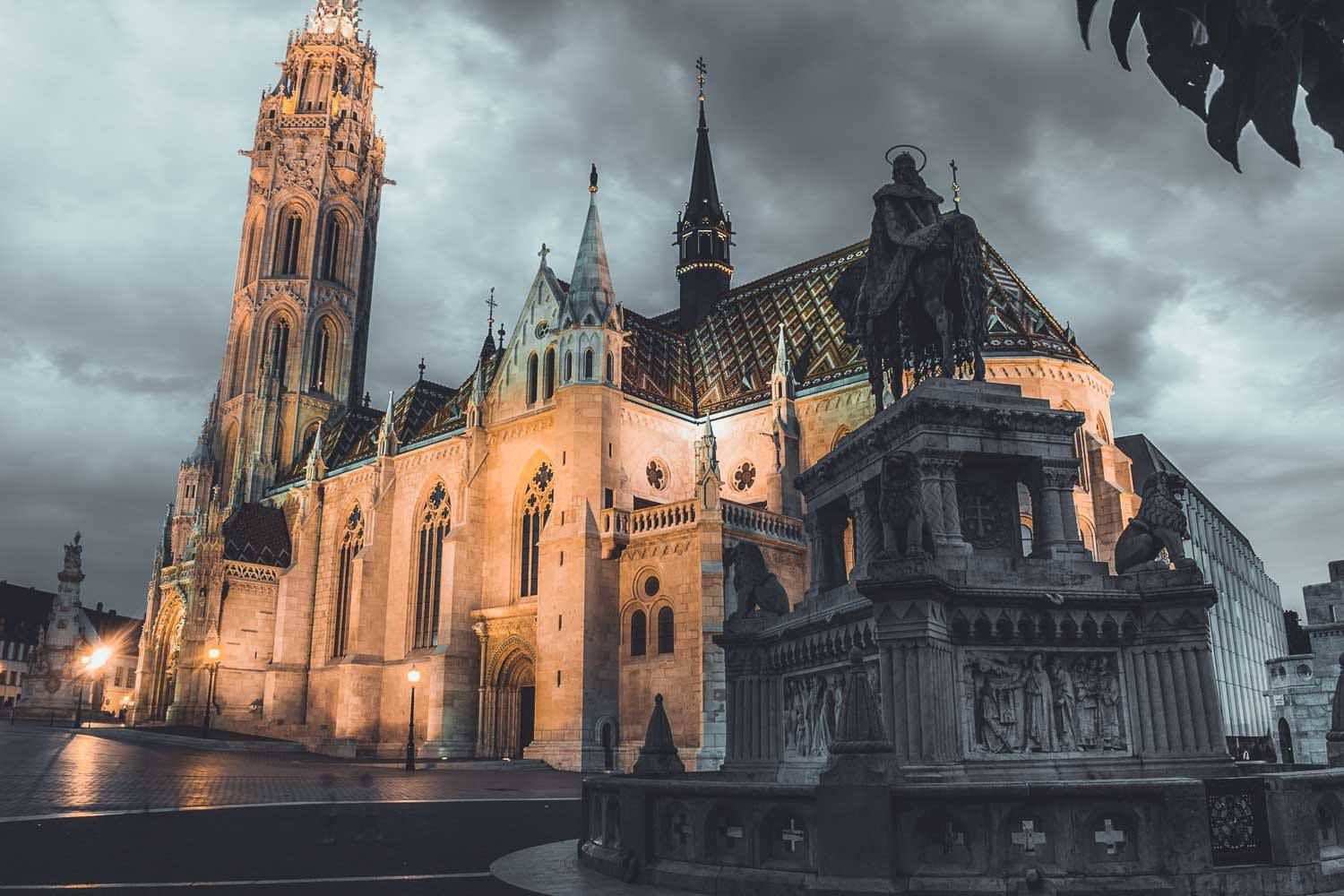 2. Soak in the Szechenyi Baths
No visit to Budapest is complete with taking a dip of the biggest bathhouse in Budapest. There is a huge thermal bath culture in Budapest, and I always have a blast when I go to the Szechenyi Baths. It's definitely one of the most expensive things to do in Budapest, but it's worth it.
You'll get a wristband that will unlock your locker, so bring a backpack for a change of clothes if you don't go straight from your hostel. I'd also recommend bringing in some beers, because the alcohol at the spa can get expensive. A water proof camera / iPhone case can be nice to have too for some great pictures. There's tons of different areas, so be sure to explore the whole place to get your money's worth. It's also one of the best things to do in Budapest in Winter because they're open year round, and the thermal water mixed with the cold temperature is a fantastic sensation!
3. Lukacs Bath Party
Hands down my favorite thing to do in Budapest!! This legendary party switches up locations depending on the season, but make sure you go to the Saturday night Bath party. It's basically a giant club, but in a thermal bath. There's fog machines, lasers, and everyone is swimming around. The drinks are affordable, and the DJ's are playing great variety of music. Always a highlight of my weekend's in Budapest.
4. The Hummus Bar
I'm obsessed with Hummus, and the Hummus Bar place is the place to go in Budapest. Last time I was there, my hotel was a 2 minute walk, and I pretty much ate here for every meal. It's affordable, filling, and delicious. From the chicken pita, falafel, soups, and hummus; you will definitely find something you like. There's also free mint tea with every purchase, and free wifi at every location.
5. Central Market Hall
A massive and indoor market with everything from souvenir shopping to amazing Hungarian food. This is a great place to grab lunch and stroll through the aisles. It's definitely one of my favorite places to eat in Budapest, as there's a huge variety of delicious local food. Easily located on the Pest side of the Liberty bridge, make sure you make a stop here during your time in Budapest. It's easily one of the best reasons to visit Budapest.
6. Budapest Pub Crawl
A great way to explore some of the best bars and clubs that Budapest has to offer. Plus, it's extremely affordable at only 10 euros if you book online. Why choose this pub crawl? "Because we have been doing it the longest, and we are certainly the best at it, we know the best bars, pubs, and have special deals made with them, which allows for the welcome drinks, and the great atmosphere." If you are looking for a good night out, definitely check out this pub crawl.
7. Explore the Ruins Bars
If you do not want to go on a pub crawl, then make sure you explore some of the famous "ruins bars" in Budapest. There's tons to choose from, they are centrally located, and all of them have inexpensive beers, drinks, shots, and cocktails. One of the best is definitely Szimpla Kert so definitely go to that one. Also, if you are looking for a nightclub to go to after. Check out INSTANT. It's a massive club / bar that has a ton of different rooms and chill-out areas.
8. Walk over the Chain Bridge
An amazing bridge in the middle of the city connecting the Buda and Pest sides. This is an iconic bridge of the city, and is definitely worth taking a stroll along. You can get some amazing pictures of the city, so take your time and enjoy the nice views. I'd recommend bringing a beer and stopping in the middle, and taking some time off your feet from exploring the city. You can easily knock this one off while on a walking tour of the city, or heading up to the awesome view points of Fisherman's Bastion.
https://www.instagram.com/p/BSj927ZgUEB/
9. Explore the Caves
"The capital is built on a limestone basis, in which the heated water formed a huge cave system, thought to be more than 120 km long. The spas and caves of Budapest are planned to be a declared part of the UNESCO World Heritage. Among the numerous caves of Budapest only two can be visited without previous caving experience. The museum-like Szemlő-hegyi cave has a concrete path passable even by wheelchair, and it is lit by arfificial light. There is a 35-minutes long guided tour in the cave . The other cave is the 29.1 km long Pál-völgyi cave system – the longest in Hungary – located in the Duna-Ipoly National Park. The cave is a real multi-level labyrinth system with most of its chambers under the residental districts of Budapest. Rated as the #4 activity to do on Tripadvisor, it's definitely something you want to check out.
https://www.instagram.com/p/BPzoBn7AfBR/
10. River Cruise on the Danube
It seems that most of the bigger cities in Europe have river cruise options, and Budapest is no exception. What is great about doing a river / dinner cruise in Budapest is that you will definitely save some money, and get some incredible nighttime views of both sides of the city. I've never seen any other city light up at night like Budapest does. It really looks like a fairytale that perfectly shows the architectural beauty of this amazing city.
---
THANKS FOR READING!
SHARE THIS ARTICLE!
https://www.jonesaroundtheworld.com/wp-content/uploads/2014/05/8130437015_b2d242fb64_b.jpg
638
1024
Dave
https://www.jonesaroundtheworld.com/wp-content/uploads/2017/03/logotry-1-1-300x106.png
Dave
2014-05-11 07:07:46
2021-01-26 19:31:16
10 Amazing Things To Do In Budapest