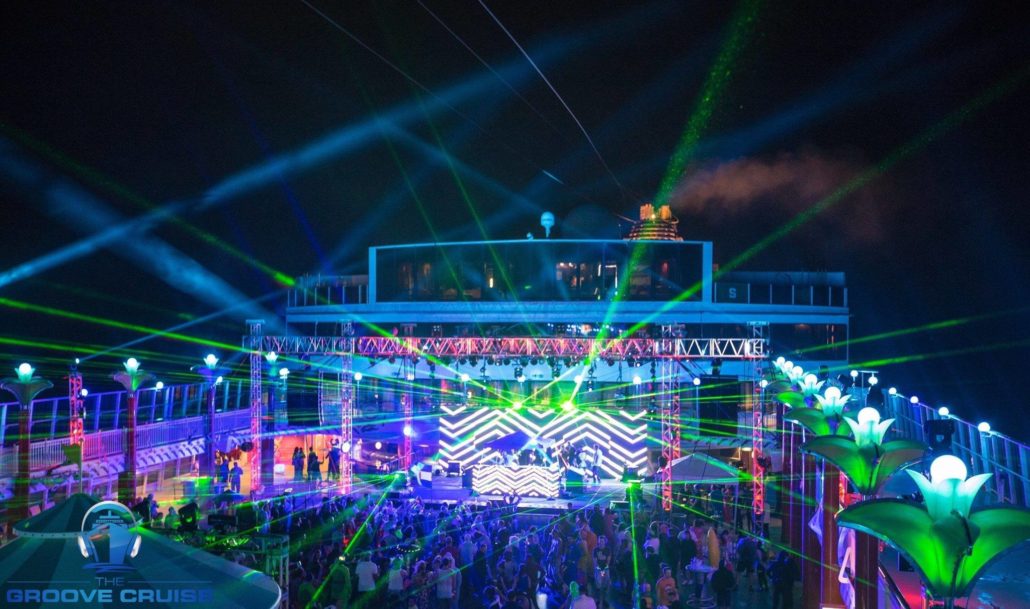 Just a few days ago I announced that I'll be attending Groove Cruise Cabo, and ever since I literally can't stop thinking about how insane this experience is going to be.  I've always dreamed of attending a music festival at sea, and I know it's going to be 5 epic days of superb music.
The Groove Cruise just announced the schedule + set-times for this upcoming Cabo edition, and it's honestly just too insane for words.  It truly is 120 hours of non-stop tunage.  I've been to a few 5-day festivals before, so I'm well aware of the party marathon I'm about to embark on…
The line-up is stacked with 50+ world-renowned DJ's, but these are my top 10 acts that I know I'll be checking out…
The Full Line-Up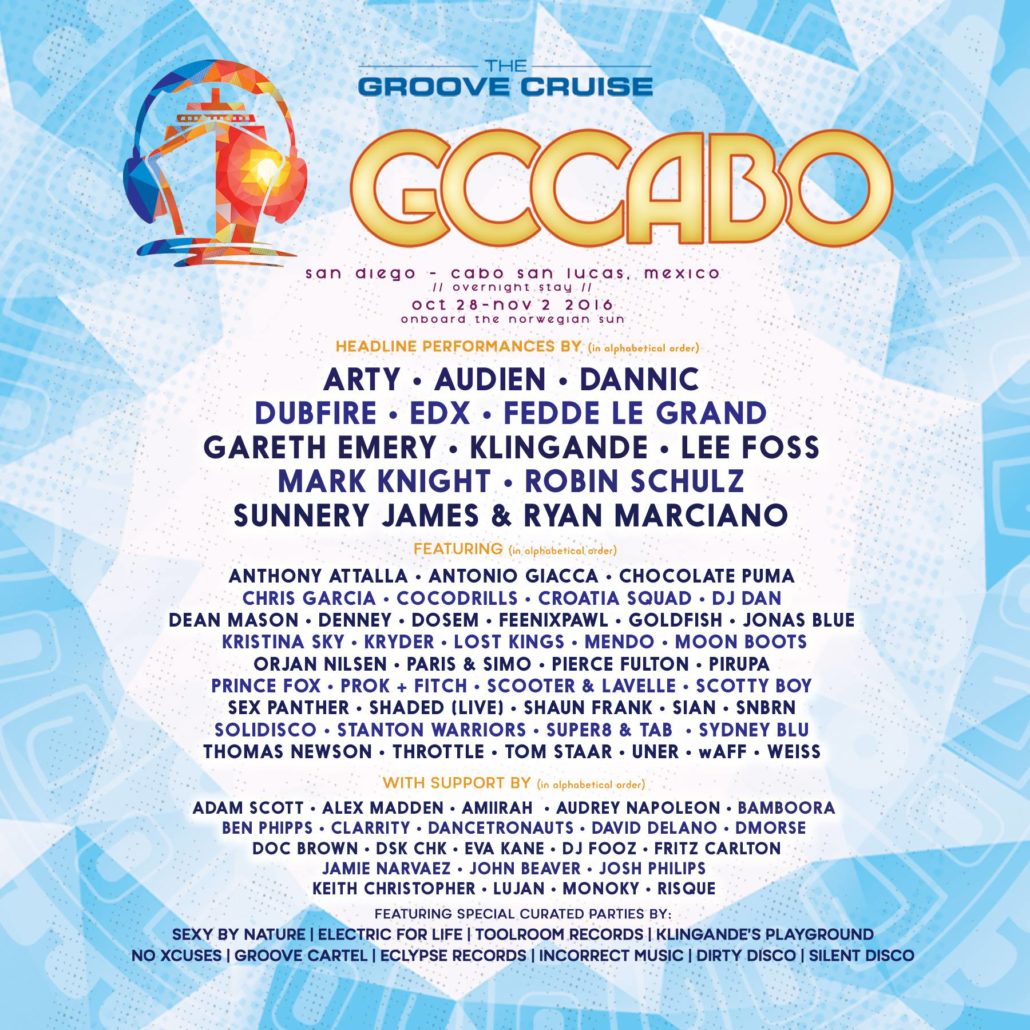 ---
1 )  Lee Foss
Having just seen Lee Foss absoltuely crush it at CRSSD Festival in San Diego, I couldn't be more excited to see him spin once again.  This Hot Creations founder really knows how to keep a crowd dancing throughout an entire set, and his song selection and mixing skills are truly fantastic.
2 ) Uner
This is an artist I've wanted to see ever since living in Barcelona back in 2012.  This song below was one of the anthems of my time in Spain, and got me truly hooked on that sweet tribal tech-house sound.  His productions have earned him world-wide respect in the underground scene, and I've heard his DJ sets are something special.
3 ) Sunnery James & Ryan Marciano
Having seen this Dutch duo twice before, I know that they put on one hell of a show.  They spin really fun and heavy house music that is built for the big room without the mainstage EDM feeling.  Their Sexy By Nature parties are something special, and I'm looking forward to seeing them crush it on the Groove Cruise.
4 ) Dubfire
Dubfire is another DJ whom I recently saw just a few weeks ago at CRSSD Festival, but I'll never pass up the opportunity to see this techno legend spin.  He plays some really heavy tracks and I know he's going to destroy his set at the ME Resort pool party in Cabo.
5 ) Mendo
Funky, groovy, tribal tech-house.  This is exactly the kind of style that makes me miss raving in Barcelona at ELROW events.  I've heard a few of Mendo's tracks and they are always dance-floor killers.  I've never seen him play, and actually very rarely notice his name on line-ups, so I'm particularly excited to see what he brings to the decks.
6 ) Mark Knight
Toolroom Records has always been one of my favorite labels when it comes to proper house tracks, so whenever Mark Knight comes around you know I'll be catching his set.  I saw him play once a long time ago at Sensation White, and have just been waiting for the day to catch him again.
7 ) Pirupa
Pure sounds of the underground tech-house that I love so much.  I've been jammin' to a few of Pirupa's tracks for years, and it's going to be my first time seeing him play.  This Italian born DJ has made a massive splash on the underground dance music scene, and I know he's going to absolutely destroy the place.
8 ) Pierce Fulton
Not to be "that guy", but I've been a fan of Pierce Fulton for a long damn time.  I remember when he was just getting started and had only a few thousand Facebook likes.  I'm even friends with the guy on his personal account, and it's been really cool to see his progress in the electronic dance music industry.  He seems like he's just a really chill dude who's a truly talented musician.  With all that being said, I've never seen him actually perform, but that all changes during the Groove Cruise.
9 ) Gareth Emery
This man is simply a legend.  "Concrete Angel" will always be one of the most beautiful vocal trance songs that's ever been produced, but Gareth Emery is no one-hit wonder because his productions just seem to be getting better over the years.  As well, I think he might be one of the funniest people in the industry, because his fake EDM duo "CVNT5" is absolutely hilarious.  Did you know Gareth could act…?  Because holy shit… 10/10 skills right here:
10 ) Audien
Last but not least, I couldn't leave Audien off this list.  His style is unique and beautiful, and his set will leave you happy and dancing the entire way through.
---
I had to leave a few artists that I know are going to play great sets, but I wanted to keep this to my personal Top 10 List.
Check out the individual day-schedules below for when these artists are playing below.
---
Day 1| Friday
SUNNERY JAME & RYAN MARCIANO – 12:00 A.M – 1:30 A.M
UNER: 2:00- 4:30 A.M
PIRUPA: 4:30-6:30 A.M
MENDO:  6:30-9:00 A.M
When are people supposed to sleep…?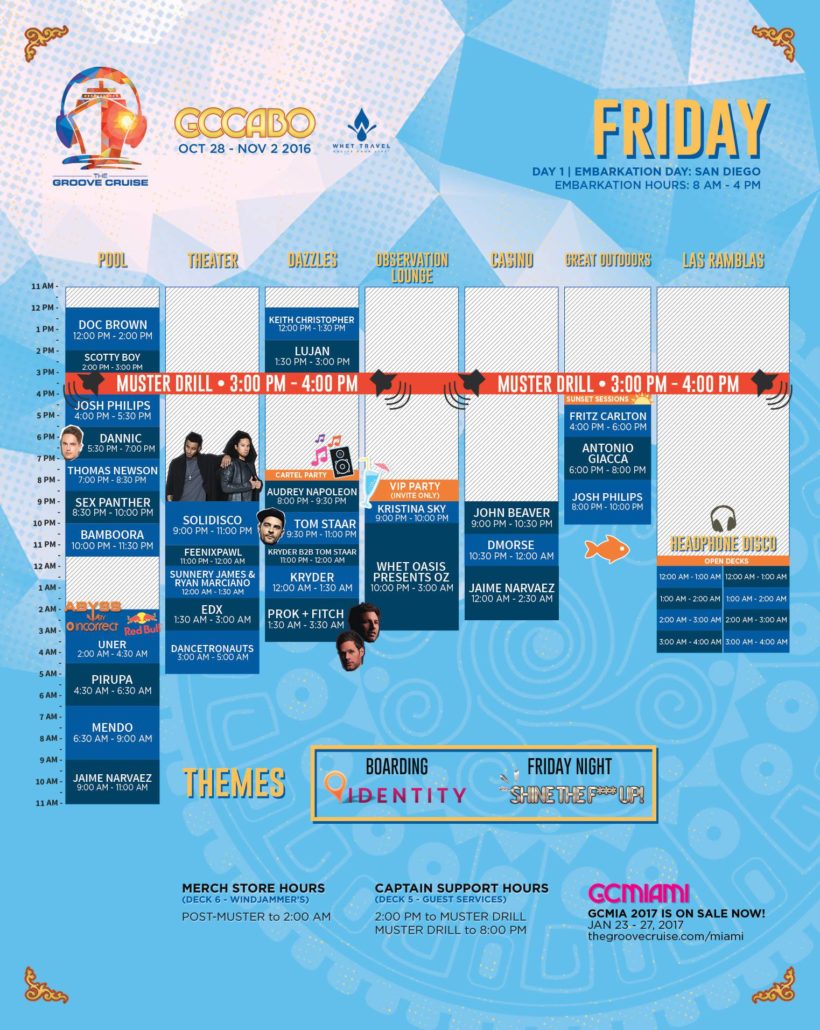 ---
Day 2| Saturday
SEXY BY NATURE POOL PARTY
SUNNERY JAMES & RYAN MARCIANO – 4:00 – 6:00 P.M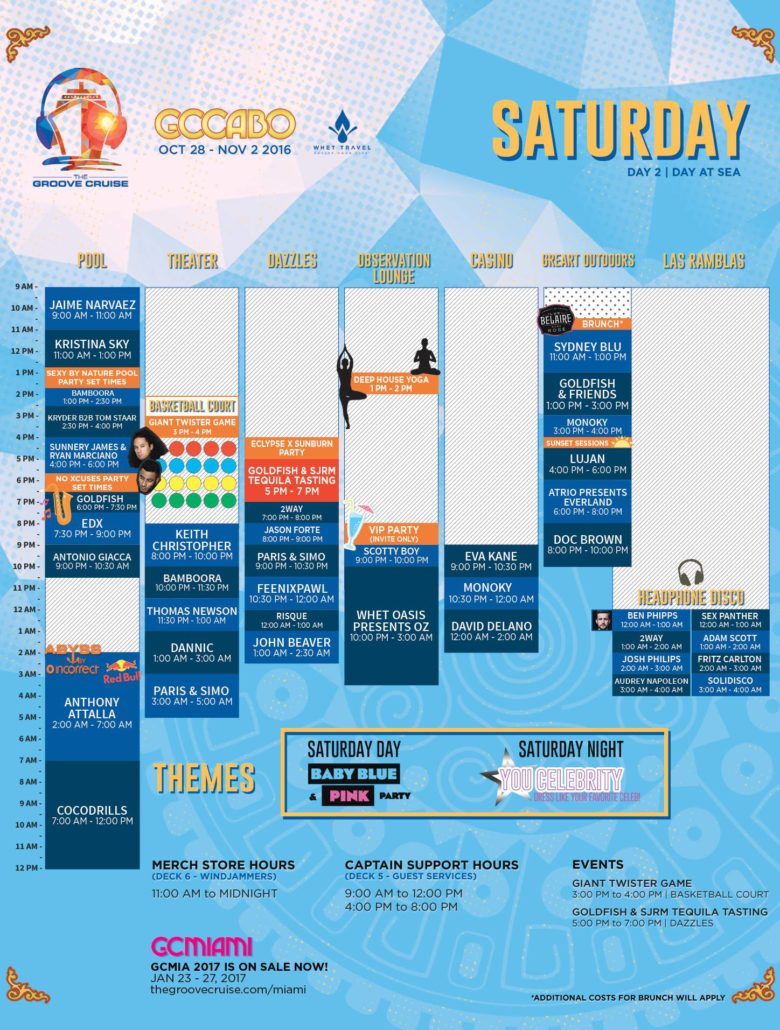 ---
Day 3 |Sunday
ME RESORT IN CABO
DUBFIRE – 8:30 – 10:45 P.M
SIAN – 10:45 – 12:00 A.M
TOOLROOM AFTERHOURS
MARK KNIGHT – 2:30 – 5:00 A.M
PROK + FITCH – 5:00 – 8:00 A.M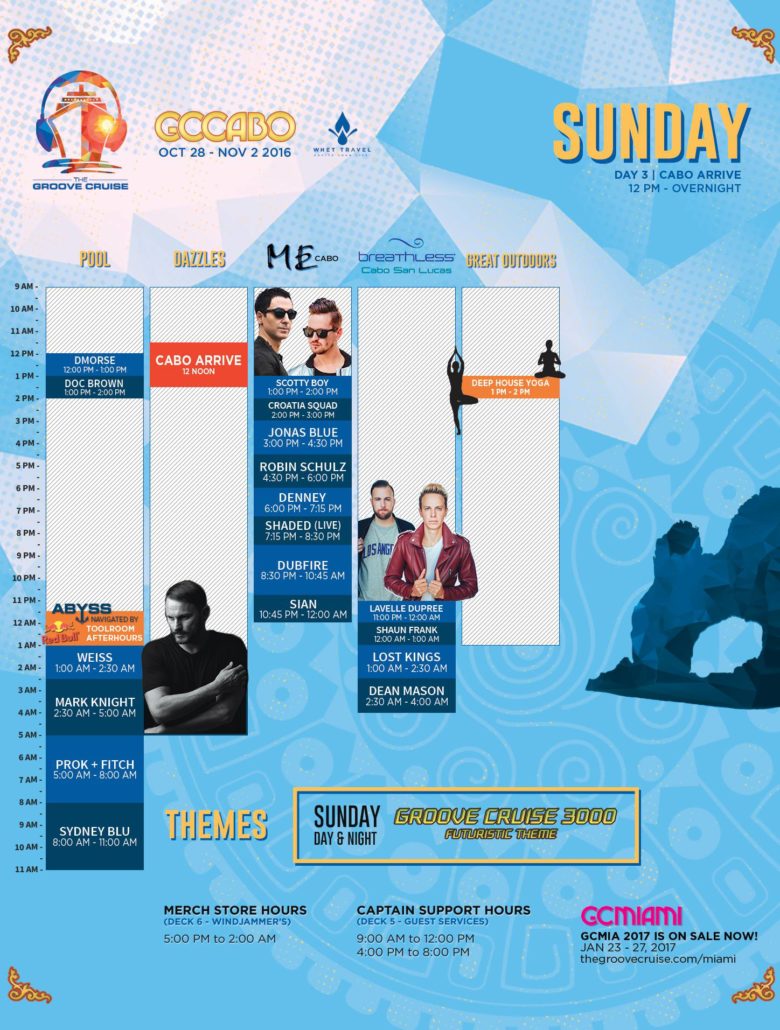 ---
Day 4 | Monday
HALLOWEEN
PIERCE FULTON – 4:00 – 5:00 P.M
GARETH EMERY – 12:30 – 2:30 A.M
LEE FOSS – 3:00 – 7:00 A.M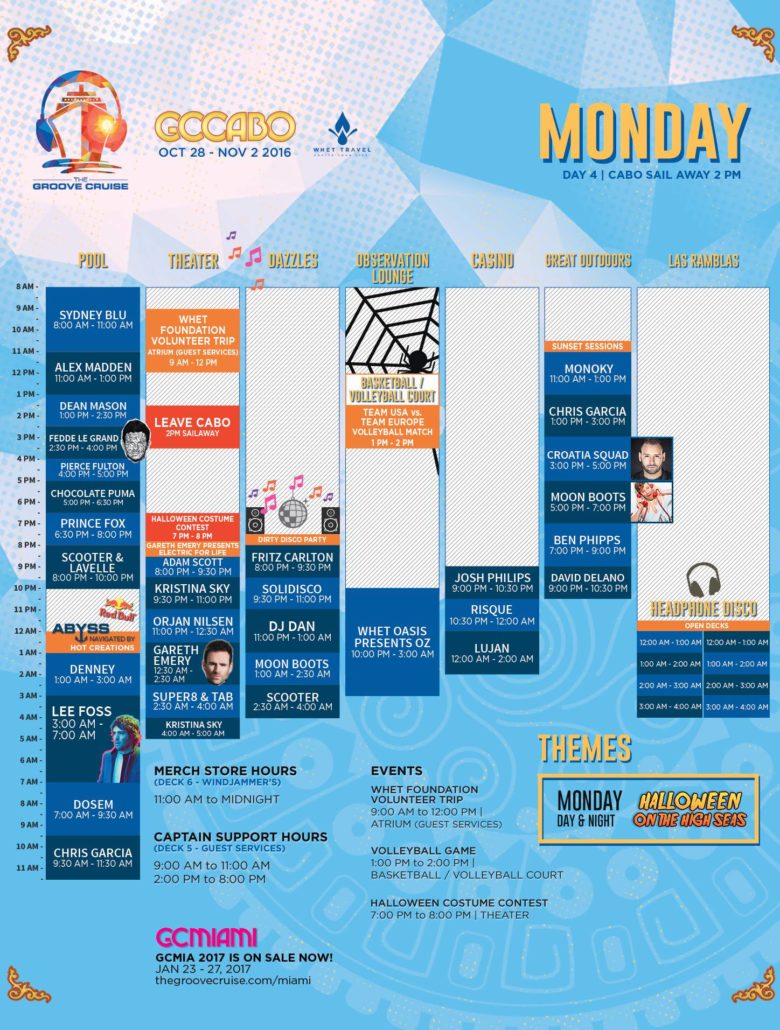 ---
Day 5|Tuesday
FINAL DAY!
PIERCE FULTON – 9:30 – 11:00 P.M
ARTY B2B AUDIEN – 1:15 – 2:00 A.M
AUDIEN – 2:00 – 3:30 A.M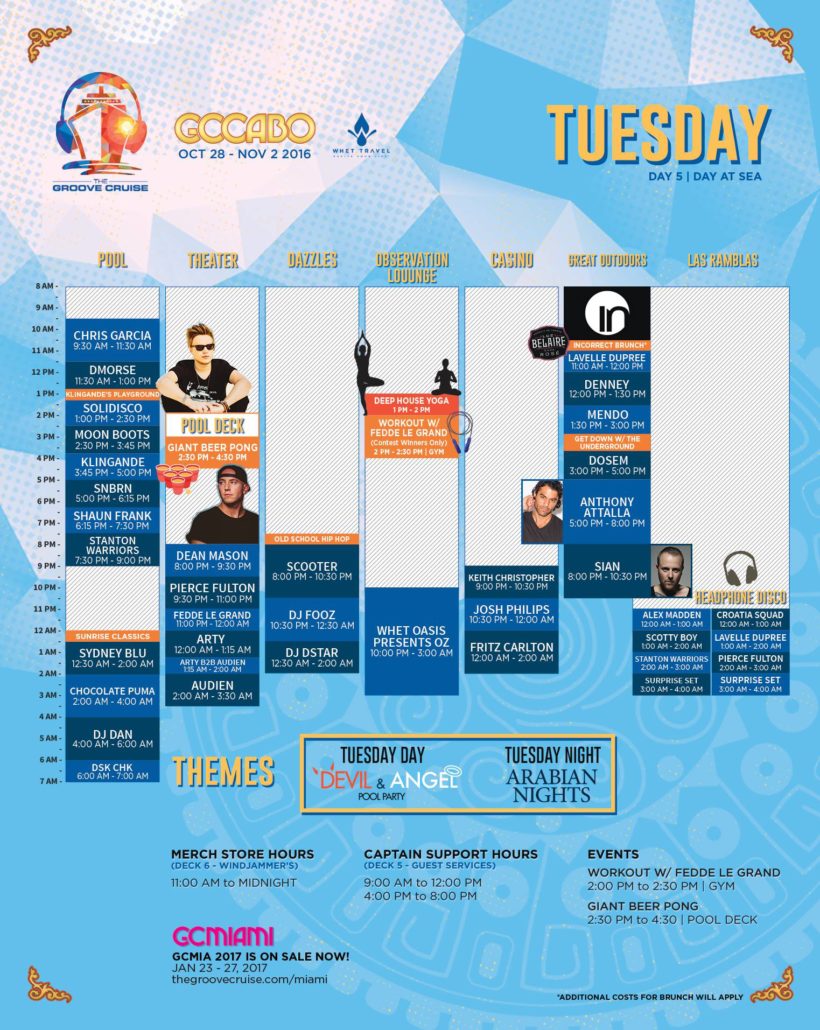 ---
This is going to be hectic…
If you take a look at these schedules, you'll notice that the party really never stops…
It's going to be a really difficult task to see all of these artists play, but I'm definitely going to try my best…
No matter what — I know this is going to to be the experience of a lifetime..
V-A-M-O-S
https://www.jonesaroundtheworld.com/wp-content/uploads/2016/10/14711595_10153817119147026_2174408230487667239_o.jpg
1211
2048
Dave
https://www.jonesaroundtheworld.com/wp-content/uploads/2017/03/logotry-1.png
Dave
2016-10-24 21:52:04
2016-10-26 03:39:43
Top 10 Artists To See During Groove Cruise Cabo