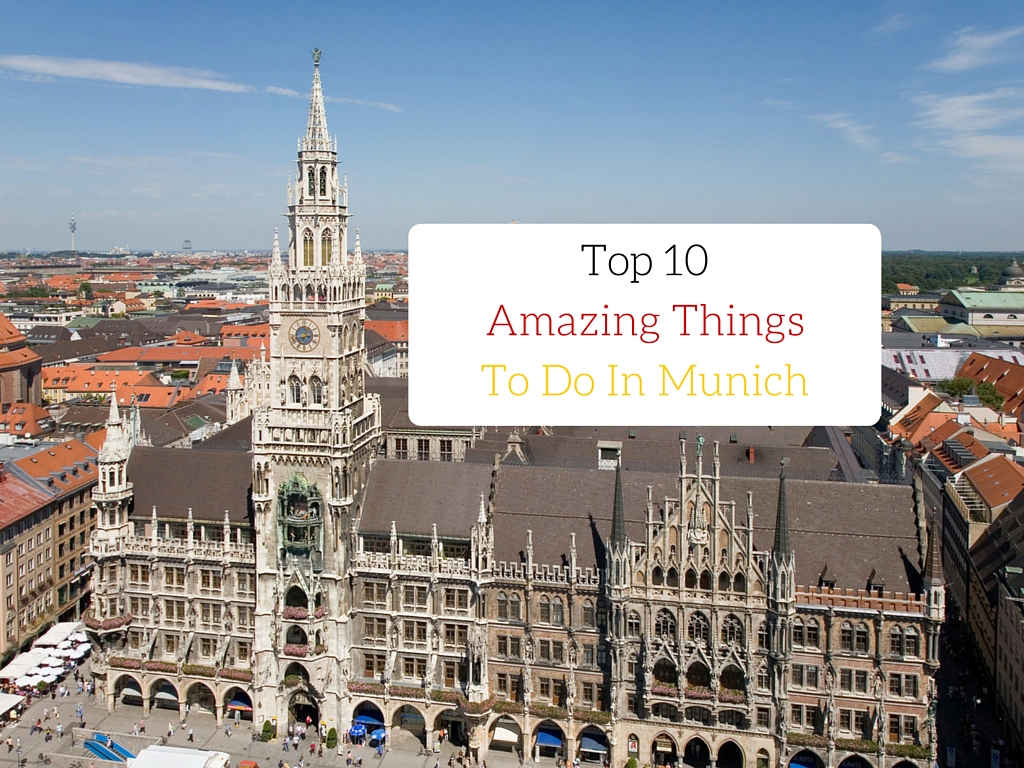 Munich will easily become one of your favorite destinatons in Europe after your visit first there.  It's the capital of Bavaria, and is the third largest city in Germany.  You'll be blown away by the beautiful architecture, delicious food and beer, and fascinating history.
I've been to Munich at least 8+ times now, and everytime I fall in love with the city more and more.  When I was living in Italy as a tour guide, we regularly had trips up to Munich for the different festivals the city puts on.  It's a city I could easily see myself living in one day.
So without further ado, let me tell you what I think are the top 10 things to do in Munich.
1 )  Beer Festivals
"Ein Prosit.  Ein Prosit.  Der Gemütlichkeit."
 After attending Otkoberfest (September- October) or Fruihlingsfest (April to May), this is a song that you will never forget.  Going to one of these beer festivals is easily one of the best travel experiences you can have in Europe.  Oktoberfest should defintiely be on everyone's bucket list.  The atmosphere can't be matched by any other event you'll ever attend.
If you can't make it to the actual Oktoberfest, then head to Munich in the Spring for Fruihlingfest, which is basically just a mini-version of Oktoberfest.  Some people even prefer it as it's easier to get a spot at a table!
Oh, and make sure you buy a proper German drinking outfit.  My lederhosen is probably my favorite outfit of all time!
---
2 )Hofbräuhaus München
This massive beerhall / restaurant can't be missed during your time in Munich!  The beer is absolutely incredible, the food is incredible, and the vibe is unlike any other place you will visit in the city.  You'll never forget your first visit to the Hofbräuhaus.  It does get really busy, but it's never been to hard to find seating and enjoy yourself for a few hours.  Definitely try to sit inside to listen to the live music, and have a cheeky dance.
---
3 )  Walking Tour of the City
Munich is a very historical city, and you definitiely need to have a informational walking tour around the city, it's many churches, and learn all about what happened there.  I've been on several different tours in Munich, and I enjoy it every single time!  I'm actually not one for walking tours, as I like to explore the city on my own, but you definitely need to do one in Munich.  Check out this site for walking tours with locals.  There's no better way to learn about a city than from someone who was born and raised there!
4 )  Nude Sunbathing & City Surfing
Munich is home to one of the largest urban parks in the world called The Englischer Garten.  This is a massive public park which is actually larger than New York's Central Park.  Taking a stroll through this garden is amazing, and you'll quickly realize that nude sunbathing is allowed here.  If you're naturist, than I'm sure you're already well aware of this — but for those of us who normally keep our clothes on when we travel, than this is definitely notworthy.
In this park as well you'll find a spot along a river where people actually surf!  Yes, you read that correctly.  This is called the Eisbach river, and no matter time of the year you will find dozens of surfers shredding the wave that's created by a pipe at the bottom of the river.  Be careful though, only experienced surfers should try it out for themselves.  For everyone else, definitely check it out!  It really is amazing!
Check out this article by the Huffington post — Surf A River In The Middle Of Munich, Because You Can And It's Awesome.
https://www.instagram.com/p/BRrCqa7ARYL/
---
5 )  Stadium Exploration
Whether you want to check out the beautifully constructed Allianz Arena, or the Olympic Statdium for the 1972 Summer Olympics, checking out one or both of these stadiums is definitely worth checking out during your time in Munich!  They are both easily accessible by public transportation, and relatively affordable for tours.
6 )  Kultfabrik
Let's talk nightlife.  Munich not be as crazy as the nightlife up in Berlin, but going out clubbing is an absolute blast.  One of the best aspects of it is this clubbing district called Kultfabrik.  It's a massive area with tons of different bars, clubs, and venues.  Each of them have their own style of music, and you buy a wristband which gains you accessto 3-4 different places.  It's crazy on Friday and Saturday nights!  Random note — if you're feeling a bit too drunk, eat one of the Doner Kebabs they have there.  It'll fix you right up, and taste incredible!
7 )  Mercedes Benz / BMW Museums
You like German cars?  Of course you do.  If there's one thing Germans know how to do well, it's how to make a quality car.  The museums are a great way to spend a day and learn about the companies history, and take photos with older cars.  The Mercedes Benz exhibit is kind of small, but still definitely worth seeing.  The BMW museum is a great day though, if you have enough time in Munich.
8 )  Day Trip to Neuschwanstein Castle
This is one of the most beautiful castles in the world, and you have to see it with your own two eyes!  The vantage points you get of the castle from mini-hikes are stunning, and you'll leave with some amazing photographs!  The castle itself is really great to take a tour through (no photos inside), and you'll learn all about the history of it.  Fun fact – the fairytale look of the Neuschwanstein Castle is what inspired Walt Disney to create the Magic Kingdom castle!  It's definitely a must-visit in Germany, and a solid aspect of this 4 Days in Munich itinerary.
Read all about how to get from Munich to Neuschwanstein Castle, and check it out if you're heading to Germany anytime soon!
https://www.instagram.com/p/YX0sMcO7Jp/
---
9 )  Visit Dachau
Okay, maybe "amazing" is the wrong term to describe a visit to Dachau, but it's definitely a must during your time to Munich.  This concentration camp will definitely leave you a little depressed afterwards, but it's important to learn about the history of places while you visit.   You learn about how brutal the conditions of the concentration camps were, and you can honestly feel it.  How to Get to Dachau.
---
10 )  Christmas Market
I'm a firm believer that there is no better place in the world than Germany during Christmas time.  Every city gets decorated in such a beautiful way that it's impossible not get into the Christmas spirit.  Walking from Marienplatz to Karlsplatz will be something you never forget.  The highlight of the Christmas Markets is defintiely all the amazing food and drinks.  Check out this amazing post about Tasty European Christmas Market Treats.
---
Well, there you have it.
These are my Top 10 Amazing Things to do in Munich.
AM I MISSING ANYTHING…?  Let me know!
---
& Add Me On

Snapchat

:  JonesATW
https://www.jonesaroundtheworld.com/wp-content/uploads/2016/03/Top-10-Amazing-Things-to-do-in-Munich.jpg
768
1024
Dave
https://www.jonesaroundtheworld.com/wp-content/uploads/2017/03/logotry-1-1-300x106.png
Dave
2015-03-12 02:51:00
2018-03-13 16:33:48
Top 10 Amazing Things To Do in Munich