Welcome to the magical island of Moorea, French Polynesia! Located just a quick thirty-minute ferry ride from Tahiti, there are so many things to do in Moorea. This skyrocketed its popularity and made it one of the most visited islands for travelers making the journey out this way.
While it may be known as "Tahiti's little sister," this list of top Moorea things to do is not little at all. After an entire week exploring this slice of paradise, I've fallen completely in love with just about everything Moorea offers.
Known for its mesmerizing and rugged landscape, pristine white sand beaches, delectable cuisine, rich marine biodiversity, stunning sunsets, and welcoming Polynesian culture – there certainly is a little something for everyone on Moorea.
---
I've compiled a list of what I think are the best Moorea attractions, favorite food experiences, fun tours, and a whole lot more in this guide! While I had a whole week on the island and my Moorea itinerary was jam-packed, it'll be quite challenging to do everything on this list.
Before adding this island to your Tahiti itinerary, read through this helpful Moorea travel guide and enjoy the photos as much as I enjoyed taking them!
---
1) Moana Lagoon Snorkeling & Lunch Tour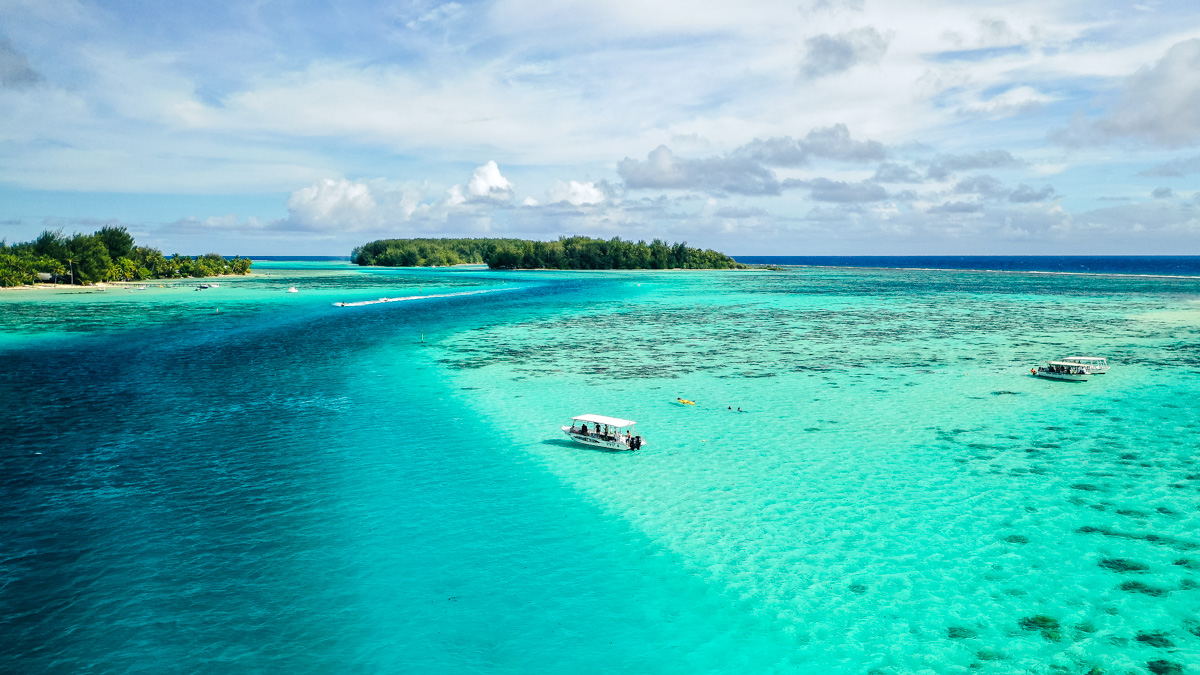 First things first, this was by far my FAVORITE DAY during my week on Moorea, and if I could only choose one thing to do – it's this day trip!
The first stop is a snorkeling spot where you'll get the chance to get up close and personal with blacktip reef sharks, sting rays, and tons of fish. I've never been surrounded by so many sharks before, and while it was a tad bit nerve-wracking at first, they're pretty chill and aren't known to be dangerous.
The sting rays are equally as beautiful. You can actually touch them lightly to feel their smooth skin while they elegantly glide past you.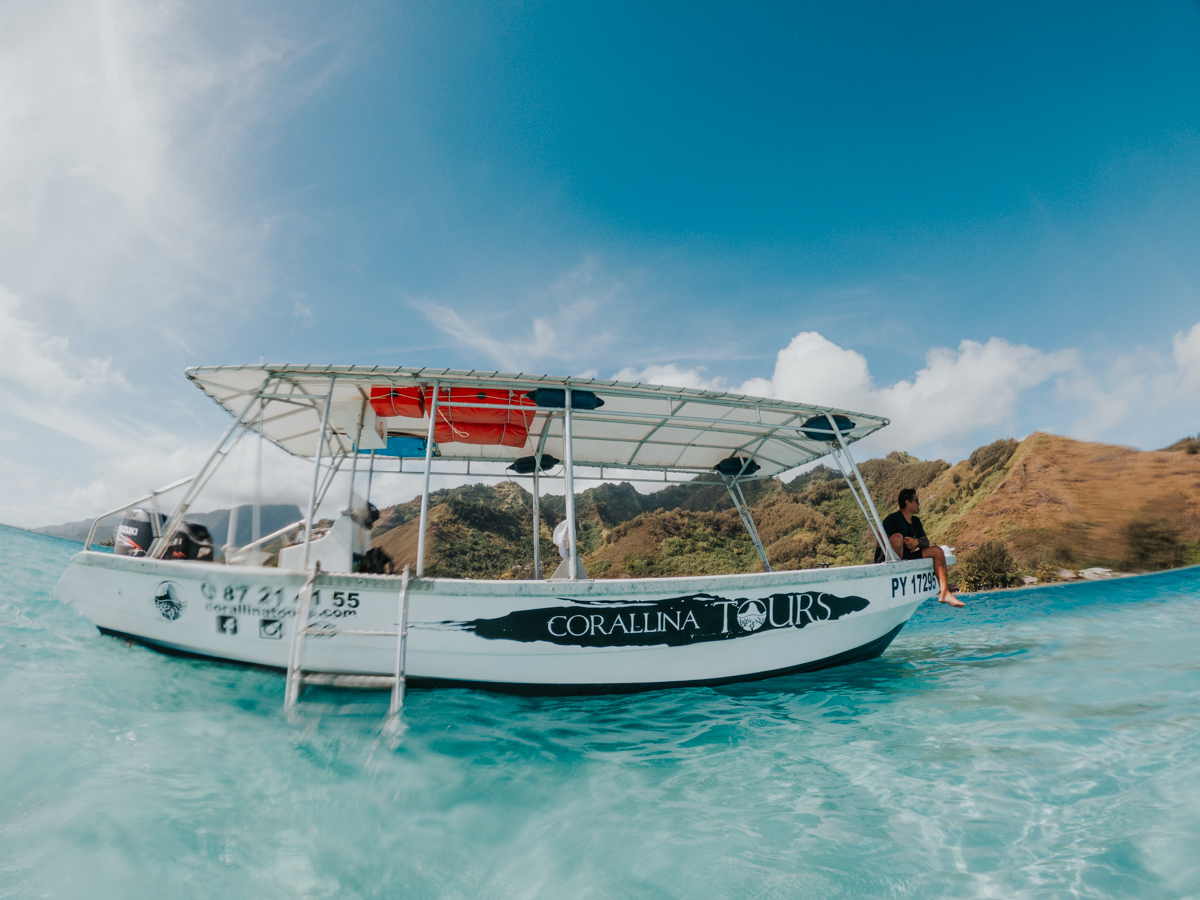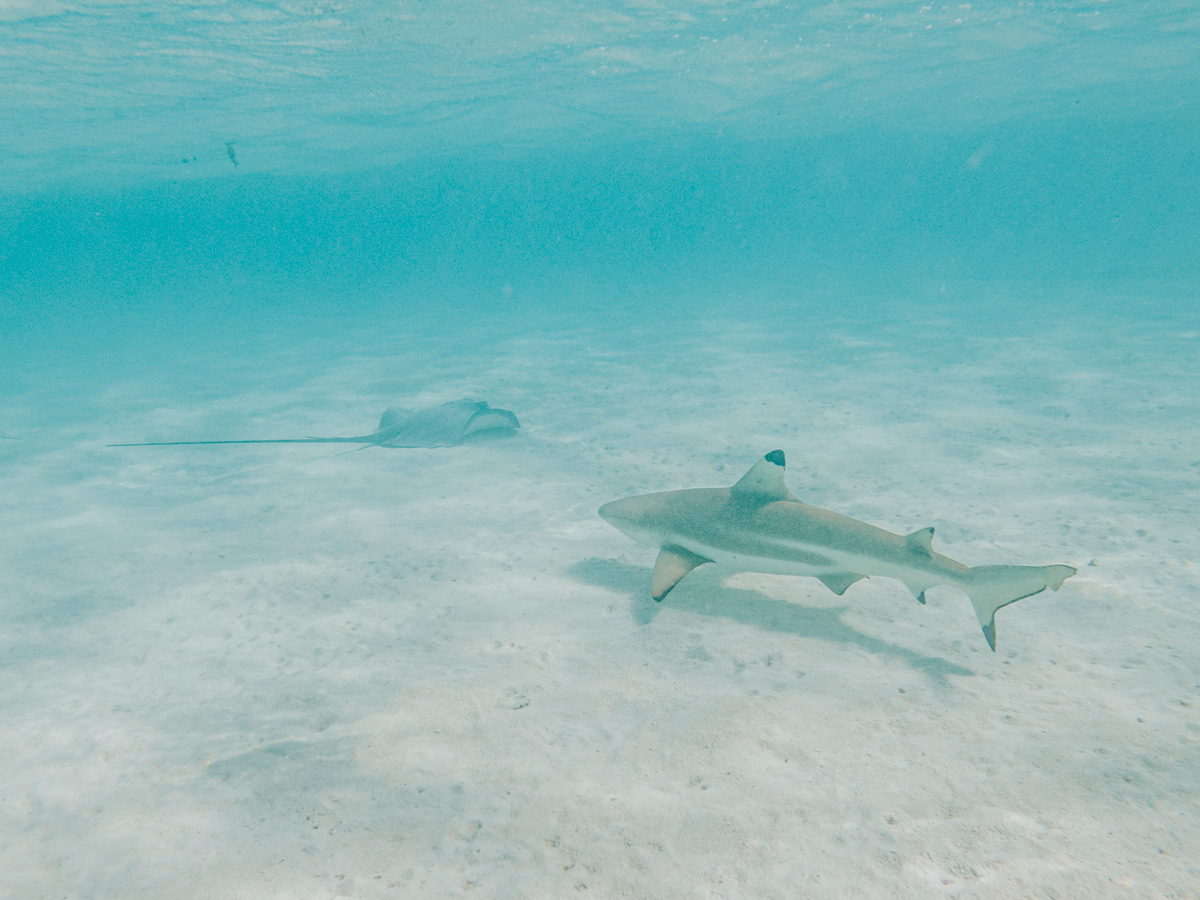 ---
On the second stop, we visited a beautiful coral garden with some of the best reefs I've ever seen on a snorkeling trip. It's also a common spot for turtle spotting (we saw quite a few on our trip).
The third and final spot was lunch at Coco Beach Restaurant, which is on a private island just off the coast of Moorea. This was easily one of the best meals I've had in French Polynesia, and you cannot miss it (but more on that later).
My group of friends and I booked a private tour with Corallina Tours, and I can't recommend them enough! The company's owner is named Maui, and he's an absolute legend who helped us make the most of our time on Moorea.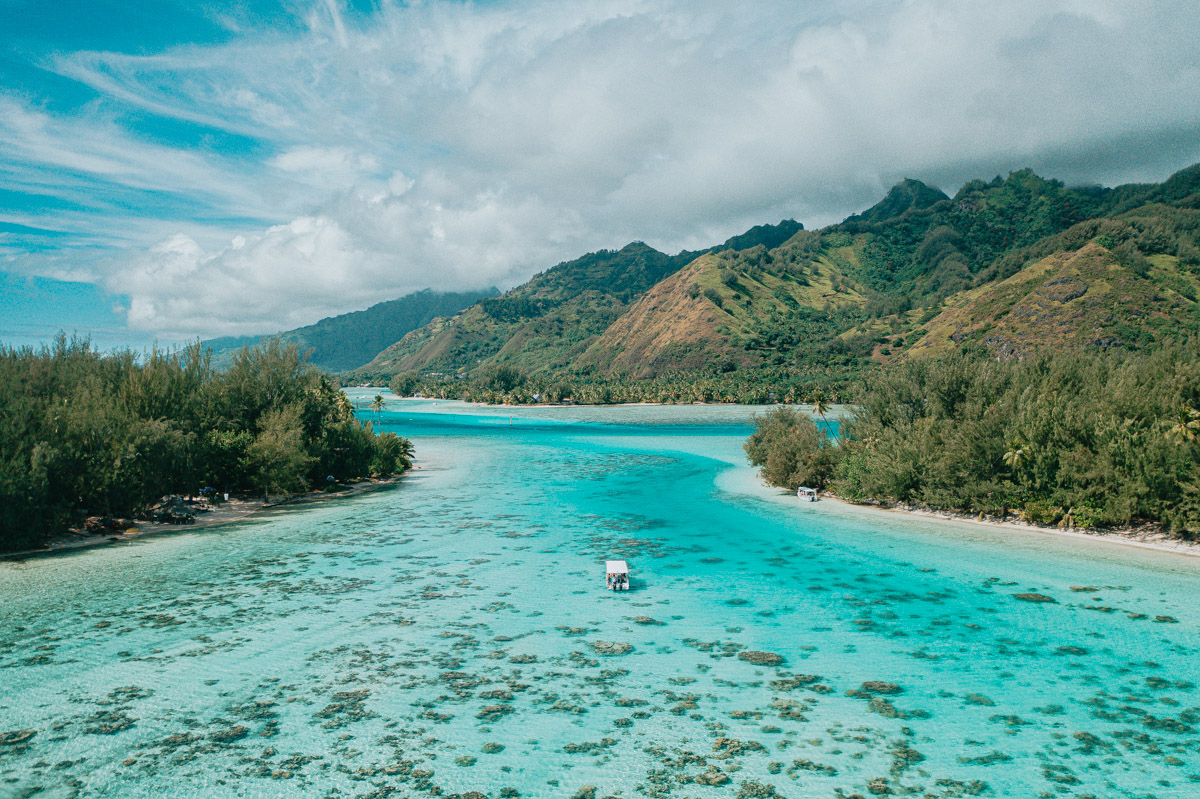 ---
2) ATV Tour Through The Island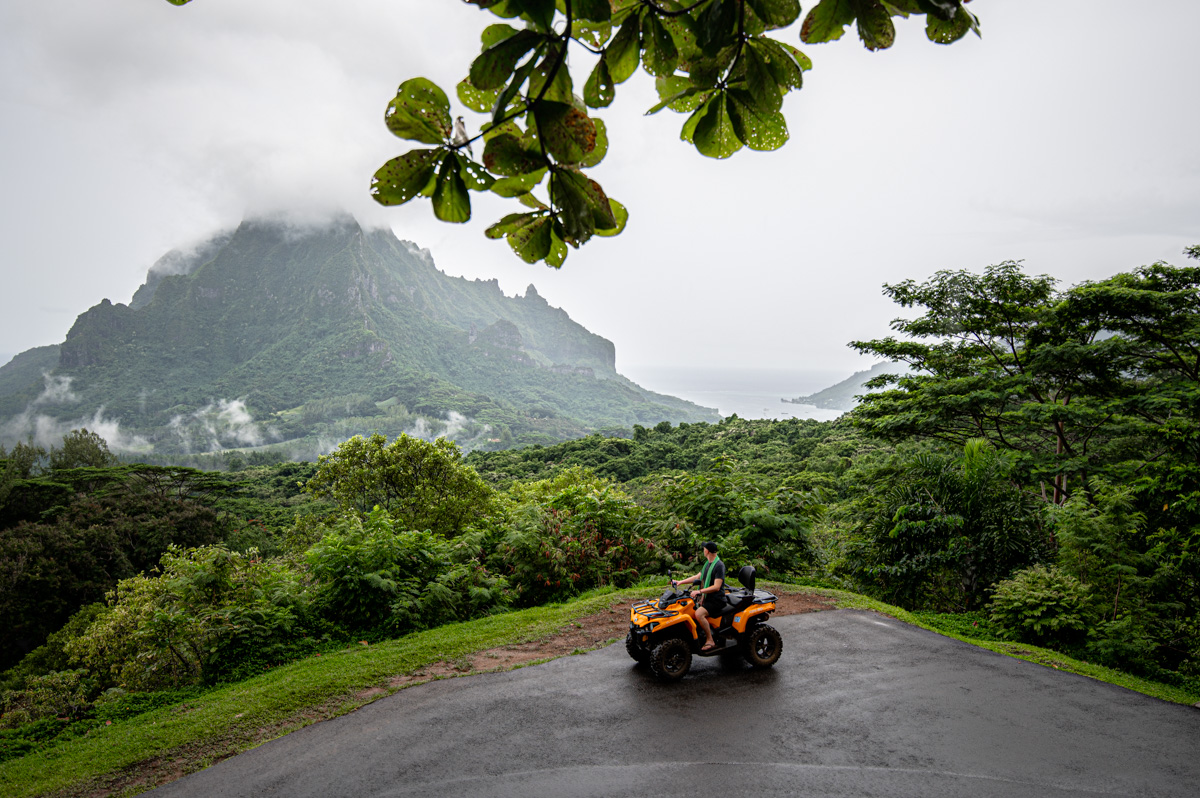 You simply can't leave Moorea without exploring the island's lush green landscape, pineapple fields, and various viewpoints – and there's no better way to do that than on an ATV Tour.
Many of the paths on Moorea are really narrow and only accessible by ATV, and cruising through them is an adventure all on its own. You'll get to visit iconic viewpoints like Belvedere Lookout and Magic Mountain. You'll also get to drive through the island's pineapple crops and end the tour with a tasting of local jam or fresh pineapple juice.
ATV tours are quite popular all over French Polynesia, but Moorea is one of the best places to do this! I actually did this tour on a rainy day, and it was still a highlight of my trip, as the rain just added to the jungle vibes.
There are tons of different companies that offer this excursion, but I ended up going with Albert Tours and had a great time! The guide was super friendly, knowledgeable, and always there to help with photo opportunities.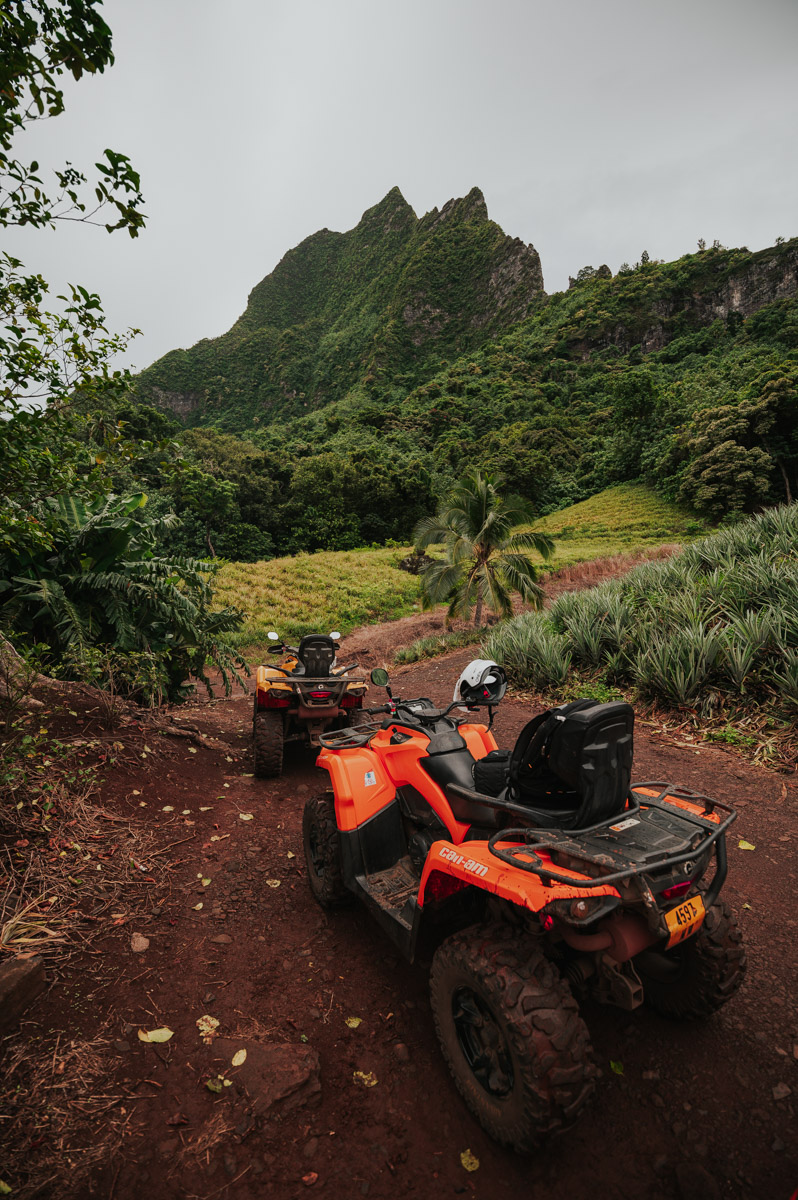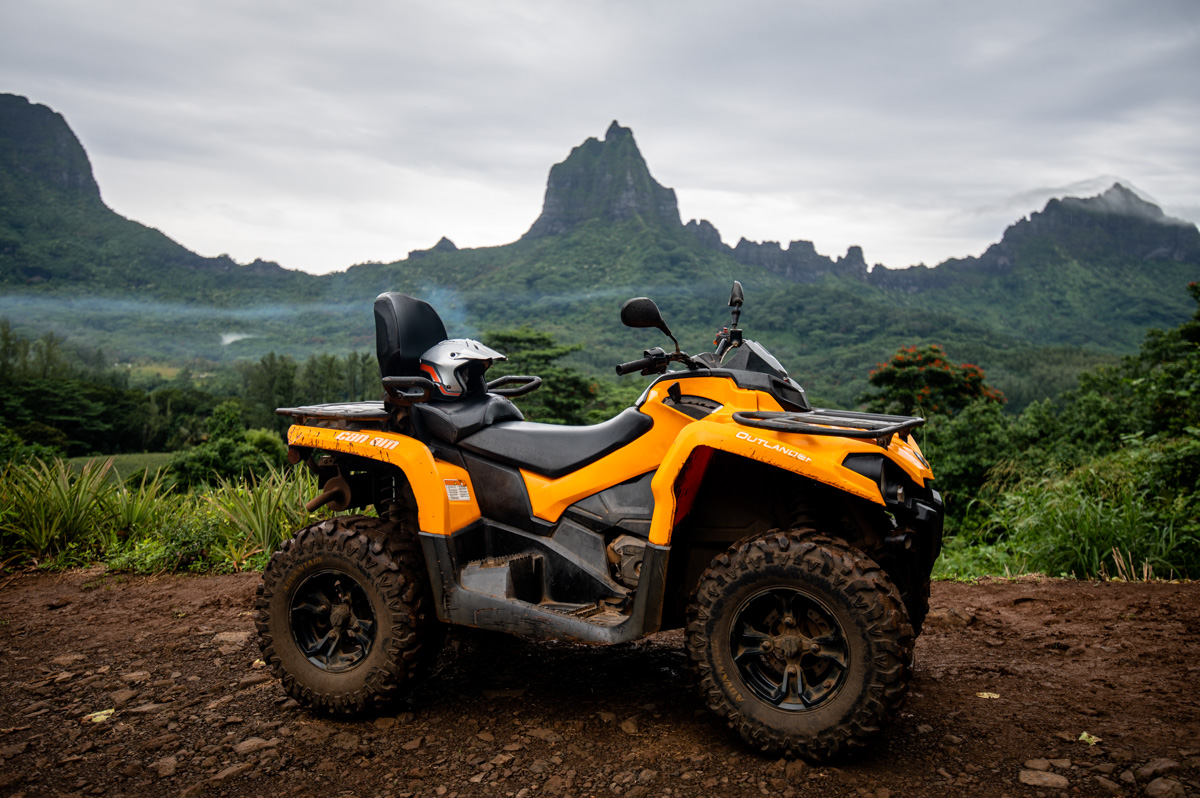 ---
3) Kayaking & Snorkeling Right Off the Coast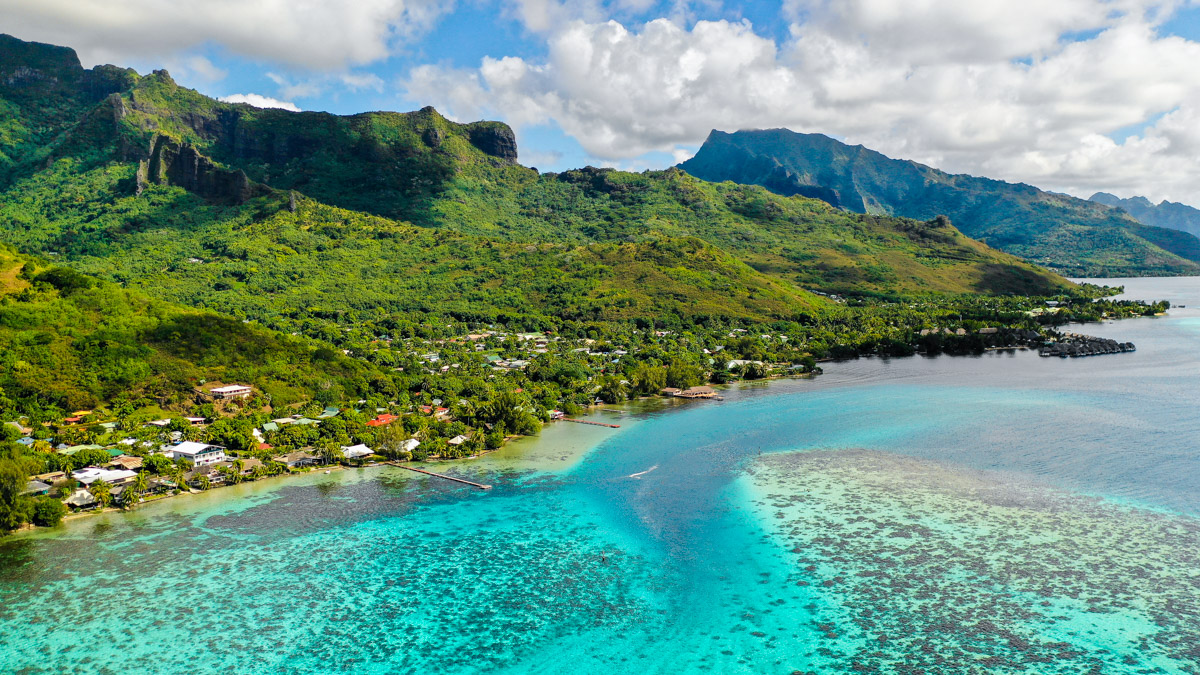 One of the reasons why I fell in love with Moorea so hard is that the snorkeling just a few minute's swim off the beaches was spectacular. I don't think a single day passed when we didn't grab our gear and enjoy a quick snorkel!
There are some beautiful reefs and tons of marine life, and it's a great way to get some exercise for an hour or two each day. We had rented a beachfront Airbnb near Maharepa, and that entire coastline has an awesome reef worth exploring.
---
Here are some of the best kayak and snorkeling spots in Moorea:
Hilton Moorea Lagoon
Hilton Moorea is a lagoon just off the Hilton Moorea lagoon resort between Cooks Bay and Ōpūnohu Bay. Fortunately, you don't have to stay at the resort to enjoy this experience. Instead, you can buy a day pass which gives you access to the private beach and lunch.
This is one of the best spots to go snorkeling on the island, as it has clear views of coral reefs, tropical fish, and several starfish.
Unwind at Hilton Moorea Lagoon Resort & Spa
---
Temae Beach
Temae Beach is possibly the most well-known and popular beach on the island. And with reason!
The beach is the ideal spot to go snorkeling and spot colorful coral reefs. Don't be shy to bring your own snorkel gear and jump in the azure waters.
---
Coral Garden Tiahura
As mentioned earlier, I visited the restaurant on Coco Beach for some amazing food, but did you know that not too far from it you can go snorkeling? Yup.
The Coral Garden Tiahura is between Coco Beach and Motu Fareone islet. This coral garden has the clearest waters, which allow you to see colorful coral reefs, sharks, stingrays, and all kinds of fish.
There are two ways to reach this snorkeling spot. Either book a stay at Taha'a Island Resort and Spa or pay to take a Tahaa boat tour.
---
Ta'ahiamanu Beach
Ta'ahiamanu Beach is one of the few free things to do in Moorea. You can find it on the pristine white sand beaches of Opunohu Bay. Thankfully, you don't have to swim very far to see the underwater paradise in the shallow waters.
It is a popular spot among locals, so you can expect some food trucks and amenities nearby. Pack a picnic or rent a paddle boat nearby for a full day of fun.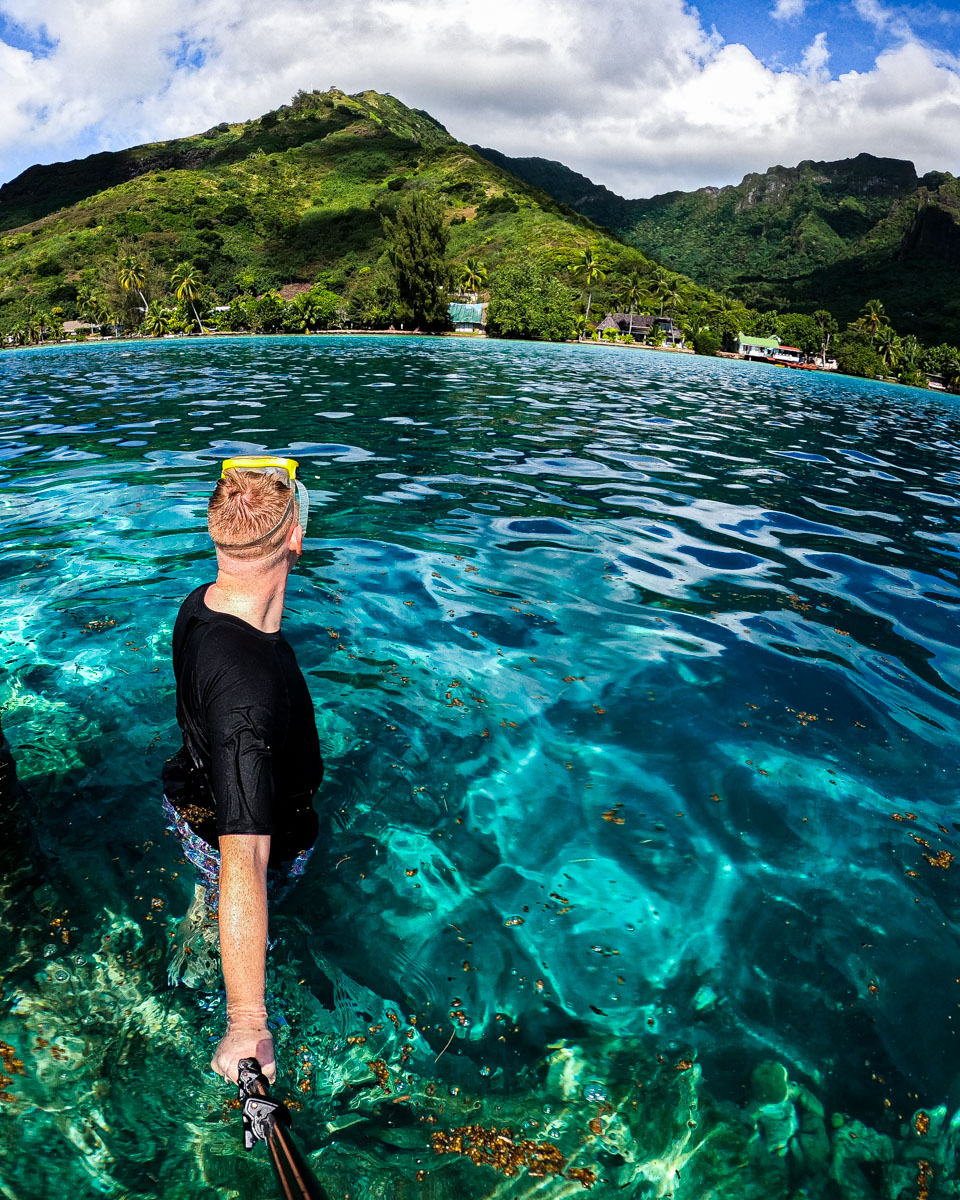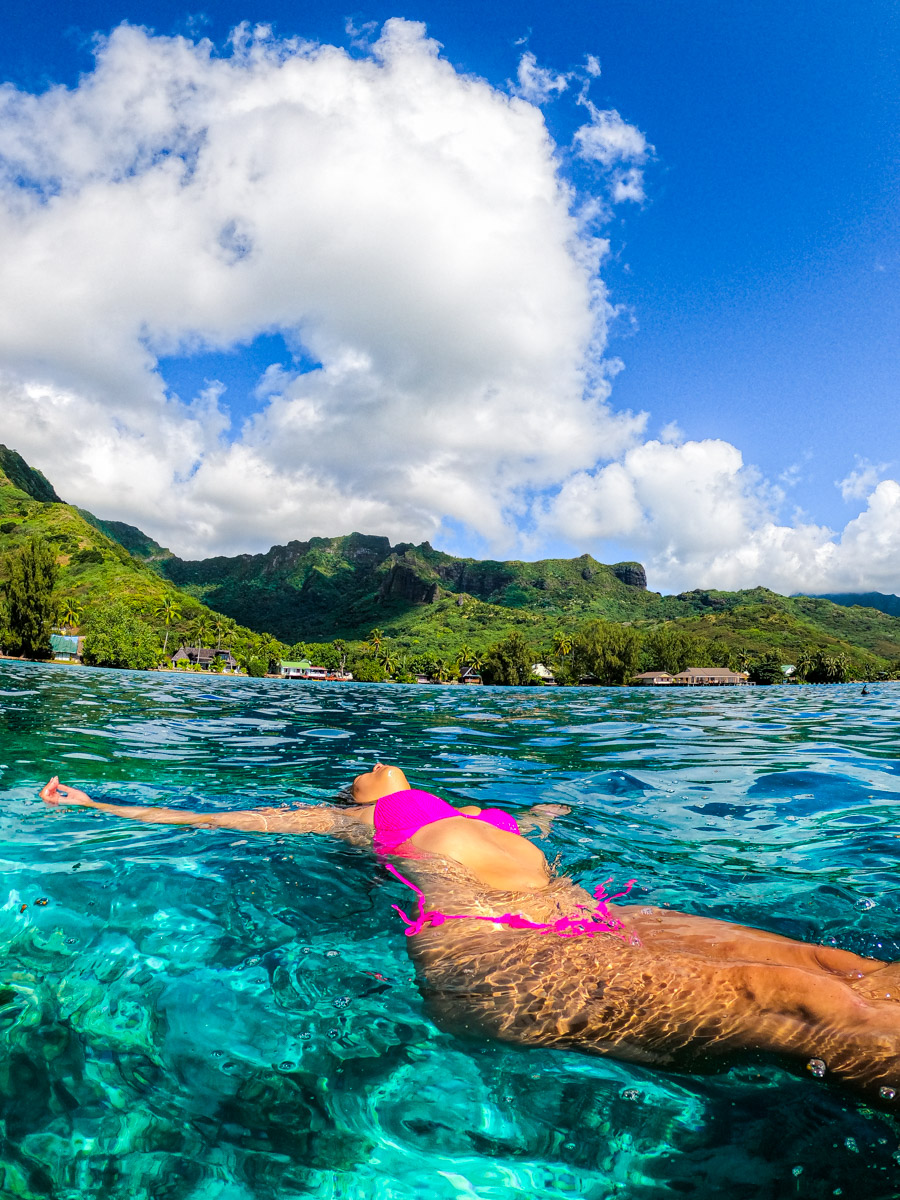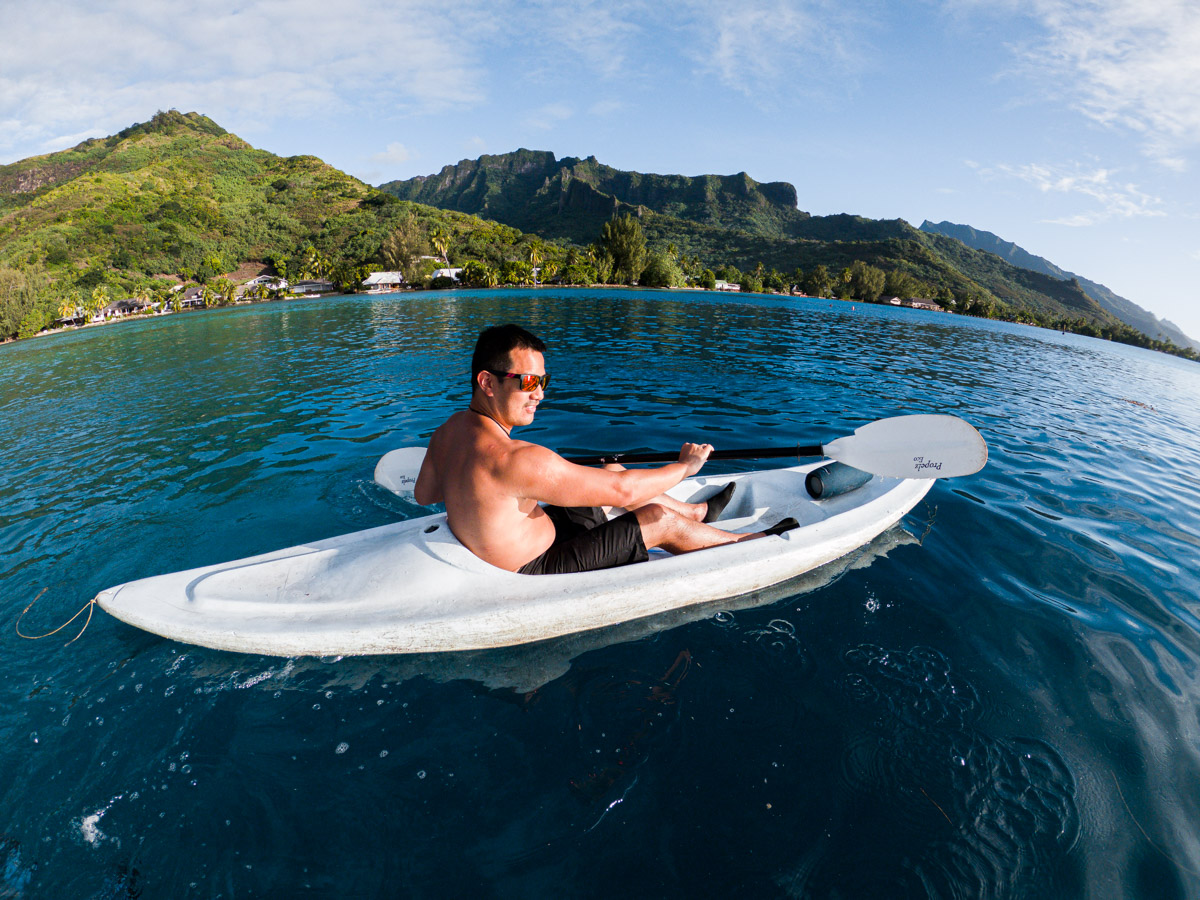 ---
4) Manutea Tahiti – Rotui Juice Factory & Distillery | Rum Tasting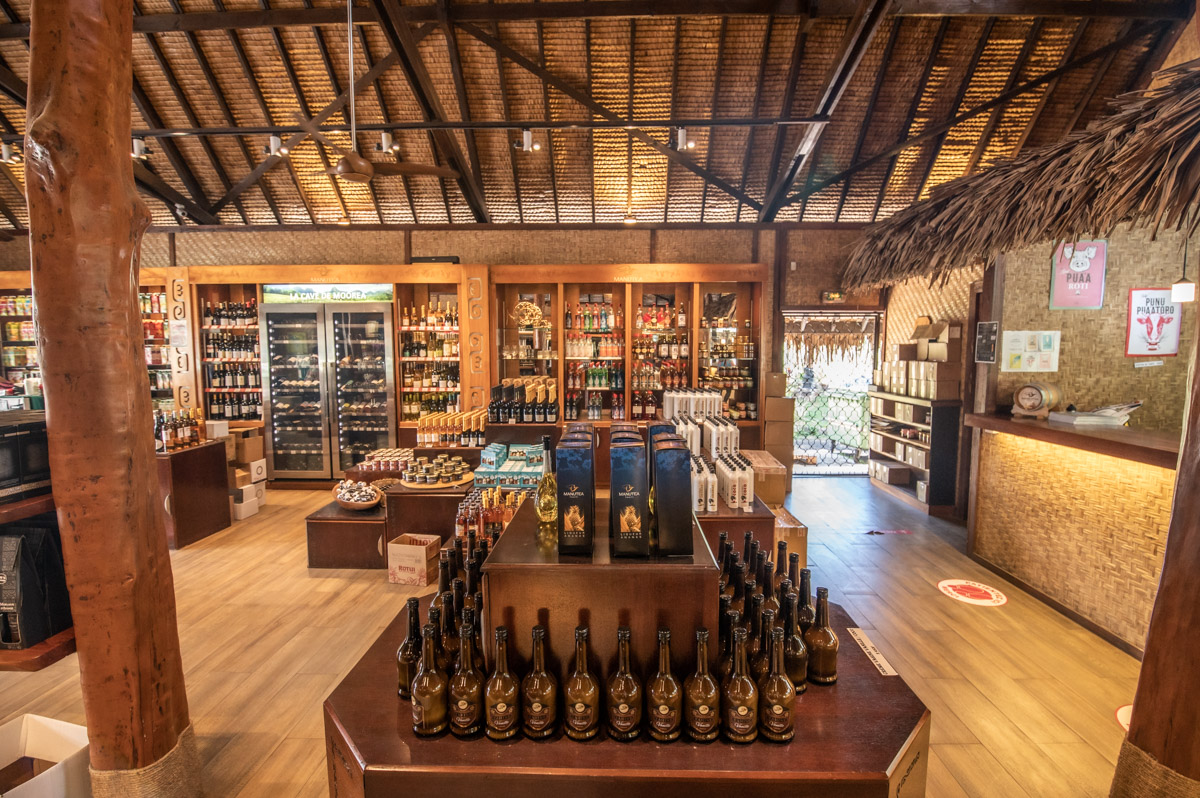 Manutea Tahiti is one of the main distilleries for dozens of different delicious Tahitian Rums, juices, and drinks. Perfectly located in the iconic Cook's Bay, you have to visit this place for one of the free rum-tasting experiences.
Now, let me warn you – this rum tasting is no joke. I was fortunate enough to be able to do this twice during my time on Moorea, and both times left the tasting room with quite a good buzz!
They'll give you pretty large samples of around 8-10 different products of theirs and give you a description of each one.
My friends and I always laugh about how we love their business model because they get you semi-drunk from their amazing rum tasting and let you loose in their gift shop (which is a fantastic place to buy some souvenirs or gifts).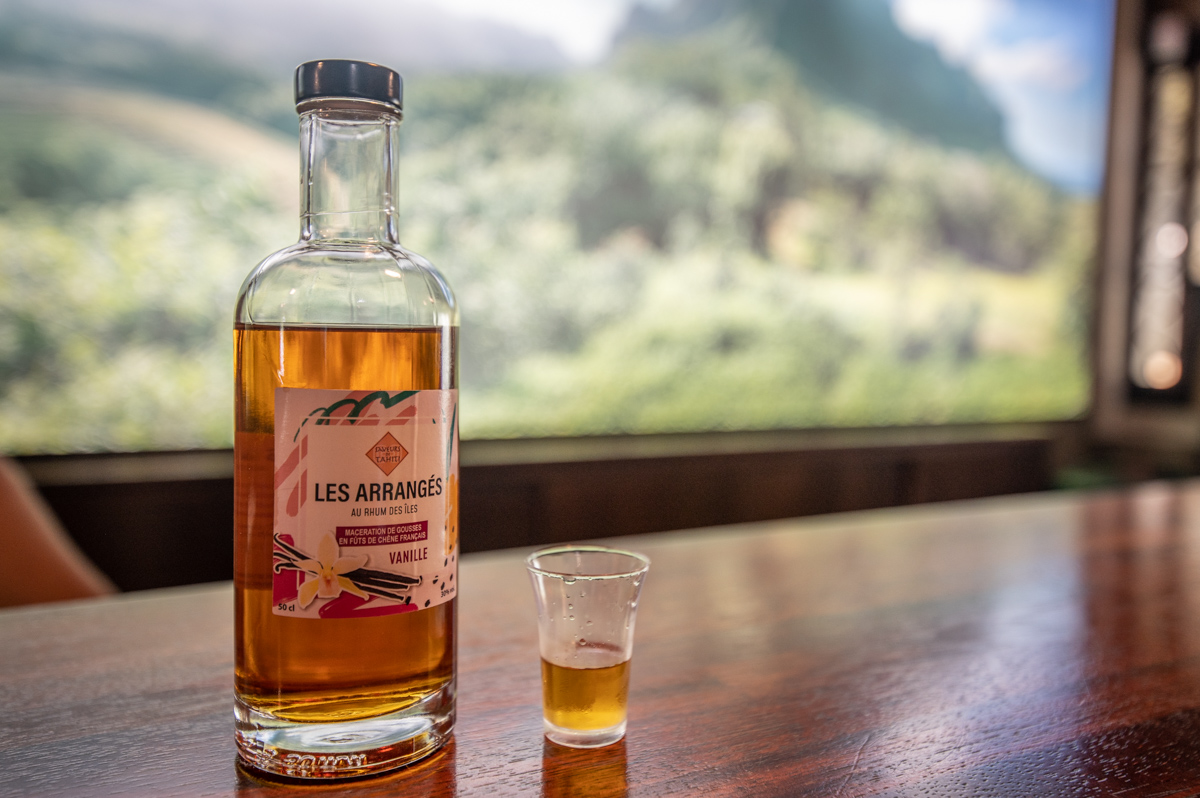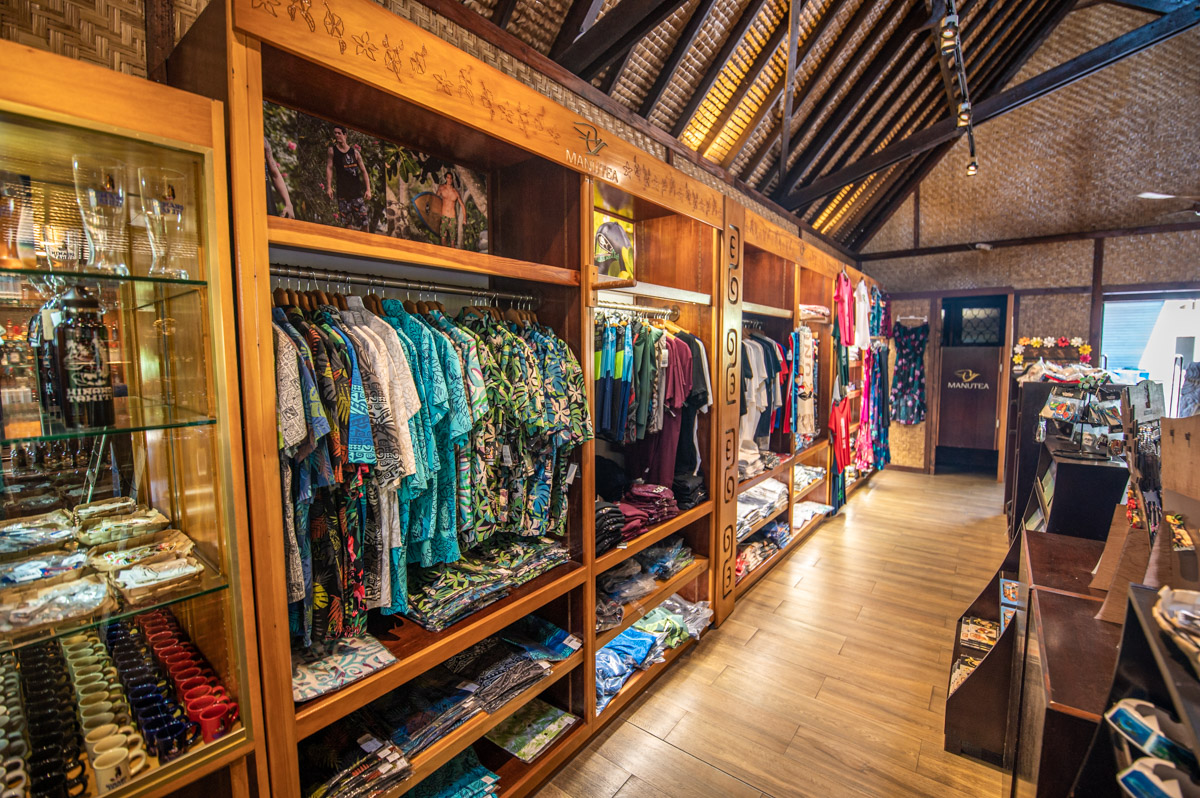 ---
5) French Polynesia Food Tour Experience
If you're just arriving in French Polynesia, or are a foodie looking to learn more about the cuisine here, then I'd recommend trying out a Moorea Food Tour.
One of the things I realized after spending 3-weeks in the Islands of Tahiti is that it's absolutely a foodie's paradise! It's such a unique blend of Tahitian, Chinese, and French cuisine – and I loved learning and sampling so much on this food tour.
We visited around 8 or 9 different establishments and island favorites on the private food tour, and it was great to understand the local food culture better. I was fortunate enough to meet the company's owner, Heimata, and his passion for his tours really shows. (If you don't end up doing this tour while on Moorea, they also offer a food tour on Tahiti.)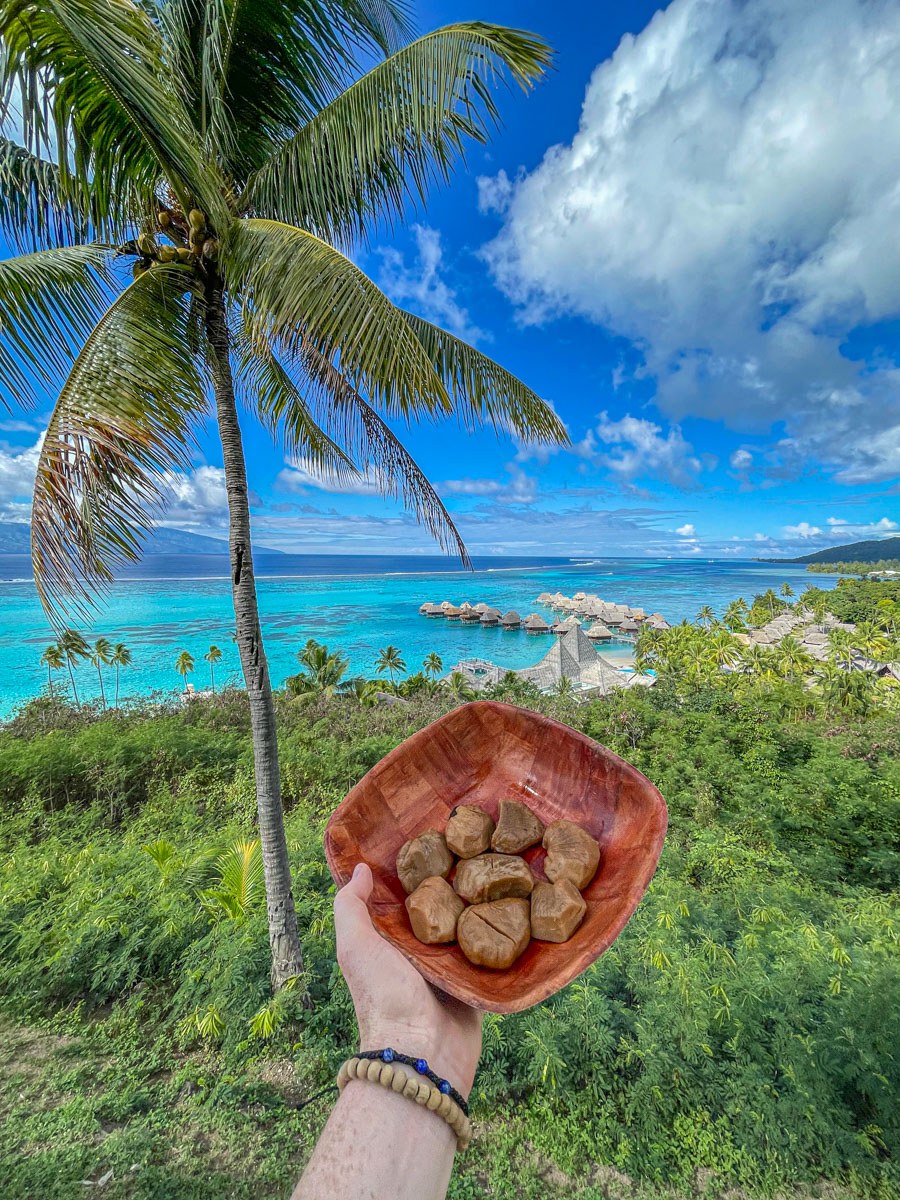 ---
6) Scuba Diving in the Pacific Ocean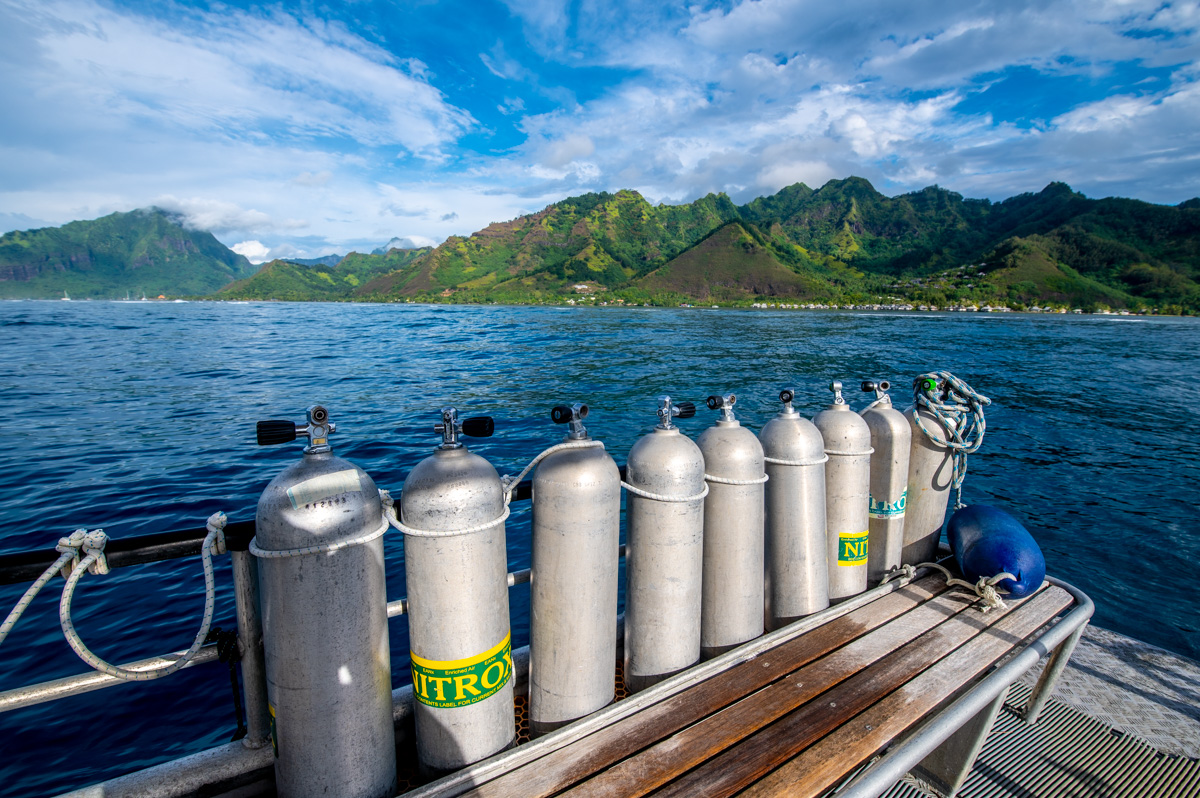 For those scuba-certified (or looking to get their certification), the diving here in the Pacific Ocean is truly spectacular! Moorea's reefs hide many exciting things, from rose-shaped corals to lemon sharks and many more interesting animals.
French Polynesia is easily one of the top destinations in the world for scuba diving, and my one dive in Moorea was my favorite from my entire 3-week trip.
I went with the company Nemo'z Diving Center Moorea and did the TAO TOI dive site (which is just a short 5-10 minute boat ride) just off the coast. The reef was insanely colorful, and we got to see a ton of turtles and unique fish I had never seen before.
Here are some top dive sites to scuba dive when visiting Moorea:
---
The Garden of Roses
This is one of the more unique coral gardens in Moorea. As the name suggests, these coral reefs have coral shaped like roses.
It is reserved for more experienced divers with a minimum certification level of Rescue Diver as it is a deep dive site. You'll also need to stop a few times during the 131 feet (40-meter) depths to decompress. But, if you have the certification, consider adding this to your bucket list.
Tiki Point
If you're a photographer, you might enjoy this diving spot more than most. The clear waters offer crystal-clear shots of the lemon, blacktip reef, and gray reef sharks. Occasionally, you may also see an eel, dolphin, or humpback whale floating by too.
Stingray World
I'm sure you can guess what you'll see at this diving site near Tiahura. On this dive, you'll be in a lagoon up and close to a few different species of stingrays. Depending on which company you've booked through, you may even be able to feed some of the stingrays.
These guys love the food, so be sure to take your time to feed them.
Aito
Another special diving spot on the island is Aito. It is very close to Tiki Point, which means if timed right, you could possibly do both in one day. It is a drift dive site of about 59- 88 feet (18 – 27m) deep.
While Tiki Point had more sharks swimming by, Aito actually has more sea turtles and angel fish swimming by. Besides these gentle animals floating by, this diving spot also has beautiful marine flora all over, so you'll always have something to ogle while down here.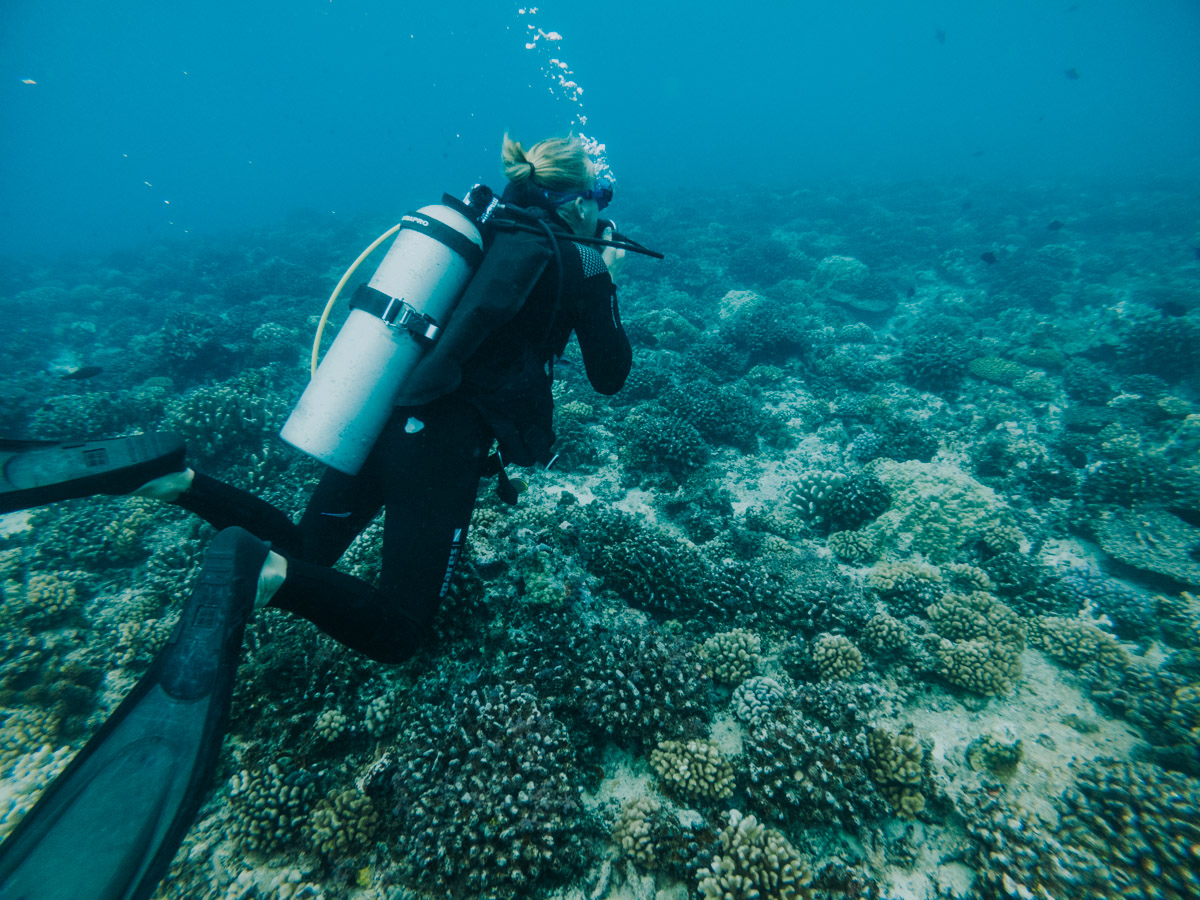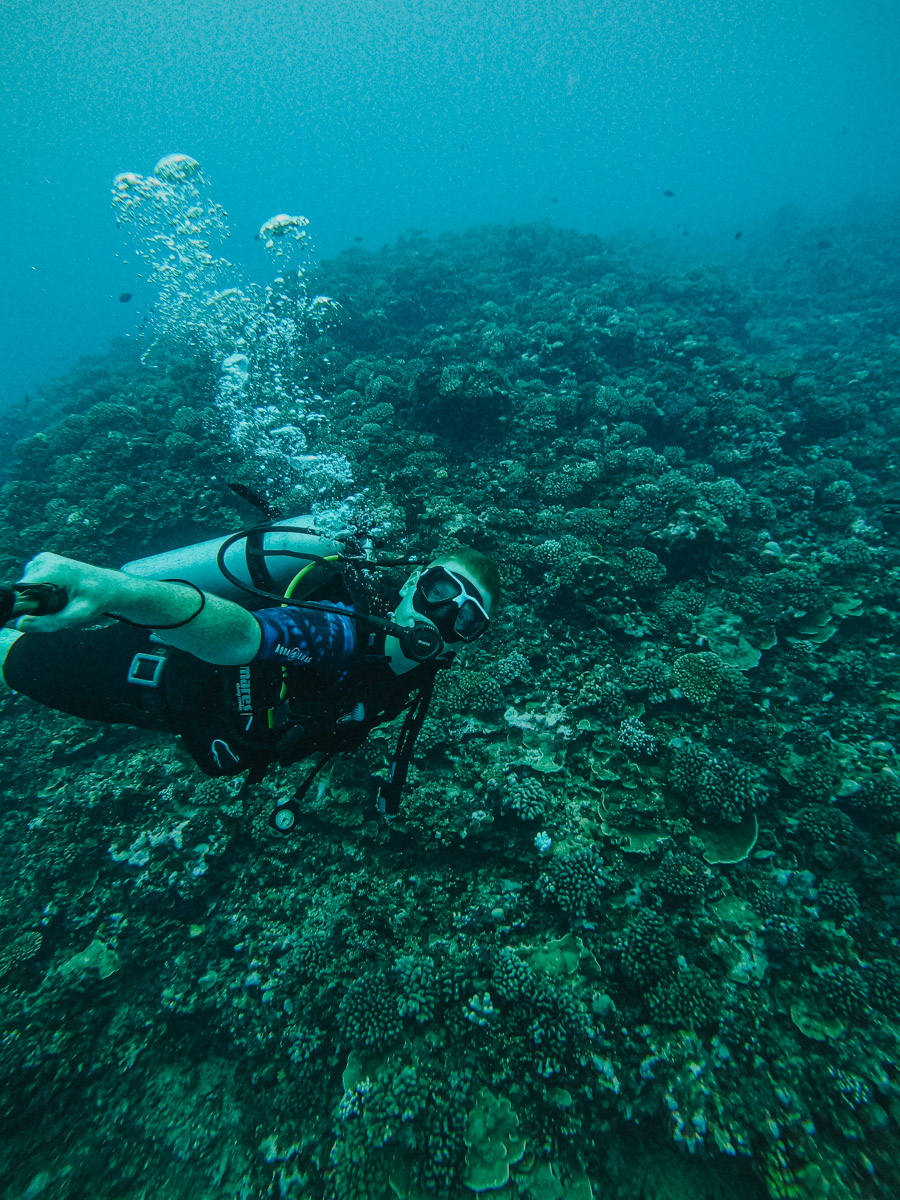 ---
7) Rent a Car & Drive Around The Island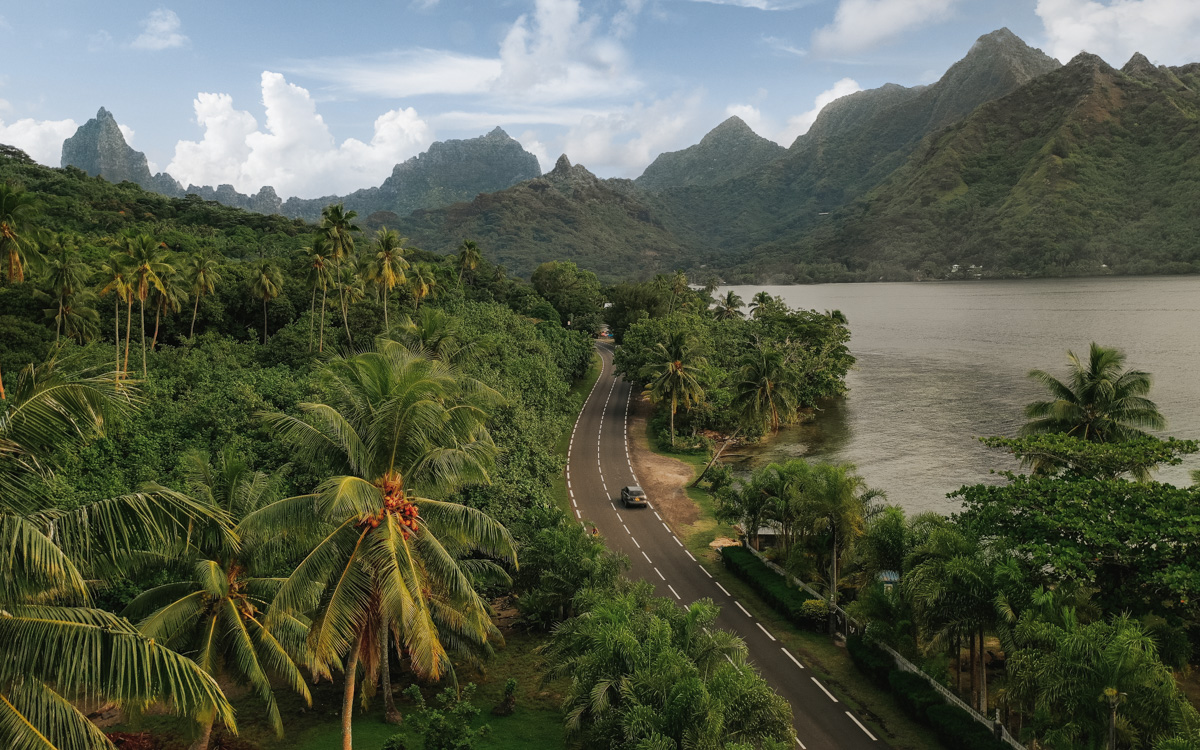 Moorea is a relatively small island, so you can drive around the entire island in about an hour (without any stops). It's a well-maintained 62 km drive around, and you'll be blessed with a bunch of gorgeous views of the beaches and island landscape.
It's a terrific way to see the island and have the freedom to visit a ton of other places on this list of things to do on Moorea.
Be sure to stop at one of the roadside fruit stalls for some delicious local fruits and refreshing fresh coconut water!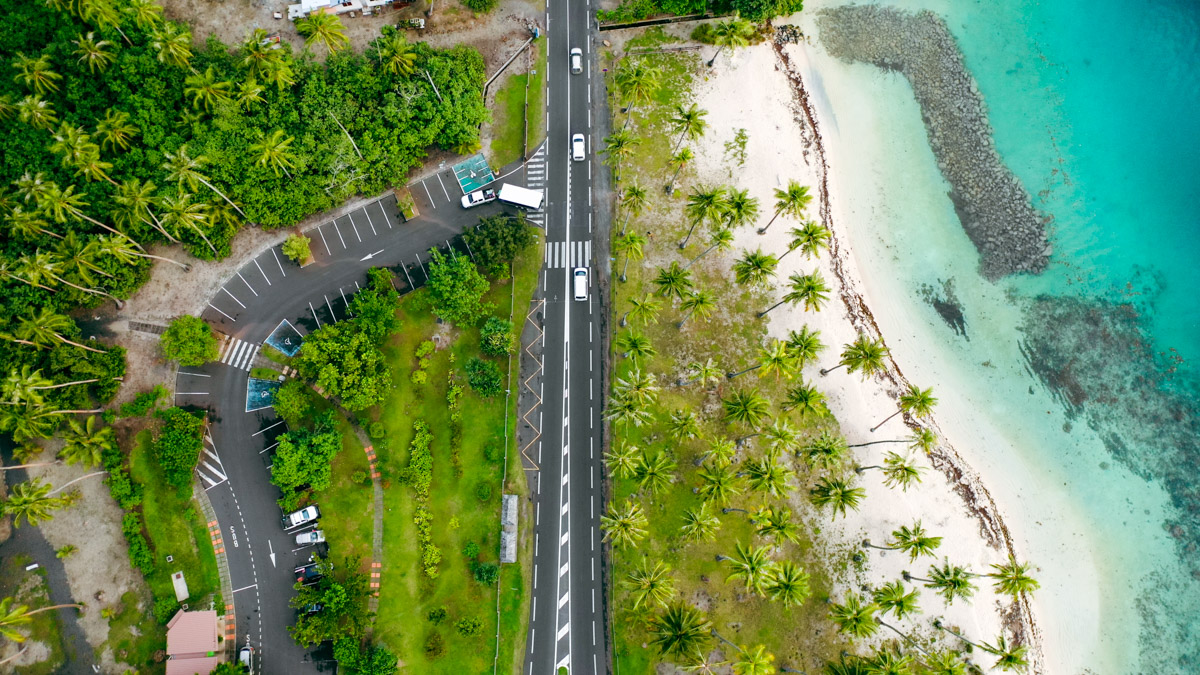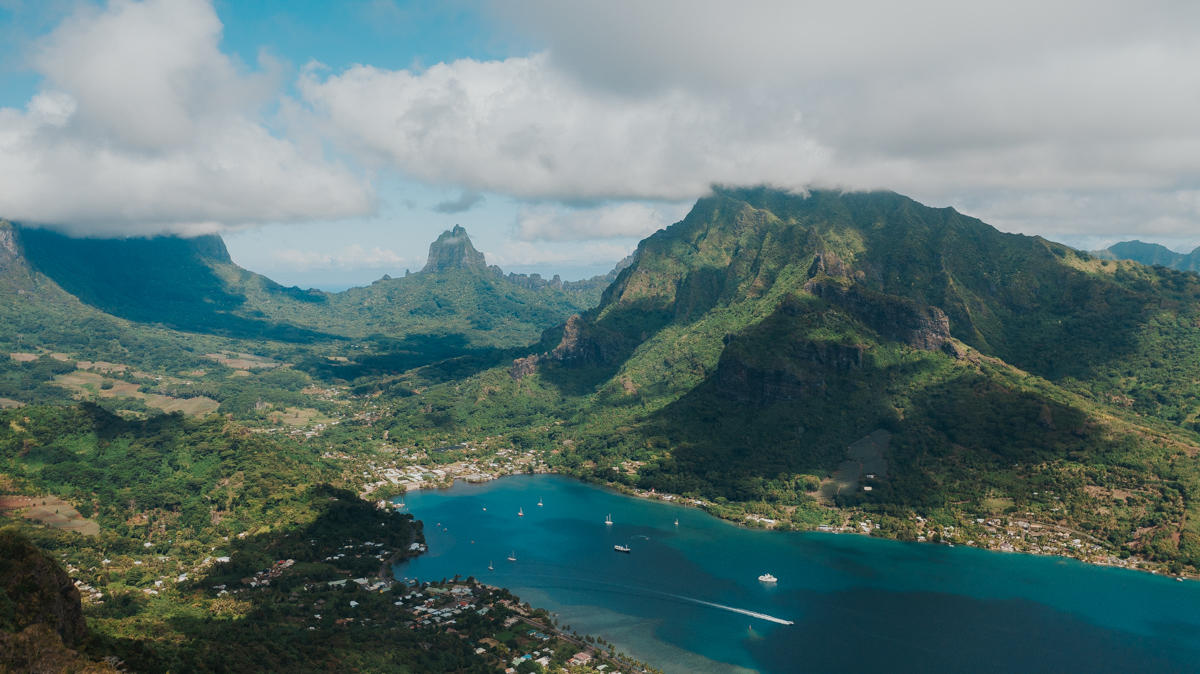 ---
8) Stay at an Overwater Bungalow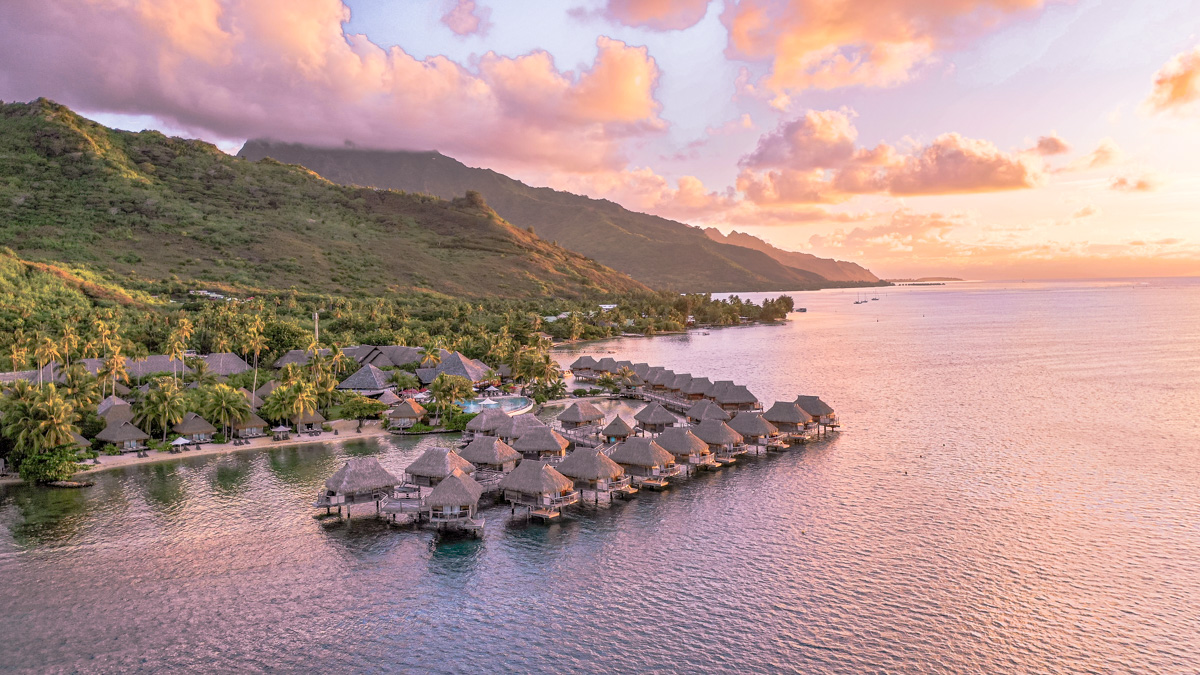 French Polynesia is famous for its iconic and luxurious overwater villas.
While most people flock to Bora Bora for this bucket-list accommodation experience, you can also do this in Moorea (often at a much cheaper price). There are three main options to choose from:
Each resort is a mini holiday on its own, with private pools, restaurants, shows, and activities within arm's reach. It is also a good idea to stay here if you can't be bothered to book your own tours and excursions for yourself. Oftentimes the resort will do everything for you — for a fee.
No matter which you choose (if it's in your budget), I'm sure you'll have an incredible stay! I didn't get the chance to stay in one during my visit, but I'm hoping to stay at the Sofitel for my next trip.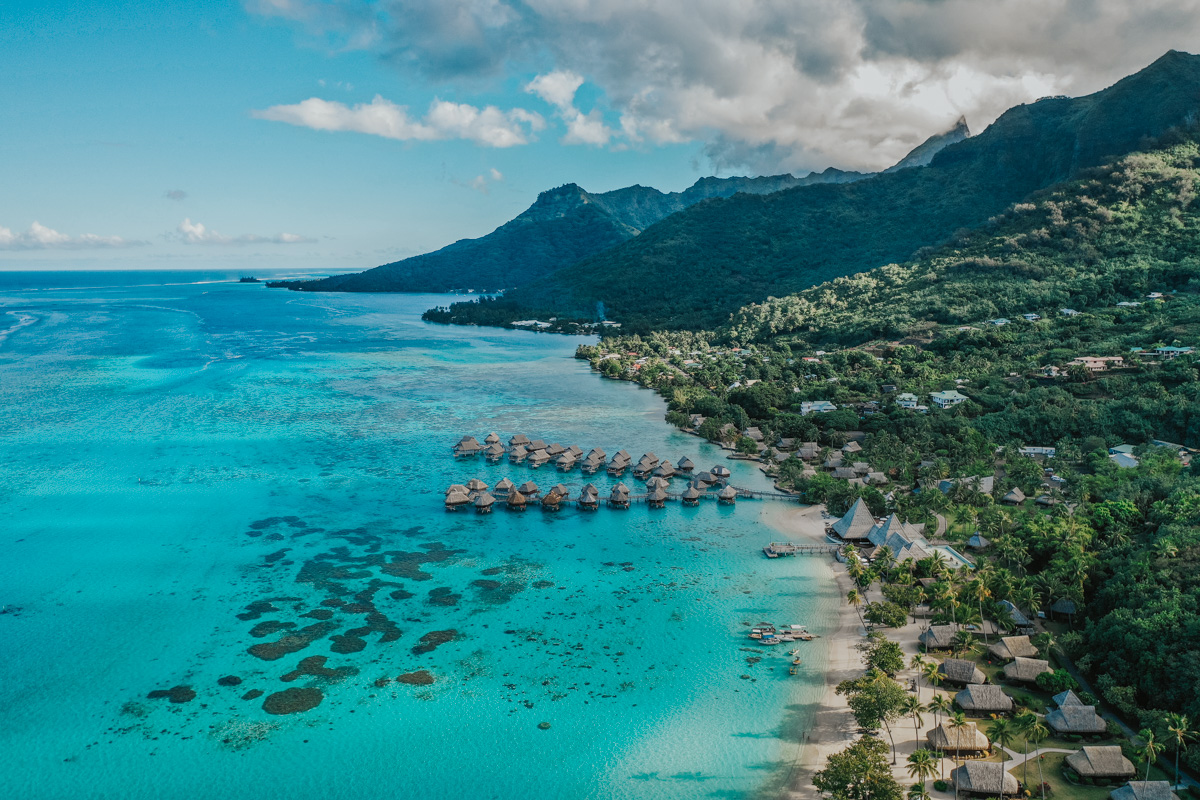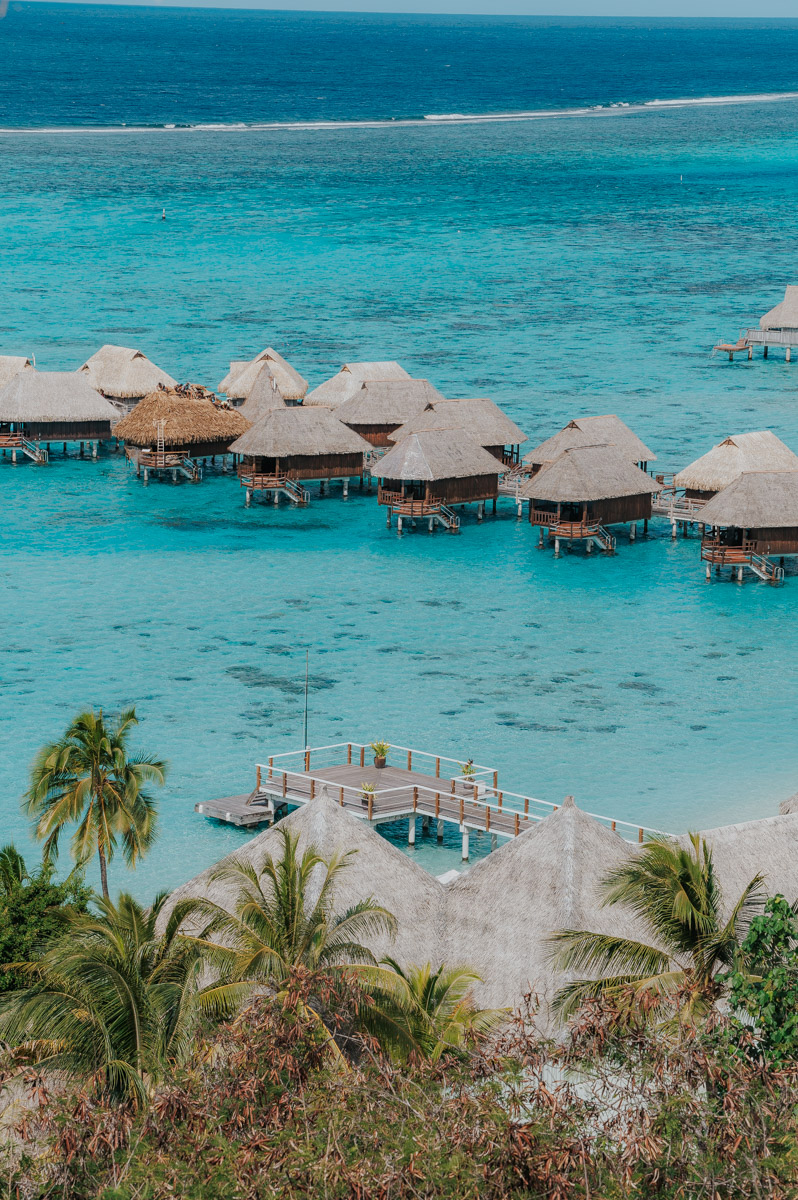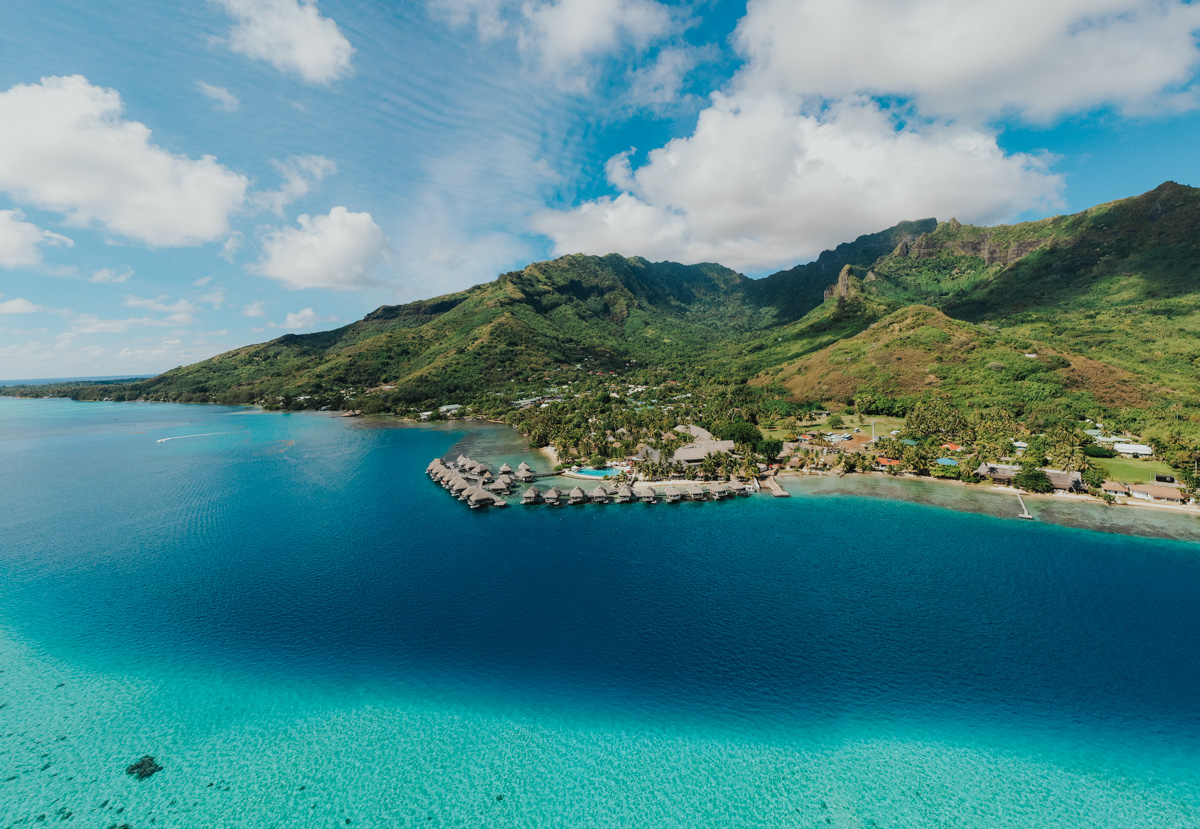 ---
9) Enjoy a Feast at Coco Beach Moorea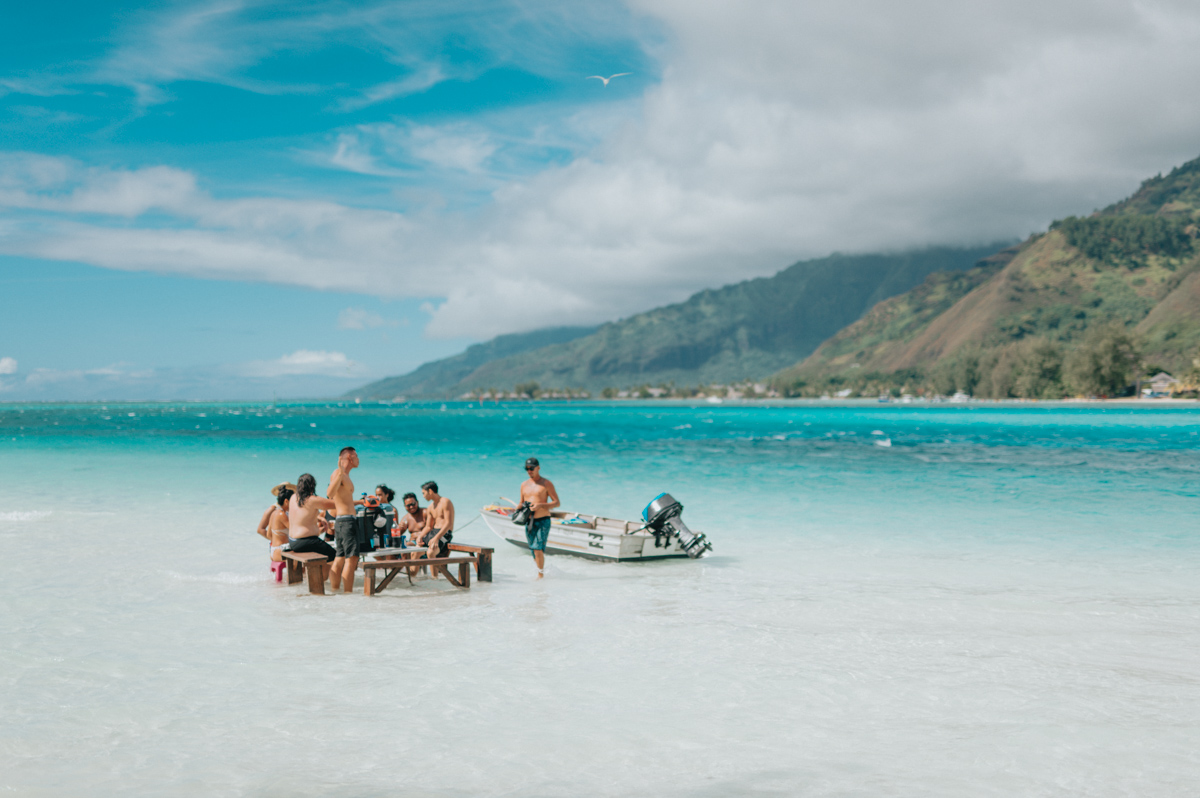 So I already touched on this restaurant above (see #1). But if you decide not to do a snorkeling day trip that includes a lunch stop at Coco Beach, you still NEED to make your way out there for a meal.
It truly is one of the best meals I've had in French Polynesia, and just visiting the island is worth it! Dishes include fresh fish tartare, salads, and foods fresh off the grill. Of course, each ingredient is fresh.
Consider coming here after a long day spent on excursions, as the bar offers great sundowner options. Not too bad for a seaside restaurant offering stunning views of Moorea and pristine turquoise waters, it's an absolute must-visit!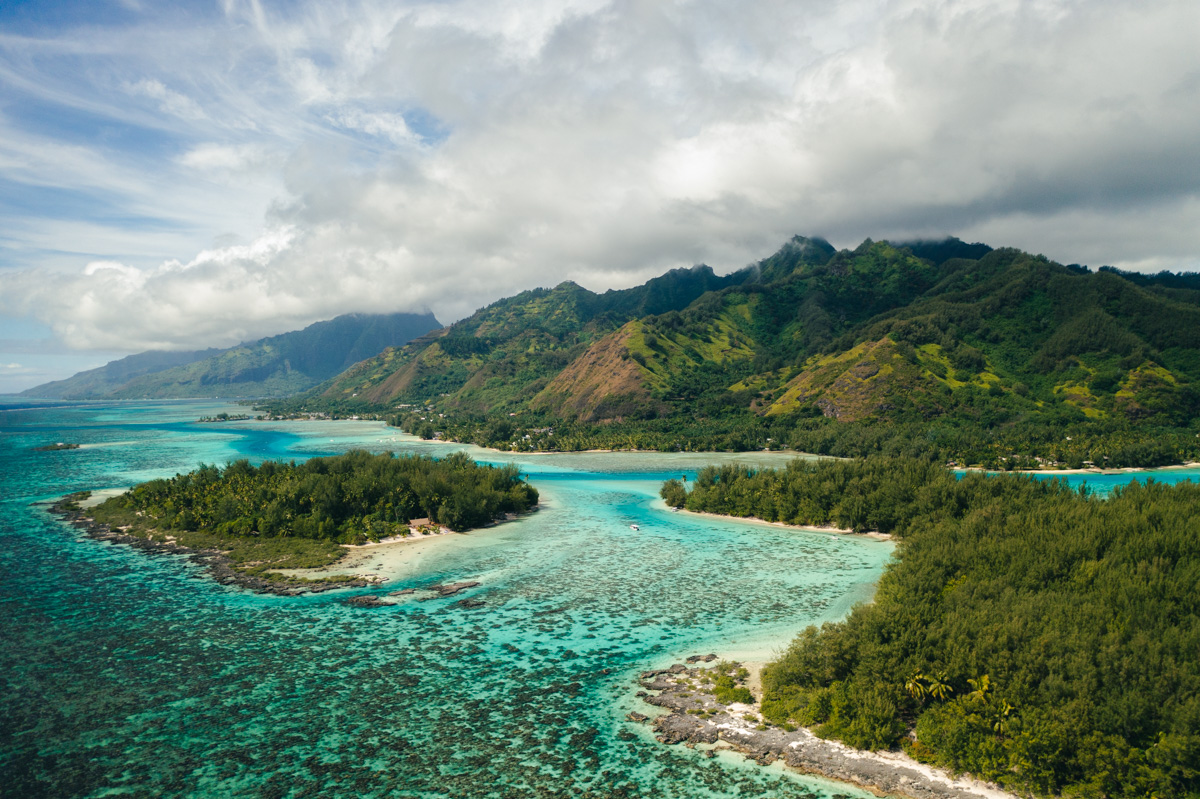 ---
10) Try Poisson Cru at Snack Mahana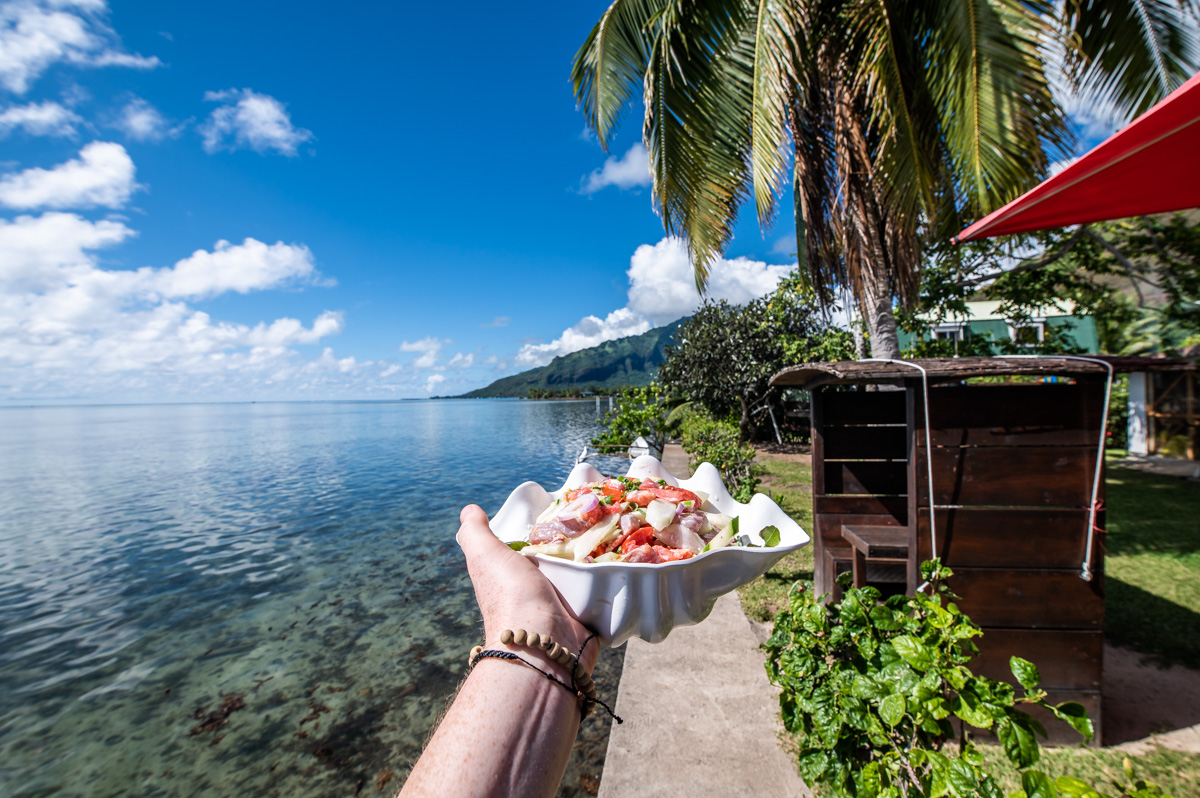 "Poisson Cru" is the national dish of French Polynesia, and you'll find it on nearly every menu you come across while traveling here. Made up of raw fish, citrus juices, raw vegetables, and coconut milk – it's a Tahitian treat that never disappoints.
I can't even begin to think about how many different times I tried this dish while exploring the Islands of Tahiti, but the Poisson Cru at Snack Mahana was easily one of my favorites.
Snack Mahana is a local favorite in Moorea, and they don't take reservations. While from the front, it looks like a modest little restaurant, once you enter, you'll see it's a pretty large ocean-front restaurant with gorgeous views. Whether you're looking for lunch or dinner, this place certainly will not disappoint.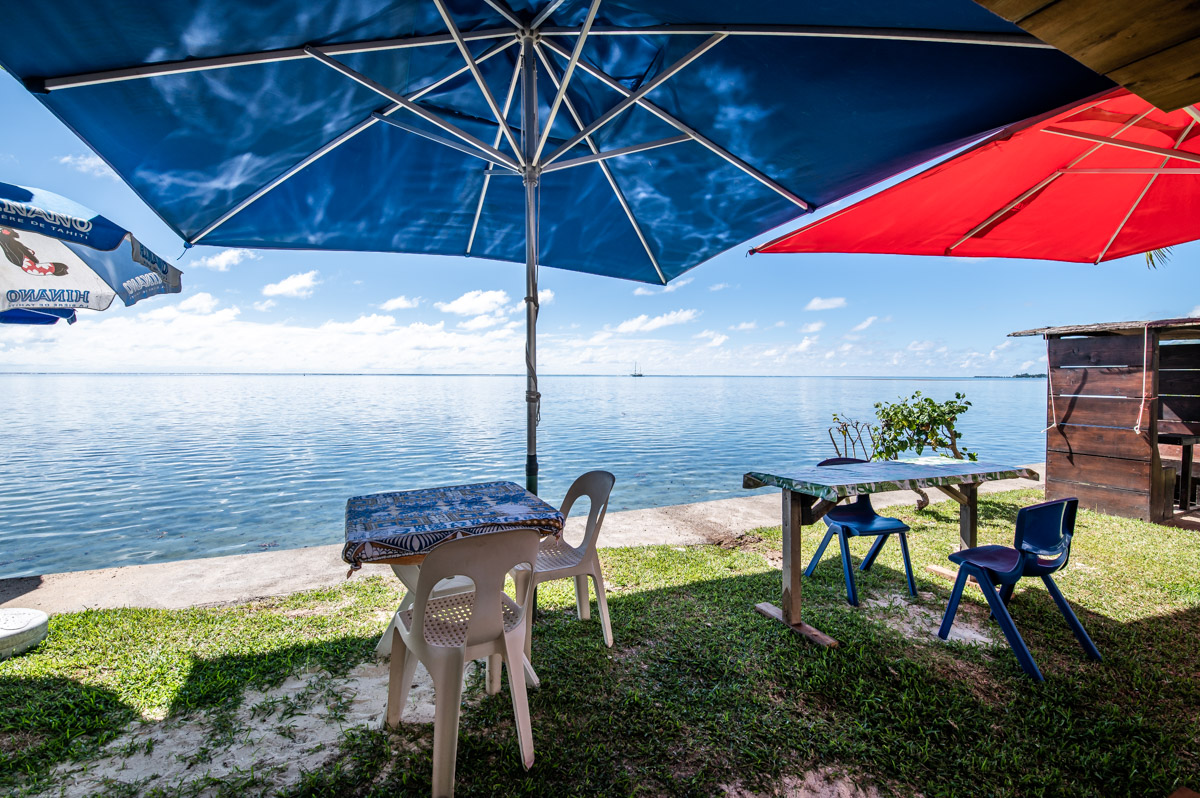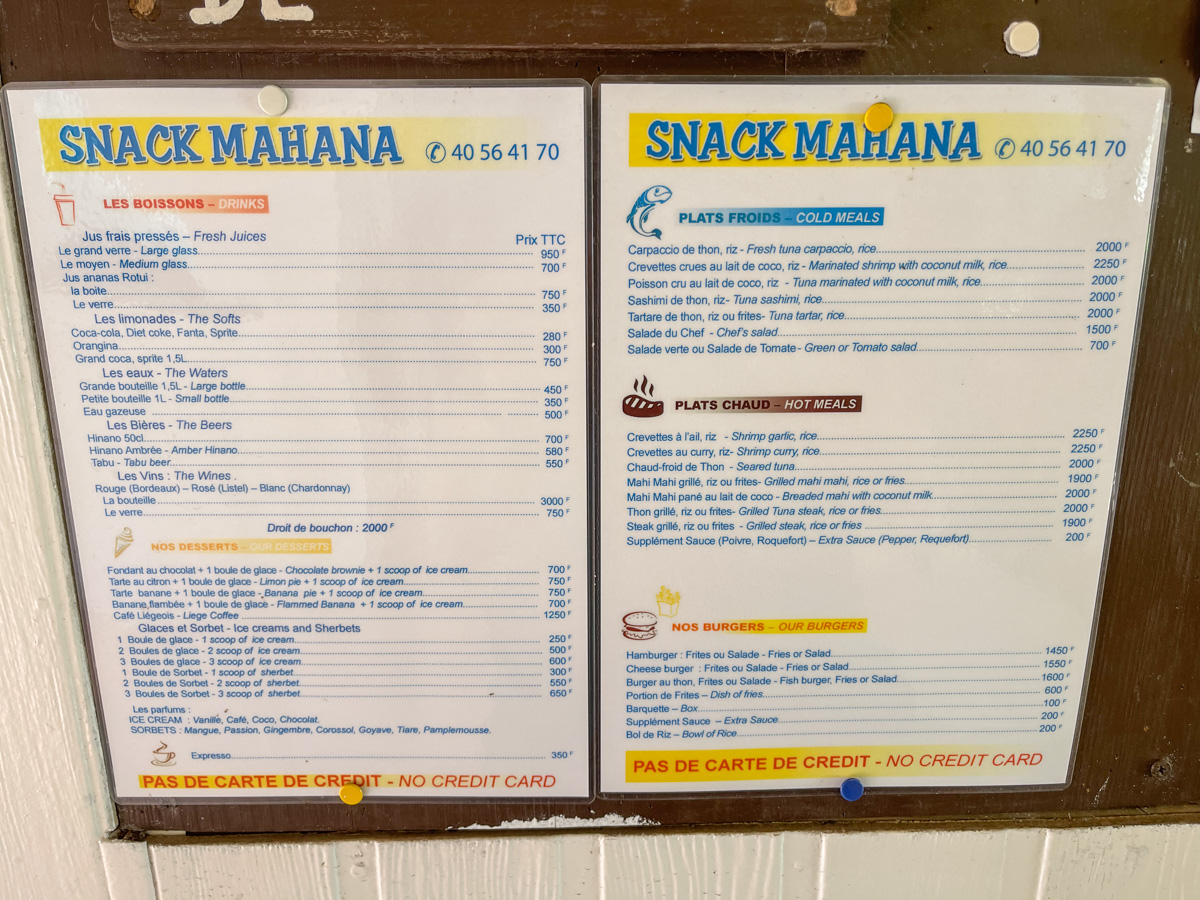 ---
11) Spend a Night in a Jungle Retreat with a Pool
If you're looking for a unique accommodation experience while in Moorea, then journey into the "jungle" and check in for a night or two at the Village Temanoha.
Founded by two French brothers who live and work on the property, this is a charming retreat perfect for adventure-seekers.
While there were a lot of mosquitos out there, taking a swim in the pool at sunset and looking out at the massive Moorea landscape through coconut trees is an experience I'll never forget. I'd only recommend this place if you have at least a week on the island, as it's quite secluded and wouldn't be too comfortable for a long stay.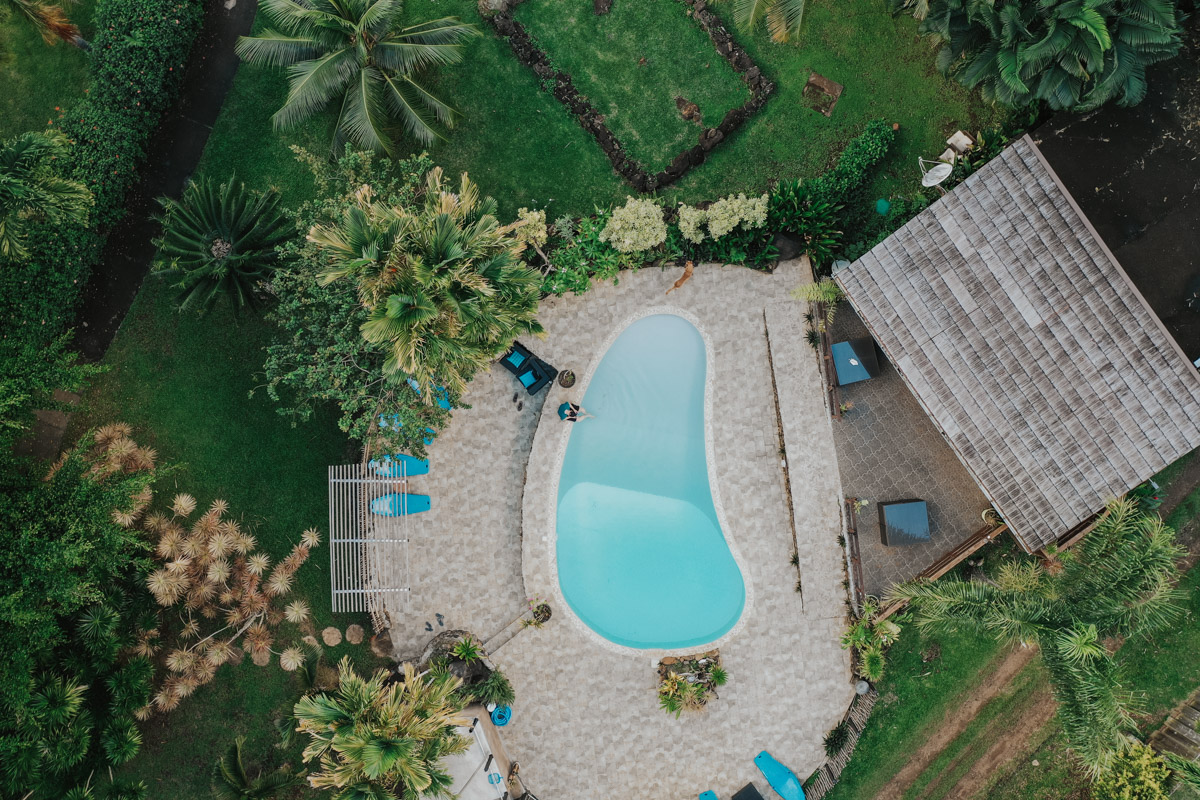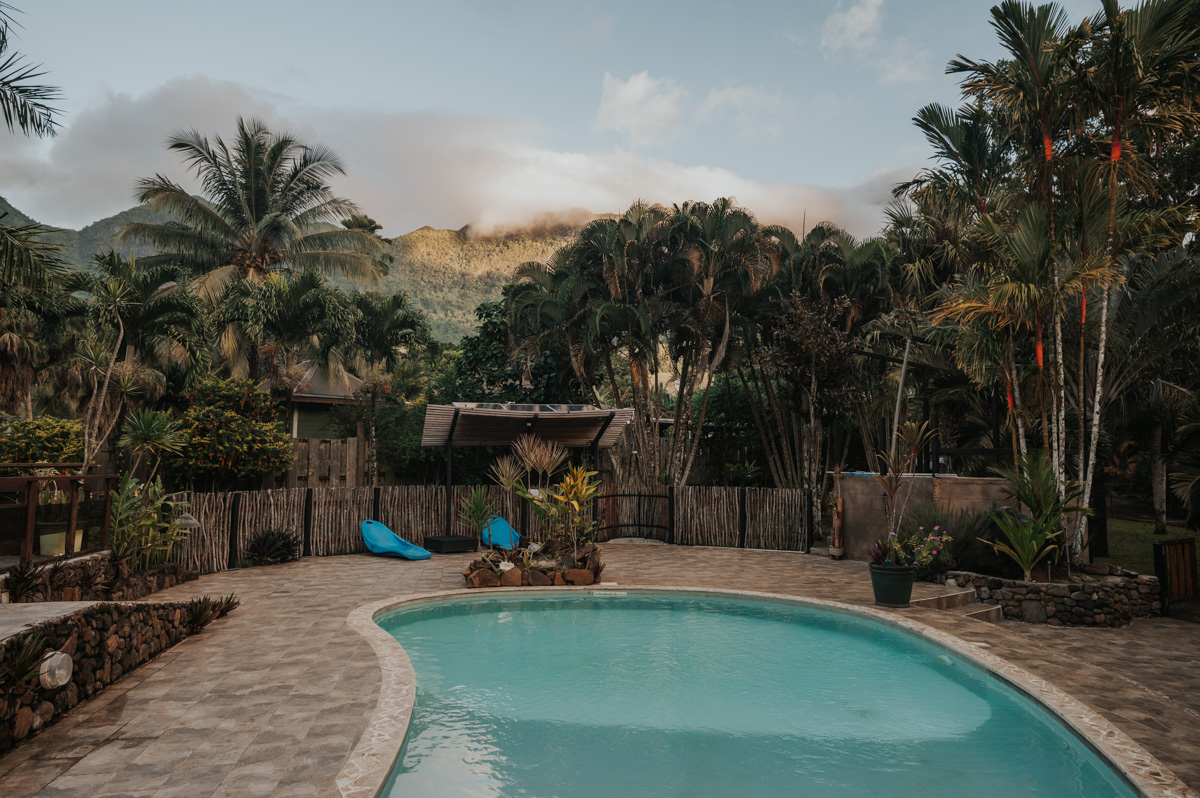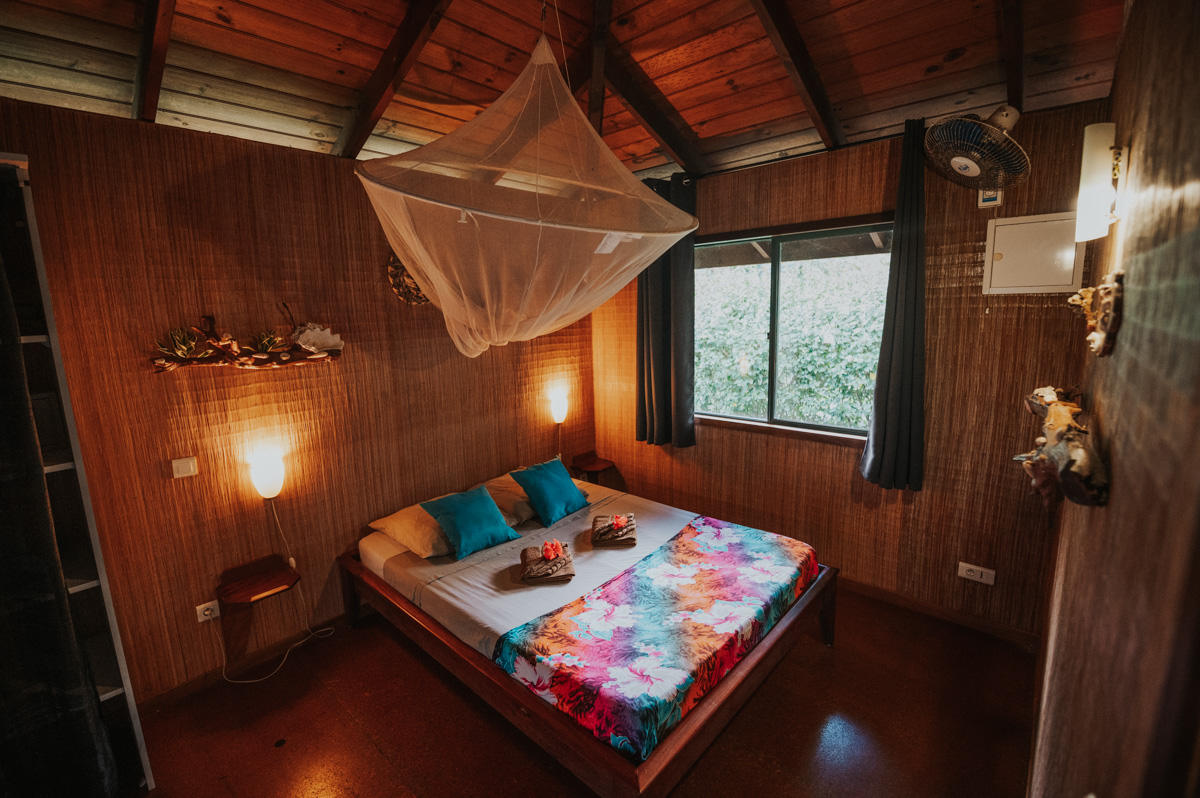 ---
12) Watch the Sunset at the Public Beach Ta'ahiamanu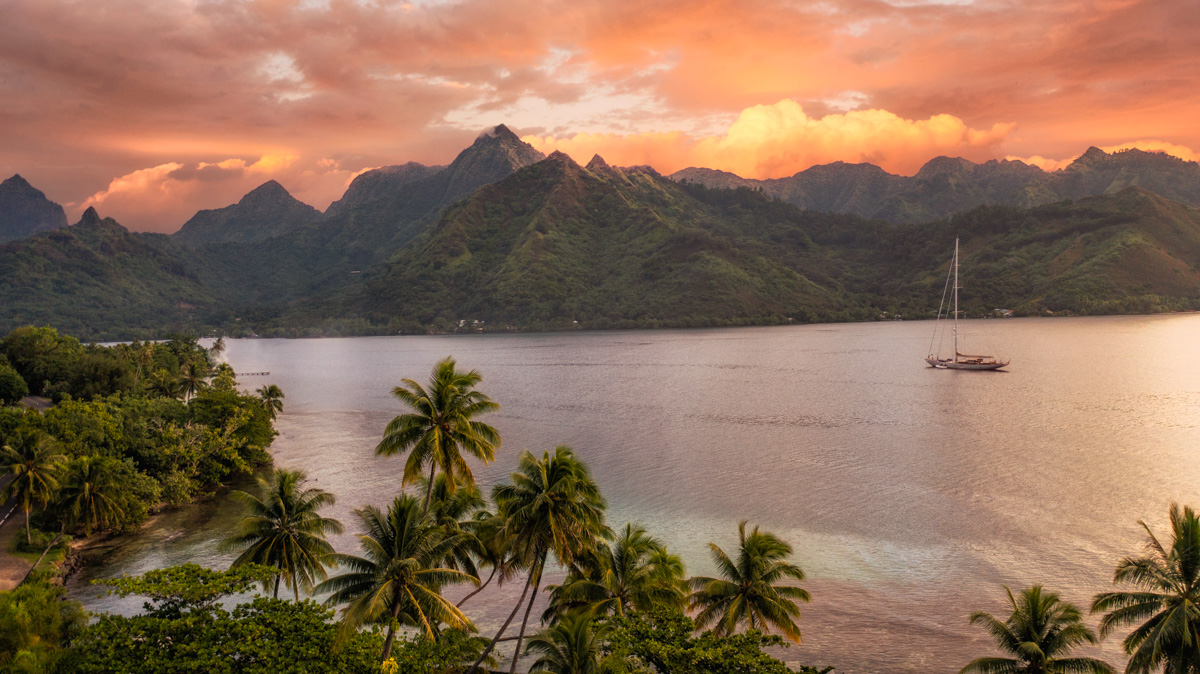 Watching the sunset in Moorea each evening is obviously a must, and there are countless solid viewpoints to choose from. One of my personal favorites to do this from, though, is at one of the most popular public beaches in Moorea, Ta'ahiamanu.
I drove past this countless times and was mesmerized by the long line of towering coconut trees looking out into Opunohu Bay. It's a favorite spot for locals to come and spend the day swimming, snorkeling, and relaxing.
It's truly stunning, and I'd recommend putting down a beach blanket, bringing along some fresh fruit and Tahitian Rum to make some cocktails, and enjoying the view of the sky changing to mesmerizing pink and orange hues.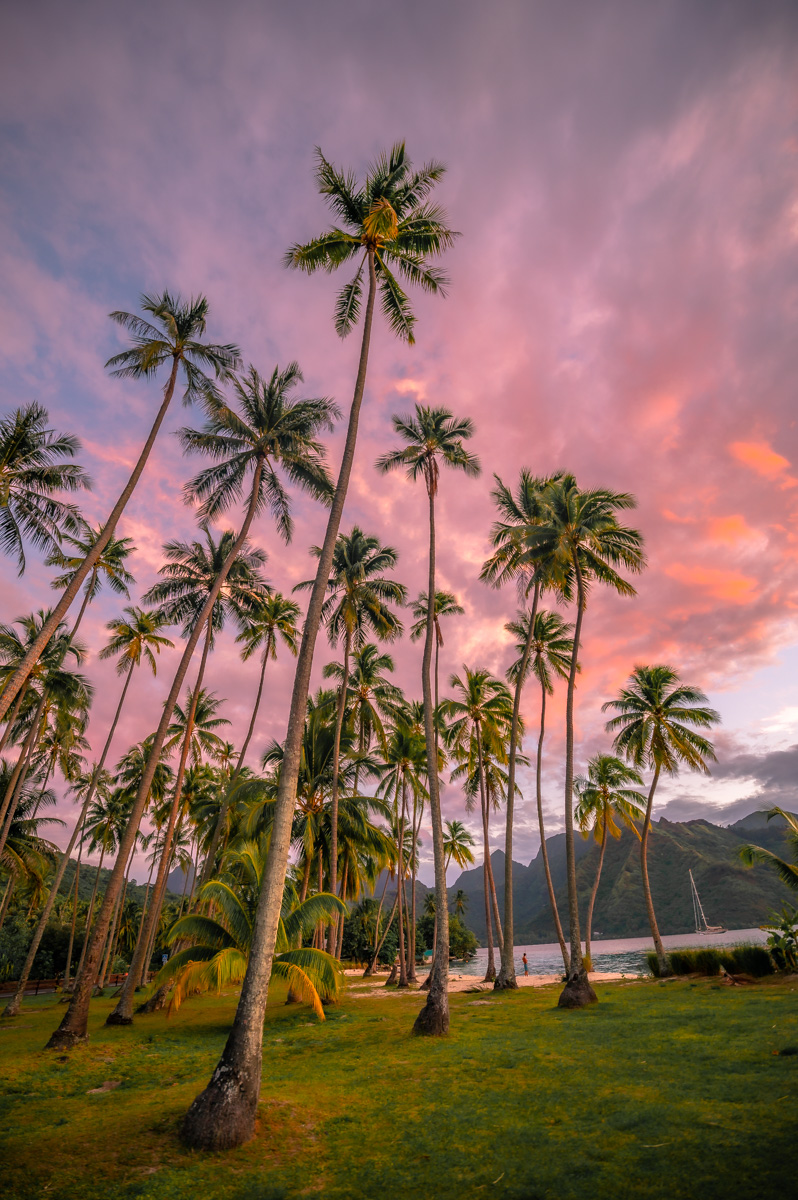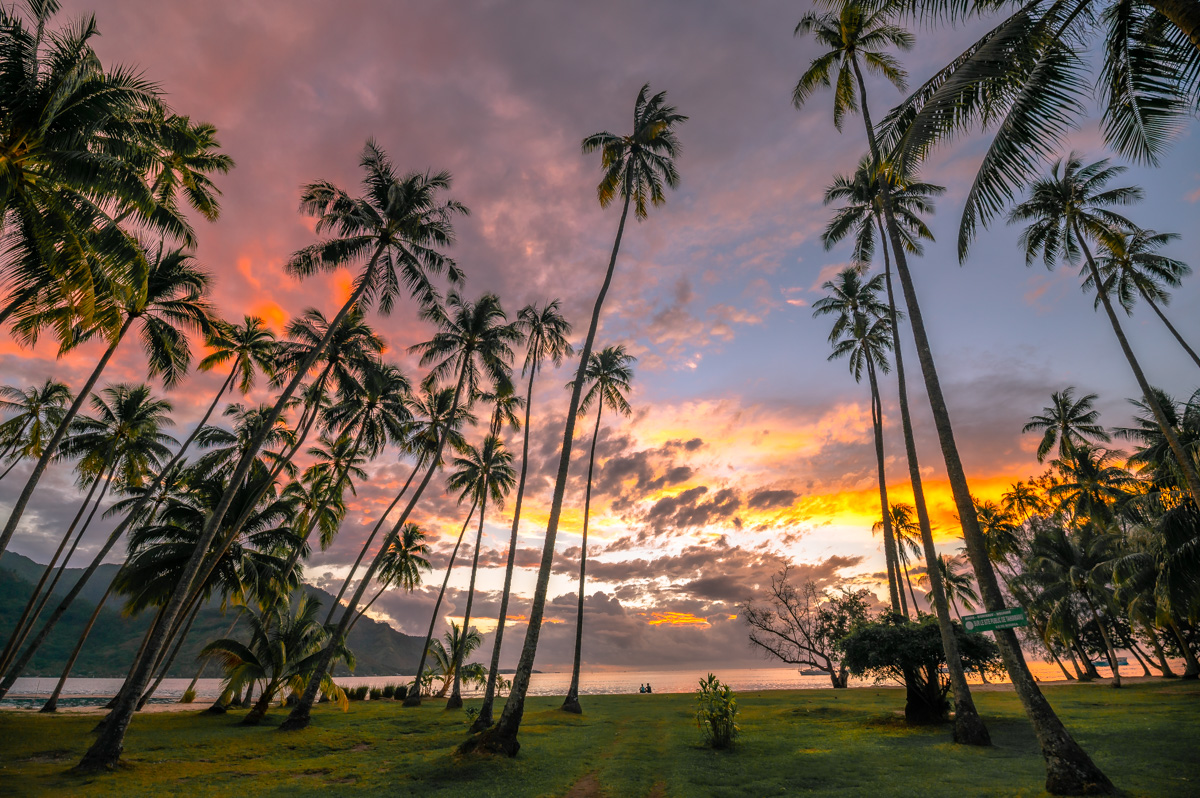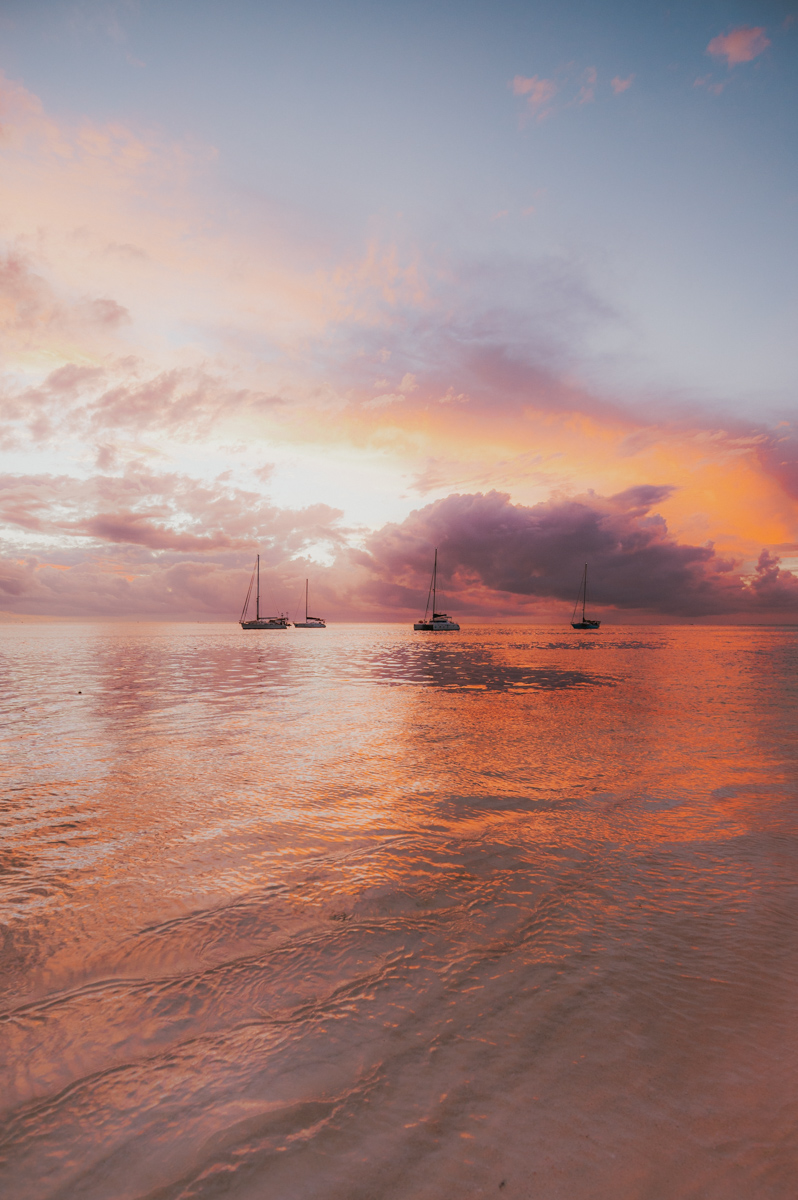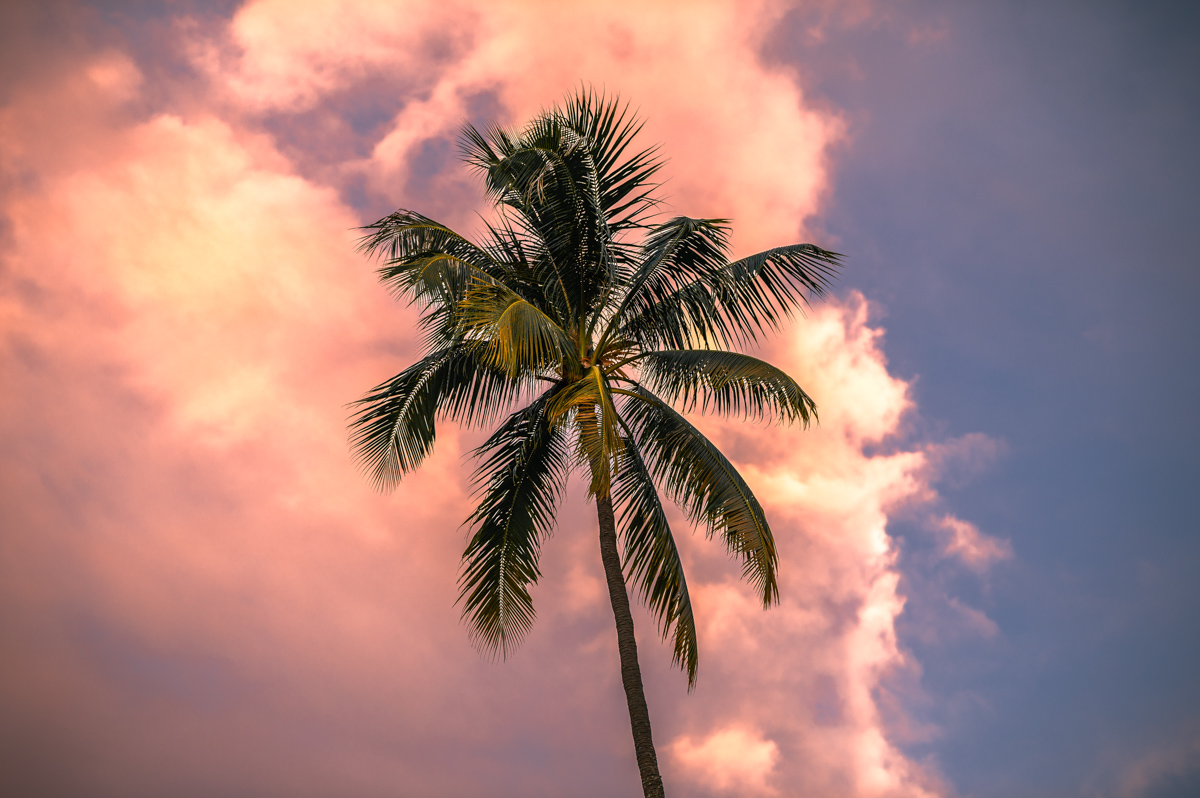 ---
13) Have Dinner at Rudy's Steak & Seafood Restaurant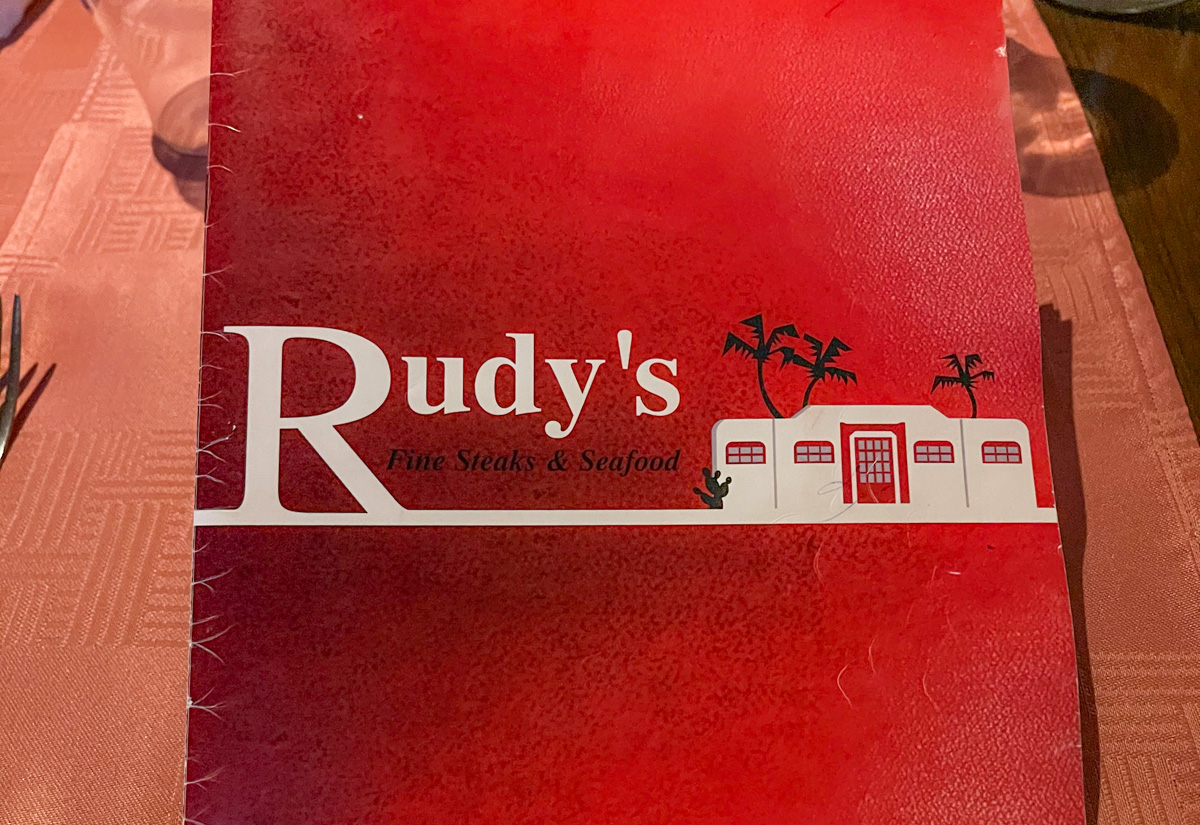 Another local favorite in Moorea, Rudy's, is the first restaurant my friend group and I went to on our first night on the island. With a superb mix of French & Tahitian cuisine and a solid list of imported French wine, this was another incredible dining experience.
Our group ended up doing a massive "family style" order of nearly everything on the menu, and it was a great way to taste as much as possible of the restaurant's top dishes.
If you make it to Rudy's – be sure to try the French Onion Soup, the Parrot Fish (if available), and the Filet Mignon!
(Also, if you're in the area and don't have a rental car, they offer a pick-up/drop-off service if it's not too busy!)


---
14) Appreciate the Views at Belvedere Lookout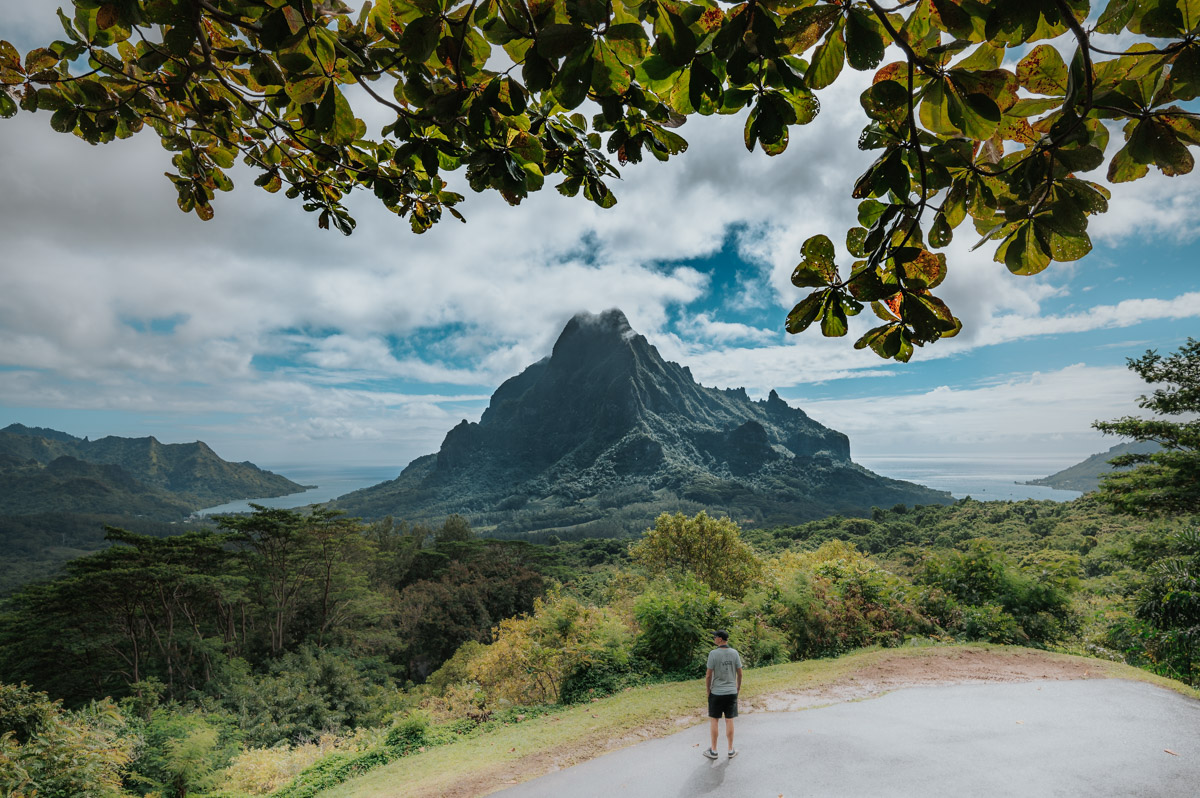 Most people visiting will book a Moorea tour that will take you to the Belvedere Lookout (like the ATV tour mentioned or a 4×4 excursion). But this is also accessible if you have a rental and want to drive up on your own.
It's probably the most popular spot in all of Moorea island and offers uninterrupted sights of Cook's Bay, Opunohu Bay, and Mt. Totui. It's also the starting point for some of Moorea's hiking trails for those who are looking to work up a sweat!


---
15) Catch the Views at Magic Mountain Lookout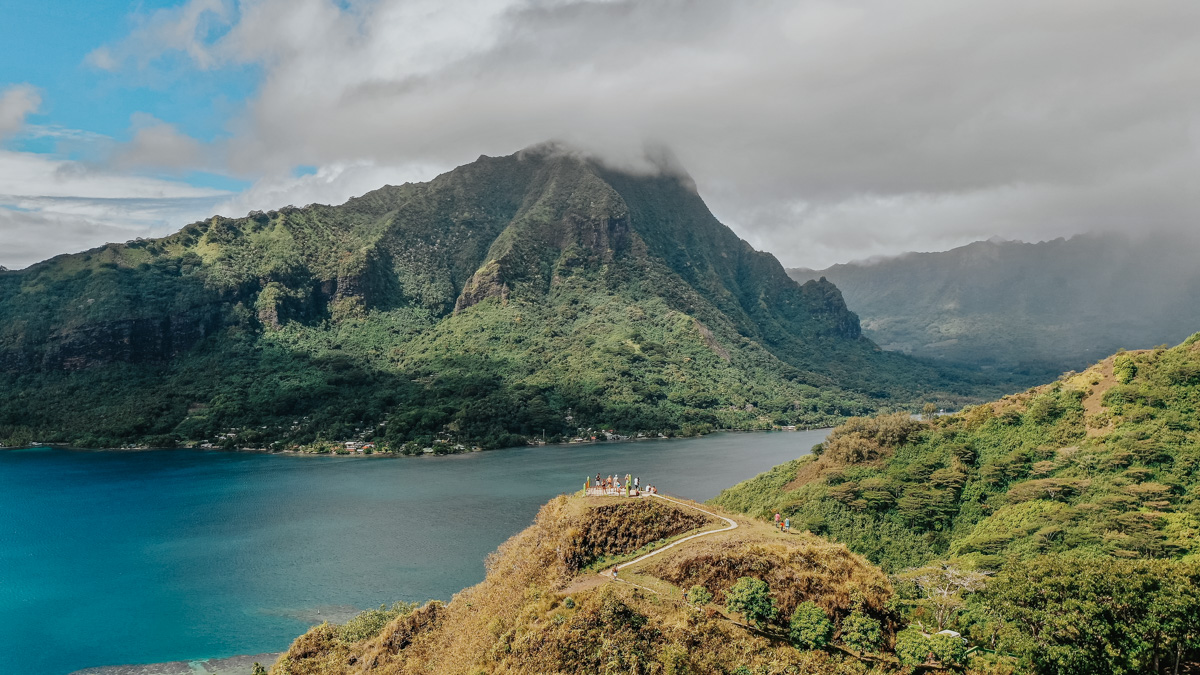 The other main viewpoint on the island, Magic Mountain, is what to do on Moorea if you're looking for a peaceful escape. It is not as easily accessible by rental car (and I'd highly recommend against driving up here yourself. This is another spot included on most excursions through companies on Moorea, but it's also widely popular to hike up to the top.
Offering incredible views of the Moorea coastline with overwater villas in the distance as well as Opunohu Bay, you need to make sure this is on your Moorea itinerary!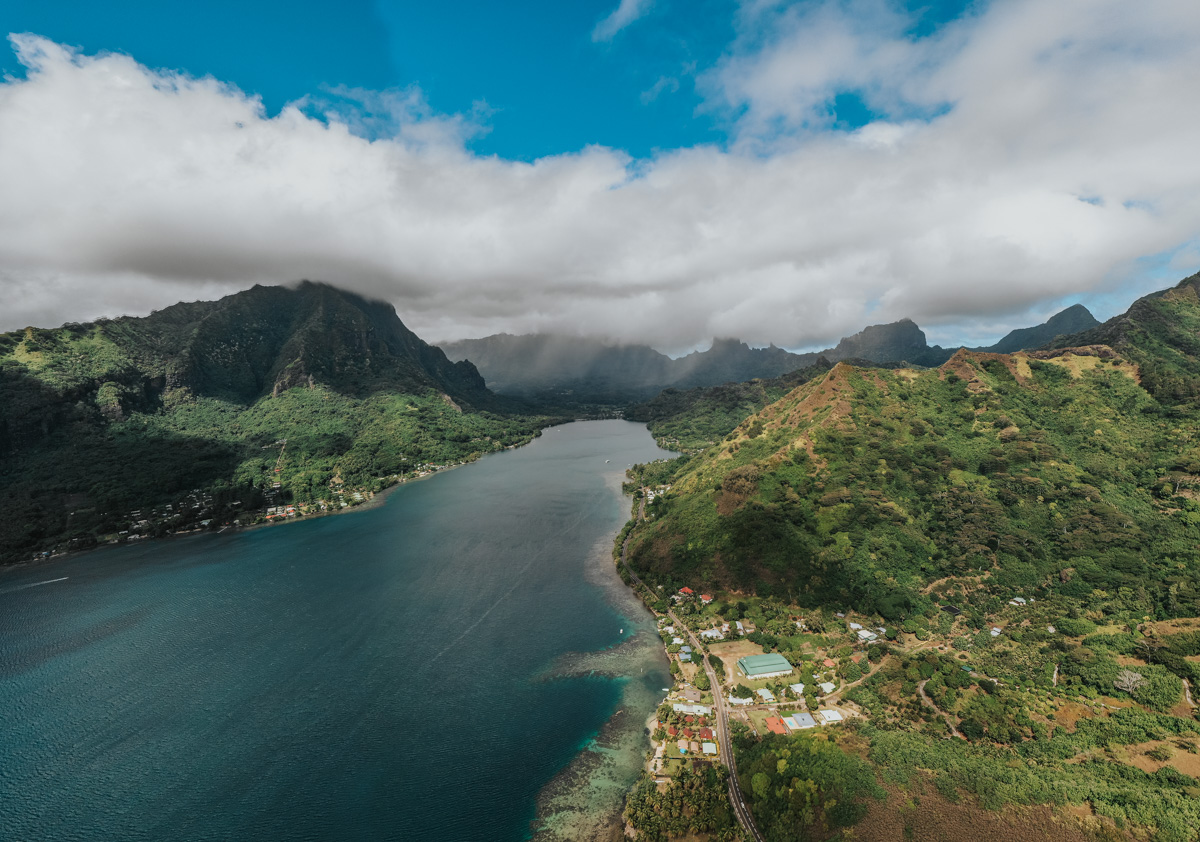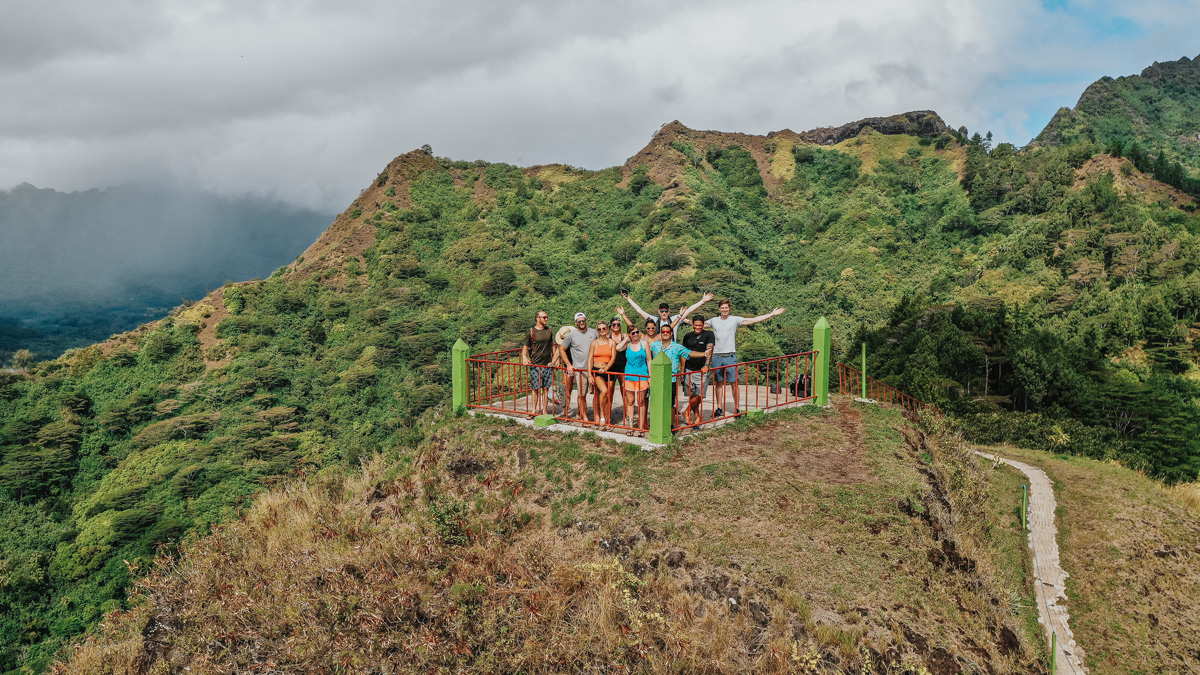 ---
16) Have Dinner & Cocktails at Moorea Beach Cafe
Another food and drink recommendation on my list would be this oceanfront establishment — Moorea Beach Cafe.
The sunny restaurant is set in a gorgeous venue in Maharepa village on a small island. It offers a delicious fusion of French, Asian, and Polynesian foods against the backdrop of the beautiful waters.
Expect to find lots of fresh fish and seafood on the menu. While there, try the grilled lobster and tuna tartare with ginger mashed potatoes. Of course, there are also some amazing cocktails and a fantastic sunset happy hour!
It is open from Monday to Sunday from 11:30 am to 9:30 pm. But try to get there between 5 pm and 6 pm for their special sunset set menu for amazing food and great views of the tropical paradise at the best time of the day.
---
17) Enjoy a Tiki Village's Polynesian Show in Moorea
During my week-long visit, unfortunately, this was one of Moorea's top tourist attractions I couldn't experience for myself. But I have heard from many people that the Tiki Village Cultural Center it's totally worth it!
This is a re-enacted Polynesian village that allows you a sneak into the past and how it influences the present. A visit to Tiki's Village will definitely give you a deeper appreciation of everything Polynesian.
You can see a 20-minute dance from Tuesday to Saturday at 1 pm on a tour. But this is only a snippet of the nightly Polynesian cultural show that comes with a buffet dinner available on Tuesdays & Fridays from 6-10 PM.
This is the actual highlight of the trip, with live music, a Pareo (sarong) tying demonstration, welcome drinks, delicious traditional food, and of course, a fire dance. Reservations are required in advance!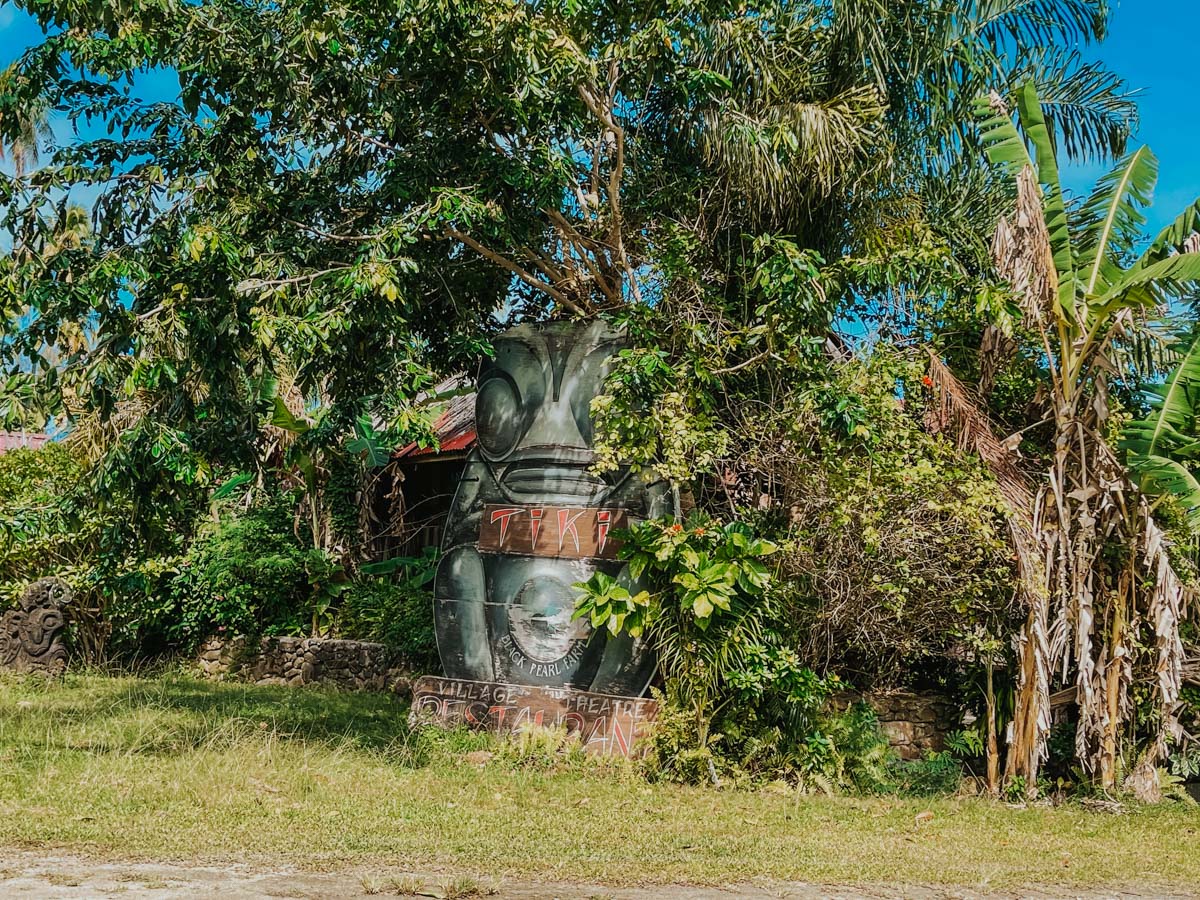 ---
18) Buy Souvenir Tahitian Pearls
It's no surprise that some of the most beautiful islands of Tahiti are known worldwide for marvelous and unique black pearls found in their remote lagoons. After South Sea pearls, Tahitian pearls are the most valuable commercial pearls in the world.
So, among the top things to do in Moorea should be to buy a few of these high-value jewels from local shops. They look a bit different than the white pearls you may be used to. Instead, it has a silver, blue, and green hue with an irregular shape.
Even though they may be a bit pricey, you're bound to save money buying them here than from outside of the island. Thankfully, you'll notice dozens of different pearl stores all around Moorea.
I'd recommend walking into a few, discussing the Tahitian pearls with the staff, and potentially bringing one of the magical gems home as a souvenir.
---
19) Skydive over Moorea
Have you ever been skydiving before? Well, if you haven't tried it out yet, or want to give it another go – I can imagine fewer places in the world as more scenic to skydive over than Moorea Island.
While it may also be one of the most expensive places to get this bucket-list adrenaline rush, it's a memory that will never be forgotten. The skydive should take between two to three hours to complete but gives you amazing views of the surrounding mountains, coral reefs, and the natural habitat you may have missed on land.
Contact Skydive Tahiti for questions, bookings, and availability. The offer jumps on Tuesdays, Thursdays, Saturdays, and Sundays.
Tahiti Parachutisme Skydive Tahiti Demo video MOOREA Tandem Skydive
---
20) Swim with Whales
One of the most popular times of the year to visit French Polynesia is between August to October. Why? Because this is the time that humpback whales migrate, making it the best time to visit for whale watching.
This also makes it one of the few places in the world where you can experience the wondrous and bucket-list activity of swimming with whales! And, while I didn't get the chance since I visited in June, I'm already planning a return trip in 2022 for this exact reason! Humpback whales
"Whale watching is a regulated activity in The Islands of Tahiti, and the territory authorizes professionals who specialize in these types of excursions. Always book your boat tour with an accredited tour guide who follows certain rules, such as maintaining a safe distance, letting the whales approach you, and never chasing or blocking their path. Swimming with these majestic creatures is a great privilege for visitors who often leave feeling somewhat transformed by the experience.
French Polynesia was classified as an Exclusive Economic Zone (EEZ), a wildlife sanctuary where, among other things, drift fishing is prohibited, earning French Polynesia top honors from the World Wildlife Fund (WWF)."
---
21) Find Out If Pineapple Belongs On Pizza At Allo Pizza
If you're looking for the best pizza on Moorea, go to Allo Pizza. Or call them at +689 40 56 18 22 for delivery to your hotel or accommodation.
They've got a wide variety of pizzas ranging from the traditional and white cream sauce to chef specialties. But, for me, everything I tried from them was spectacular. They even have a few vegan options!
While I know the internet is divided on the subject, I'm personally a big fan of Hawaiian Pizza. And since Moorea is known for its fresh fruit and pineapples, if you're on team "pineapple belongs on pizza", it will hit the spot!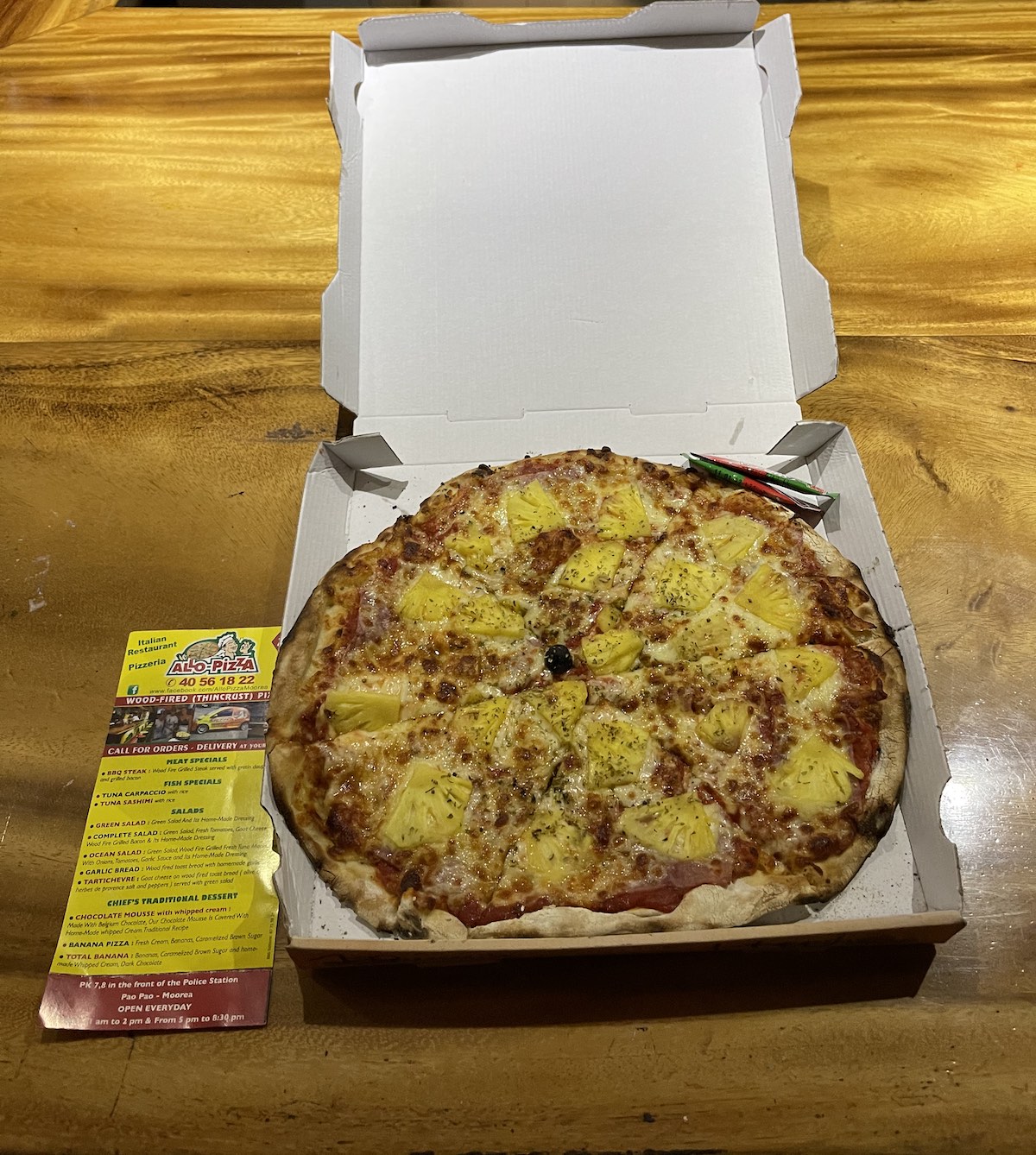 ---
22) Visit the Toatea View Point
Offering a stunning view of Sofitel's overwater bungalows, this is a magnificent public beach lined with coconut trees and Tahiti in the distance.
It's about a 30-minute dive from the island center and just off the shore of Temae Beach. The viewpoint gives you amazing looks at the island's beautiful beaches and rich marine life. Why not pack a picnic to prolong your time staring at the view a bit?
While there isn't much to do here, it is a quick stop that you need to see while on Moorea and a perfect photo opportunity.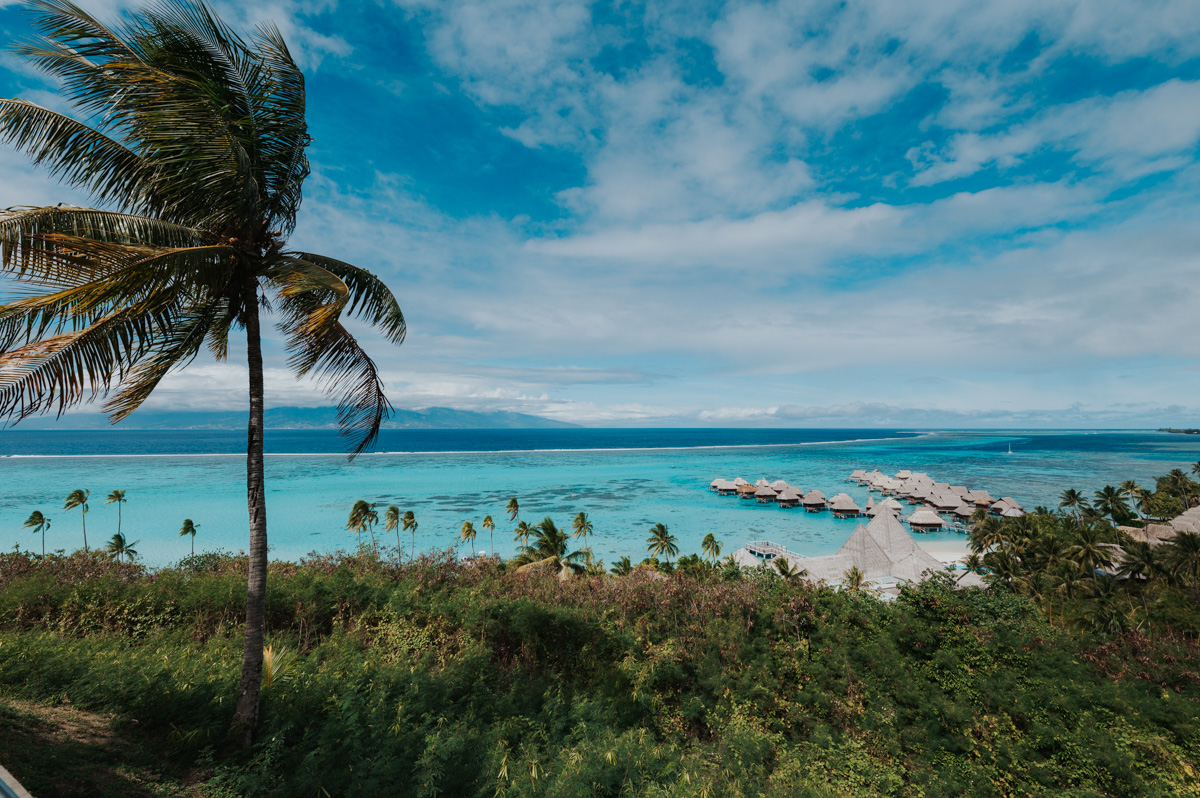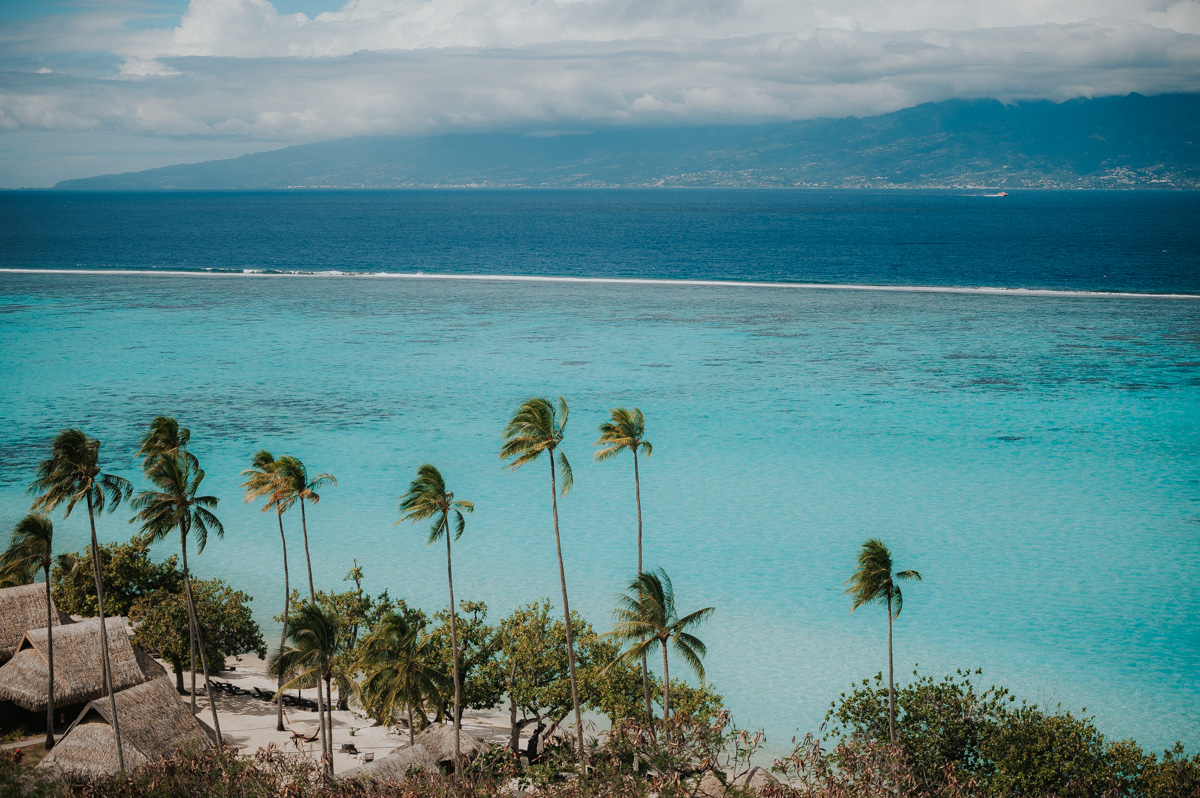 ---
23) Go Hiking & Swim at the Afareaitu Waterfall Plunge Pool
During my visit to Moorea, I didn't have much spare time to embark on any of the island's epic trails. But active travelers looking to get some exercise will definitely have tons of options to choose from.
If this sounds like something you'll want to do, check out this guide on Hiking in Tahiti & Moorea for more info on popular trails like Three Coconuts Pass, Three Pines Pass, and Afareaitu Waterfall.
Afareaitu Waterfall, also known as the "Putoa Falls", near Afareaitu village in particular, is worth a visit. It should only take you about 49 minutes to finish the trial, but all along the route, you will see the lushest vegetation. You also don't have to reach the end of the trail to see the waterfall, but if you want to take a dip in the plunge pool of the waterfall, it's totally worth the steep walk.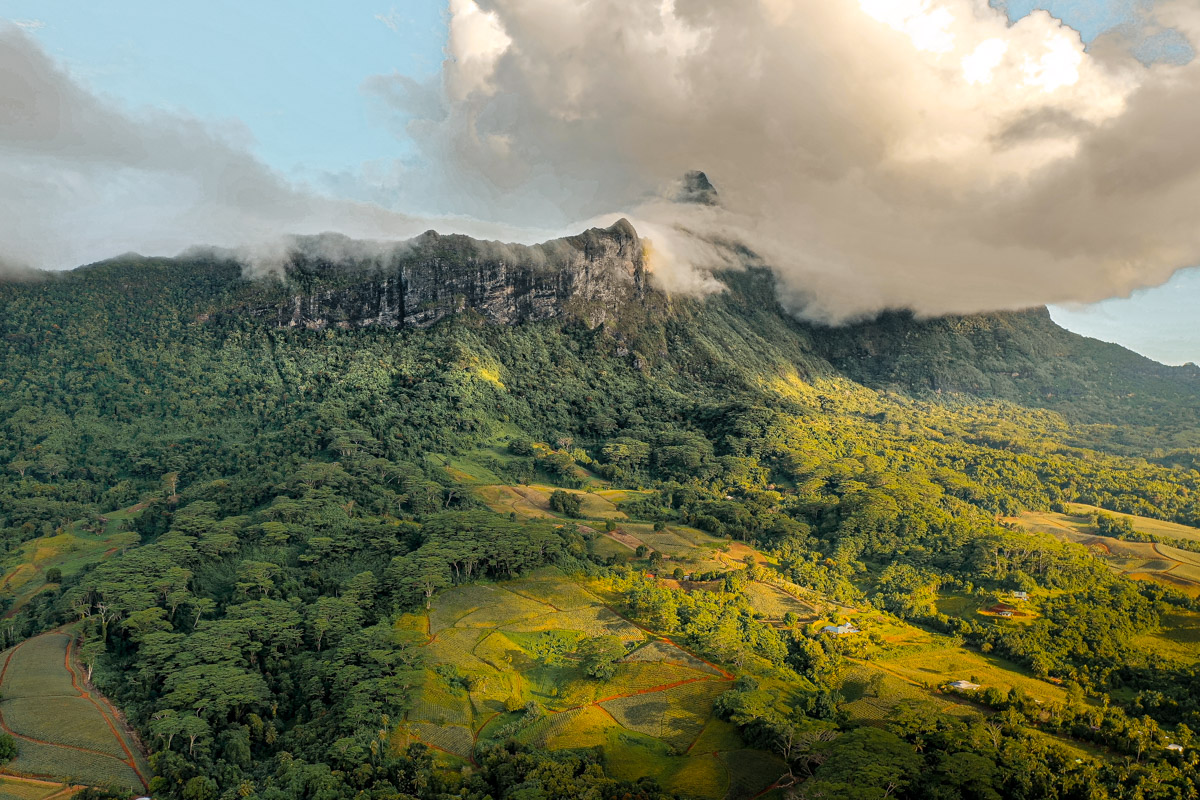 ---
24) Take an Exciting Jet Ski Tour
There's a popular meme that went around a year ago that said, "money doesn't buy happiness, but it does buy jet skis, and have you ever seen someone sad on a jet ski?"
Jet Ski tours are quite popular in French Polynesia (mainly in Moorea & Bora Bora). So this would be yet another amazing option to explore the coastline, as well as get up close and personal with marine life.
On this two-hour jet ski excursion, you'll visit the same lagoon as the previously mentioned snorkeling trip and get to swim with the blacktip sharks and stingrays. Your local tour guide will also be on the lookout for pods of dolphins!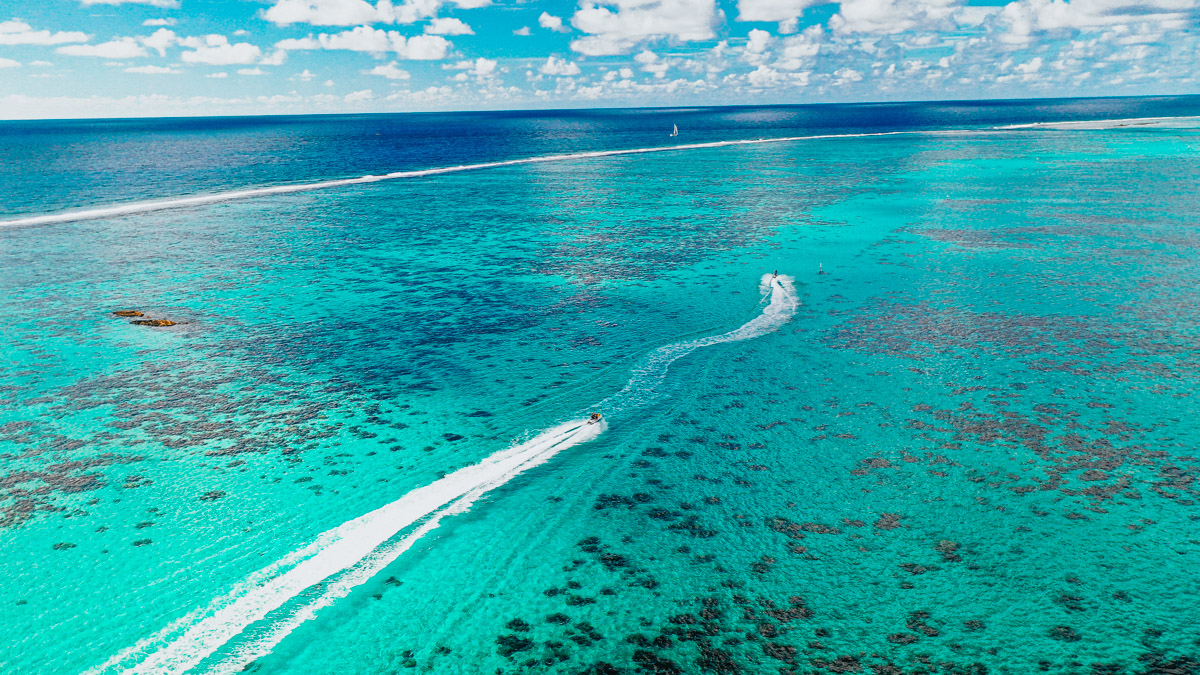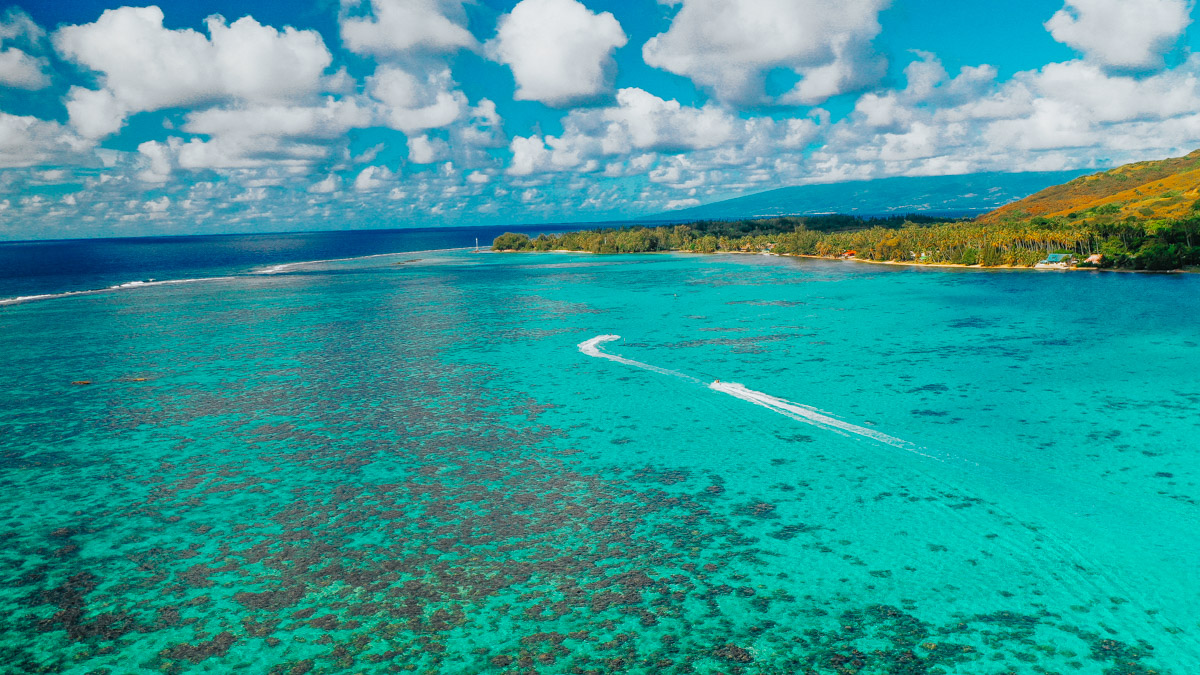 ---
25) Learn About Sea Turtles at Te Mana O Te Moana
"Founded in 2004, the association Te mana o te moana acts for the protection of the Polynesian marine environment and more specifically sea turtles through actions of discovery, education and protection."
Te mana o te moana translates to The Spirit of the Ocean, which greatly encapsulates what the center is trying to preserve. It's a family-friendly and educational activity that is perfect for marine lovers of all ages.
The center focuses on protecting the area's rich marine life, rehabilitating injured sea turtles, and educating the people around them on the delicate sea life.
Here, you can take a 1.5-hour guided tour of the Sea Turtle care center. The tour goes over the foundation's facilities while teaching you all about sea turtles and the Polynesian marine environment.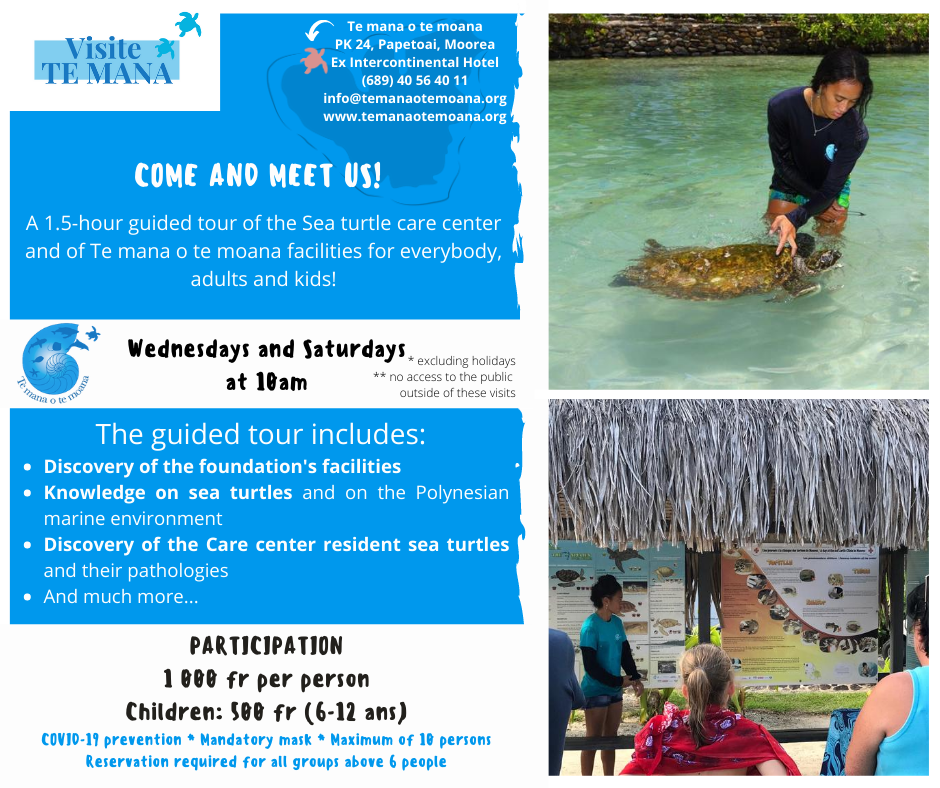 ---
26) Try a Poke Bowl at the Pura Vida Food Truck
If you're looking for a quick bite to eat while exploring the island, go find the Pura Vida Food Truck in Cook's Bay!
This white food truck shouldn't be too difficult to spot as it almost always has people standing in front, eager to buy a bite. The food truck serves up mouth-watering poke bowls, fish tacos, burgers, and lots more.
You can rest assured that these ingredients are fresh, from the seafood to the greens served along the dishes. It's yet another food recommendation that you will absolutely love. Not only that, but it's more budget-friendly than the more expensive eateries on the island.
They're open daily from 10.30 am until about 2 pm, so plan your day accordingly.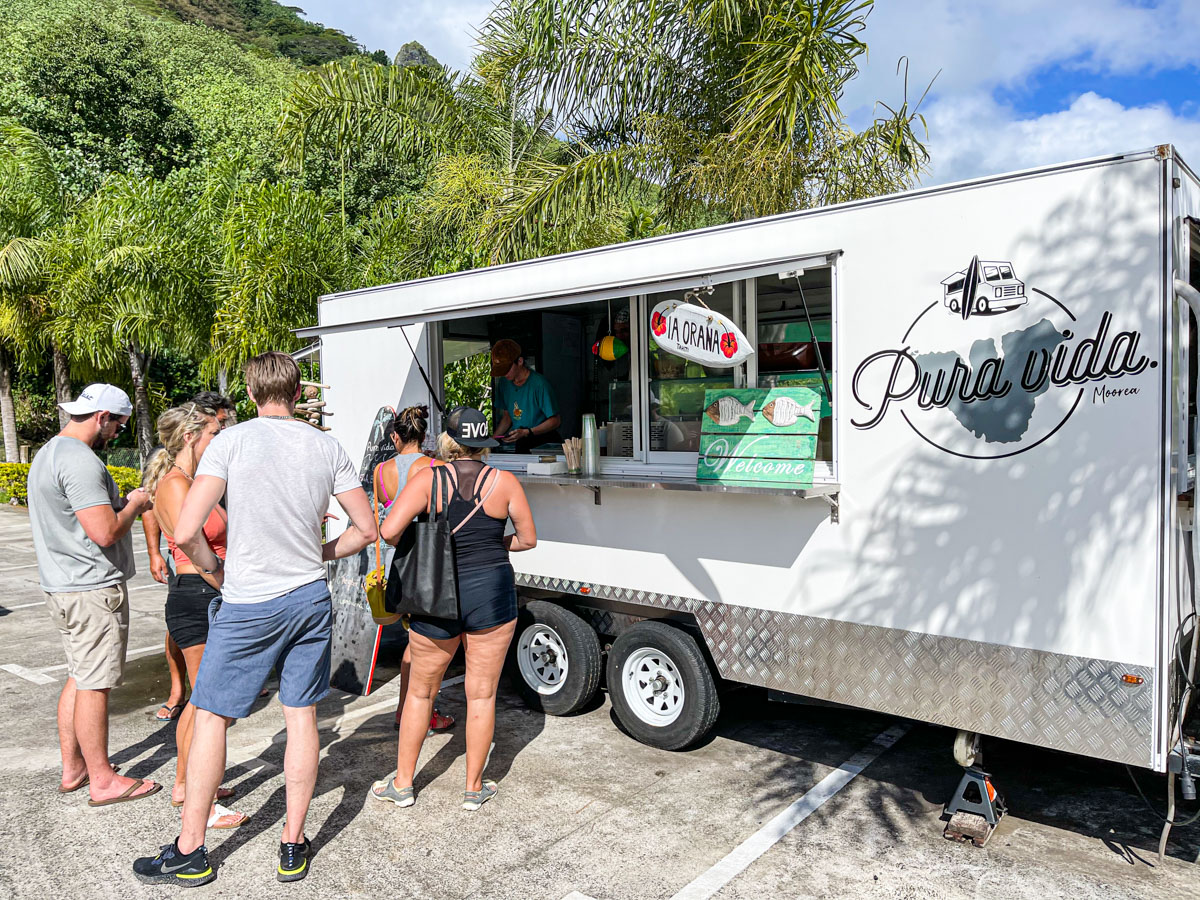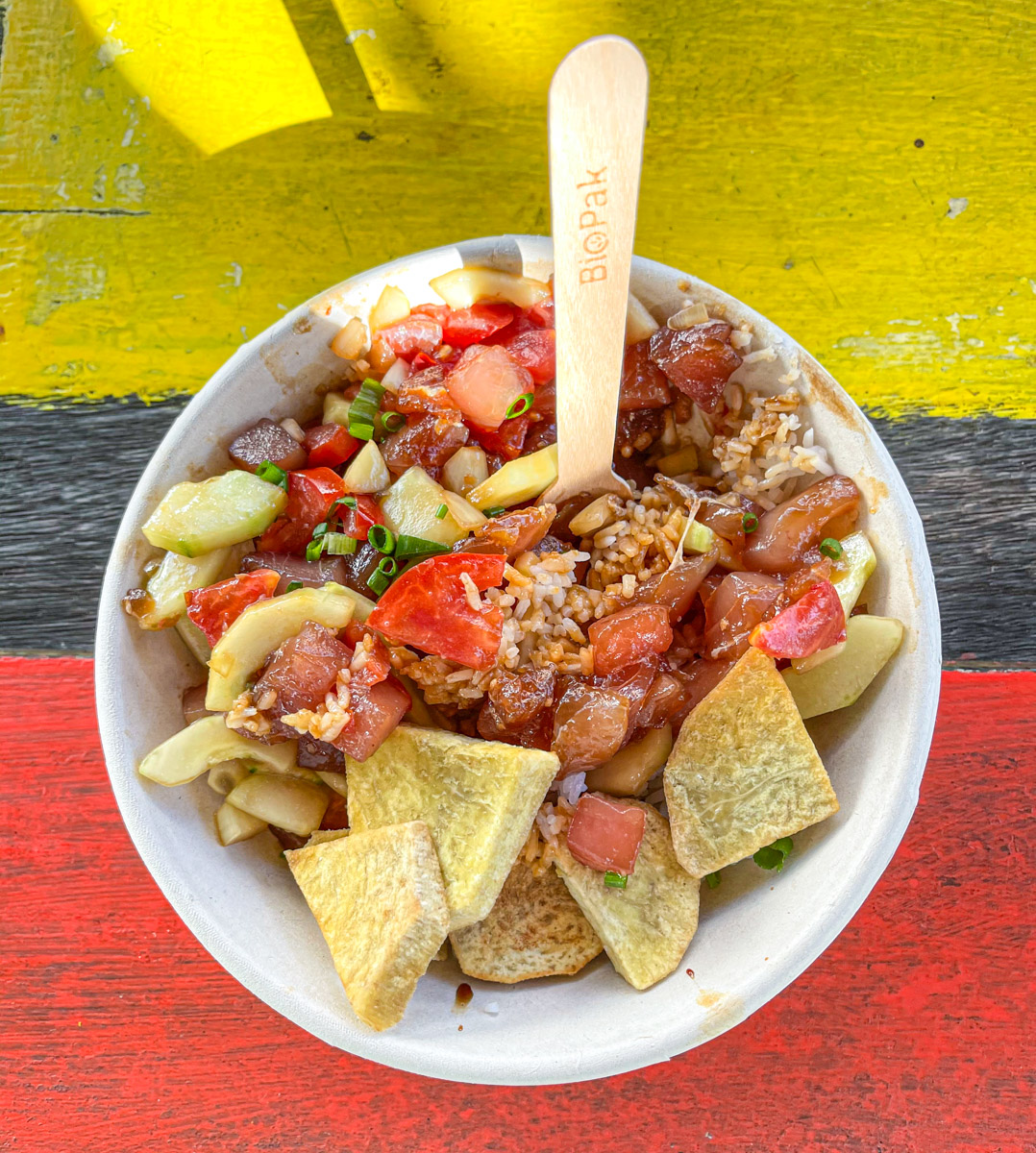 ---
27) Visit Fare Tutava For Smoothies & Jams
Since Moorea is a fruit paradise, they make quite a wide variety of jams, marmalades, smoothies, and more. There's a popular place called Fare Tutava (located right off the road near Opunohu Bay).
I visited this place two different times on my Moorea Food Tour as well as my ATV Tour. So if you book one of those, I'm sure you'll get to try their jam-tasting and order a fresh smoothie.
However, if you decide to do things on your own and not book any tours, definitely check it out as a quick pit stop. They also have a wide variety of affordable souvenirs for purchase (which also make great gifts to bring home).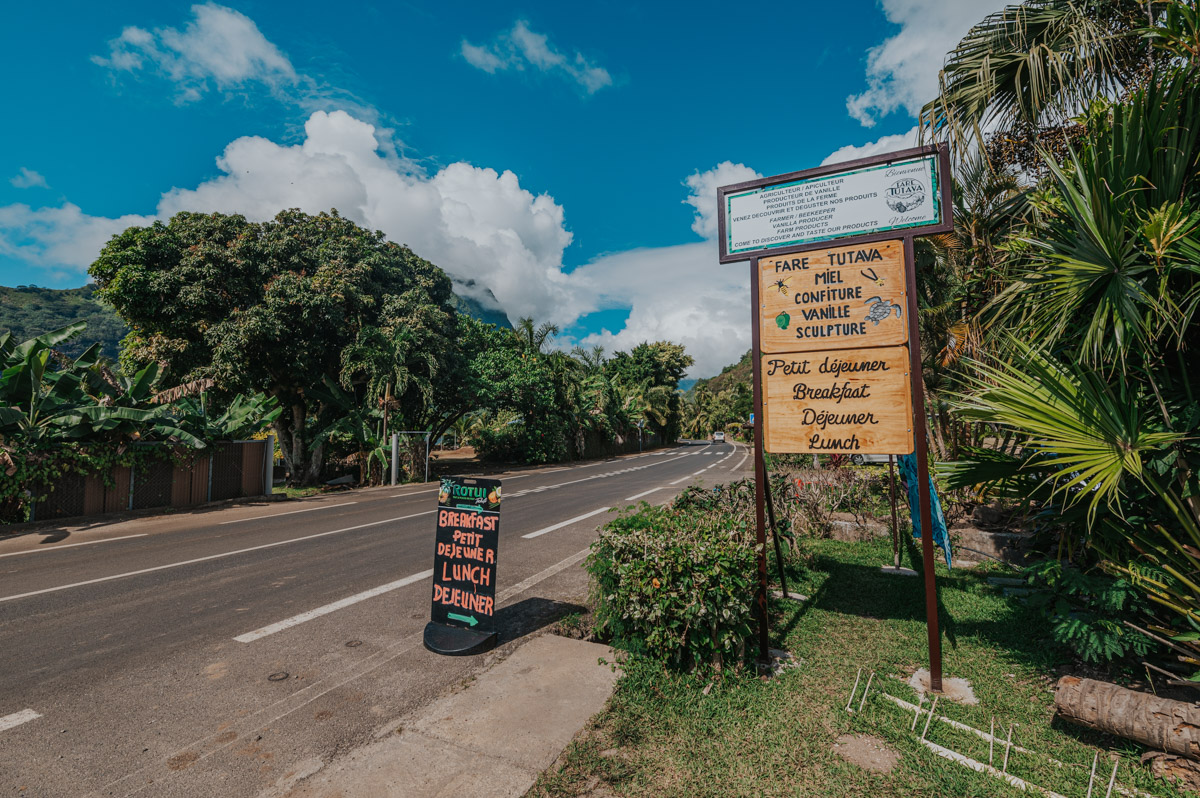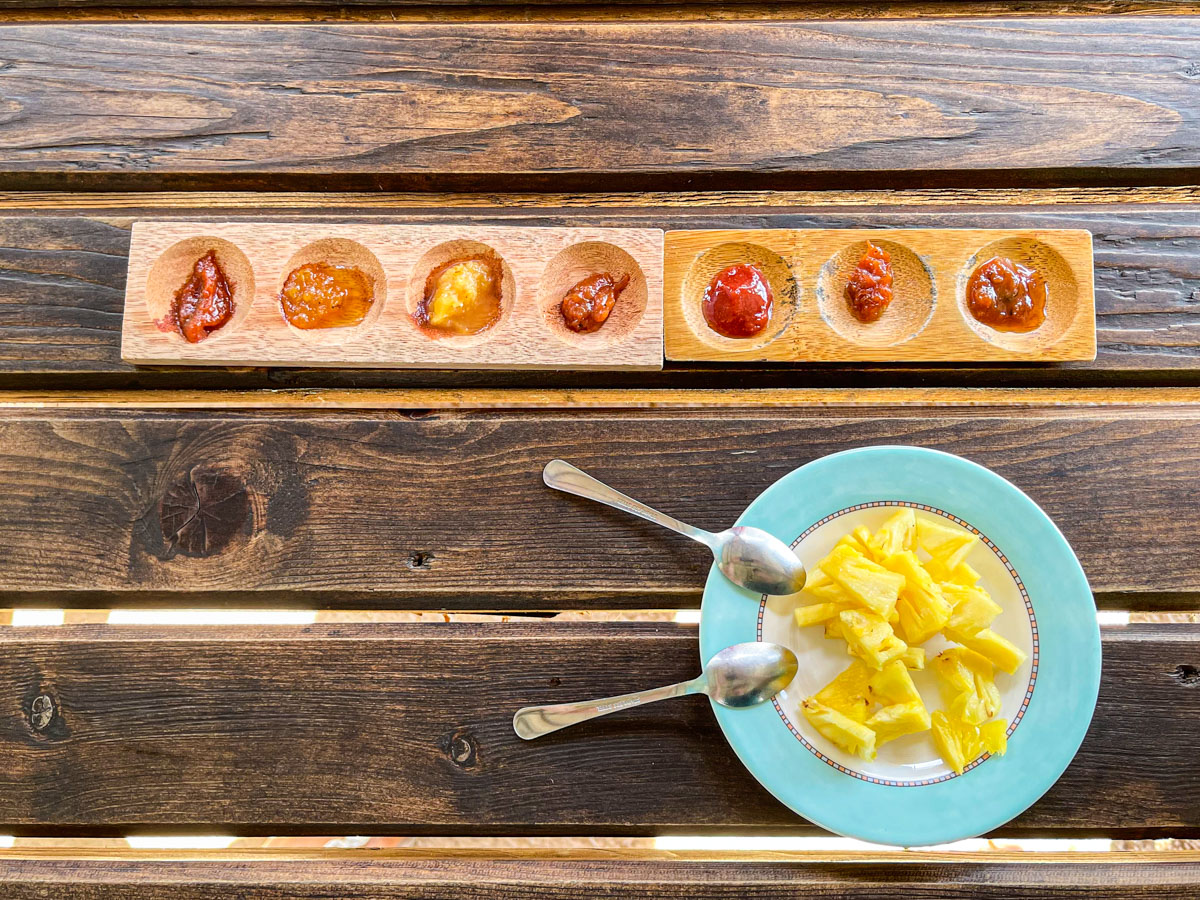 ---
28) Go Stargazing & Try Your Hand at Astrophotography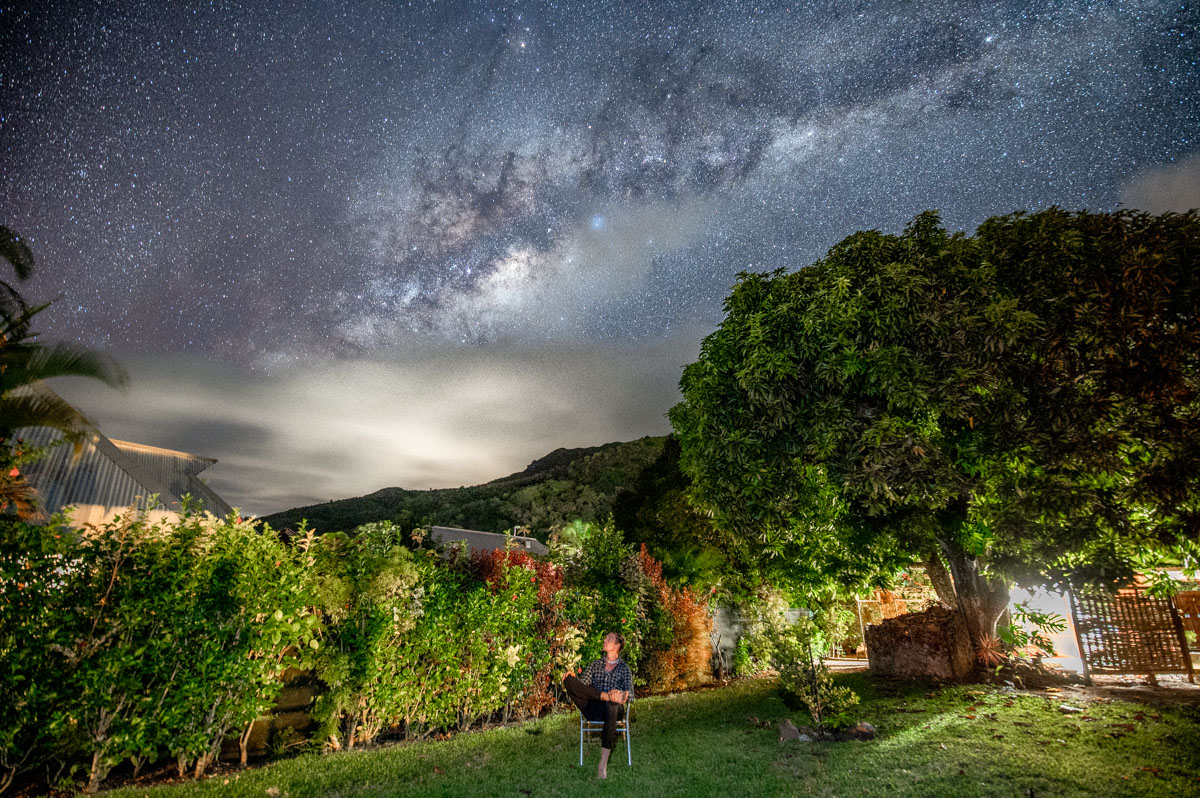 Last but certainly not least, since French Polynesia is such a remote destination, there's very little light pollution. So, one of the top things to do in Moorea is enjoy the IDEAL situation for beautiful stargazing and photos of the Milky Way Galaxy.
It doesn't really matter where you are for stargazing, but few places beat the beach at night. I suggest you enjoy the sunset at a beach restaurant and enjoy the light show as the sky turns from light blue to navy.
If you're a photographer, bring a travel tripod and wide-angle lens along because some of my favorite astrophotography shots I've ever taken were in Moorea.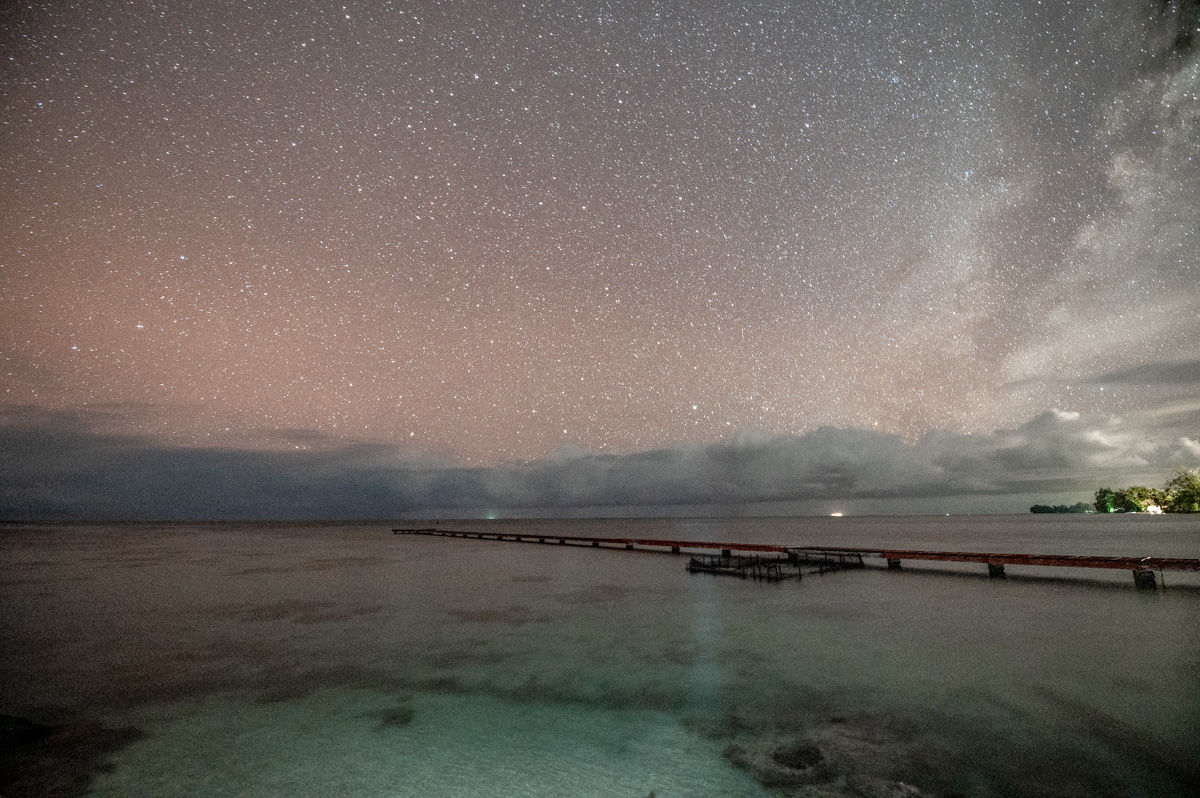 ---
Further reading:
When it comes to finding things to do, Moorea does not disappoint. Spending one week on this magical island was an experience I'll never forget, and I have no doubts that you'll love your visit if you check out as many of these recommendations! Also, be sure to watch my Instagram Story highlight reel from Moorea!
Safe travels!
THANK YOU FOR READING THIS LIST OF MY FAVORITE THINGS TO DO IN MOOREA!
SHARE THIS LIST OF WHAT TO DO IN MOOREA WITH YOUR FAMILY AND FRIENDS!
https://www.jonesaroundtheworld.com/wp-content/uploads/2021/07/Toatea-View-Point-Moorea-1.jpg
798
1200
Dave
https://www.jonesaroundtheworld.com/wp-content/uploads/2017/03/logotry-1-1-300x106.png
Dave
2023-03-27 20:54:26
2023-03-29 22:20:40
28 Best Things To Do in Moorea, French Polynesia