When I first arrived in Lisbon, I literally had no idea how I was going to spend my four days in the city.  Thankfully, I had an amazing Uber driver pick me up from the Lisbon train station, and told me about his favorite place in Portugal — Parque Natural da Arrábida.  I quickly performed a google image search and was surprised when I saw absolutely jaw-dropping photographs of stunning coastal roads, pristine beaches, and epic viewpoints.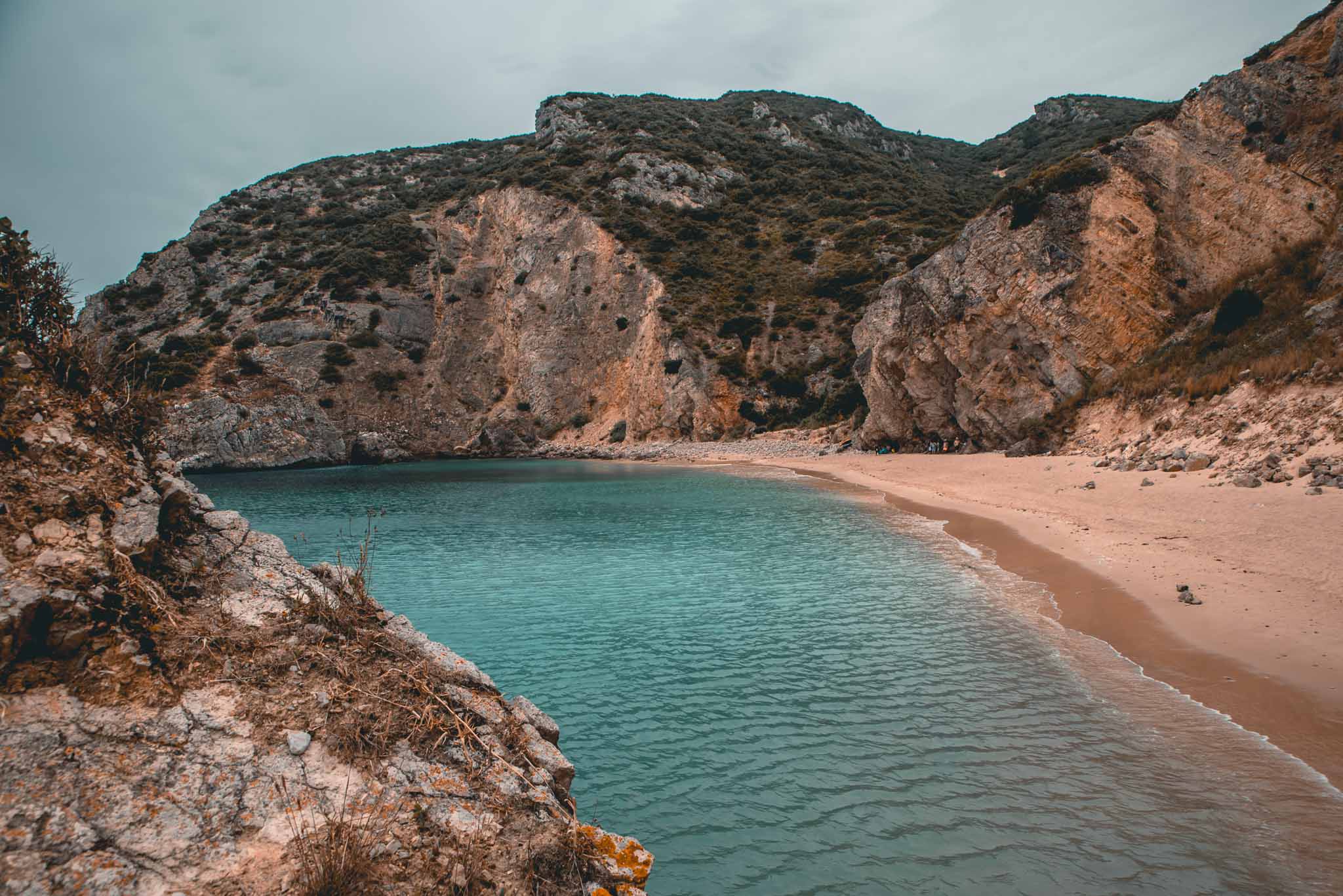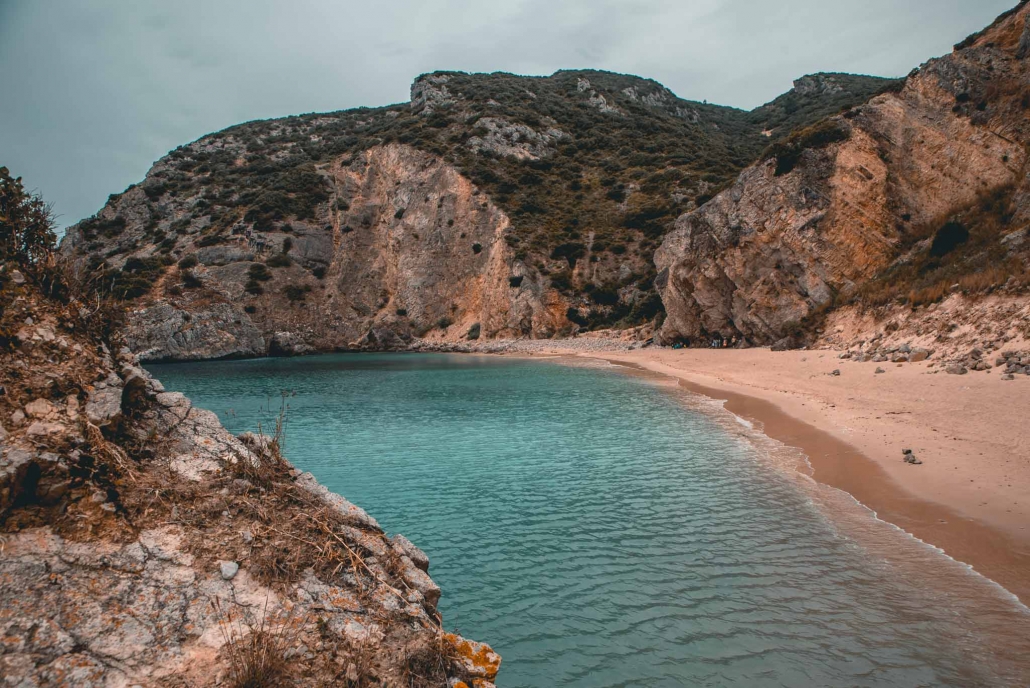 "How have I not heard of this place before!?"
I've always been a big fan of renting cars and exploring destinations on my own, and the Parque Natural da Arrábida looked like the perfect way to spend a day outside of Lisbon.  I was fortunate enough to meet some amazing girls via Instagram, and we all pulled our money together, rented a badass BMW, and began our adventure.
Important:  If you can, I'd highly recommend checking the weather before planning a trip!  We, unfortunately, didn't have any other option (as we ended up going on our last night), and it was quite a terrible weather day.  That didn't stop us though, and the views were still beautiful!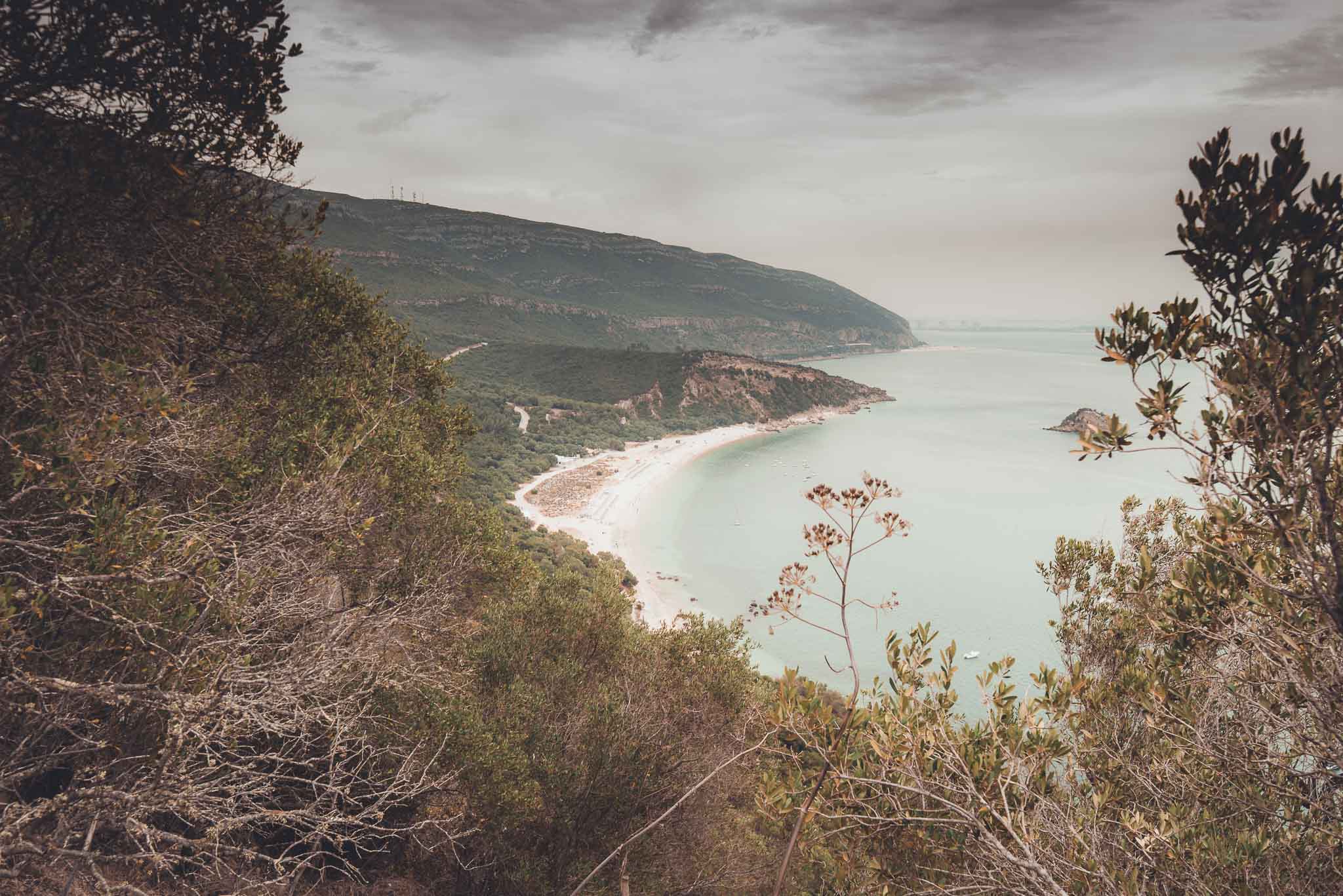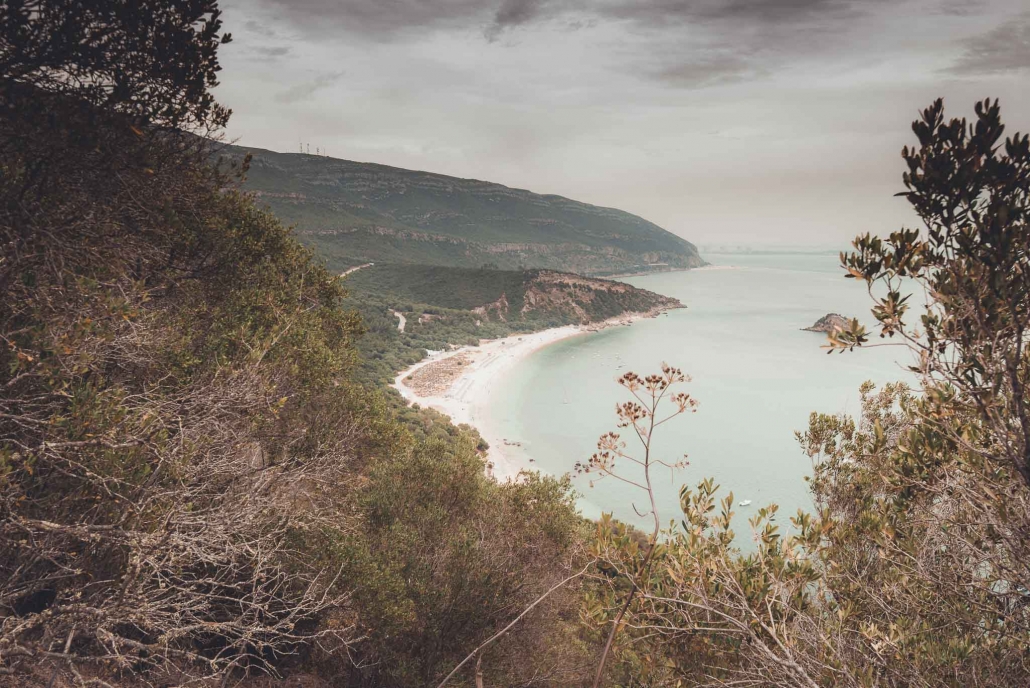 ---
Lisbon to Portinho Da Arrabida
When I was looking at the map, I really wasn't sure where to start the coastal drive.  Even after doing some online searches, it just didn't seem all that clear to me.  So I basically just winged it, and simply followed the Google Maps to the Parque Natural da Arrábida, and it led me to our first stop of the day — Portinho Da Arrabida.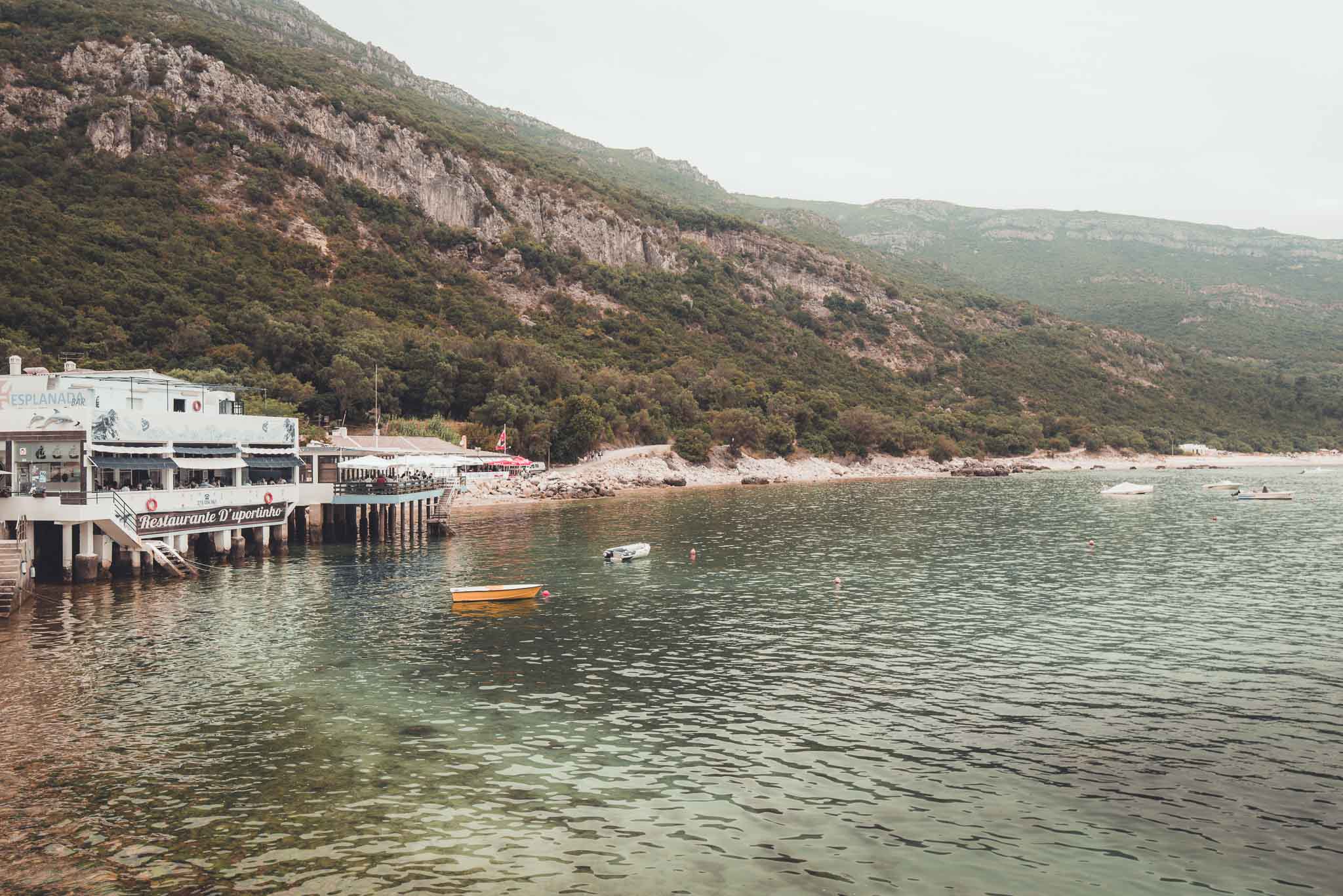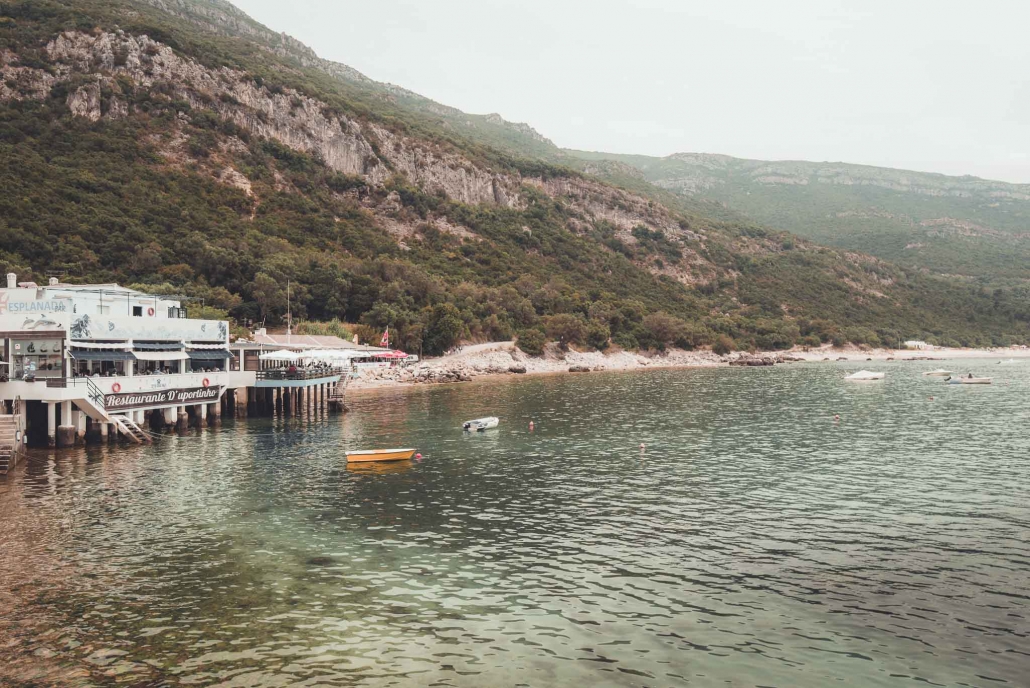 When we arrived though, we were a bit disappointed that the roads were blocked off by a guard to drive down to the actual town.  It wasn't a huge deal though, as we just parked our car, and had an amazing ham & cheese toastie (a Portuguese favorite) at this cafe on the hill.
We made the brief walk down to the Portinho Da Arrabida, and glanced at the long stretch of coastline, different beaches, and took a bit of a wander.  With the weather not being great, we decided to head back to the car and continue the drive/explorations.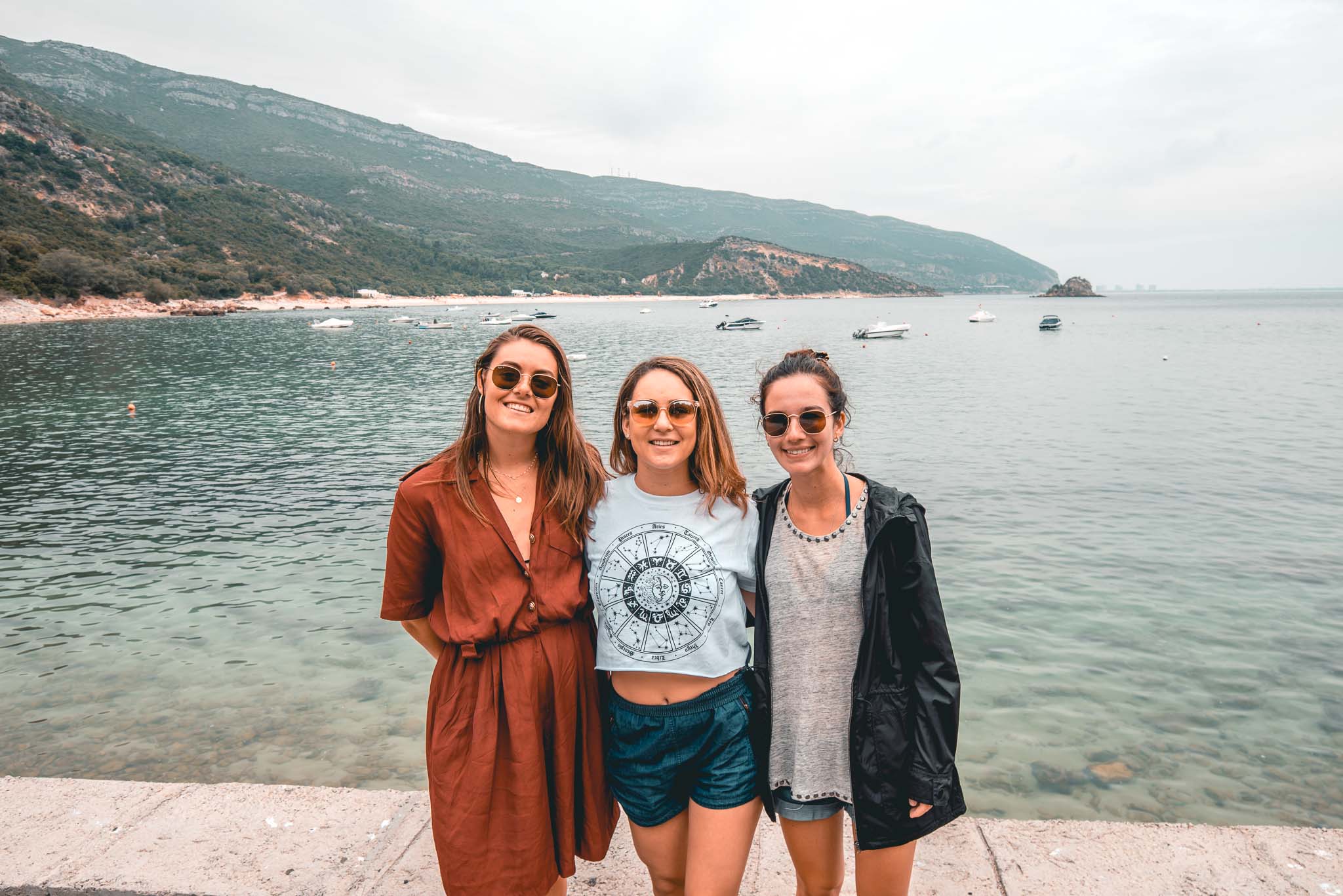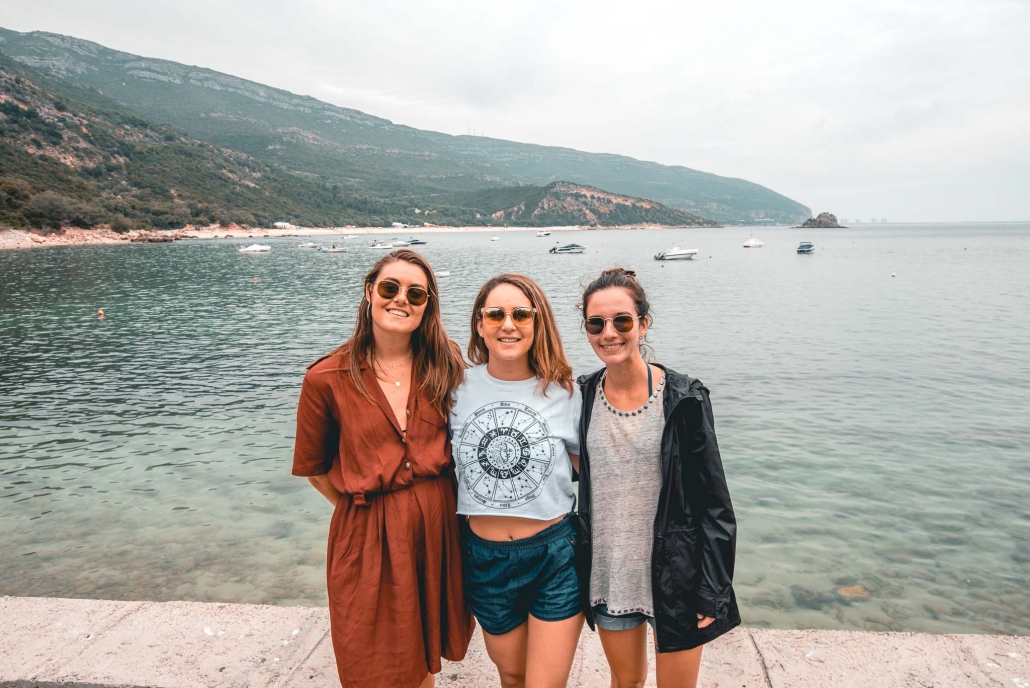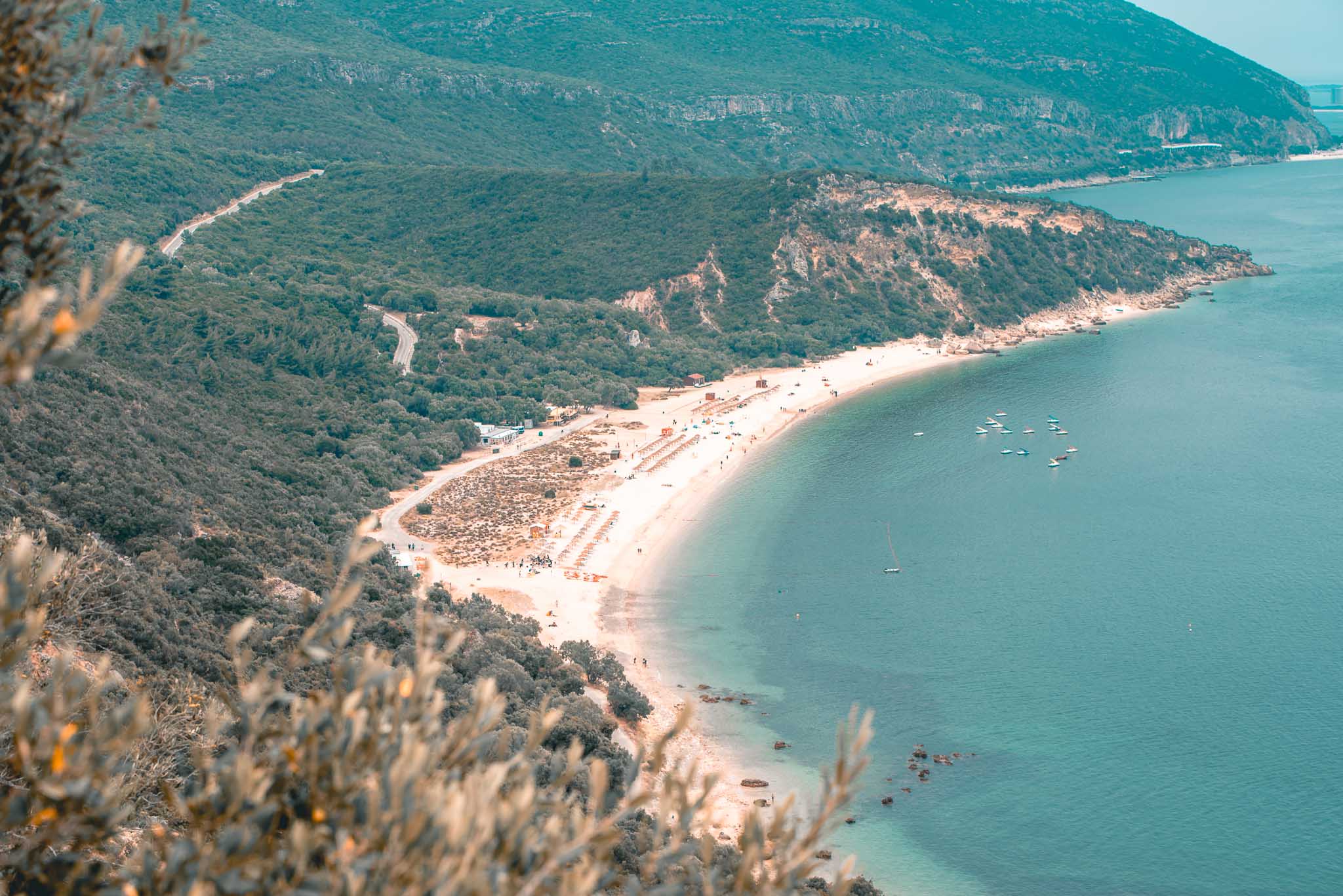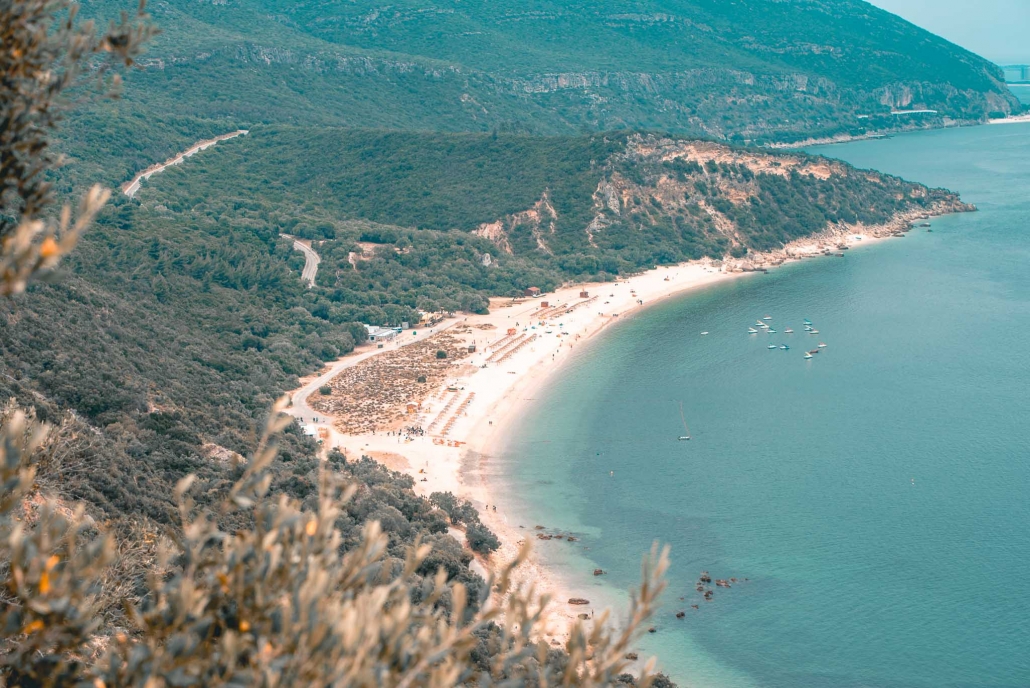 ---
Ribeira Do Cavalo Beach
When my friends are starting discussing what to do next, we all agreed that the Ribeira Do Cavalo Beach was the most important place to visit.  It wasn't until I googled it's location that I discovered it's not actually located on this Natural da Arrábida Coastal Drive, but instead near Sesimbra about 30 minutes away.
So we took the quick detour off the famous coastal road, and headed our way to this scenic beach that I had heard so much about!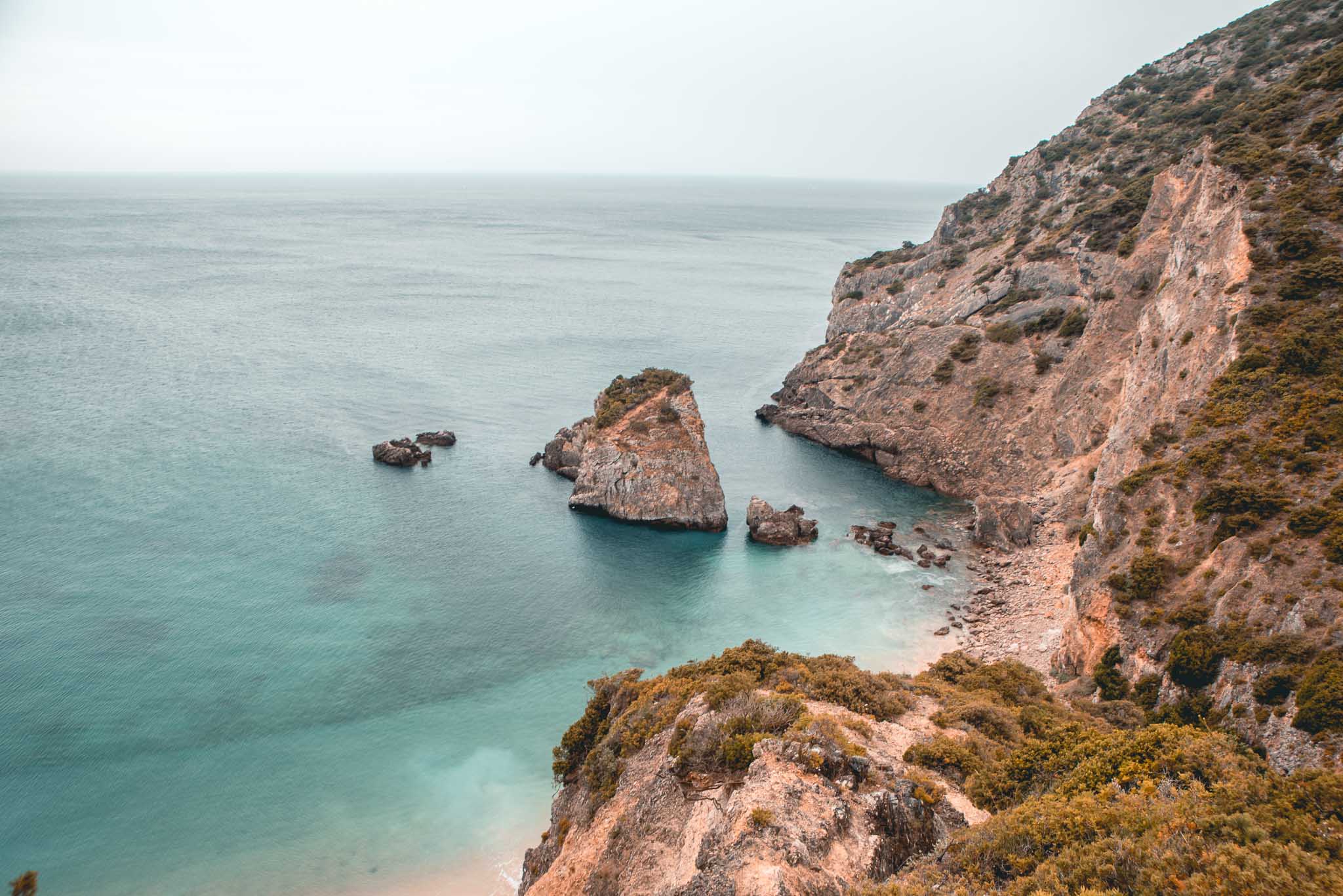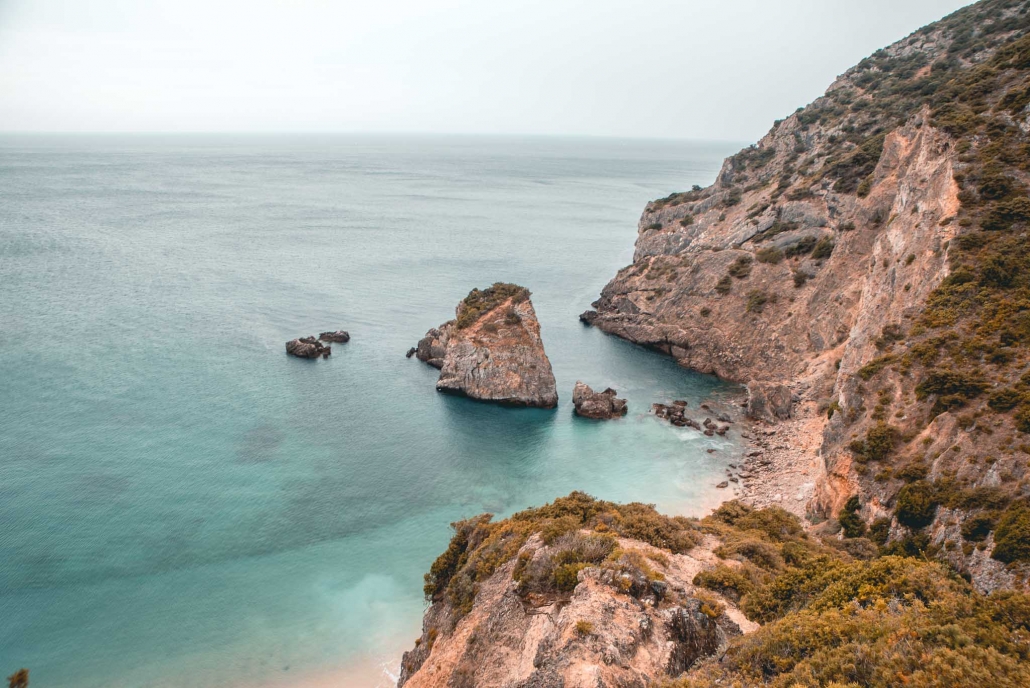 When we pulled up to the "parking lot", and I put it in quotations because it's basically just a dirt road I saw a few cars parked along, we didn't even know where the beach was.
That's when I learned that getting to Ribeira Do Cavalo Beach is no easy task, and requires a pretty rigorous 25-30 minute rigorous hike.  After the first 10 minutes, we passed some people who confirmed we were going the right way, but then looked down at my sandals and told me that was a huge mistake.  I looked down at these local Portuguese people, and was surprised to see they were all wearing hiking shoes to get down to the beach!  I guess that just shows how little we prepared for this day-trip, but I definitely learned my lesson.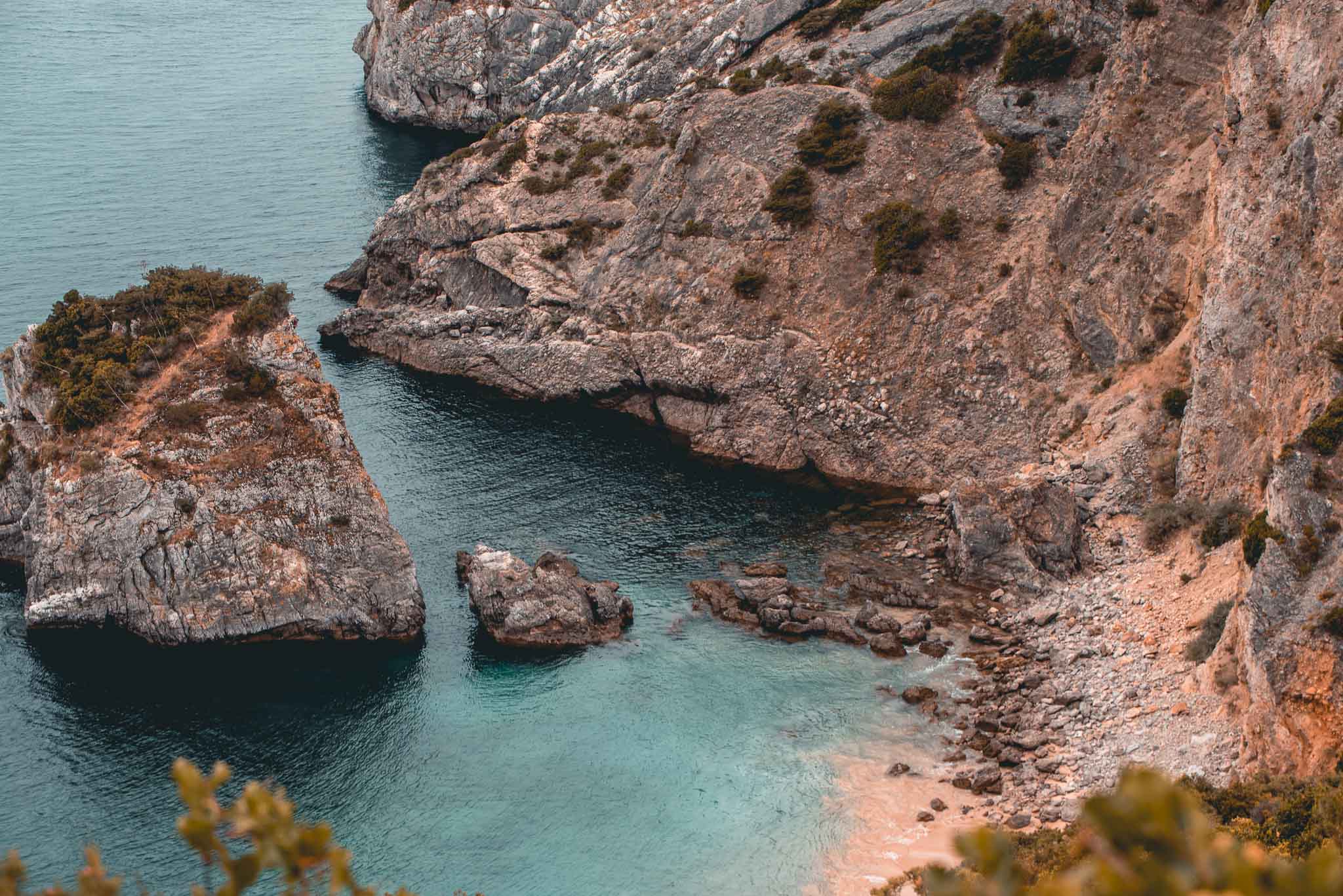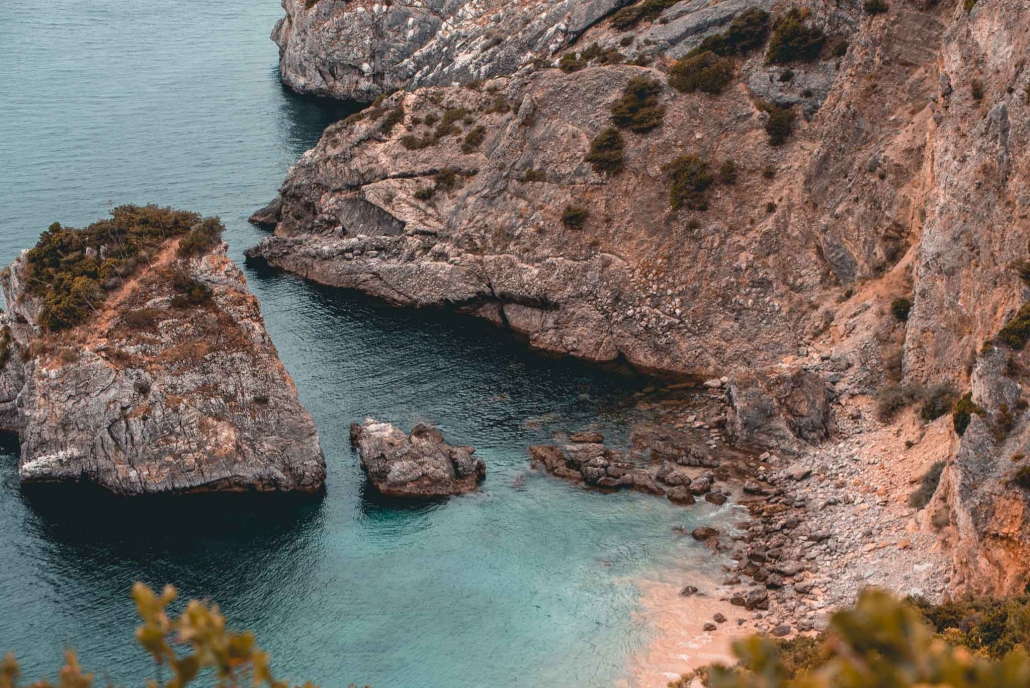 While I definitely wish I had better footwear for the hike, I managed to make it down to the beach just fine in my sandals and was in awe at the beauty of this place.  It's a shame the weather was so bad, as I know the water would have looked so much more blue in my photos!
We spent about 90 minutes on the beach listening to music, exploring the rocky Formations, and playing silly beach games (trying to convince people to jump in the frigid Atlantic ocean water.
As we lifted our heads to the sky and could feel the rain coming down a bit heavier (than just a light sprinkle), we knew we needed to make our way back up the treacherous hike before things got too serious.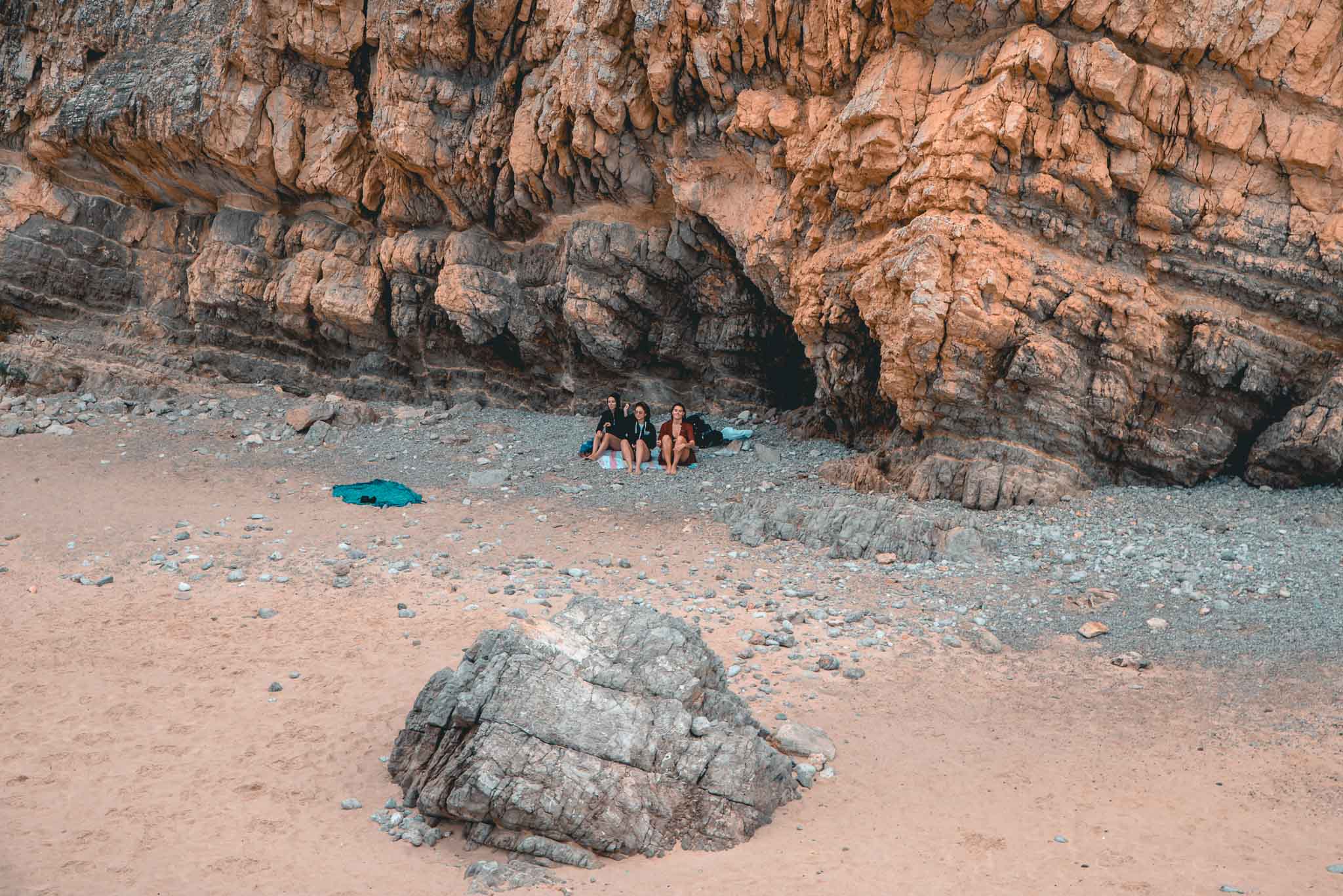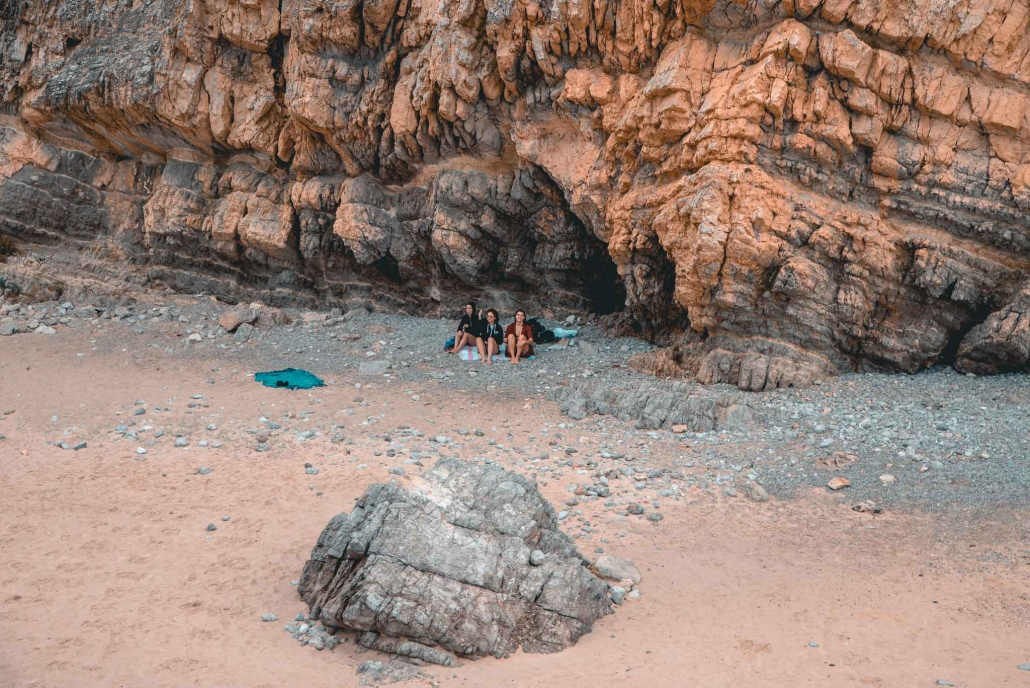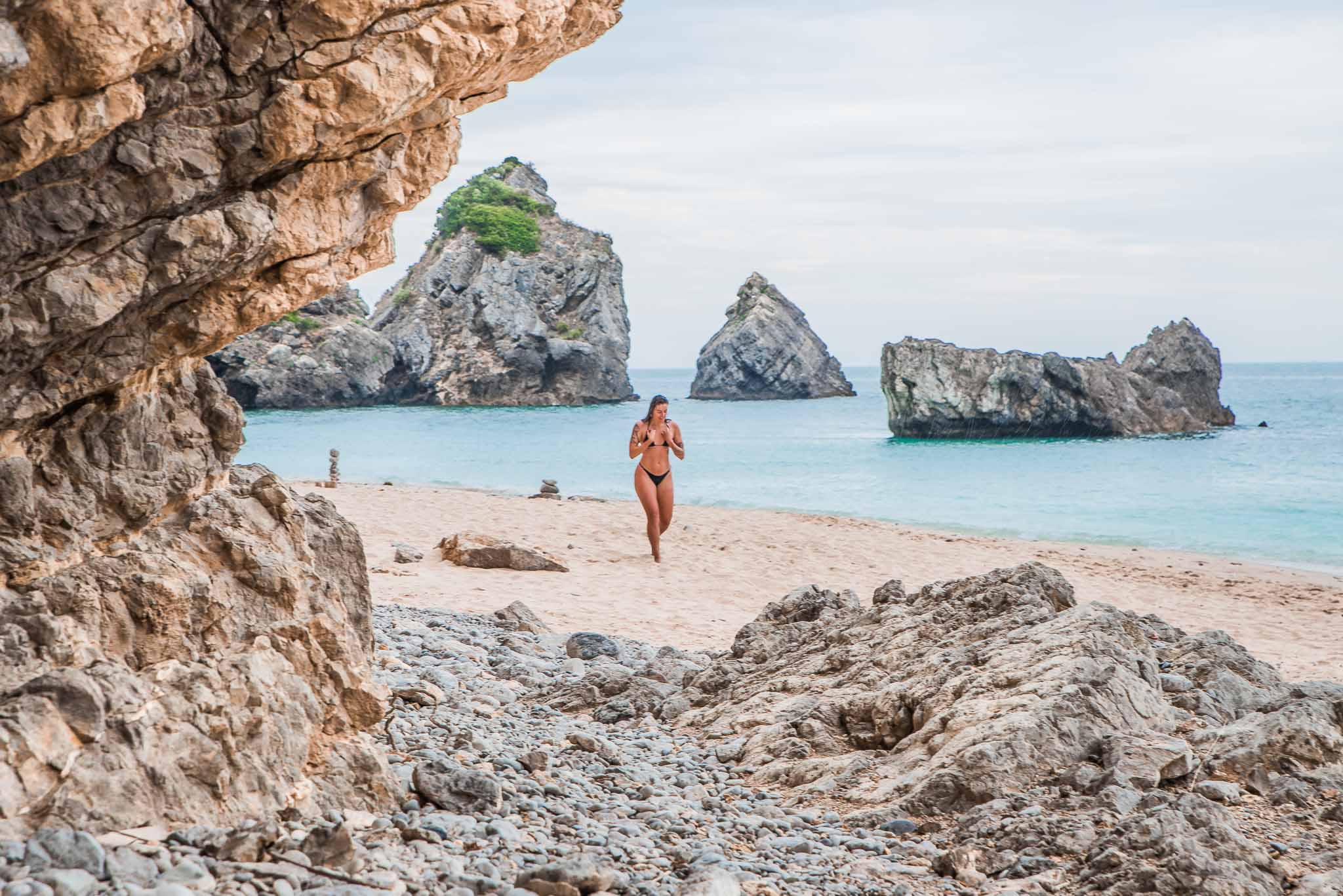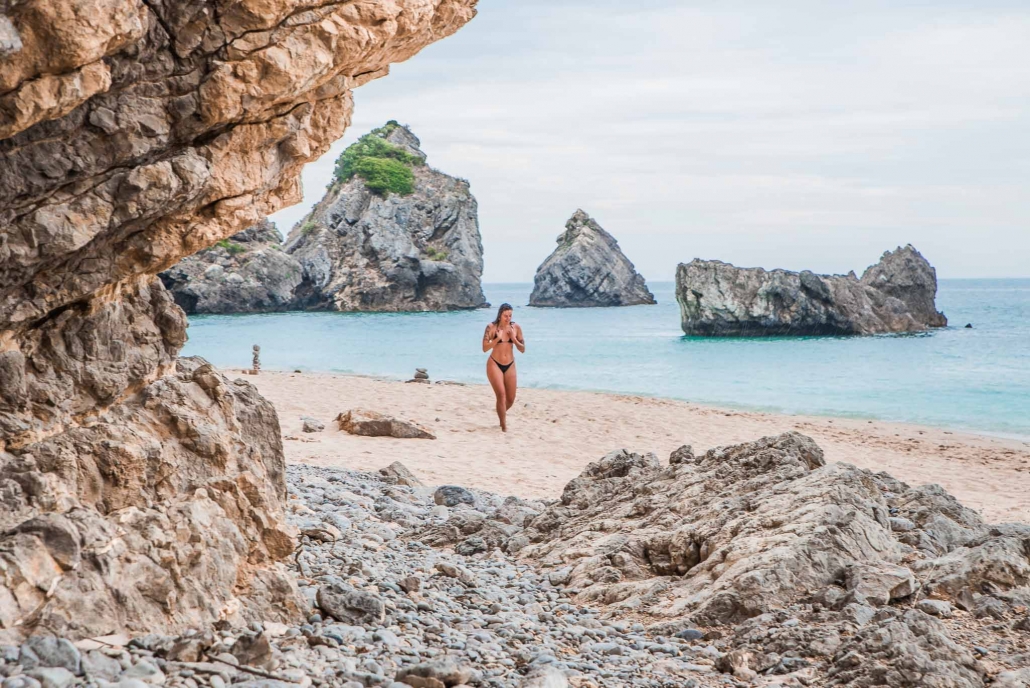 ---
Coffee & Cocktails in Sesimbra
Since we were so close to this seaside town that I had never heard of, we decided it would be a mistake not to pop down for a drink or two on the beach.  All I have to say about Sesimbra is that it's absolutely charming!
We had no idea what we were looking for, but when I saw a sign pointing towards "California Beach", I knew it was a sign from the travel gods!  So we parked our rental car, found a lovely restaurant serving cappuccino's and bloody mary's, and waited out the rain for an hour.
I could definitely see myself vacationing in a town like this.  Even on a crappy day, it was paradise!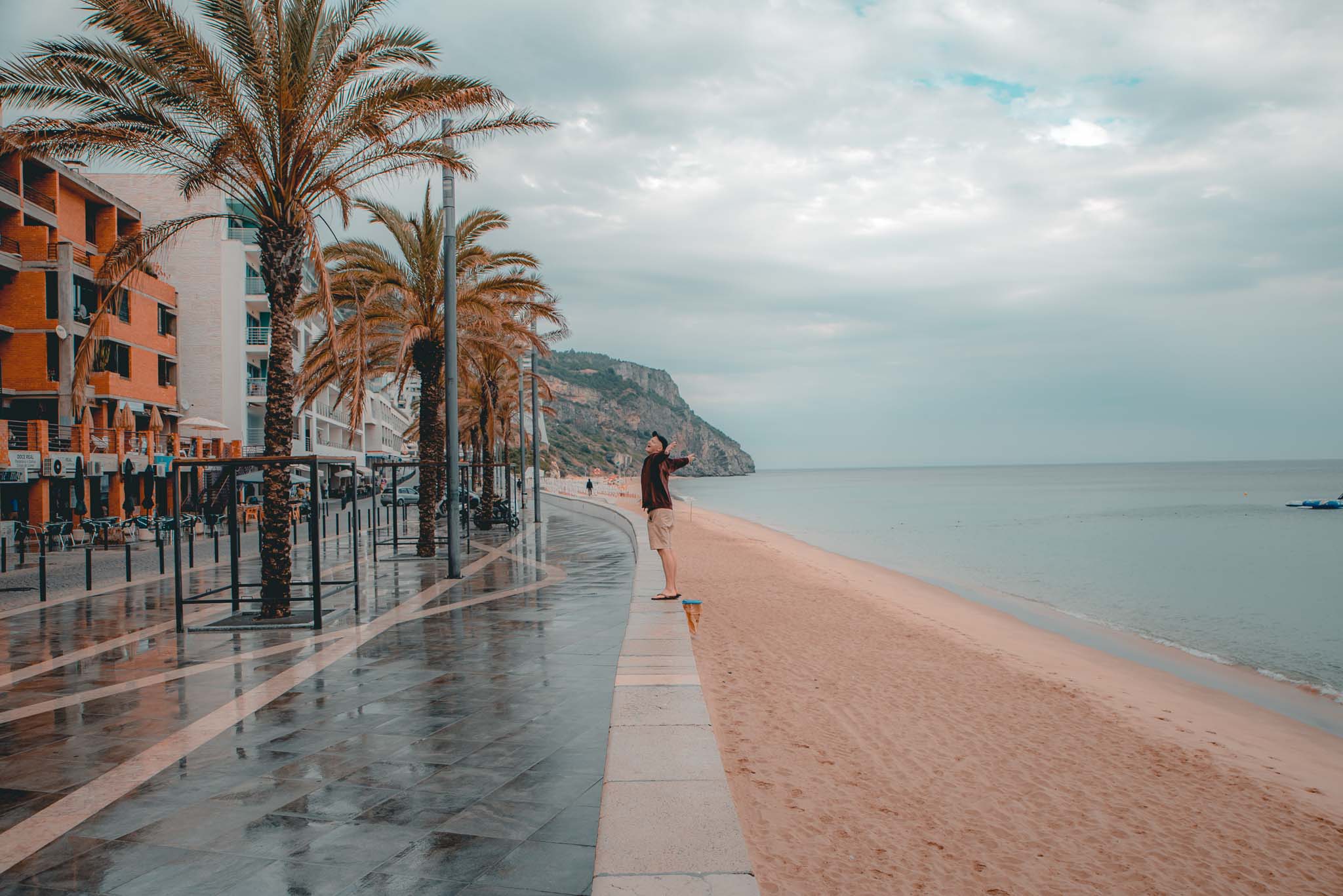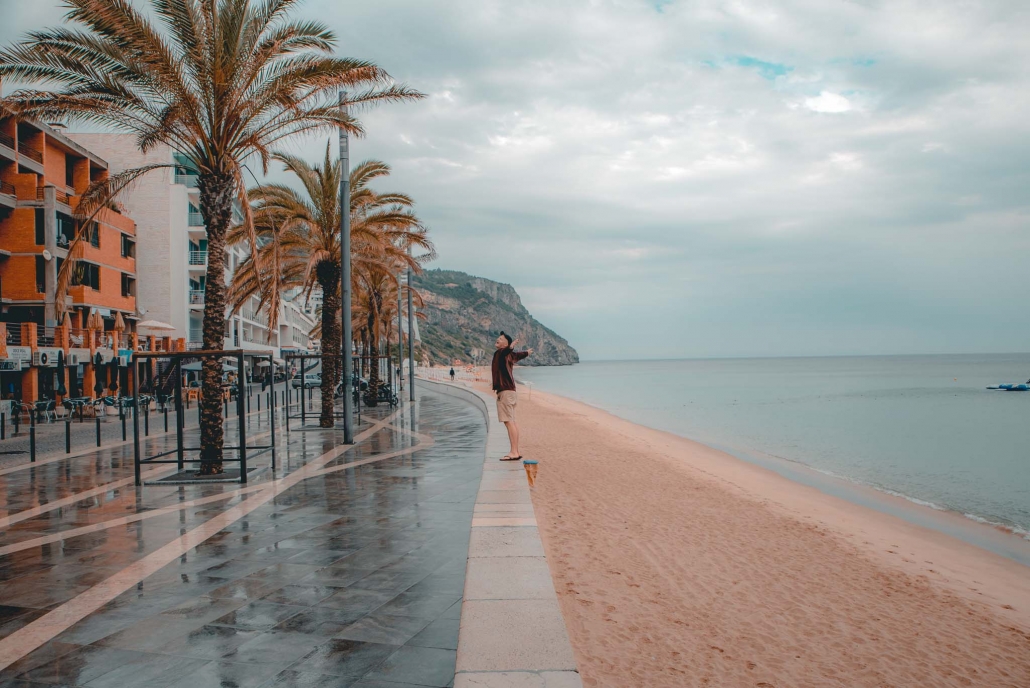 ---
Parque Natural da Arrábida Coastal Drive
After having a meal and some drinks (coffee for the driver), we made our way back to the coastal roads along the Parque Natural da Arrábida.  When looking at Google Maps, we could see that there were two options (basically a high road and low road).  We tried two different times to visit beaches and drive along the low road, but for some reason, we kept getting stopped by security guards.  Maybe it was because it was high season during the summer, so we just enjoyed the sprawling cloudy beach views from the high road.
The drive itself is the worth the trip alone though, because who doesn't look a good scenic coastline?  Viewing all the beaches from high above is spectacular, and you will truly be amazed!  If I had more time, I would have loved to rent an AirBNB or something at one of the beach towns, and soak up a nice relaxing vacation.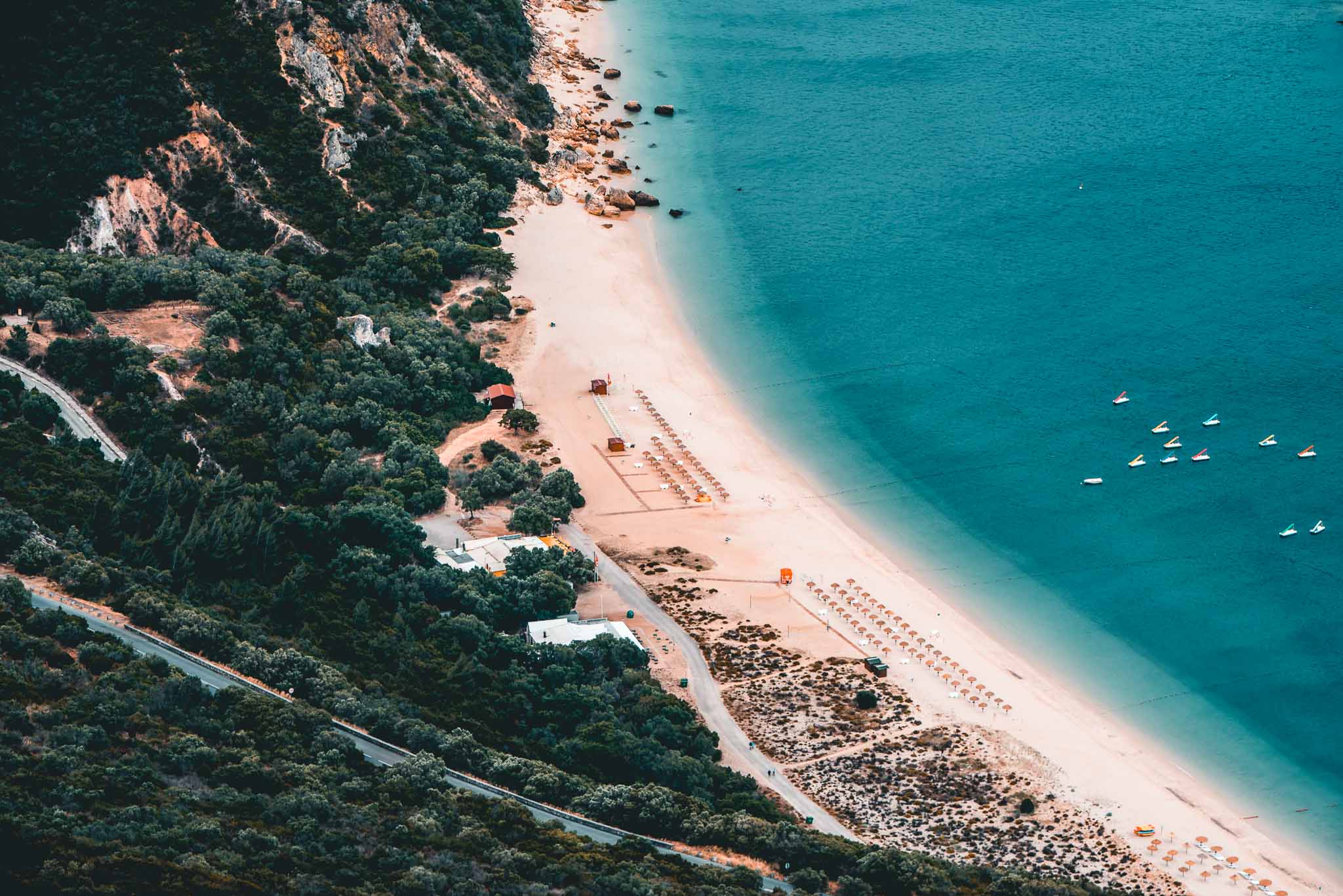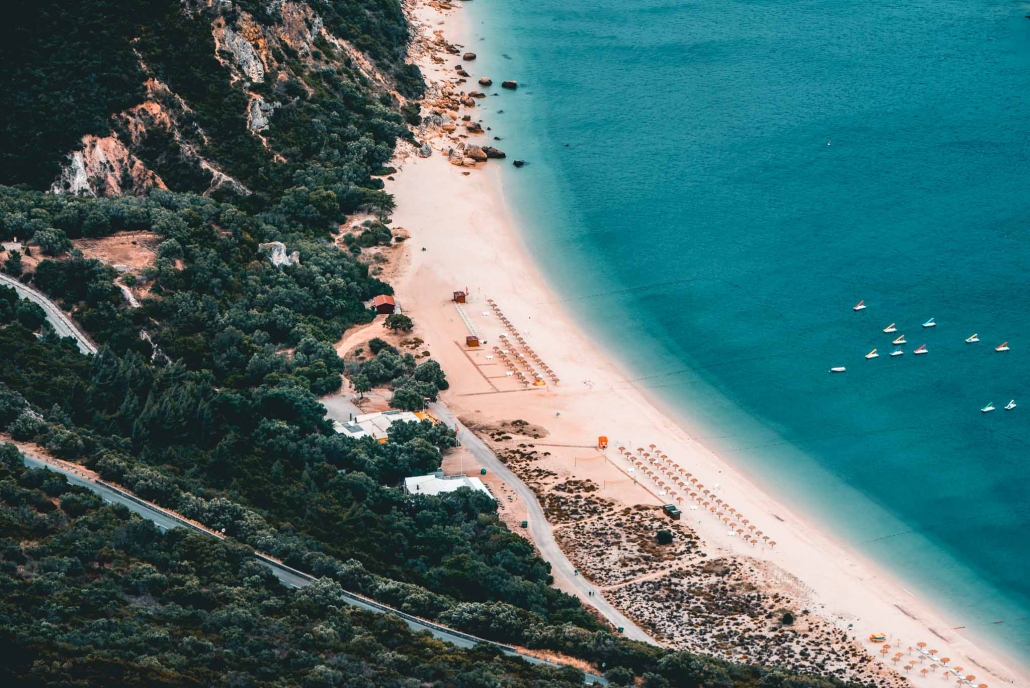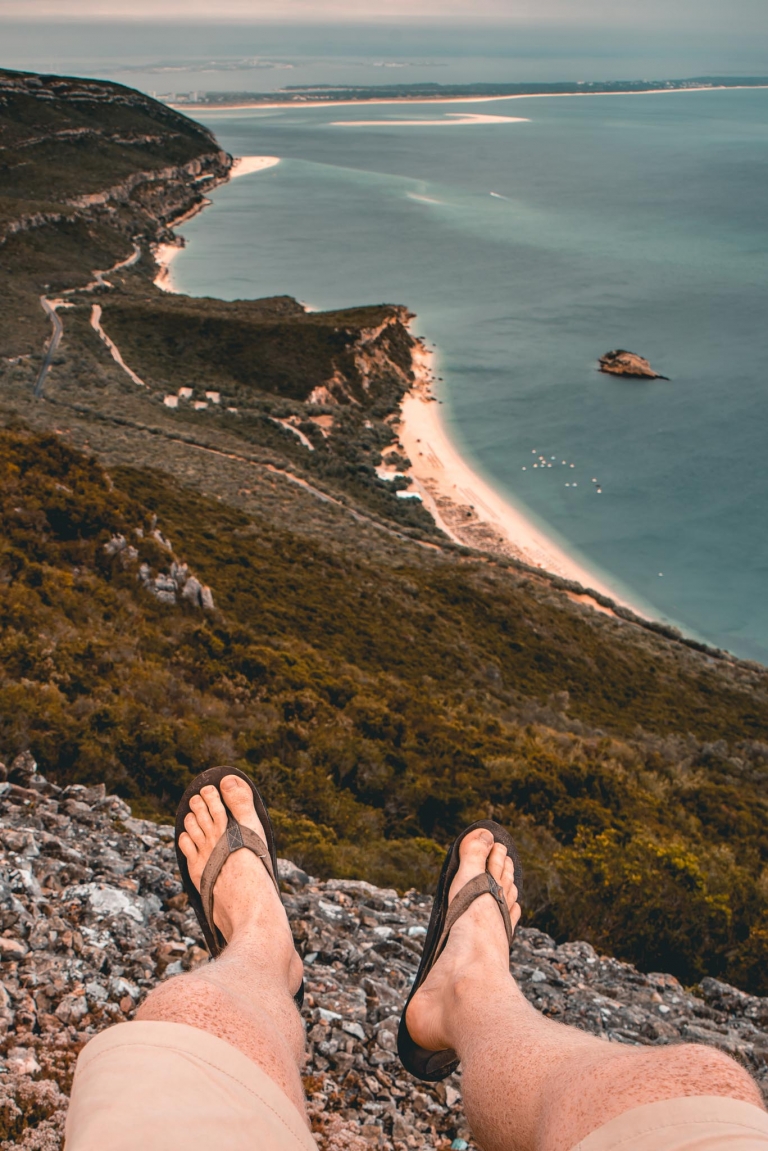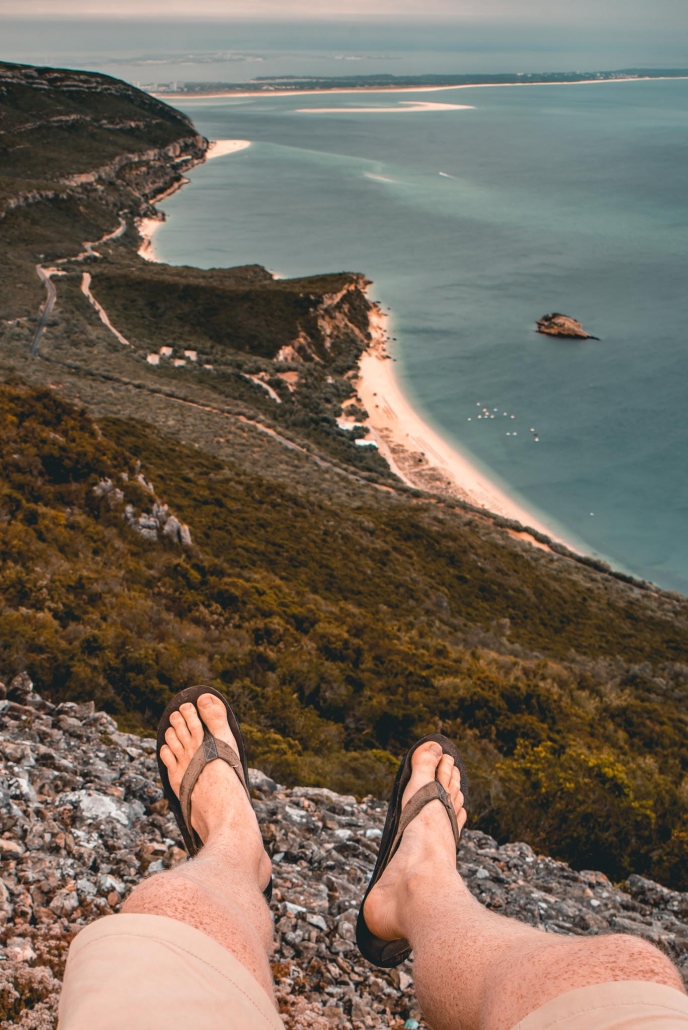 ---
Figueirinha Beach
We made one final stop at this beach (which basically marks the end of the coastal drive).  It's right down the road from the Setúbal Municipality.
We basically at the place to ourselves as it finally stopped raining for a bit, and spent a good twenty minutes enjoying the sand between our toes.  The way the water was so beautifully blue and how the umbrellas made it obvious how popular of a tourist destination this must be on a sunny day.
While we may not have had the best beach weather, I'm still so happy my new friends and I got to experience this small slice of paradise in Portugal.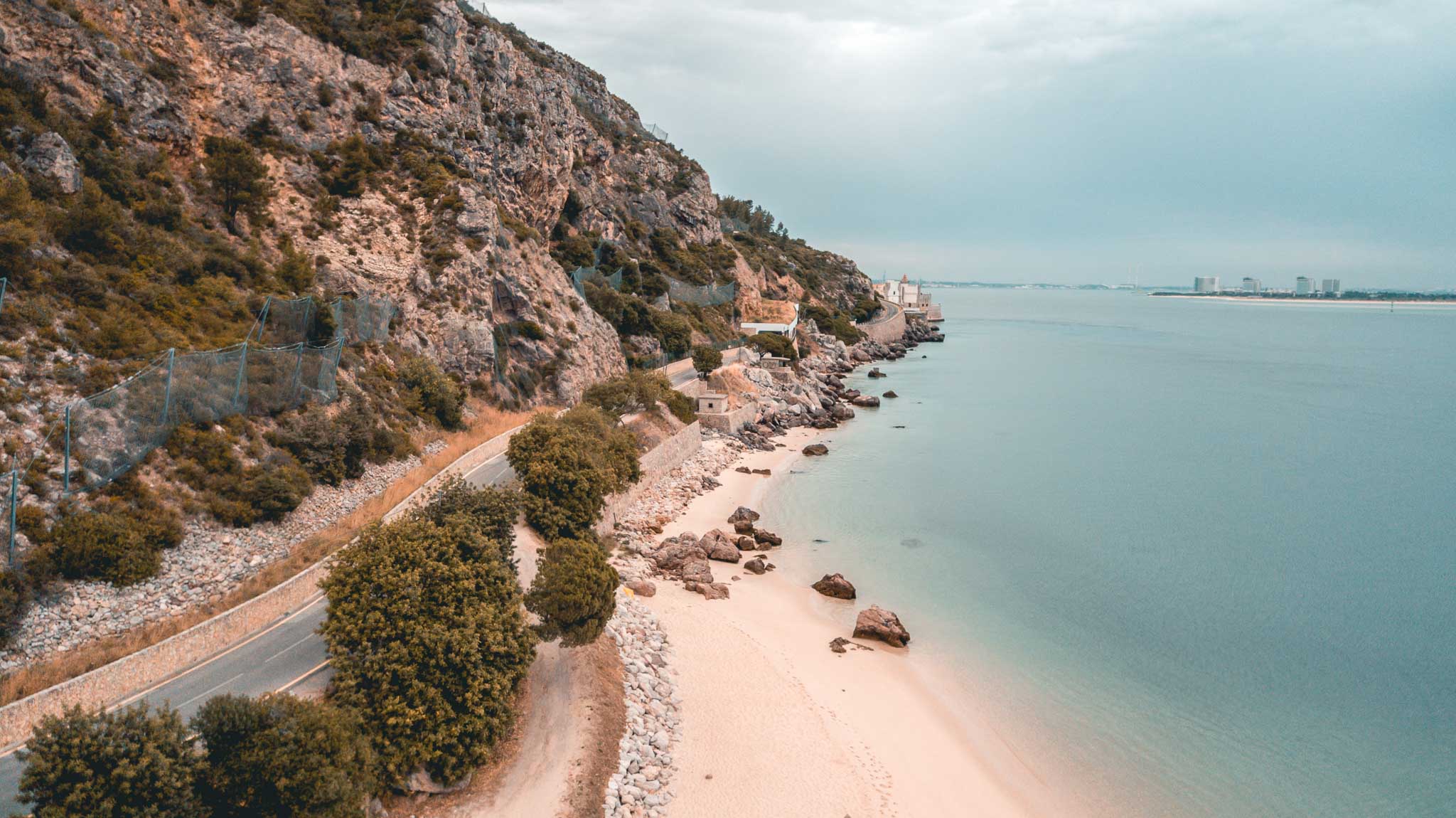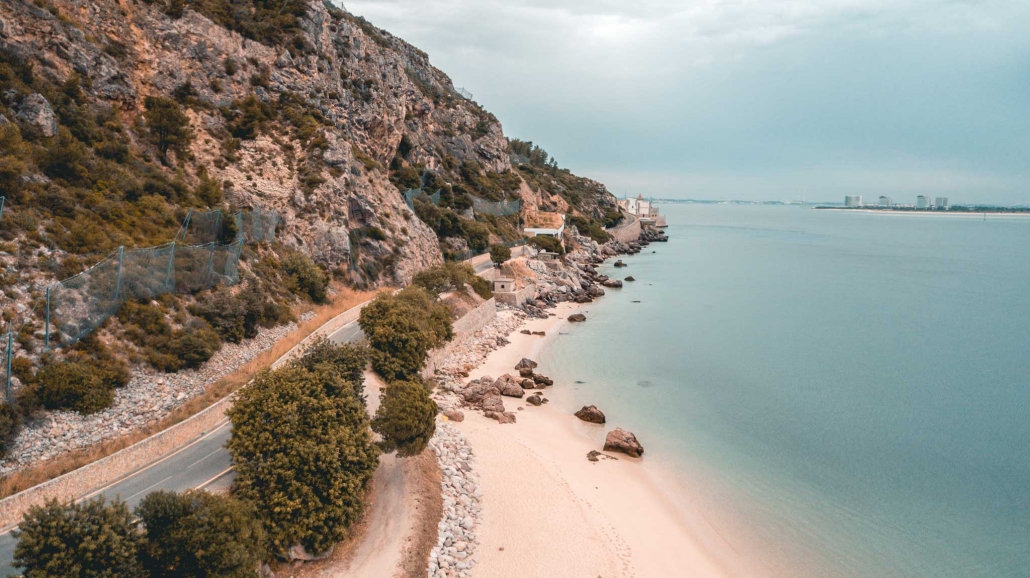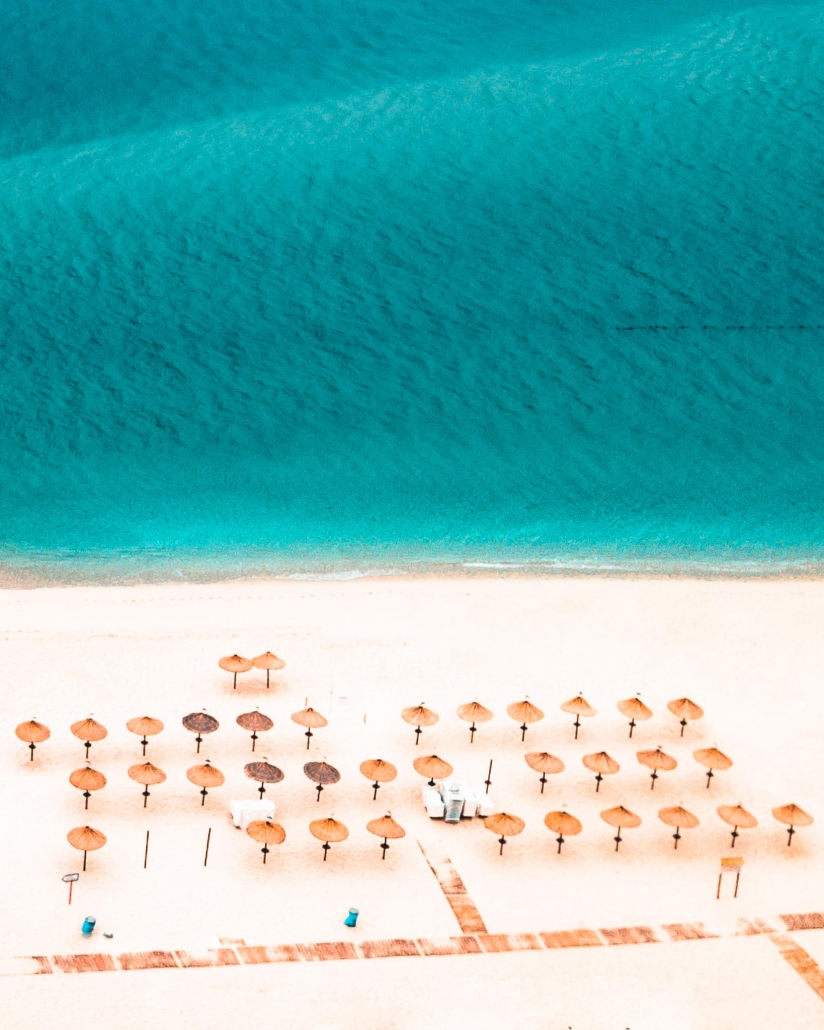 Thanks for reading!
https://www.jonesaroundtheworld.com/wp-content/uploads/2018/08/DSC_6864.jpg
1367
2048
Dave
https://www.jonesaroundtheworld.com/wp-content/uploads/2017/03/logotry-1-1-300x106.png
Dave
2018-08-02 12:09:07
2018-08-02 12:09:09
Exploring the Parque Natural da Arrábida and Ribeira Do Cavalo Beach