Tomorrowland Festival 2018 | The Story of Planaxis
Live Today, Love Tomorrow, Unite Forever
As Martin Garrixx played the closing set at the Mainstage on Sunday night, I watched in awe at my insane rave surroundings.  It was the best possible form of sensory overload complete with pounding bass, smoke machines, colorful streamers, vibrant lasers, powerful lights, astronomical fireworks, and a sea of people waving flags from practically every country on planet earth.
This is it, I thought to myself!  This is Tomorrowland!!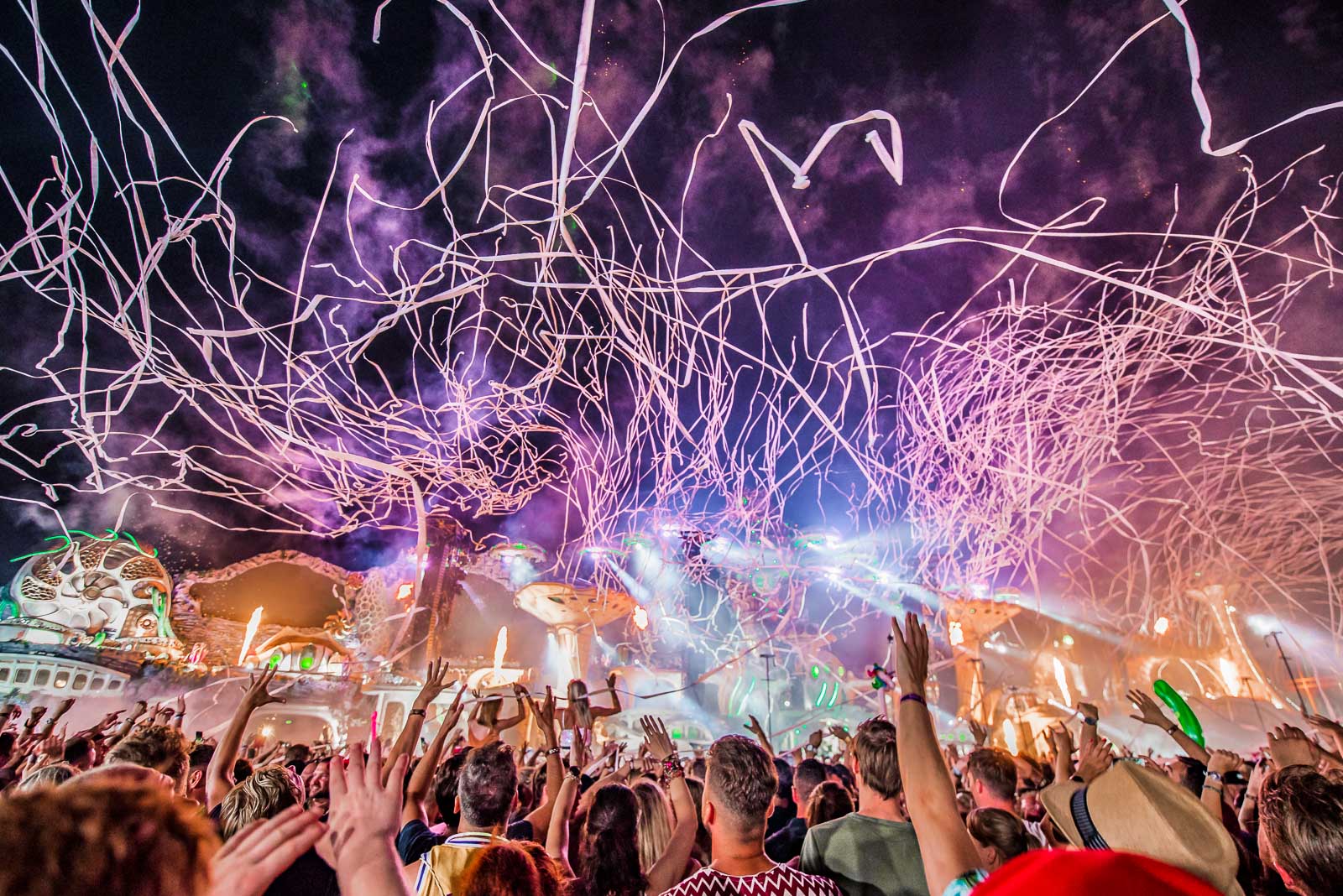 It's special moments like these that make this festival one of the most impressive and elaborate events in the world, and also why it's nearly impossible to snag tickets to this bucket-list worthy adventure! 
After attending Tomorrowland for only one day back in 2012, I was thoroughly impressed and had been dying to make it back ever since.  Fortunately for me, I was invited by Busabout to join their first official Tomorrowland tour for Weekend 2, and it ended up becoming the highlight of my summer travels in Europe! 
Over the past two weekends, Tomorrowland submerged over 400,000 festival attendees into the enchanting underwater world of the 2018 wondrous theme —  "The Story of Planaxis".  It was four days of non-stop amazing music, incredible vibes, and the most jaw-dropping stages I've witnessed to date!  If you were there as well, I'm sure you'll agree it was a definitely a weekend we'll never forget!
---
Dreamville & "The Gathering" Opening Party
Camping in Dreamville is absolutely essential to get the full Tomorrowland experience!!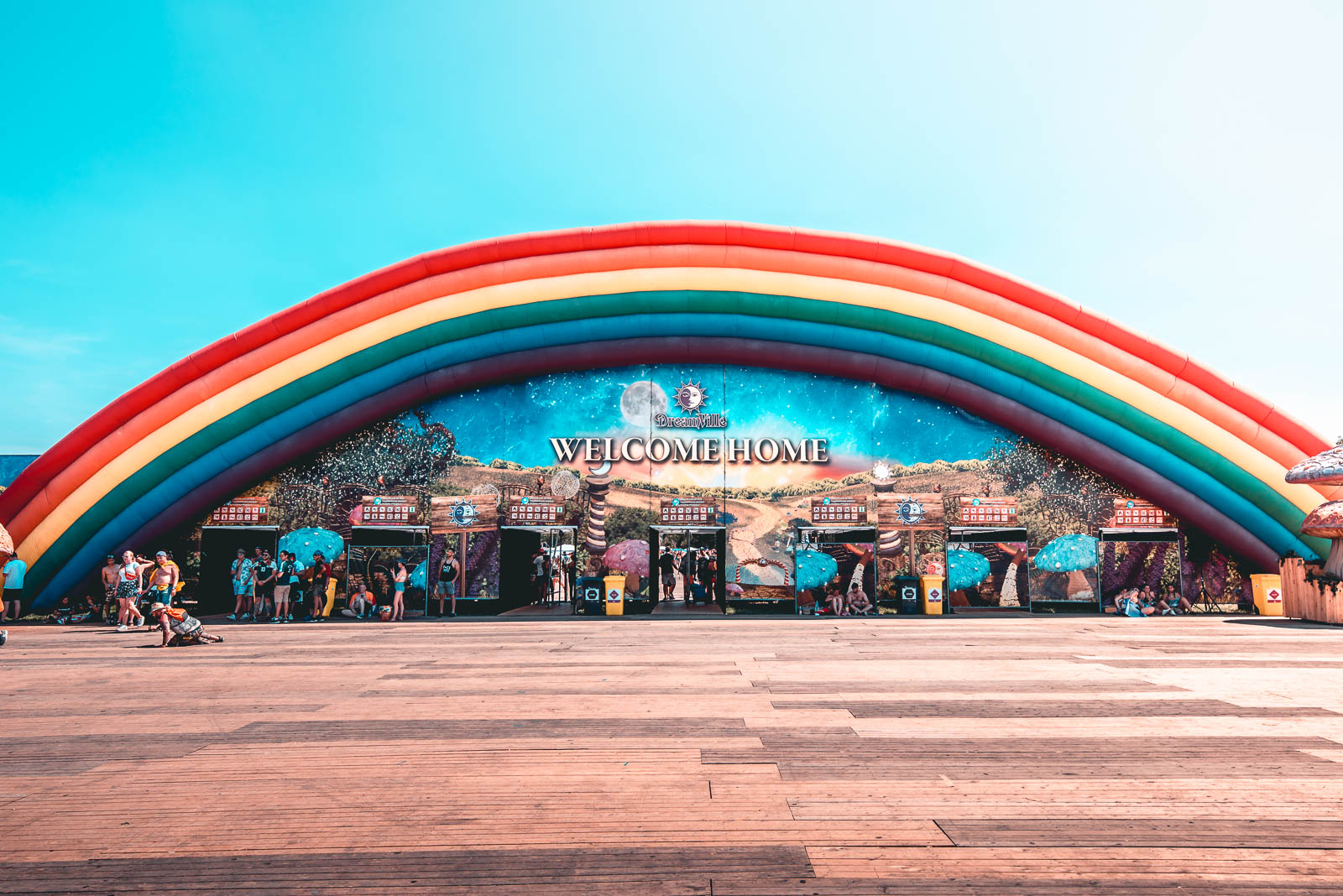 That's because it's not your typical festival campsite…it's an international village with its own grocery store, camping supplies shop, hair/ make-up salons, and tons of amazing food & drink options to choose from.  It's also the location to the official opening party on Thursday night called "The Gathering", which turns Tomorrowland into a 4-Day festival bender (only available to Dreamville residents).
After our Busabout squad got our festival wristbands and entered underneath the giant Dreamville Rainbow that says "Welcome Home", I instantly knew this was going to be an experience unlike any other.  Music bumping loud throughout the campsites, people running around with flags tied around their necks, and an unexplainable loving atmosphere in the air.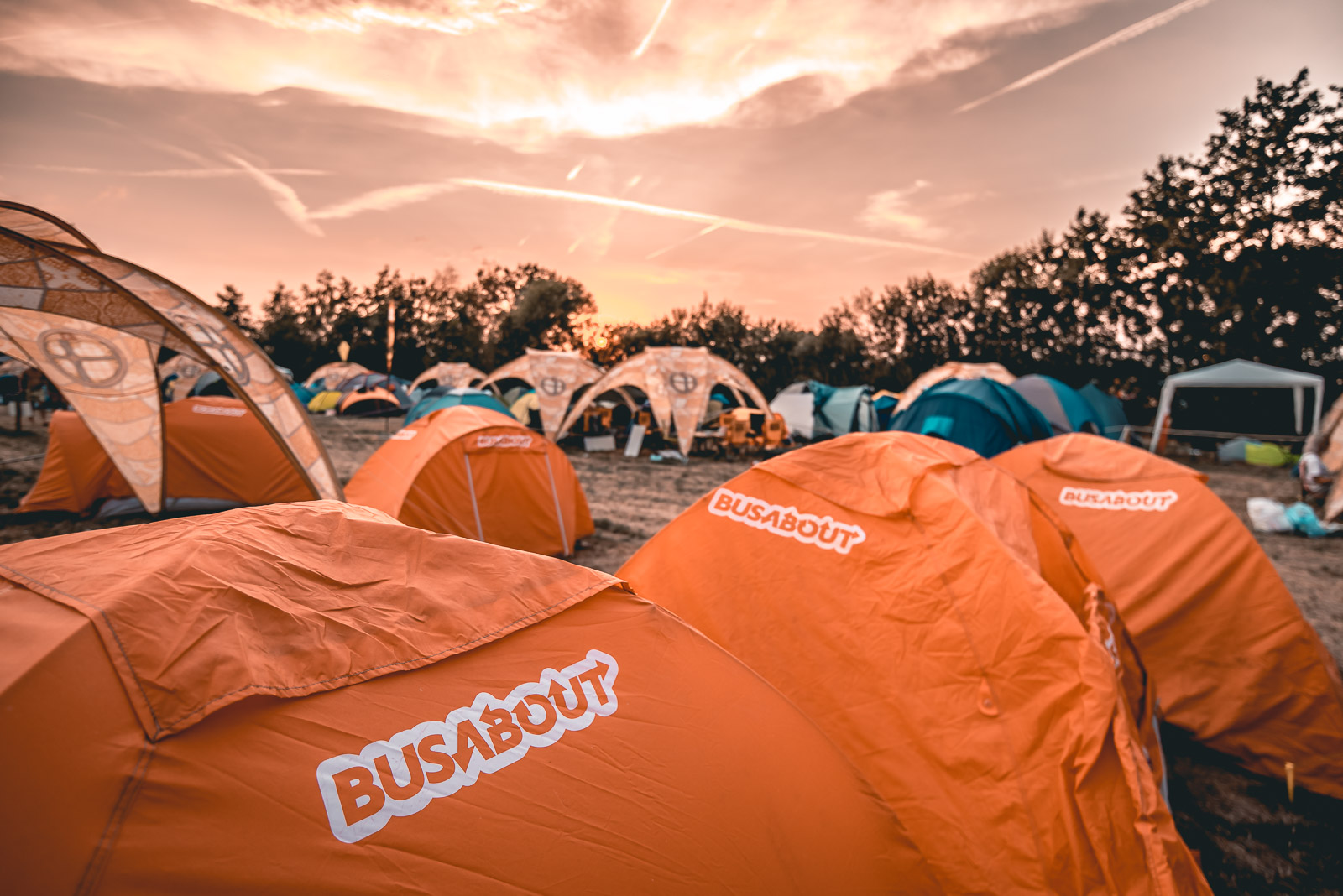 Our Tomorrowland crew stayed in the exclusive "Friendship Garden", which was awesome, and I'd highly recommend it!  It's where you can stay together with a group of 10 friends, and have a separate area inside Dreamville with its own security, lockers, and private sanitary facilities.  The bathrooms were cleaned regularly (FLUSH toilets not porter potties), there were free outdoor showers (cold water but felt great), paid warm showers (for just a few euro), and an awesome vibe inside since the majority of the Friendship Garden residents all knew each other and came together.
As we finished setting up our tents and blowing up our air mattresses, the only thing left to do was to start drinking, dancing, and meeting fellow Dreamville residents.  The Gathering was in full swing, and everyone was stoked to find out WHO the three "SURPRISE GUESTS" were on the line-up.  To everyone's delight, Lost Frequencies, Netsky, and the legendary Armin Van Buuren all played phenomenal sets, and was the ultimate way to kick of Tomorrowland!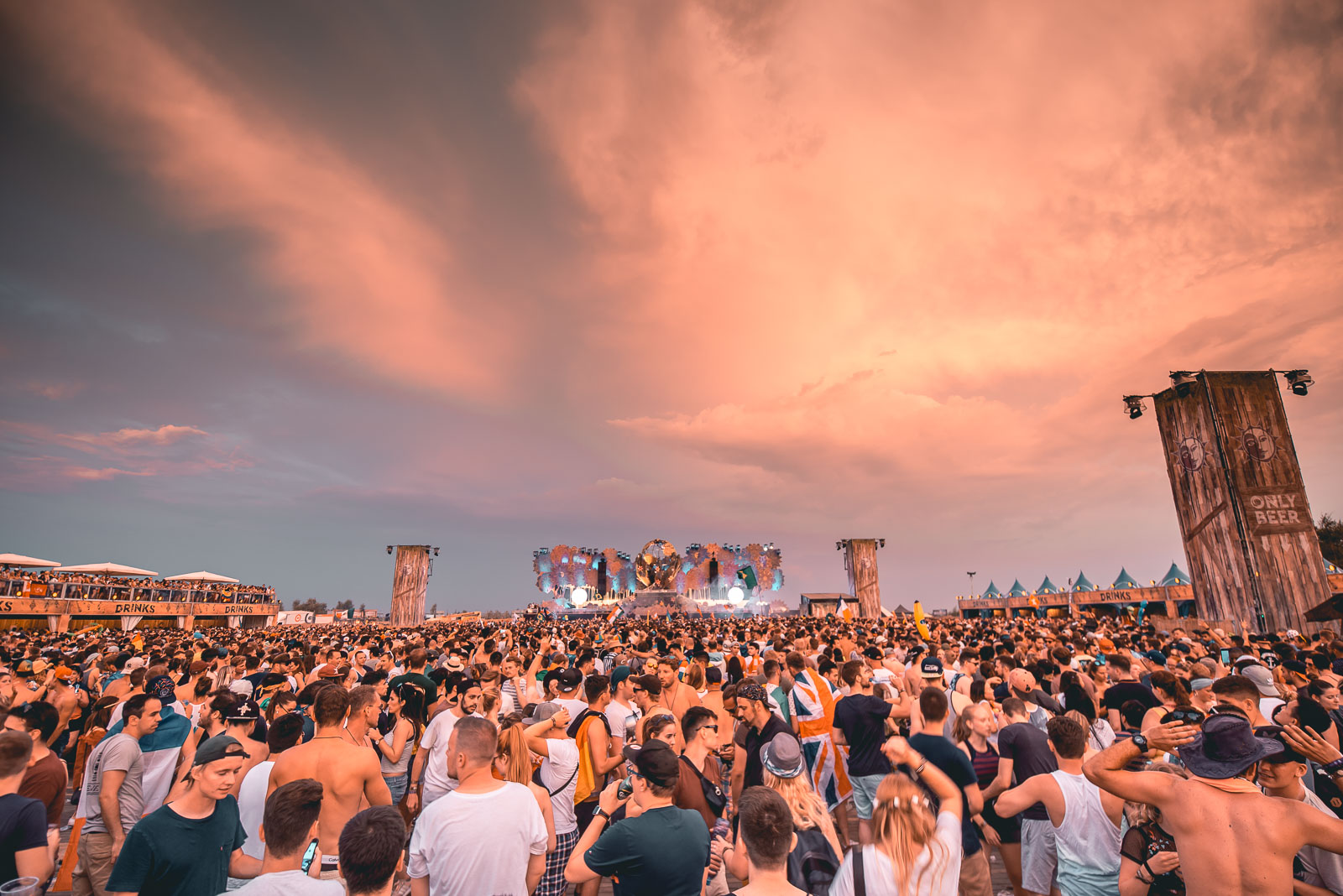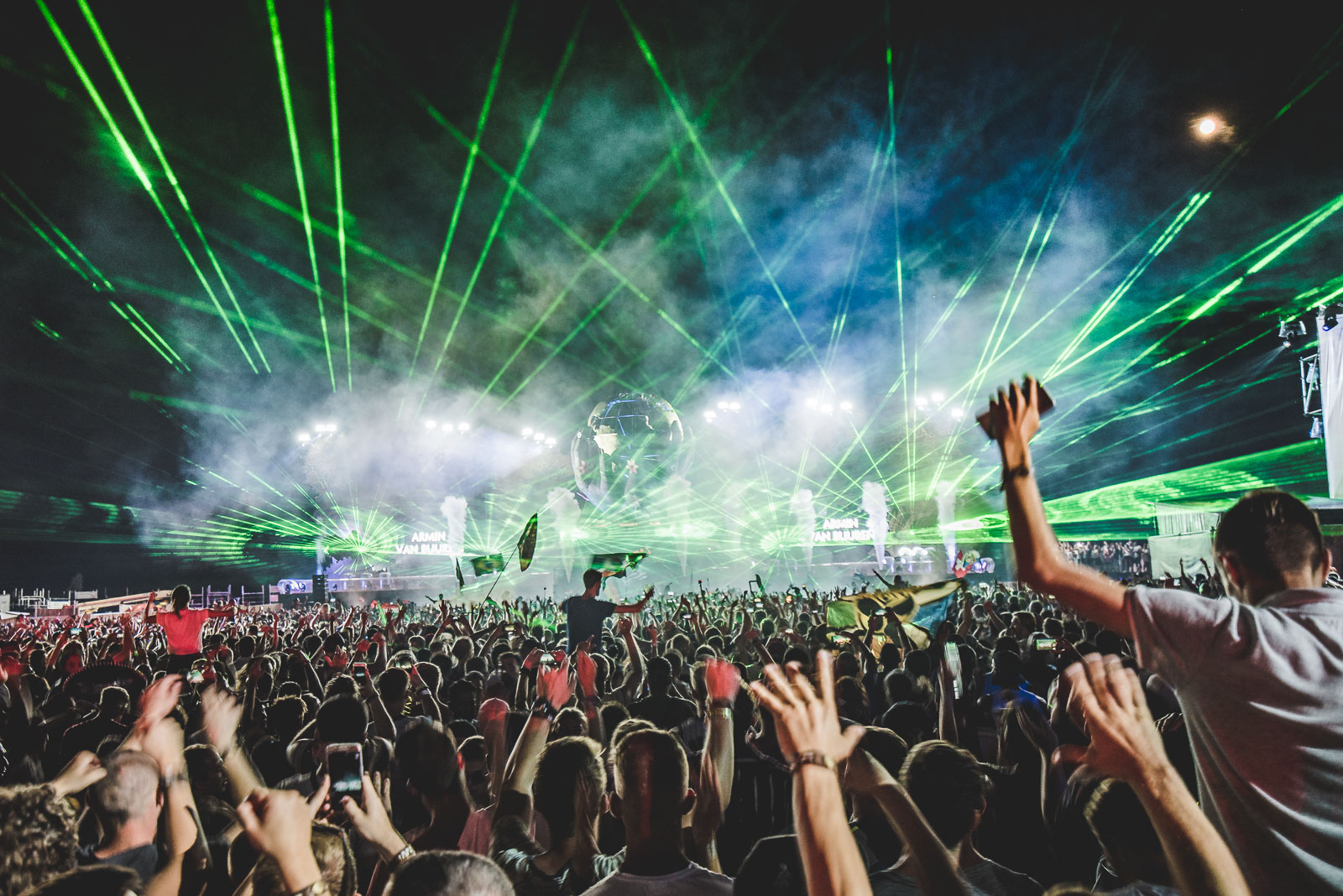 ---
Let's Talk Tomorrowland Stages
While most festivals these days have anywhere between 3-6 stages, Tomorrowland delivers an astounding SIXTEEN DIFFERENT BEAUTIFUL STAGES!!  You are constantly surrounded by music, and each stage tends to cater to a variety of every single electronic music genre imaginable.
Whether you like mainstream EDM, Techno, Trance, Dubstep, Drum & Bass, Deep House, Hardstyle, etc — Tomorrowland has got you covered.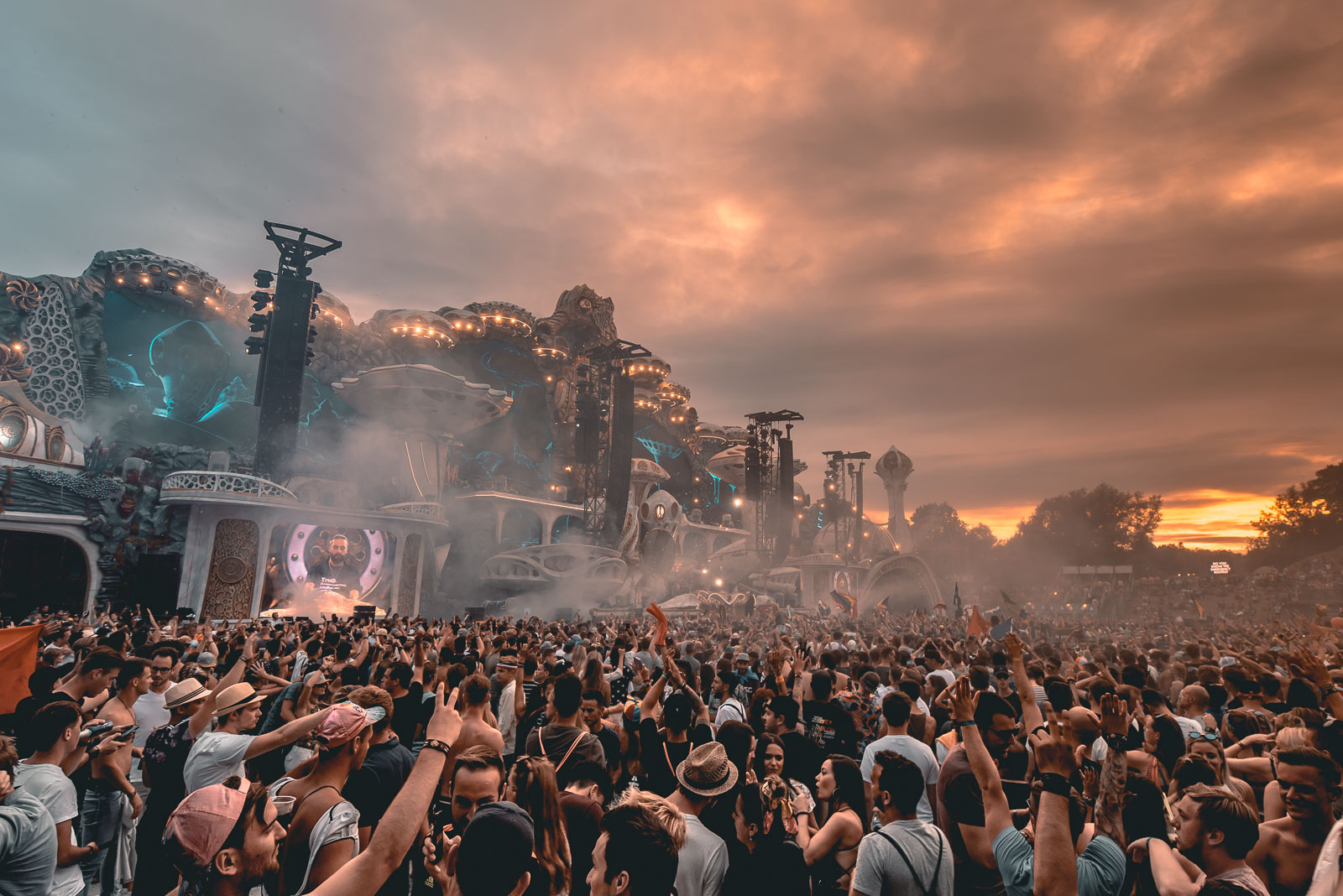 While walking around the venue you'll quickly realize that you're in an ADULT DISNEYLAND, which is a bit ironic since "Tomorrowland" is actually one of the themed lands featured at all of the Magic Kingdom parks.
While it can be easy to stay at one or two of the stages the majority of the day, half the fun is walking around and exploring everything Tomorrowland has to offer!  I won't go over ALL of them, but here were all of my favorites.
---
The Mainstage
Pictures simply do not do it justice !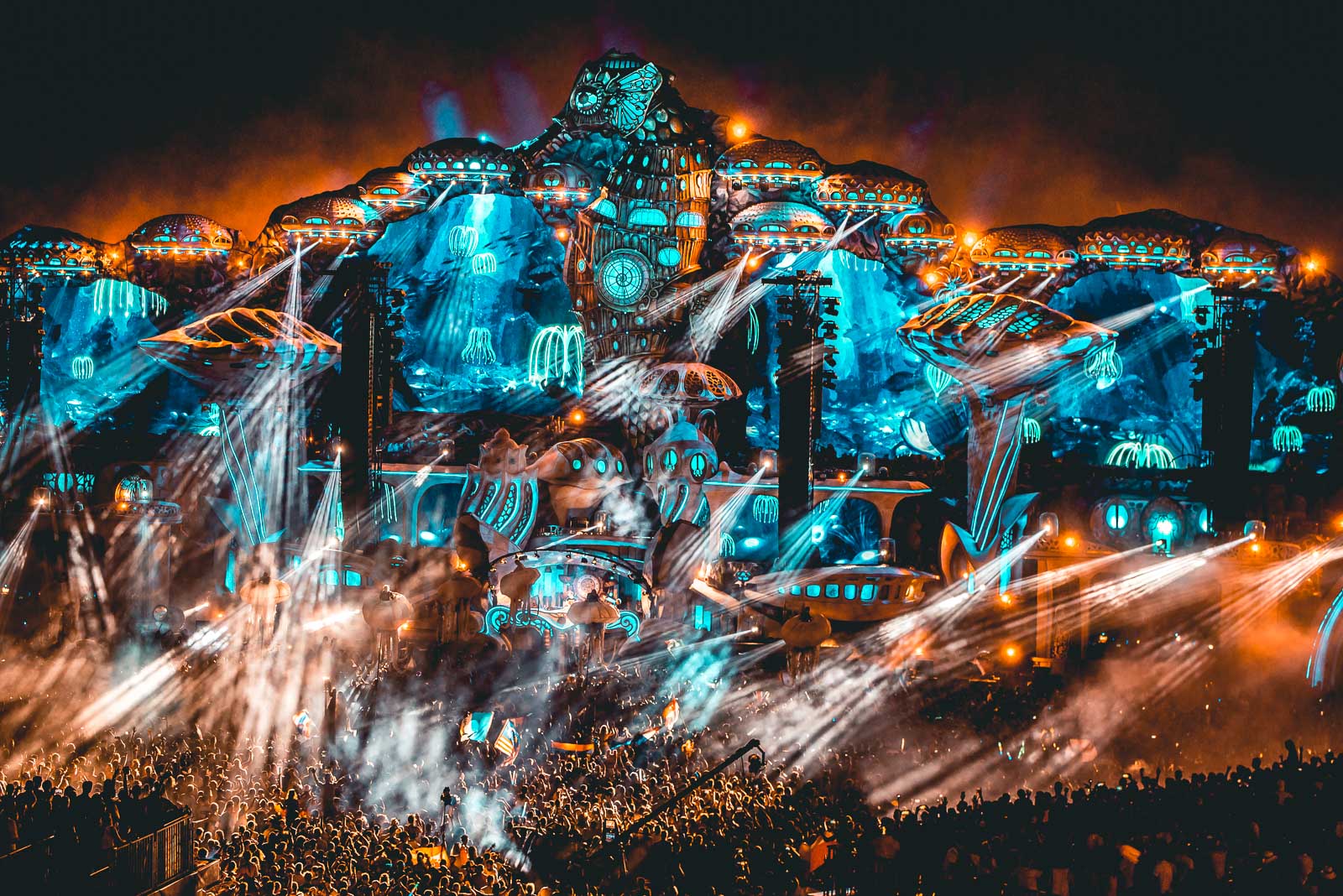 With the massively impressive Seahorse standing tall in the middle, jelly-fish domes, and LED screens portraying the ocean — Tomorrowland absolutely nailed the underwater themed mainstage this year.  The overall production was seriously next level, and closing out a night here was an absolute must.
A few acts I caught here that I was digging were Hardwell, Martin Garrixx, Jonas Blue, Kolsh, Solomon, and David Guetta.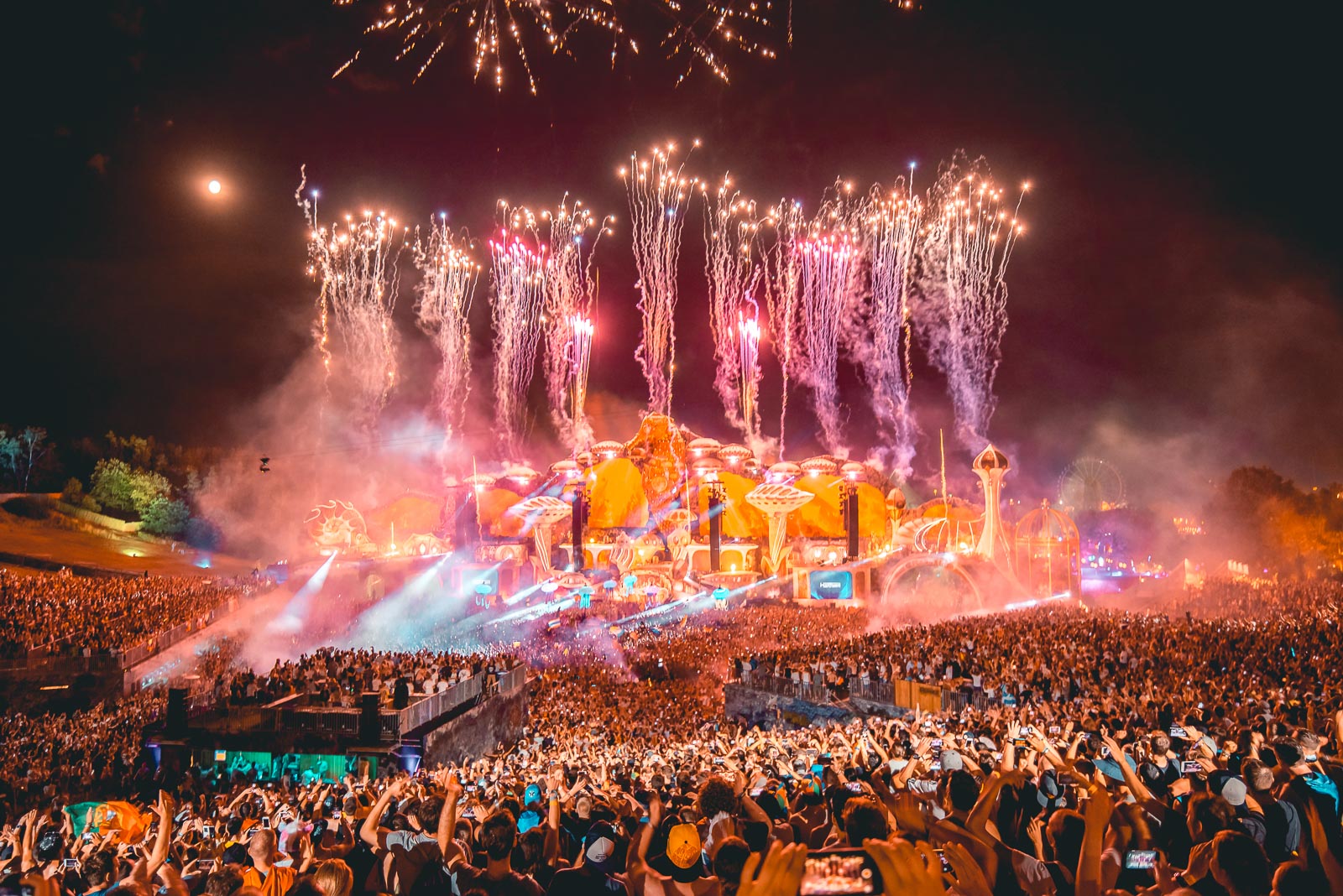 ---
Freedom Stage 
While I didn't personally spend too much time here, I heard that FatBoy Slim & Armin Van Buuren both played spectacular sets to jam packed crowds.  This was one of the few indoor stages at Tomorrowland, and had epci LED screens lining the roof.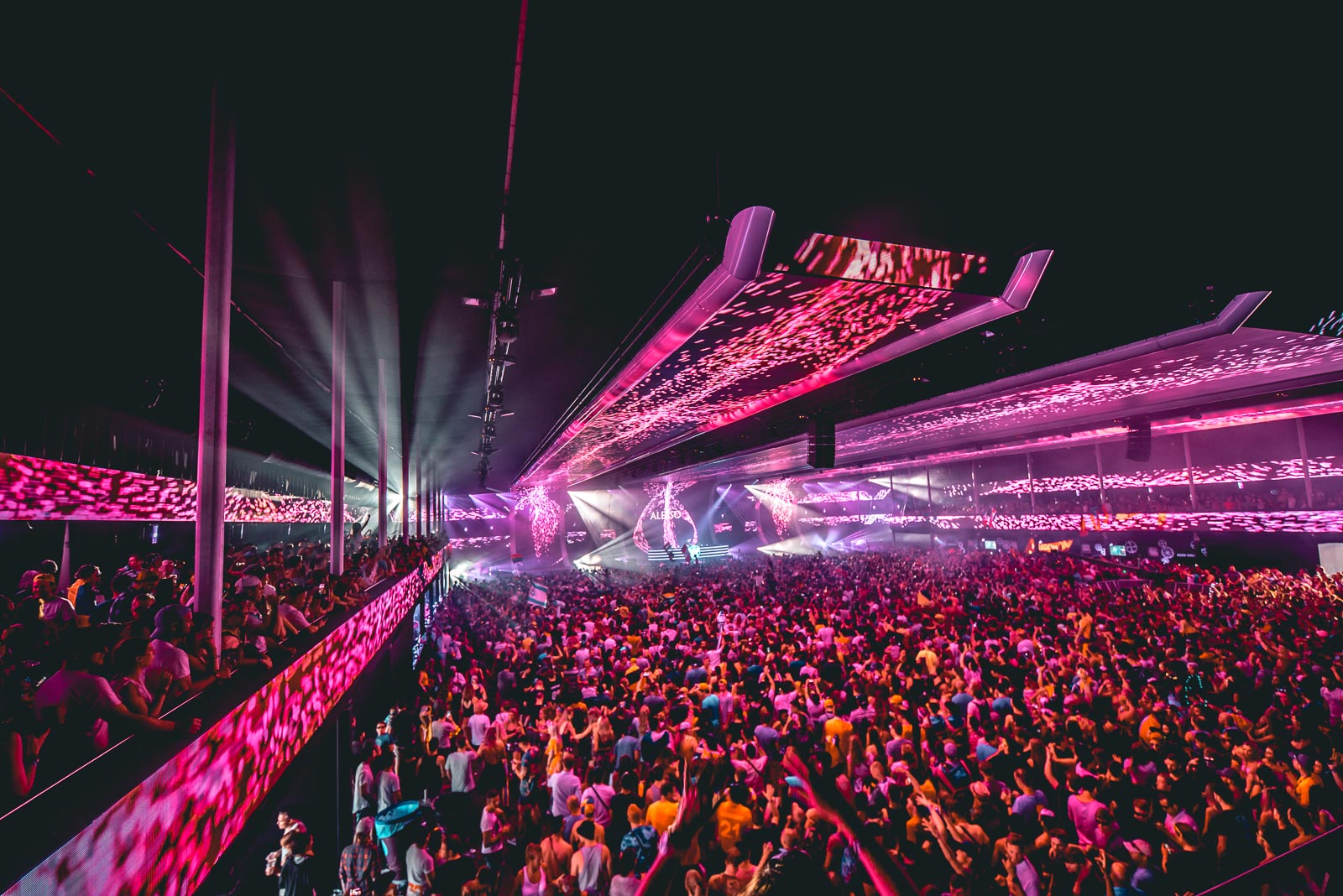 ---
Atmosphere
Hosting some major names like Adam Beyer, Richie Hawtin, and Eric Prydz – this stage was going off all weekend long!  The domed tent had some amazing lighting and incredible sound that had its ravers in absolute awe.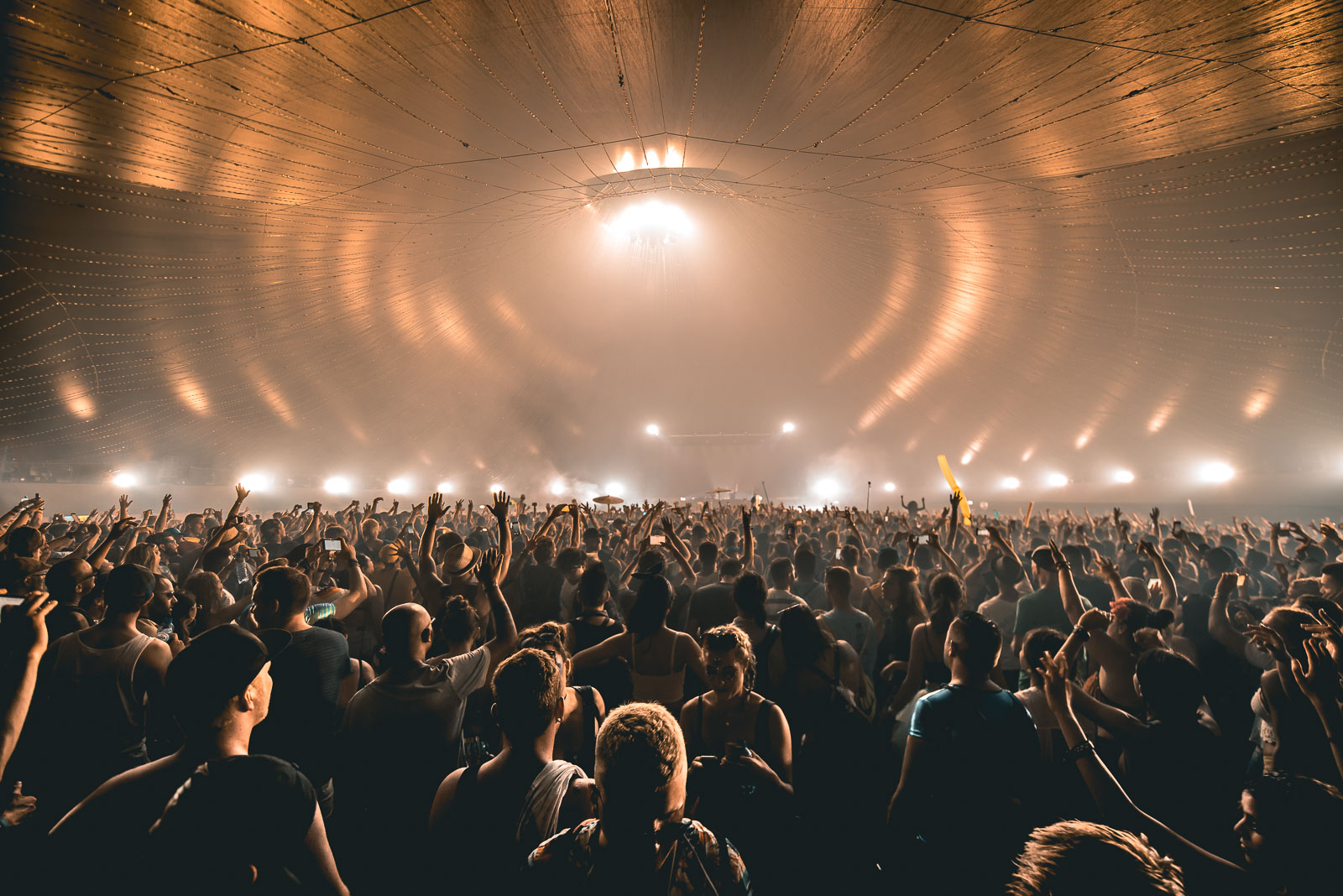 ---
Organ of Harmony
Smash The House Records, Lost Frequencies & Friends, and some epic Live sets graced this beautiful Organ Of Harmony stage.  I caught the second half of Nicky Romero's set, and the crowd was going crazy!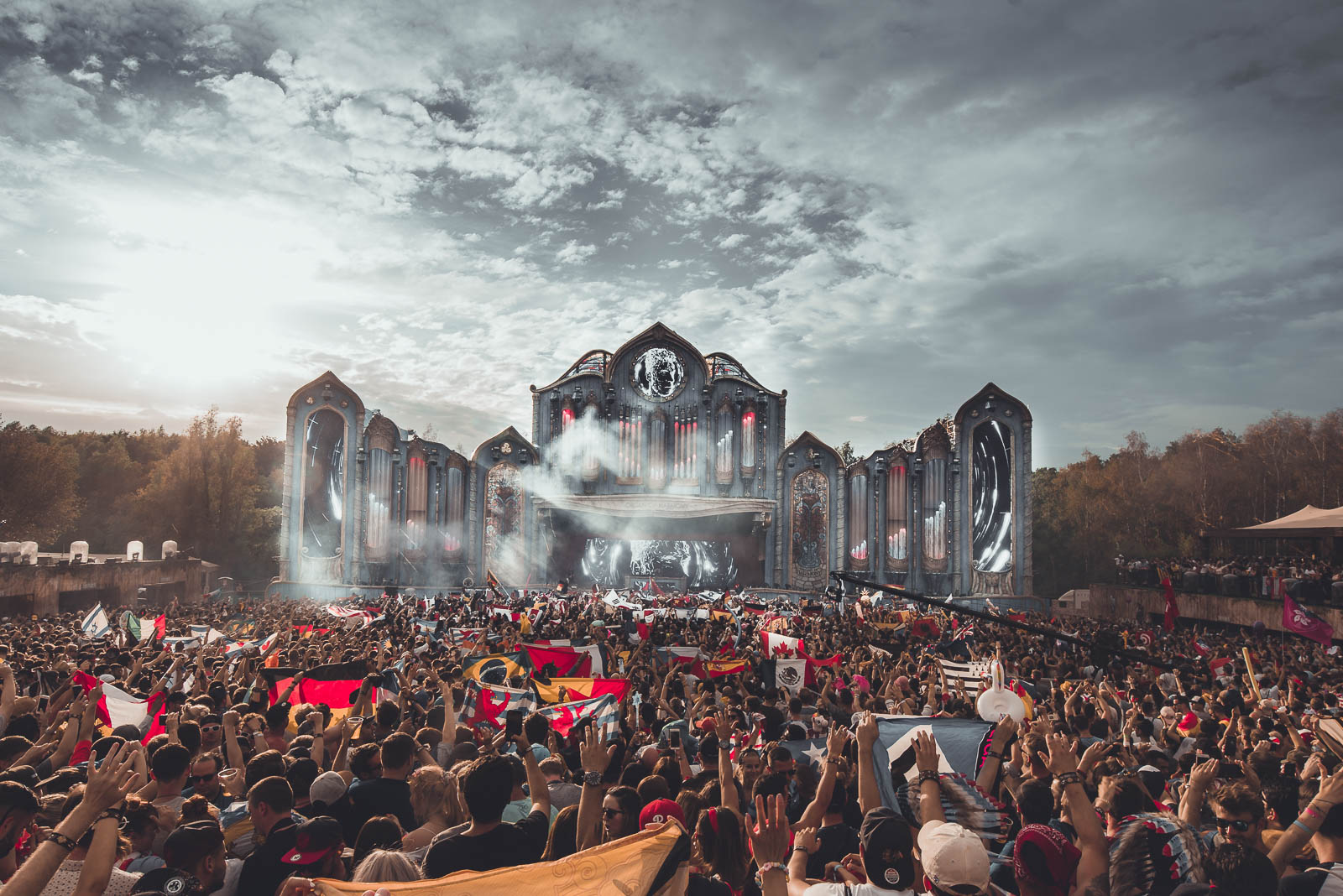 ---
Garden of Madness
Don't forget to look up!   This merry-go-round shaped stage had such a beautiful roof with fake flowers and leaves hanging from it that looked so damn cool with the lights and lasers shining through them.  I ended my Saturday night with Tale of US playing an unbelievable techno set here, as well as a bit of Joris Voorn on Sunday.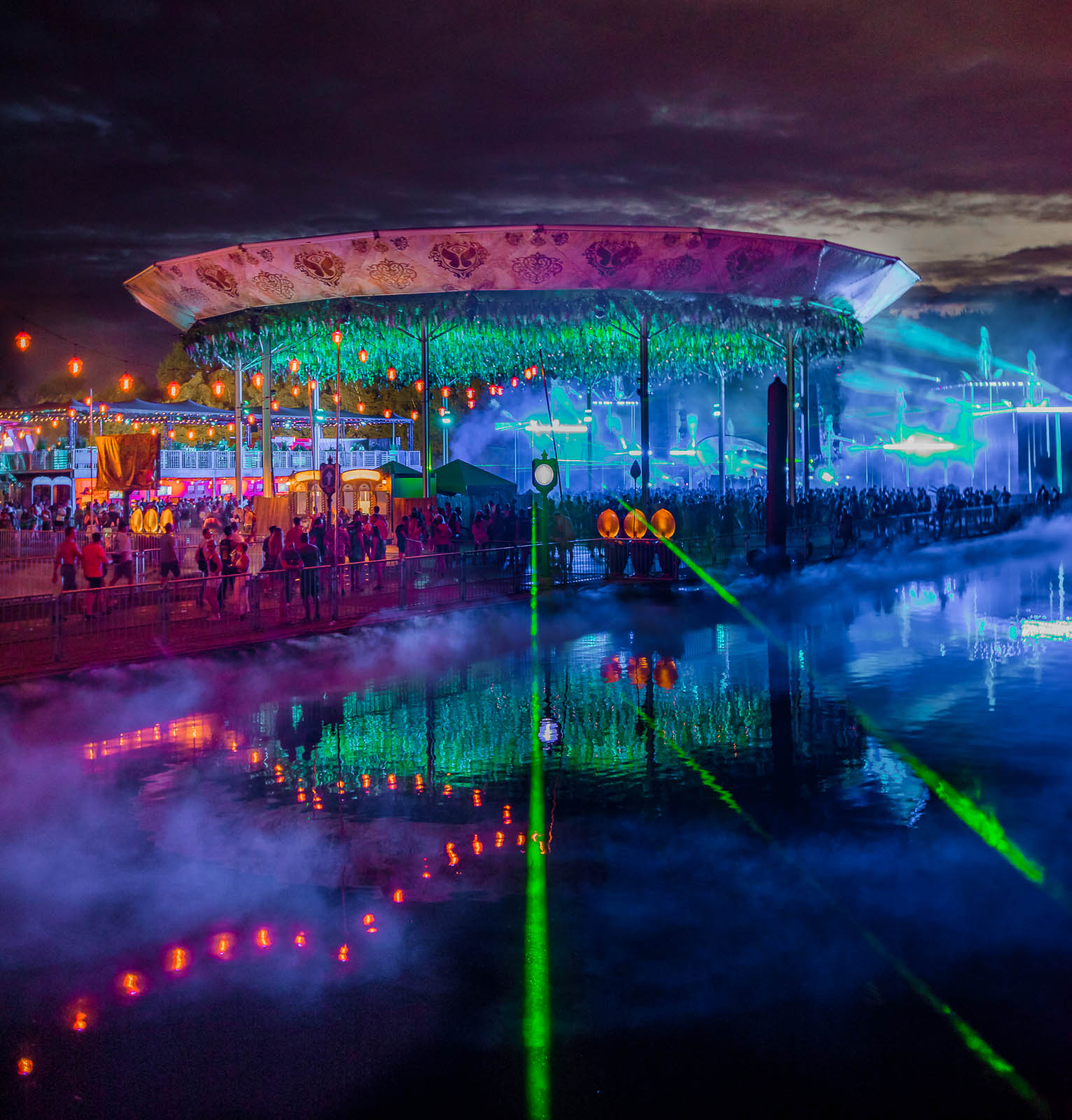 ---
The Arch
This massive Romanesque stage looked like it was straight out of a movie set.  I didn't spend too much time here, but did watch a bit of Chocolate Puma and was vibing for sure.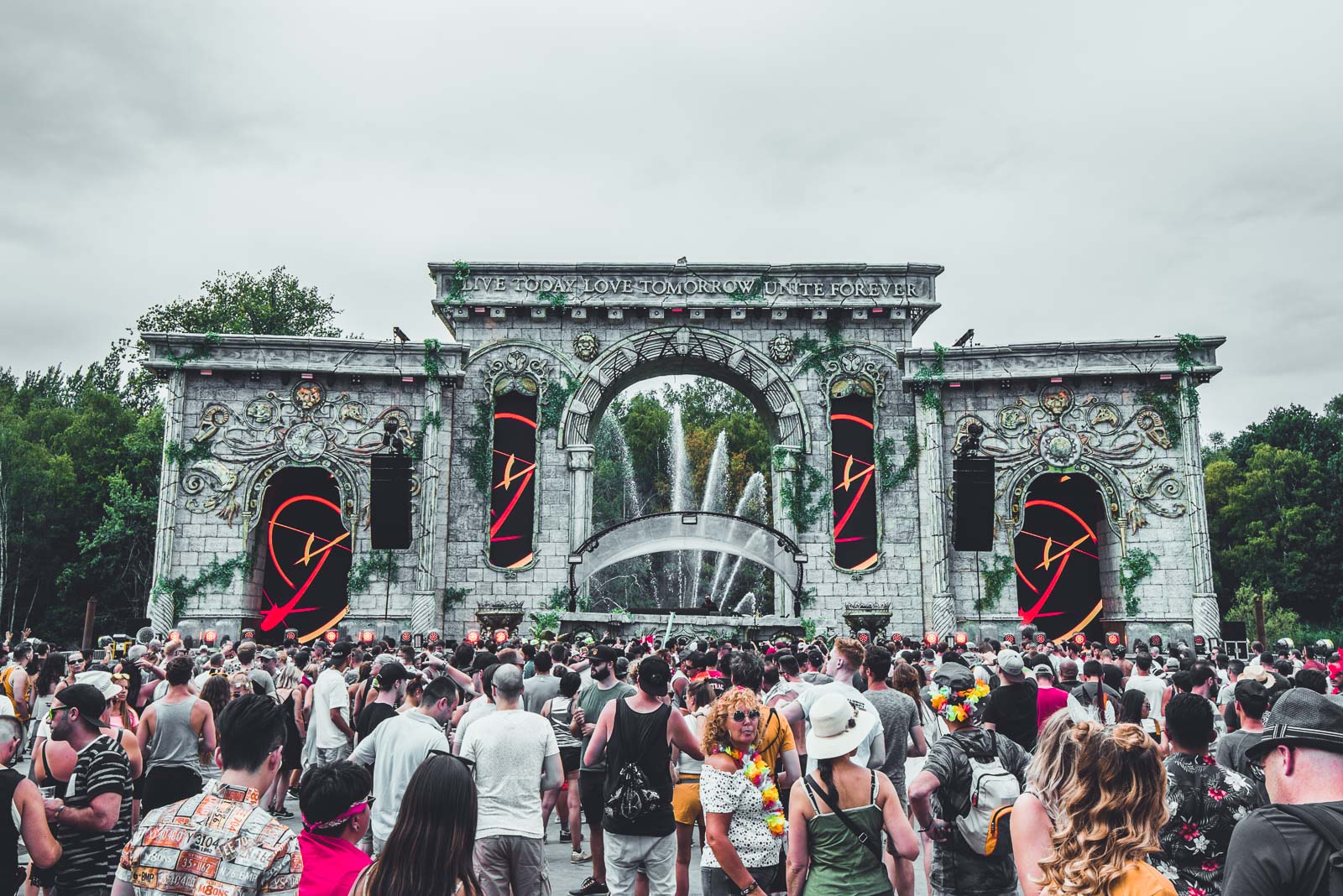 ---
YouPhoria (Mushroom Stage)
One of the most smaller yet uniquely funky stages at Tomorrowland was YouPhoria!  I never really knew who was playing here, but loved the design and production here.  They also had these misters from the roof that were a godsend on Friday in the 40-degree heat.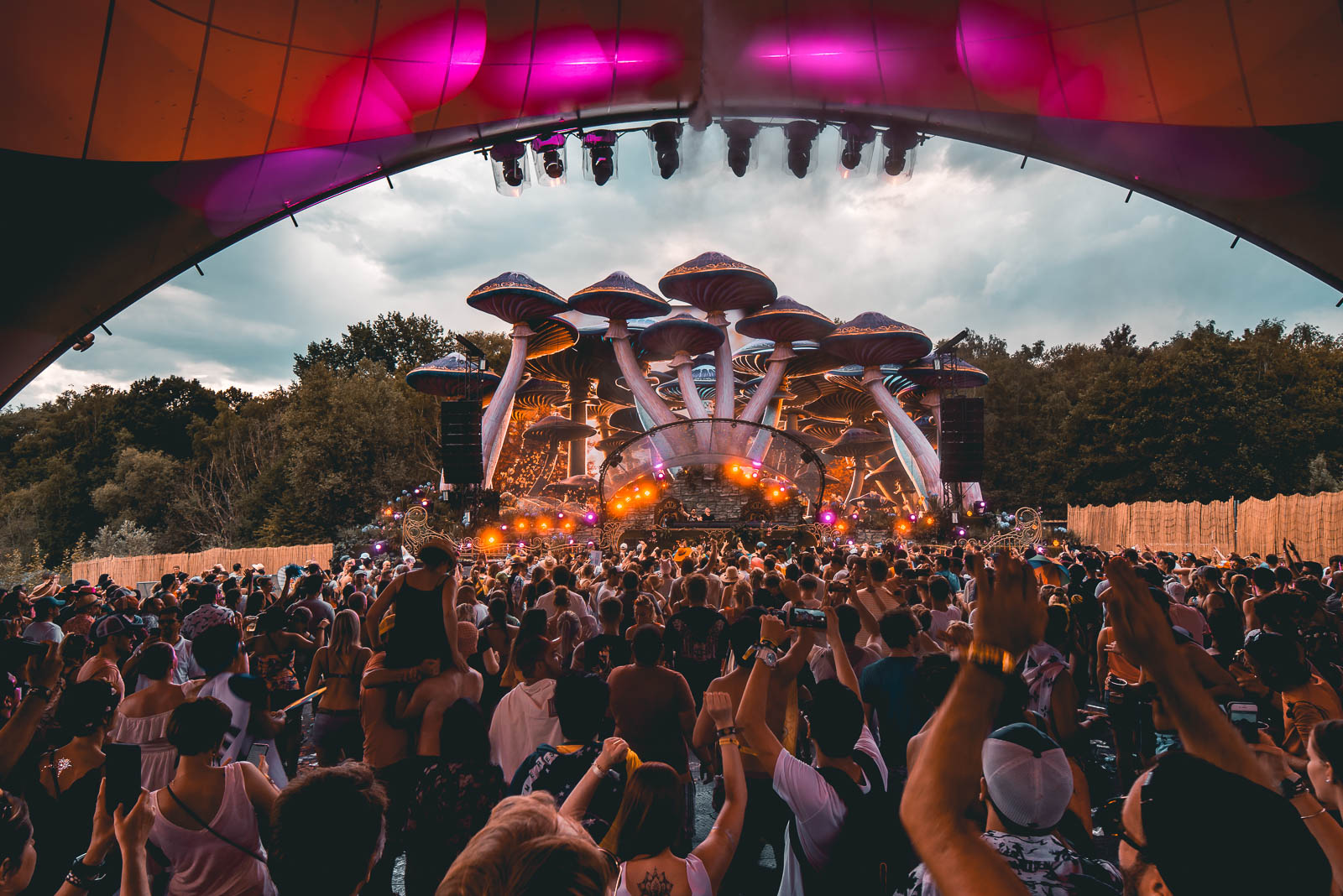 ---
CORE
Surrounded by trees and being soothed in groovy basslines, I honestly couldn't get enough of this stage tucked away in the forest.  Maya Jane Coles, Bedouin, and Ame B2B Rodhad were all incredible here!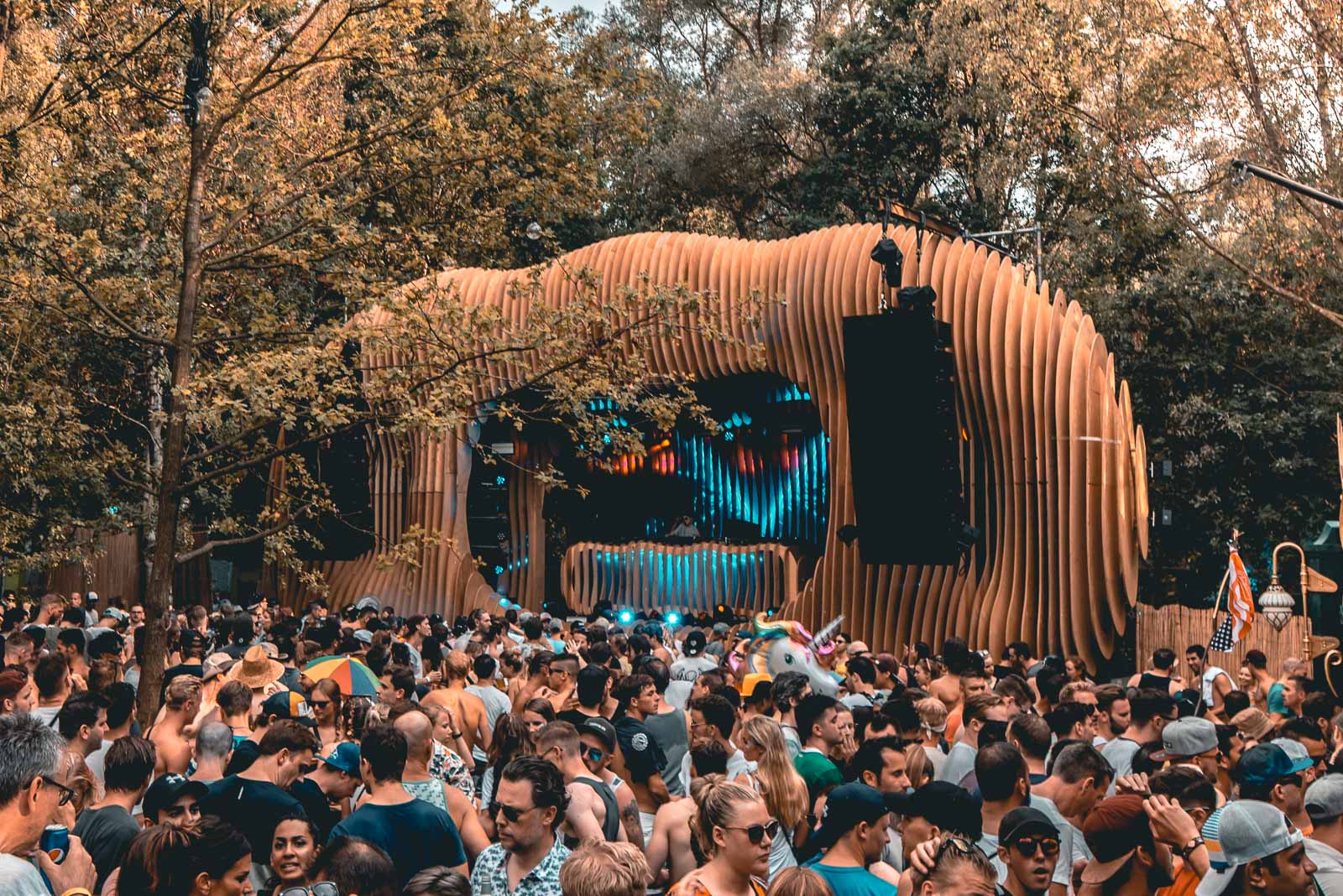 ---
Amicorum Spectaculum Presents:  Theatre Formidable
With an actual merry-go-round sitting on top, this carnival/ circus themed stage was epic!  I caught 30 minutes of Nicole Moudaber here, and she once again proved she is the queen of techno.  On the final day of Tomorrowland, this was the "I Love the 90's" stage, and I hear it was a damn good time!
---
Tulip
Located pretty much smack in the middle of the festival, I probably walked past this stage dozens of different times.  Hosting an Anjunadeep stage on Friday night, it was going off with some amazing trance tunes.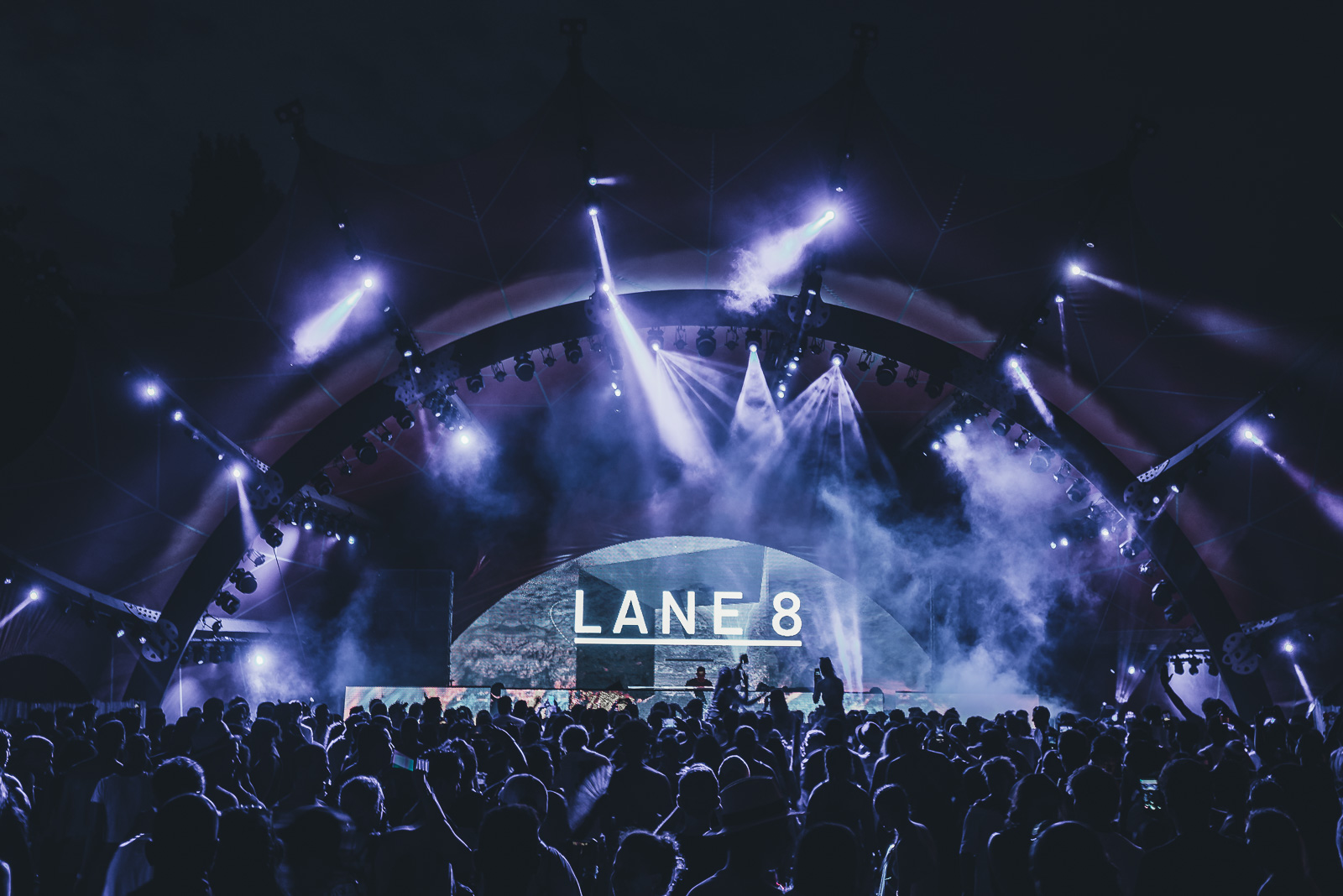 ---
Rave Cave
A Tomorrowland crowd favorite is the legendary rave cave, which probably only comfortably fits about 20 people, lol.  Stopping by and popping your head in through is a must!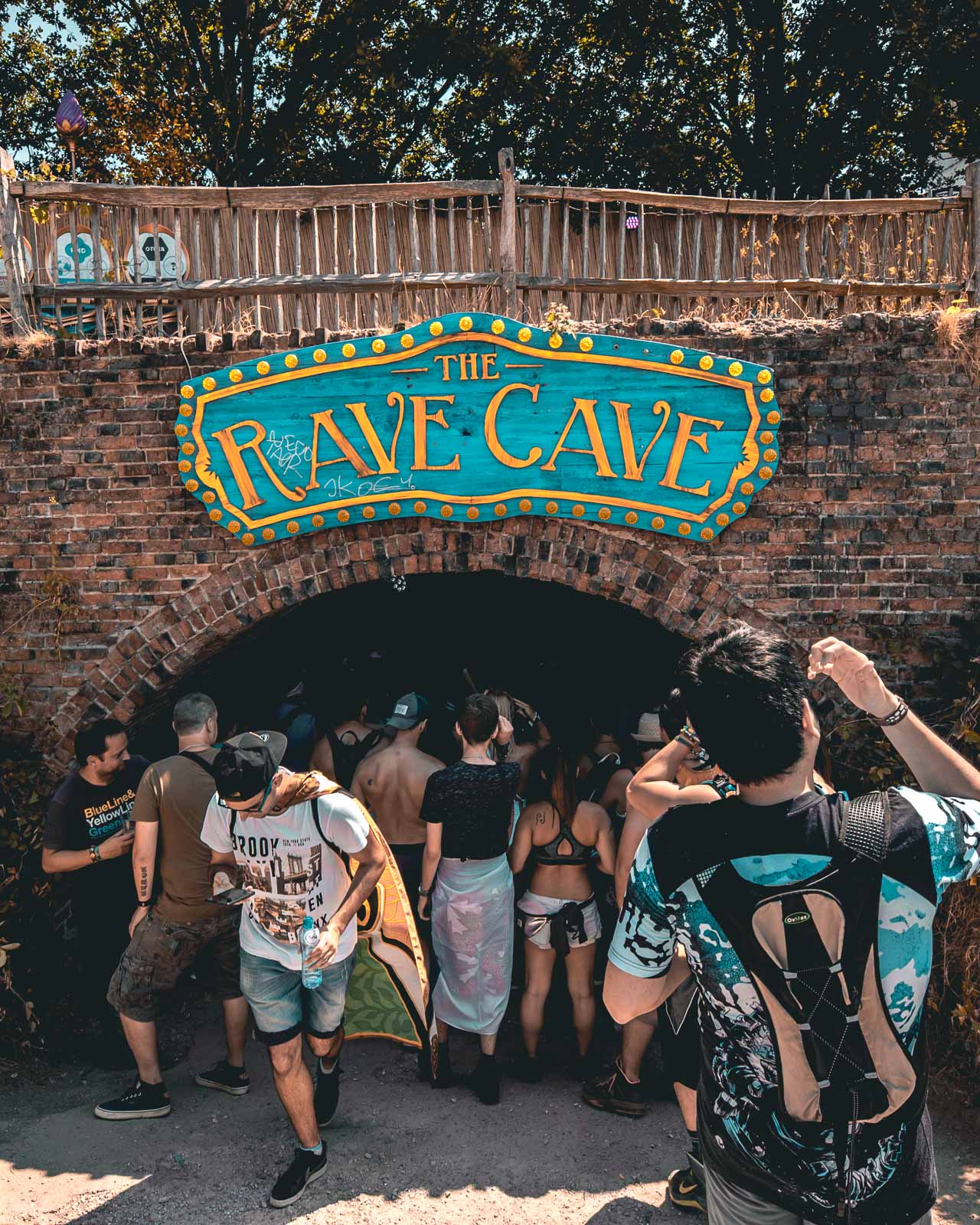 ---
Rose Garden (Dragon Stage)
Alison Wonderland basically transformed herself into Khaleesi, and became the mother of dragons during her set on Friday night.
---
Decorations & Attention To Detail
Tomorrowland goes above and beyond when it comes to providing a one-of-a-kind experience.  Everything from the signs around the festival, the helpful smart phone app, colorful decorations, flower fountains, free water stations, etc, all play a role in making it such a perfectly executed event.
They've been doing this for nearly 15 years now, and in my opinion they have set the bar when it comes to electronic music festivals!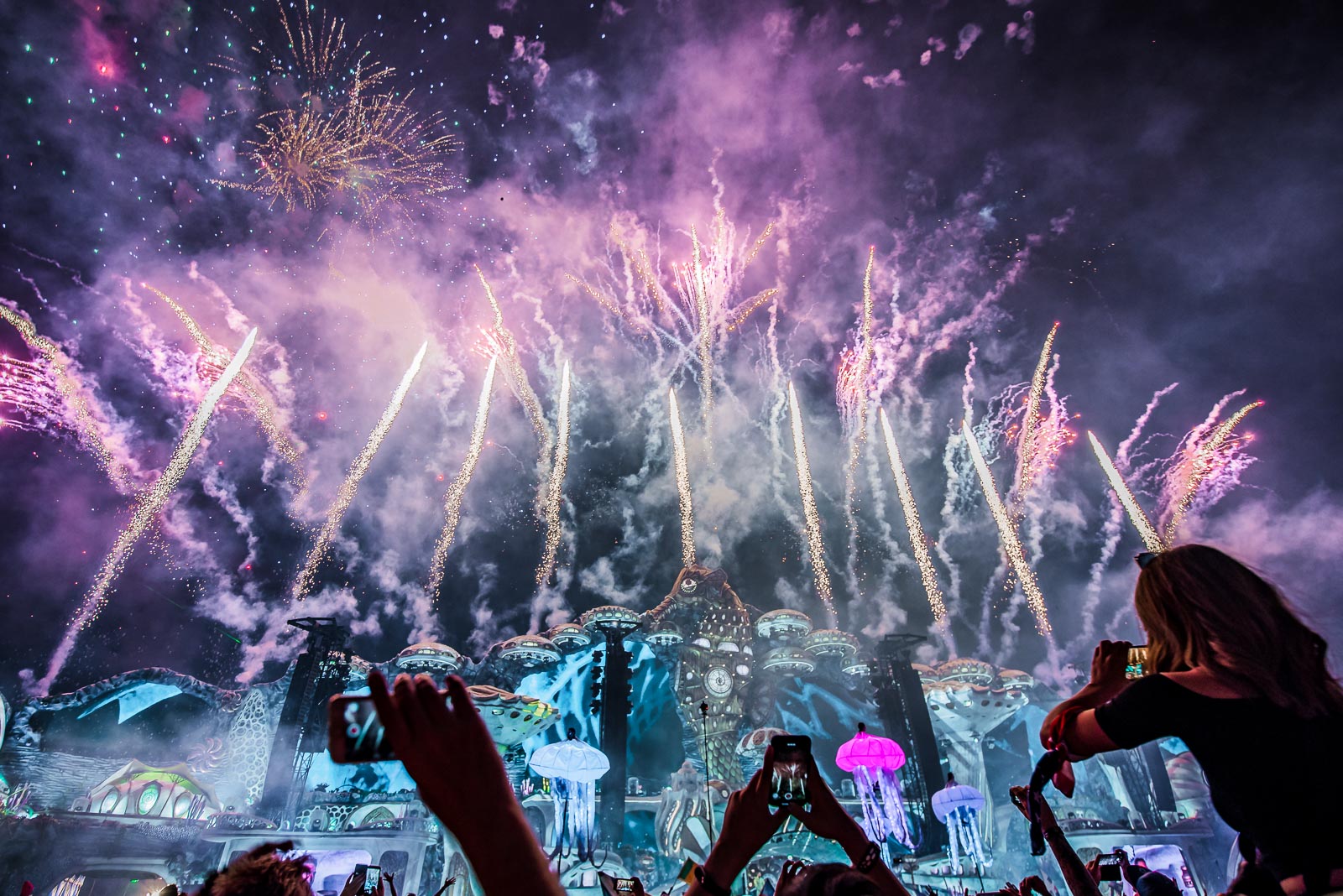 ---
Pearls, Food, and Drink
Cash and credit cards are not accepted at any of the stores, food vendors, or bars at Tomorrowland.  Instead, you load up your wristband with "Pearls", which is about 1.60 euro per pearl.  It's truly a fantastic cashless system, and really speeds up the process for ordering food and drinks.
While we're on the topic, the FOOD AT TOMORROWLAND IS INSANELY DELICIOUS.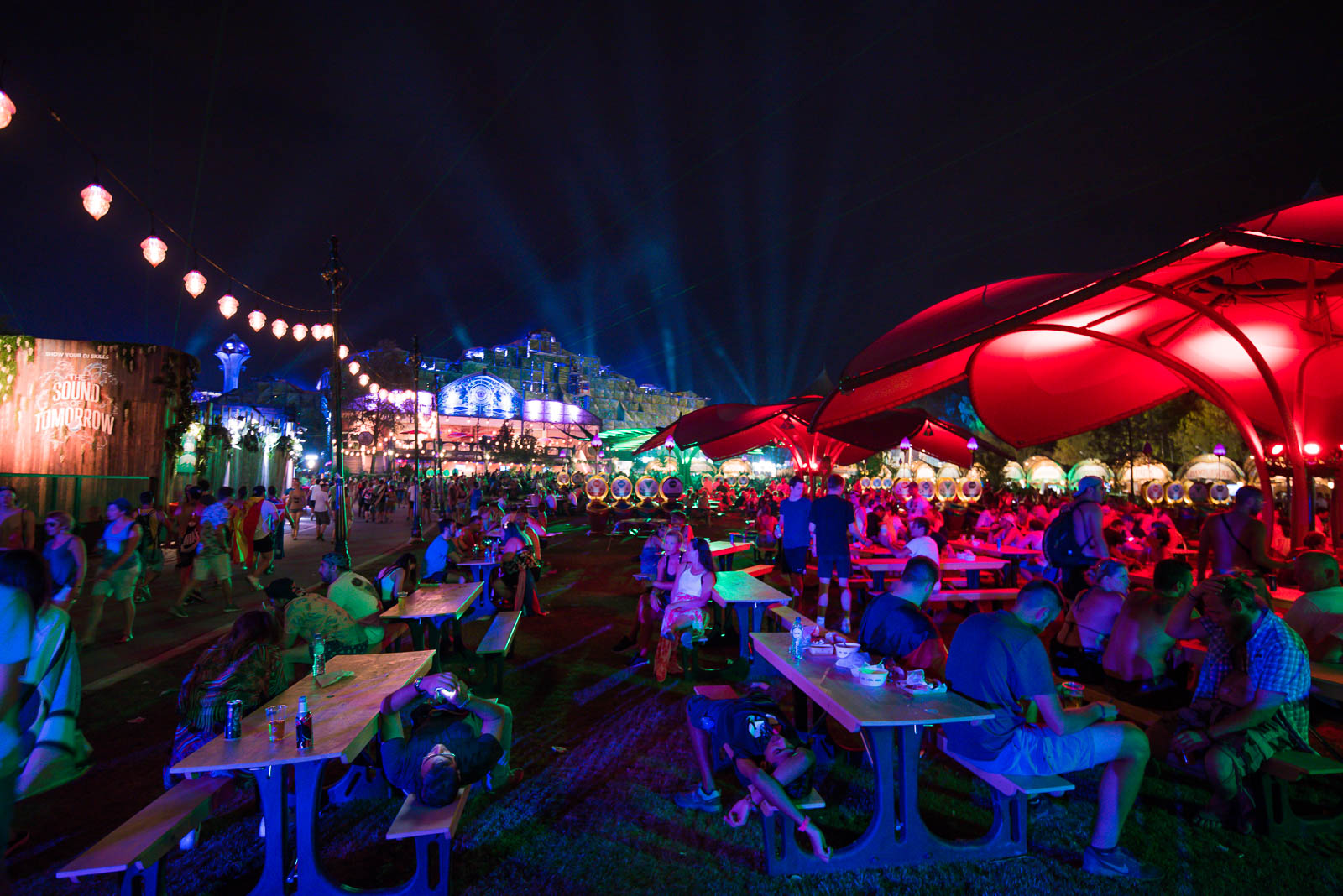 There are so many different choices of international cuisine, as well as unique dining experiences like  B-EAT by Las Vegas where "Las Vegas chefs will share the kitchen with Belgian and Dutch chefs. Lasting one hour, visitors will experience a private DJ session with appetizers and a special BEAT cocktail."  This experience costs an extra 35 euro, but a few people told me it was awesome!
---
The International Crowd
Tomorrowland is hands down the most global event you will attend in your life, and I think this is the single most important aspect that makes this such a unique experience.
Music truly brings the world together, and I'm completely in love with the electronic music community.  It was nothing but good vibes, hugs, and love all weekend long.  
You could literally go up and talk to ANYBODY, and the easiest way to do that would just be "Hey, where are ya from?"
Thank you Tomorrowland 2018 Family!  <3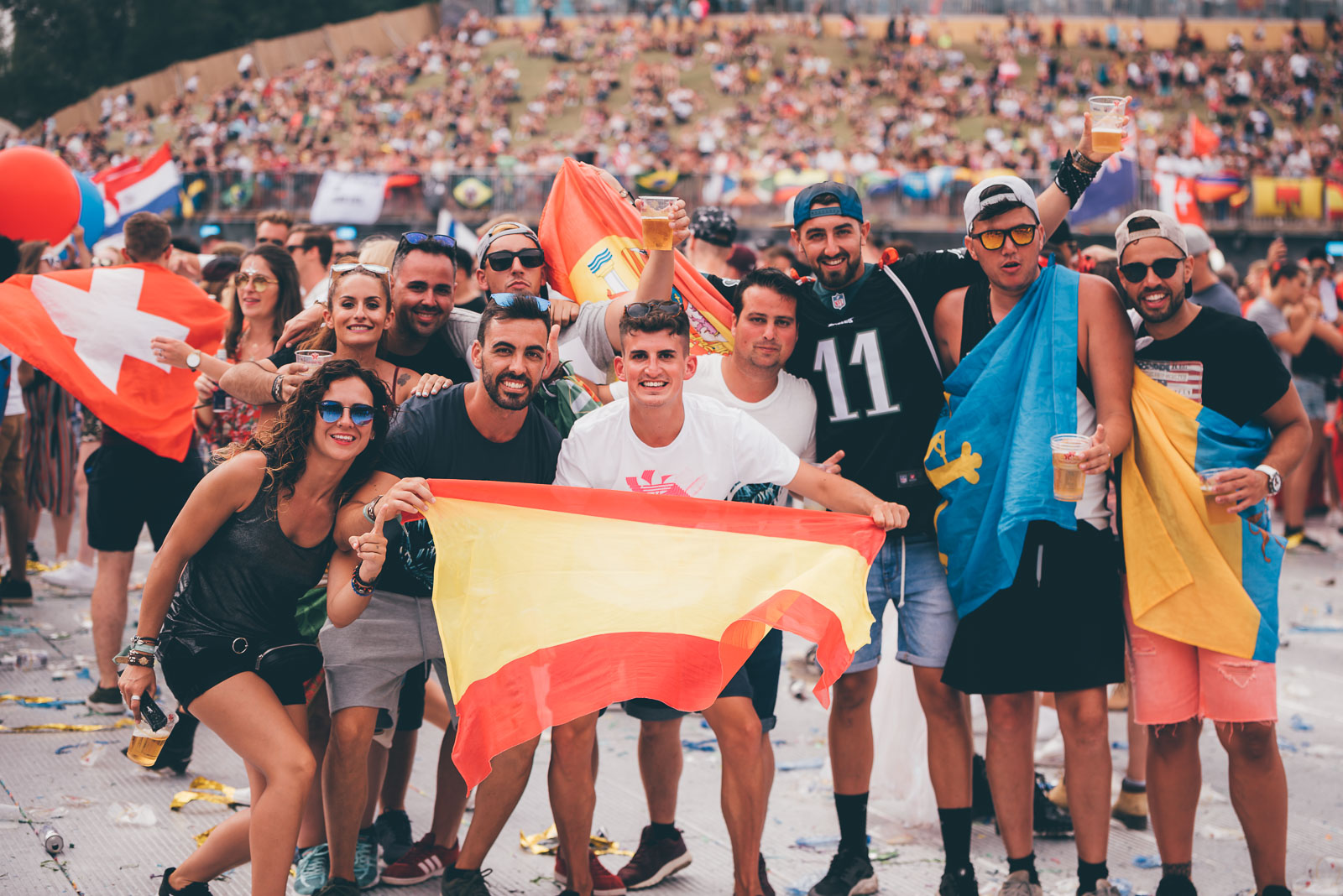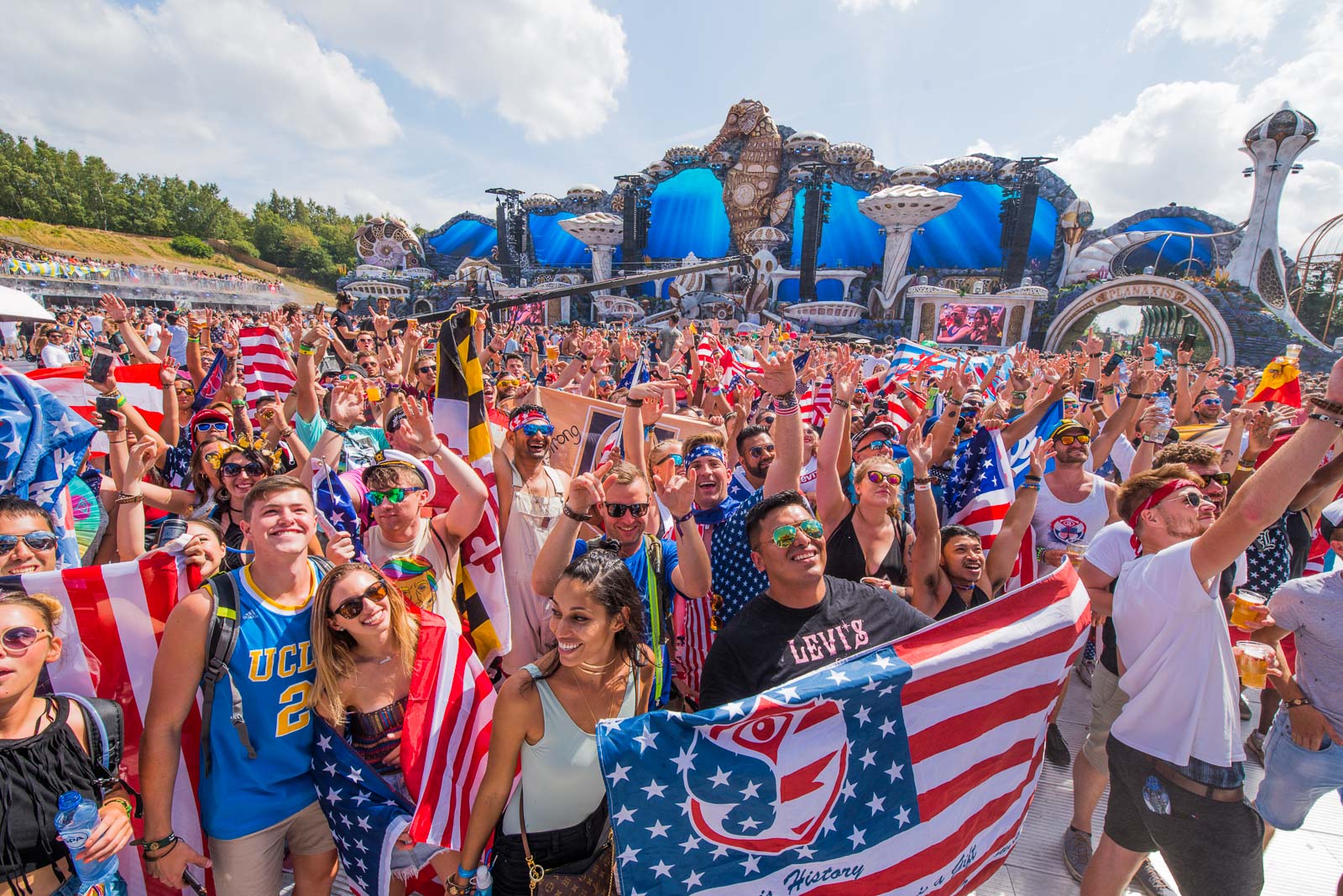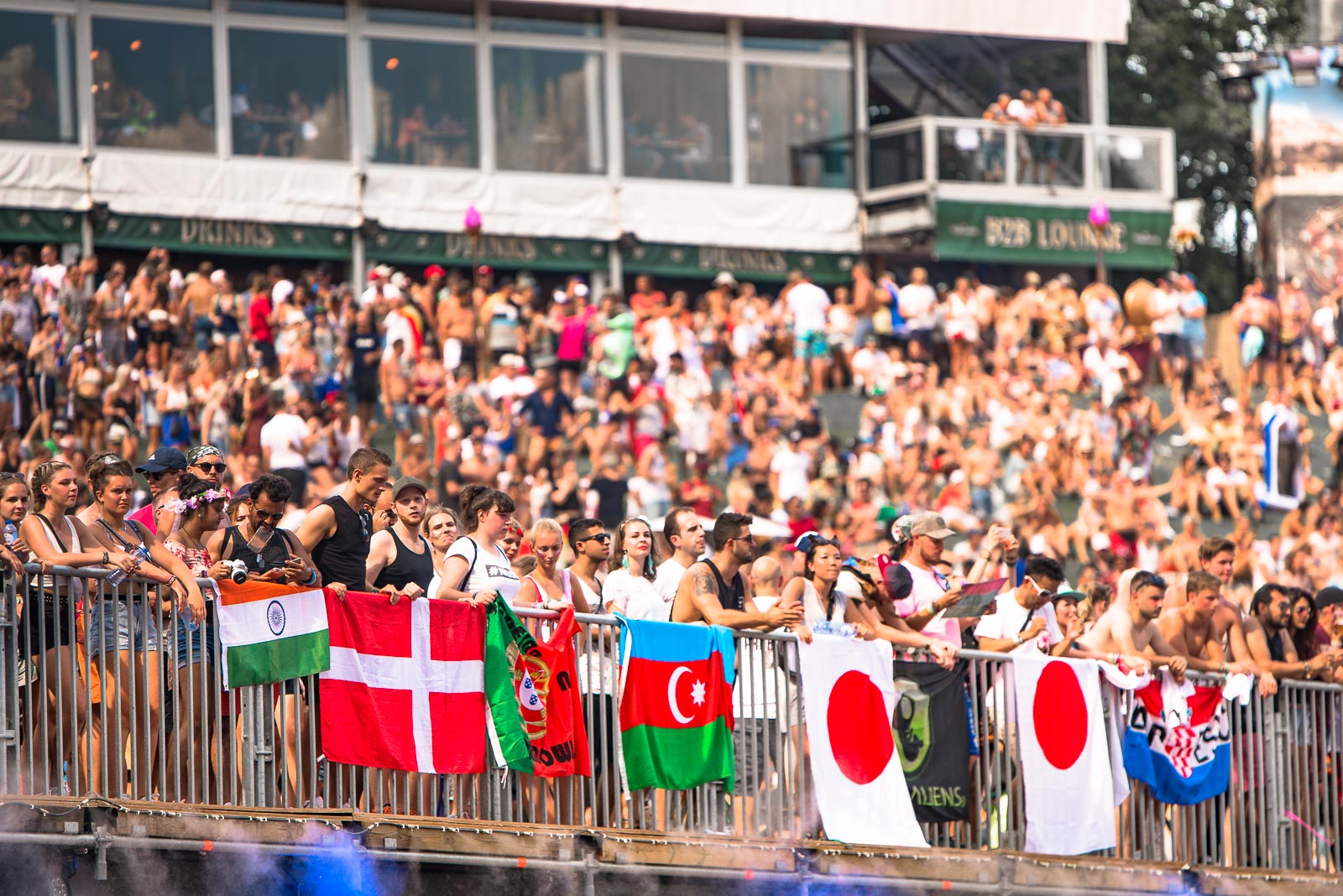 ---
The Busabout Experience
I had been traveling around Europe on Busabout's Hop-on/ Hop-off network for two weeks prior to the festival, and this was my last big hoorah for my summer travels in Europe!  Now I've been to dozens of festivals around the world, but I had never attended one with a travel company before, and it really made a big difference for me (especially as a solo traveler)!
I danced, camped, and partied with so many awesome people from the Busabout squad, and can't wait to reunite with them at another festival or in their home countries.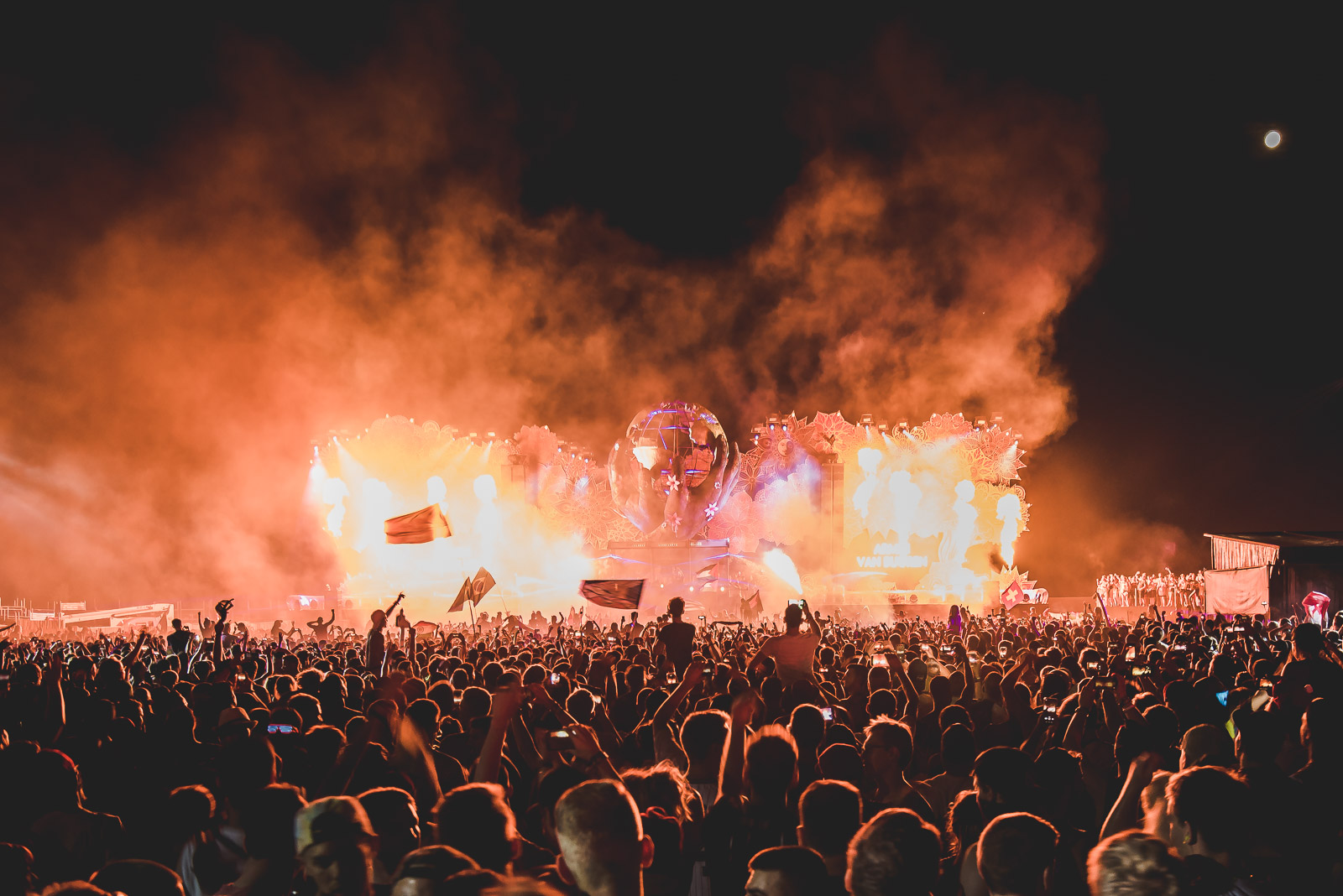 There were three buses from Paris directly to Boom on Thursday morning, and then on Monday dropped us off in Brugge or Amsterdam (making the transportation process super easy).
When we arrived at our delegated lots in the Friendship Garden, the guides had all of our tents and air mattresses ready to set-up, and were ready to help us get all set-up.  I really have to give the biggest shoutout to our BusAbout Tomorrowland tour guides!  You guys were so incredibly helpful, fun, and down to earth!
There was always set-times and meeting places to connect with fellow Busabout people, and the guides were always making rounds to make sure everyone was enjoying themselves, needed anything, or had any questions.
THANK YOU BUSABOUT SQUAD!!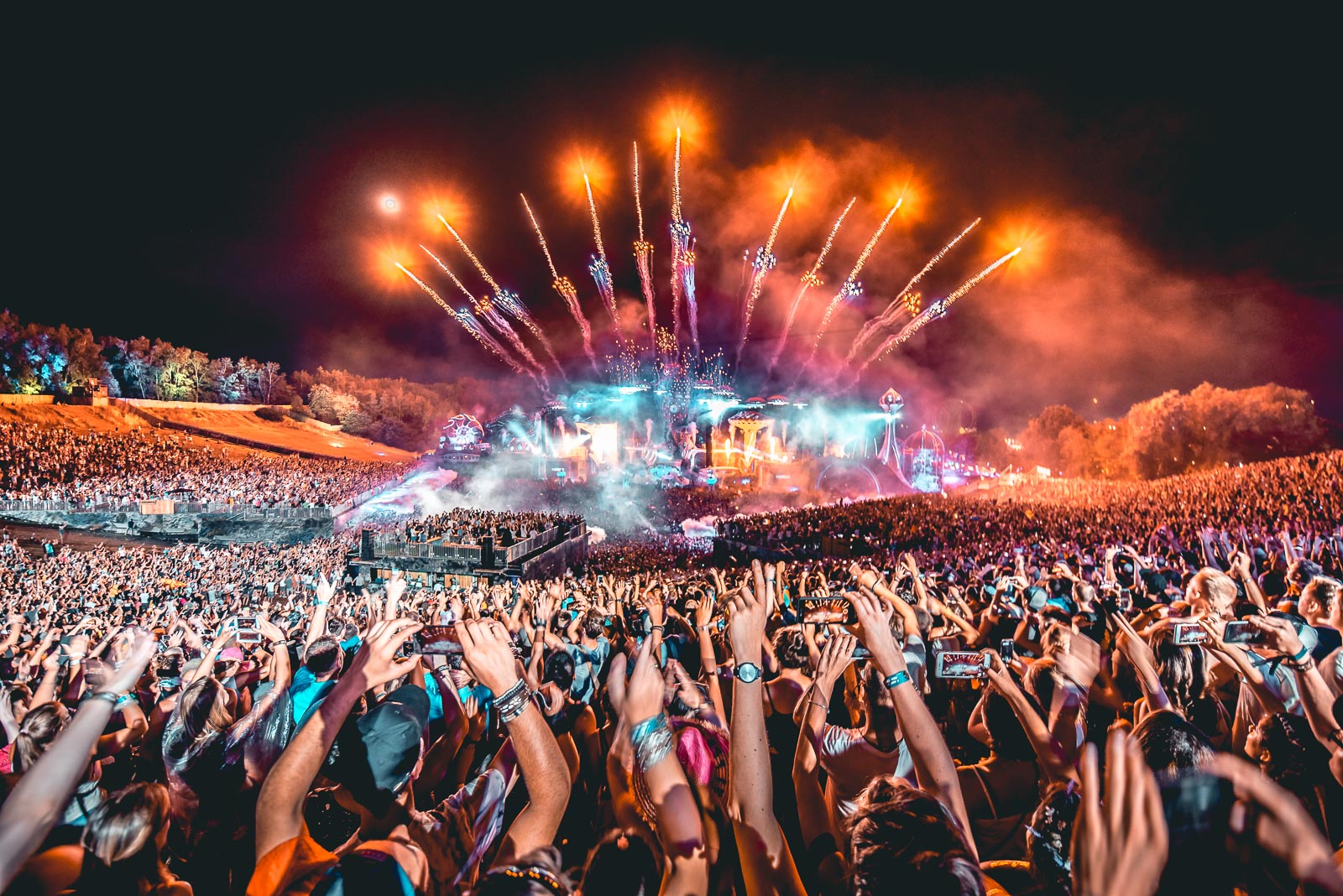 ---
Tomorrowland Tips
Go on the Ferris Wheel early on in the day on Friday!  There will be no line, and it's a great way to see the festival from above.  You'll gain an appreciation for how massive Tomorrowland actually is!
Stay in Dreamville!  I know a lot of people aren't big fans of camping, but it honestly is such a crucial part of Tomorrowland.  It is about a 20+ minute walk from the festival grounds, but it goes by pretty quickly.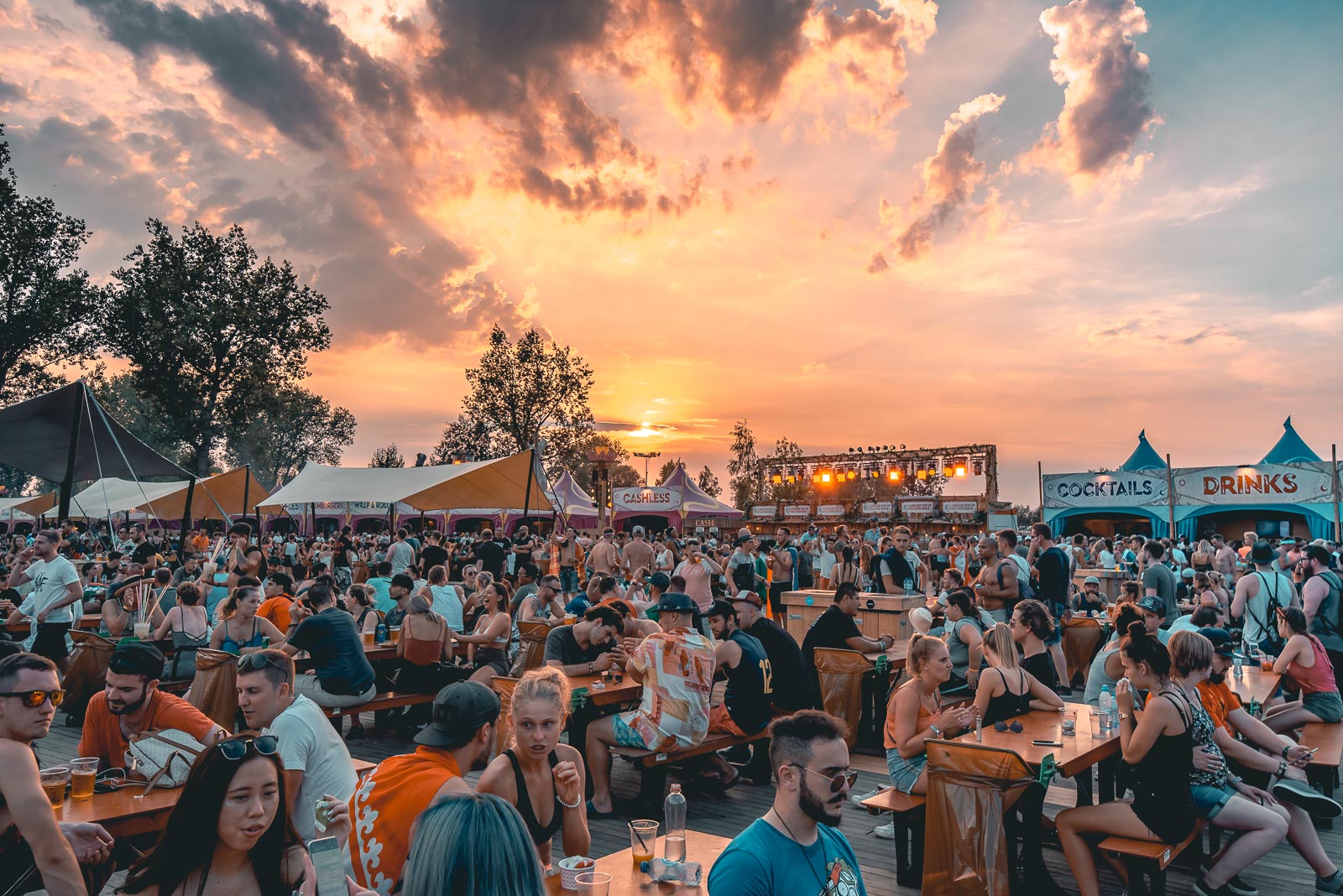 Watch your belongings!  Unfortunately, there have been a lot of reports of people being pickpocketed and having their phones stolen.
Download the Tomorrowland App!  It's one of the best festivals apps I've encountered, and will even get you alerts for your artists that you favorited. It gave me helpful reminders of set times, locations, etc.
Join the Tomorrowland Facebook Groups.  This is a great way to connect with your fellow festival goers, share photos, and just get more involved with the community.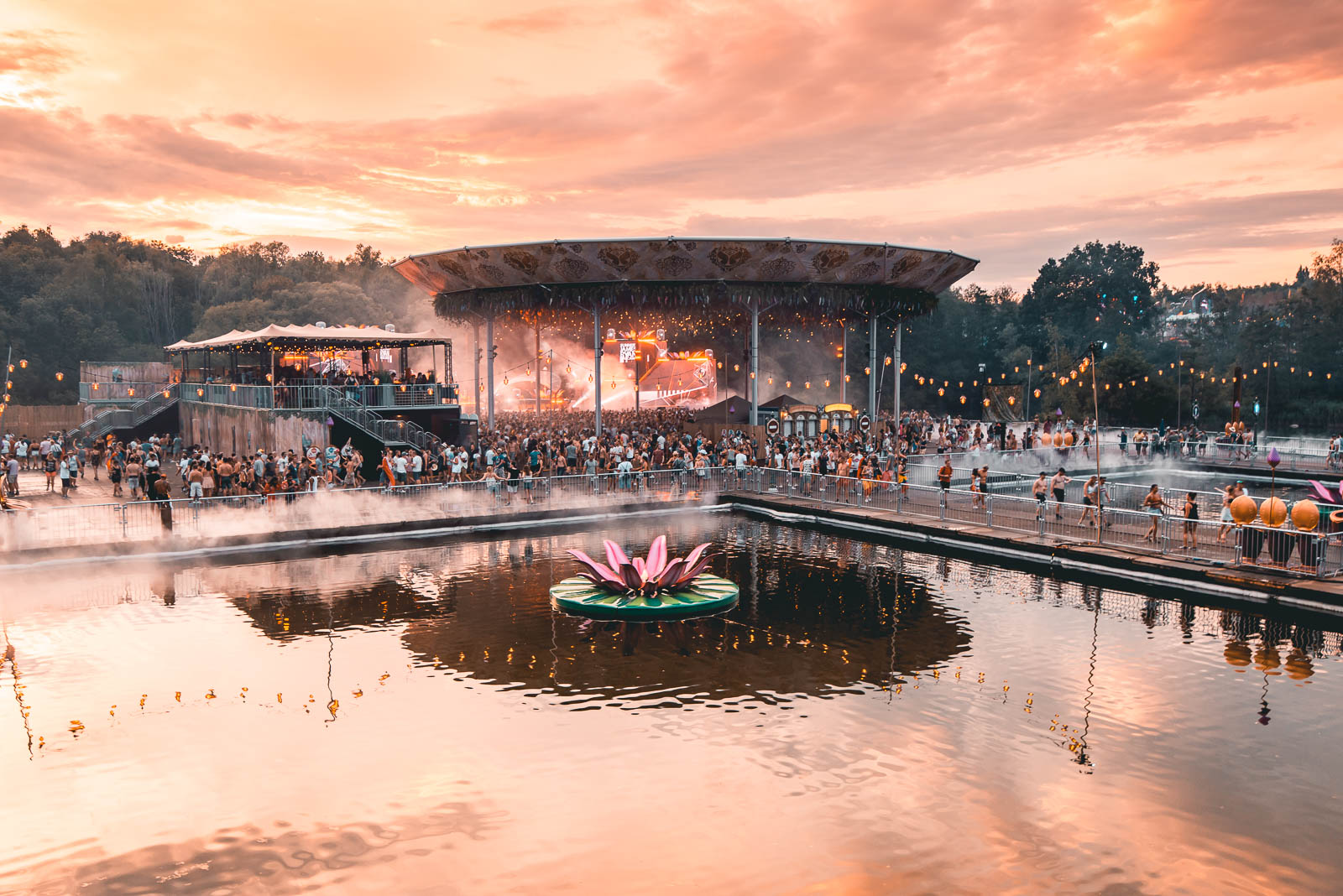 ---
Looking for more music festivals around the world?
I've written heaps about the best international events, so make sure you take a look through some of my articles below:
50 Music Festivals in 50 Countries To Experience Before You Die
40 Wild Parties in 40 Countries to Experience Before You're 40
13 Lesser Known Camping Festivals in Europe This Summer
The 30 Best Music Festivals in Europe To Experience Before you Die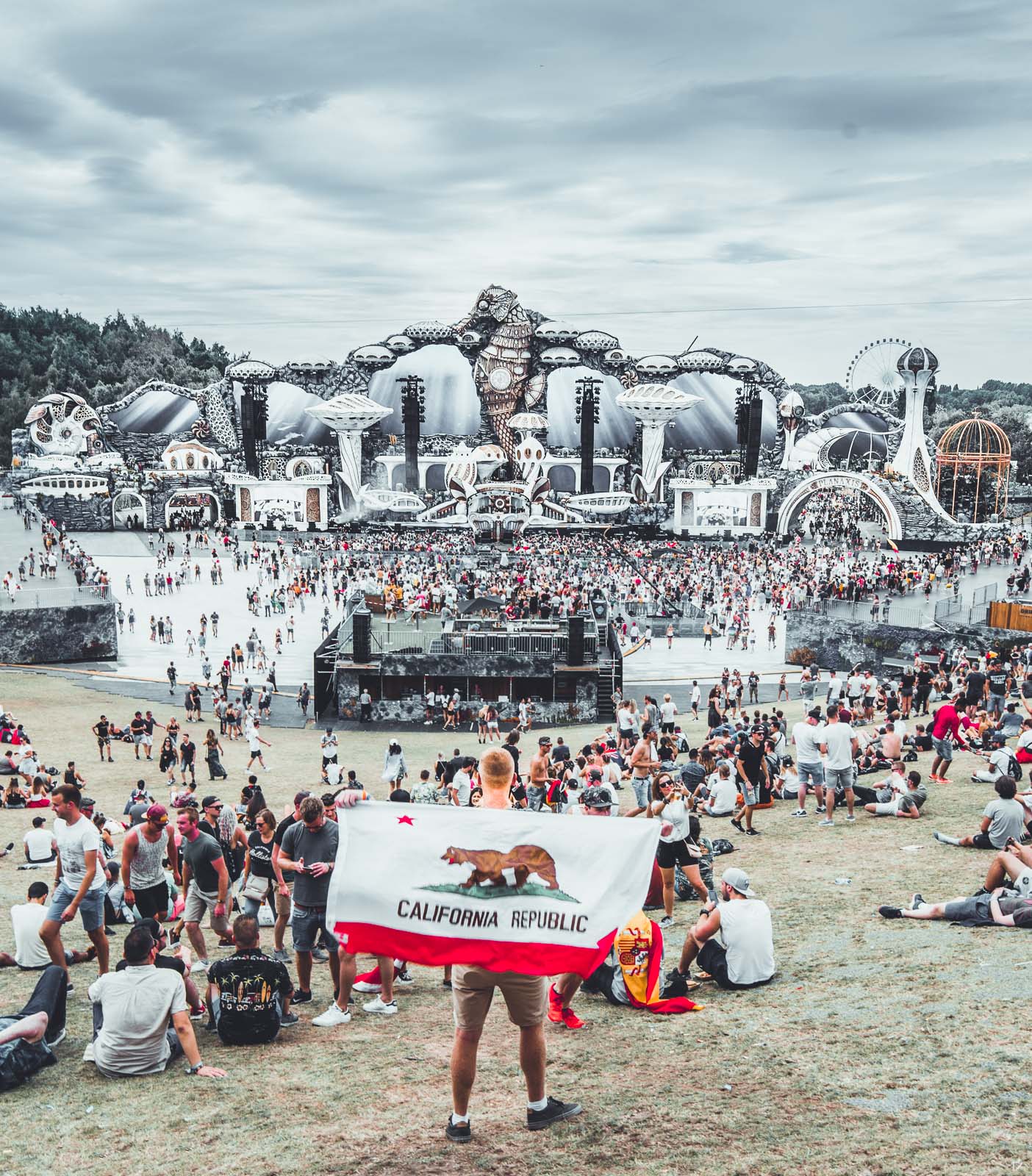 ---
Thanks so much for reading!
Tomorrowland is guaranteed to be one of the memorable weekends of your life, and I'm so stoked I was able to check it out again this summer.  It certainly lives up to all the hype, and is easily one of the best and most unique festivals in the world.
Share the Tomorrowland Love!!