If you're looking for the most famous landmarks in Italy, you've come to the right place. This stunning southern European country is full of historical structures, grand buildings, and natural sites. It doesn't matter if it was built hundreds of years ago, or in modern times, Italians weave beauty and creativity into all aspects of their designs.
This list sums up all the major landmarks in Italy worth visiting. They're found across the country, from the bigger cities, like Rome, and Milan, to the rural mountain regions and the coast. If you're planning a vacation, you're going to want to add as many of these as possible to your Italy itinerary.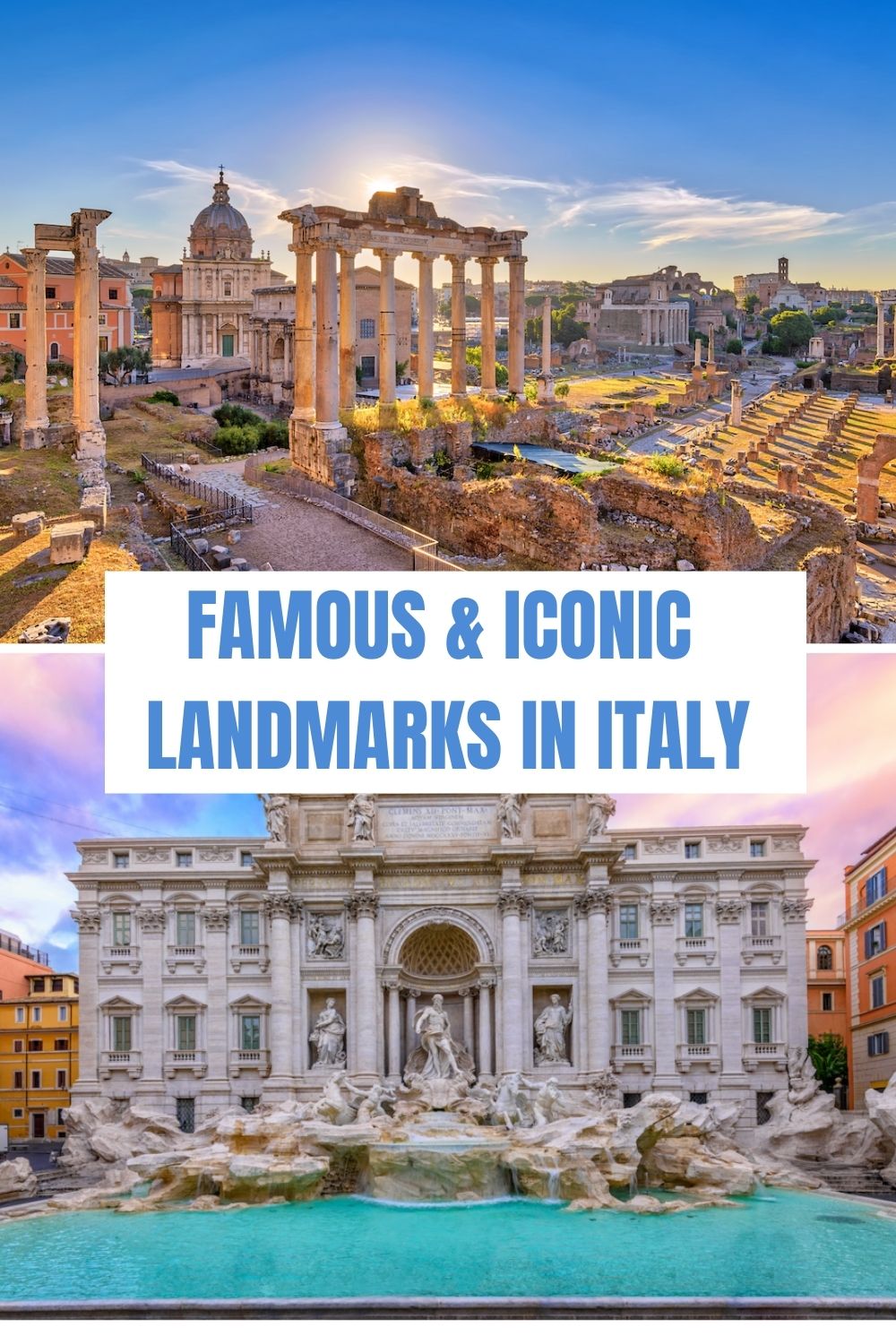 ---
1) The Colosseum
Rome is one of the most beautiful cities in Italy, and it contains a treasure trove of landmarks. The Colosseum is one of the most sought-after tourist attractions. Built from 70 AD to 80 AD, this magnificent marvel is over 1900 years ago!
It's the largest standing amphitheater in the world as well as one of the New Seven Wonders of the World. There is seating for more than 50,000 spectators. It was built for entertainment purposes, which back then meant hosting gladiator games and animal hunts.
Visiting this ancient landmark will make you feel like you've stepped back in time.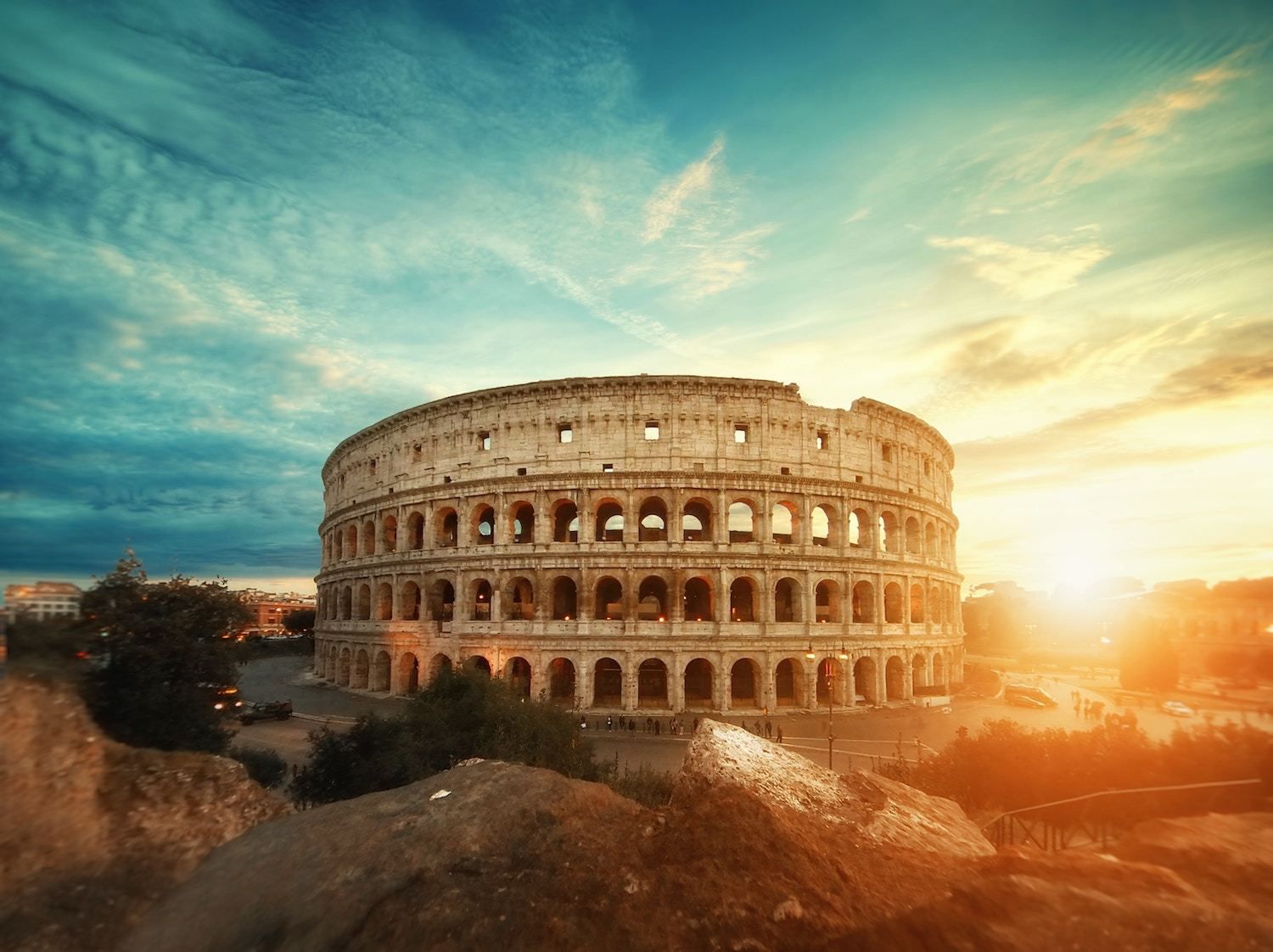 ---
2) Roman Forum
The Roman Forum is another place in Rome where you can experience history firsthand. This ancient rectangular forum is surrounded by the ruins of old government buildings and other interesting sites. For centuries, it was the heart of Rome and the center of day-to-day life.
It was used to hold elections, give public speeches, host criminal trials, set up markets, and much more. The ruins all date back to different periods in Rome's history. The earliest one is believed to have been built in 184 BC.
Today, the Roman Forum is a sprawling area where ruins of architectural fragments can still be seen and explored. Some popular structures include the Senate House, the Temple of Saturn, the Arch of Titus, and the Temple of Vesta.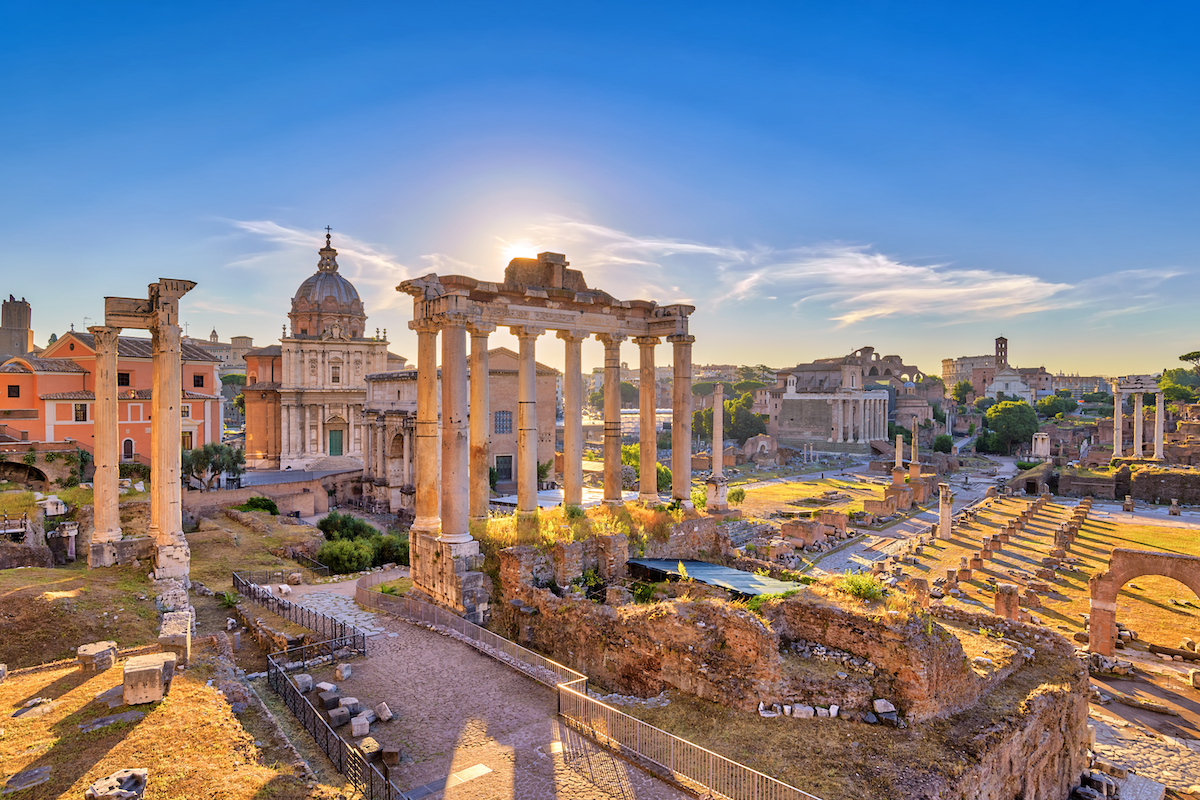 ---
3) Pantheon
The Pantheon is a very famous building in Italy with heaps of historical significance. It was built from 113 to 125 AD on the site of an earlier structure from around 25 BC. It's one of the world's best-preserved ancient Roman buildings.
The design features a rotunda with a large domed ceiling. It is believed that it was built as a temple for Roman gods. Throughout its existence, it's been in continuous use. Since the 7th century, it has been used as a Catholic church.
The architecture style of the Pantheon has served as inspiration for many other buildings in Europe and the Americas. It's free to enter the Pantheon, but make sure to arrive early. It's a very popular tourist attraction and long lines of visitors throughout the day are pretty much guaranteed.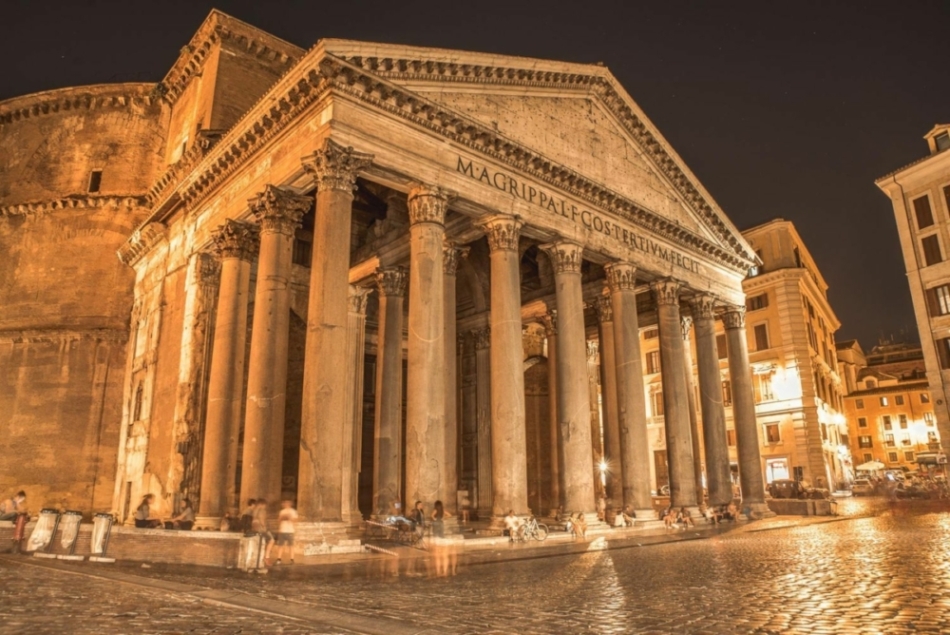 ---
4) Trevi Fountain
The Trevi Fountain is an iconic symbol of Rome and one of the most famous fountains in the world. It dates back to ancient Roman times. An aqueduct was constructed at the site in 19 BC. to provide water to the Roman baths and the fountains.
The elaborate structure we see today was constructed from 1732 to 1762. It stands 86 feet high (26.3 meters) and 161.3 feet wide (49.15 meters). It's the largest Baroque fountain in the city.
The locals say that if you throw a coin into the fountain, you're guaranteed to return to the Eternal City. And if you're looking for love, throwing a second coin assures that you'll find your special someone, and a third coin guarantees marriage.
A fun fact about this Italian landmark is that the coins thrown in each day are collected each night and given to a Catholic charity.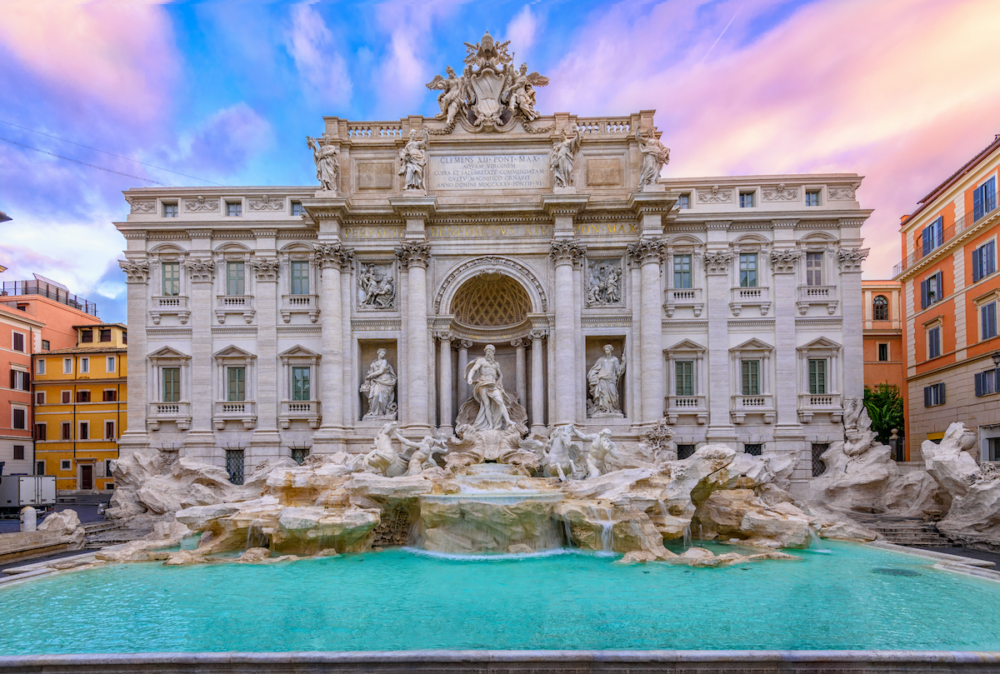 ---
5) St Peter's Basilica
As far as religious landmarks in Italy go, St Peter's Basilica in Vatican City is one of the most important. This breathtaking Renaissance-style church was built from 1506 to 1626. It's full of elaborate attributes, like stained glass windows, detailed paintings, and grand statues.
The Basilica is famous for many reasons. For one, Michelangelo was appointed as the chief architect of the basilica in 1546. It's also the burial site of Saint Peter, who was one of Jesus's main apostles.
St Peter's Basilica is free to enter. However, there is a fee to access the dome. It's definitely worth seeing though, as you'll be treated to some of the best views in Italy.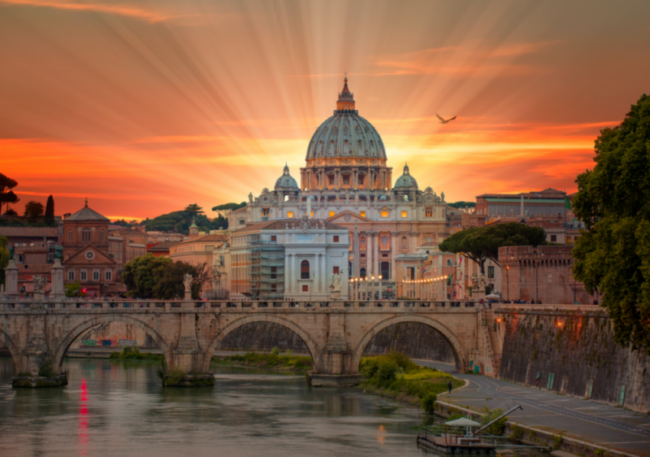 ---
6) Sistine Chapel
The Sistine Chapel is an iconic Italian landmark in Vatican City and the official residence of the pope. It was built between 1473 and 1481 and exudes elegance and beauty.
The Renaissance frescoes by Michelangelo are one of the chapel's key features. There are also many other frescoes painted by renowned Renaissance artists.
If you're planning to visit, it's recommended that you book a guided tour, or check out an audio guide. This allows you to really dive deep into one of the most important Italian landmarks.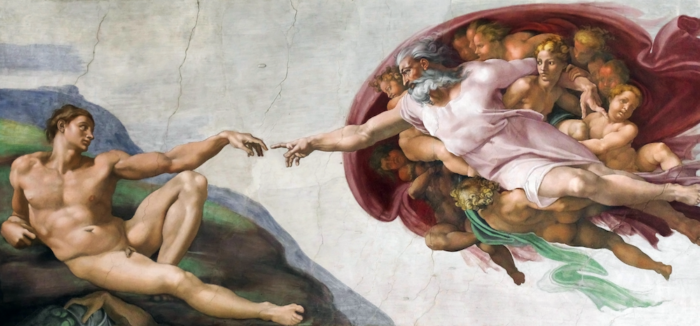 ---
7) Leaning Tower of Pisa
The Leaning Tower of Pisa is a famous cathedral bell tower in Pisa, Italy. This landmark started to lean in the 12th century during construction. It was built on soft ground that couldn't properly hold the weight of the heavy structure. It started to worsen in the 14th century.
By 1990, it leaned 5.5 degrees and remedial work had to be done to stabilize it. From 1993 to 2001 the tilt was reduced to 3.97 degrees. It's one of the most fun Italian buildings for forced perspective photos.
Tourists come up with all sorts of interesting ways to use the tower as a prop.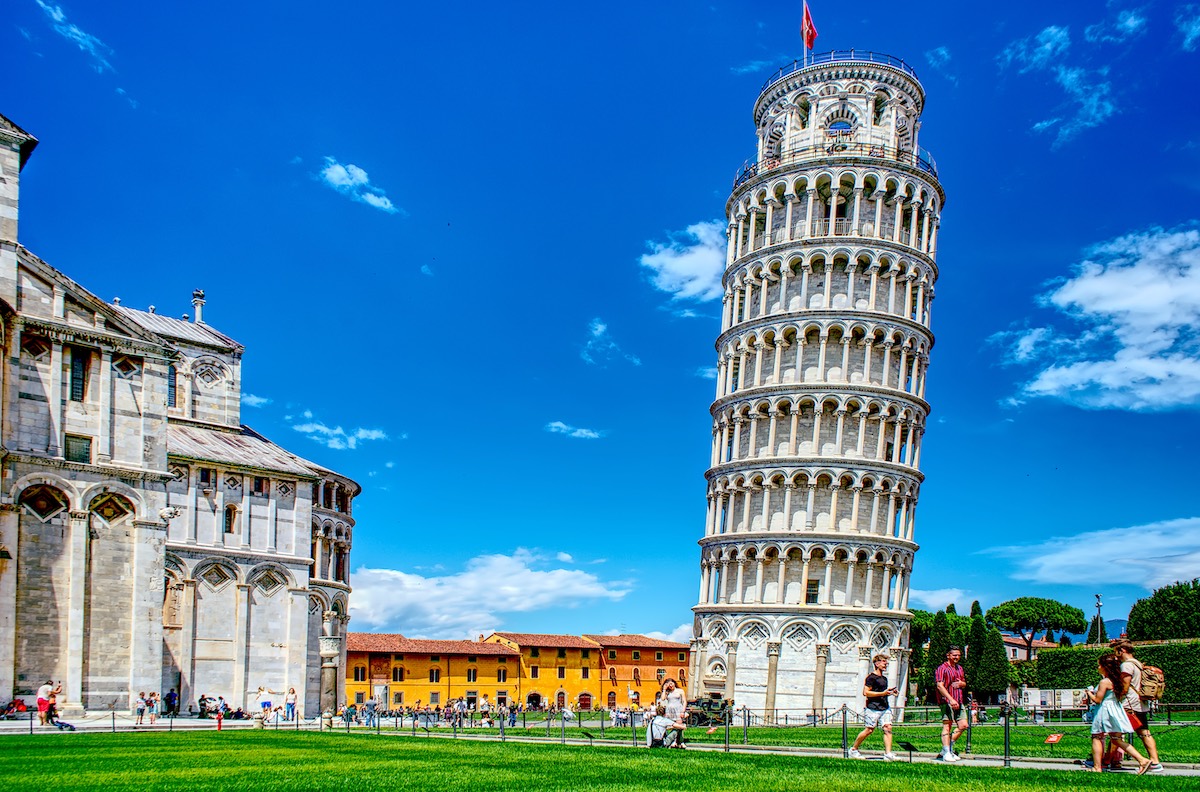 ---
8) Florence Cathedral
The Florence Cathedral is an architectural masterpiece and the most popular landmark in the city. Construction began in 1296 and wasn't completed until 1436. It was built in the Gothic, Romanesque, and Renaissance style.
The facade that we see today wasn't complete until 1887. It's a true sight to behold, with marble panels in shades of green, pink, and white and ornate 19th-century Gothic Revival features.
The cathedral's beautiful dome is the largest brick dome in the world. And Filippo Brunelleschi, the man who designed and oversaw the dome's building, had no previous architectural training.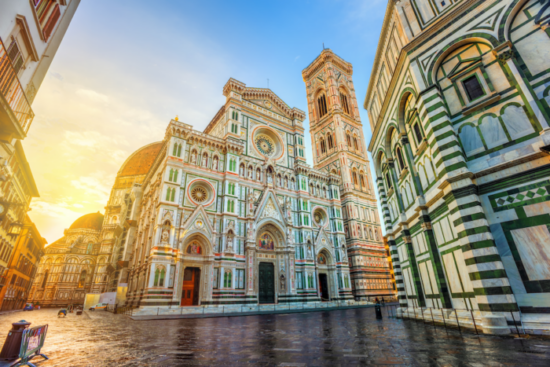 ---
9) Uffizi Gallery
The Uffizi Gallery is a world-famous art museum in Florence. It's housed inside a 16th-century classic Italian stone plaza. It opened to the public as a museum in 1769.
Inside there's a vast collection of artwork from artists like Leonardo da Vinci, Michelangelo, Botticelli, and Caravaggio. But you don't have to step foot inside to admire the beauty of the gallery.
There is a semi-enclosed courtyard between the two towering wings of the gallery. It features ornate statues and decorative architectural features.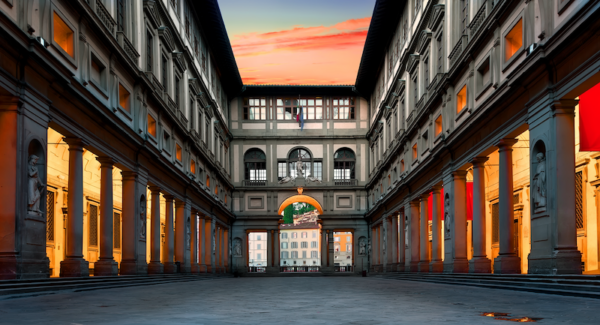 ---
10) Milan Cathedral
The Milan Cathedral is the largest church in Italy. It took almost six centuries to complete. Construction began in 1386 and wasn't officially completed until 1965.
Because of its long building timeline, it features many architectural styles, including Gothic, Renaissance, Gothic Revival, and Italian Gothic. It also contains 6,000 detailed sculptures, more than any church in the world.
There are six main sections that guests can visit: the Duomo Museum, an archaeological area, the rooftop, the Cathedral itself, the San Gottardo Church, and the Crypt. You could spend hours exploring the different areas and discovering history.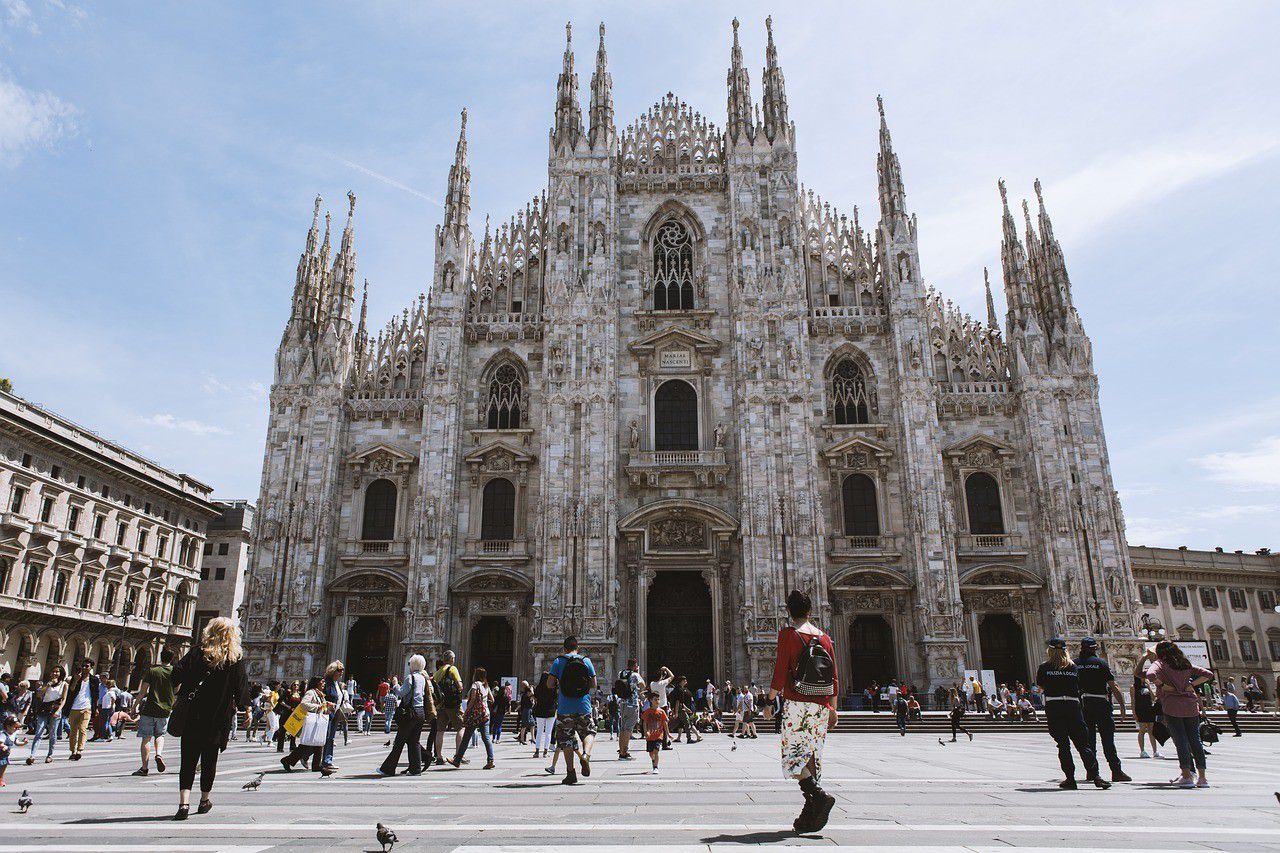 ---
11) Verona Arena
The Verona Arena is a well-preserved Roman amphitheater in Verona, Italy. It was built in 30 AD and is still in use today. In ancient times it could seat nearly 30,000 people. It was used to host shows, gladiators fights, tournaments, and more.
Today, it's still used for entertainment, usually opera performances and concerts. If you're traveling to Verona, make sure to visit this magnificent monument and see its rich history first hand.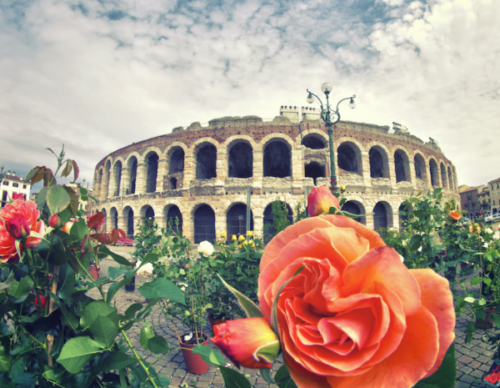 ---
12) Rialto Bridge
The Rialto Bridge is located above the charming canals of Venice. It's the oldest of the four bridges that span the grand canals.
It has been rebuilt several times throughout the centuries. The first bridge was put up in 1173, but the stone bridge we see today was constructed in 1588.
Tourists can admire the bridge on a romantic gondola ride, or by walking across it. Just be aware, it's one of the city's most popular attractions, which means it can get quite crowded.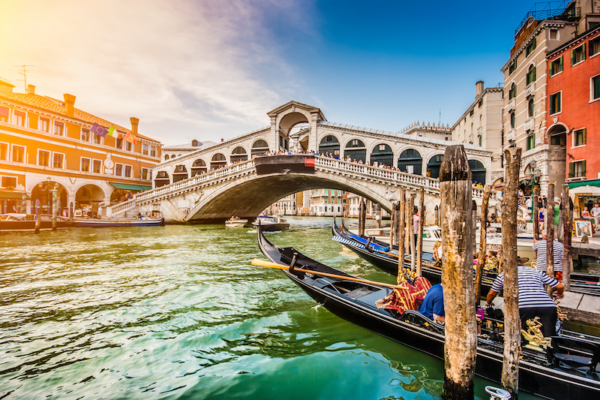 ---
13) Saint Mark's Basilica
Saint Mark's Basilica in Venice is a beautiful church that showcases the elaborate Italo-Byzantine architecture. It dates back to the 11th century, although embellishments have been added throughout the years.
Unlike most Italian churches, Saint Mark's Basilica doesn't contain fresco wall paintings. Instead, it's decorated with colorful, mostly gold mosaics. There are also lots of impressive Byzantine relics.
This famous Italian building is located in the buzzing St. Mark square. It's the quintessential building in Venice to take a picture in front of.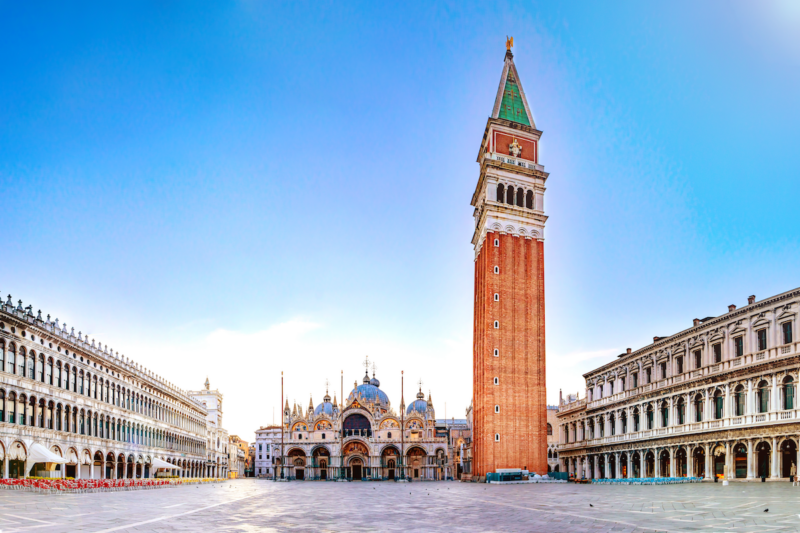 ---
14) Pompeii Ruins
The Pompeii Ruins are one of the most famous landmarks of Italy. In 79 AD, Mount Vesuvius erupted. This caused the entire town of Pompeii to be buried in 13 to 20 feet (4 to 6 meters) of ash and pumice. This tragic event largely preserved the ancient civilization.
The ruins weren't discovered until the late 16th century. Today, the excavated city offers a rare glimpse into Roman life. The entire city was buried, meaning this is a massive site that includes ancient structures like private villas, public buildings, temples, baths, and shops.
You can walk around for hours and still not explore it all, but the highlights of the ruins can generally be seen in about four hours.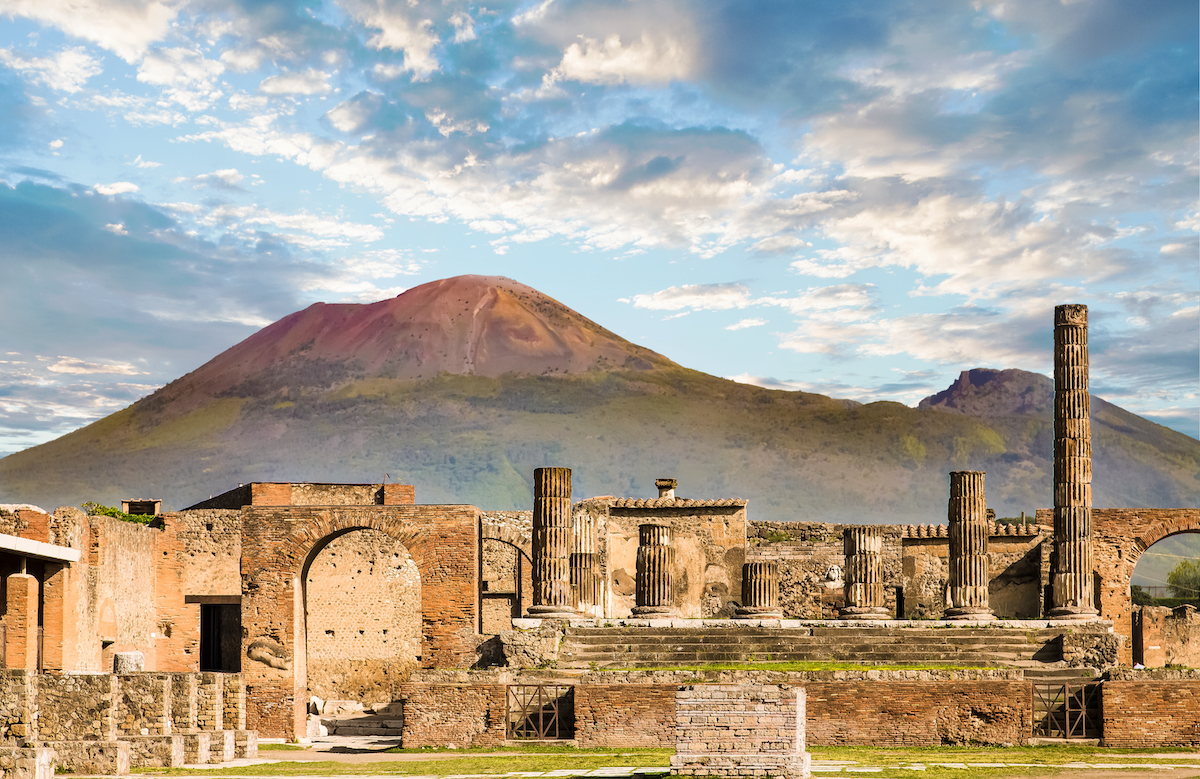 ---
15) Dolomites
The Dolomites are a mighty mountain range in northeastern Italy. With 18 towering peaks and dramatic mountain scenery, they're one of the most famous places in Italy for outdoor enthusiasts. The area offers all sorts of activities, like skiing, mountain climbing, hiking, and paragliding.
If you fancy an Italian vacation exploring the wonders of nature, the Dolomites won't disappoint.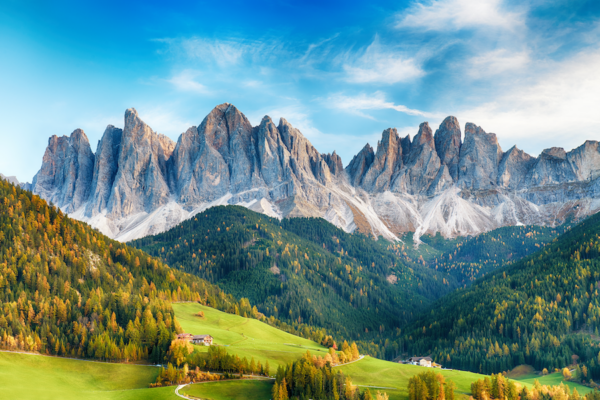 ---
16) Ponte Vecchio
Ponte Vecchio is one of Italy's most famous bridges. Located in Florence, this medieval arch stone bridge crosses over the Arno River. The current structure was built in 1345, but it's believed that the original bridge was built in Ancient times.
Ponte Vecchio is located in an upscale area of the city. It's surrounded by high-end boutiques and jewelry stores. Walking over this pedestrian bridge makes for a very romantic stroll.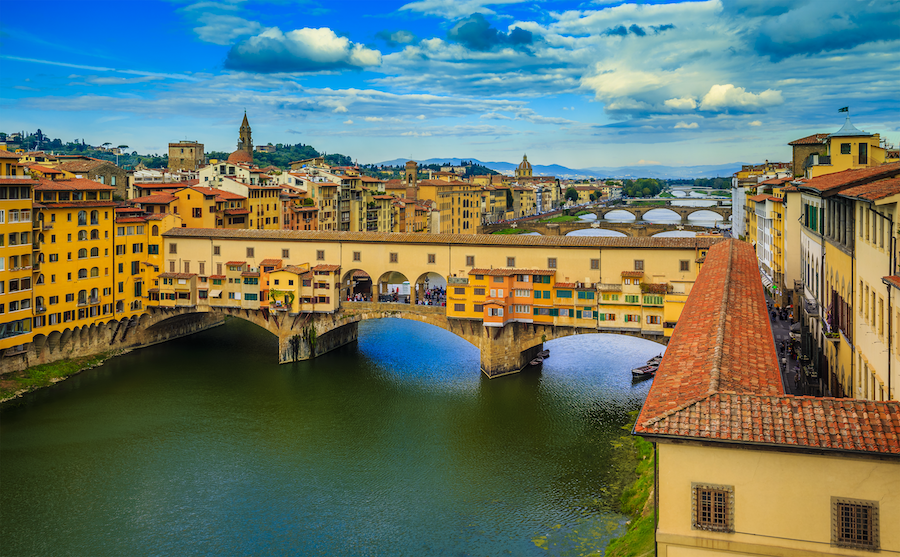 ---
17) Sforzesco Castle
Sforzesco Castle in Milan is a well-preserved medieval castle in the heart of the city. It was built in the 15th century on the remains of a 14th-century structure. In the 16th and 17th century it went through a series of renovations and enlargements to restore it to its former glory.
Today, it houses several of Milan's top museums. There's a museum dedicated to ancient art, musical instruments, an Egyptian museum, an antique furniture museum, and more. It's free to enter the castle, but there is a fee required to access the museums.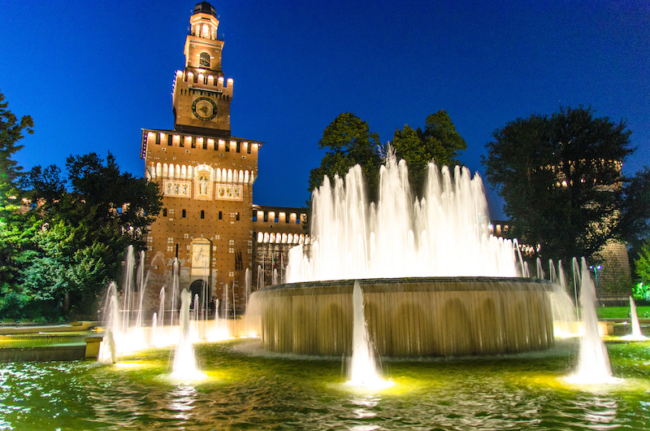 ---
18) Teatro Antico di Taormina
Teatro Antico di Taormina is an ancient Greek-Roman theater. It was built in the 3rd century BC and is the second-largest theater in Sicily. The views are phenomenal, with crumbling structures that frame views looking out over the Ionian coast and Mount Etna.
As with all the other ancient amphitheaters, it was used to host gladiator battles and other dramatic entertainment. Today, it's mostly used for opera performances and classical plays.

---
19) Mount Etna
Mount Etna is one of Italy's landmarks built by mother nature. It's an active volcano on the coast of Sicily that lies above the converging plate of the Eurasian Plate and the African Plate. It's one of Europe's tallest active volcanoes.
Mount Etna is in an almost constant state of activity. In fact, it has erupted so much in 2021 that it has grown 100 feet (30 meters) in just six months.
This natural landmark has a beautiful lunar landscape. Tourists can ride up the volcano via the cable car. Or, to really immerse yourself in the scenery, there are hiking trails that go up and around the volcano.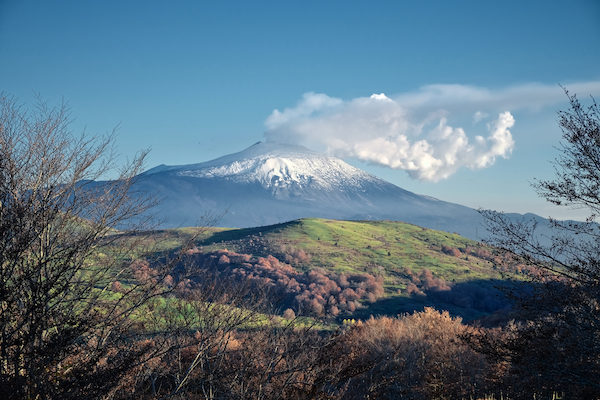 https://www.jonesaroundtheworld.com/wp-content/uploads/2021/10/St-Peters-Basilica-e1634151627570.png
457
650
TravelTractionsJATW
https://www.jonesaroundtheworld.com/wp-content/uploads/2017/03/logotry-1-1-300x106.png
TravelTractionsJATW
2021-10-13 20:05:07
2021-10-13 21:38:25
Famous Landmarks in Italy | 19 Major Buildings & Places to See