Looking for the best Airbnb Alaska has to offer? Look no further. I've written a comprehensive list of the 14 best Airbnb accommodations in Alaska. These are Airbnb's top-rated spots, with incredible views, top-tier hospitality, stellar amenities and amazing reviews.
Alaska is one of the most unspoiled places on Earth, with most of the state untouched by human development. The magnificent mountains and glaciers make Alaska one of the most breathtaking places in the world, not to mention the abundance of wildlife.
Alaska is famous for its scenery and boasts a rich culture and native history as well. The tranquil landscape offers a peaceful respite from busy life. The cities in Alaska, too, are cultural hubs filled with incredible attractions. Here are some of my favorite places to stay in Alaska.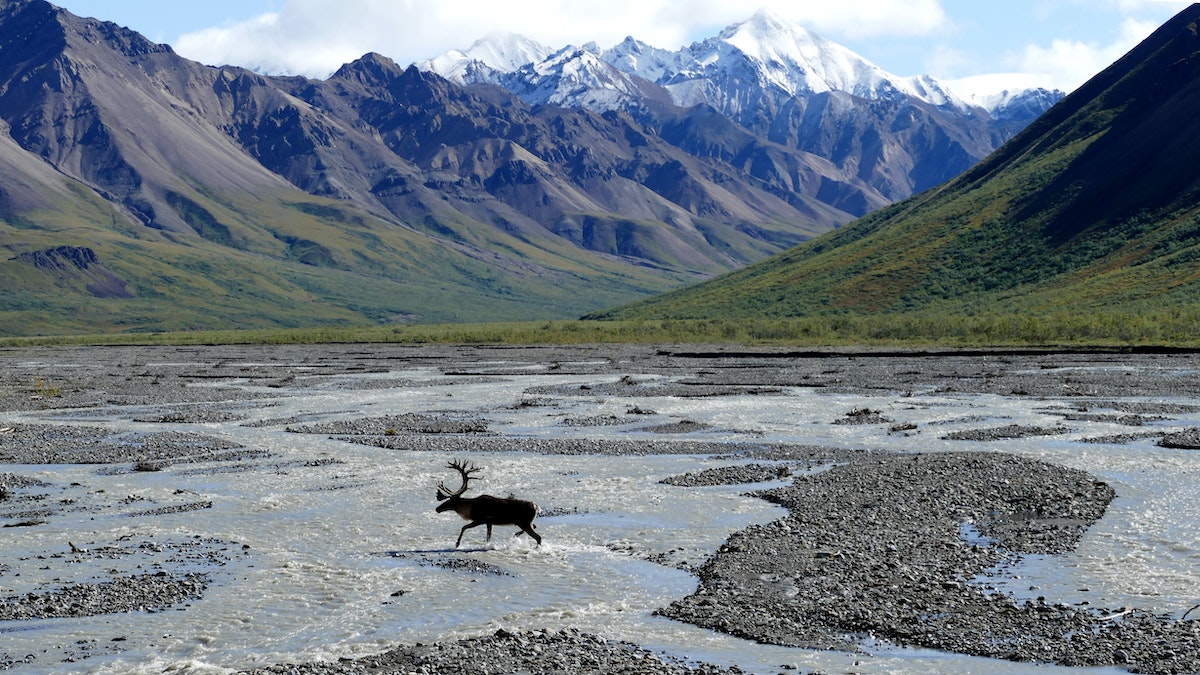 ---
Airbnb Alaska: The Best Vacation Rentals
From private rooms to entire cabins, here are some of the best vacation rentals and cabin stays in Alaska.
I've added some informational and inspiring travel videos throughout this article. These will help you visualize different areas in Alaska and get a sense of the beautiful state.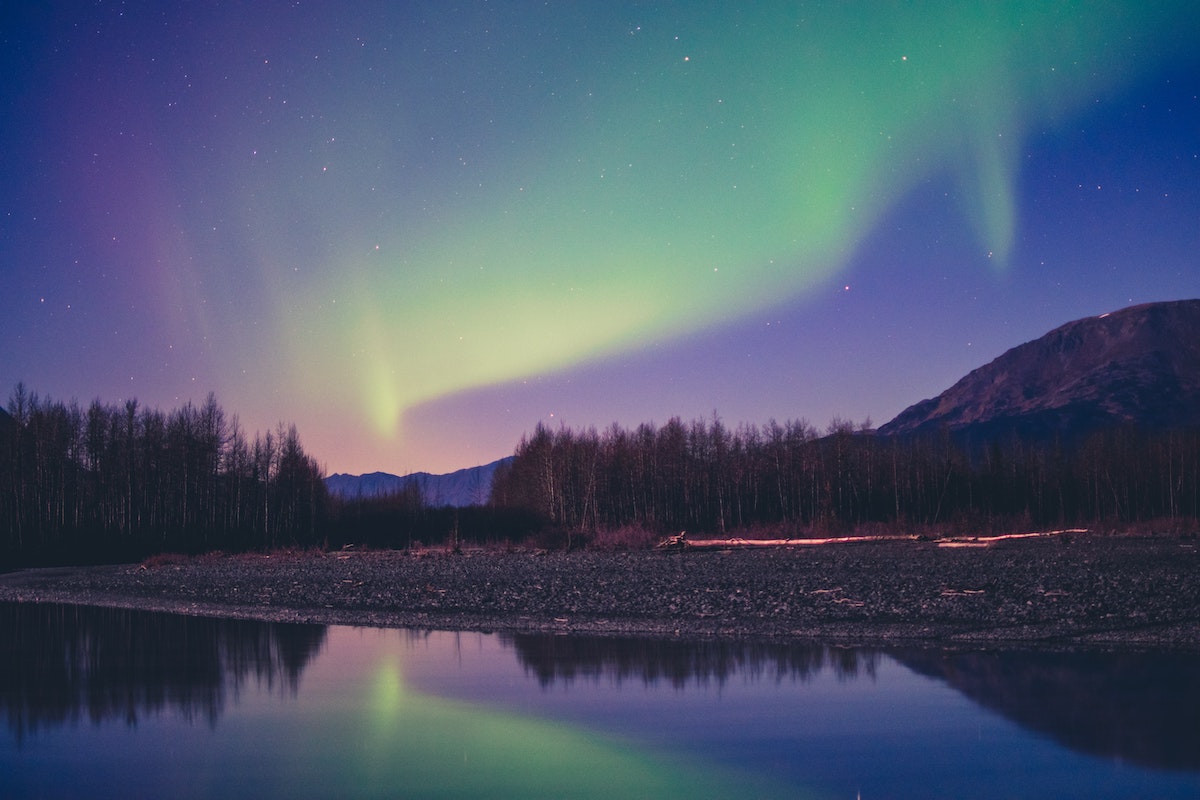 ---
Top 14 Airbnbs in Alaska, USA
Using this list will make it easy for you to find the perfect accommodation in Alaska. From quiet cabins in Anchorage to houses on the riverbank, this list covers it all. Here are the 14 best Airbnbs in Alaska.
---
1) Alaskan log cabin/pano mt+water views/eco-friendly
Best cabin rental in Anchorage, Alaska
Location: Eagle River, Anchorage, Alaska
Superhost: Yes
Price: $100+ USD per night
https://www.airbnb.com/rooms/36936868
Spacious, sleek, and with floor-to-ceiling windows, this Alaskan log cabin is unbeatable. It overlooks the Eagle River from a hilltop surrounded by forest trees. And the eco-friendly approach of the cabin's design sets it apart from the rest.
If you're an eco-conscious traveler, this is the spot for you. You can immerse yourself in nature, and rest assured knowing your stay is energy-efficient.
There's a hotel-feel to this quiet cabin that makes it particularly luxurious. The furnishings are new and modern, including a lovely kitchen where you can cook with your friends. Eagle River is a must-see in Alaska.
View Photos, Read Reviews & Check Availability
Guest Review: "Sparkling clean, spacious, perfect for two, amazing views of Sleeping Lady and the Mount Foraker chain. Plenty of room for four. Well stocked pantry and closets. Mount Baldy trails are five minutes away and offer tremendous views as well as the occasional moose. Quick access to Anchorage to the south, and Girdwood and its glaciers just beyond, and the Wasilla/Palmer area to the north for its high mountain lakes and the breathtaking Hatcher Pass. Erica and Seth are incredibly friendly, attentive, and responsive. And informative. If you don't already have Alaskan tour guides waiting for you, you will if you stay here. Thank you again for everything, Erica and Seth."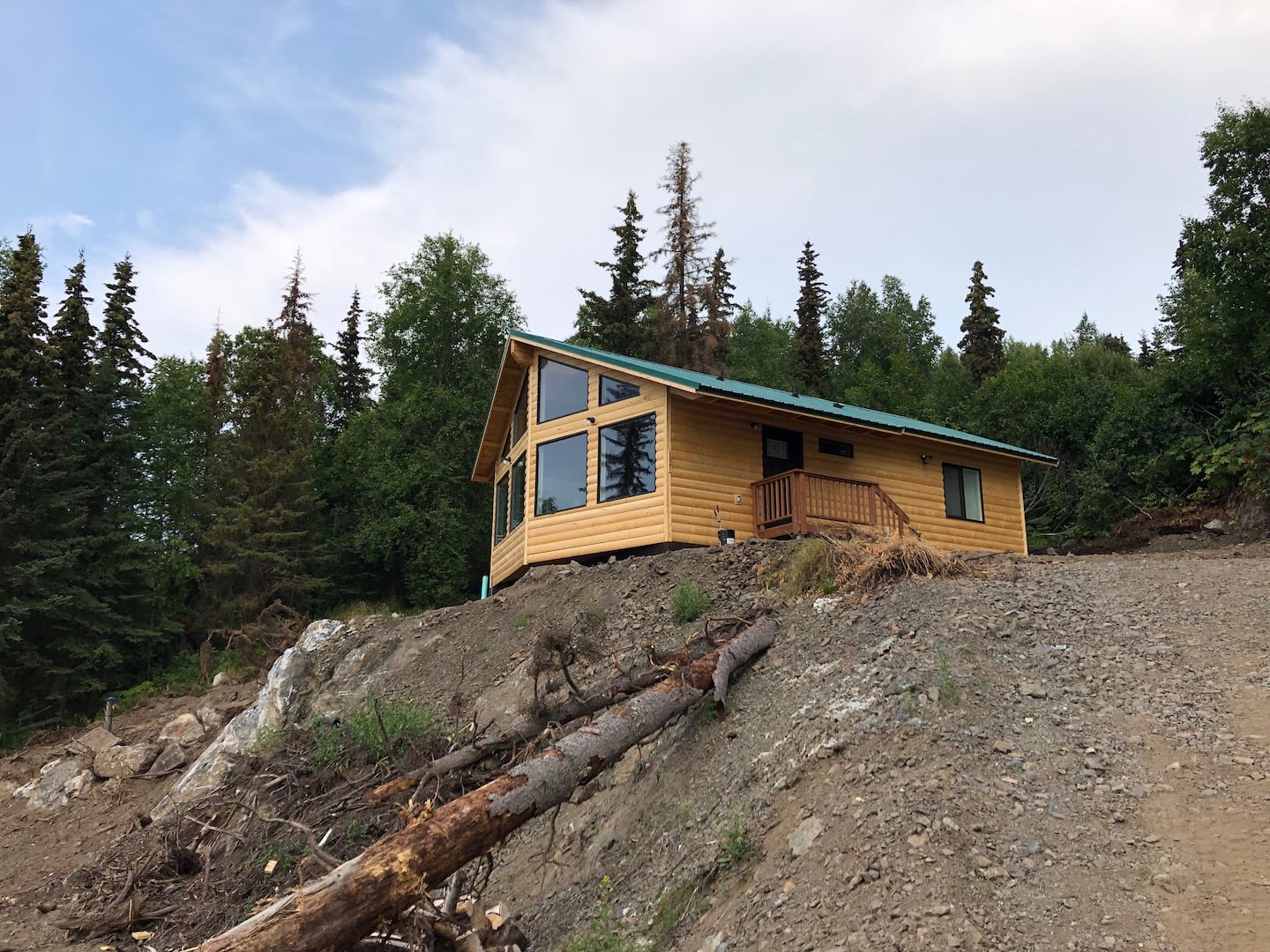 ---
2) Private Mountain Chalet with Breathtaking Views
Best romantic Alaska vacation rental for two
Location: Anchorage, Alaska
Superhost: Yes
Price: $75
https://www.airbnb.com/rooms/31697765
Enjoy the view of Wolverine Peak behind the gorgeous city skyline from this chalet. It comes with a professional-grade telescope, which adds a nice touch. This lovely homestay comes with no TV (don't worry, there is WiFi) to encourage guests to stay unplugged. In such a beautiful destination, we can see why.
The hosts offer a Romantic Package for couples, so you can surprise your partner on checking in. This package includes a bottle of sparkling wine, a bouquet of flowers, and roses scattered around the bedroom. The extra effort on the hosts' part truly sets it apart.
View Photos, Read Reviews & Check Availability
Guest Review: "Windy's place is outstanding! Sparkling clean, convenient location, beautiful views, gas range and everything you need to cook meals there. We loved our stay in Anchorage and look forward to returning. If Windy's place is available, don't pass the opportunity to book it!"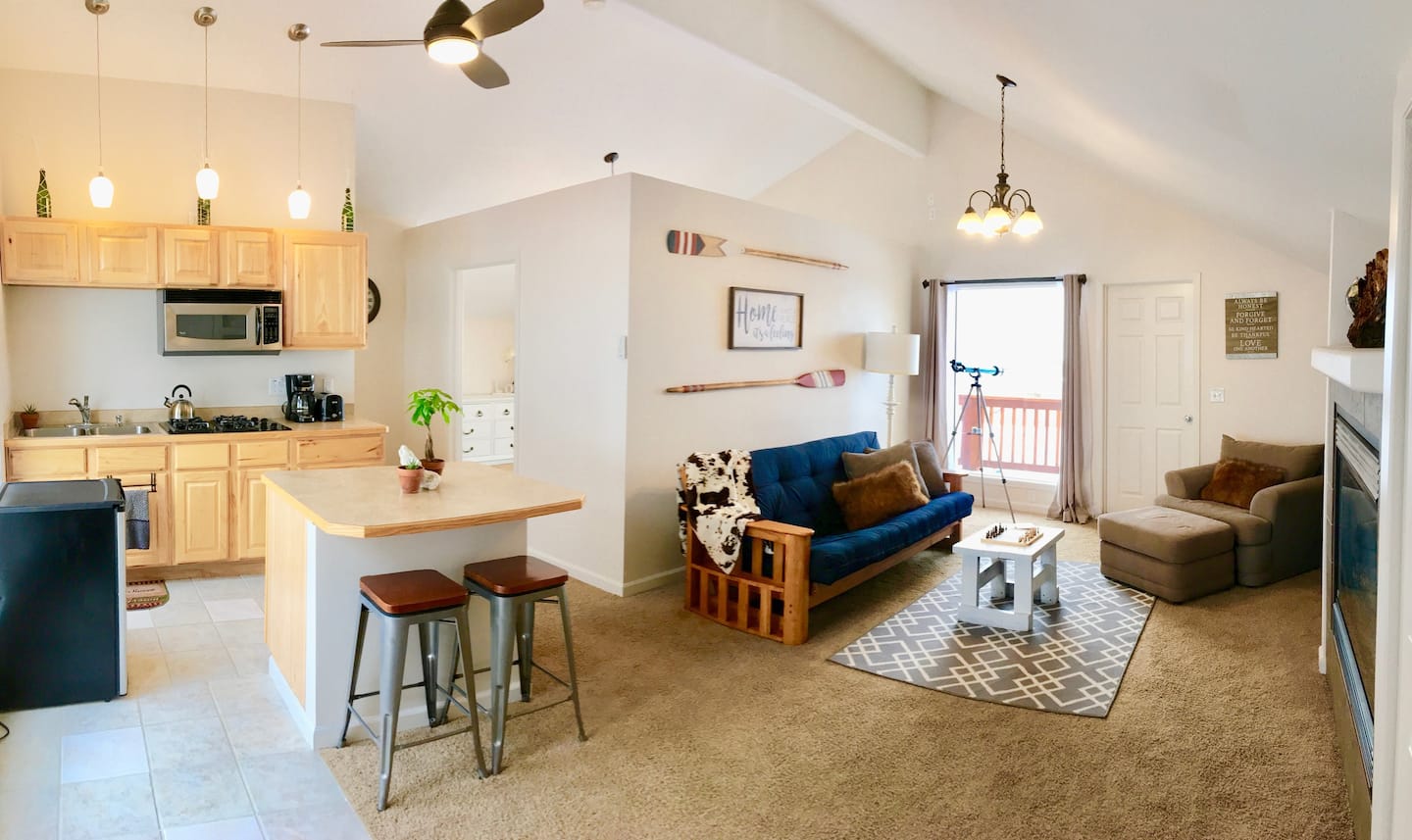 ---
3) The Chena River House South Suite
Best Alaska Airbnb for Groups
Location: Fairbanks, Alaska
Superhost: Yes
Price: $300 + USD per night
https://www.airbnb.com/rooms/18979620
This is a fabulous lake house that offers splendid views in both summer and winter. Wildlife flourishes on the lake in the spring, and winter brings a dreamy layer of snow on the forest trees that will take your breath away. No matter the time of year, this suite on the lake is stunning.
It sits on the Chena River banks, and sleeps up to 10 guests, making it the perfect spot for those traveling in a group. You and your friends or family can take to the waters on the local ferry, rent a canoe or head to the University of Alaska Museum.
The hosts here go the extra mile, offering fresh fruit and coffee on arrival, as well as a stocked fridge and pantry. With so much space and an array of amenities, this can easily replace your family home for a weekend or two.
View Photos, Read Reviews & Check Availability
Guest Review: "This is a wonderful place to stay. The views of the river are gorgeous even on rainy days. The suite upstairs was very spacious and the two guest rooms downstairs were great. There was plenty of room for our group. I would highly recommend this place to any of my family and friends!"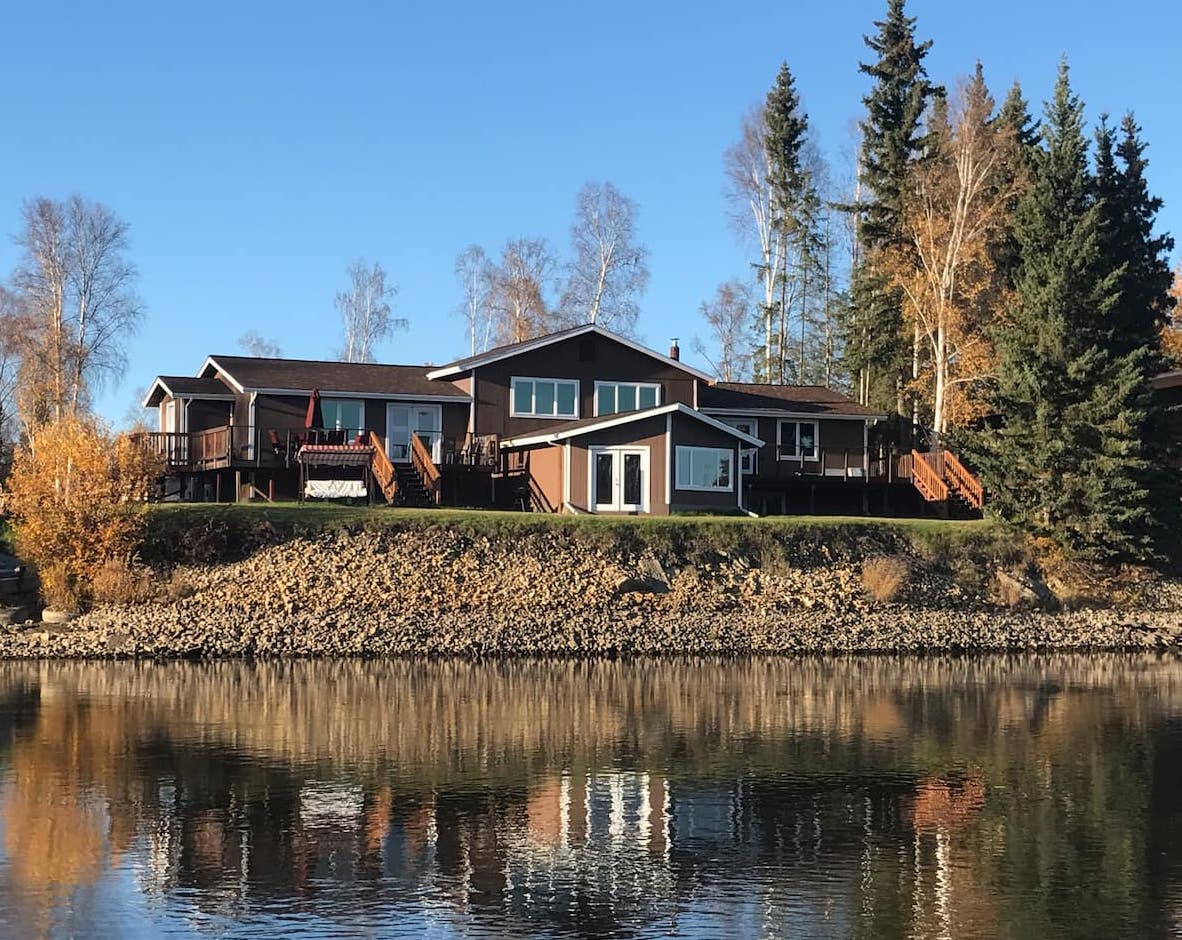 ---
4) Augustine · Gorgeous Cabin, Private Hot Tub, Incredible view!
Best cabin rental in Alaska with views
Location: Homer, Alaska
Superhost: Yes
Price: $160+ USD per night
https://www.airbnb.com/rooms/29260375
You'll be hard-pressed to find accommodation with a fire pit, hot tub and a gorgeous view. Enter the gorgeous Augustine Cabin in Homer, Alaska. This cabin offers a good deal of privacy, not to mention panoramic views of the bay.
The amenities will blow you away, as the cabin is kitted out with a kitchen, outdoor seating, a TV and a hot tub. There is also a gas fireplace and a BBQ.
Possibly the best thing about this location is the view. You'll get unobstructed views of Augustine Volcano, Kachemak Bay and the Kenai Mountains. The Augustine cabin is also close to town, so you'll be able to indulge in some local activities as well.
View Photos, Read Reviews & Check Availability
Guest Review: "Once you park, you'll forget you're right off the highway. The cabin is very well designed and laid out, you can tell time, consideration and thought was put into every detail and aspect of building it to create a warm, inviting, modern Alaskan, romantic getaway for those both local and traveling. Absolutely stunning views from any part of the living area, deck, hot tub and yard/fire pit area. We drank coffee and watched Sea Otters playing from afar. Perfect distance from downtown Homer and the Spit, to allow for quiet time but close enough to make shopping, beach combing or dining out easy. We were very happy with Jen's recommendation to eat at Little Mermaid and actually did."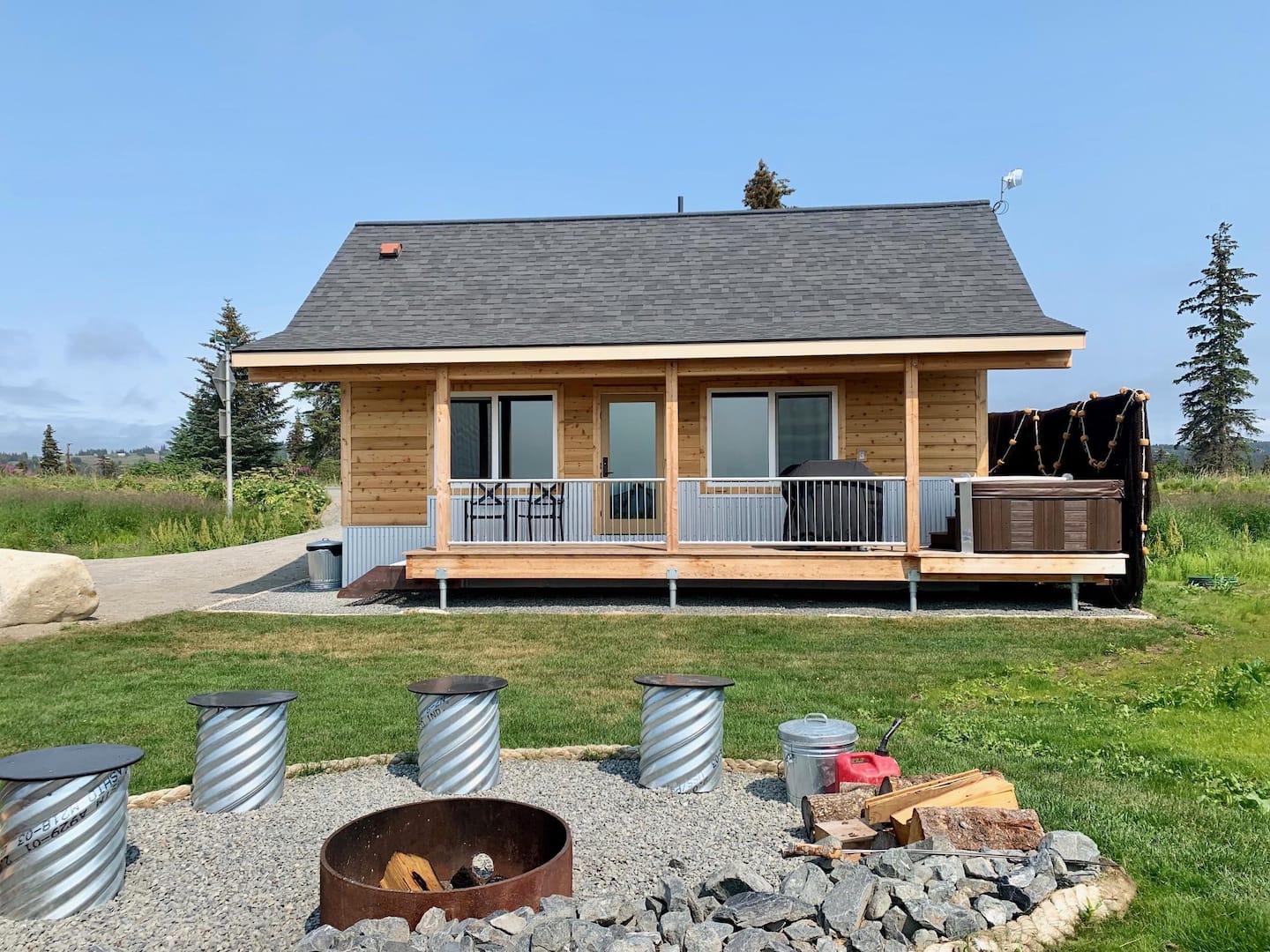 ---
5) White Raven Bed and Breakfast – Eagles Nest
Best cabin rental in Alaska
Location: Hope, Alaska
Superhost: Yes
Price: $180+ USD per night
https://www.airbnb.com/rooms/18797988
If you're looking for a group getaway, this is the place for you. The cabin boasts two double bedrooms, as well as being only minutes away from the scenic mountain trail hikes. The view at this group cabin stay overlooks a stunning lake.
Eager to spot some wildlife? There are eagles, moose and harbor seals aplenty at this destination. Hope is only 17 miles from Anchorage. The charming town offers whale-spotting, hiking and fishing. You can also lounge about by the lake outside your private cabin.
This cabin-style bed and breakfast has a truly homey and cozy feel to it. It's rustic and understated, but comfortable and well-equipped for a family stay. On a cold night, cuddle by the fireplace and enjoy the simple pleasure of a lake-side view.
View Photos, Read Reviews & Check Availability
Guest Review: "We were beyond happy with our stay at Laura & Tahneta's place! We arrived pretty late for check-in and Laura was kind enough to meet us and give us a tour of the space before we settled in. The house is very spacious but cozy at the same time, clean and comfortable, and has an amazing view of the mountains. The fridge was stocked with orange juice, fresh eggs and other delicious breakfast items. It really felt like home away from home. We hope to come back again and definitely recommend Laura & Tahneta's place to anyone traveling to the area!"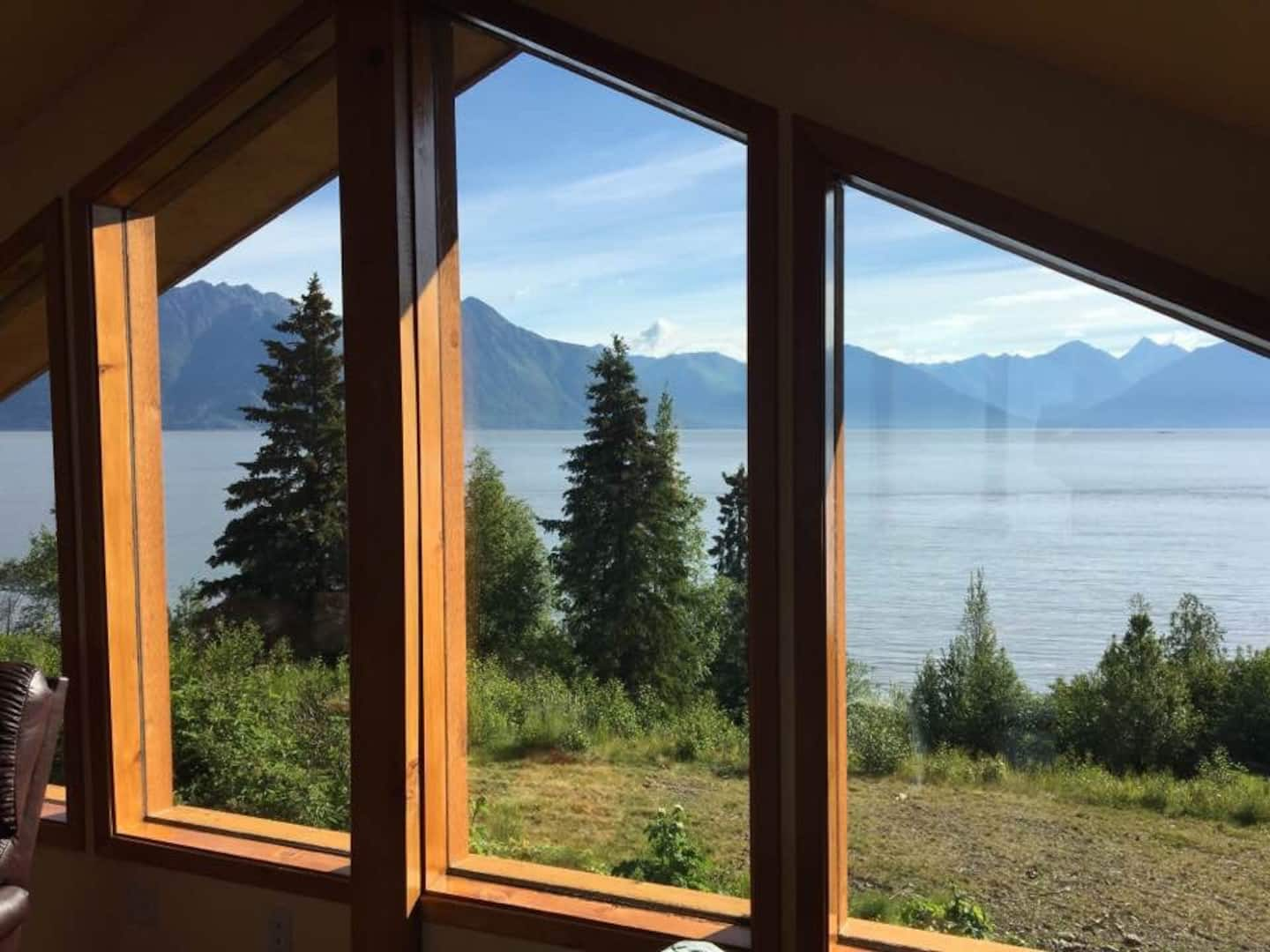 ---
6) Ocean view A-Frame Cabin (Salted Roots) Blue Door
Location: Seward, Alaska
Superhost: Yes
Price: $170+ USD per night
https://www.airbnb.com/rooms/37118700
This Alaska cabin rental nestled in the forest is comfy, cozy and incredibly stylish. The cabin was only built in 2020, so staying here feels like the height of luxury living. The glass panes stretch up to the ceiling, filing this a gorgeous cabin with natural light.
The cabin offers a canopy view of Resurrection Bay, the pride and joy of Seaward, Alaska. And the clawfoot tub brings a deluxe feel to this accommodation, so it's a great place to explore your lavish side.
The A-frame cabin sits right on the Lowell Point beachfront and six feet above the forest floor. It's a lavish experience that should not be missed and an amazing getaway.
View Photos, Read Reviews & Check Availability
Guest Review: "An absolutely stunning cabin! My husband and I made our first visit to Alaska/Seward and KellyAnn and Matt's cabin couldn't have been a more perfect temporary home. The cabin includes all the amenities to keep you comfortable including bathroom and kitchen supplies yet keeps its focus of having you enjoy your time away from "real life." The attention to detail within the home including the local art and welcome gift shows the amount of love that went into this cabin. The location is just a couple miles from the town of Seward and just a quick walk down to the beach. Thanks again for sharing your home with us! We'd love to come back."
Alaskan Adventure | A Day In Seward, Alaska
---
7) Alder · Gorgeous Suite, Private Hot Tub, Incredible View!
Location: Homer, Alaska
Superhost: Yes
Price: $160+ USD per night
https://www.airbnb.com/rooms/16984395
This suite provides ample space for a couple looking for a romantic getaway. You'll not only have the entire two-story home to yourself but a private porch and hot tub as well. The accommodation even has in-floor heating, so you can cuddle up for a lovely night for two.
550 feet about sea level, it has an impeccable view of Kachemak Bay. Besides the suite itself, this accommodation also comes with a well-liked superhost. Previous guests have raved about the hospitality and privacy they received.
Throw in an indoor fireplace and you've got yourself the perfect bed and breakfast. Alder is an absolute gem in Alaskan Airbnbs.
View Photos, Read Reviews & Check Availability
Guest Review: "It was our first time staying here and WOW were we blown away! Everything from the hot tub to the beautiful view was well worth the price. Not to mention, the space itself is very cozy! Our expectations were far exceeded and we couldn't have been more happy with how everything turned out. The next time we are in Homer, we will be staying here again!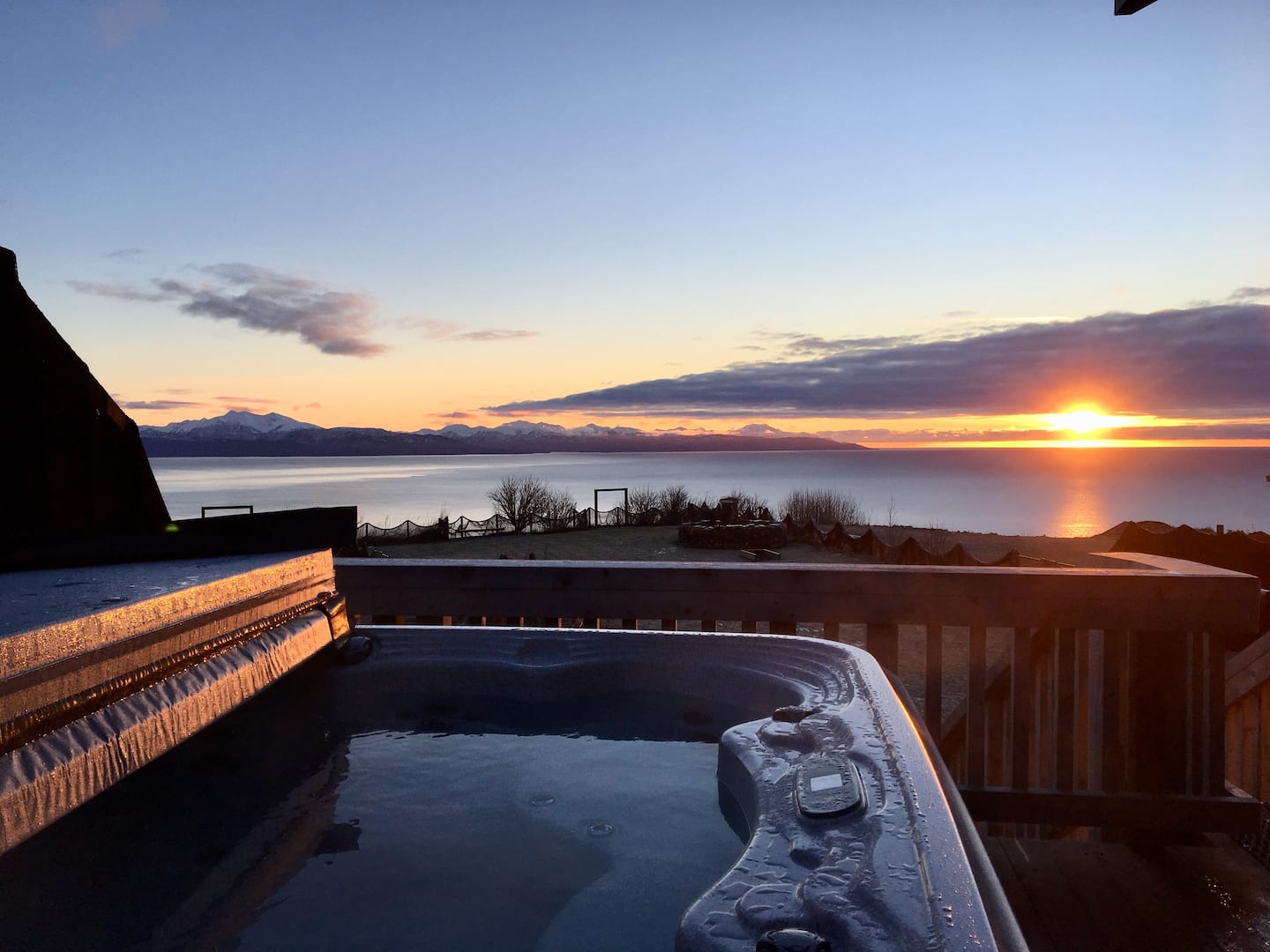 ---
8) The Johnson House Cabin
Location: Palmer, Alaska
Superhost: Yes
Price: $75+ USD per night
https://www.airbnb.com/rooms/5794087
This secluded cabin for two has a fantastic view of the Knik River Valley in Palmer, Alaska. There are some amazing hiking trails in this valley, not to mention an abundance of Alaskan wildlife. Palmer, Alaska is also a great spot for fishing.
Tourists come from far and wide to spot the Knik Glacier, so rest assured there is plenty to see from your bed and breakfast. This beautiful field of ice spans over 25 meters in length, and is within driving distance of the cabin.
You'll need an all-terrain vehicle to get there, but you can easily rent one out or join in on one of the local tours of Knik Glacier.
View Photos, Read Reviews & Check Availability
Guest Review: "THIS PLACE IS AMAZING! The property is secluded and quiet but still close enough to stores to offer convenience. The space is homey, has a terrific view, and the hosts were kind and accommodating. I can't think of a single thing I disliked about my stay, and Mark & Marilyn have been the best hosts I've ever encountered. I wish I would have booked more nights than I did! If I'm back in Alaska, I'll be sure to stay here again."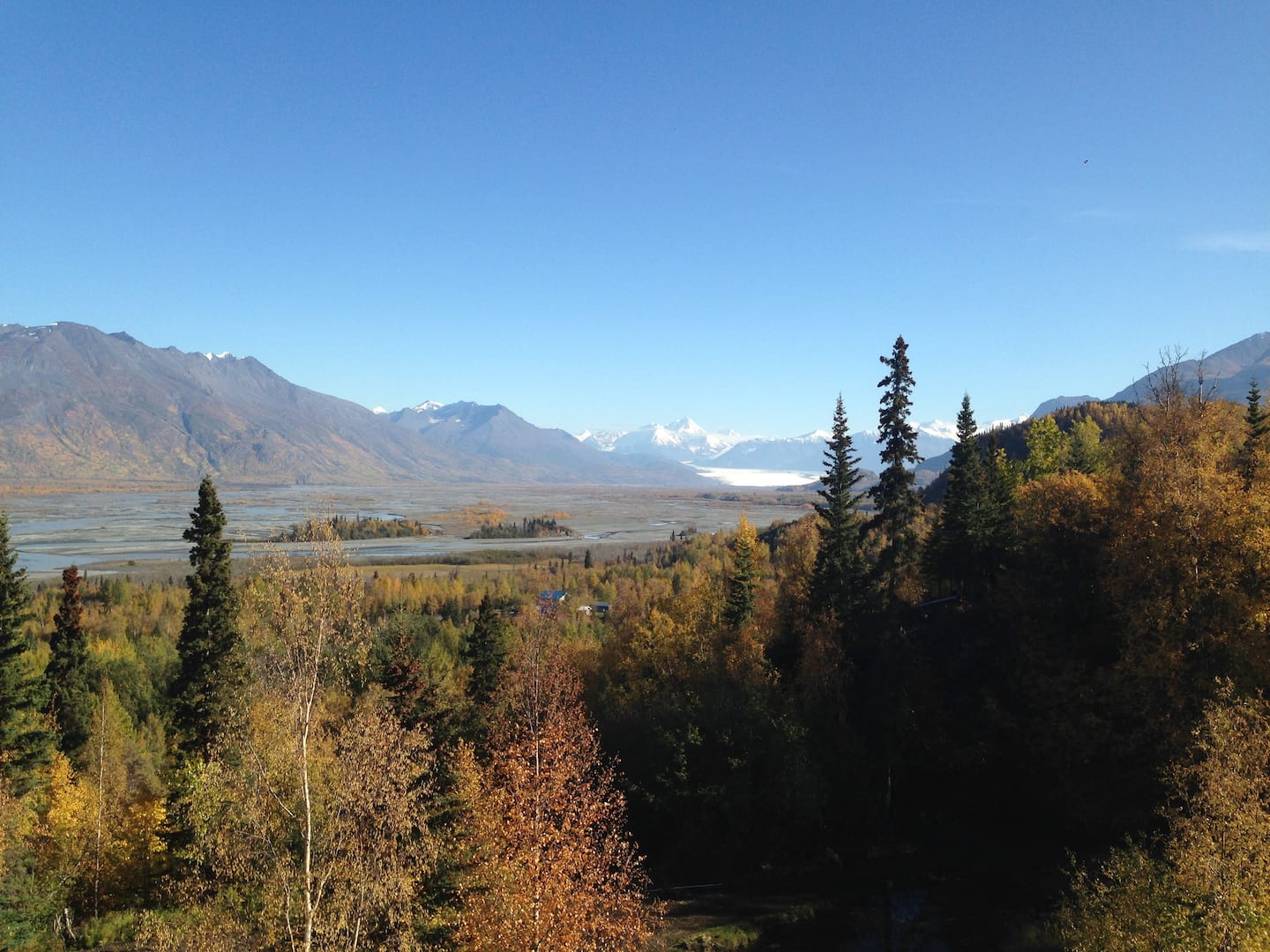 ---
9) The Bamboo Room at Reflection Lake B&B
Location: Anchorage, Alaska
Superhost: No
Price: $298+ USD per night
https://www.airbnb.com/rooms/6529560
For those traveling alone, renting out a private room in a B&B makes a lot more sense than getting an entire cabin. This is also a great way to meet other tourists, but with the added privacy of your own bedroom. You can book the Bamboo Room for yourself, or rent out the entire house, if necessary.
This lakeside Airbnb in Anchorage is contemporary and chic. Enjoy the views of Reflection Lake right from the deck of the house, and enjoy the duck and geese swimming along the water. Set in the heart of Anchorage, this is serene, neighbourhood living at its finest.
The second bedroom has a king-sized bed, which is considerably rare amongst Airbnb cabins, and a wonderful luxury. Previous visitors have been truly impressed with the friendly hosts, which makes this a lovely stay for solo travelers.
View Photos, Read Reviews & Check Availability
Guest Review: "Jason and Annie are amazing hosts! They were so welcoming.Love their hospitality.They shared a lot of information and helped us with all the questions we had.Annie packed us yummy breakfast,as we were leaving early the next morning.Their house was very beautiful.We totality fell in love with the lake view.We were there only for one night, but found ourselves wishing we could have spent another couple of nights.We would stay in this place if I happen to visit Anchorage again.We would highly recommend it."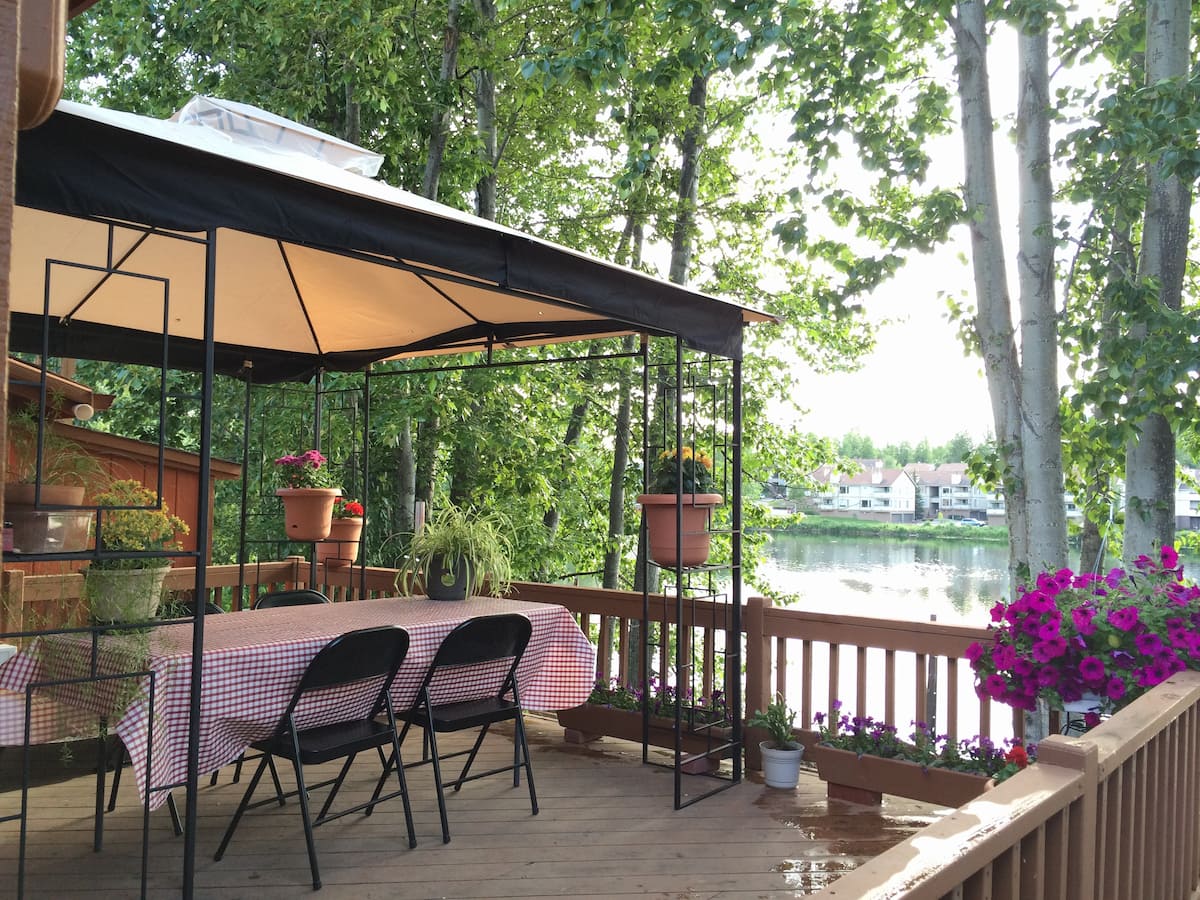 ---
10) Stunning New 2 Bedroom Minutes from Alyeska Resort
Location: Anchorage, Alaska
Superhost: Yes
Price: $99+ USD per night
https://www.airbnb.com/rooms/33680652
This gorgeous Girdwood home with vaulted ceilings is tucked away in the trees. Here, you can breathe in the fresh air from the stunning wooden deck that wraps around the entire house. The second bedroom is quite small, but the house is a great option for a family with children.
Your charming host will also be happy to give you insightful advice on what to do in town, which is an added bonus. Seeing Alaska from this height is an unforgettable experience.
The furnishings are new and stylish, not to mention well-kept and pristine on check-in. This property certainly stands out amongst cabin rentals in Anchorage, Alaska, and you're bound to enjoy your stay.
View Photos, Read Reviews & Check Availability
Guest Review: "We absolutely loved our stay at Christy's place! We had the top apartment and the views were better than we expected. Her check-in instructions were explicit along with tips on restaurants and other things to do in town. She was easy to communicate with as well. The space was very clean and had everything we needed/wanted.
Anchorage Vacation Travel Guide | Expedia
---
11) Quiet Forest Cabin · Creekside Hot Tub!
Location: Anchorage, Alaska
Superhost: Yes
Price: $240+ USD per night
https://www.airbnb.com/rooms/22469767
This wooden cabin is a whopping 700 square feet, with a 600 square foot deck to boot. Sit in the hot tub and look up at the beautiful forest trees, enjoying the seclusion and quiet living in Anchorage.
The house is only a short walk from restaurants and resorts in town, but you'll still have a ton of privacy. It borders a quiet creek, so this is a lovely spot to connect with nature and even take a work trip away from the city.
Your hosts are skiing and boating enthusiasts who will be happy to help you experience the best of Anchorage. There are plenty of tourist attractions to enjoy in Anchorage, too.
View Photos, Read Reviews & Check Availability
Guest Review: "Malcolm and Haley's place is very cute! The kitchen was well stocked with nice touch of fresh coffee. By far our favorite item was the hot tub! It's on the back deck and very secluded. You can hear a stream flowing and it is so peaceful. They had lots of nice touches, including robes to use. Lots of towels! And the washer and dryer was great to have on premises. Thanks so much for a great stay!"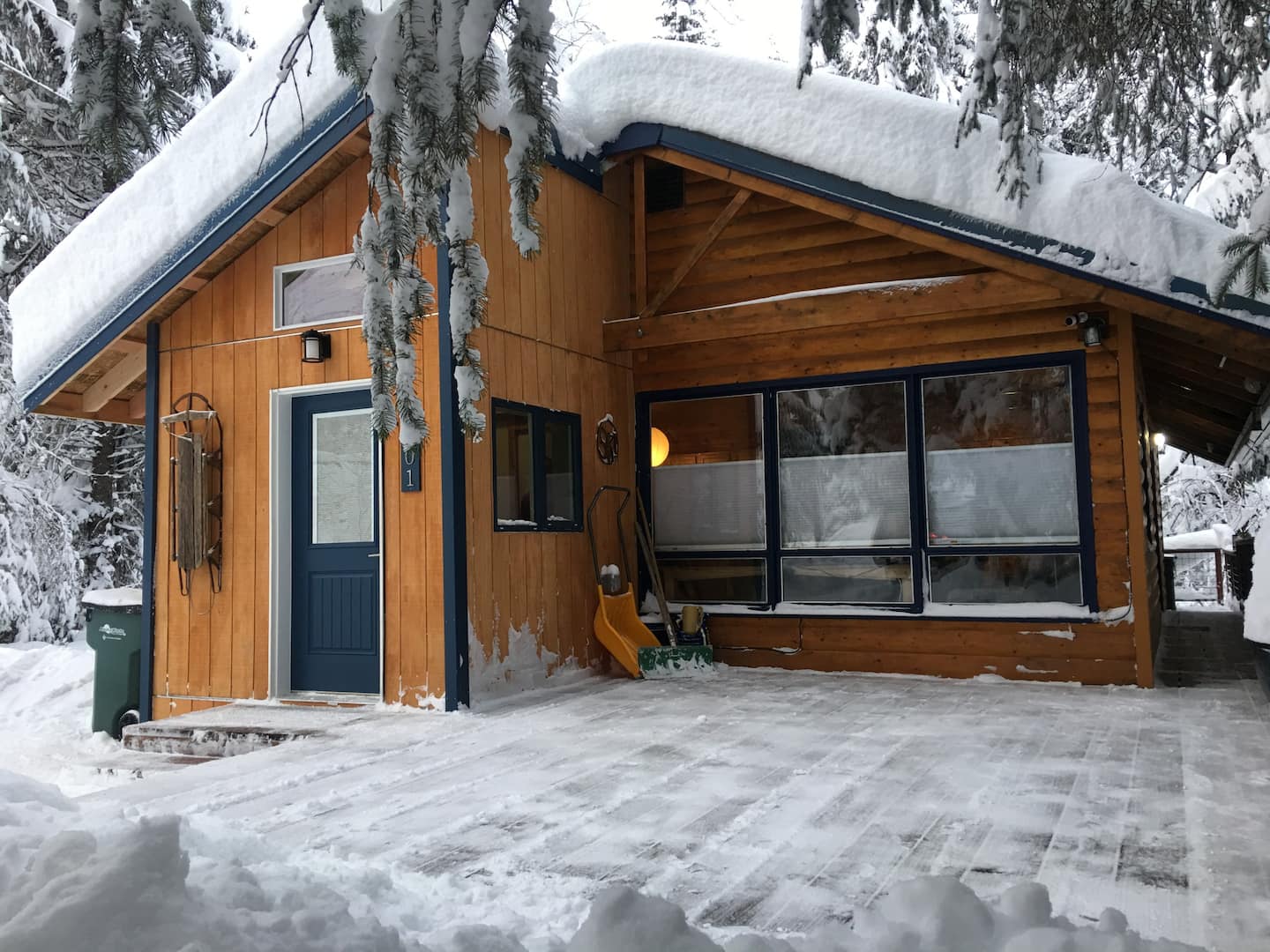 ---
12) The Mayor's Cabin — Downtown
Location: Anchorage, Alaska
Superhost: Yes
Price: $125+ USD per night
https://www.airbnb.com/rooms/8309092
The Mayor's Cabin has got an airy and spacious feel, not to mention a historical background. The house was built in 1946 by the then Mayor of Anchorage. You'll have the entire cabin and a spacious yard all to yourself.
That said, you'll be close to downtown Anchorage for all of your shopping needs. This is a great option for privacy without losing that local feel. The house is located in a residential area with a lovely neighborhood vibe that families are sure to enjoy.
View Photos, Read Reviews & Check Availability
Guest Review: "Cozy, cute place, great location – loved being a block from coffee and so close to downtown. We also got to watch a moose sleep across the street one night. The bathroom being off the master bedroom wasn't ideal with our little one coming for middle of the night visits, but we got some great cuddles out of it."
The Northern Lights | Anchorage, Alaska
---
13) Alaska Aurora Adventures
Location: North Pole, Alaska
Superhost: Yes
Price: $116+ USD per night
https://www.airbnb.com/rooms/15859639
This is an incomparable destination where you can go dog sledding, tour the Arctic circle and see the Northern Lights. The house is simple and rustic, but you cannot beat the location.
The reflection of the Northern Lights on the water is unforgettable. It's a great opportunity for families looking for something different to entertain the children with. The house also has more than enough space for kids to sleep.
At this price, paired with the perfect location, this North Pole getaway is practically a steal.
View Photos, Read Reviews & Check Availability
Guest Review: "This cabin is absolutely adorable! The location is perfect for seeing wildlife but also close enough to town for things you might need. Our hosts had the perfect touches and were thoughtful leaving treats and drinks. We will definitely be returning!"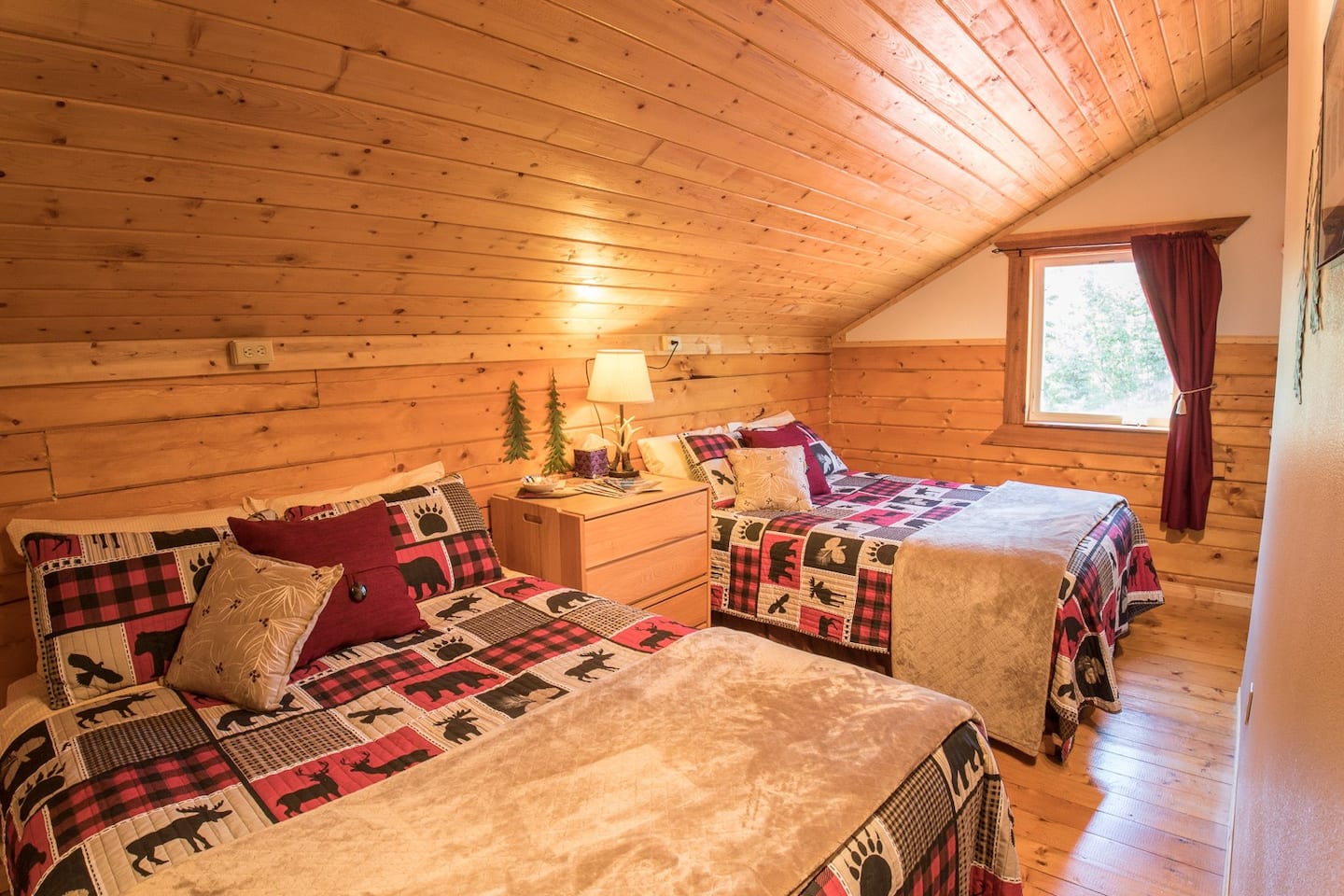 ---
14) Alyeska Hideaway Log Cabins "Placer Cabin"
Location: Girdwood, Alaska
Superhost: Yes
Price: $211+ USD per night
https://www.airbnb.com/rooms/4168968
This humble log cabin lies alongside the Chugach Forest in Girdwood. There is more than enough space for a couple to enjoy, not to mention the opportunity for a romantic forest walk. Soak in the view of sky-high trees from your private porch or head downtown for local dining.
Girdwood offers skiing, hiking trails and fantastic restaurants. If you're not up for that, simply enjoy being in this friendly forest neighborhood.
View Photos, Read Reviews & Check Availability
Guest Review: "Our family had a wonderful weekend getaway for skiing, music, and relaxing at the Placer cabin. The cabin was cozy and perfect. We had everything we could possibly need! Will def be back again!"
The best place in Alaska - Girdwood & Alyeska
---
Am I Missing Any Alaska Airbnbs?
This list includes all the best Airbnbs I'm aware of, but I'm bound to have missed some lesser-known gems. Do let me know about any special Airbnbs I may have missed.
You can drop me a message on social media or a personal email.
---
Other Recommended Reading
There is so much to discover in Alaska, not to mention the United States as a whole. With Airbnbs becoming increasingly popular, there are a plethora of amazing accommodation options out there. Explore some useful resources on Airbnbs in the U.S and festivals around the country.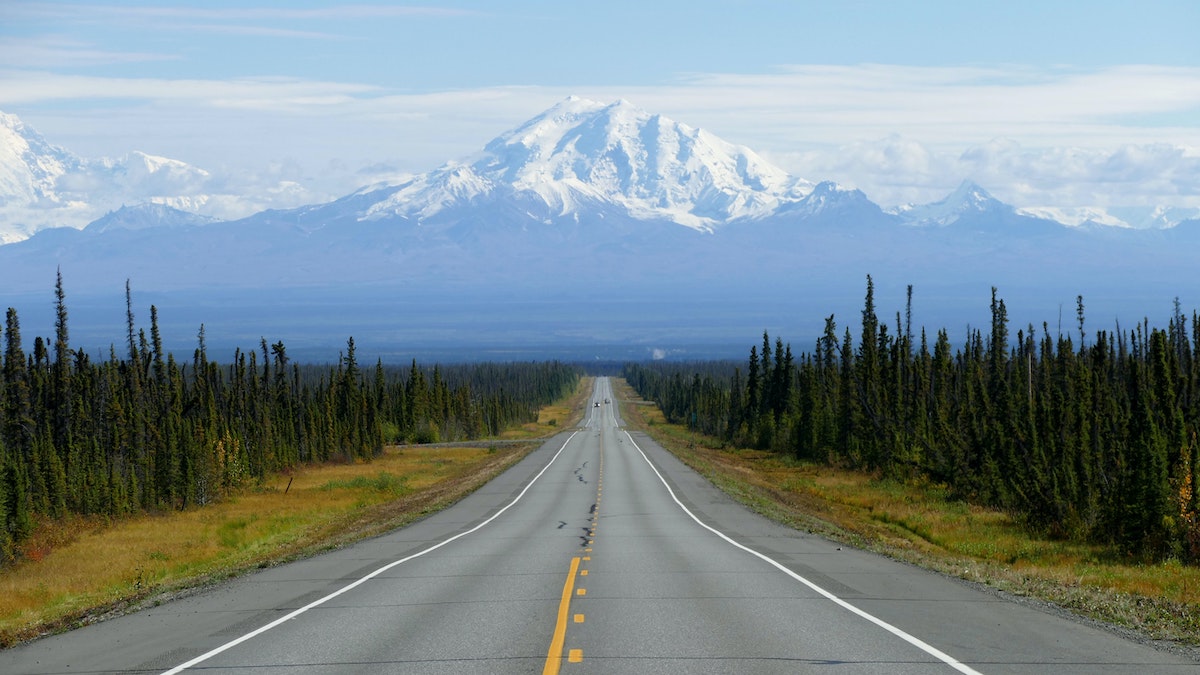 ---
Final Thoughts on Airbnbs in Alaska
Alaska is truly a unique travel destination, not to mention a wonderful place to live. Whether you're looking for an extended stay or one night for a business trip, the options are endless. Using this list, you'll certainly find something perfectly suited to you.
Enjoy the wildlife, the scenery, and don't forget to take a trip out to North Pole, Alaska. Viewing the Northern Lights is an unforgettable experience we hope you get to enjoy to the fullest.
Anchorage, Alaska - Top 10 Things to do | Best Places to Visit |
Alaska is one of America's biggest states, so you may be struggling to narrow down your travel itinerary. Luckily, we've got all the answers you're looking for. Some areas to look out for? Fairbanks is an amazing spot to view the Northern Lights.
Another great district is Anchorage, which is quiet, secluded and filled with wildlife. The views are scenic, including glaciers, lakes and forests. Downtown anchorage also offers some interesting cultural attractions like museums and galleries
---
THANKS FOR READING ABOUT MY TOP PICKS FOR AIRBNB IN ALASKA!
SHARE THE BEST AIRBNBS AND CABIN RENTALS IN ALASKA WITH YOUR FRIENDS AND TRAVEL CREW!
https://www.jonesaroundtheworld.com/wp-content/uploads/2020/11/Alaska.jpg
675
1200
TravelTractionsJATW
https://www.jonesaroundtheworld.com/wp-content/uploads/2017/03/logotry-1-1-300x106.png
TravelTractionsJATW
2020-11-13 22:56:24
2020-11-13 22:57:17
Best Airbnb Alaska | 14 Stunning Cabins & Vacation Rentals