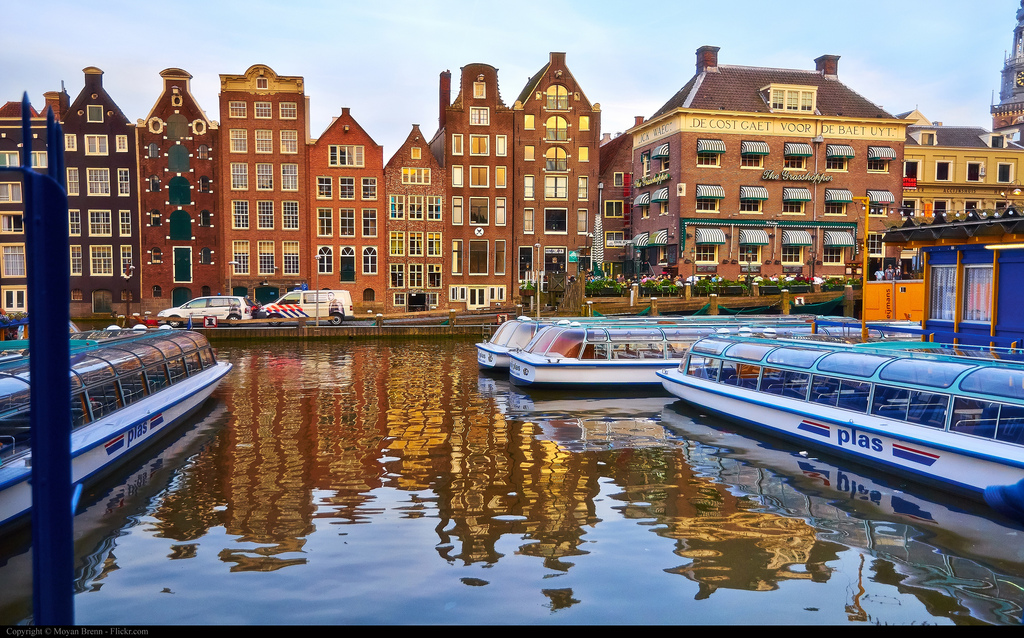 When it comes to things to do in Amsterdam, you will find that the list can get rather long.  I used to live in Leiden (about 35 minutes south), and I always loved heading into "the dam" and exploring different areas.  While some people might still think Amsterdam is a hedonistic city filled with marijuana and hookers, they couldn't be more wrong.  Yes, marijiana and prostitution may be legal, but Amsterdam really is one of the most amazing cities in the world.  Check out my list of 10 awesome things to do in Amsterdam!
1.  The Heineken Experience
This is one of the activities I think everyone should do in Amsterdam.  I've been through this tour at least four times now, and every time I have a great time.  It's much more than just a simple walk-through the old Heineken brewing factory.  There's games, a virtual ride, a tasting demonstration, and a lot more .  You get two beers at the end, and one smaller beer during the tasting demonstration.  You can find coupons at hostels for 2 euros off, which should bring it down to an even 15 euro.  You can spend hours inside, and it's definitely worth the money.  It will also give you a brand new way of looking at Heineken; if you don't like before, I'm sure you will after you the Heineken Experience.
2.  Museums
Amsterdam is a city rich in history, and has some really incredible museums to explore.  Even if you don't go inside any of them, make sure you cruise over to Museumplein!  It's a really awesome square with a massive park, multiple museums, and the giant AMSTERDAM letters.
The main three I'd recommend:
Rijk's Museum
Van Gogh Museum
The Anne Frank House
3.  Stroll through the Red Light District
No visit to Amsterdam would be complete without taking a stroll through the notorious Red Light District.  It's a relatively small area with one main long road along the canal.  Be ready to see lots of prostitutes standing in windows, advertisements for live sex shows, sex shops, coffee shops, and bars.  It's a lively area, and obviously one of Amsterdam's most well known tourist attractions.  There's even a Red Light District Pub Crawl, but I've never been on it.  The RLD is located just a few minutes away from Dam Square.
https://www.instagram.com/p/BSkk_a8jbsm/
4.  Coffee Shop Crawl
Wanna get high?  Well, you've come to the right place.  Amsterdam is a Mecca for marijuana lovers, and there's not shortage of green and purple in this city.  Weed prices vary from different shops (normally between 6-12 euro per gram), with the cheapest stuff being found at smaller shops that are not big tourist hubs.  A great way to smoke in the city is to simply walk around and find a coffee shop, walk-in, buy a gram, roll a spliff, smoke, commence walking around the city, repeat.  A good starting point would be to take a look at some of these coffee shops.
5.  Drink in Rembrandtplein & Leidseplein Square
Amsterdam might be more well-known for it's abundance of weed lovers and coffee shops, but it's also an amazing place for nightlife.  There are tons of bars and clubs in both these main squares, and it's an awesome vibe.  They are located just a short 10-15 minutes from each other, so it's easy to start the night at one spot, then head on over to the other.  What I normally do is start the night at Satellite Sports Bar in Leidseplein square because they have a great atmosphere, and awesome drink specials.  I've been to practically every bar in Rembrandtplein square, and they are all pretty fun (but can be rather expensive).  If you are looking to club, check out Club Escape in the center of Rembrandtplein.  It's an awesome club, and they'll have big name DJ's there during the weekends.
6. Ride a Bike
If you don't know, there is a massive bike culture in The Netherlands.  Seriously, they bike everywhere, and it's awesome.  They have parking garages for bikes only.  Everywhere you go in Amsterdam, you'll see bikes everywhere.  There are plenty of affordable places to rent a bike for a day, and it's a great way to live like a local, and explore the city on wheels.  Just be ready, Dutch people take biking seriously, so follow the rules, stay in the bike lane, and don't crash into anyone.
7.  Canal Cruise
This can be kind of touristy and expensive, but it's a great way to see the city.  If you go on the Heineken Experience, they include a free canal cruise (short 5 minute ride) to the Heineken Gift Shop.  They sell beer on the cruise for 2 euros, and give you some basic history of Amsterdam.  Definitely take advantage of that.
8.  Waterloo Plein Flee Market
I didn't discover this place until my 3rd time in Amsterdam, and really fell in love with it.  It's a really long stretch of two aisles that sell just about everything.  It's a great place to go souvenir shopping and buy a few random items as well.  There's some good food places in here as well.  Take your time, eat lunch, and buy some stuff.
Open:  Monday to Saturday 09:00 – 18:00 hours
9.  FEBO Vending Machine Food
When people come to Europe, they are often excited about trying all the different foods.  Well, the Dutch are not well known for the food, but they have some amazing snacks.  When you are walking around, you might notice little vending machines.  There's a large variety of different stuff.  One recommendation; try a Frikkandel or a Kroket.  They are all over the city.  Also known as "Eating from the wall".
10.  Cheese
Ohhh the Dutch make some quality cheese.  While exploring Amsterdam, you will most likely see a few cheese shops that have a wide variety of different cheeses to try.  If you have time, you can even take a day-trip outside the city to smaller towns where they make cheese.  But if you don't, definitely take some time to sample and try some cheese.  I personally love some good Dutch Gouda.
---
DANK U WEL (THANKS) FOR READING! 
SHARE THIS ARTICLE!
https://www.jonesaroundtheworld.com/wp-content/uploads/2014/06/5716397597_8057dca8af_b.jpg
638
1024
Dave
https://www.jonesaroundtheworld.com/wp-content/uploads/2017/03/logotry-1-1-300x106.png
Dave
2016-04-05 13:11:58
2017-04-08 17:06:12
10 Awesome Things To Do in Amsterdam