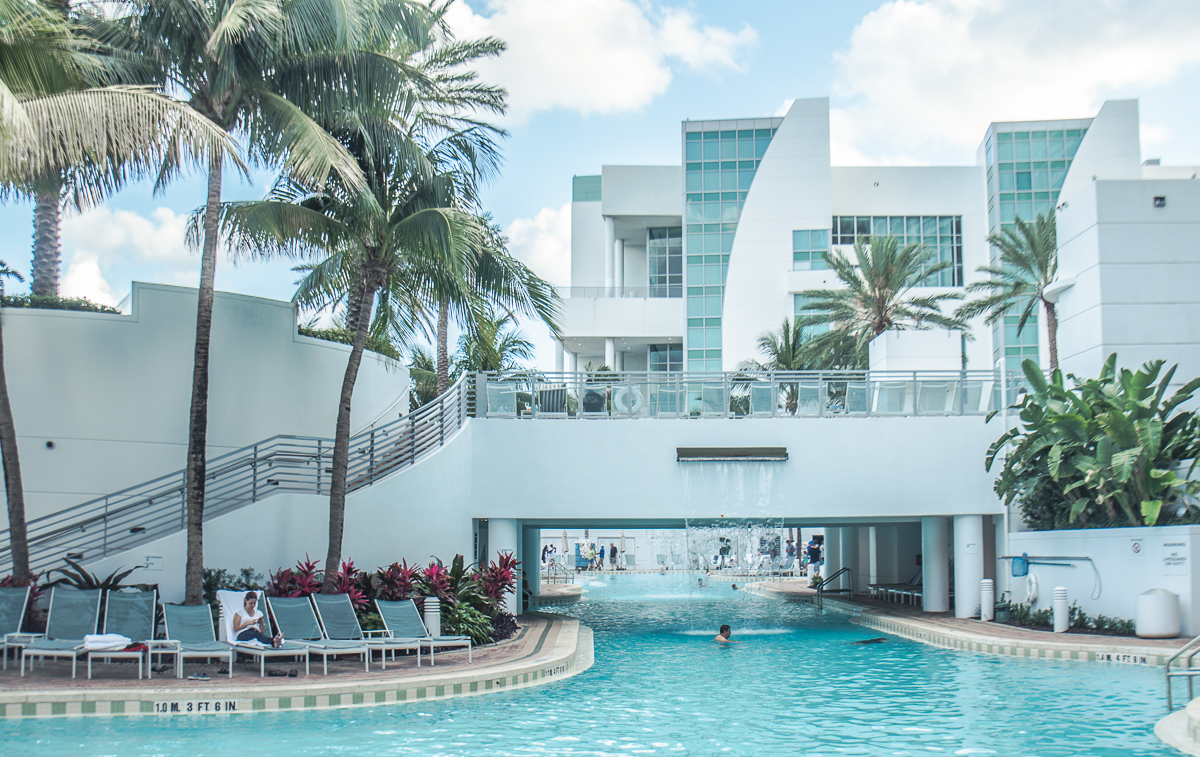 A couple weeks ago I was out to dinner with some friends in Florida, and someone referred to someone as a "snowbird". For those who don't know what that means (like me), Urban Dictionary defines a snowbird as "irritating old people who come down to Florida from Northern states, drive like maniacs, and should be illegal."
While that definitely puts a negative spin on the term, I actually loved the idea. As a person who's been traveling over 6 years, I've actually spent quite a bit of my life "chasing summer". Basically what that means is, once a place starts to get cold, I'll jet off to a different part of the world where I can find warmer weather.
When it comes the United States America, there's arguably no better place to escape than to sunny South Florida! I spent the last month in Del Ray Beach, and I definitely understand why people from all over the country flock to the gorgeous sunshine state on such a regular basis.
It's a vacation hotspot with tons of incredible beach resorts, exciting attractions, and delicious restaurants to check out. While I was very sad to leave Del Ray, I was stoked that the people over at the Diplomat Beach Resort invited me over for dinner for my last night in Florida!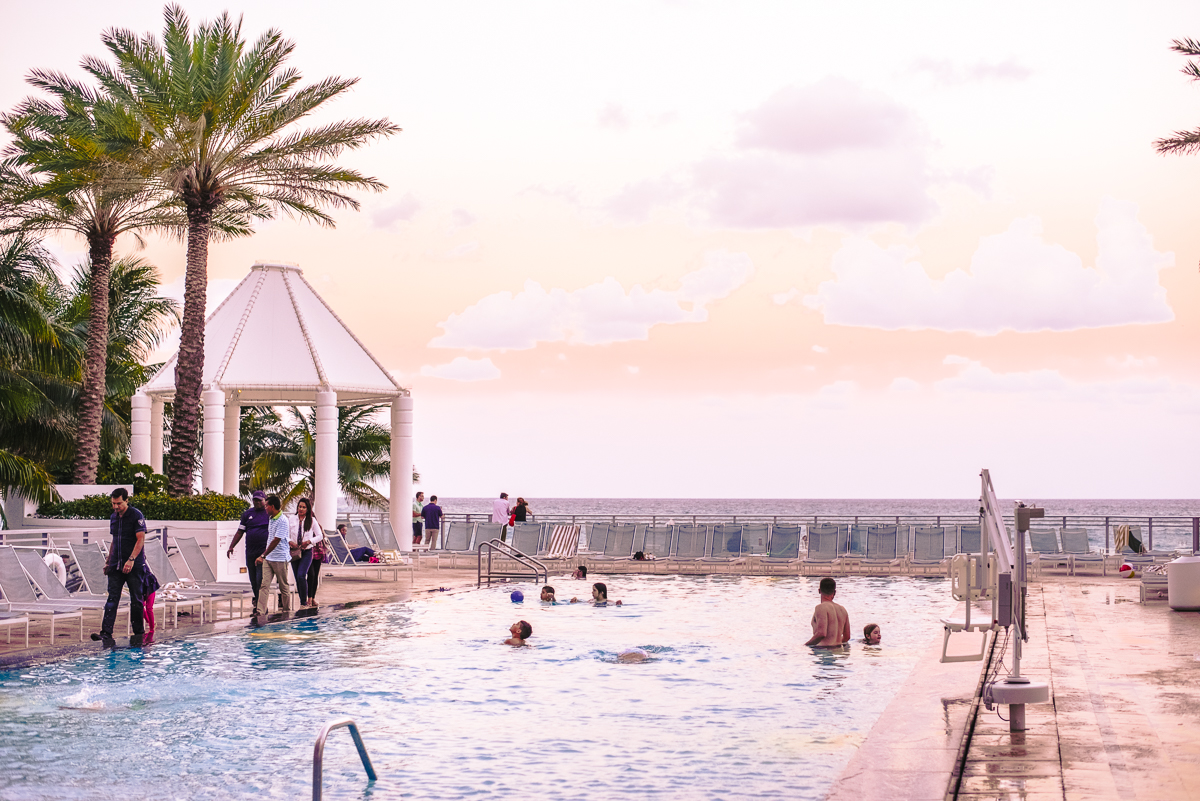 ---
The Diplomat Dining Tour
Before sitting down for a delicious meal at Hollywood's famous Point Royal, I took a quick 20-minute tour of the Diplomat Beach Resort property and it's various dining options.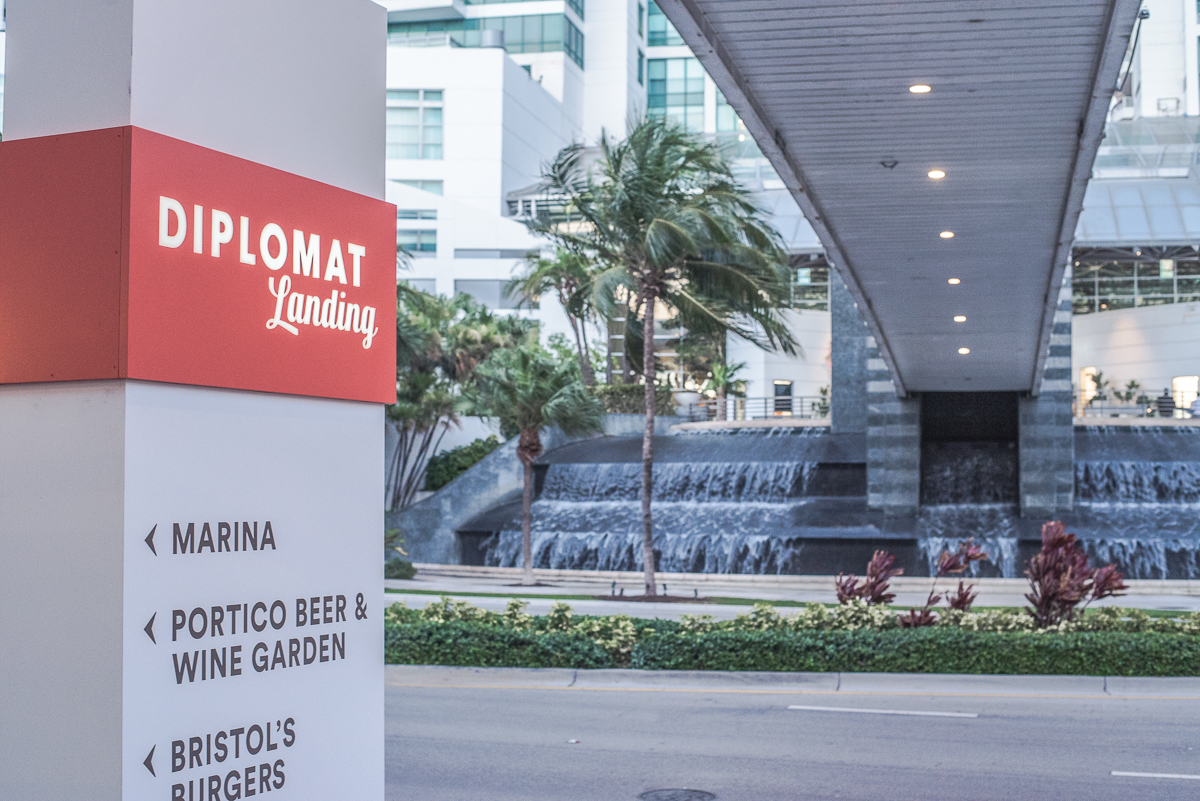 We started out across the street at "The Diplomat Landing", which is an outdoor open-area offering entertainment for everyone like ping-pong, corn hole, and giant Jenga. Here you'll find the Portico Beer & Wine Garden which serves classic Italian favorites, and a wide variety of alcohol, as well at Bristol's which is your go-to spot for "ingredient driven" burgers, milkshake, and throwback cocktails.
Pro tip: Don't miss the Happy Hour at Portico & Bristol's Burgers from 5:00 -7:00 P.M everyday for drink specials and a stunning sunset view over the Intracoastal Waterway.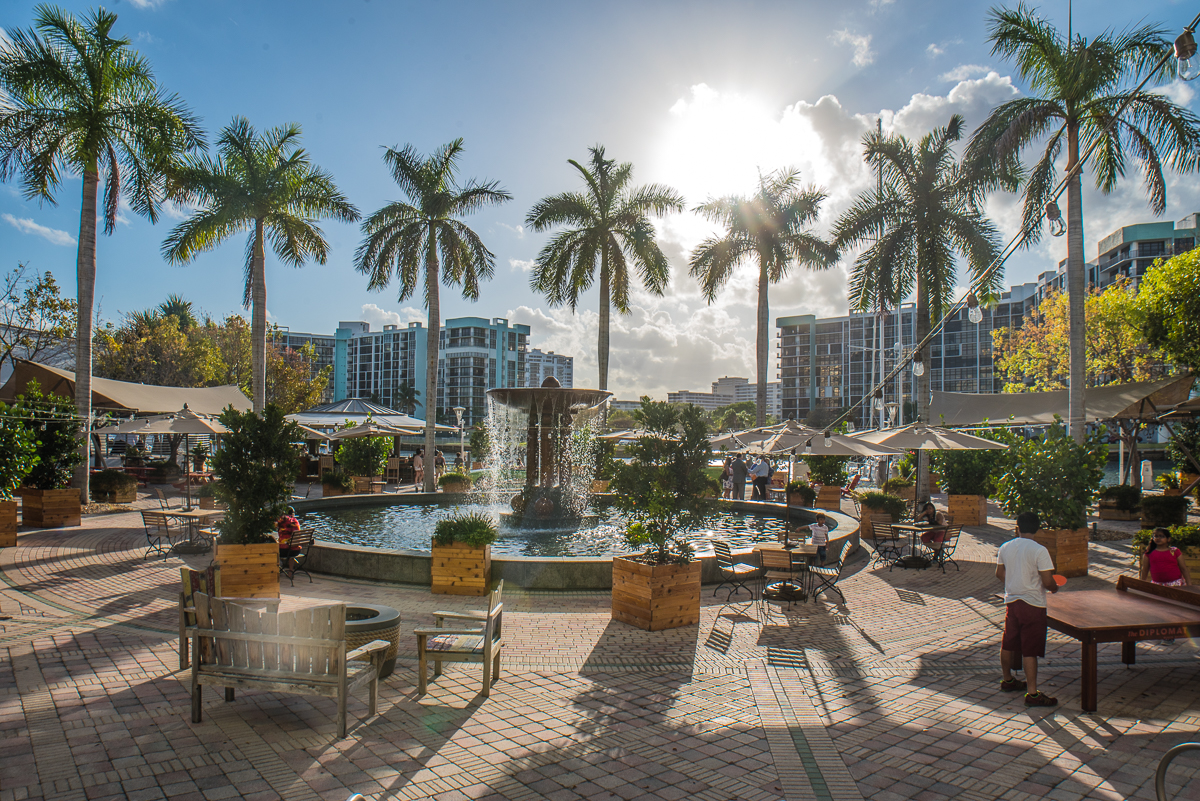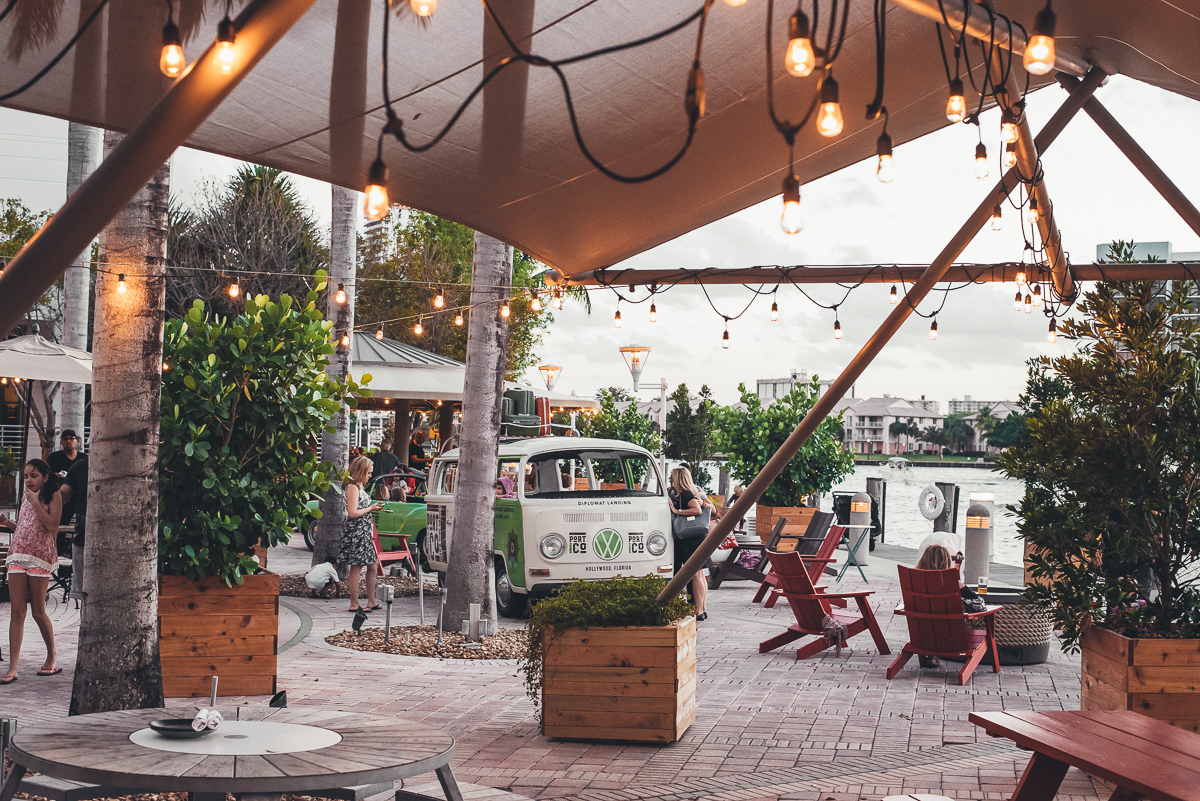 ---
We made our way over the bridge and entered the gorgeous Diplomat Beach Resort lobby. I wasn't quite sure what I was expecting, but it was absolutely stunning! I later discovered that this property just went through a $100 million dollar transformation, and it definitely shows! The wide-open floor plan, the comfortable couches and seating areas, and the massive palm trees inside just made me feel like I'm on a luxurious vacation.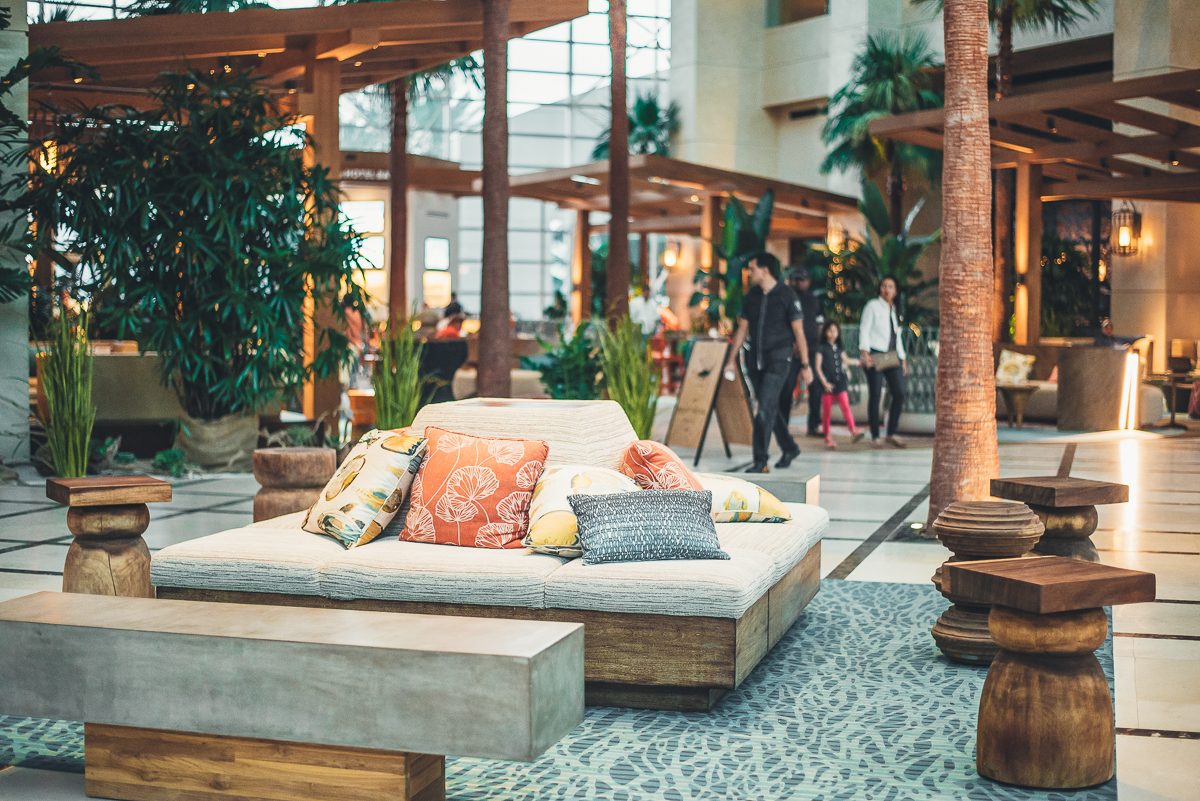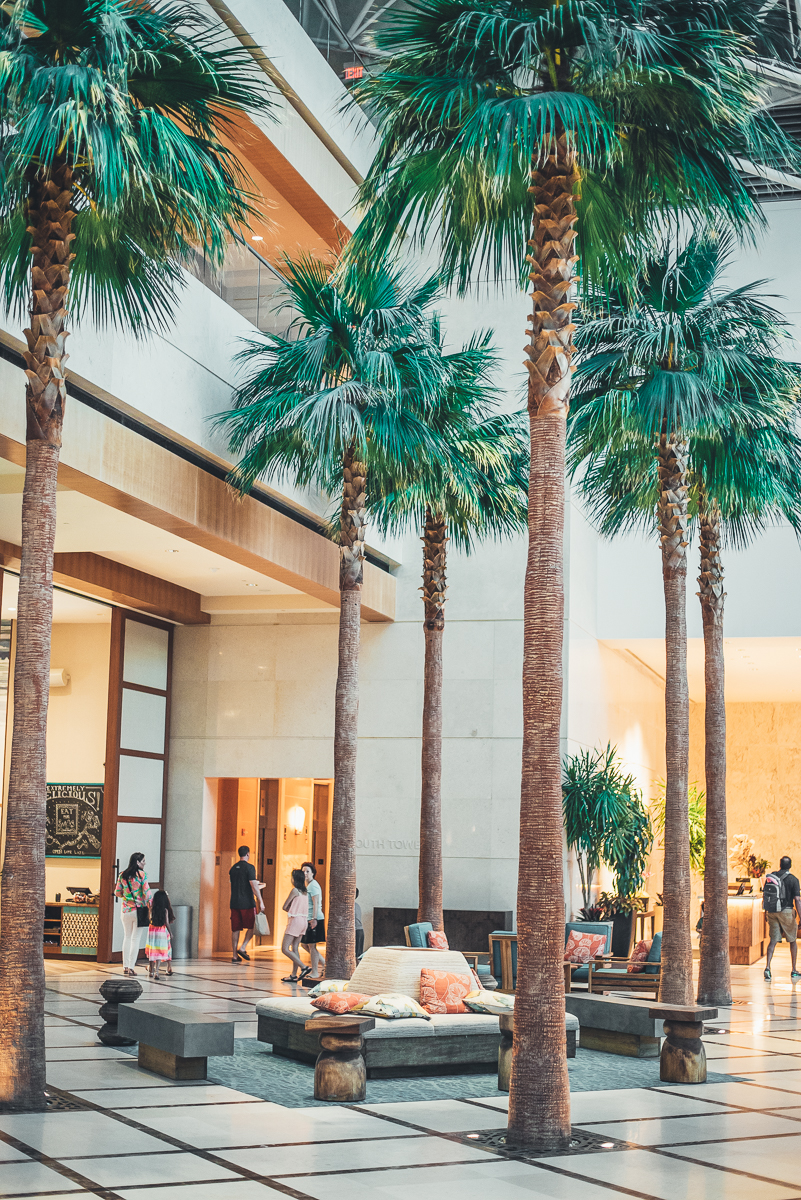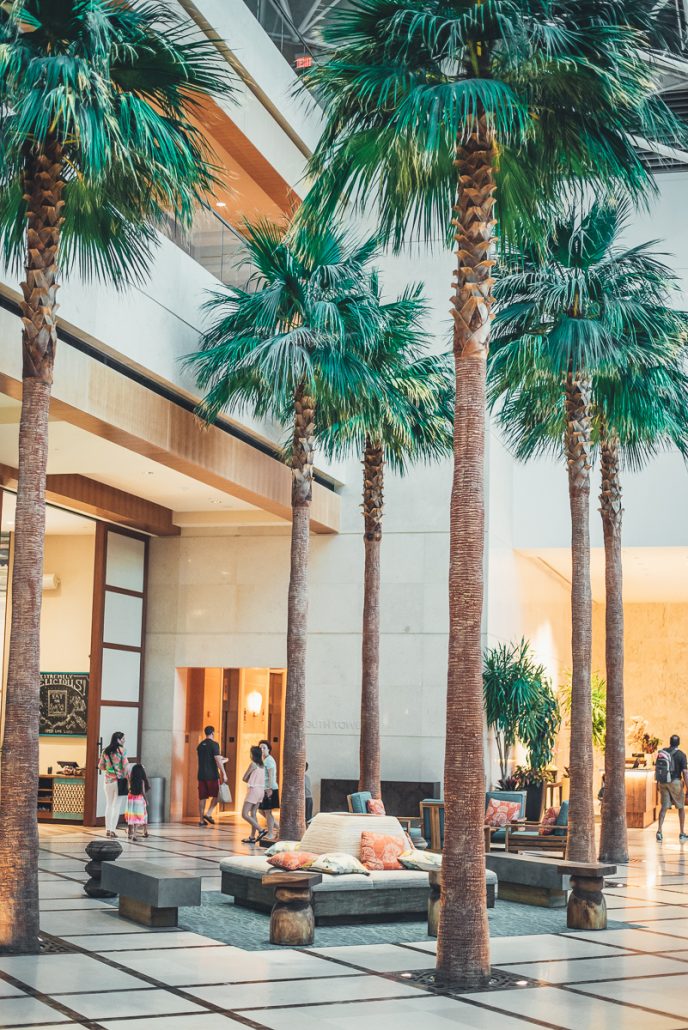 My tour continued into the Diplomat Prime, a boutique steakhouse that had me drooling while browsing through the menu. The restaurant was stunning with several private rooms for banquets, receptions, or business dinners, as well as showcasing a beautiful interior decor. It's the fanciest option on the tour, but if you're willing to fork-out the $95 for the 28oz Porter house (the most expensive item on the menu), you will not be disappointed!
We then made stops at Counter Point, Diploma's own coffee and fresh juice bar that also serves up a variety of tasty treats, and then off to "The Canteen", which is the resort's mini-grocery store for purchasing just about anything else you might need. I then found myself outside by The Hotel Bar & pool (which is most likely where you'd find me if I were a hotel guest), and took a quick walk around the swimming areas on both levels.

---
Point Royal
It's safe to say that after exploring all these dining options, browsing through their menus, and hearing about so many different specialties, I had worked up a pretty big appetite. So I was shown to my table inside the newly opened Point Royal restaurant, and began the dining experience I drove down to Hollywood for!
Confession: I'm not a big sea-food guy. It's actually been an issue during my travels when my tastebuds have made me reluctant to trying different types of food.
With that being said, I've been trying to work on that in the past few months! During my last trip exploring the New South Wales Coast, I actually ate quite a lot of oysters, prawns, and even some octopus!
---
Fresh Oysters & Tuna Tartare
My meal started with trying two delicious appetizers of a fresh local Oyster and some Tuna Tartare. While the oyster was quite delicious (I'm still getting used to eating them), the winner was easily the Tuna!
This was my first time ever trying Tuna Tartare, and I absolutely loved it! It actually made me a bit angry at myself for not sampling it sooner in life, because I remember a few times I politely refused offers in the past.
---
The Lobster Roll
The woman who showed me around the Diploma Beach Resort recommend I try the Lobster Roll for dinner, so that's exactly what I did. I haven't eaten lobster since I was probably 10 or 11 during a Las Vegas trip with a friend's family who forced me to try some!
If you're a fan of Lobster, than this is the definitely the meal for you! This absolute absurd portion of Lobster meat stuffed between delicious garlic bread was amazing. I'm definitely glad I decided to branch out, and try something I normally wouldn't order!
---
Chocolate Budino
"Would you like to see a desert menu" is a question that I'll very rarely respond with a no. After browsing at the 5-6 different options, the clear winner for me was the Chocalate Budino.
"Dark Chocolate, Hazelnut Praline, Coco Nibs, Cinnamon Ice Cream". Yeah, that sounds good. I'll have that. This half pudding / half cookie combined with ice-cream and coco nibs to add that little bit of crunch was simply divine. At the price $12, I knew it was going to be pretty banging.
---
After demolishing my desert in record time, and finishing my leftover pineapple juice, my dining experience at the Point Royal had come to an end. It was a pretty solid way to end my month long stay in Florida, and I know I'll be back again in the future. Hopefully it'll be to try out the new modern Japanese restaurant "Monkitail" which will be opening up in the coming months!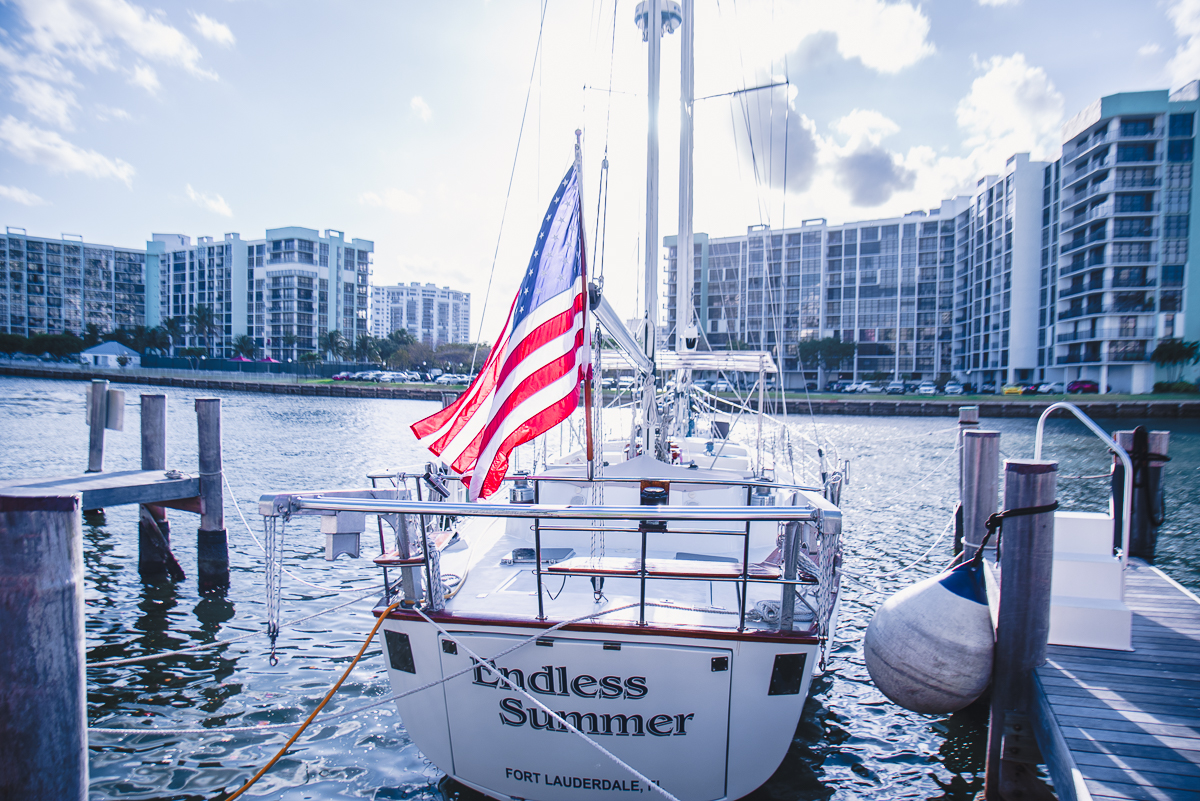 Thanks for reading!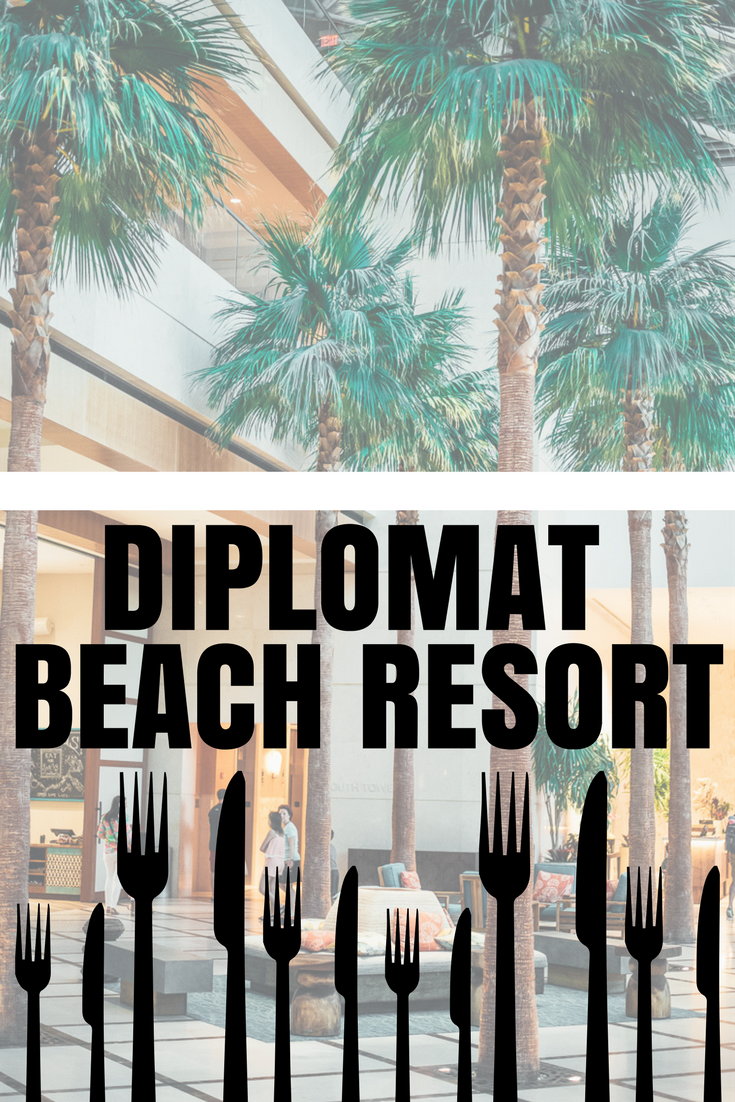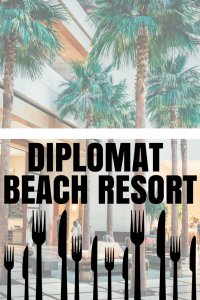 Disclosure: I was invited by the Diplomat Beach Resort to check out the property and enjoy a complimentary meal. As always though, all opinions are my own. :-)
https://www.jonesaroundtheworld.com/wp-content/uploads/2017/04/DSC_0730.jpg
757
1200
Dave
https://www.jonesaroundtheworld.com/wp-content/uploads/2017/03/logotry-1-1-300x106.png
Dave
2016-04-15 20:06:59
2020-09-26 22:40:05
My Last Night in Florida: Dining at the Diplomat Beach Resort