Planning a trip down to Mexico and wondering what the best things to do in Tulum are? In the last couple of years, the scenic paradise of Tulum has become a Bohemian, beachside paradise famous for it's wellness-centered, hippy vibe and laidback lifestyle.
But it's not only the free-spirited that are attracted to this Instagram haven. Foodies, adventurers, history buffs, and global travelers enjoy everything Tulum has to offer. With outdoor adventures, water sports, and archeological sites to be explored, you'll be kept on your toes discovering the unique jungles and dreamy beaches found in Quintana Roo (the Mexican state Tulum is in).
Global tourism is at its peak in Tulum, so you'll find restaurants, food markets, and street vendors have kept up with the growing popularity. And good food is an essential part of an epic adventure!
Below are some of the best and most exciting things you can do in Tulum. As well as some great places to stay and must-try food experiences that'll leave you curious for a chance to visit Tulum.

I just returned back from nearly a 3-week visit to Tulum, and absolutely fell in love with this destination. In fact, I'm hoping one day to buy a vacation condo down there, as there really is something special about this place!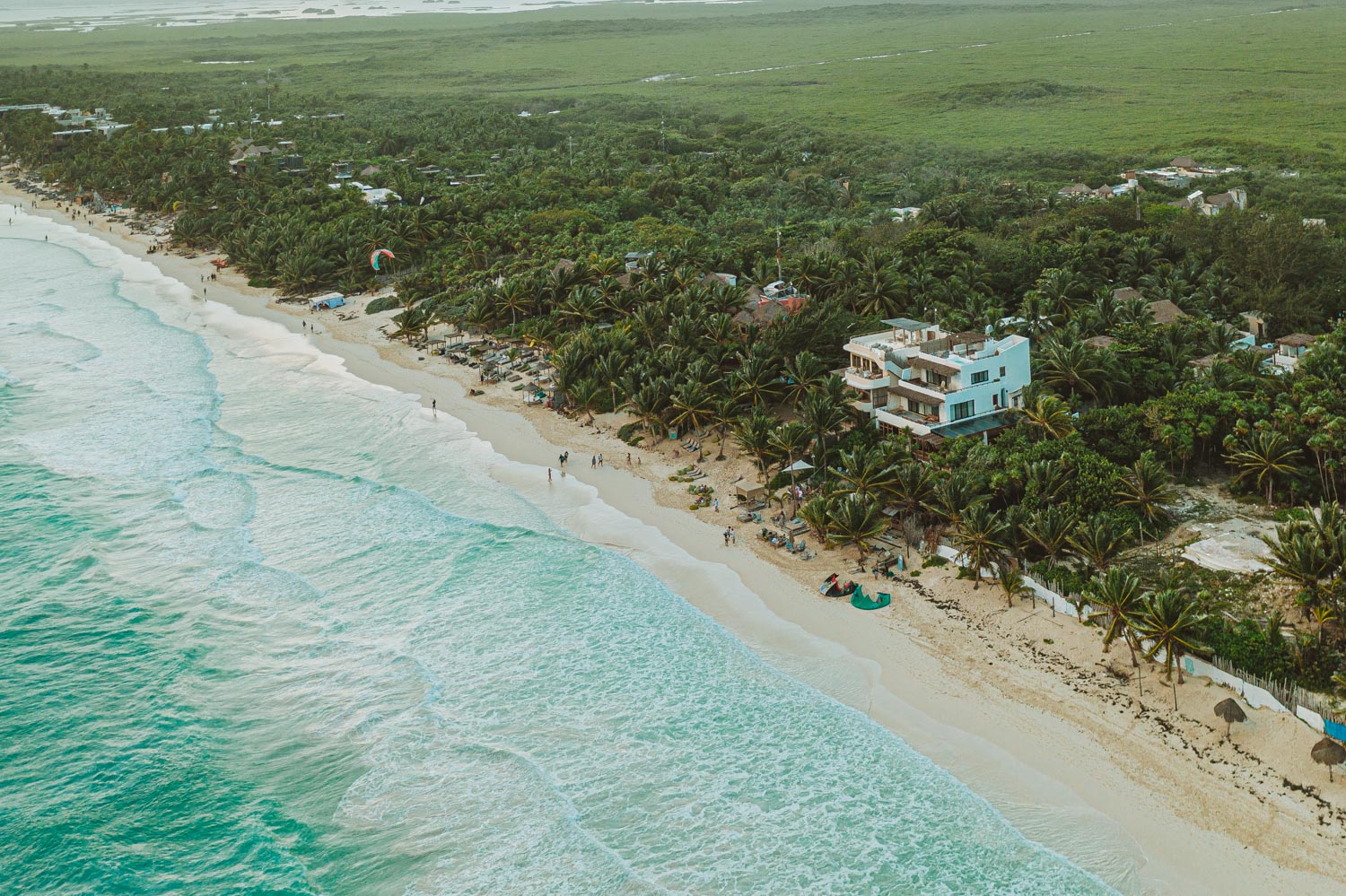 ---
How to Get to Tulum
Everyone who visits Tulum will most likely be flying into Cancun International Airport and reaching Tulum is super simple! From there, it's about an hour and a half drive into Tulum City; either rent a car or take the bus. Don't even worry about it being a difficult journey. It's easy enough to follow Route 307 into Quintana Roo, and Tulum is found right along the way.
Bus – Right outside the main arrival terminal at Cancun airport you'll find the ADO Bus company. They've got regular services in between the airport and Playa Del Carmen & Tulum. Tickets are affordable, the busses are comfortable, and they make the journey really easy.
---
How to Get Around Tulum
Renting a car is cheaper in Tulum than it is at Cancun airport. It's best to take a shuttle to Tulum and then rent a car for your holiday. Once you're in Tulum you don't necessarily need a car to get around. There are taxis, or you can even rent a scooter or bicycle.
---
Where to Stay in Tulum
Interestingly, the city is actually divided into three different parts. Tulum Pueblo is the city center, which you'll head to to find all the best restaurants and bars. While Zona Hotelera is home to all the resorts and hotels, as well as many beaches. And then there's Tulum Ruins, the area you'll visit to see the ancient Mayan structures.
Airbnb Tulum: This is my preferred way to experience Tulum because there really are hundreds of amazing (and affordable) units available in the town and the beach. I stayed at three different airbnbs during my last visit to Tulum, and I just loved having my own kitchen to make breakfast, have a pool to take a swim in to escape the heat, and get a more local experience. Also, they tend to be much cheaper than the overpriced beach hotels (but those definitely are worth a stay if you've got the money.
I'd recommend booking an apartment in Aldea Zama (if you've got a car rental or bike rental). Here are some fun properties to check out and see if they're available during your trip: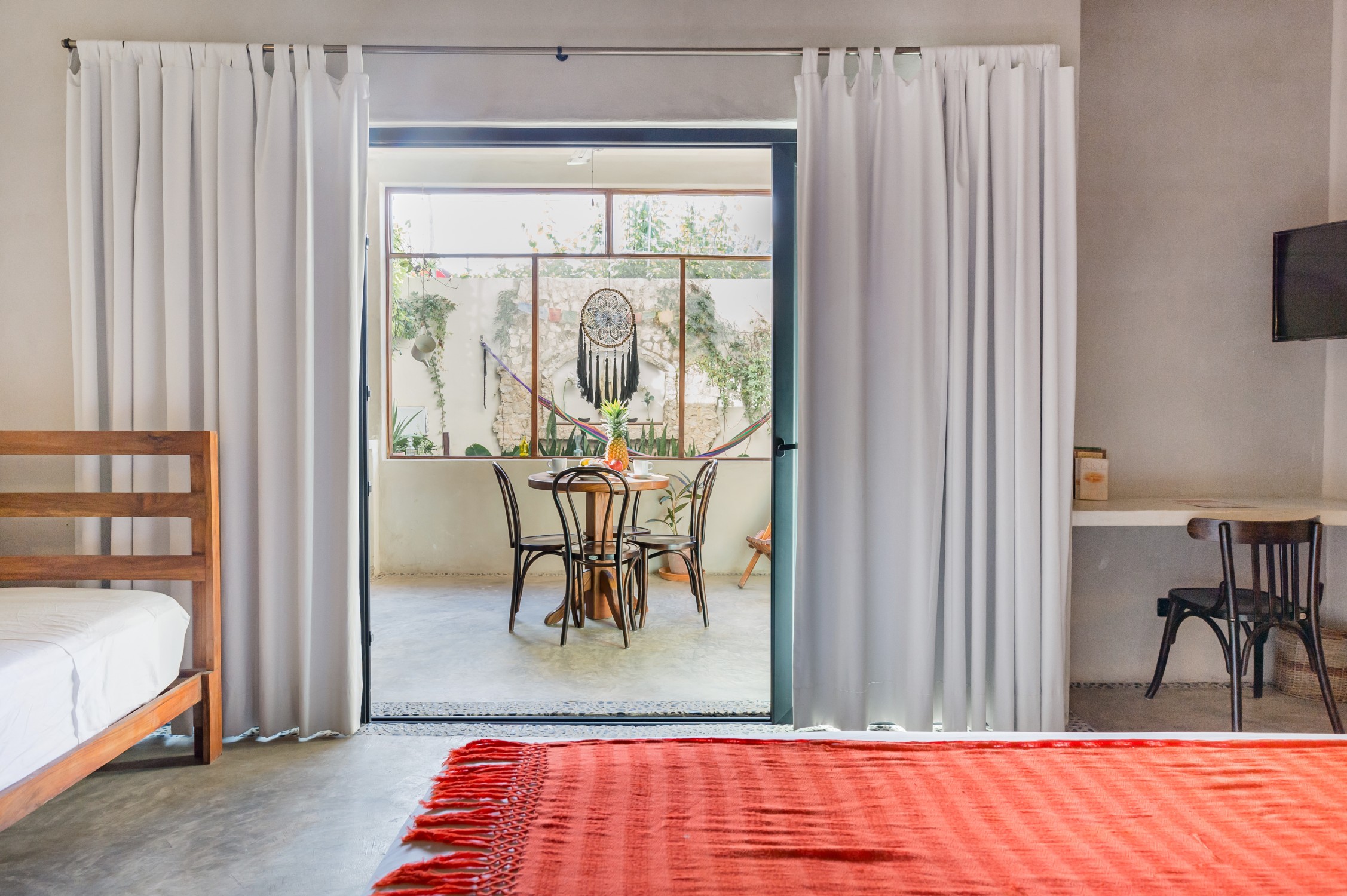 ---
Mayan Monkey Hostel Tulum
https://www.booking.com/hotel/mx/mayan-monkey-hostel-tulum.en-gb.html
Price: $17 + USD per night
With a restaurant, bar, and garden, you easily enjoy the good weather and outdoors with an awesome ambiance. You'll be glad to know that it's just a 20-minute walk down to Las Palmas Beach, while Paraíso Beach is just a 25-minute walk away.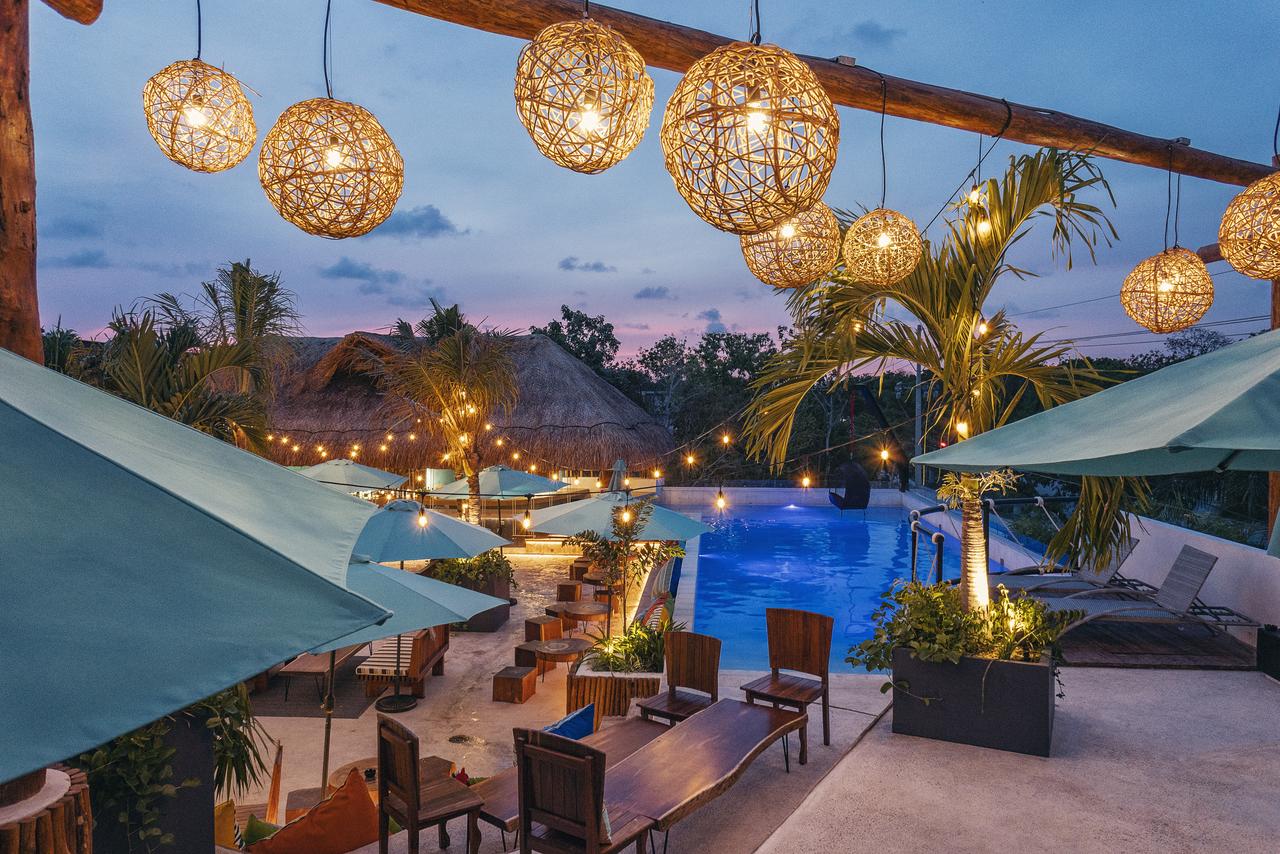 ---
Casa Abanico Tulum Guesthouse
https://www.booking.com/hotel/mx/casa-abanico.en-gb.html
Price: $28 + USD per night
This guesthouse is perfect for those interested in snorkeling, exploring the ancient ruins and archaeology. It's just a 10-minute drive away from the main Mayan ruins site, and a 5-minute walk from bars and shops in Tulum Center. As well as its prime location, it's a beautiful and quaint house, featuring a lovely garden to relax in.
---
Hotel Poc Na Tulum
https://www.booking.com/hotel/mx/poc-na-tulum.en-gb.html
Price: $160 + USD per night
A beachside paradise perfect for those looking for a luxurious stay in the beautiful Tulum. Rooms will either have views of the jungly garden or the gorgeous sea, great for looking out and watching the sunset over the shore.
---
Zamunda Garden View Apartments
https://www.booking.com/hotel/mx/zamunda-house.en-gb.html
Price: $118 + USD per night
What better way is there to stay in Tulum than with an outdoor swimming pool, large garden, private balcony and bicycles for use? None that we can think of.
---
The Best Things To Do In Tulum
The downside to Tulum? You might not want to leave, and you'll possibly be hating yourself for not being able to stay longer. You'll be overwhelmed with all the epic things to do in Tulum, but that it just shows you how awesome of a place it is.
---
1) Grab A Street Taco
What's one thing tourists can't get enough of in Mexico? Taco's, of course. Accompanied with fresh juices, fruits bursting with flavor and iced popsicles, Tulum is one of Mexico's top street food locations. Juicy, flavorsome and super affordable, it's impossible to visit Tulum without giving these babies a try.
Breakfast, lunch and dinner are the perfect time to eat some tacos. And that's because the locals are so good at sprucing up their tacos. Vendors start selling from as early as 6am, and can run all the way into the middle of the night (perfect for an after-party snack).
Mexican Food in Tulum! - PARADISE CEVICHE and Tacos! | Riviera Maya, Mexico
---
2)
Meditate on the beach
Tulum is said to be the hippest destination in Mexico, and with it's laid back attitude and hippy communities, it's the ideal place for beach meditation. Don't be surprised if you see guided meditation happening under the full moon, or early morning meditation sessions as the sun rises.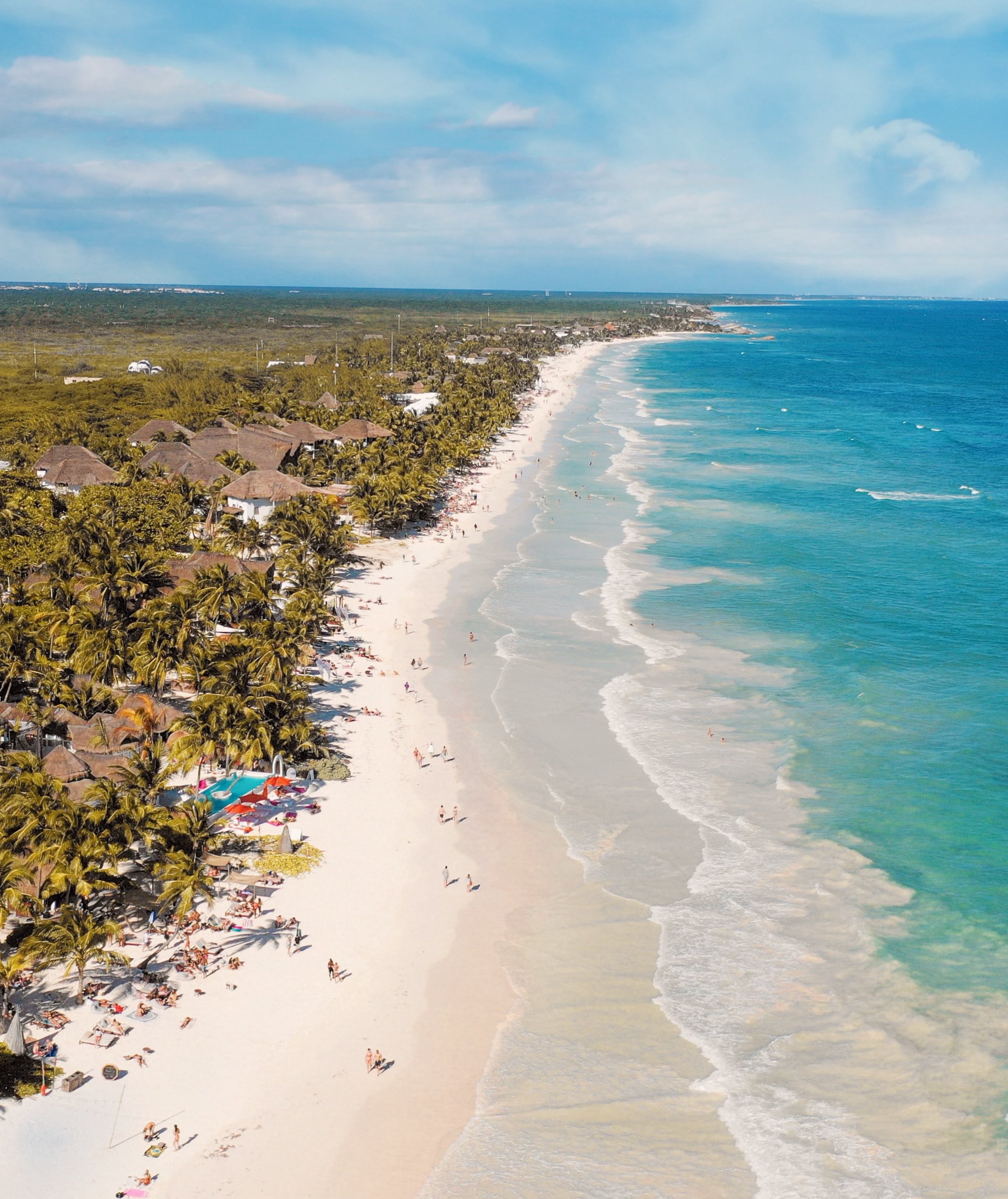 ---
3) Visit The Mayan Ruins
Another one of those things that aren't worth missing in Tulum. Fun fact, Tulum's original Maya name, Zamá, means 'place of the dawning sun', which is incredibly beautiful. El Castillo, Temple of the Frescoes and House of the Halach Uinic are some of the most famous ruins in Tulum.
The old stone structures are surrounded by leaning palm trees, flowering cacti and coastal cliffs. So not only is it historically important, but the ruins are also extremely beautiful. You can visit pyramids that were once used as lighthouses, or old temples with their original, well-preserved paints.
The ruins can be hectically busy, so visit as early as possible, around 8am. Or visit near closing time, which is at 5 pm, when everyone is tired of exploring. This Get Your Guide tour provides early access to the Mayan ruins, as well as a guided tour.
5 THINGS YOU MUST NOT MISS TULUM, MEXICO 🌴♥️
---
4) Tulum Adventures On A Stand Up Paddle Board
Rent a board for an hour a day or a week and have a paddle session in the crystal blue ocean. Paddle board companies thrive here so you can take your pick of a variety of different boards. Whether you're a beginner or pro, the all round boards can be used by anyone.
Paddle between the mangroves, along the lagoons, SUP along the turquoise reefs or even through the ancient ruins. There are plenty of SUP adventure tours to enjoy with the whole family, and the boards can even be delivered to your rental before you arrive.
---
5) Relax On A Hammock
Yes, a lot of your time is going to be spent adventuring, but what's wrong with a little bit of time out? It's pure magic to just lay back with a book (or cocktail) and enjoy the Mexican weather between pretty palm trees.
The locals make a lot of the hammocks and tourists will come across an incredible variety of bright and colorful patterned hammocks. They're awesome souvenirs to bring back from a trip to Tulum, too!
---
6) Snorkel In The Cenotes
Home to the largest underwater cave system in the world, Tulum is said to be one of the best spots for snorkeling in the cenotes. The cenotes are natural sinkholes that reveal natural water. Expect to see turtles, lily pads, rays, butterflies and impressive underwater tree trunks.
If you're a beginner, Cenote Dos Ojos is perfect for your first snorkeling trip. You can play with schools of fish and view the ancient rock formations.
Or for something a little more weird and interesting, visit the Cenote Pet Cemetery that holds animal skeletons such as a strange prehistoric camel.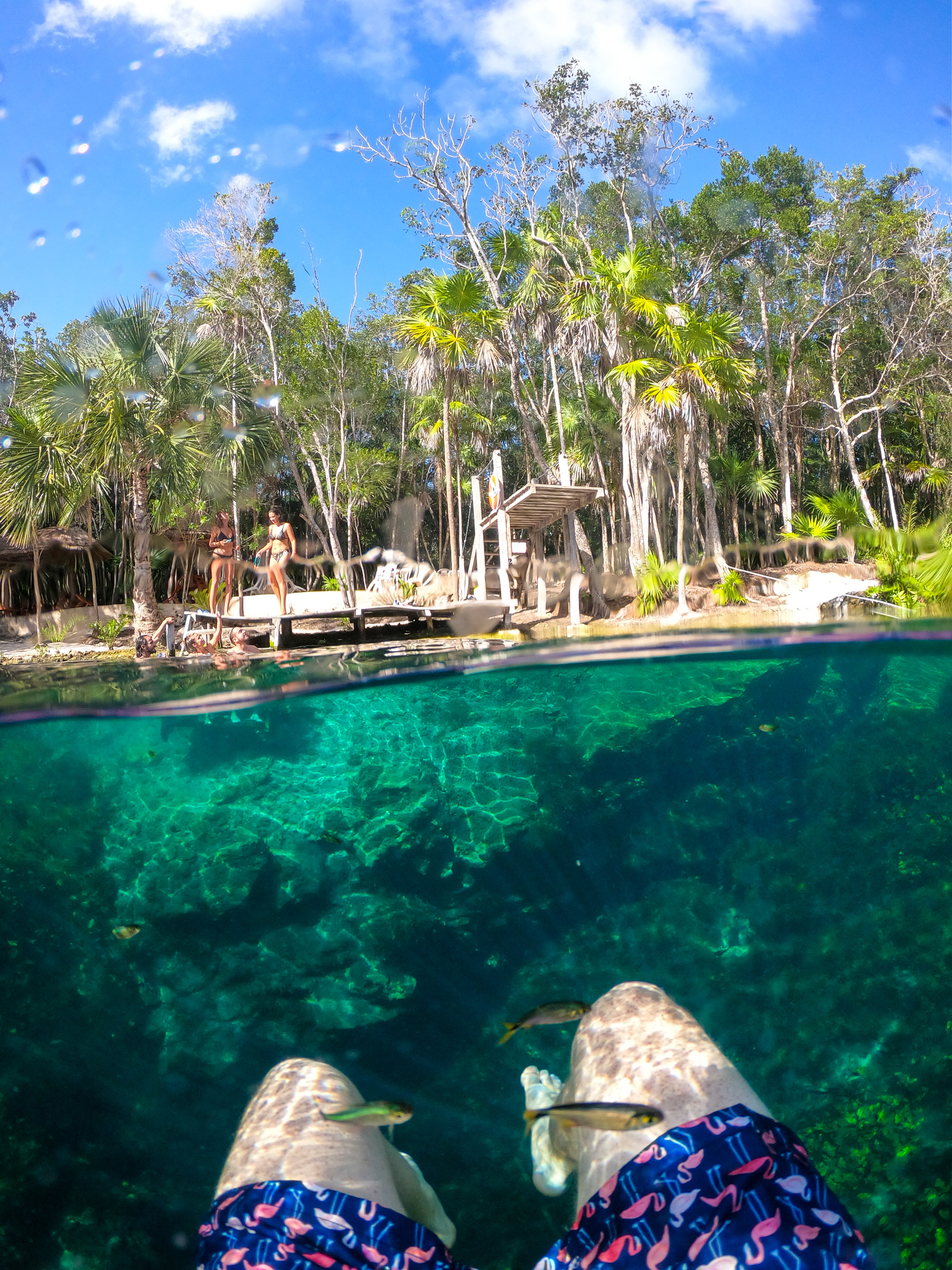 ---
7) Visit Punta Laguna Nature Reserve
The perfect excursion for family and friends, this nature reserve offers one of the most unique sightseeing attractions in Tulum, a chance to see the ever famous spider monkeys. The shouting monkeys will grab your attention as they swing across the treetops, but you also have the chance to encounter jaguars and pumas. And not to mention dozens of bird species.
Entrance to the reserve will allow you to take a dip in the lagoon. For an extra fee of 300 pesos ($25 USD), you can book a guide to give you a local tour of the grounds. Have your fun as the guides let you get up and personal with the numerous monkey species
Opening Hours: Every day from 7 AM – 6 PM
Ticket Prices: 100 pesos ($6 USD)
---
8) Attend A Yoga Class On The Beach
With enough yoga studios to visit a different one each day, beach yoga is the best way to start your day of adventuring around the city. Given how popular it is with tourists, many of the studios allow drop-in classes with no commitments.
Yogi's will be more than happy to know that there's almost every type of yoga to be found in Tulum. Bikram, Ashtanga, Hatha, Vinyasas and even yoga on a stand-up paddleboard will keep you grounded and connected to your inner self.
What to do in TULUM, MEXICO: TOP 10 THINGS TO DO AND SEE
---
9) Hop On A Catamaran
Set sail on a beautiful catamaran and enjoy views of the surrounding islands. Have fun with friends or family as you spend your day onboard snorkeling, diving in the ocean, enjoying delicious lunches and stopping at some remote islands.
With plenty of Catamaran companies in the area, you can find something to fit your budget. There are some that are quite reasonably priced, but many can be over the top luxurious if you feel like giving yourself a real treat.
---
10) Visit The Best Cenotes
We've mentioned snorkeling in the cenotes, but scuba diving in the cenotes is also incredibly awesome. Simply rent some scuba diving equipment (if you're qualified) and dive right into these awe-inspiring Tulum caves. Cenotes are even worthwhile to just go and view, if you're not too keen on jumping in the water.
Tulum boasts some of the most beautiful cenotes in the world, here are some of the best ones to visit:
Cenote Calavera:

Popular with swimmers and divers, you can also enjoy cannonballing into the water.

Cenote Caracol:

An underground cave cenote that looks eerily like a foreign planet.

Cenote Car Wash:

A large, open water center filled with beautiful lily pads.

Casa Cenote:

Filled with lots of fresh and seawater fish.

Cenote Calavera:

Perfect for swimming and jumping!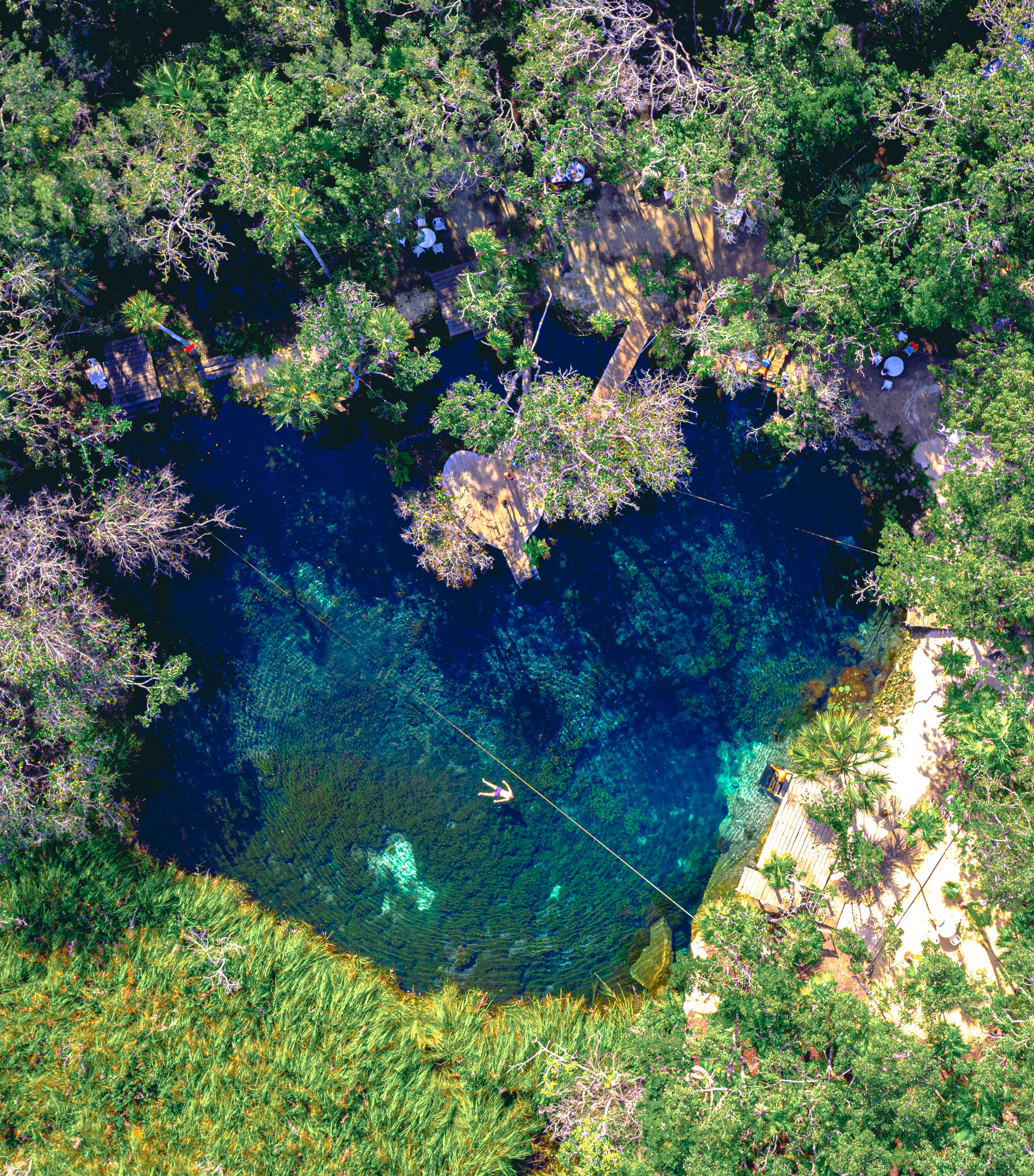 ---
11)
Take A Trip On A Speed Boat
Water activities in Tulum are one the most popular tourist attractions, and the warm turquoise waters make it fairly easy to understand why. Unlike the relaxing catamaran journeys, speed boats can be wild and adventurous. Explore the waters in a fun and safe way.
Jet along the lagoon waters or the coast of the Riviera Maya. Or jump on board from the beach shores and head out to the ocean, where you stand the chance of riding alongside dolphins and whale sharks.
TULUM TRAVEL GUIDE 2018 | Otherworldly Cenotes + Eat, Stay + Budget Tips!
---
12)
Buy Some Fresh Produce From Local Farmers
One of the best things you do when traveling to a new city is giving all the local cuisine a try. And there's no better place to pick up some fresh produce than the local markets selling homegrown produce.
With produce that's fresh, sweet, unique and so delicious, why would you buy from the supermarkets? Pick up some supplies to assemble your own picture on the beach. Fruits are great on the go foods that'll power you through your busy days of exploration.
---
13)
Attend A Historic Cacao Ceremony
Cacao was already cultivated over 2,500 years ago by the Mayans and Aztecs. So think of this as a historical experience, that also happens to be delicious and soul purifying. Perform rituals similar to the ones done in the Mayan times as you share songs, music and intention setting.
Rebalance your energy and restore good health as you savor a beautiful moment at one of these cacao ceremonies. Ceremonies can take place at a studio, on the beach or outdoors in the jungle, a real treat for those looking to enjoy the outdoors of Tulum.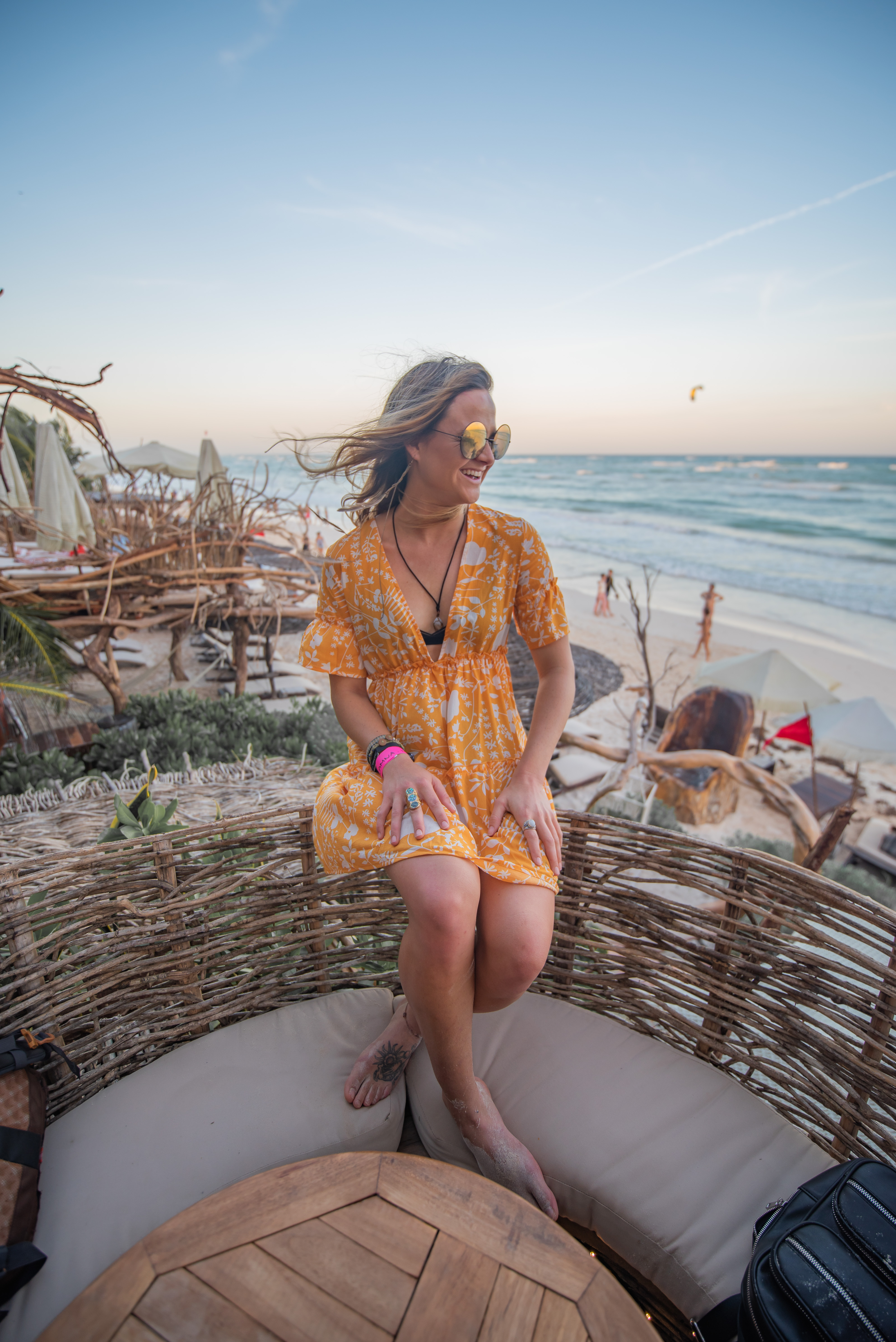 ---
14)
Kayak Through The Ruins
Given that Tulum is a popular tourist destination, there are so many incredible tours in the area. And one of the most iconic ones is a kayaking trip around the Mayan ruins. The tours are a great way to discover the Mayan history and get first-hand experience of the archaeological structures.
---
15)
Rent A Cheap Car And Journey Around The Area
Renting a car means that you have the option of visiting the nearby towns and even heading into Cancun to spend the day. Take a drive to Playa del Carmen and spend the day at the Mediterranean styled beach and visit the funky public square.
Without a car, you might spend a lot of your time ordering taxis. Public transport isn't viable in the area, so having your own reliable form of transport is a plus. It also makes it a lot easier to get to places like the cenotes and ruins.
---
16)
Plan A Chichen Itza Day Trip
The ancient archaeological site of Chichen Itza has been deemed a national heritage site, and one of the 7 Wonders of the World. Embark on a site tour and visit the Temple of Warriors, the iconic Kukulkan Pyramid, and the Ball Court.
From here you can also visit the colonial town in the heart of Yucatan, where you can pick up some souvenirs, visit local art galleries and see the San Gervacio Church.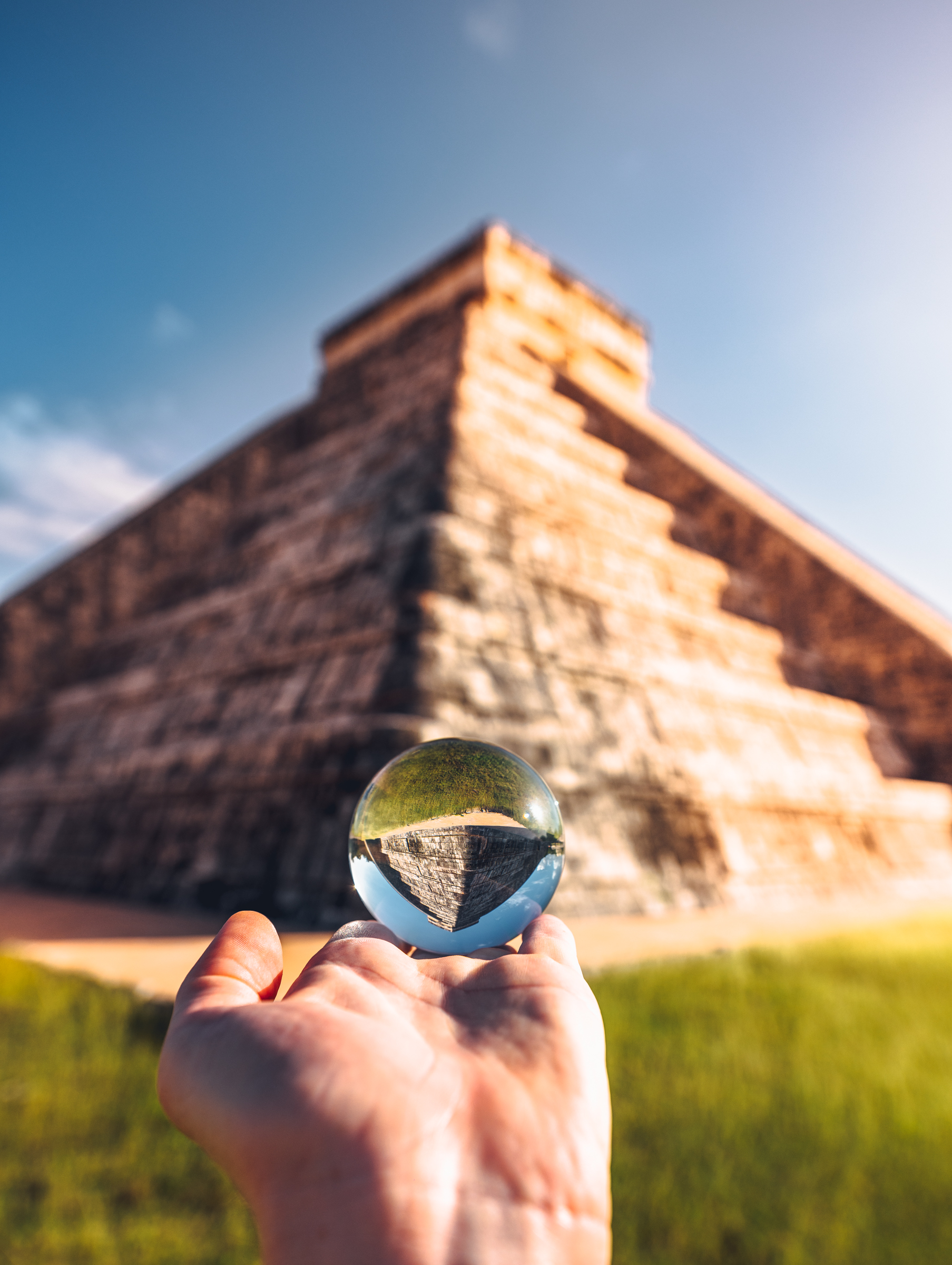 ---
17)
Chill Out On Tulum Must-See Beaches
This one actually goes without saying. If you're in Tulum there isn't a chance that you won't be living at the beach. With the shores lined with leaning palm streets, boats docked on the shore, water sports, and beach bars, you wouldn't need to go anywhere but the beach.
These are some of the best beaches accompanied by great Tulum attractions:
Playa Ruinas

Akumal Beach

Playa Paraíso

Secret Beach (yup, that's it's actual name)

Las Palmas Beach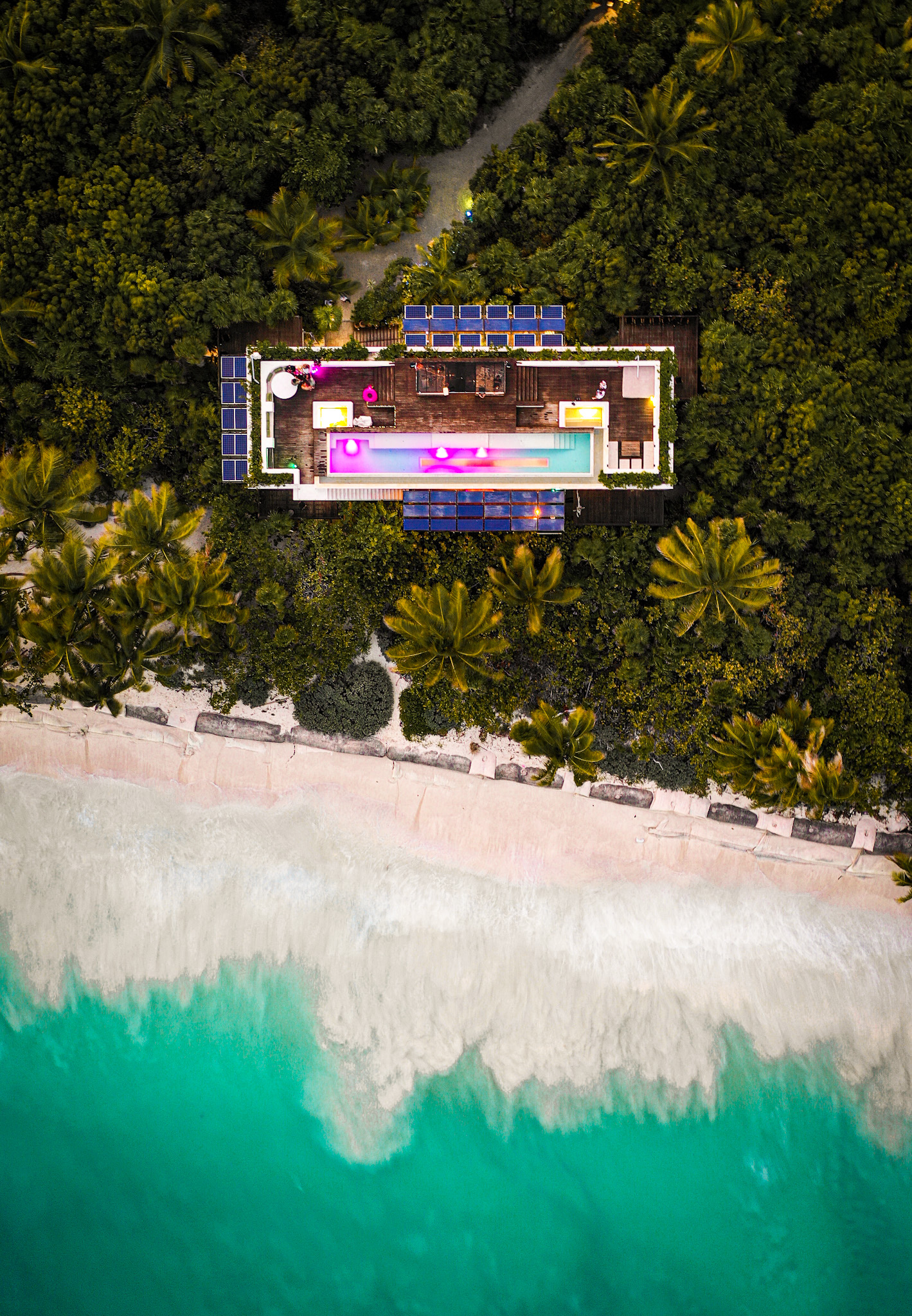 ---
18)
Explore The Best Of Tulum On Bike
The best way to get around Tulum is to rent a bicycle. There're many bike rental shops along the busy streets, where you can either rent a bike for the day or your entire journey.
Biking is extremely popular with the locals, and the most fun way to get down to the beaches is by bike. Just hop on your bike and spend the day cycling from bar to bar, or beach to beach.
---
19) Check Out The Tulum Nightlife
Does Tulum have a good nightlife? Yup! A pretty banging one in fact. Whether it's full moon clubbing, beach raving under the stars and moon, or dancing at oriental nightclubs, you're spoilt for choice in Tulum.
On the weekends head to Papaya Playa Project, it's become a Tulum legend for its insane party life. You can expect to see celebs, models, and trendy DJ's partying to the sounds of Tulum. Nomade is a hip beach bar, serving good food during the day, but by night time it turns into one of the best clubs in the area.
Besides the beach, downtown Tulum is also pumping with vibey bars and fantastic clubs!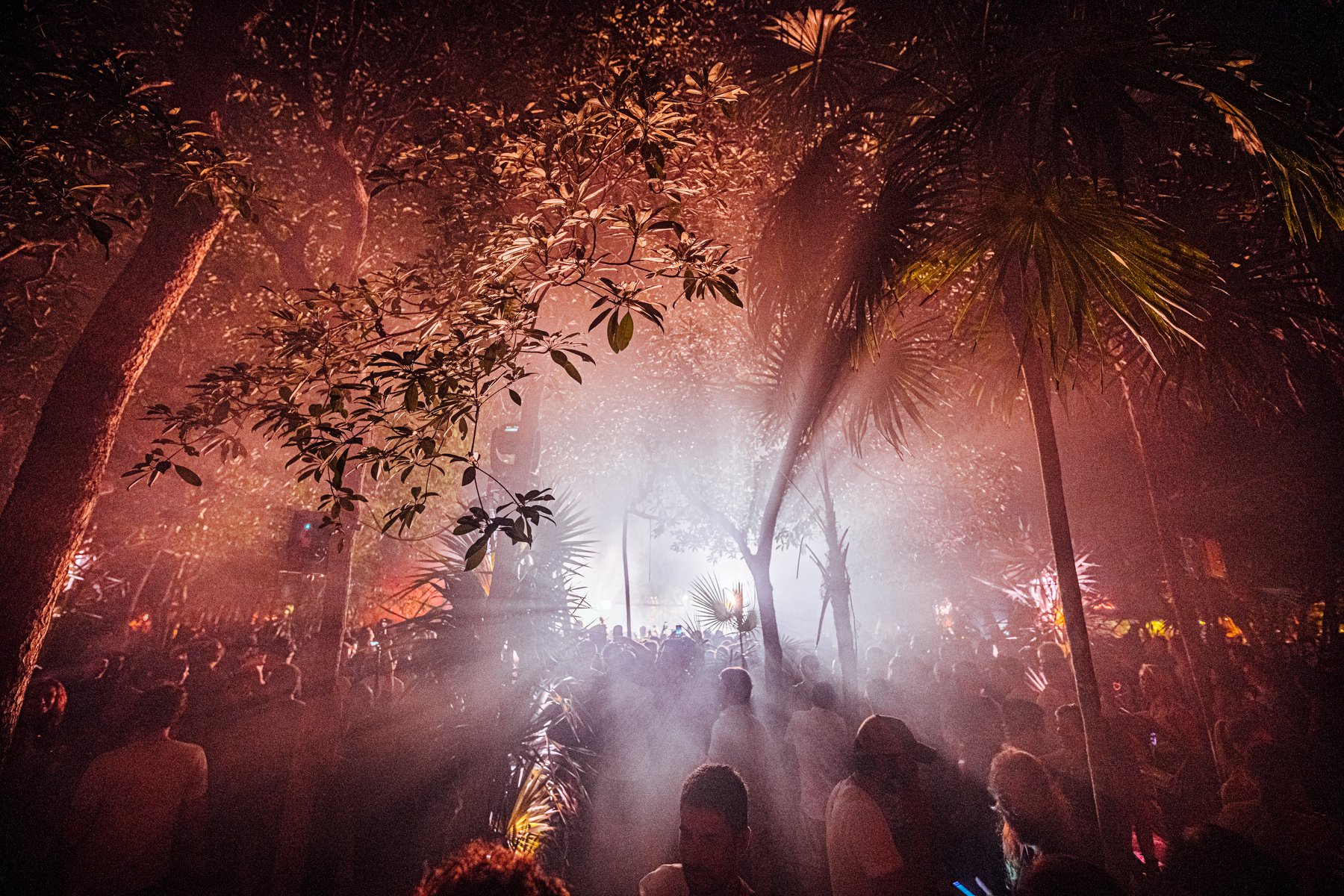 ---
20) Tulum Activities In The Water
The open waters of Tulum provide the best grounds for playing on the ocean. It's a top destination for a variety of different water sports. Have your pick from the crazy activities like kite surfing and jet skiing, or something a little relaxing like canoeing or snorkeling.
The warm waters couldn't be better for beginners looking to have a go at trying something new. And the knee-high waves are also a little less daunting! The light breeze makes learning to kitesurf a lot easier.
---
21)
Swim With The Turtles
Snorkel and swim with the sea turtles in the world's second-largest coral reef. You'll find hundreds of weird, yet beautiful, colorful fish and sea creatures surrounding you as you swim along the ancient reefs.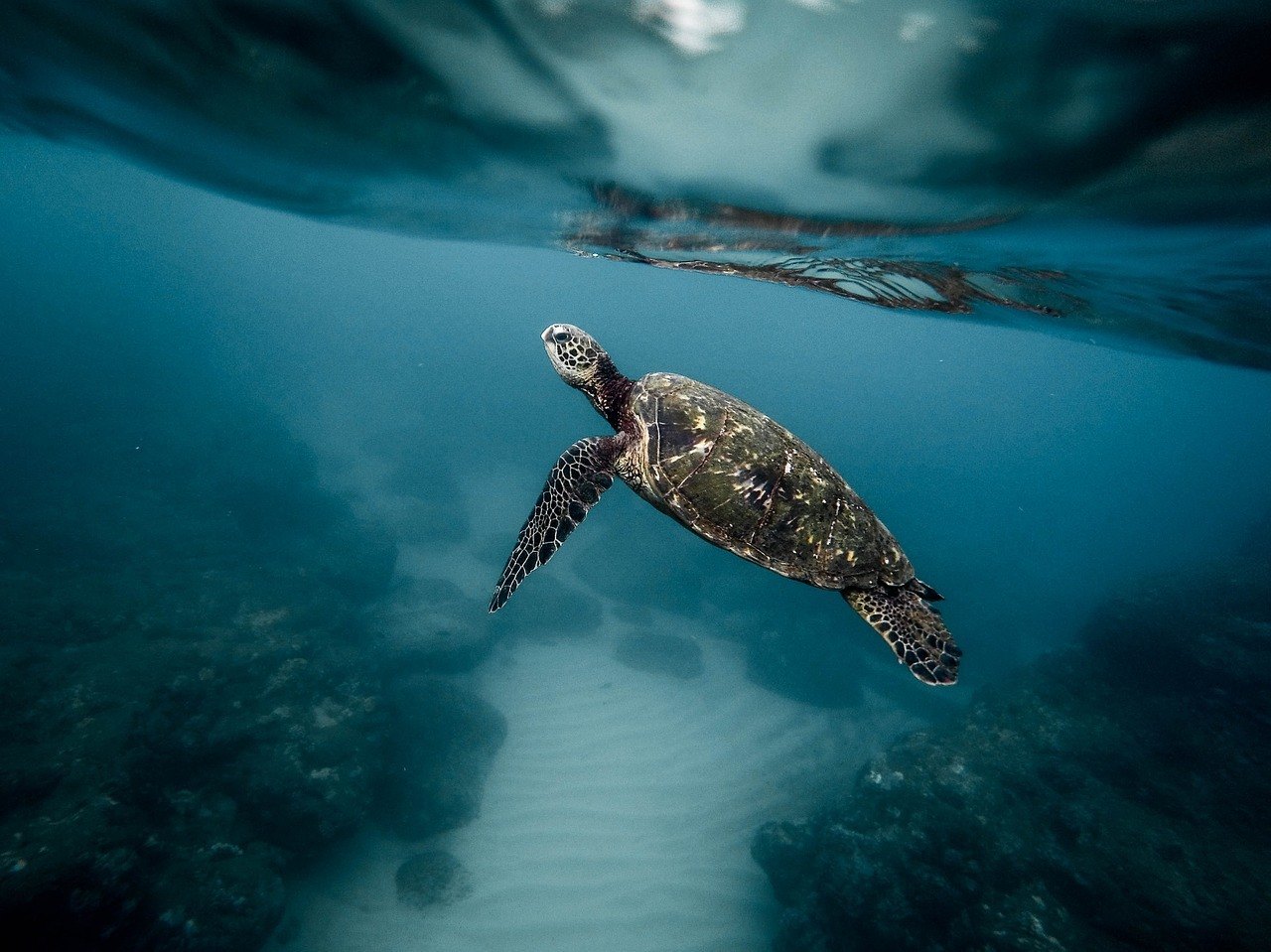 ---
Top-Rated Food Recommendations in Tulum
You've got two options when it comes to eating in Mexico. One of the options you can go for is dining like a tourist. Hit the trendy bars and restaurants and indulge in some decent food. It'll come at a higher price than our next option.
Dining like a local. Local eateries are cheaper, authentic and almost always more of an experience. The entire experience of keeping it local and interacting with the street vendors leaves your food tasting so much better!
Burrito Amor –

Because nothing beats Tacos and Burritos. Right in the center of Tulum, this place is said to have the best tacos in Mexico, with thousands of positive reviews. They provide plenty of vegan and vegetarian options, as well as hearty meat dishes.

Aldea Zama –

An organic food market is held every second Sunday from 9 AM – 5 PM. Tulum is a hub for fresh fruit produce but these organic markets don't only imply simple fruits and vegetables. Instead, you'll find local artists and merchants accompanying the food vendors. You'll find the market in

Aldea Zamas

, just off the road leading to the beach.

Kitchen Table –

Splurging on food in a new city is almost always worth it. Especially if it's a highly rated place like the

Kitchen table

. The eco-friendly restaurant is situated on the jungle side of Tulum and offers local grilled proteins, such as charred octopus, and jungle-inspired cuisine and cocktails.

Chamicos –

A hidden gem and favorite among the locals. This daytime beach shack serves up massive, and of course delicious, plates of fresh-caught

mariscos

, seafood, cooked to your liking. Grab some food and a cold beer and kick back on the beach.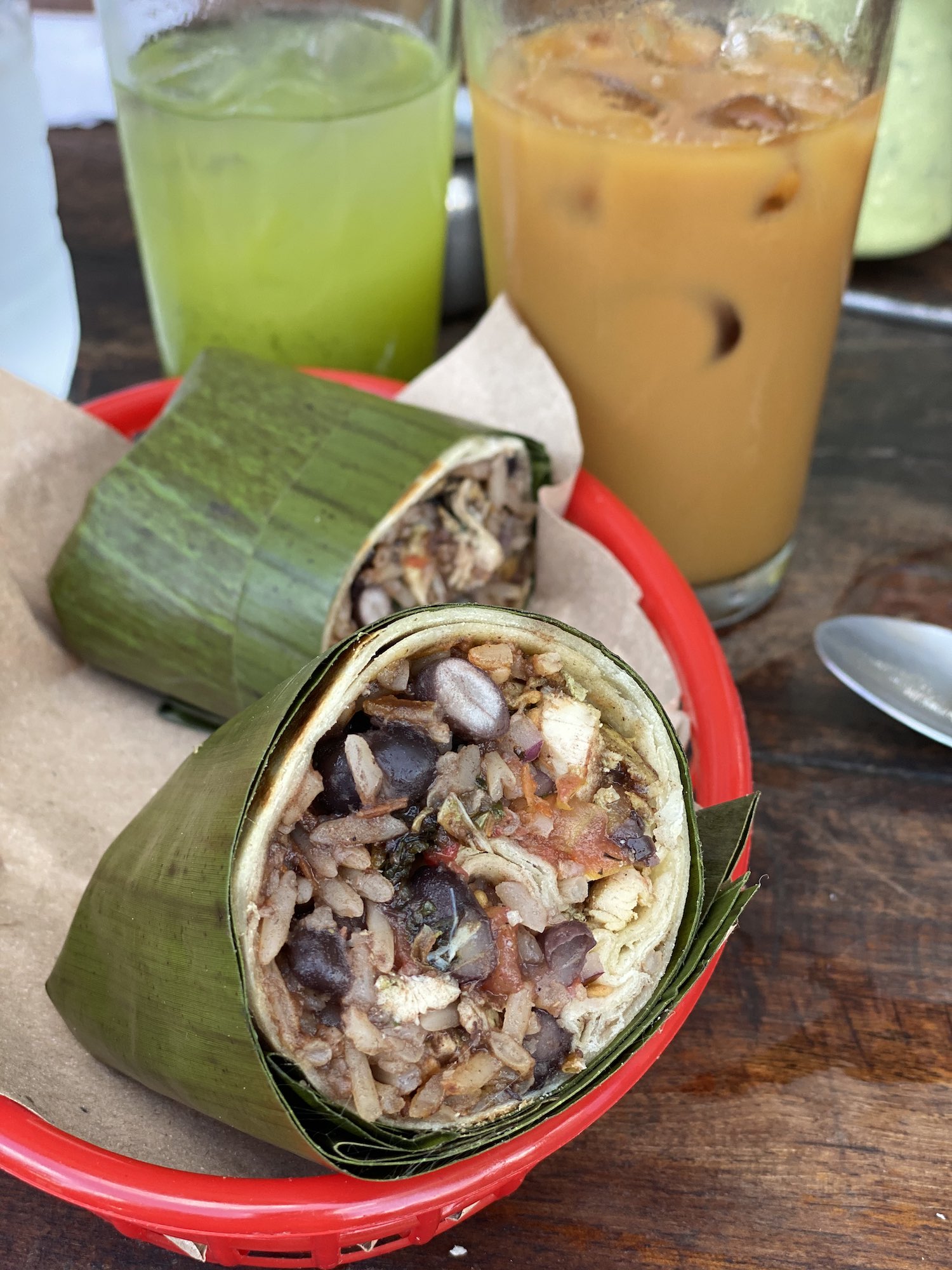 ---
What To Do In Tulum Summary
Ready to start adventuring through Tulum? With all the awesome activities, ancient sites and outdoor beauty, your trip will be packed with adventure and fun!
Tulum is a busy tourist destination, so just book your accommodation in advance to avoid disappointment. Once you're in Tulum, start planning your itinerary so that you can make the most of your time, as well as avoiding the busy crowds.
And if you're still wondering what to do in Tulum, check out sites like Get Your Guide to find epic tours and adventures.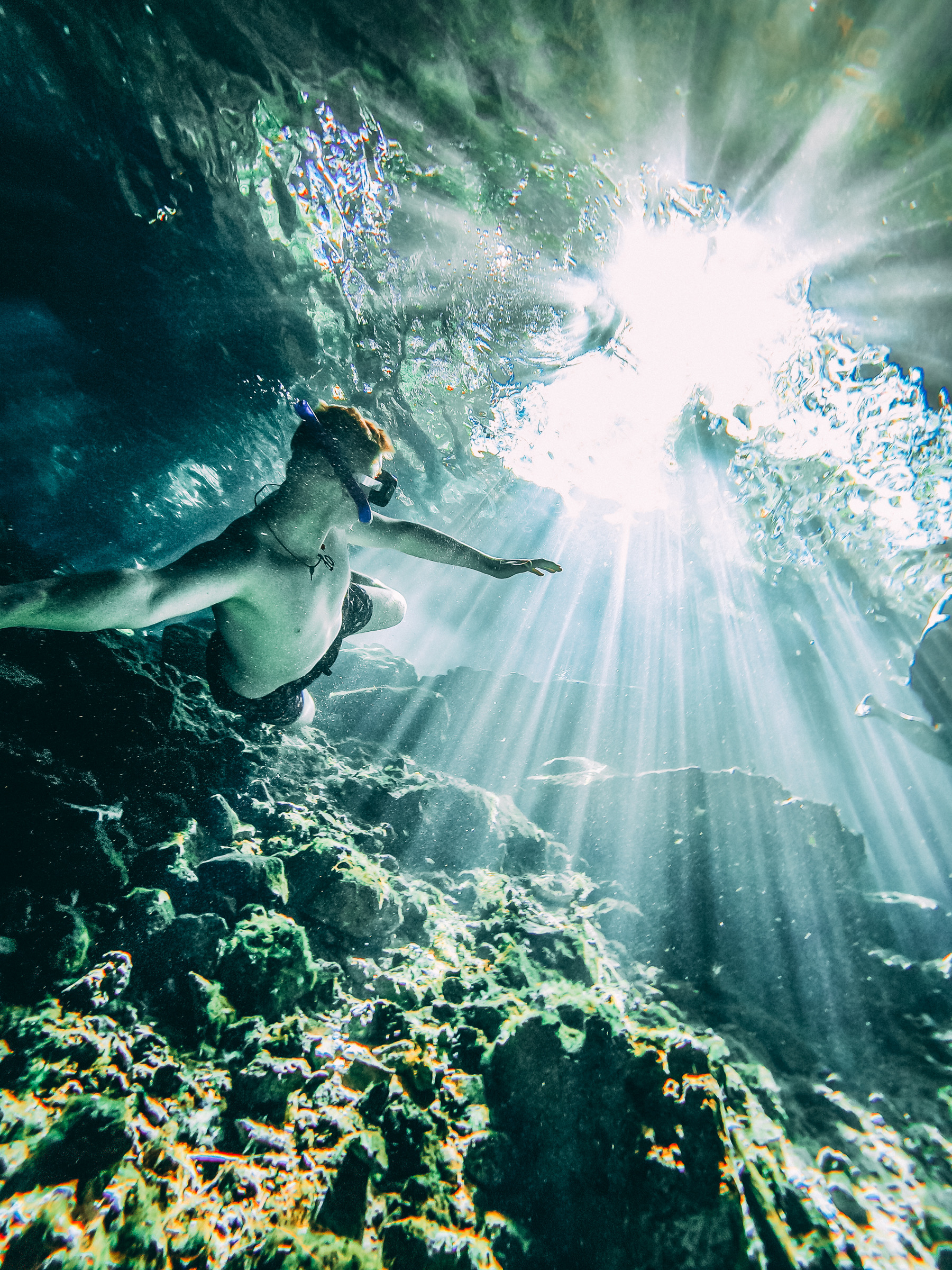 ---
Thanks for reading my things to do in Tulum article!
Share these Tulum attractions with your Mexico Travel crew!
https://www.jonesaroundtheworld.com/wp-content/uploads/2020/03/Tulum.jpg
999
1500
Dave
https://www.jonesaroundtheworld.com/wp-content/uploads/2017/03/logotry-1-1-300x106.png
Dave
2020-03-28 20:08:02
2021-03-31 18:52:15
TOP 21 Amazing Things To Do in Tulum, Mexico | A Bohemian Paradise