Looking for the coolest and best music festivals in Brazil in 2023 & 2024? Well, you've come to the right place, as we've compiled the ultimate guide to Brazil Festivals that are guaranteed to impress.
Most known for its sandy beaches, the Amazon rainforest, and the Christ The Redeemer statue, Brazil is a country overflowing with culture, art, music, and life. There is an abundance in Brazil that is hard to find anywhere else. Its picturesque scenery in famous cities, such as Rio de Janeiro and São Paulo, makes it one of the best places to travel.
Attending one of the many world-famous music festivals in Brazil will be an undeniably world-changing experience everyone should experience at least once!
---
1) The Town Festival
When: September 2024
Where: San Paulo
https://www.facebook.com/festivalthetown/
The same organizers hosting the Rock In Rio Festival are welcoming a new festival, The Town, to San Paulo, Brazil, in 2023 for the first time!
The Town will be hosted at the Grand Prix circuit of Interlagos, the same location where Lollapalooza runs. Stretching across two weekends, this festival is expected to welcome 600,000 people from Brazil and beyond on its first launch. Joining the spectacular lineup for the festival's first edition is a major artist who will return to Brazil after six years – Bruno Mars!
Guests can expect other famous artists like Liam Payne, Iggy Azalea, H.E.R., Foo Fighters, and many more for what is expected to be one of the upcoming best music festivals in Brazil.
---
2) Tomorrowland Brasil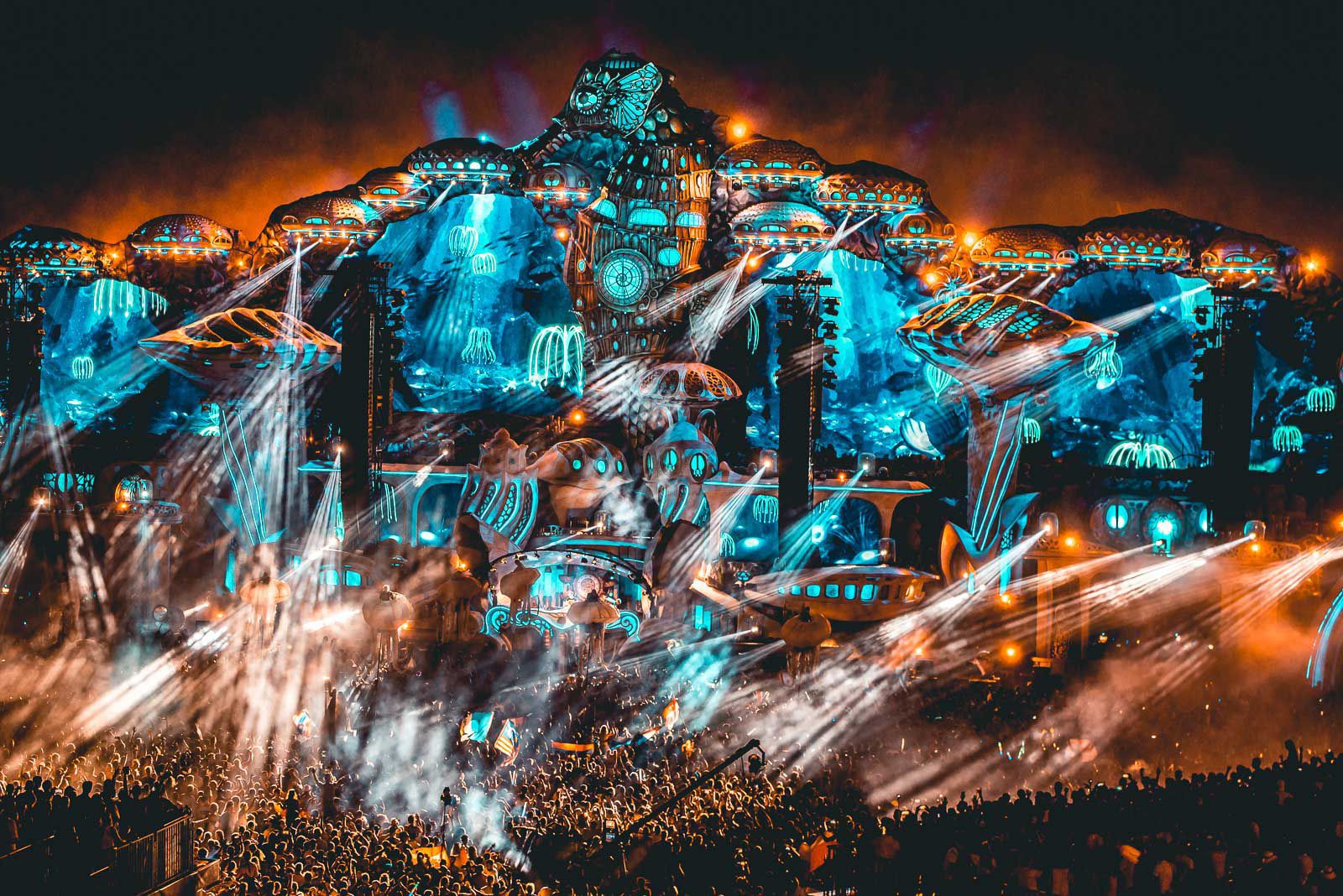 When: October 12 -14, 2023
Where: São Paulo
https://brasil.tomorrowland.com/
https://www.facebook.com/groups/tomorrowlandbrasil1/
Sold out months in advance, Tomorrowland is one of the most popular music festivals in Brazil and the world. The festival is hosted across multiple locations around the globe with a worldwide reputation for being a vibrant and exciting playground for adults, with a prominent lineup of world-famous artists like Afrojack, Steven Angello, Don Diablo, and NGHTMRE.
No matter where the festival lands, it impresses all with its outstanding and imaginative visual displays. The intricate mythology and characters walking and dancing about in costumes create a story-like setting that will simultaneously inspire and take your breath away.
There is an exclusive pre-party for campers known as The Gathering, which is hosted on the first day of the event. On the final night of Tomorrowland, there is an official after-party to end the extravagant affair with a bang!
Tomorrowland Brasil 2015 | official aftermovie
---
3) Primavera Sound Festival
When: November 29 – December 3, 2023
Where: São Paulo
https://www.primaverasound.com/en/sao-paulo
https://www.facebook.com/PrimaveraSoundSaoPaulo/
One of Europe's most beloved summer festivals, Primavera Sound, has extended its reach to South America to share diversity, culture, and the love of music.
The festival has attracted hundreds of thousands of fans to Brazil, Argentina, and Chile with hot artists like Mitski and Japanese Breakfast. Other world-famous top artists gracing Primavera Sound's stages include Arctic Monkeys, Carly Rae Jepsen, Grimes, and The Killers.
The Primavera Sound in Sao Paulo, Brazil, is a fully urban music festival spread across multiple venues. No matter where you're from, whether you're an attendee or an artist, Primavera Sound welcomes all to share the joy and passion of culture and music!
Primavera Sound Santiago de Chile 2022
---
4) Universo Paralello Festival
When: December 27, 2023 – January 3, 2024
Where: Pratigi
https://universoparalello.org/
https://www.facebook.com/vilamundo.universoparalello/
The Universo Paralello Festival, translated to "Parallel Universe", represents the passion of Brazilian psytrance culture and community. For nine days, the festival blasts non-stop music, so as a visitor, you can guarantee you'll get your fill of music!
It is the largest alternative culture festival in all of South America and by far one of the most electrifying music festivals in Brazil. The event is hosted at a scenic getaway on the Southern beaches of Bahia, the picturesque Praia de Pratigi.
This international festival is teeming with activity with numerous workshops, performances, cultural and artistic ceremonies, and holistic therapy sessions. There are also yoga classes, art exhibitions, juggling, talks, drug awareness, theater, and healing spaces to align with the Universo Paralello Festival's mission to provide transformation in a sustainability-focused environment.
Universo Paralello #15 | Doc
---
5) Lollapalooza Brasil Festival
When: March 22 – 24, 2024
Where: São Paulo
https://www.lollapaloozabr.com/
https://www.facebook.com/LollapaloozaBR/
One of the most well-known music festivals in Brazil, the Lollapalooza Festival has cemented its yearly running in the country since 2012. The music festival is one of the world's most widely known music festivals. It runs across multiple locations in many countries annually, including Argentina, Chile, and Germany.
The Lollapalooza Brasil Festival attracts visitors from across the globe to Brazil to see world-class acts and performers. Some noteworthy names who have performed at the Lollapalooza Brasil Festival include Metallica, Foo Fighters, and Pharrell Williams. And each year, the event continues to impress its wide and hefty fanbase with outstanding internationally-reputed performers.
Aftermovie | Lollapalooza Brasil 2023
---
6) XXXPERIENCE Festival
When: June 2024
Where: São Paulo
https://www.facebook.com/experimenteavida
Celebrating 27 years in 2023, the XXXPERIENCE Festival was founded as a rave in 1996 that eventually became one of the most well-known electronic music festivals in Brazil and the world!
Thousands of people join together to dance, rave, and sing to the beat of the music at the exhilarating XXXPERIENCE Festival. Now, the festival hosts 45 attractions, four stages, and hot-topic artists in the electronic genre and the music industry, such as Deadmau5, Steve Aoki, David Guetta, and Armin van Buuren.
Attendees of the XXXPERIENCE Festival can also enjoy other music genres like techno, dance, and house while savoring awe-inspiring visuals and art installations centered around East Asian culture and mythology. You don't want to miss out on the largest dance music festival in the country!
Upgrade @ XXXPERIENCE Festival Brazil (Official Video)
---
7) Rock in Rio Festival
When: September 2024
Where: Rio de Janeiro
https://rockinrio.com/rio/pt-br/home/
https://www.facebook.com/RockInRio
Hands down, one of the most iconic music festivals in Brazil is the Rock in Rio Festival!
The festival launched its first edition in Rio de Janeiro in 1985 and soon extended its reach to other countries, including the United States, Portugal, and Spain. Rock in Rio has made no qualms about making a name for itself, its name and reputation soaring for its outstanding lineups featuring Queen, Rihana, Dua Lipa, Slip Knot, and Iron Maiden.
It is one of the largest music festivals in the world, with more than a million people attending nearly every edition it hosts, no matter the location. You can bet you'll experience only the best of the best in the music industry at this rockin' beat bangin' good music festival!
Queen - We Will Rock You (Live at Rock In Rio 1985)
---
8) Virada Cultural Paulistana
When: May 2024
Where: São Paulo
https://www.facebook.com/viradacultural
An annual event first launched in 2005, Virada Cultural Paulistana is the largest 24-hour festival in the world!
Millions of people flock to Virada Cultural Paulistana to experience the enriching environment produced at this single-day event. This diverse festival celebrates culture, music, and art all in one through art exhibitions, films, live music concerts, plays, and other culture-rich activities.
The nationally renowned festival welcomes all from Brazil and beyond to experience the inspiring culture of Brazil at the Virada Cultural Paulistana!
VIRADA CULTURAL 2014 - CONE CREW E KAROL CONKA
---
9) Ilumina Festival

When: January 7 – 14, 2024
Where: São Paulo
https://www.facebook.com/iluminamusic/
Challenging the boundaries of social ideals, the Ilumina Festival brings together celebrated innovators and artists from around the world in one fanatical event. There is an emphasis on showcasing talented young Latin American artists to continue to enrich and build the foundation of generations to come.
The Ilumina Festival is annually held on a sustainable coffee farm in Sao Paulo, where artists perform for local agricultural workers and other attendees in one grand event. This prosperous festival began in 2015 as a social and musical experiment. At present, it is one of the most celebrated high-end classical music festivals in Brazil.
Ilumina plays Beethoven op 131 at Lucerne Festival
---
10) Ultra Brasil Festival
When: April 2024
Where: Rio de Janeiro
https://www.facebook.com/UltraBrasil/
Coinciding with Ultra Music Festival's worldwide launching, which touched down in twenty countries, Ultra Brasil Festival is a famous outdoor electronic music festival. It first debuted in Brazil in 2008 in Belo Horizonte and São Paulo. Then, in 2016, it was hosted in Rio de Janeiro, where the festival has adopted as its location since.
As Ultra is a world-famous and influential music festival, it's no surprise that its lineup is guaranteed to leave anyone impressed. Ultra Brasil Festival's seventh edition featured prominent artists like Marshmello, Alan Walker, DJ Snake, and Above & Beyond.
ULTRA BRASIL 2017 (Official 4K Aftermovie)
---
Am I Missing any Epic Music Festivals in Brazil?
As the fifth largest country in the world, I'm sure there are TONS more amazing festivals in Brazil to add to my list! So I'd love to hear from you guys if you know of any specific events or parties that should be mentioned!
---
Looking for more Epic Music Festivals?
My travel blog has dozens of articles showcasing the coolest and best festivals around the world! I'd love for you to take a browse through some of my other favorite articles! Pick your region below and discover your next adventure!
---
Thanks so much for reading my guide to the best music festivals in Brazil!
https://www.jonesaroundtheworld.com/wp-content/uploads/2023/09/The-Town-Festival-Brazil.jpg
800
1200
Dave
https://www.jonesaroundtheworld.com/wp-content/uploads/2017/03/logotry-1-1-300x106.png
Dave
2023-09-13 22:57:09
2023-09-13 22:57:09
Top 10 Music Festivals in Brazil For Your Bucket List