If you've ever dreamed of experiencing life in a Harry Potter-themed Airbnb, you're in for a treat! We've got a fantastic article lined up for you, featuring a handpicked list of the absolute best options from all corners of the globe.
It's truly amazing how Harry Potter's fandom has spread far and wide, reaching every city and country. Because of this deep love for the series, many fans have taken it upon themselves to create homes that embody the essence of their favorite magical world. While we can't guarantee that you'll bump into Hermione herself, one thing's for sure – these enchanting abodes will immerse you in a magical atmosphere like never before. So get ready to embrace the wonder and charm of the Wizarding World in these extraordinary places!
As the great, late, Albus Dumbledore said: "It does not do to dwell on dreams and forget to live."
Also, be sure to read my guide for Hobbit House Airbnb for more fantasy accommodation for future trips!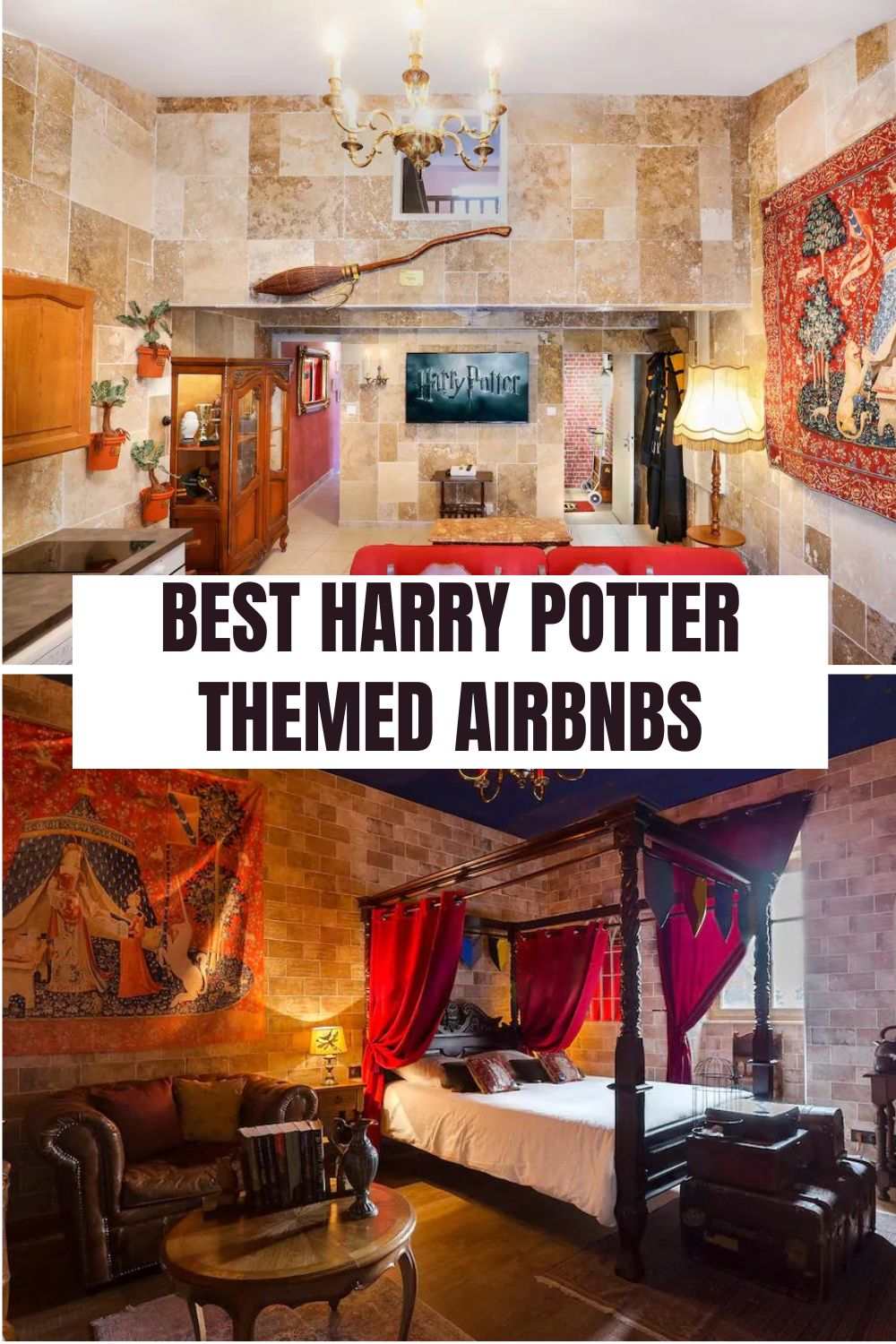 ---
Wizarding Home 10m-Harry Potter Universal Orlando
Where: Kissimmee, Florida, United States
Price: $234+ per night
Accommodates: 12 guests
https://www.airbnb.com/rooms/28311512
Let's start it with a home set in a stunning location—10 miles to the Wizarding World of Harry Potter, six miles to Disney, five miles from Celebration, four miles from Old Town, and 18 miles from downtown Orlando. Step into a world of wonder with the captivating five-bedroom magical home, inspired by the iconic castle that's captured hearts worldwide.
Immerse yourself in a realm of comfort and entertainment, starting with the common room boasting a large-screen TV complete with Netflix and a Nintendo Switch for endless amusement. Indulge in the charm of the well-appointed dining hall and whip up your favorite treats in the fully equipped kitchen, designed to make every meal a magical experience. Take relaxation to the next level with a refreshing swim in the inviting pool, and bask in the Florida sun on the welcoming patio, complete with a grill for delightful outdoor gatherings.
The Harry Potter vibes have never been so real—take this chance and book this gem via our link.
---
Wizards Way
Where: Champions Gate, Florida, United States
Price: $360+ per night
Accommodates: 16 guests
https://www.airbnb.com/rooms/43268617
The next option is called Wizard's Way, a charming eight-bedroom, five-bath vacation retreat nestled within Champion's Gate. Step into a realm where magic, fantasy, and folklore intertwine, all within the captivating embrace of this extraordinary home. A creation of Loma Homes, this property stands as one of several mesmerizing themed abodes they oversee.
Eight thoughtfully crafted, individually themed bedrooms, each equipped with Smart TVs will guarantee a private space, while two inviting living spaces will serve as a spot for friends' gatherings. But that's not all. This enchanting abode boasts a custom-designed gourmet-inspired kitchen and a spacious garage adorned with astroturf, housing a delightful pool table. After a day of adventure at the parks, the Great Hall beckons with its open-concept allure, blending living and dining spaces seamlessly. Enhanced by custom furnishings and meticulously crafted design elements, it's the perfect setting for indulging in a lavish feast.
And as the sun sets, what could be more inviting than a refreshing dip in your own private, heated pool? Even merpeople would feel at home here.
---
The Dorm Room
Where: Chickamauga, Georgia, United States
Price: $115+ per night
Accommodates: 4 guests
https://www.airbnb.com/rooms/23575111
A world of magic and wonder inspired by the cherished wizarding school across the ocean awaits you in this charming tiny home called the Dorm Room. Brimming with treasures paying tribute to Harry Potter and his companions, this abode invites you to embark on a magical journey throughout your stay.
Nestled discreetly, it's a sanctuary shielded from the eyes of Muggles. The house is a trove of treasures dedicated to the world of Harry Potter, thoughtfully designed as a single, elongated unit. Inside, you'll find a cozy living area and a well-appointed kitchen space, complete with a foldout queen-size sofa bed for your ultimate comfort (plus, there're two snug twin beds). And let's not forget, tucked away at the far end, you'll find a fully equipped bathroom, ensuring all your needs are catered to.
Within this captivating haven, the magic of Harry Potter's world comes alive. Every corner tells its own tale, urging you to unravel its mysteries and craft memories that are nothing short of enchanting.
---
Witches Dorm-Salem School of Witchcraft
Where: Salem, Massachusetts, United States
Price: $307+ per night
Accommodates: 2 guests
https://www.airbnb.com/rooms/17621187
Step into the enchanting Salem School of Witchcraft, which is the ultimate haven for those honing their magical skills. Here, you'll even have the chance to partake in genuine magic classes, making your stay a truly enchanting experience.
Every detail of this magical dorm has been meticulously crafted by your artist hostess, who brings her years of experience from the toy and game industry to create an ambiance that's nothing short of enchanting. While the kitchen is for your private use, downstairs in the Alchemist's Library, you'll find a delightful space for magical conversations and breakfast gatherings. And when it's time to unwind, the lovely garden at the back of the BnB offers the perfect setting for relaxation.
Witches Dorm is not just a place to live; it's the school for those looking for an immersive, magical experience.
---
Wizards Hollow – Earth & Sky Dwellings
Where: Woodfin, North Carolina, United States
Price: $388+ per night
Accommodates: 4 guests
https://www.airbnb.com/rooms/33521140
Wizards Hollow is one of the seven distinct homes that comprise the "Earth & Sky Dwellings". They're nestled just 10 minutes north of downtown Asheville, in the embrace of the Blue Ridge Mountains. Each abode is designed with expansive windows, capturing the majestic sweep of the mountain views, and features fully equipped bathrooms.
Wizards Hollow stands as a castle, spanning nearly 600 sq ft of magical wonder. Inside, it boasts one bedroom, along with a spiral staircase leading to a loft complete with an additional bed. The bathroom offers modern comforts, including a tiled shower, sink, and toilet. The living room invites you to relax on a comfy sofa, enjoy the TV, and explore a plethora of games perfect for the whole family. In the thoughtfully equipped kitchen, the owners have got you covered. From caffeinated coffee to creamers, sugar, salt, pepper, olive oil, and light snacks, you'll find everything you need. The kitchen is well-stocked with cookware, flatware, utensils, cutting boards, and all the essentials to make you feel at home.
---
Le gite du sorcier
Where: Colmar, Grand Est, France
Price: $167+ per night
Accommodates: 4 guests
https://www.airbnb.com/rooms/34459490
The next magical apartment is located in France in the beautiful city of Colmar. But wait, it's not just an apartment; it's a symphony of magic, comfort, and adventure. Your journey through this enchanting realm promises to be as extraordinary as the world that inspired it.
Featuring two bedrooms (a living room with a 160cm double bed and a bedroom with a 140cm double bed), this dwelling embodies both charm and playfulness. Awaken your curious side with an array of old books designed to keep your family engaged and entertained. Cuddle up near the indoor fireplace and save your favorite wine in a tiny fridge to sip it with your beloved ones after a day of exploring the local areas.
"If you're even moderately a HP fan, this feels like you've transcended. If you aren't a HP fan it still feels like you've teleported to another time." – Recent Guest Review
---
Harry Potter-themed room
Where: Fredericton, New Brunswick, Canada
Price: $37+ per night
Accommodates: 2 guests
https://www.airbnb.com/rooms/27759594
This charming residence is a haven for Harry Potter enthusiasts, crafted with love and care by its devoted owners. A dedicated room within this dwelling welcomes you to immerse yourself in the world of magic. Alongside your private bedroom includes access to the owners' bathroom, kitchen, living room, dining room, and both front and back yards.
Designed across a single level, the house boasts a straightforward layout, ensuring effortless navigation. Feel free to explore every nook and cranny of the owners' side, except for their private bedroom. The other half of the house is home to their two roommates, who occupy their designated space.
As passionate fans of Harry Potter, the owners have woven their adoration for the wizarding world into every corner of this abode. Beyond your cozy haven, a warm and inviting space awaits, inviting you to create memories and embrace the enchantment that surrounds you.
---
Amazing Harry Apartment
Where: Praha 1, Hlavní město Praha, Czechia
Price: $380+ per night
Accommodates: 14 guests
https://www.airbnb.com/rooms/21578732
Prague is waiting for you! And this amazing Harry Potter apartment can be a great place to stay during your little journey. Drawing inspiration from the captivating universe of Harry Potter, this one-of-a-kind space has been meticulously curated. Get ready to immerse yourself in a world of magic, as the essence of Harry Potter comes to life in every nook and cranny of this space.
As you traverse through the space, you'll discover an enchanting apartment that boasts both convenience and charm. With the added convenience of an elevator, it's an ideal choice for families and larger groups, comfortably accommodating up to 14 individuals. Inside, it boasts three bedrooms, a well-equipped kitchen, catering to your culinary desires, two and a half bathrooms for your convenience, and beds and mattresses designed for extra comfort.
Embark on a journey to explore the beauty and vivacity of Prague, all from the vantage point of this centrally located apartment.
---
The Common Room
Where: Victoria, British Columbia, Canada
Price: $131+ per night
Accommodates: 4 guests
https://www.airbnb.com/rooms/43916034
Prepare to step into a realm of pure enchantment, for this condo has undergone a spellbinding transformation into none other than the Gryffindor Common room at Hogwarts. Whether you're a devoted fan of the wizarding world or simply seeking a remarkable experience, rest assured—this will be one of the most extraordinary places you'll ever have the pleasure to stay in.
A complete kitchen awaits, equipped with a dishwasher, stove, microwave, and all the basic cooking necessities you might require. Coffee and tea are thoughtfully stocked, catering to your cravings for a magical brew. The condo encompasses around 400 sqft, but fear not, the layout is ingeniously designed. A comfortable Murphy bed awaits you downstairs, while the loft above houses a queen bed. While parking is not available on-site, worry not. The Common Room enjoys a prime location right across from an affordable city parkade, ensuring convenience for your transportation needs. For your utmost comfort and entertainment, WiFi, AC, ceiling fans, cable TV, and a collection of Harry Potter Blu-rays are at your disposal.
---
Wizarding Residence
Where: Edinburgh, Scotland, United Kingdom
Price: $286+ per night
Accommodates: 3 guests
https://www.airbnb.com/rooms/27430688
Meet the delightful haven of the Wizarding Residence, nestled along The West Bow. As for the location, it's like being in the heart of a magic spell—right on The Grassmarket, in the heart of Edinburgh's Old Town and City Centre. Believe it or not, you can practically stroll to iconic spots like Edinburgh Castle, The Royal Mile, and Princes Street in just a hop and a skip.
This place has been decked out with a touch of wizardry inspired by the Harry Potter books. The largest room channels the grand vibes of Hogwarts' majestic halls. Think antique portrait wallpaper, a stag chandelier that practically oozes grandeur and luggage that might as well have been aboard the Hogwarts Express. And guess what? You also get a full kitchen that's ready for your culinary adventures, including a dishwasher and a washing machine.
The bedroom is a cozy homage to Hagrid's Hut and the enchanted forests around Hogwarts. The bed? It's something straight out of a fairy tale—a four-poster beauty made from tree branches. With a door that could easily belong to a vault and a floor that looks like it's made of money, the bathroom is like a treasure trove. A spacious walk-in shower, a washbasin, and a WC make up the essentials. The Wizarding Residence isn't just a place to crash—it's an entire experience. So hurry up and book it via our link while this place is still free.
---
De Vere House Room 2. Lady Elizabeth
Where: Lavenham, England, United Kingdom
Price: $193+ per night
Accommodates: 2 guests
https://www.airbnb.com/rooms/35058633
Step into this stunning Harry Potter-inspired abode. Settle in and unwind in a cozy four-poster en-suite bedroom. Experience the ultimate comfort with fluffy dressing gowns and complimentary toiletries thoughtfully provided.
The Harry Potter haven comprises not one, but TWO four-poster bedrooms, each complete with en-suite bathrooms, TVs, and super-fast WiFi internet access. An inviting private guest sitting room boasts a cozy log fire, setting the scene for memorable moments. And let's not forget the courtyard garden—a retreat to serenity with your very own entrance. Outside, this garden offers a tranquil oasis and easy access to the delightful village. And that's not all—there's a special guest sitting room that's practically made for cozy gatherings. Imagine toasting marshmallows and crumpets over the crackling fire or simply sinking into the plush sofa for a carefree time.
So, whether you're a wizard or a Muggle, this Harry Potter home promises an extraordinary stay. Comfort, charm, and delightful amenities await, ensuring your time here is nothing short of magical.
---
Home of the Little Wizard
Where: Carcassonne, Occitanie, France
Price: $124+ per night
Accommodates: 6 guests
https://www.airbnb.com/rooms/614360995199846037
And the last option in our list is located in Carcassonne, France. Embark on an enchanting journey to the abode of the little wizard—an apartment that draws its inspiration from the magical realm of Harry Potter. As you step aboard the Carcassonne Express and find the trolley, the entrance to the Logis awaits.
Situated a mere 15-minute stroll away from the medieval marvel that is Carcassonne, this dwelling offers an extraordinary experience. Here's what you can expect inside: a living room boasting a cozy sofa bed, a dining table, and a fully equipped kitchen (featuring a hob, microwave oven, L'Or Barista coffee machine, oven, dishwasher, and more); a bedroom graced by a majestic four-poster bed measuring 160*200; and an attic mezzanine bedroom where two single beds beckon alongside a playful area. Indulge in a shower within the prefects' bathroom and relish in watching your beloved movies in the Gryffindor common room.

As you tread through the spaces and experience the magical touches, you'll find yourself immersed in a world where wizards and wonder coexist. The apartment is more than a place to stay; it's an invitation to embrace the enchantment of Harry Potter's universe.
https://www.jonesaroundtheworld.com/wp-content/uploads/2023/08/Wizards-Way.webp
801
1200
Dave
https://www.jonesaroundtheworld.com/wp-content/uploads/2017/03/logotry-1-1-300x106.png
Dave
2023-08-22 19:43:09
2023-08-22 19:43:09
12 Enchanting Harry Potter Inspired Airbnbs