The Maasai are a tribe that most people immediately associate with Africa. They are the tall warriors who wear unmistakable red shukas around their shoulders, and the radiant, almost sun-like beaded ornaments around their necks, on their heads, and even adorning their weaponry.
These proud people have survived many encroachments into their land, relocations, and the attempts to make them abandon their traditional ways. Although their cultural suffering was great, no one could ever make the Maasai abandon their identity.
Today, the Maasai population is approximately 500,000. They inhabit East Africa: southern Kenya and northern Tanzania, along the Great Rift Valley.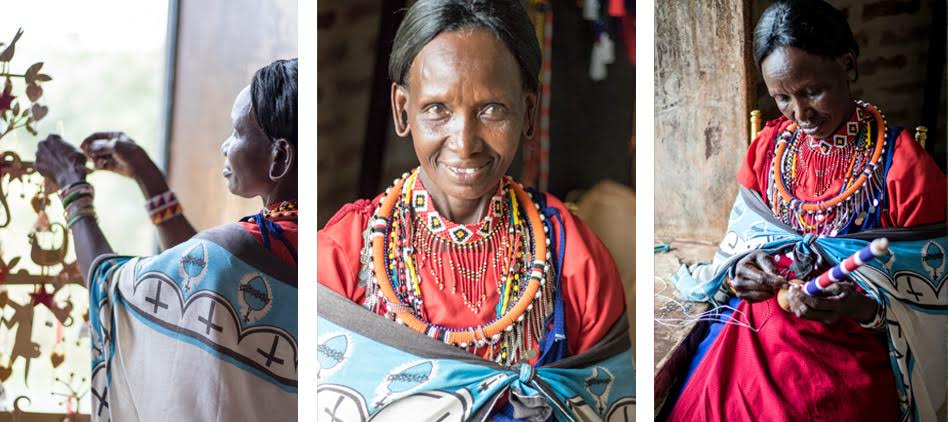 If anything, the Maasai are now going through a cultural renaissance. Through the sharing of their arts and crafts with the outside world, as well as inviting people to see and experience their traditional villages, they have gained worldwide recognition.
If you find yourself on one of such tours, it will be impossible to miss the incredible craft and beauty of their jewelry. It richly adorns their heads, ears, shoulders, arms – as well as weaponry. It is often available for sale – and it's well worth to do some research about what you're getting, as the symbolism of these beaded necklaces and bracelets might be more subtle than you ever might have expected.
---
Interpreting the whole world one bead at a time
Cattle herding is one of the defining customs of this semi-nomadic tribe. Although a lot of their land was taken away from them, they still mostly practice cattle herding and their diet consists of milk and blood. All of these long held traditions represent themselves through symbolism, rituals and cultural taboos.
Speaking of cultural taboos: only women are allowed to make beaded jewelry, and every woman is expected to learn this craft. Even the most decorated men wear only what the women in their lives have made for them – their mothers, sisters, wives.
The symbolism of Maasai art has a lot to do with the cattle, the seasons, the weather – the daily world in which they exist in. The colors, textures and patterns – they all tell us a story of children, wives, husbands, relationships, homes and cattle. Let's take a closer look at what makes Maasai beaded jewelry distinctly their own.
---
Changing Traditions
What we now see as traditional Maasai garb isn't necessarily the same exact material that has been worn for centuries. It evolved along with the times, and depended on Maasai contact with the outside world and trading routes. These changes shaped their culture throughout centuries. This is not an example of an isolated civilization suddenly being affected – the Maasai have gotten glass beads from as far as India and Murano in the fifteenth century, just as now they get their red shukas from Scotland.
Of course, a long time ago, the Maasai wore cattle skins dyed red with a specific tree bark instead of the modern red Scottish blanket. But what survives to this day are the colors and their meanings – they are the same, no matter what material they're on.
Instead of beads and ornaments made of local materials – clay, wood, or bone – the Maasai have switched to easily obtained import materials from elsewhere.
Imagine an important cultural piece of jewelry you might own – like your wedding ring. Do you know where the metal was originally sourced? Was it sourced in the same place where your great-grandfather's wedding ring was from? If you don't have any idea about any of that – does it change the cultural significance of your ring? Probably not!
Beads of the Maasai were traditionally made out of local products – Bones, clay, wood, copper or brass – those natural resources got set aside as soon as tiny glass and ceramic beads became available through trade with Europeans. Today, most of them come from the Czech republic!
Throughout centuries, beads were gotten by different means and always intermixed themselves into the culture of the Maasai. They traveled through the trans-Saharan and coastal trade from as far as India. Of course, back then, they were very expensive and only used by royalty.
Murano beads from Venice, Italy were found here as early as 1480.
There are many places where you can get Maasai jewelry, or jewelry that masquerades itself as Maasai jewelry. If you want to support the Maasai tribespeople then do your research and don't buy from the first etsy seller that titles their work Maasai/Zulu/Wakanda inspired. Instead, look for Maasai womens' coops and conservation pages to support these amazing ladies, their families and their traditions. There are also resorts and safari tour operators that support the traditional crafts of the Maasai tribe and provide them with employment and an outlet to showcase their traditional art.
---
A personal story in every piece
There is one piece of jewelry – a pendant, that is made every ten years for each generation. In our culture it's common to want to erase generational barriers as much as possible. At least as you get older. Here, the generations were very pronounced. Every generation gets a new design and wears it proudly, to distinguish them from others.
This can also be used to judge which period a piece of historic jewelry came from. For example, the generational pendant from 1950-1960 included the telegraph pole to symbolise the speed of communication. The next generation included a pattern that symbolised a helicopter – because it traveled faster! Not surprisingly, each generation tries to outshine the earlier one. Sound familiar?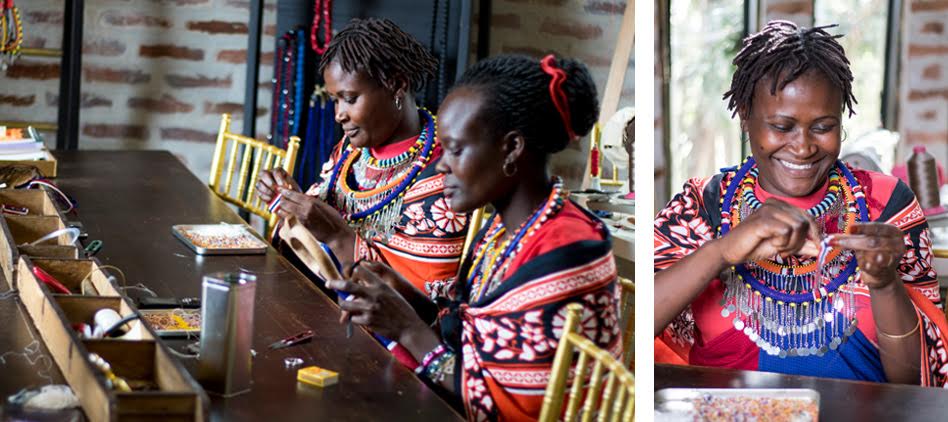 Beadwork can tell you not only the age set of the wearer, but also if they are married, if they have children – and if so, if they're boys or girls. They can even tell you how the wearer's village looks like. This is especially true for traditional bridal necklaces.
The necklace is a circle that represents the village. Maasai villages are built in a circle, with a perimeter fence and a livestock pen in the middle. The hole in the necklace symbolises the cattle pen. There are geometric patterns around the necklace and they are the houses in the bride's village. In a way, this necklace is a map of the home, and when the bride gets married she takes her whole village with her.
In many places where jewelry is made for tourists, you can tell the artisans what you want. The tourists have unwittingly affected some styles of jewelry. Since it's all about personal preference, there are certain patterns that the Maasai wouldn't use for themselves that they use for tourists, simply because the tourists prefer something a bit different.
Additionally, there are certain traditional pieces that would be difficult to make for a tourist because of their symbolism. For example the belt made by mothers in law for their daughters in law when their first baby arrives. This could never be sold to a tourist, and if it was it would never have the same meaning behind it. The meticulous and thoughtful production of such family heirloom jewelry helps in creating bonds.
Colors
There are seven colors traditionally used by the Maasai: red, white, blue, orange, yellow, green and black.
Red and black are the two mainly used colors. Red symbolises cows' blood, anger and benevolence, and black (or dark blue) the people, and the hardships they go through. Black is a calm, sacred colour. Dark clothes can convey a person's sanctity at a certain stage in life. It is sacred, not often worn. It symbolises you are going through an important stage and cannot be touched; this includes women after childbirth and boys after circumcision, and very young babies.
Red also symbolises youth and impatience. Before the shuka cloth was made popular (yes, this also comes from Europe) the Maasai wore cow hides that were stained red with ochre.
Blue symbolises the sky and energy – the rain that comes down from the sky helps to nourish the cattle.
Green, of course, stands for the grass and green shrubs – the healthy, bountiful earth that produces food for the cows to eat.
White is associated with prity, peace and health. White symbolises the white cow's milk that is a traditional staple of the Maasai diet.
Orange and yellow symbolise hospitality because of the orange color of the gourds in which the guest receives milk, and the yellow color of the cow hides that welcome the guest who wants to lay down on a bed.
---
Thanks so much for reading!
Share this article!
https://www.jonesaroundtheworld.com/wp-content/uploads/2018/07/unnamed-1.jpg
422
948
Dave
https://www.jonesaroundtheworld.com/wp-content/uploads/2017/03/logotry-1-1-300x106.png
Dave
2016-06-05 09:23:14
2019-04-04 15:07:12
The Maasai Tribe Beads & Necklaces | The Unique Kenya Jewelry