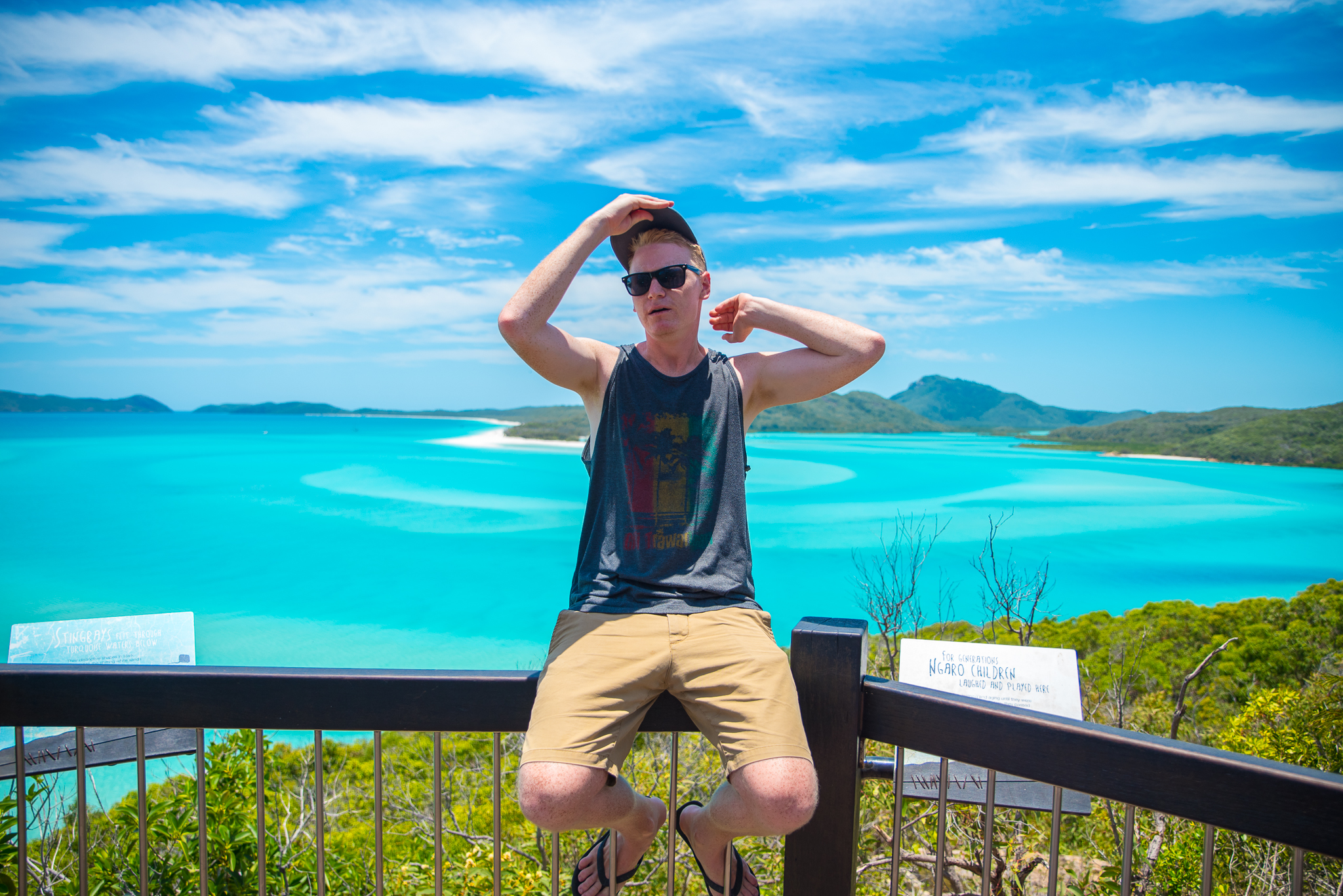 I remember the first time I saw a picture of Whitehaven beach…I thought like it looked too perfect for words.  I vowed to myself that I would make it there someday, and now that I finally have — I'm still in disbelief that it actually exists.
Like, seriously…?  WOW!  It really is the most picturesque beach I've ever seen…  


The perfectly soft white sand feels like heaven for your feet, and when you combine that with the the stunning shades of blue water, and the ideal swimming temperatures, it make Whitehaven the best beach I've ever been to.
 Stepping foot onto Whitehaven beach was something I had dreamed of for quite a long time, and it completely exceeded my expectations, but that was just one of many aspects of my one-day sailing through the Whitsunday Islands.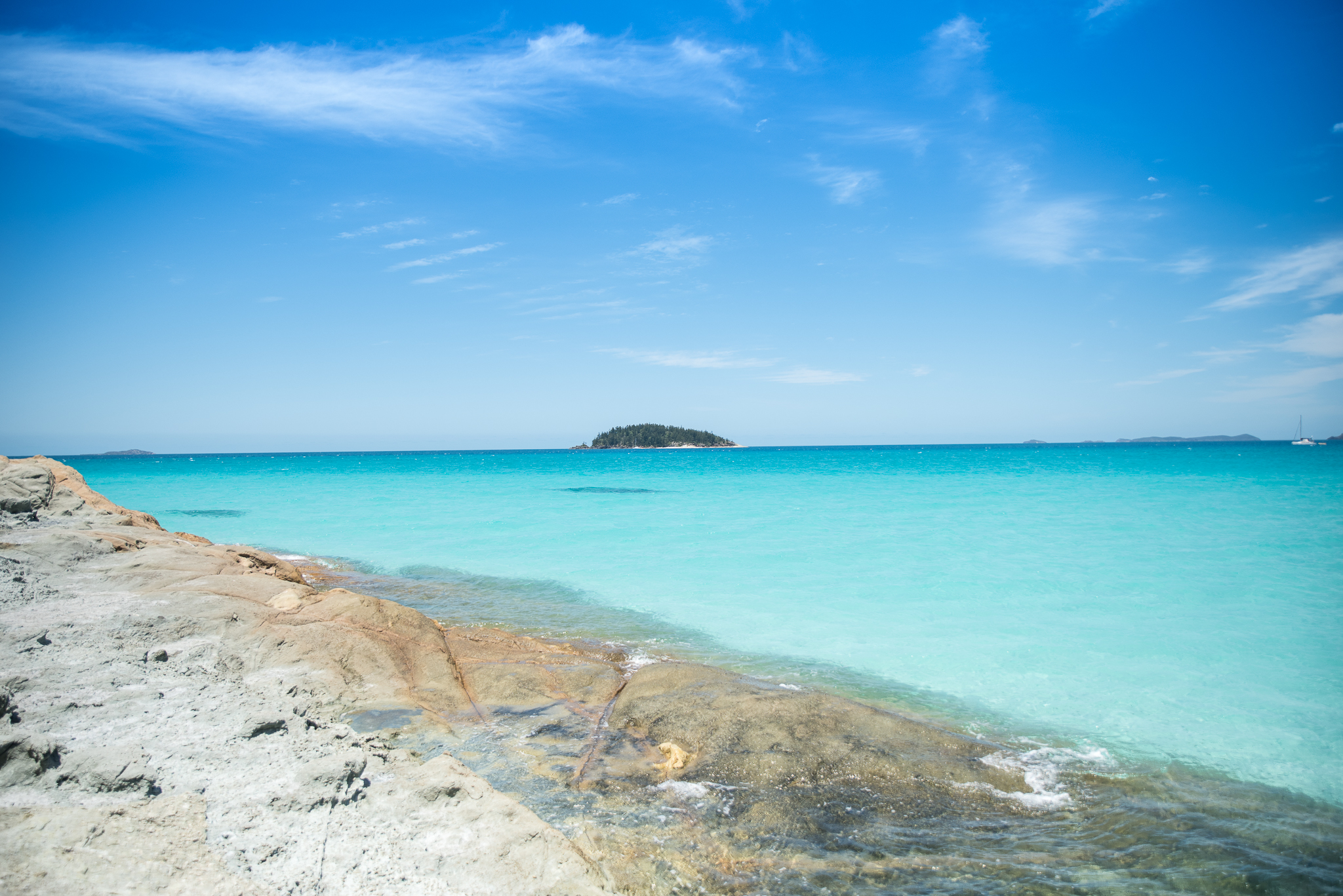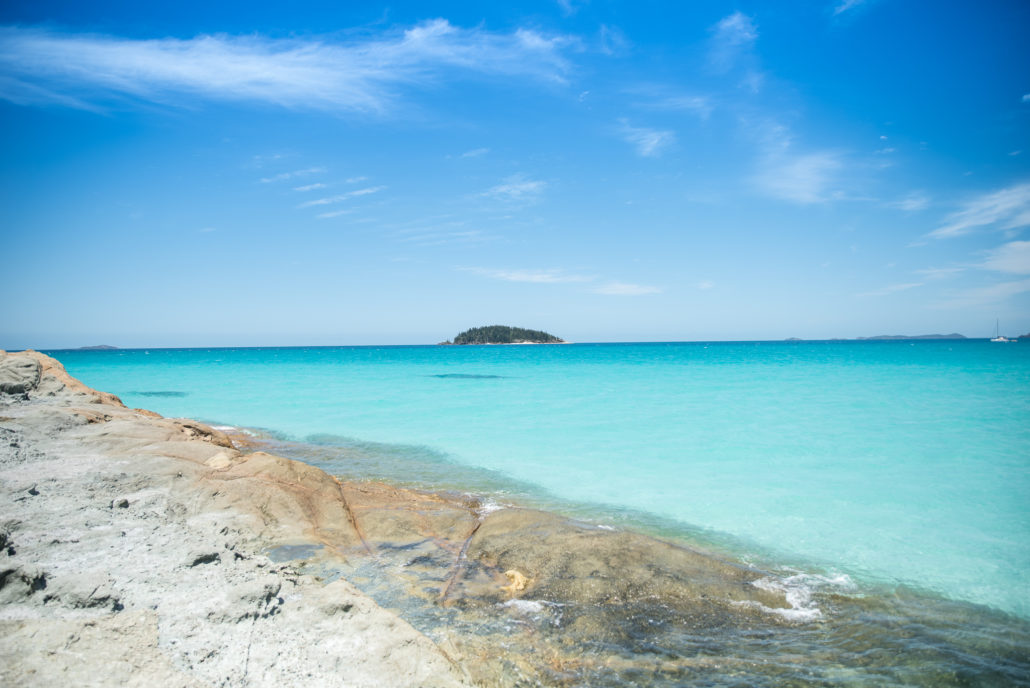 ---
While most people embark on either a 1 / 2 Night Whitsundays Sailing Trip, my plans were actually changed last-minute to simply doing the full-day trip out to Whitehaven Beach & Snorkeling in the Great Barrier Reef.
So I joined Explore Whitsundays on their ship the "Southern Cross" for one of my favorite experiences I've had so far in Australia.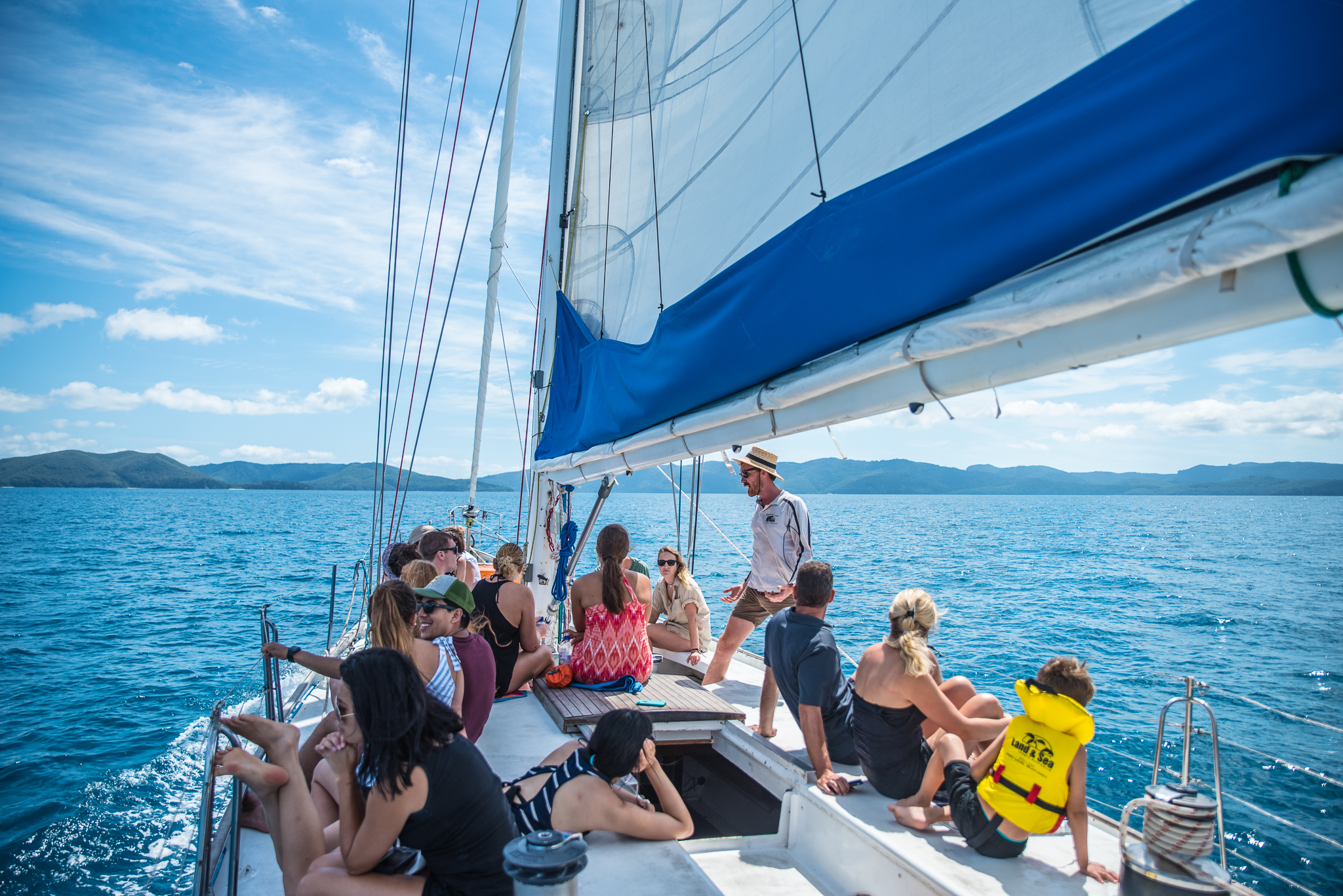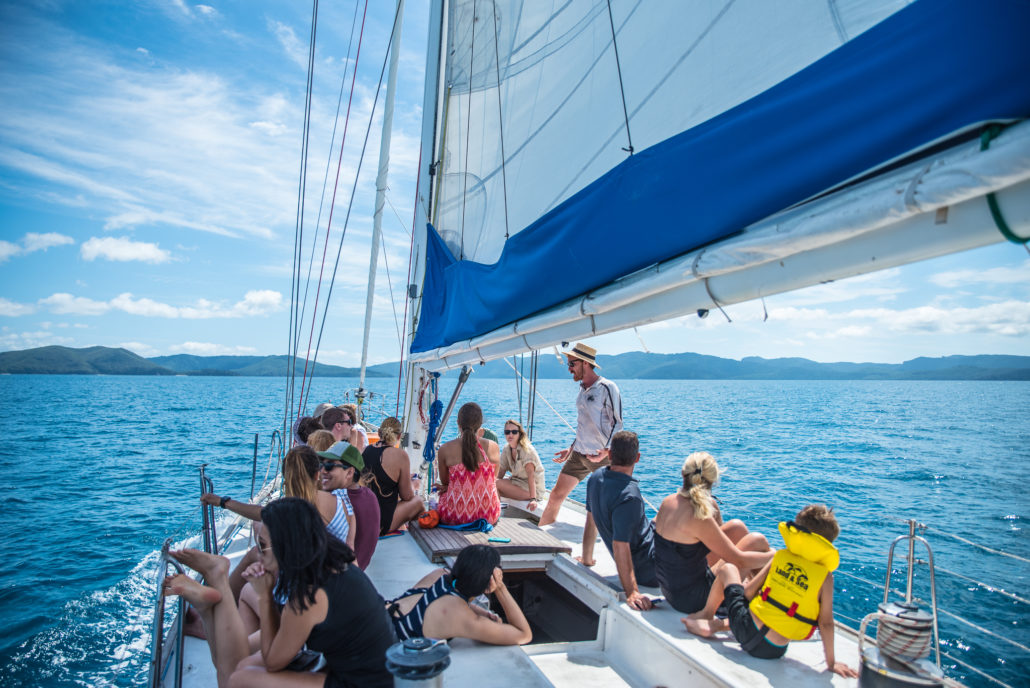 ---
Morning Sailing to Whitsunday National Park
I got picked up at the YHA Airlie Beach at 7:45 A.M, and was shuttled down to Shute Harbour to board our vessel.  After a few important safety lessons and boat rules, we were ready to make the 90 minute journey to the entrance of the Whitsundays National Park.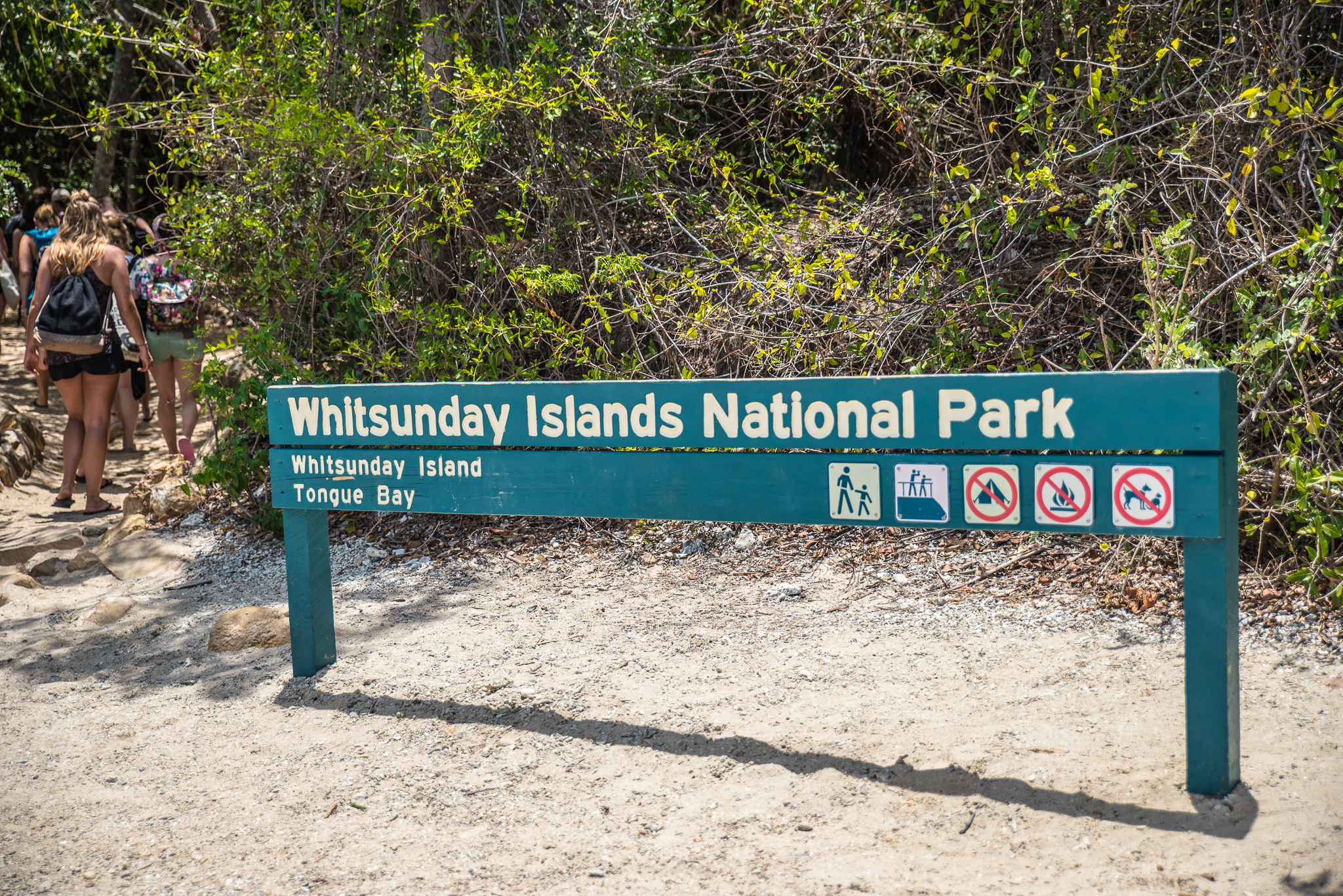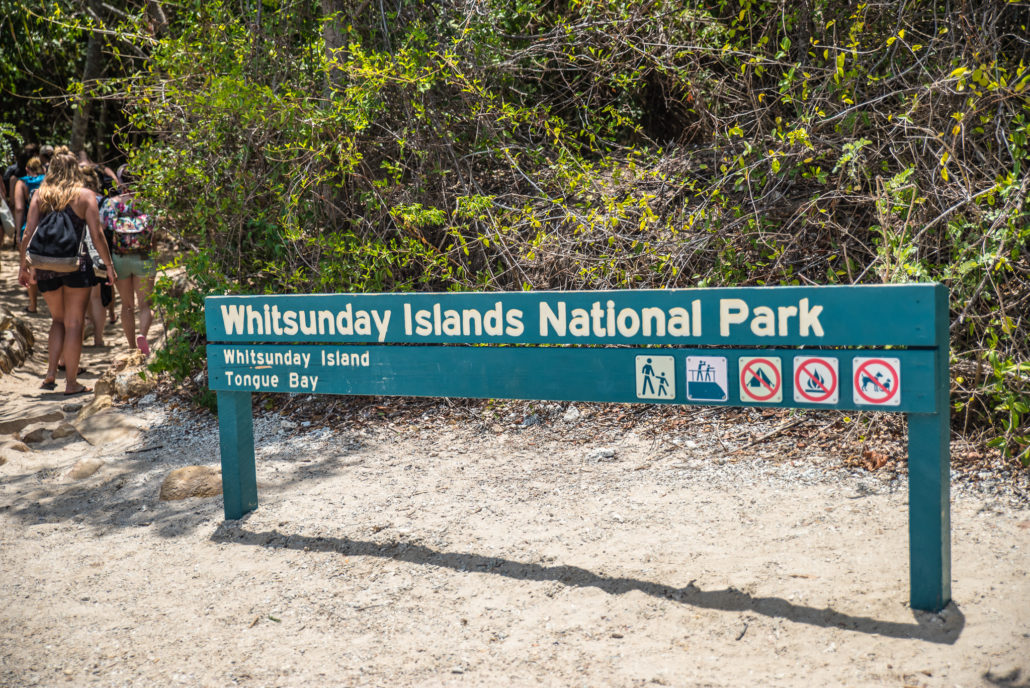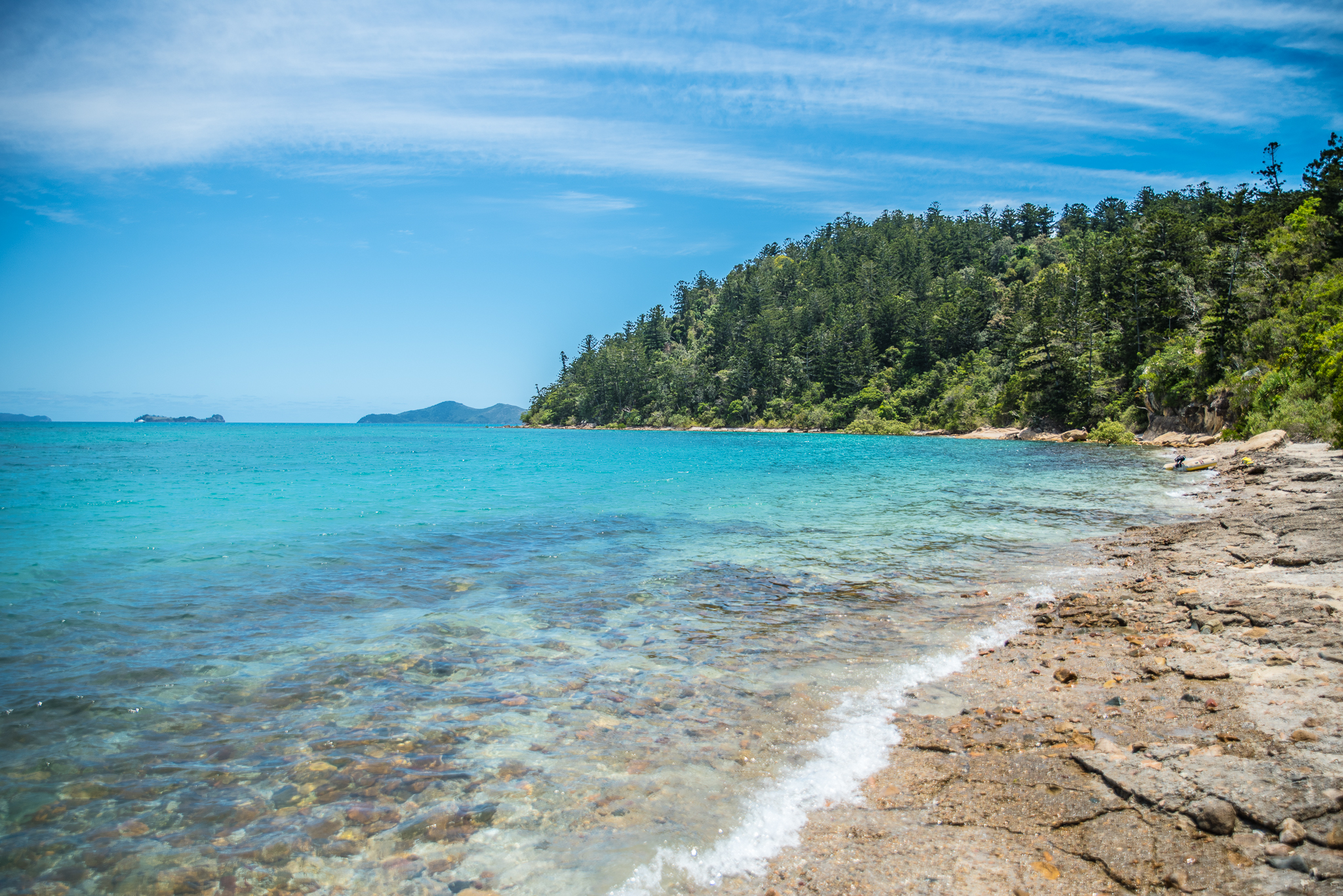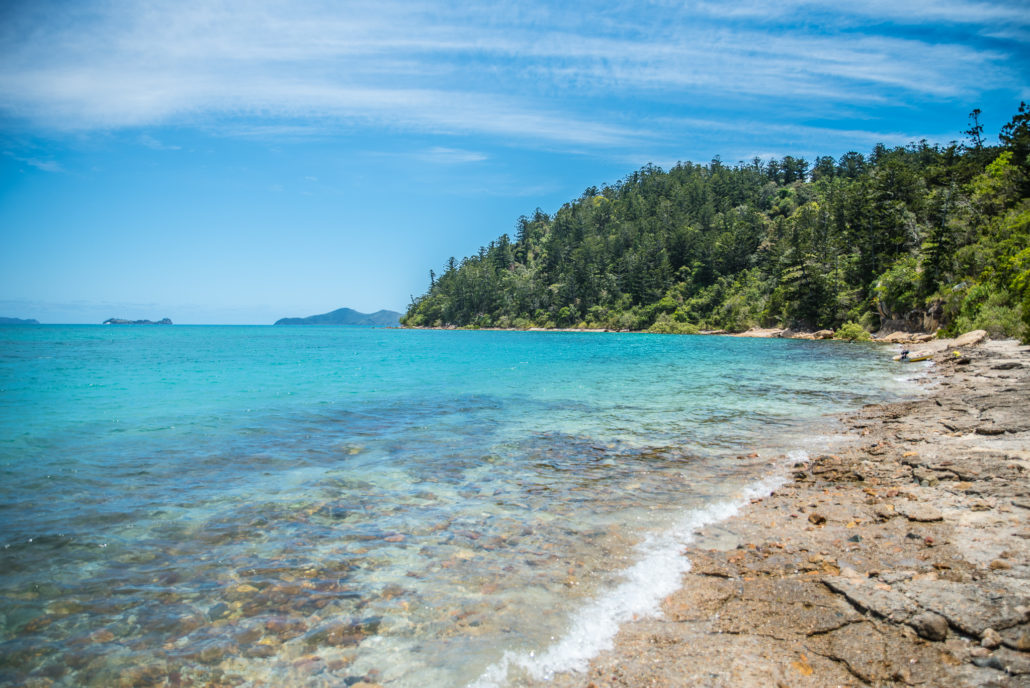 Just from the very start of the day I knew that we were in for an amazing time out sailing.  We had amazing weather, a really great group of people from various countries (mainly Germany & England), and the staff on board The Southern Cross were tons of fun.  We're bumping groovy tunes, chatting with new friends, soaking in the scenery, and taking turns steering the ship.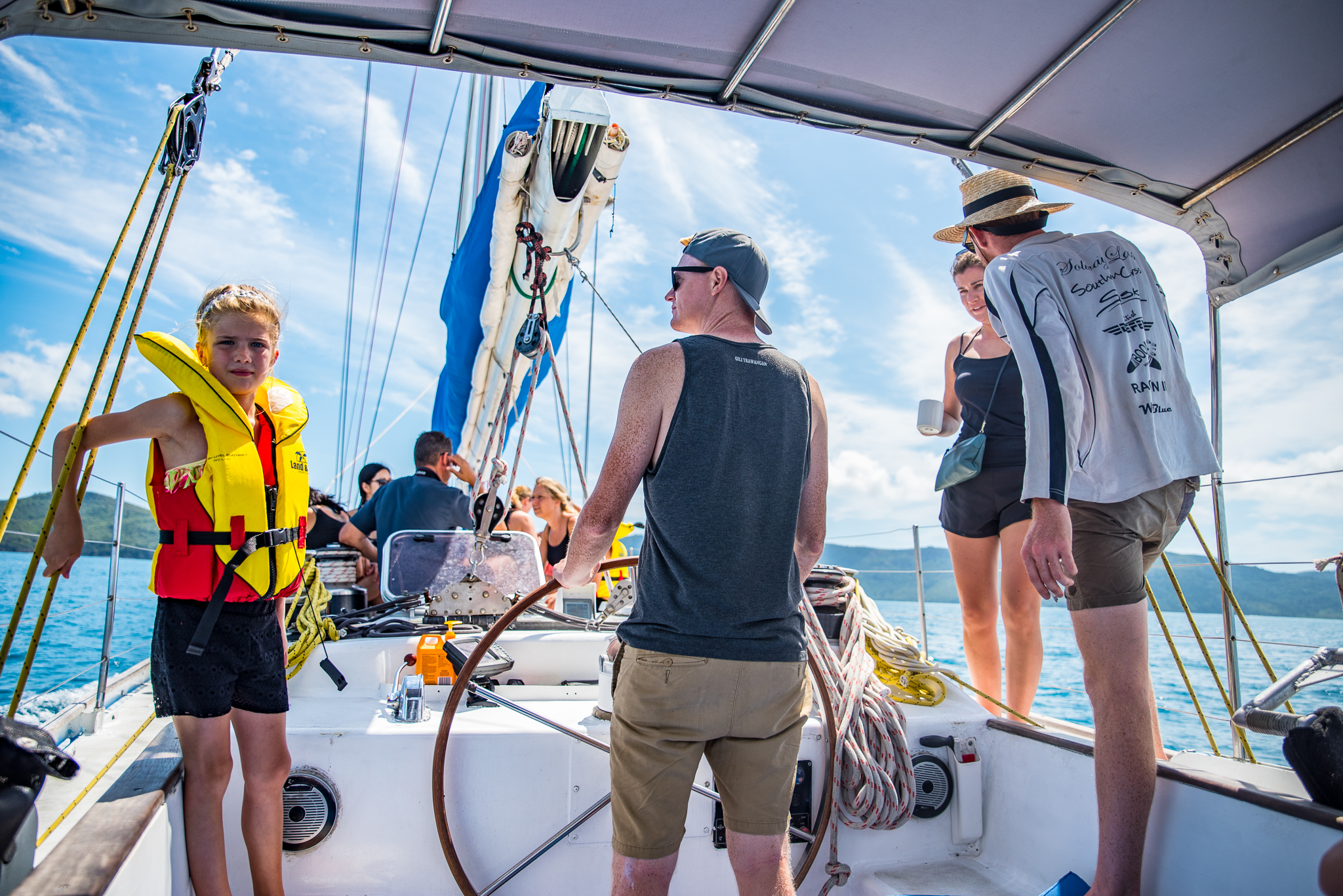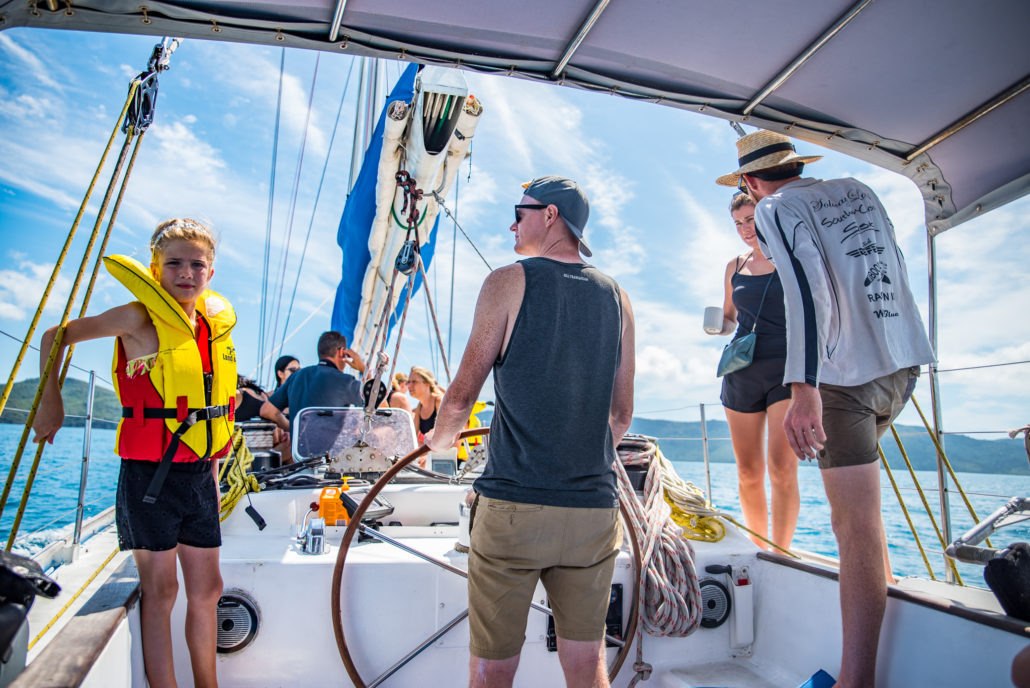 ---
Hill Inlet Lookout
We made it to our first stop on the tour, and were shuttled via the smaller boat to Whitsunday Island.  It's just a brief 5-10 minute walk through the island before we came through the clearing to one of the most spectacular views you will ever see.  We all took some photos, snapped our necessary selfies, and then started to lather up in sunscreen in preparation for what came next.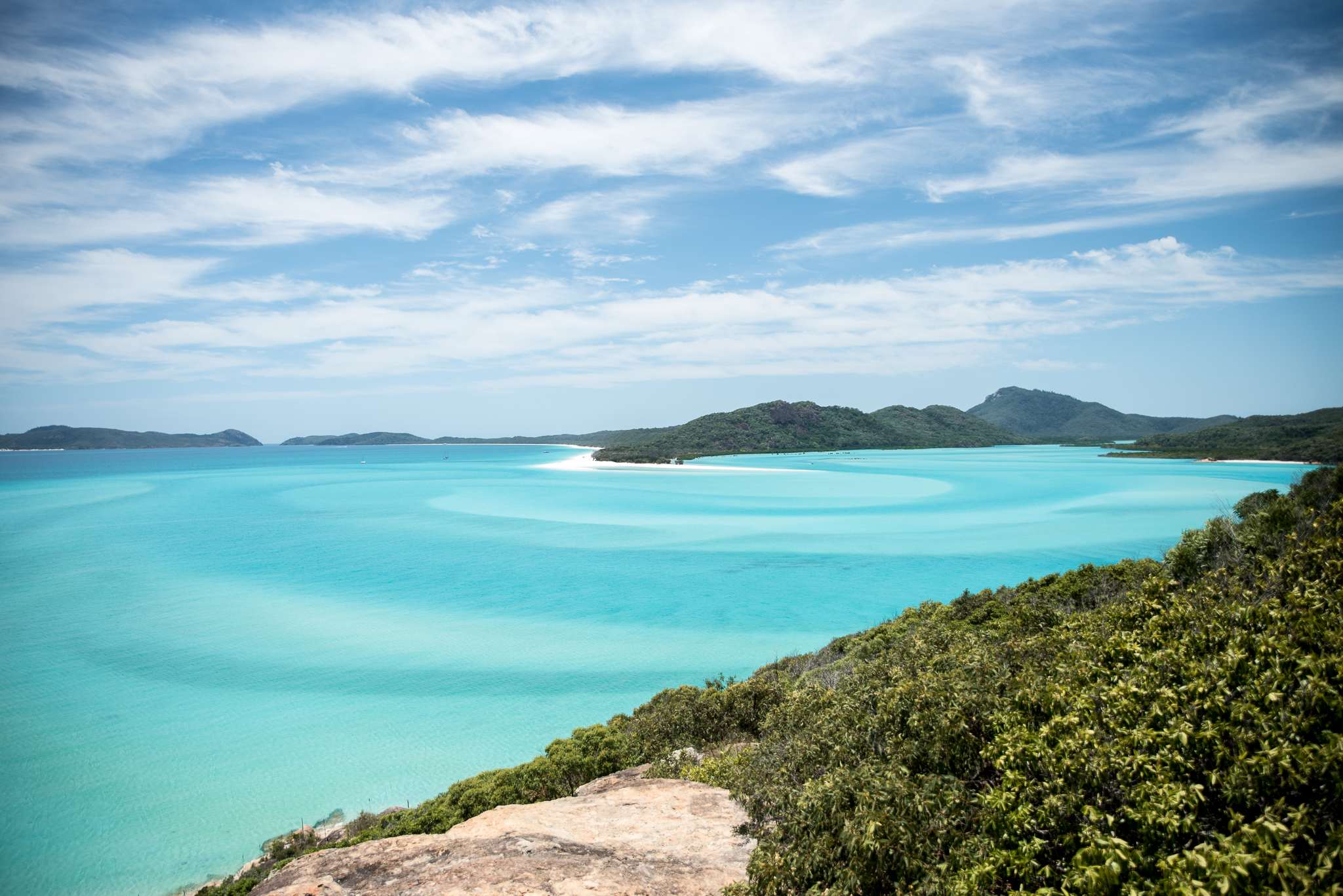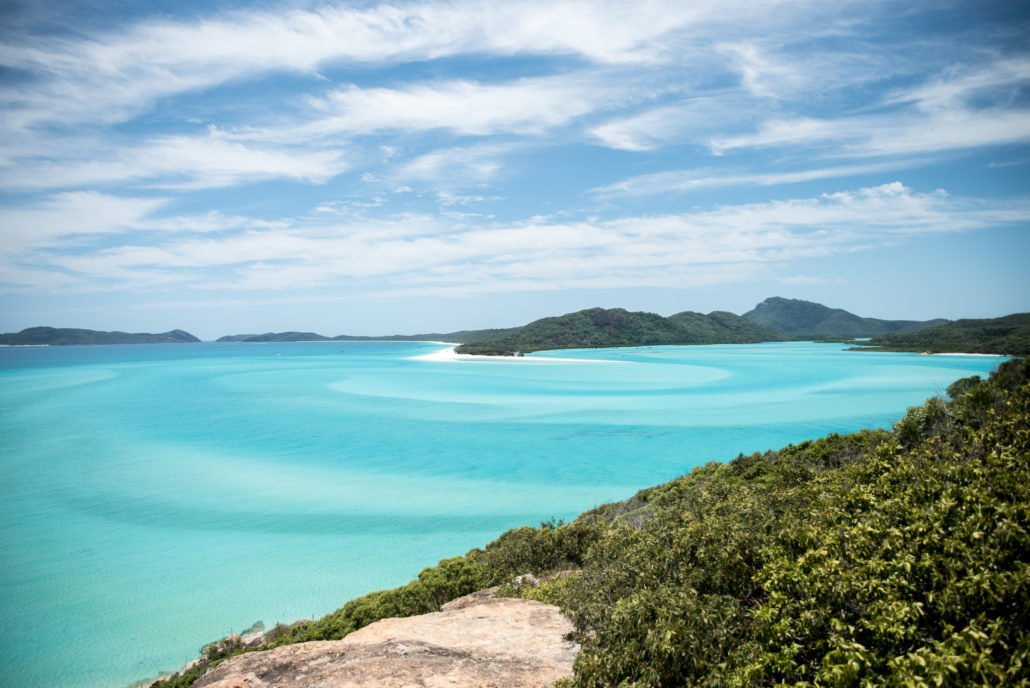 ---
Whitehaven Beach
It really is one of the most beautiful places I've ever seen.
While I like to think I got some pretty epic photos of the place, I still feel like they don't do it justice.  You really have to experience this place for yourself!  I was constantly thinking…"holy shit — this is amazing."
One of my favorite parts was walking through the crystal clear water in between the sand pits and having small lemon sharks swim by my feet!  It felt like a dream.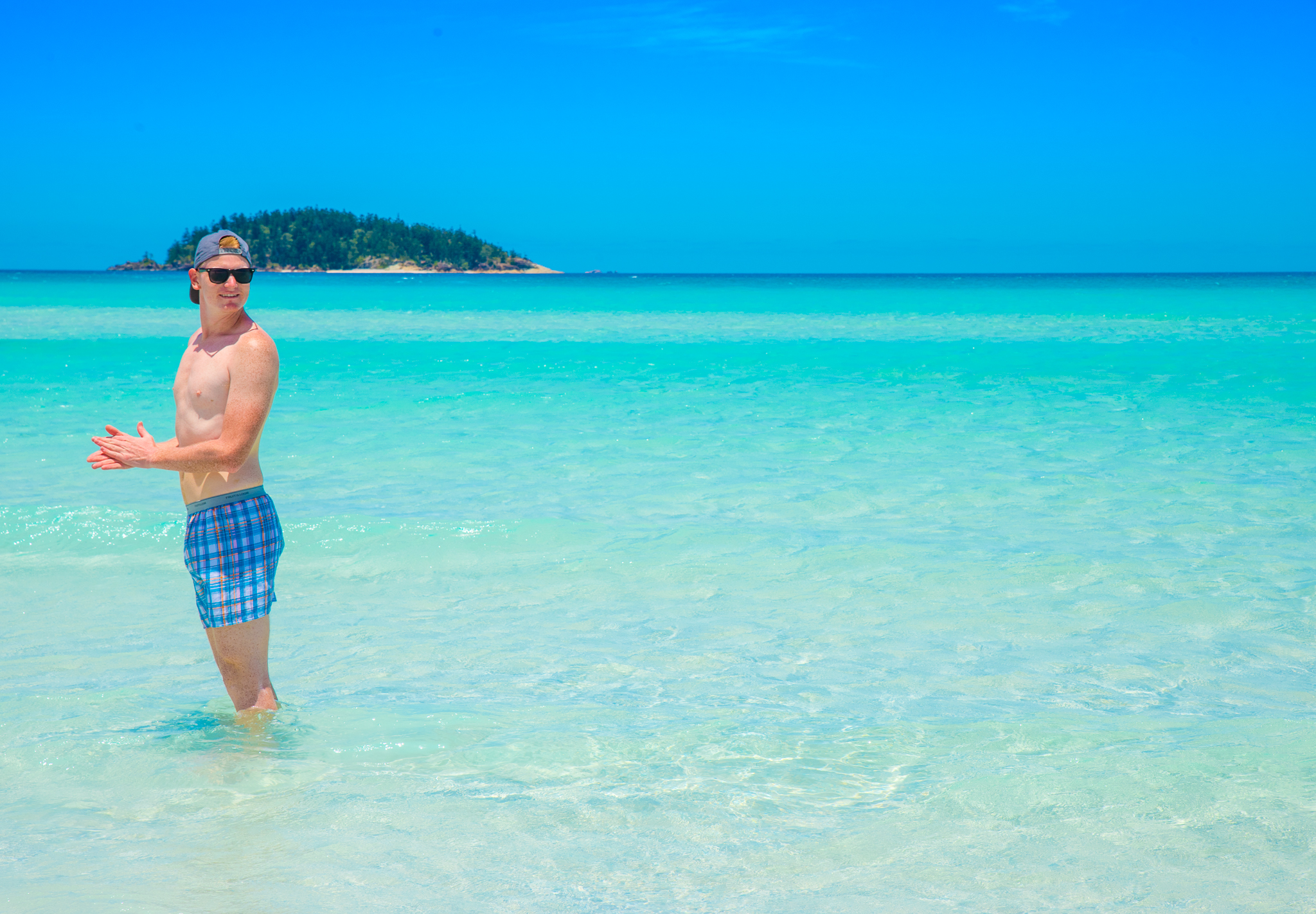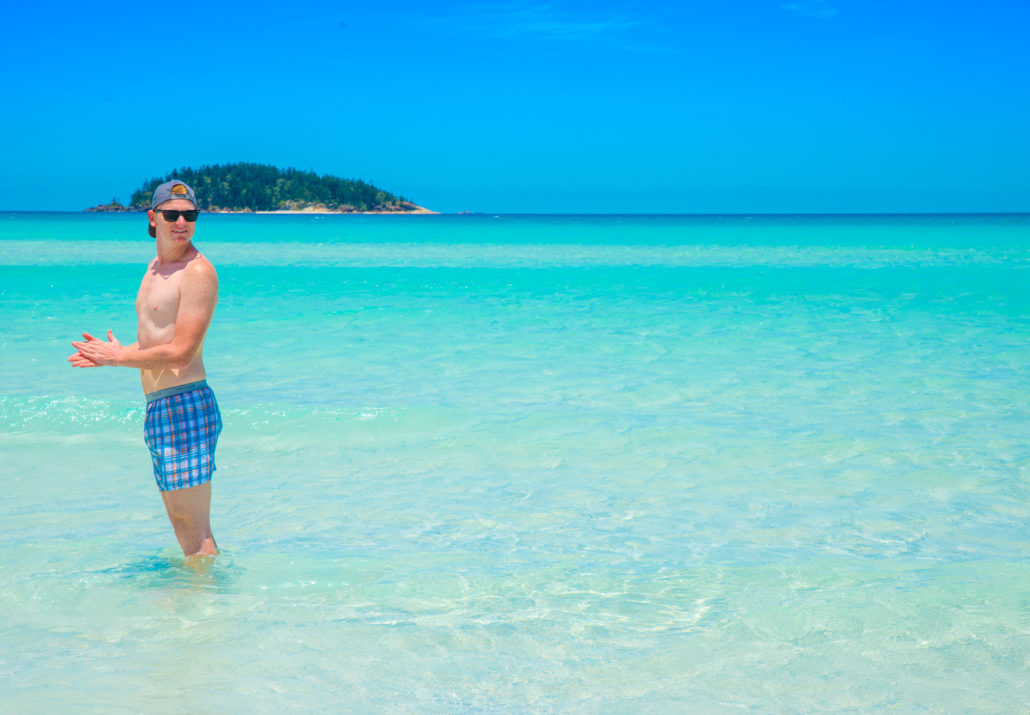 The water was the absolute perfect temperature, and was ideal for swimming.  I tried not to stay in the water too long though, because I was riskily not wearing the recommended "Stinger Suit" to avoid the box jelly fish.  You have to remember, everything in Australia wants to kill you.  As a wise man once said, "every paradise has a dark side", lol.
You know you're doing something right in life when you're relaxing on this beach… :-)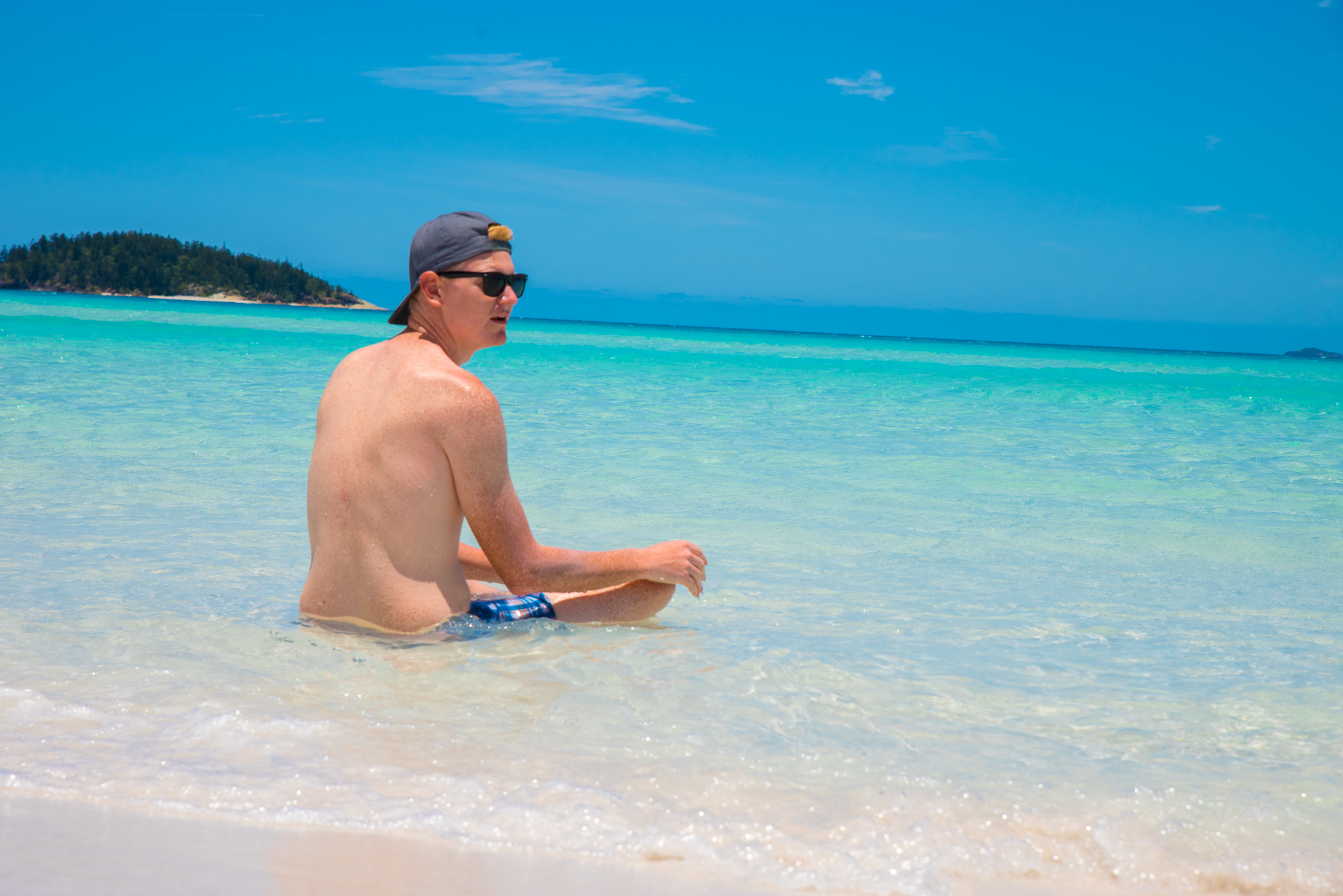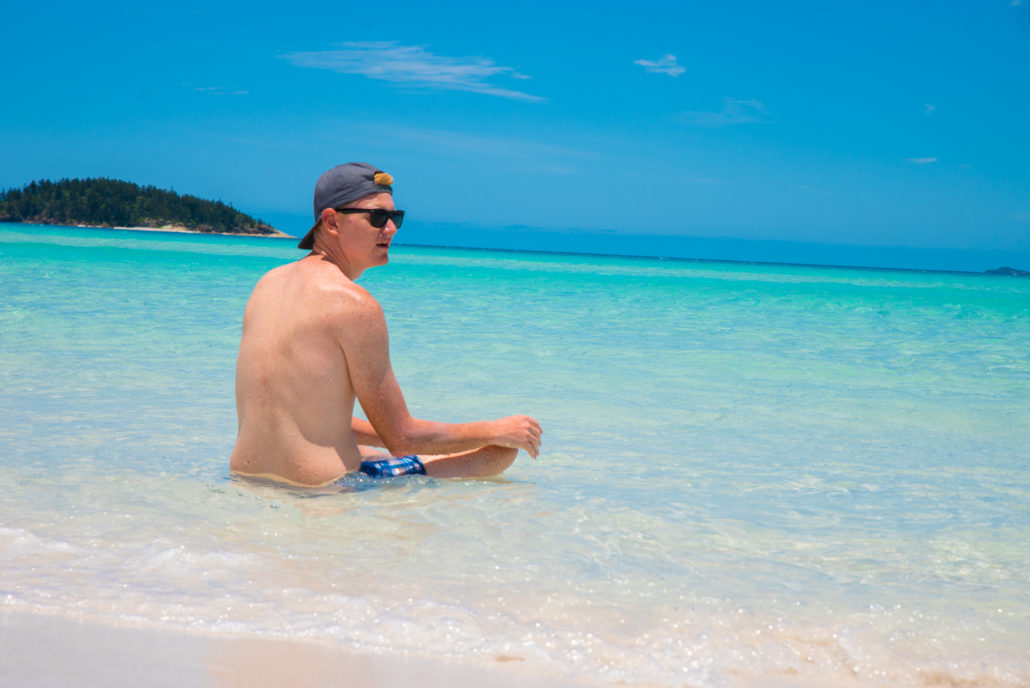 ---
Lunch Time & Sailing
After spending a bit over an hour on Whitehaven Beach, it was time to make our way back to the Southern Cross.  We were all starving, and to my surprise lunch was prepared and ready to be served.
Ever since my time sailing in Indonesia, I've been a little skeptical about meals on ships.  I was actually very happy with the meal provided though.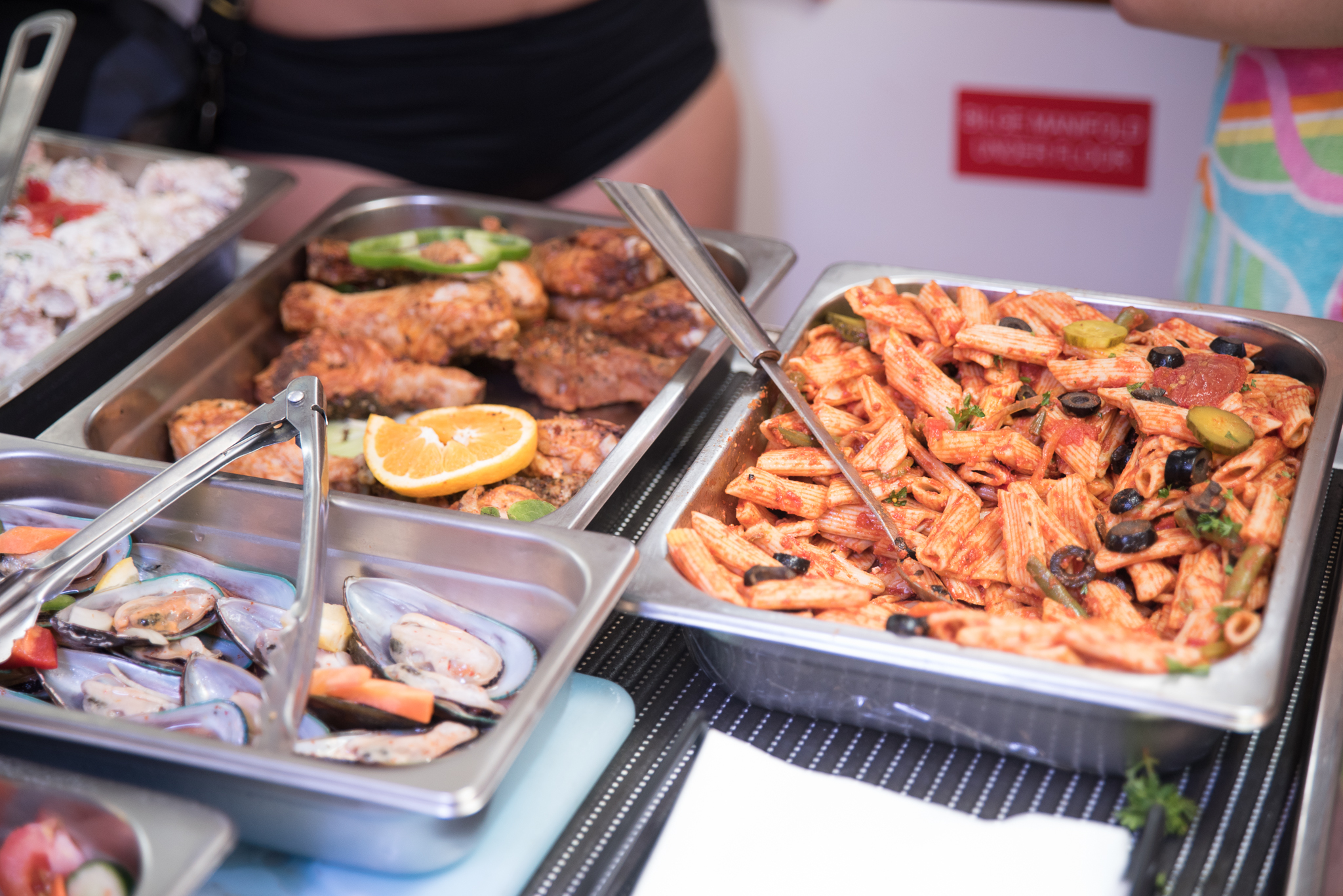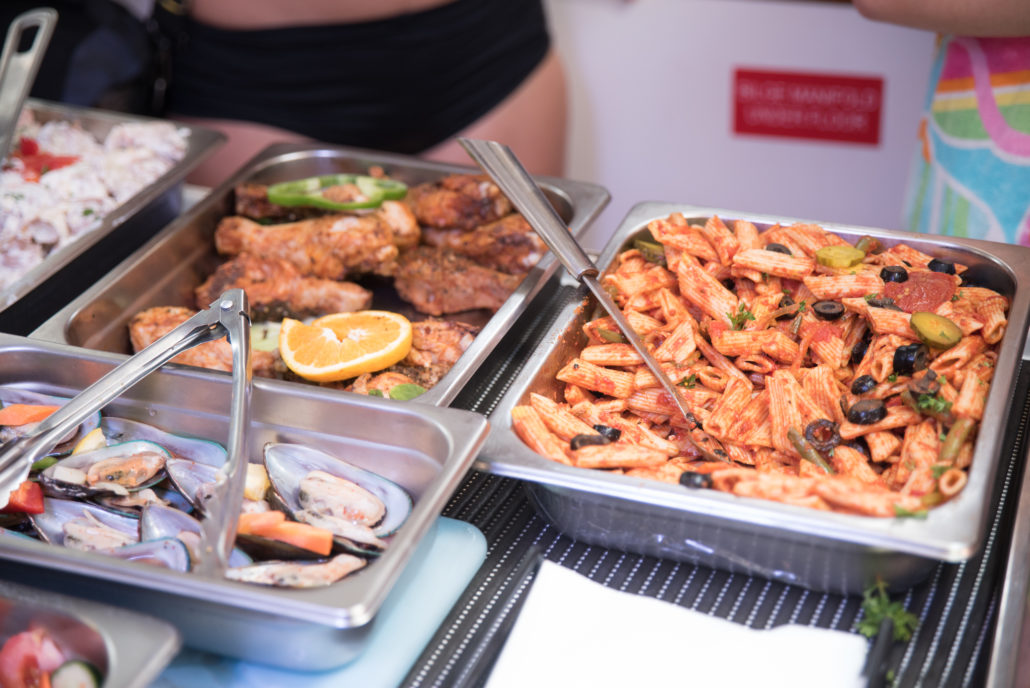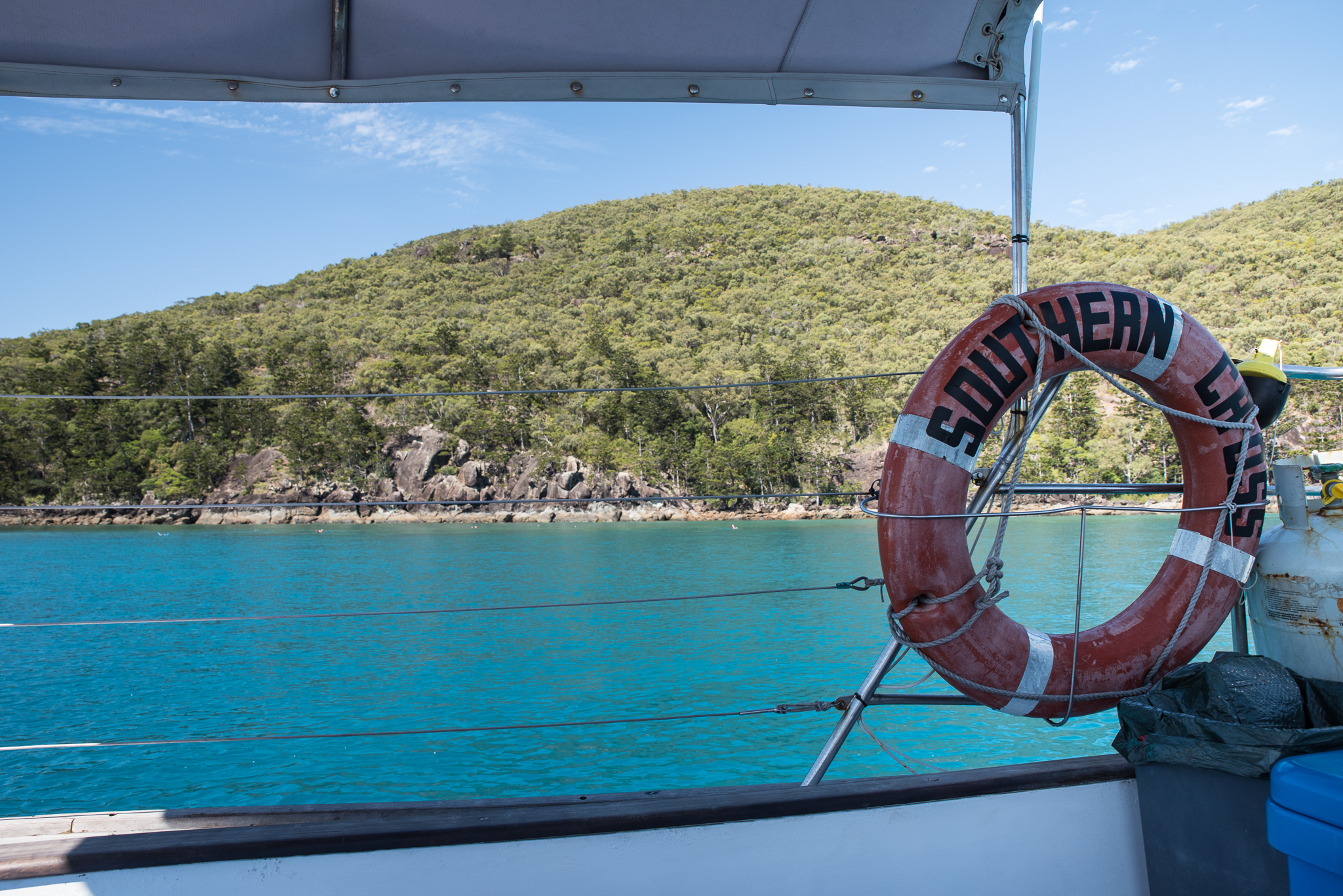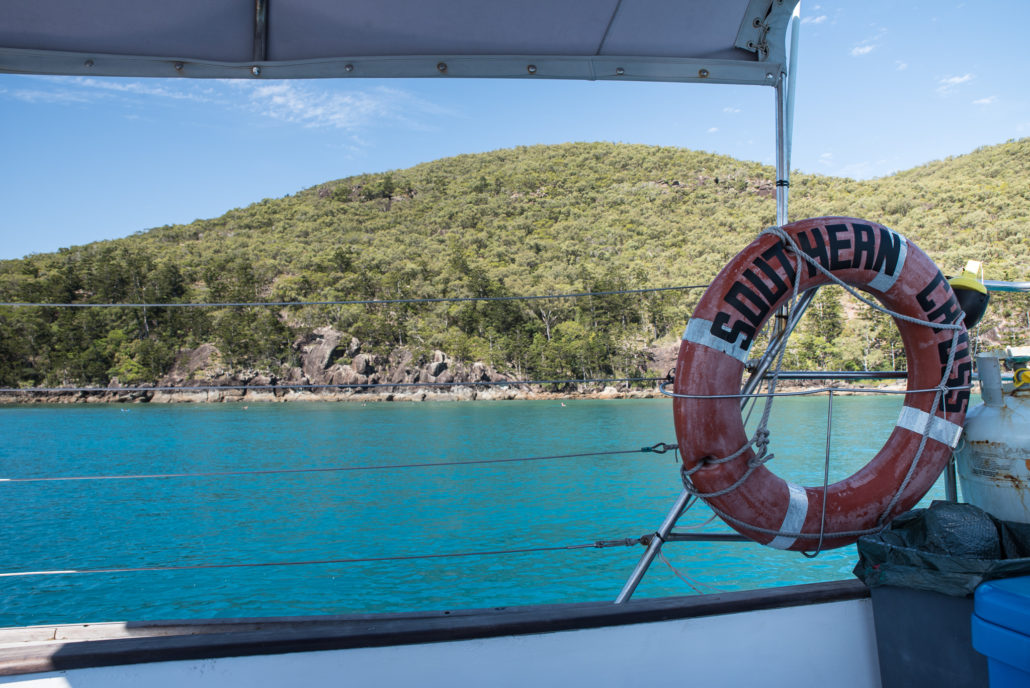 ---
Great Barrier Reef Snorkeling
I'm not gonna lie — I had no idea the Great Barrier Reef stretched as far down the coast in Australia.  For some reason, I always just thought it was almost entirely along the north-east coast around Cairns.  Well that is definitely not the case, and I have recently learned that the Great Barrier Reef stretches as far down along the coast down to Bundaberg!
So after everyone on the boat was fed, we strapped on our snorkel masks and put on our fashionable stinger suits, and jumped for some underwater explorations.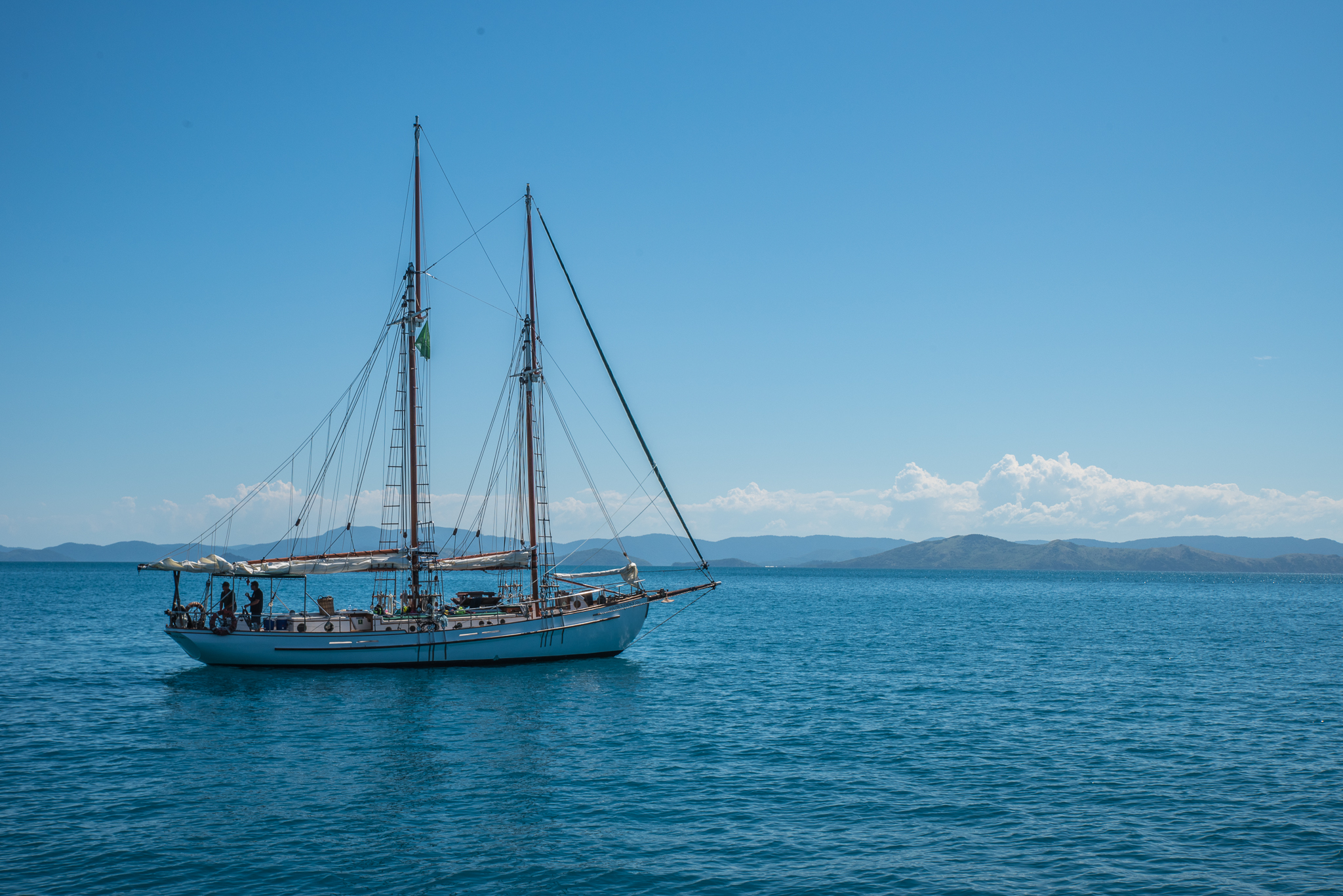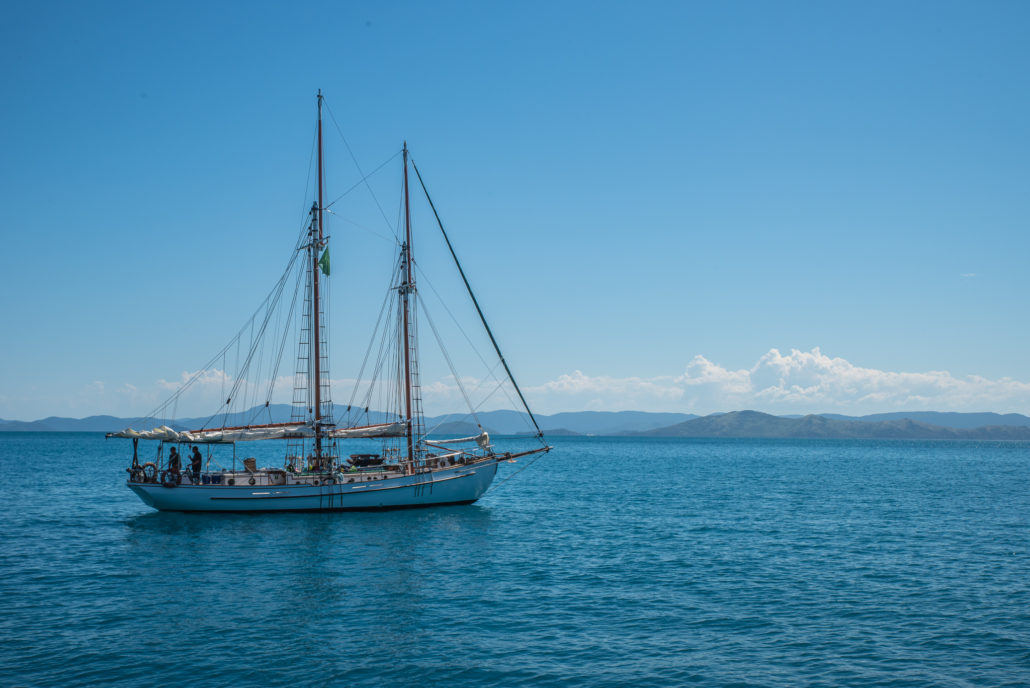 We stopped at one snorkeling stop for about 40 minutes at this beautiful reef in the Whitsunday Islands.  It was really great snorkeling, and I might have even liked it a bit more than what I had experienced up in Cairns.
There weren't as many fish as I had hoped for, but the colors of the reefs were stunning, and there was heaps of different areas to swim around and explore.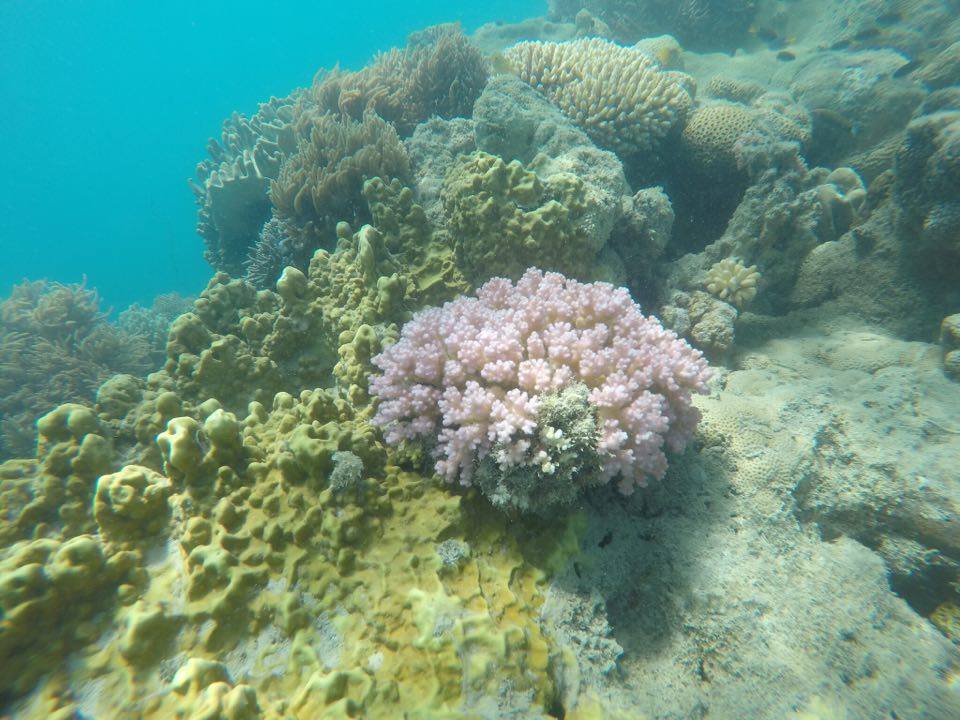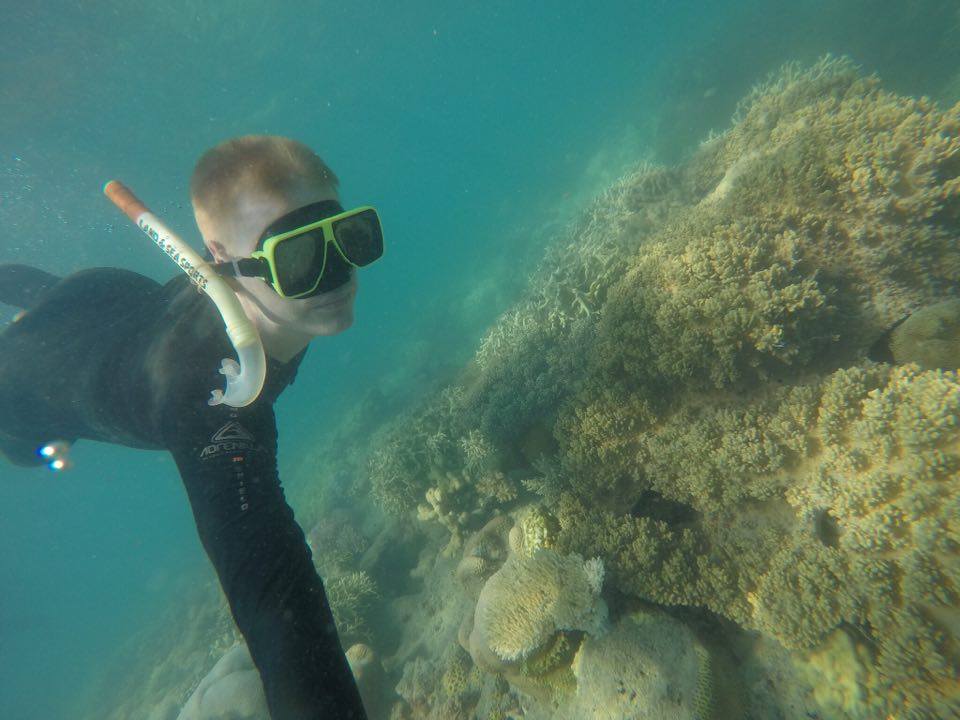 ---
Sailing back to Airlie Beach
We had finished our snorkeling, and I had maxed out the memory card on my GoPro, so it was the perfect time to make our way back to Shute Habour.  I was give the chance to play some of my tunes, which was a stellar 4-hour mix from German deep-house duo Andhim, that to my surprise, people seemed to enjoy.
The whole group chatted and swapped various travel stories and tips, and I graciously passed around a box of Tim Tam's that I had purchased for our day out on the boat.  When in Australia — you snack on Tim Tams! 
Overall — it was an absolute amazing day filled with wonderful people and beautiful scenery.  I'll never forget the feeling of walking along Whitehaven Beach, and will definitely be encouraging everyone I know to experience it for themselves!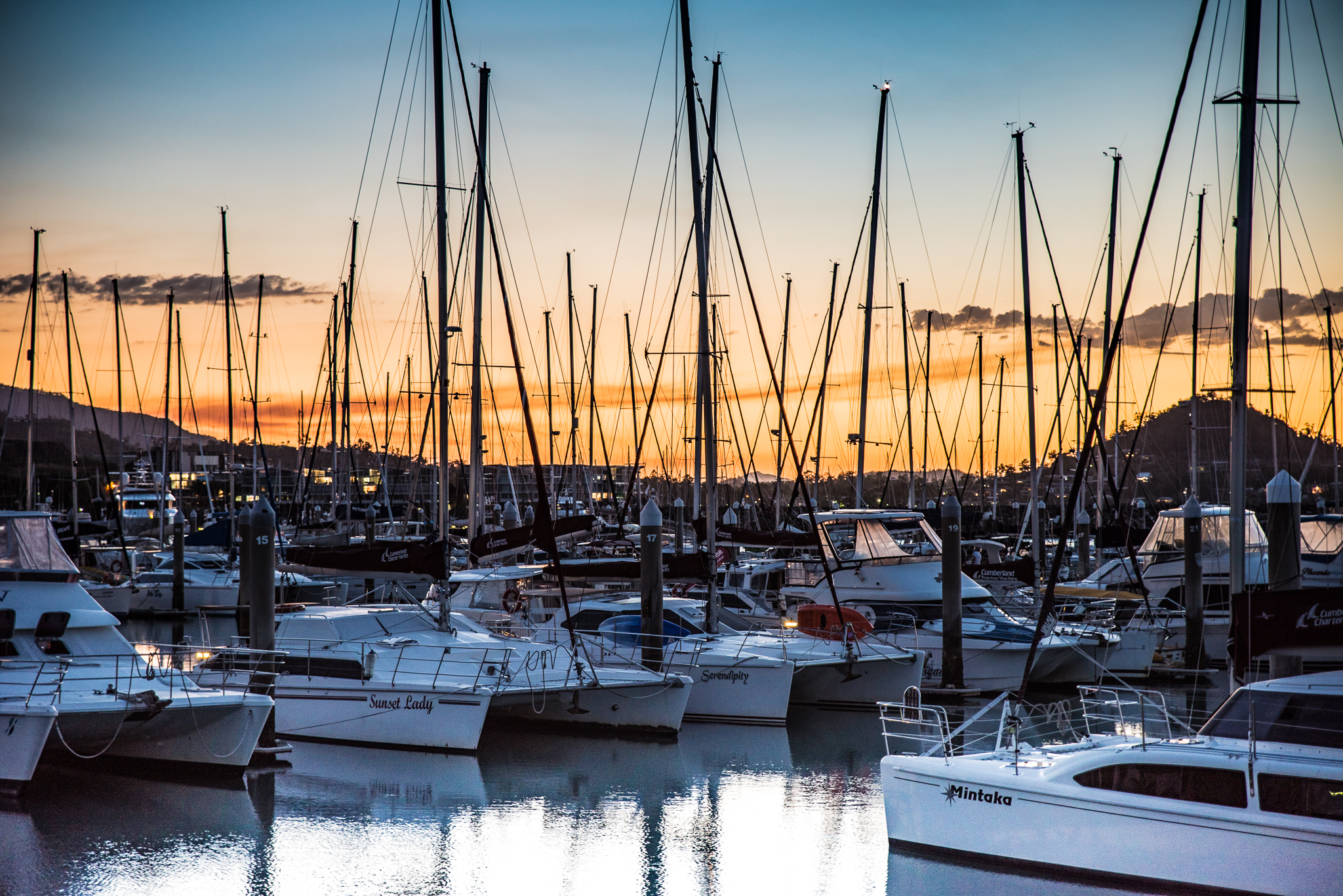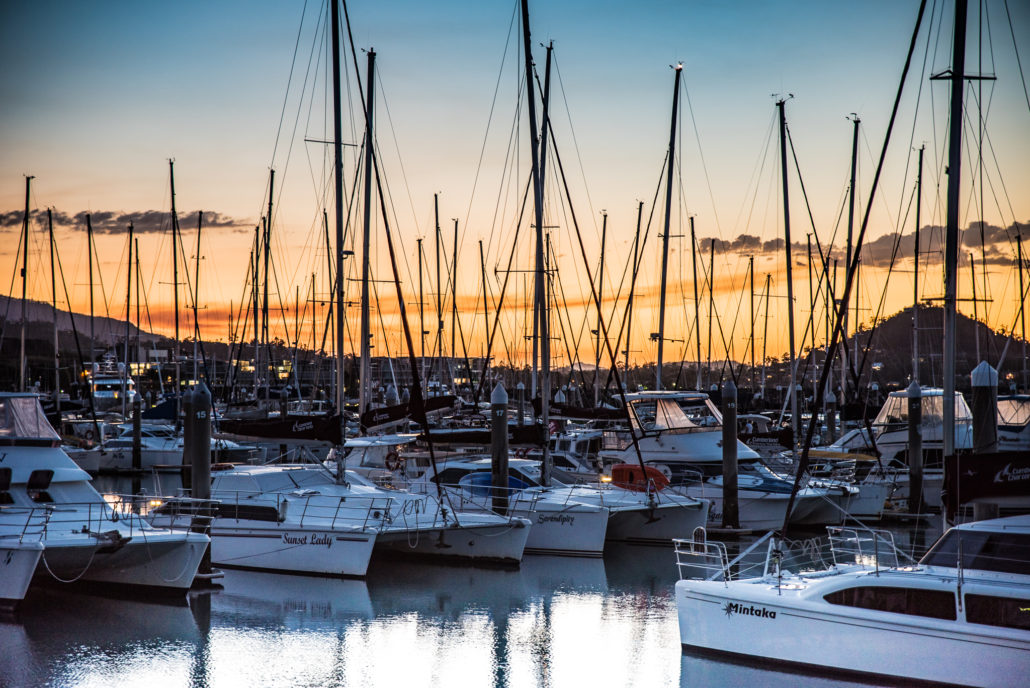 ---
Thanks to the amazing staff at Explore Whitsundays for being so amazing.  They were the perfect mix between fun and professional, and showed us all an amazing time.
---
Have you been to the Whitsunday Islands before…?  If you haven't, then definitely add it to the list!  It's easily one of the best places I've ever been!
THANKS FOR READING!  
Pin Me…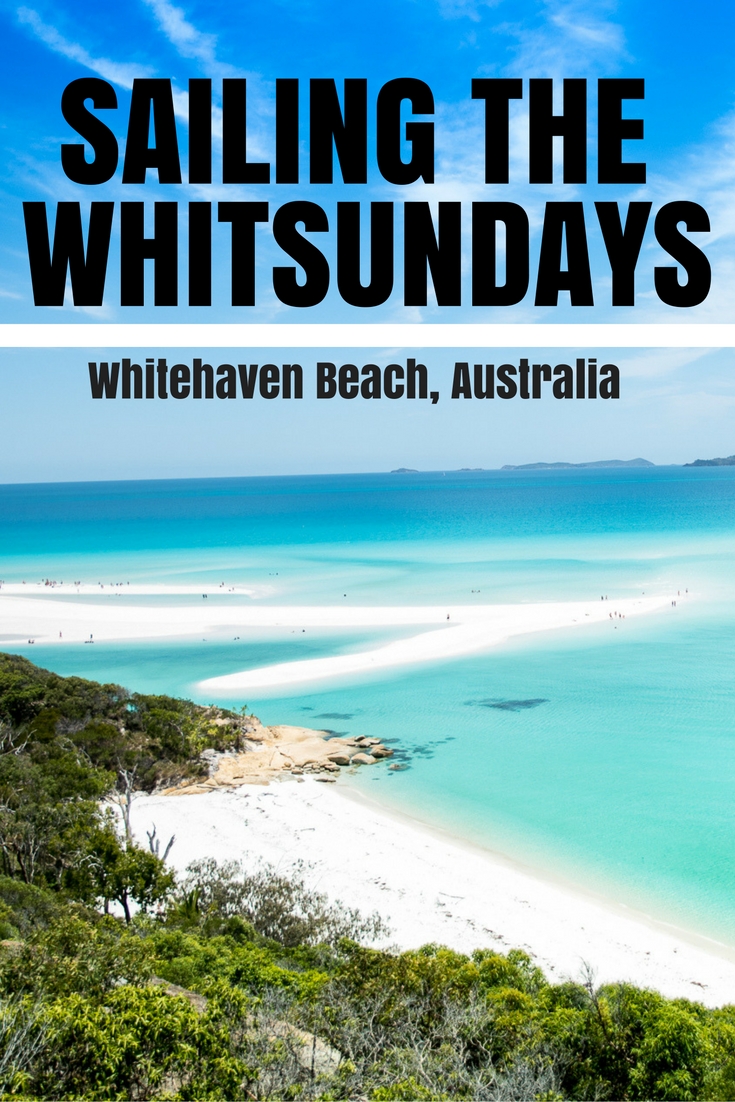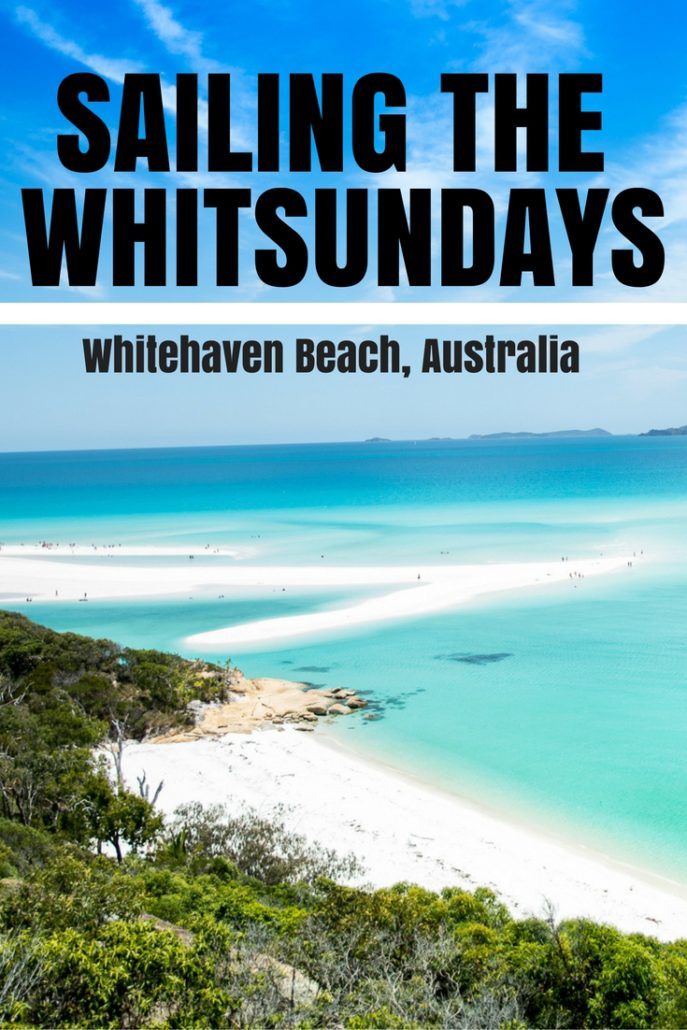 https://www.jonesaroundtheworld.com/wp-content/uploads/2016/12/DSC_1446.jpg
1367
2048
Dave
https://www.jonesaroundtheworld.com/wp-content/uploads/2017/03/logotry-1-1-300x106.png
Dave
2017-02-08 05:08:34
2017-04-09 19:41:31
Paradise Found: Sailing Through the Whitsunday Islands