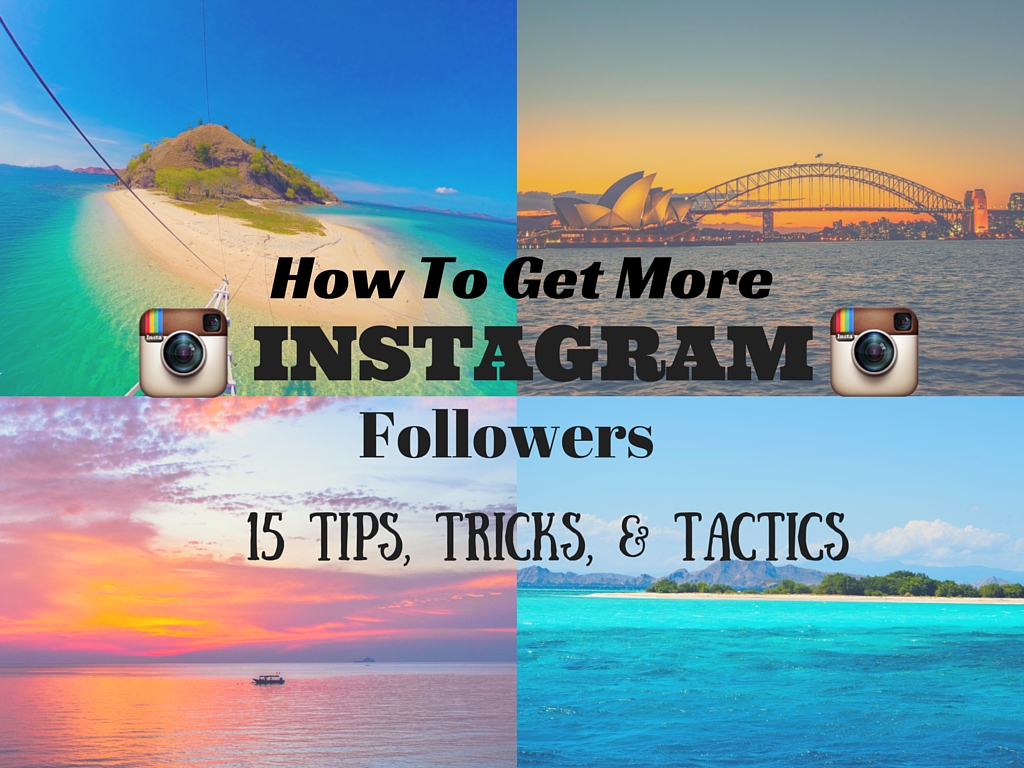 So You Want To Be Insta-Famous?
Or At Least Gain More Instagram Followers…?  I'm here to help…
Instagram is by far my favorite social-media platform.  It's the best way to share my favorite travel photos, and follow other people's travels and adventures around the world.  Even before I started this travel blog, I was a big fan of Instagram.  However, it wasn't until I wanted to reach a broader audience with this site, that I started focusing on growing my Instagram following.  In this post, I will go into detail on how to get more Instagram followers!
Last year, I had less than 1,000 followers on Instagram.  Now I have over 21K Followers!
I should make one thing clear though — I have never spent a single dollar on Instagram.  I don't believe in buying followers because the key to growing a strong Instagram following is about real followers and building engagement.  
I've worked really hard over the past year in building an Instagram following, and I want to help you grow your accounts as well.  If you try all of these tips, tricks, and tactics below, you'll definitely see some more followers!  Keep in mind getting organic Instagram followers does not happen overnight.  But if you keep at it everyday, you'll definitely begin to see some results.
 1)  Content Is King
This rule not only applies to writing blog posts, but also to posting incredible photos.  When I was using Instagram to only share photos to my friends, I would post random stuff all the time.  When you are trying to grow your Instagram followers, you need to stick to a theme, and only post your best photos.  My theme is obviously travel, and I only post my favorite travel photos.  When I was paying extremely close to my follower numbers, I would notice that people would unfollow me if I posted one strange / random photo.
2)  Have an Informative Biography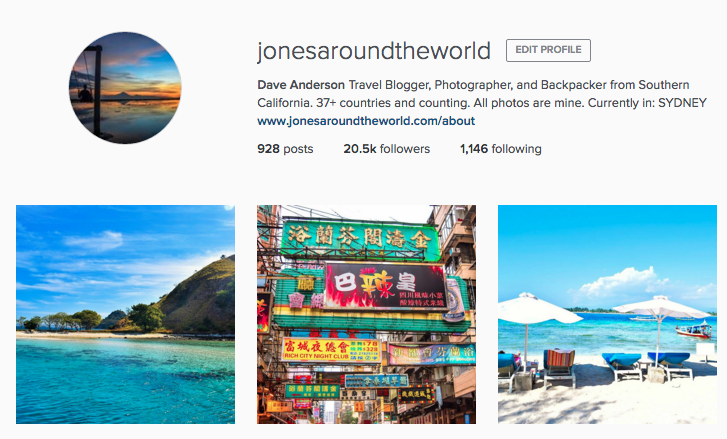 You know that little description under your name?  That's very important!  This is where you should tell people why they should follow you.  If you look at mine, it says
"Travel Blogger, Photographer, and Backpacker from Southern California.  37+ Countries and counting.  All photos are mine.  Currently in:  Sydney"
This is great because it goes over who I am, and can also give people a reason to follow me.  It also makes it very clear that every single photo I post is MINE.  I'm not just a random travel account re-posting cool photos they find on the internet.  This is a platform to showcase my favorite travel photos.
3)  Be Social

When it comes to social-media, you can't just expect to grow a massive following if you aren't actively interacting with people.  You need to browse through different accounts, make friends with people, and be interested in their photography!  More importantly, when someone comments on one of your photos — you need to comment back!  This is a great way to build a loyal following.  It's really great when you start to see the same people commenting on every single one of your photos.  People should want to follow you, hear your stories, and look forward to your daily Instagram post.
4)  Get Featured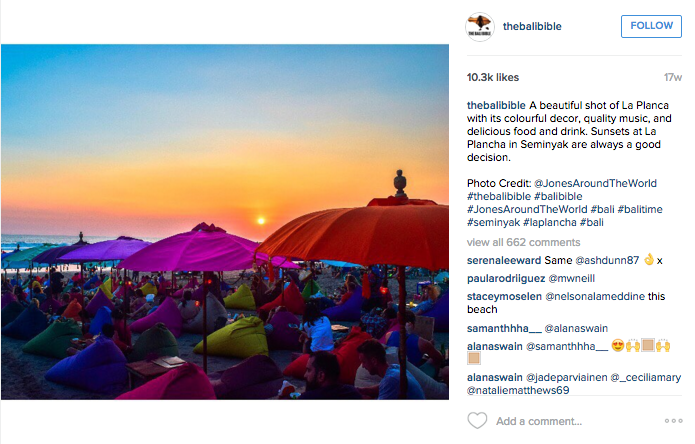 One of the most popular IG accounts for travel in BALI posted one of my photos.  It got 10.3K likes, and over 660 comments.  You can see the "Photo Credit: @JonesAroundTheWorld .  This was an awesome photo  of mine, and brought a ton of new followers! 
One of the best ways of getting more followers is getting accounts to "feature" your image.  This means that they will post your photo (with your permission), and give you credit.  I have probably been featured over 100+ times by now.  I do this by actively searching out new #HASHTAGS to use to get my photos featured.  For example, I used the hashtag #TheBaliBible to get my photo featured on that account.  A lot of the bigger accounts will also include email addresses in their biography.  Shoot them an email with some of your best work, and ask them to feature you.  I've done this multiple times, and have been featured quite a bit.  Sometimes they will ask for money.  I've never paid anything for Instagram, because I don't have extra money to throw around, but if you're trying to grow your account, then go for it.
5)  Proper Use of #Hashtags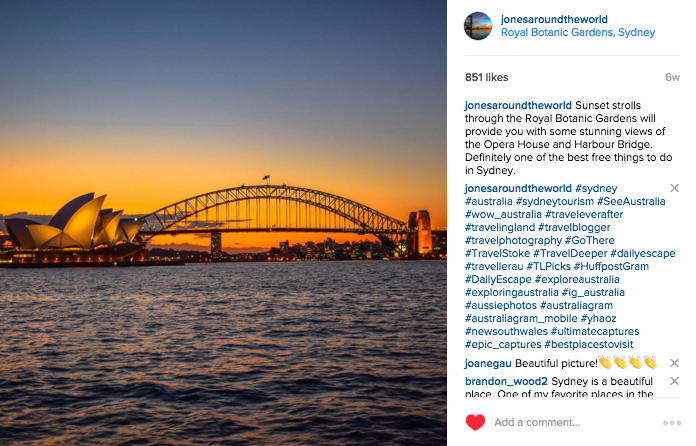 Look at all those hashtags.  Kind of ridiculous right?  Well, that's how you're going to get featured by accounts.  If you post a great photo of Sydney, search for accounts that post high-quality content of Australia and Sydney.   You'll notice that a lotof those hashtags are specifically meant to give permission to the accounts to feature this photo.
Some people might disagree with me, but using a lot of hashtags works.  Before I started actively trying to grow my Instagram followers, I always thought people used a ton of hashtags were lame.  Well, I guess I have become one of them.  People actually do browse through different hashtags, will like photos, and follow different accounts.  If you have a great photo, you want it to be seen by as many people as possible.
6)  "Like" People's Photos taken at the Same Location
A photo posted by Dave Anderson (@jonesaroundtheworld) on
If you recently posted a photo at a recognizable city, beach, or landmark — tag your photo at that location.  Then click on that landmark, and like as many photos as you can from people who recently uploaded photos from there.  Comment on as many as you can as well.  Explain that you recently visited, and start conversations about traveling there!
7)  Ask Questions When You Comment
When you comment and just say "that's beautiful" or "cool", that's not sparking any conversation.  Instead you should ask a question, and that has a better chance for the IG user to look at your account, and possibly even follow you.  It's all about creating engagement with fellows Instagram users!  As well, the more you comment with insightful and longer comments, the bigger than chance that other users will take a glance at your gallery.
8)  Allow Your Profile To Be Suggested to Similar Accounts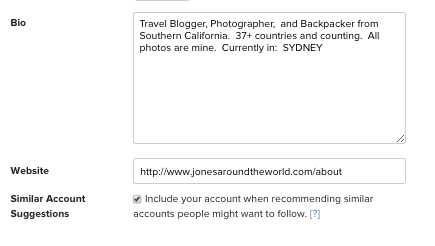 You know when you follow a new account, and Instagram suggests that you follow similar accounts?  Well, you need to make sure you are able to be listed there.  This probably won't be able to happen until you have a few thousand followers, but this can actually bring hundreds of new people to your account.
9)  Post At The Same Times Every Day
A photo posted by Dave Anderson (@jonesaroundtheworld) on
After some trial and error, you should discover that there definitely are better times to post on Instagram.  You have to ask yourself; where are the majority of your followers from?  If you post at 3A.M, you probably won't get a lot of likes.  When it comes to the Instagram algorithim, you need to post at ideal times that will get you the most likes within the first 30-45 minutes!  The more followers who initially like photo, the more users it will show up on.
10)  Utilize Other Social Media Platforms To Gain Followers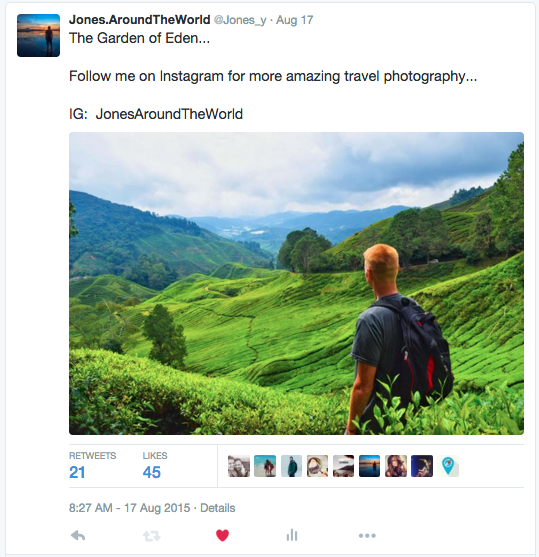 I posted this beautiful photo on Twitter about my time in The Cameron Highlands, Malaysia.  This photo got 45 likes, and 21 Retweets, and it has my IG username in it.  This had the potential to be viewed by thousands and thousands of people. 
Whether you have Facebook, Twitter, Pinterest, Snapchat, Google+, or any other social media-platforms — you should be trying to gain more followers on all of these accounts.  For example, post a photo on Facebook with a brief description of the picture.  Then at the bottom, include something like — "For more of my photos, follow me on Instagram : xxxxxx".  I've done this with Twitter quite a bit, and have seen great results.
11)  Ask Your Followers To Tag Friends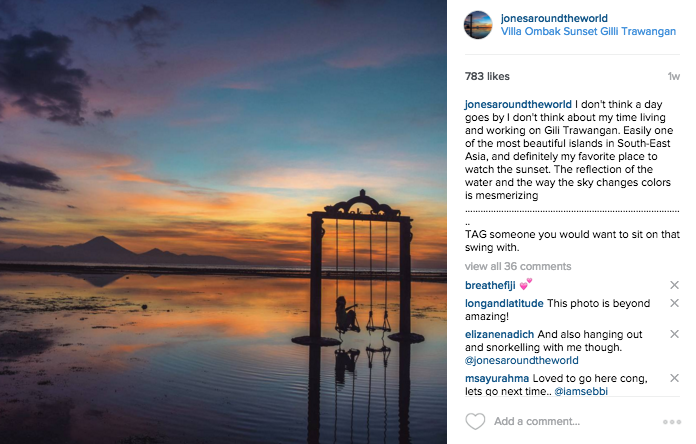 TAG someone you would want to sit on that swing with….
I actually don't do this very often, but it can be a very affective way to bring more people to your Instagram gallery.  For example, if you post a picture of a pool — end the description with a "Tag friends you would swim with".  You're basically just asking your followers to showcase your content for you.  It's always great when you see people tag their friends in your photos!
12)  Post Your Photos in Facebook Photography Groups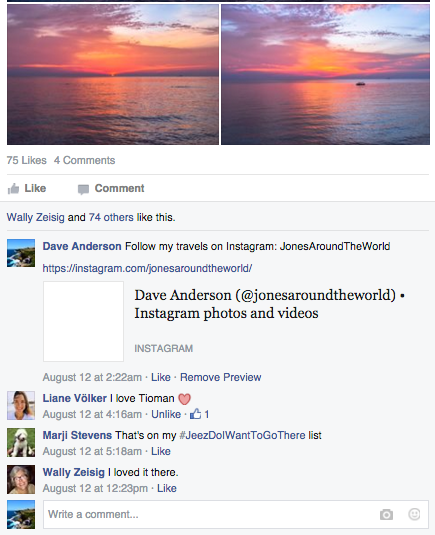 I posted three photos from a sunset on Tioman Island.  Make sure you follow the rules of the group though, because you can only promote your website / Instagram in the comments section.  Which is why I posted it like this.  But these photos got 75 likes!  Definitely brought some new people to my gallery. 
I briefly touched on this above, but there are many different photography groups on Facebook.  Post a photo in that group, and include a link to your Instagram gallery asking people to follow your account.  For example, I post my favorite photos in this Travel Photography Community group.  Just search around for whatever your theme is, and you can find some groups to share your images.
13)  Use Webrowser or Iconosquare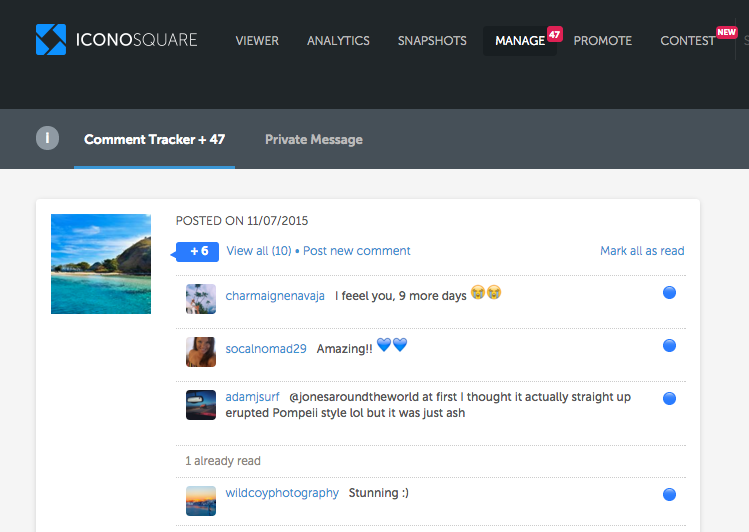 I really hate typing long comments on my phone's keyboard.  If you have a computer, sign on to your Instagram account online, and reply to comments that way.  Or you can utilize the amazing website Iconosquare which helps track your photos, comments, and statistics.  Check it out, it can help a lot!
14)  Link Your Instagram URL to Blog Comments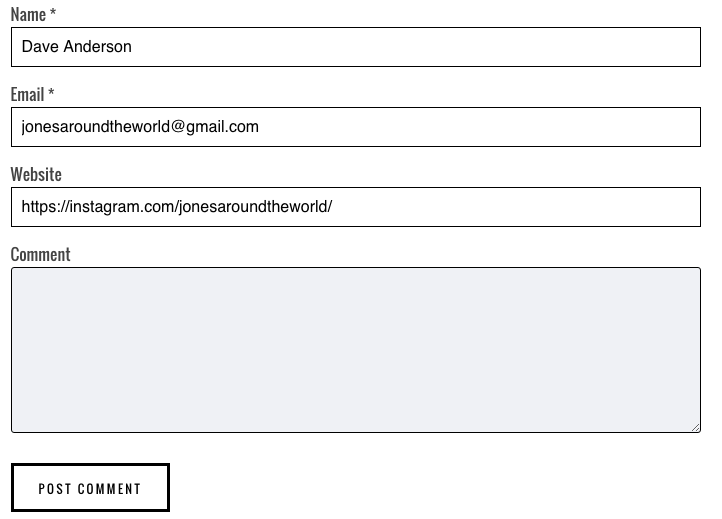 While most bloggers out there would definitely rather use their blog link in that section, don't be afraid to use your Instagram link.  If you leave a good comment, people might click on your name to see more information about you.  It will bring them to your Instagram gallery, and will eventually lead to more followers.
15)  Follow People / Unfollow People
Last but not least, try following a ton of people and see who follows you back.  If they don't follow you back, then unfollow them.  Now, this is definitely a highly debated strategy in the social-media game, and I definitely thinks it's a little dodgy — but it can help you grow your initial numbers.  You'll want to track this method with social-media apps like "Unfollowers" or "Crowdfire".
Important Note:  I would only use this to grow your account at the beginning.  Relying on this only will eventually hurt you, and might piss off a ton of people.  It can help you reach your initial goals of breaking the 1,000 or 5,000K mark, but definitely don't do it a lot.  As well, you need to make sure you your Instagram ratio of Followers to Following isn't absurd. 
Growing your Instagram Account will definitely take some time.  The most important things to remember is that you need to be posting high-quality content, engaging with your audience, and trying everything you can to get your gallery seen by as many people possible.   
Thanks for reading!
What's your Instagram account?  I'd love to take a look at your gallery!
Have you had any success using any of these suggestions? What else have you done to gain more Instagram followers?
Let Me Know In The Comments Section…
PIN ME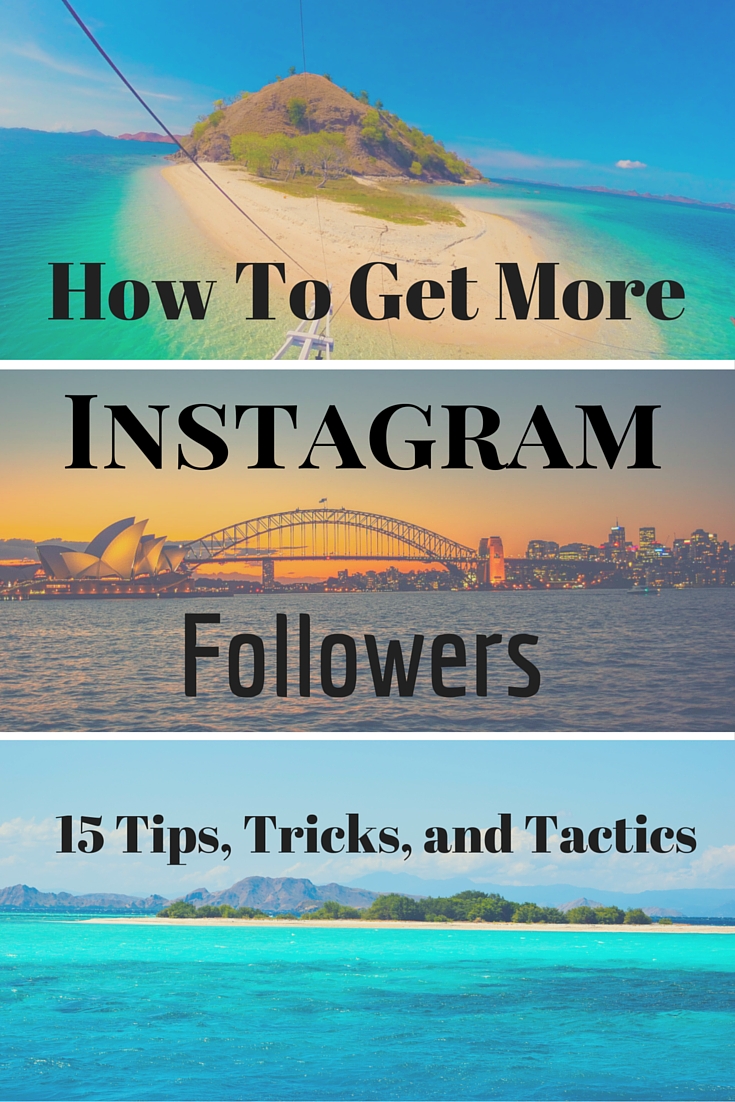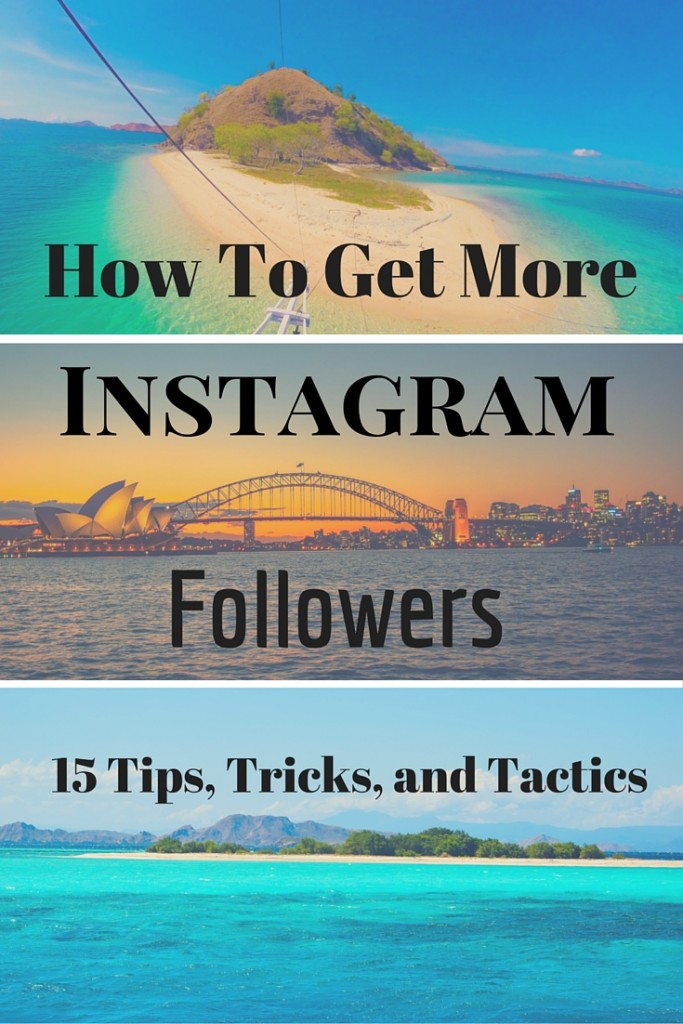 https://www.jonesaroundtheworld.com/wp-content/uploads/2015/12/TLOC-2.jpg
768
1024
Dave
https://www.jonesaroundtheworld.com/wp-content/uploads/2017/03/logotry-1-1-300x106.png
Dave
2015-11-09 12:34:59
2016-10-24 22:42:24
How to Get More Instagram Followers: 15 Tips, Tricks & Tactics