EPIZODE Festival Review: The Ultimate Techno Party in Paradise
Welcome to Epizode Festival…
There are few other destination festivals in the world that can compare to the absolute madness I recently experienced on Phu Quoc Island, Vietnam. 
EPIZODE Festival was truly a monumental non-stop bender of good vibes and top-notch techno in paradise, and I'm beyond happy that I made the last-minute decision to fly back to Asia to attend!
No Shirt. No Shoes. No Problem.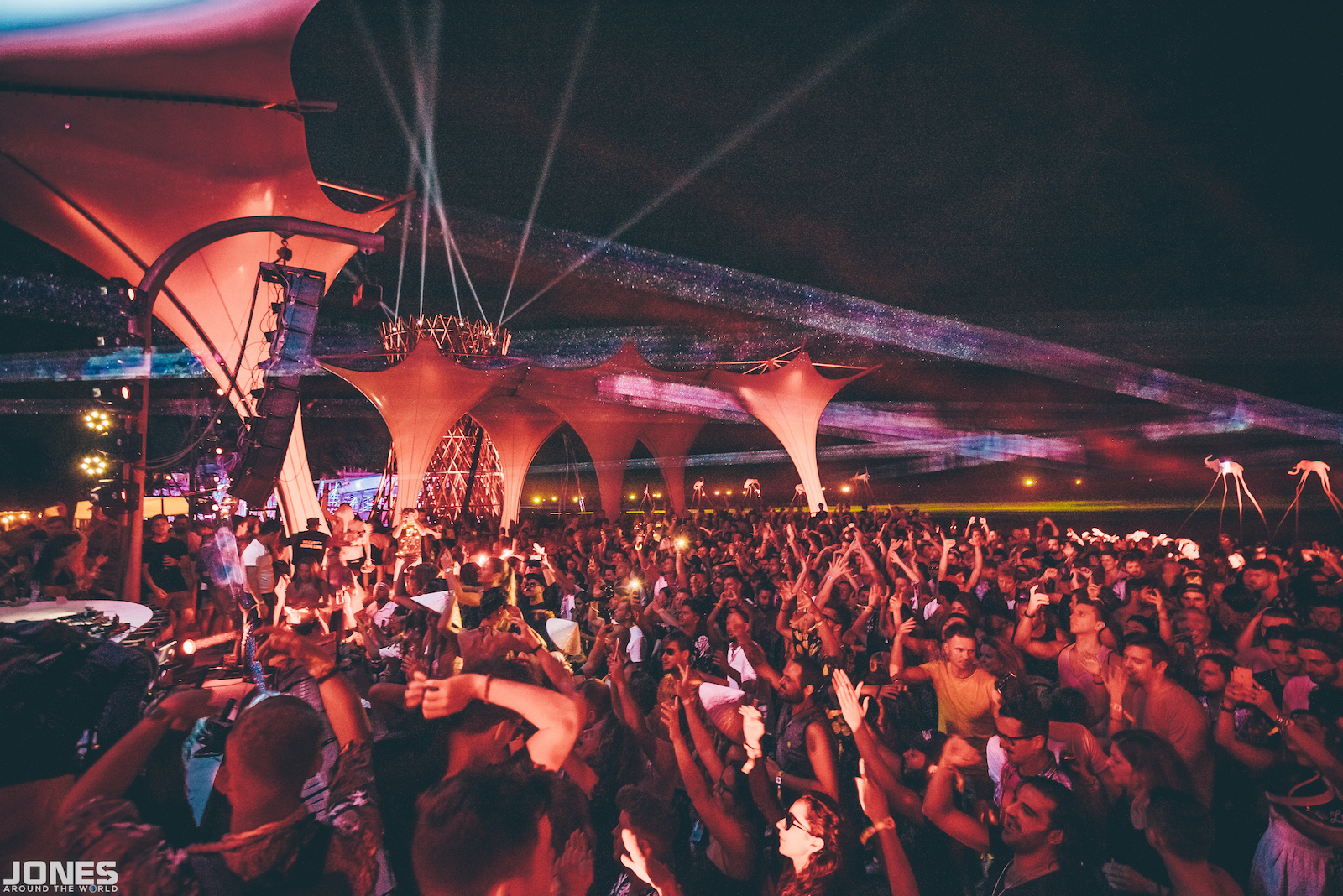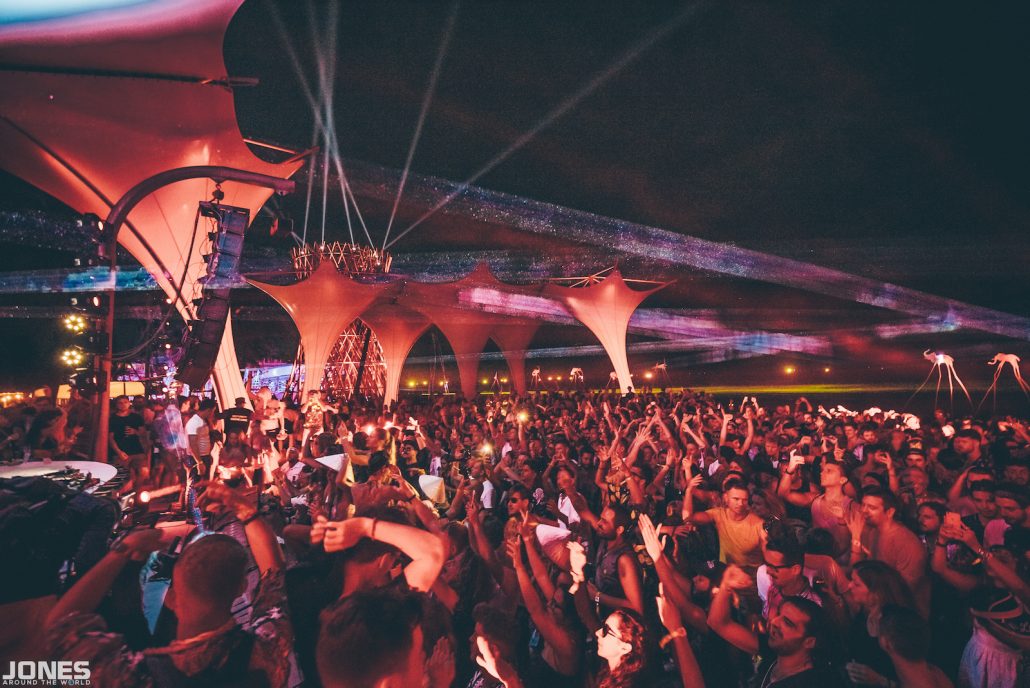 This marathon event lasted 11 days — beginning with an insane Carl Cox NYE party, and ending with a godly Dixon B2B AME set on January 10th (before rushing to the airport to catch a flight to Thailand).  In between, the world's top underground house & techno DJ's stepped up the DJ decks, and delivered an unbelievably bumping soundtrack for my first EPIZODE experience. 
When I flew into Vietnam, I wasn't quite sure how long I was going to stay.  I thought I'd check out the festival for a few days, and then continue my Asia travels.  But after just a few days of attending this beachfront festival, and making some fantastic new festival friends — I knew I wasn't going to be able to leave until EPIZODE was complete.  "Go Big or Go Home", right?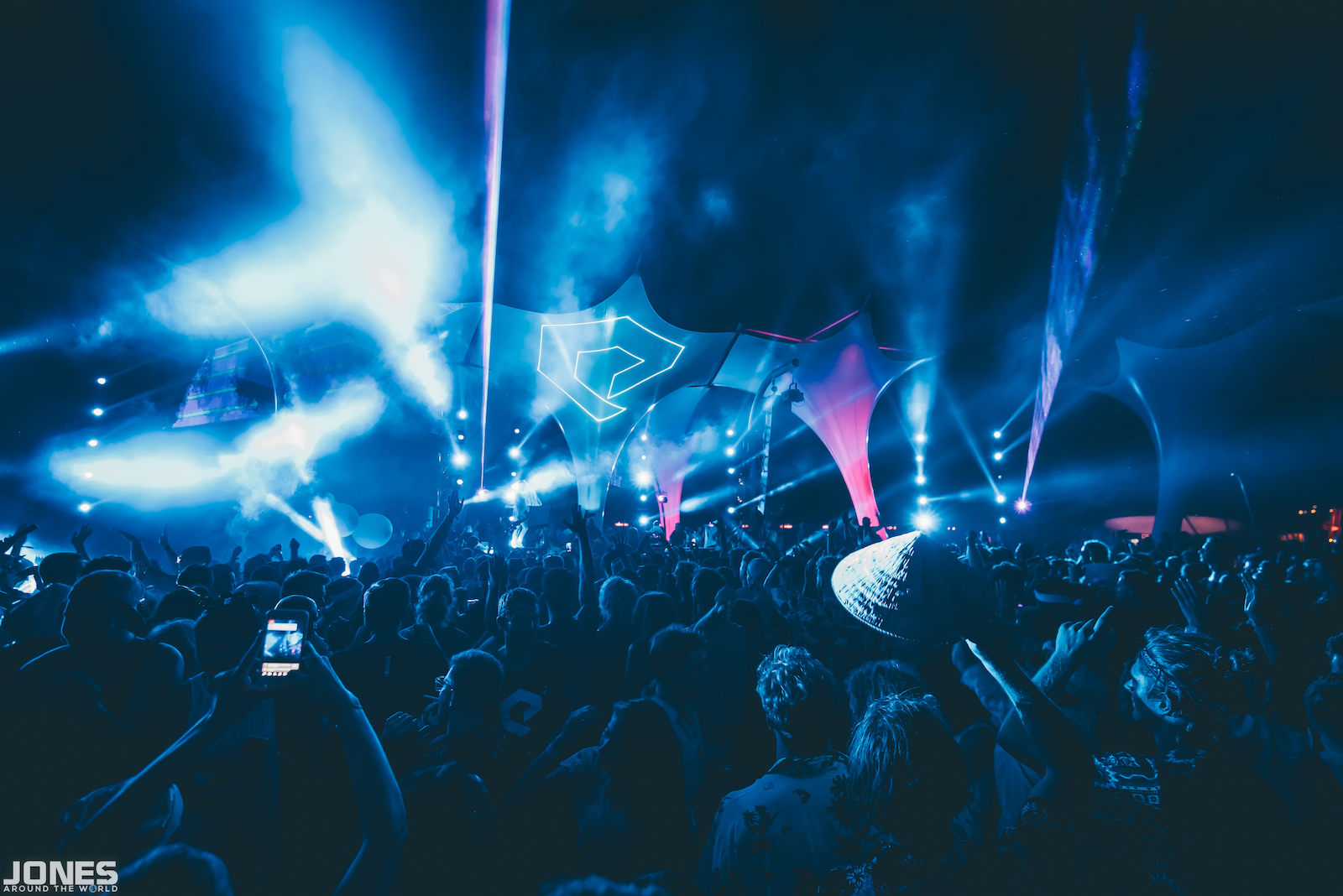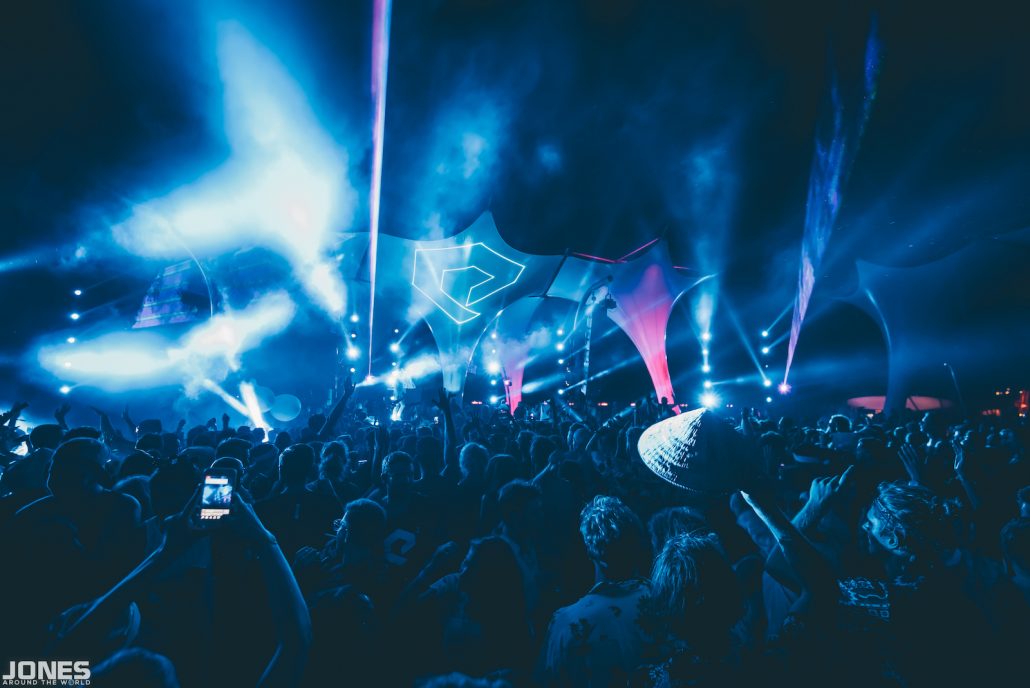 ---
While my liver (and legs) probably would have preferred a more relaxed start to the year — I could not imagine a more fun-filled adventure to kick-off 2018.
I've attended quite a large amount international festivals, and EPIZODE truly exceeded any and all of my expectations. If you're on the fence about attending Epizode, feel free to reach out to me with any questions, and keep on reading, because I think you'll be seriously tempted to join the party next year!  :-)
---
Where to Stay on Phu Quoc During EPIZODE
Phu Quoc is one of Vietnam's most beautiful destinations and is famous for its white-sand beaches, luxury resorts, island hopping adventures, colorful sunsets, and so much more! The festival venue is located just a short drive from the airport, and taxis to/from the venue will rarely cost more than a few dollars (Vietnam is a budget-friendly destination)
AIRBNB APARTMENT: In the past few years, Airbnb has become my preferred booking platform for music festivals, and there are so many incredible villas, homes, and apartments for rent on Phu Quoc. They've got something for all types of budgets.
Intercontinental Phu Quoc – This is actually a brand new resort on the island, and is extremely close to the venue! If you want to make the most of this destination festival experience, THIS is where you want to stay. This place will SELL-OUT fast though, so definitely try and book a few nights here when you can. If you plan on staying the entire 11-Days of Epizode festival, I'd suggest booking a stay nights at a couple different accommodation options!
9Station Hostel Phu Quoc

 – Are you more of a budget traveler?  Well, then look no further than 9Station. It's  one of the better hostels I've stayed at in all of my travels! The property is simply beautiful, the rooms are comfortable, the wi-fi works well, there's an awesome pool, friendly staff, and the food is absolutely delicious!  Dorm rooms start for as low as $8.50 U.S.D per night, but those rates might change during the Epizode festival madness.  Dorm beds fill up quick,

so act fast and check availability
---
But now, let's discuss why Epizode Festival is the ULTIMATE techno party in paradise!
---
1) Heavenly Techno Line-Up


Just take a look at this day-to-day line-up, and I'm sure you'll agree (if you like techno) that it's one of the most stacked events you've seen recently.  There's actually NO OTHER MUSIC FESTIVAL IN ASIA that has brought this much talent to this side of the world, and it was truly a revolutionary experience!
If you're looking for commercial EDM, Hip-Hop, or Drum & Bass though — I'm afraid you're at the wrong event.  One girl even asked a friend of mine "Where's the other music?"  HAHA.  Sorry ma'am, but you must not have done your research…
EPIZODE is the ultimate TECHNO party in paradise…plain and simple.  I'm a die-hard fan of the genre, and I was in a pretty consistent state of musical bliss.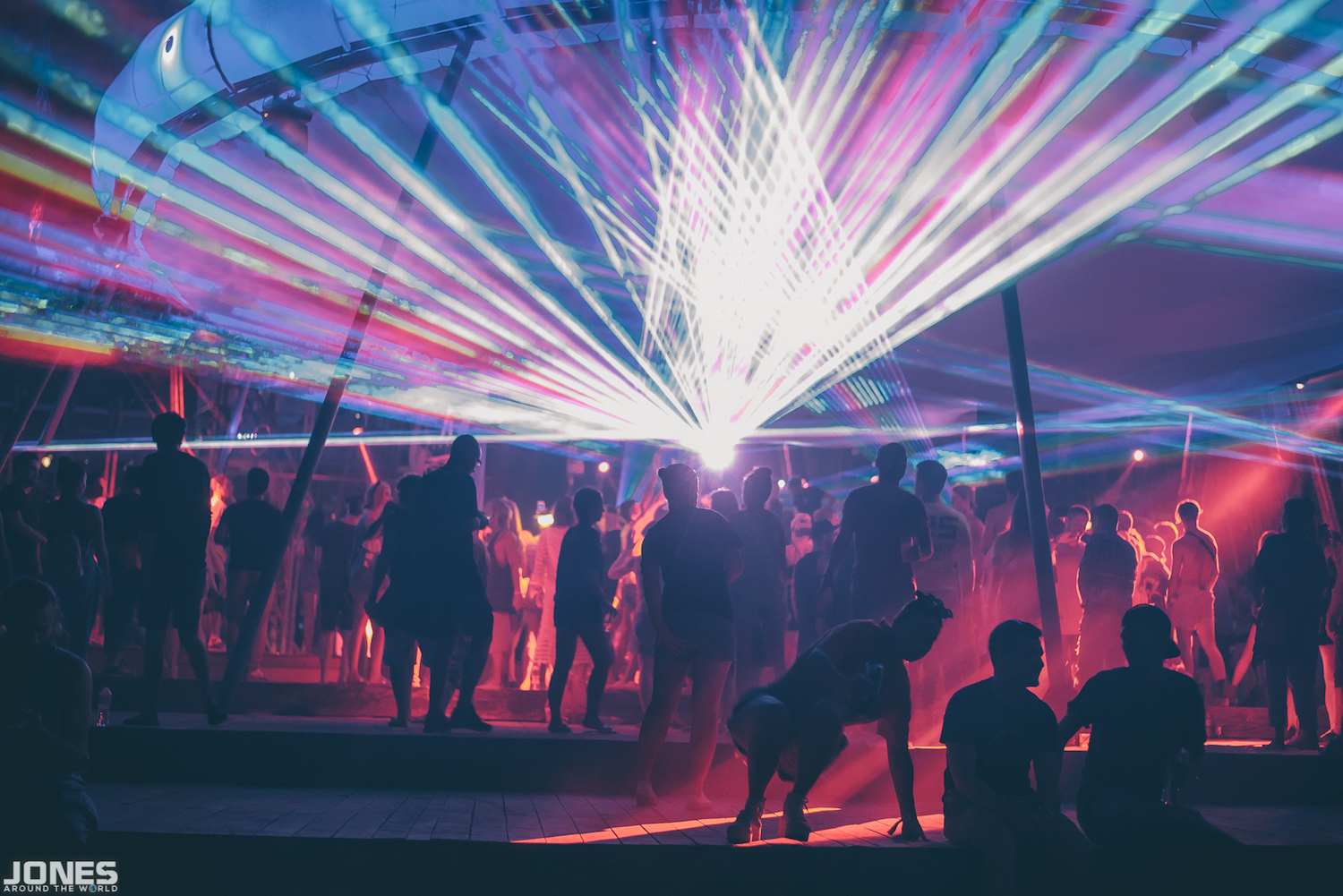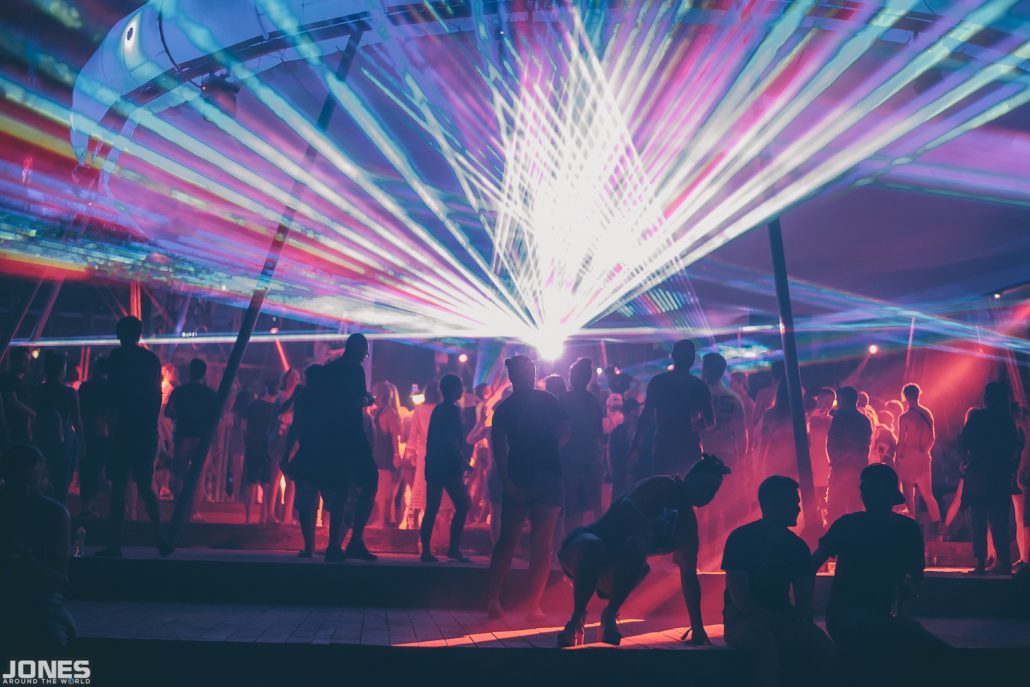 ---
2) Phu Quoc = Paradise
Located just a quick 45-minute flight from Ho Chi Minh City…I honestly can't think of a better place to host EPIZODE than on this magical little island off the coast of Vietnam & Cambodia.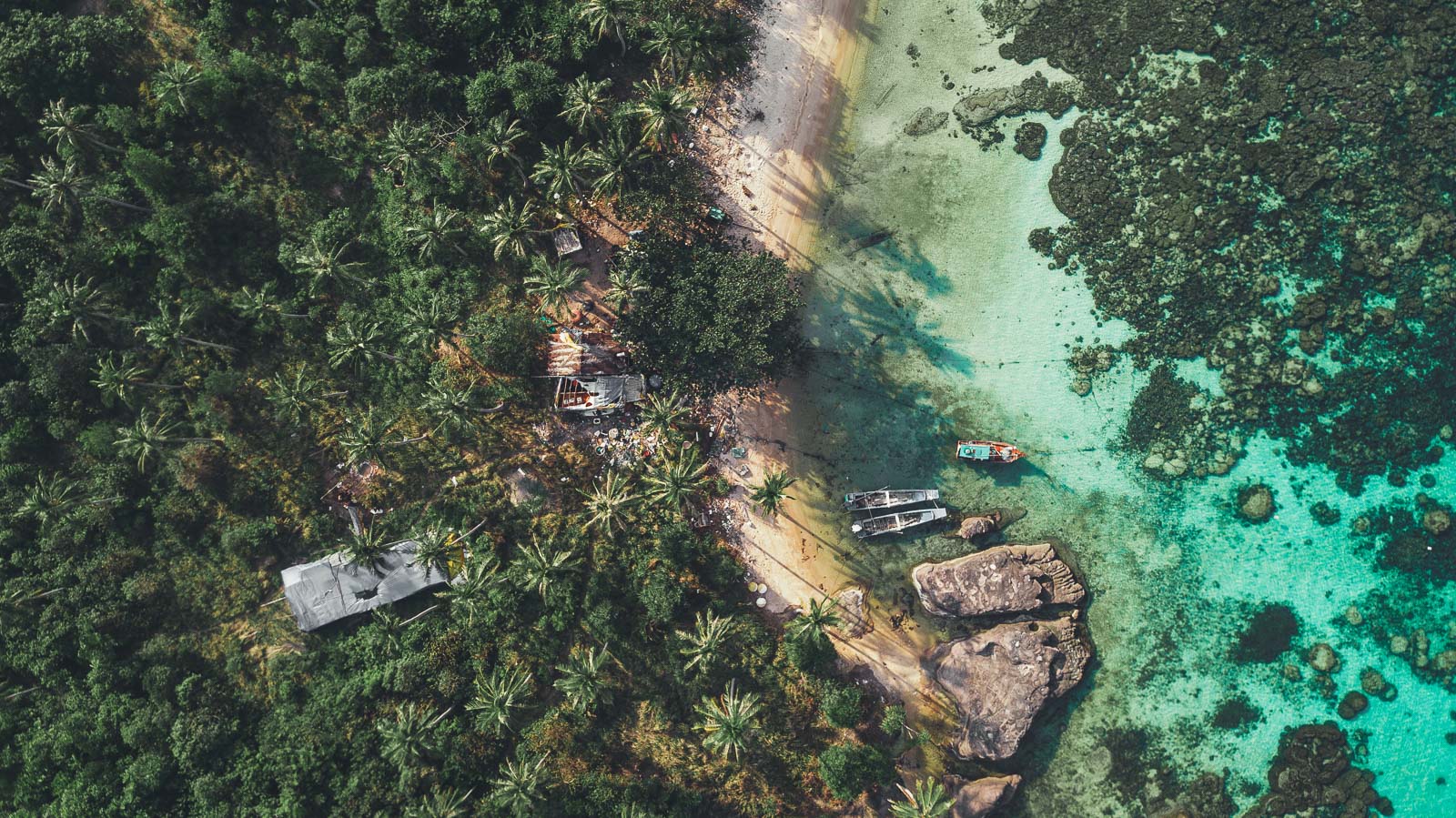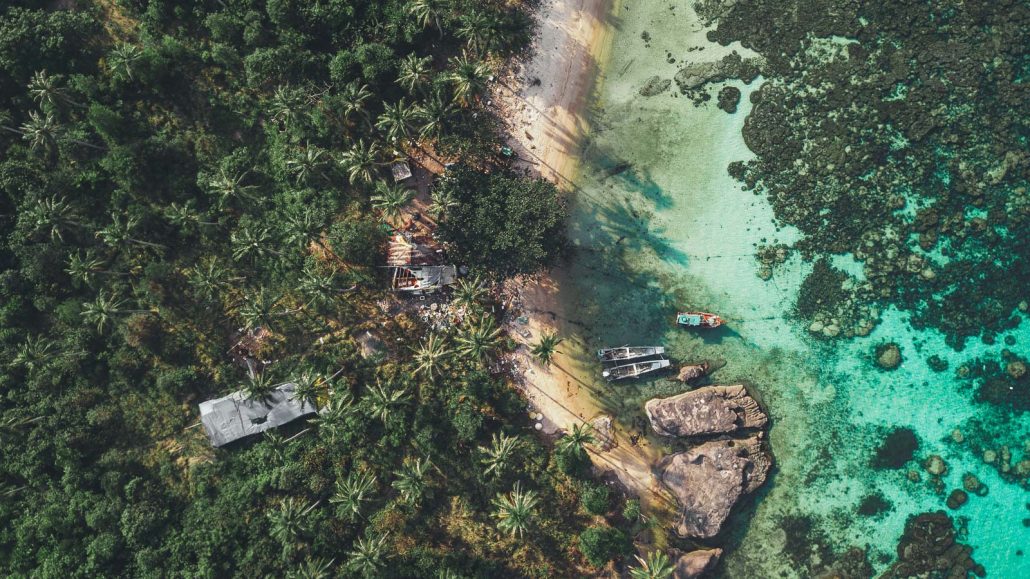 When I wasn't dancing and drinking to incredible tunes…I was spending my days exploring the island, drinking fresh coconut water, and finding beautiful beaches to soak up the sun (or sitting in the shade because I'm pale AF). 
Phu Quoc MUST | I'd strongly recommend booking one or two of the island hopping/snorkeling excursions around the island!
The local Vietnamese food is amazing, the scenery is unbelievable, and there was plenty of accommodation to host everyone attending the festival.  Phu Quoc wasn't a well known destination until recently, and beautiful resorts are now popping up all over the island.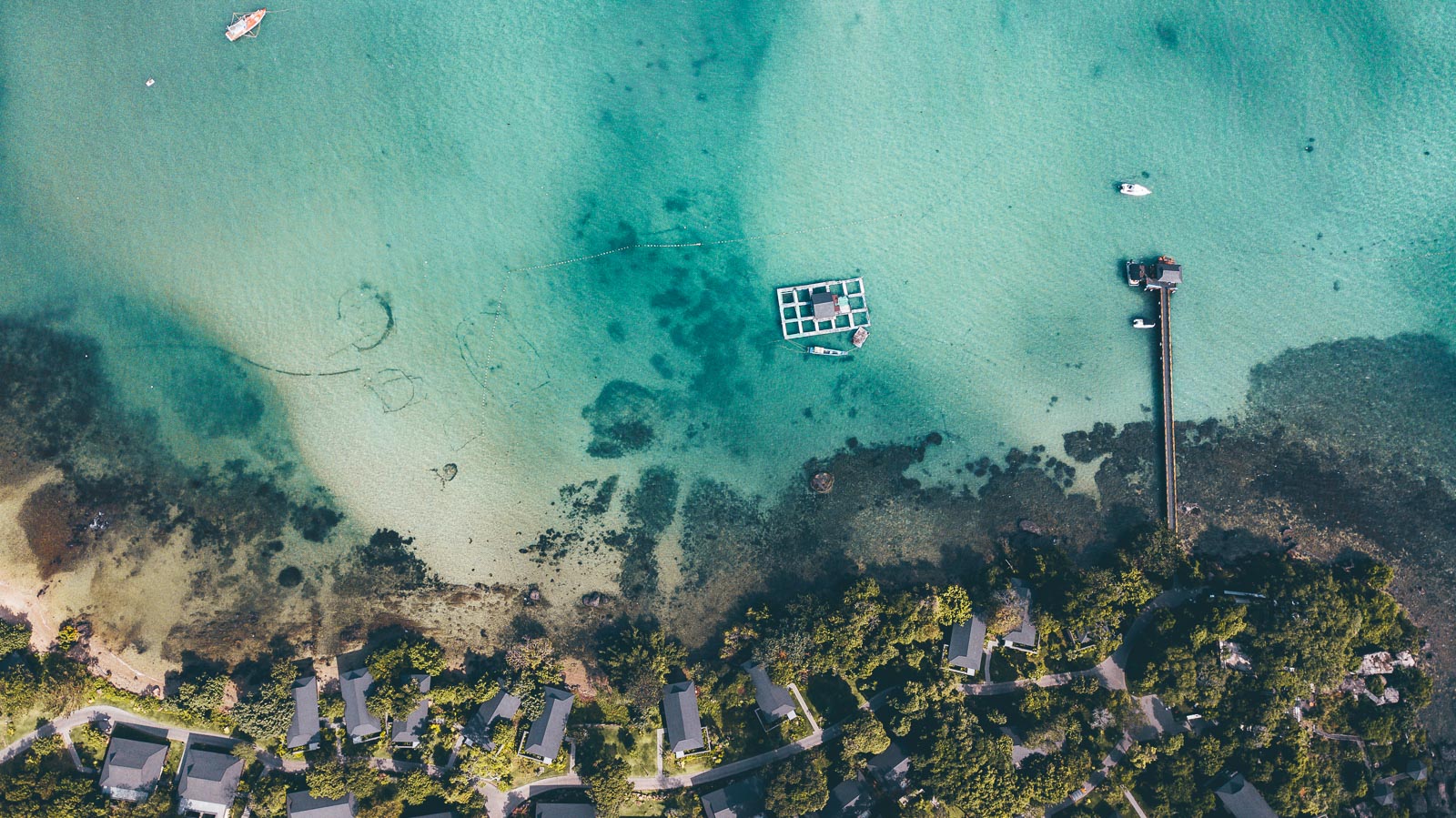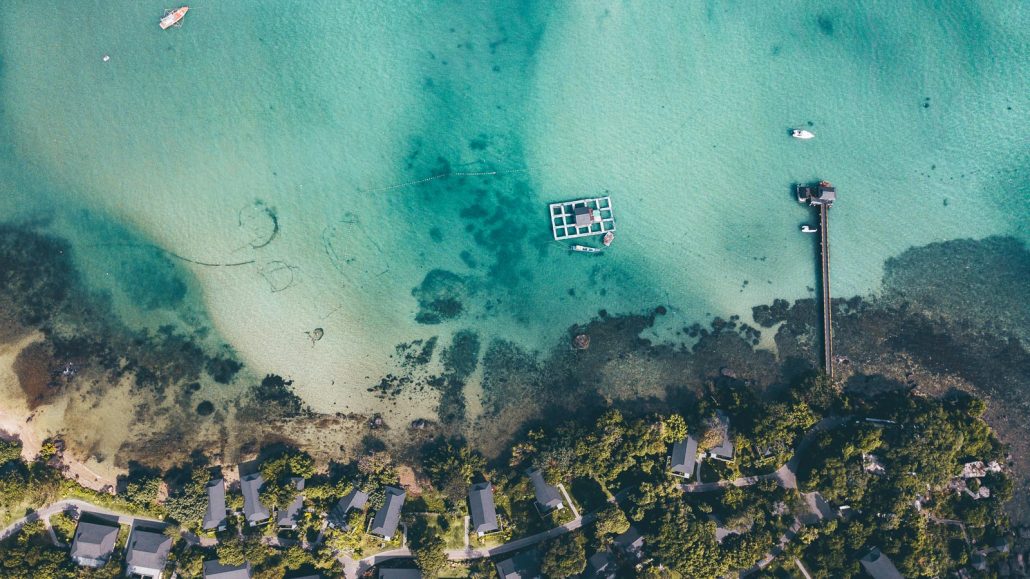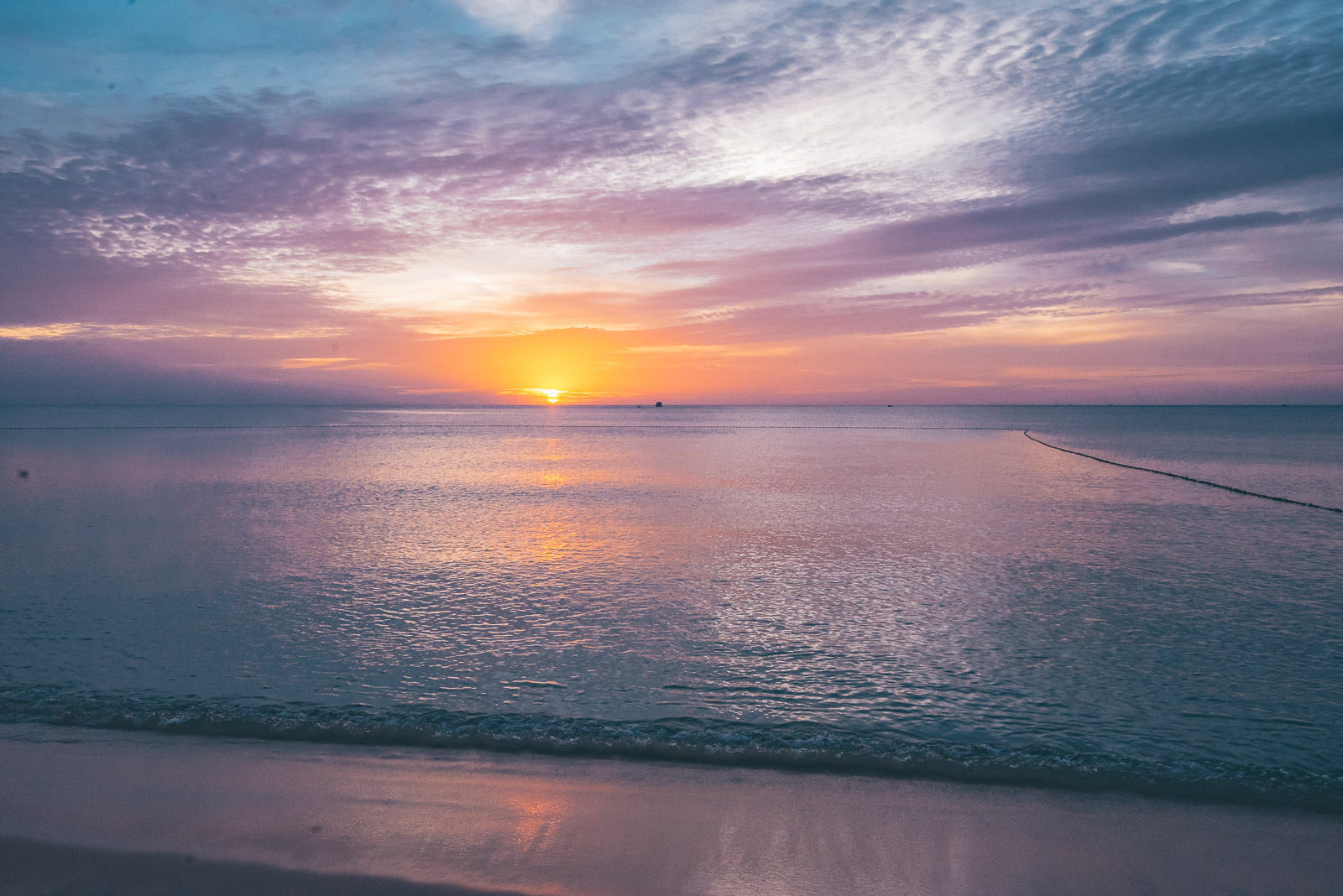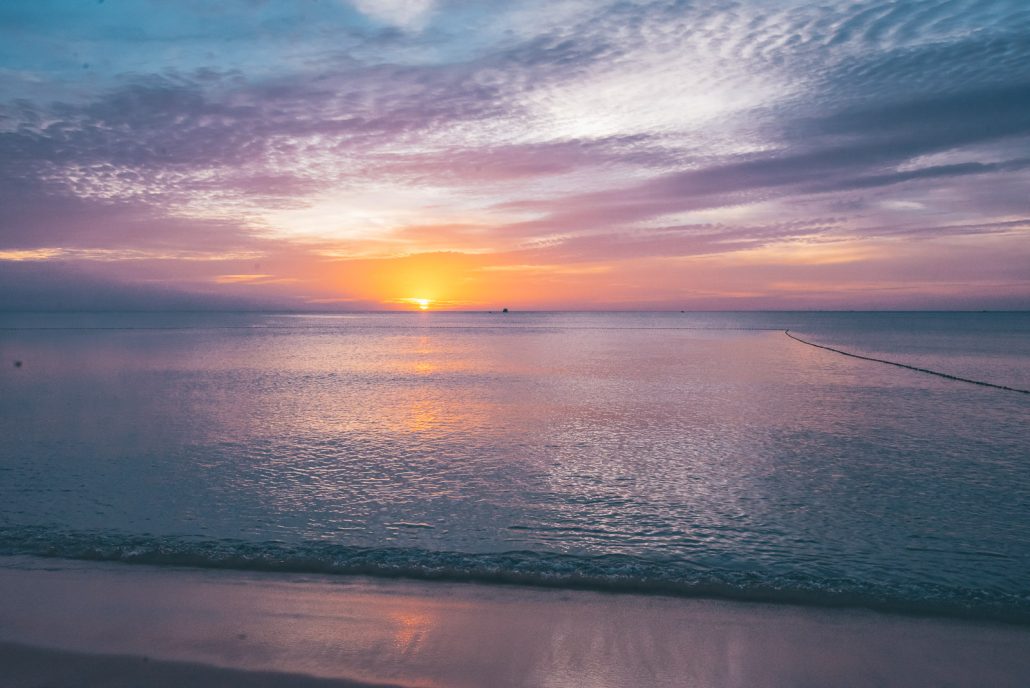 ---
3) Budget Friendly AF
Destination festivals are typically super expensive adventures, but you really don't have to worry about that if you attend EPIZODE (especially if you can find cheap flights, or are already in Southeast Asia)! 
Vietnam is one of the cheapest countries in the world to travel through, and food, drink, accommodation, activities, etc are all extremely affordable!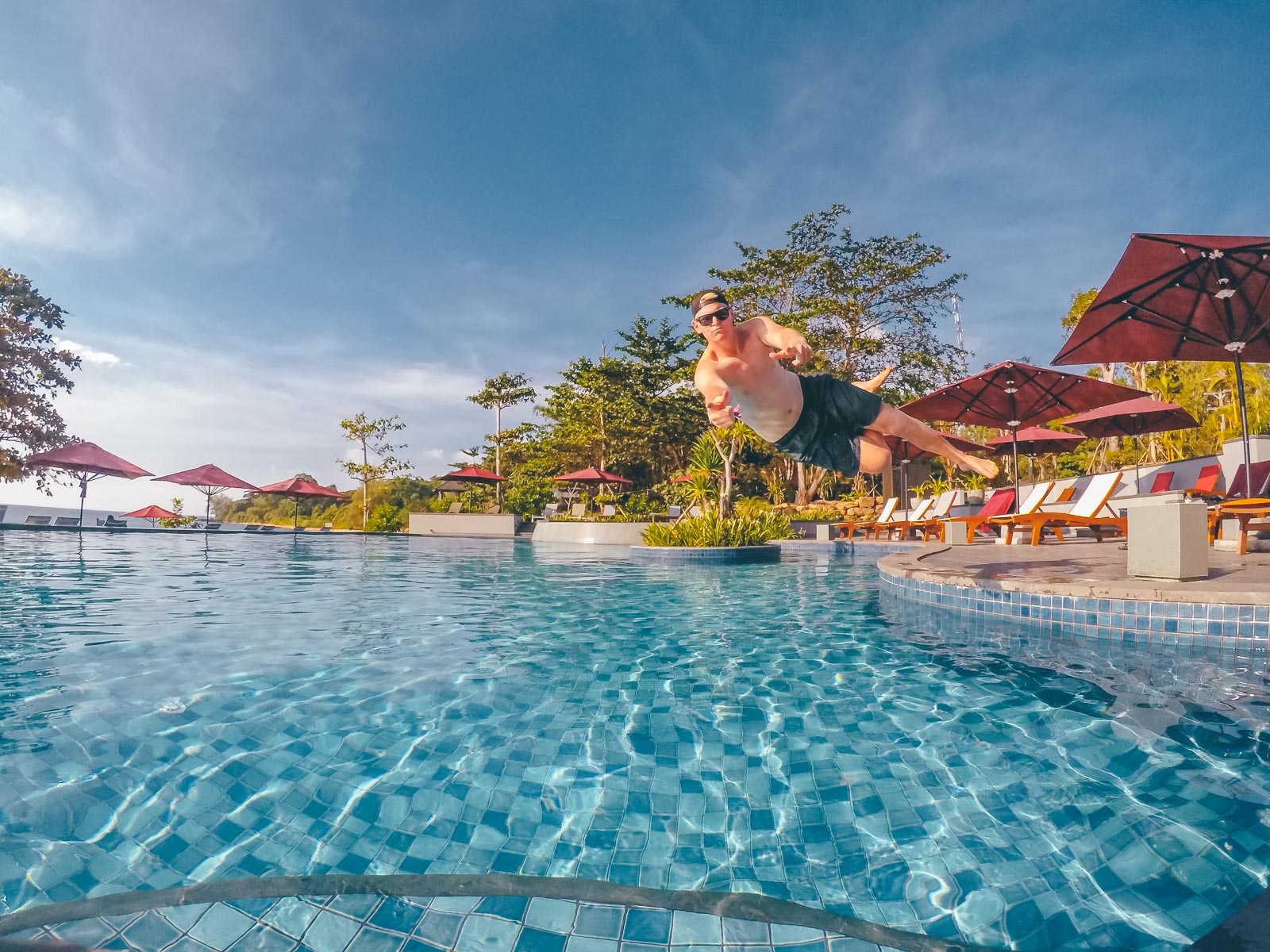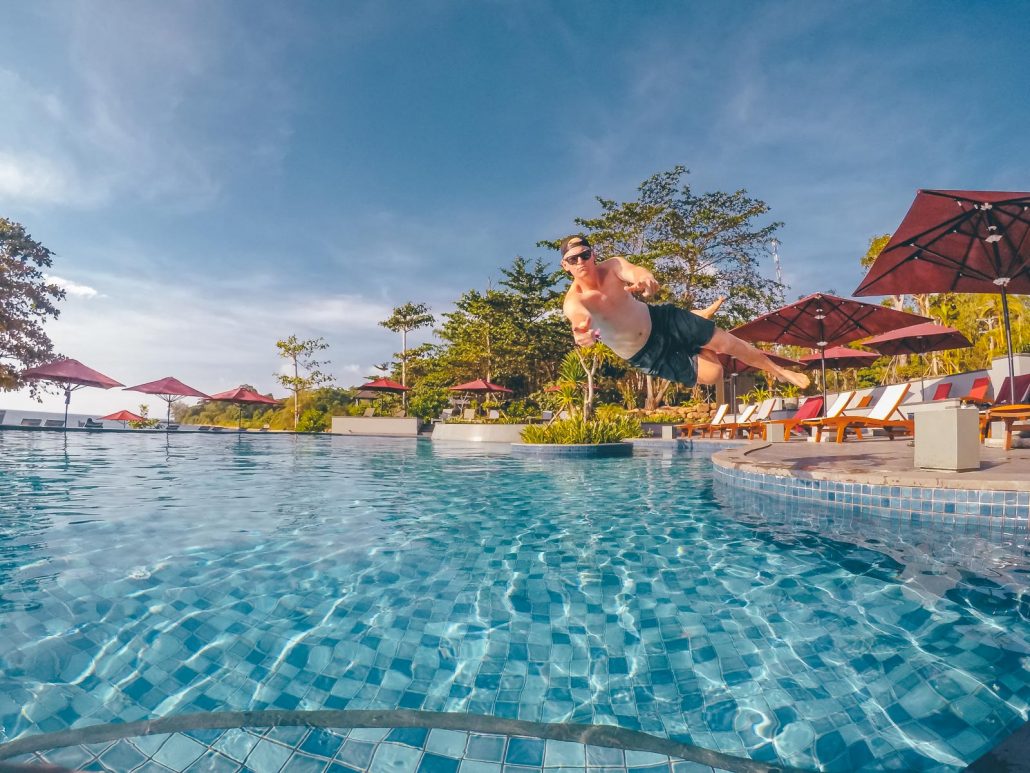 My private room in a hotel only cost me around $25 U.S.D per night, but you could easily find hostels on island for much cheaper (I'm talking $10-$15)! 
The Token System Inside The Festival
There's no cash payment at the bar, so when you get inside the festival you exchange your VND into EPIZODE tokens. 
1 Token = 100,000 VND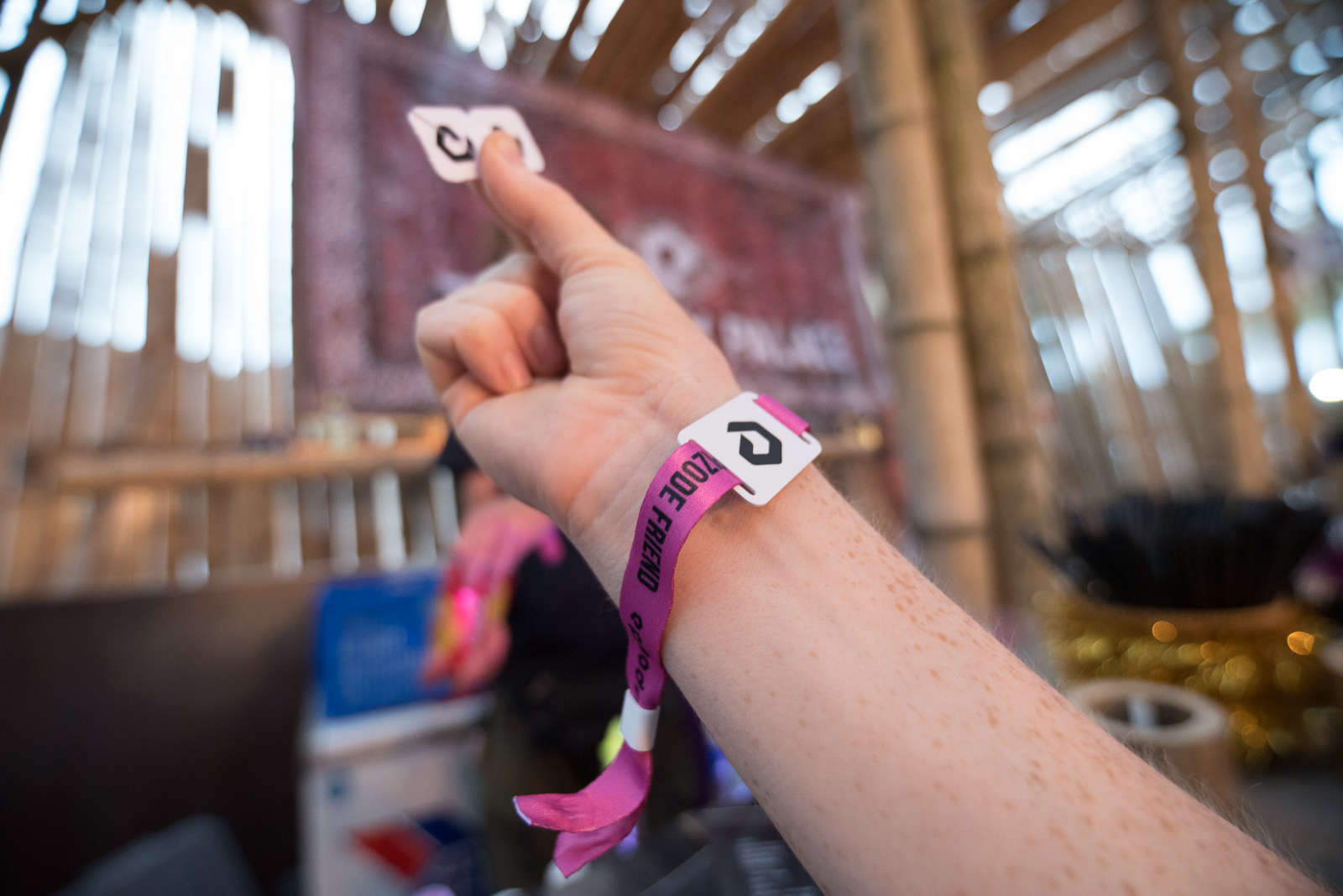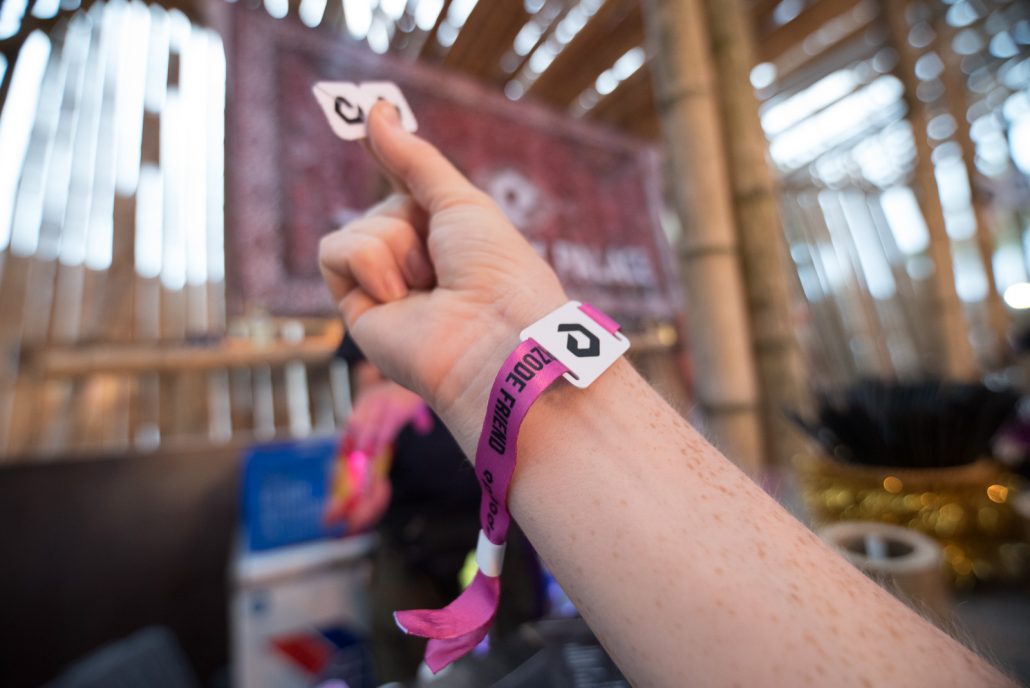 Beers only cost 1/2 Token = 50,000 VND = $2.20 U.S.D!   YES!  $2 BEERS!  I've attended festivals in California, Europe, and Australia where they cost over $10 U.S.D!
Cocktails only cost between 1.5-3 tokens, depending on what you're ordering, which is an incredible deal! 
CHEAP TAXIS
Another really amazing part about hosting EPIZODE in Vietnam is the unbelievably cheap transportation around the island.  It basically worked out to less than 50c per kilometer…so my taxi to / from the festival was mad affordable every day (especially when you split the cost with your festival squad).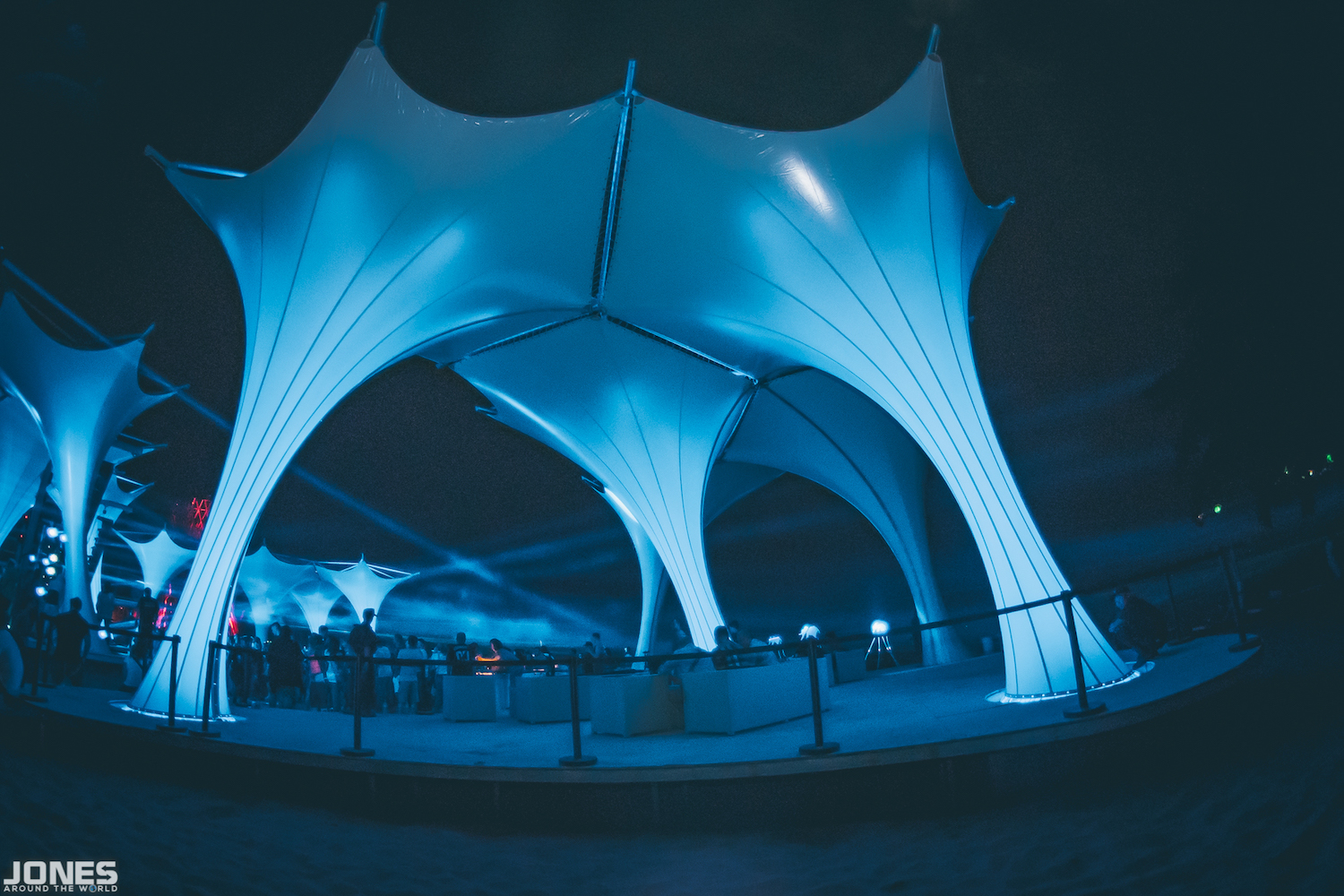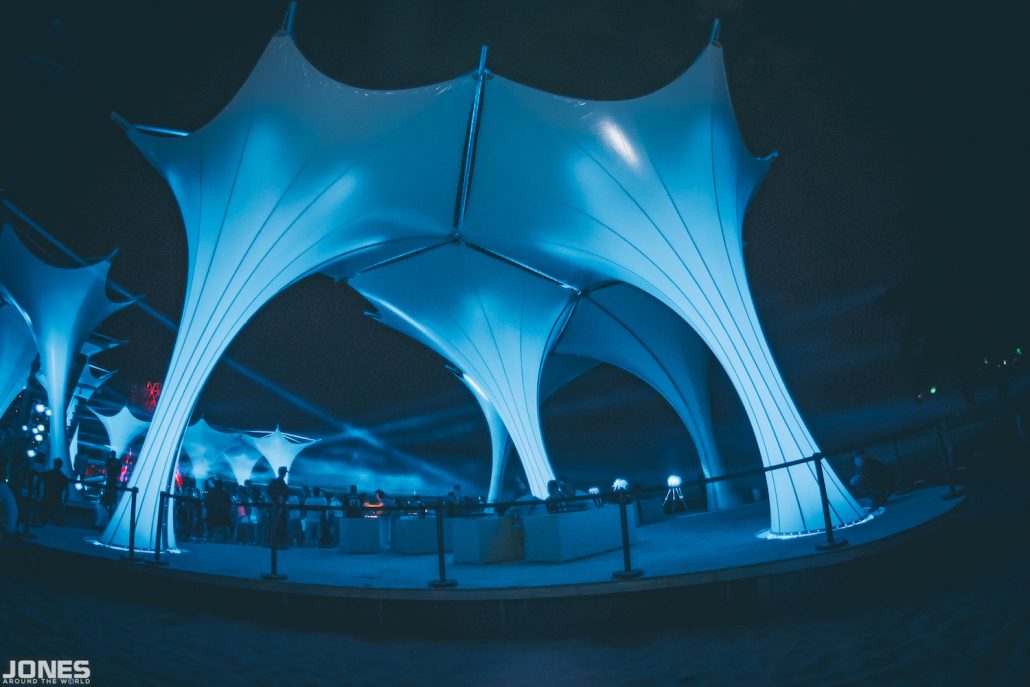 ---
4) Production on Point
There were three different stages at EPIZODE, and each one had perfect sound, lighting, and open space.  I could feel the BASS booming all throughout the entire festival, and I was consistently mesmerized by the various lasers and light shows. 
I really loved the unique design of each of the stages, and you could tell the organizers and architects really wanted to make something special!  While the "Frisbee" stage looked like an epic alien spacecraft, my favorite has to be the main stage.  The strange pillars surrounding the stage that changed colors pretty regularly were fantastic.  The lighting really was fantastic!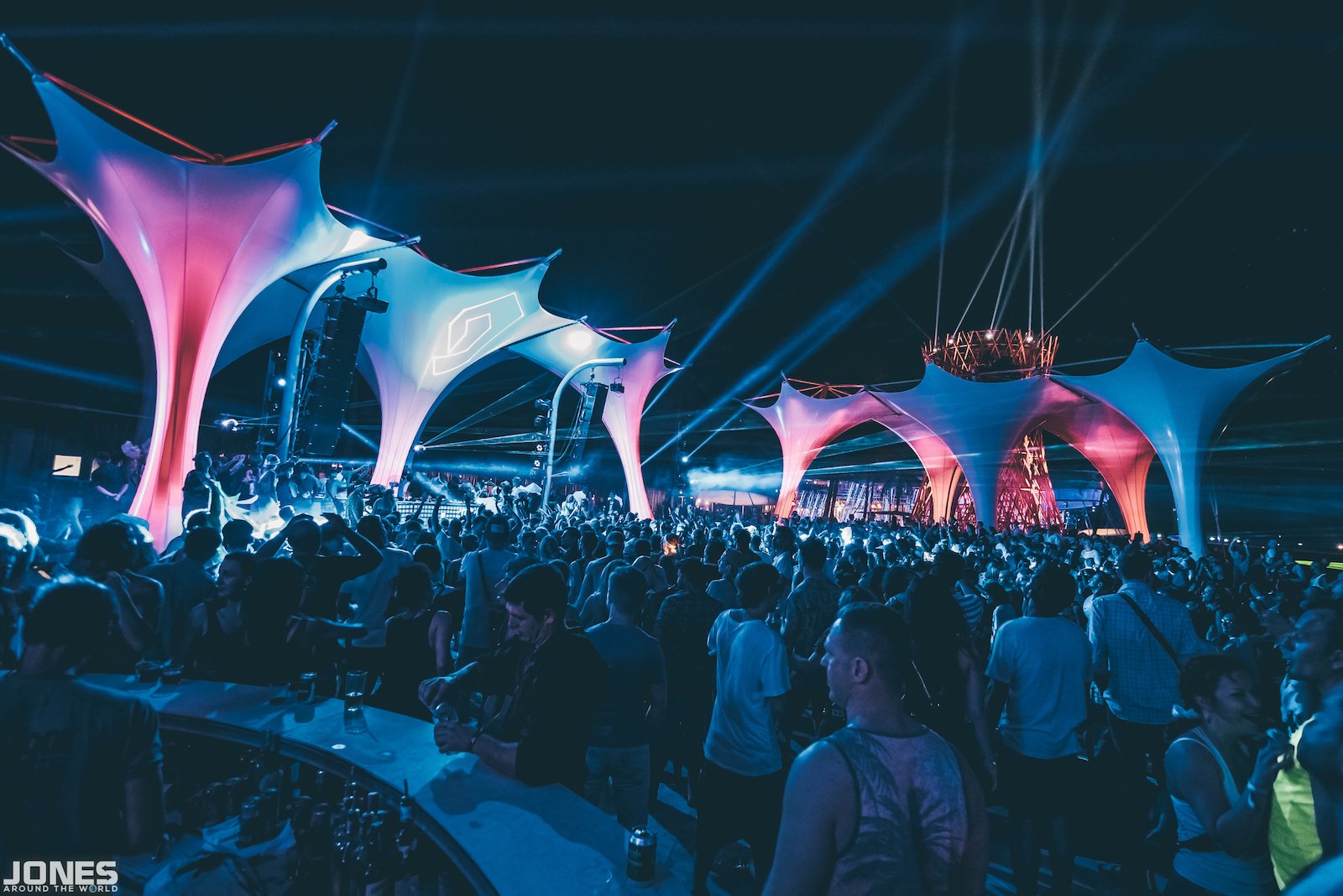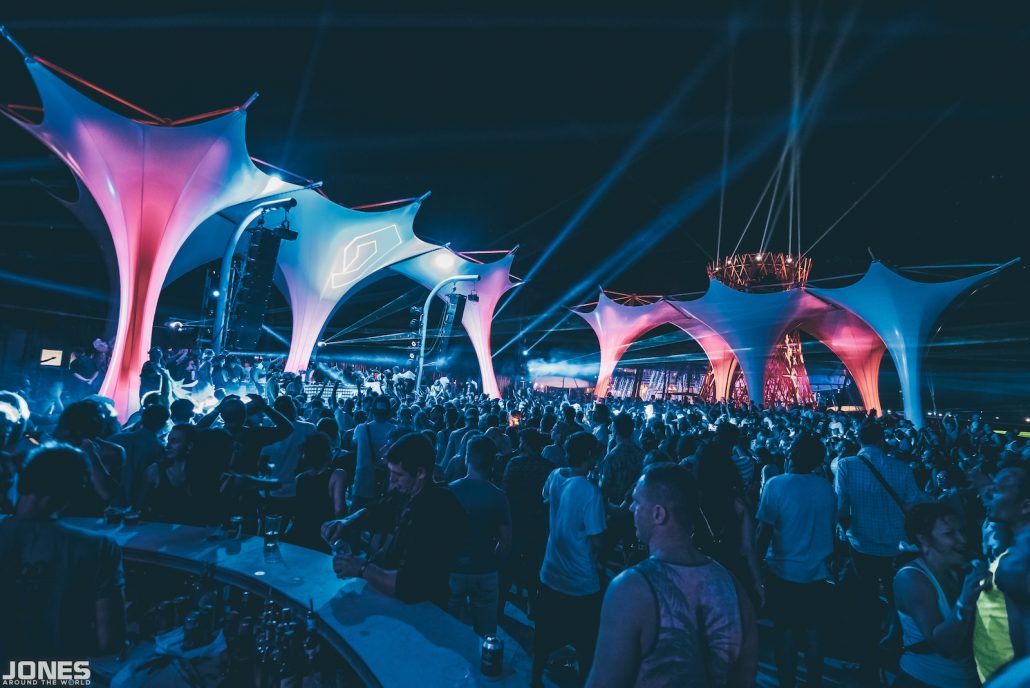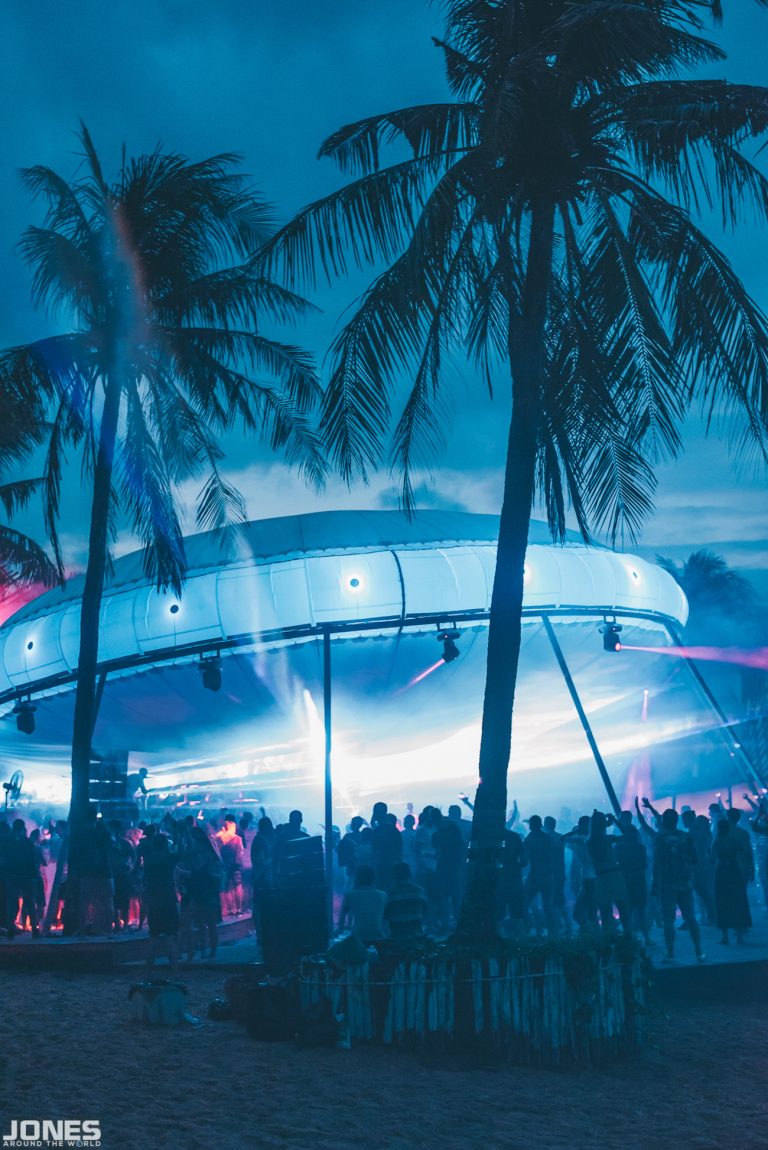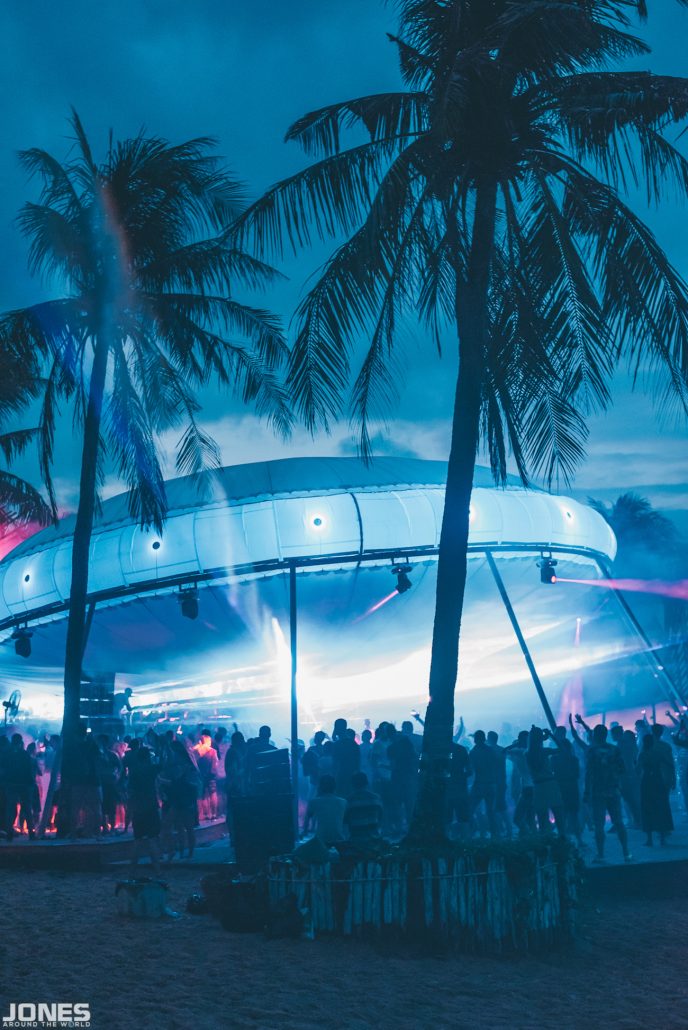 ---
5) Awesome Art Installations
Just walking around this festival is an adventure in itself, because everything was just so beautiful.  The entrance inside Epizode was through this gorgeous bamboo walkway, and then you'd be welcomed my a massive face cut into to two.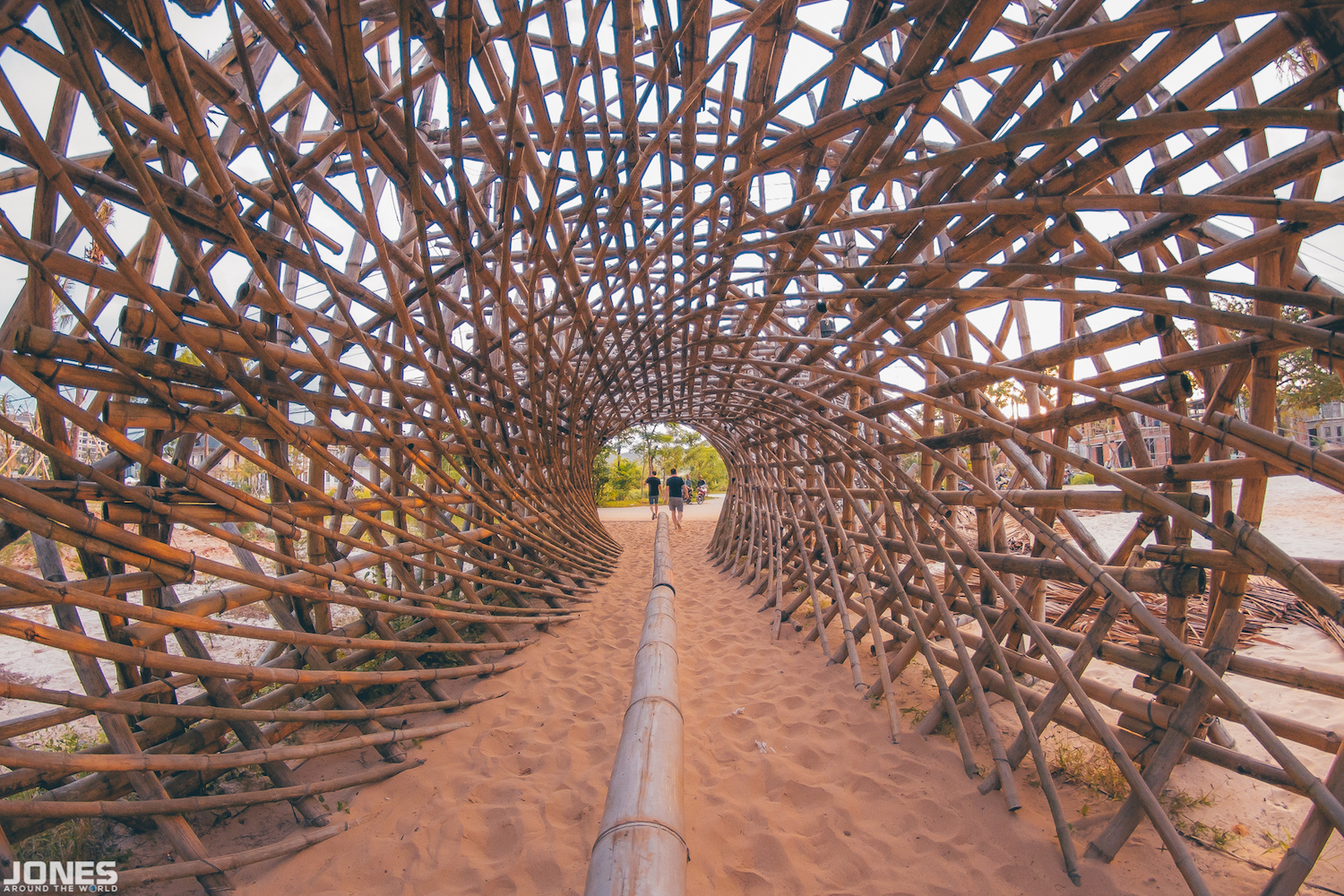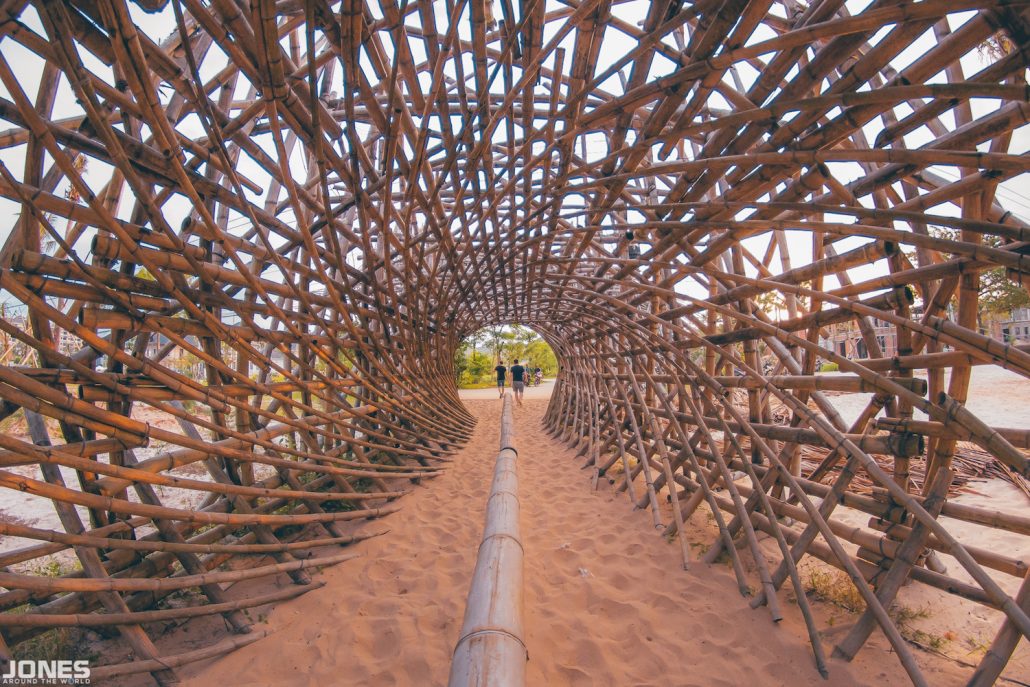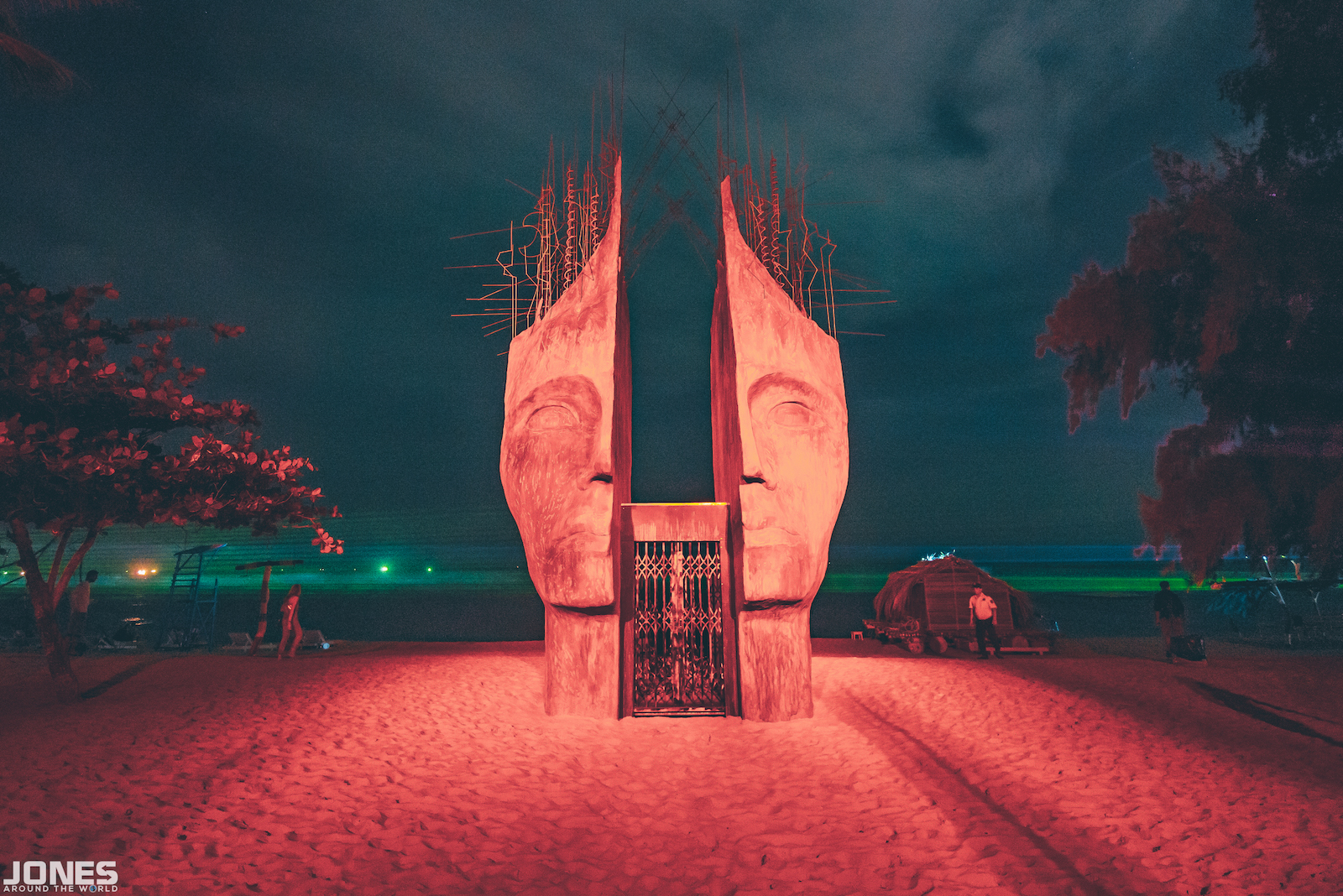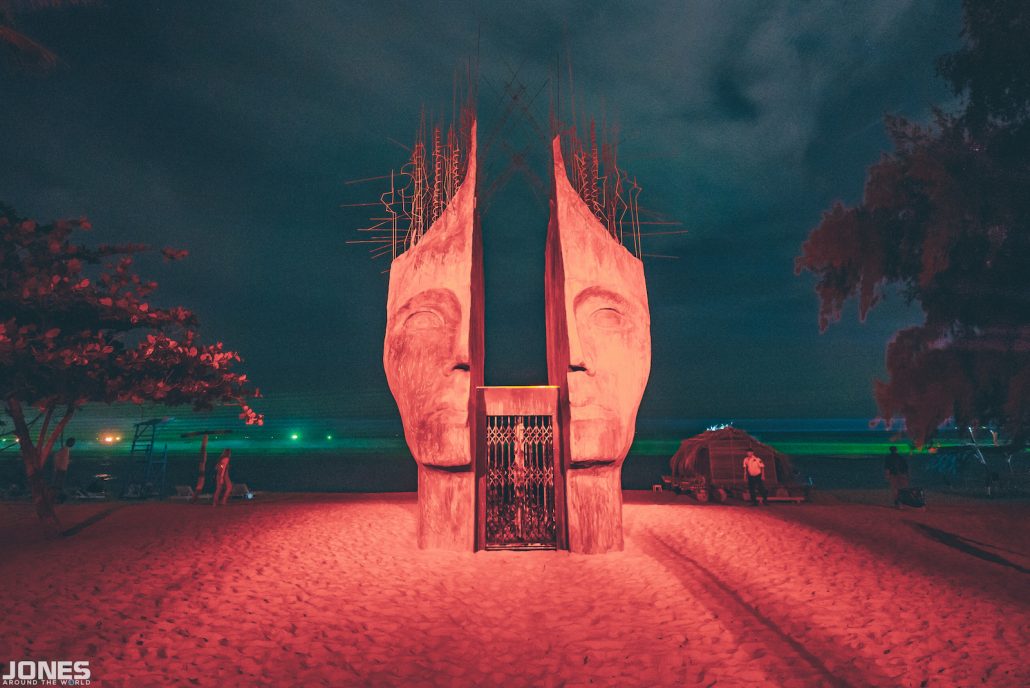 Oh, and there were these funky tree-houses located over by the "Asia Stage" (where local resident DJ's were killing it throughout the festival).  Whenever my legs got a bit tired and I needed a bit of rest, I was always down to head up into the tree house, and get a birds eye view of the party down below.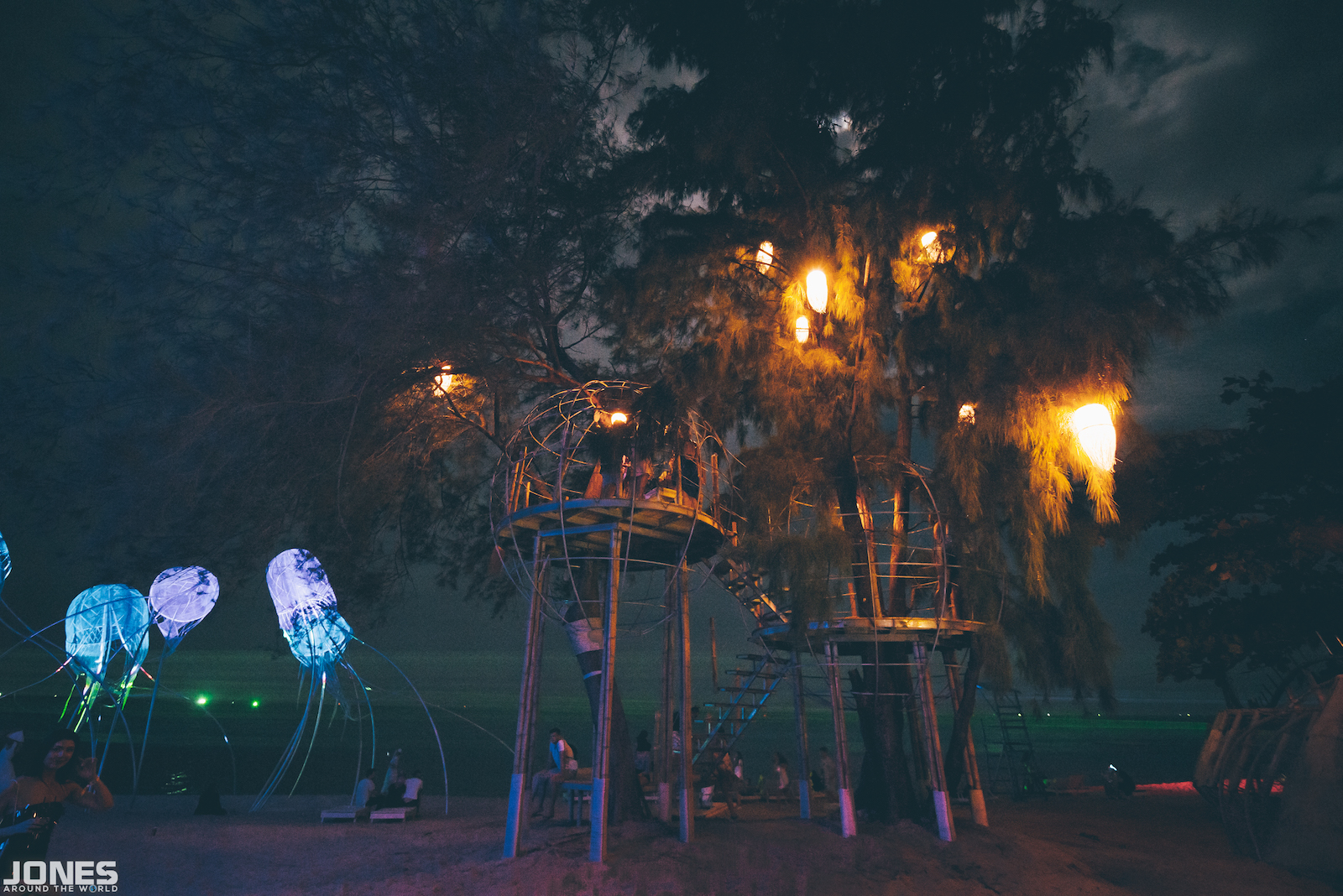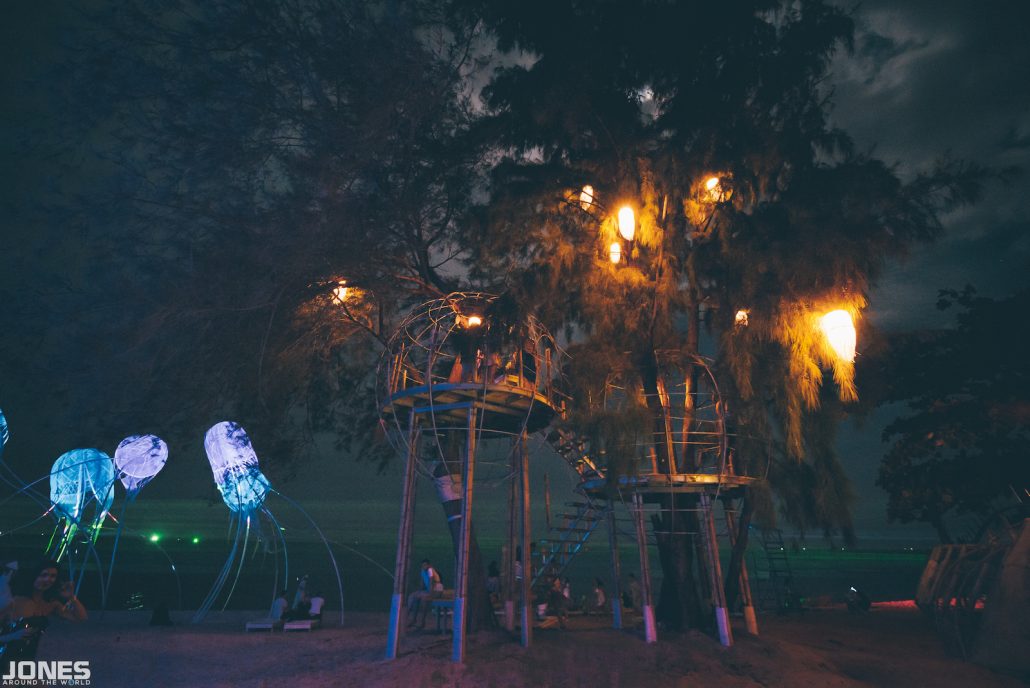 The bars were all constructed out of bamboo, there was a second-story chill-out area you could explore in the corner of the festival, and I loved watching lasers bounce off the strange dancing fish structures out in the ocean. 
The festival grounds itself aren't actually that large compared to other mega festivals around the world, but EPIZODE was just a giant adult playground, and a gorgeous one at that lit up in vibrant colors.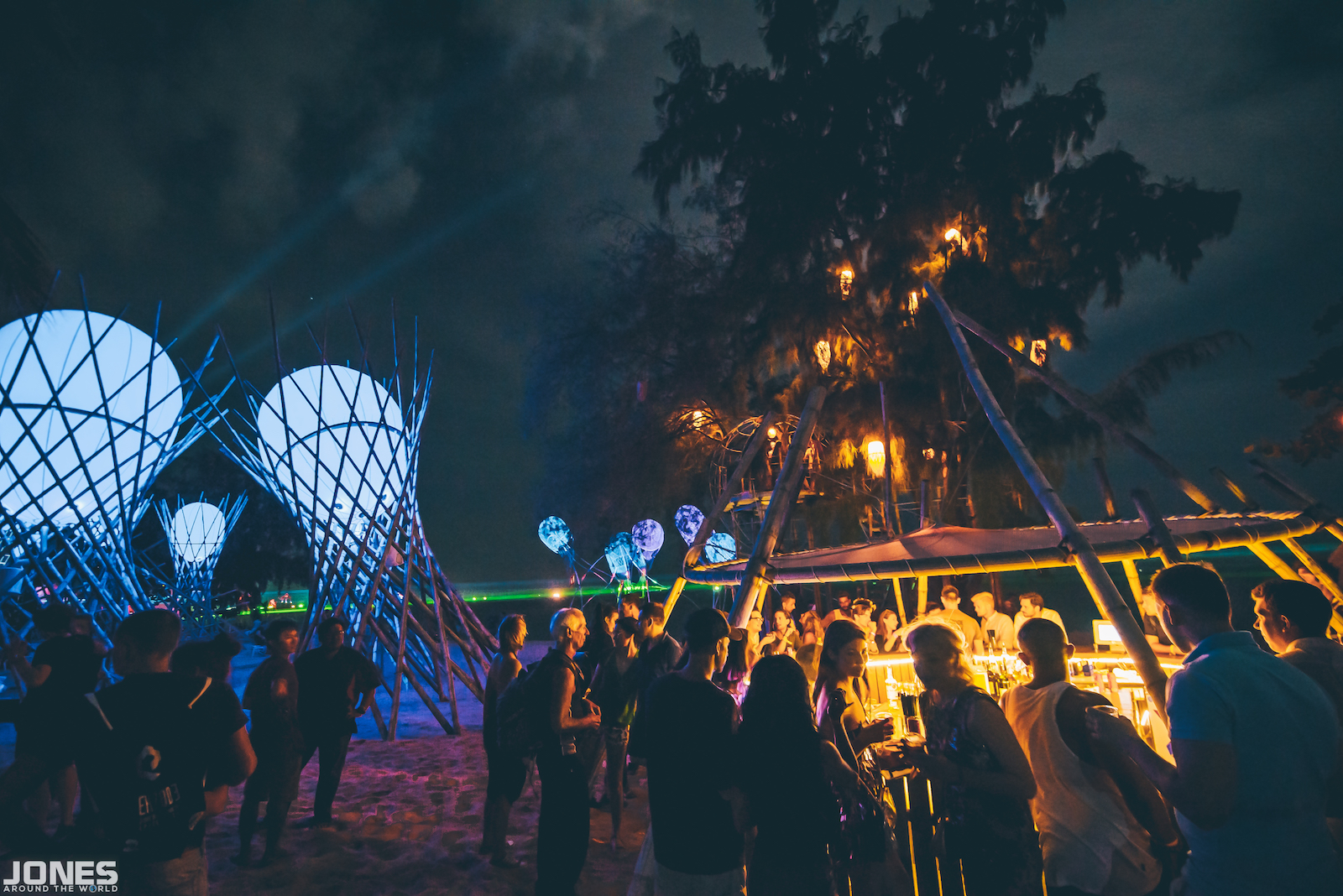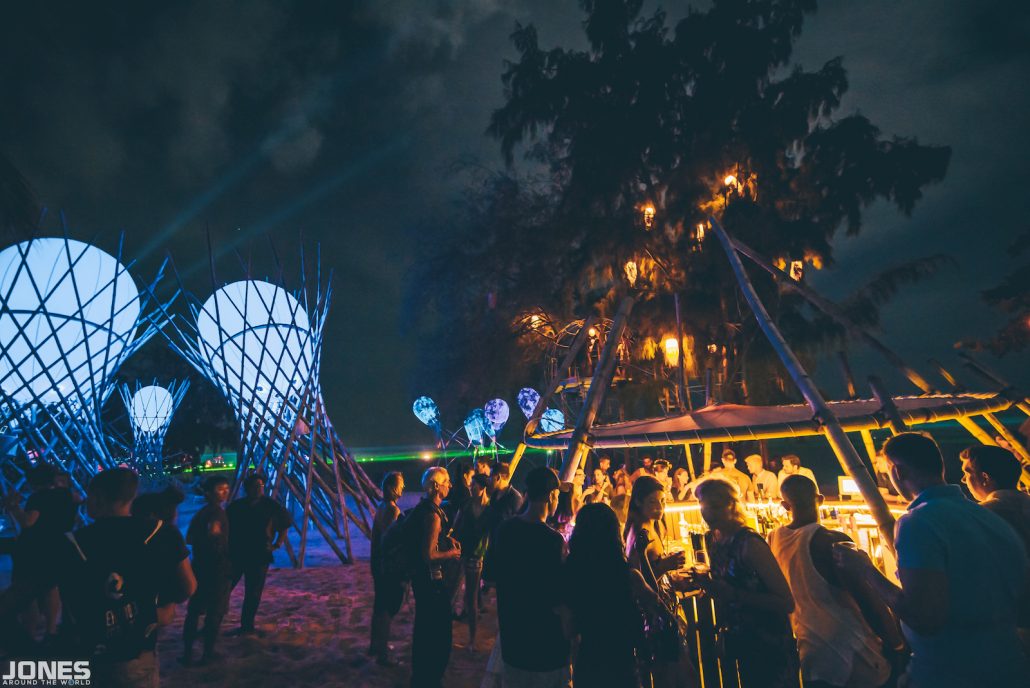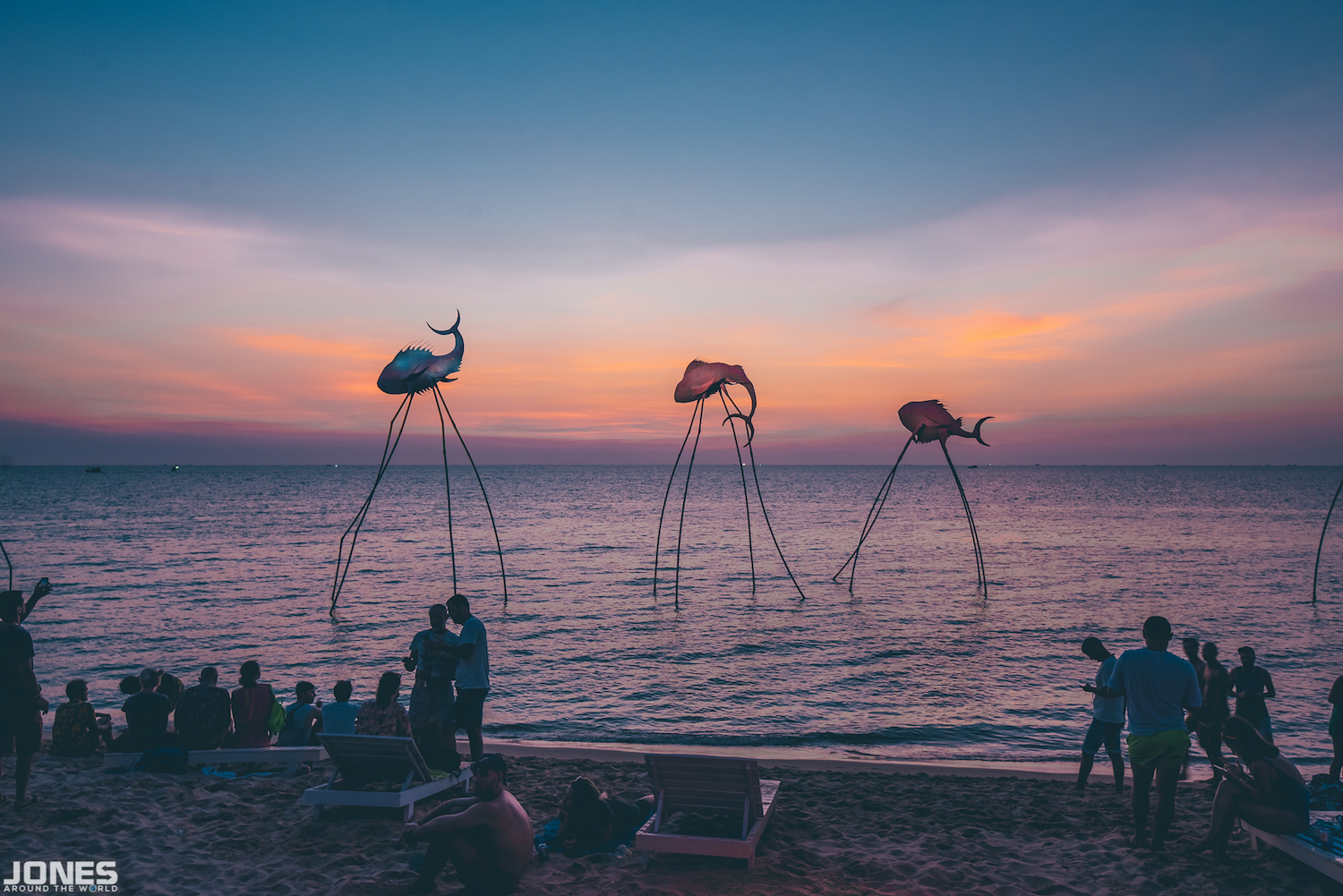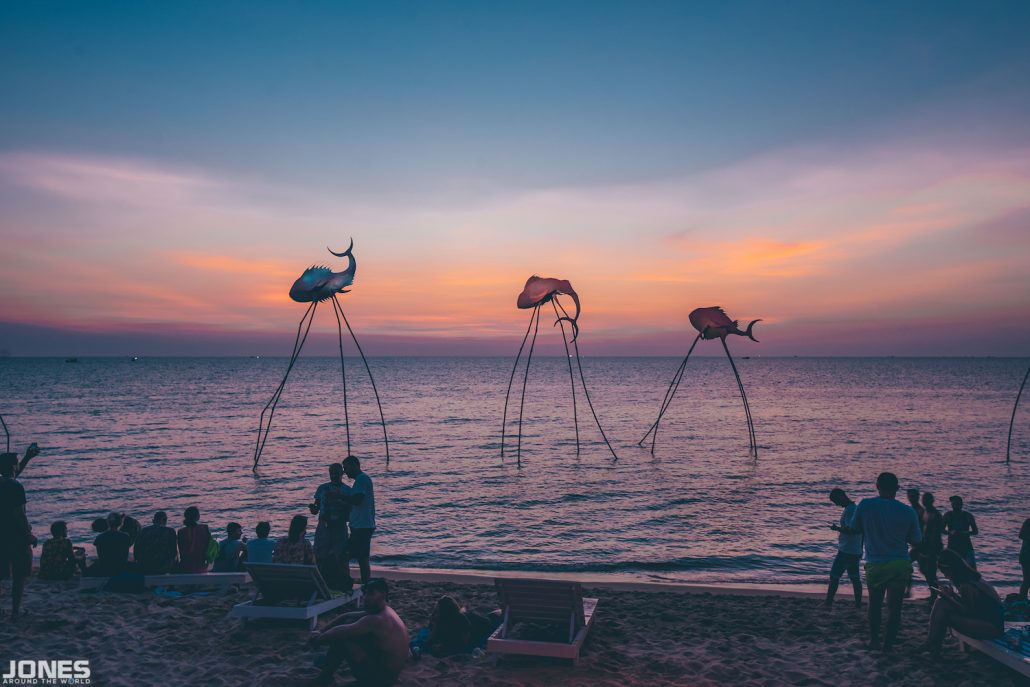 ---
6) Beachfront Vibes
All of the dance floors had wooden floors, but you'd always be stage hopping and walking around on the sand…which meant that shoes were never really worn!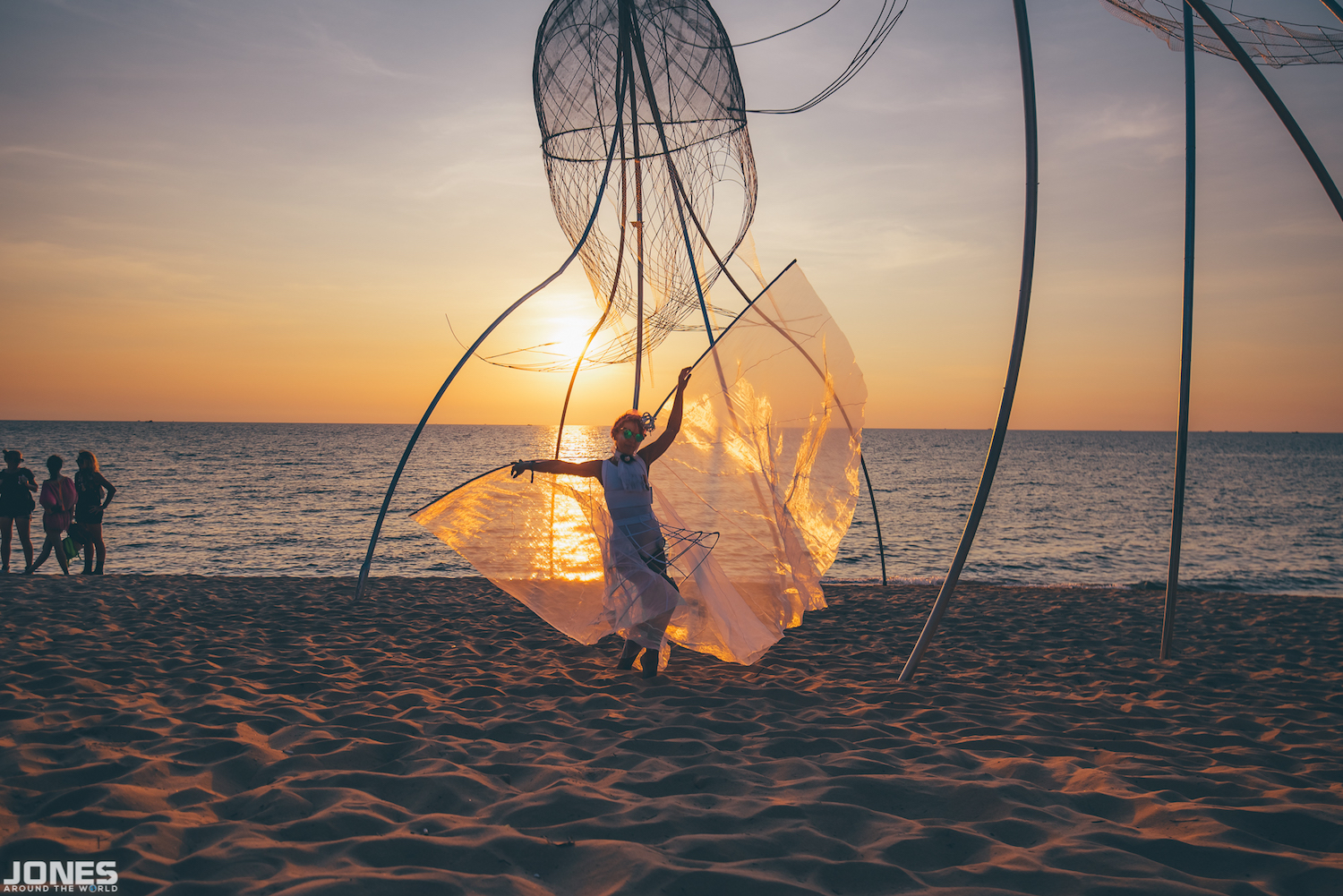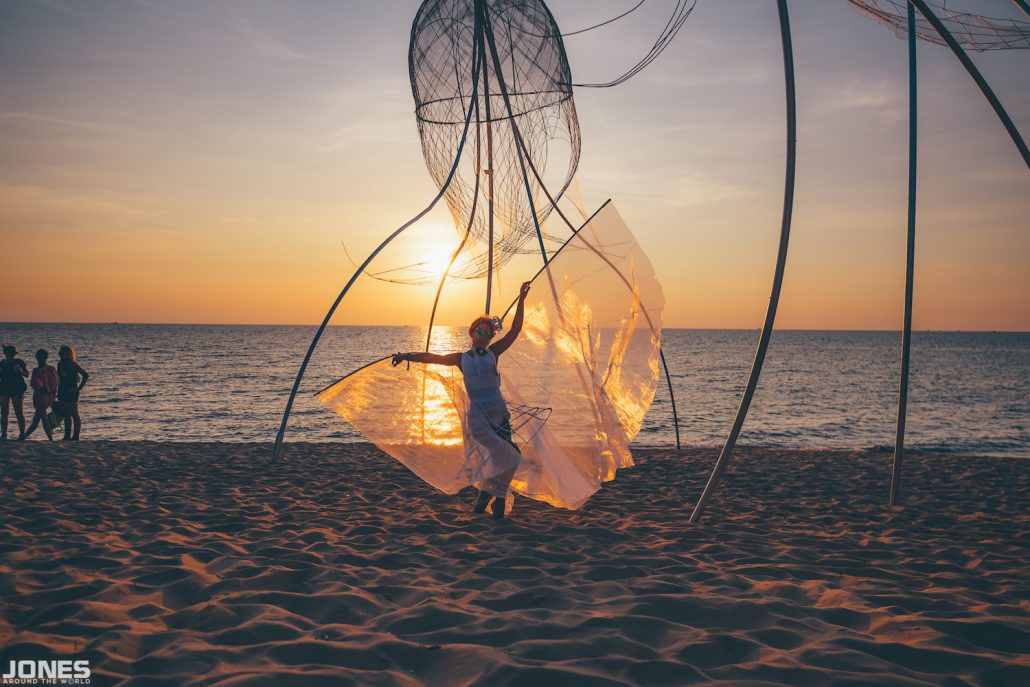 I think a special vibe is created on the sand / near the ocean.  It's hard to explain, but I think it makes everyone a bit more relaxed, don't you think? 
Every night when my friends got to the festival, we'd immediately take off our shoes, and wouldn't put them back on for the entire night.  It felt so good to dance and party with my toes on the sand!
It also was pretty common for people to go for a late-night / early morning dip in the ocean to cool off!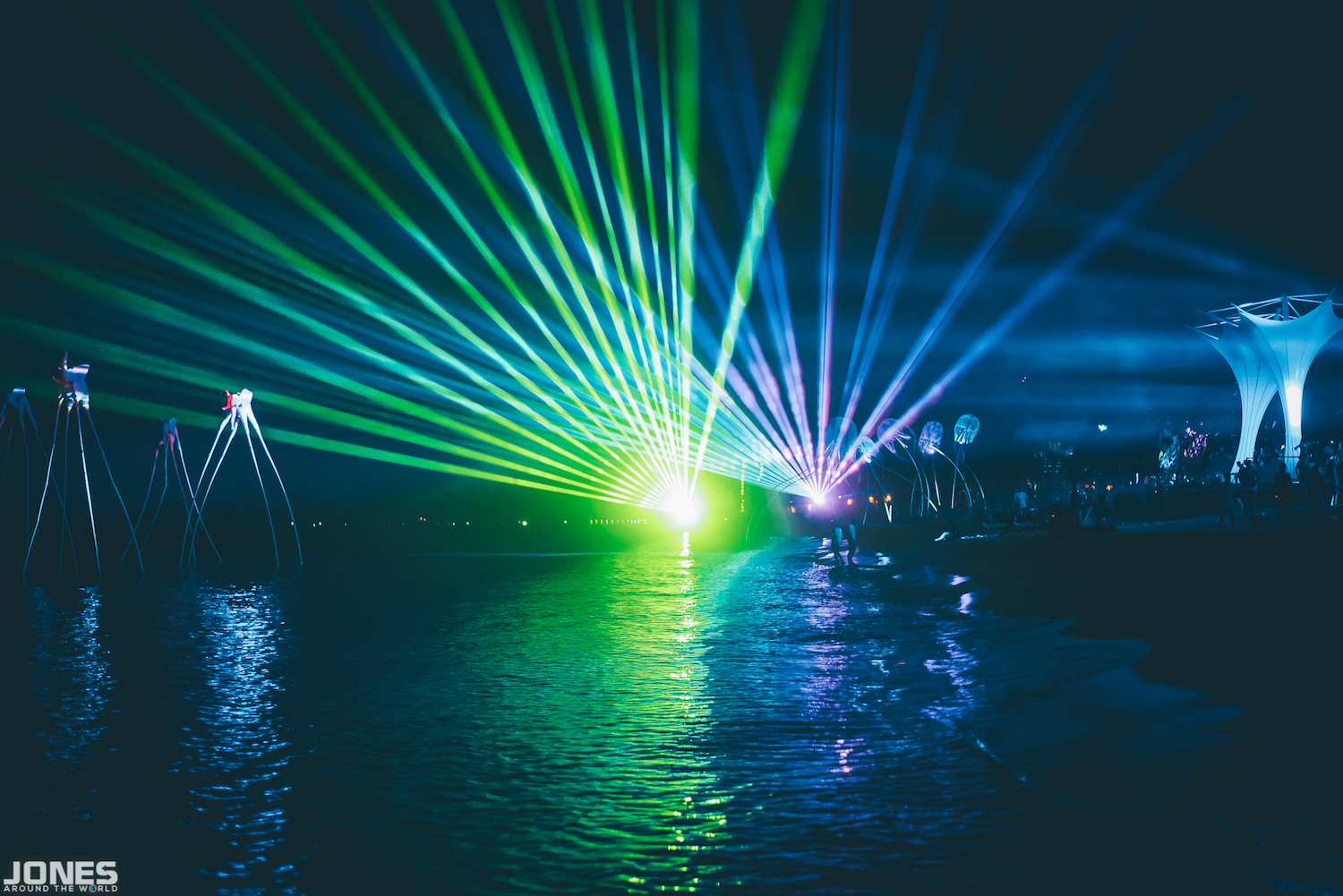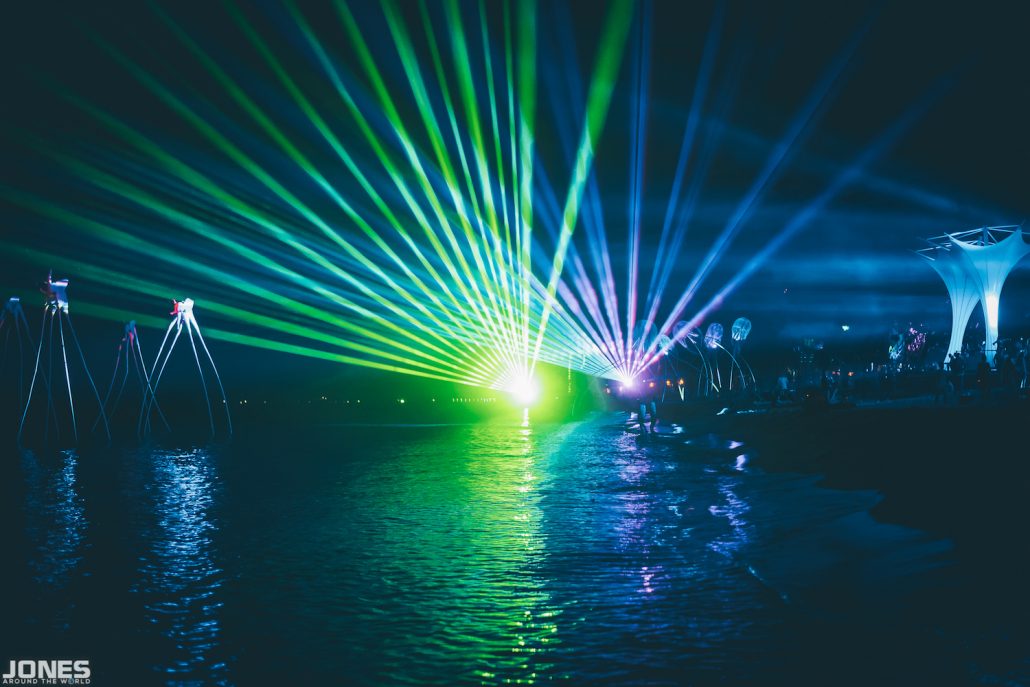 ---
7) Russian & International Party Crowd
Just so it's said — EPIZODE is primarily a RUSSIAN TECHNO FESTIVAL.  Have you ever heard of KAZANTIP before…?  Well, Epizode has roots from it.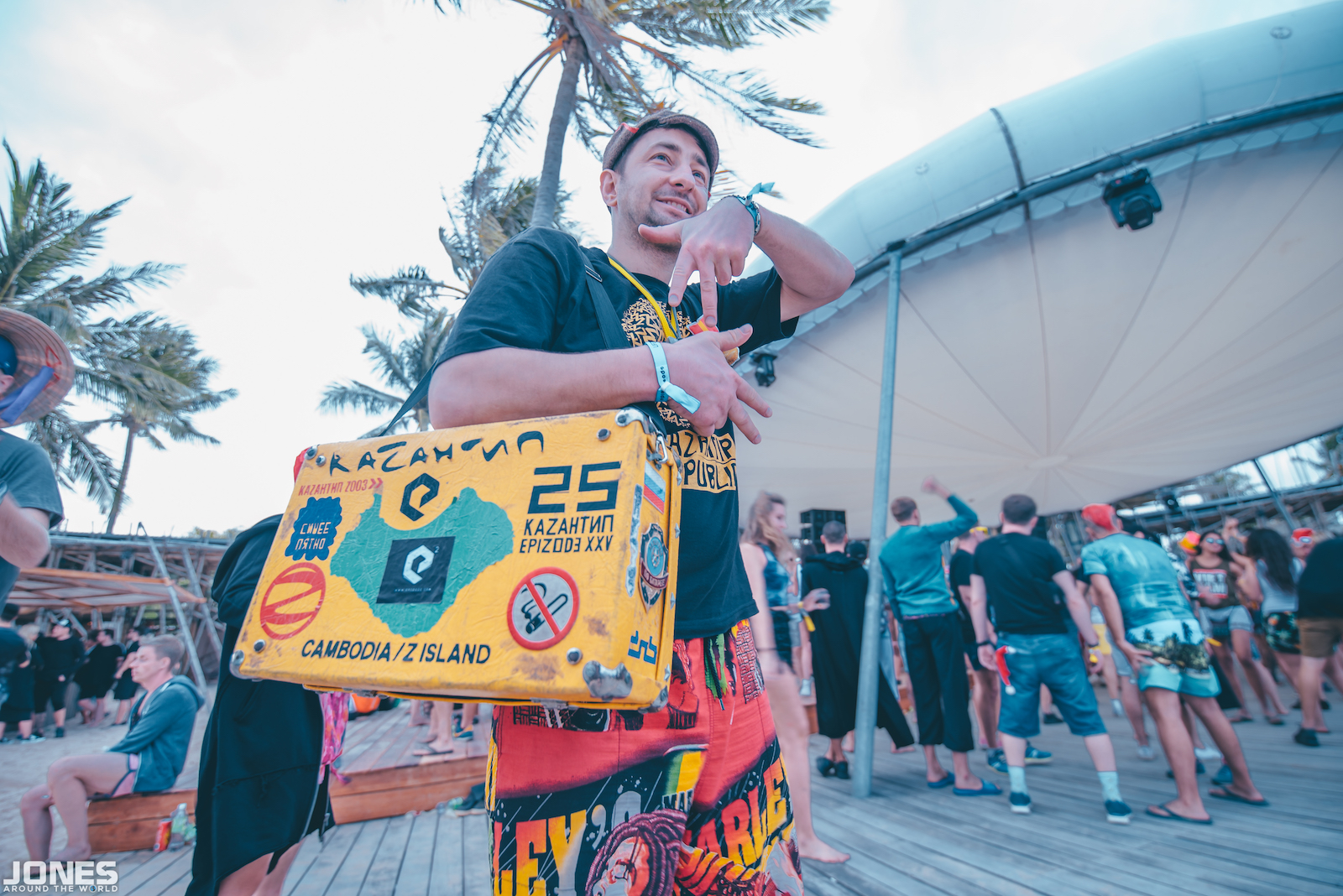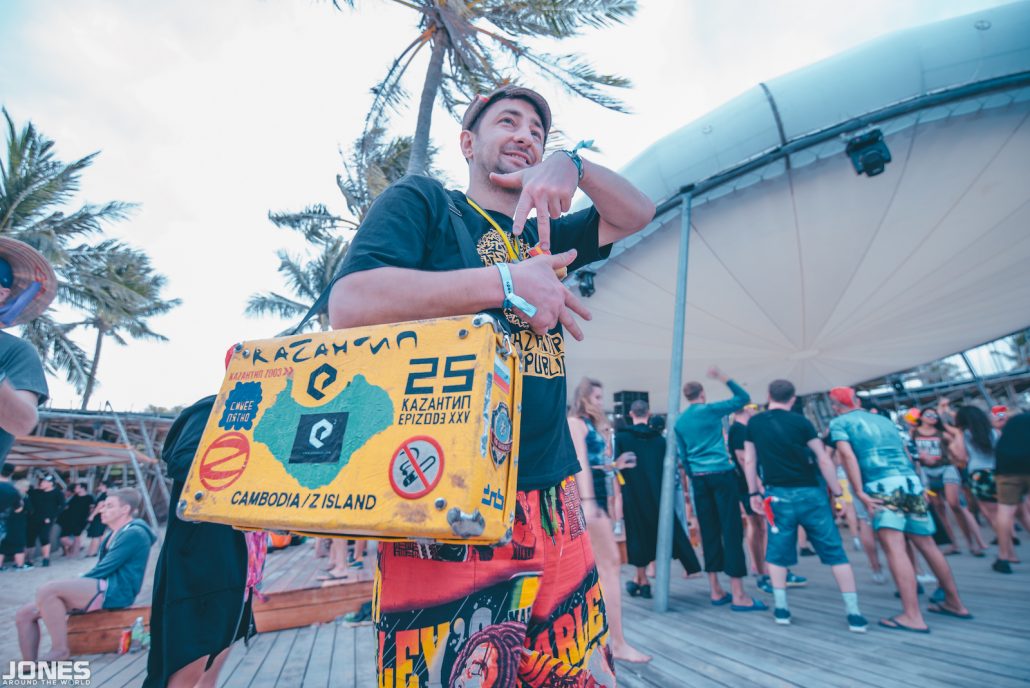 I was a little worried when I arrived into Vietnam that there wouldn't be any other people at the festival besides Russians, but I was pleasantly surprised when I met tons of amazing international travelers.  At the end of the festival, I had made some really amazing friends — and I know I'll be reunited with them again someday. :-)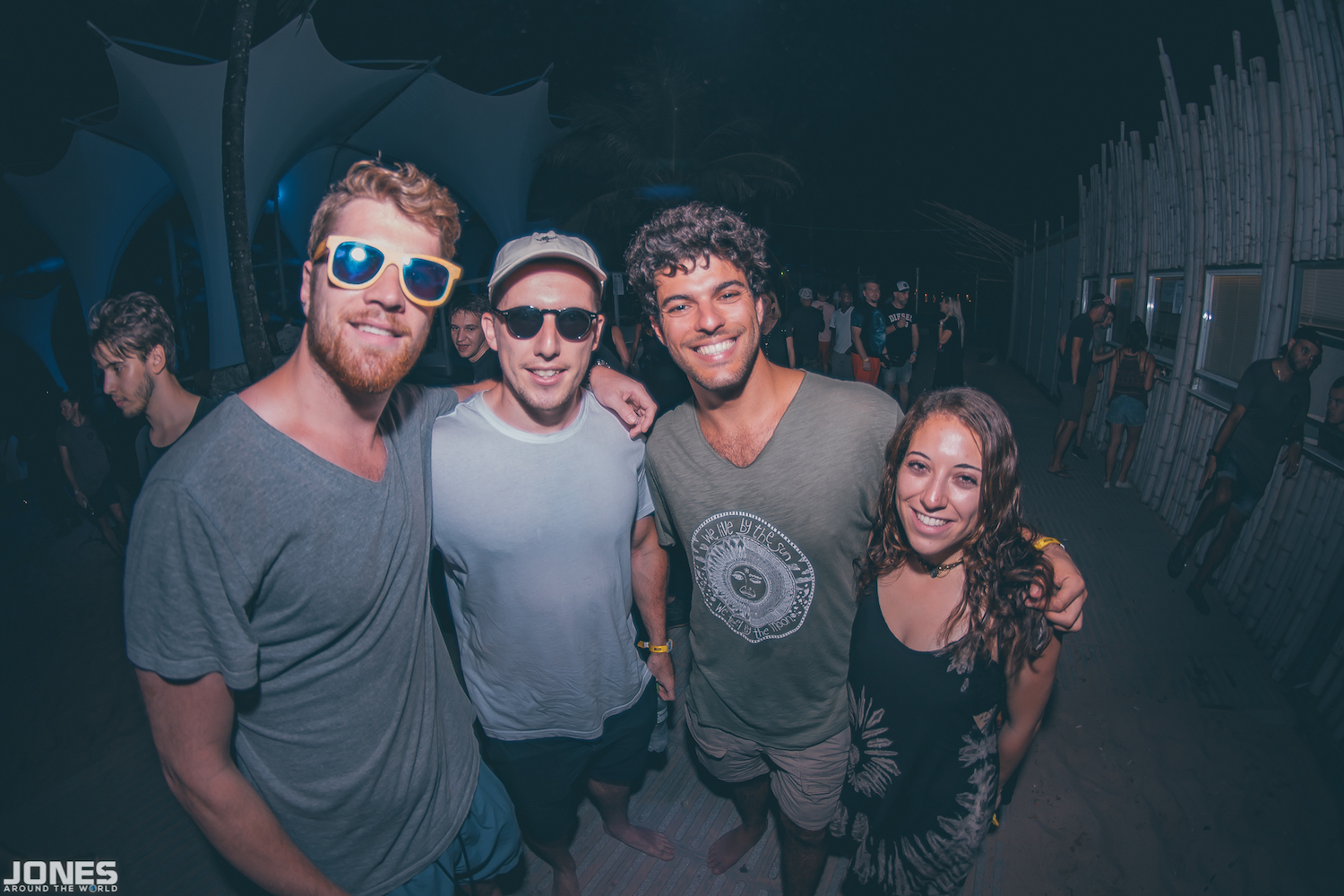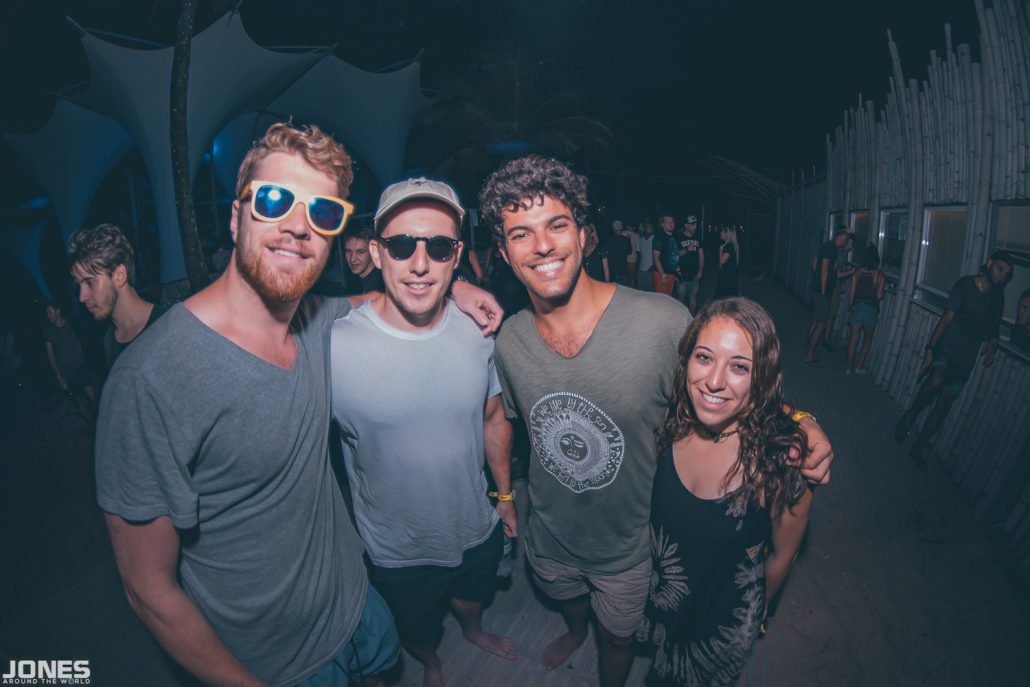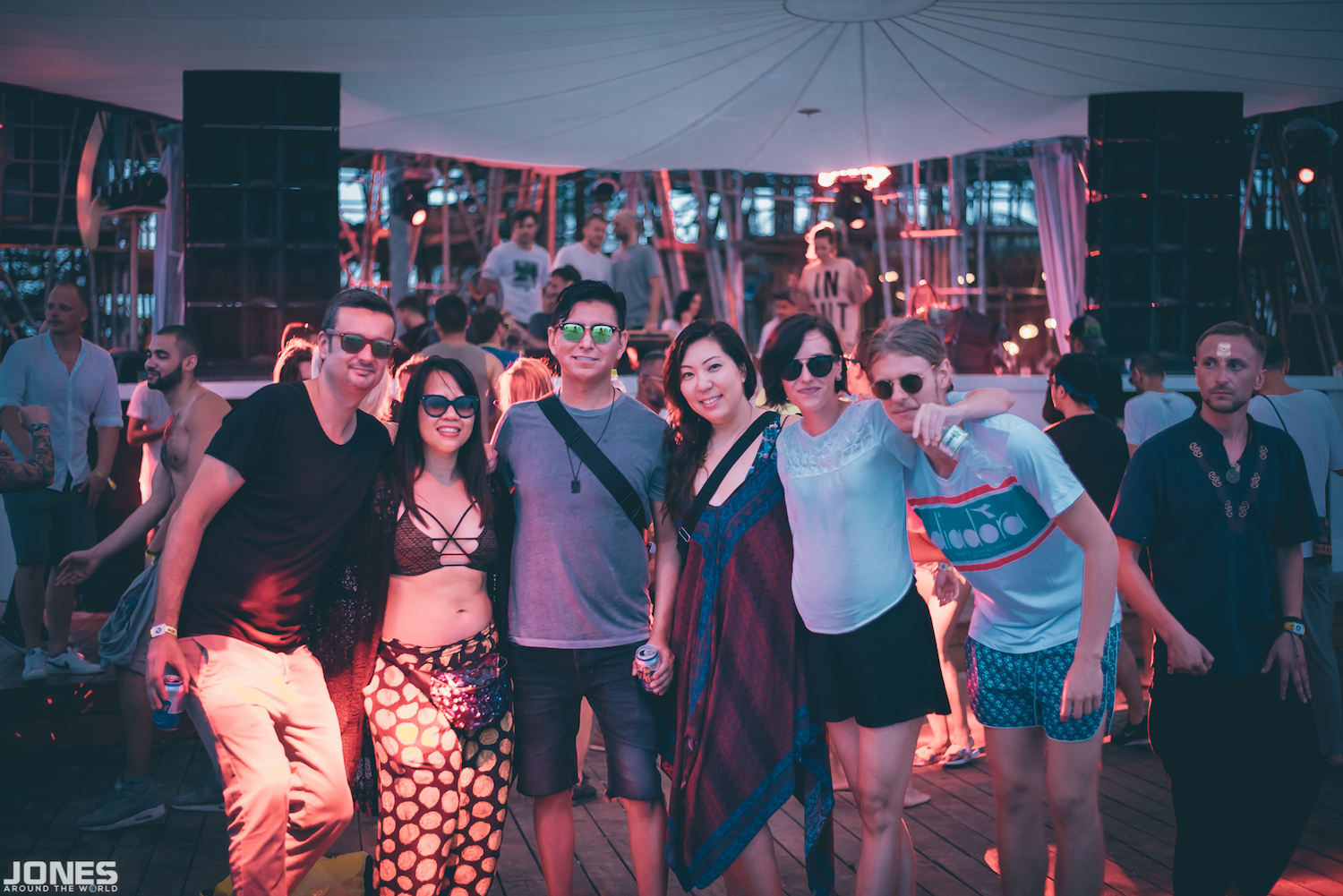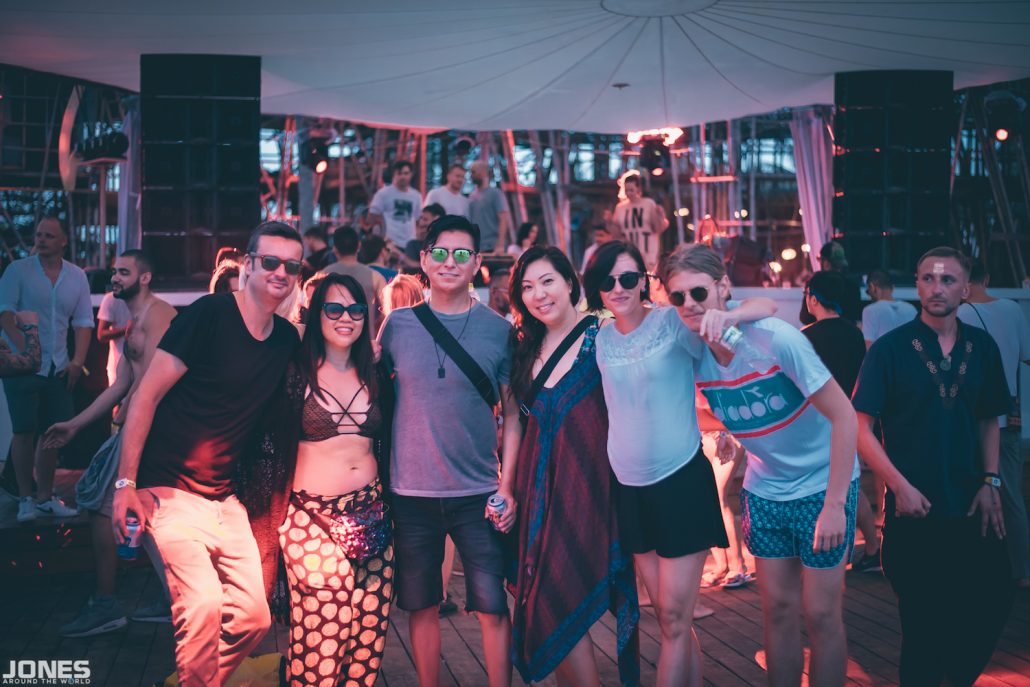 While I must say it was rather hard to connect with the Russians (as their English wasn't that great), they were almost entirely super friendly, and really fun to party with!  I never saw any fights or drama, and the crowds were all super respectful about personal space on the dance floors. 
It was crowded…but never too crowded!  I loved how people spaced out amongst the open dance floor, and gave people plenty of room to boogie.  This is techno – we're here to dance!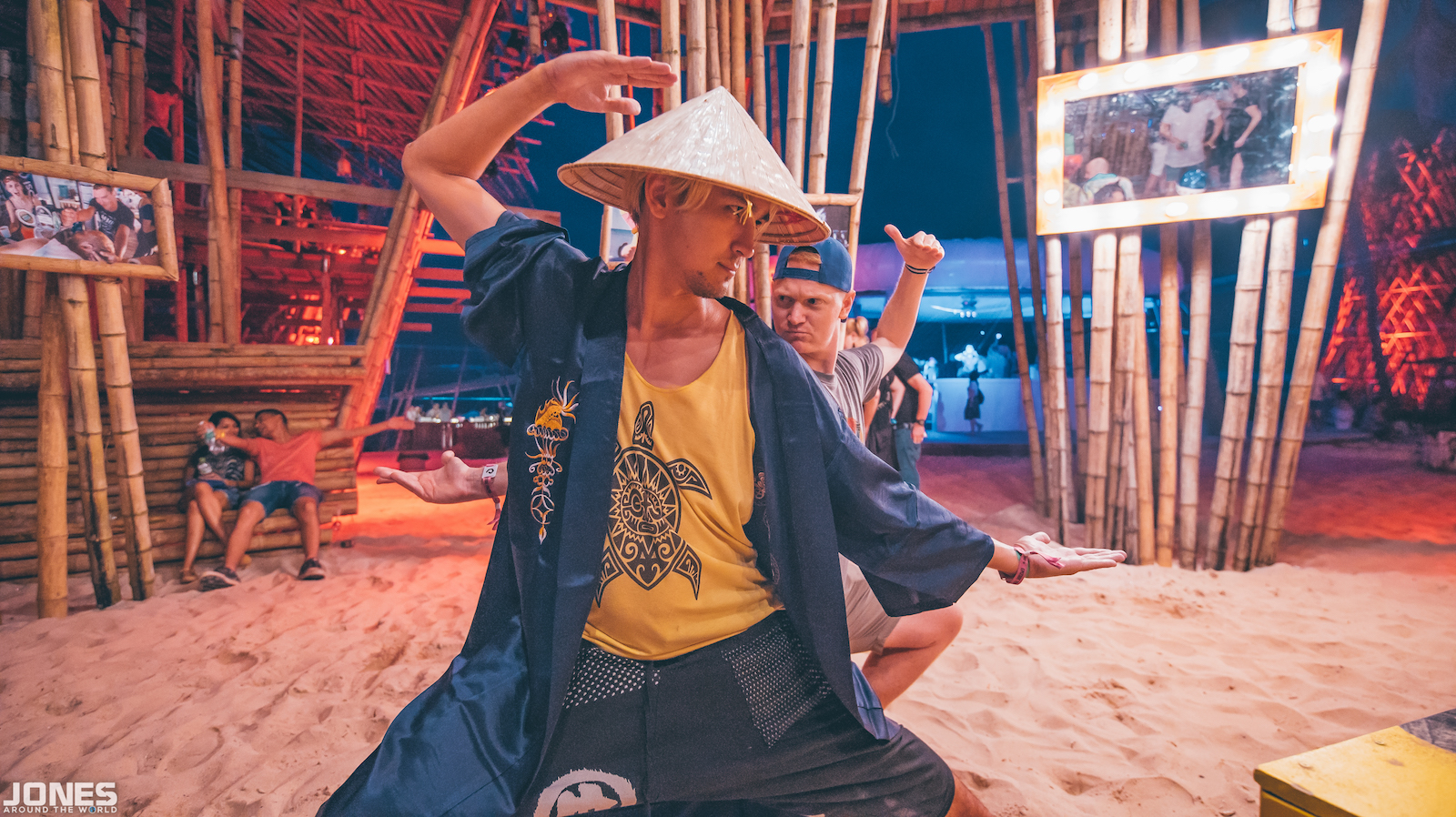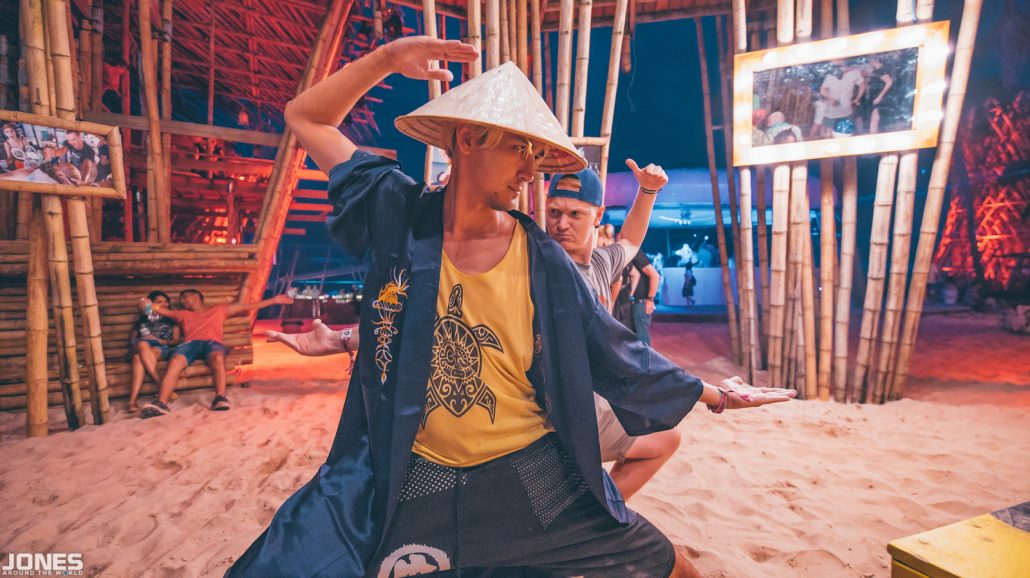 ---
8) The Afterhours Madness
Sunrise techno sessions…yeah, those are my favorite!  I've always been an after-hours animal because the vibe during these marathon party mornings are just so incredible.  Everyone is just having the time of their lives meeting, mingling, and dancing with people from around the world.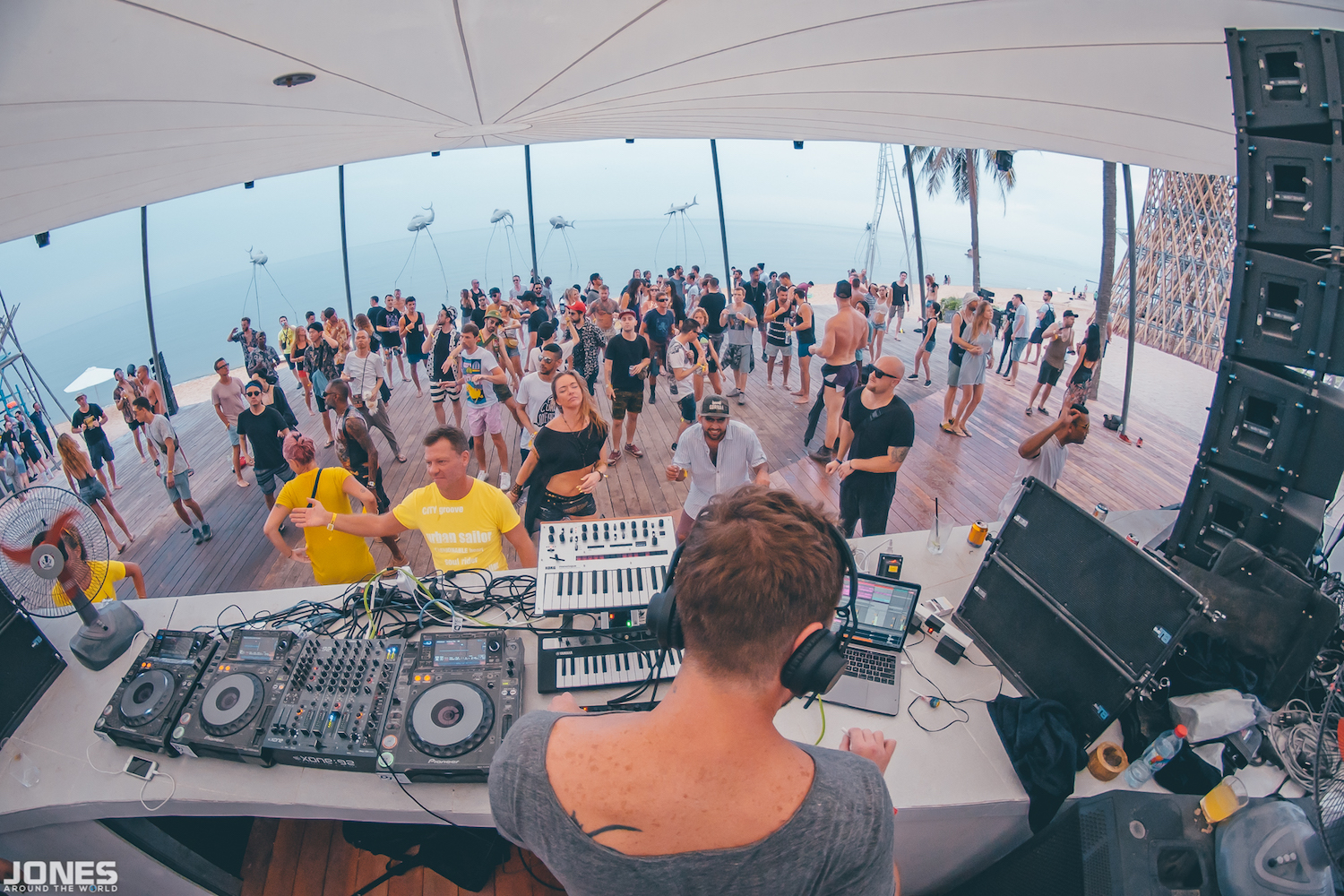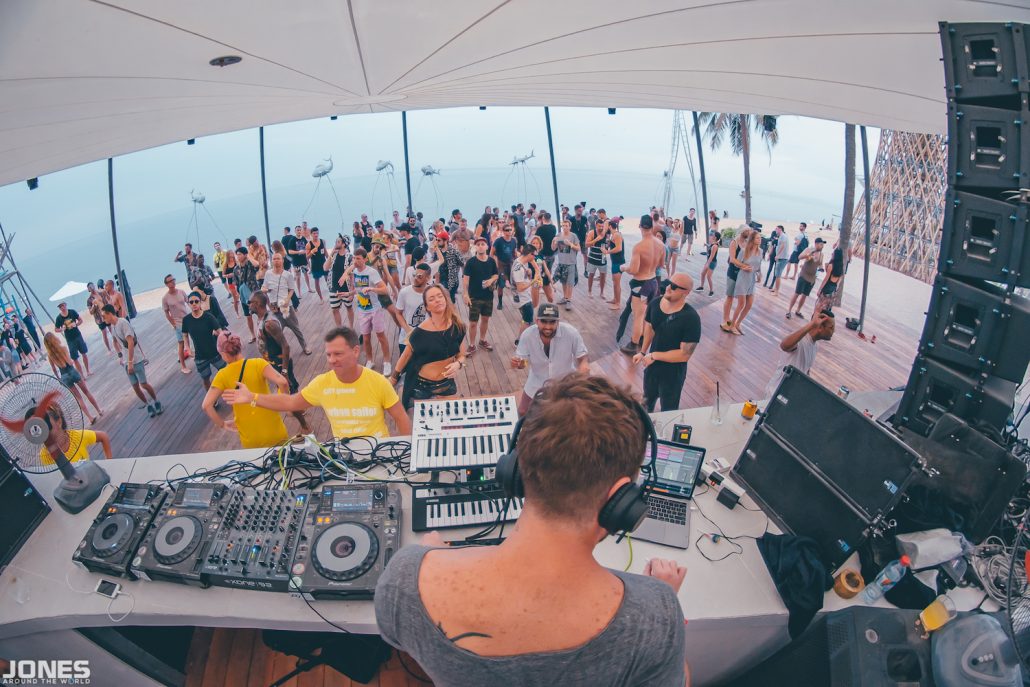 The truth about EPIZODE is that it never really stops.  There were several mornings where I stayed until 12-1 P.M the following day.  That might sound crazy to some people, but when the music is THAT good, I couldn't bring myself to leave the venue.
I'm not even entirely sure when the music would actually stop, because every time I left people would still be there raging!  Then everyday their would be sunset session, a couple hours of downtime, and then repeat.
Since this festival lasted for 11 days, I found myself fall into a pretty wild routine.  I'd stay up pretty late, get a few hours of sleep, get some food, and repeat.  But of course I took a few days to explore the island, and enjoy my time in paradise.  Life was certainly great during my two weeks on Phu Quoc Island.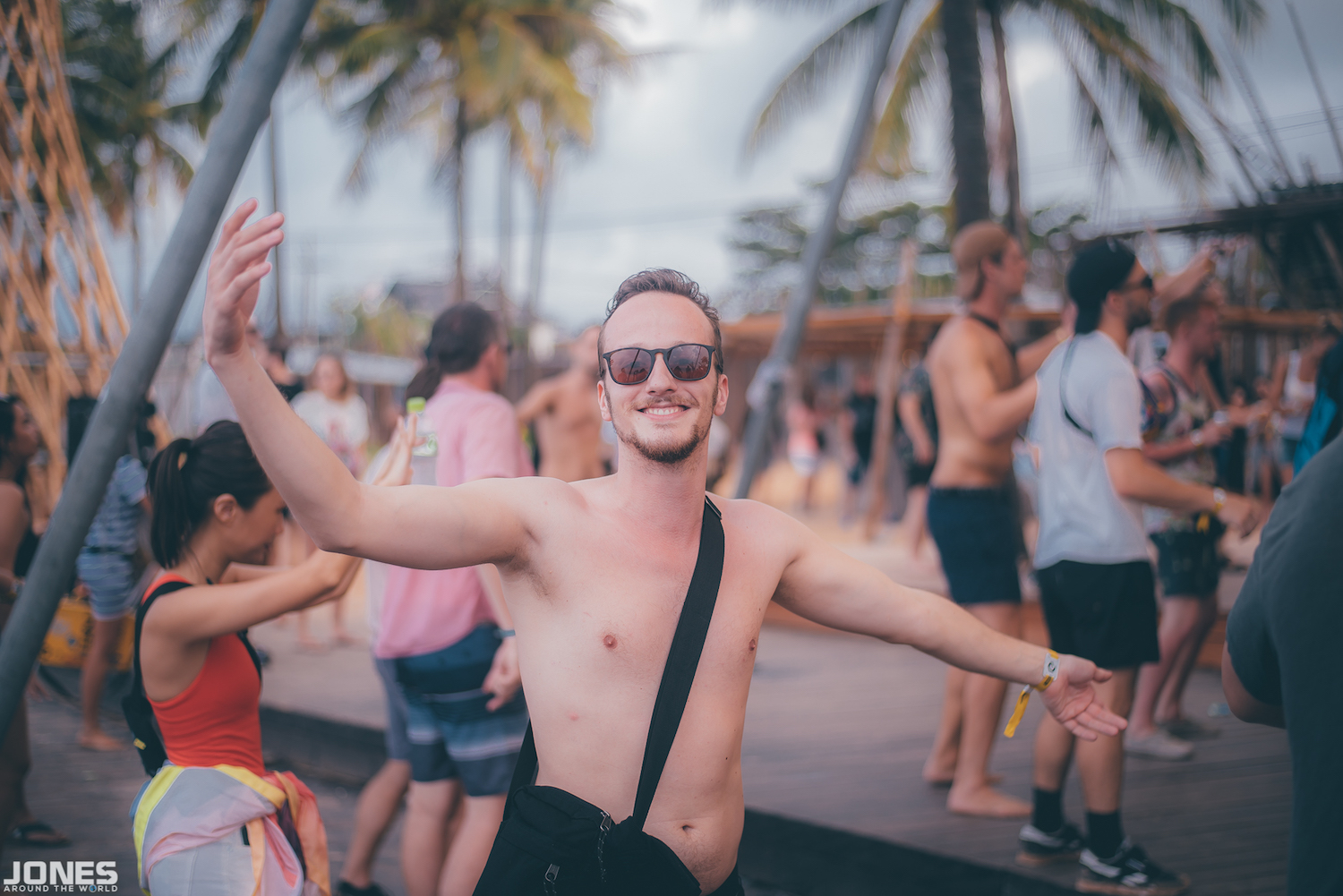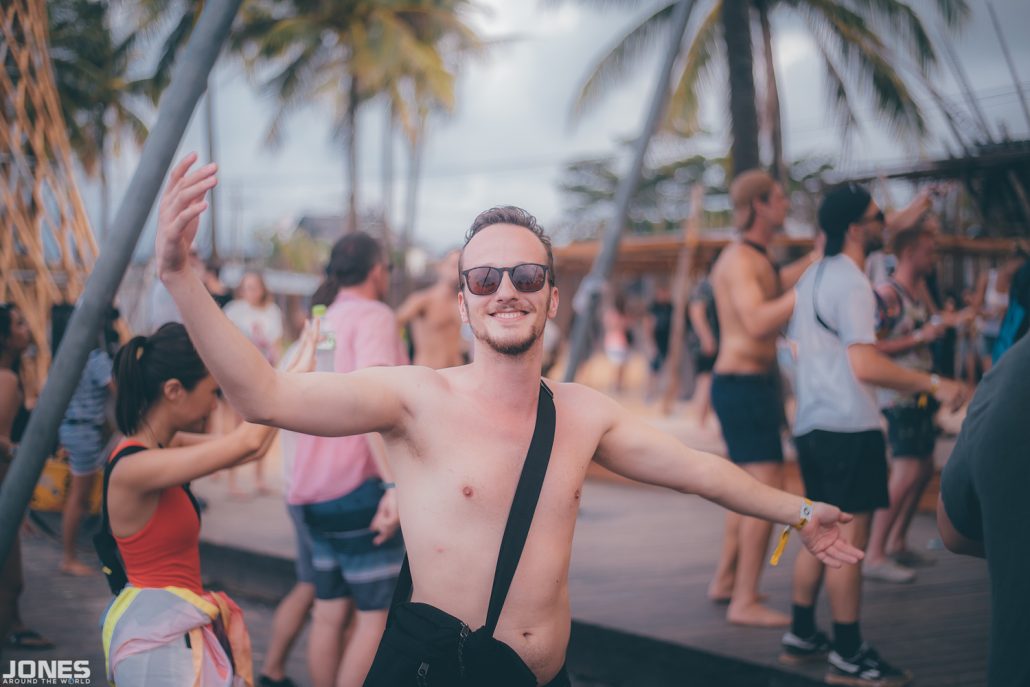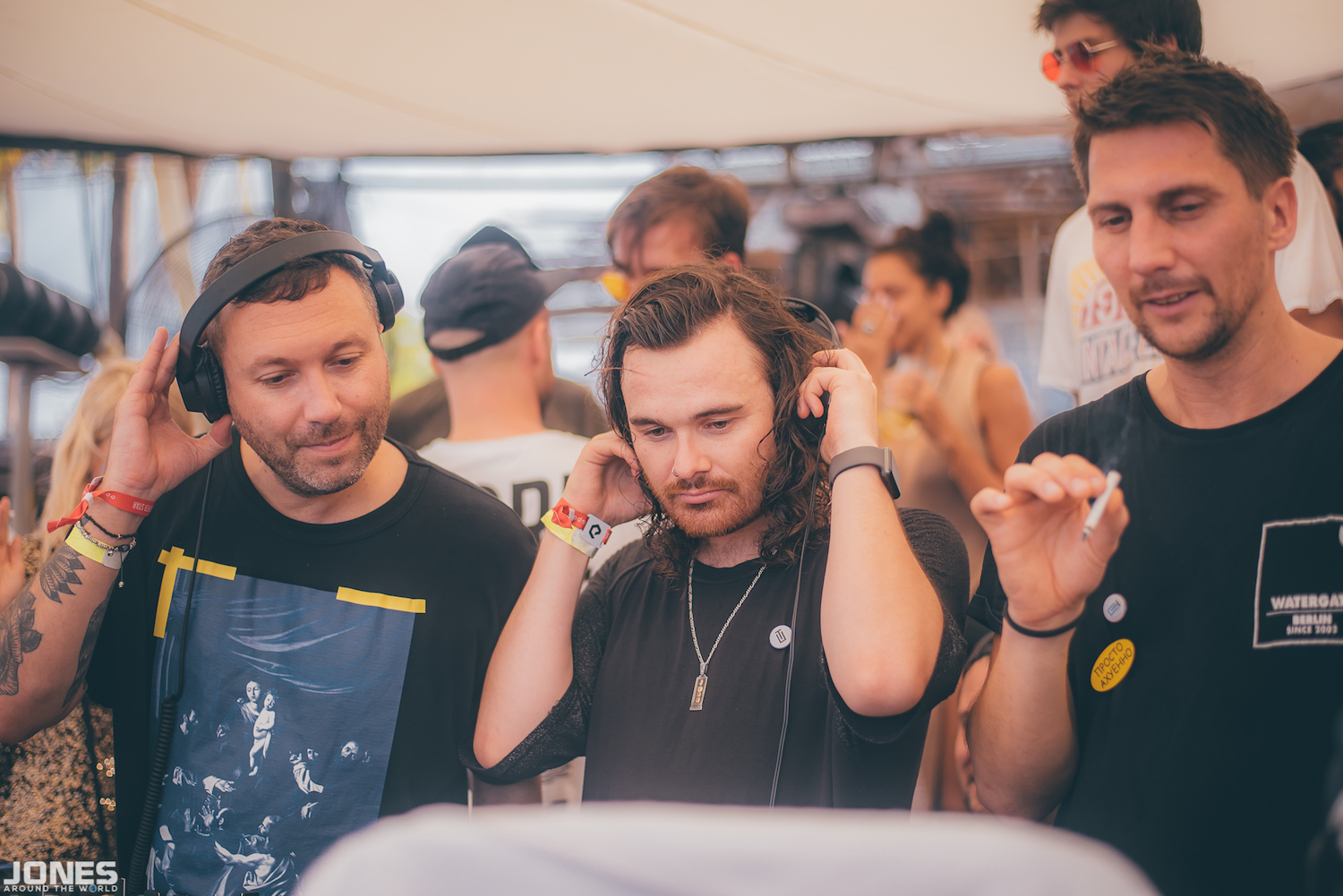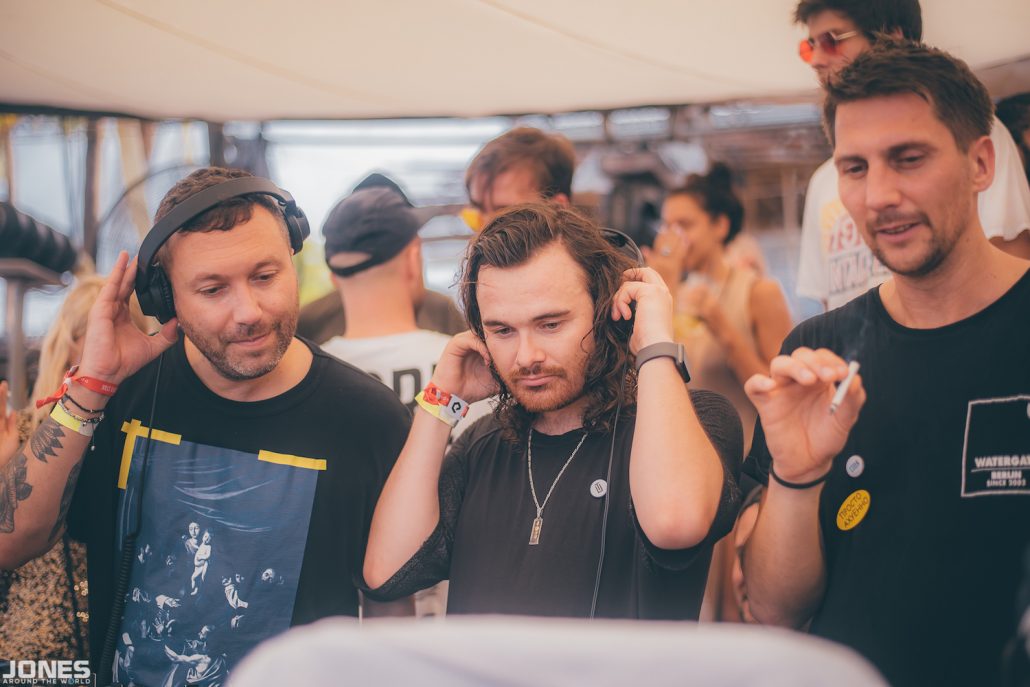 ---
A FEW NEGATIVE ASPECTS 
Whenever I review music festivals, I like to discuss some of the disappointing elements as well…as no event is perfect!
Getting my wristband on New Years Eve was absolute chaos!  My friends almost left because the night started off with such negative vibes.  Everyone was pushing, shoving, and trying to get to the front, and basically there was zero organization.  I actually missed the countdown on NYE which was a huge bummer!  So next time I attend EPIZODE, I'll definitely be swinging by the venue earlier in the day to pick-up my wristband!  
This was a strange way to start the festival, but pretty much the only bad thing that happened the entire time.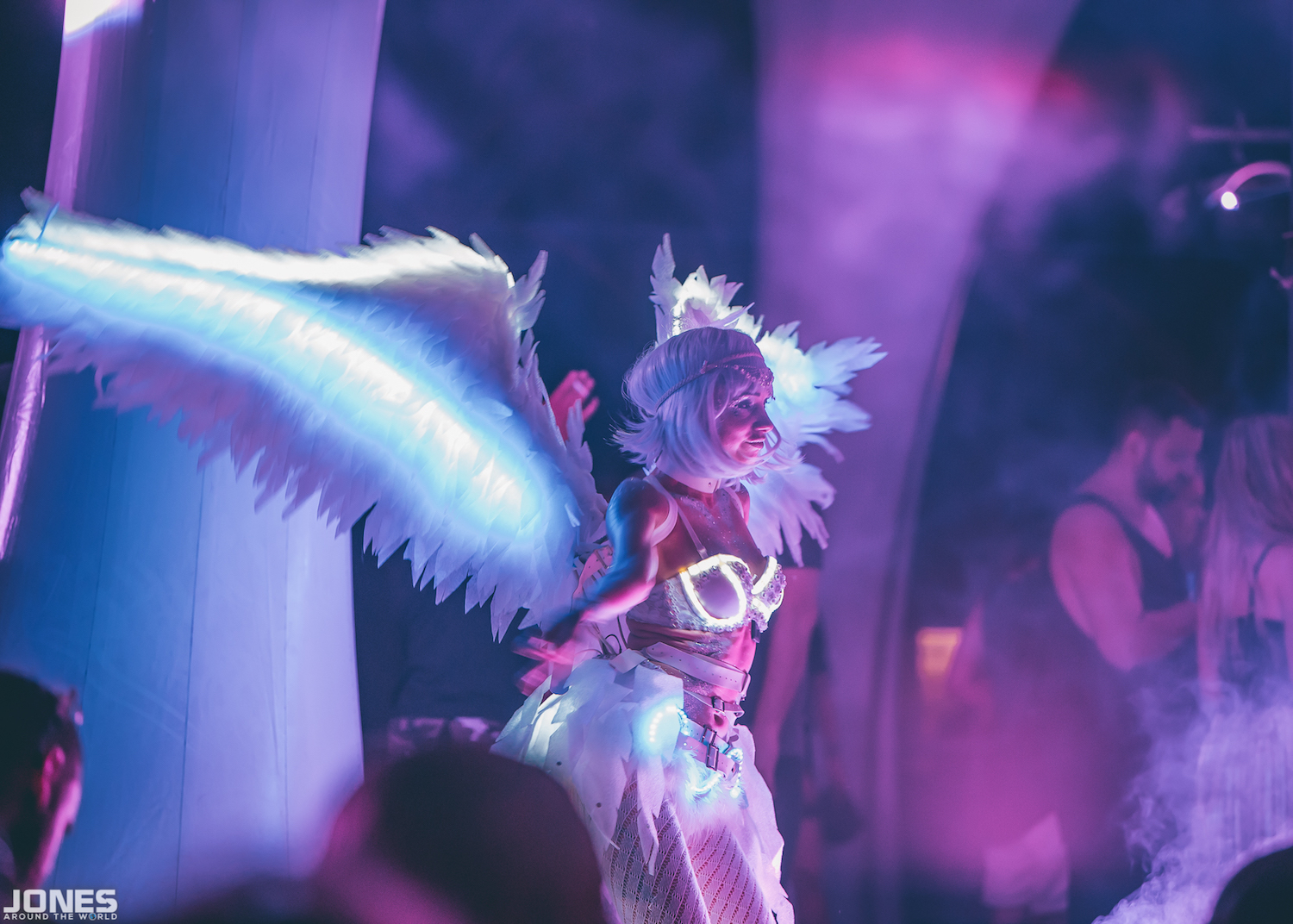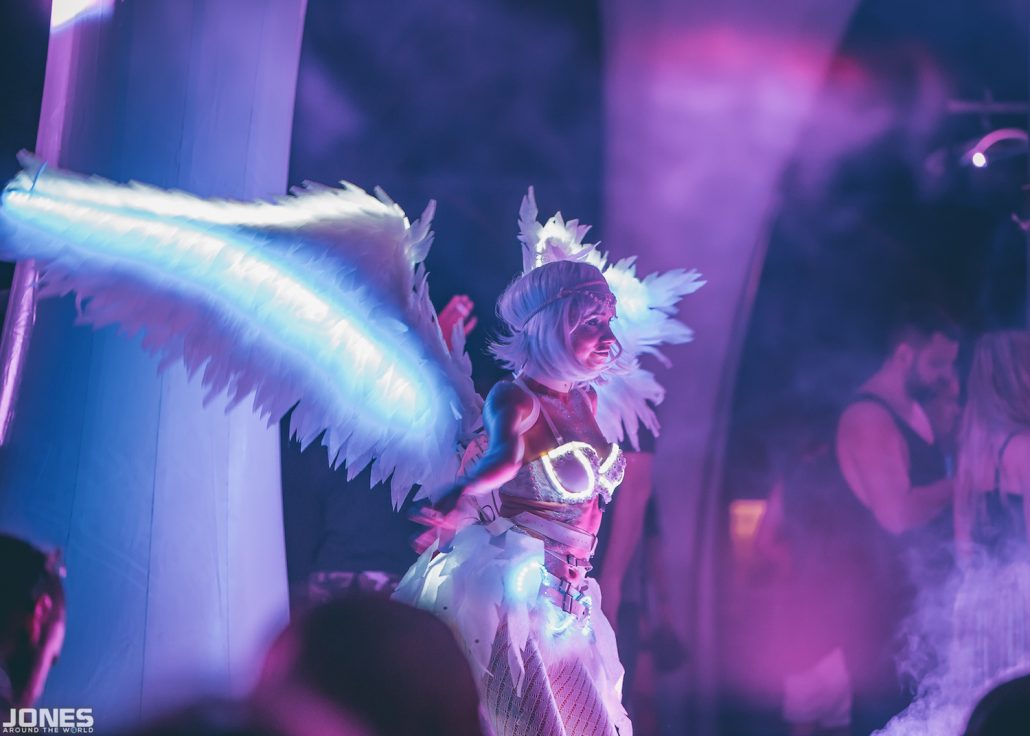 Humidity, Heat, and Tropical Rain must be expected when attending festivals in South-East Asia.  Some days were absolutely scorching hot, and it was definitely a struggle to continuously dance while sweating bullets!  I didn't mind it too much, as I figured I'd losing weight (lol) – but I definitely would have preferred it to be a few degrees cooler.  Bring comfortable and loose fitting clothes for sure!
By far the most annoying aspect of EPIZODE though, was that they wouldn't announce the DJ schedule until way late in the day.  There were several days when I didn't even know the set-times until I arrived into the festival.  While it's not actually THAT big of a deal, it was just a bit irritating.  You know WHO is playing each day, but have no clue WHEN.
Lastly…using the bathroom at any festival is always a bit shitty (pun intended), but I really hope that EPIZODE improves their bathroom facilities in the future.  There were some decently long lines at times, and I really hate having to waste time at parties waiting to use the restroom.  With that being said — I've definitely experienced far worse bathrooms at various international festivals.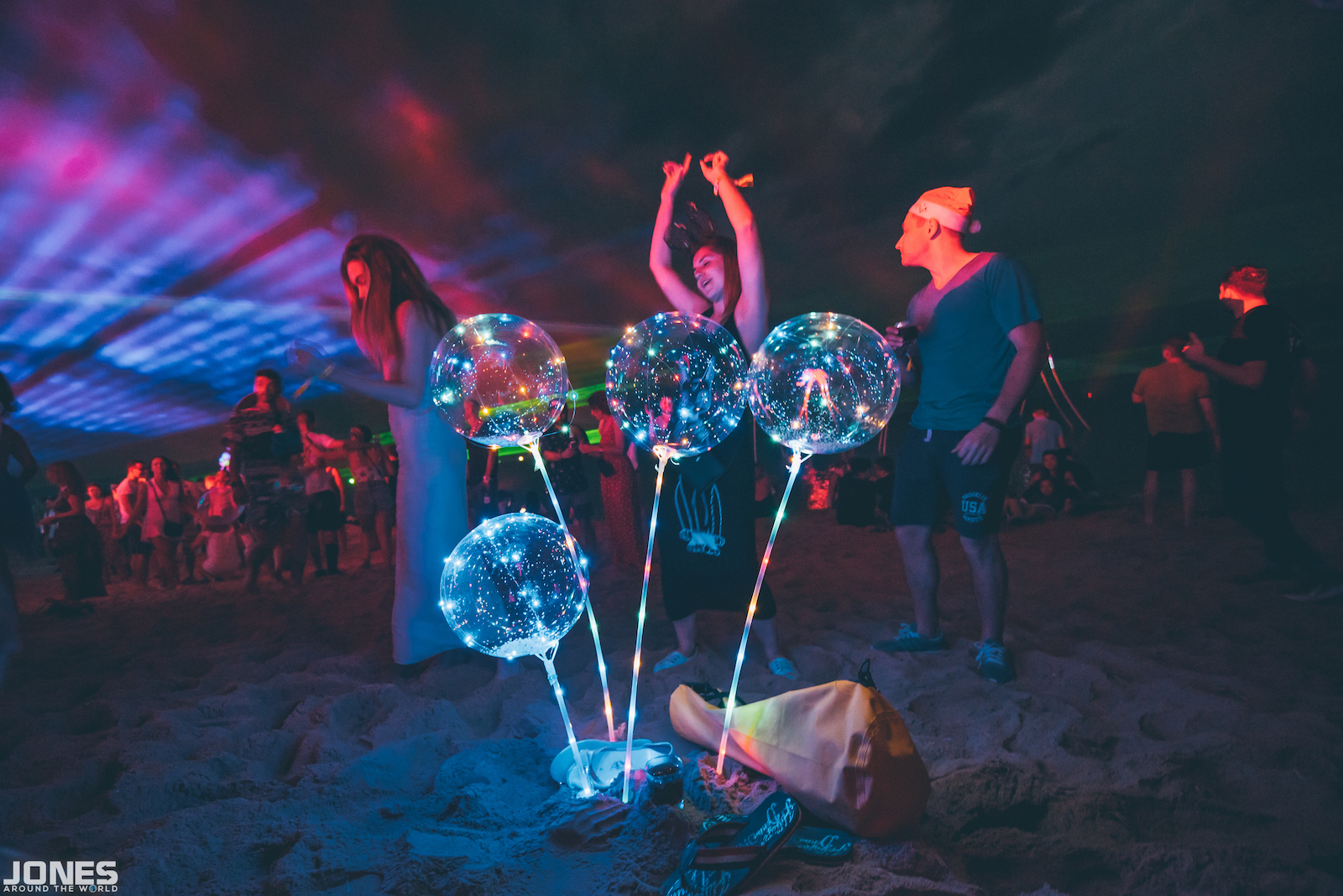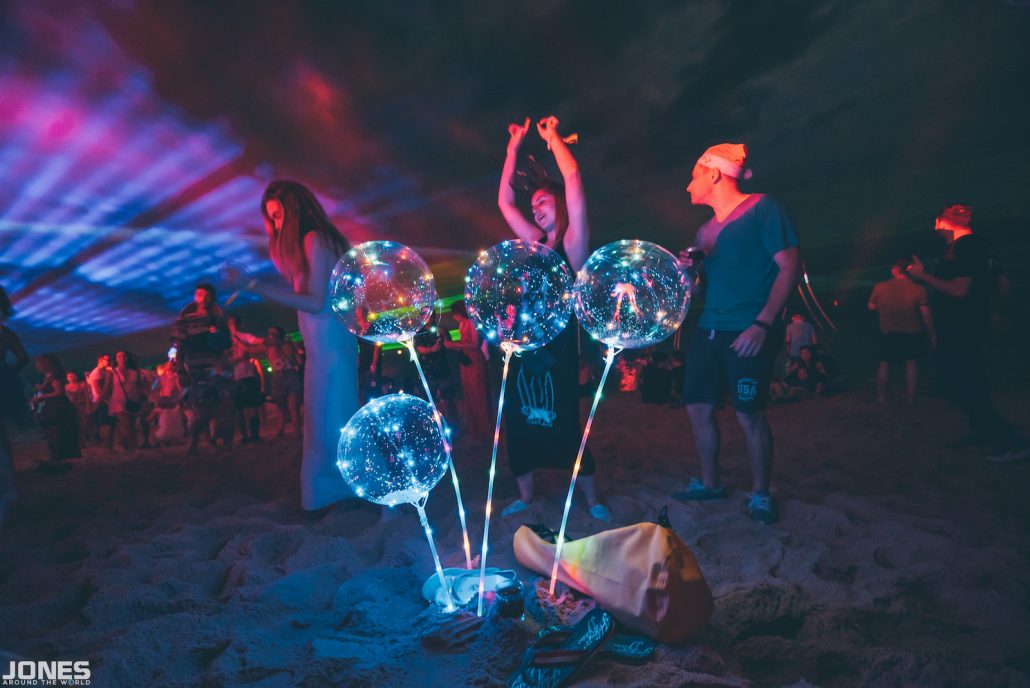 ---
Top 5 DJ Sets at Epizode Festival
This might just be the hardest part of the article for me to write!  The music was absolutely banging the entire festival, but these are my top 5!
Carl Cox always throws down.  This was my third time seeing the legendary DJ, and he simply never disappoints.  His energy and stage presence really gets the crowd going, and his song selection/  mixing skills are out of this world!  If you've seen Carl Cox spin before…I'm sure you understand.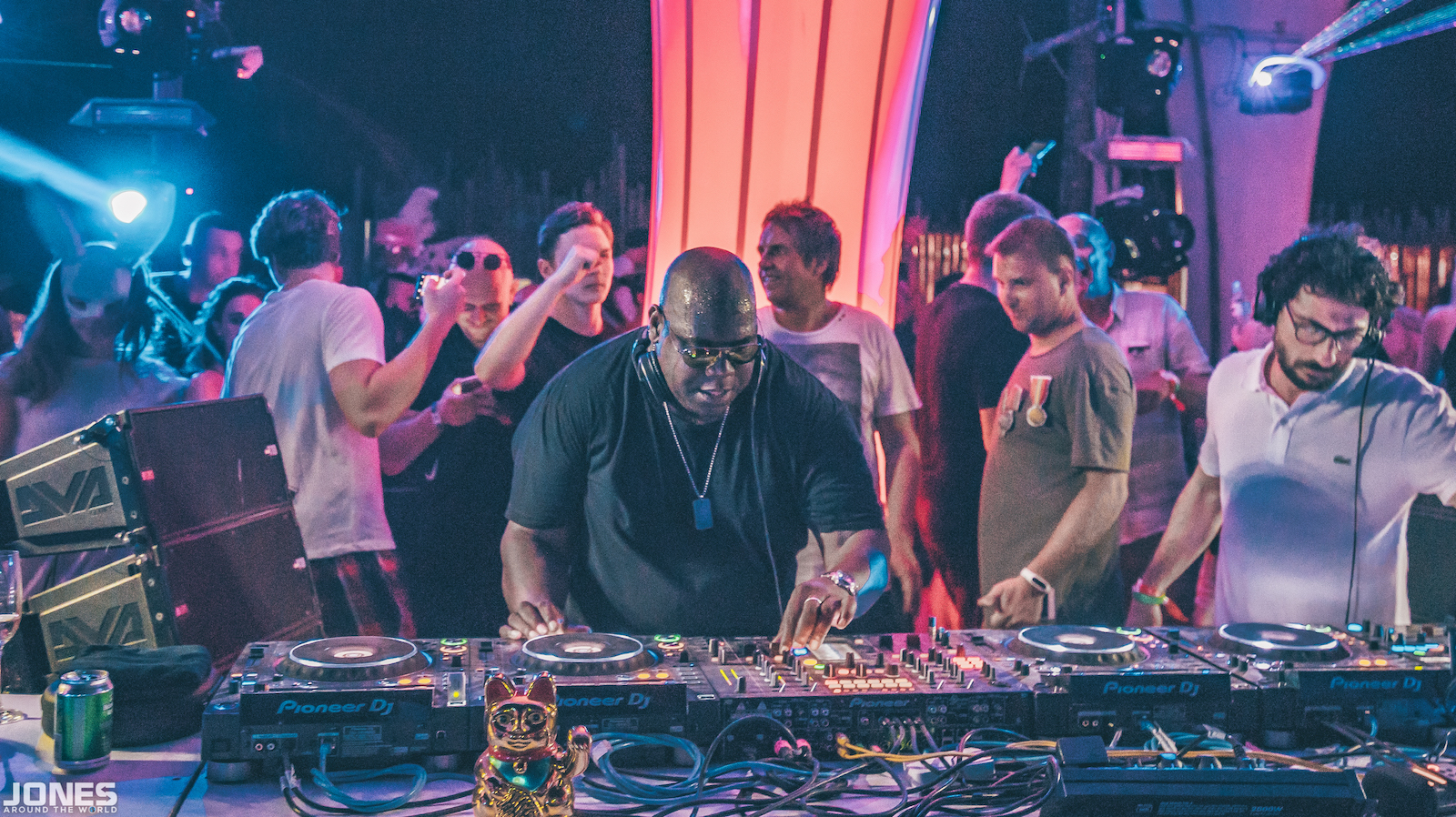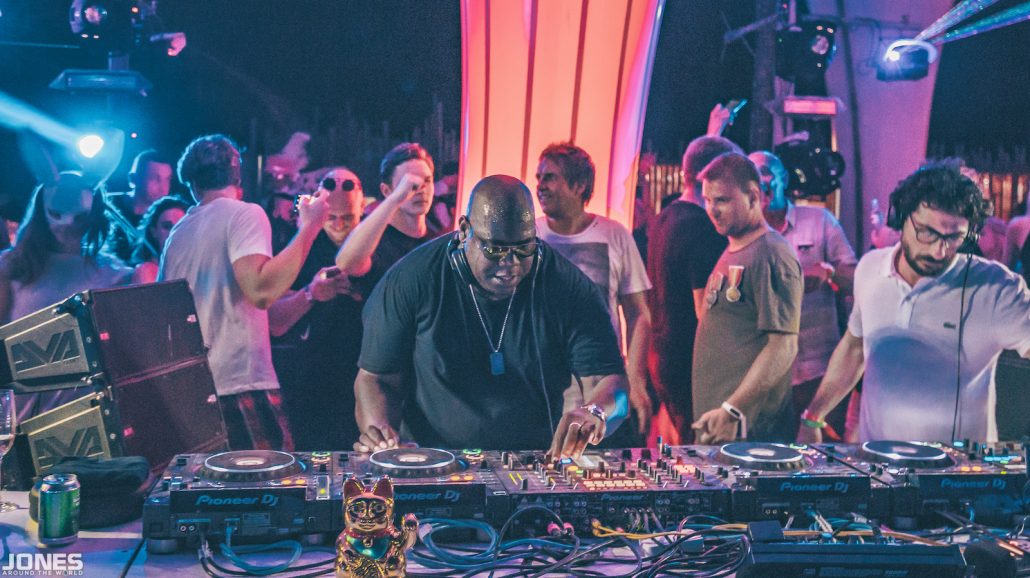 ---
Nicole Moudaber is the queen of techno.  She plays full-force every time I see her, and keeps the dance floor grooving the entire time!  While it was unfortunate that is started raining with a torrential downpour 30-minutes into her set, it didn't stop her from blasting those heavy techno beats.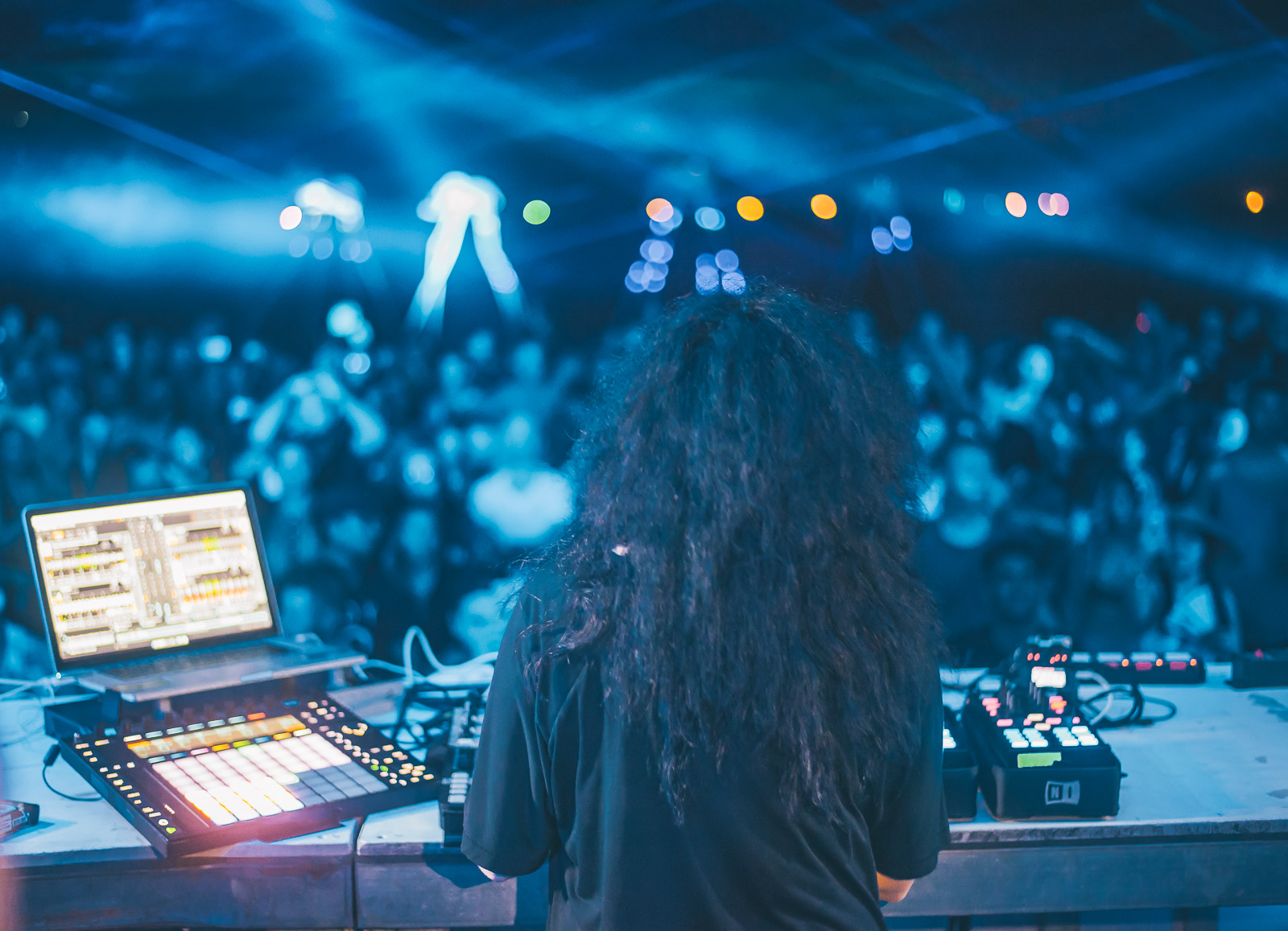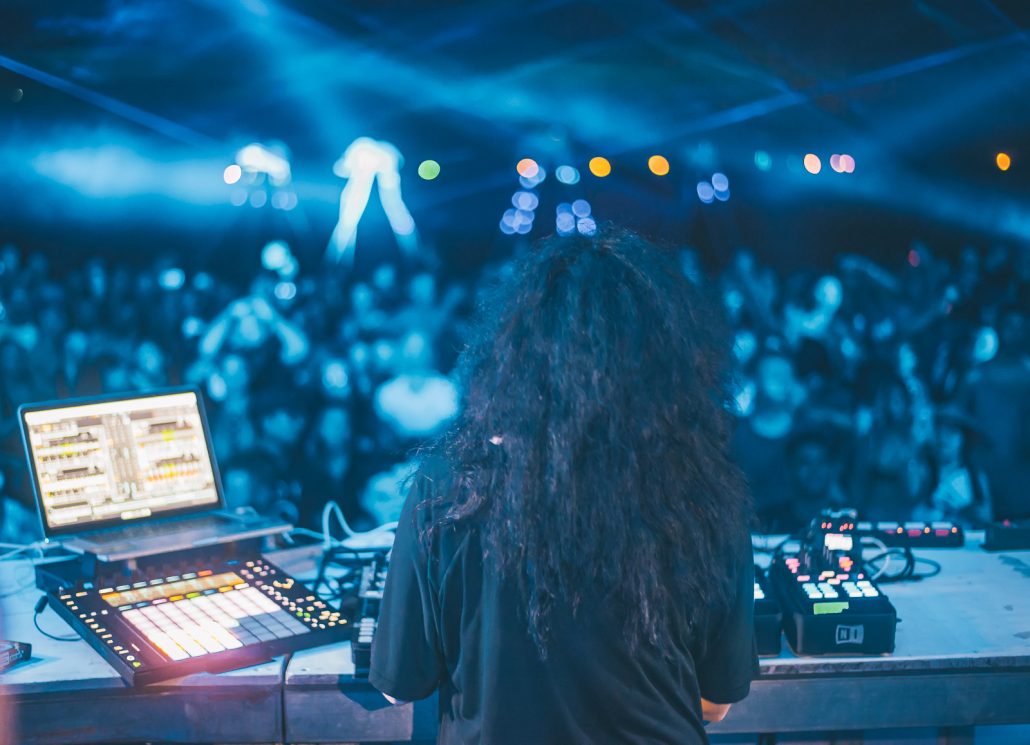 ---
PAN-POT = HOLY SH*T!  The party vibes were absolutely mental during this set, and it instantly became one of my favorite sets I've ever heard.  This german duo did not hold back in the slightest, and I'm already craving to see them spin again soon!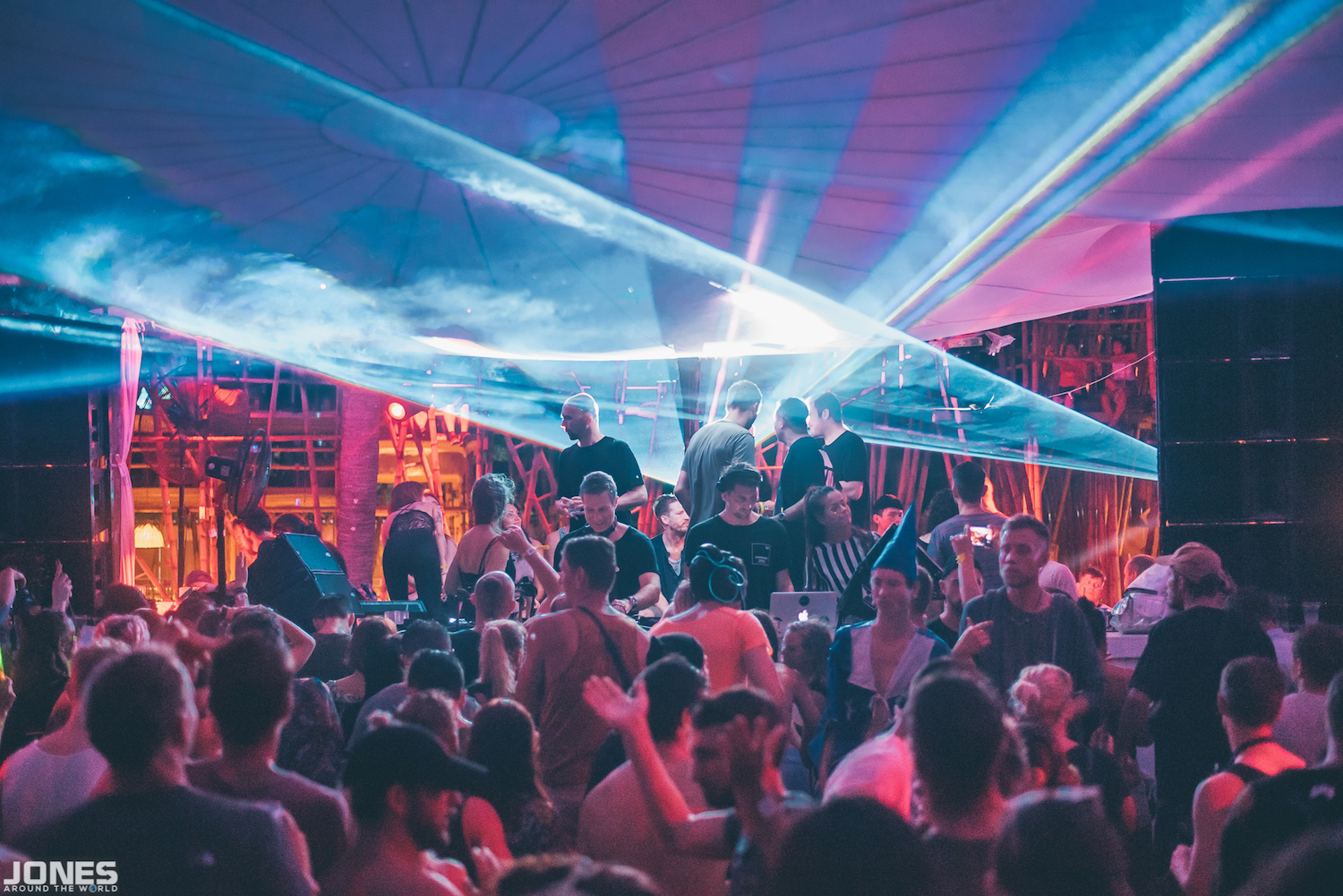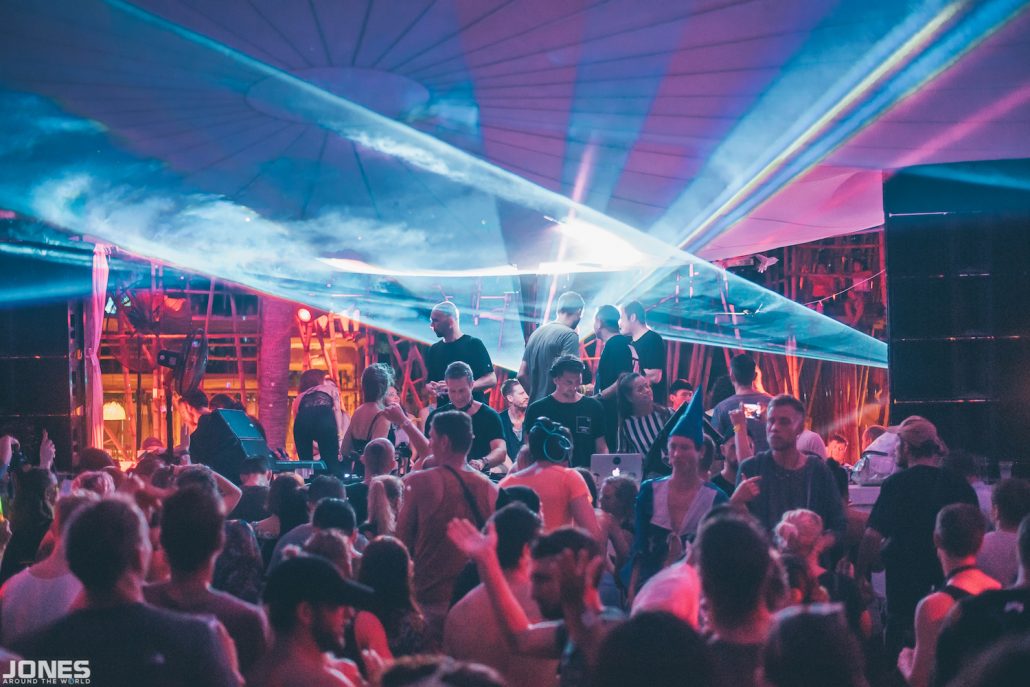 ---
Jamie Jones playing from 2-4 A.M left a serious impression.  This was one of the few popular house DJ's on the line-up I had never seen before, and he was playing some super funky tunes.  Patrick Topping followed him and was also slaying it, but I unfortunately wasn't feeling all that great, and had to dip-out a bit early this night.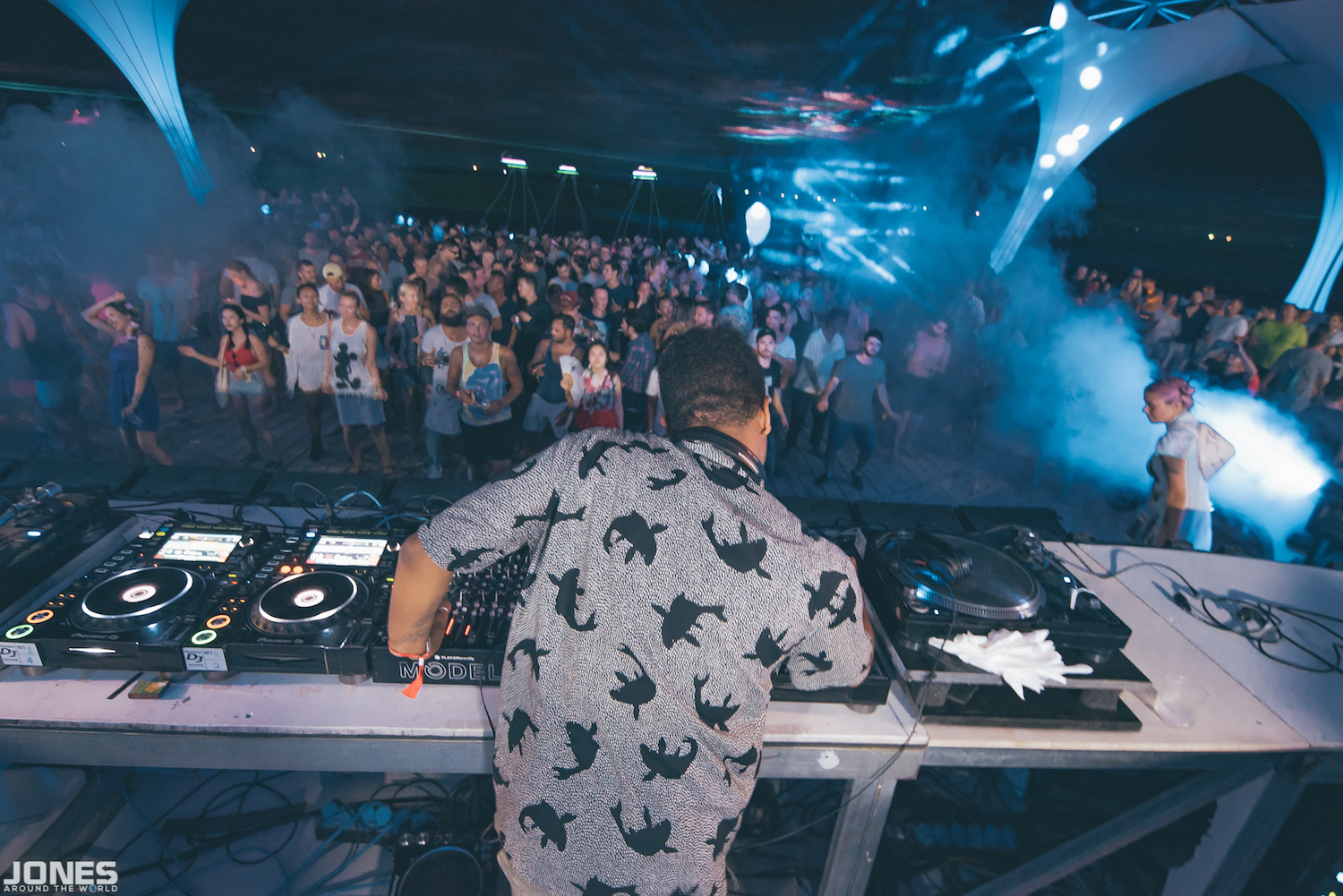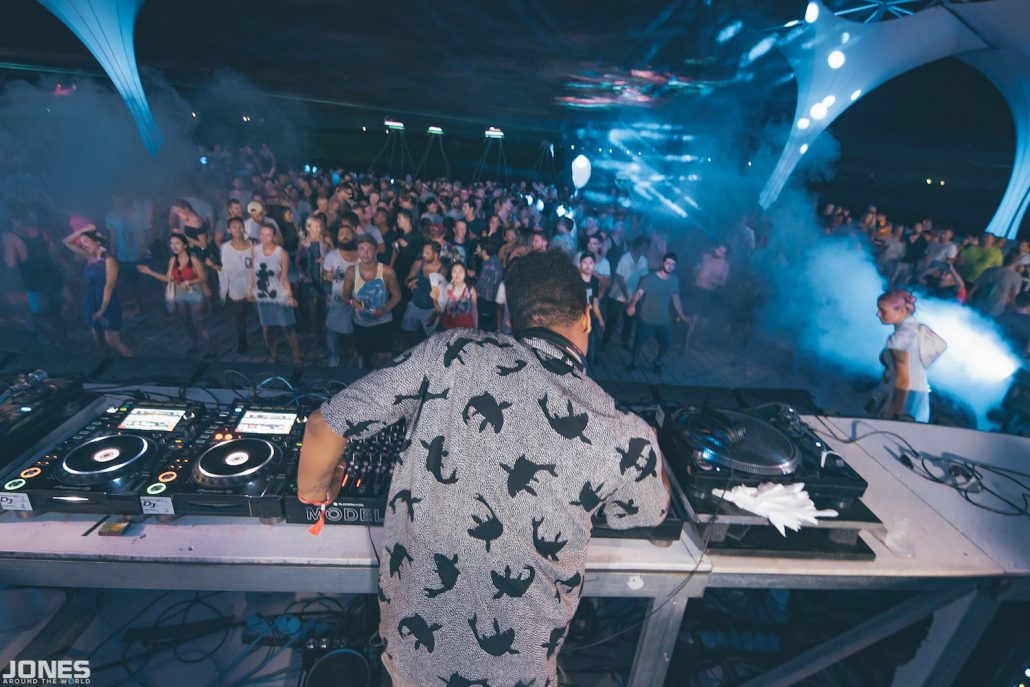 ---
Dixon B2B AME was the perfect way to end EPIZODE.  There's a reason why Dixon has been voted the world's best DJ for four years in a row!   Their mixing style is unlike any other artist I've ever heard, and they absolutely crushed it.  They played B2B from 2-6 A.M, but I regrettably had to leave at 5A.M to catch an early morning flight.  I actually almost didn't go at all for the last night, but I couldn't resist seeing Dixon play again!  While I showed up to the airport looking like a mess…it was definitely worth it!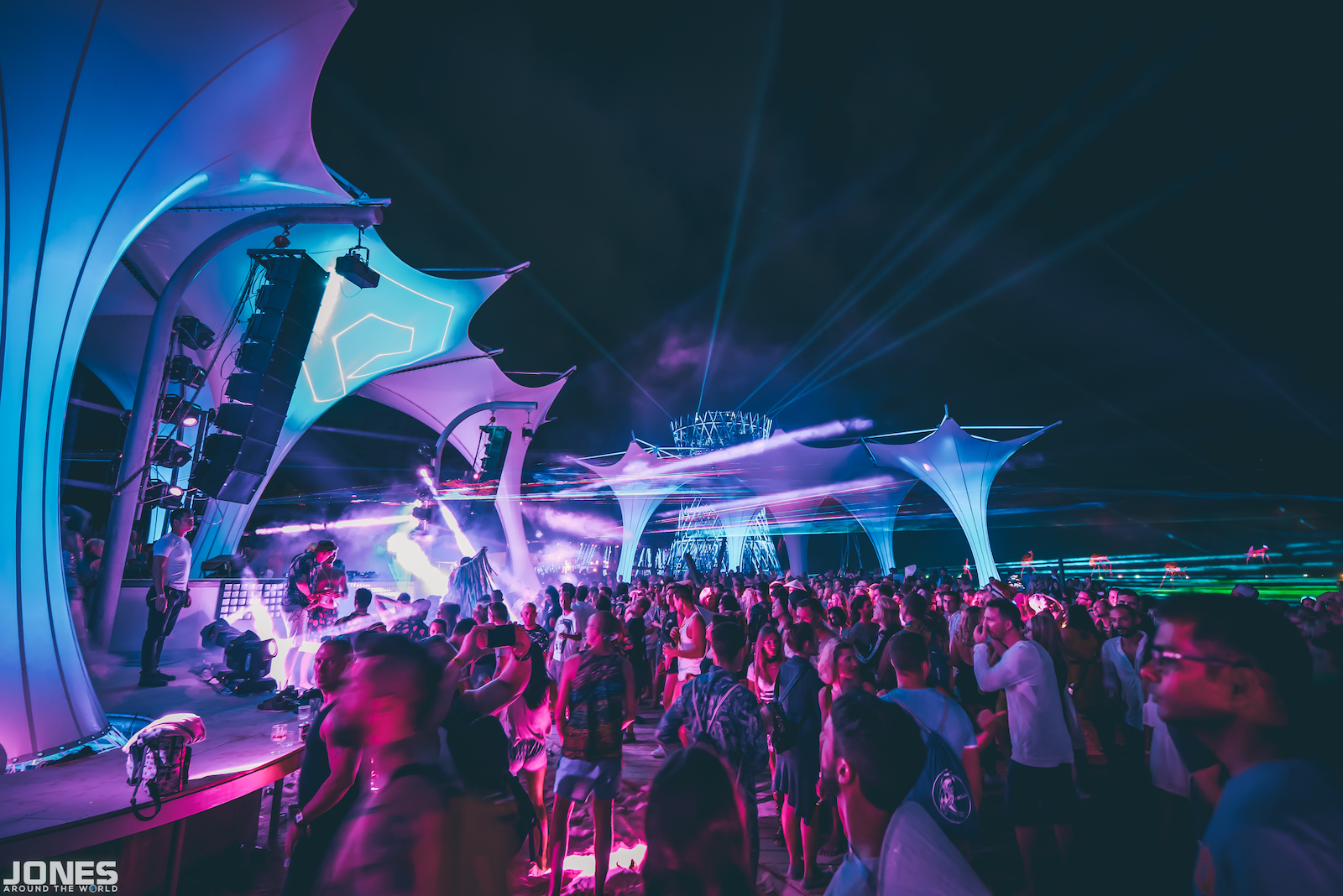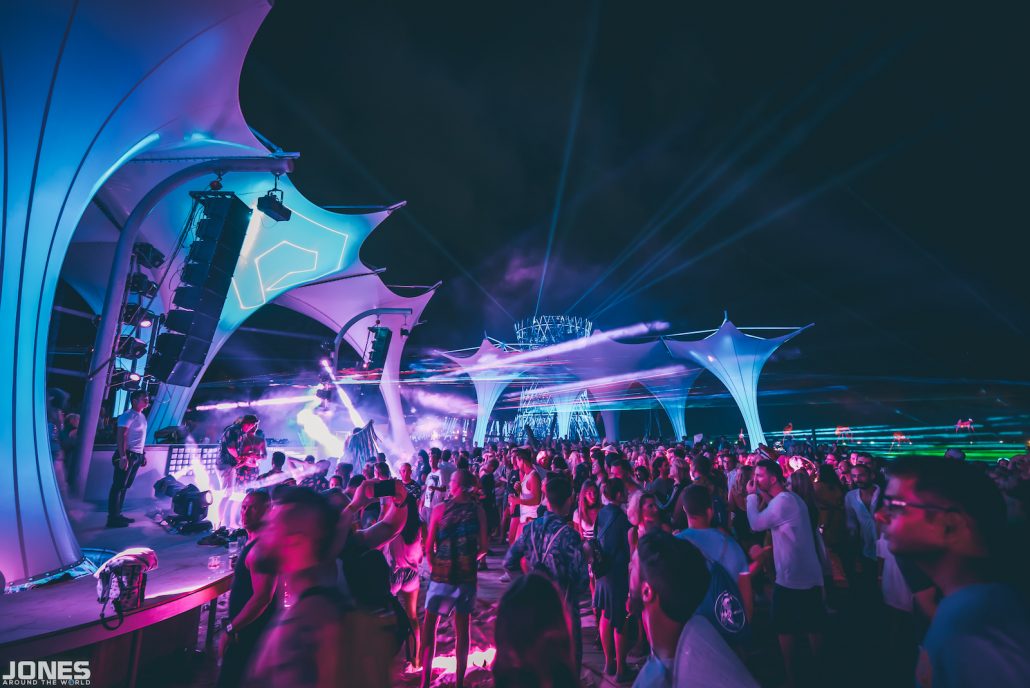 ---
THANK YOU EPIZODE Festival!!
This was without a doubt the craziest way to start the year, and I'll definitely be back again in the future.  If you're are a fan of underground house & techno – make sure you put Epizode on your festival bucket list. The production is top-notch, the line-up is heavenly, and the party vibes are seriously on-point.
Epizode

 Festival Returns For Its Fourth Edition

Epizode

Music and Art Festival returns for a much-anticipated fourth edition from December 27, 2019 – January 7, 2020. Situated on Vietnam's Phu Quoc Island, this idyllic setting boasts green-blue tropical seas, epis sunsets and white sand beaches, where every December the world's best house, minimal and techno DJs join forces for an epic week-long soundtrack. 

The now globally-acclaimed festival builds a bridge between the East and West as an international music gathering of the highest order, and this year will explore an even wider musical landscape –  along with striking art installations, creative stage designs and top-class soundsystems.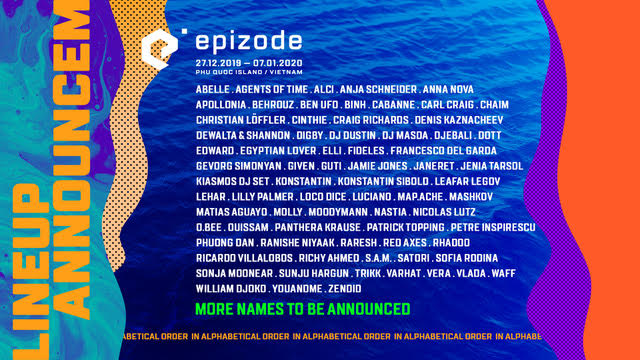 Follow my music festival adventures around the world on Facebook, Instagram, and Twitter.
---
SHARE THE EPIZODE FESTIVAL LOVE WITH YOUR SQUAD!