Day Zero Festival is an 18-hour all-night party in a remote and magical jungle outside of Tulum, Mexico. Taking place in the second week of January, it's perfectly placed among dozens (hundreds?!) of fantastic house + techno parties in Tulum over the New Year period.
Starting in the last week of December and ending in the second (or third) week of January, Tulum turns into one massive party. It's kinda like Burning Man meets Ibiza, but in the jungles and beaches of Tulum, and Day Zero festival is right at the center of it all.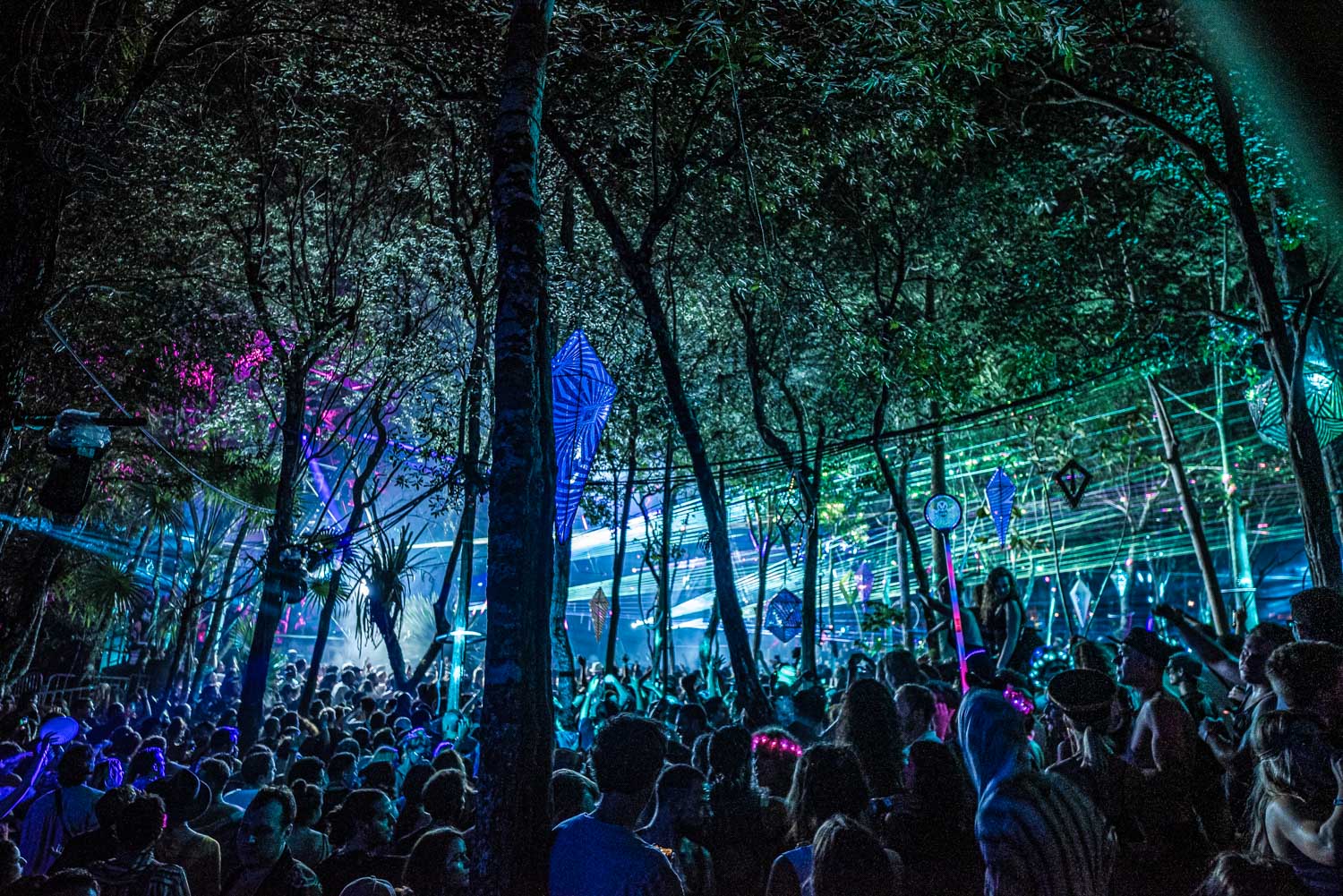 Held at a 'secret' jungle location outside Tulum (that you reach by bus from a check-in point), Day Zero really does the 'remote and mysterious' vibe really well. And when it's put on by Damiam Lazarus + Crosstown Rebels crew, you can trust that it will be top-of-the-line.
Keep reading for some reasons that Day Zero will DEFINITELY blow your mind…and be sure to check out this Day Zero Festival Review for some more in-depth info, too.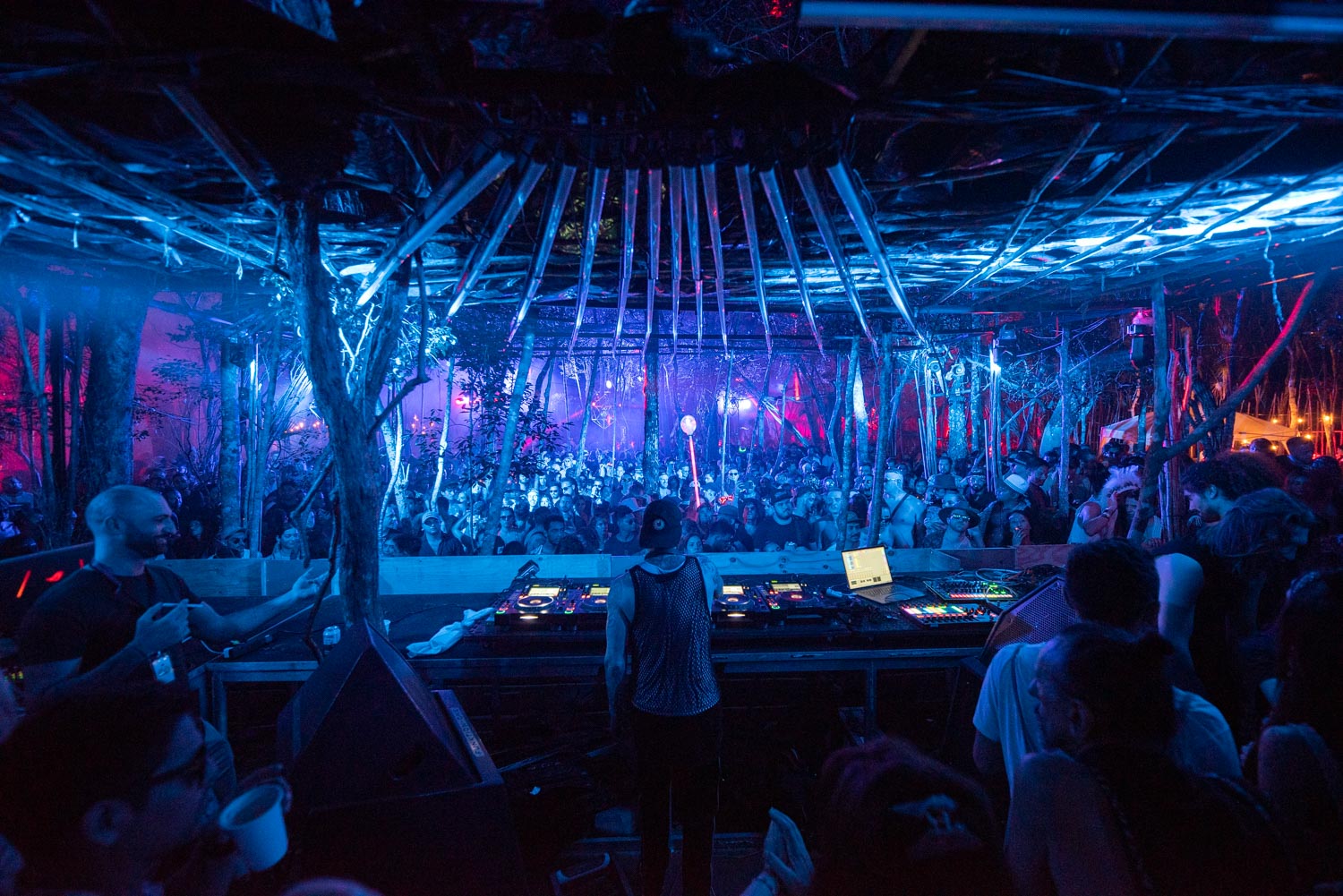 ---
1. I Mean… Have You Seen That Lineup?!
Day Zero Festival packs a LOT of punch into 18 hours of straight music. The lineup is curated by Damian Lazarus himself (who always has the amazing main stage sunrise slot – not to be missed). Across two stages, you can expect a mix between melodic playa techno, harder and more industrial techno, and some fun bunch house here and there as well.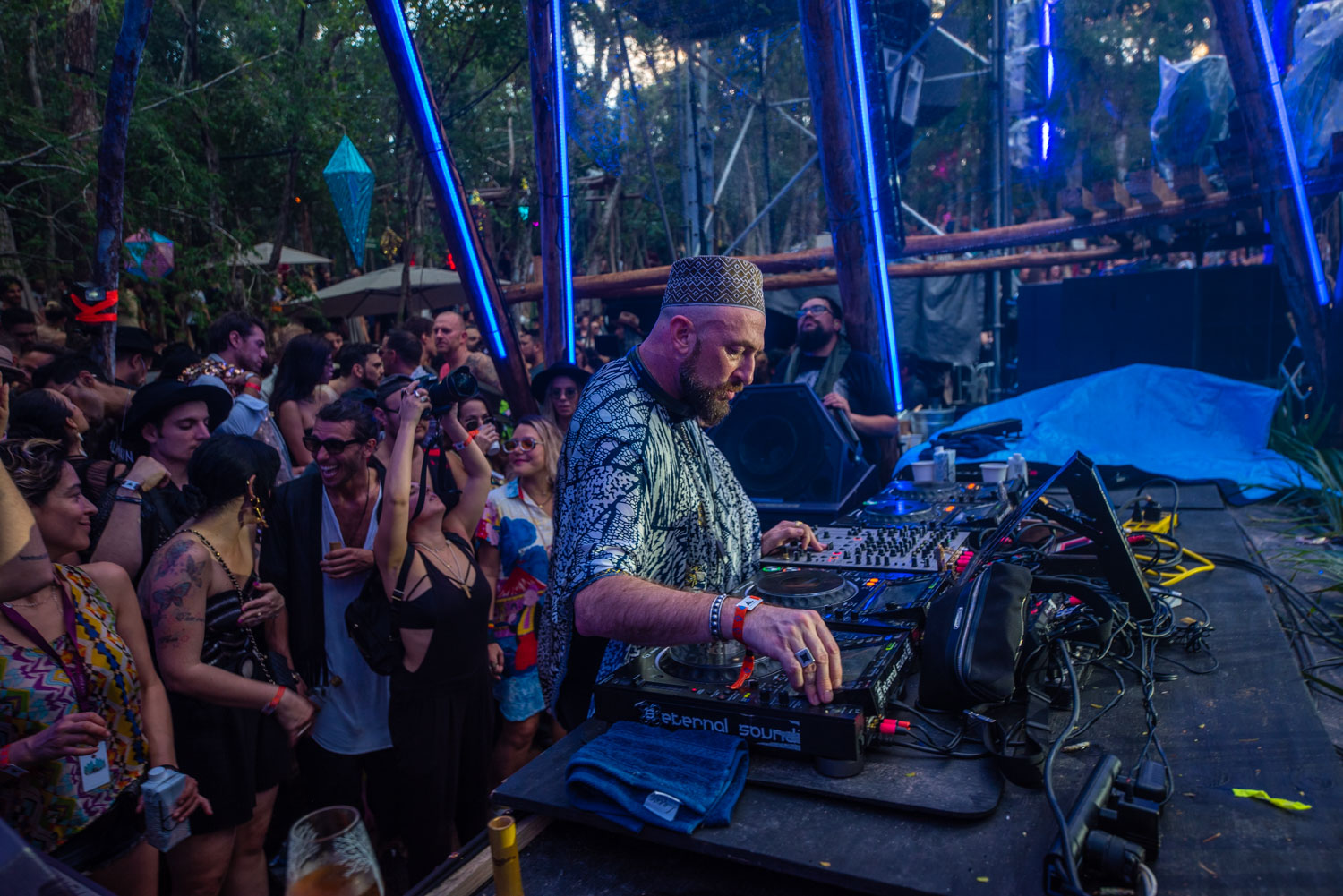 Day Zero brings in lots of well-known artists alongside some more up-and-coming techno stars as well. The last edition of the festival welcomed the likes of Black Coffee, Bedouin, &ME, Serge Devant, Dubfire, Ellen Allein, Ae:ther, and more. With each edition of Day Zero you can expect expertly curated artists and great vibes all around.
I'd personally argue that out of all the line-ups I encountered during my 3-week stay in Tulum, Day Zero provided the best line-up!
---
2. One of the Most Unique Festival Venues EVER
Day Zero Festival is held at Cenote Dos Ojos in the middle of a quite dense tree-lined jungle about 20 minutes outside of Tulum. This venue is awesome for quite a few reasons.
First of all, there is an ACTUAL CENOTE you can SWIM in – right next to the main stage! Imagine having a cooling swim in fresh cenote waters that are vibrating to a juicy bassline – as a quick break from a dense and passionate crowd. This is a reality at Day Zero!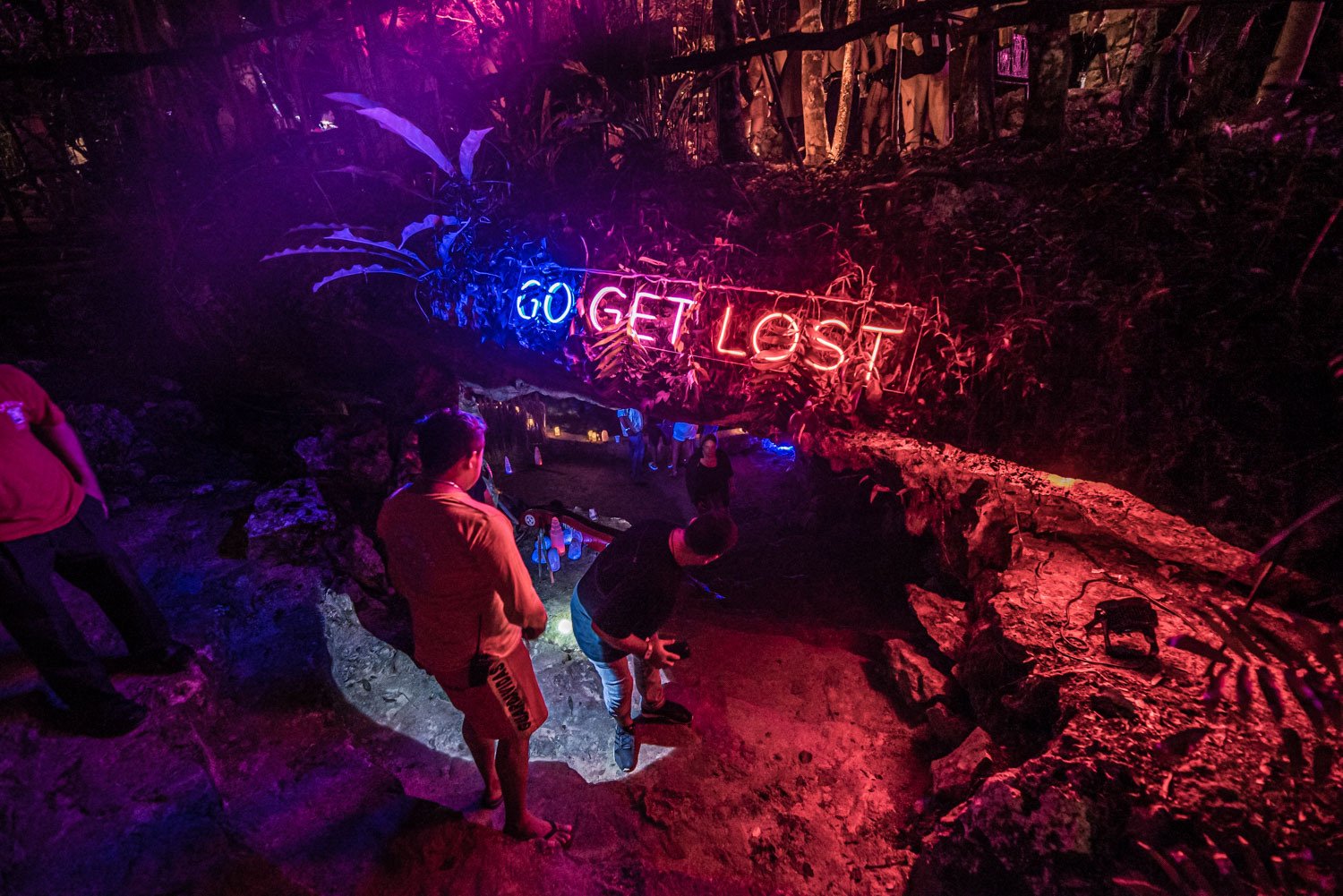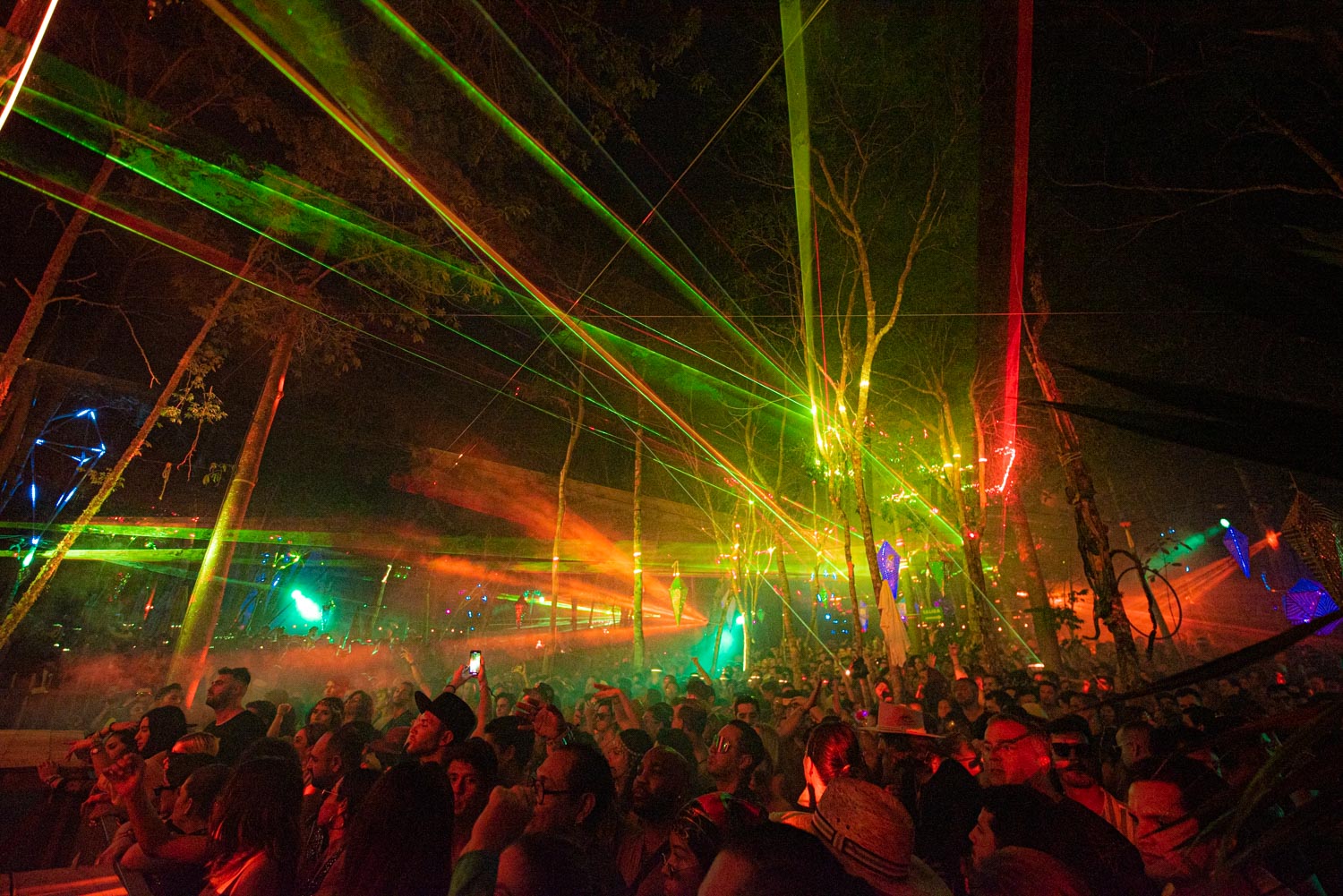 Apart from having a cenote/cave to swim in, the venue has many different parts. It's quite a hilly area, and the main stage is set at the bottom of a hill. The VIP areas of Day Zero are also ascending up the hill behind and next to the main stage, creating a big amphitheater-like setting with thousands of people dancing on and around a huge hill. The entire area is also surrounded by majestic trees that provide cooling shade and are also decorated wonderfully.
The Club Stage is a much flatter atmosphere that is also surrounded by and covered with trees. You truly feel immersed within a magical jungle at this festival, and the euphoric beats complete the mood.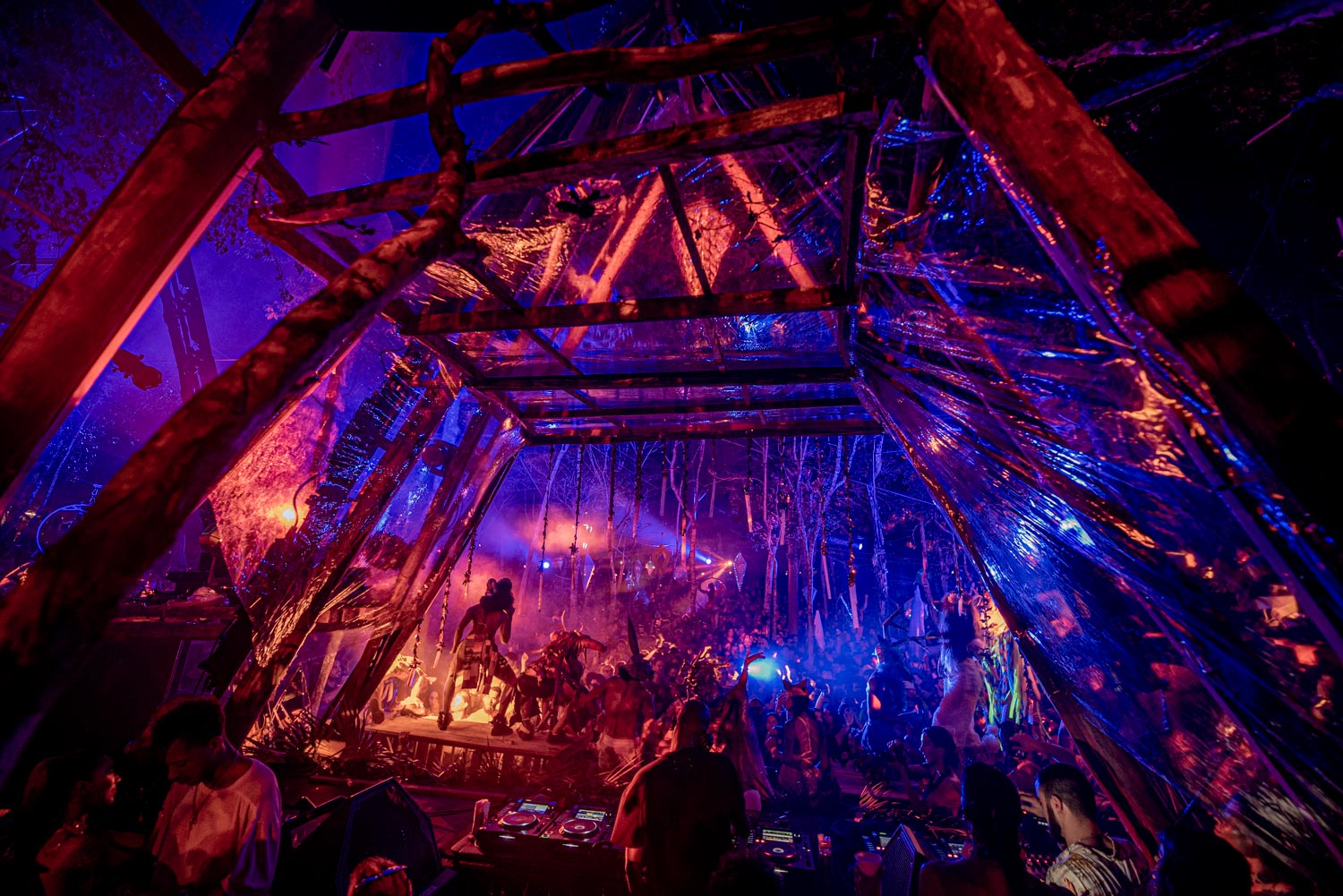 ---
3. The Production Value is INCREDIBLE.
The production behind this 18-hour party is absolutely impressive, to say the least. There are truly more lasers emanating from the main stage than I've ever seen before, and it even seems that they have engineered each one to bounce off the dozens of trees and decorations in the dance floor area.
The sound is top-notch (like, I recommend bringing earplugs for it, ha) and the rumble of the bassline can be felt from before you even get inside.
They truly leave no stone unturned with attention-to-detail, which is clear from the intricately-woven vines and branches suspended over most of the festival and Club Stage, beautifully designed beaded lanterns having from many trees, and tons of decked-out chill spaces to enjoy during the festival. They even have a theater, a 'chakra zone,' and more spaces to explore when you aren't having a boogie.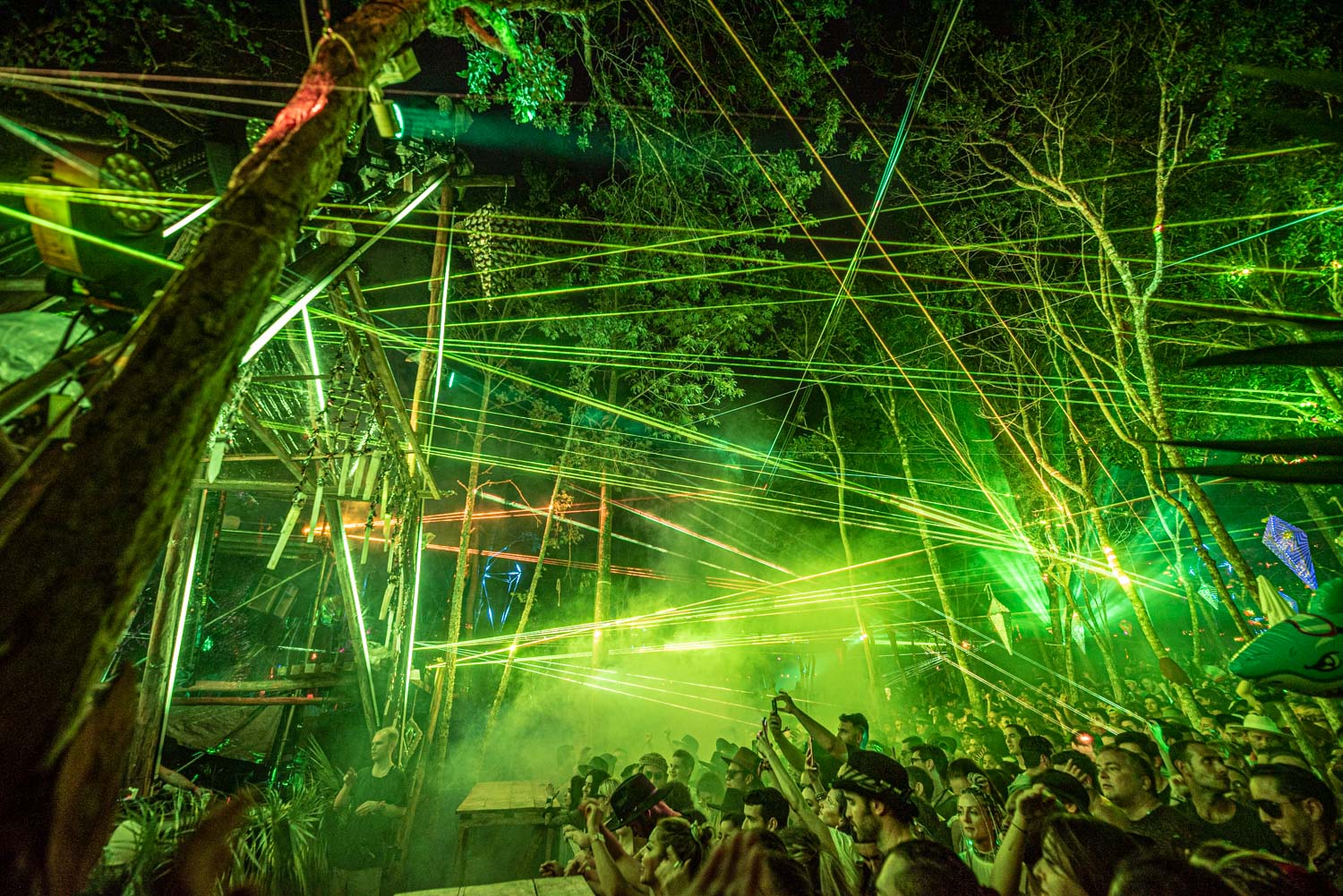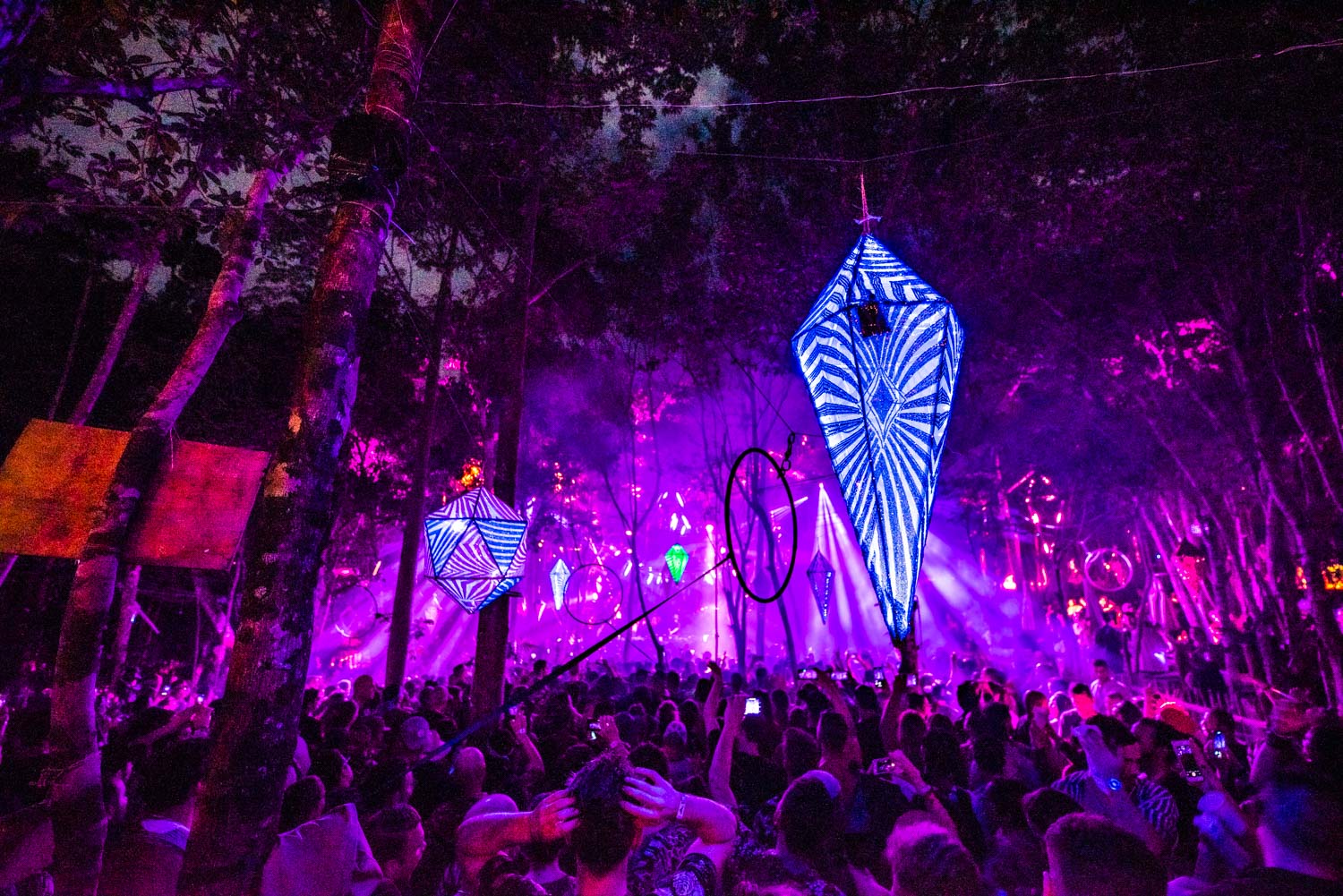 ---
4. They Have Next-Level Performers Throughout the Festival
Perhaps the most impressive part of the production is the special performances and shows that go on throughout the day/night. In the morning of Day Zero 2020, there was a parade of fully-costumed characters (with some on stilts) through the crowd that brought flowers for everyone to dance with.
They also had a special color-bomb session in the morning that turned the crowd all kinds of shades of pink, blue, and purple like the Holi festival in India. It was a spectacle to see!
Throughout the main stage sets, they had dancers, fire spinners, and more performing both on platforms in front of the stage and in multiple levels of elevated platforms – like crows' nests, if you will. There were also roaming performances and different shows going on as you walked around. You truly never knew what will come out next, which is another really exciting reason to attend Day Zero Festival.
Mayan Culture Performers
Lastly, they even have Mayan Cultural Performances at Day Zero, too! They have performers dressed up in traditional Mayan attire – feather headdresses and all – doing traditional dances around a fire and selling handmade local goods. It's great that they also draw attention to and celebrate the local indigenous culture.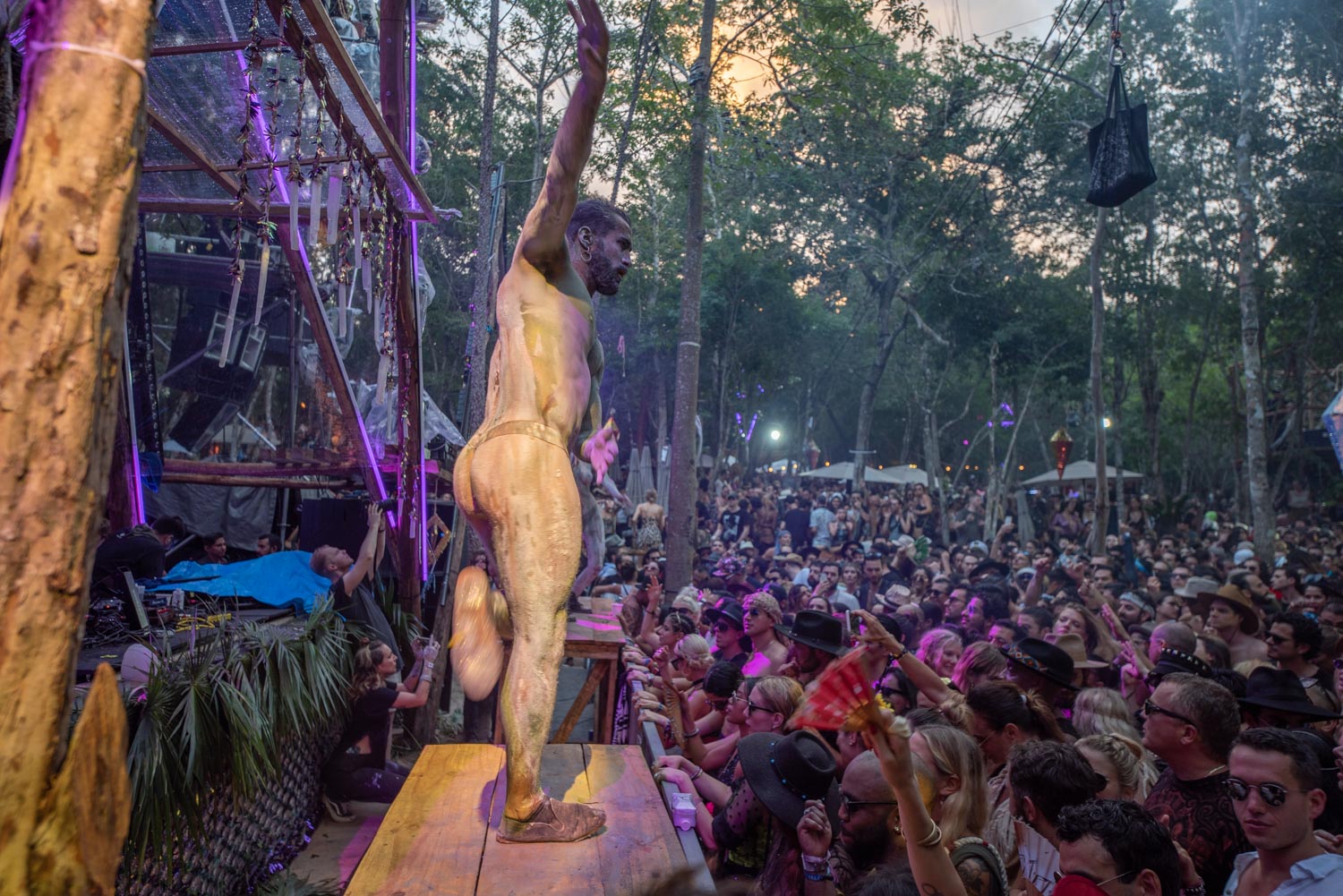 ---
5. There are Amazing Markets with Handmade Crafts
There are dozens of market stalls at Day Zero with international artists selling all kinds of amazing handmade crafts, jewelry, clothing, and more. The market stall 'line up' is as expertly curated as the musical line up, and Day Zero is a great place to pick up some handcrafted goodies or locally made trinkets.
---
6. Day Zero is a Festival Fashion Paradise
People go ALL-OUT for fashion at Day Zero Festival – to an impressive level. Day Zero is the perfect festival to try out your new over-the-top festival outfit ideas, or simply marvel at the incredible getups that other people put together.
There is a lot of money in and around this festival, and this really shows through in people's outfits. Girls are dressed in intricate metal/feather headpieces/headdresses and Burning Man-esque draped fashion, with professionally done body paint and jewelry/body gems too. Boys generally dress in a dark techno-style with bohemian accents – ponchos, kimonos, feather-tipped hats, tribal paint, and more. It's a great place to show off or get outfit inspiration for both men and women!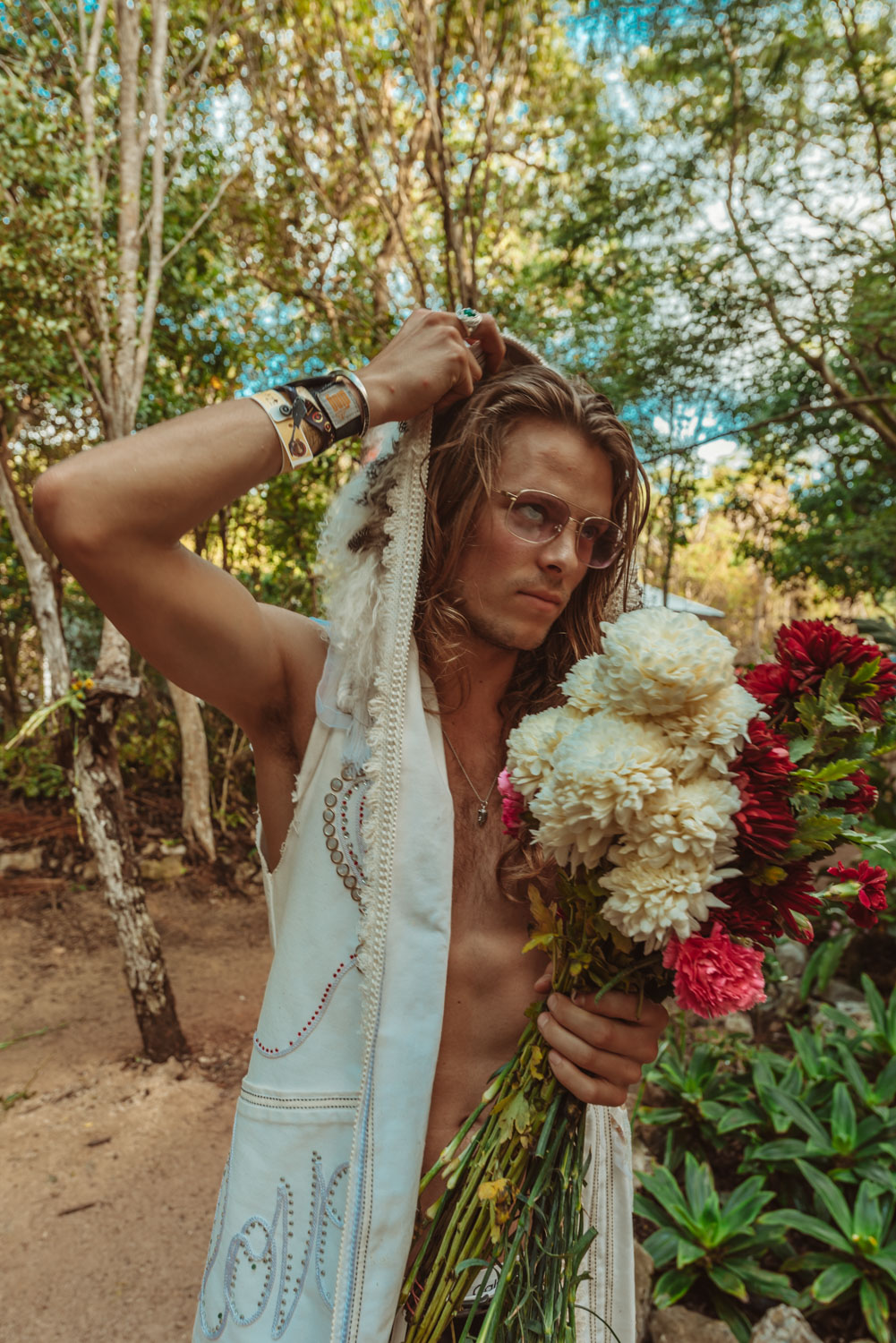 ---
7. You Get to Experience Tulum During an Awesome Time
If you attend Day Zero Festival, you will have the unique ability to experience Tulum during its busy peak season where there is SO much going on! As I mentioned, there are multiple different events going on each and every day, along with tons of wellness and yoga going on near the beach, crowded and trendy beach bars, AMAZING food around every corner, and more.
It would be wise to try to get out of Tulum, also; there are TONS of places to visit from Tulum (and you might as well make the most of being here)! There are maybe a dozen beautiful cenotes in and around Tulum which are amazing for swimming and photo ops. There are hundreds of beaches and even beach parks such as Xel-ha, and many day trips to destinations like Isla Mujeres and Playa del Carmen. You can visit the Tulum ruins, or the famous world wonder of Chichen Itza which is less than 2 hours away.
I know there is tons of techno going on, but don't forget to explore some other incredible things there are to do in Tulum after visiting Day Zero Festival!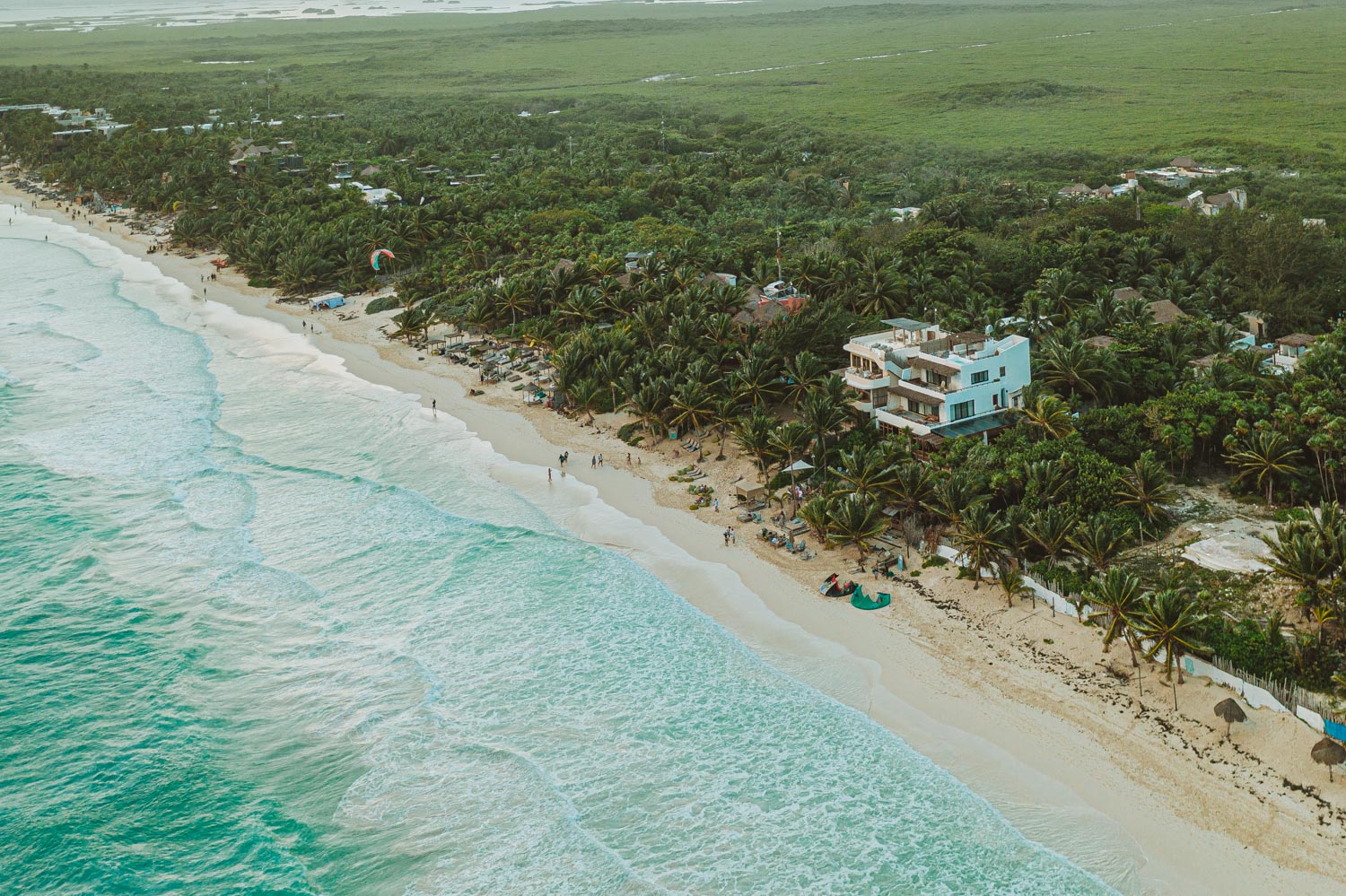 https://www.jonesaroundtheworld.com/wp-content/uploads/2020/04/Day-Zero-Festival-Tulum-DSC_6842.jpg
1001
1500
Dave
https://www.jonesaroundtheworld.com/wp-content/uploads/2017/03/logotry-1-1-300x106.png
Dave
2020-04-10 19:15:55
2020-09-26 22:37:54
7 Reasons Why Day Zero Festival Will Blow Your Mind