Outside Lands Music Festival: The Ultimate Golden Gate Park Party
"If You're Going To San Francisco…
Be sure to wear, some flowers in your hair "
During every August for the past 9 years, I've watched countless friends check-in on Facebook to the legendary Outside Lands Music Festival.  Let's just say that the F.O.M.O (Fear of Missing Out) has been strong in the past….
BUT NOT THIS YEAR.  MY TIME HAD FINALLY COME!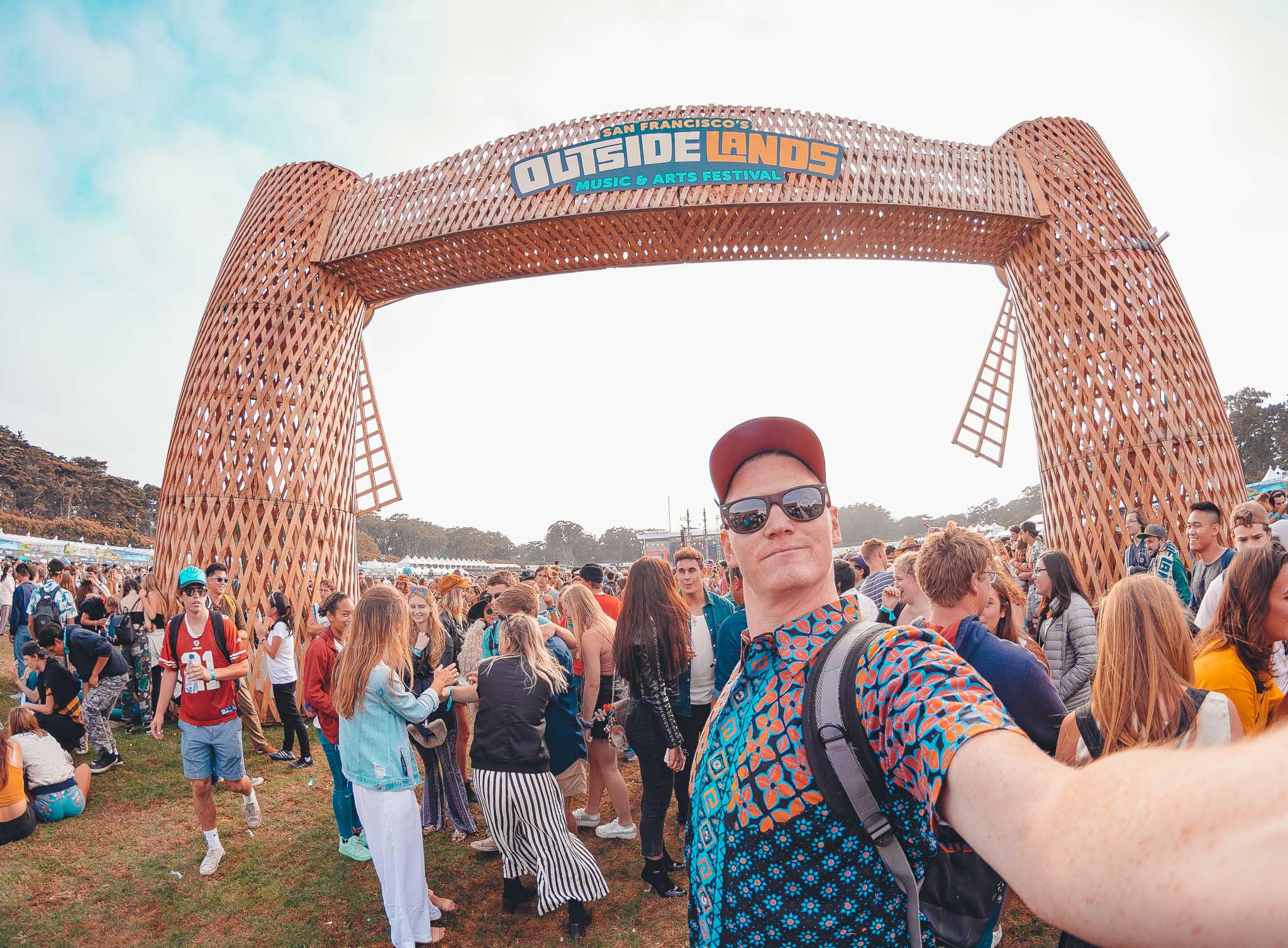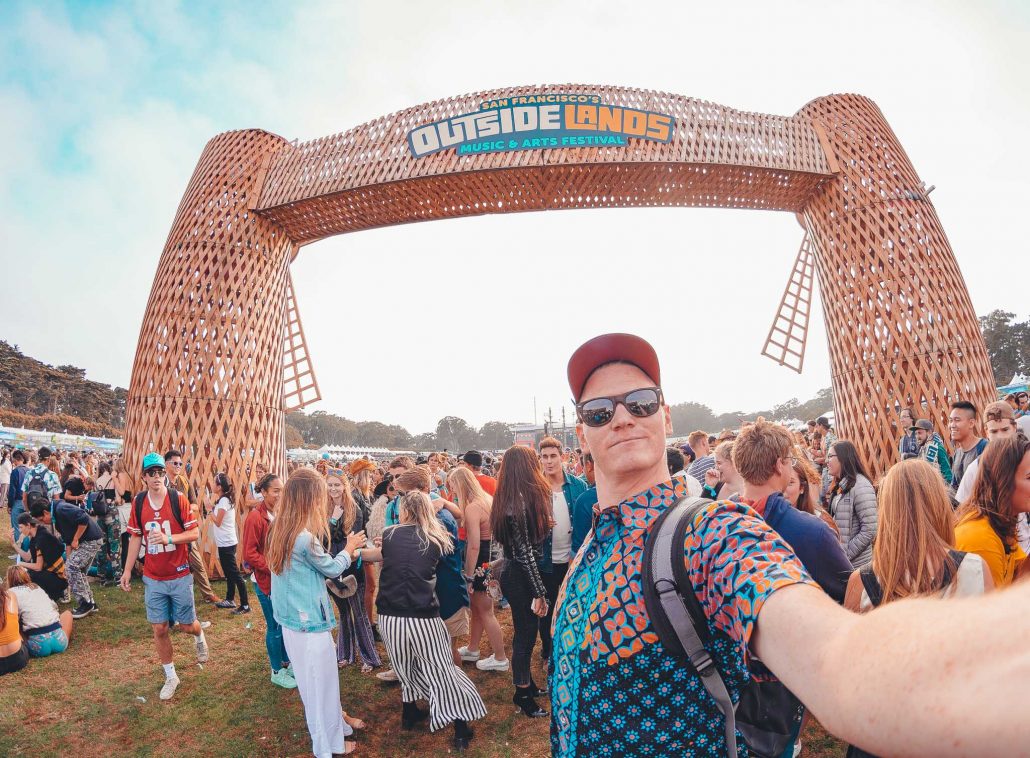 I flew all the way back to California (from INDONESIA) to make it to the 10th Anniversary of Outside Lands, and it was completely worth every single second of feeling jet-lagged.
Golden Gate Park became one of my new favorite festival venues, the music was consistently amazing, and there was a really solid vibe during the entire weekend (even with less than ideal weather).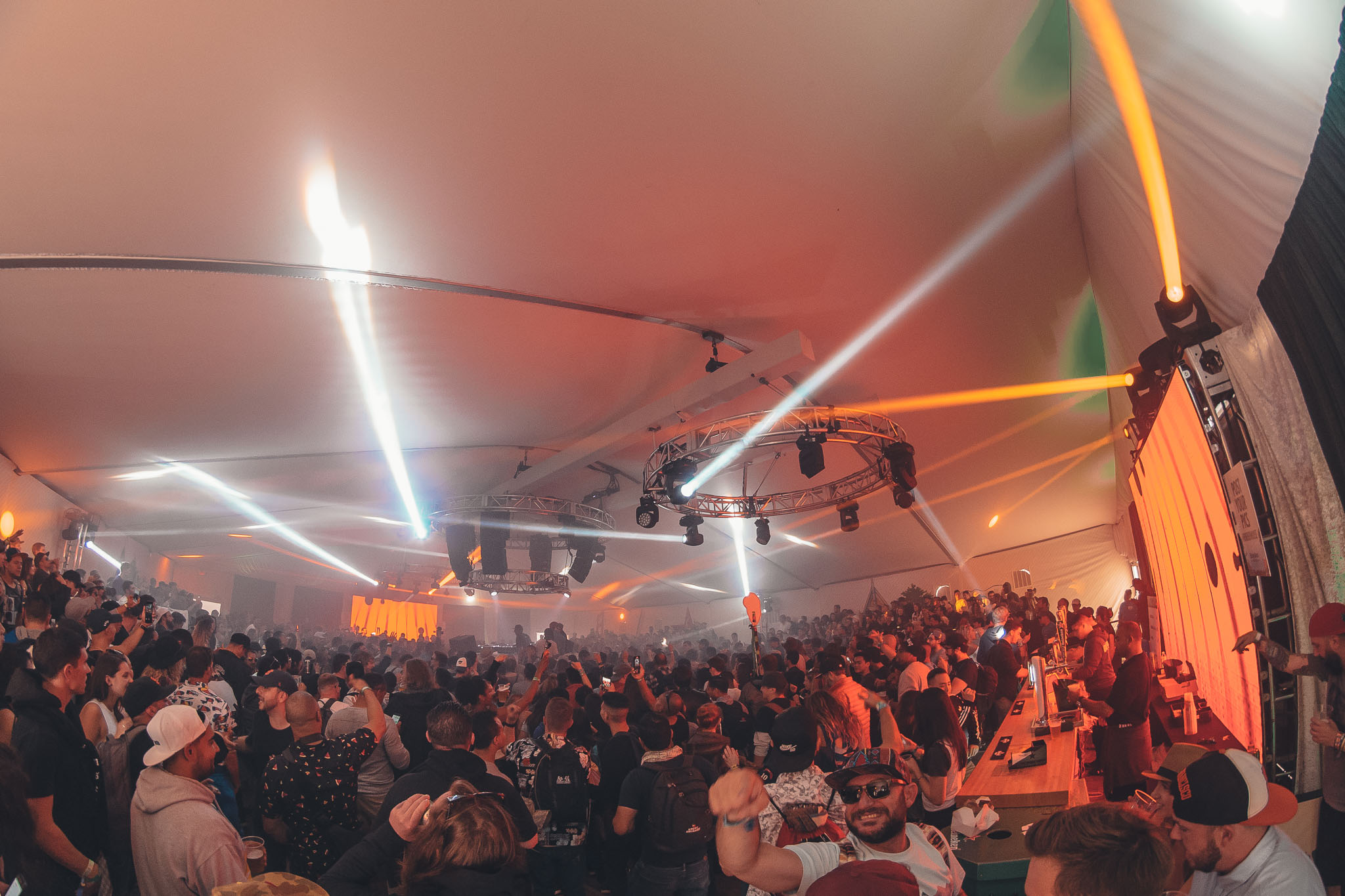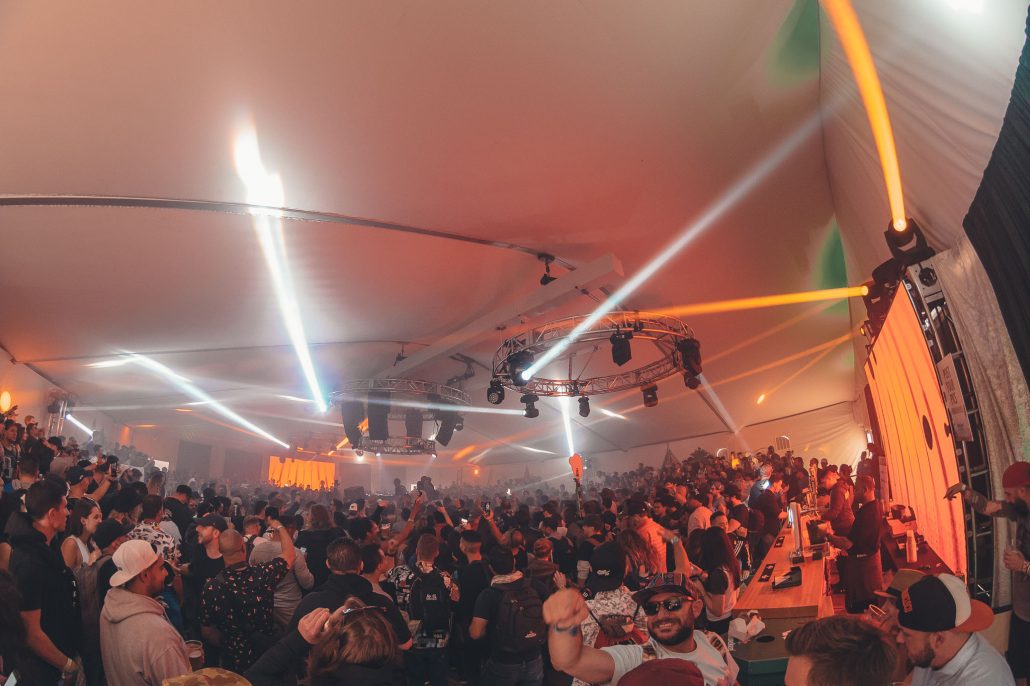 None of this would have been possible though if the people over Chase Sapphire didn't invite me out to experience Outside Lands, and to get a taste of the incredible benefits of being a Chase Sapphire Cardmember.
I've been to my fair share of music festivals in America, and I would definitely say that Outside Lands is one of the best ones out there.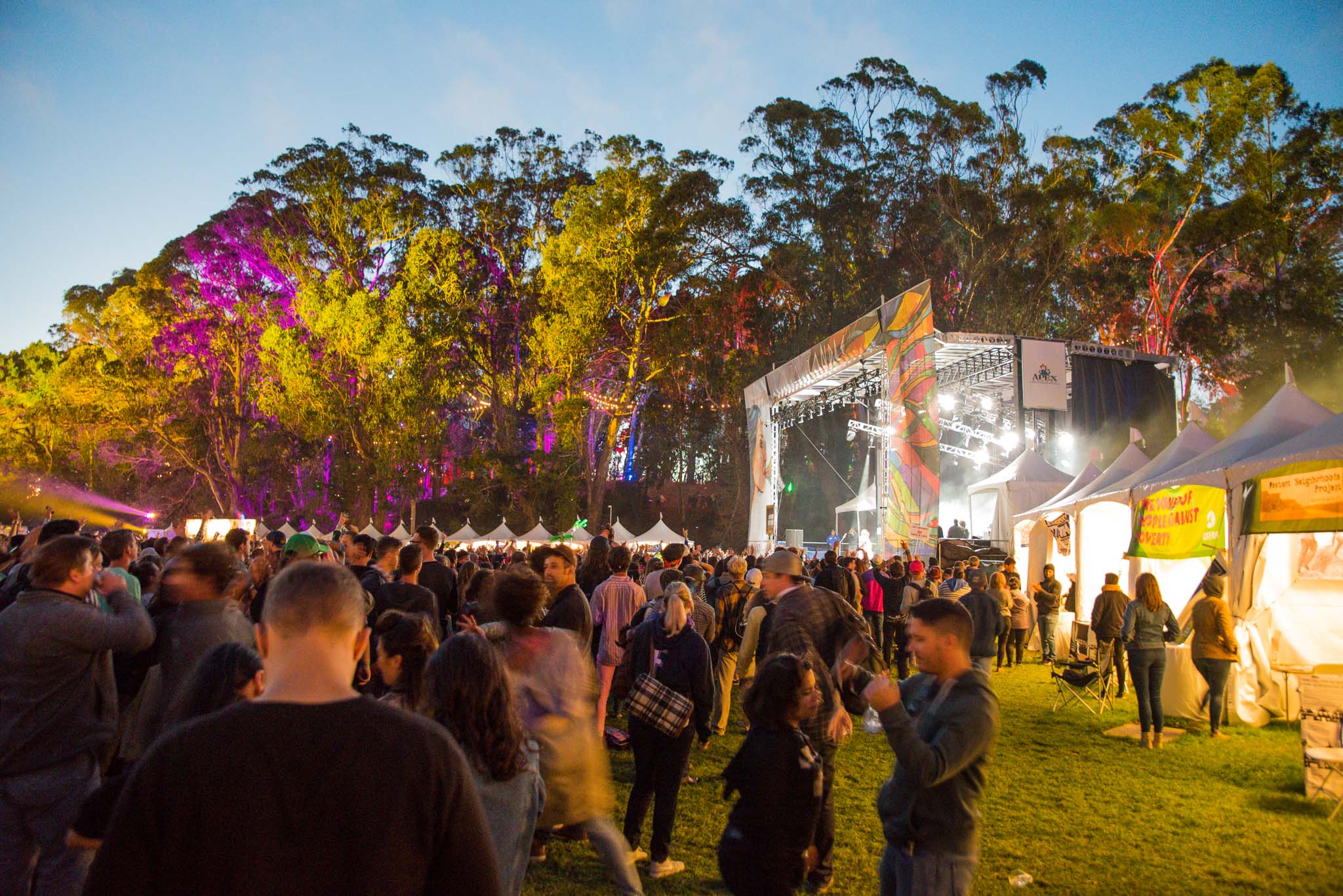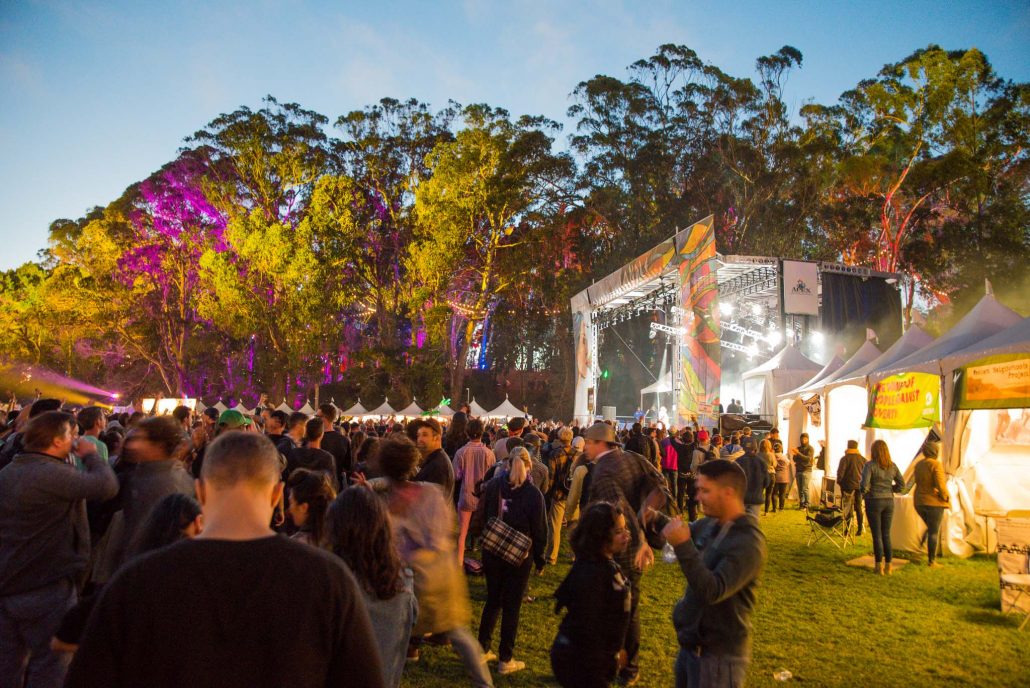 ---
The Chase Sapphire Experience at Outside Lands
My Chase Sapphire Preferred card has been my favorite credit card the minute I received it in the mail.  As a travel-blogger who is constantly abroad, renting cars, and dining out, it really is the best option for me. Plus, I just love the weight of the card.  I'm sure fellow cardmembers can relate to that.
So when Chase asked me if I was a Sapphire Cardmember, and invited me out to Outside Lands, I was so stoked to see how this could impact my experience at a festival.
The Chase Sapphire Lodge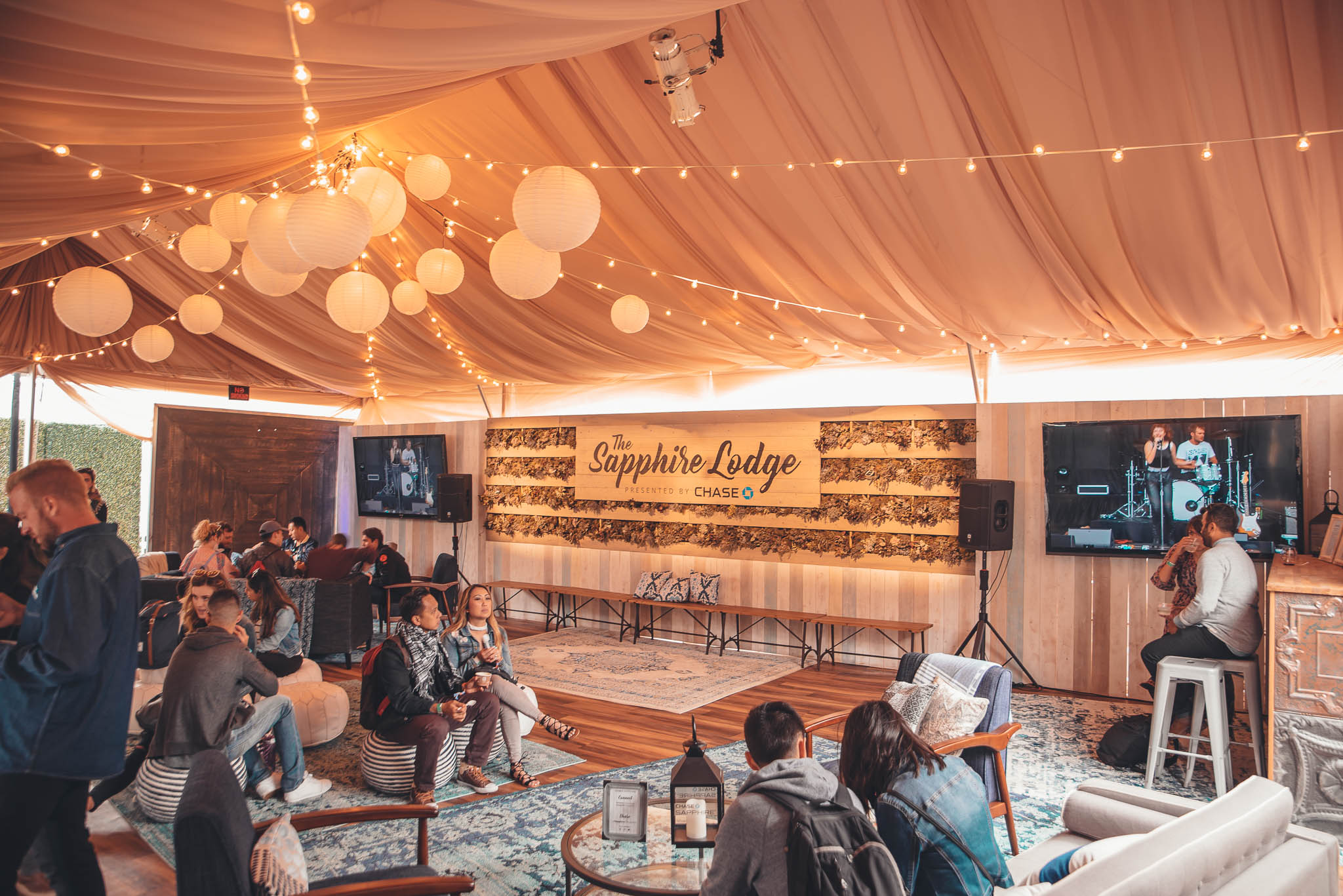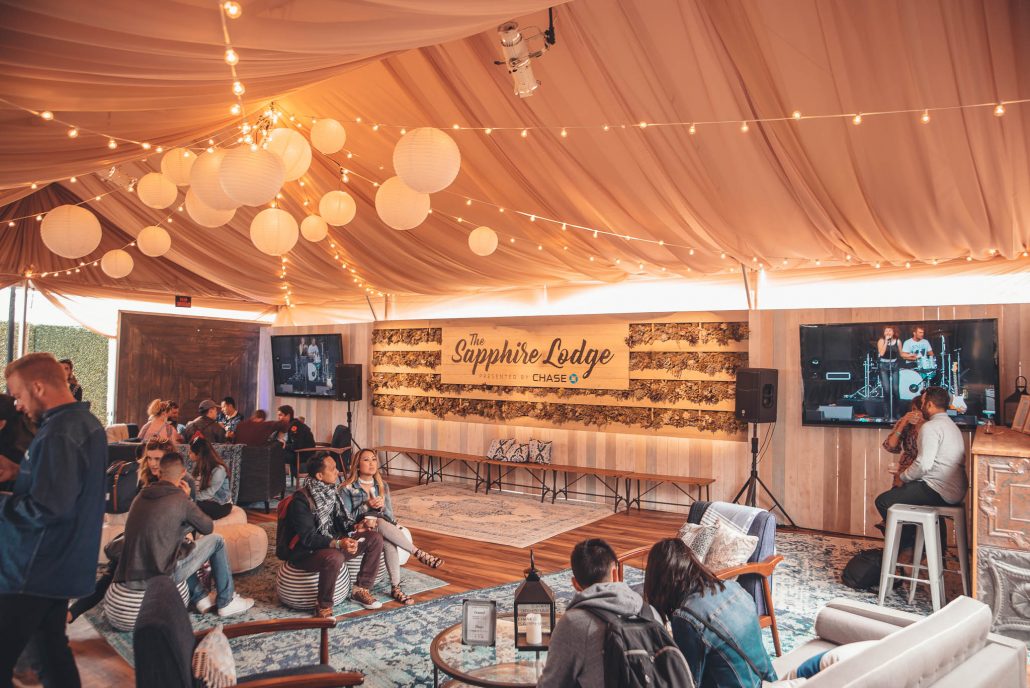 The first and most notable benefit for ANY Chase Sapphire cardmember at OSL would be gaining access to this amazing lodge.  This became my home-base at the festival, and I always found myself coming back here to relax and unwind a bit in between sets.
There was always FREE Water, Coffee, Popcorn, and Wi-Fi.  I had at least 1-2 coffees each day to keep my energy levels up, which actually saved me a bit of money considering coffees outside cost around $6!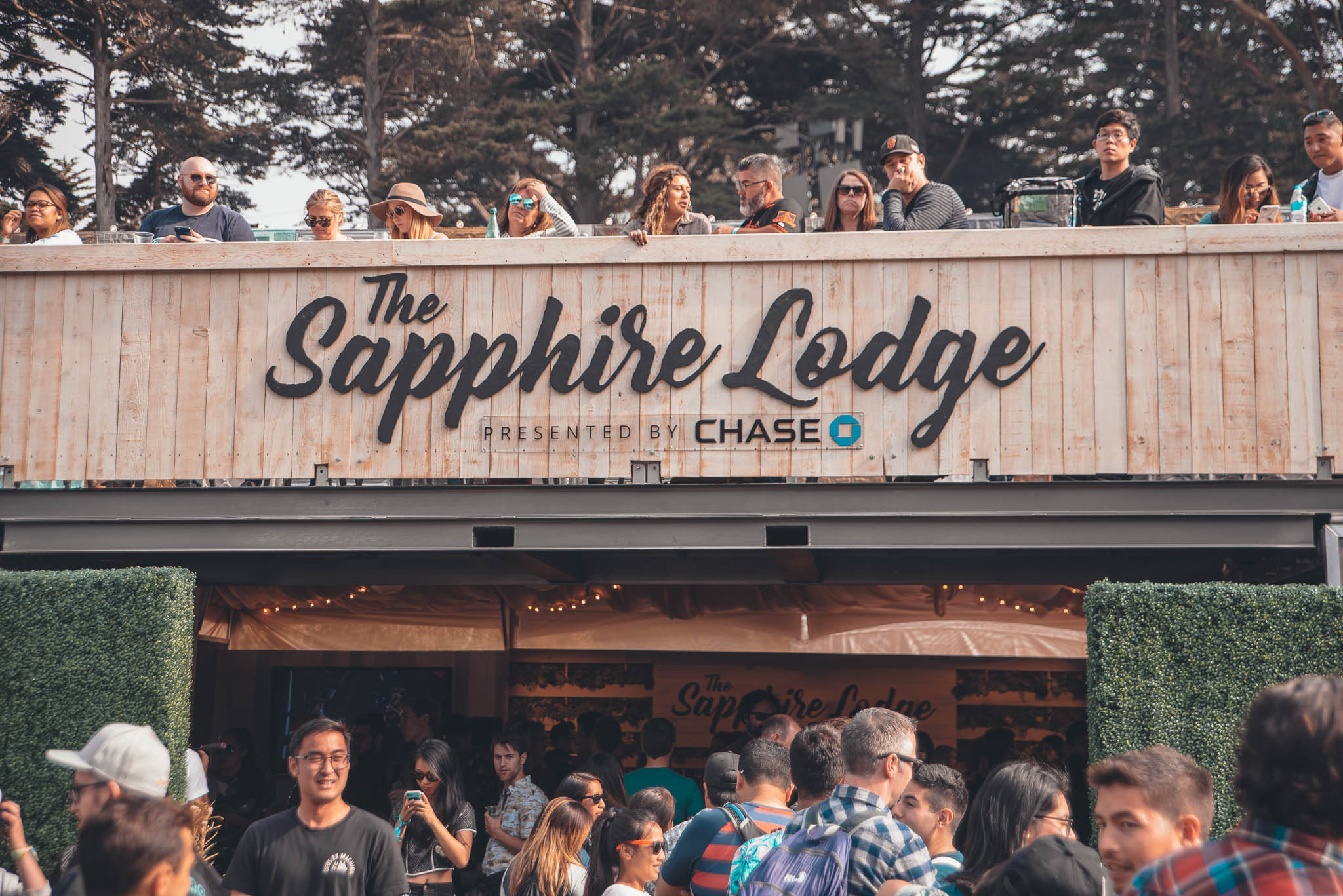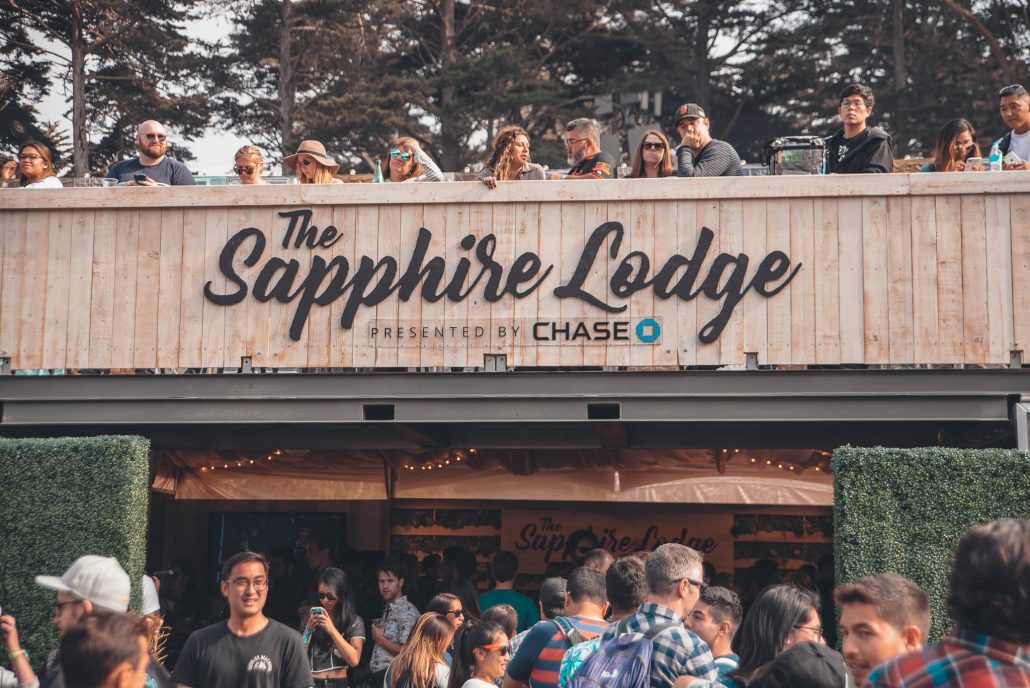 And while it may sound a bit strange, I would always come back to the Chase Sapphire Lodge to use their luxurious bathrooms!  I absolutely despise porta-potties, so having access to a super clean bathroom over the course of the weekend was festival game-changer!
It was also pretty great having an awesome rooftop viewing area of the Panhandle stage!  :-)
---
Mainstage VIP Cabana Access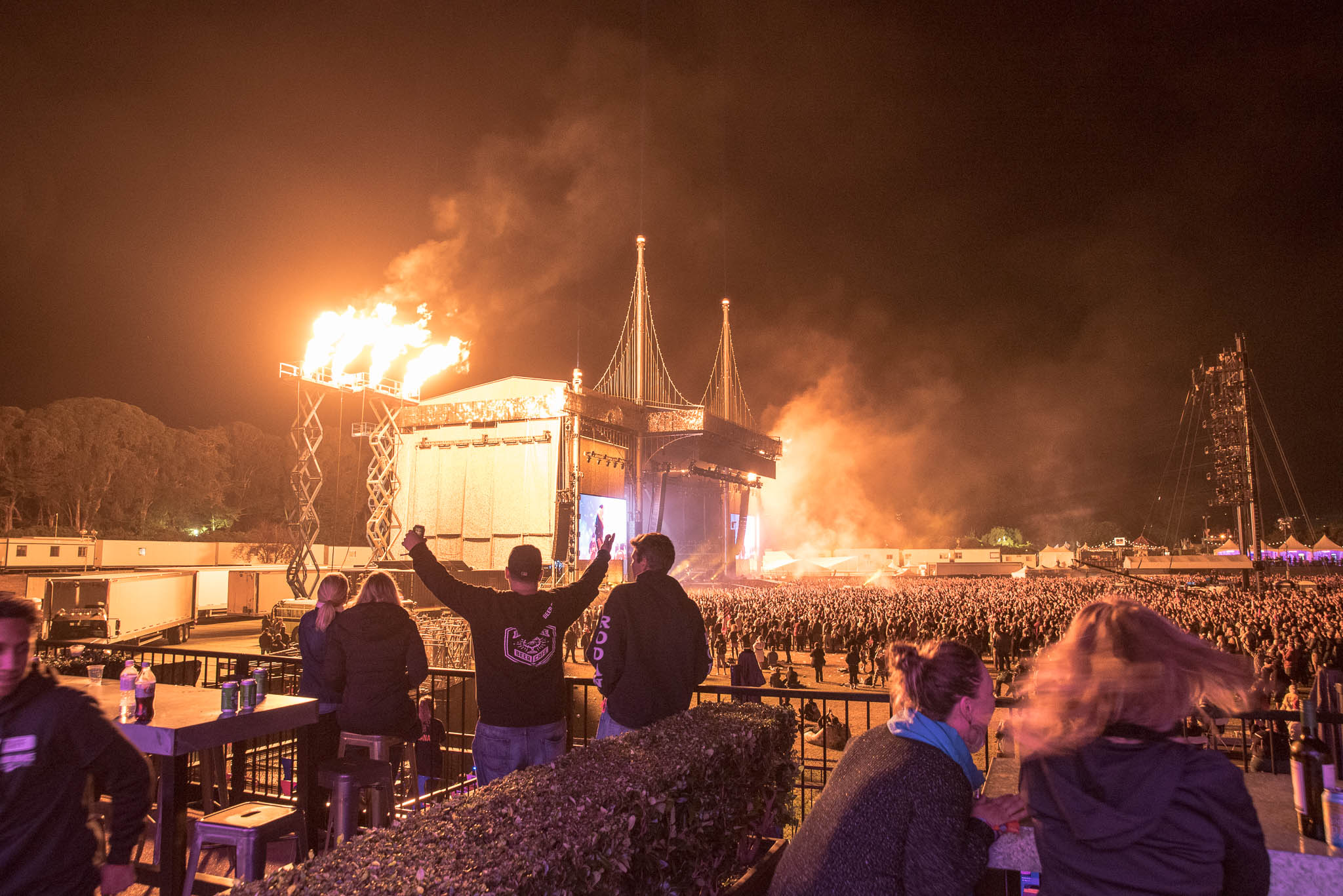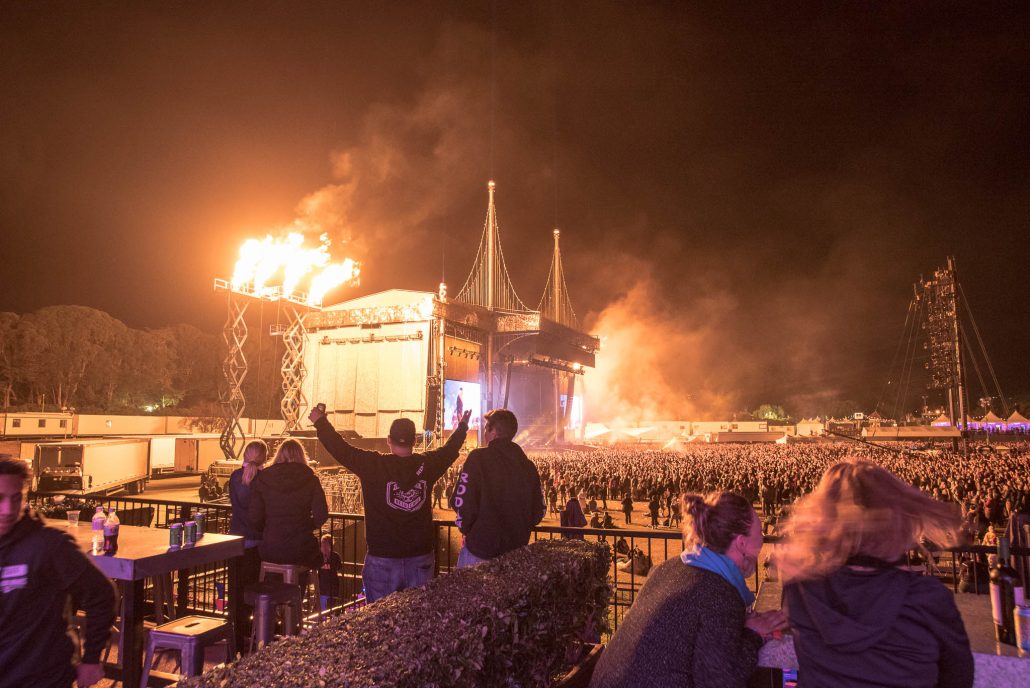 Have you ever seen those super luxurious cabanas at festivals and thought, "Damn.  That's exactly where I want to be".  Well, if you purchased your 3-Day VIP Wristband from Chase.com/Experiences you automatically got upgraded
could choose to upgrade to get access to the Chase Sapphire Cabana!
Let's just say this really is the ideal way to experience a festival!
Complete with delicious cuisine, unlimited beer & wine, and premier viewing of the Mainstage to check out the biggest headlining acts!  VIP viewing access for Metallica?  Yes, please!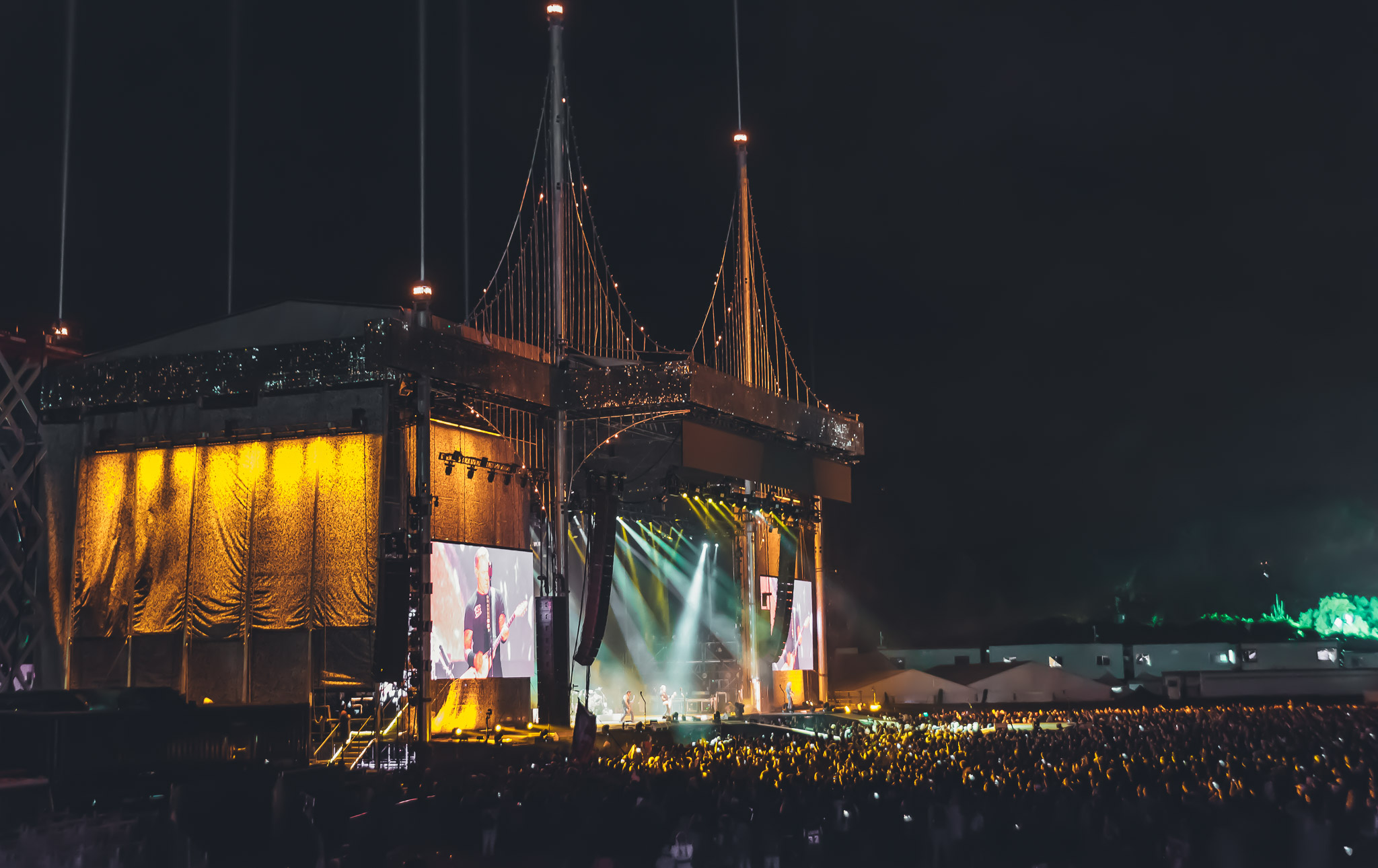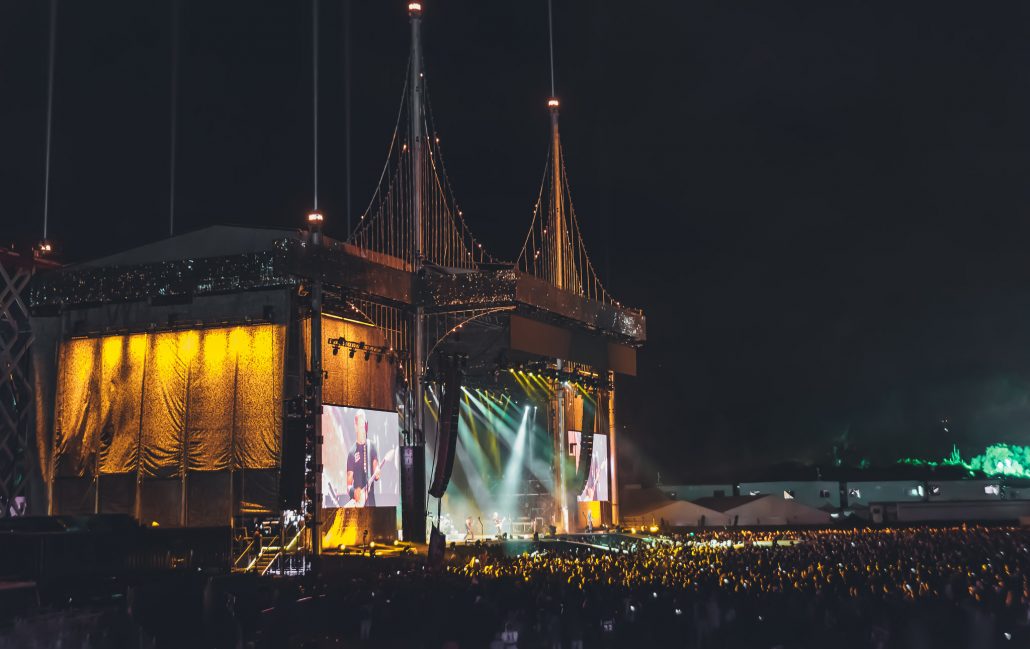 ---
Wining & Dining Private Events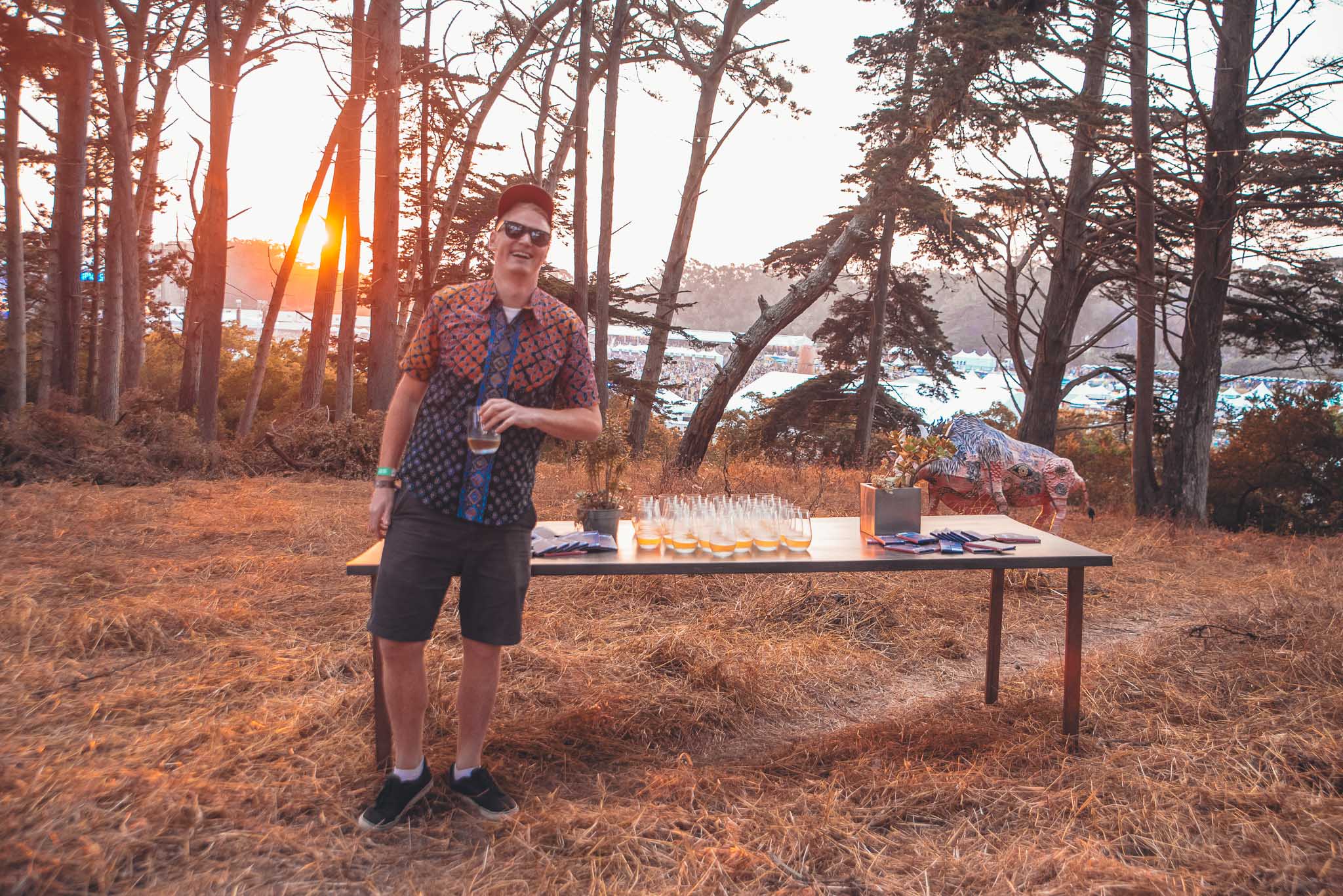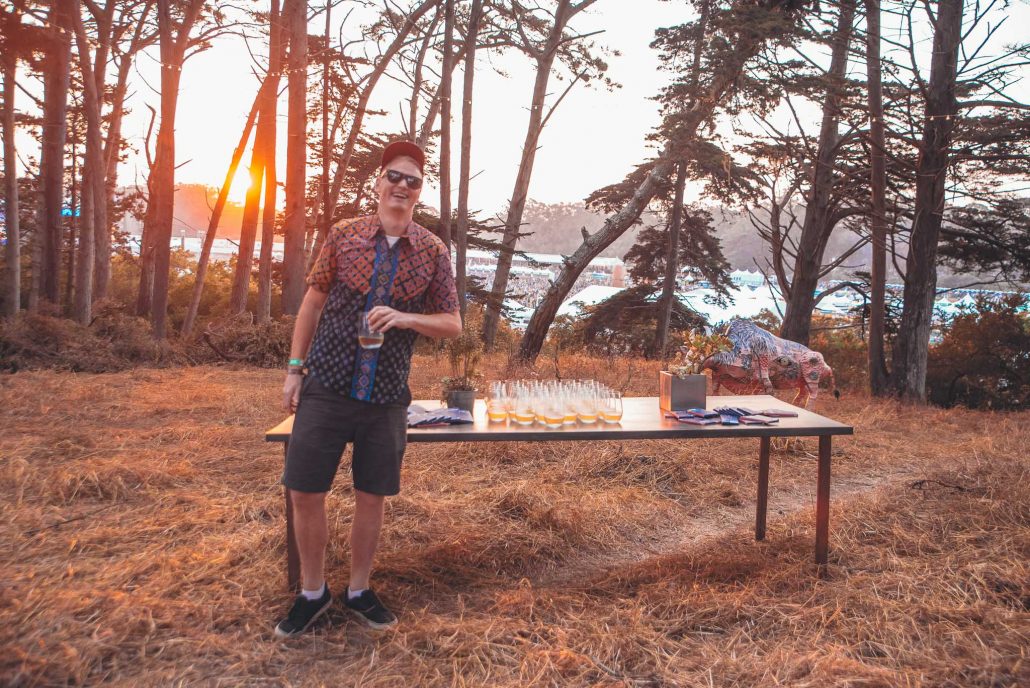 If you were following my Instagram story during my time at Outside Lands, I'm sure you'll remember I got the opportunity to check out these three amazing events!  (Another added value if you purchased your 3 Day VIP passes through Chase!)
Feast in the Trees with Roy Choi
On Friday night I got to try out one of the most delicious meals I've had in a loooooong time!  Complete with strong cocktails, new festival friends, a private DJ, and a gorgeous sunset – this really was an amazing addition to the festival!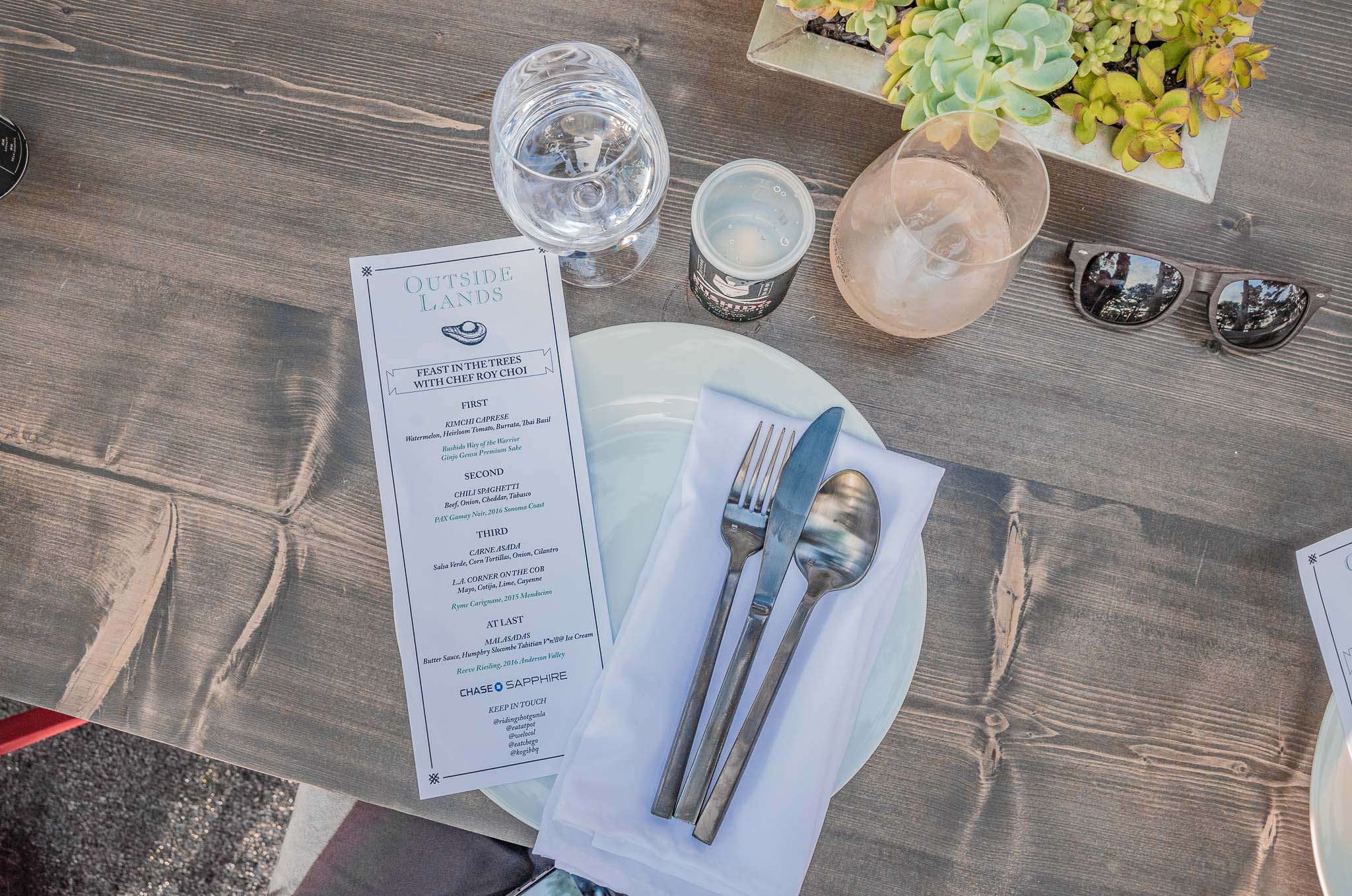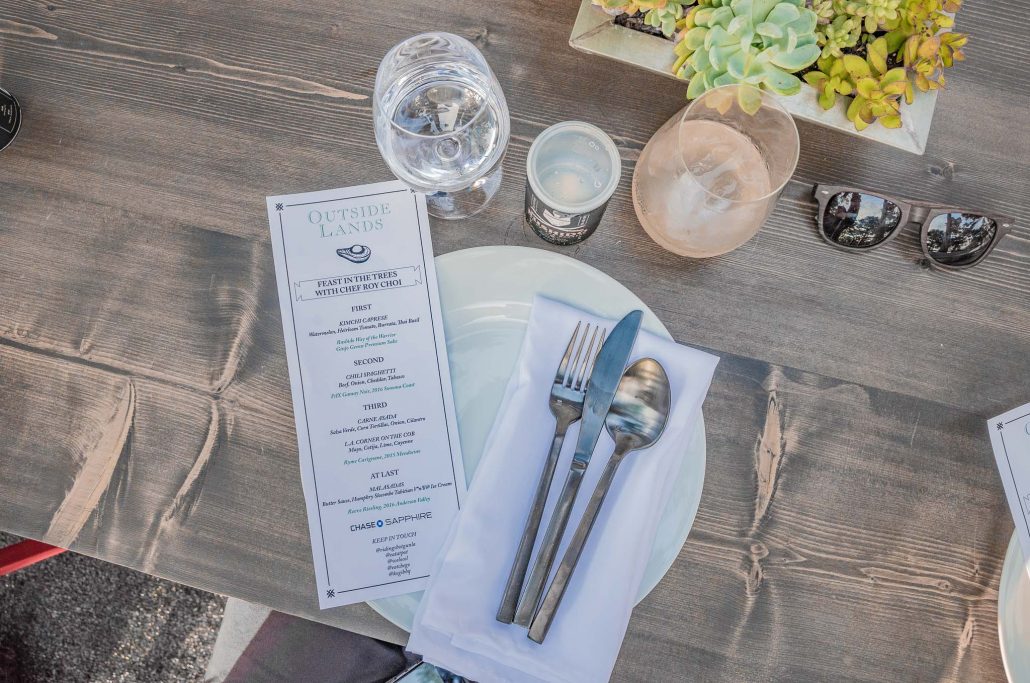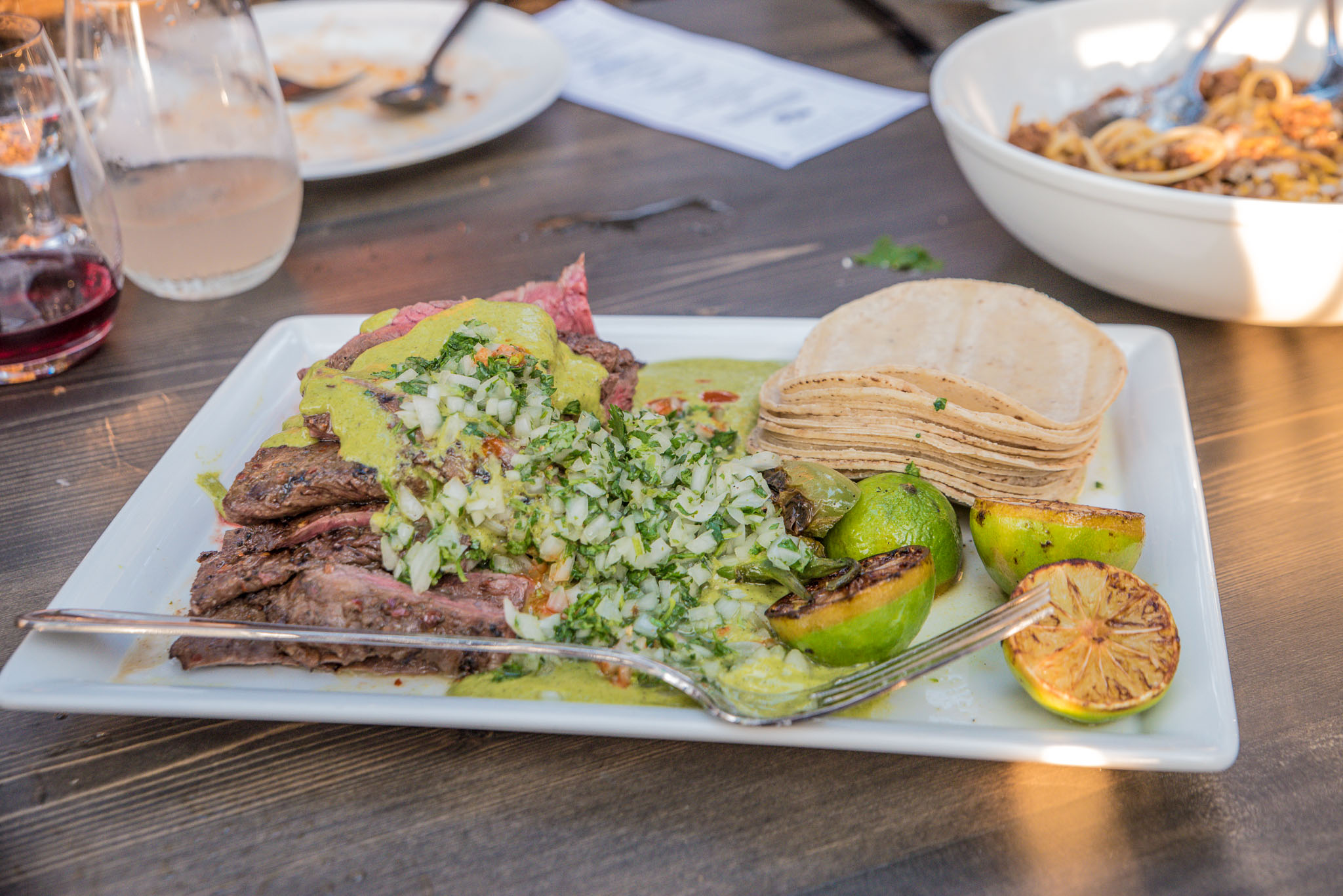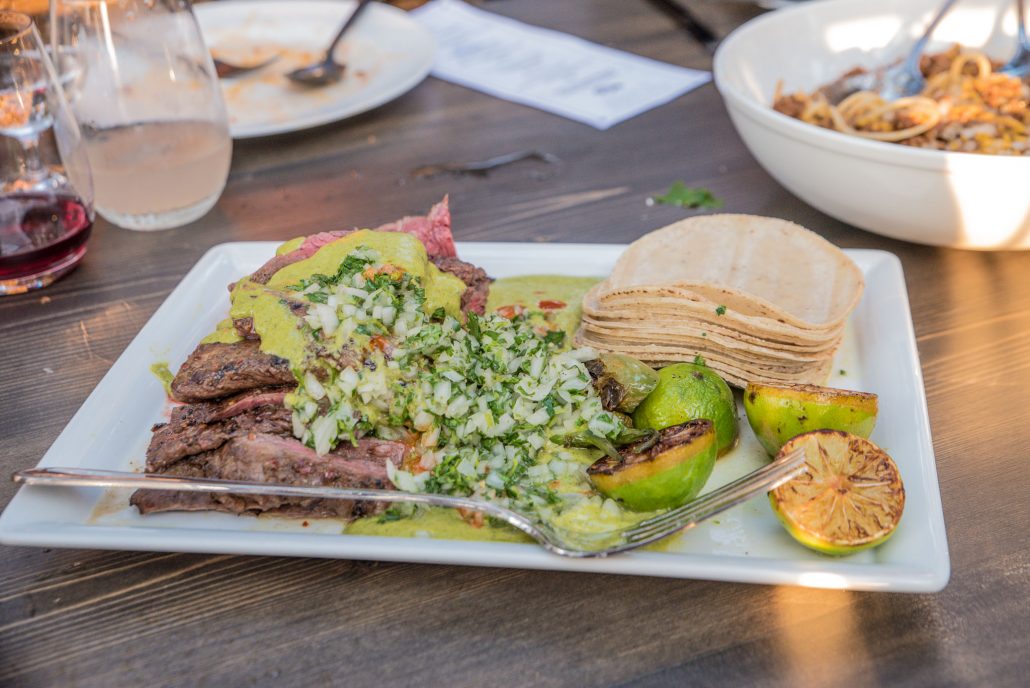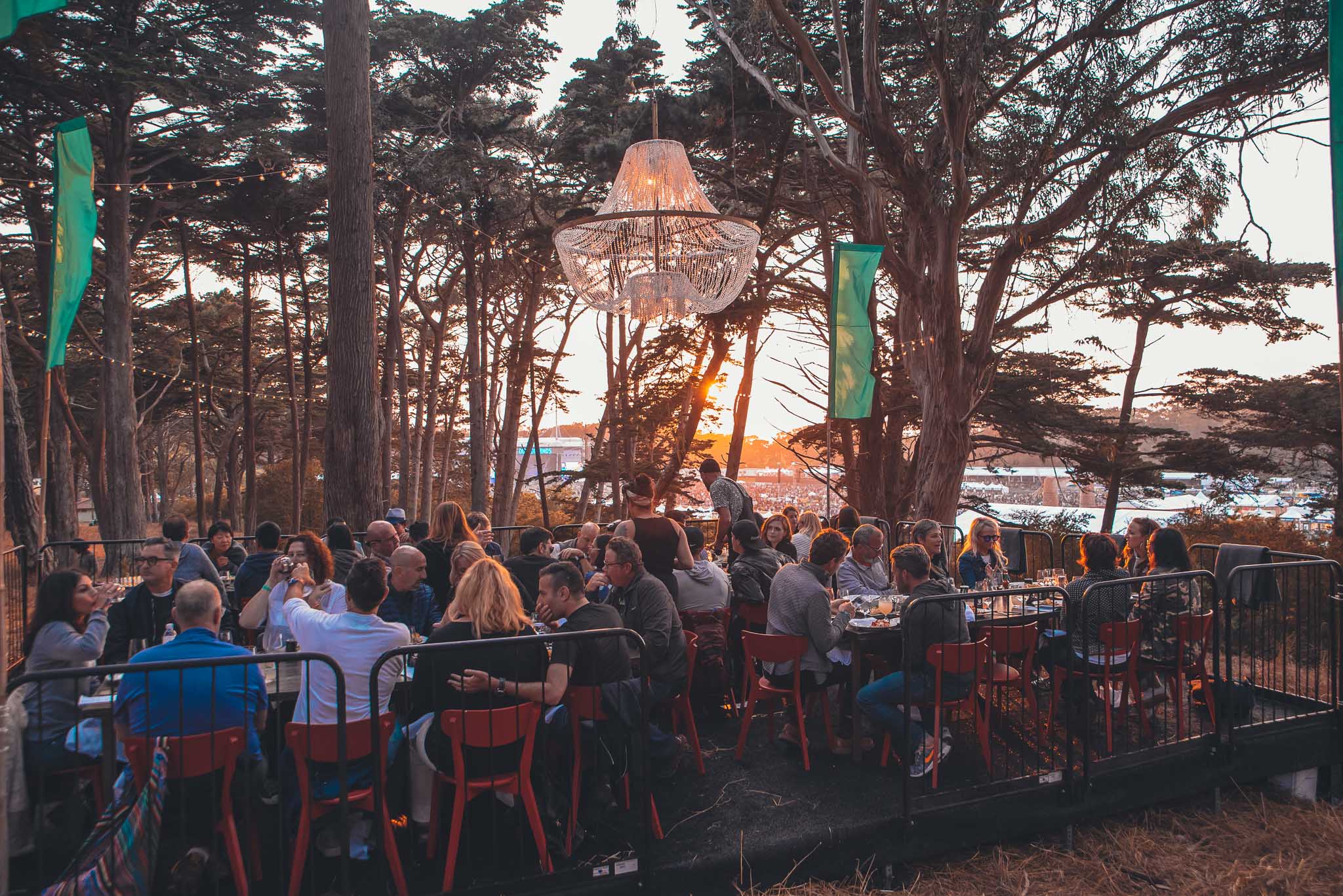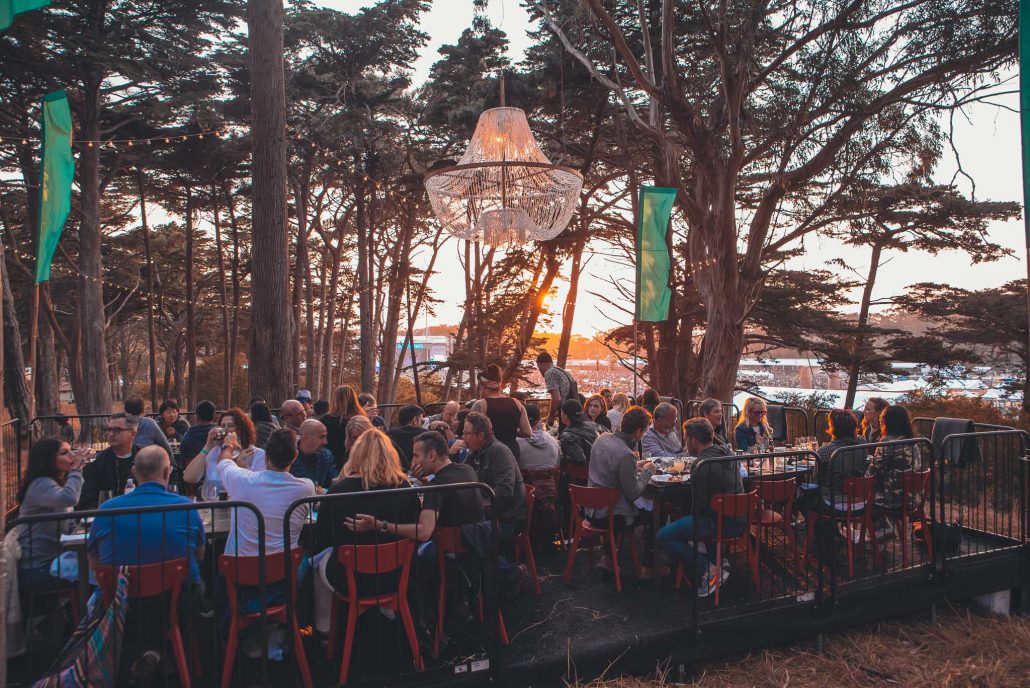 ---
Breakfast of Champions with Little Chihuahua
Who doesn't love Brunch?  Saturday morning's mini-hangover quickly subdued after destroying a very unique Mexican style breakfast!  Paired with refreshing cocktails, it was the best way to begin the 2nd day of the festival.  If you haven't heard of the Little Chihuahua before, then I'd highly suggest adding it to your San Francisco bucket list!


---
Reserve Wine Tasting with Peter Eastlake
I might not be the best wine aficionado, but damn this was honestly the best wine I've tried!  Peter Eastlake is an esteemed sommelier (and a really nice guy), and I thoroughly enjoyed his explanations of each of the local wines we tasted.
With (basically) unlimited wine served alongside a pretty scrumptious cheese platter, it really was the perfect festival "Sunday Funday"!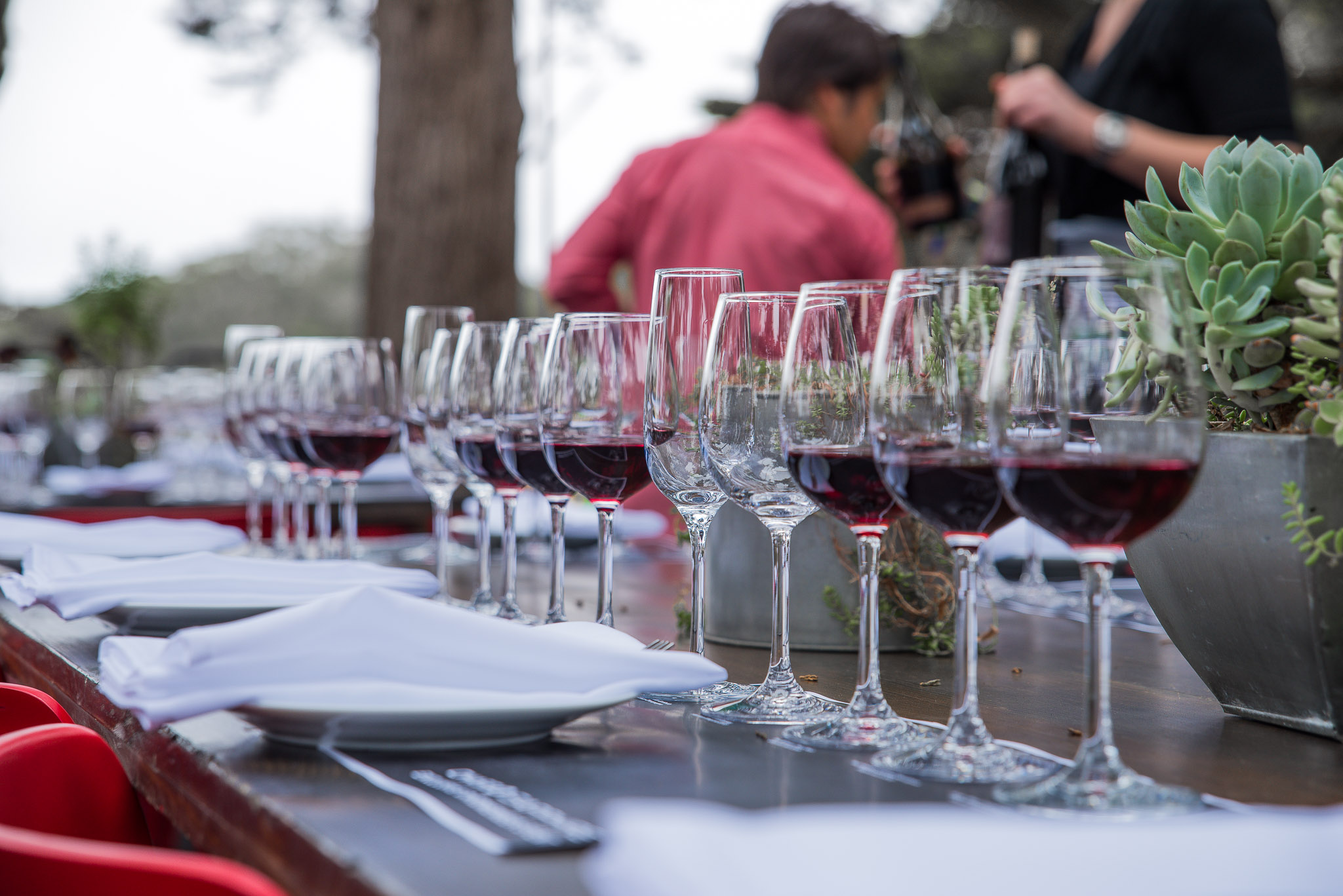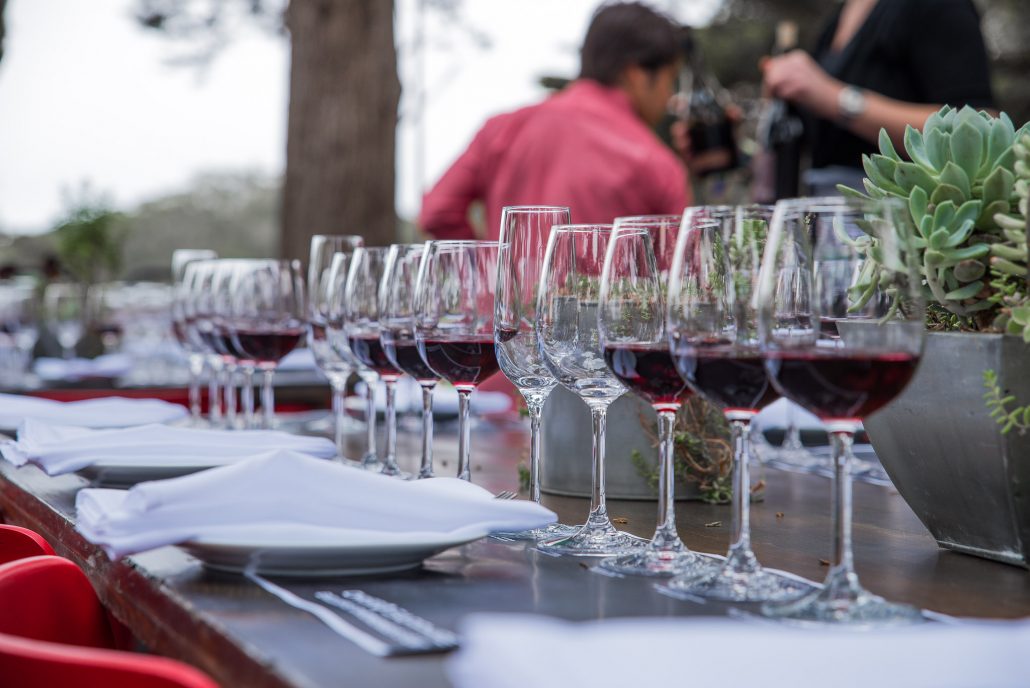 ---
INCREDIBLE STAGES & DIVERSE LINE-UP
With over 90+ Artists playing across 5 stages, Outside Lands really brought their A-game when it came to providing an amazing soundtrack to the weekend.
The venue is absolutely massive, so it can take some time to stage hop to catch different artists, but I loved that there were always breaks in between the sets.  I caught myself watching a lots of halves of sets, and discovered a ton of new music.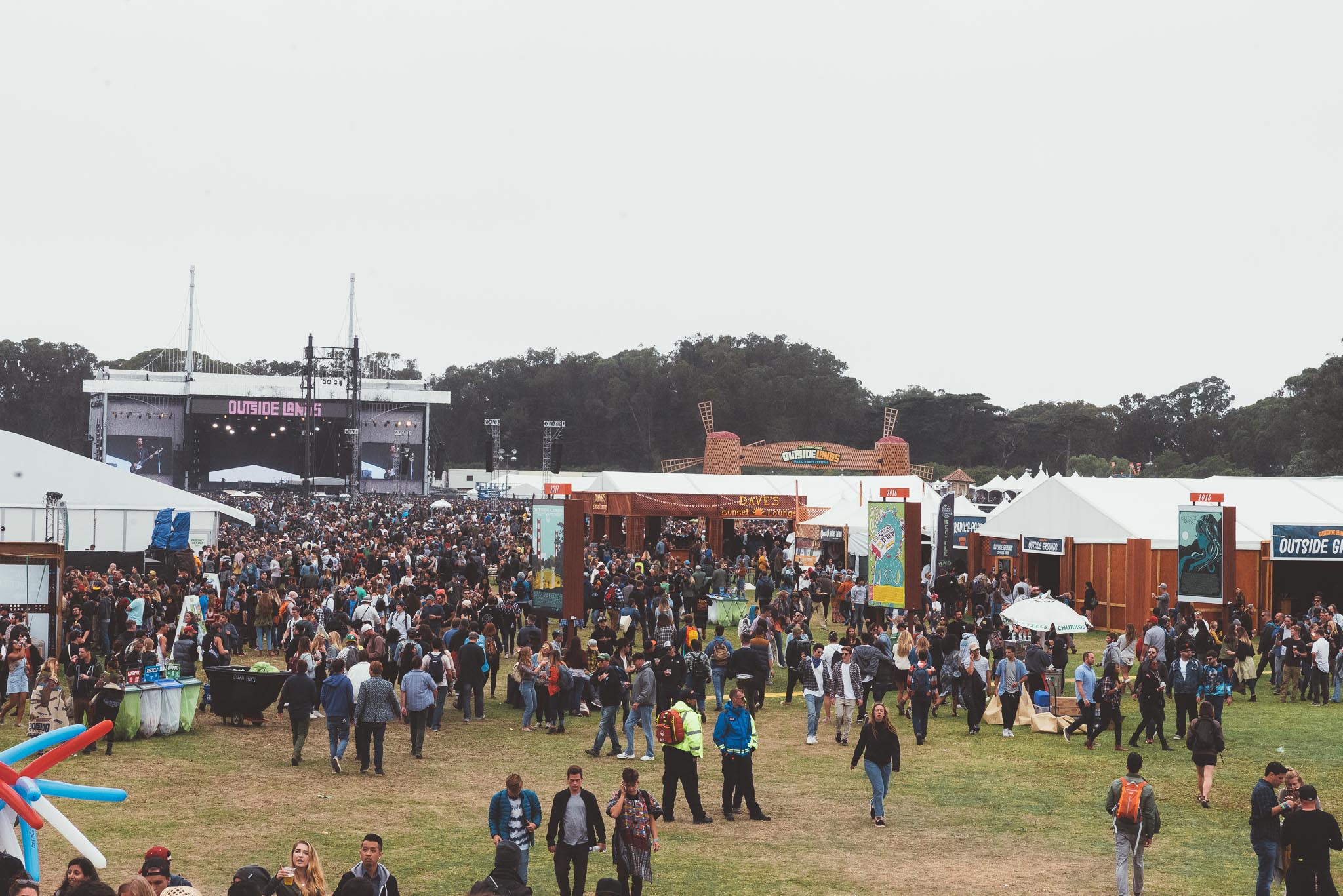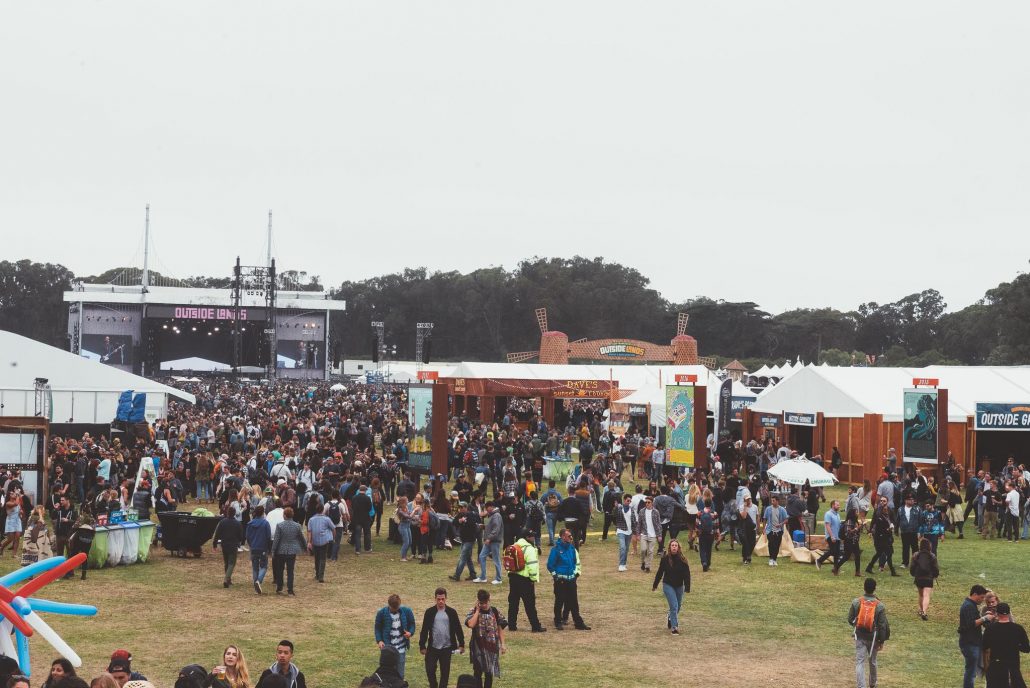 ---
Lands End Polo Field (The Main Stage)
ABSOLUTELY EPIC!! This stage was graced by some of the biggest artists in the world!  While I may not be an avid listener of their music; Gorillaz, Metallica, and The Who all crushed their headlining sets!
It was also pretty awesome to see Lorde perform!  I've been a big fan of her music for quite a while now, and I think she did an outstanding live performance!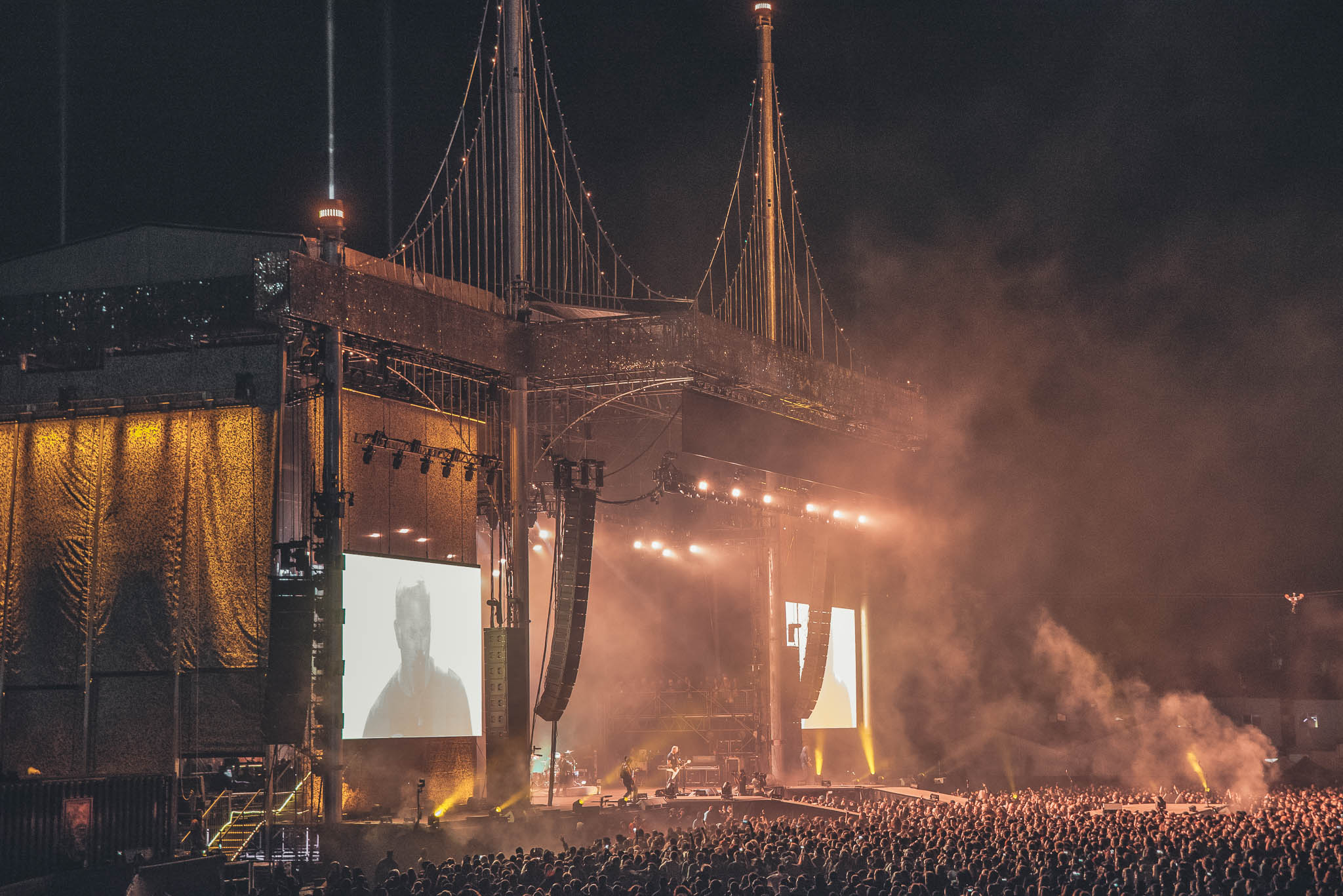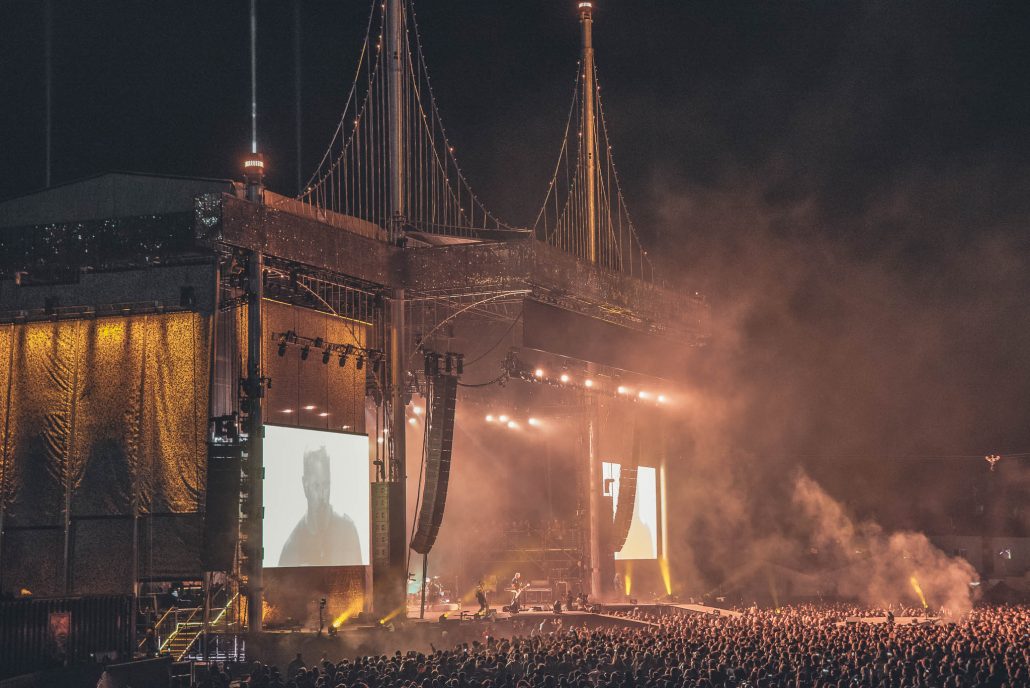 ---
Twin Peaks Stage
Situated at the very far end of the festival, you'd find this second biggest stage at the festival.  ALT-J played a fantastic closing set on Friday night, and Above & Beyond really threw it down on Sunday night!  There wasn't much electronic music on the line-up this year at Outside Lands, so hearing some heavy yet uplifting trance to end the weekend was pretty crazy!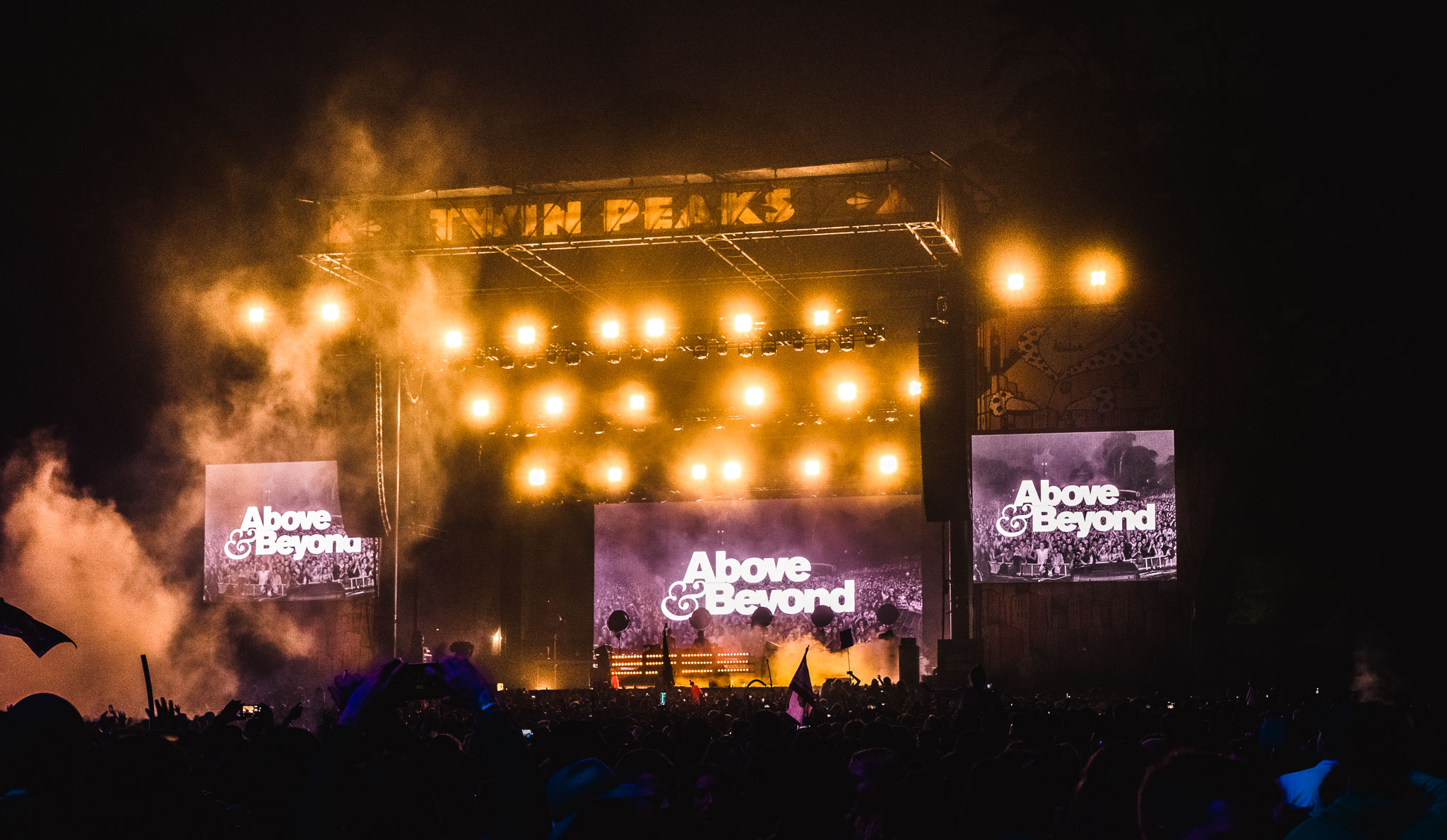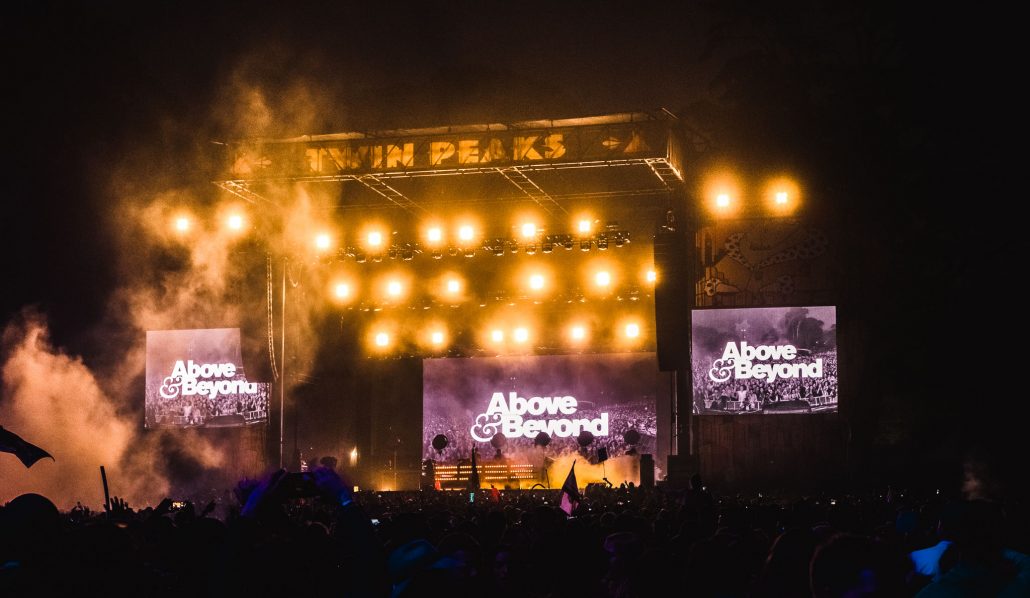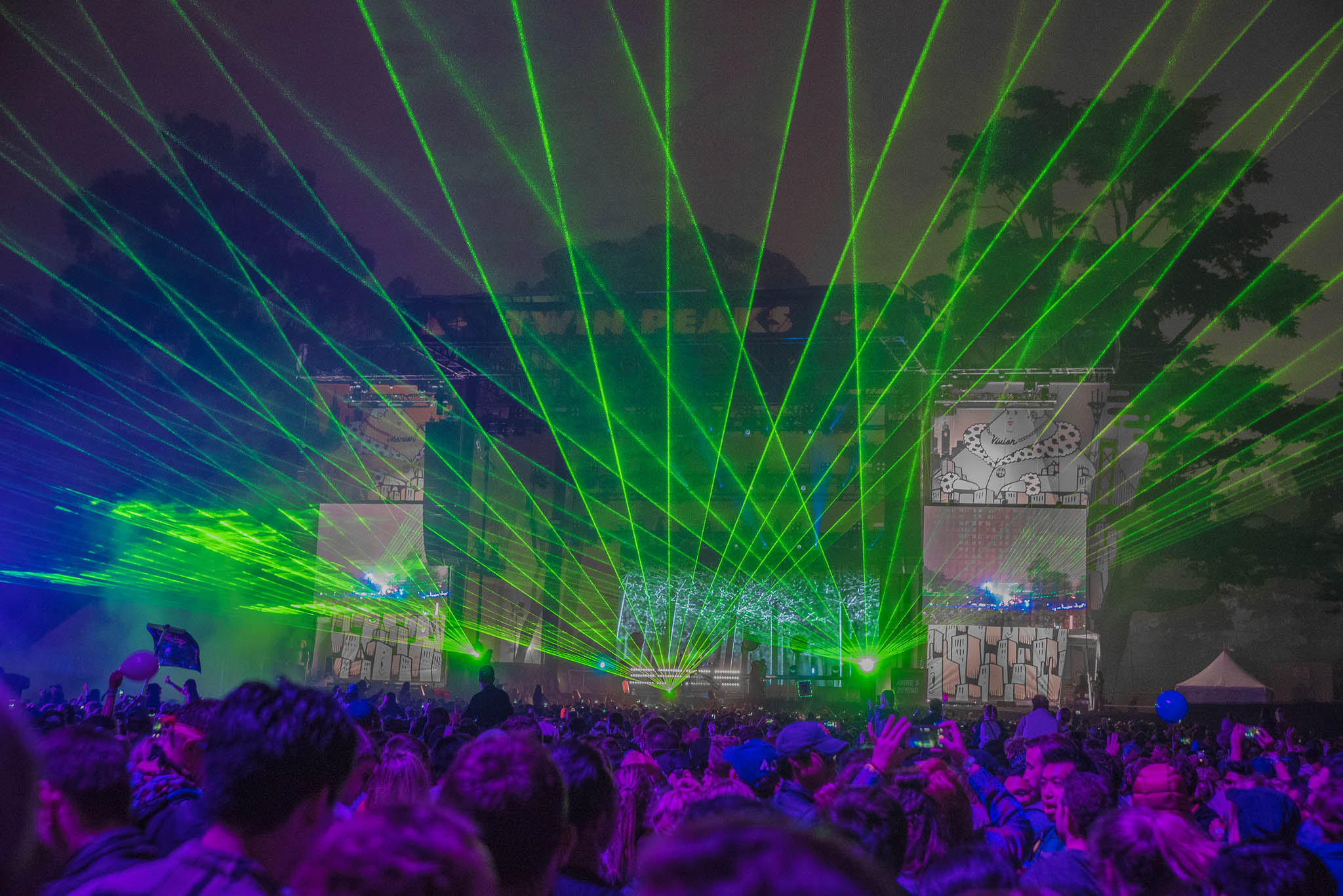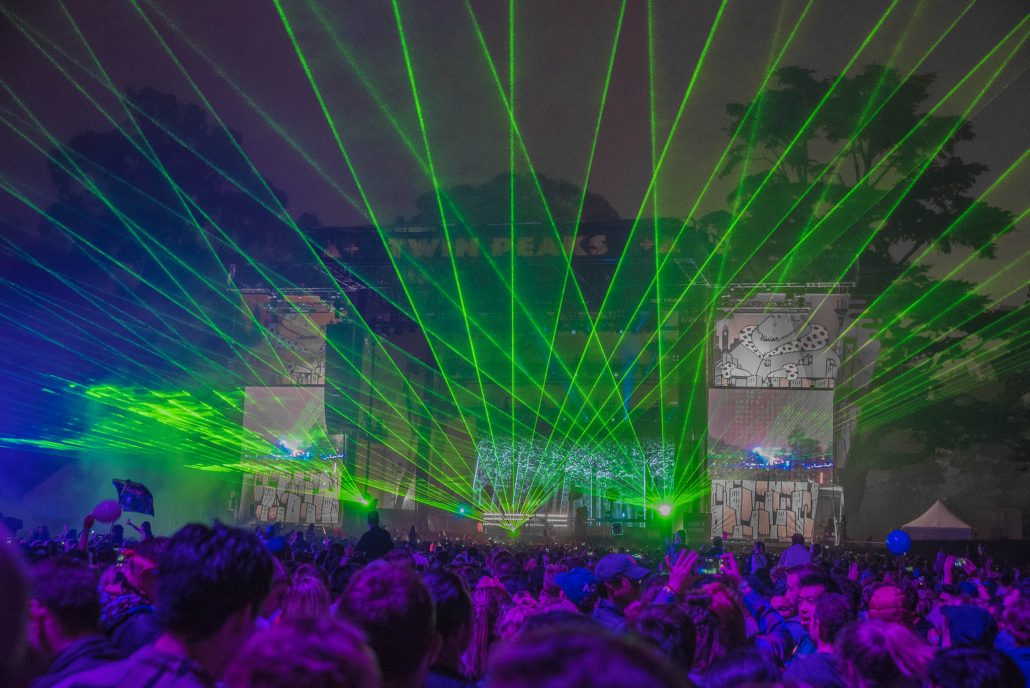 Claude Von Stroke was the real highlight of the festival though.  He played on the Twin Peaks stage Saturday mid-day, and in my opinion played the best set of the festival!  
The crowd was going absolutely mental, and every single track he dropped was better than the last.  This was my third time seeing "Poppa Claude", but he completely blew me away!!  Real proper booty-shaking house music!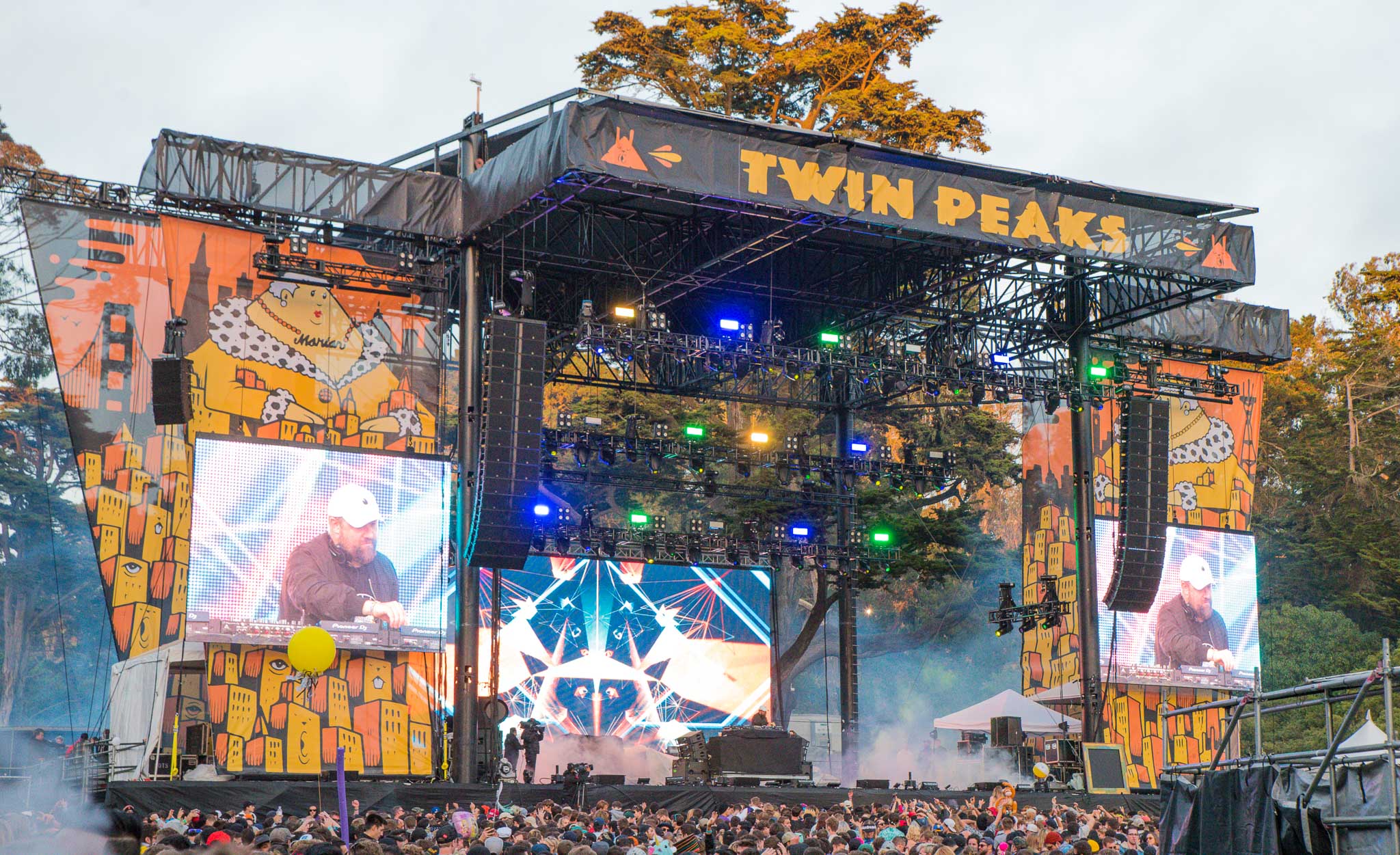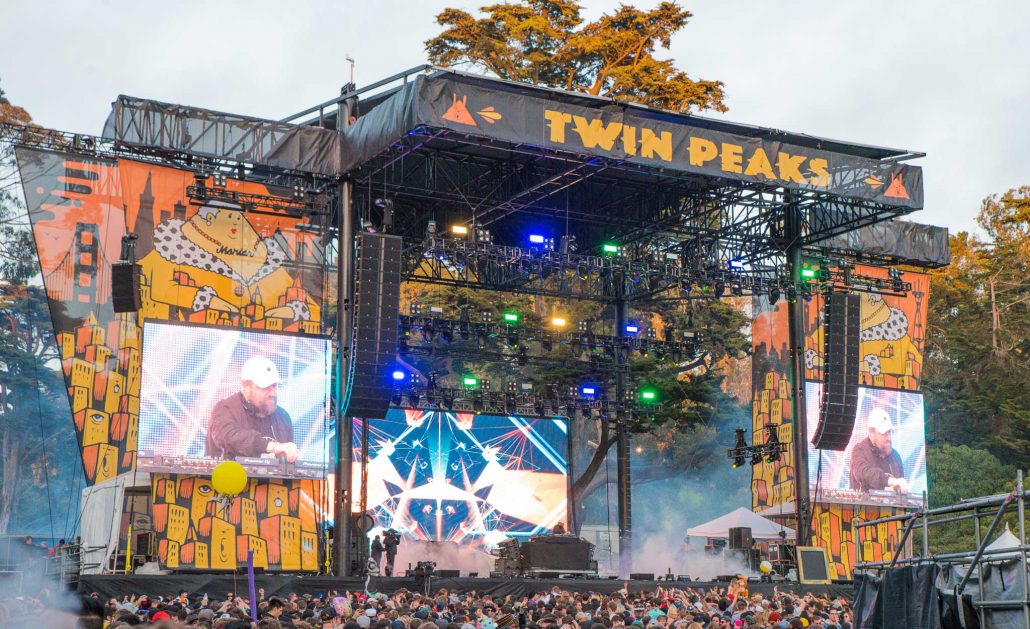 ---
Panhandle Stage
While I didn't really recognize too many names on the schedule, this stage was always blasting good tunes!  Half the time I didn't know who was playing, but was always enjoying it.
I did happen to catch Bomba Estereo who I had never heard of before, and that was good fun!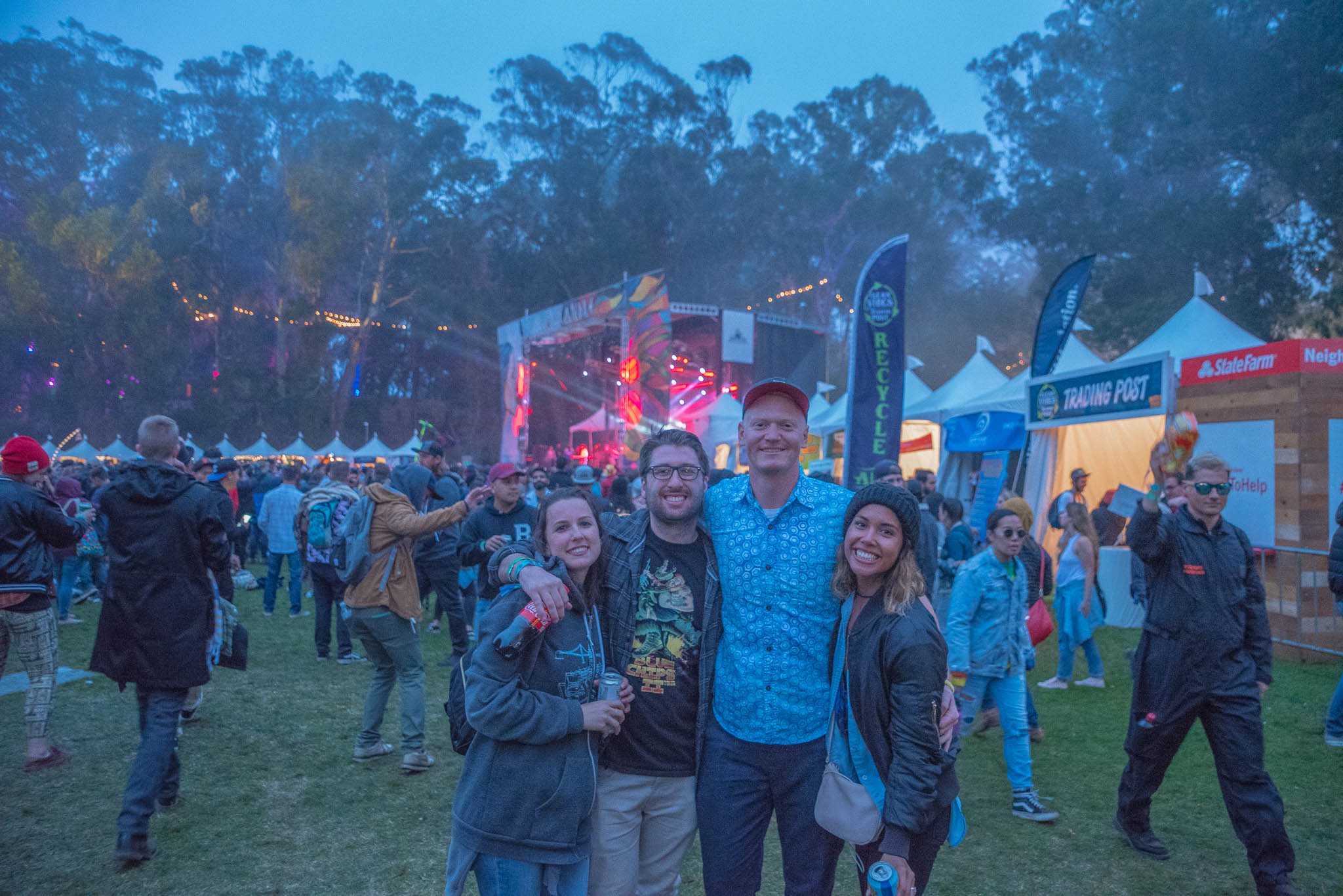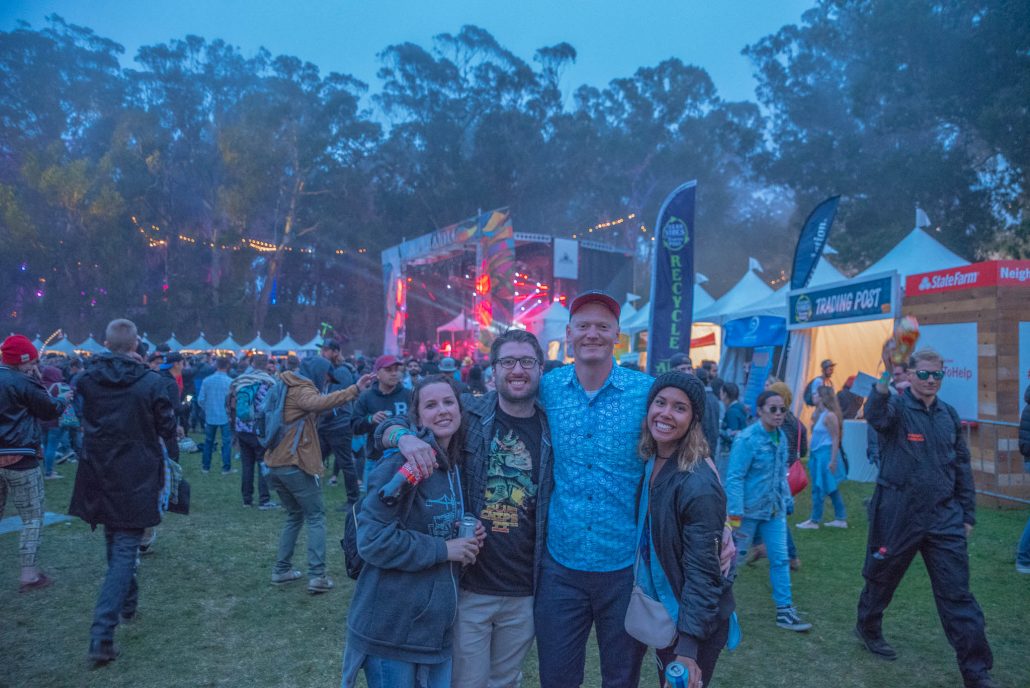 ---
The Heineken House
If you wanted electronic music – then this was the stage for you!
The line-up at the Heineken House had some of my top artists that I wanted to see during the festival.  The issue is that there was always a massive line to get in, and it was incredibly packed once you're inside.  For a few of these artists, I would have loved for them to play at outdoor stages.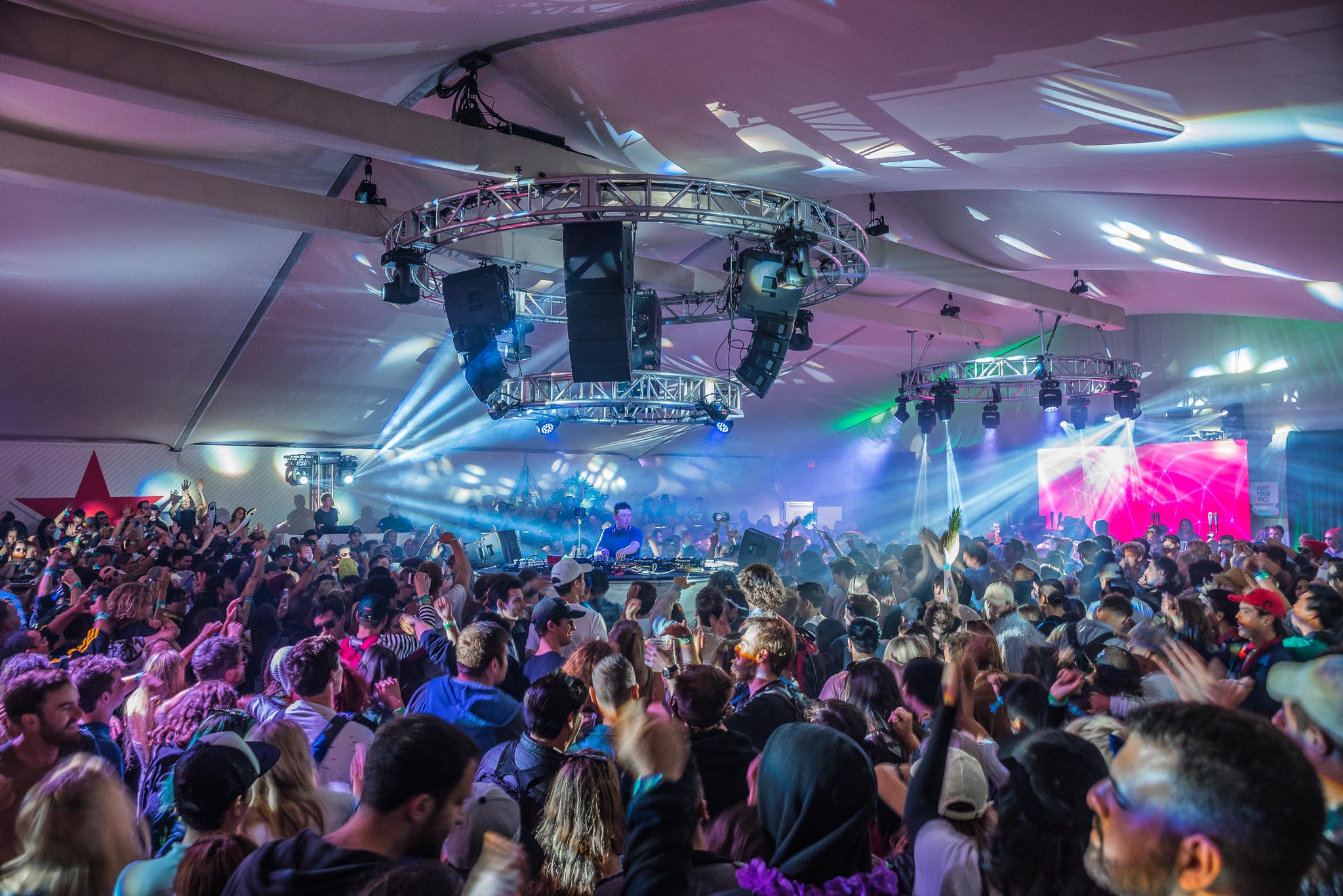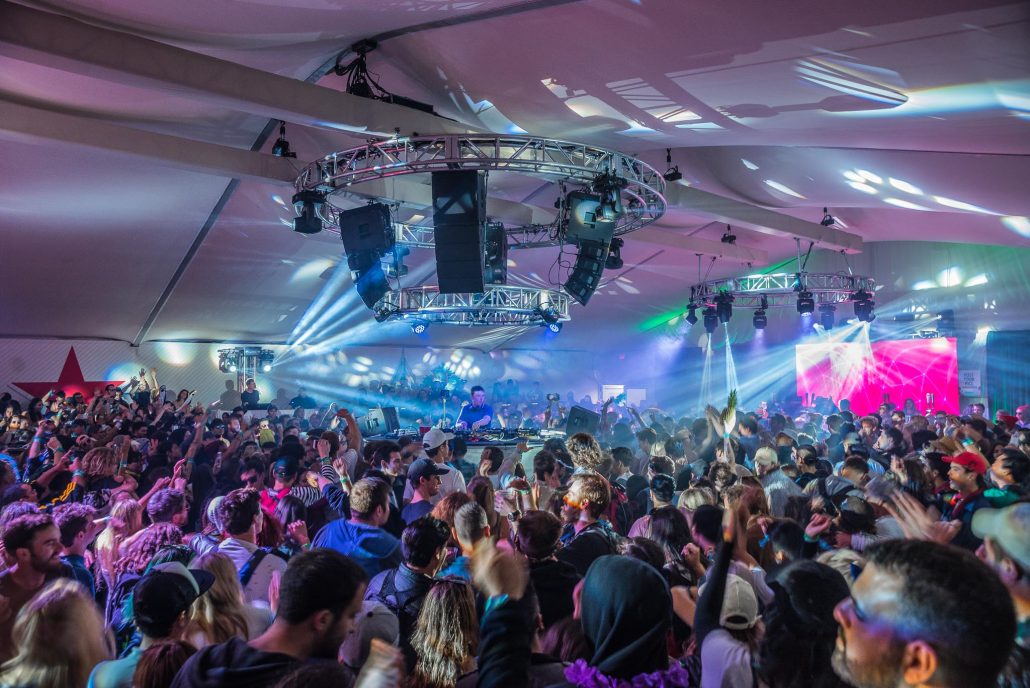 I did get the chance to see the legend DJ Jazzy Jeff (Fresh Prince Of Bel Air anyone?), Infinity Ink, Josh Wink, and Totally Enormous Extinct Dinosaurs (T.E.E.D).
This was the only indoor stage, and the party vibes were definitely on point in here!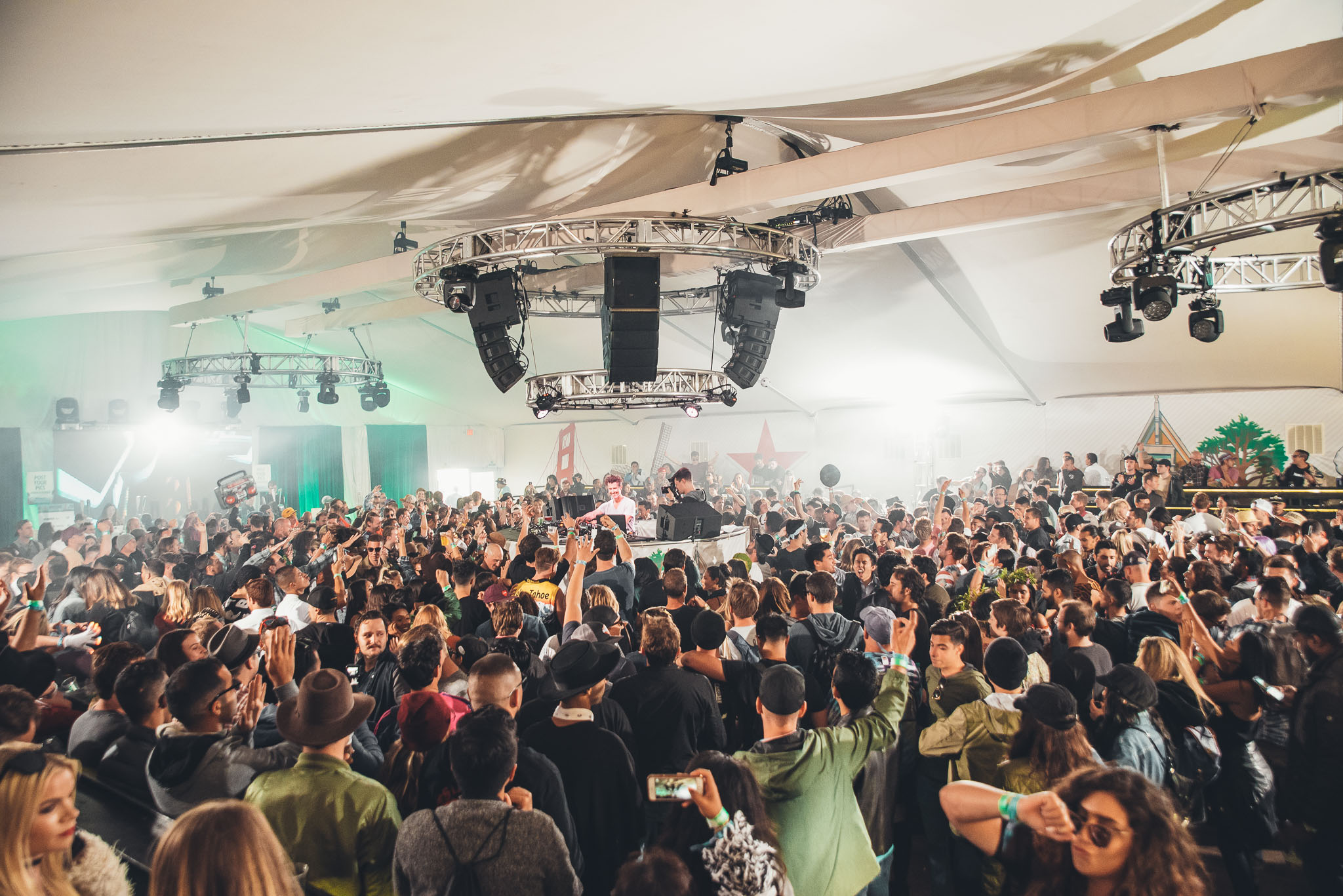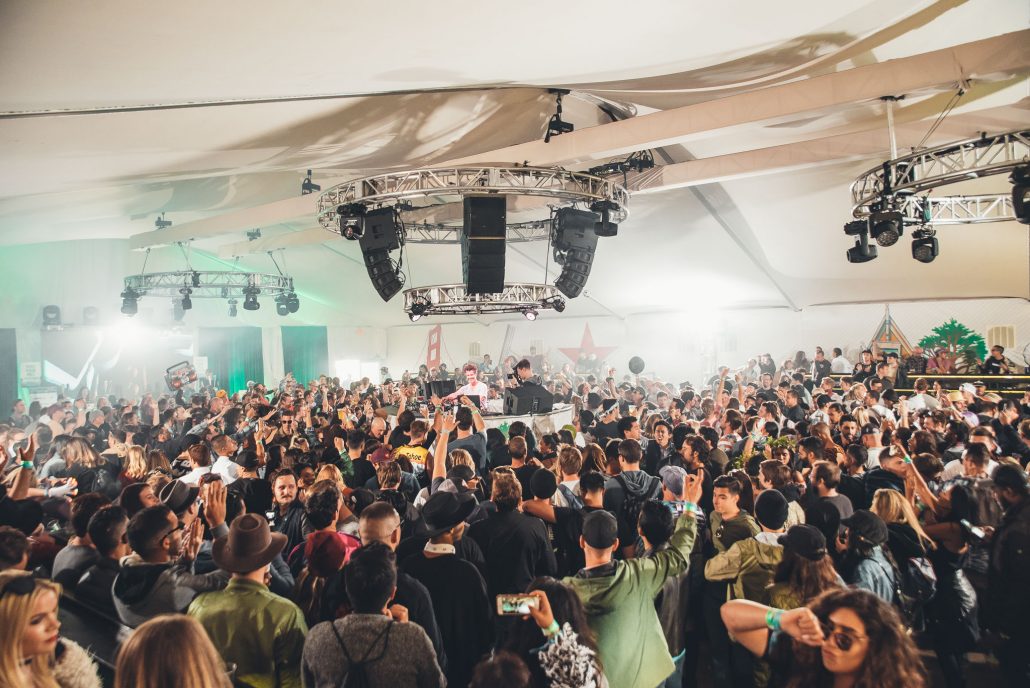 ---
Walking Around The Festival At Night
In one word…it was MAGICAL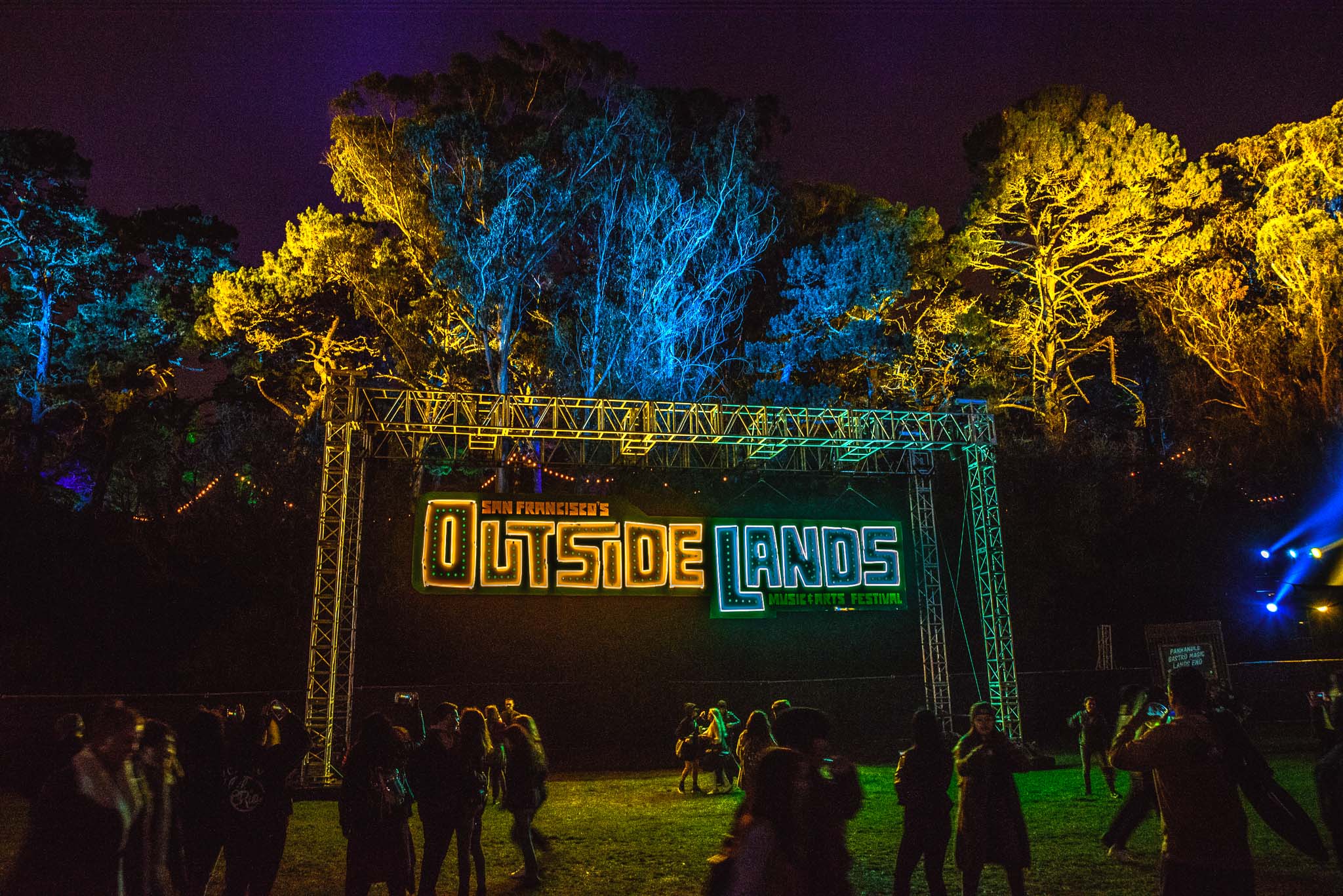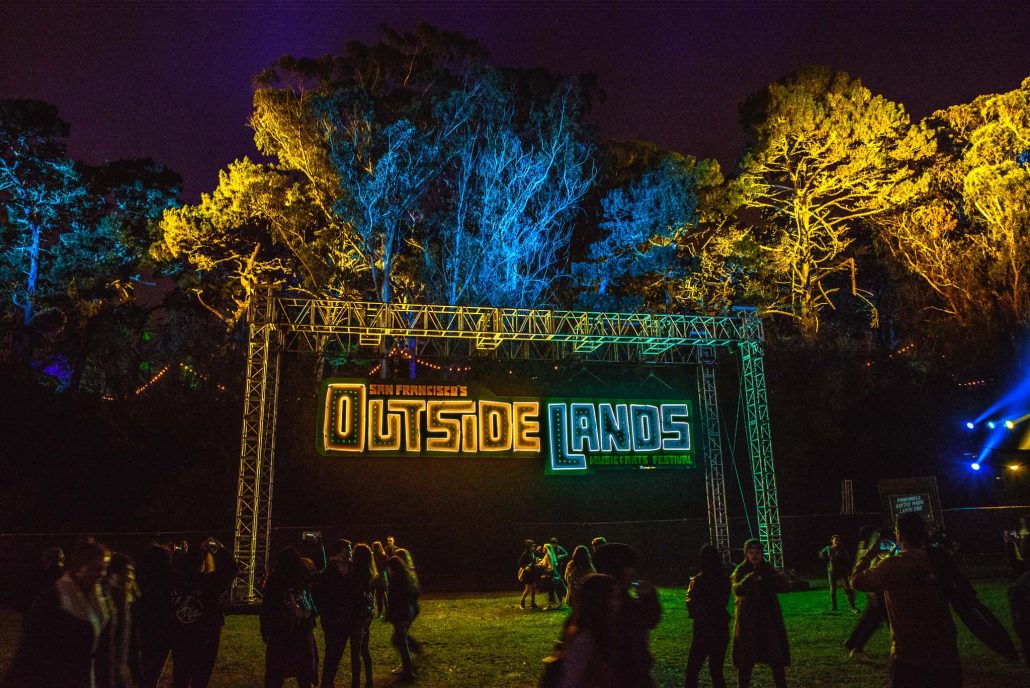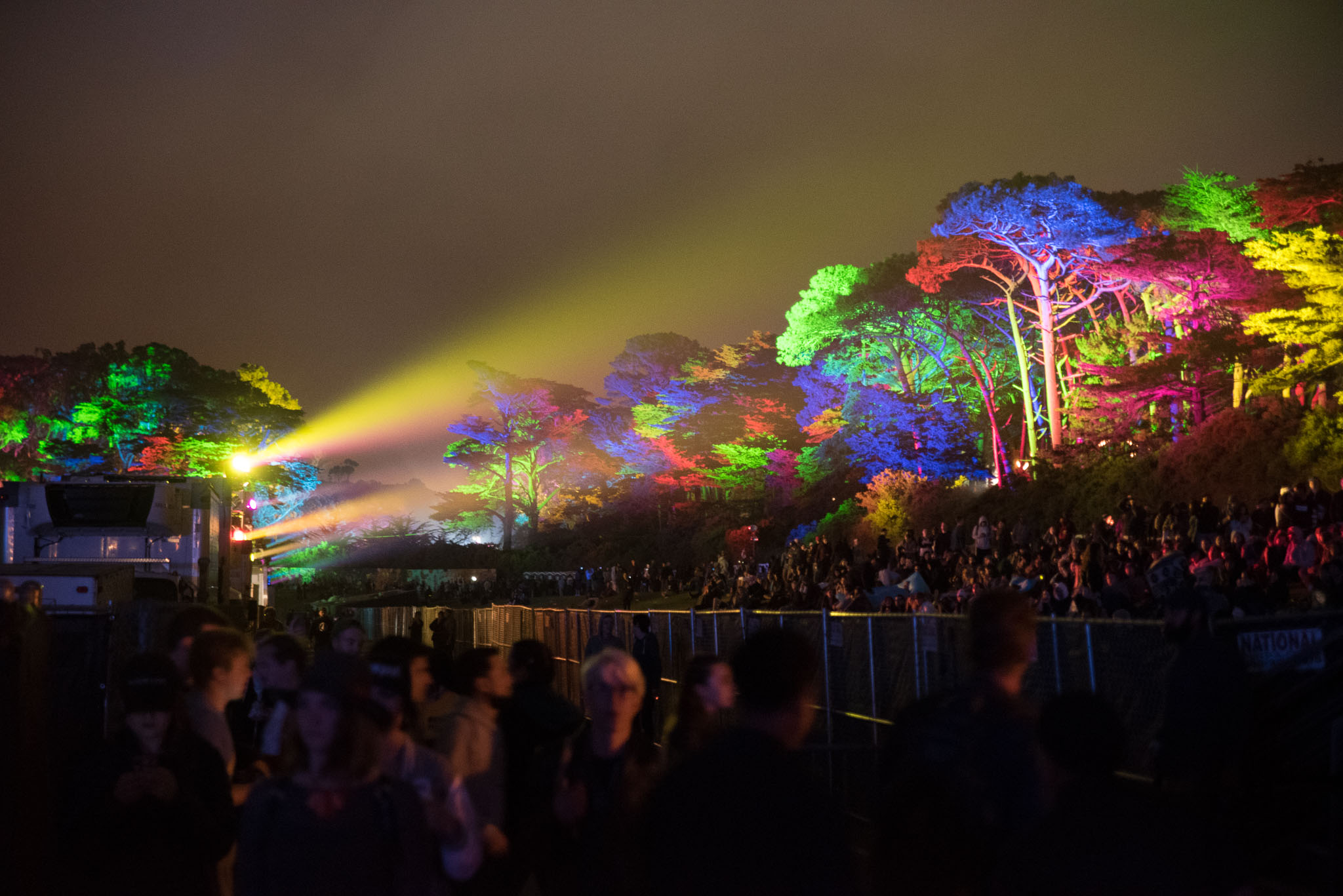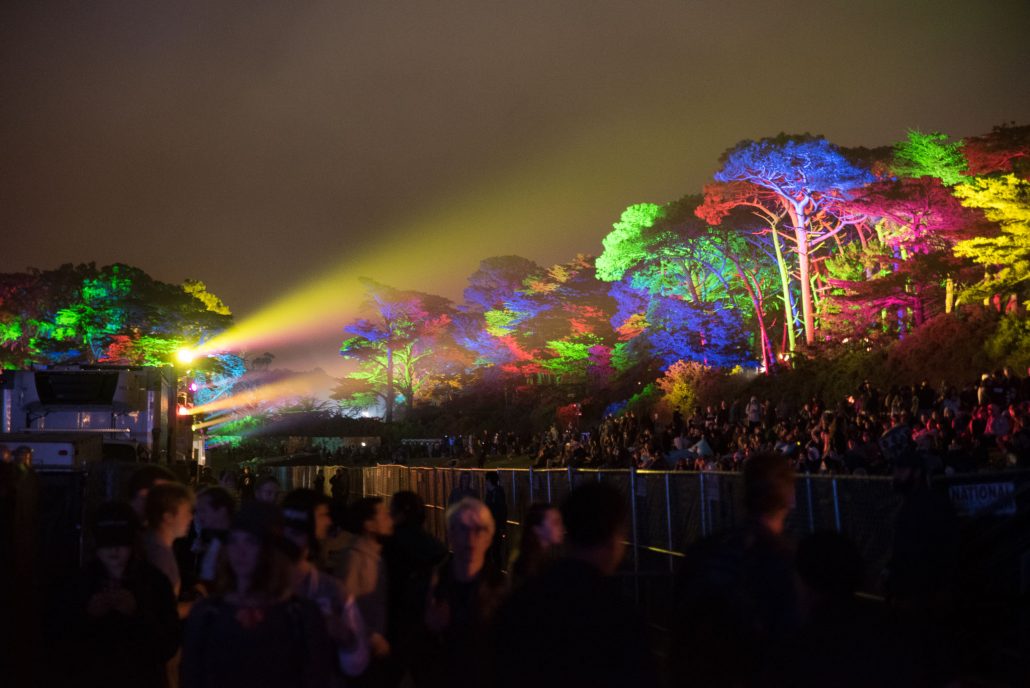 Everywhere you looked you'd see these monstrous trees lighting up in every color imaginable.  It was like hallucinogens without the drugs, lol.  
I could only imagine what the party-goers who actually experimented with acid or mushrooms were seeing!!  LOL.  
No, but seriously…it was amazing!  It was a bummer that the music ended each night at 10:00P.M, because it would have been so fun to hear more acts while being surrounded in this colorful setting.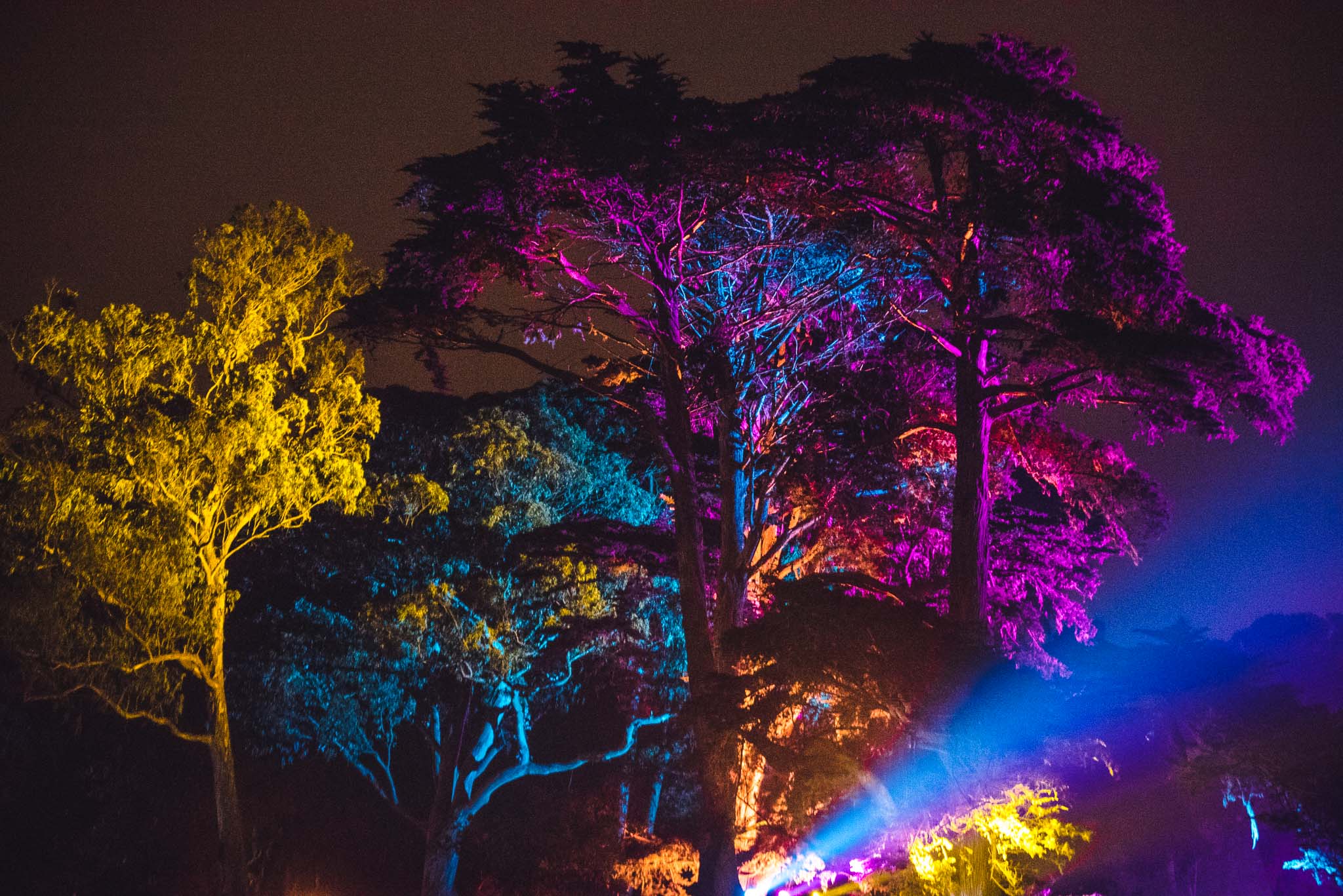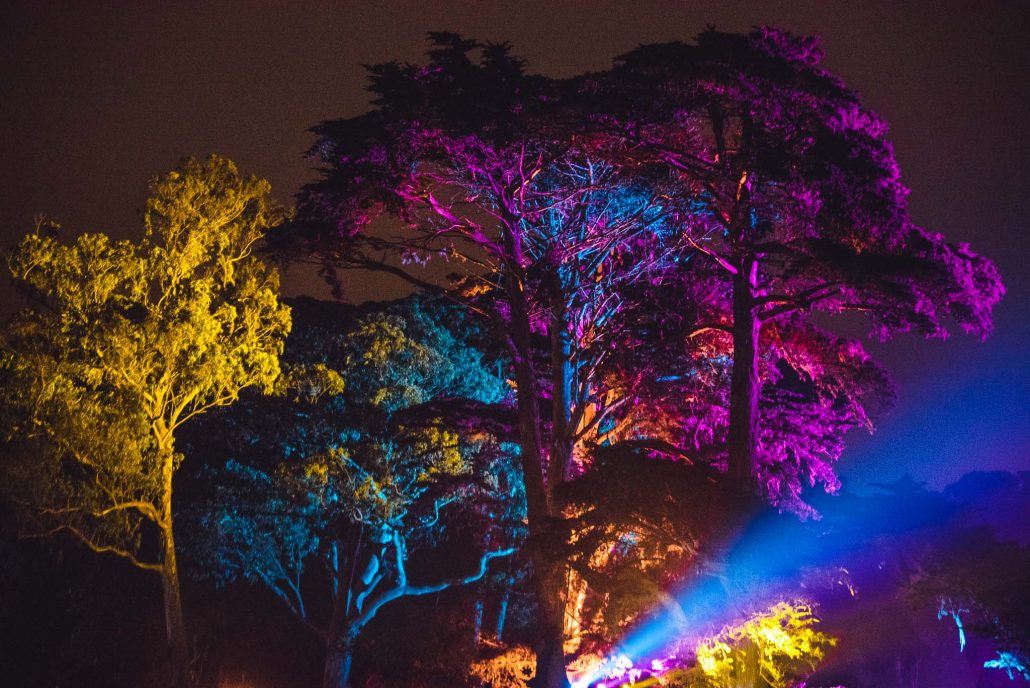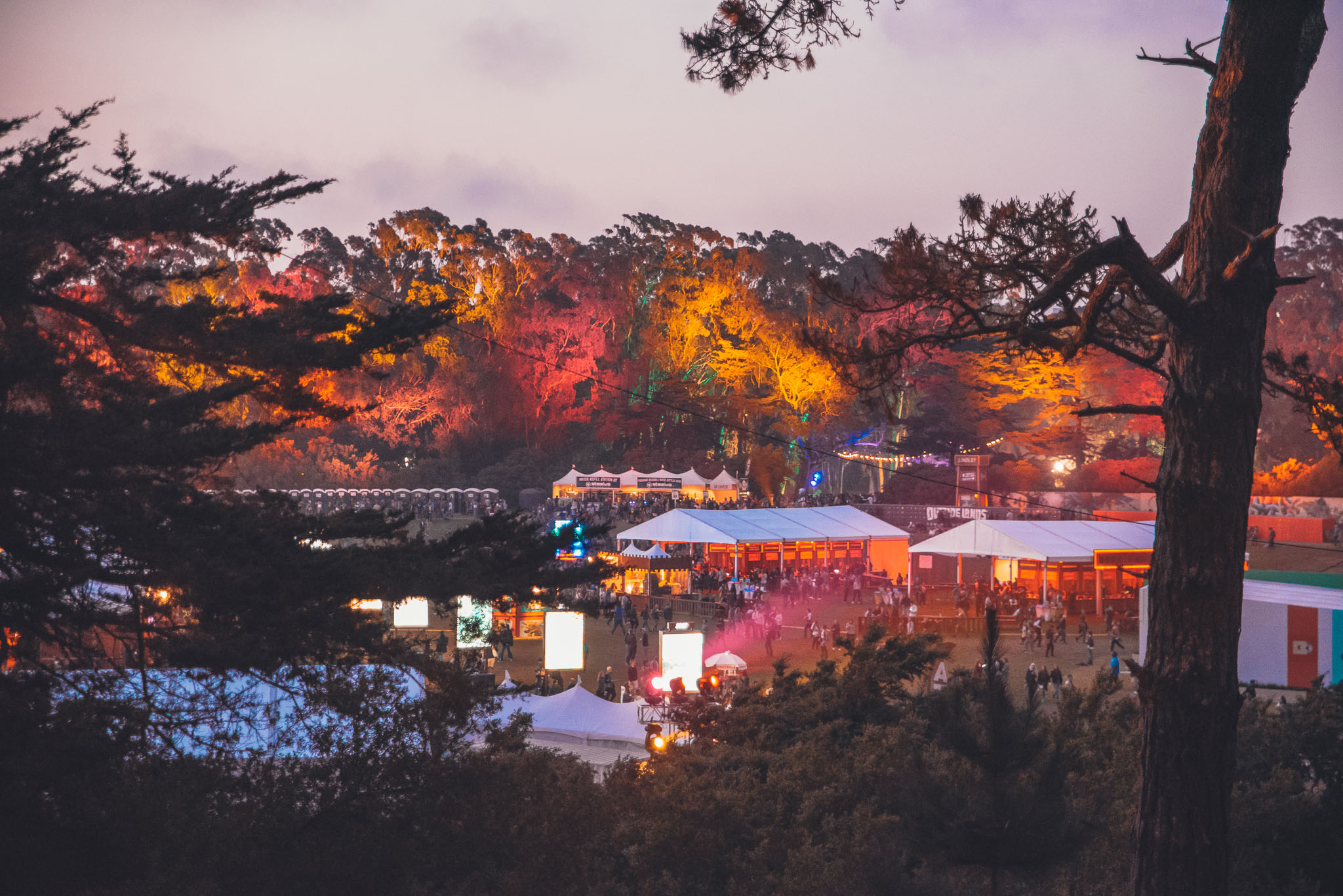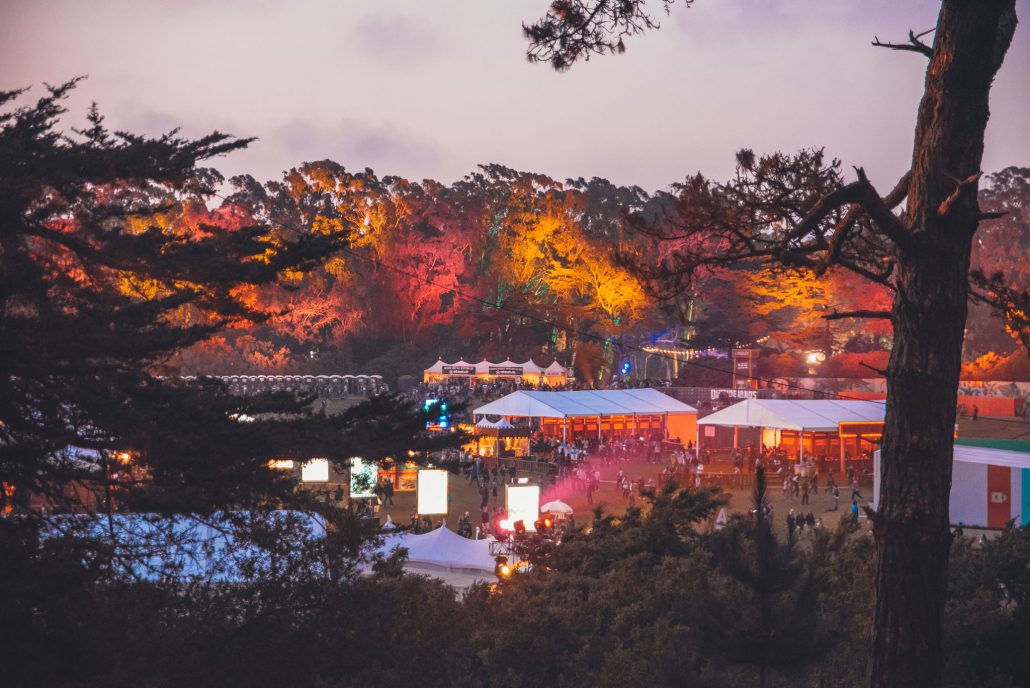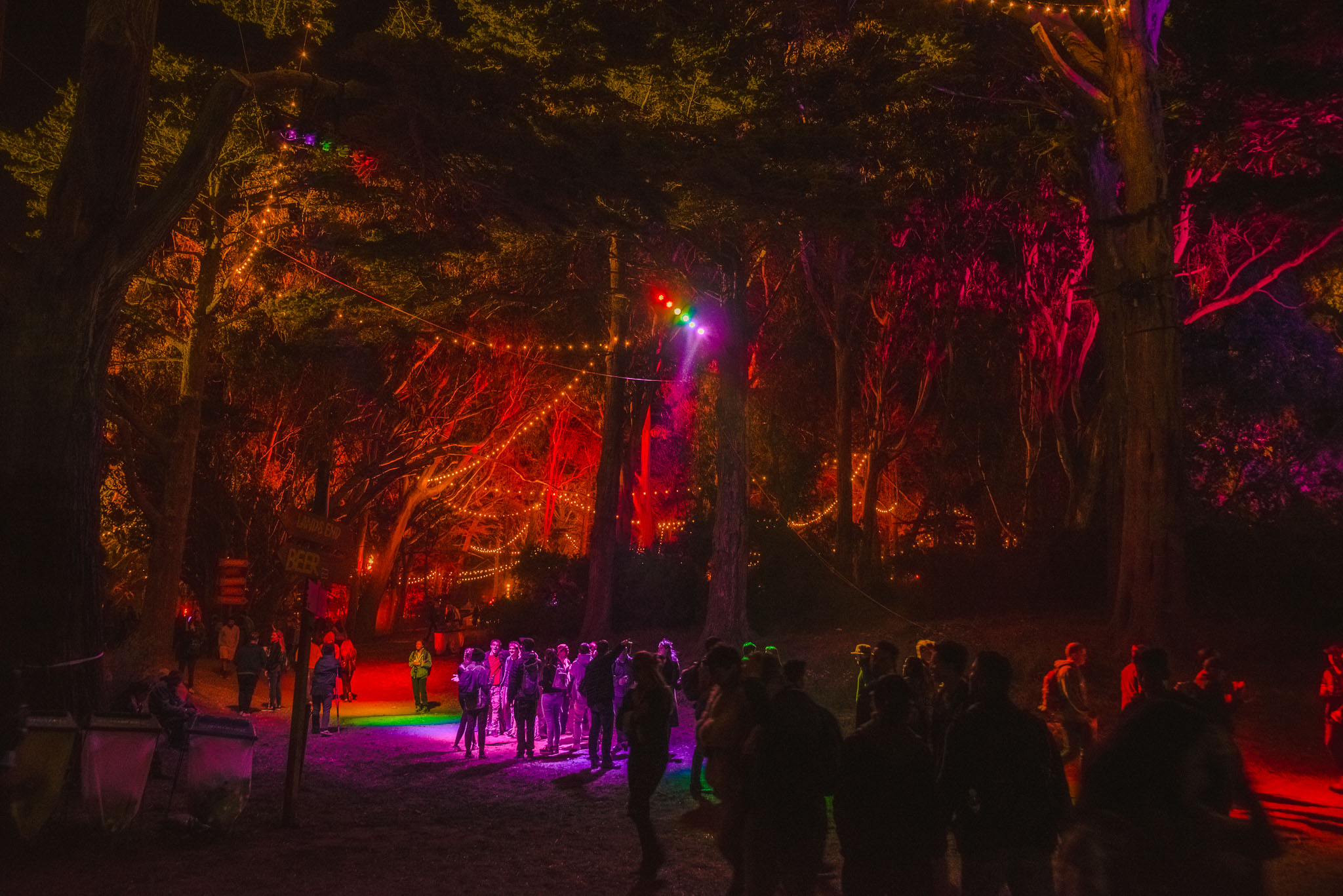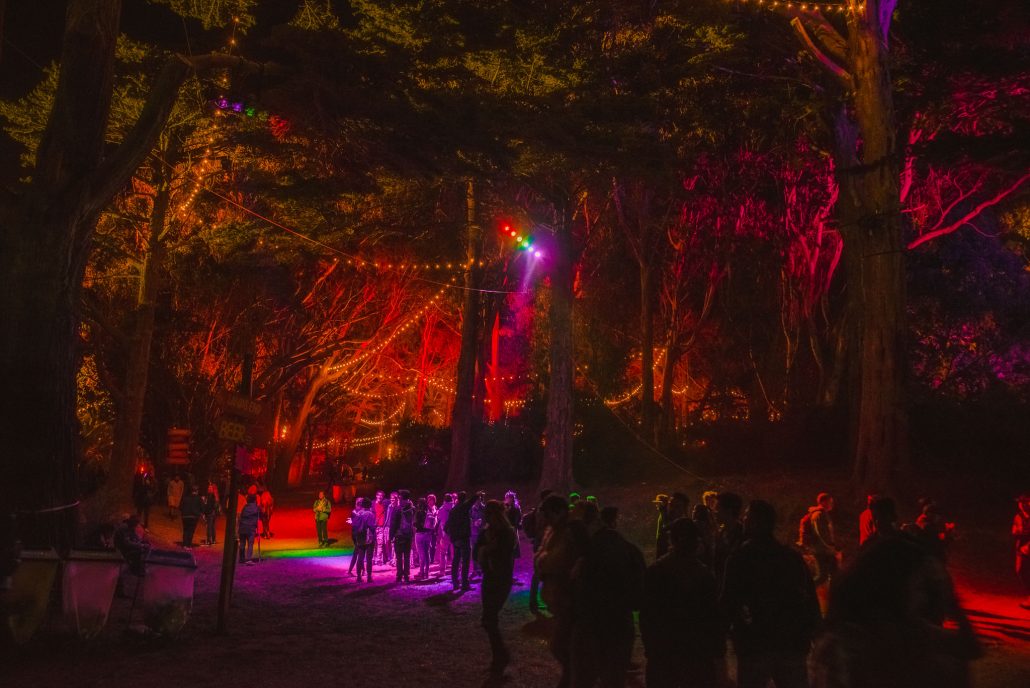 ---
Food & Drink
Be prepared to spend some money at Outside Lands.  
There is a massive selection of delicious food vendors and tasty cocktails, but it is one of the most expensive festivals I've attended.
The cheapest beer you'll find would be a Heineken for $11, and meals would set you back between $13-25 depending on what you're looking to eat.
Pro-Tip:  BRING IN YOUR OWN FOOD.  Yes, that's allowed (according to my friend who whipped out a turkey sandwich on the dance floor, lol).  Food isn't on the prohibited items list, so bring a feast and save some money.  With that being said though, make sure you sample a few of the vendors!  The food really is incredible.
I actually didn't have to spend too much money at Outside Lands though because the Chase Sapphire events each day kept me well fed and included alcohol!  :-)
---
ALL THE ART
"With daily live painting, on-site installations, original stage art, and the full Outside Lands collection of art from previous years, 2017 is looking to stimulate your hearts and minds and festival experience."  – OSL ART
---
Overall Excellent Production & Perfectly Executed
For a festival of this magnitude, I've gotta say that they absolutely have it down to a science!  This was their 10th Anniversary, and it became clear to me that this was not their first rodeo.
The stages were all impressive, the sound and lighting was flawless, and it had everything you'd look for in a festival!
While it did take me 10 years to get out there to Golden Gate Park, Outside Lands completely exceeded all my expectations!!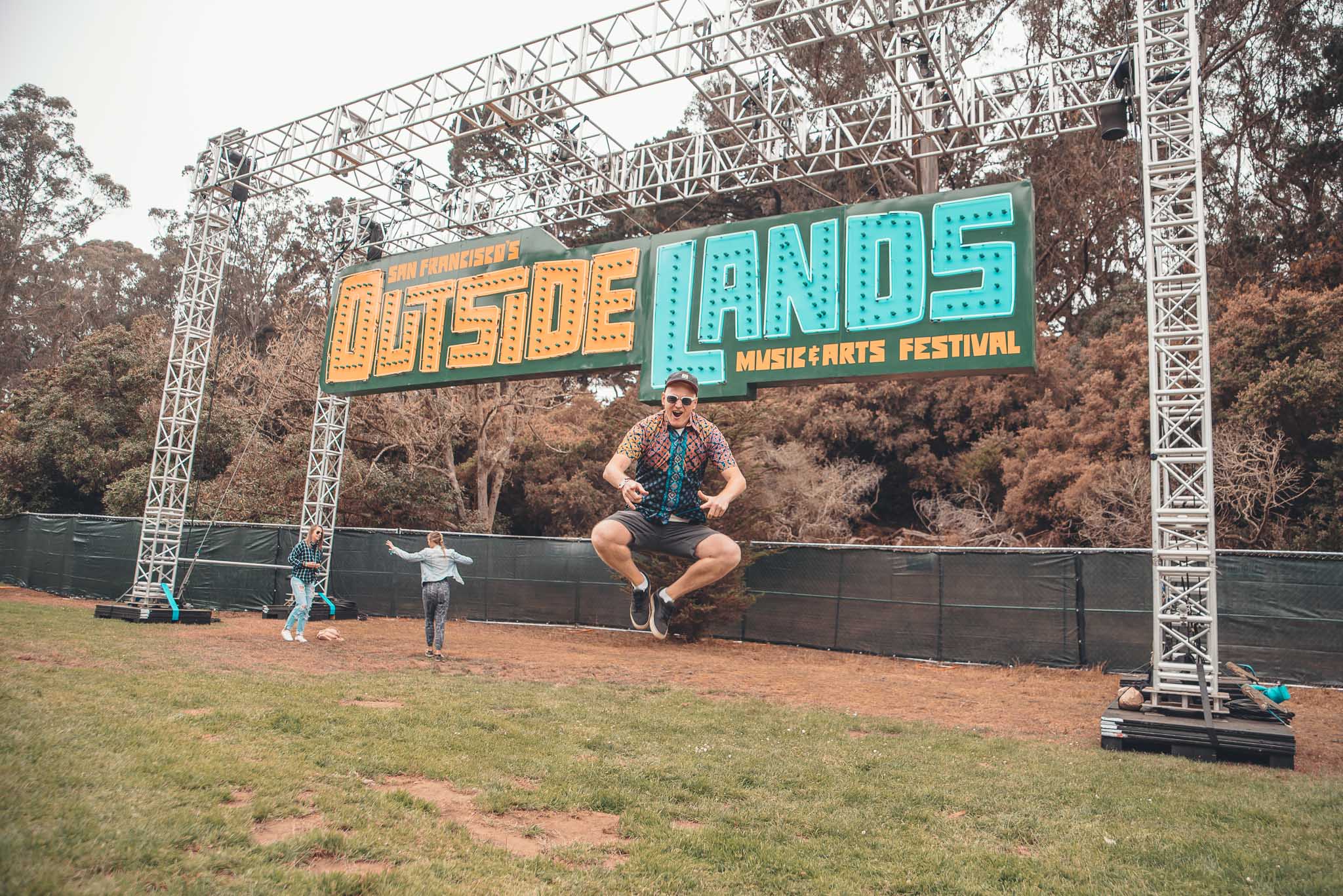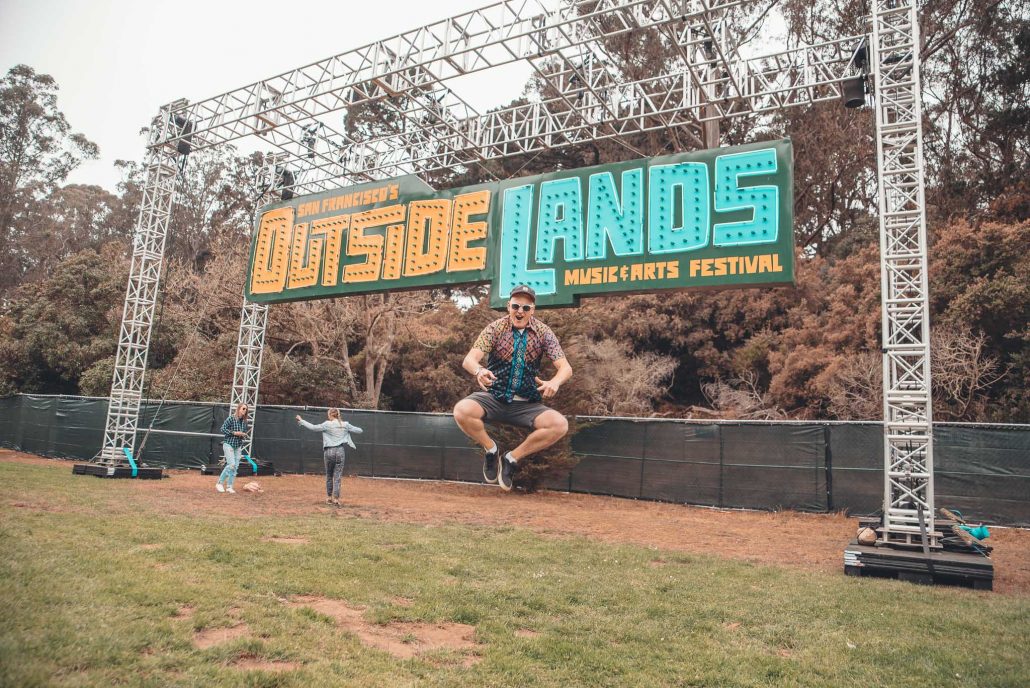 ---
This post was written in collaboration with Chase Sapphire who invited me Outside Lands for a top-notch experience.  All opinions are my own!  #SapphireOnLocation
---
THANKS FOR READING!!