Batik: How an Indonesian Cultural Icon Became My New Festival Fashion
I'll be honest…I'm not the most fashionable guy.
I've been traveling for so long that clothes have never really been an important aspect of my life.  I hate shopping, and I hate spending money on unnecessary purchases.  I've become a somewhat minimalist, and most of my clothes come from clearance racks or the "basics" section from H&M.
NOW WITH THAT BEING SAID…
Look how amazing I look in my new Batik shirt!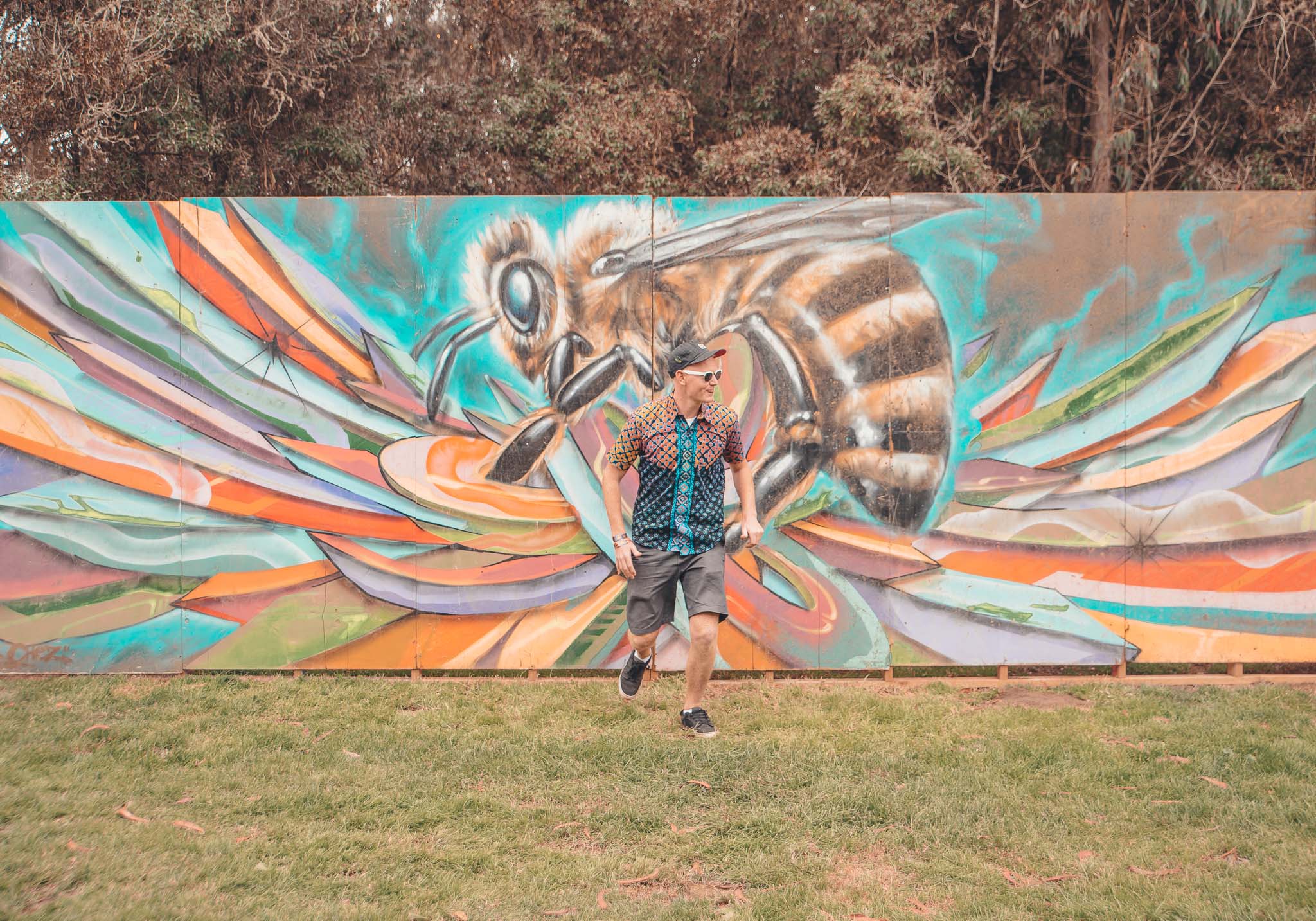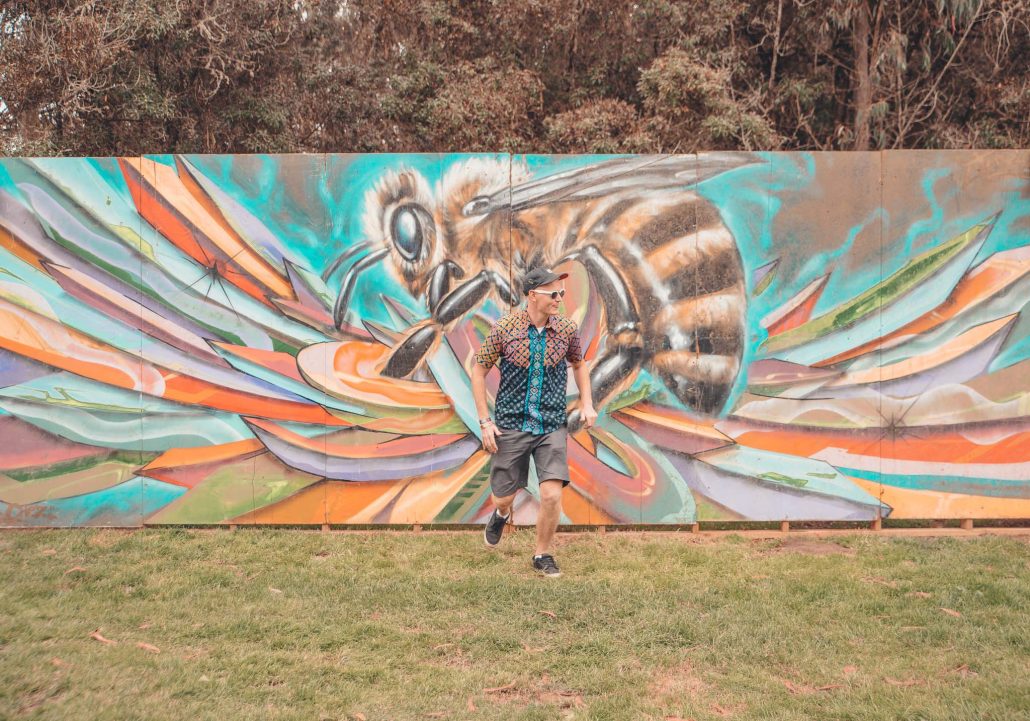 ---
During my most recent visit to Indonesia on the epic "Trip Of Wonders", we made a quick stop in a city called Solo, which is referred to as the "The Spirit of Java"!
It was here that we learned all about Batik, an important icon of Indonesian culture!  It's a traditional method of designing fabric by an unique dying process that's quite famous in Central Java.  The Batik designs are stunning, and it was fascinating learning all about it!    
---
Danar Hadi Batik Museum
Our Batik filled day began with a brief history lesson and walk through of the Danar Hadi Batik Museum.  The entire building is gorgeous, and I couldn't stop taking pictures of the different rooms filled with Batik fabrics, and epic chandeliers!
What's crazy is that we learned that the process to finish one single Batik can take several months!  That's some serious dedication to the traditional method of making these patterns!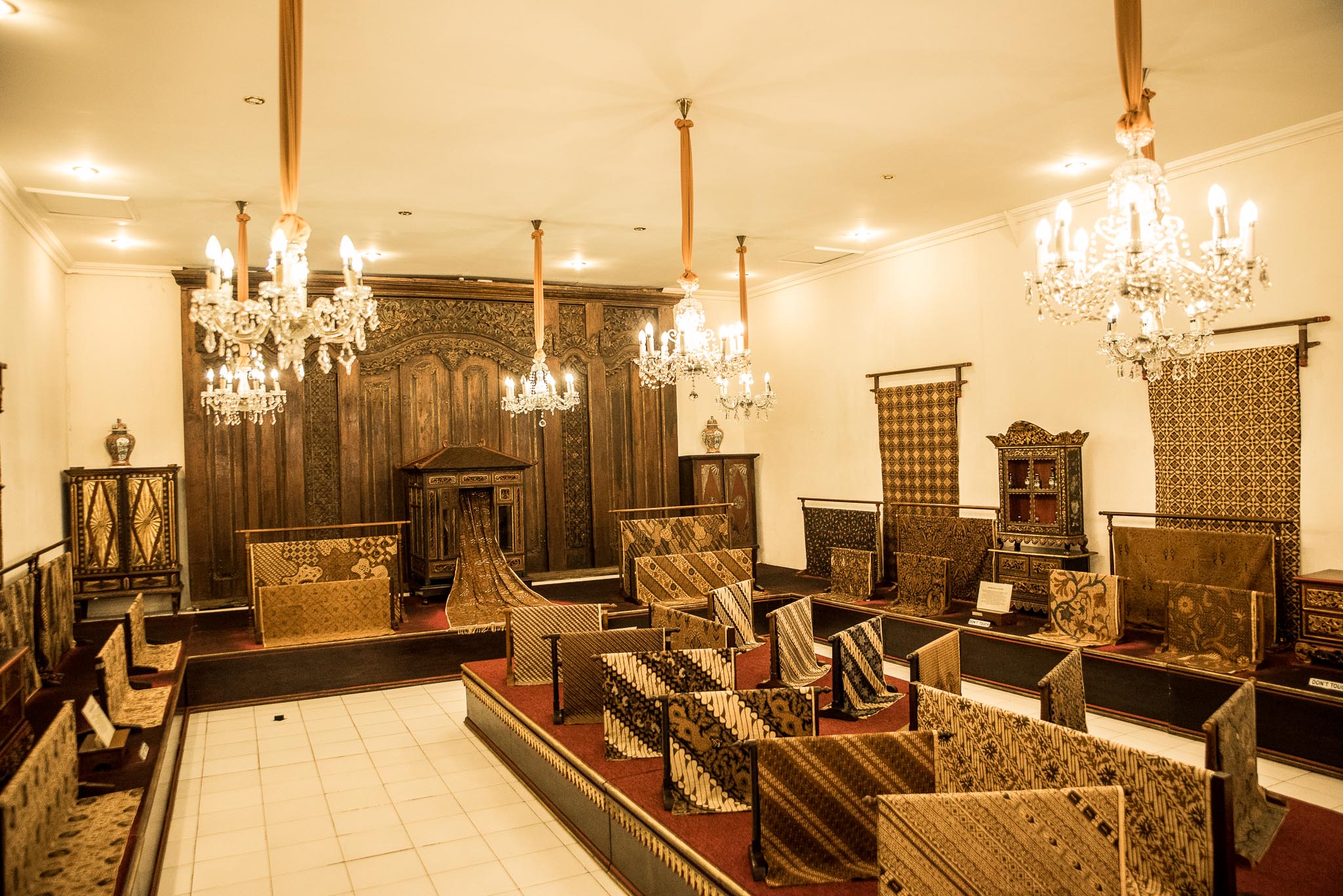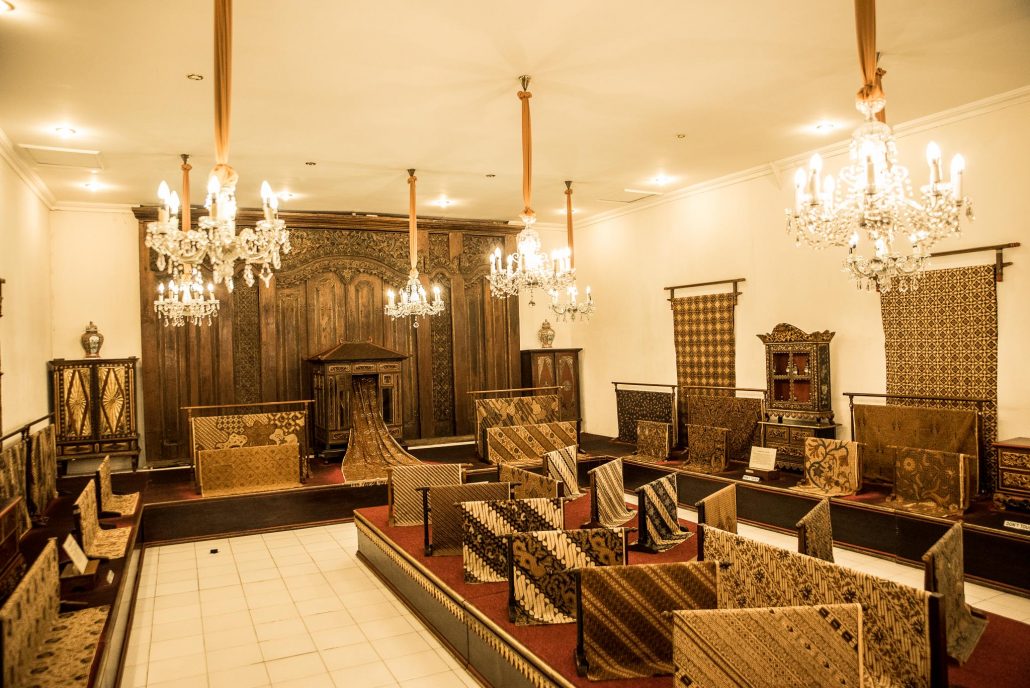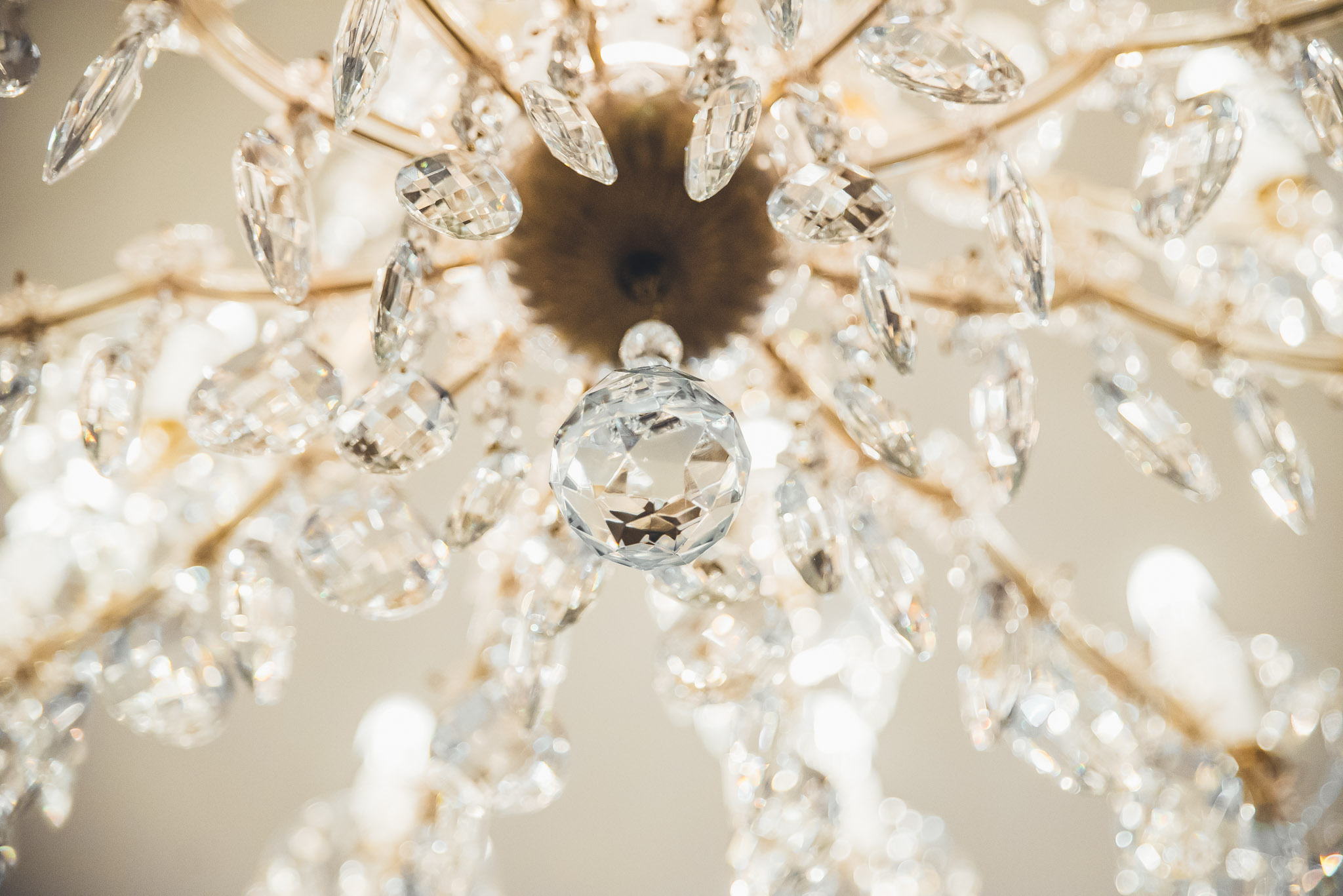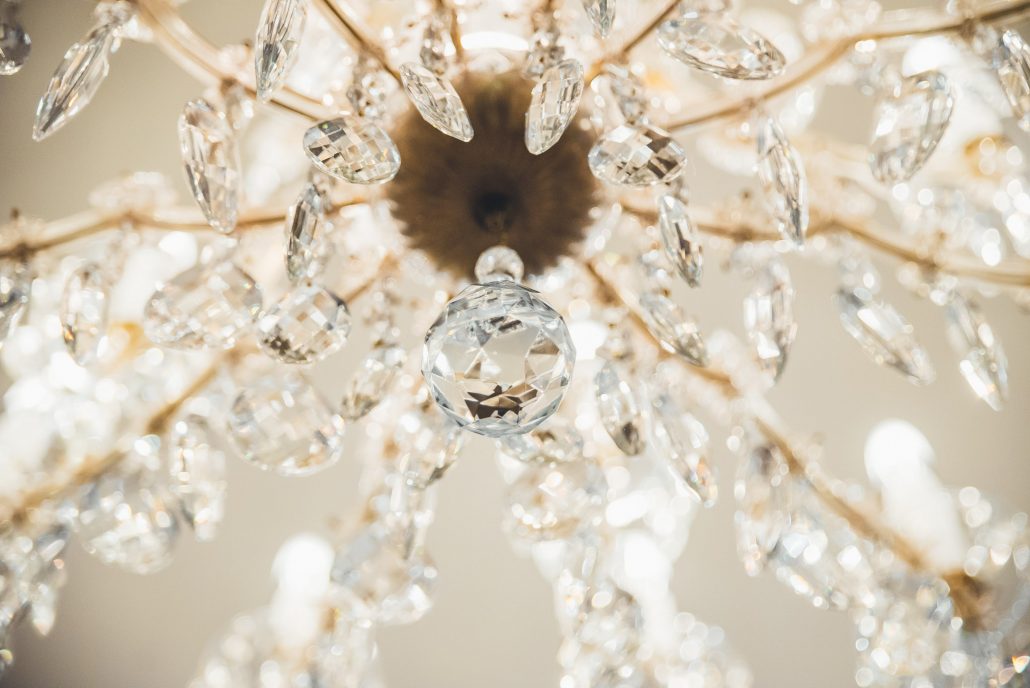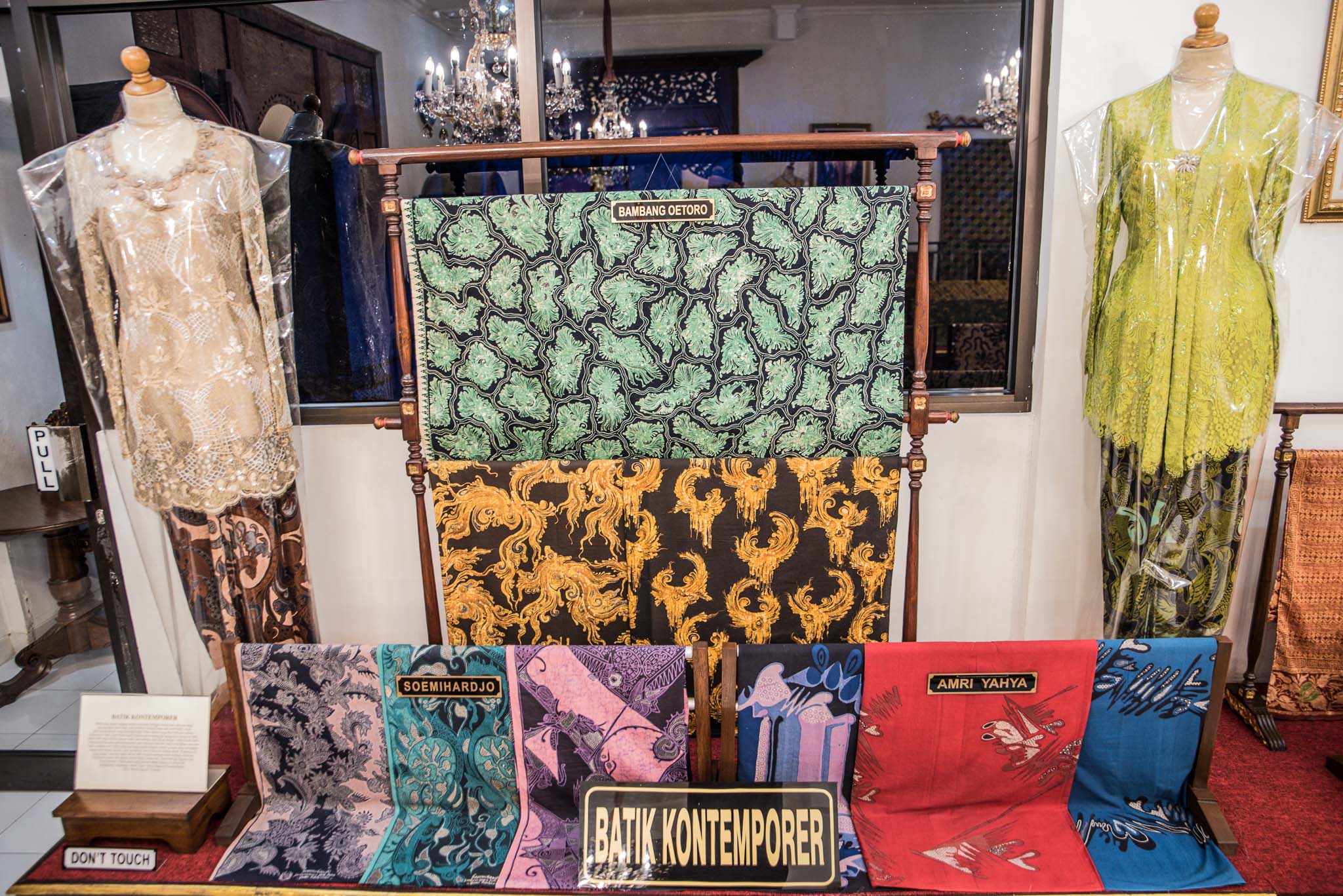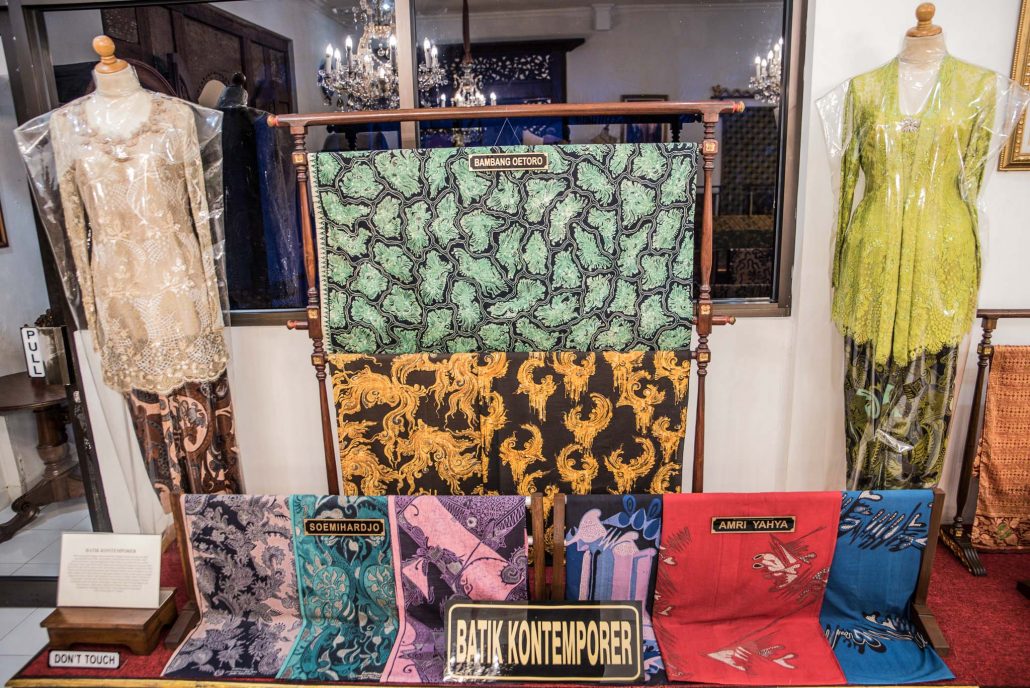 ---
 Rickshaw Rides Through Solo
I'm not typically one of those travelers who would jump into a rickshaw like this, but this was a pretty fun way to explore the streets of Solo.  The locals would zoom past us on our photos and give us the biggest welcoming smiles.  While no words could be exchanged, I knew they were giving us a warm welcome into their city!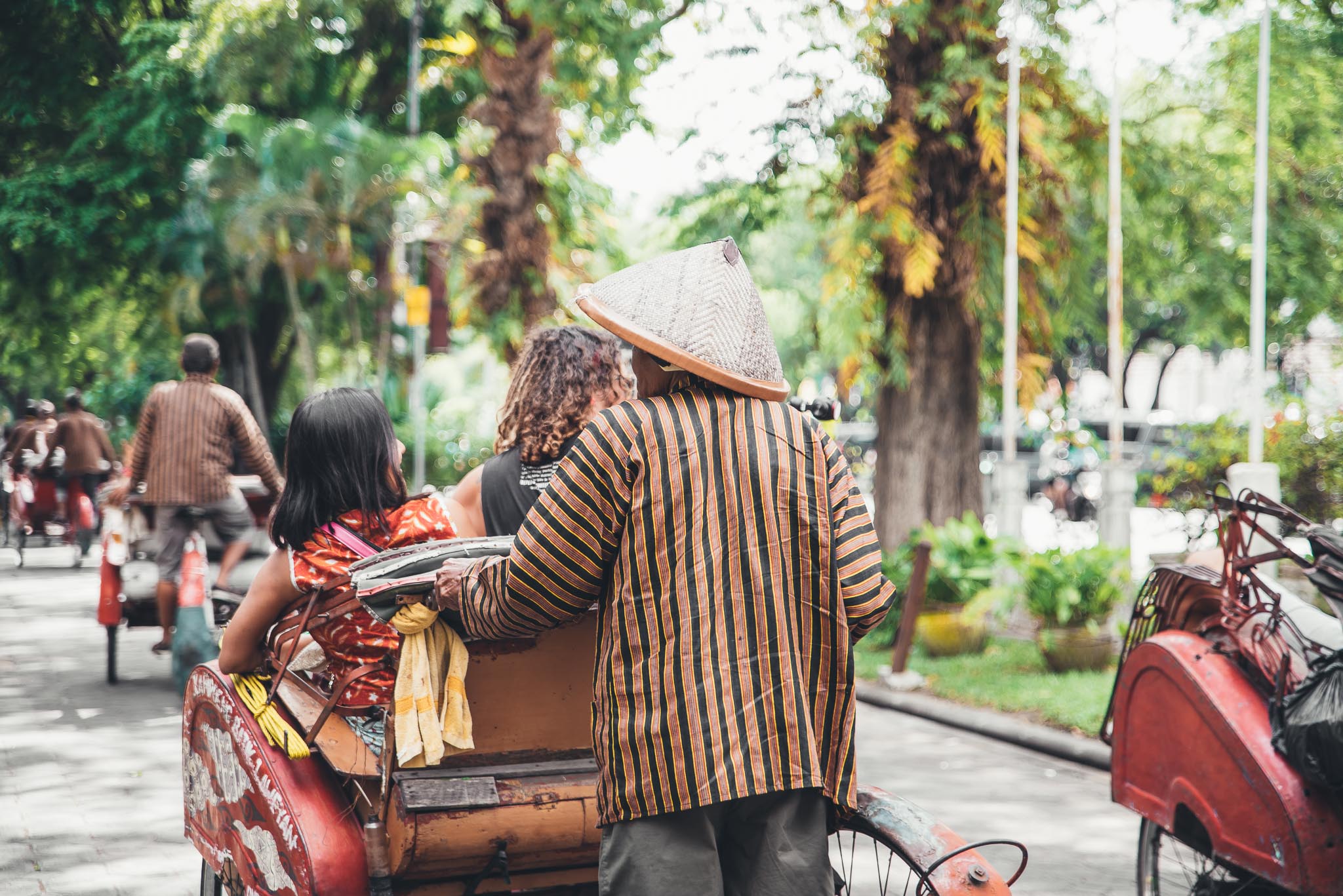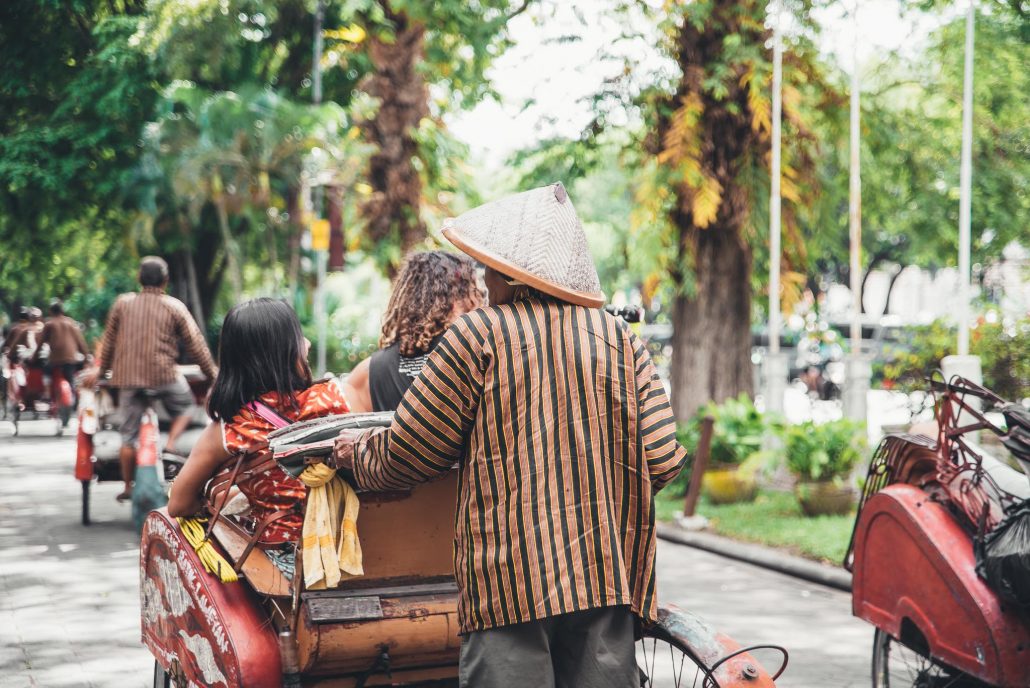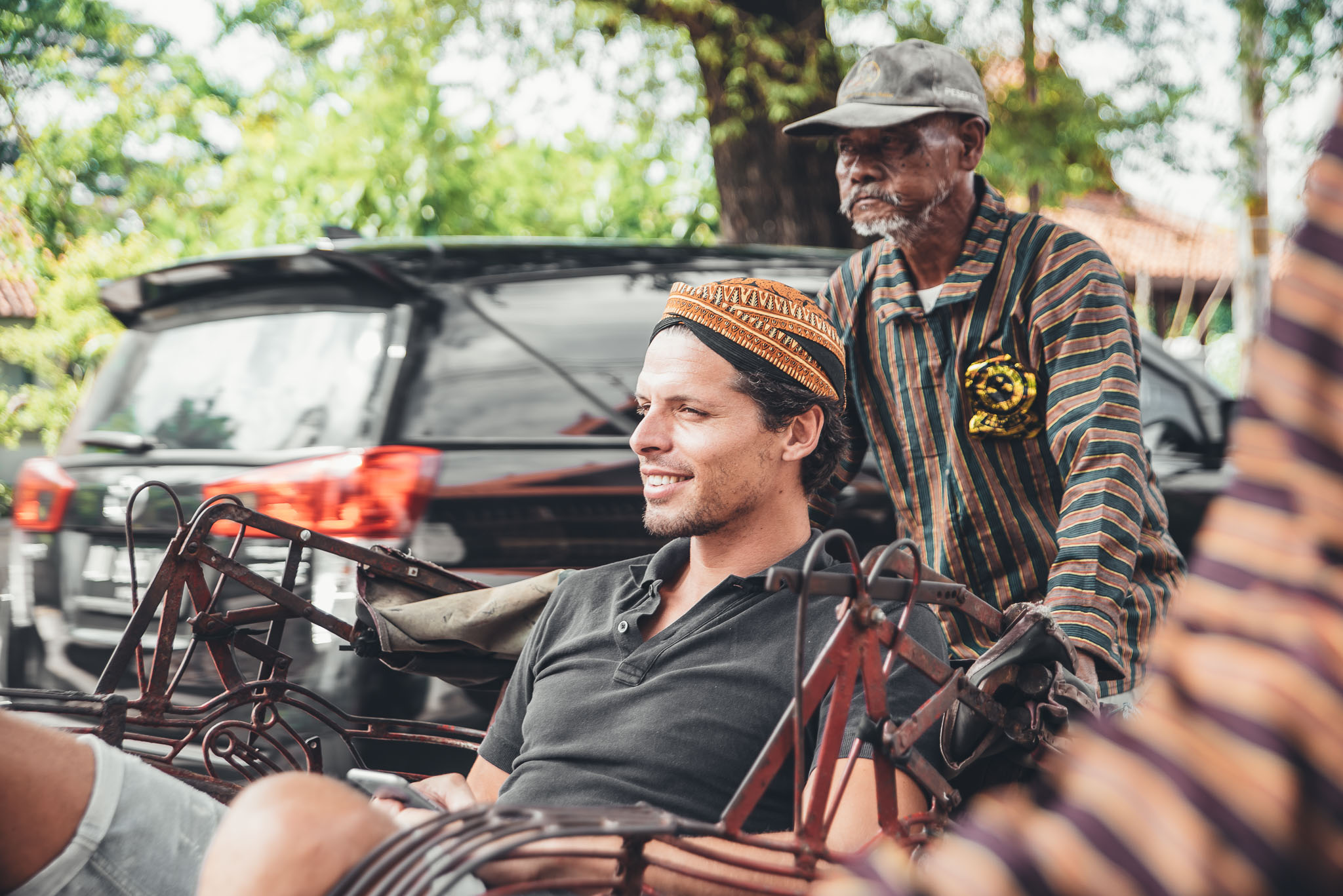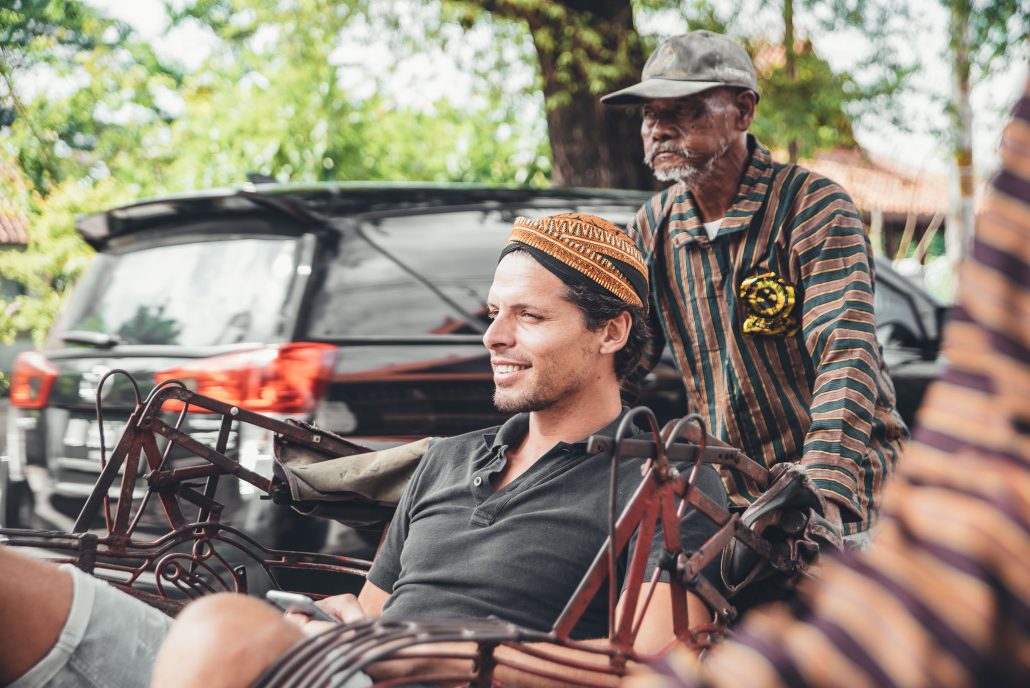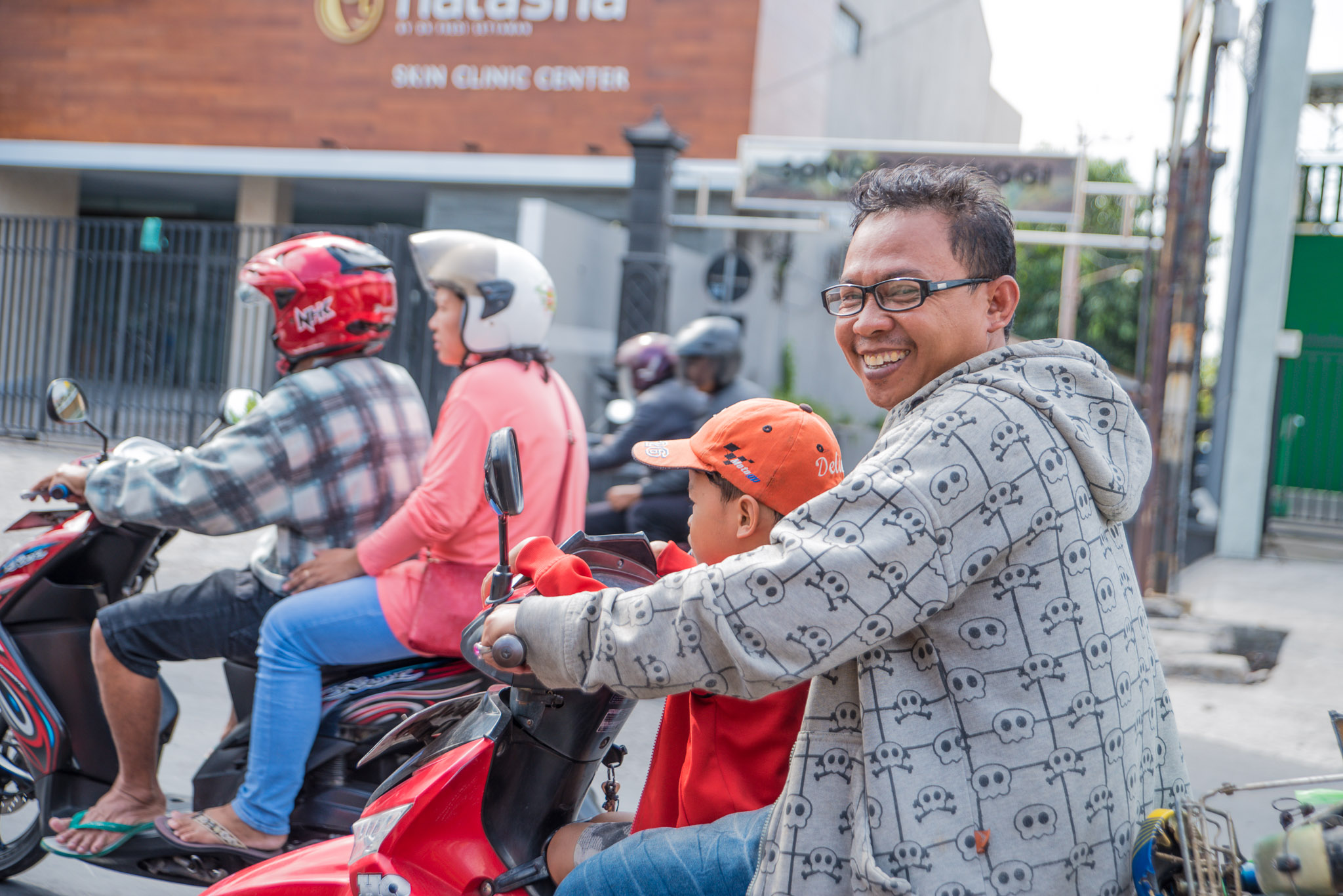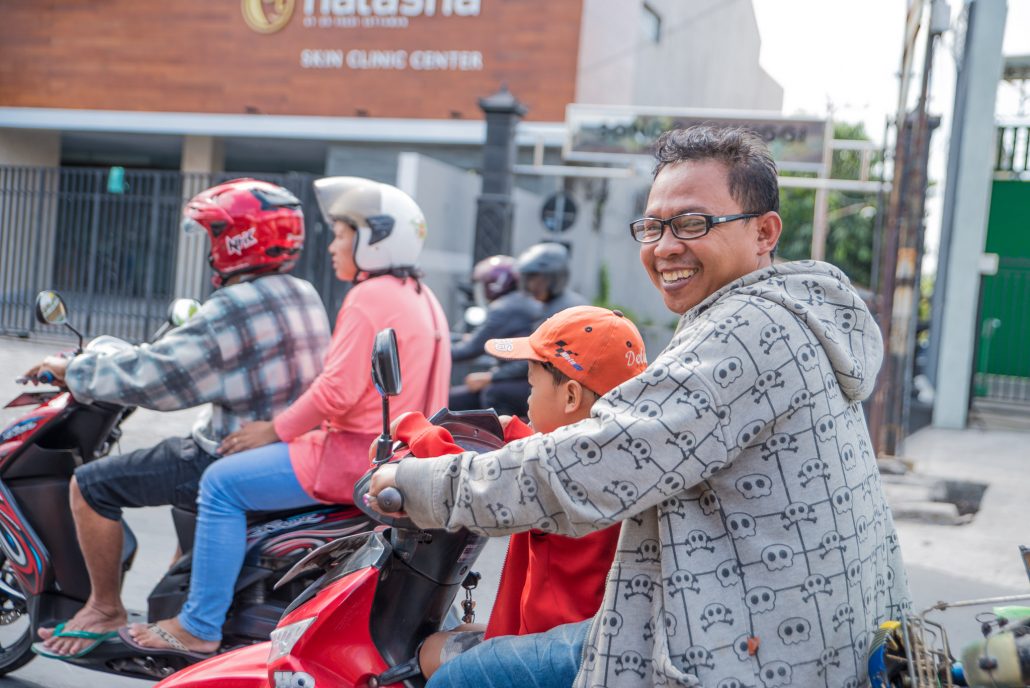 ---
Learning to Make Batik at Kampung Laweyan Village
Here comes the really fun part…we got to attempt to do this ourselves!
The first step of this Batik workshop was trying to perfectly trace the design with hot wax from this small pen-like tool.  We first admired the professionals do this flawlessly!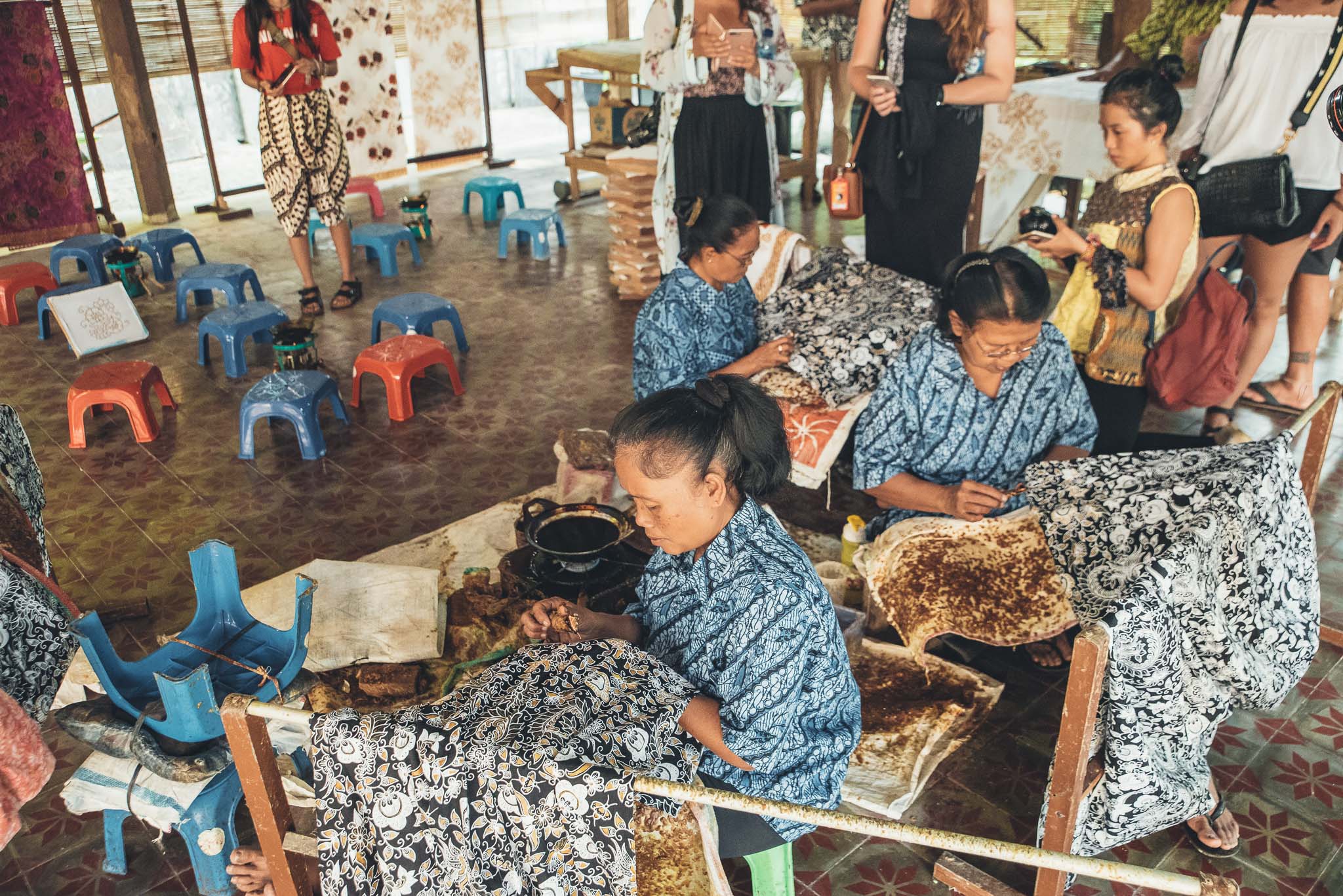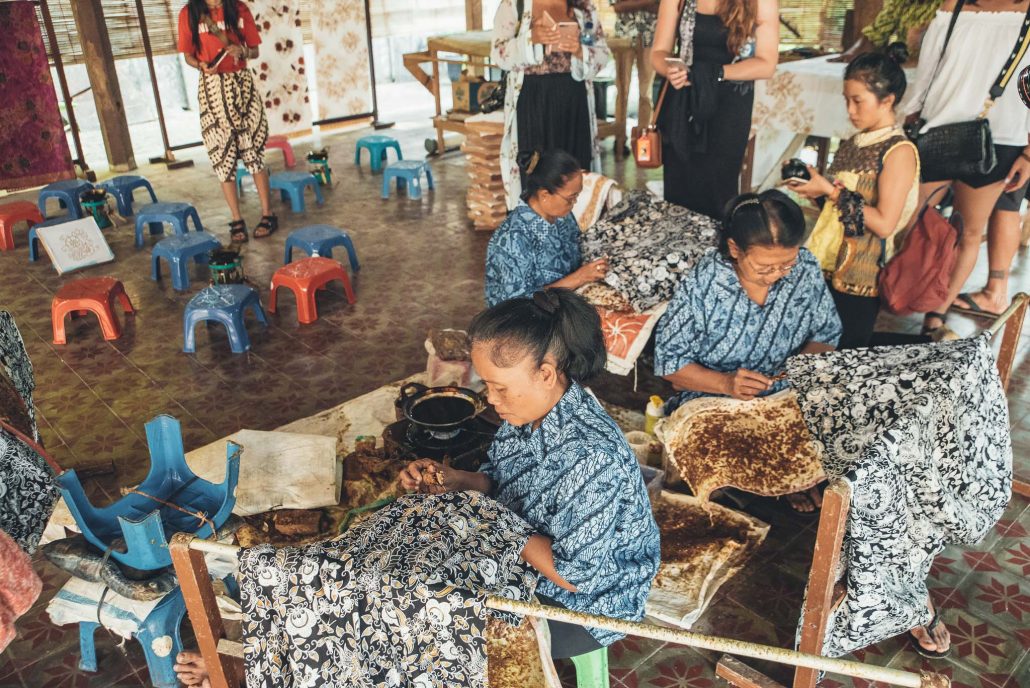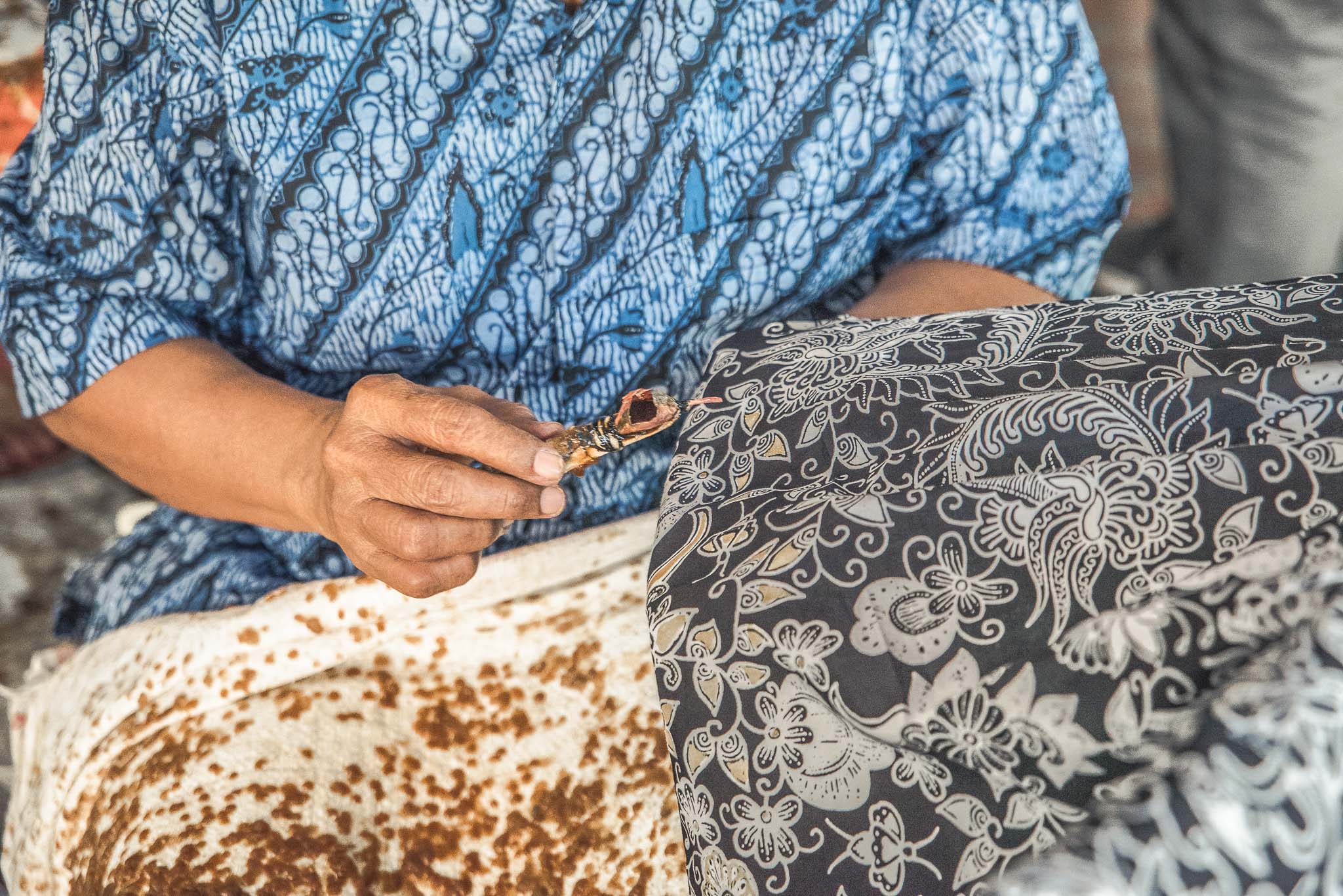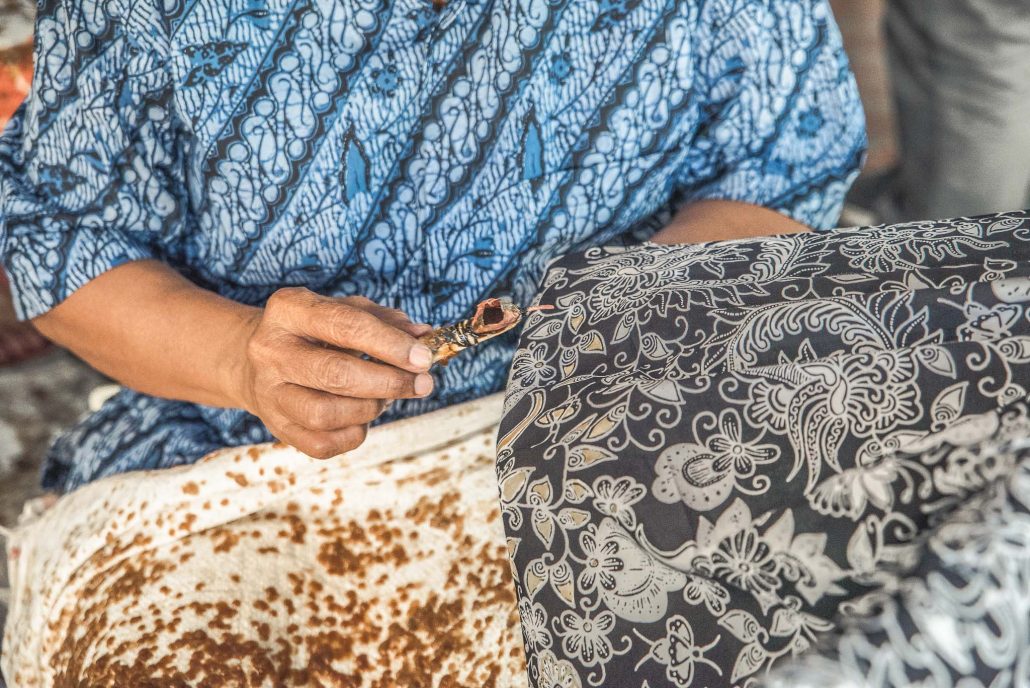 That may seem like an easy task, but trust me – it's incredibly hard (and somewhat dangerous).  Not only did I manage to burn myself with the wax, but even inflicted pain on the cutest vlogger in the world (sorry Cup of TJ) !!
Once all of our designs were traced with the wax, we attempted to fill it in with various colored dyes.  A good way to think about it is a similar to a coloring book.  The issue that myself and many others in the group experienced, was that if you didn't trace it thick enough with the wax, the dye would not stay inside the lines.
While some bloggers on this trip were rather talented at this workshop (I'm looking at you Backpacker Banter), my design turned out to be quite the disaster, lol.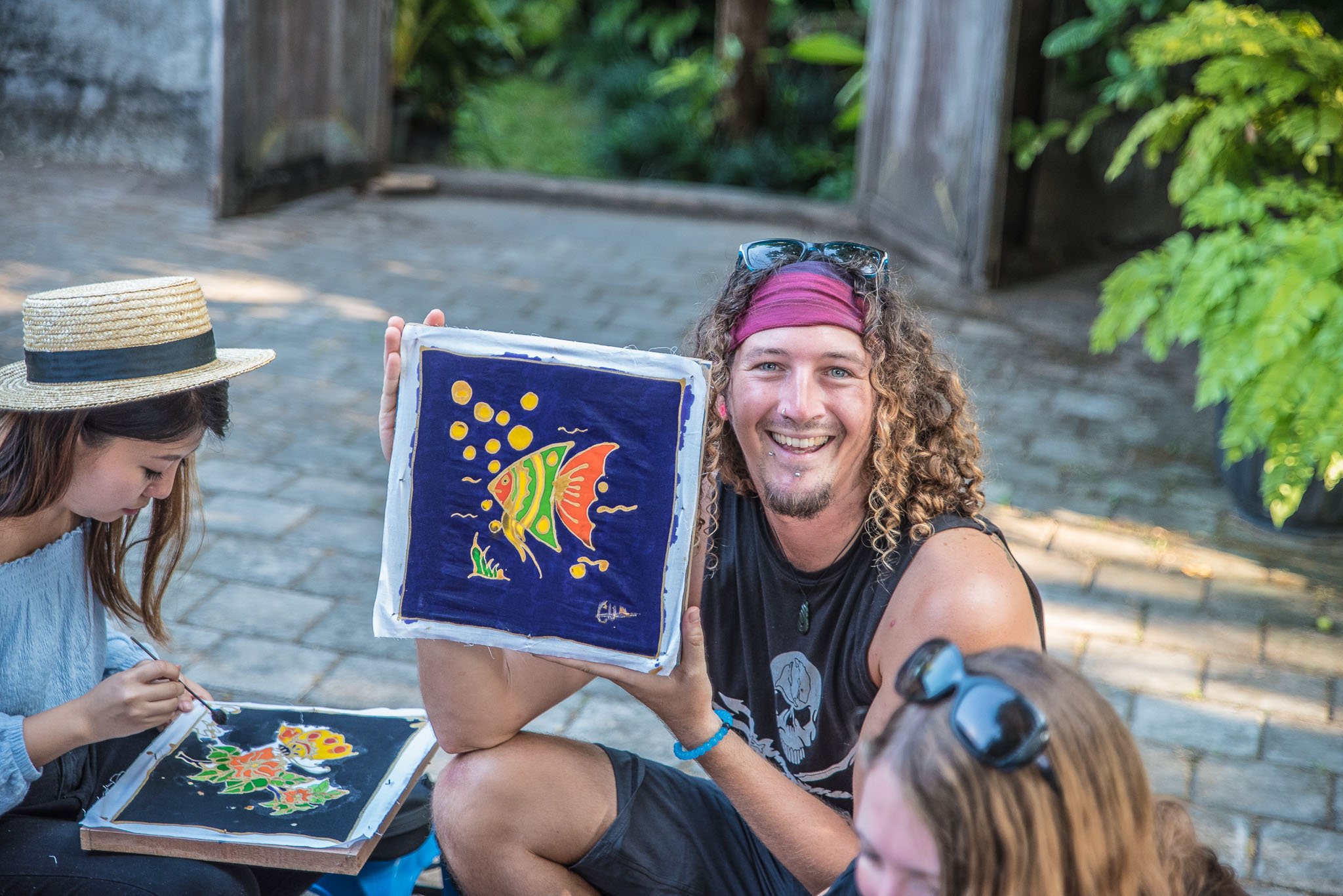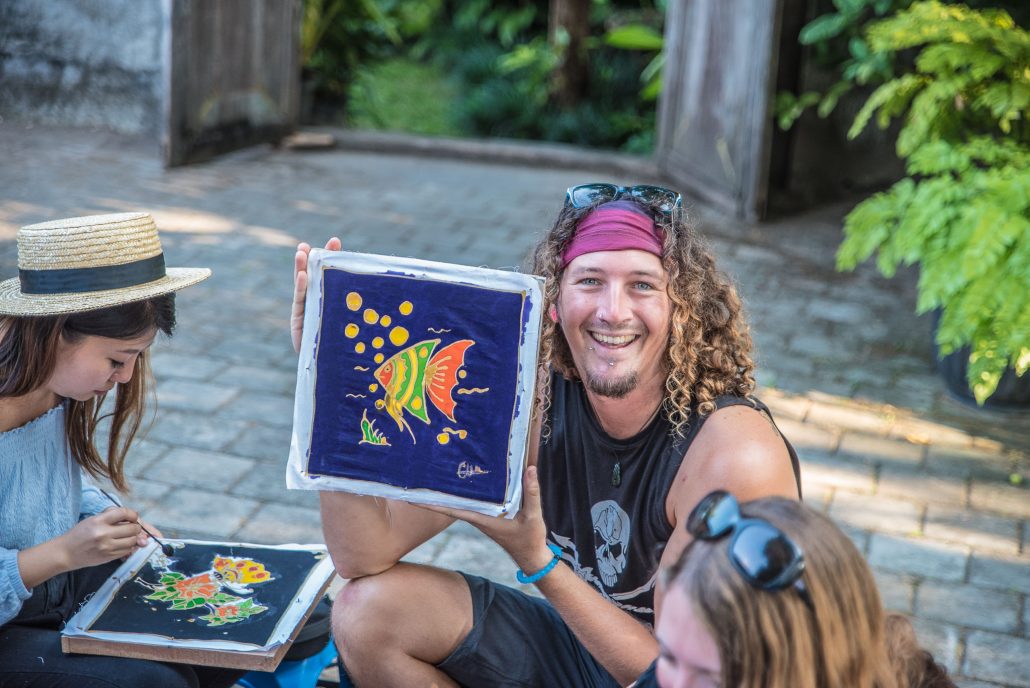 I'm confident that if I got a second chance at this workshop though, I'd do a much better job!  :-)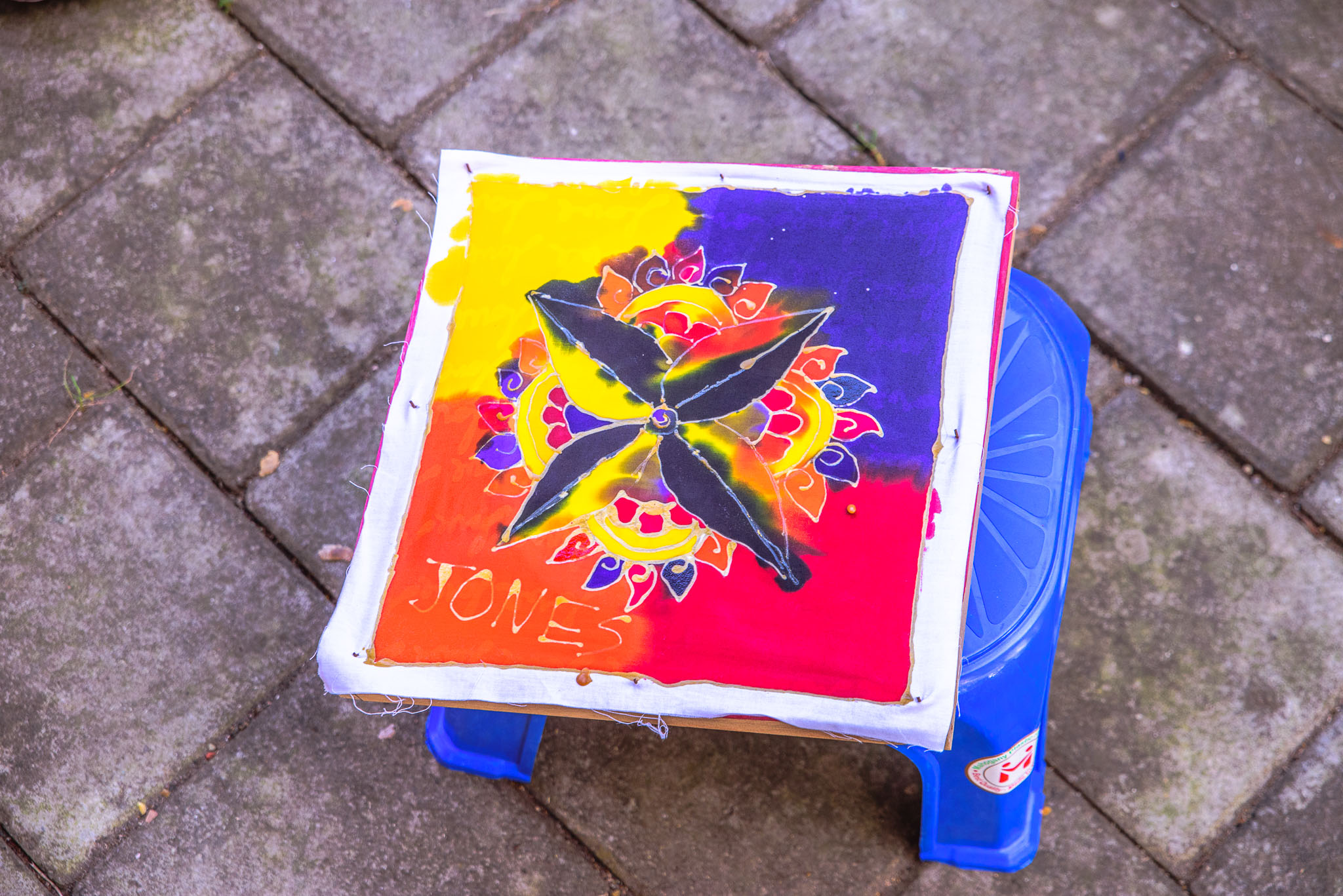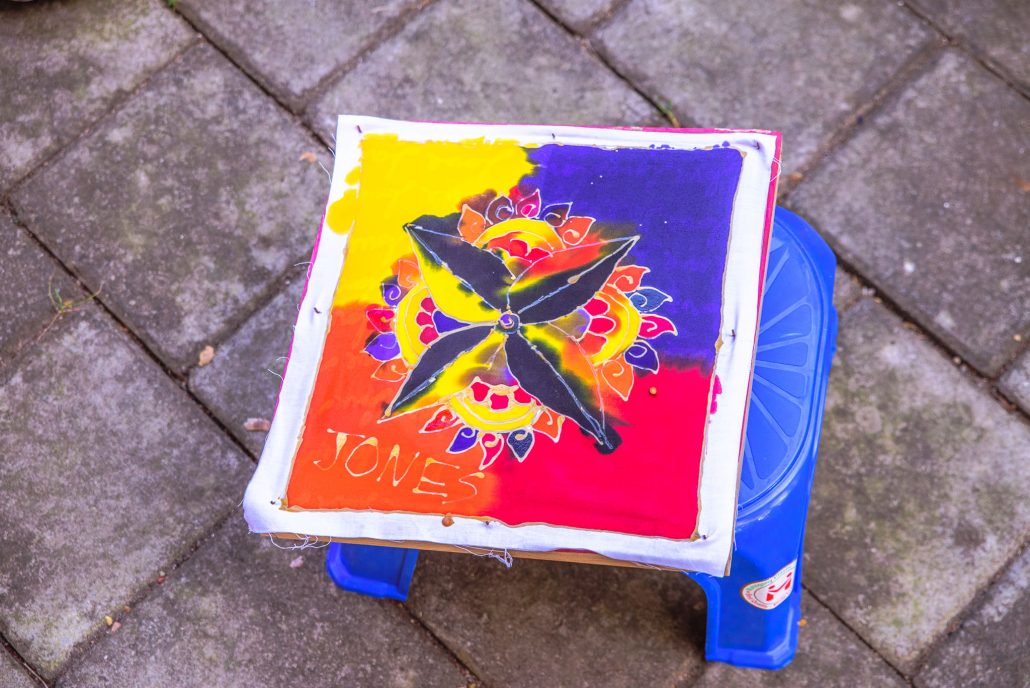 ---
Let's go shopping…
To finish off our Batik day in Solo, our group spent about 30 minutes checking out the massive selection of beautiful clothes and fabrics on sell.  I did have my eye set on one shirt in particular, but I didn't want to spend $30 U.S.D on one just one shirt (I'll always be a budget conscious traveler).
Look at these shirts though, absolutely perfect for music festivals!!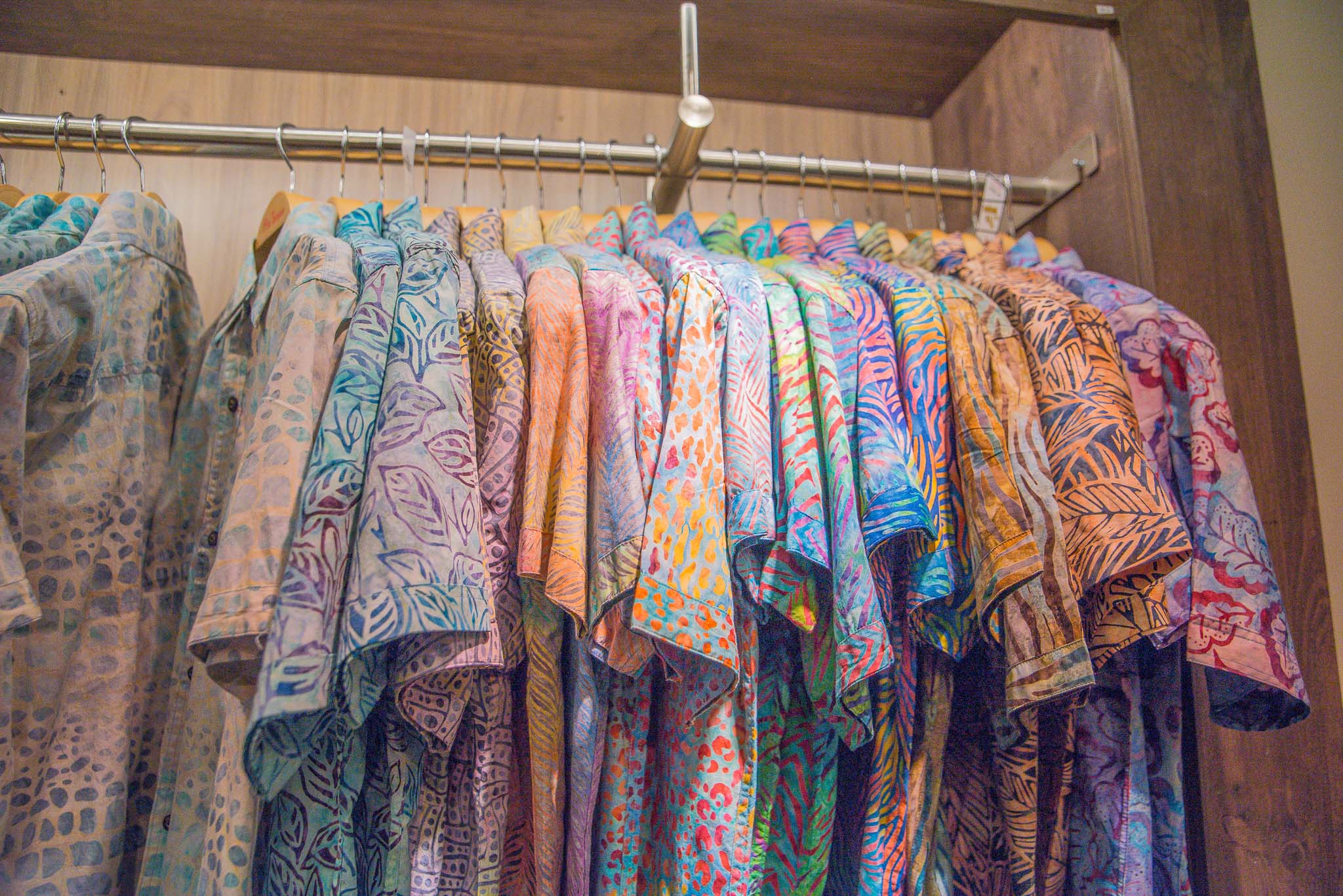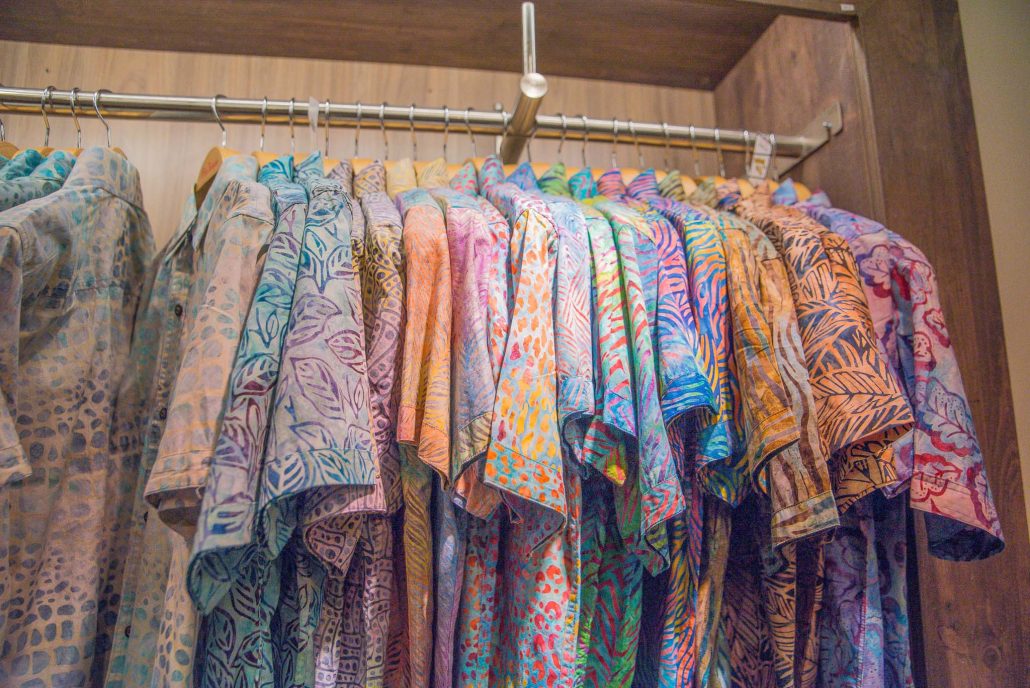 Fortunately for me, there was a whole selection of Batil designed short-sleeved shirts on clearance for up to 50% off!  I managed to buy three shirts and one cool fabric, all for only $37 U.S.D!  
I just recently attended Outside Lands Music Festival in San Franscisco, and wore a different shirt each day of the festival!
I got TONS OF COMPLIMENTS, and am super happy with my purchases!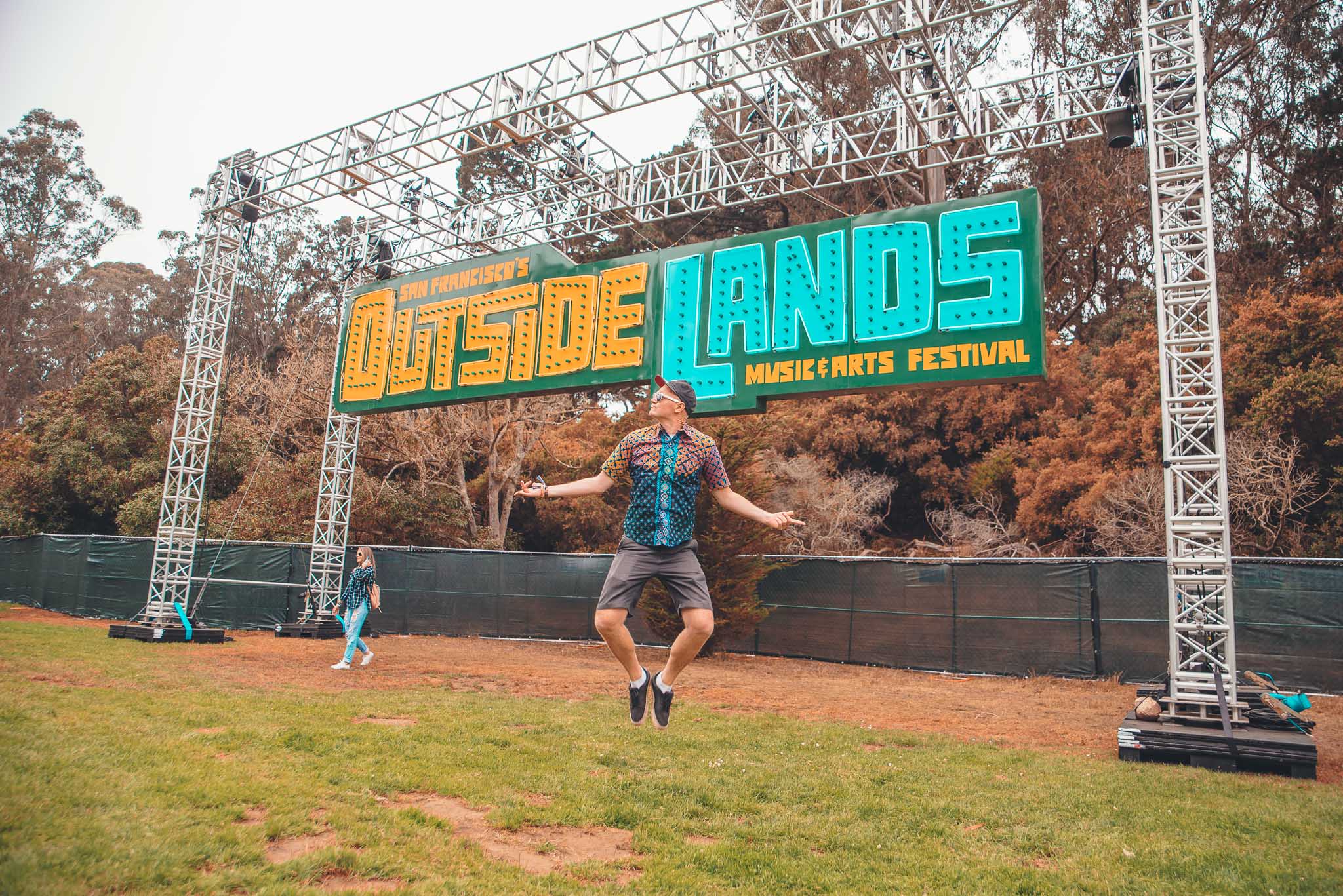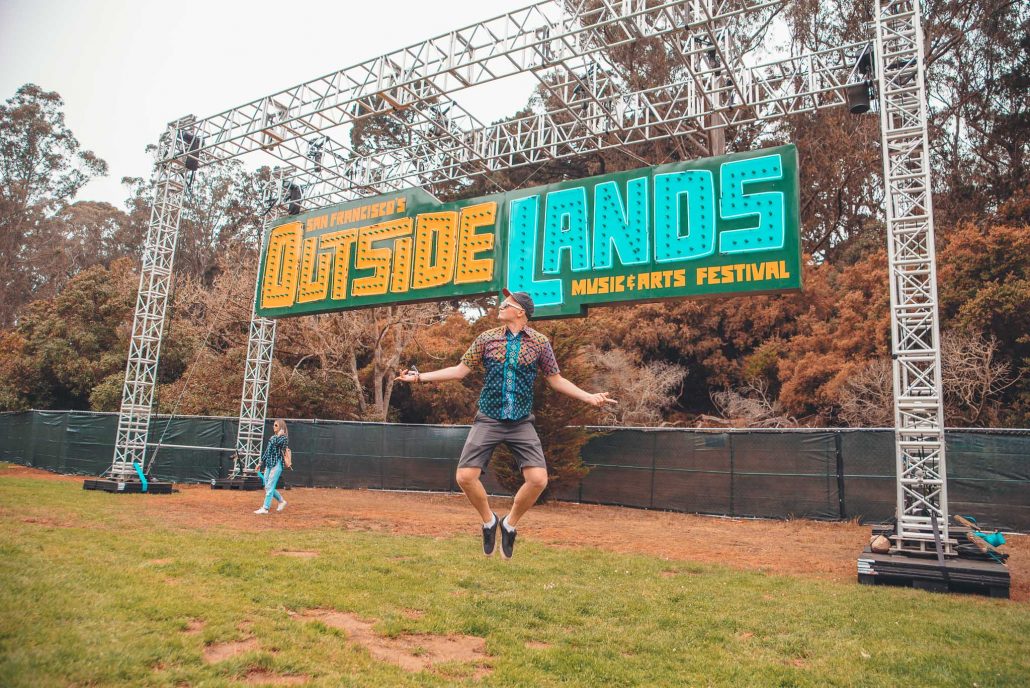 I will continue to confidently rock my Batik around the world, and when people ask me where I got it from, I'll be able to say, "I bought this bad-boy in Solo, the Spirit of Java!"   
Thanks for reading!!