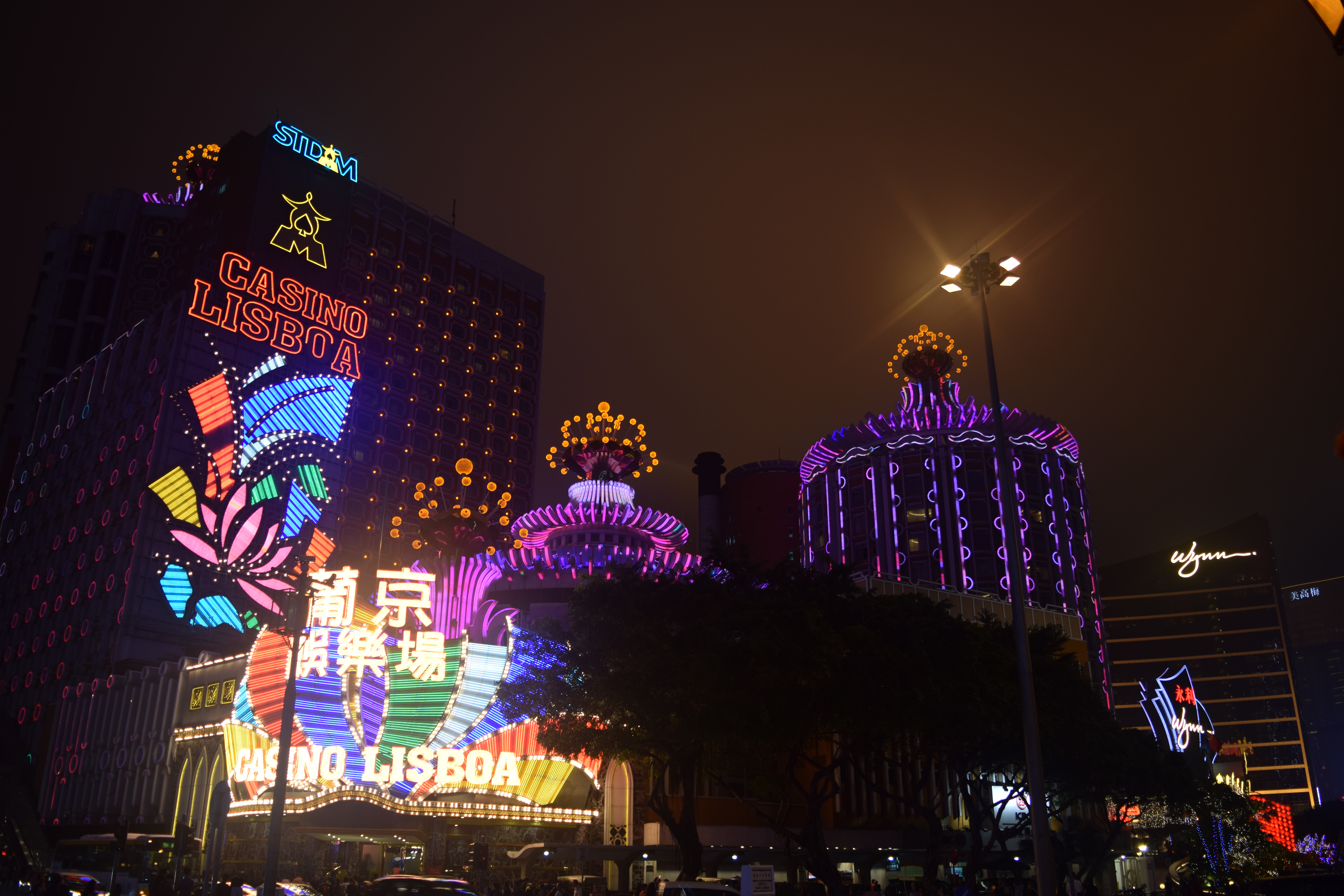 I honestly can't believe I had not heard of Macau before a couple months ago.  I remember seeing it on the AirAsia map listed as its own country, and thinking, "WTF is that?".  After some diligence research, I figured out it would be the perfect day trip from Hong Kong.  I was actually planning on staying for 2-3 days, but due to extremely high costs of accommodation, and my lack of finding a host for Couchsurfing host, I decided I would only go for a day.
Since I had no accommodation, and had plans to sleep at the airport, the first thing I needed to do was drop off my bag, so I did;'t have to carry my stuff around everywhere all day.  I went to the first big hotel I saw, pretended I just checked out of a room, and left it with the concierge.  It was pretty awesome, and worked out perfectly!  
I grabbed a map, and started crossing off some of the major hot spots.  All I ever really cared about seeing were the big casinos, but Macau actually had some other cool sights.  Walking through the small streets with the busy crowds was fun, as well as sampling different foods and snacks.  This was around the Chinese New Year, so it was definitely a chaotic time in Macau.  
Macau was overall amazing.  The city comes ALIVE at night, and just walking around is so much fun.  The casinos are all beautifully lit up, and will make you feel like you're back in Las Vegas, Nevada.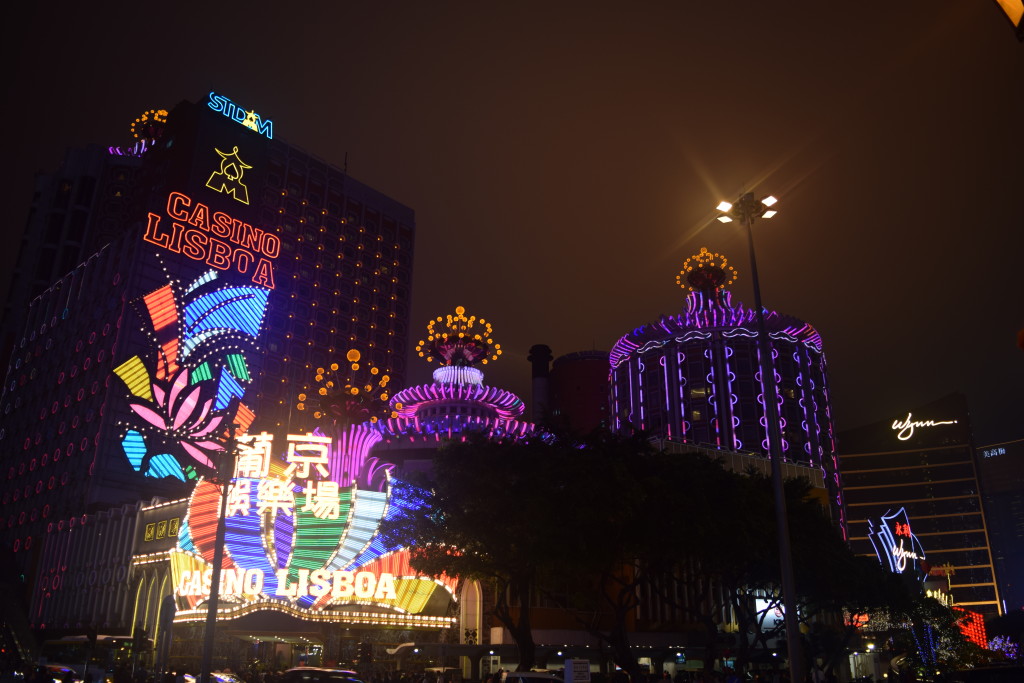 There are three must-see Casinos:  The Grand Lisboa, The Galaxy, and The Venetian.
The Grand Lisboa is probably the most famous landmark in Macau, and can be seen from all over the city.  I walked around all day trying to find the Venetian, only to find out it was in a different location outside all the main action.  I got a free shuttle service from a casino, and made me way over to the Galaxy.  The was by far one of the craziest casinos I've ever seen.  Pictures can't do it justice, but it's MASSIVE.  You could get lost very easily walking around that place.  It looks like it's own city.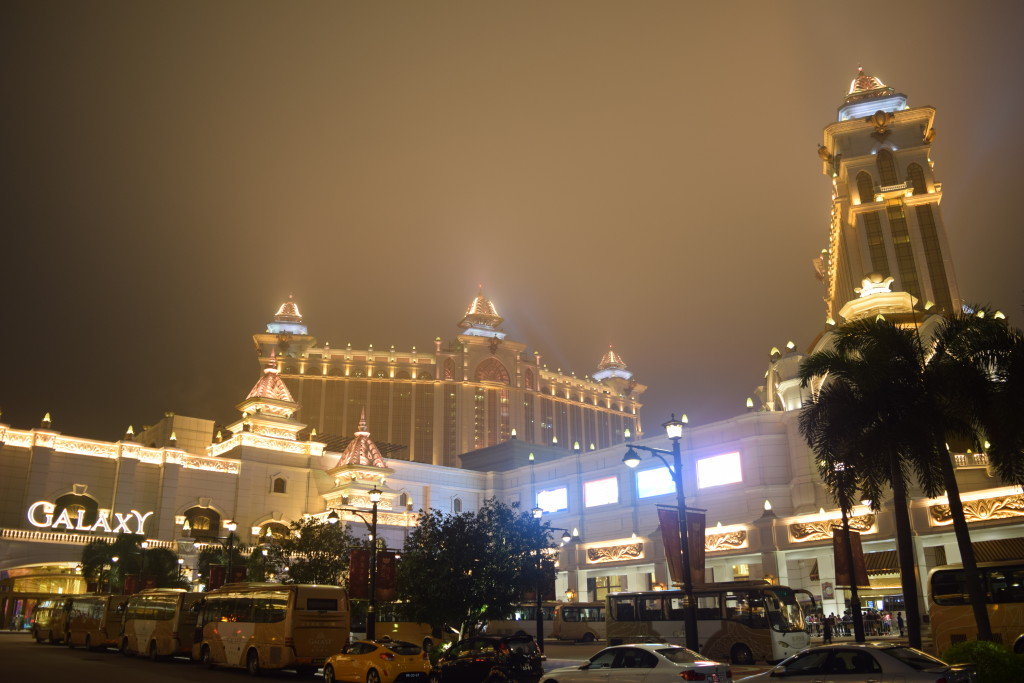 After the Galaxy, I walked over to the Venetian.  It's one of my favorite hotels in Vegas, and needed to check out it's Asian version.  It's big, beautiful, and has the same canal shops it's famous for.  There's a lot to explore, but I didn't even make there until past midnight, so I didn't stay too long.  After doing some gambling (I got pretty addicted to the slots), and was up a mere $15, I called it quits, and made my way back to pick up my backpack.  I called a cab, and prepared for my rough night of sleeping at the Macau airport.
I made sure I googled it before I did, but the Macau airport is open 24 hours, and I was definitely not the only one sleeping there.  It actually seemed really common!  People came with pillows, blankets, and somehow managed to squeeze into the tiny chairs and sleep.
I made my way around the corner, spread out some of my clothes, and passed out after some time catching up on the internet. The free wi-fi at the airport was incredibly fast!  
But yeah, Macau was awesome, and I'm really glad I went.  One day is definitely enough to see it all!  If you ever find yourself in Hong Kong, definitely make the trip to see Macau at night!  Such a cool place.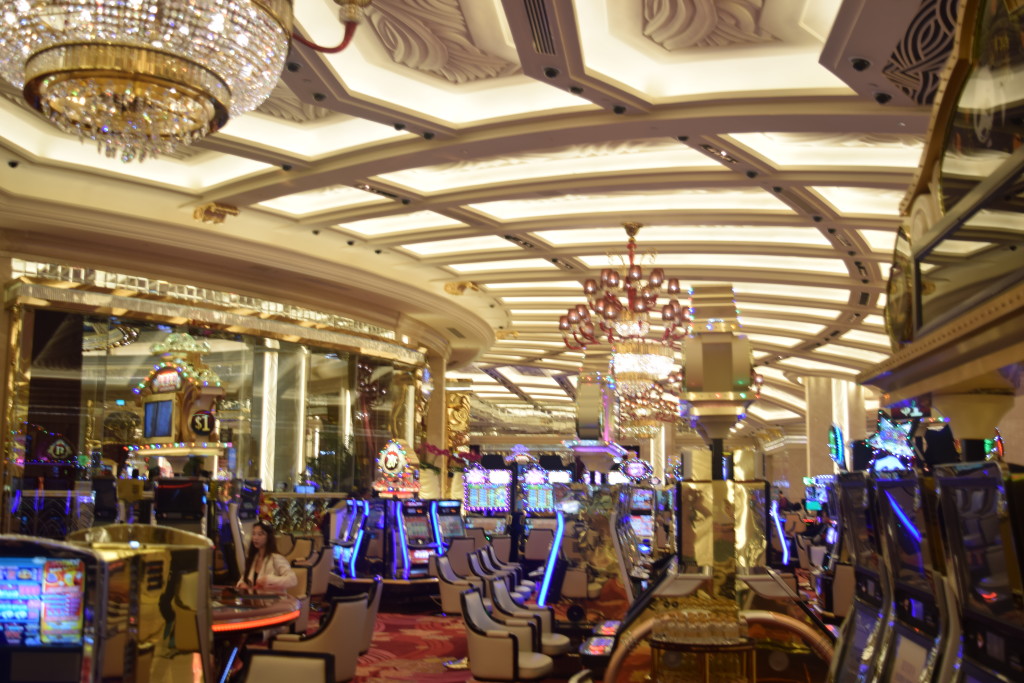 https://www.jonesaroundtheworld.com/wp-content/uploads/2015/03/DSC_0392.jpg
4000
6000
Dave
https://www.jonesaroundtheworld.com/wp-content/uploads/2017/03/logotry-1.png
Dave
2015-03-09 16:04:58
2015-11-02 08:43:21
The Asian Vegas: One Day In Macau