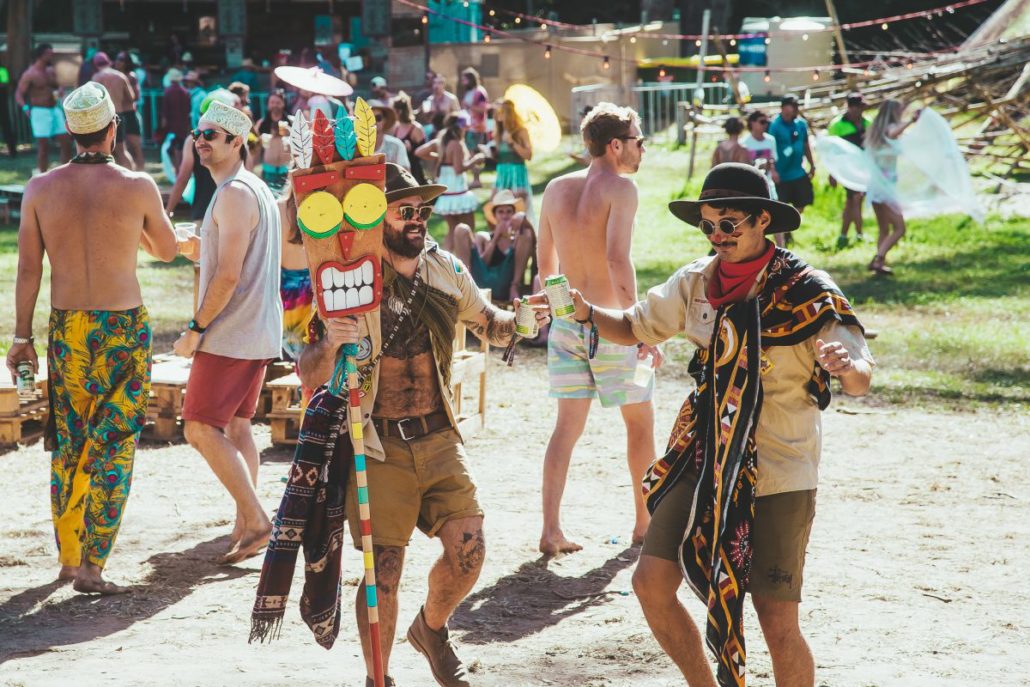 Bust out your fancy dress outfits, camping gear, and get your squad together — because New Years Eve is upon us, and there are some epic festivals in Australia to choose from!  
In my opinion, there is no better place to party than at a music festival.  The energy and atmosphere that's created when you're surrounded by friendly people, incredible music, and beautiful scenery is simply unbeatable.
When it comes to music festivals in Australia, there really is no shortage of quality events.  So since I've found myself in the country for another NYE, I decided to do some research and find out the best festivals in the country to celebrate the new year.  If you don't have your new years eve plans sorted yet…definitely look into one of these awesome events!
These are my top 5 New Years Eve Music Festivals in Australia!
---
1 ) Lost Paradise (December 29-31)
Glenworth Valley, NSW (75 minutes outside Sydney)

"LOST PARADISE WAS BORN OUT OF A LIFE-LONG DREAM TO BRING TOGETHER KINDRED SPIRITS FOR A GOOD OLD FASHIONED PARTY AMONGST NATURE…"
One of Sydney's most popular music festivals is back for another 3 days of camping, music, food, art, and yoga.  The festival community you'll find while at Lost Paradise is what makes this event so special, and from what I've heard it's actually one of the best music festivals in Australia.  Every year they bring a top-notch line-up, and with artists like Flight Facilities, Fat Freddys Drop, Eats Everything, Kolsch — I know the 2016 event is going be absolutely amazing!
I'm personally attending and photographing this festival, and I can't wait to experience it for myself!!
While tickets for this festival have been sold-out for a few weeks now, you might be able to snag a couple tickets on GumTree by asking people on the Facebook page.
---
2 ) Beyond The Valley (December 28 – January 1)
Lardner Park, Victoria (90 Minutes outside Melbourne)

WOW!  Just look at that line-up!!
"Beyond The Valley, now on the way to delivering it's third successful annual event, is a distinctive, unique and most of all carefully curated music festival over the New Years' Eve period."
This 4-Day festival is guaranteed to be an experience you'll never forget.  I personally think that Beyond The Valley has the best line-up of all the festivals on the list, and if I were down in Melbourne over NYE — this is where I would be…
My Top 10 Artists to see:  Guy Gerber, Hermitude, ZHU, Carl Craig, Eats Everything, Kolsh, What So Not, Claptone, Safia, and Skream.
VERY FEW TICKETS STILL AVAILABLE:
4-Day General Admission + Caming:  $420 + $14.70 Service Feee
3-Day General Admission + Camping: $380 + $13.30 Service Fee
New Years Eve Only Pass:  $189 + 6.62 Service Fee
---
---
3 ) Fall Festival (Various Dates)
 Lorne, Victoria — Marion Bay, Tasmania — Bryon Bay, NSW — Fremantle WA 


"The Falls Music & Arts Festival has been at the forefront of the east coast Australian festival scene, defining the real different between a mere music festival and a true festival experience. Capturing the essence of the Australian summer spirit, Falls embraces diversity, sustainability and community within a contemporary music event like no other. Transcending the common festival model, taking the time to curate a sophisticated experience that properly respects and honors time, people and place.
Falls Festival is one of Australia's longest running music festivals, and each edition they seem to manage to top the previous years.  The festival always provides incredible line-ups, massive stage productions, and a solid festival atmosphere.  What's even better is they have four different events throughout the country, so they make is pretty easy to catch at least one of the events.
Tickets only Available for Marion Bay location
3-Day Festival Ticket (Camping Included):  $289 + Booking Fee
2-Day Festival Ticket (Camping Included): $249 + Booking Fee
---
If you're looking for tickets for the sold-out events, I'd recommend checking out GumTree or the Falls Festival Lorne or the Falls Festival Byron Bay events..
---
---
4 ) Origin NYE (December 31)
Claremont Showgrounds, PERTH

 "Since 2006, Origin has pulled together some of the top underground performers, DJ talent and house music for the biggest new year party in Australia! Celebrating Ten Years in 2016, Origin NYE returns to Claremont Showgrounds, in what is set to be the biggest year yet."
For the all the Perth party people — there's no better place to ring in the new year than at ORIGIN.  The line-up has got a little bit of everything, but seems to be a bit more Hip-Hop & Drum & Bass heavy, so this is event is going to be a pretty hectic party.
Final Release:  $179 
---
---
5 ) CODE NYE (December 31)
The Greenwood Hotel, SYDNEY

When it comes to New Years Eve in Sydney, there really are just so many different venues to choose from.  I think it all really just depends on your preferred style of music / atmosphere you're looking for.  With that being said, for all those underground house and techno fans — you'd be a fool to miss out on CODE NYE at the Greenwood Hotel.  The line-up is absolutely stacked for this one-night event, and I'm really bummed I'll be missing out.
I've seen the headliners Guy Gerber, Mano Le Tough, and Umek before — and they'll smash their sets.  With that being said, make sure to check out local Sydney favorites like Tristan Case, Robbie Lowe, and Ed Wells!  I've seen these guys crush it at events like Return to Rio + Yacht Social Club, and they always deliver top-notch sets..
This event is thrown by the same people who put on Electric Gardens, so you know it's going to be a damn good time.  With 4 different rooms, and 30+ DJ's — this is the place you want to be if you're staying in the city for New Years Eve…
Second Release:  $85.00 + Booking Fee
---
This is the first year this event is happening, so I'll just leave you with this incredible Guy Gerber Essential Mix from 2013.  FUEGO!!
---
So where will you be spending New Years Eve…?
I'll be partying it up for 3-days at Lost Paradise, but I really wish I could attend every single one of these!  New Years Eve is defintiely one of the biggest festival times of the year, and Australia is ready to bring in 2017 with some epic events…
  If you're coming to Lost Paradise, look out for me!  I'll be wearing my signature Zebra Onesie & Cat In The Hat top during the majority of the festival, lol.
THANKS FOR READING!!
---
& Add Me On Snapchat: — JonesATW
Featured Image via Lost Paradise
https://www.jonesaroundtheworld.com/wp-content/uploads/2016/12/DANCINGSCOUTS-1200x800.jpeg
800
1200
Dave
https://www.jonesaroundtheworld.com/wp-content/uploads/2017/03/logotry-1.png
Dave
2016-12-15 06:20:45
2017-03-13 13:46:31
The Best New Years Eve Music Festivals in Australia