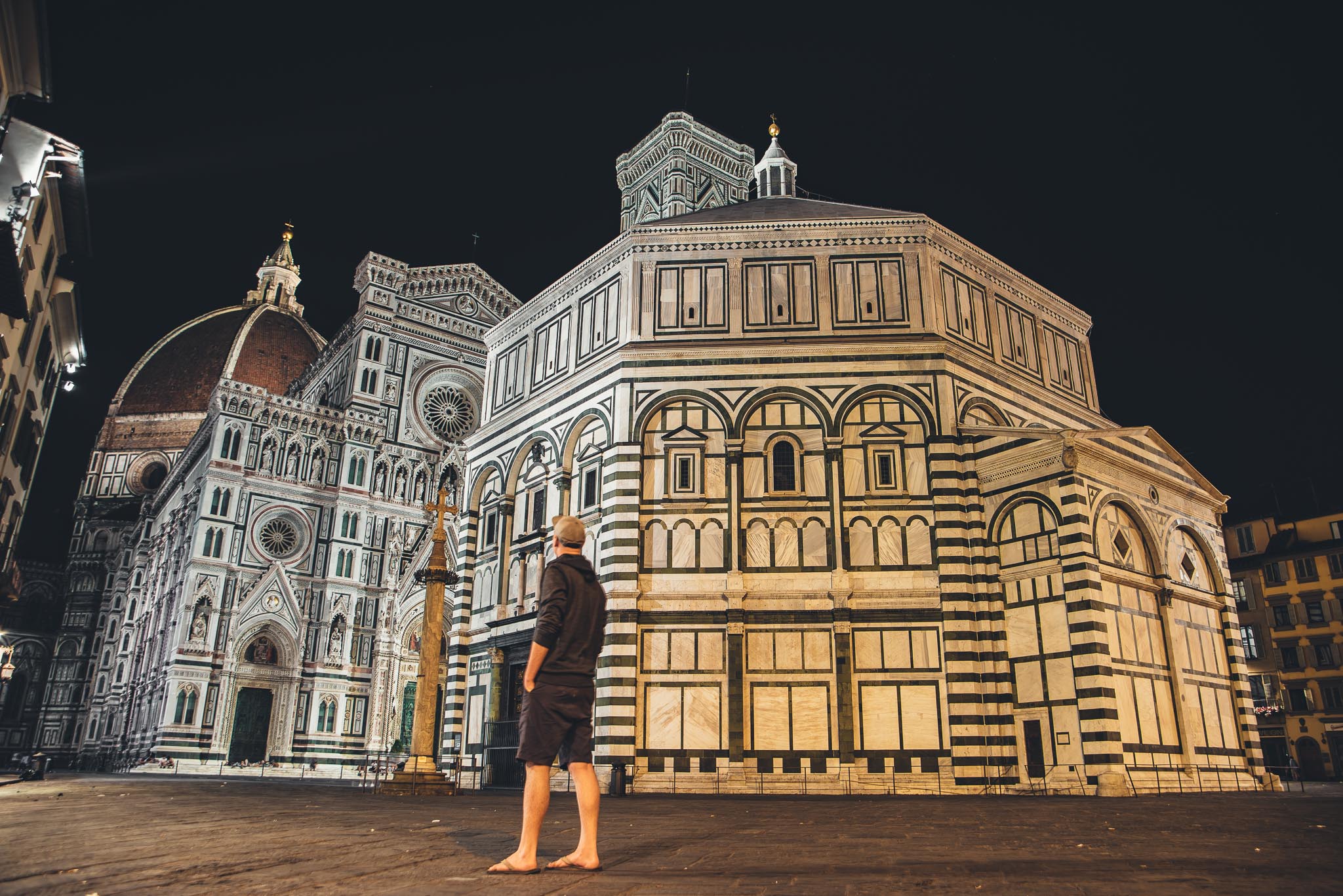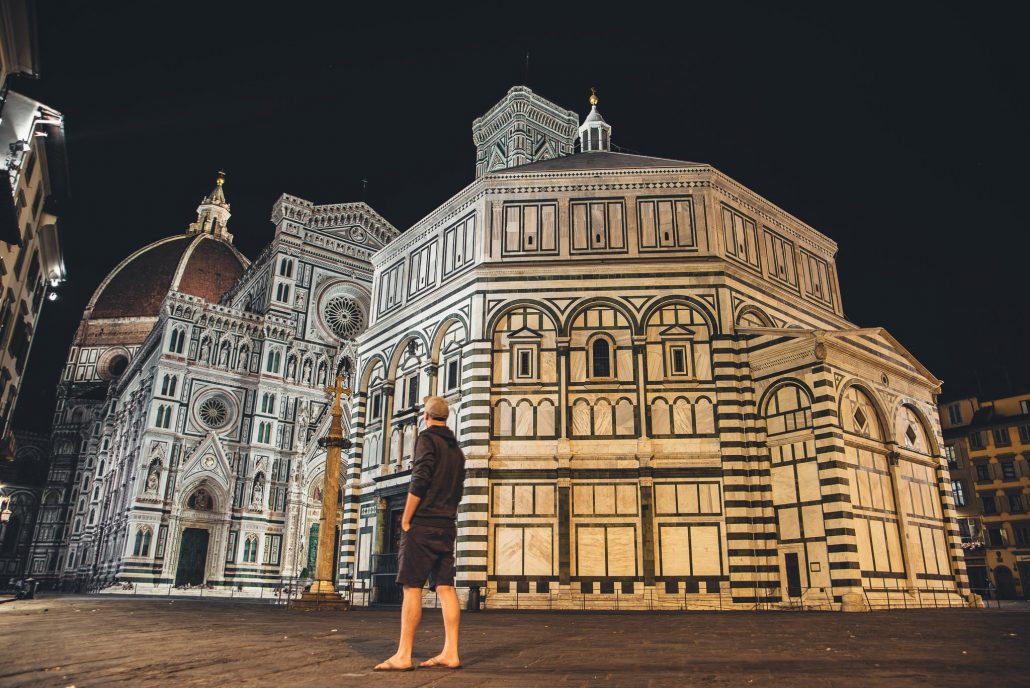 My alarm went off at 3:30 A.M, and I quickly rose from the backseat of my Audi Q3 that was parked on one of the many small alley ways of Florence, Italy.
Why was I sleeping in my rental car like some homeless traveler with a luxurious vehicle?
Well…I had a flight at 6 A.M (meaning I had to arrive around 4:00-4:30 A.M), and I since I only had one full-day in Florence, I knew would be out taking photos at least until 2:00 A.M. So I decided I would just keep my belongings in the car, and then catch up on sleep during the flight. That's just my budget traveler mindset.
So I organized my belongings, filled up the tank with gasoline, and began the short 15-minute drive to the Florence airport. Upon arriving around 4:00 A.M, I discovered that the Hertz car rental return location wasn't actually at the airport, but instead about 2KM away. FML. I should have looked at that in advance, but I still had plenty of time so I wasn't TOO stressed.
I found my way to the car return spot, double-checked with my iPhone flashlight that I didn't leave anything under the seats or in any of the pockets, and placed my key in the dropbox.
It was still extremely dark outside, and I didn't know there was a shuttle service that began at 5:00 A.M, so I just started wheeling my luggage back to the airport (which on my iPhone said was a 26 minute walk). I eventually found a taxi to take me the rest of the way, and arrived about 50 minutes before my scheduled flight departure.
"Hi sir, can I see your passport please?"
"Yeah. One second."
**Goes into backpack to retrieve my travel folder with passport, credit cards, and photocopies of important documents**
Shit! It's not there! Every traveler's nightmare.
I said I needed a minute, moved my luggage to the side, and started frantically searching through my suitcase and emptying out my backpack. Deep-down I already knew this wasn't going to change anything though, because I ALWAYS keep this folder in the same pocket of my backpack.
With only two hours of sleep, and an already stressful morning dealing with the car rental return, I basically broke down and had a minor panic attack.
So this is what happened…
I began thinking about the morning, and quickly realized the mistake I had made.
When I'm traveling, I don't like to keep too many credit cards in my wallet (just in case I lose it and have to cancel all of them). So when the time came at 3:45 A.M to fill up the gas tank, I opted to choose one of the cards in this black folder that holds my passport and multiple credit cards.
Read: The Beginner's Guide to Travel Hacking
I think I was so tired and stressed about getting the car returned and making my flight, that after I pulled out my credit card from this crucial travel folder, I placed it on the dashboard in front of the steering wheel.
It was a hectic morning, and I clearly wasn't thinking straight, as I typically always put it back into my backpack immediately!
---
Well, long story short…
Even after double-checking the car for my belongings, I idiotically forgot the single most important thing a person needs to travel…my passport. The folder is black, it camouflaged perfectly into the black dashboard, and I also returned the car when it was basically pitch black.
So I needed to go back to the car rental place to retrieve my passport, but since it's a 10-minute shuttle away (and all the desks are closed until 8:00 A.M), there was unfortunately no way I was going to be making my first flight to Munich, and then continue on to Tallinn, Estonia.
After a couple hours on the phone with different airlines / travel agencies, I basically was told that there was nothing that can be done.
Since I missed this first flight, I'd have to pay for a complete new one.
---
So what does that mean for my travel plans?
I anxiously searched online for a good two hours trying to figure out how to get to Estonia. I searched for flights out of Florence, Rome, Pisa, and Milan. ALL of them were well out of my budget for last-minute tickets, and I sadly realized that it wasn't going to happen. I'm absolutely gutted, because I was so excited to attend Into The Valley Music Festival, as well as explore the beautiful country of Estonia!
Then I started searching for flights to just about everywhere. I was so done with this tiny airport. I didn't want to be there anymore, and I just wanted to go somewhere. Anywhere. Just get me away from this place, so I can forget about this terribly stressful morning.
I looked at flights to Bali, because I thought maybe a massage and some Chicken Satay with Peanut sauce might make me happier. I contemplated flying back to California, as I know I need to go back there soon anyway. I'll be the first to admit that I probably didn't handle this anxiety very well, but after talking about my dilemma with some friends (thanks to OR & Alessandro), I decided to just stay in Italy for another week, and then I can figure out my travel plans
So I'm Staying in Italy…
For how long…? Now, I'm not too sure. My cousin Anna lives here with her husband Antonio, and their two rambunctiously amazing children Giulia and Steven. They are the nicest people in the world, and have welcomed me into their beautiful home in Porto Ercole. *See Instagram photo below*
---
I'm a firm believer that everything happens for a reason though, and now I'm enjoying an extra week in Italy. As one of my friends clearly expressed, my life problems could be much worse.
While I may be a professional travel-blogger, this goes to show that even the pros make mistakes. While my Instagram is filled with beautiful travel photos, my life is also filled with stressful travel experiences.
All I know is that I will be very careful in the future, and I've definitely learned a few things from this mistake.
The Irony of my last Facebook post…
Turns out…I didn't even leave Italy…
---
Have you ever had a stressful morning at an airport? Missed a flight? Last-minute travel plans changed? Let me know. I'd love to know to make me feel less like dumb.
THANKS FOR READING EVERYONE!!
https://www.jonesaroundtheworld.com/wp-content/uploads/2017/06/DSC7557-1.jpg
1367
2048
Dave
https://www.jonesaroundtheworld.com/wp-content/uploads/2017/03/logotry-1-1-300x106.png
Dave
2017-06-29 17:16:59
2020-10-01 19:11:19
I'm a Professional Traveler, but Just Made One Epic Mistake