Well I've been in Australia for over 4 months now, and I'm happy to say that I'm thoroughly enjoying my life here.  I've written a decent amount about this in other posts though, so there's really no need to dive into too much more detail.
For my followers who have been reading my blog since Day 1, you might have realized that I had stopped doing these monthly recap posts.  I remember I missed it one month, and then it kind of just stopped.  One of my New Year's resolutions this year was to change that.  I really like these monthly round-ups, and sharing what I've been up to.  So here we go.
New Years Eve At Mrs. Macquaries Chair
New Years Eve in Sydney is a BIG DEAL.  The firework display over the harbor is viewed by millions of people every year, and I was very happy with my decision to join some friends at one of the best vantage points of the display at Mrs. Macquarie's Chair in the Royal Botanical Gardens.
It was a solid day full of drinking and catching up with some friends from Kuala Lumpur.  We were all a little disappointed with the lack of entertainment in the actual park though.
We had to go into the venue pretty early just to guarantee entry (as everyone told us that if you try to later it would hit capacity).
Luckily I managed to smuggle in a decent amount of whiskey, because they were charging $8 per beer!
The fireworks were absolutely amazing.
Field Day
During my 4+ months in Sydney, I've been to a several music festivals.  It's pretty much the only time I go out and party.  On New Years Day, there was an incredible festival called Field Day, and had one of the best starts of 2016 I could have ever imagined.
Due to financial problems, I honestly didn't think I was going to be able to go.  Tickets sold out really quick, and people were scalping their tickets for ridiculous prices.
I applied for a media-pass to write a festival review for Jones Around The World, but unfortunately did not heard anything back from the press office.
Fortunately for me, my friend Cass randomly posted a link to a MTV Australia VIP ticket giveaway.  I followed the link, entered in my email address, and completely forgot about it.
Then one morning, I woke up with an amazing email!
I won TWO FREE VIP TICKETS + 6 FREE COMPLIMENTARY DRINKS
The whole festival was a a blast.  Golden Features, Flight Facilities, Disclosure, and Boys Noize were amazing to see live, and had a solid time with the squad.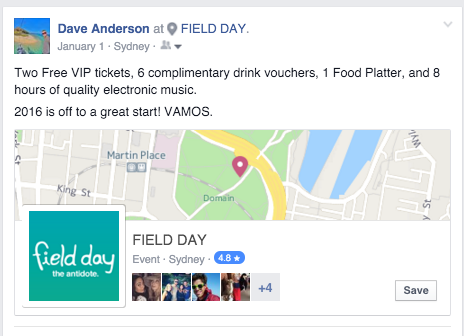 Working Overtime
I came to Australia with a purpose in mind — MONEY.
The high wages in Australia are pretty awesome, and I found a job that I'm enjoying and making decent cash doing it.
I was originally on a 3-month contract, but they keep extending it which is awesome, because I really hate interviews.
In January, my work was offering heaps of overtime hours on the weekends.  I'm talking $45 per hour to come in on Saturdays & Sundays!
So yes.  I sacrificed a couple weekends and nearly killed myself working so many hours.
But it's been great to feel a bit more relaxed when it comes to finances.
Wedding Crashers
In the middle of January, my friend Rachel cruised over to my place for a relaxing Saturday night.
We drank some beers, ate some hummus, and had some nice conversation.
Then — we heard music coming from a venue close to my house.  We thought it was some random party, so we decided to cruise over and  crash (in search of free booze).
We found out it was a wedding, and decided to crash.
Everyone was absolutely hammered, and didn't even notice us, haha.  
Electric Gardens
Hands down the best festival I've attended so far in Australia
Read all about it here:  Electric Gardens Festival Review
Favorite Instagram
What's I'm Listening To
Every month, I'll beginning to write about the top 10-15 tracks I've been listening to during the past month.
Check out my blog post titled:  The JATW Playlist:  January 2016
But here's a song that didn't make this list because I just discovered it.
This makes me want to go camping, stargaze, and think about the meaning of life. haha.
Check out my other blog posts
8 Things I've Learned from 4 Months in Sydney
Top 50 Instagram Posts of 2015
10 DJ Sets To Get You Stoked For Electric Gardens
5 Reasons Why I Want to Visit Iceland
10 Fun & Awesome Things to do in Malaysia
What did you get up to in January?
Thanks for reading everyone!!
https://www.jonesaroundtheworld.com/wp-content/uploads/2016/02/JATW-Monthly-Recap-January-2016.jpg.optimal.jpg
768
1024
Dave
https://www.jonesaroundtheworld.com/wp-content/uploads/2017/03/logotry-1-1-300x106.png
Dave
2016-02-06 01:13:17
2017-04-08 15:15:53
JATW Monthly Recap: January 2016