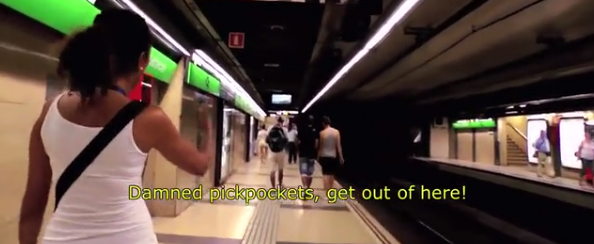 Barcelona is easily one of my favorite cities in the world, but there is one major problem in this beautiful city: pickpockets.  I've personally never been pick-pocketed myself, but I know a lot of people who have had this happen to.  Whenever I know people are heading to Barcelona, one of the first things I see is to make sure you watch over your belongings.  It can happen to anyone, and the pickpockets in Barcelona are highly skilled.  If you lose focus for one minute, it can be very easily to be distracted and have something sneakily stolen out of your bag.  The main rule I have when I'm in Barcelona, is basically to be "paranoid" at all times.  That just means when you are in a crowded area, understand that you can be a target!  As long as you are careful, nothing will happen to you!  
I came across this video about Eliana Guerrero, an unemployed Colombian immigrant, who prowls Barcelona's underground for pickpockets and warns tourists about the dangers.  It's a quick 5-minute video expressing what she does, and why she does it.  It's pretty amazing, and Barcelona definitely needs more people like her.
Let Me introduce you to… The Pickpocket Huntress of Barcelona
This video was made by Storyhunter, a company which helps the world's top video journalists and documentary filmmakers produce video stories that matter.  Follow them on Twitter.
If you're heading to Barcelona anytime soon, make sure to check out some of my other posts on my favorite city in the world.
The following two tabs change content below.
Hey what's up? I'm Dave -- but I'm more commonly known as my nickname / travel alias JONES. I'm originally from Southern-California, but have made long-term travel into a lifestyle. I've lived in 6 different countries, love learning new languages, and have a strange obsession with hummus. You'll most likely find me on a tropical beach, at a music festival, or anywhere I can get a cold beer. I'm also an aspiring travel photographer, so you'll rarely find me without my camera. I'm on a mission to explore the world, live abroad, and make every day count.
http://www.jonesaroundtheworld.com/wp-content/uploads/2014/11/Screen-Shot-2014-11-15-at-2.39.20-PM.png
244
594
Dave
http://www.jonesaroundtheworld.com/wp-content/uploads/2016/08/JonesLogo-300x83.png
Dave
2014-11-15 07:34:09
2015-10-16 05:58:52
The Pickpocket Huntress of Barcelona