Ever since I was a little kid, I've always dream of witnessing the beauty of the The Great Barrier Reef, and just two days ago that wish finally came true.  It's obviously one of the biggest tourist attractions in Australia, and was one of the activities I was looking forward to the most on my current Australian adventure.
There are a ton of different options when it comes to exploring the Great Barrier Reef.  The main three that have tours going to often are Moore Reef, Fitzroy Island, and Green Island.  After doing some research, I decided that the best way for me to explore the GBR would be to join SunLovers Reef Cruises on their Full-Day Trip out to the Outer Moore Reef.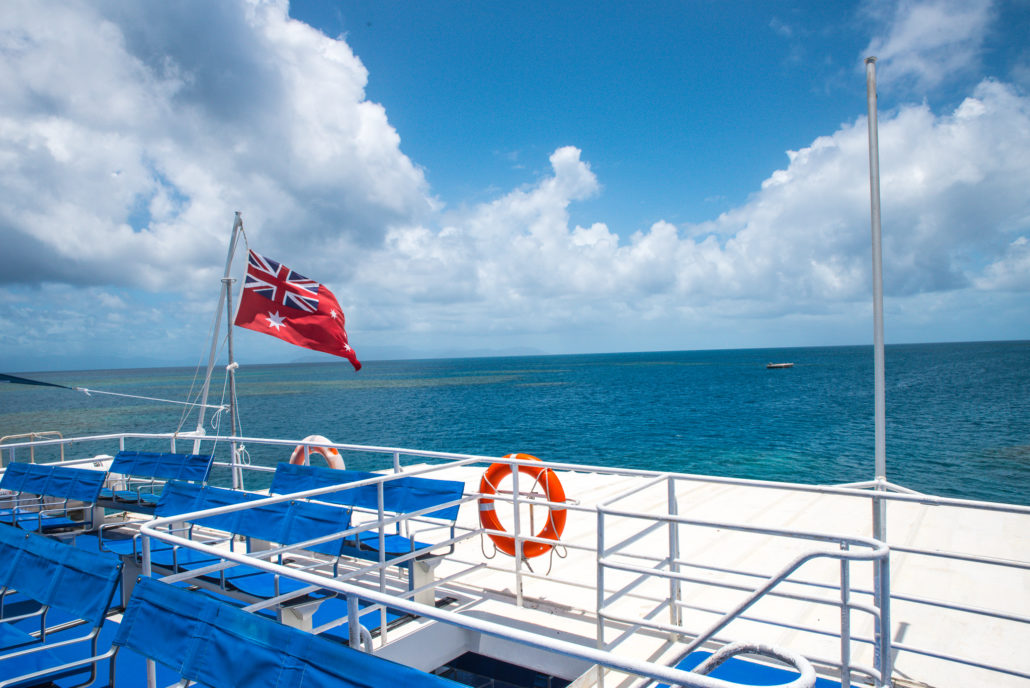 I woke early in the morning, packed my bag, and made the short walk from YHA Cairns down to the harbour to get checked-in and board the ship.  The first thing that shocked me was how absolutely massive the SunLover vessel is.  Normally when I board these snorkeling day-trips around Asia, they are much smaller rigs, and rather uncomfortable.  This was definitely not the case this time, and the ship was large with plenty of space and never felt overcrowded (even with the huge amount of tourists onboard).
---
Fitzroy Island
After a brief safety demonstration, overview of the activities included on the tour, and rather comedic lesson on how to snorkel (for the first-timers), we arrived at the gorgeous Fitzroy Island.  I was only on the Moore Reef tour, but you could combine the two places into one full-day package which starts at an earlier time.
We might not have been able to get off the ship, but just from docking at Fitzroy you can tell it's a beauty of a destination.  We stopped for a few minutes, picked up the passengers joining us on our adventure, and the continued our journey for about 45 more minutes to the SunLover Pontoon out the Outer Moore Reef.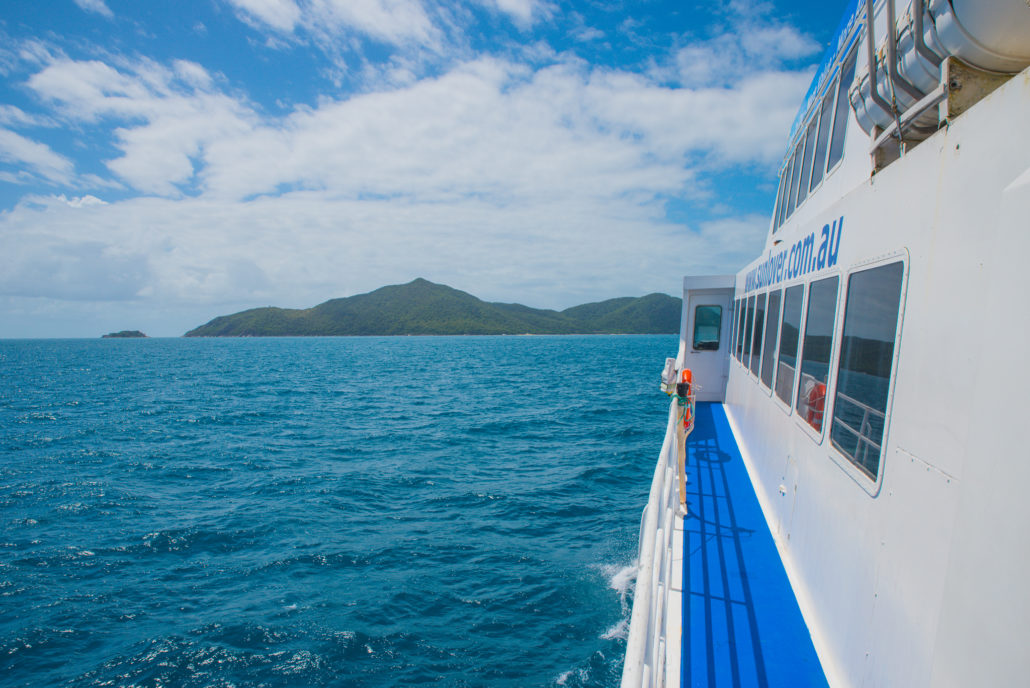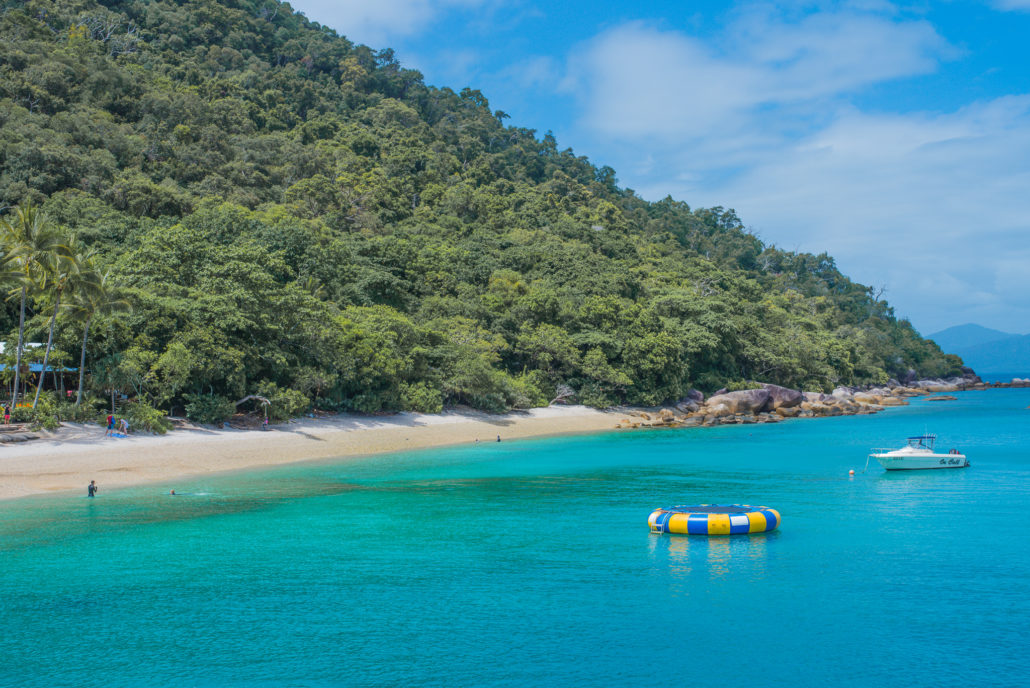 ---
Buffet Lunch
Right around the time we docked at the Pontoon, lunch was served.  I had skipped breakfast, so I was pretty damn hungry, and I was pleasantly suprised with a delicious buffet meal.  Knowing myself, I tried to keep myself from eating too much to avoid feeling full while snorkeling, so I kept it to two plates, lol.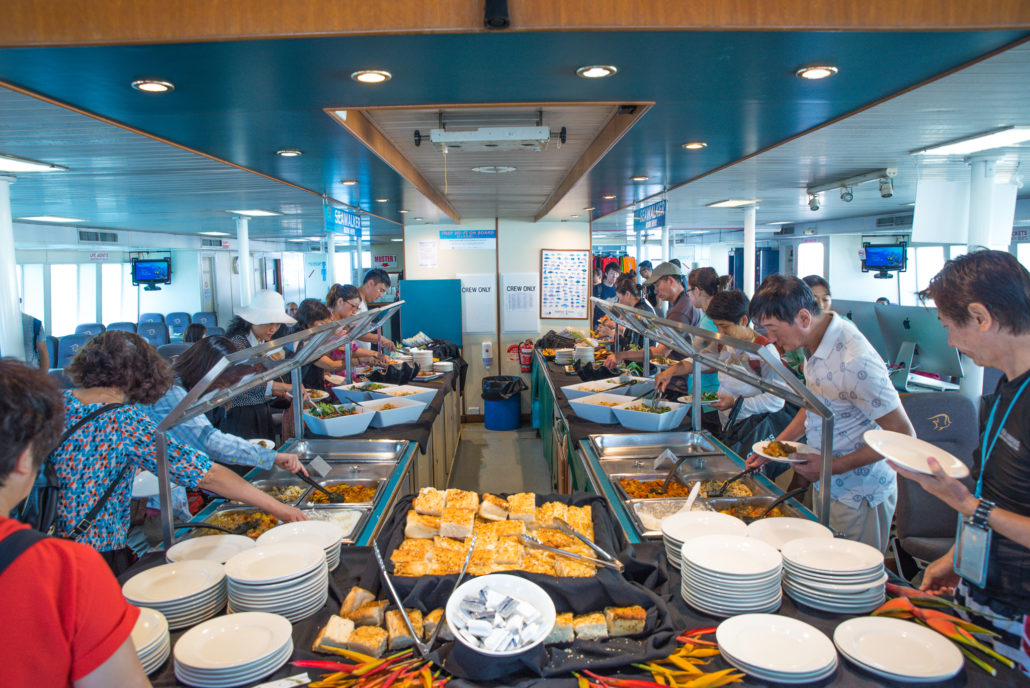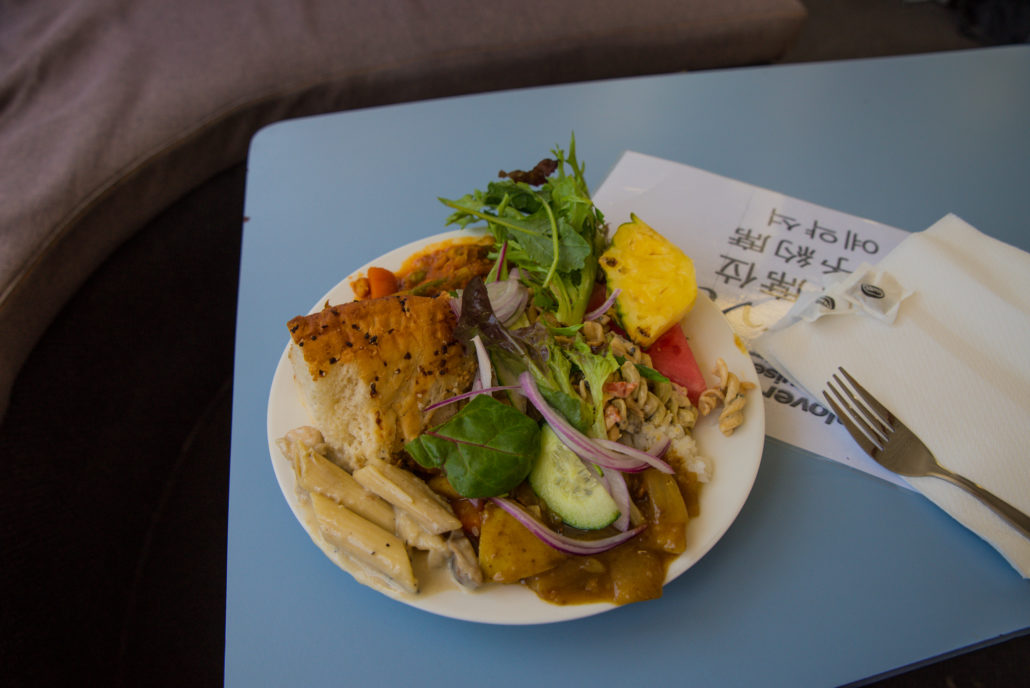 ---
Semi-Submarine
There were a few activities that are available for everyone to partake in while docked at the pontoon, but the only one I decided to join was the semi-submersible coral reef viewing boat.  I felt like the "glass-bottom boat" was a bit childish and wouldn't be able too see too much, and at least the semi-submarine would get you down into the reef.
To be honest, it was a little anti-climatic, but it was only a brief 20 minutes out of the day, and I'm glad I did it.  Just being down in the sub was a cool feeling.  We did the reef just right outside the windows, but yeah — just wasn't all that exciting if you've done a lot of snorkeling before.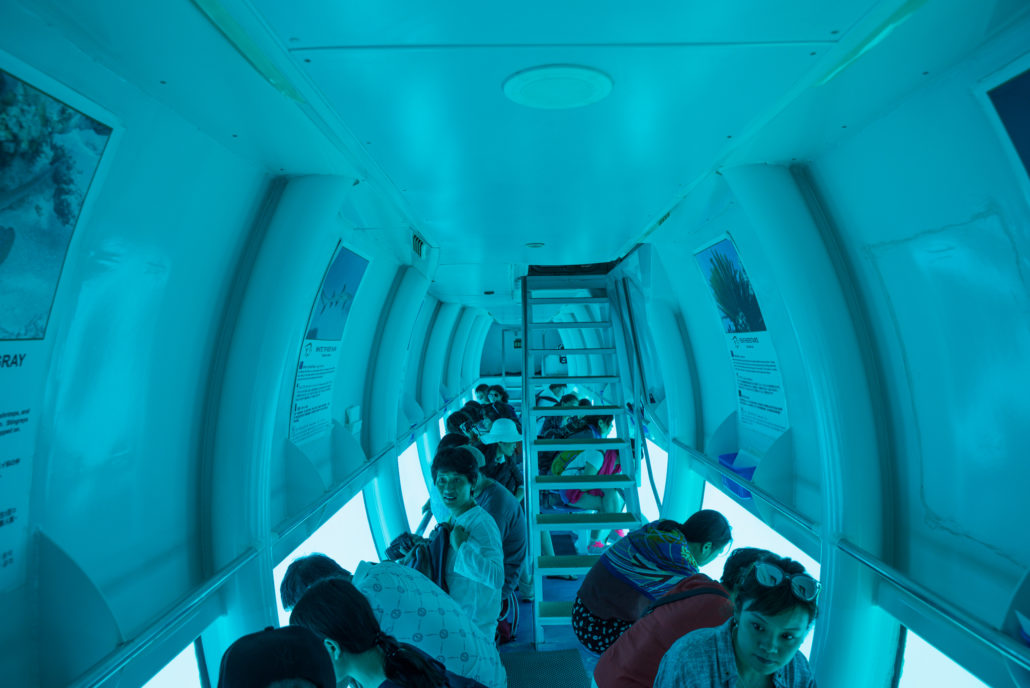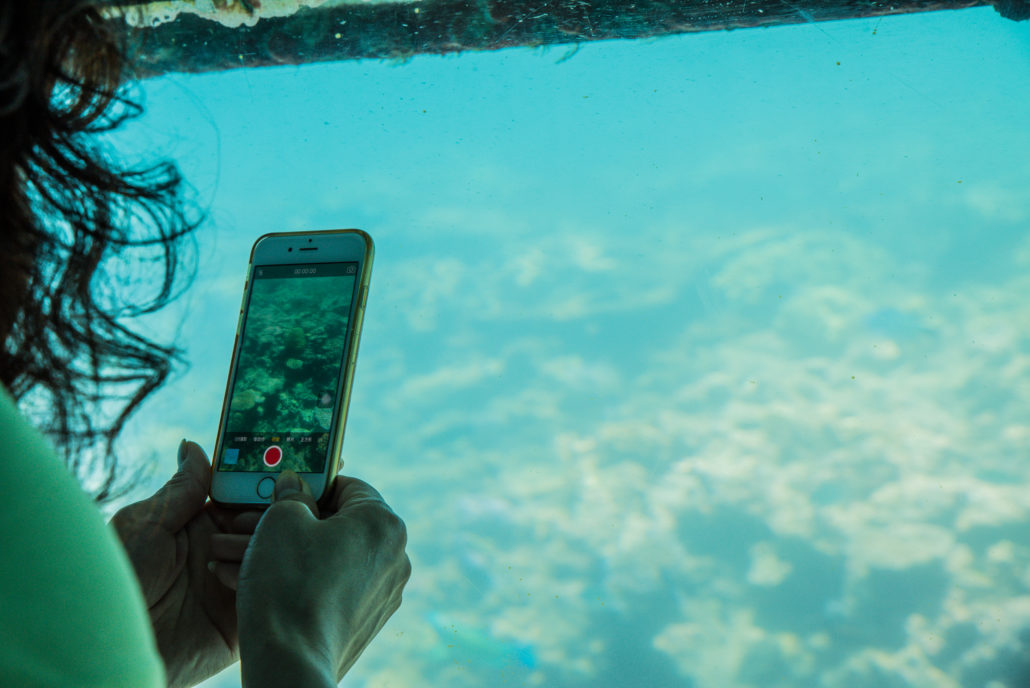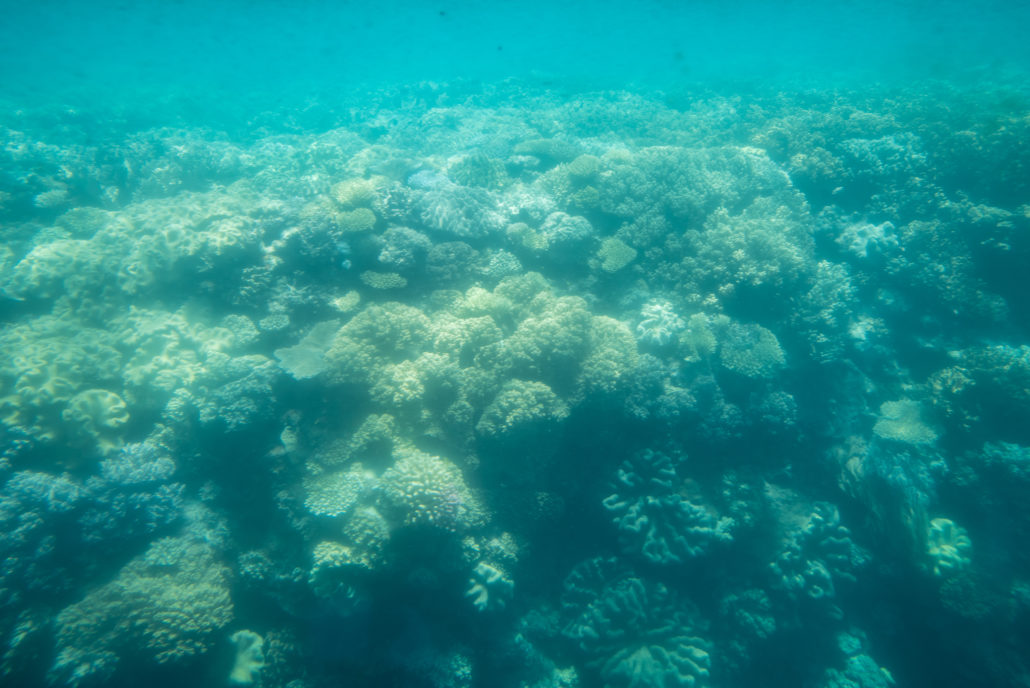 ---
Snorkel Time
The moment I had been waiting for…
The time had come for me get up close and personal with the Great Barrier Reef.
I made my way down to the beautiful Pontoon with all the scuba & snorkel gear, picked up my gear, and was ready to go.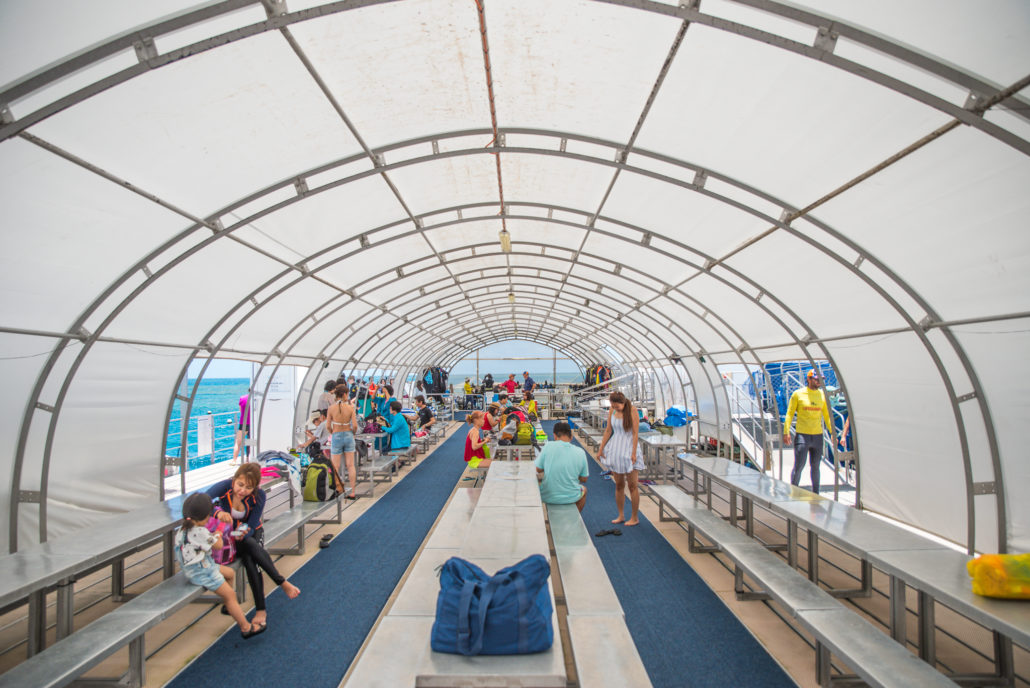 The area of the Moore Reef that Sunlover Reef Cruises docks at is simply beautiful, and the area is marked with these white buoys for where to stay in.  It's a pretty big area, and took me  a few different trips out to explore every area of it.
I was armed with my GoPro Hero 5, and was talking pictures and videos of everything I could.
The reef really was stunning, and out on the outskirts of the snorkeling area was the epic drop-off.  That's where I found the best snorkeling to be, and was having an awesome time exploring this section of The Great Barrier Reef…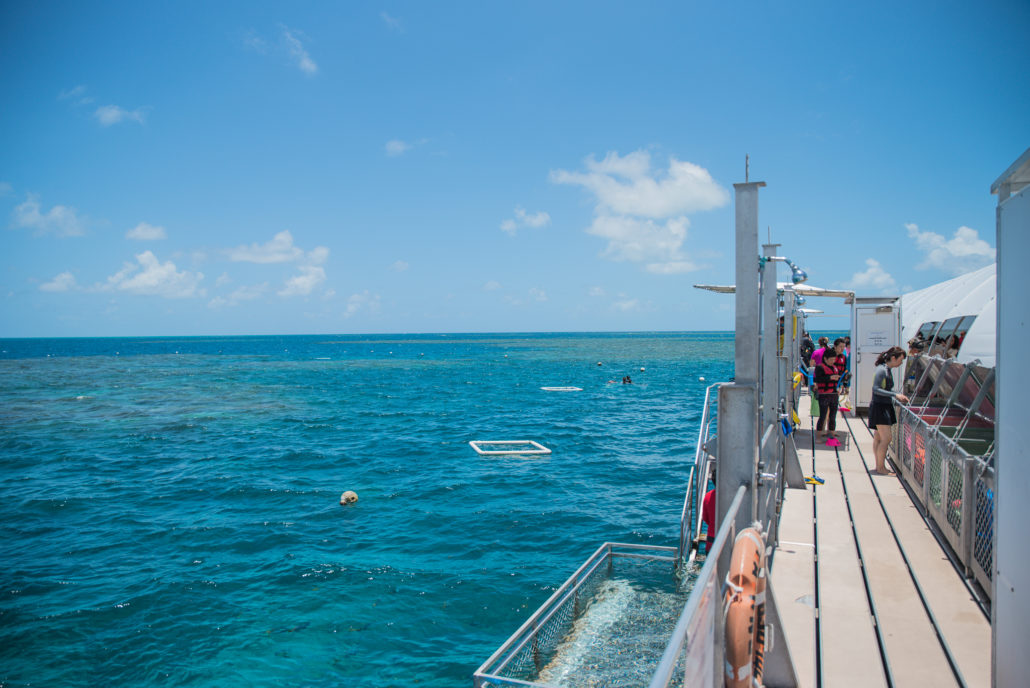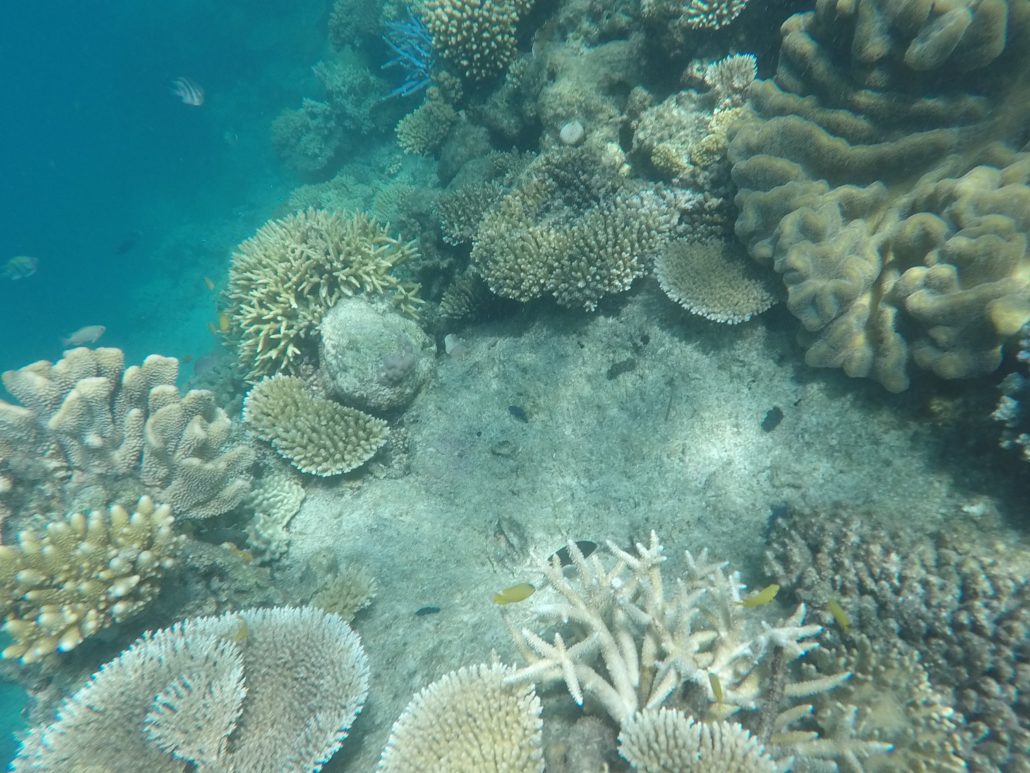 ---
Was it everything I hoped it would be…?
No.  I can't say that it was…
I've already written about the best snorkeling I've ever witnessed, and I was simply expecting something of the same caliber.  Don't get me wrong — the snorkeling at the Moore Reef was fantastic, but it can't compare to what I've seen in Indonesia or Malaysia.  Maybe I just sound like a spoiled travel-blogger though, lol…
If this was someone's first time ever snorkeling or witnessing marine bio-diversity, I'm sure they would be absolutely blown away!!
But the truth is that the Great Barrier Reef has been a bit damaged from the massive tourism over the years.
Should you still visit the Great Barrier Reef…?
ABSOLUTELY, YES!
This was by far my favorite day of my travels so far in Australia!  
The scenery above land while sailing out to the Moore Reef is gorgeous, and the snorkeling really is spectacular!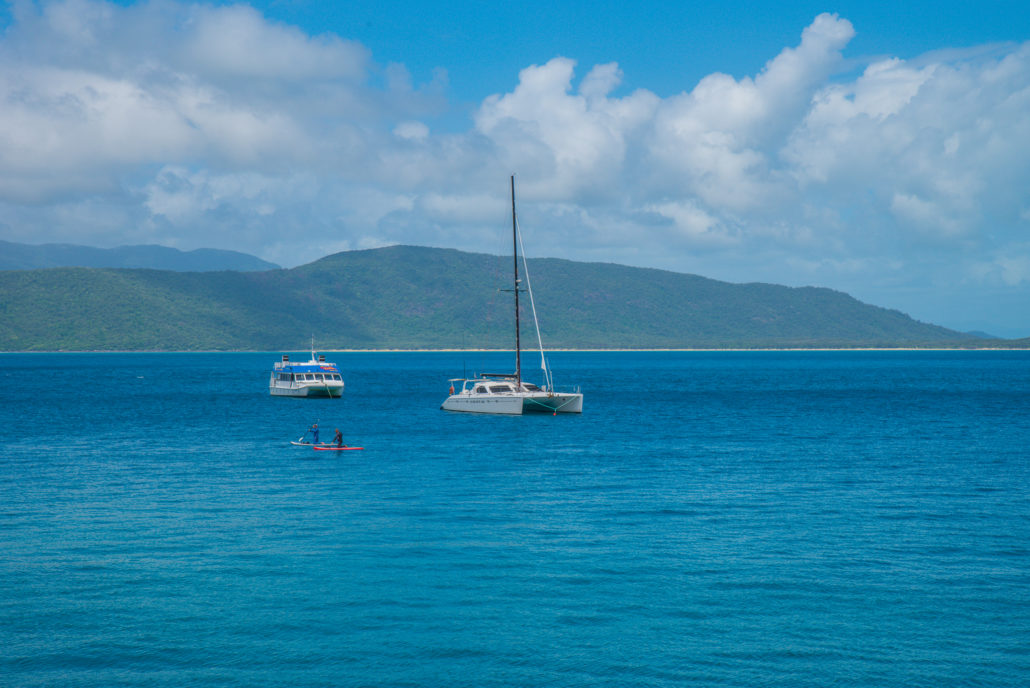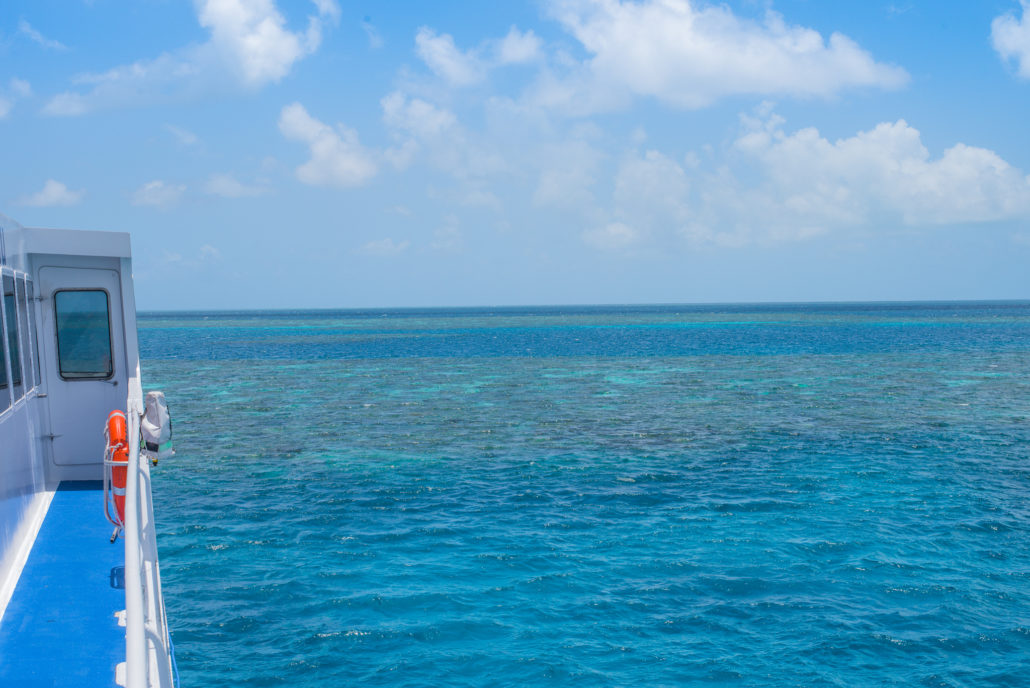 ---
Sailing back to Cairns
After a solid 4-hours at the Moore Reef, we began our sail back to Cairns.  Once again, we were treated with stunning views of the ocean and landscape.
I've learned that I really just love being on a ship.



---
This really was one of the best days I've had in a long time, and I can officially say that I've experienced the Great Barrier Reef.  While I may have only snorkeled at one particular reef, it just gives me a reason to come back to Cairns and check out more of the other options
I'm really keen on finally getting scuba-certified and doing a 1-2 night live-aboard, because everyone has been telling me that it's an amazing experience.
Special thanks to Sunlover Reef Cruises for hosting me for this incredible day!  The staff were all so incredibly helpful, the food was delicious, the equipment worked perfectly, and the ship was large and comfortable.  I couldn't have asked for a better experience!
---
Have you been to The Great Barrier Reef before…?  What was your experience like?  Let me know!
THANKS FOR READING
The following two tabs change content below.
Hey what's up? I'm Dave -- but I'm more commonly known as my nickname / travel alias JONES. I'm originally from Southern-California, but have made long-term travel into a lifestyle. I've lived in 6 different countries, love learning new languages, and have a strange obsession with hummus. You'll most likely find me on a tropical beach, at a music festival, or anywhere I can get a cold beer. I'm also an aspiring travel photographer, so you'll rarely find me without my camera. I'm on a mission to explore the world, live abroad, and make every day count.
http://www.jonesaroundtheworld.com/wp-content/uploads/2016/11/DSC_0056-1.jpg
1367
2048
Dave
http://www.jonesaroundtheworld.com/wp-content/uploads/2016/08/JonesLogo-300x83.png
Dave
2016-11-24 02:10:49
2016-11-24 02:34:28
Exploring The Great Barrier Reef: Incredible Day Of Sun, Snorkeling, and Scenery